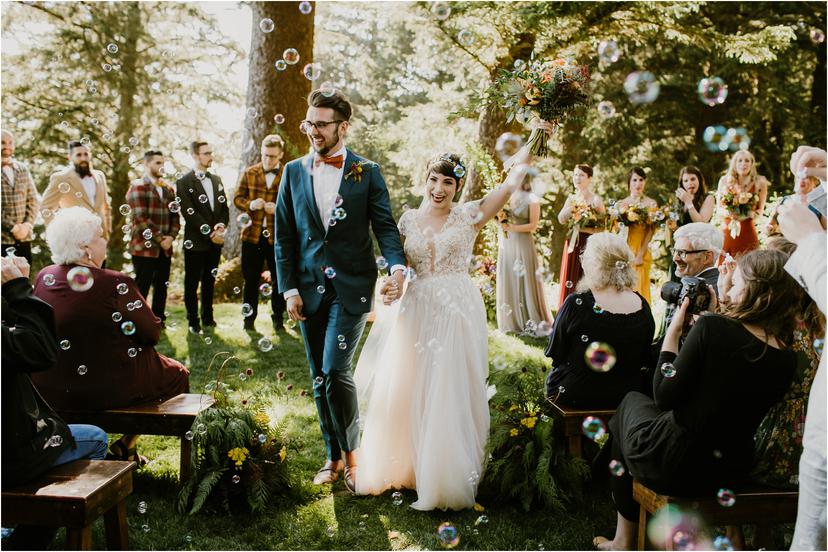 My Own Crook Point Wedding
(Updated on 02/17/2020) You guys, I got married!! On July 13, 2019, I married the love of my life, Mikael, on a cliff overlooking the ocean on the South Oregon Coast. After being a wedding photographer for 10 years and photographing around 200 weddings, I finally got to experience my own. It was a whirlwind, and you can bet that I have SO. MUCH. TO. SAY.
Thus, this is a long blog post. I'm sorry. But, it's full of wedding insight and inspiration (I'm looking at you future brides and grooms!). AND it has a ton of personal anecdotes and silly photos (for you, friends and family!) Feel free to use the table of contents above to go to a specific section! Please note that all these photos were taken by our amazing wedding photographer Catalina Jean!
Want more? My favorite wedding blog, Junebug Weddings, published our wedding on their site! You can check that out here!
Why I choose Crook Point
Our first real lesson in wedding planning was this: sometimes the thing you want isn't ACTUALLY what you want.
I dreamt about marrying Mikael on my parent's private mountaintop (look and see for yourself, it's gorgeous) for as long as we'd been together. We booked our photographer Catalina and our wedding planners Kim and Katelyn and set a date. Then Kim came down to see the property. We were all in for a real shock.
"Katy, you can't have the wedding you want here," Kim told me. It would be too expensive, too logistically challenging, the location wouldn't hold the number of people I wanted to invite, and it would likely damage my relationship with my parents. OH, and it would be a DIY nightmare with SO much labor. Kudos to Kim for being real with me. This was NOT an easy thing to tell a bride. I really respect her for this though!!
I cried. It was tough for me to let go of the idea in my head. But you know what, I'm really, really glad I did. Because finding Crook Point was the best possible thing.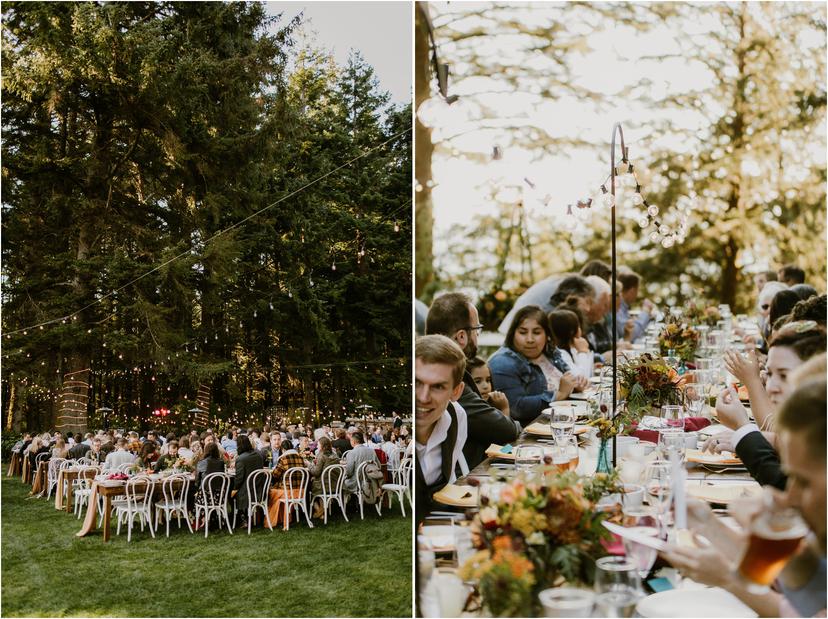 About Crook Point, a South Oregon Coast wedding venue.
When I started looking for a wedding venue, I knew we wanted several things:





A destination wedding weekend



Somewhere with stunning natural beauty



A place that didn't feel overdone that I hadn't been to a million times already.



Somewhere near water so we could do some sort of water activity with friends



A place allowing 150+ guests



Somewhere that friends could stay nearby or camp.



I found Crook Point buried on page 7 of Here Comes the Guide while searching for outdoor Oregon wedding venues.
I immediately knew three things. It was a brand new venue that had only just started doing weddings. Their property looked astoundingly beautiful. It was exactly what I had been looking for. In the forest AND next to the ocean?! Done deal.
When people asked "where are you getting married," I would respond with "I found this crazy venue that's basically a meadow in a forest, surrounded by ferns, but also on a cliff overlooking the ocean. Oh and there's an arch rock right out at sea. Yeah. Oh, and they have beach houses with hot tubs. And our friends can camp too."
At this point, the person usually looked at me with their mouth open like… "Wait, what."
Crook Point is just plain magical. It's in between Gold Beach and Brookings, about 30 miles from the California border. It's named after the family who owns it. The Crooks first came to Oregon in 1852 on horseback as pioneers, so they have owned this section of Oregon coastline for SIX generations! The houses are available for rent year-round and were lovingly built and designed by the family as well. I absolutely loved getting to know Kathleen and her brother James when they showed us around. And I cannot wait to return to rent the houses for anniversaries in our future!
My reasons to have a destination wedding
One of the main reasons I choose Crook Point was because I wanted a destination wedding weekend. Why? There are a lot of reasons. I actually wrote a whole blog post about it! But here's a quick summary.
Most weddings are less than 8 hours long. Usually like 4-5. There are VERY few opportunities to talk with guests. I knew that the wedding weekend would go by way too fast. And I wanted as much quality time with my friends, family, and Mikael as possible. I didn't want people to come for a few hours and leave. I wanted multiple chances to spend time with them outdoors.
Mikael and I both adore being outdoors, camping, rafting, and spending time at the beach (literally our first kiss ever happened when we were on a camping trip with friends). So, we wanted to incorporate as much of the beauty of Oregon, the coast, and the forest into our wedding weekend. I went barefoot for a portion of the wedding, and it was incredibly grounding for me. We also started the weekend off with a jet boat trip up the Rogue River (Mikael has rafted it since he was a child so it's an extremely special place for him), as well as a welcome party on the beach with a bonfire, pizza, and beer instead of a traditional rehearsal dinner. We loved how much time we got to spend outdoors over the weekend, and we were so lucky to have absolutely perfect Oregon weather too.
Our welcome party on the beach at Crook Point
Pizza. Beer. S' mores. Everyone was invited. It wasn't fancy. It felt like camping. This was how we started the weekend, and I loved every minute of it. I've been to lots of beautiful rehearsal dinners, but none of them ever felt like "us." This was totally true to Mikael and me.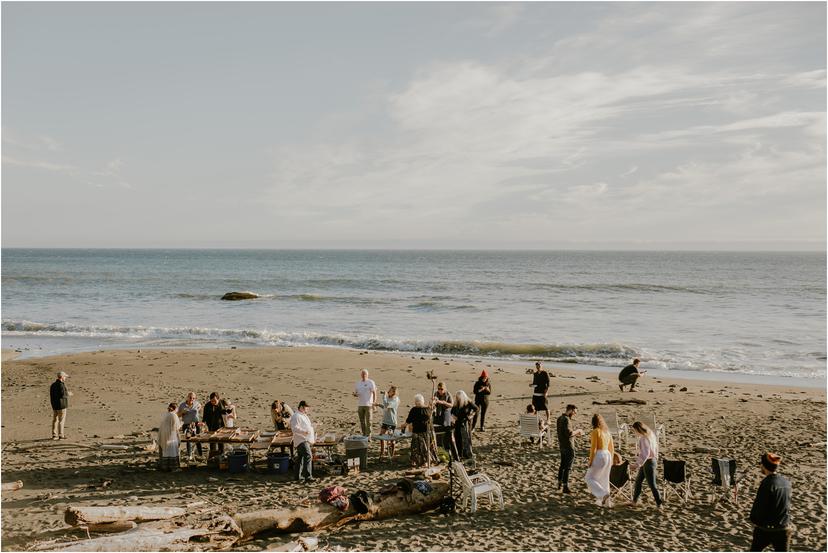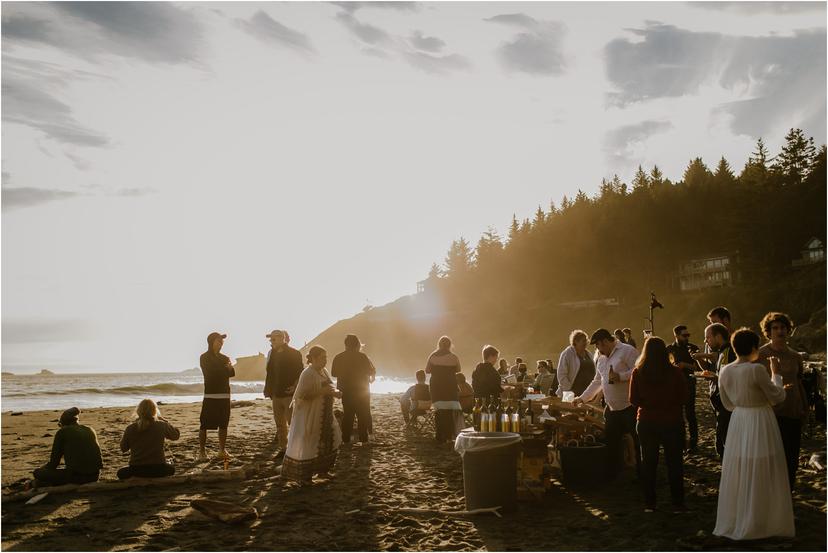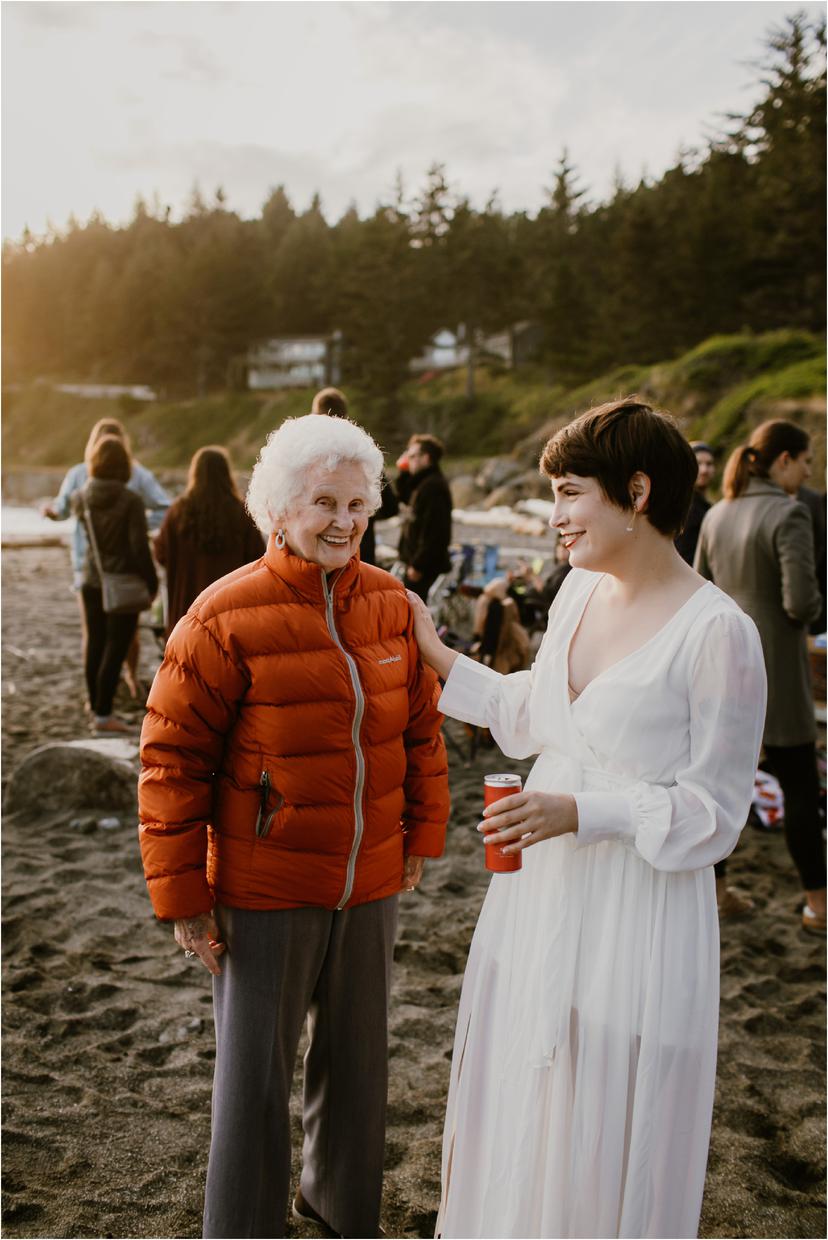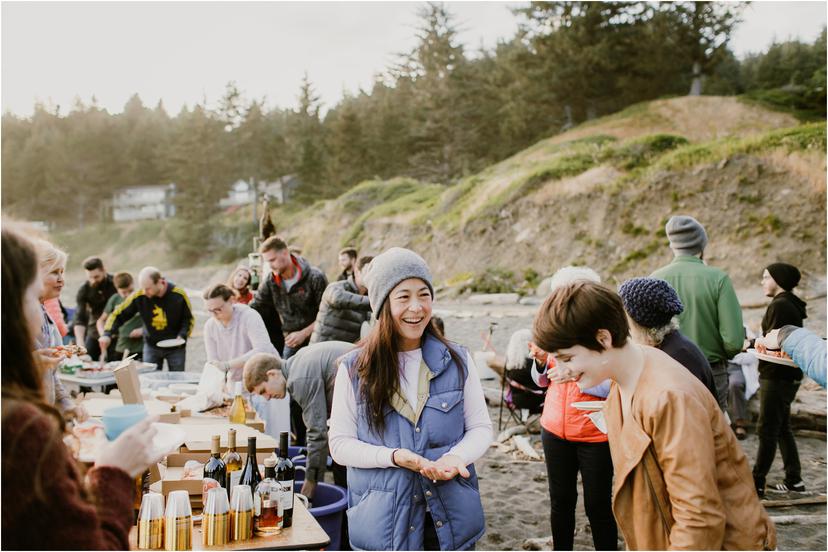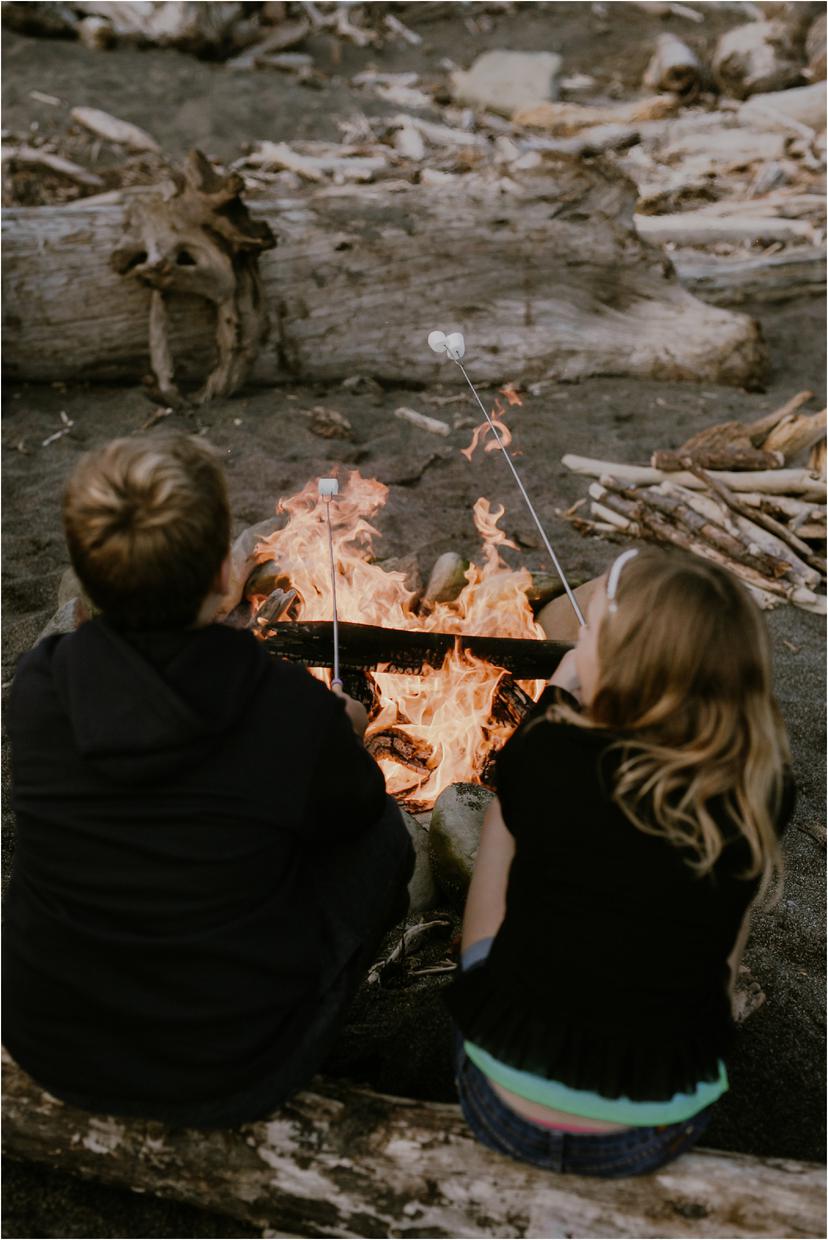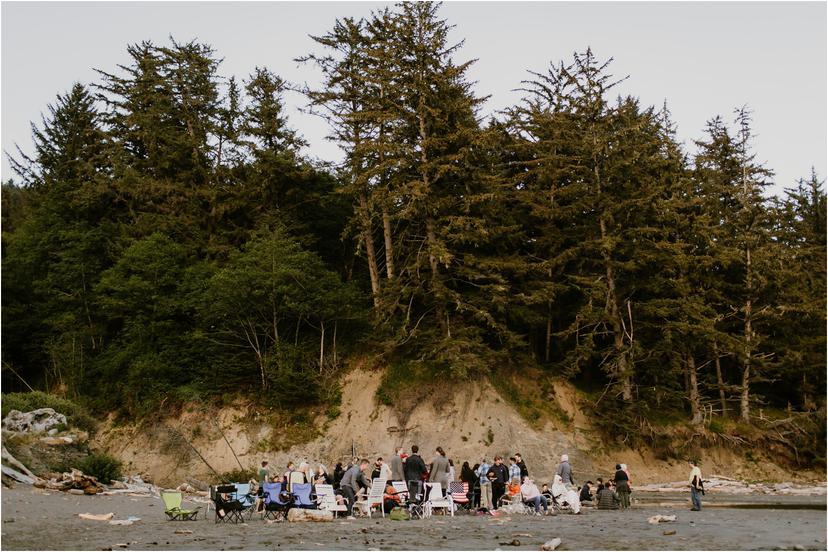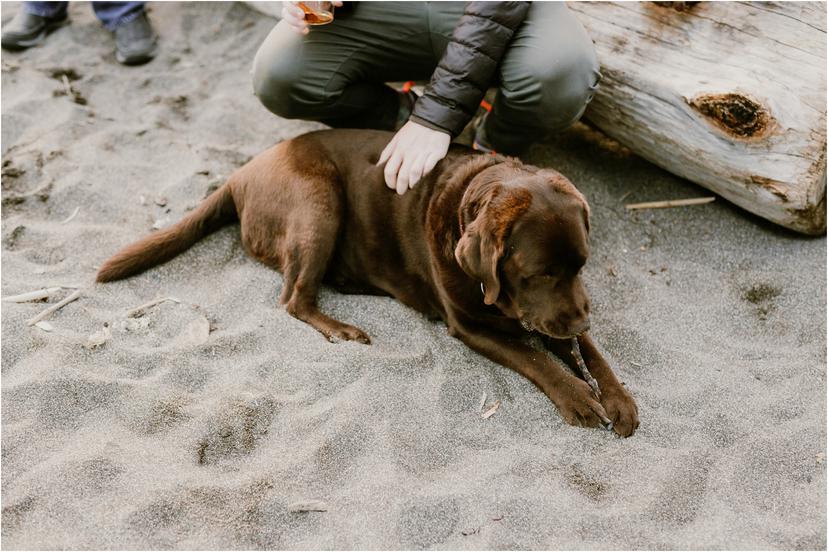 You might recognize this dog from this wedding! My past clients Ashley and Andrey were able to come to our wedding and they brought Mischka! I was so thrilled!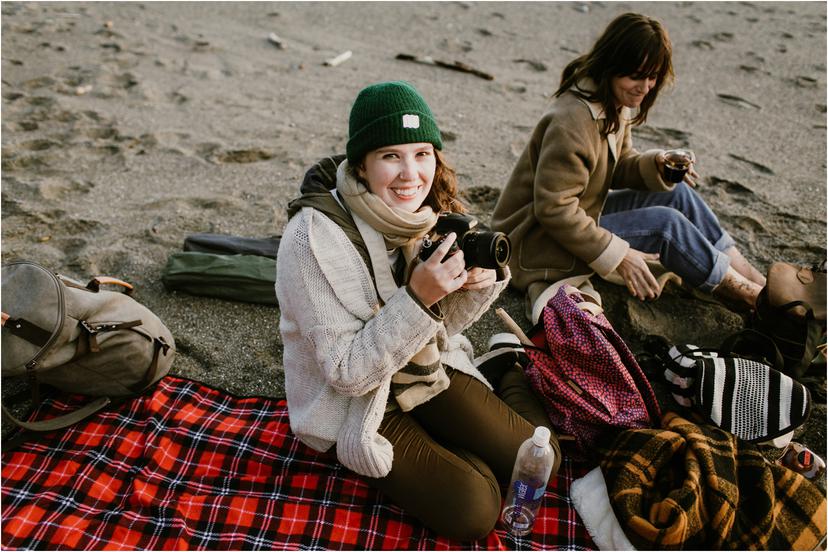 Shoutout to Hilde for coming all the way from South Africa to be at our wedding!! You might rememember her from my blog posts of her with her boyfriend in Stellenbosch or at a South African vineyard. Or seen photos of her from our trip to Chicago or when we first met at Heck Yeah Photo Camp!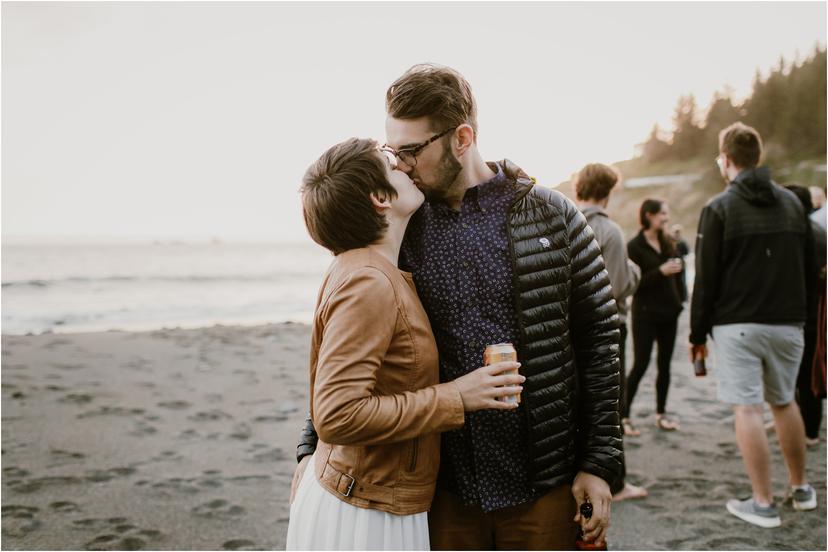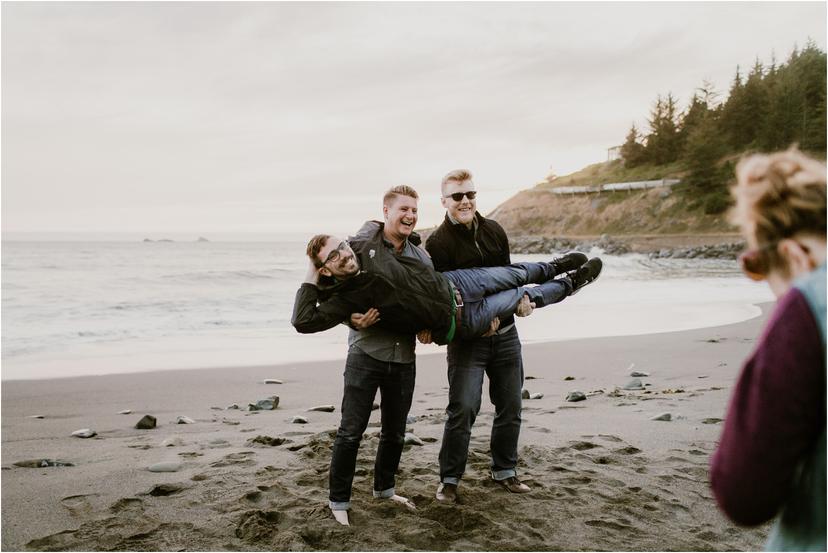 Fun fact: I photographed all three of these dude's weddings haha. Brandon's in Portland. Matt's in Cuba, and Andy's on San Juan Island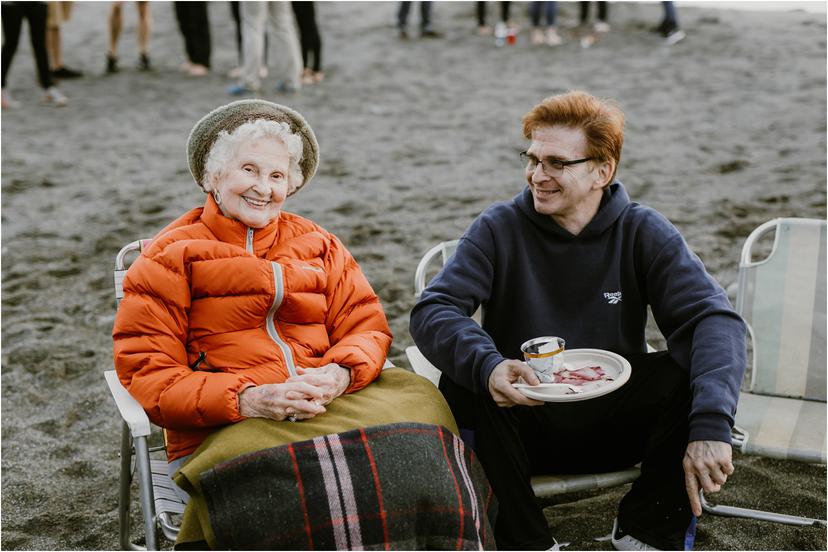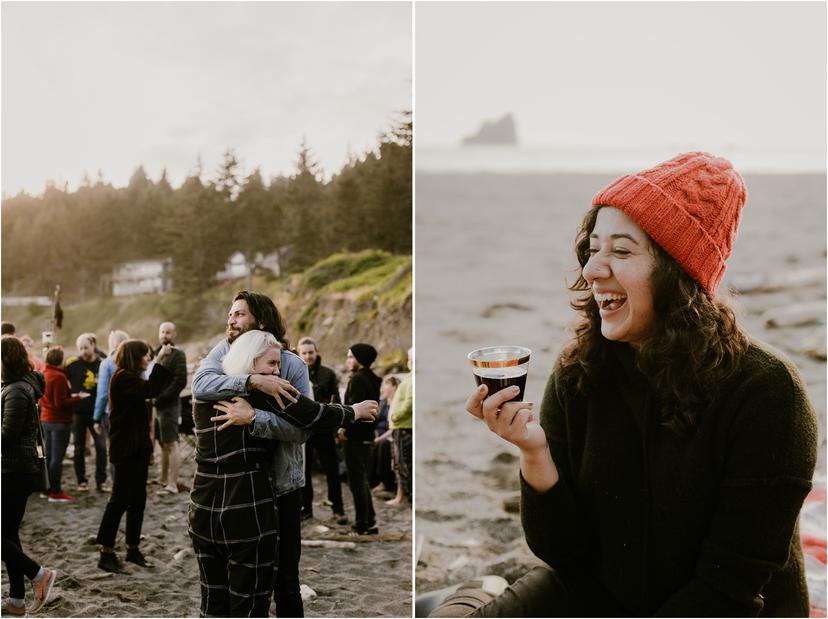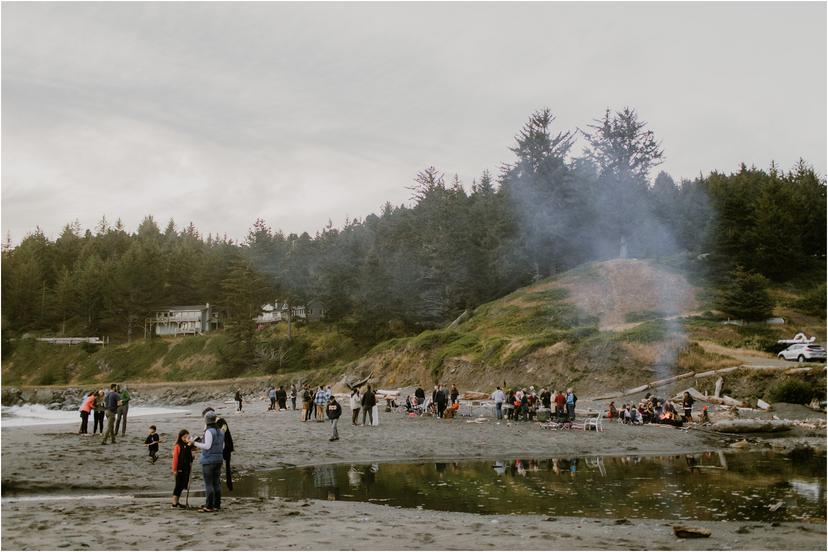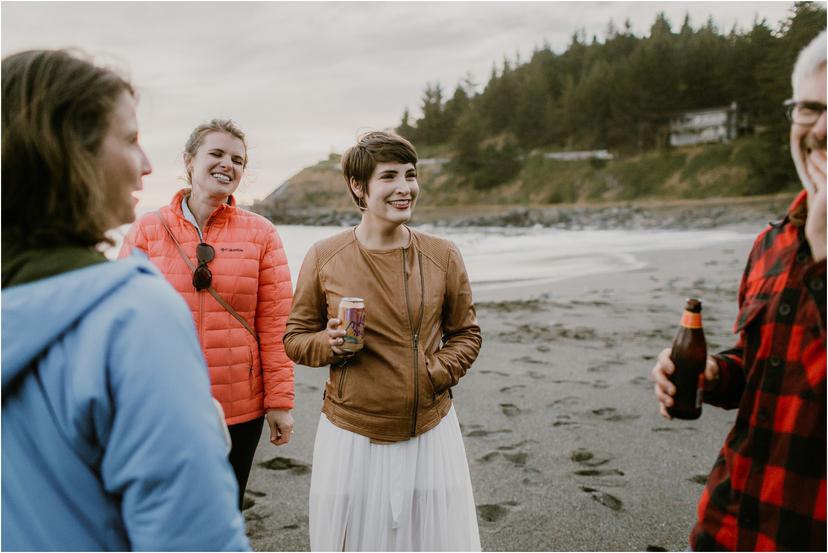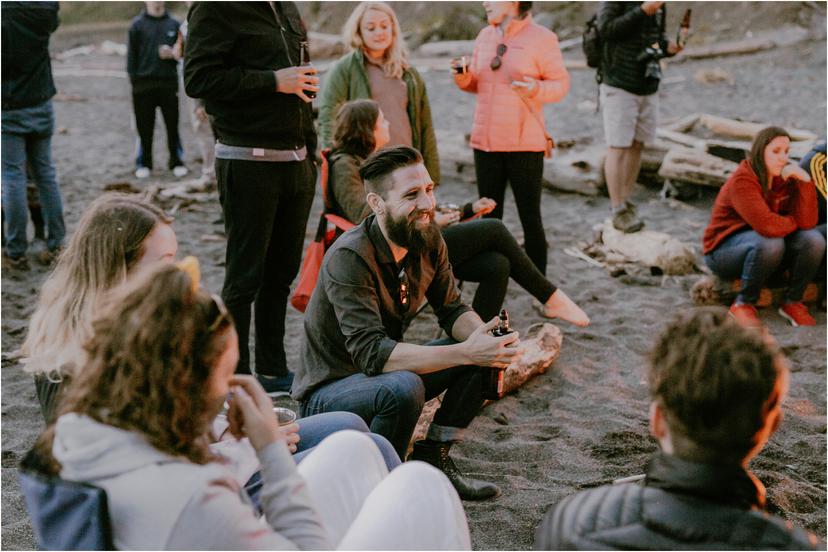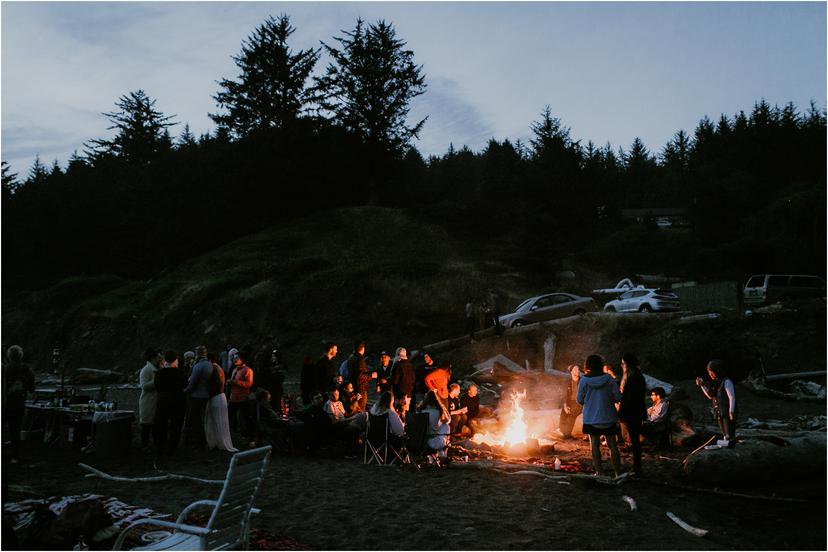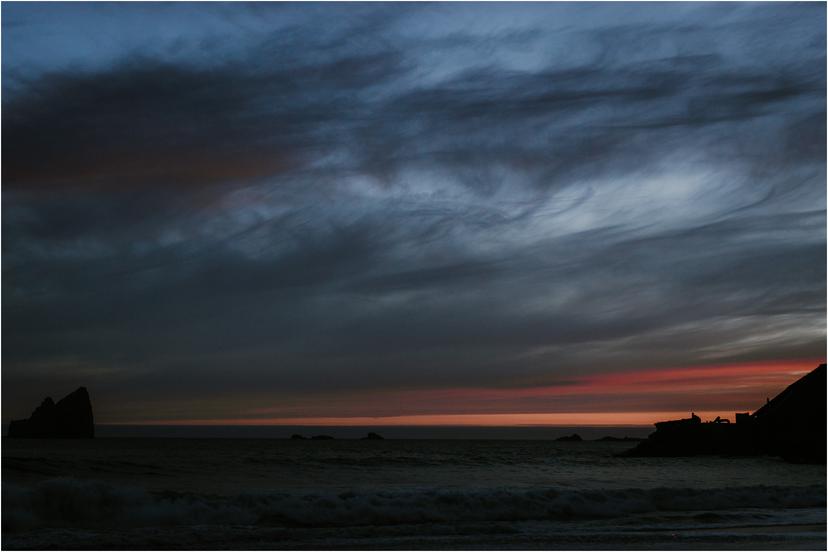 Our non-traditional wedding day
As a wedding photographer myself, I've seen a ton of weddings that feel rushed and fly by way too quickly. When designing our day, we created a laid-back timeline that started at 3pm and went until midnight. We had not one, but TWO cocktail hours, and took all our group photos before the wedding even started. You can read more about my approach and different ways to create non-traditional wedding timelines here!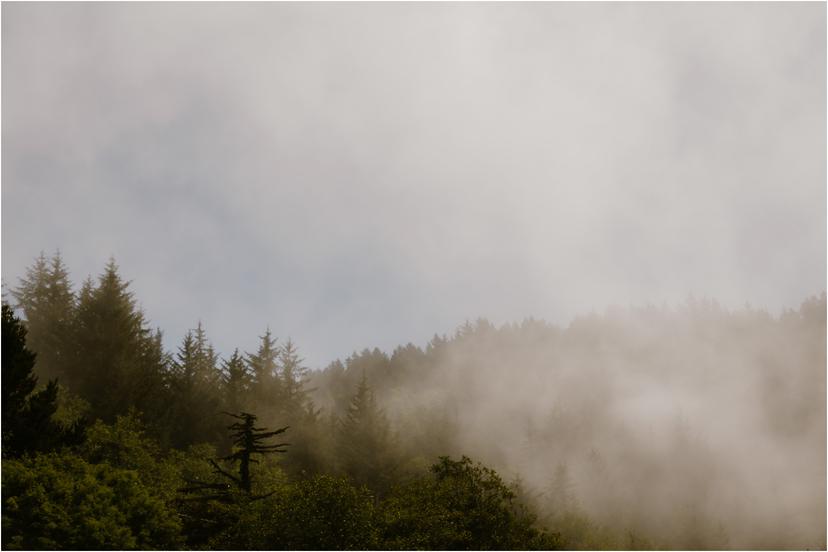 The Invitations
I designed our invites myself using Canva! Then I got them printed through PaperJam PDX, this incredible local print shop in Portland. I was able to use scans of my own watercolor bird paintings (check out more on my artist page here) as a theme on our invitations and throughout our wedding!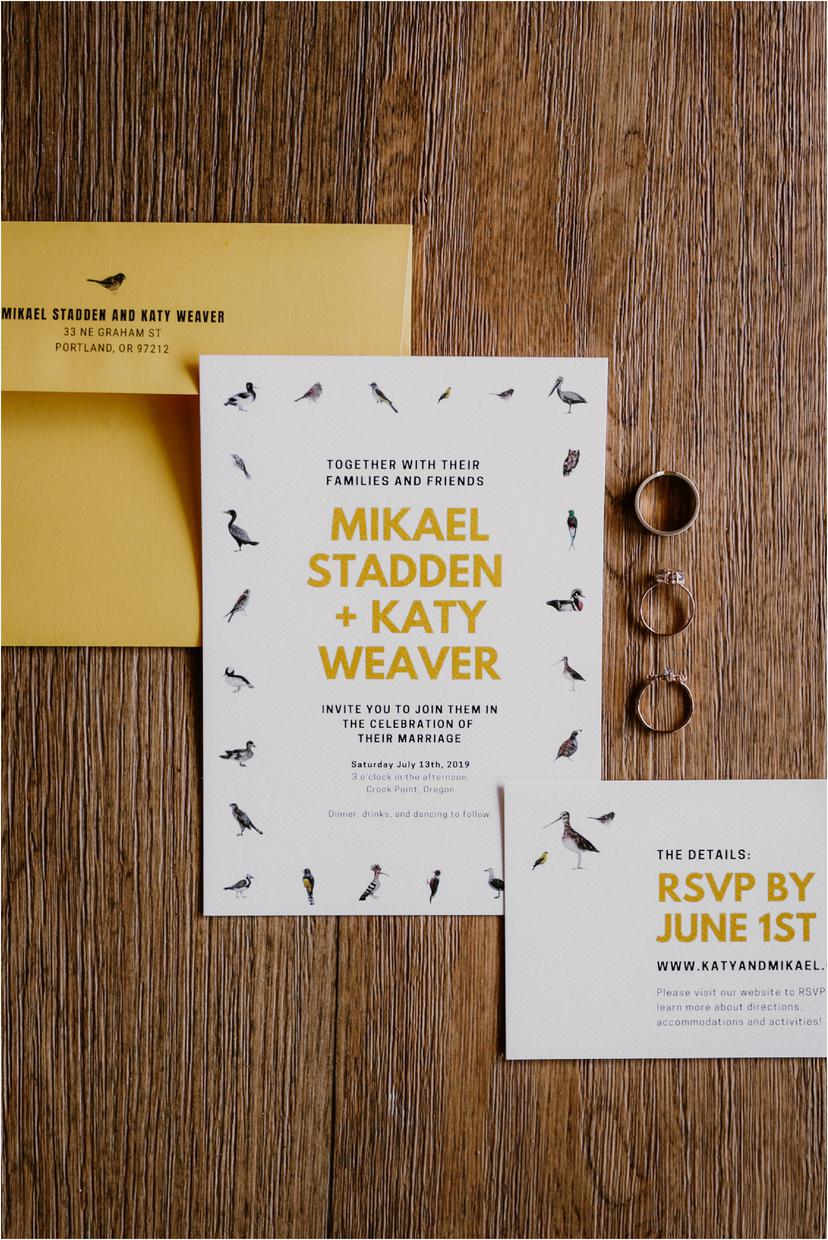 Our Rings
Mikael proposed to me in Guatemala in February 2018 with this incredible, one-of-a-kind Alexis Russell triangle ring. I am SO obsessed with her jewelry. Mikael knows I love the color yellow and my favorite shapes are triangles, so he hit the nail on the head with this ring. I love the unique color of the yellow diamond SO much too!
For my wedding band, we got a custom stacking band with small black diamonds and one salt and pepper diamond. And Mikael also got an Alexis Russell ring with a triangle cutout to remind him of me!
I personally love that triangles signify change (delta) and strength. Our officiant and close friend Jenny also used the three sides of the triangle to represent the three parts of devotion: love, loyalty, and enthusiasm.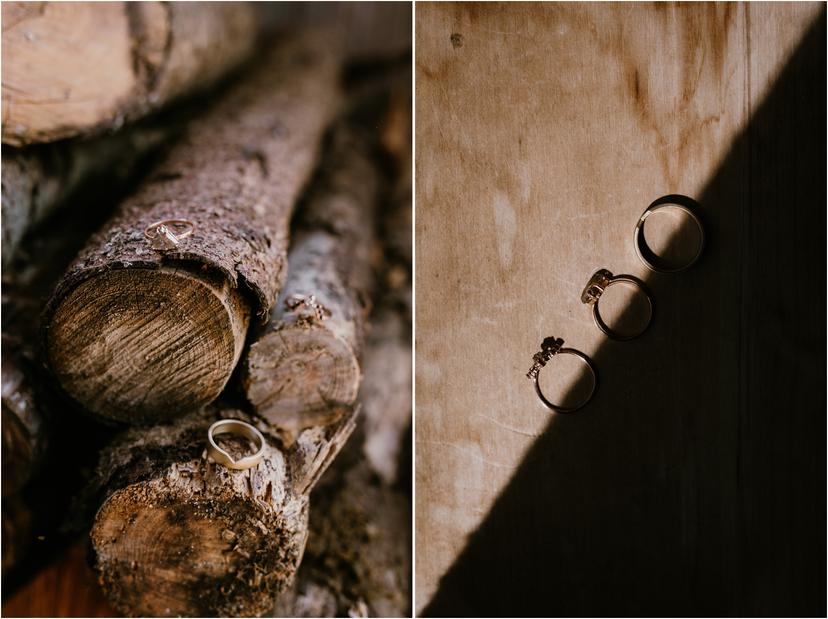 Getting ready photos of Mikael and the groomsmen
I believe that both partners at weddings are equally important, and as such, deserve equally awesome getting ready photos! A lot of couples will skimp on photography time and only get pictures of the girls getting ready, but I will tell you right now that I am SO happy to have these photos of Mikael! I love the shots of Mikael tying all the guys' bow-ties, hanging out with my dad, and drinking his favorite beer, Miller Lite. It was so fun to look through these and catch a glimpse of his morning without me!
I also LOVED his penguin socks (a gift from my mom!) and his teal Indochino suit) SO much.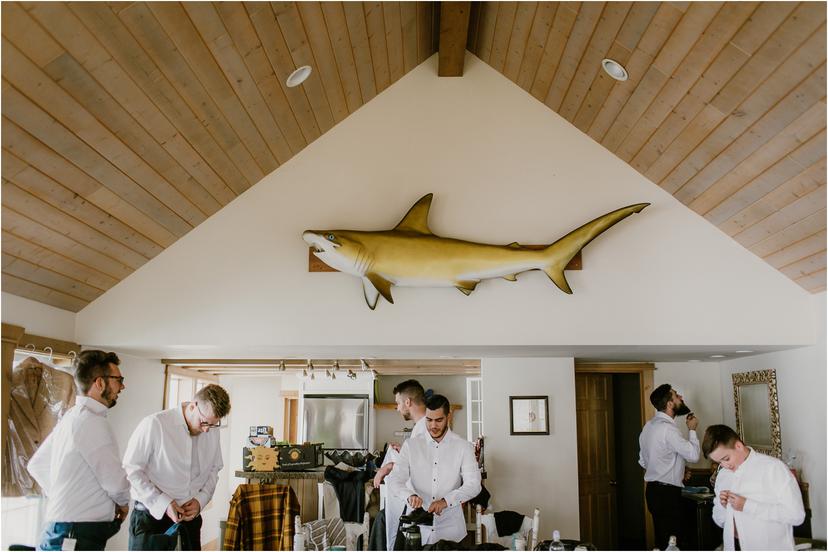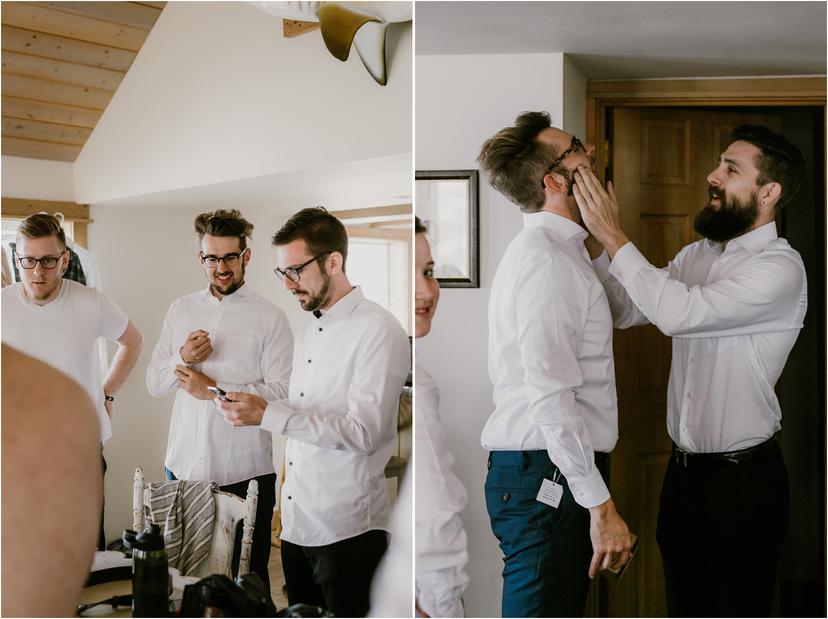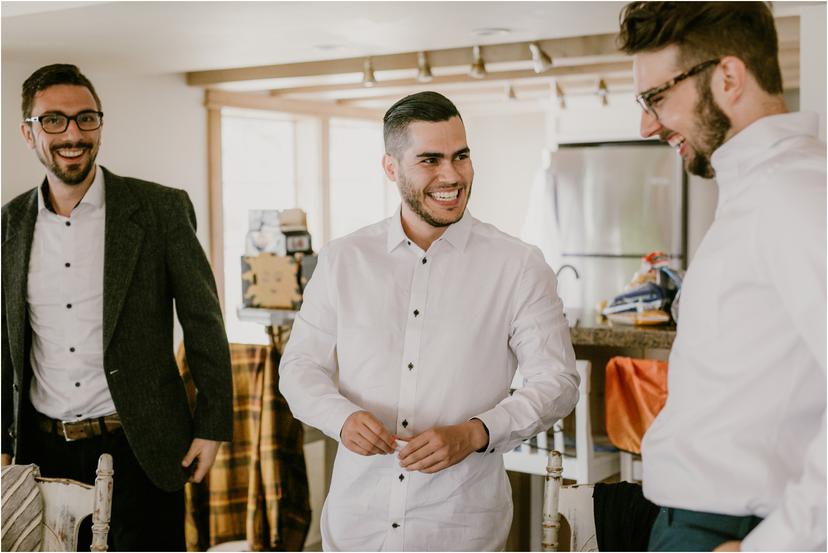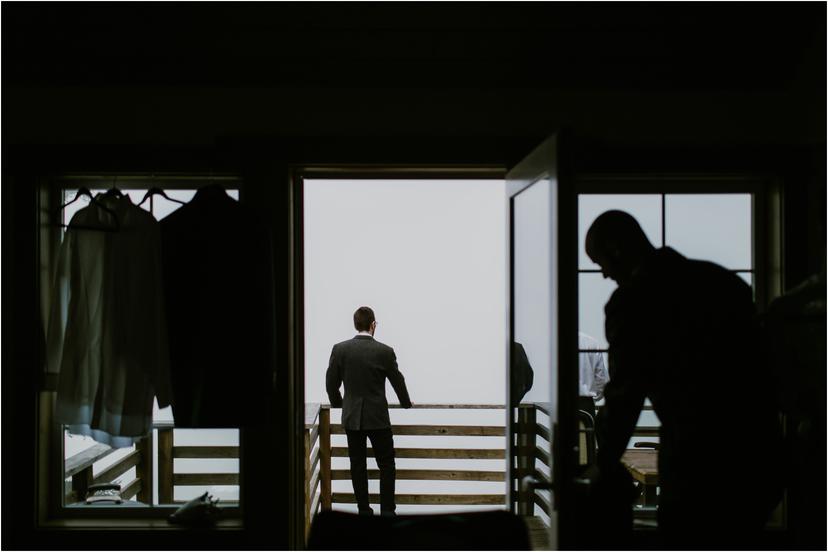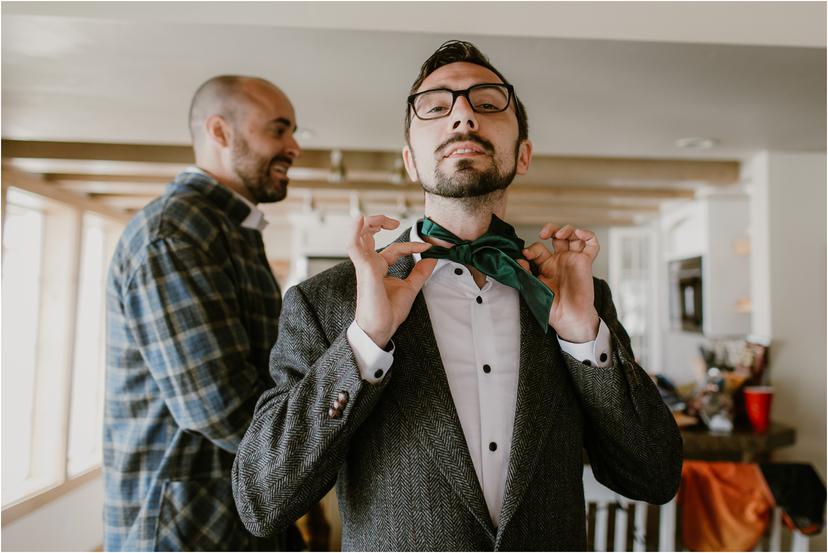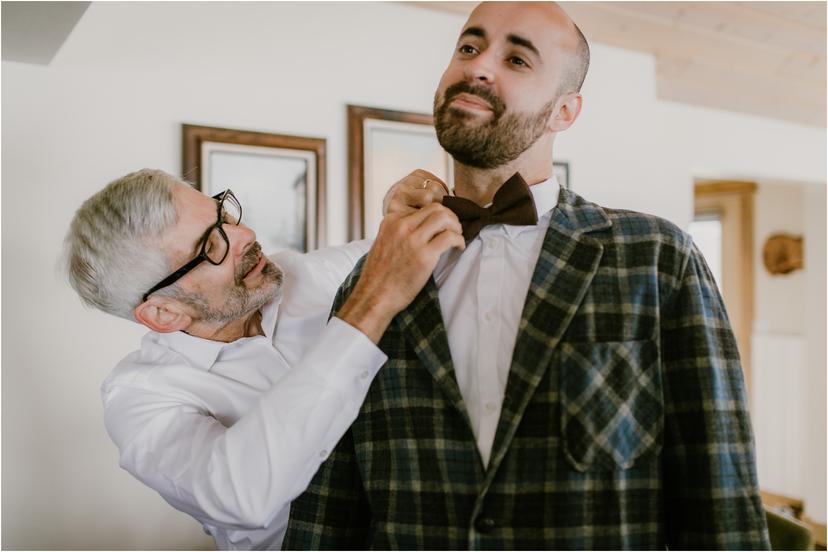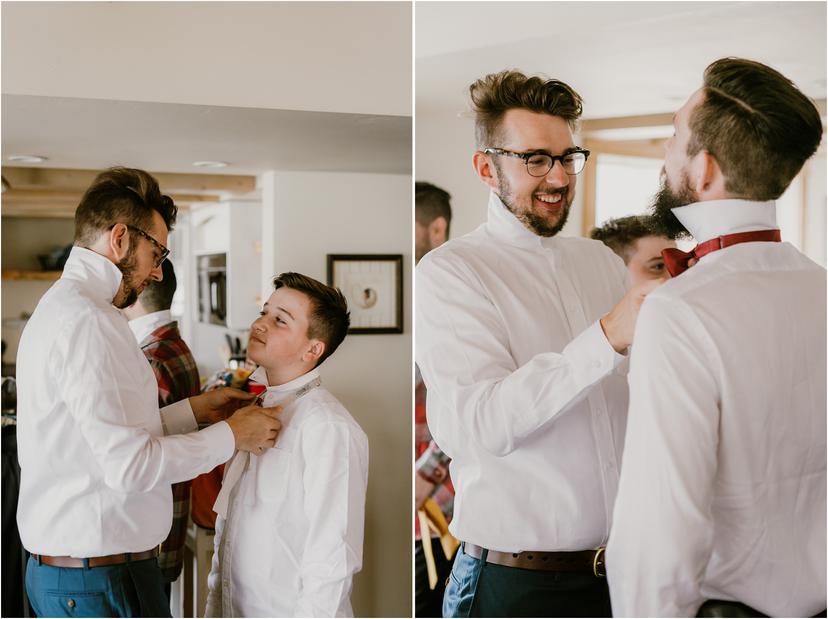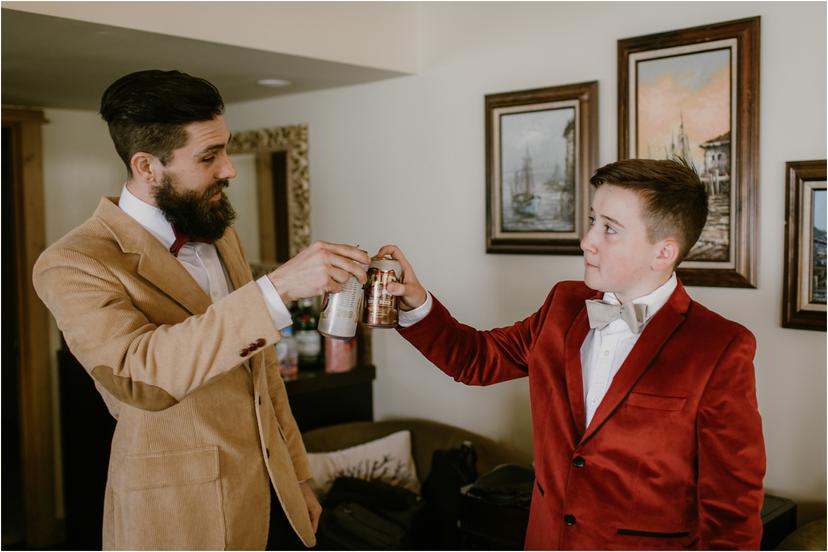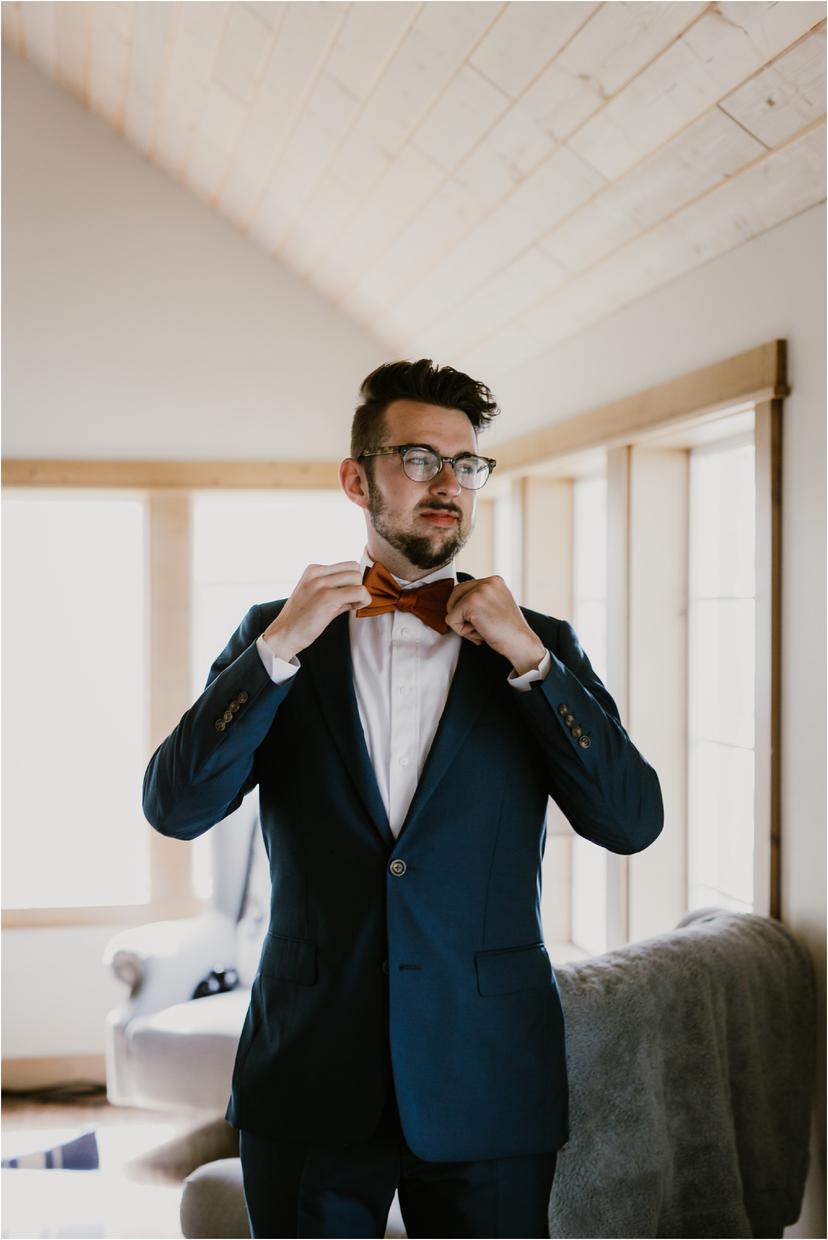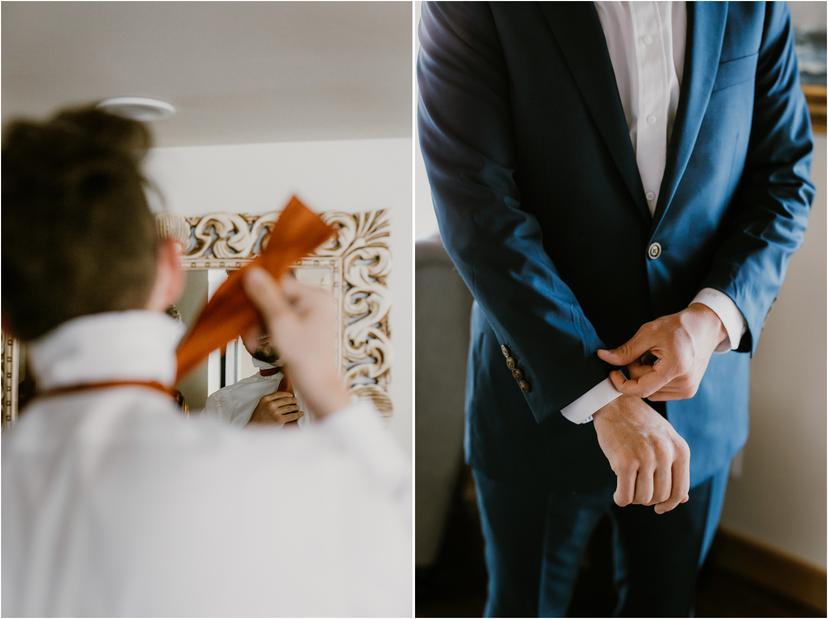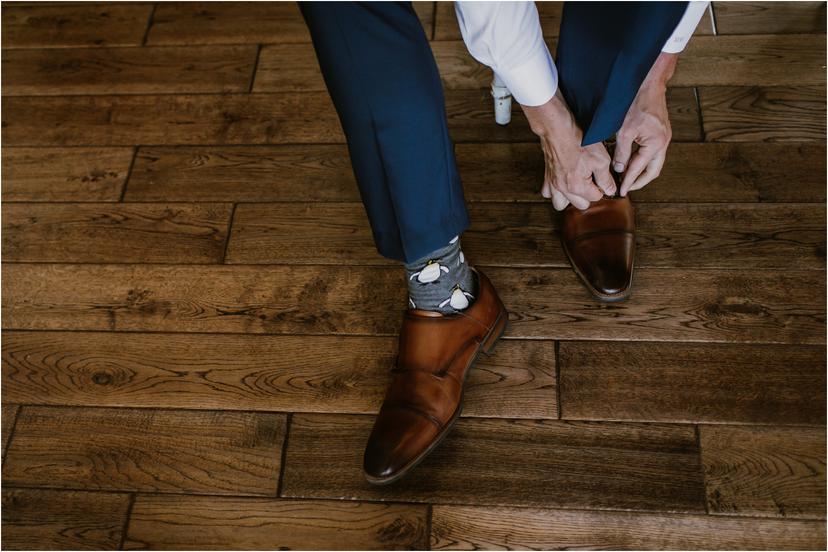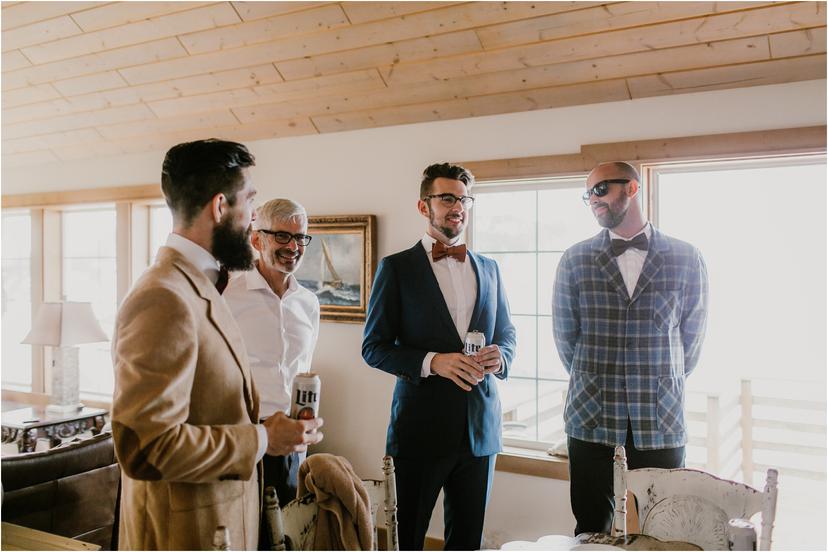 My decision to do my own makeup
One question I get ALL the time is whether or not you have to hire a makeup artist for your wedding or photoshoot. My answer? It depends. Do you want to feel pampered? Get a makeup artist. Do you like to be in absolute control of what you look like? Do it yourself. Do you feel nervous or unconfident about doing makeup? Get an artist. Do you like how your regular makeup looks and you want to look like yourself? Do it yourself.
For me personally, I know some AMAZING makeup artists (cough cough Cassandra Kennedy cough cough), but I also knew that bringing them ALL the way down to the South Oregon coast would be expensive. I reached out to Cassandra, and she reminded me that I'm pretty dang good at doing my makeup already, and her vote of confidence was all I needed. I put my money and time into Sephora and Youtube tutorials and created a bold eye/bold lip combo that was entirely me.
My hairstylist Caity gave me a perfect pixie cut a week before the wedding, so my hair was easy and took less than 5 minutes. I wore a headband that I actually made myself and cost less than $10. I bought the sequins from Mill End Store and attached it with wire to fit my head. Ta-da!
I bought my lace bodysuit and lace robe on Amazon a few weeks before the wedding. It was borderline risque, BUT it made me feel gorgeous and sexy, so whatever! I am literally OBSESSED with the photos Catalina got of me in this outfit in the light patch. It was such a fun, creative moment. My bridesmaid and BFF Marcela helped us by holding my robe up to the light for one of the shots, so the pattern could fall on my face. It was such a goofy, photographer moment that set the stage for a great day.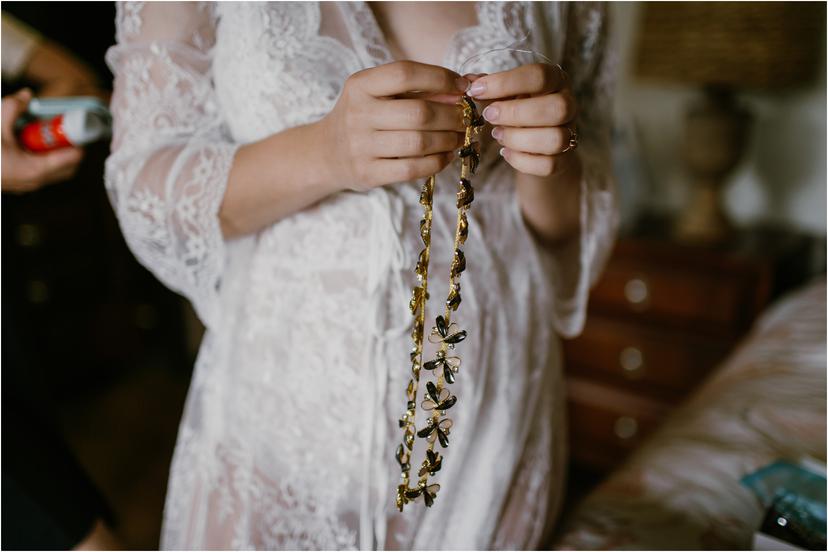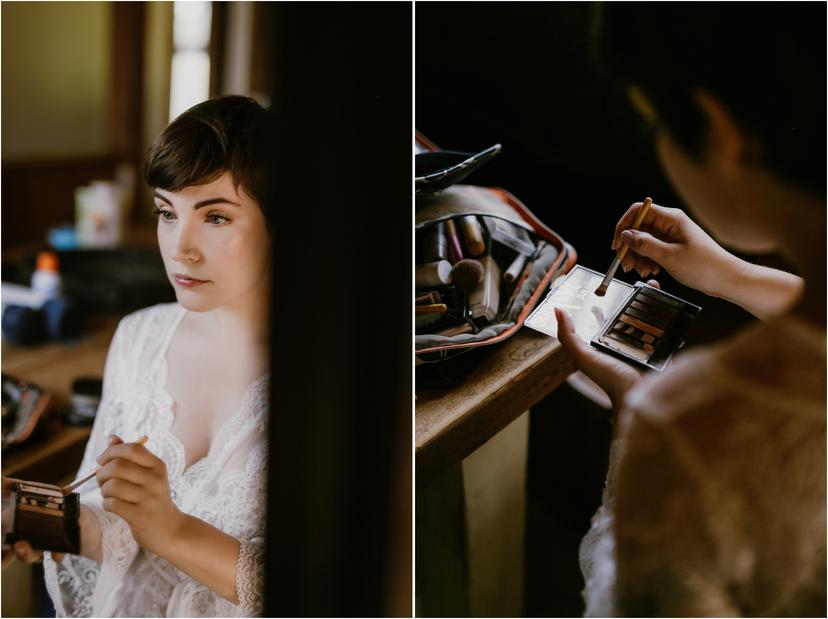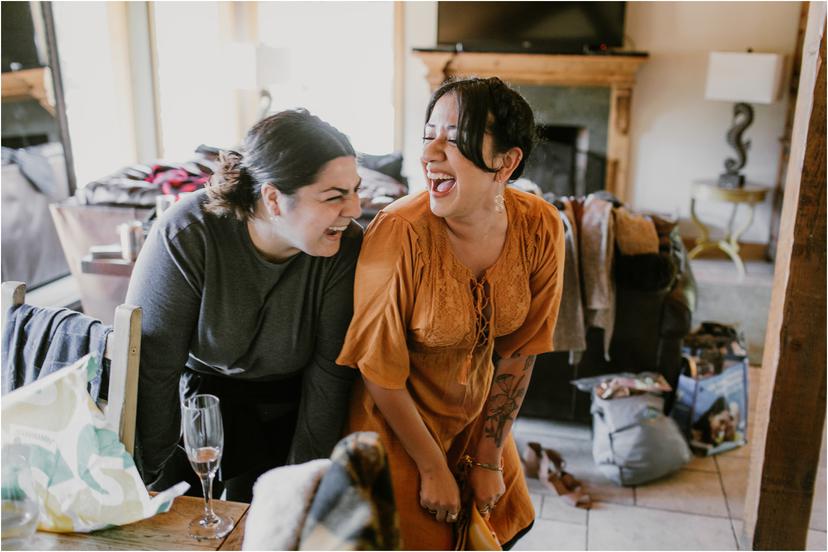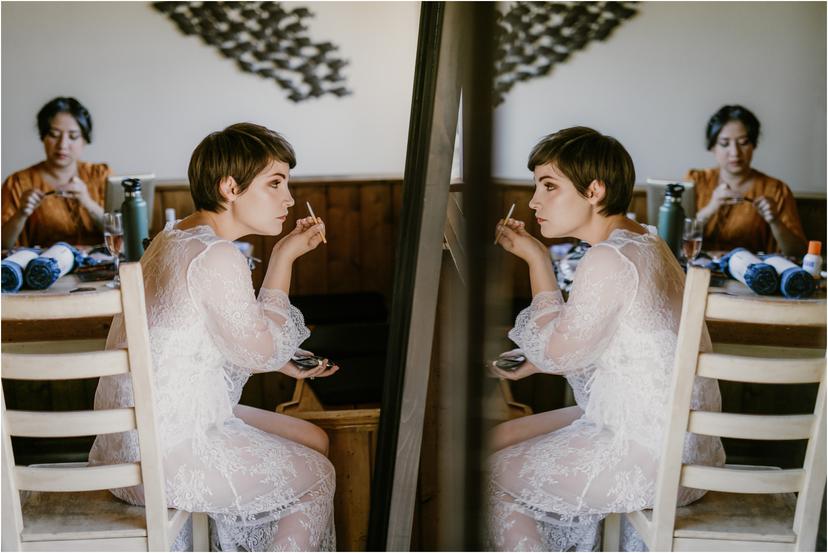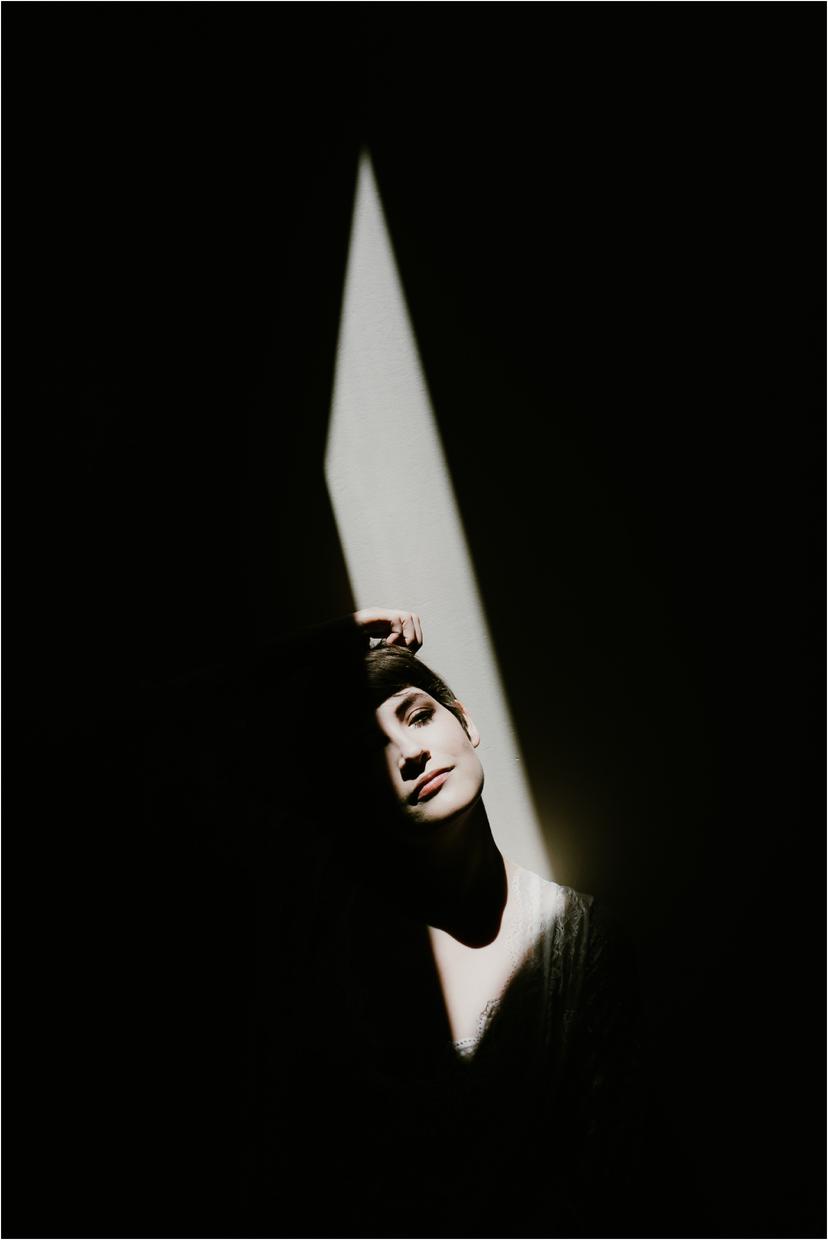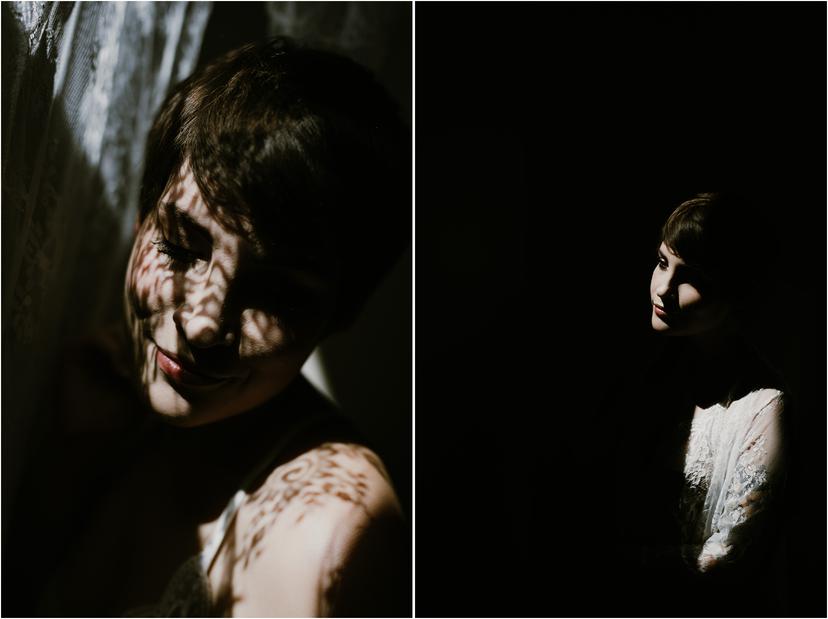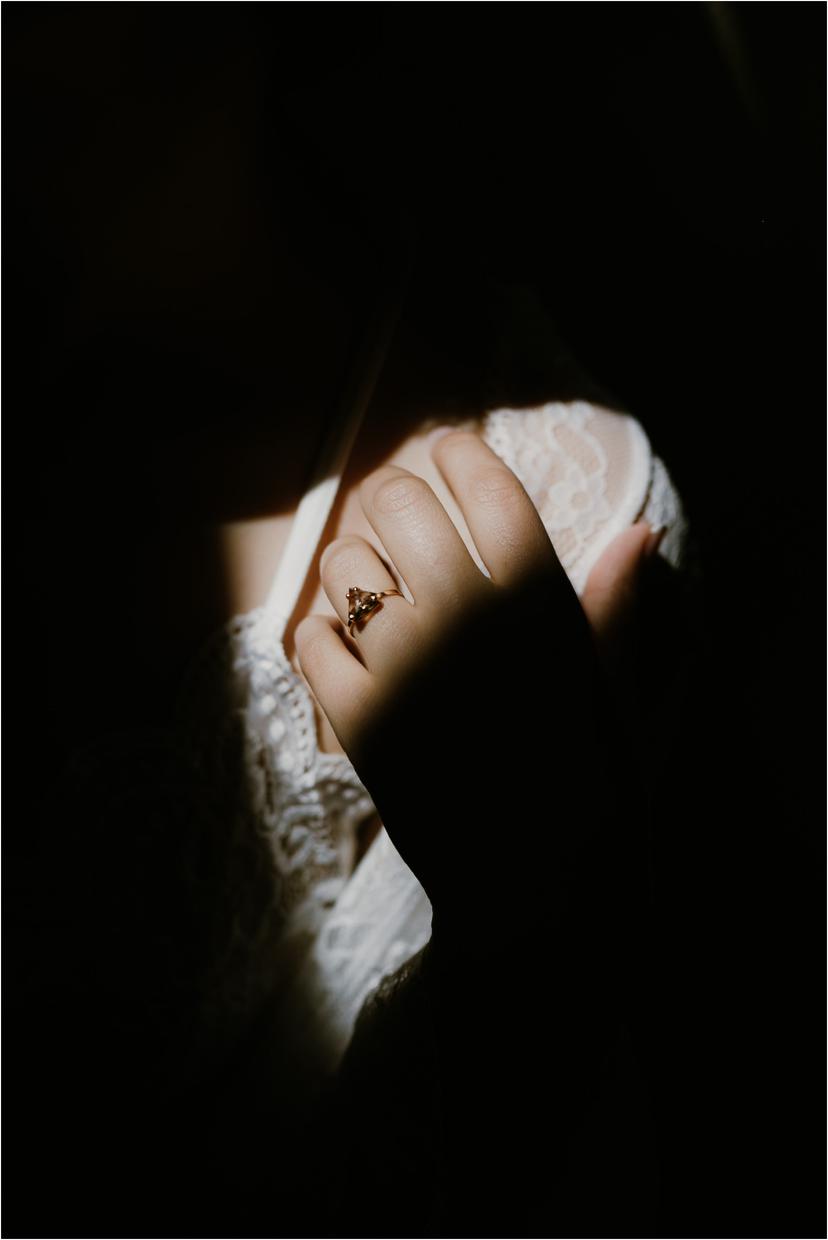 Why I chose my wedding dress
I was NOT one of those brides who was excited to go dress shopping. I hate shopping. I waited almost an entire YEAR after getting engaged to even start looking for a dress. I was nervous and had to drink lots of rosé to make the experience more comfortable.
I shopped at BHLDN, The English Department, and A & Bé Bridal. The experience went better than I had hoped, and it was more fun than I expected. I wanted to get something long-sleeved and modern, but as my bestie aptly pointed out, "Katy, maybe it's like Harry Potter. You don't choose the dress. The dress chooses you."
I didn't even want to try on this Calla Blanche dress. Cap-sleeves? Hell no. But then I did anyway. And the lace pattern looked like feathers. And the cap-sleeves actually weren't half bad. And I looked like a forest-fairy. I didn't want to take it off. The decision was made. It was completely different than I expected, but at the same time, entirely right. The girls at A & Bae were super supportive too and I was so happy to buy it from them!
I lost about 17 pounds using Noom before the wedding, and my best friend's mom Colette Dieringer helped me alter the dress to fit perfectly. She also made my veil!
I didn't want to wear significant heels or anything fancy, so I was thrilled when I discovered these cute AND comfy Old Navy shoes! The mustard color was exactly what I wanted, and they were super easy to walk in on grass. I did take them off and go barefoot for a while too though!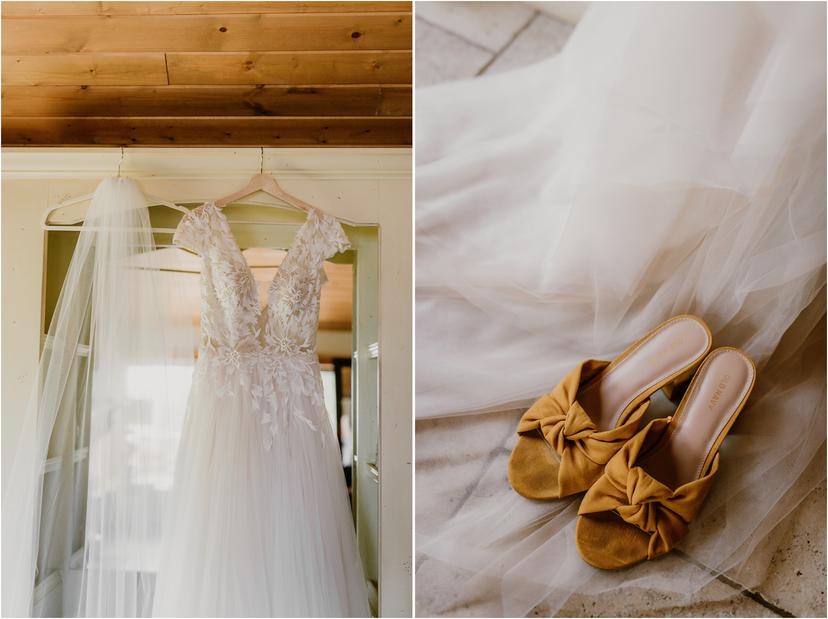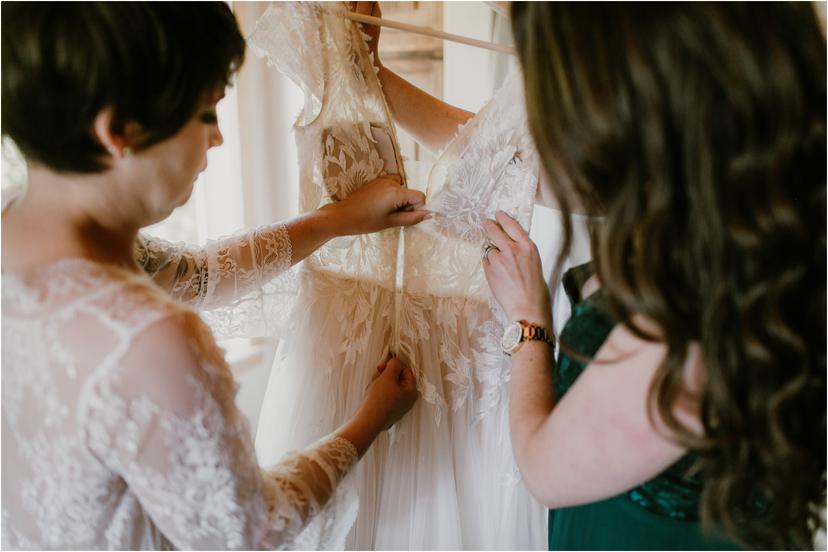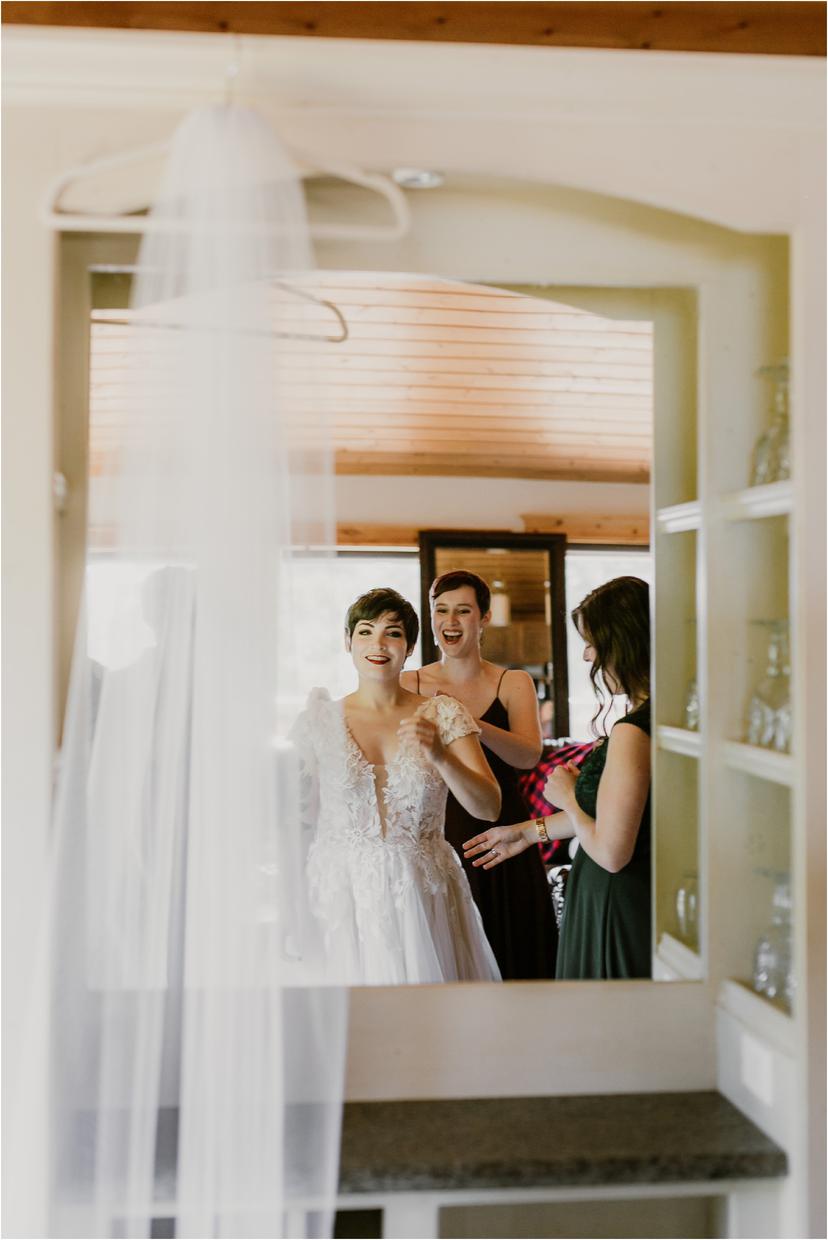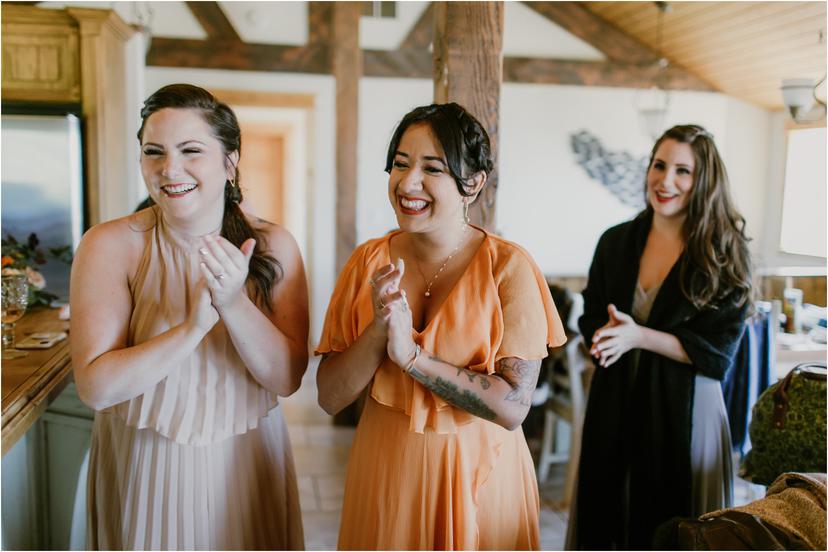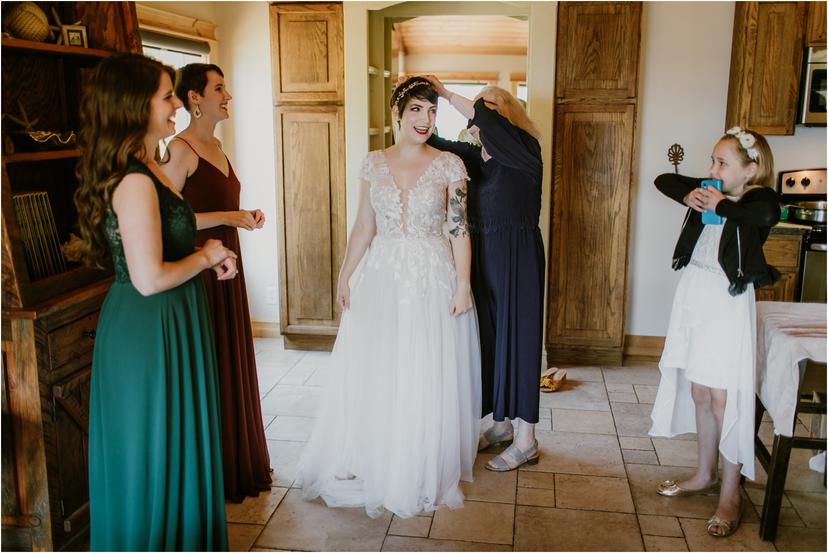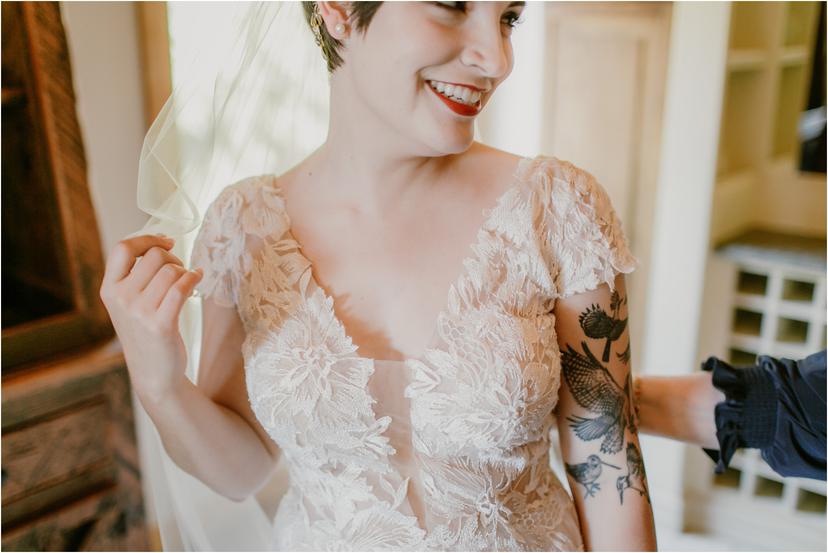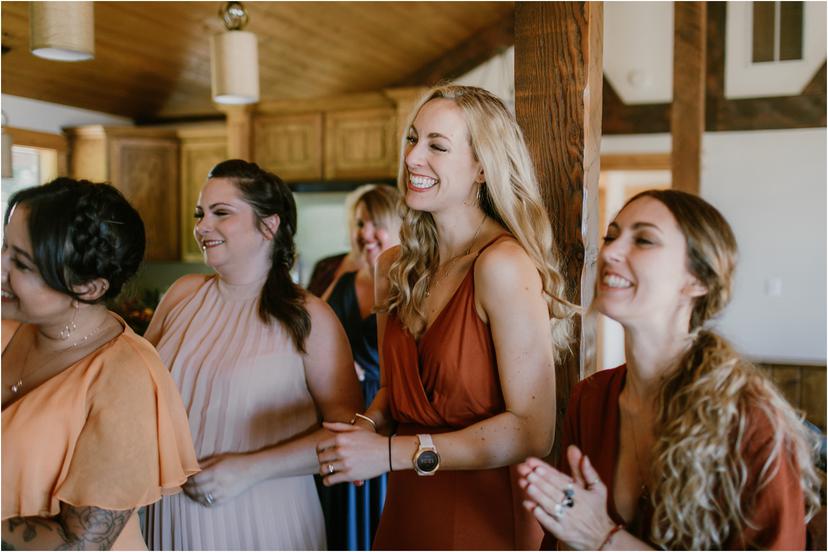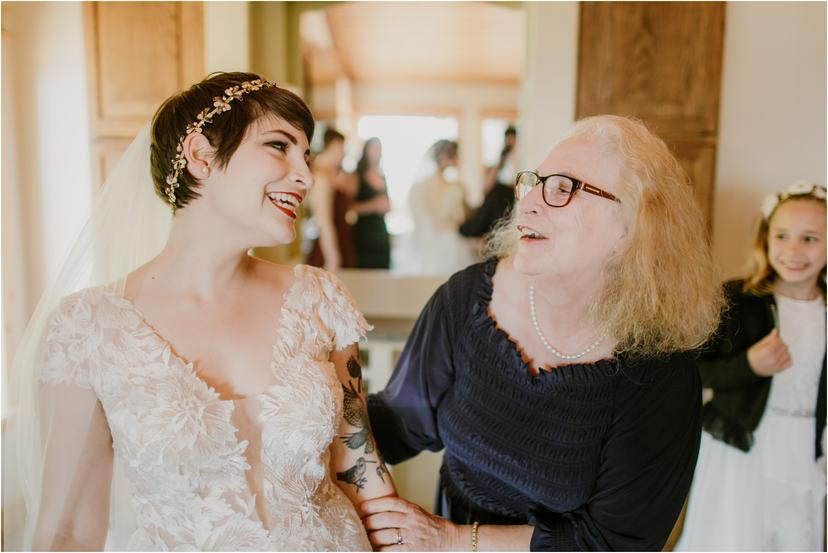 Why we did a first look
Mikael and I decided to see each other before our wedding ceremony because we wanted to maximize our time together and with our guests. We knew we wanted to take ALL the formal group photos before the wedding started so we could just enjoy ourselves for the rest of the day. I am SO GLAD we did this. It made everything so easy, relaxed, fun, and stress-free. You can read more about why first looks are AWESOME on this blog post here!
Storytime. I'm definitely guilty of making my couples walk a long way to their first look locations. So when Catalina decided to do our first look on the beach, ACROSS A SMALL RIVER, I was like "oh, this is karma." My BFF Marcela helped me carry my dress all the way down the huge hill, and helped me ford the creek successfully. I was laughing so hard.
I knew I wanted to be emotional and cry a lot on our wedding day, but the first look just wasn't like that for us! I think I was giddy with excitement and bouncing up and down because I had never seen Mikael in his wedding suit before. I was WAY too happy to cry at that moment. It was like excited-happy, not tearful-happy. Which is okay! You don't have to cry! He didn't, I didn't. It was still extraordinary. And as soon as we saw each other, a cheer erupted from the hillside! Apparently, our wedding party watched our first look from a distant beach house. It felt totally private at the moment, but it was so cool to hear everyone cheer afterward!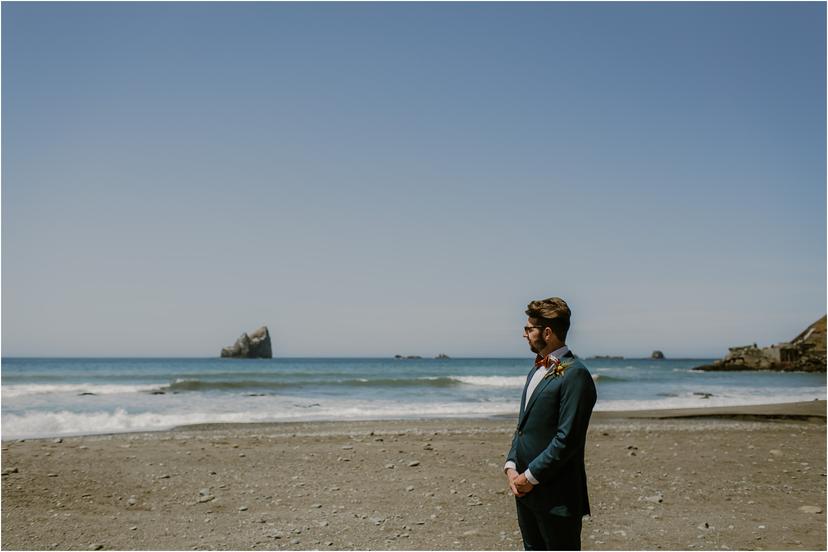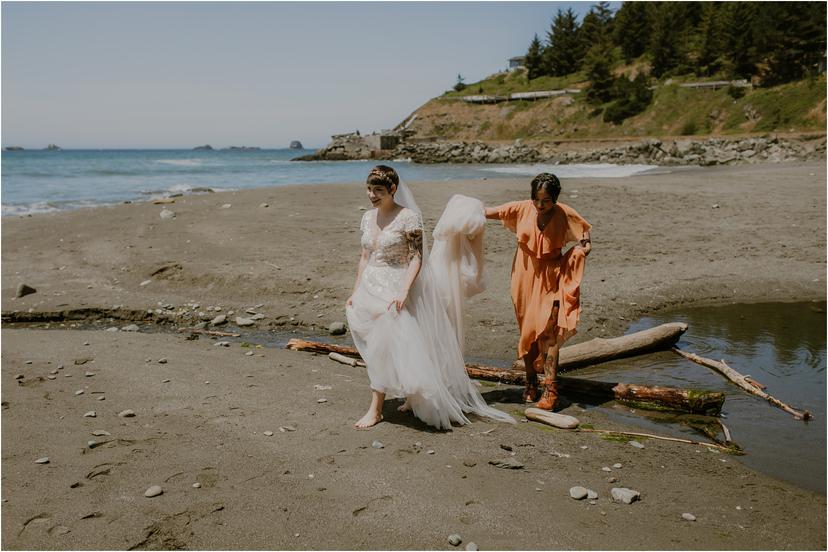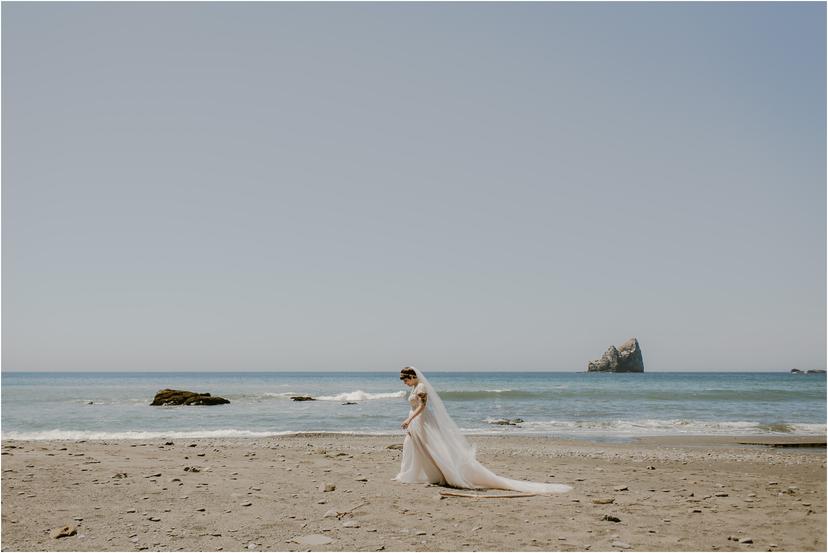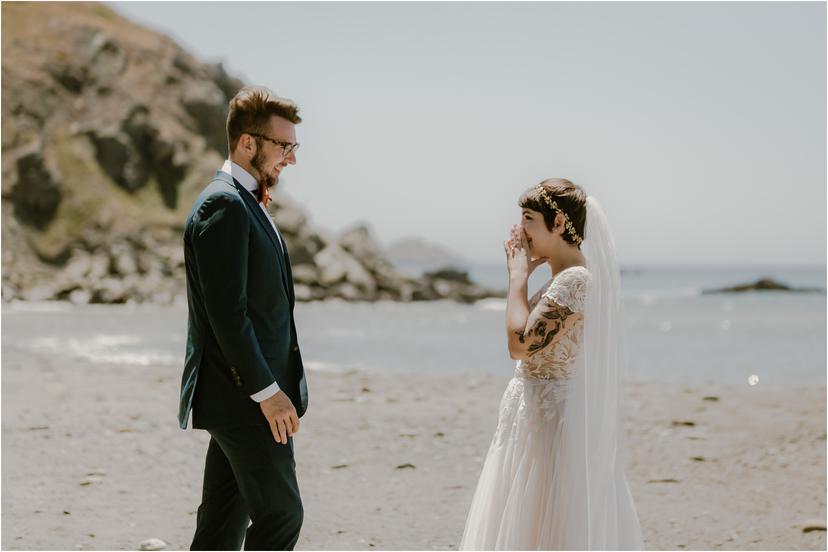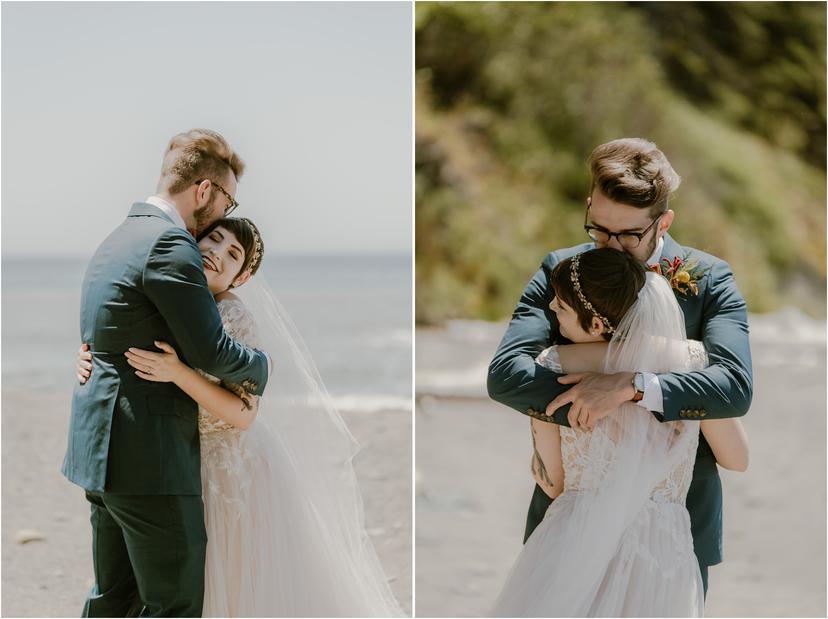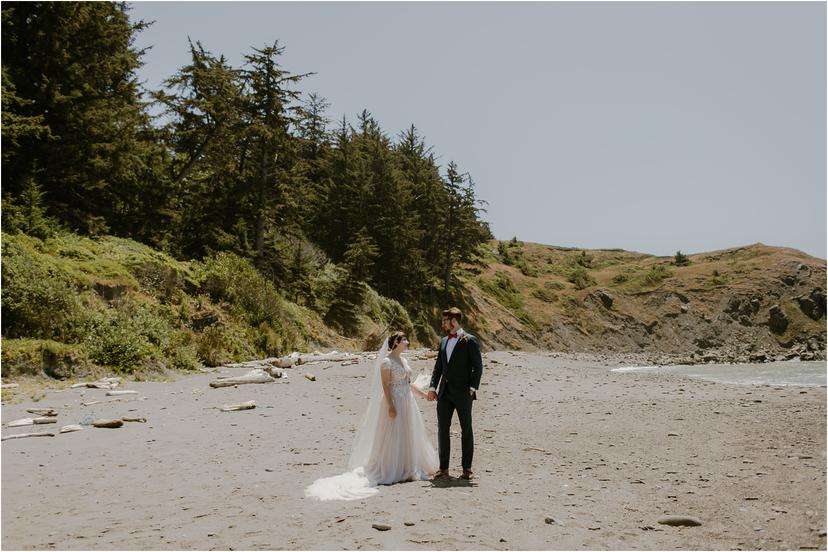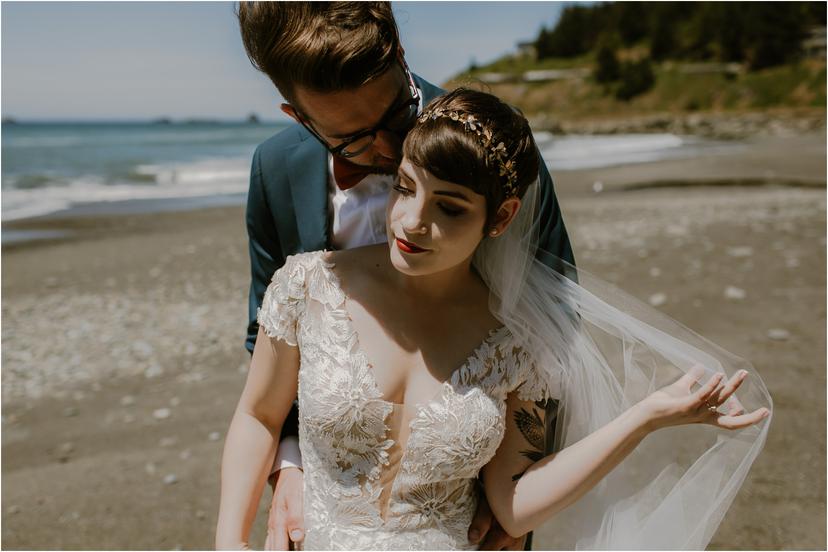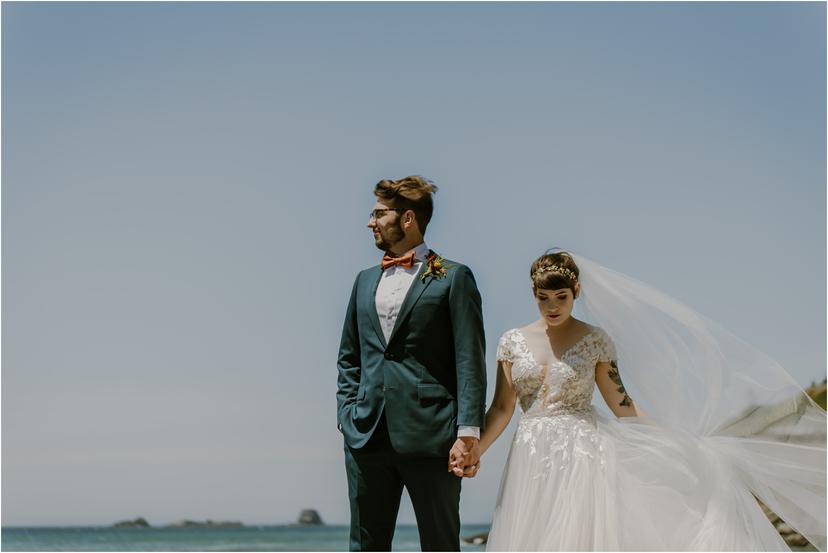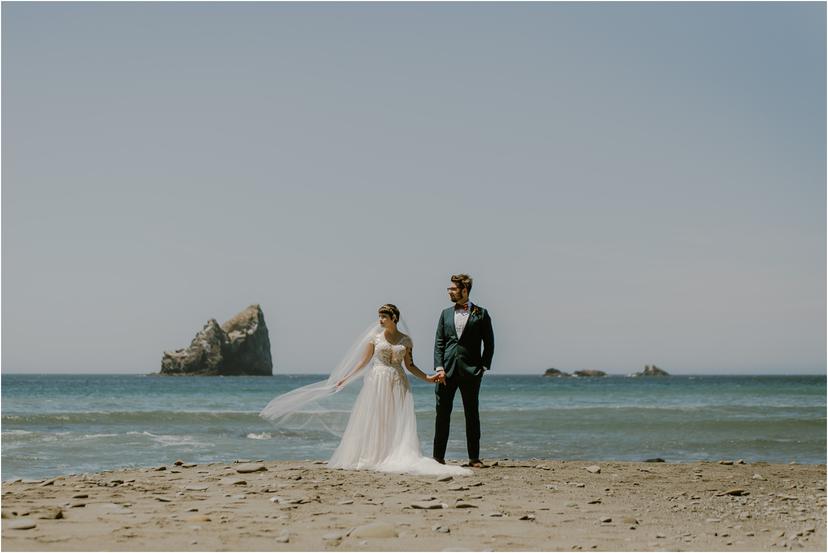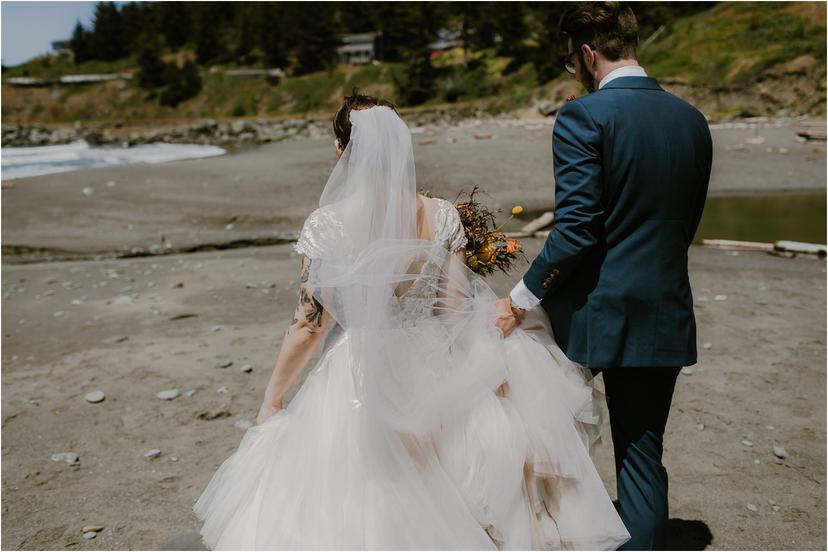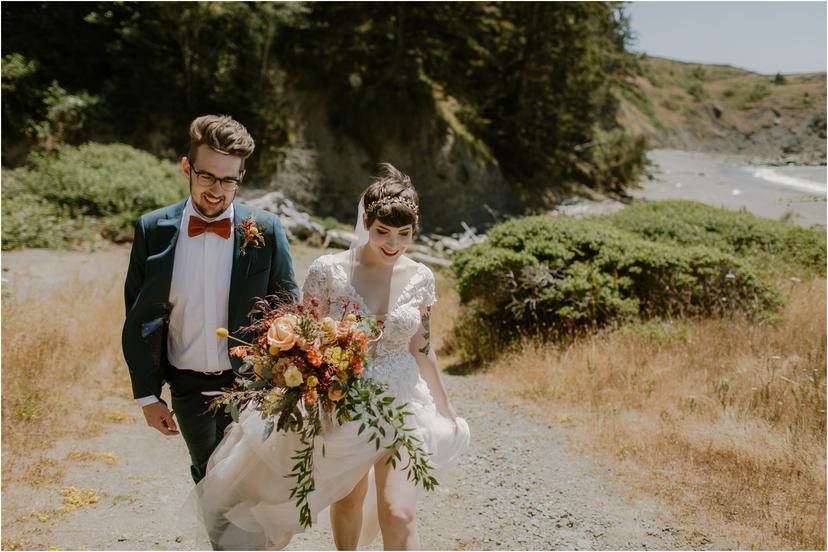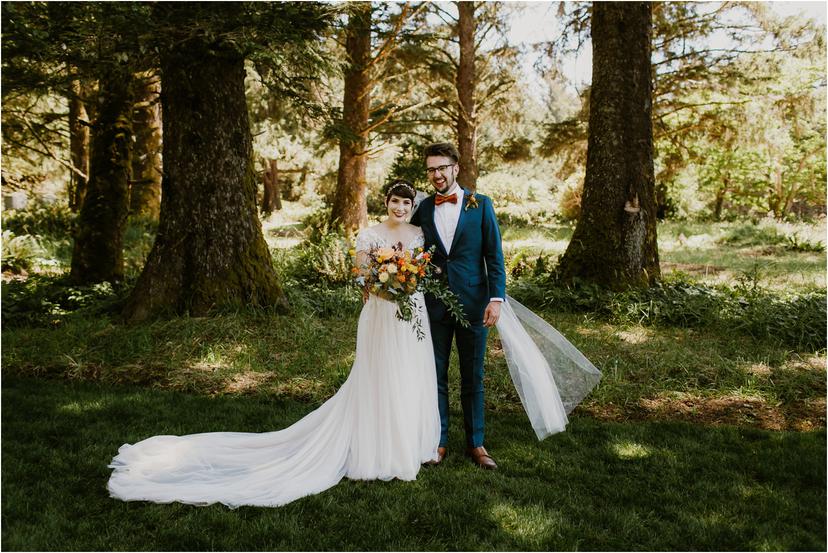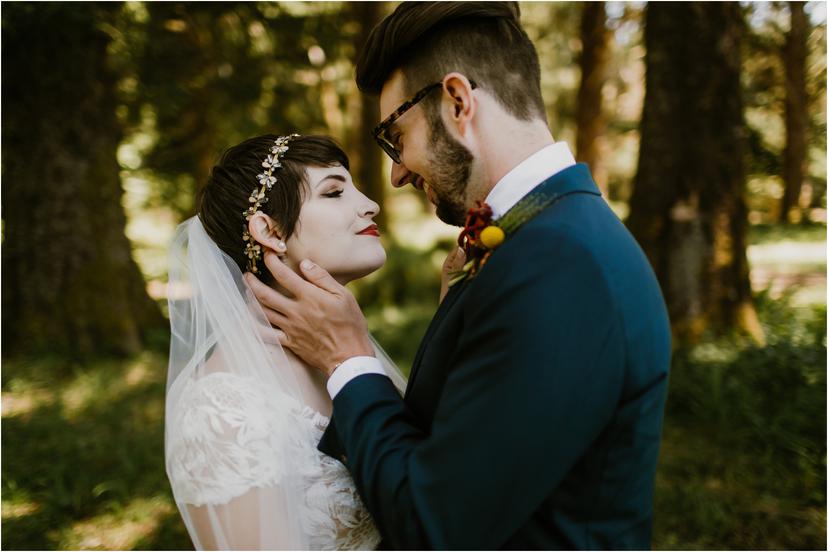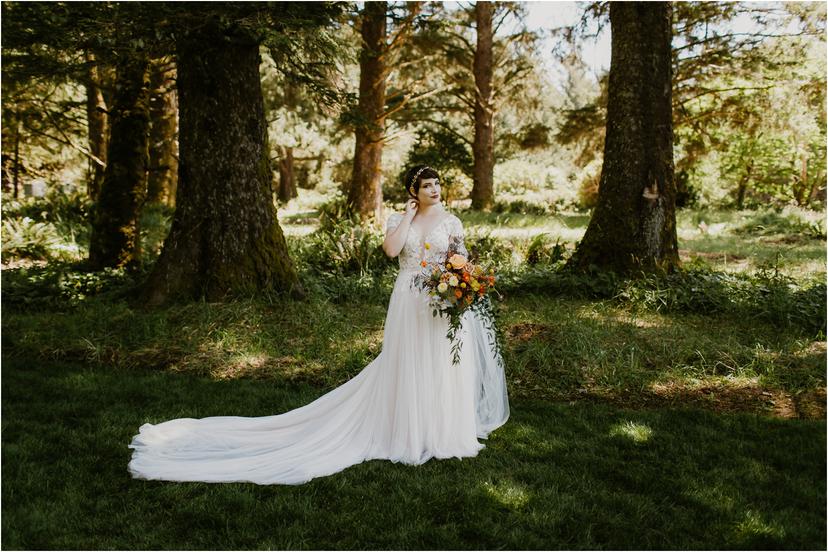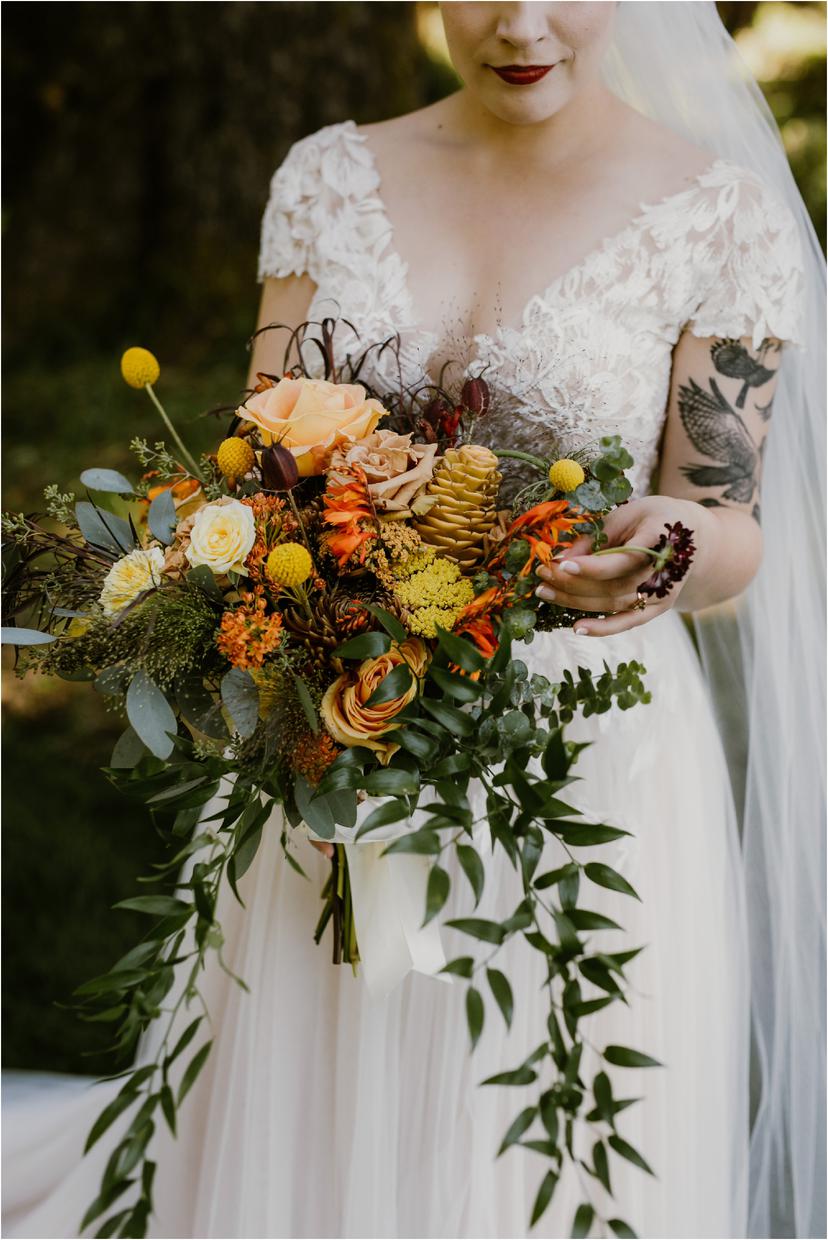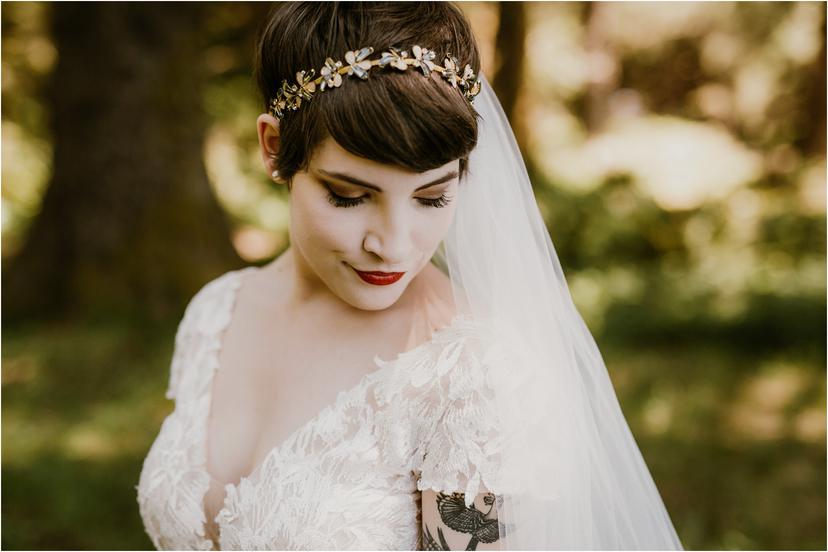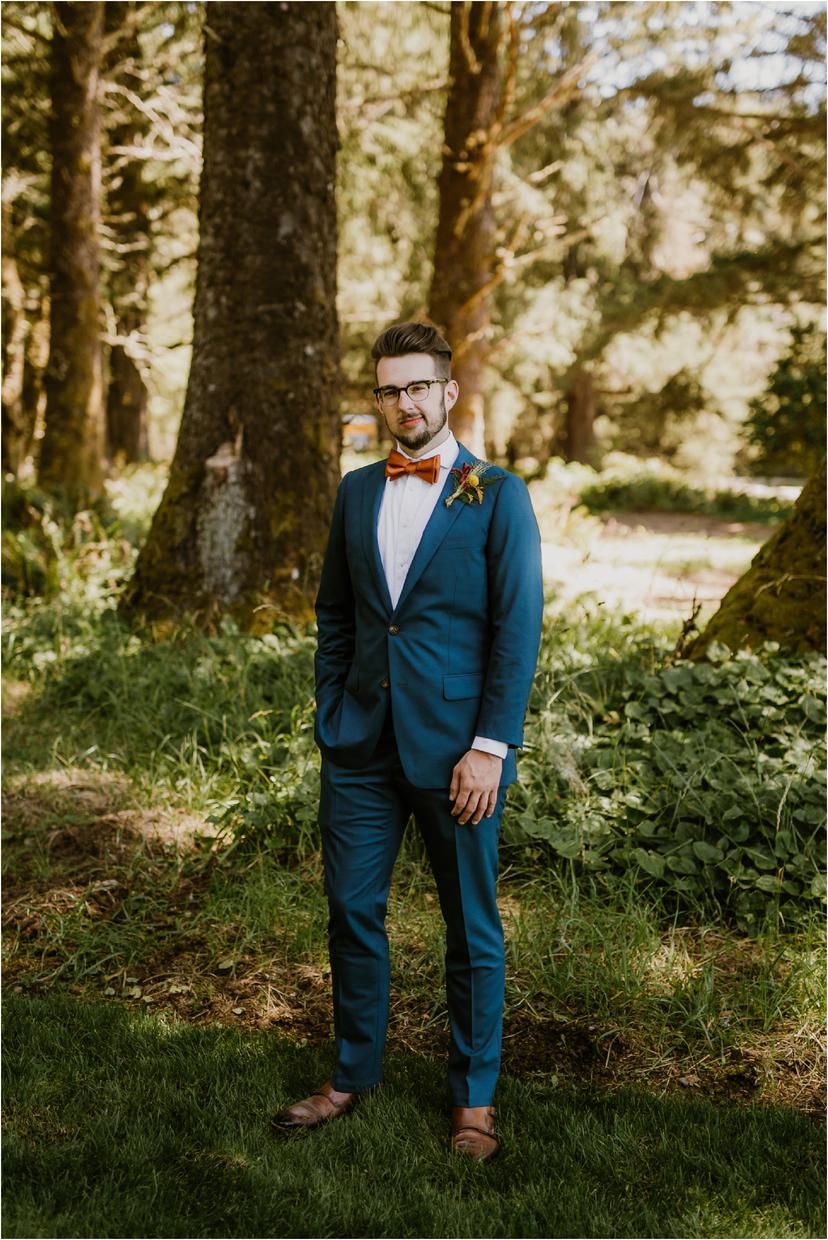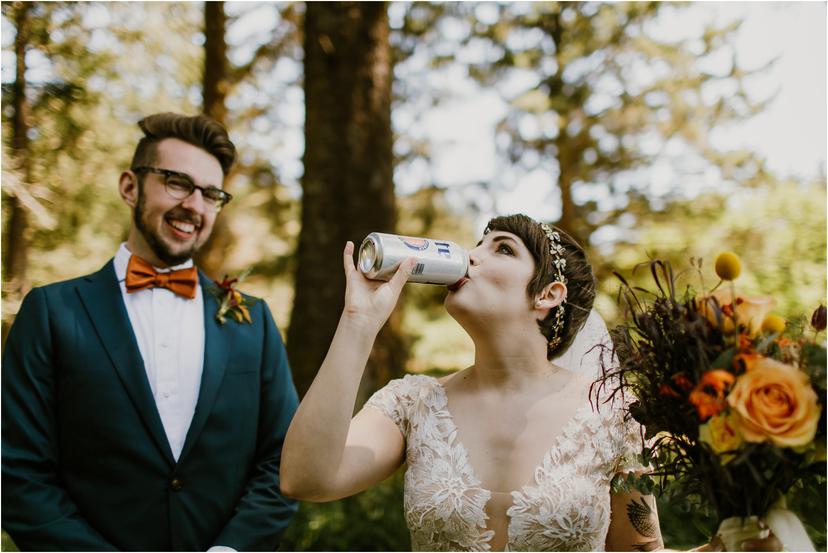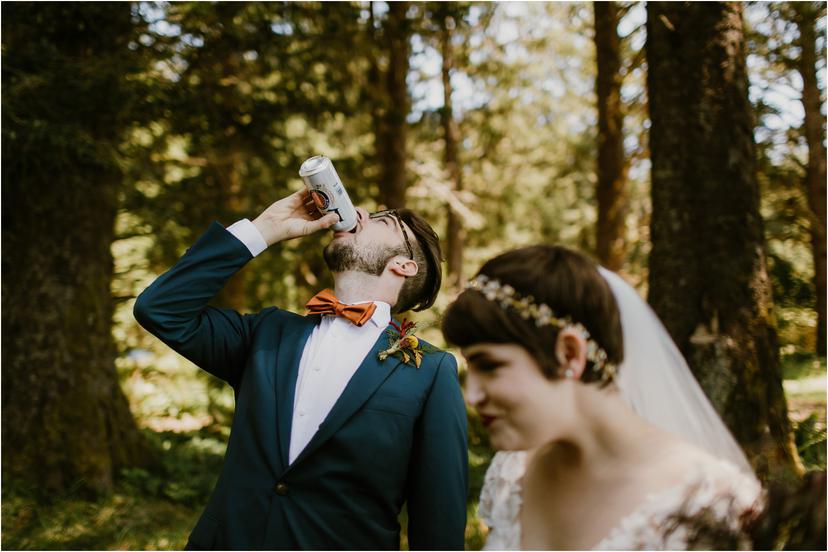 How we picked our colors and wedding party attire
The color scheme for our wedding was reflective of all my favorite colors (and admittedly, my own branding on this website lol). But it was also influenced heavily by Mikael and his unique ideas for his groomsmen. Mikael collects vintage Pendleton blankets, as well as plaid vintage Pendleton jackets. He approached me one day with the idea of having all his groomsmen wear Pendleton jackets, and I said, "why not?" However, after a little more thinking, I decided it made more sense for only half of them to wear plaid, so the groomsmen didn't look TOO much like lumberjacks. The colorful bow-ties (Mikael's favorite) elevated the look, so it wasn't too casual.
From there, we came up with a mix and match color scheme that was focused on mustard yellow, burnt orange, dark teal, wine red, forest green, gray, and tan. It was like an autumnal rainbow, and I was so happy how it came together. We repeated the colors throughout the wedding, in the bridesmaids' outfits, the florals, the handmade place cards, seating chart, and the fun triangle curtain I made for the lounge area.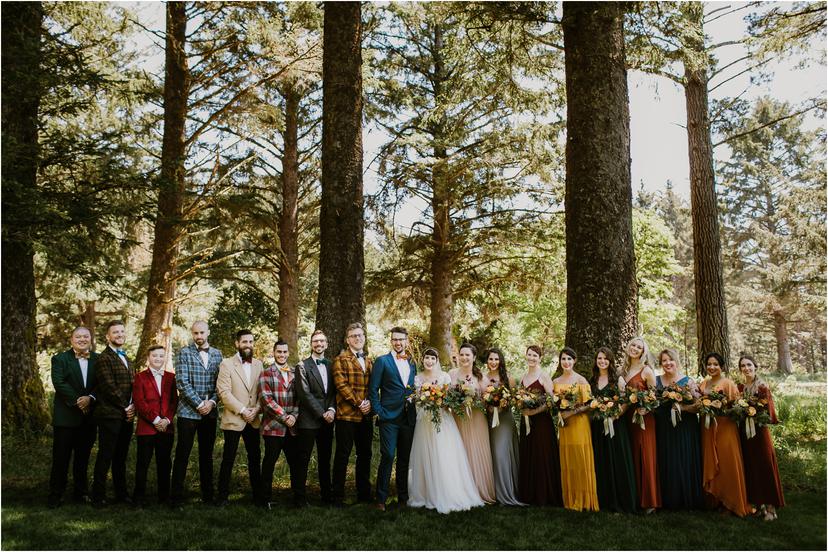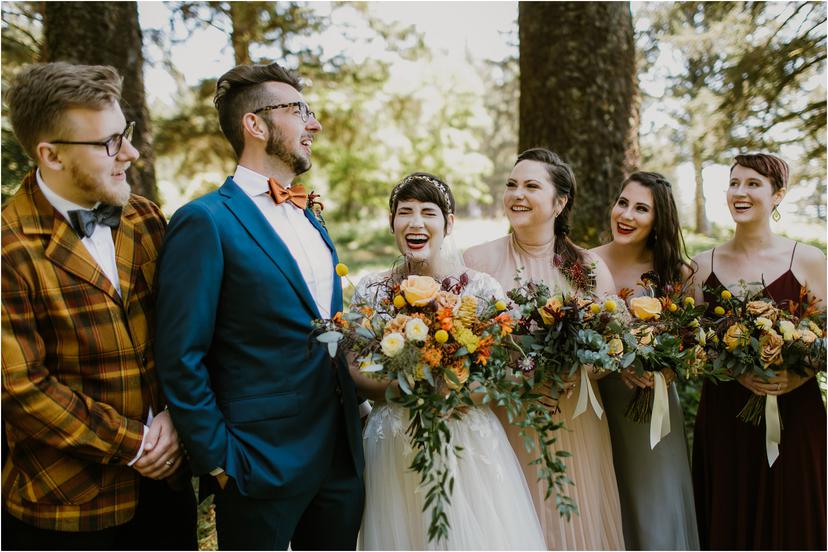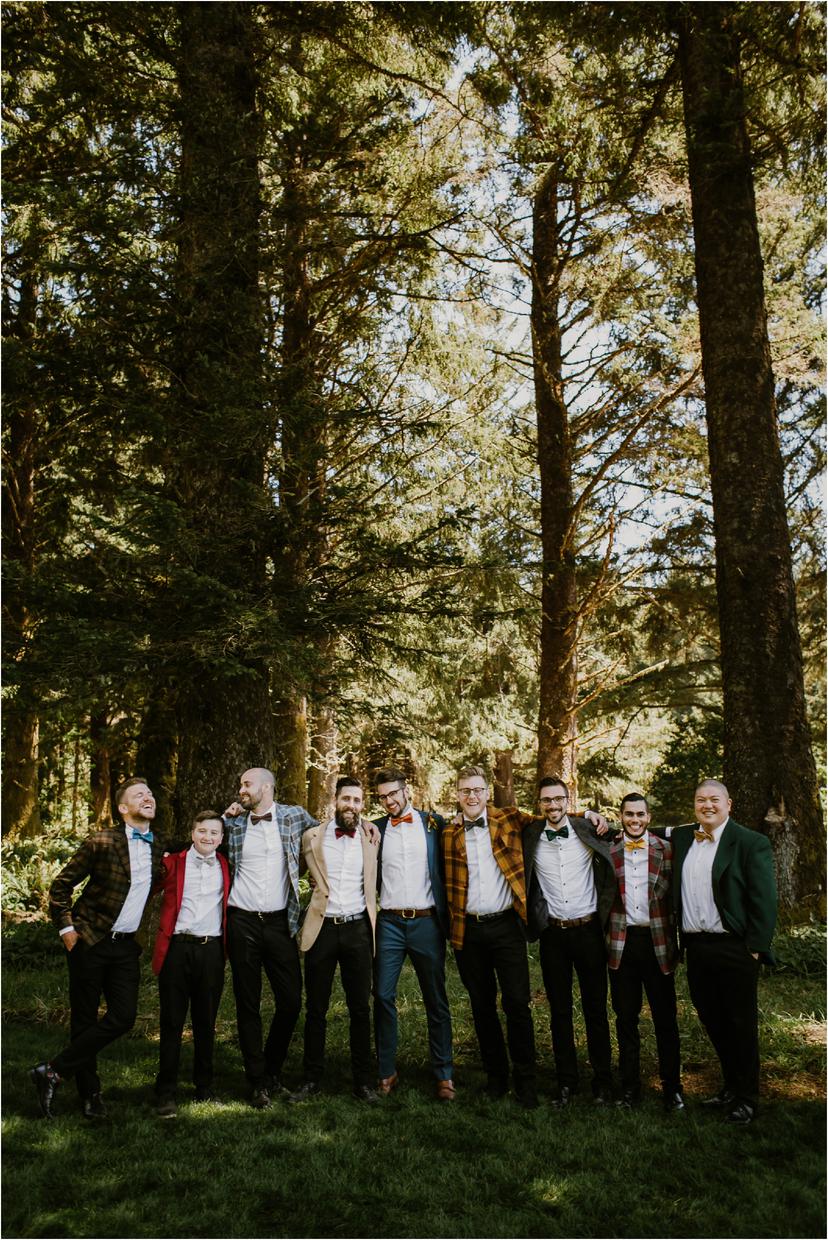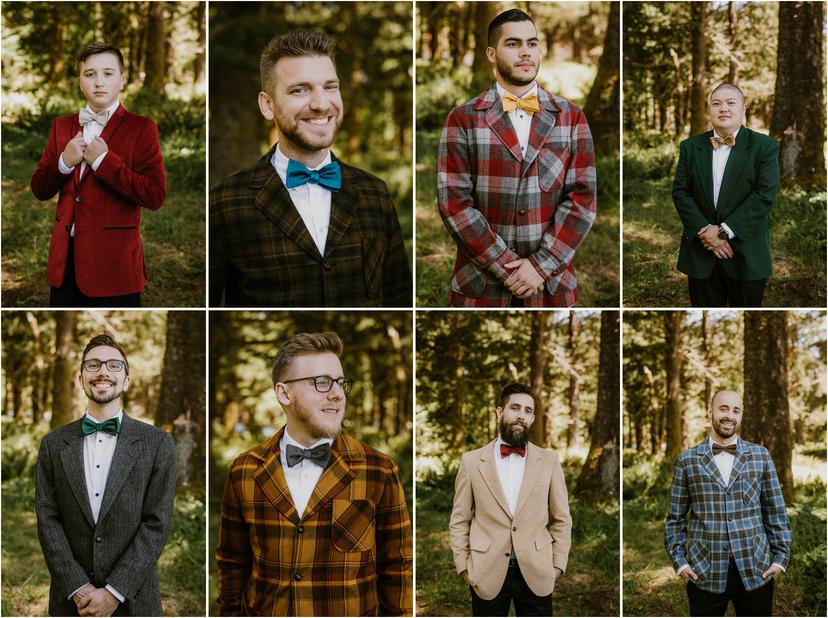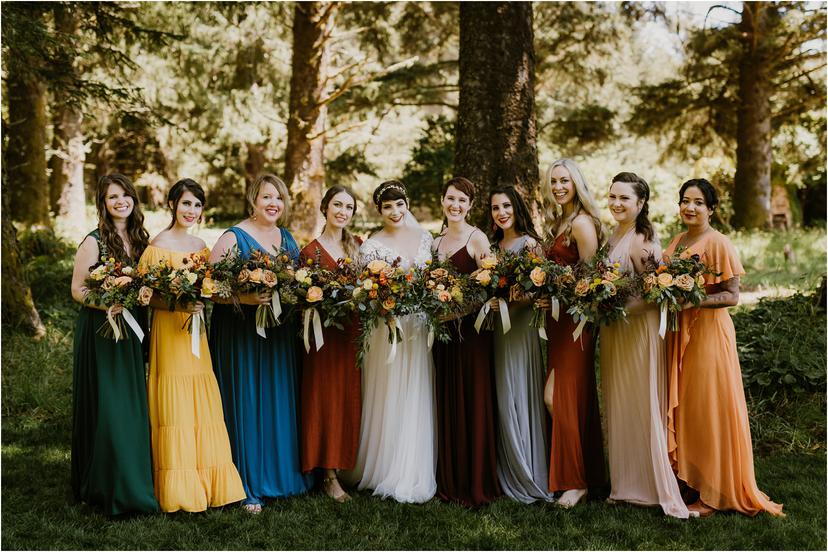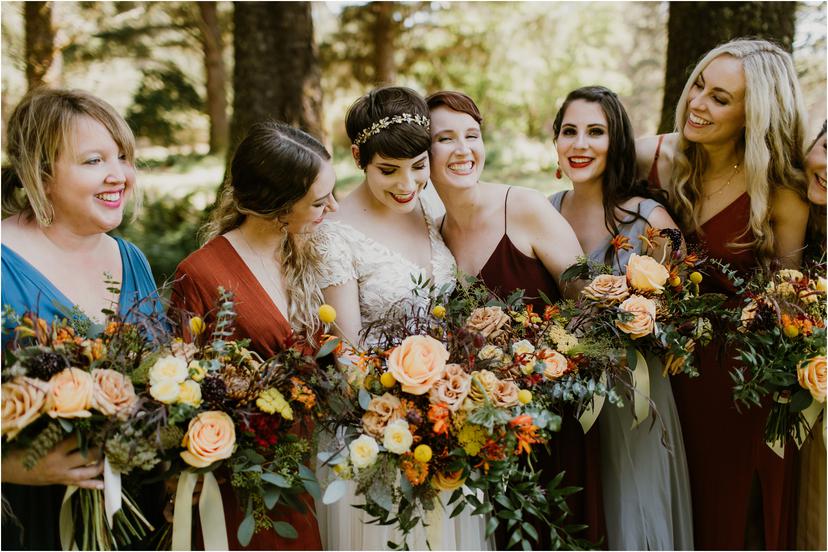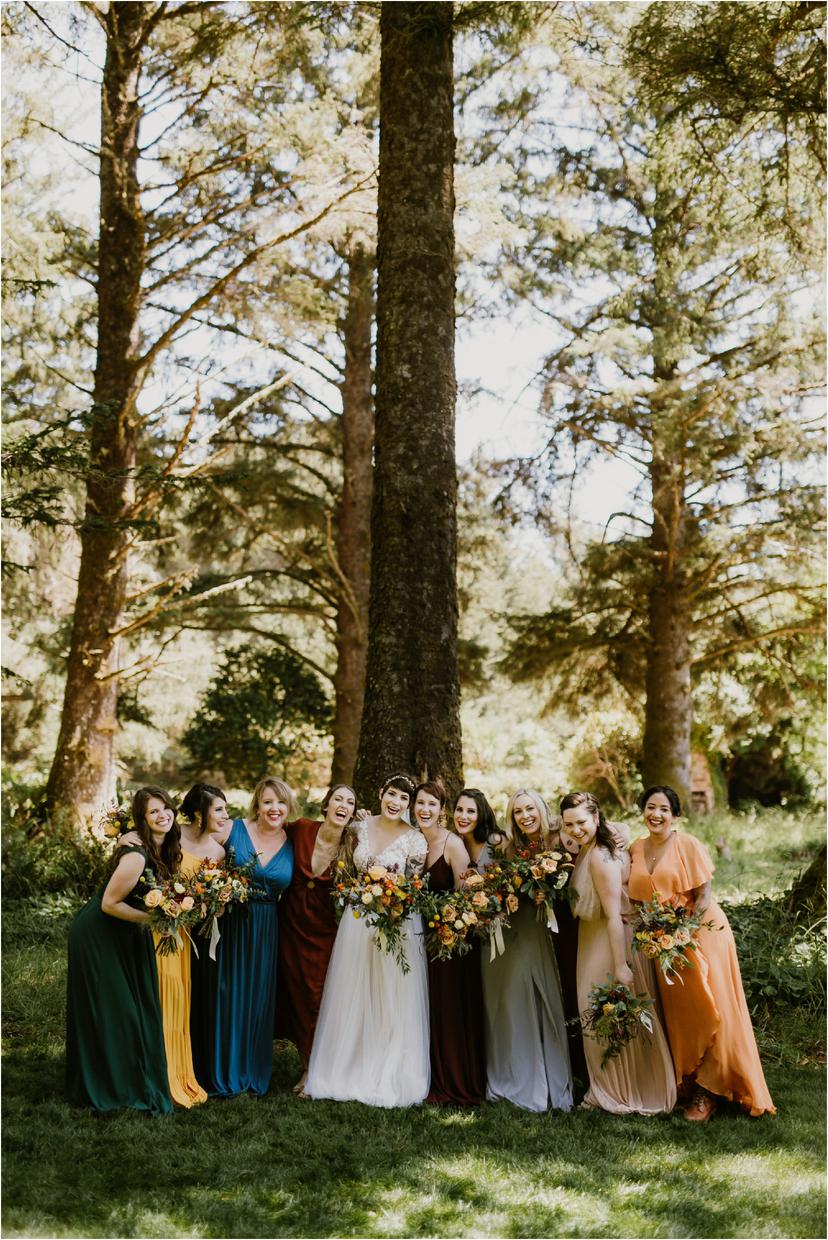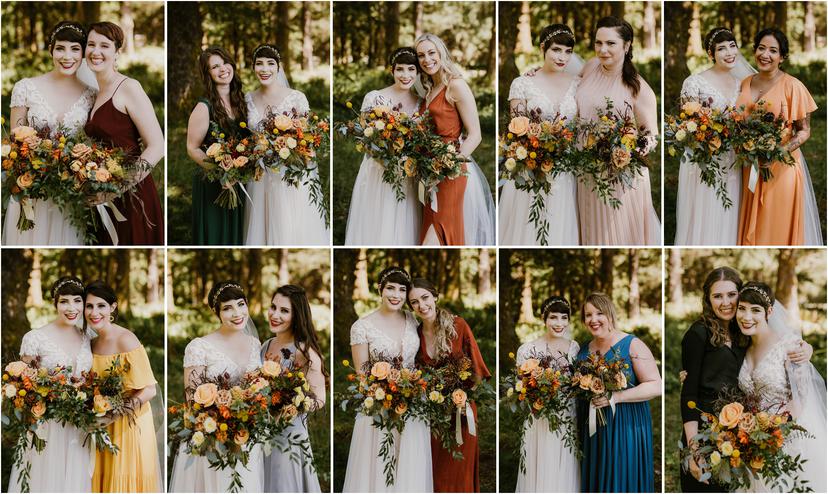 Family photos
We made a list of family photos and had all our family arrive before the scheduled start time for the wedding. This allowed us to get pictures will everyone without it eating into our cocktail hours!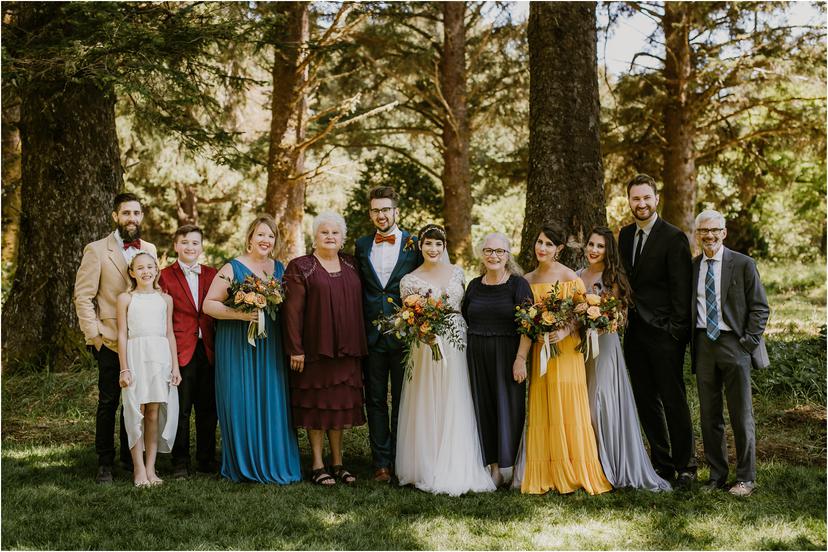 The reasons behind our wedding decor
Our wedding was playful, bold, eclectic, welcoming, and colorful. Every single part of the weekend was extremely us, and I'm so happy we got to put so much of ourselves into every little detail.
I have been obsessed with the Danish concept of Hygge ever since I first learned about it. It's meaning isn't easily translatable to English, but the closest definition that makes sense to me is "cozy togetherness." Hygge is staying at a cabin with friends. It's drinking wine together around a campfire. It's warm blankets, good conversation, candlelight, and laughter. It's an environment that feels welcoming and safe with a few people you love.
When we started planning our wedding, I wanted the entire day to have a hygge element to it. I wanted it to be beautiful, but more importantly, fun, welcoming, inviting, and cozy. I wanted the event to inspire and foster connections between new friends and old.
Our home is full of tall bookshelves, patterned blankets, eclectic art, indoor plants, and warm lamp lighting. I'm admittedly a Cancer and a little bit of a homebody, and I LOVE hosting house parties, both huge and intimate. When it came to planning our wedding I wanted to bring that sense of our hygge home to our entire wedding weekend. I wanted our guests to feel loved and welcome, and for the whole day to be relaxed, not rushed. Just like showing up at one of our house parties and hanging out until late in the night.
The lounge areas at our wedding incorporated many items from our own living room to really bring this sense of "home" to our venue. It made me so happy to see people relaxing and feeling comfortable in those welcoming spaces. I had items like my mom's vintage foot-locker from college, blankets we bought in Guatemala where Mikael proposed to me, jars of rocks we collected in Iceland together, a globe that I've had since I was a kid that always inspired my love of travel, and even a pair of hand-me-down binoculars and bird books for people to use if they wanted. It was so us.
As a kid, my family would always eat dinner outdoors in the summer, lingering in the evening light with delicious food and silly conversation. I wanted our wedding to feel this way too. A long leisurely, family-style outdoor dinner that felt welcoming and communal. We rented long wooden tables from The Party Place PDX with playful silverware and white chairs. Tracy, with Woodland Floral, made the most stunning table arrangements and curly willow ceremony arch. I loved the whimsical floral design and the way she used quirky flowers and shapes in her loose, natural bouquets. It really complimented the venue without over-shadowing the natural beauty that already existed.
A big part of our wedding decor was also inspired by our shared love of birdwatching. We've traveled the world together to see birds, and I wanted to incorporate that into our playful outdoor wedding. My bird tattoos (by Parker Benyoun - her work is AMAZING) and dress played a part in this. The lace looked like feathers and, that's one reason I bought it! Mikael also wore penguin socks (his favorite bird) that were a gift from my mom.
When I'm not taking photos, I love to paint, so as our wedding favors we gave each guest a print of one of my bird paintings. We also incorporated our love of birding into our seating chart, with a playful "spot your seat" sign, as well as our invitations.
The triangle curtain in our lounge area was a last-minute DIY project that I had a lot of help with (thankfully!!) but it really tied the color scheme together and offered another playful element that felt fun, inviting, and unique. I felt like I couldn't have my art background and not attempt at least one semi-insane craft project, so the triangle curtain came into existence. I'm also just generally obsessed with triangles (just look at my website haha), and Mikael and I also have triangle wedding rings from Alexis Russell, so it brought all of those themes together in a really cool way.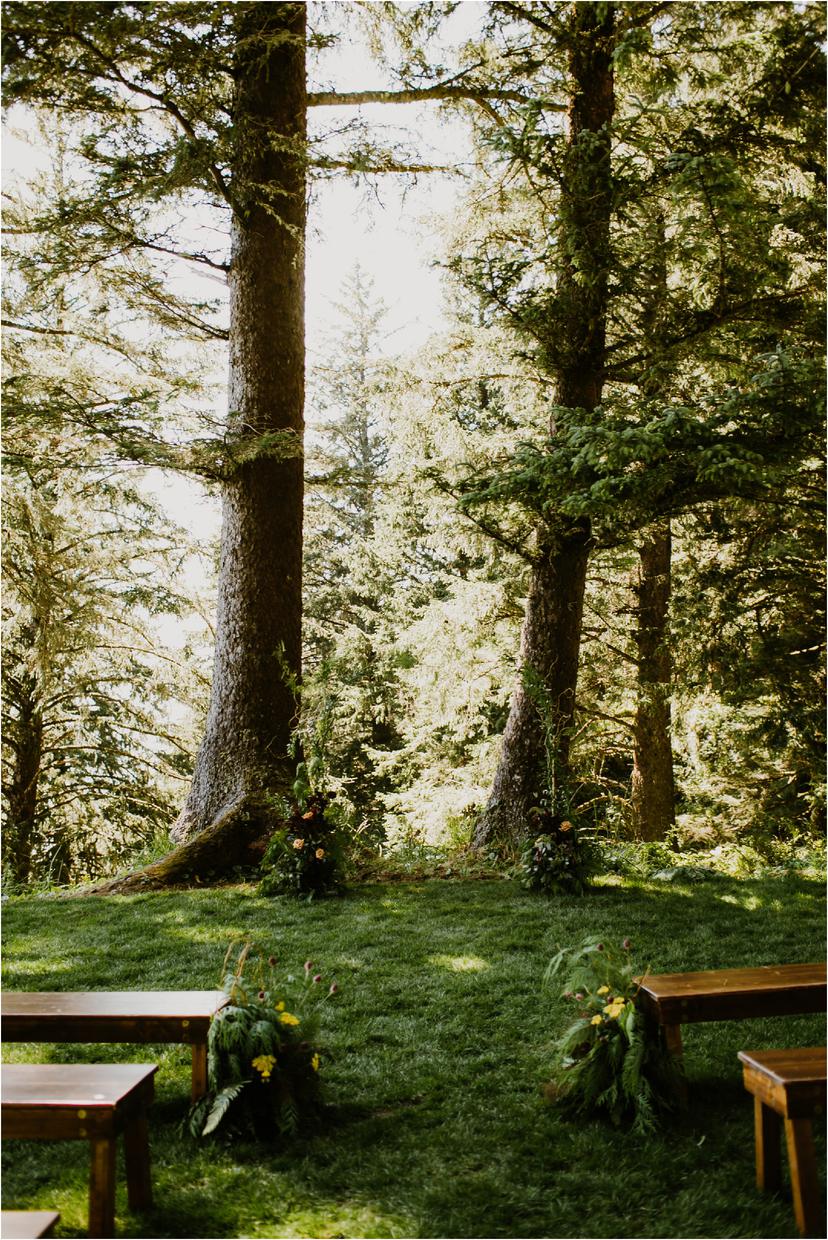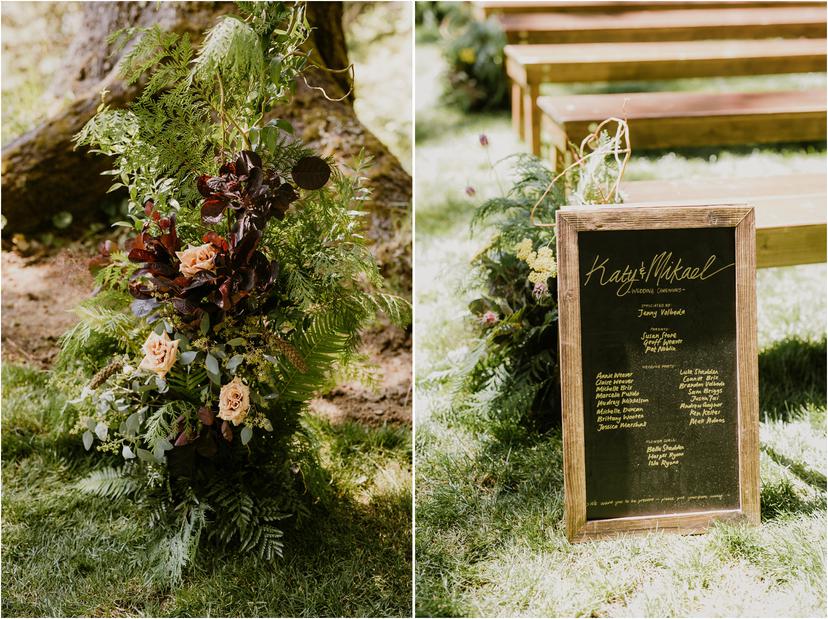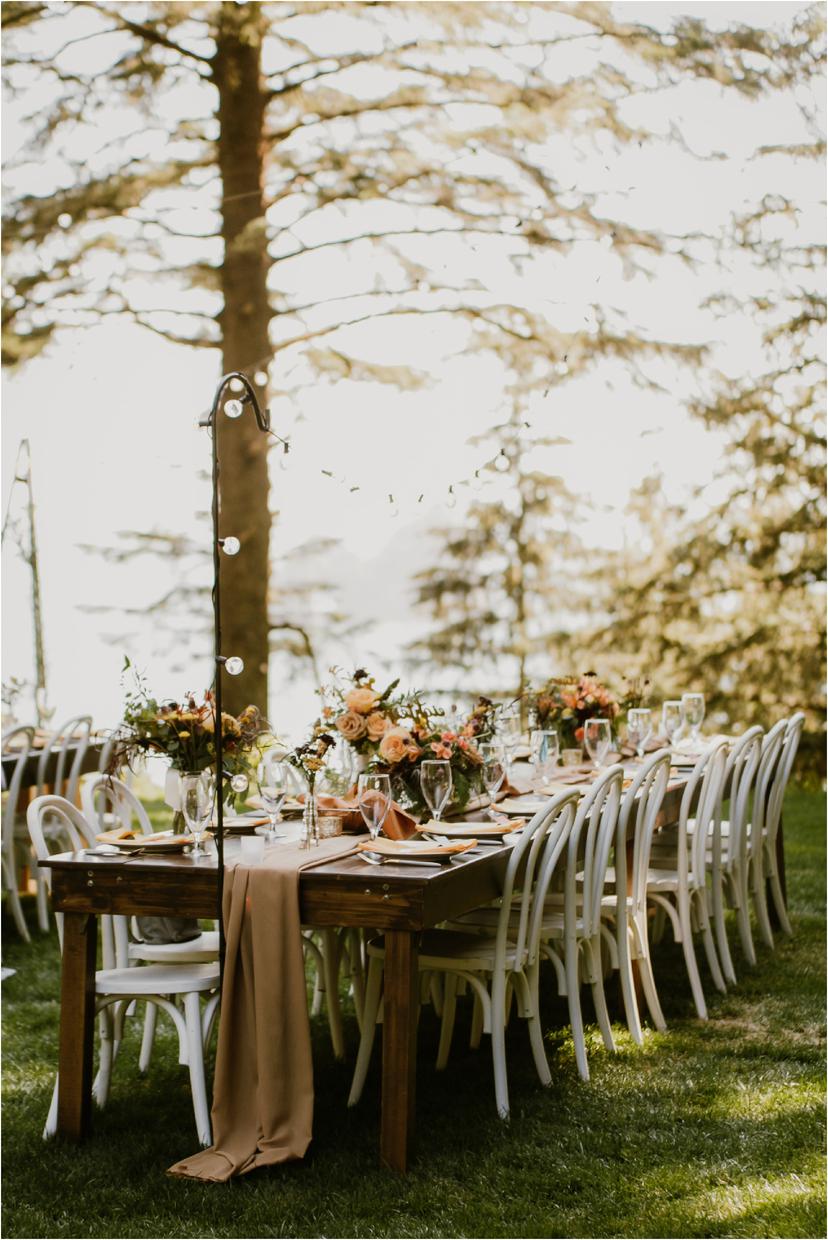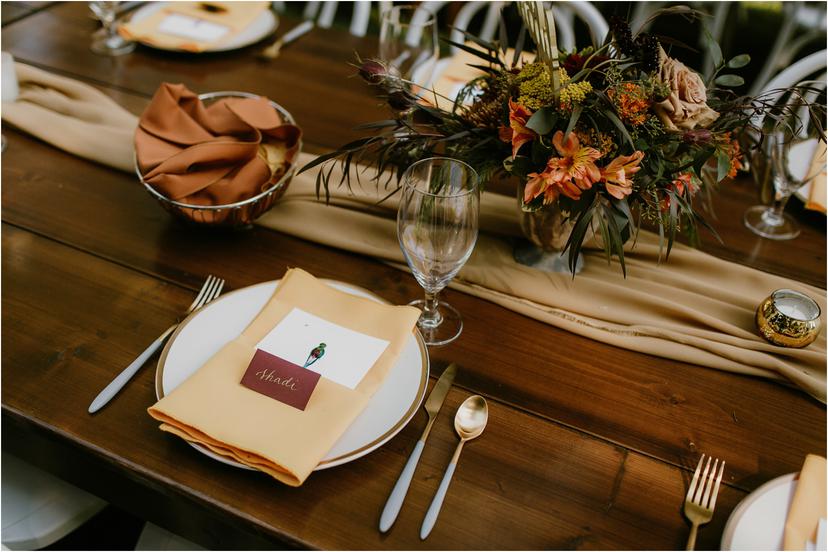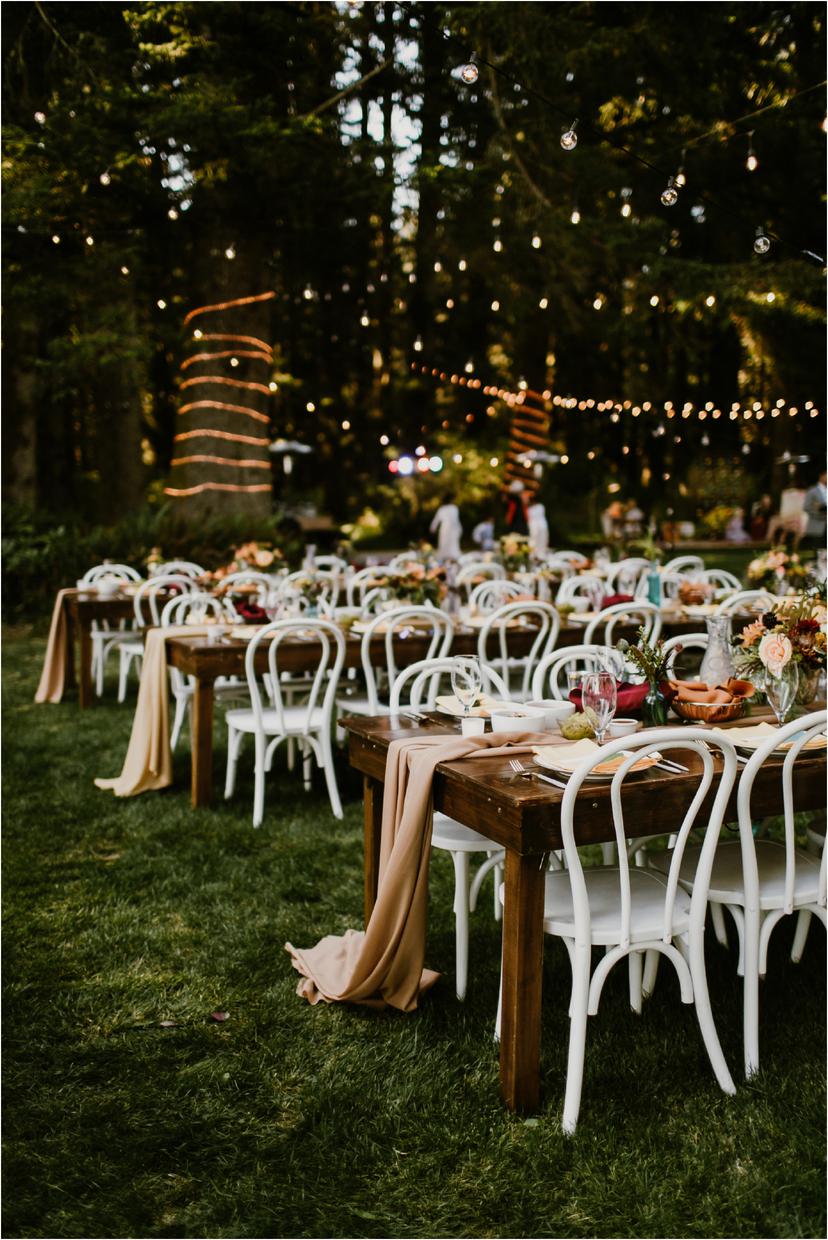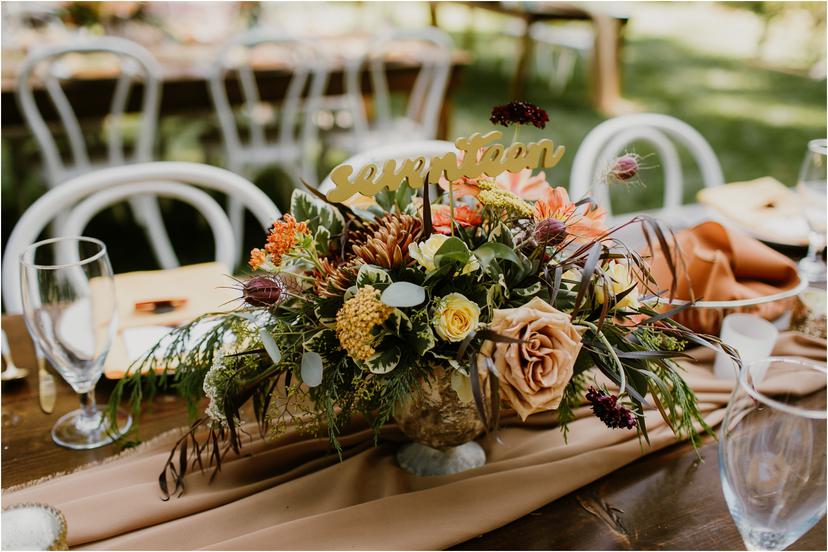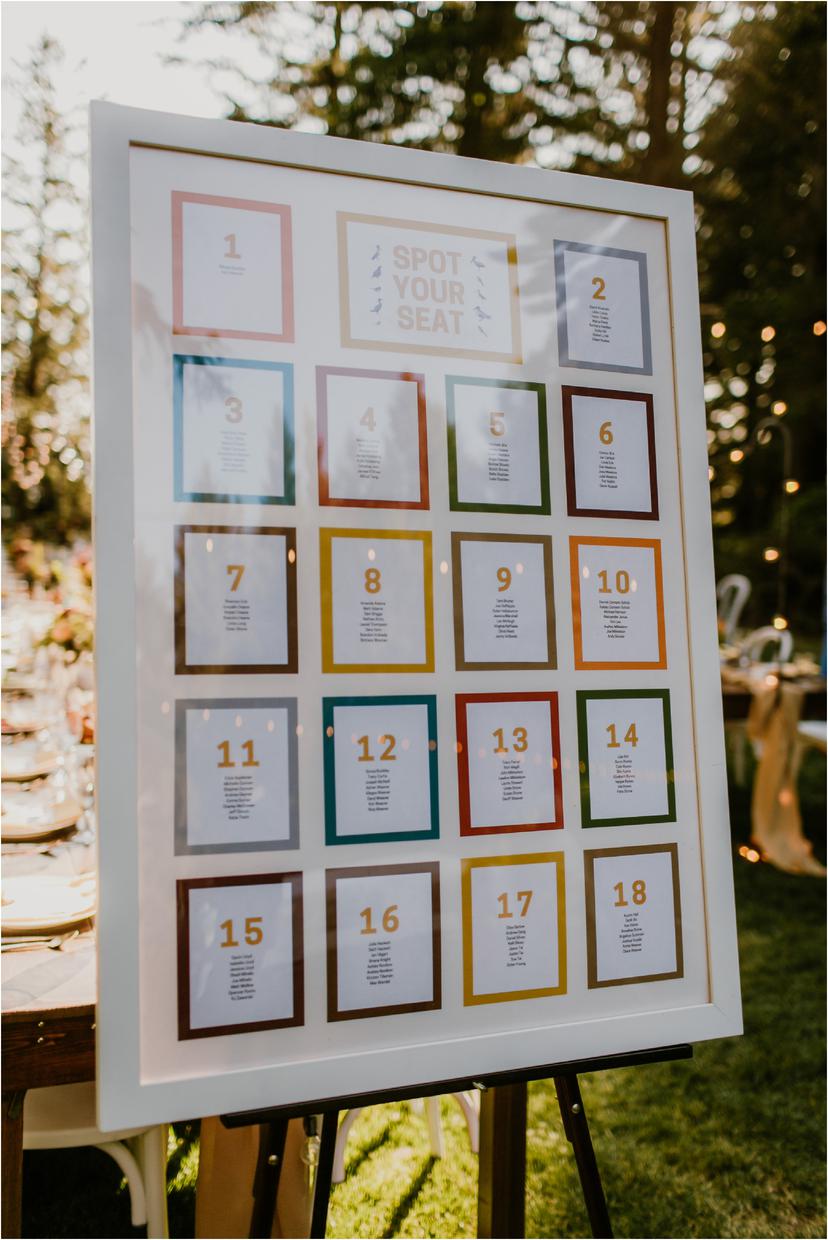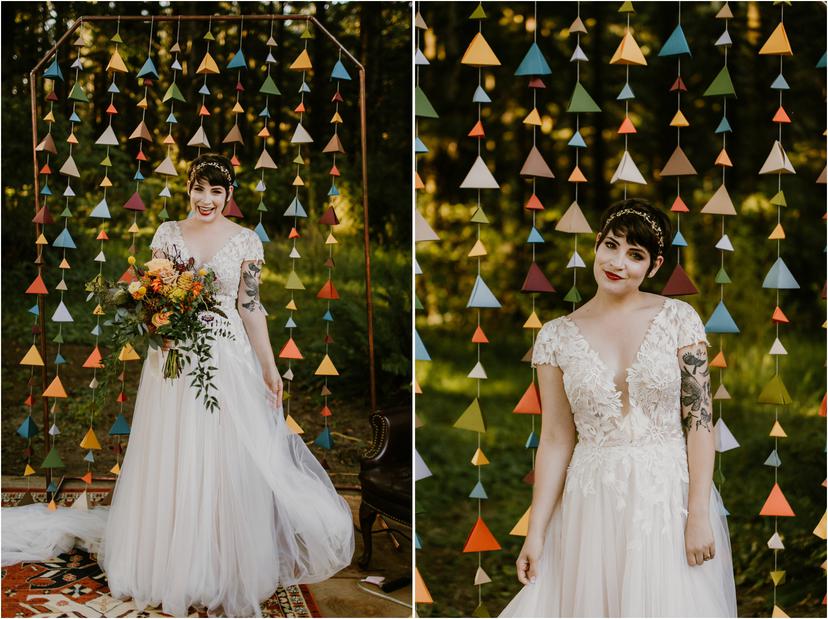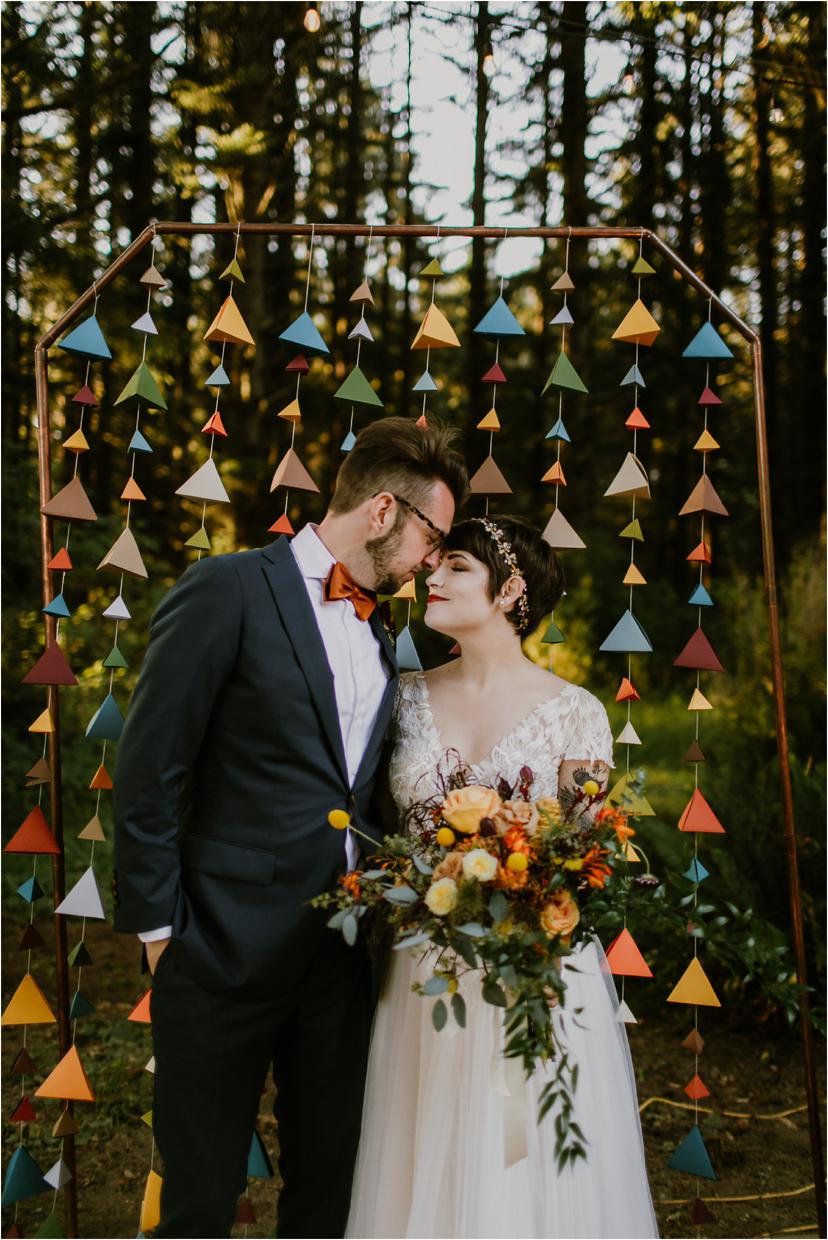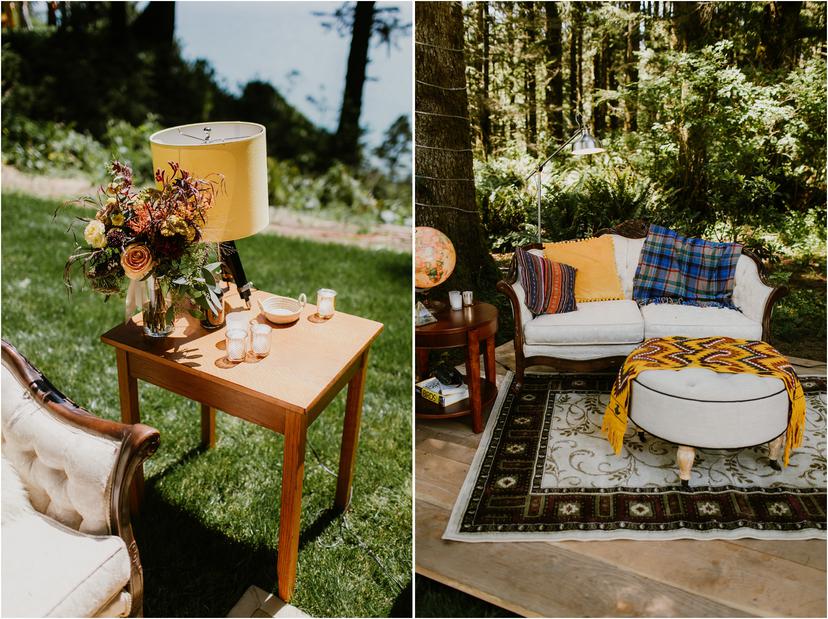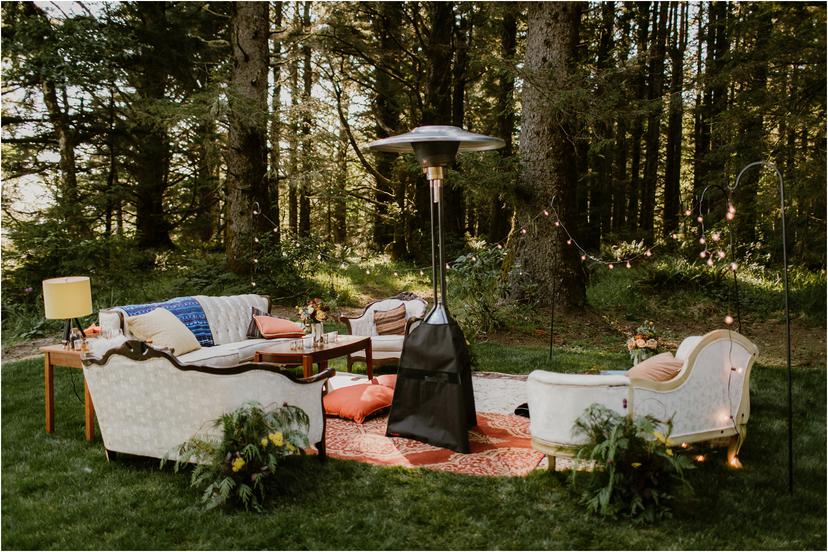 About our pre-wedding cocktail hour
Mikael and I decided to scrap tradition and hang out with our guests BEFORE our wedding ceremony! Gasp! Yes, everyone saw me in my dress. No, it didn't ruin anything. It made it exponentially better. I never had to hide away and wait for things to start. Instead, I immediately got to start drinking margaritas, eating cheese, and hugging all the people I love. Instead of them seeing my dress in a dramatic entrance, they got to see it up close while hugging me. It was SO fun. People were tipsy when the ceremony started, and we had a full TWO hours to hang out with everyone beforehand. I am so grateful for this time and these memories!
We got really positive feedback from all our guests about doing this - they said it was such a fun way to start the wedding without waiting for food or drinks. I know it seems like a scary tradition to break, BUT I highly recommend doing something like this if you can! You can read more about ideas like this on this post here!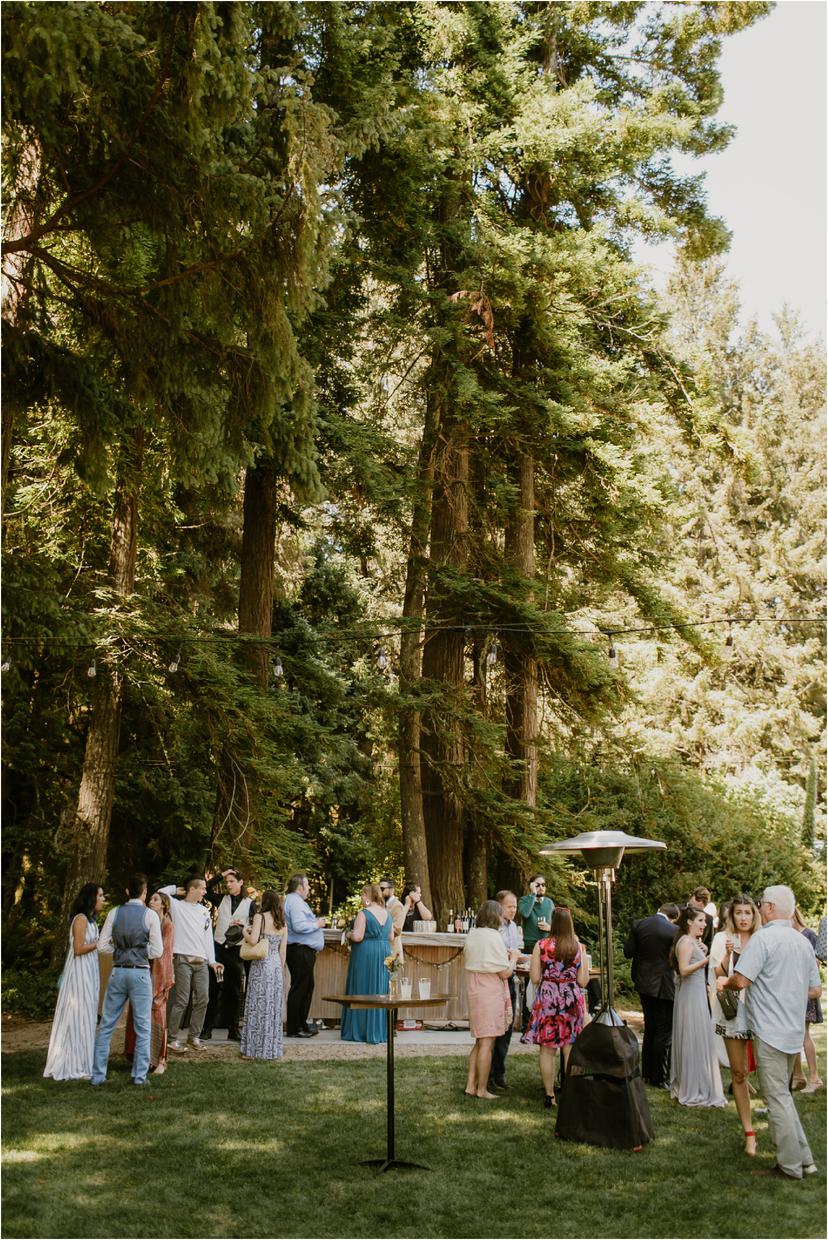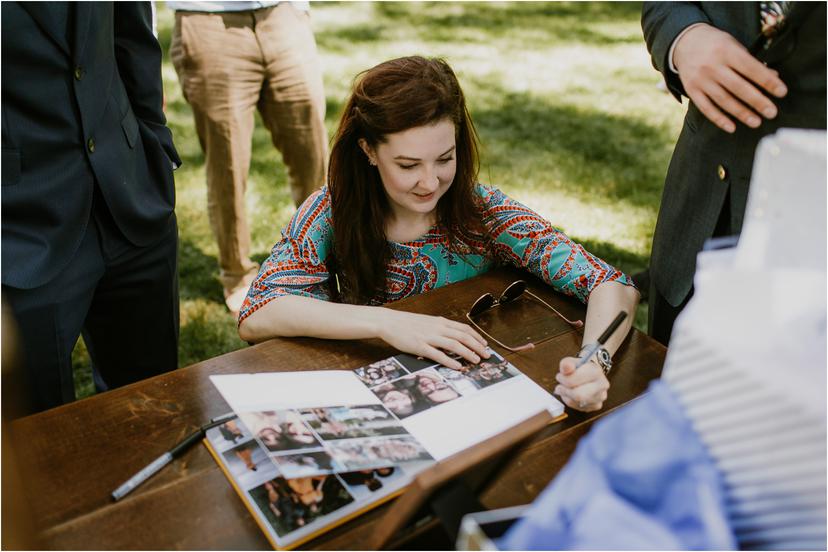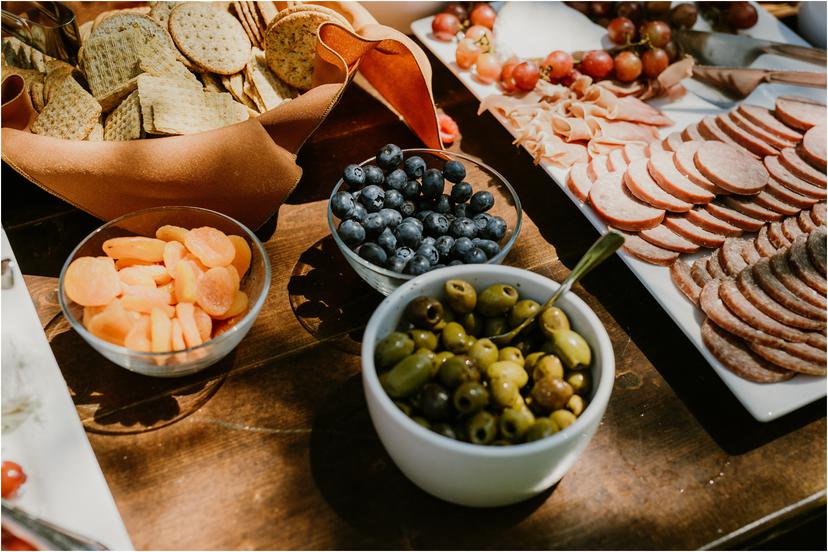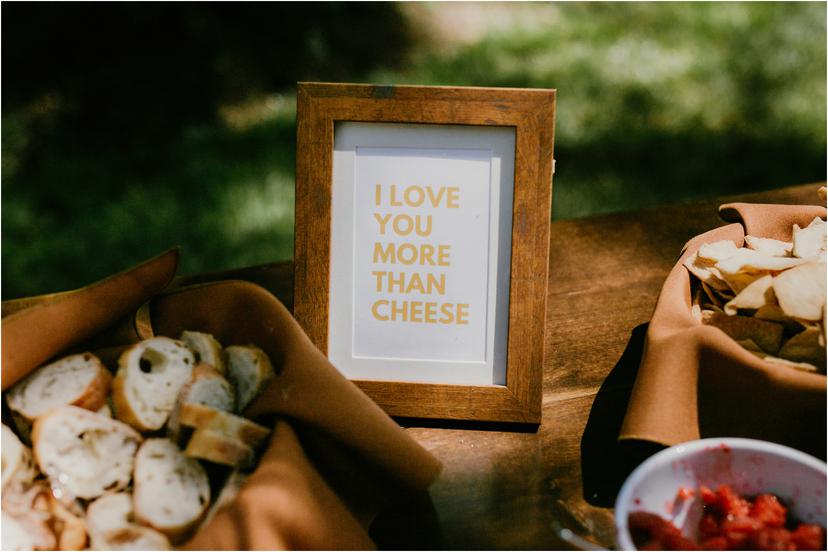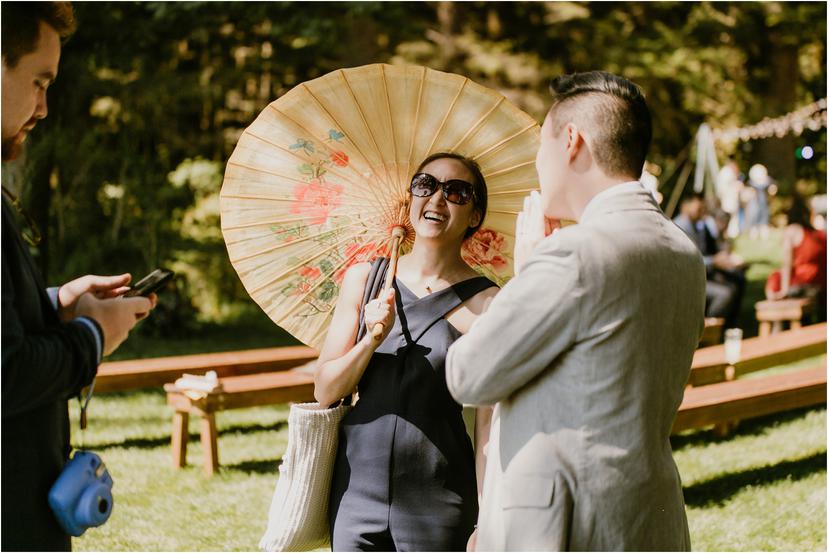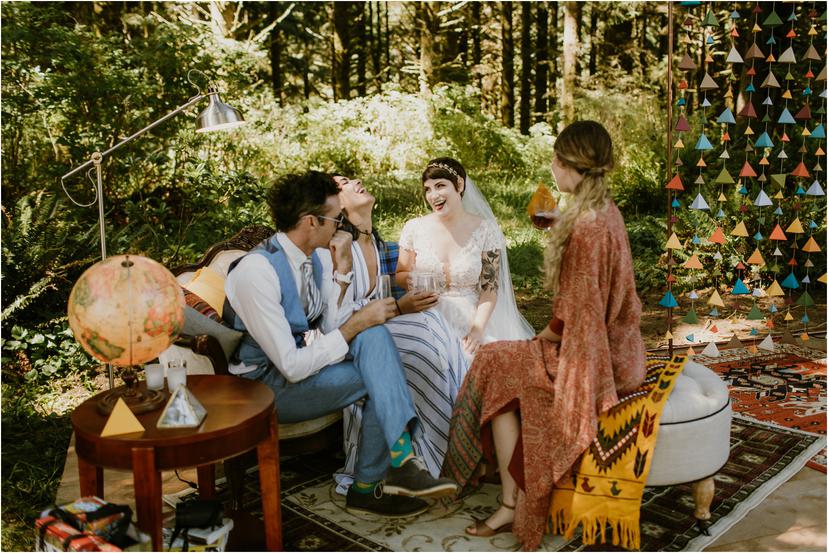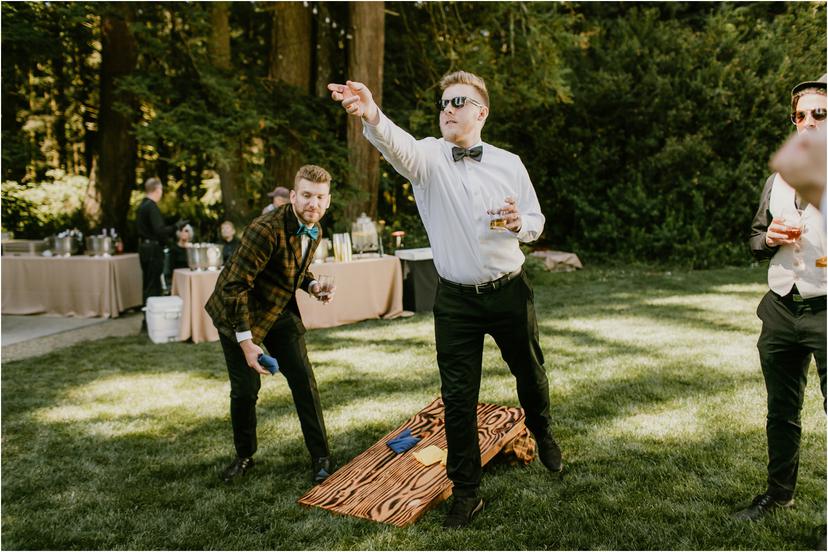 Our friend Stephen made us Corn Hole as a wedding gift! So perfect!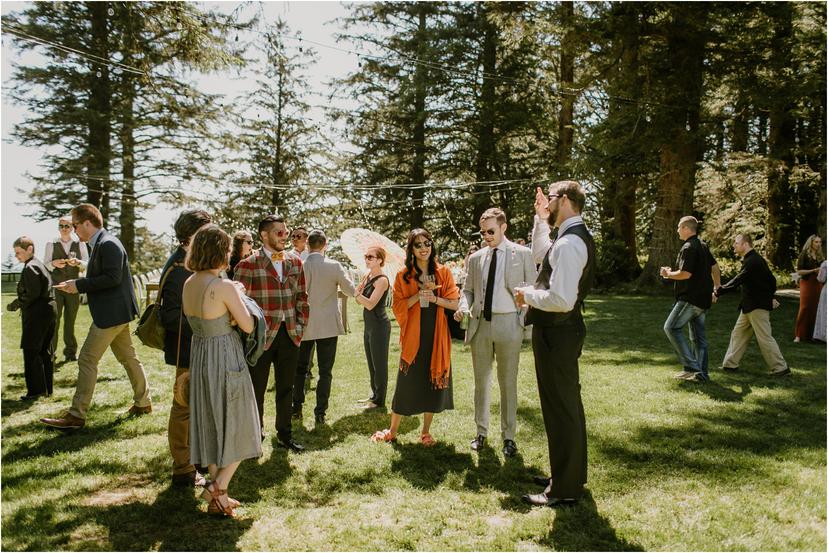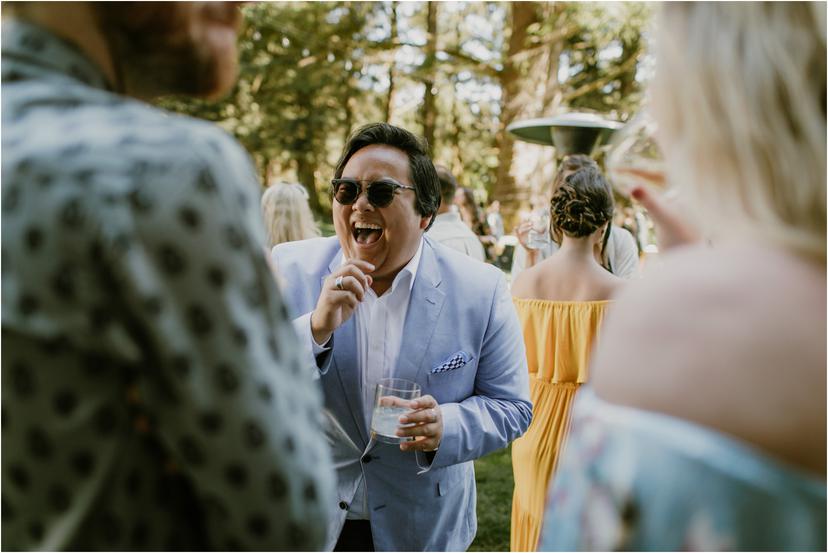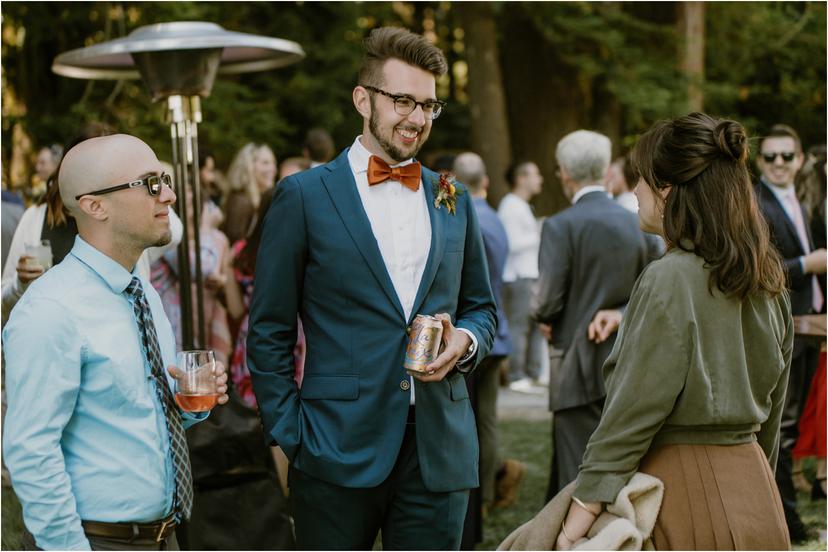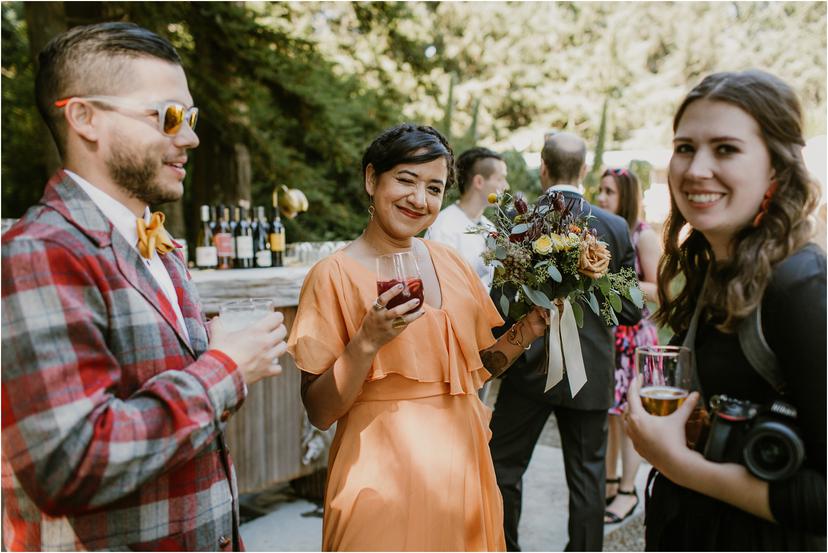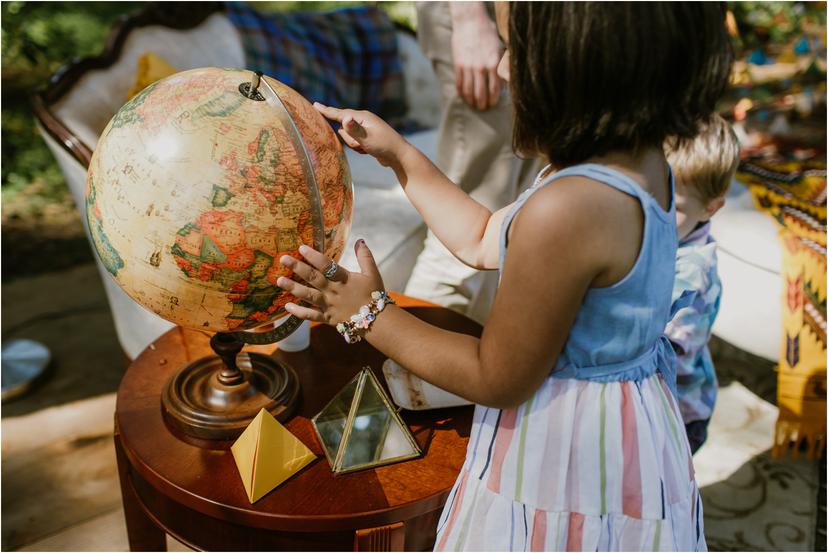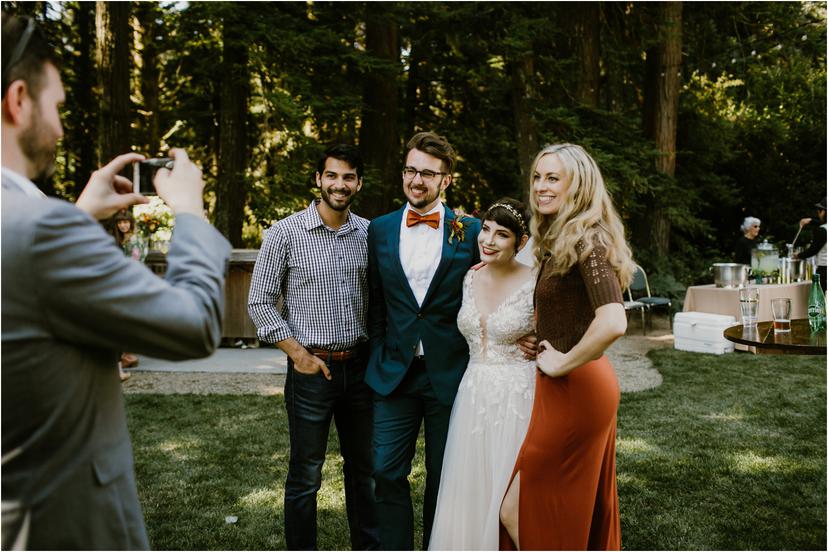 My bridesmaid Brittany and her fiance Nate are getting married this weekend! Remember when I took their stunning engagement photos at Panther Creek Falls?!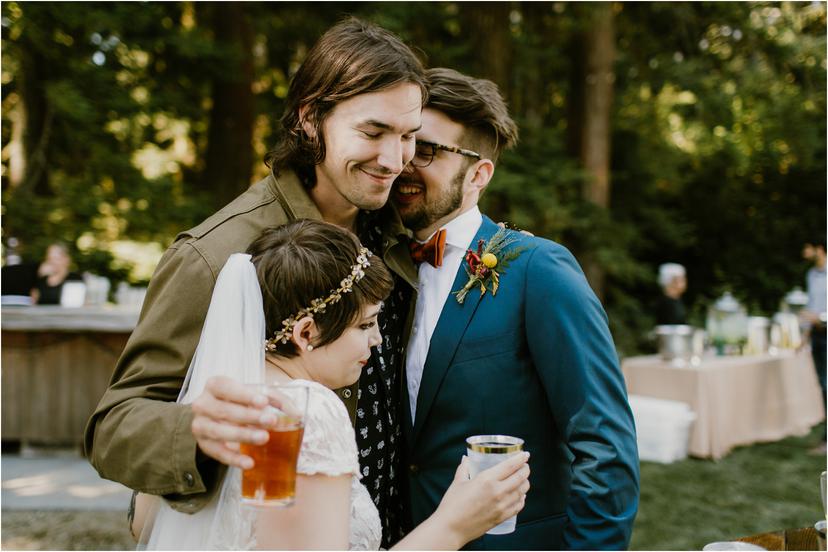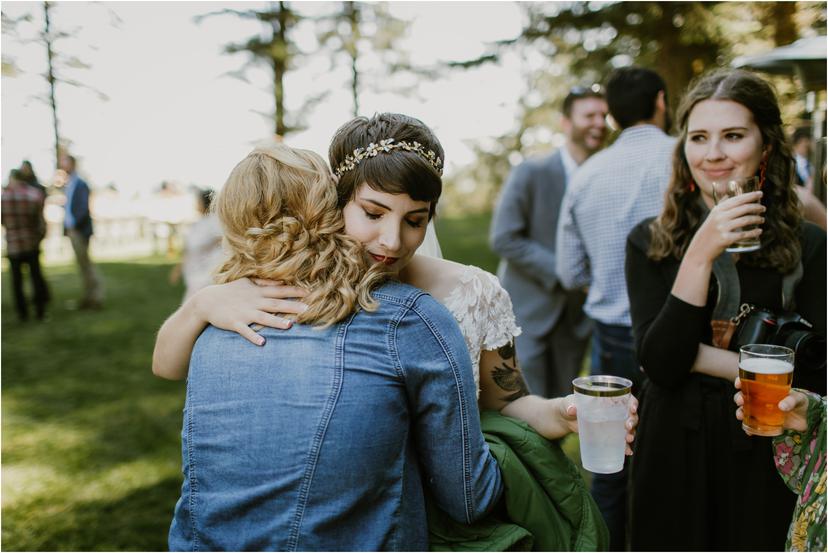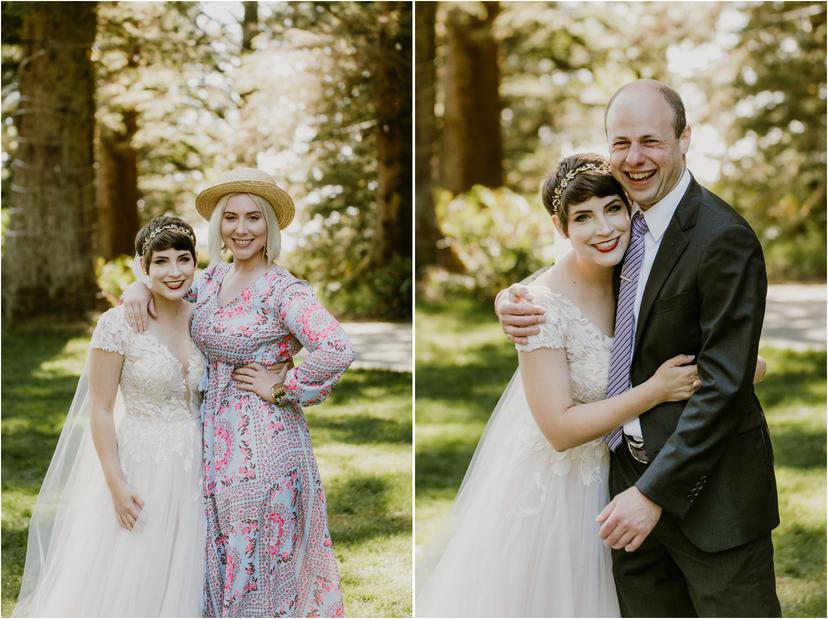 My friend Laurel came all the way from Amsterdam to be there! And Aleks came from Boston I was so honored!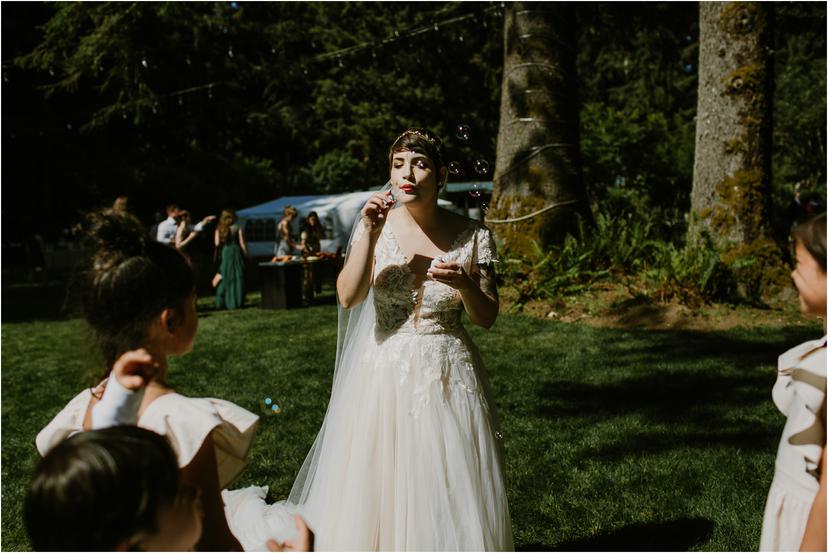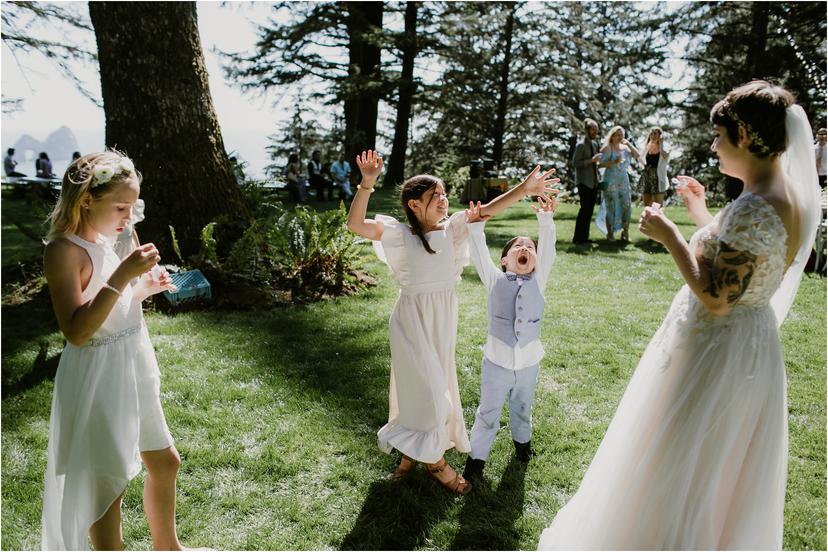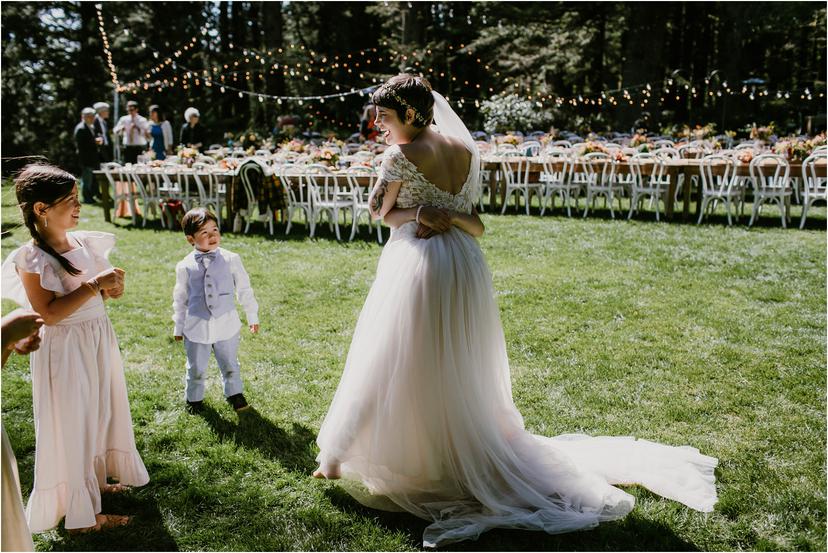 Where to have your Crook Point wedding ceremony
We did our ceremony a little differently than other Crook Point couples. Most people point their ceremony STRAIGHT out at the ocean, with the arch rock directly behind them. I get it. It's gorgeous. But you know what? The lighting from that angle is HORRIBLE. You are shaded and partially backlit, and the background will be totally blown out in all your photos because the ocean is so bright. It's just not flattering. So we turned our ceremony about 90 degrees north, and put our arch in between two trees instead. I use the app called Sun Seeker to plan this out in advance, so I knew exactly where the sun would be filtering through the trees at 5pm. The result? Gorgeous ceremony photos, even lighting, and you can see our expressions. Perfect. If you are getting married, I highly recommend using this app and planning your wedding with the sun behind you! Your photographer will thank you!
About our ceremony
Our wedding ceremony was probably my favorite party of our day. I cried walking down the aisle with both my parents, seeing everyone I love looking at me with teary eyes, and Mikael standing there so handsomely in his teal suit. I was worried that everyone seeing us before the ceremony would somehow take away from the gravitas of the event; it didn't. Everyone was crying. Everyone was present. It was perfect.
We wrote our own vows, and our mutual best friend Jenny married us. She's known Mikael longer than I have, and I actually photographed HER wedding several years ago too! She did an incredible job creating a ceremony that was highly personalized to us. Marcela also read our favorite Rupi Kaur poem that we have framed in our bedroom to see daily.
As we were reading our vows, one of our all-time favorite birds, an Osprey, was calling to us in the distance. After the sudden death of one of my best friends a few months earlier, I was hoping she would send me some sort of sign on my wedding day that she was there with us. The Osprey was that sign. I couldn't believe that our favorite bird (literally tattooed on my arm) was calling as we were professing our vows to one another. It was so perfect and so memorable.