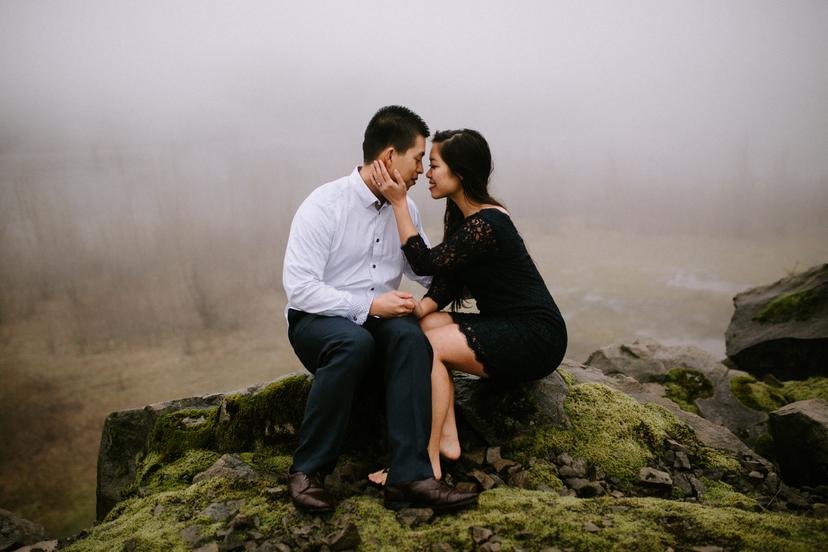 Portland Engagement Photo Locations
I've lived in Portland since I was 6 years old and I have loved getting to explore SO many beautiful places around the city! There are SO many beautiful Portland engagement photo locations!
HOW TO CHOOSE A LOCATION
We all have places in our lives that make us feel relaxed and at peace, or places that hold special memories and meaning. Choose a place for your photos that feels like YOU. I usually tell my couples to either find a place that is special to them and their relationship, OR pick a spot you've always wanted to explore together, then make some new memories there during our shoot! I'm always happy to suggest ideas based off what you have in mind!
Here's a list of my all-time favorite Portland engagement photo locations, with photo examples for you to see!
PORTLAND ENGAGEMENT PHOTOS IN NATURE
These are Portland engagement photo locations that are close to town but you give you more of a natural feel! Want the moody look of a forest, without having to drive super far? These spots are for you!
Hoyt Arborteum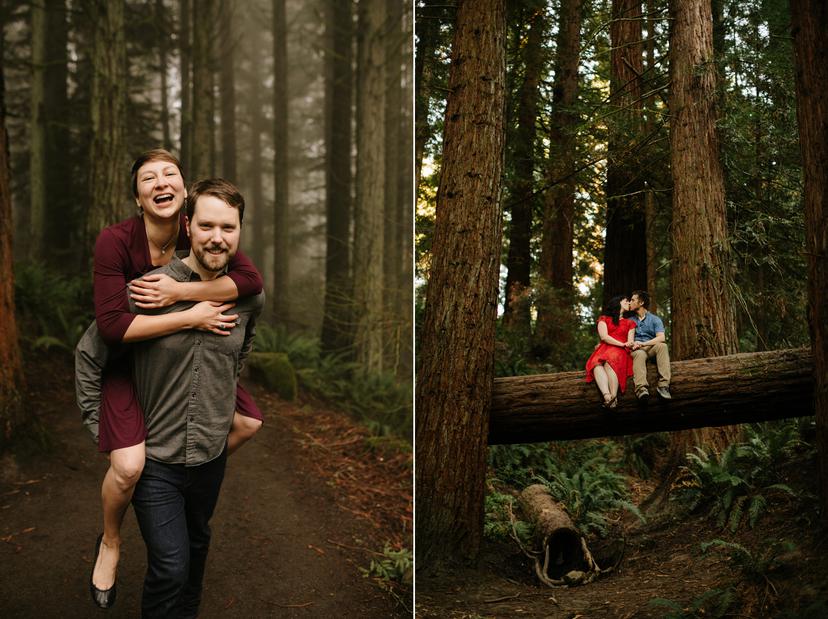 Hoyt Arboretum is my #1 favorite location in Portland. Why? The forest there is beautiful and varied. You can get moody photos or brighter shots. The location is HUGE. And because it is on top of the hill, you get really lovely, flattering light! Check out this shoot or this one or this one! And a few more here!
Forest Park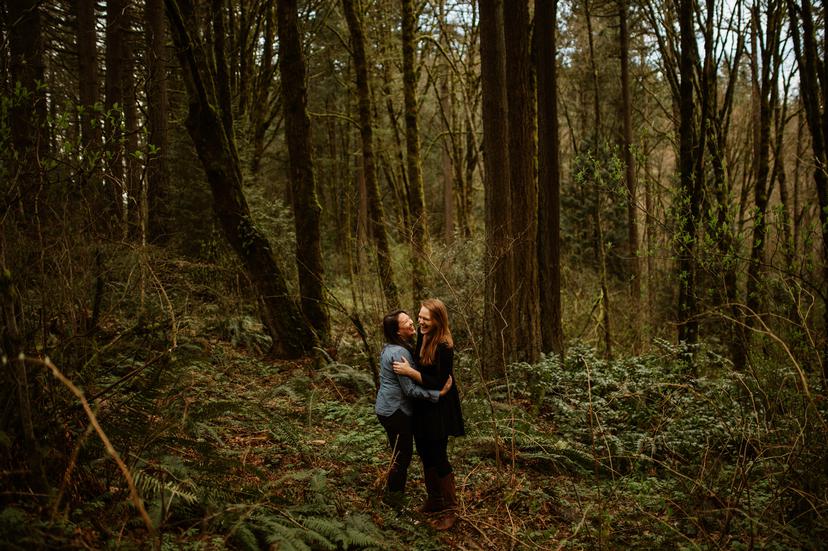 My favorite Forest Park location is a little off the beaten path; it's actually up on NW Skyline Blvd where NW Saltzman Rd meets a firetrail. I used to ride my mountain bike here as a kid and it's a beautiful spot for photos! Unlike other places in Forest Park, this particular location is on TOP of the hill so you get more flattering light. As much as I love hiking the Macleay Trails, the lighting down in that ravine is pretty terrible for photos! You can see more shoots from forest park on my blog here.
George Rogers Park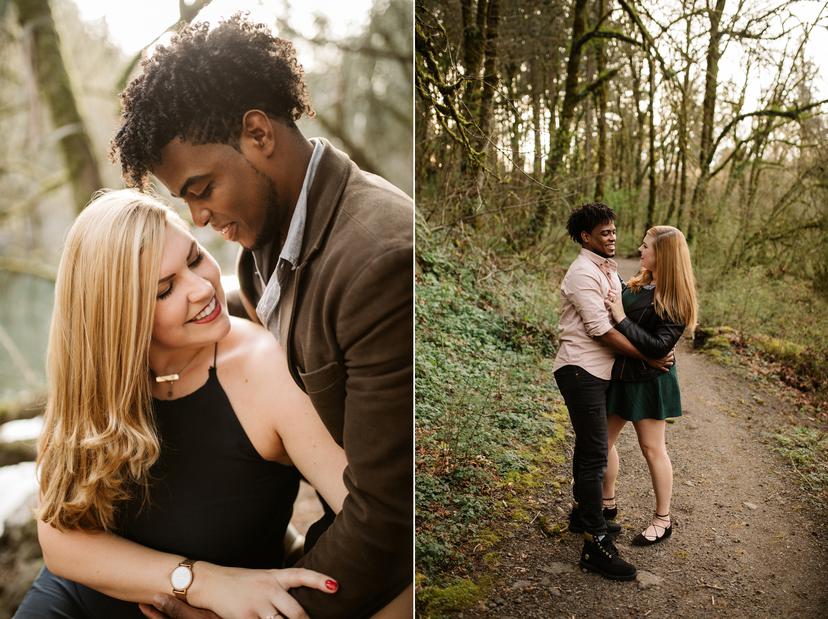 This park in Lake Oswego has great variety! It has a lush, moody forest, open beach, mossy rocks, grass, some decidous trees, a bridge, etc! It makes for a really fun and versatile location. Check out more photos here!
Crystal Springs Rhododendron Garden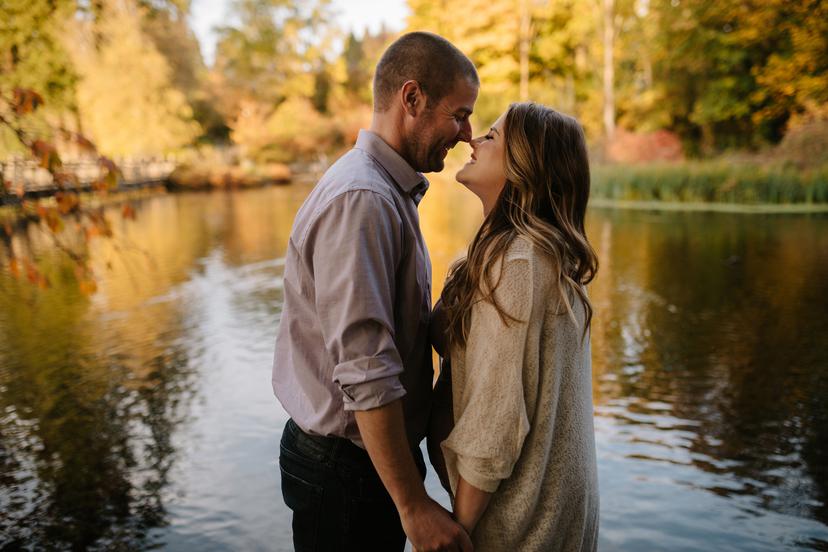 Crystal Springs is absolutely gorgeous. The rhododendron trees are so beautiful and this place really shines in spring and fall! It's more park-like than a true forest, but the lakes, paths and plants all look amazing in photos. You can see more examples on this 2014 blog post here!.
Cooper Mountain Nature Park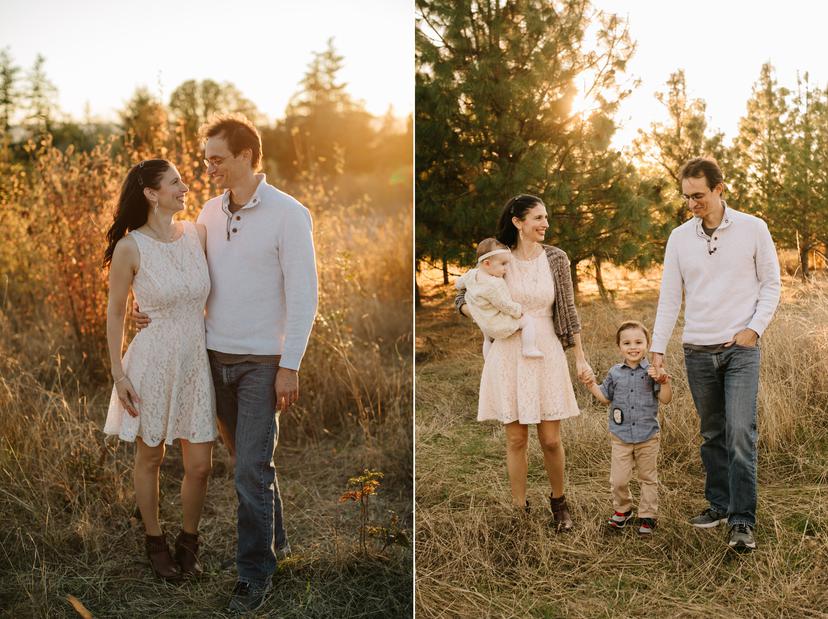 Cooper Mountain has beautiful golden fields and pine trees! If you want more of a golden, grass-field look, this is a perfect place! It also has gorgeous views out across the Willamette Valley.
Lewis and Clark State Park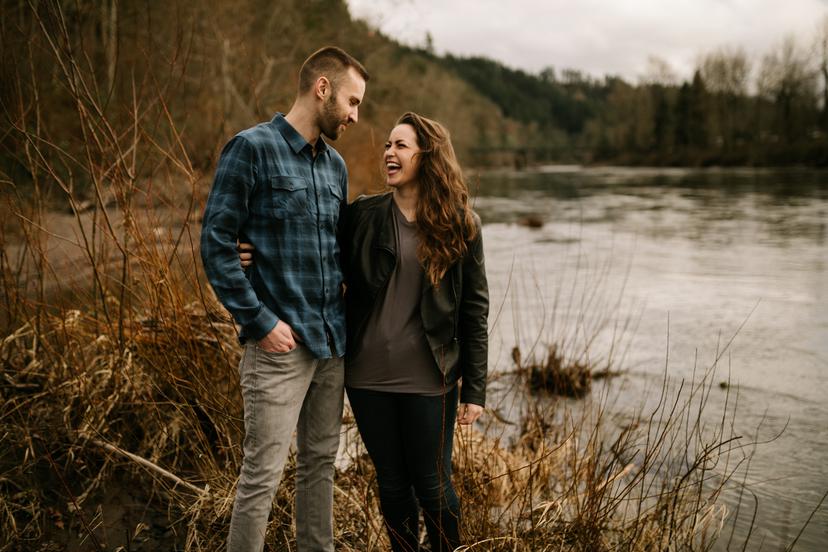 This little park along the Sandy river looks lovely for some riverside imagery! It also has a forest with some pretty ferns. You can see more photos here!
Dabney State Recreation Area
Dabney is also along the Sandy river near Troutdale and it has really nice lighting and good variety of forest and riverside locations!
PORTLAND ENGAGEMENT PHOTOS IN THE CITY
These urban locations are perfect for colorful, fun, and stylish Portland engagement photos that show off the Portland vibe and spirit!
Eastbank Esplanade near OMSI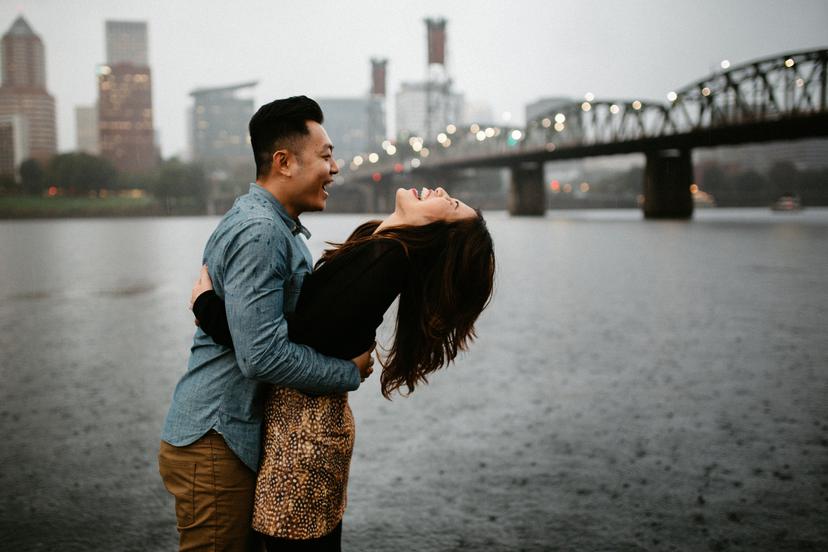 This is my number one favorite urban location in Portland! It has an amazing view of the city skyline and a nice dock that gives you the perfect backdrop along the river! Want to see more photos from this spot? Check out this blog, or this blog for more examples!
Hawthorne Bridge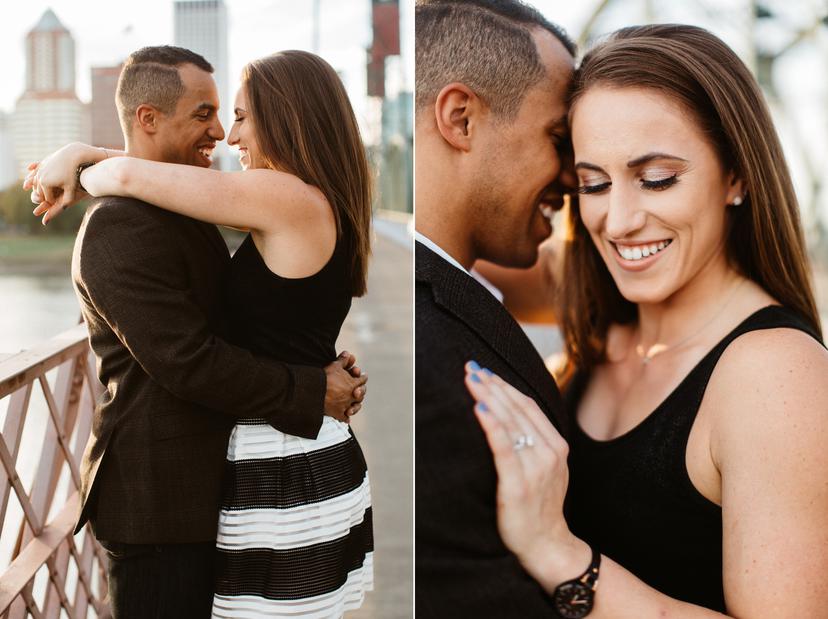 The Hawthorne Bridge is right by the OMSI location, so I often combine these two spots. The bridge has great views of Portland and easy access for pedestrians! You can see more photos here!
Burnside Bridge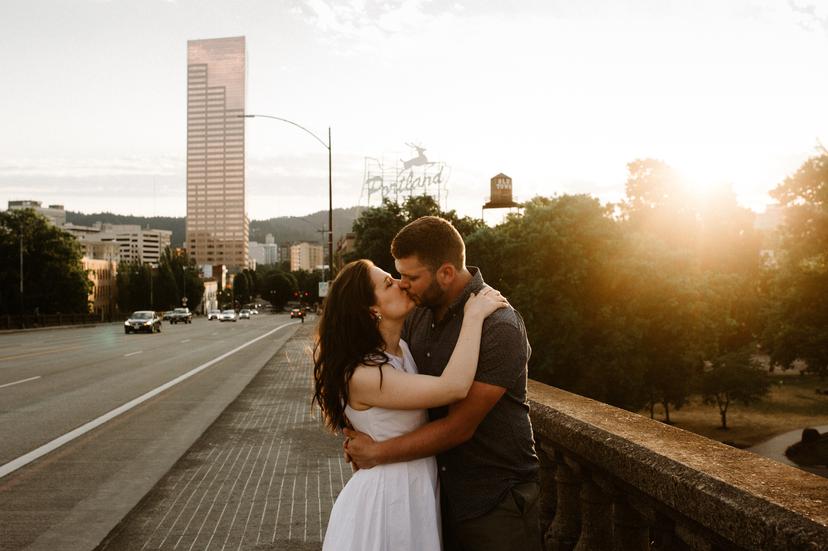 The Burnside Bridge in Portland has iconic views of Big Pink and the Portland sign! Perfect for classic Portland engagement photos.
Broadway Bridge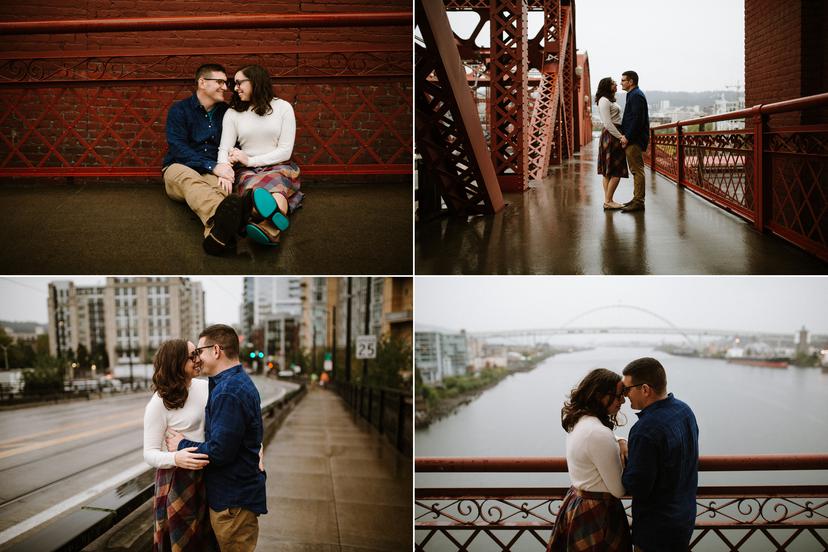 I love the ridge reddish color of the Broadway Bridge and it has great views of the Pearl District, river, and the entire city! It really photographs well! You can see more Broadway Bridge photos on my blog here!
Tillikum Crossing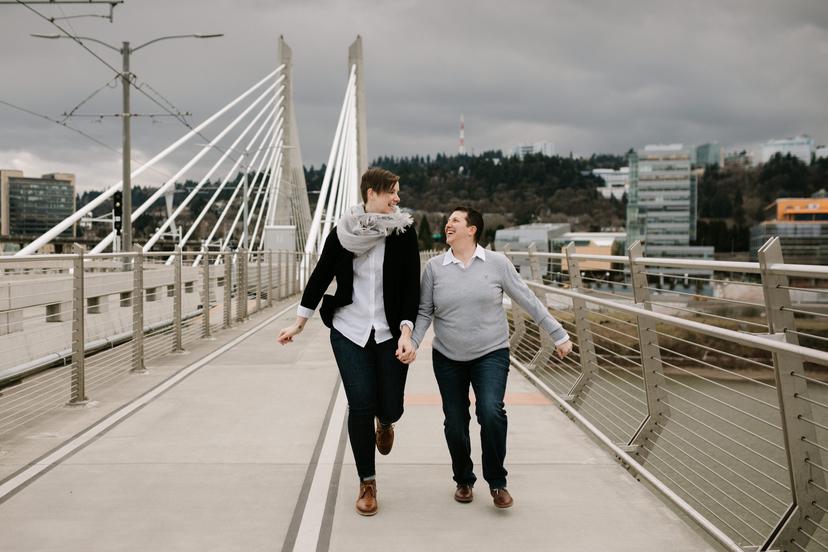 This pedestrian bridge has such a beautiful and modern feel to it! It looks great in photos and it's really easy to walk up since there are no cars on it!
The Pearl District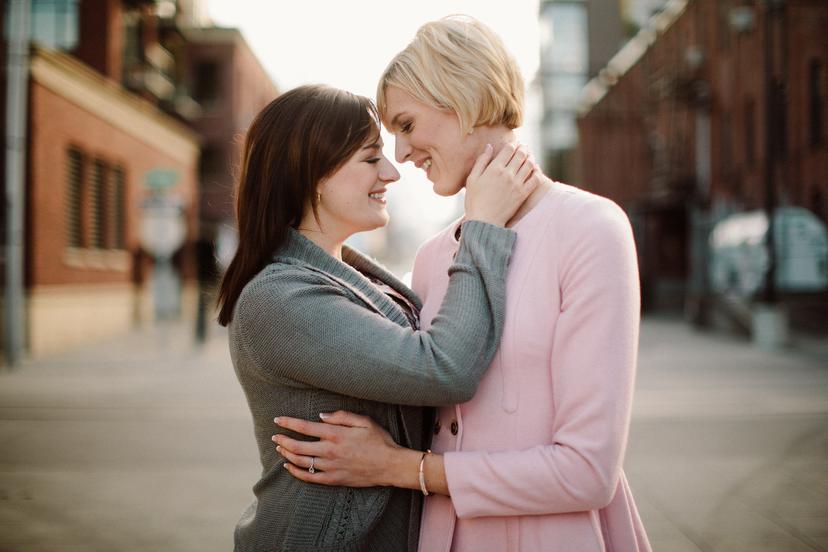 There are a ton of great spots for Portland engagement photos in the Pearl District! You can wander around for ages. I love Tanner Springs and a particular parking garage nearby, but I always find new spots with cool lighting! You can see some more examples on this blog here!
St John's Bridge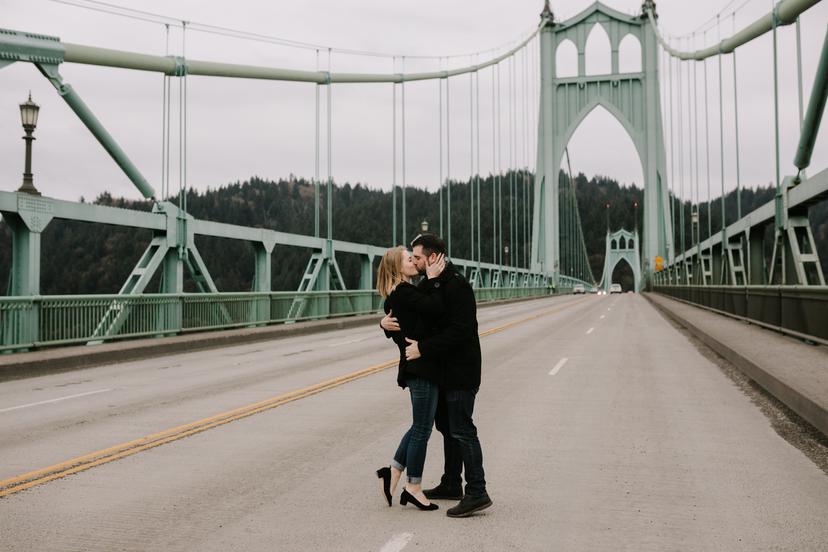 The St. John's Bridge is stunning. It's a little trickier to access than the other bridges and the walk up there is a little longer, but it looks beautiful in photos!
Rooftop Parking Garages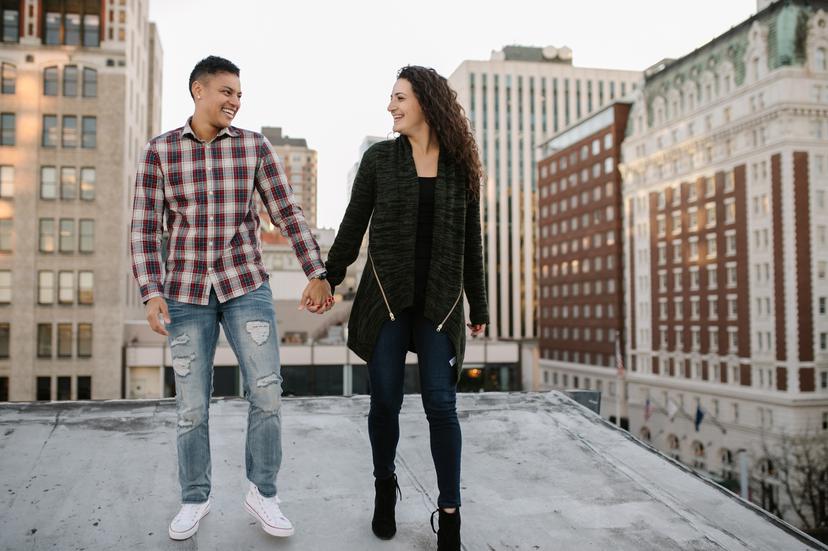 I won't name the specific garages, BUT there are lots of great parking structures in Portland that I love to take photos on! The views from these spots end up looking epic!
Cathedral Park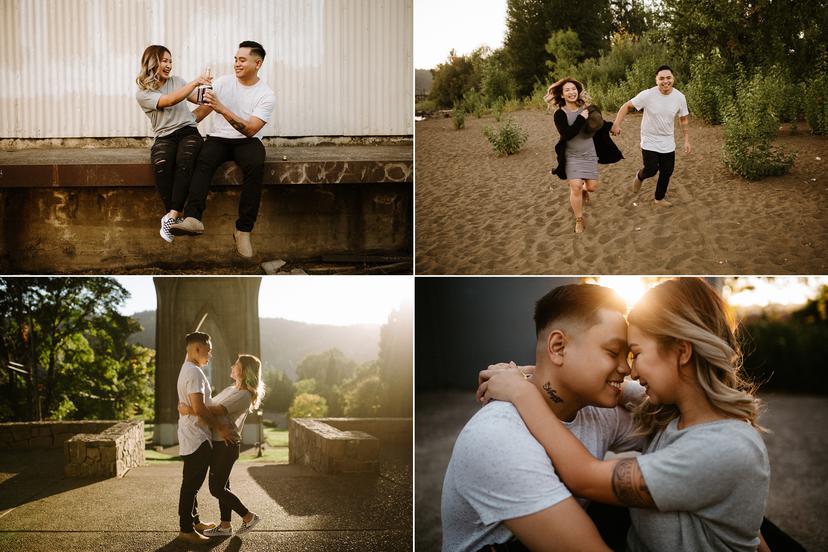 Cathedral Park in North Portland is a mix between nature and urban, so I didn't exactly know where to categorize it! It has lots of pretty trees, bushes and riverside locations, as well as industrial features on the edge of the park. And of course the majestic St. John's Bridge standing over it.
Mississippi Ave.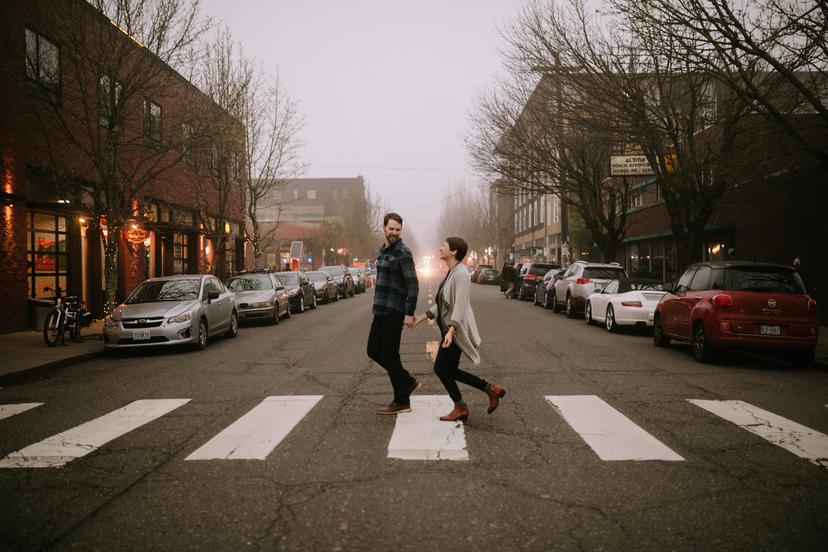 Mississippi has some great little bars, alleys, and quirky locations that work great for pictures! It has a really great Portland vibe to it.
Alberta Arts District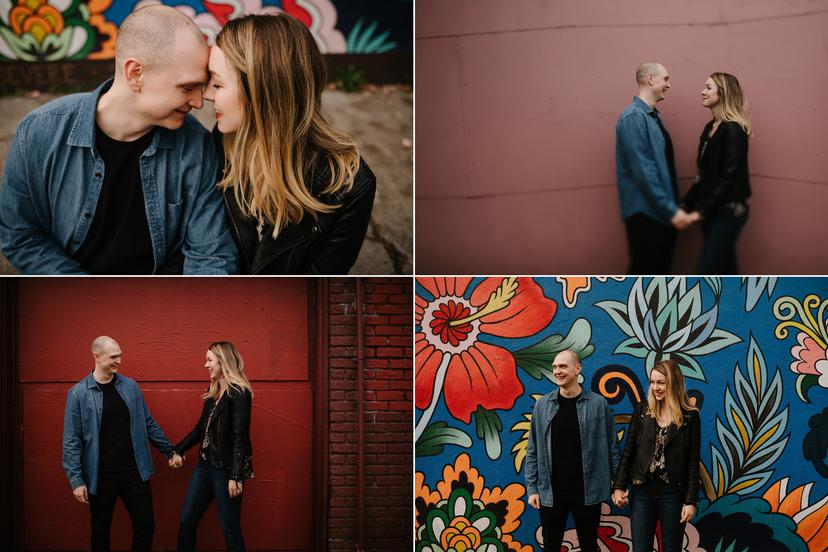 Alberta has so many colorful walls, buildings and murals! It has a really playful artsy vibe that photographs really well.
ENGAGEMENT PHOTO LOCATIONS OUTSIDE OF PORTLAND
Crave something adventurous? These engagement locations are a further drive, but they are so worth it!! The Pacific Northwest has so many beautiful places to explore and I'm always down for a fun road trip so we can get to know each other better! There are a ton of places not on this list, but these are some of my tried-and-true favorites! Just note that some spots on this list might incur a travel fee since they are significantly further from Portland!
COLUMBIA RIVER GORGE ENGAGEMENT PHOTOS
The Columbia River Gorge is my go-to place for stunning natural beauty and epic outdoor locations near Portland. Some of these spots are only about a 40 minute drive from the city!
Women's Forum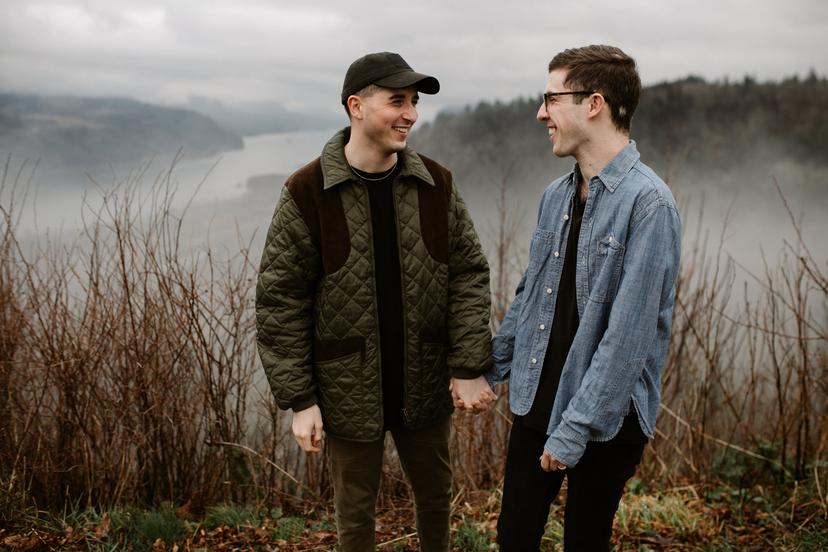 The Portland Women's forum has amazing views and hardly ever any crowds. I like it a lot more than Crown Point (it's popular nieghbor) for this reason. Less tourists watching you is a good thing! You can see more photos from the Women's Forum on my blog here, here, here, and here.
Government Cove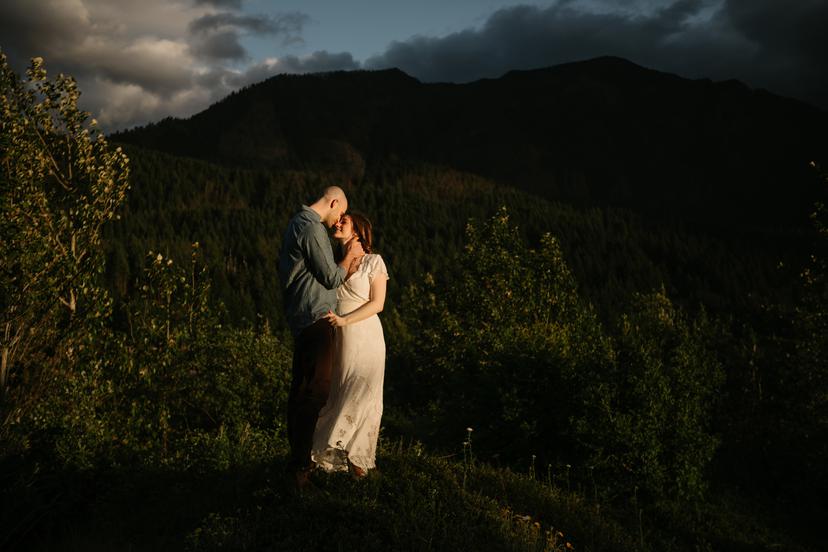 My photographer friends sometimes refer to Government Cove as the "Iceland" of Oregon. It has mossy cliffs. It has epic views of the surrounding mountains. It has the river. It's all-around stunning and also usually empty (except fellow photographers, because hey, we love this spot). Seriously epic views here! You can see more pictures of Government Cove on my blog here, here, here, and at the end of the blog posts here and here.
Latourell Falls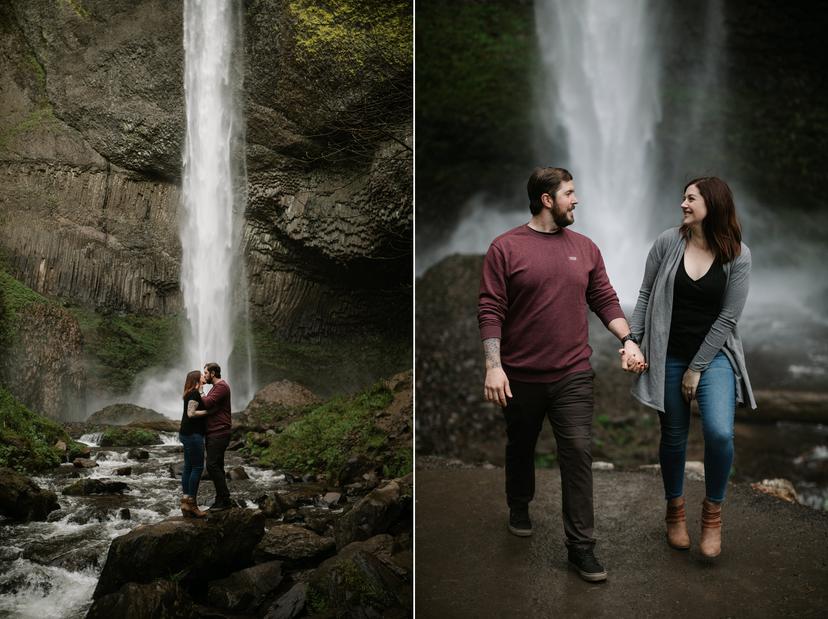 Latourell Falls is my go-to waterfall. It's gorgeous and it's SUPER easy to get to (just 40 minutes from Portland) plus it only takes like 5 minutes to walk down from the parking lot to the falls. You can also choose how close you want to get to it. You can stay comfortable on the paved path or walk a little trail all the way up underneath it! Check out more Latourell Falls photoshoots here, here, and here!
You can also see this proposal I recently photographed at Latourell here!
Viento State Park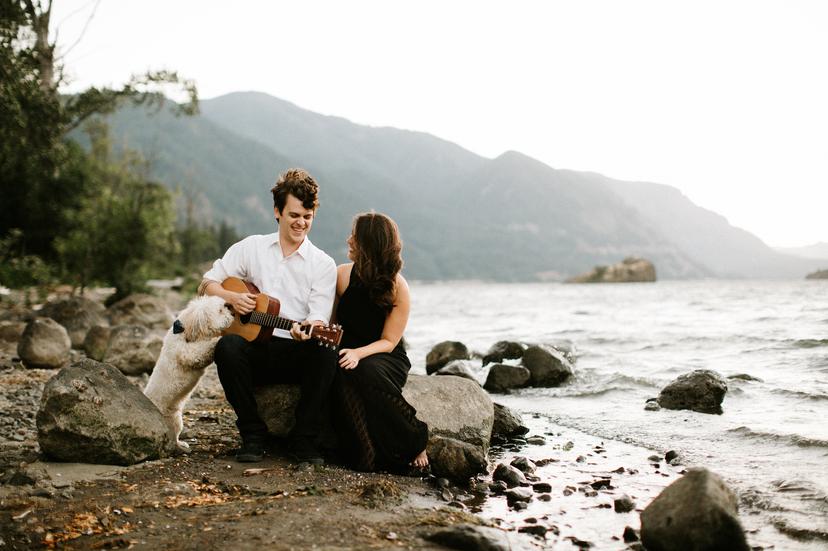 This windy park has beautiful views of the Washington side of the gorge and it's situated right along the river. It has a really lovely, windswept and romantic feel. You can see more photos in the middle of this blog post, at the end of this blog post, and at the end of this one too.
Dalton Point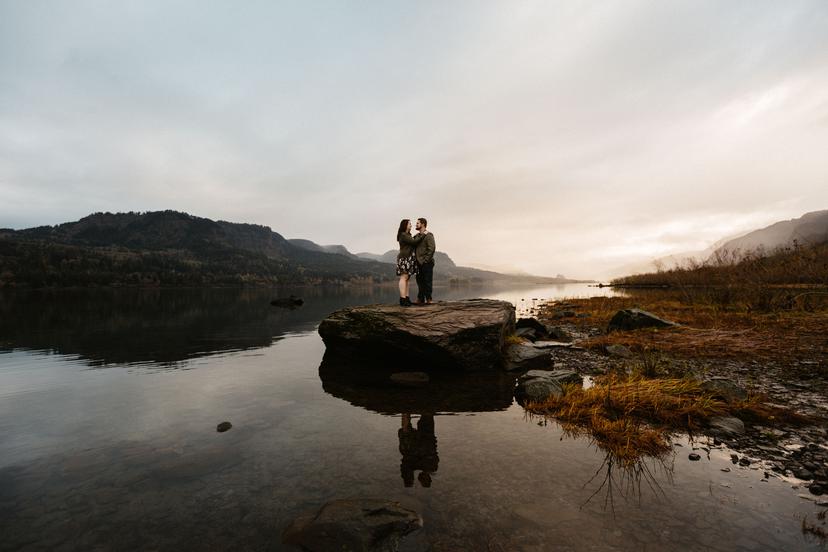 Dalton Point is a nondescript boat launch along the Columbia River that looks beautiful in photos. There's a little beach on one side that has amazing views of the cliff walls too. You just have to play it by ear because this amazing location changes a LOT depending on how high the water level is! It works best in drier months or whenever the river is low so you can walk out on the rocks for the best views. You can see more Dalton Point photos on my blog here, or at the end of this post here.
Steep Creek Falls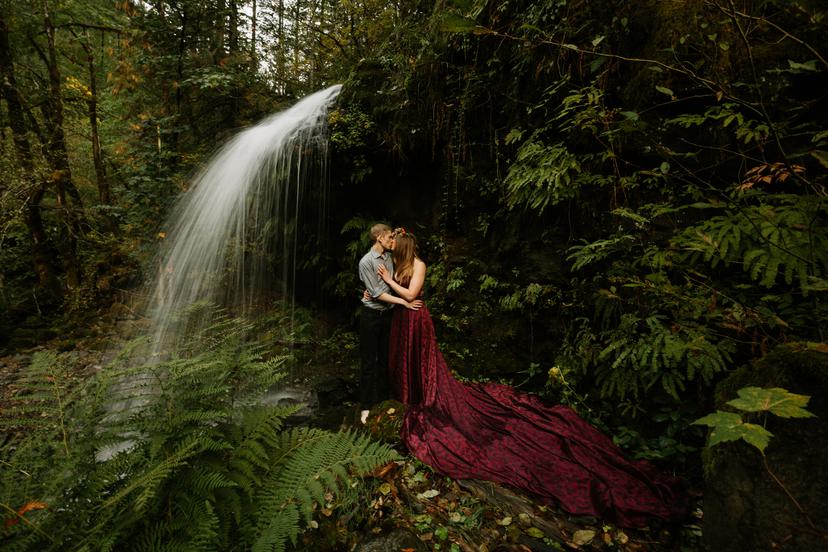 This secret waterfall is up a long dusty road on the Washington side of the gorge. It involves a short, slightly challenging trail (5 min) but the waterfall is totally private and looks amazing in photos. I could hang out here all day. Check out more photos of it here or here!
St Cloud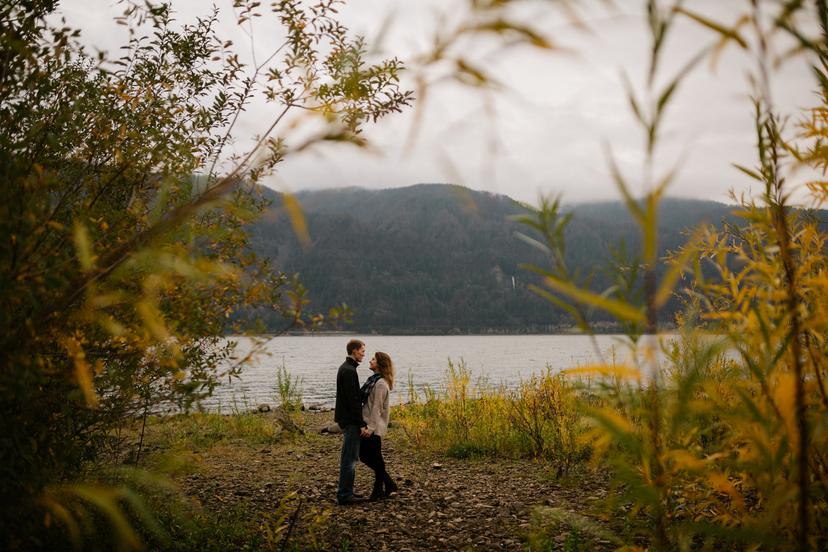 This is another riverside location, but this time on the Washington side of the gorge with good views of the Oregon side! It looks amazing in the fall when the willows turn a pretty color!
Beacon Rock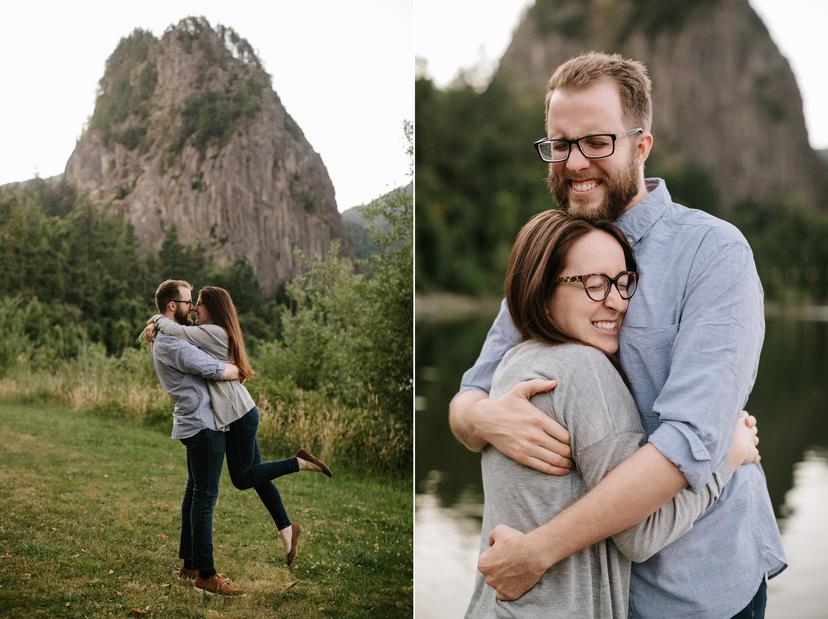 Beacon Rock has two beautiful locations - the boat ramp area that shows off the entire epic rock, as well as the trail that's actually ON the rock, which has beautiful mossy rocks and dark forest vibes! You can see more pictures at the end of this blog post here.
Panther Creek Falls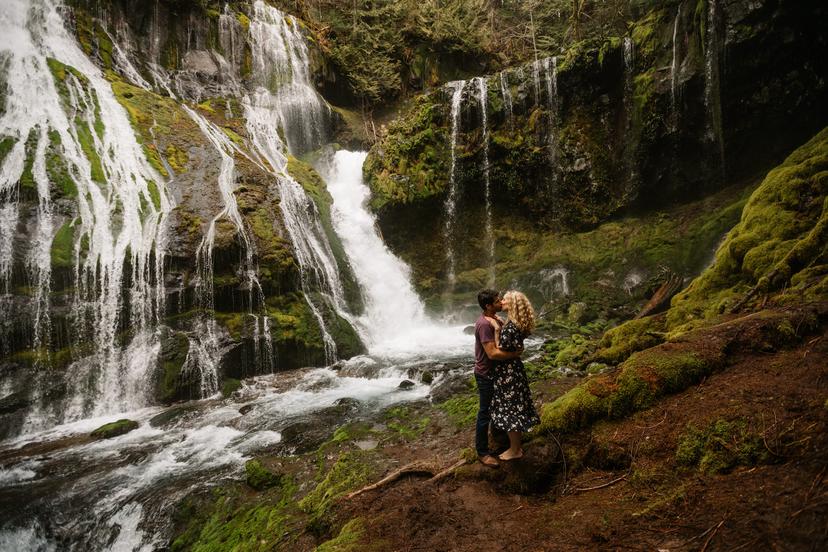 Panther Creek Falls is in Washington and it's about a 90 min drive from Portland. It's one of the most beautiful waterfalls I've ever seen and it's so incredible to take photos there! It's definitely better for more adventurous couples though - getting down to the base of the falls can be tricky and a little dangerous. The trail is steep and slippery (although very short, maybe like 1⁄3 of a mile long) and I always tell couples to wear their hiking boots until we make it down to the botton. You can see more photos here or here!
Rowena Crest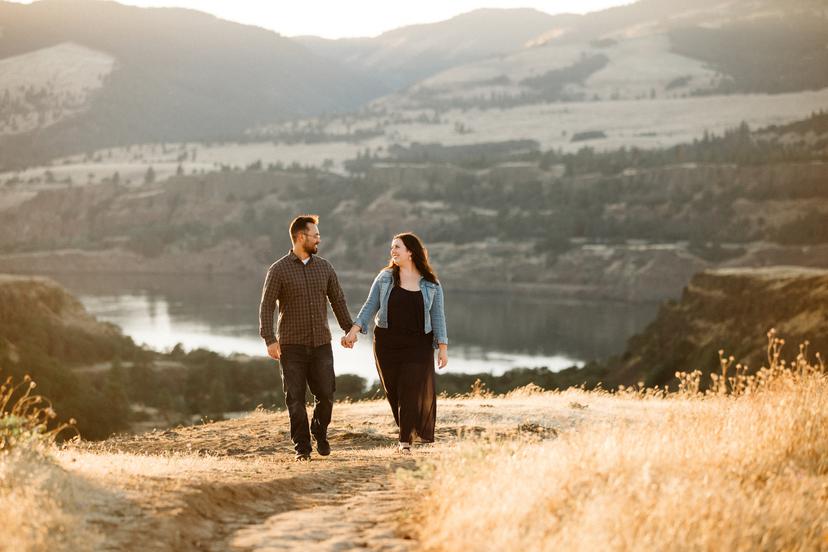 If you drive deeper into the gorge, Rowena crest greets you with golden hills, drier landscapes and stunning vistas! It has more of a desert vibe than the western part of the gorge. You can see more Rowena Crest photos at the end of this blog post!
MOUNT HOOD ENGAGEMENT PHOTOS
Mt. Hood has tons of stunning locations for engagement photos. I frequently drive up the mountain with couples and stop in random locations along the road because there are so many little spots that look good! These are a few of my favorites.
Tom, Dick and Harry Mountain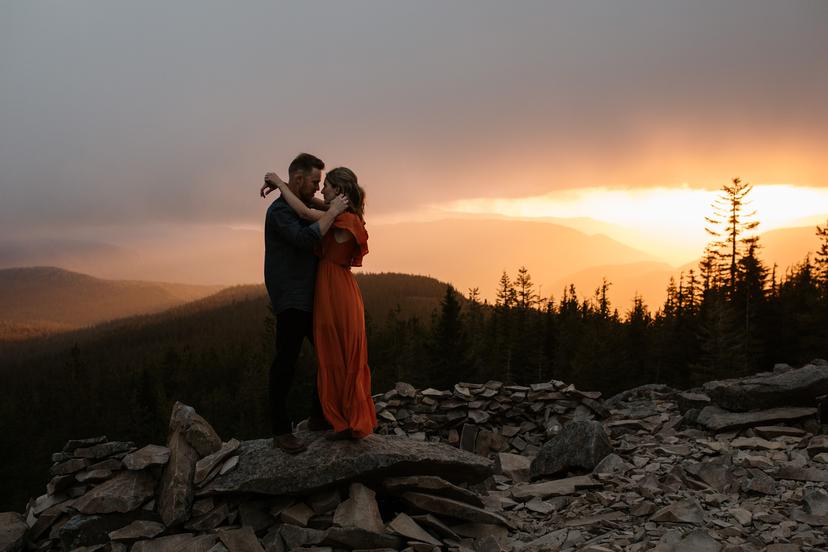 Want to hike? This 6 mile round trip hike is insane. After 1.5 miles you get views of Mirror Lake with pretty Mt. Hood reflections. And after 3 miles you summit Tom Dick and Harry mountain, a rocky outcropping with Mt. Hood right in front of you (if the weather behaves). Even if the weather doesn't behave, the viewpoint still looks amazing in the fog and mist!! Make sure to bring headlamps to hike down after though! You can see the full photoshoot with more pictures here!
White River Recreation Area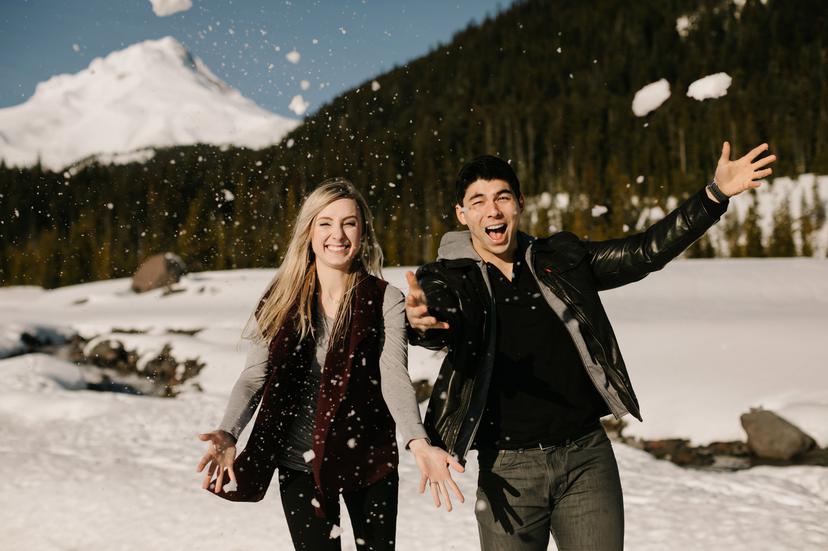 My family went sledding here all the time when I was a kid! It gets crazy busy on weekends in the winter, but the rest of the time White River is pretty chill and it has beautiful views of Mt. Hood!
Timberline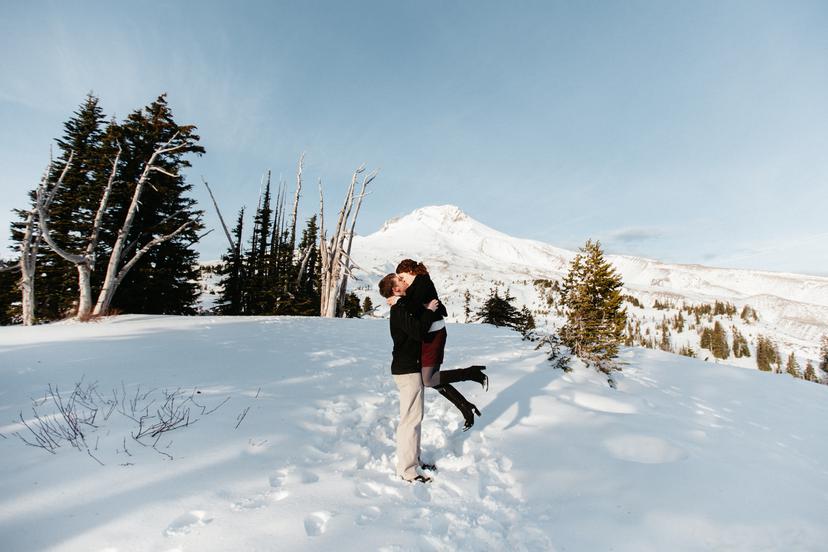 Timberline Lodge is iconic and has some of the best views of the mountain. I like to take pictures in various spots along the edge and back of the parking lot, and occasionally closer to the lodge (it gets really busy inside though). You can see more examples of how Timberline looks in photos on this wedding blog post here and elopement here as well as this old 2014 blog post here!
Tamanawas Falls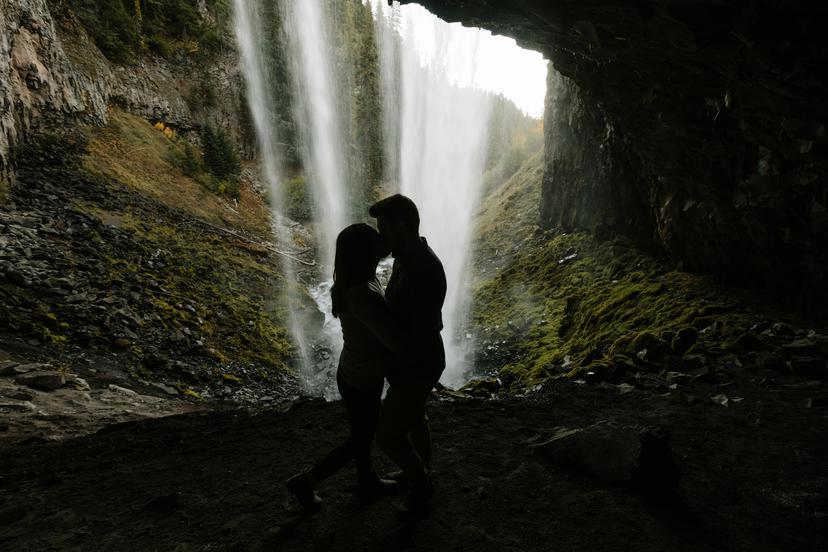 This 3.6 mile hike is awesome. The waterfall is stunning and there are a ton of great photo opportunities along the trail too! Perfect if you love hiking together! You can see more photo examples here!
Mazama Trail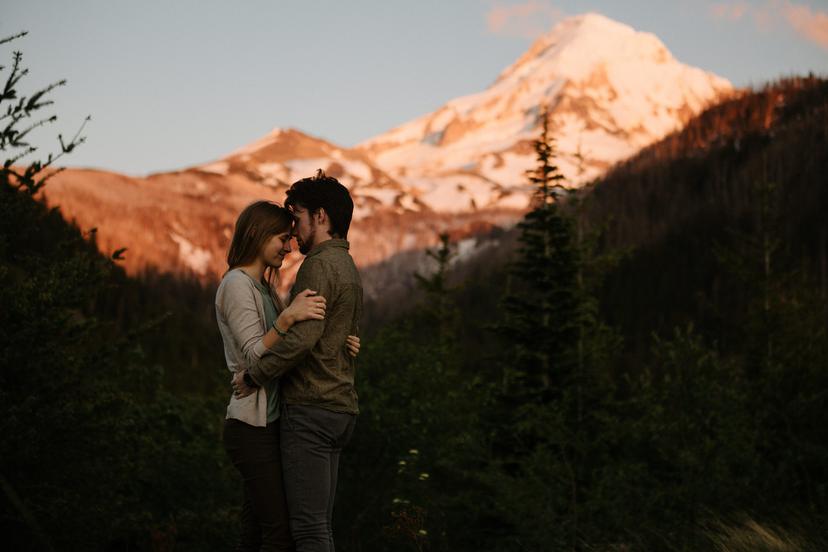 This trailhead on the back side of Mt. Hood is incredibly private and a little tricky to find! But the views of the mountain at sunset are PERFECT. There are also a ton of beautiful forest locations nearby. It's a really gorgeous way to escape into the back country around Mt. Hood and have a blast exploring. You can check out more epic photos from this shoot here!
OREGON COAST ENGAGEMENT PHOTOS
I got my own engagement photos taken at the Oregon Coast because I love it so much! There are a ton of beautiful landscapes along the coast - rugged cliffs, mossy forests, and epic lonely beaches. There really is something for everyone!
Haystack Rock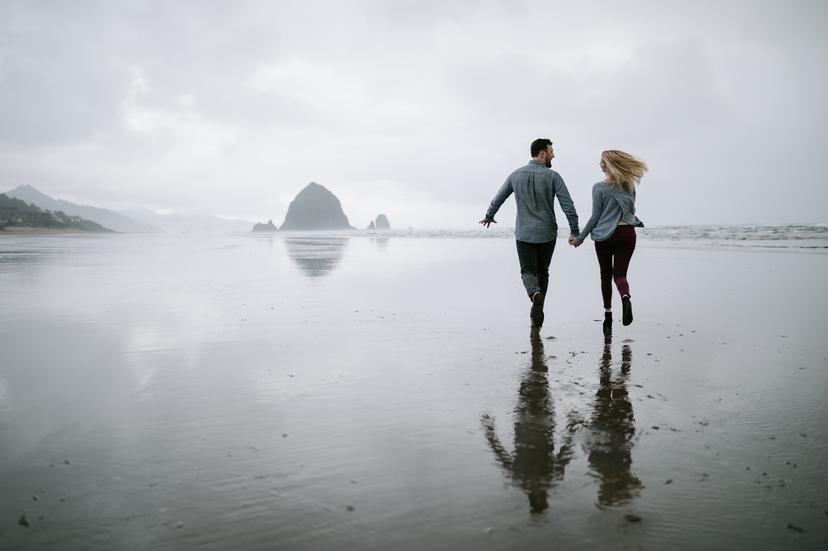 This iconic rock in Cannon Beach always manages to steal the show! It looks so good in photos and it even has puffins living on it part of the year! Pro-tip: weekends in the summer are SUPER busy. You'll get the best photos in shoulder seasons on days with less-than perfect weather when there is NO ONE on the beach! Check out more Haystack Rock and Cannon Beach photos here
Ecola State Park Viewpoint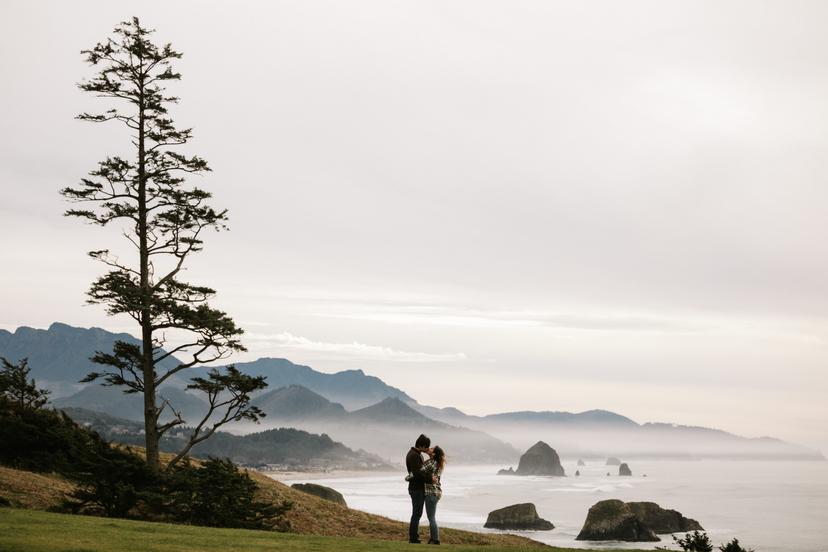 The main viewpoint at Ecola State Park has stunning views of the Pacific Ocean and Haystack Rock from a distance! You can see more photos on blog posts here, here, here, and more here!
Ecola State Park Forest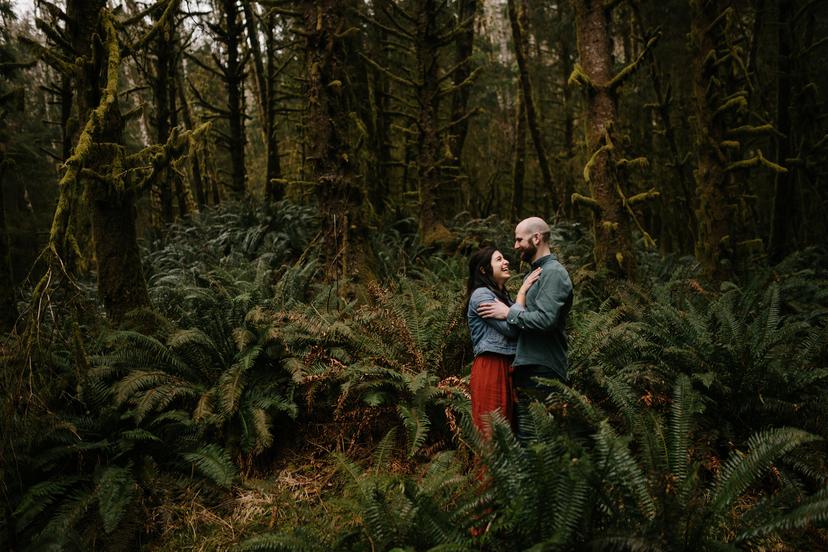 The forest in Ecola State Park is probably my favorite forest in the world, and I don't say that lightly. It's like Jurassic Park in there! It looks sooo good in pictures! I especially love it on foggy days. You can see more photos in the forest on blog posts here, here and here
Indian Beach at Ecola State Park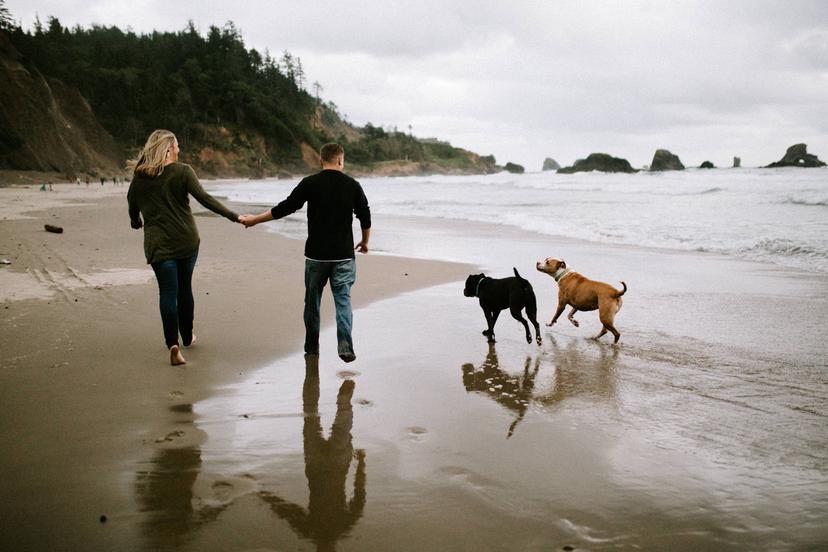 Indian Beach is the last beach on the northern most park of Ecola State Park. It has craggy rocks and the beach is usually not that busy except for a few surfers! There are beautiful stones along the beach, as well as lots of driftwood. It's a magical place. Check out more Indian Beach photos here, and here,
Hug Point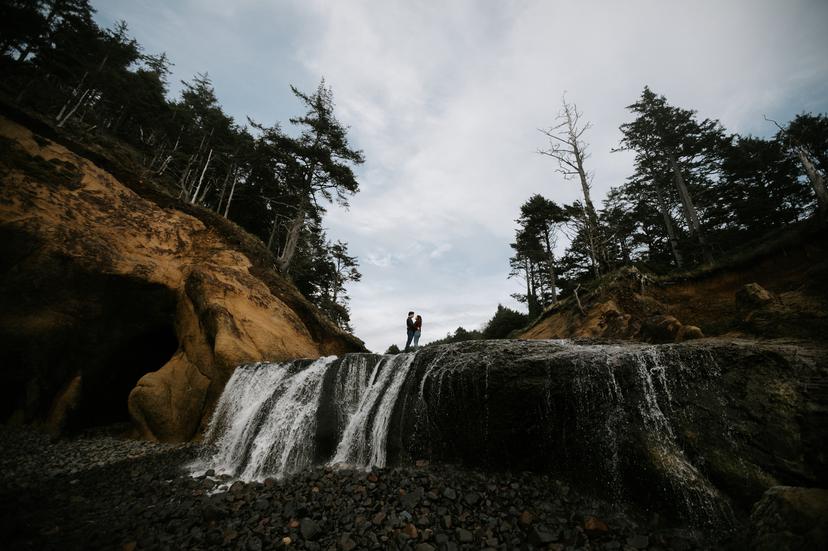 Oregon has it all. It has beaches. It has waterfalls. It has… waterfalls ON beaches. That's what Hug Point is. You do need to make sure to go at low tide though! Otherwise you can get trapped or not make it to the waterfall. Hug Point is only 5-10 minutes south of Cannon Beach, and is one of my all-time favorite locations. Check out more Hug Point photos at the very end of this blog post! or view this recent hug point proposal here!
Oceanside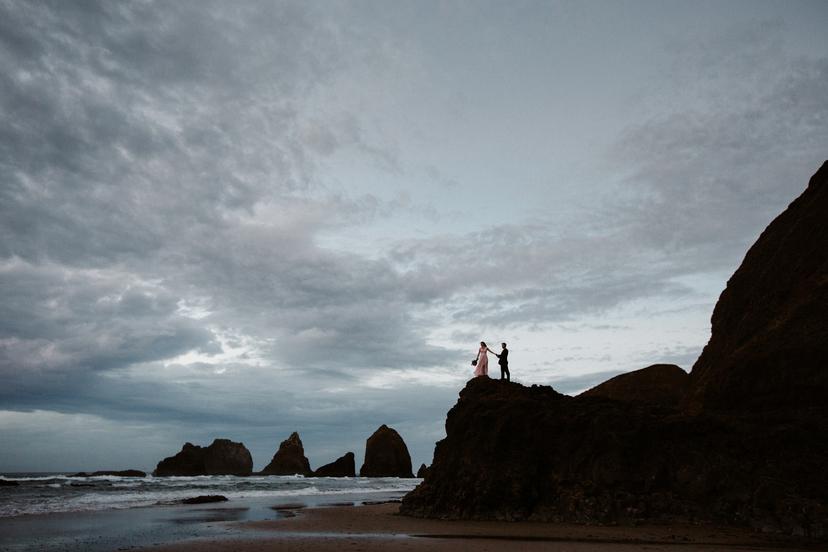 Oceanside has these really dramatic rock formations that you walk through a little tunnel in a cliff to get to! It's best at low tide! You can see more pictures on my blog here and here!
Neskowin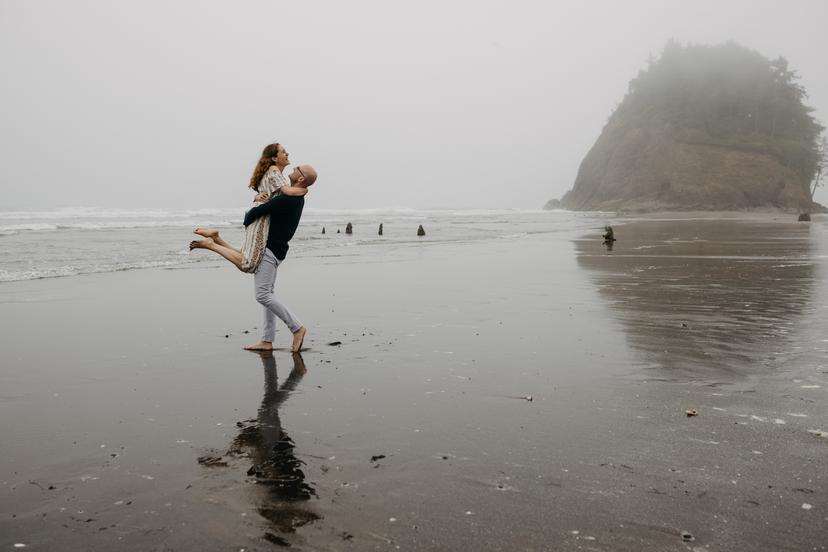 This beach has an old petrified forest peaking out of the waves, and a beautiful tree-covered sea-stack. It has a really amazing Pacific Northwest vibe and it's less well-known than some of the other spots I mentioned. Check out more Neskowin photos on my blog here!
Cape Kiwanda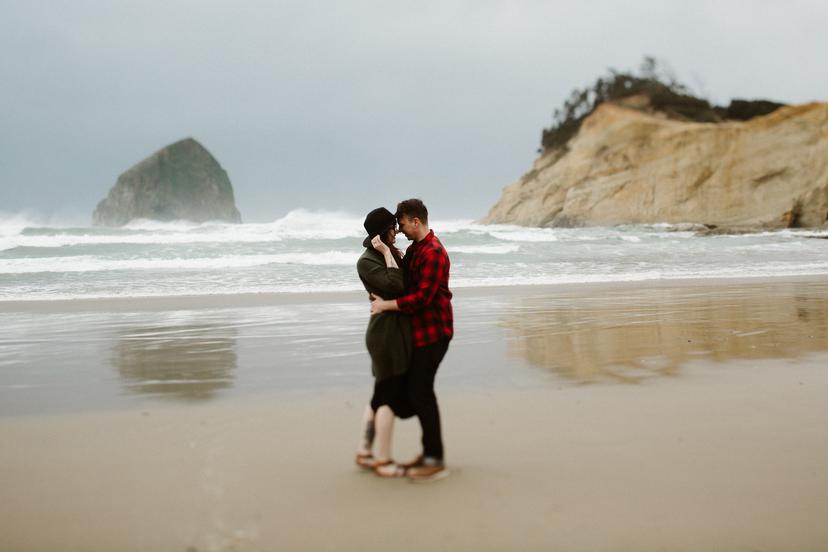 Cape Kiwana in Pacific City was just made to be photographed. The wild orange cliffs and sand dunes are insanely beautiful and really fun to explore! Check out more Cape Kiwanda photos here and a few super old ones from 2014 at the end of this blog post here!.
Heads up - as of spring 2021 they have put up a new fence on Cape Kiwanda that severely restricts access and photo views. It's still a gorgeous location, but it's harder to photograph than before!
God's Thumb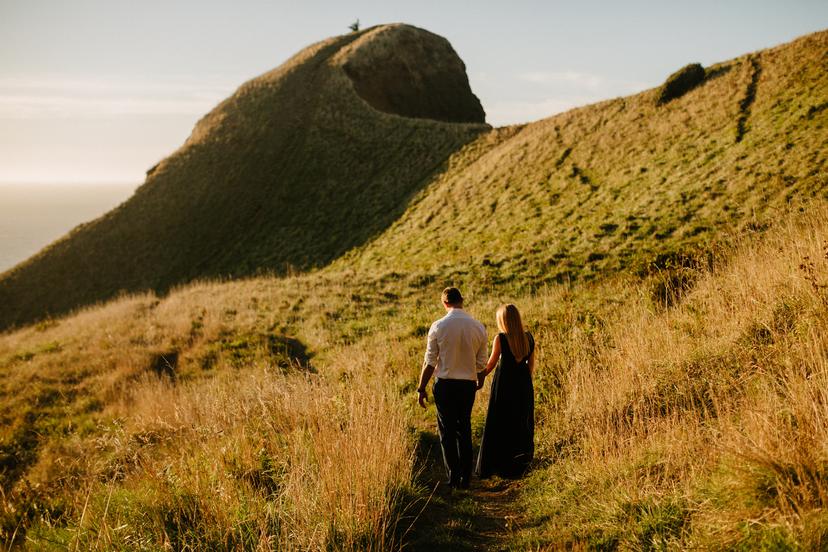 This strange land formation in Lincoln City is about a 2 mile hike and results in some dramatic views of the Oregon coastline!
Yaquina Head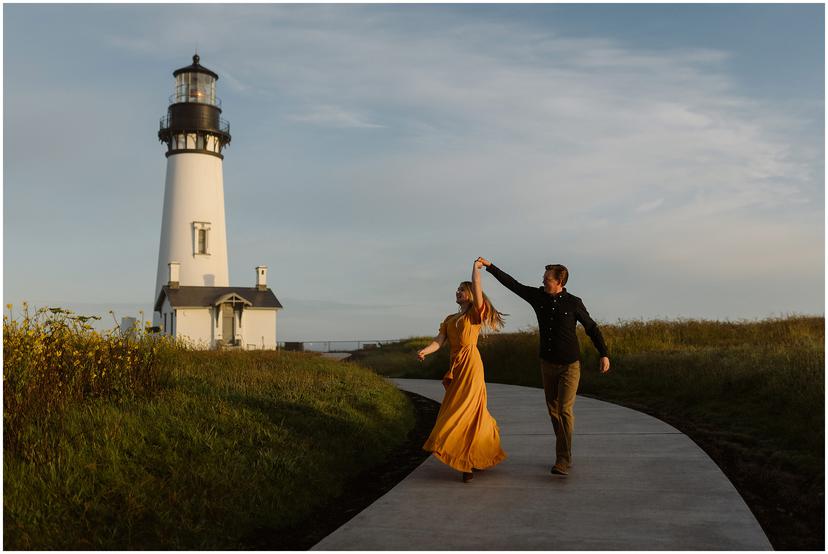 Yaquina Head is a stunning peninsula just north of Newport. There are abundant wildflowers in the spring, rocky and dramatic cliffs, and beautiful lighthouse, and cobblestone beaches. It's a photographer and nature-lover's dream.
You can see a Yaquina Head sunrise shoot on this recent blog post!
CENTRAL OREGON ENGAGEMENT PHOTOS
The high desert in Central Oregon is a beautiful place to take engagement photos! My best friend lives in Bend so I'm always looking for excuses to head there for pictures!
Smith Rock State Park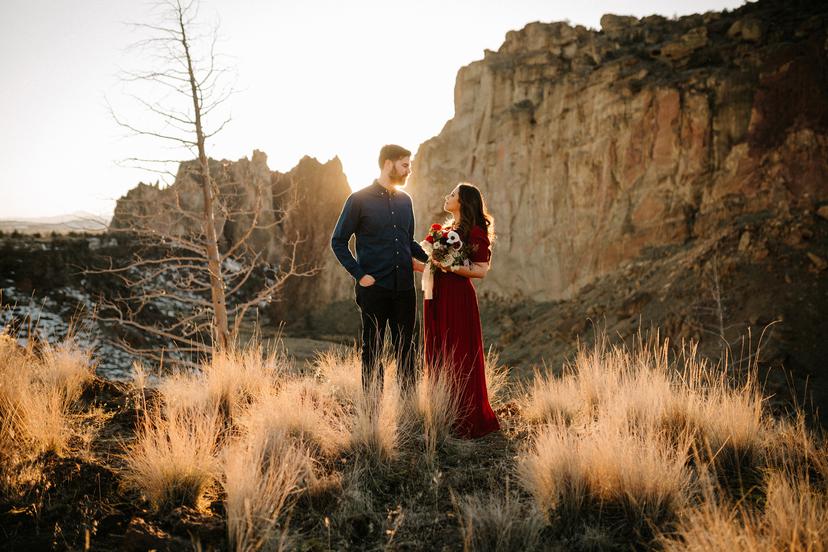 I'm obsessed with Smith Rock State Park. It's definitely one of my top favorite places in Oregon. The jagged rocks have tons of trails and the Crooked river meanders so beautifully through meadows of soft grass. It looks incredible at sunset and it's one the best places for Central Oregon engagement photos! Check out more Smith Rock engagement photos here, and here!
The Painted Hills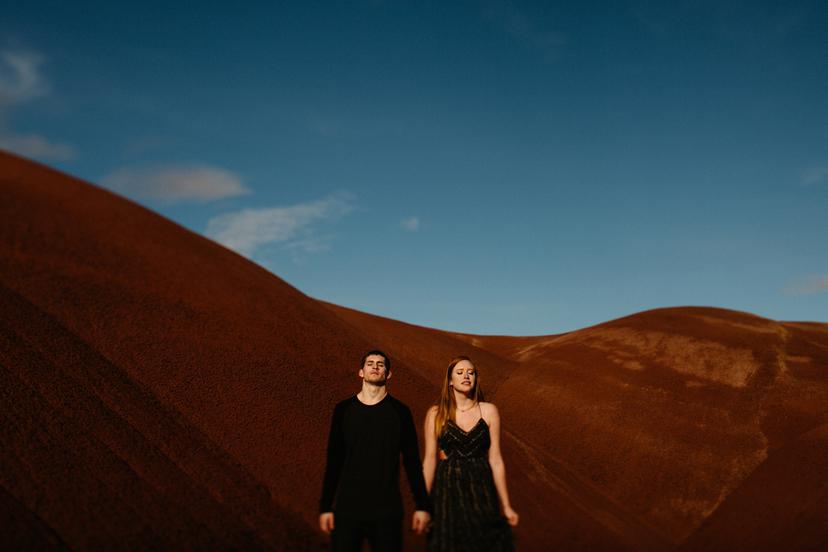 The Painted Hills are far away but the drive is beautiful and its so worth it! It's seriously like taking photos on another planet. The colors are incredible and it's really a fun and unique experience! You can see all the photos from this Painted Hills engagement shoot on my blog here!
Mt. Bachelor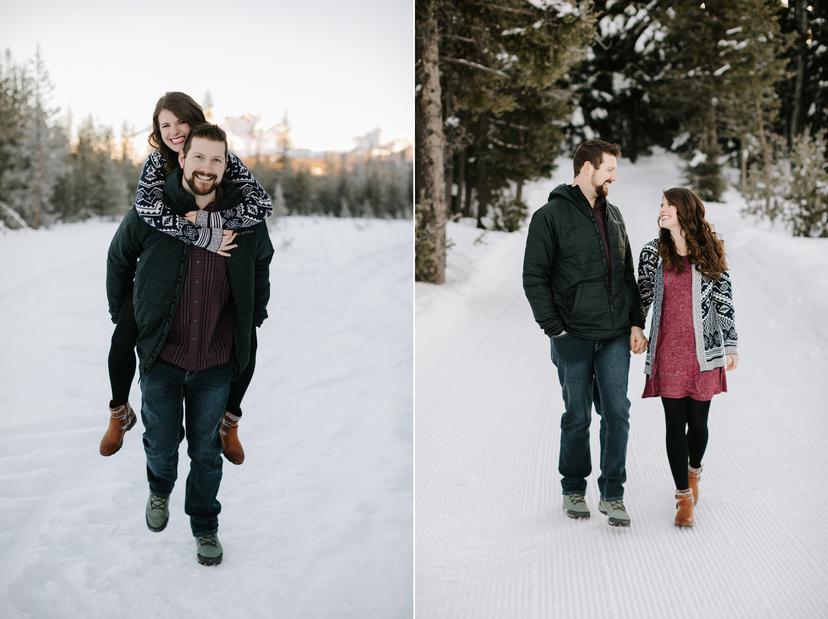 There are lots of fun spots around Mt. Bachelor for engagement photos! The snow-parks have mountain views and look amazing in the winter.
WILLAMETTE VALLEY ENGAGEMENT PHOTOS
There are a few awesome spots in the Willamette Valley that I absolutely LOVE for engagement photos! If you live somewhere like Corvallis, Salem, or Albany, these are great options to consider!
Silver Falls State Park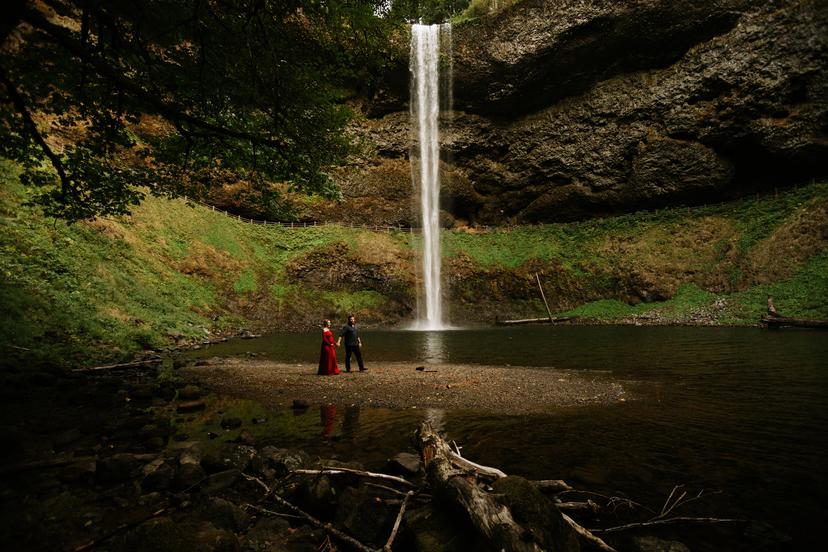 This state park has more waterfalls that it even needs. The forest is beautiful and the falls look epic. Can't go wrong here!
Willamette Valley Vineyards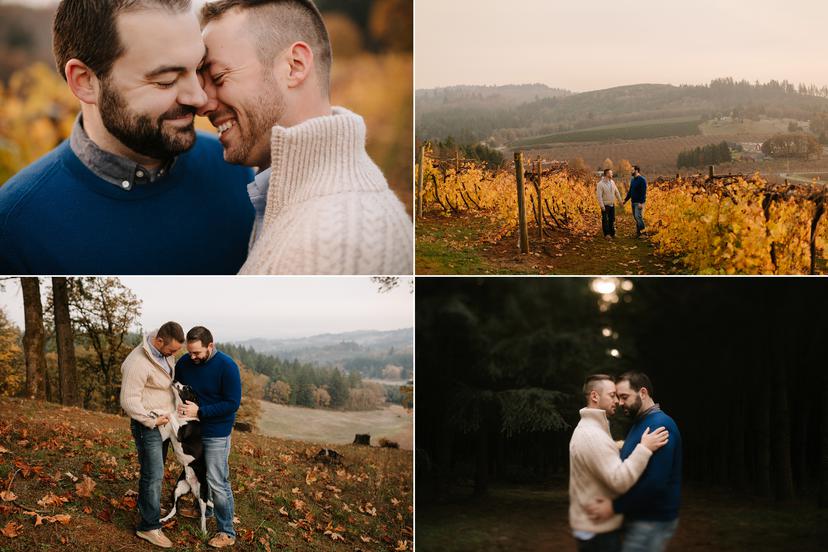 Willamette Valley Vineyards is easy to get to (right off I-5) and it has amazing views! It looks especially awesome in the fall when the leaves turn yellow. Stop by for some wine tasting (bring me!!) and then get permission to take photos after!
Mary's Peak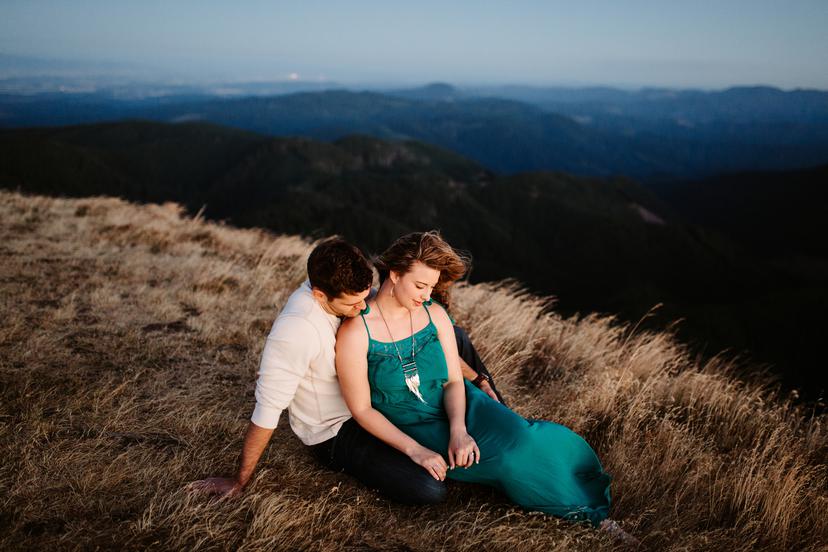 I used to love to drive up Mary's Peak while I was in college! It's got the highest views in the Coast Range and although it is sometimes windy, it looks really amazing in photos. The mountain views are insane and it feels like being on top of the world! You can see more photos at the end of this 2015 blog post here!
Fitton Green Natural Area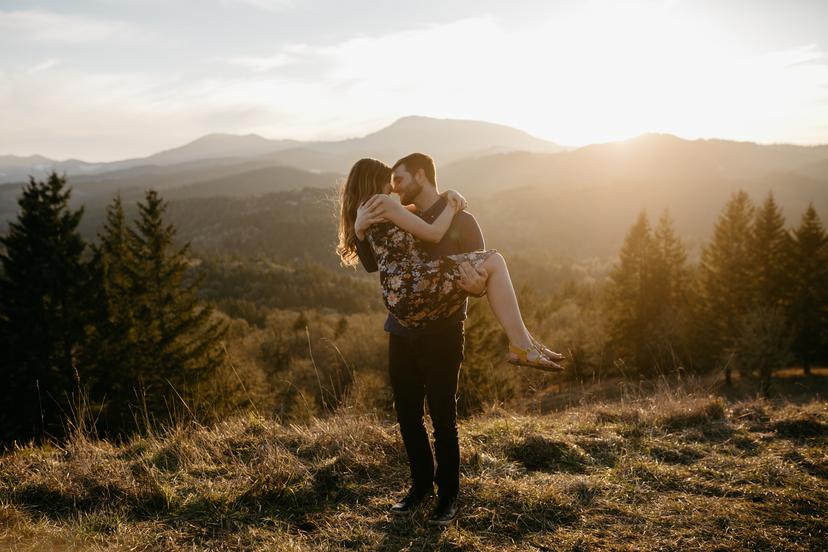 Fitton Green is this secret spot outside of Corvallis that has amazing mountain views without a long drive. It's a short hike (maybe about a mile loop?) and it looks incredible at sunset! Lots of open space and pretty grass. You can see more photoshoots from Fitton Green here and at the end of this blog post here!
Want to know more about my engagement sessions? Check out my my pricing and info page, or contact me!