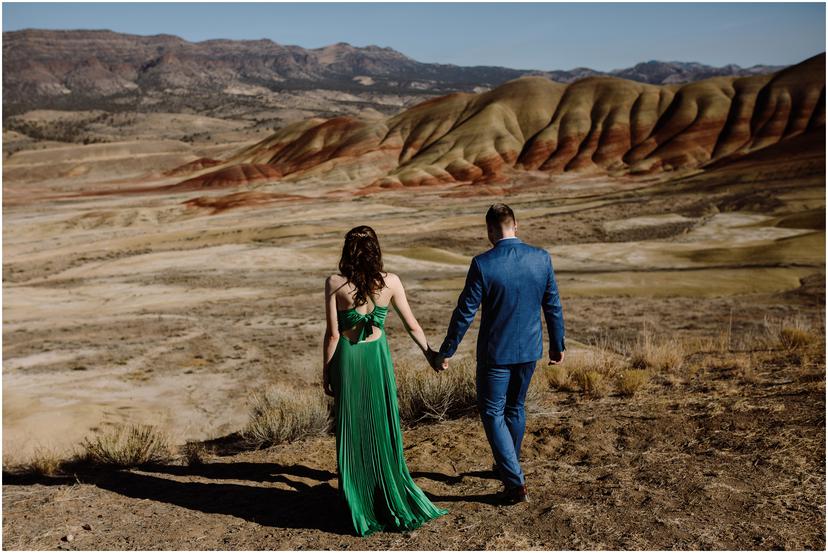 Prineville Reservoir Elopement
Taylor and John eloped at a rustic cabin overlooking Prineville Reservoir in late October. Only their immediate families attended, with one close friend who performed the ceremony. The elopement was beautiful but casual, with a laid-back vibe and lots of love. Taylor and John have been doing long distance for ages across the Canadian-US border, so just getting to even be around each other in 2020 was a feat. They went around 8 months without seeing each other this year, so they were incredibly excited to finally marry and live legally in the same country. They planned this little celebration in a deeply personalized, relaxing, and fun way, and I loved every minute of this day and working with them!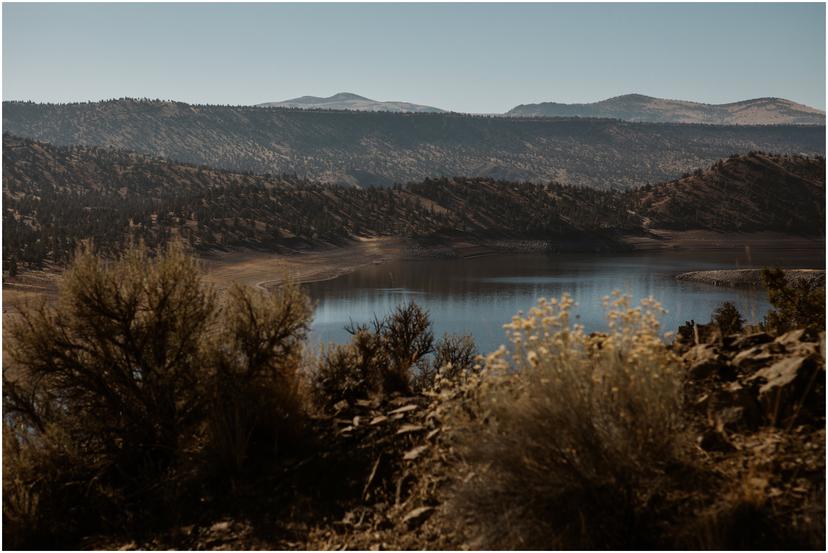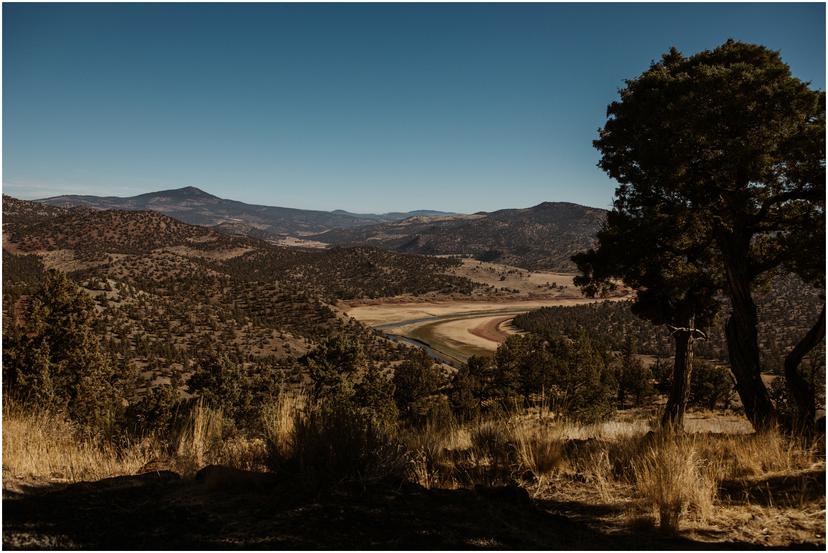 Where is Prineville Reservoir
Prineville Reservoir is located about 20 minutes southeast of Prineville in Central Oregon. It's a little over an hour drive from Bend and about 3.5 hours from Portland. The main road to the reservoir is a dead-end, so there is only one way in, and it's rather long and winding. But extremely scenic.
About Prineville Reservoir
Prineville Reservoir was created by damming the Crooked River. It flooded a canyon, and now it's a popular location for fishing, boating, and camping in the high desert.
The lake contains rainbow trout, catfish, small and large-mouth bass, crayfish, and crappie. There are two campgrounds on the lake and numerous rental properties available as well. The lake is suitable for many types of outdoor recreation, including hiking, birdwatching, wake-boarding, water skiing, kayaking, paddle-boarding, windsurfing, wildlife-viewing, and even stargazing. This is a perfect place to elope if you want a wild Oregon outdoor experience with a variety of accommodations and activities at your fingertips.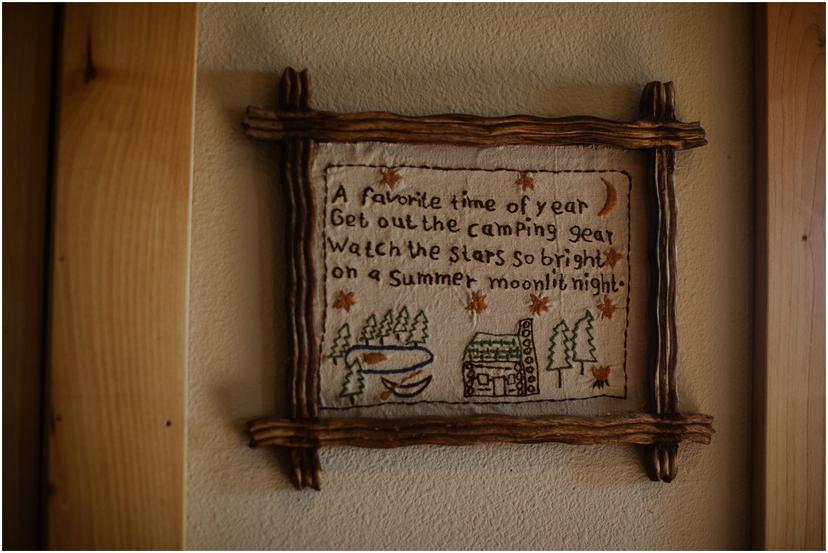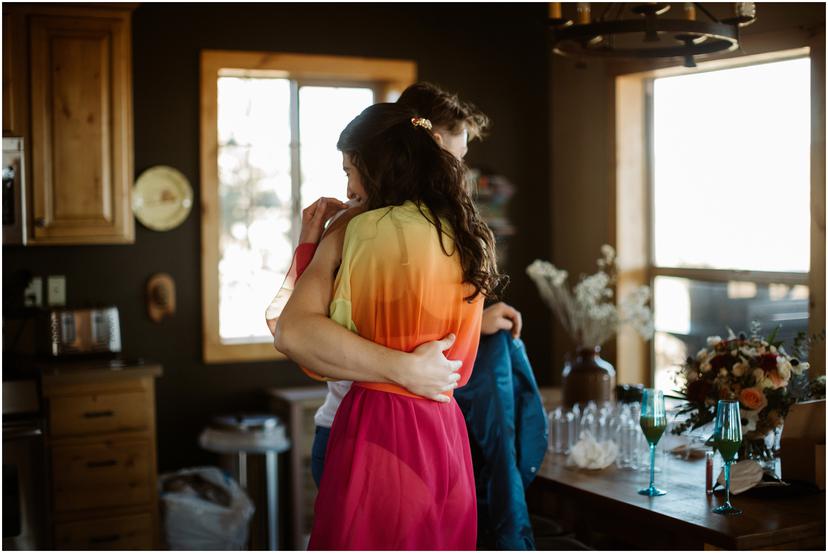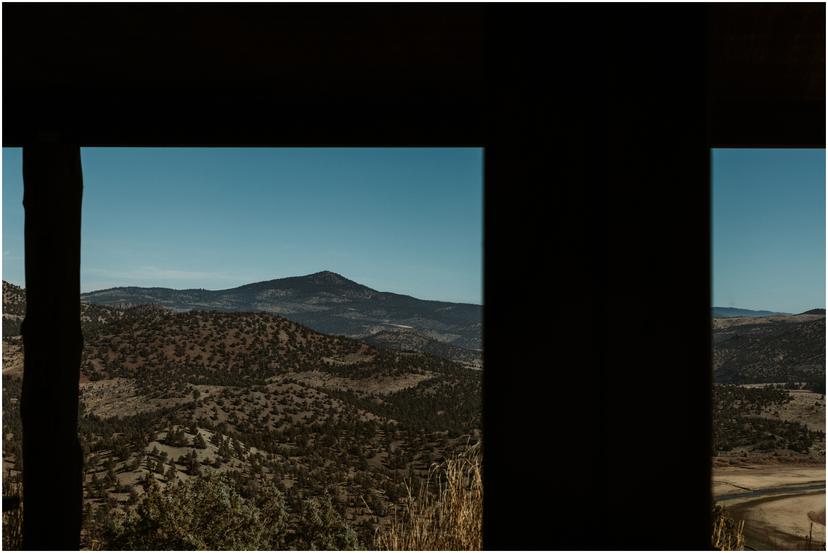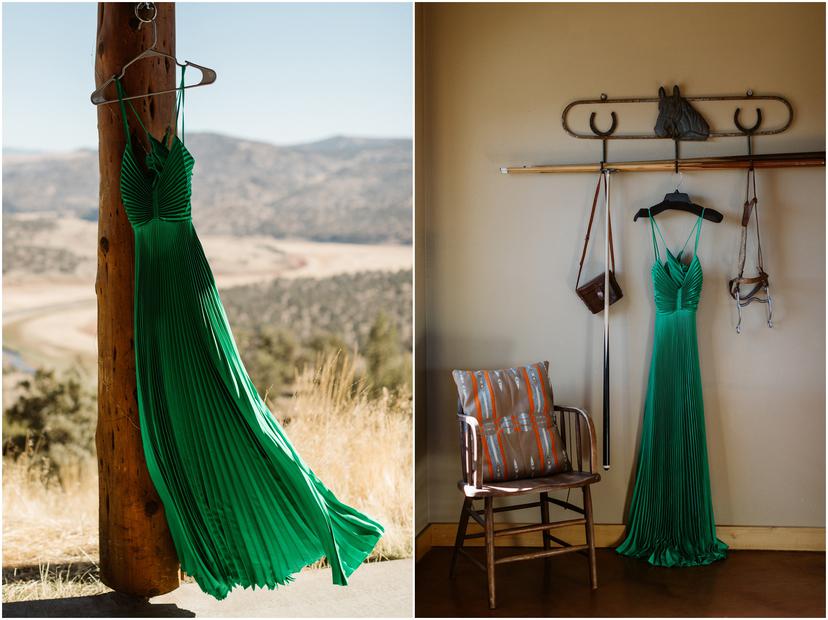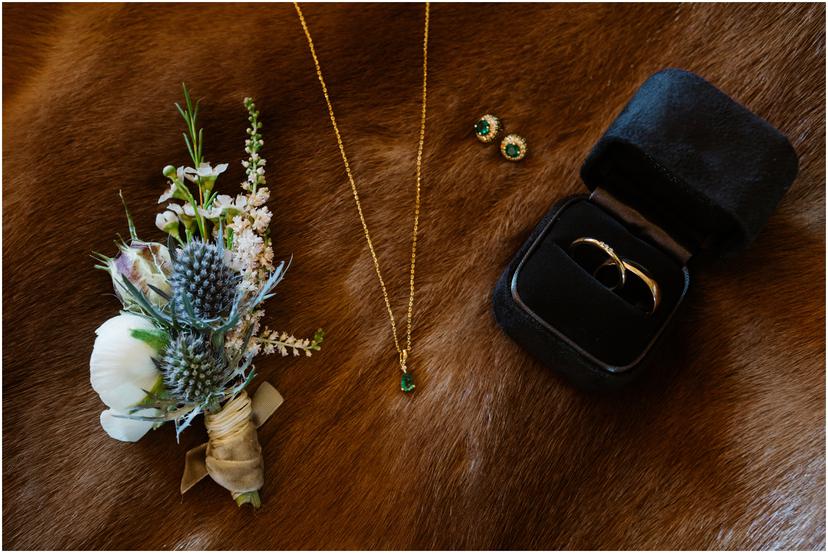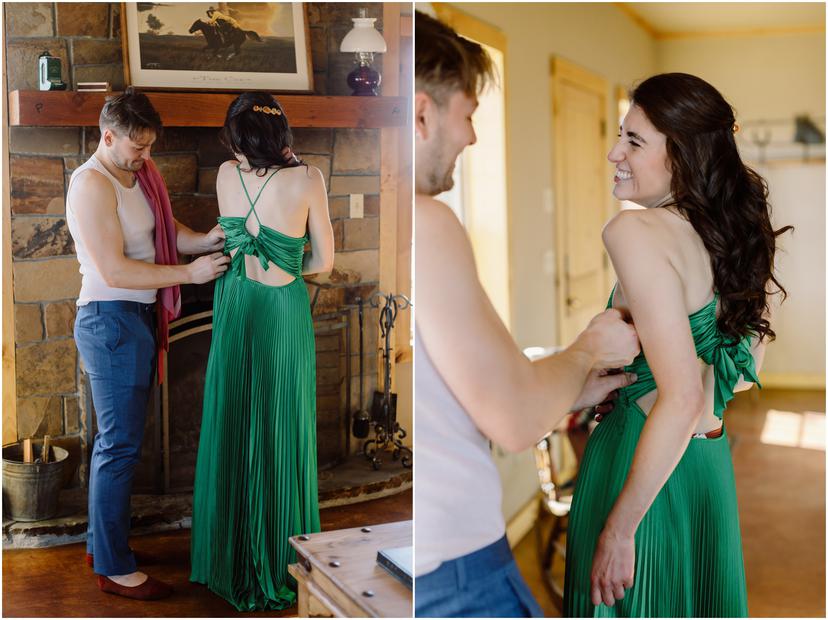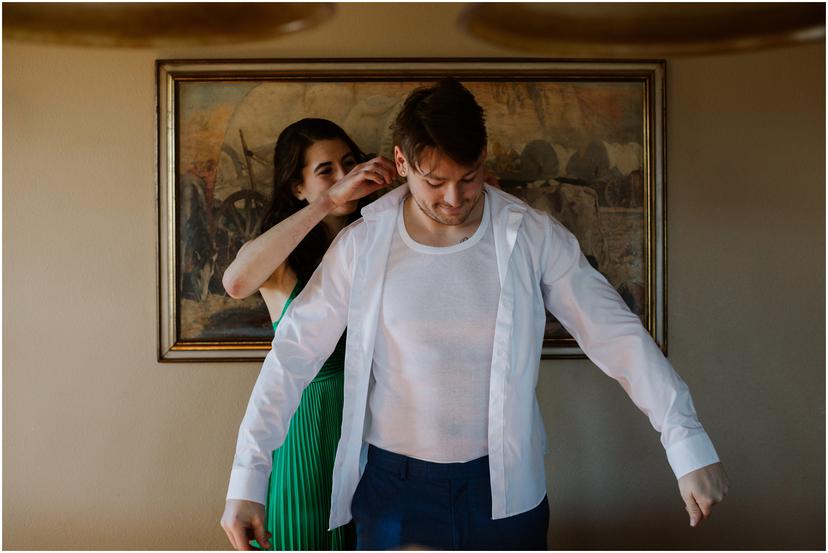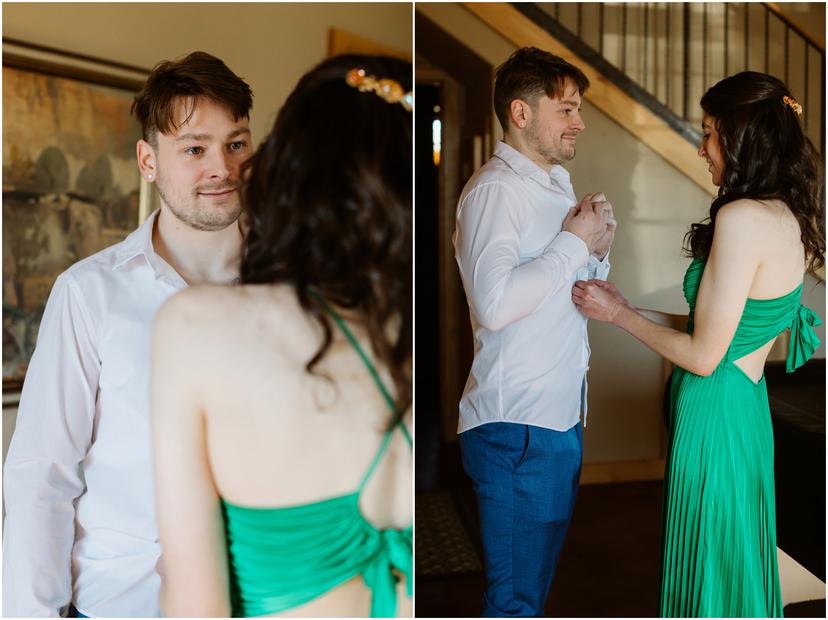 Airbnb elopements vs state park elopements
Elopements can feel overwhelming because the world is literally your oyster, and there are SO many places to have a small wedding. But as you dive deeper and do more research, you'll quickly learn that MANY of the most beautiful places to elope require permits. And that these are frequently expensive, hard to come by, or just a pain to acquire.
If you are planning a casual elopement, sometimes it's easiest to book a rental property that allows you to have your elopement on-site as part of your rental agreement. Why? First, it's effortless. Simple for you, since you can do everything in one place. And good for your guests if you don't want people to be too cold or have to hike too far. Plus, it's great if you have an intimate wedding and you just want to hang out without worrying about driving home after.
I'm personally a big fan of doing things this way because it's really laid back and creates an atmosphere for your day that is private, comfortable, and simple. Which are great vibes for an elopement or intimate wedding.
State Parks (or National Parks) can be amazing… but you will always have to worry about random strangers crashing your day, hikers, rangers, and overall privacy. You will also have a time limit to abide by. Yes, the scenery is gorgeous. But at the expense of the feeling. Your photos will look pretty, but you may feel rushed, watched by strangers, or more anxious overall.
Luckily, you can have your cake and eat it too. You can get married somewhere private, AND get gorgeous photos somewhere epic. Just plan a photo session at a nearby location for part of your day. You can get beautiful images in your wedding attire, without the stress of saying your vows in front of strangers. This is exactly what Taylor and John did, and it was SO fun.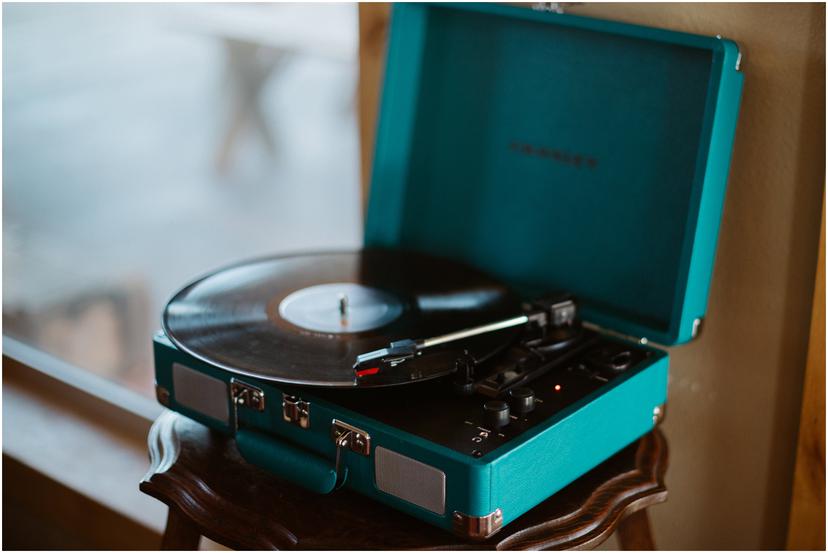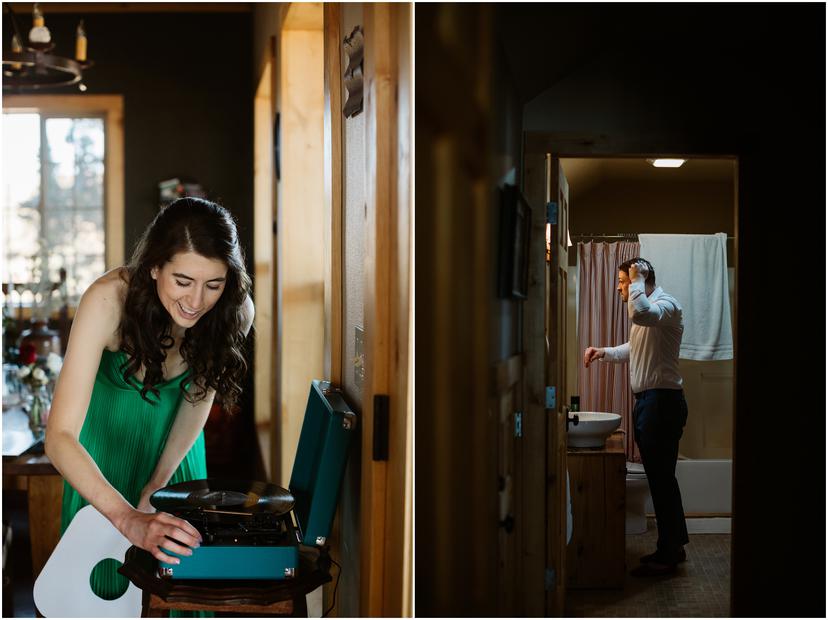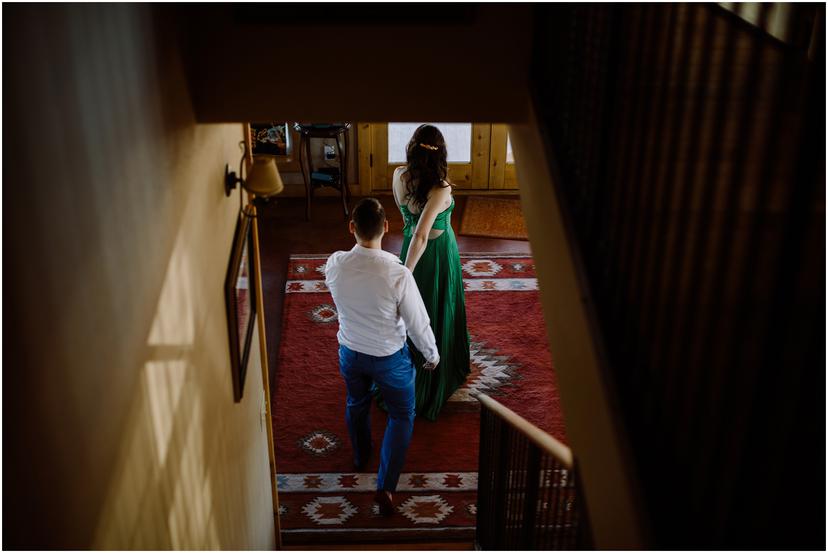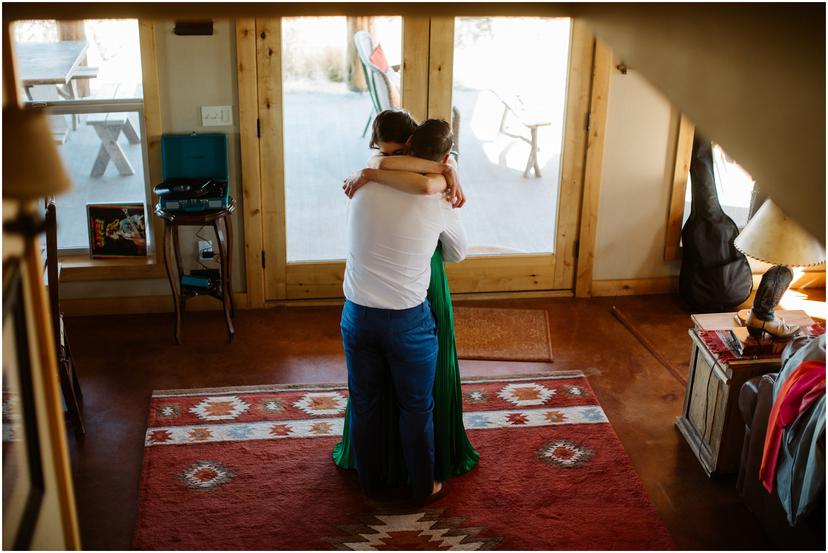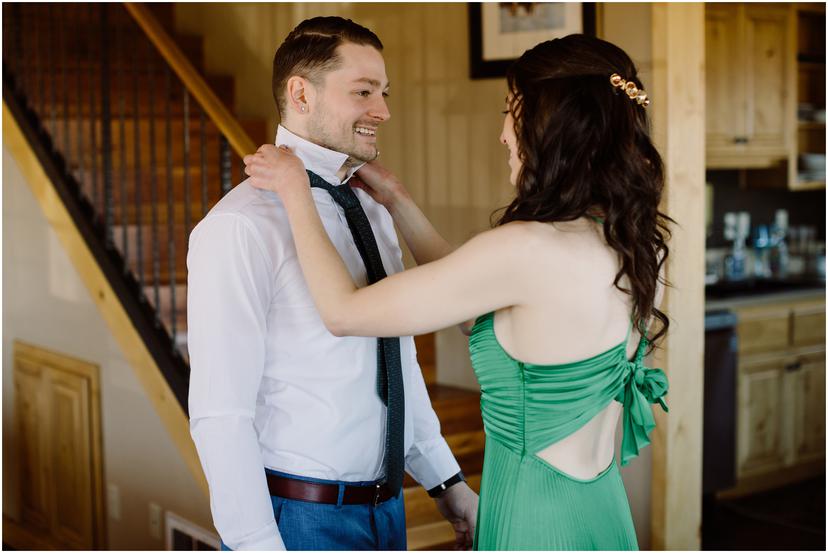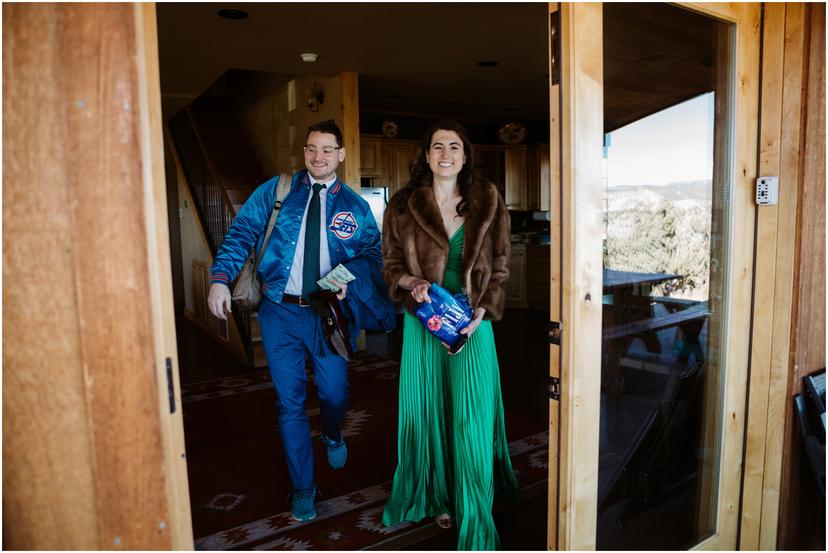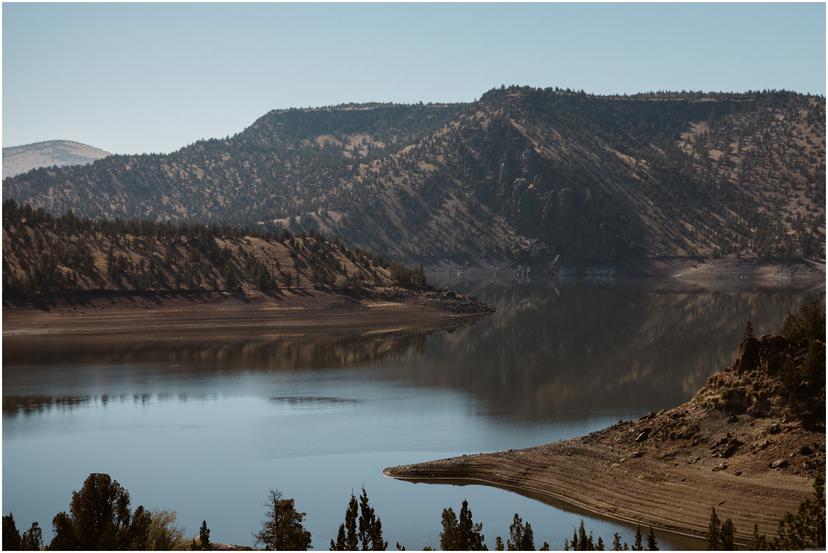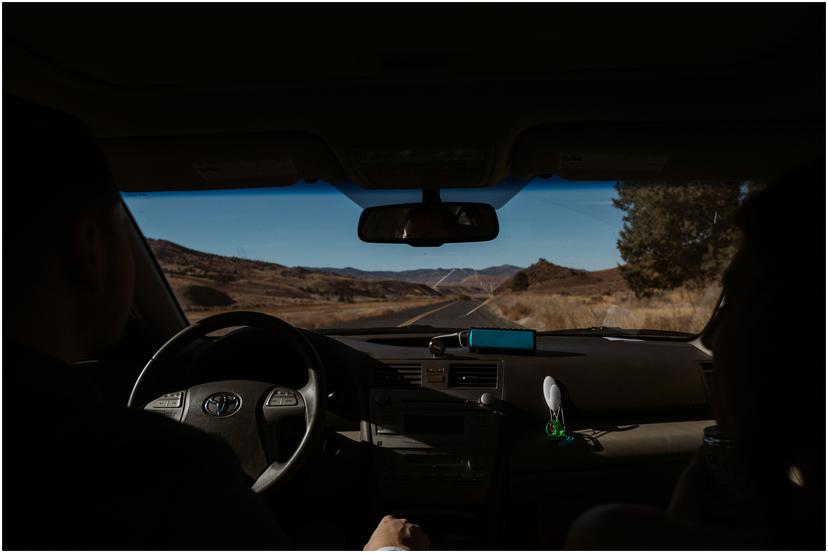 Painted Hills wedding photos
Although the Prineville Reservoir is visually stunning and we easily could have taken all our photos around it, there was another nearby attraction that outshined it in physical beauty: The Painted Hills. The Painted Hills are one of the 7 wonders of Oregon and are a phenomenal place for taking photos. As previously mentioned, it would have been a LOT more challenging to plan an entire elopement at the Painted Hills themselves, but it was very easy to drive there and back for a couples photoshoot before the wedding! Taylor, John, and I listened to country music, talked about our favorite TV shows, stopped at Taco Bell, and had a freaking BLAST on our mini road-trip to the Painted Hills and back.
We had one hour to take portraits, and the landscape did not disappoint. I quickly directed the couple to my three favorite locations at the Painted Hills, and we spent about 20 minutes at each spot. I did this shoot there back in 2016, so I was familiar with the area and stoked to return!
If you visit The Painted Hills or plan on taking photos there yourself, make sure you follow all Leave No Trace principles, stay on the trail, and take their pledge to #donthurtthedirt. The hills and surrounding ecosystem are extremely fragile. Also, there is no running water available at The Painted Hills, so plan ahead!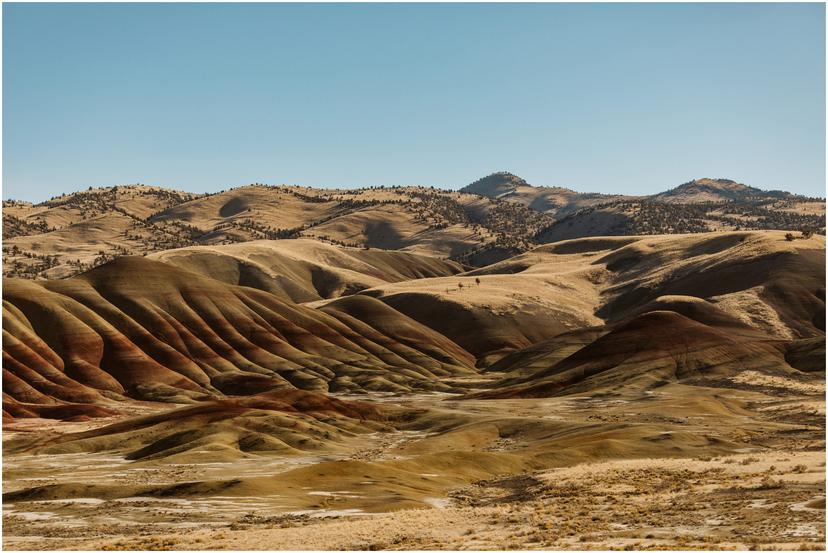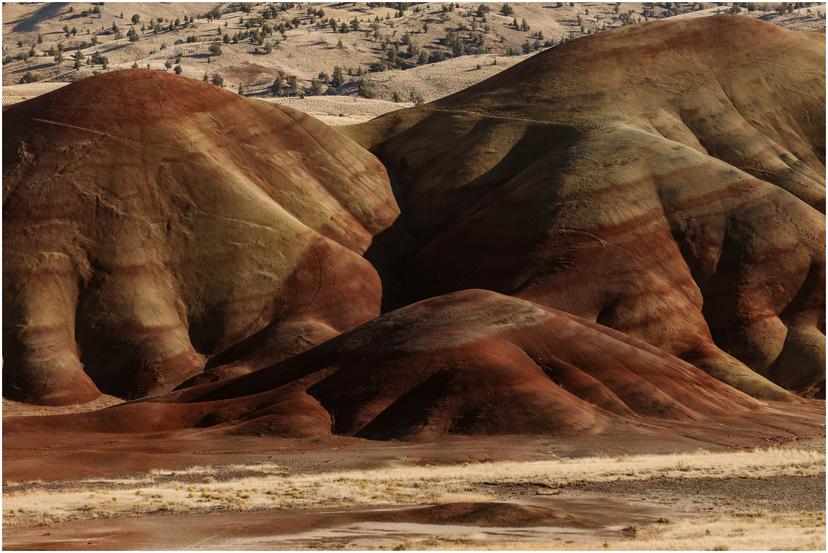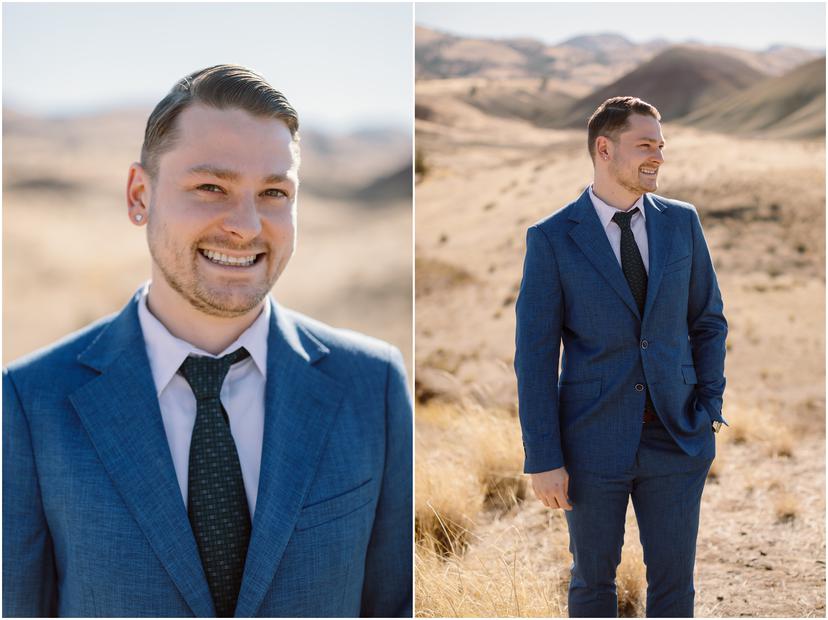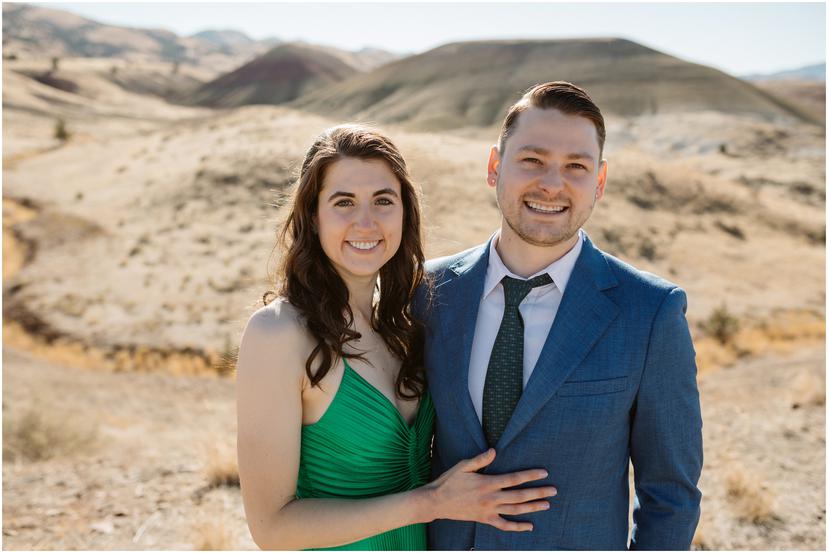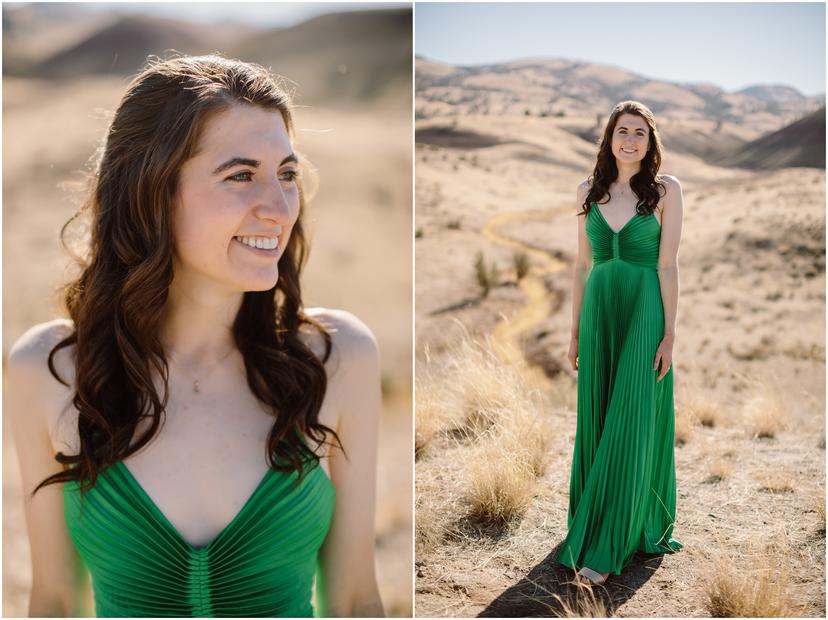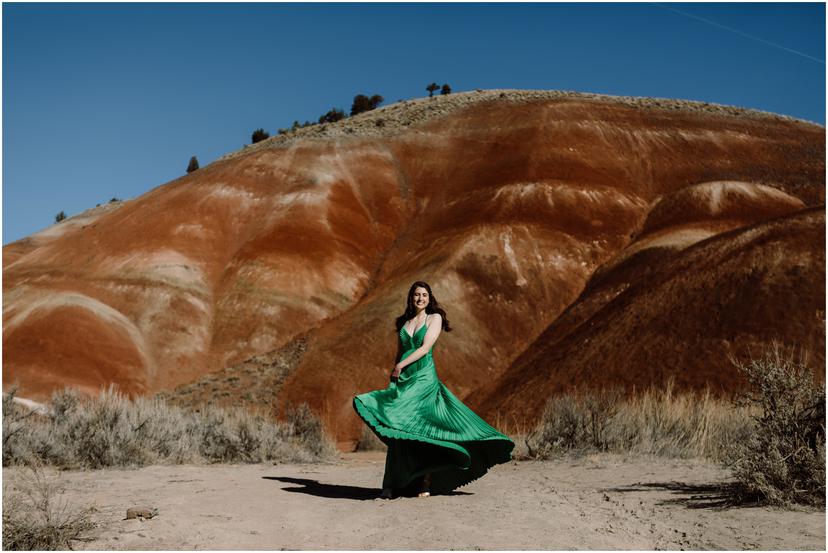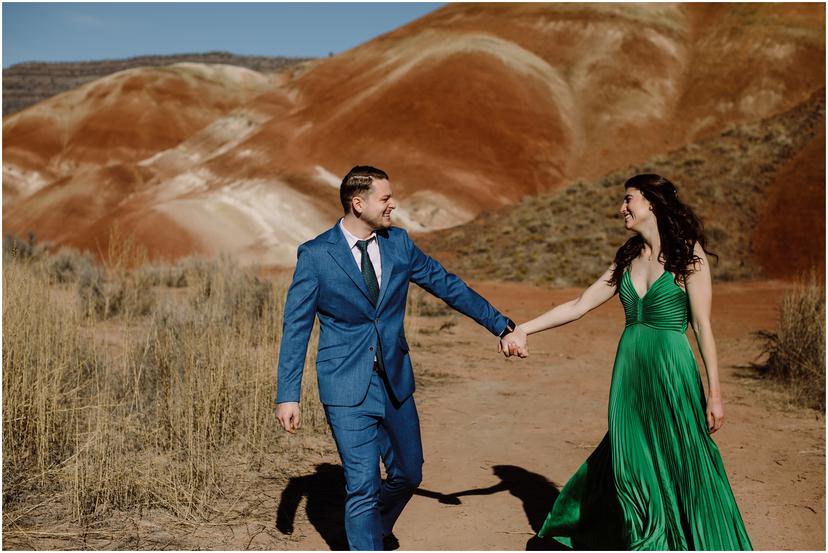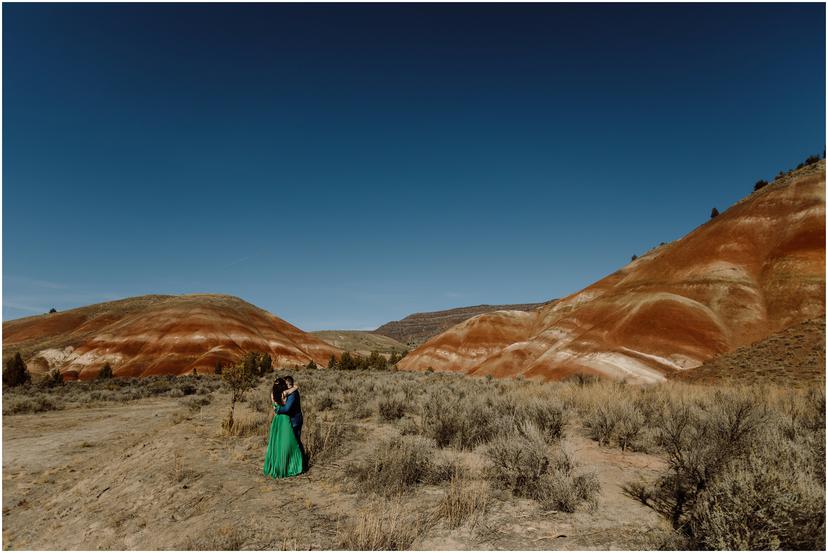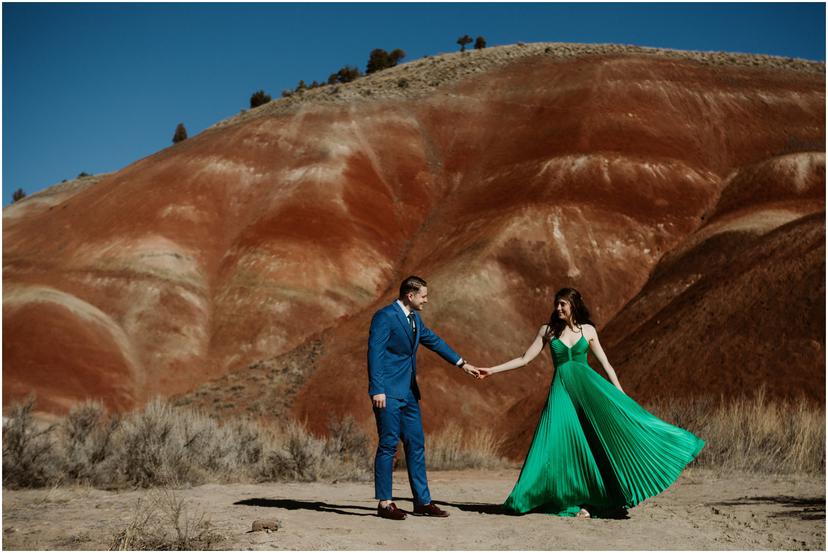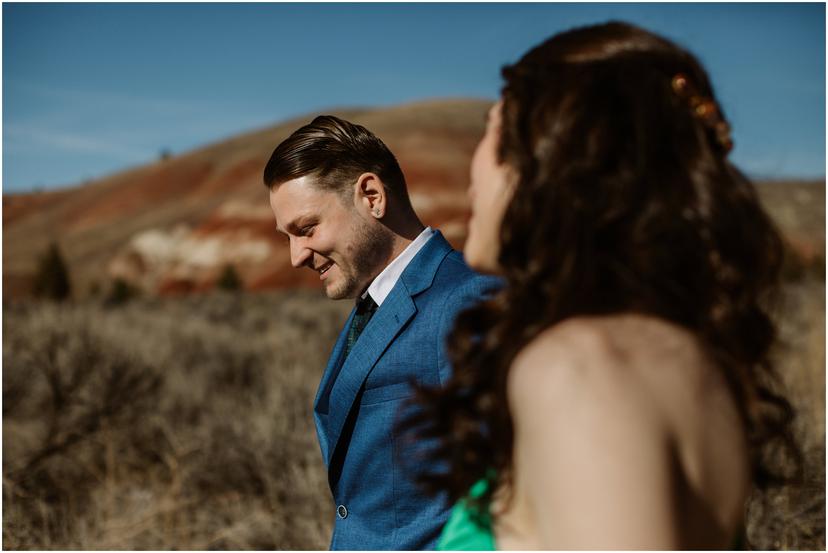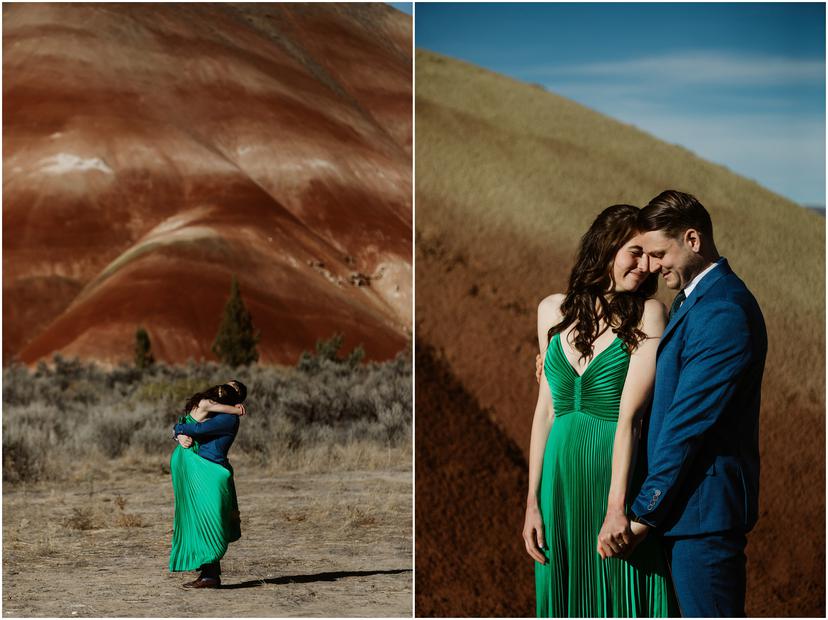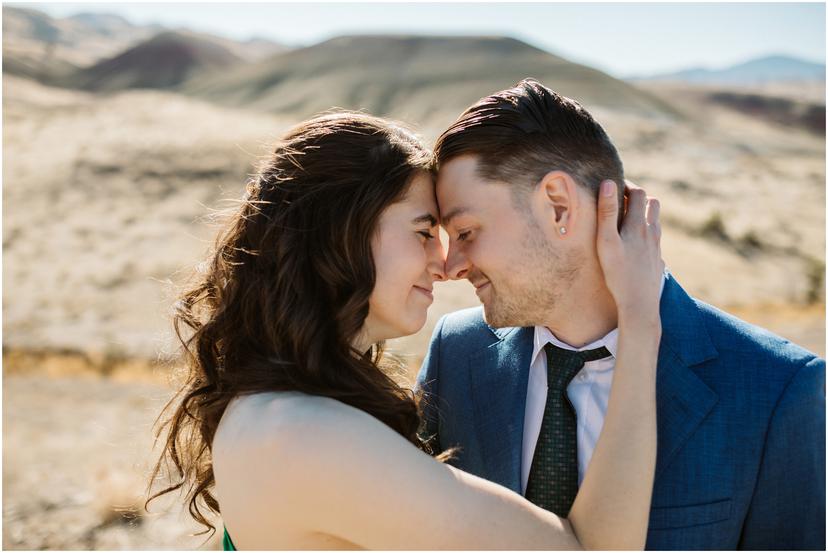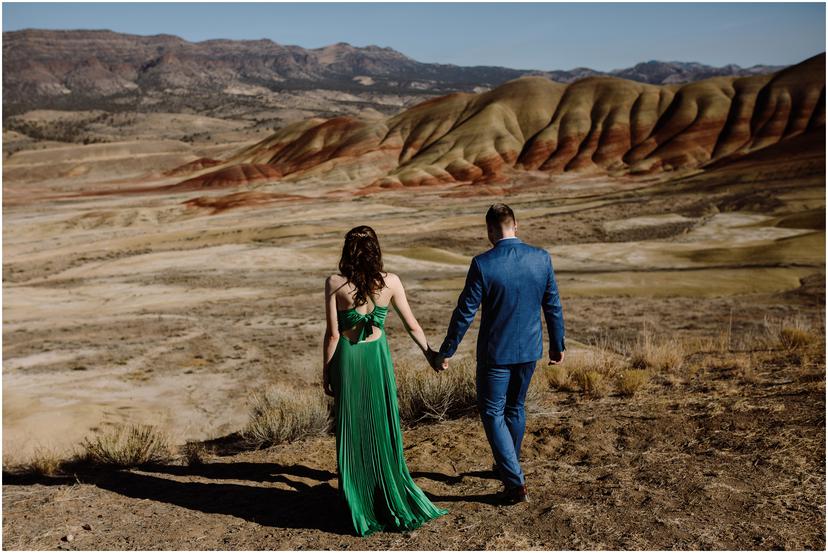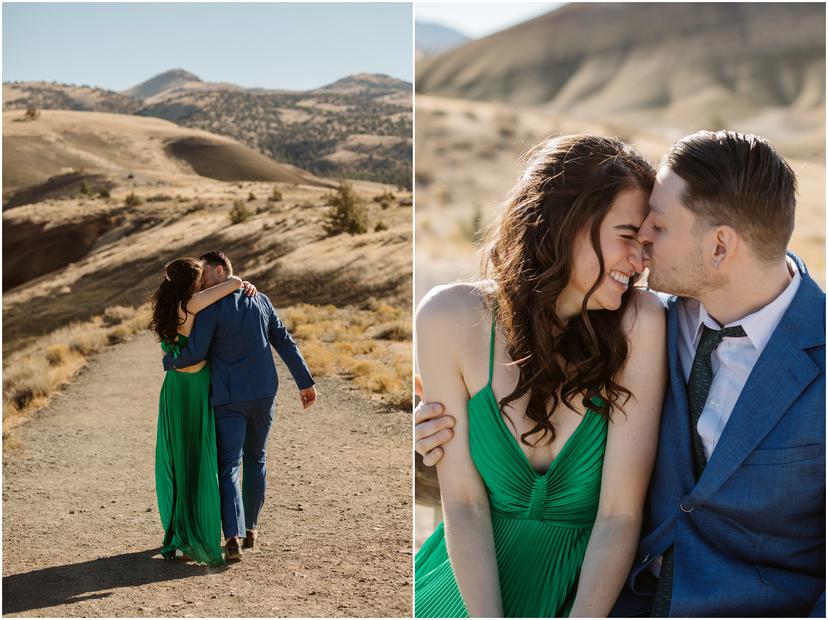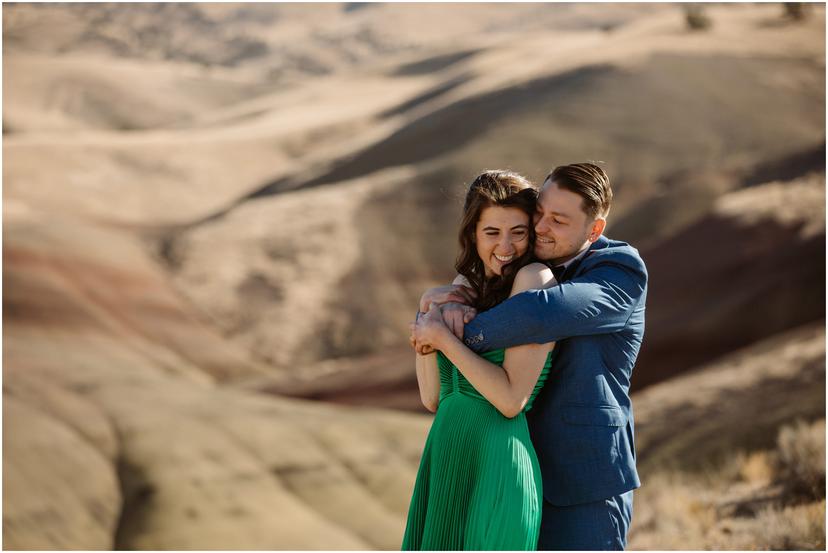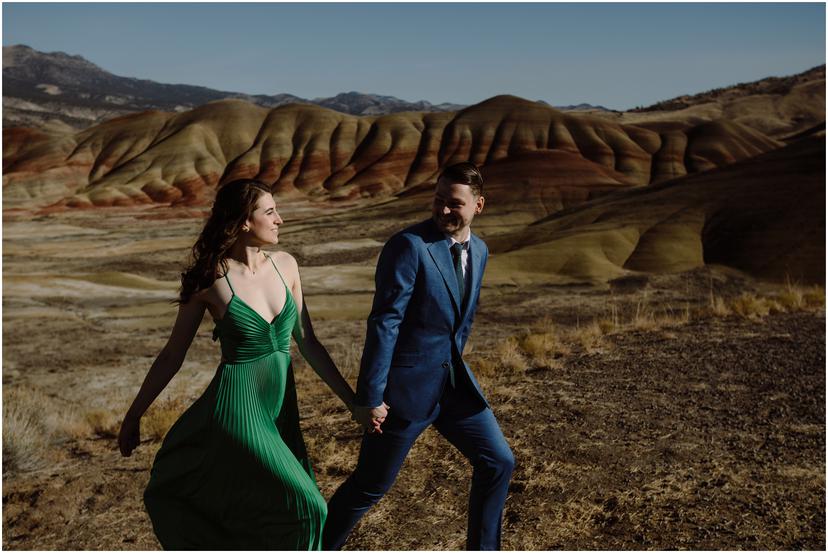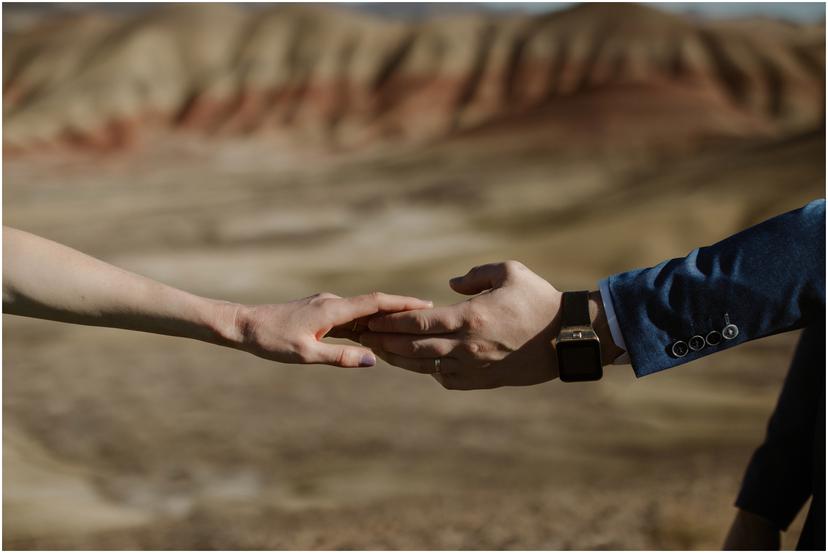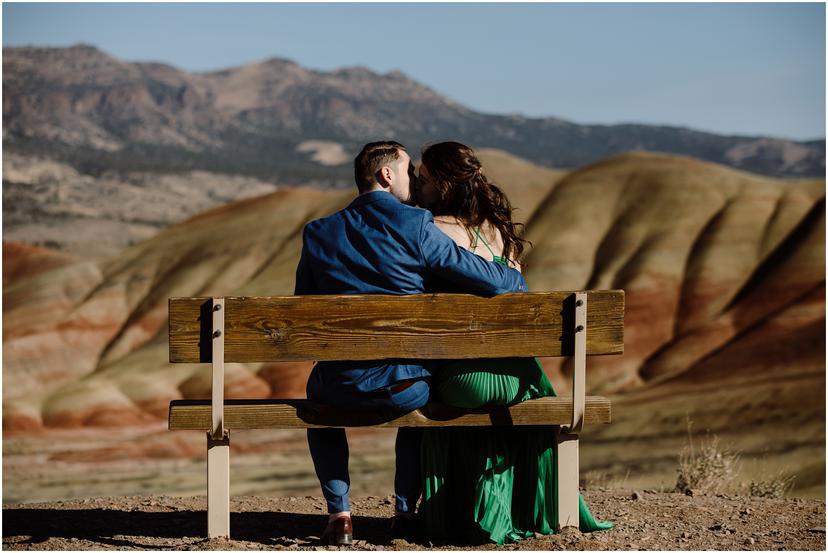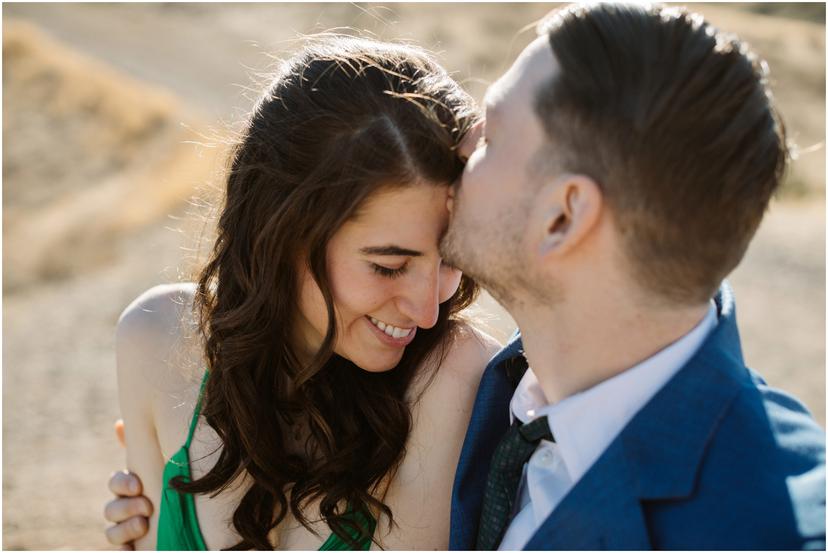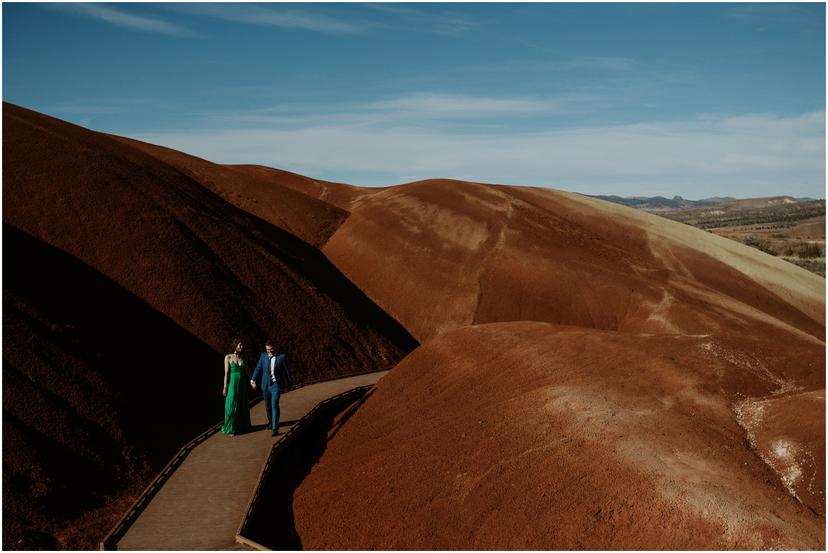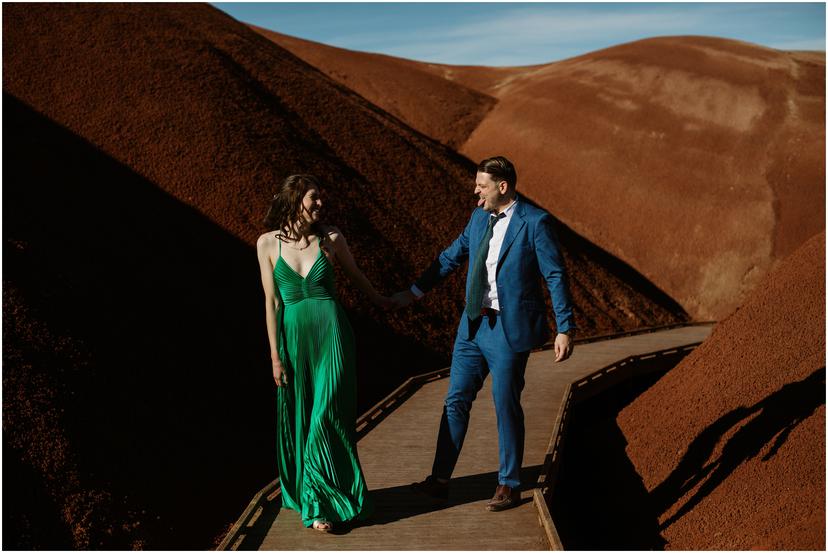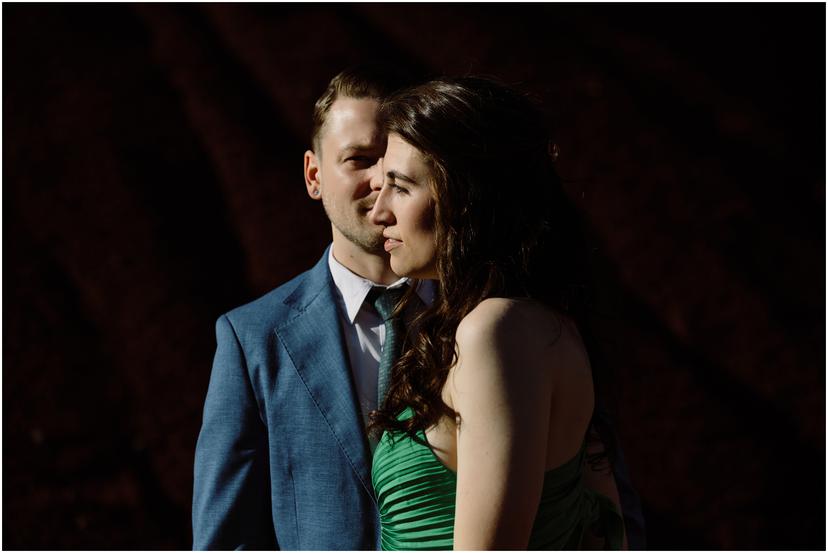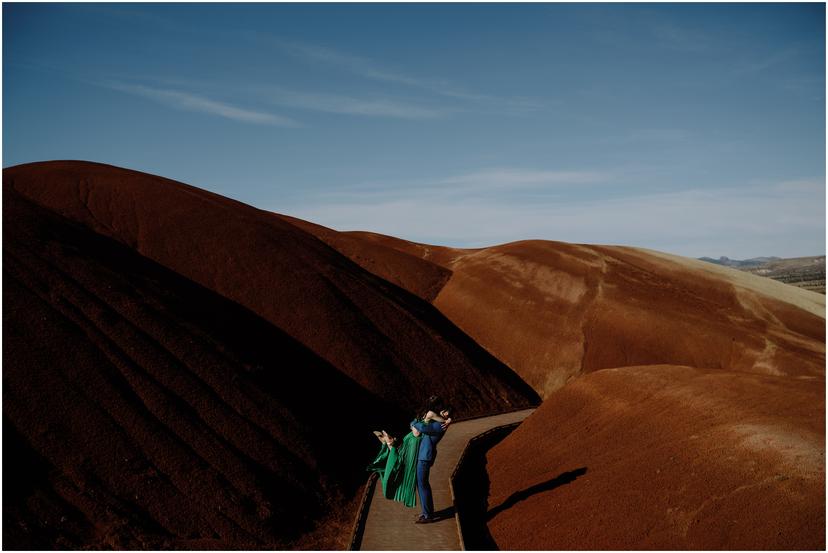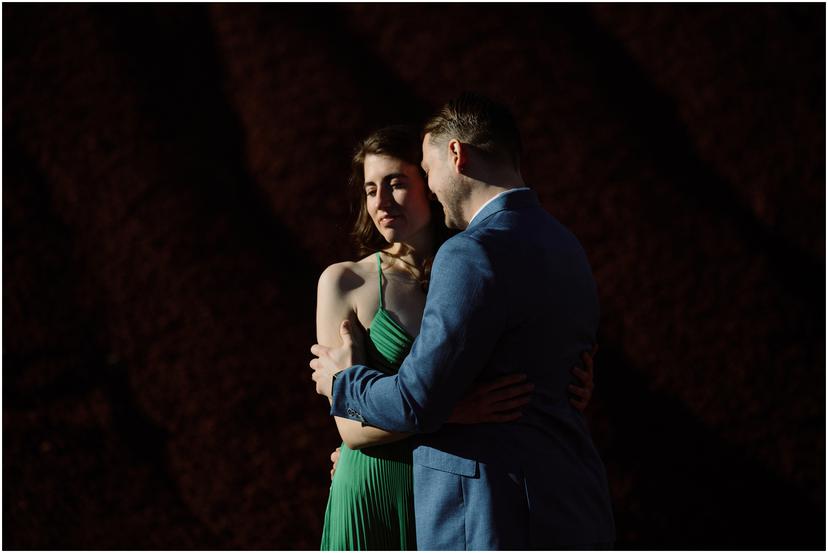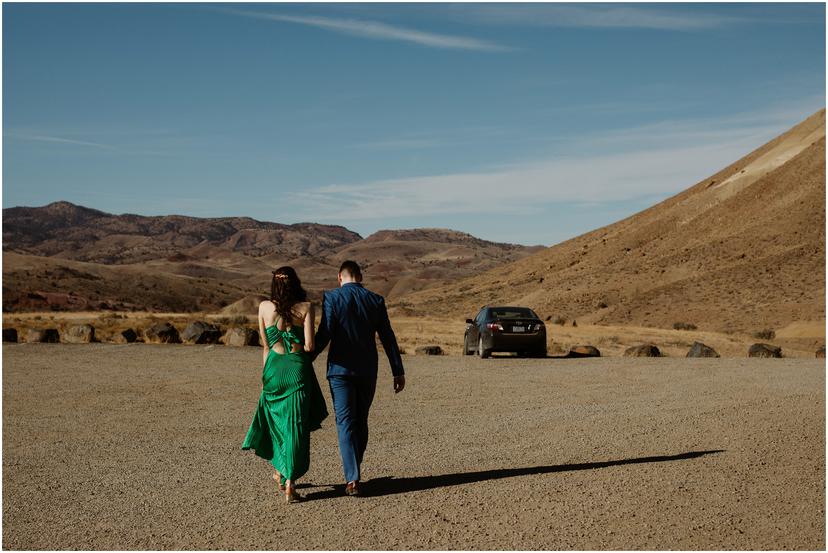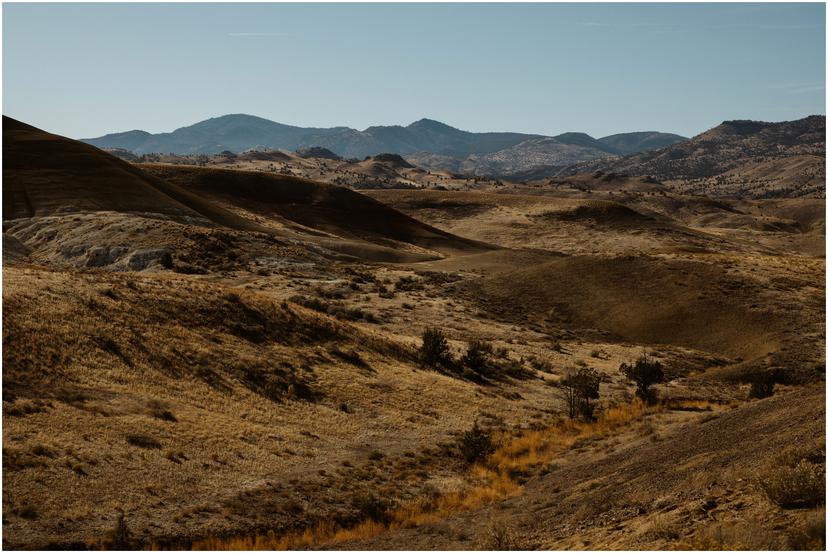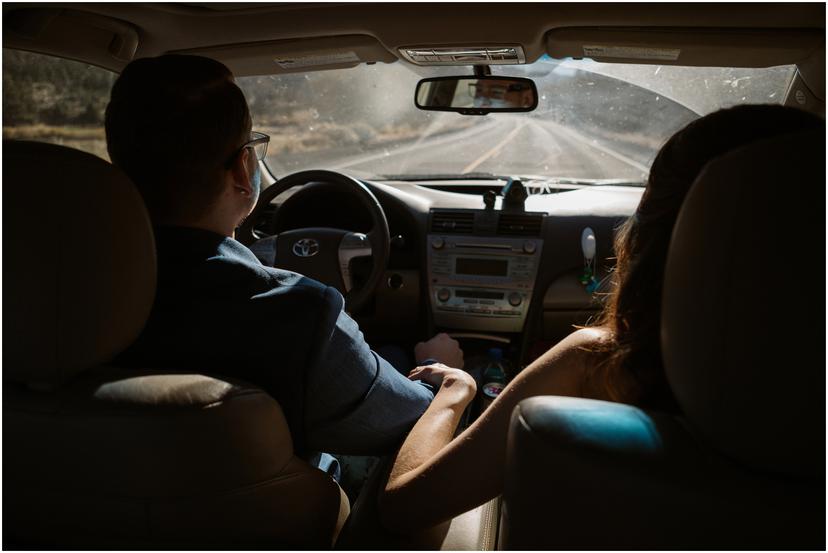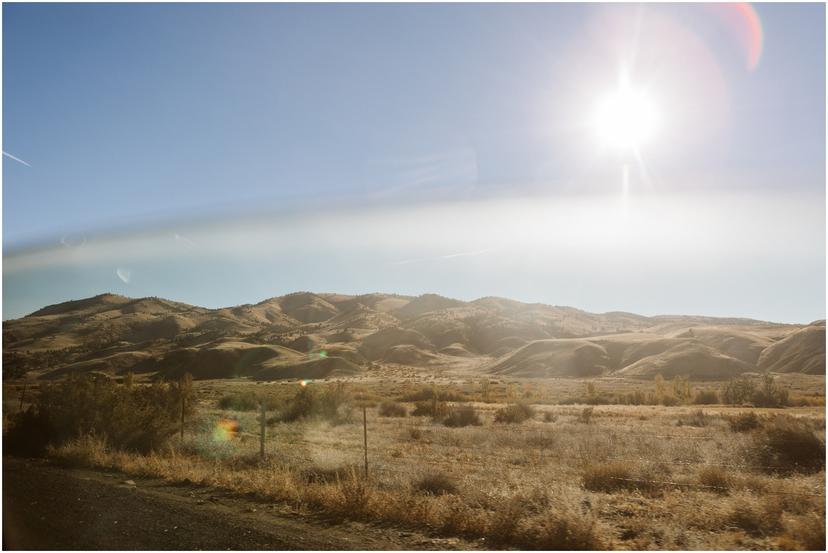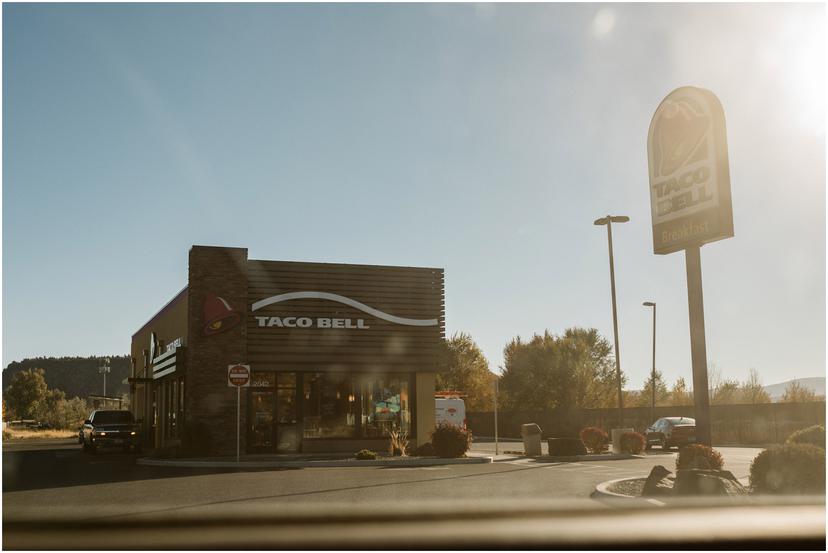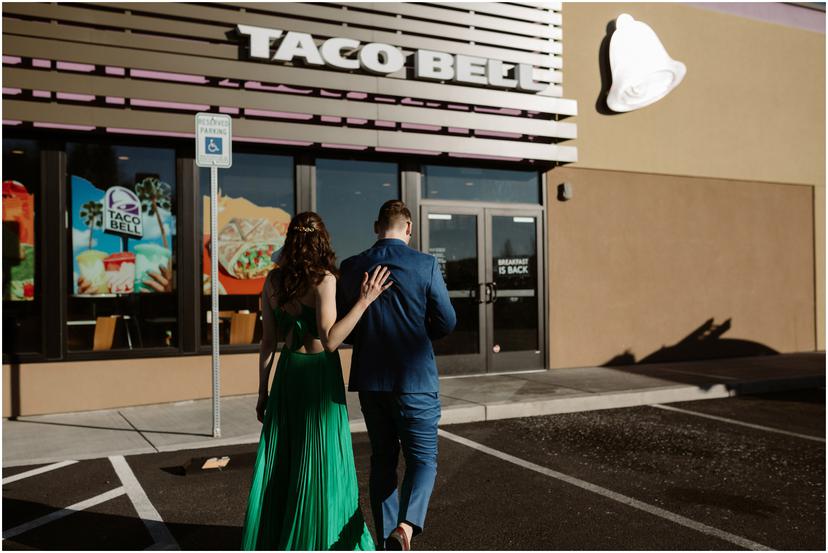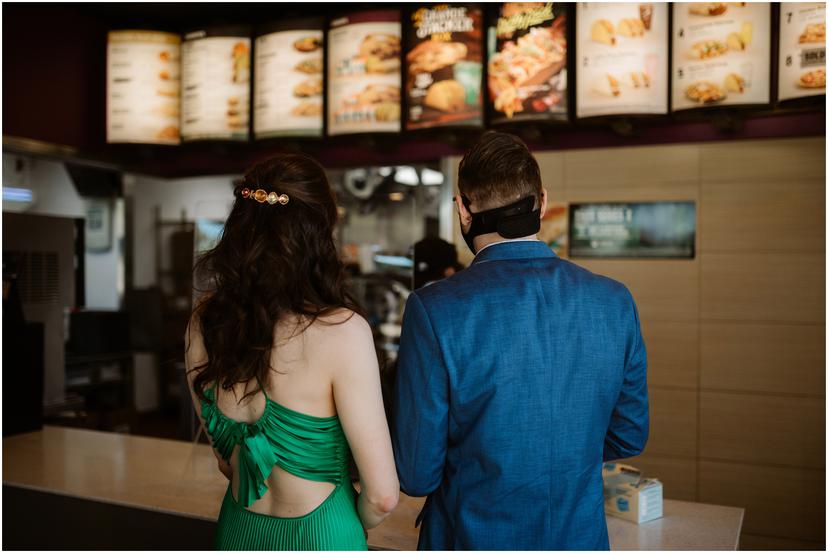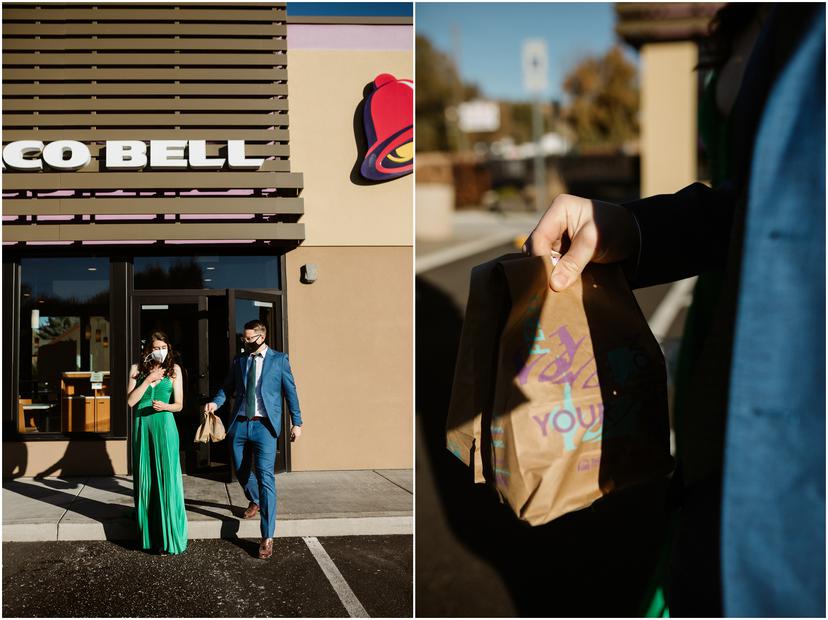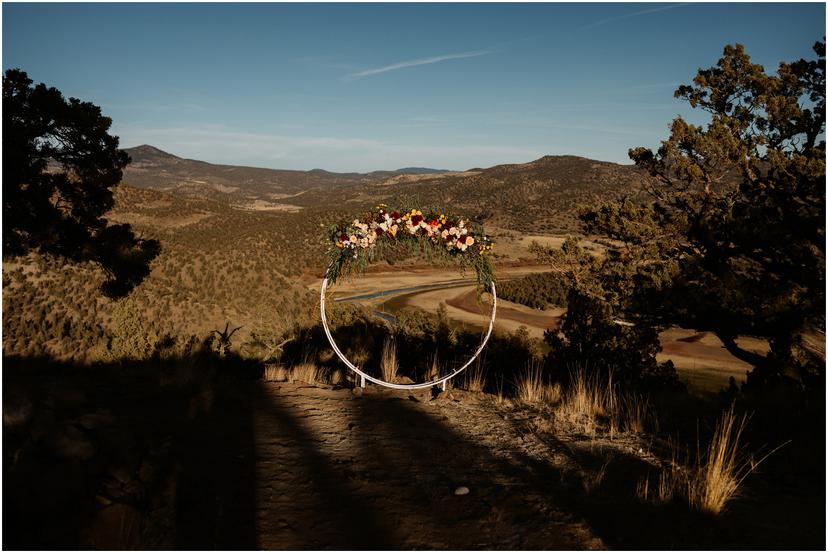 Favorite things about vendors
"I found several vendors in Bend who were willing to travel, which made planning a lot easier," said Taylor.
"Emily Miller of Bend Floral Artistry did such an amazing job on flowers - it was breathtaking. I wasn't originally planning on having an arch, but I'm so glad I did; it was a work of art. I sent her a few inspiration pictures and told her roughly what I wanted, and she stunning floral pieces. She's also a lovely person.
"Lori Marshall of Edge Hair and Makeup made me feel very comfortable while getting my hair done. She was a pleasure to talk to, and my hair looked perfect all day."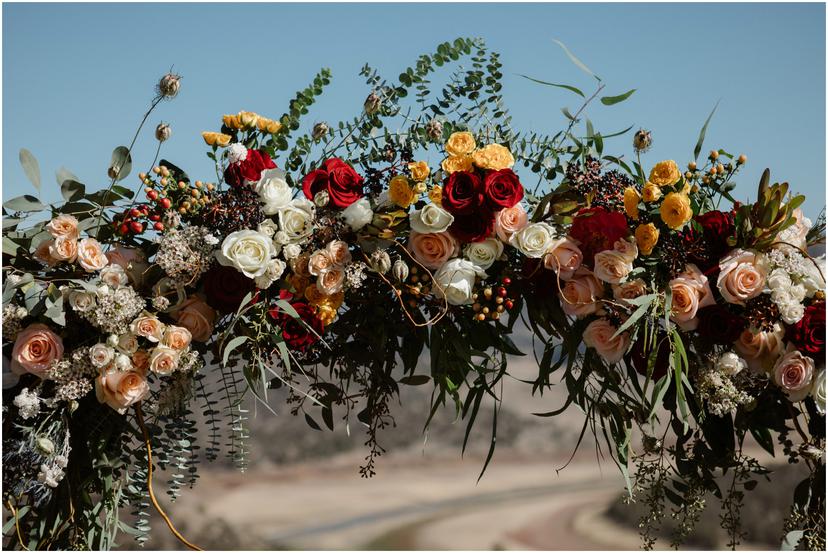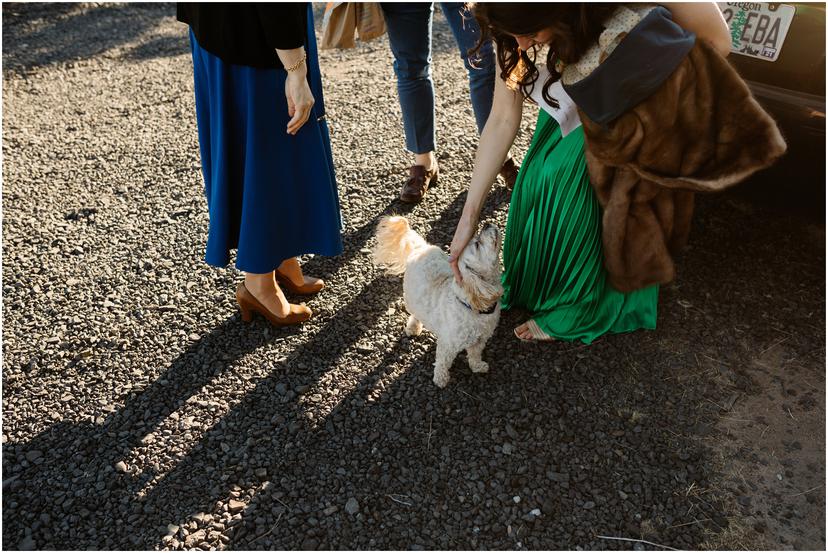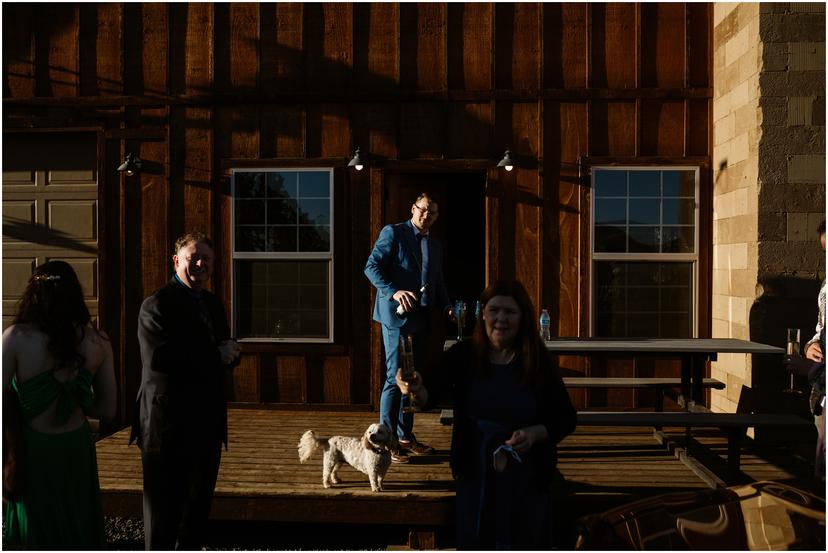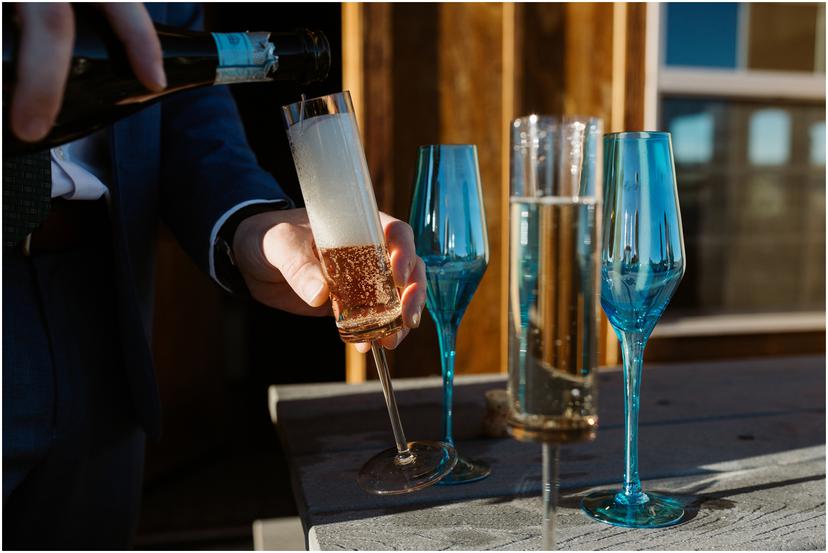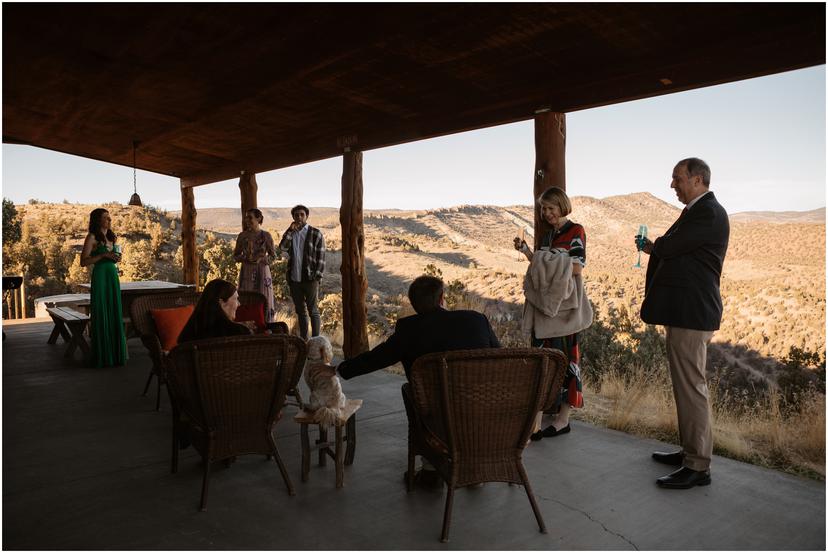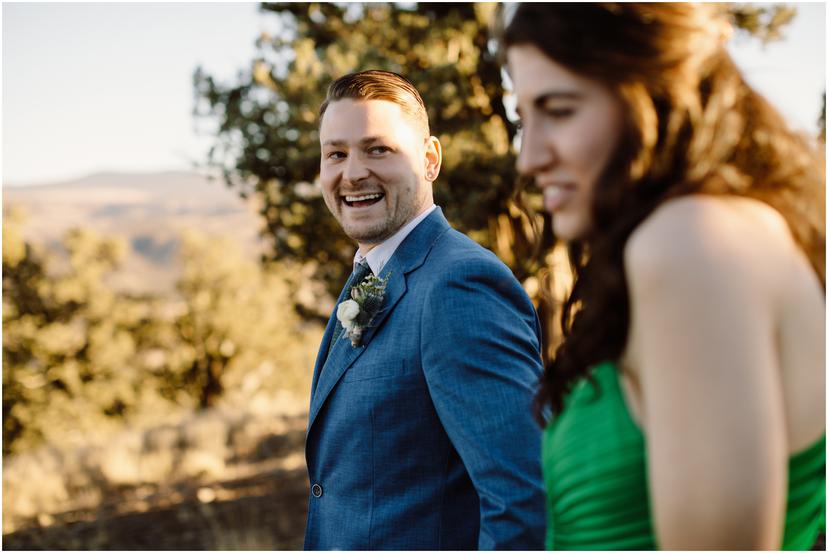 Personalizing the elopement ceremony
"My favorite memory was the ceremony," said Taylor. "We hadn't rehearsed and didn't know what Ashlee was going to say. She did an amazing job, and it was so special to have our families there.
"Ashlee was funny, serious, self-deprecating, and the ceremony was very personal and meaningful to us. Before the ceremony, Ashlee asked for a list of people she could talk to. She called and talked to friends and family members who couldn't be at the ceremony, which made the ceremony even more special. John and I both wrote our own vows."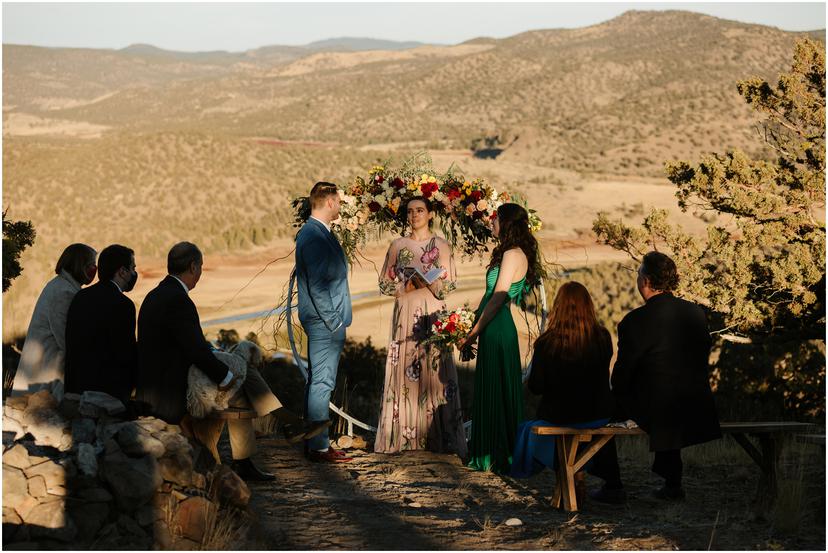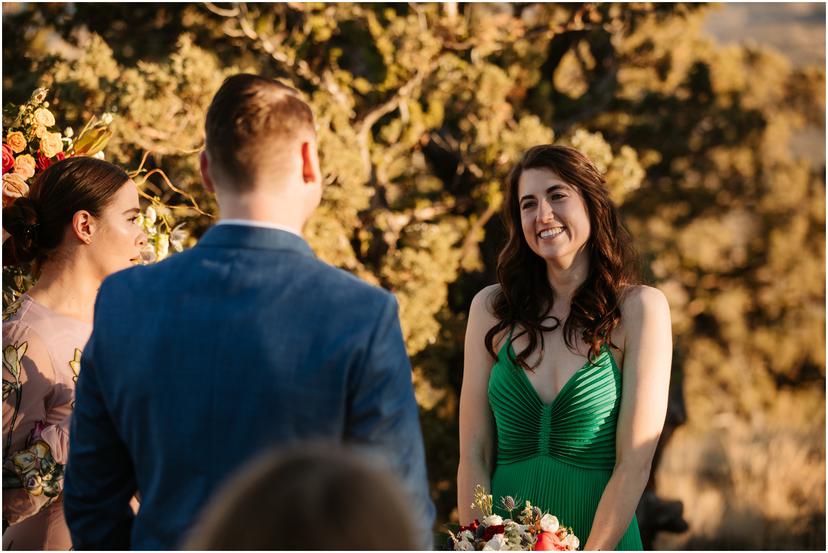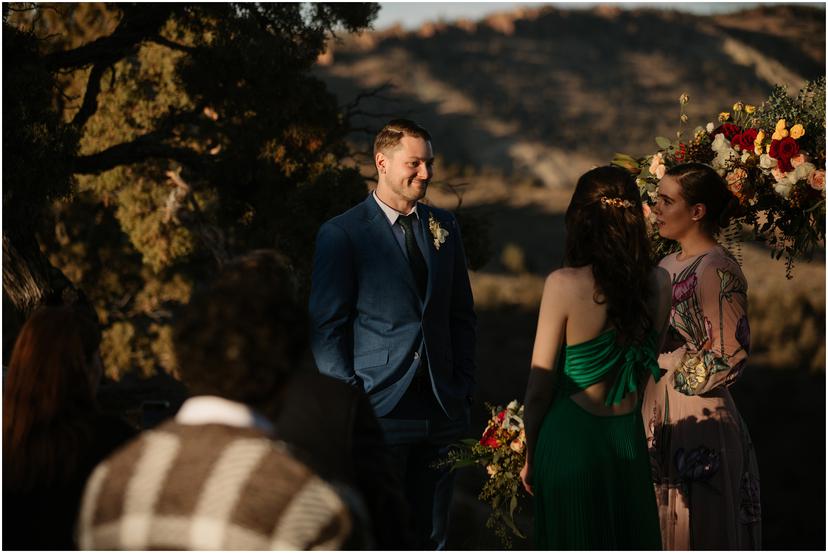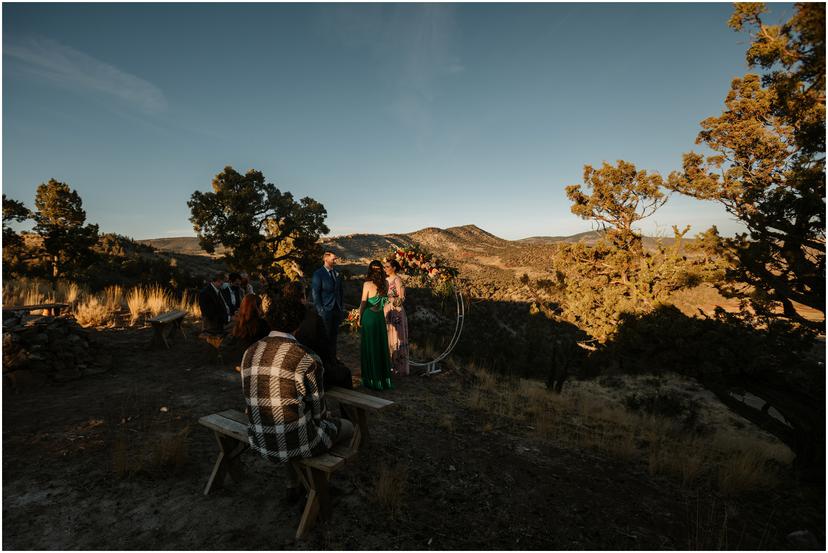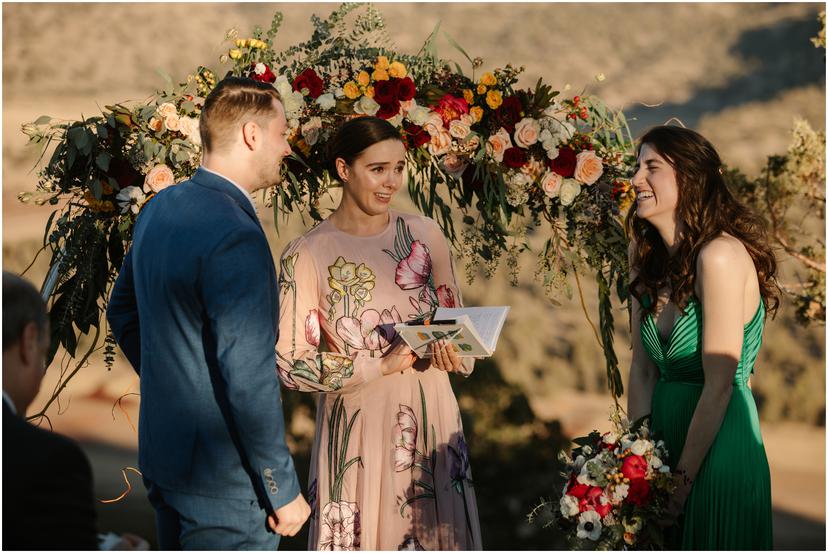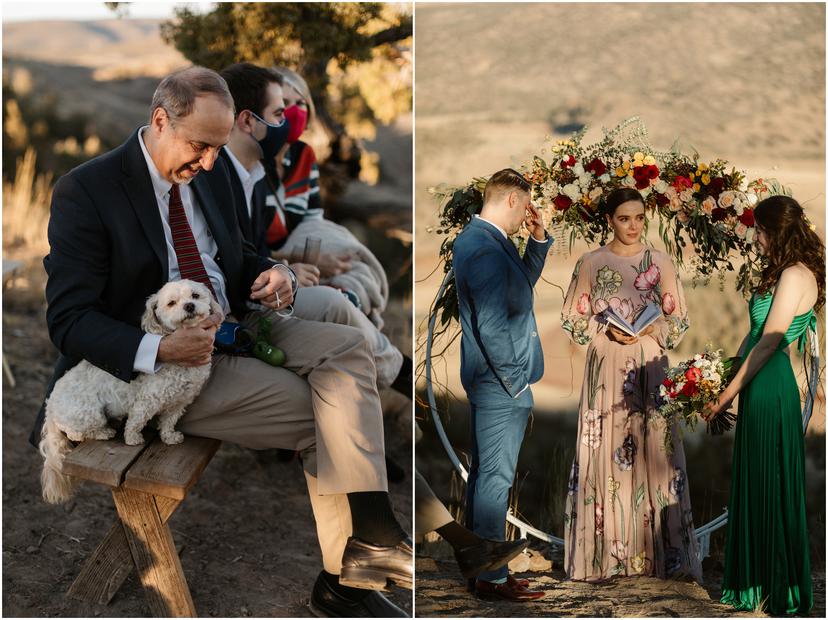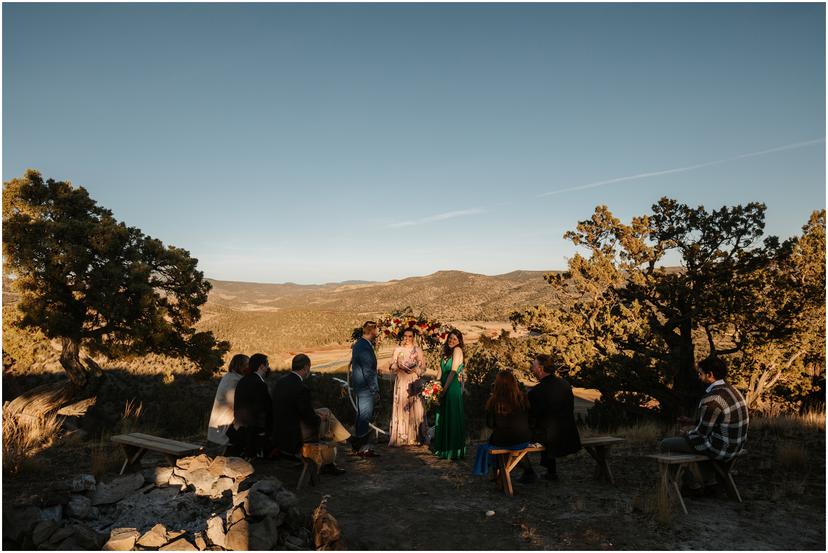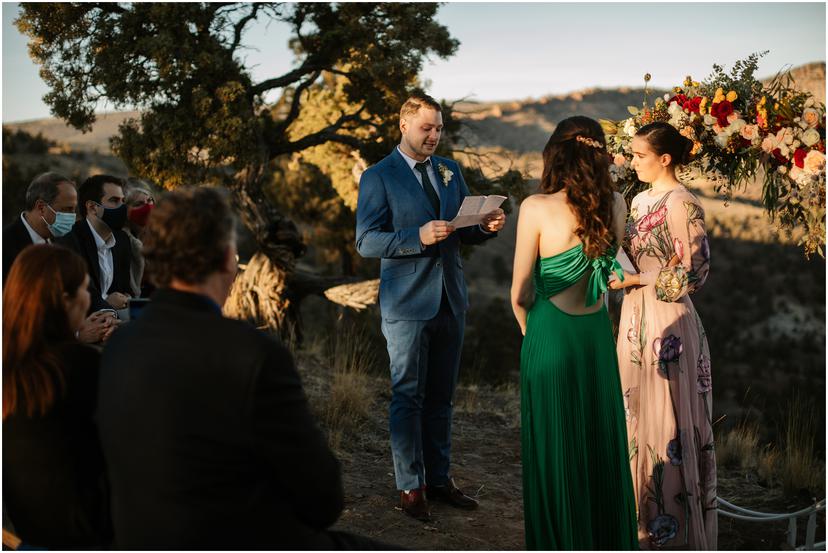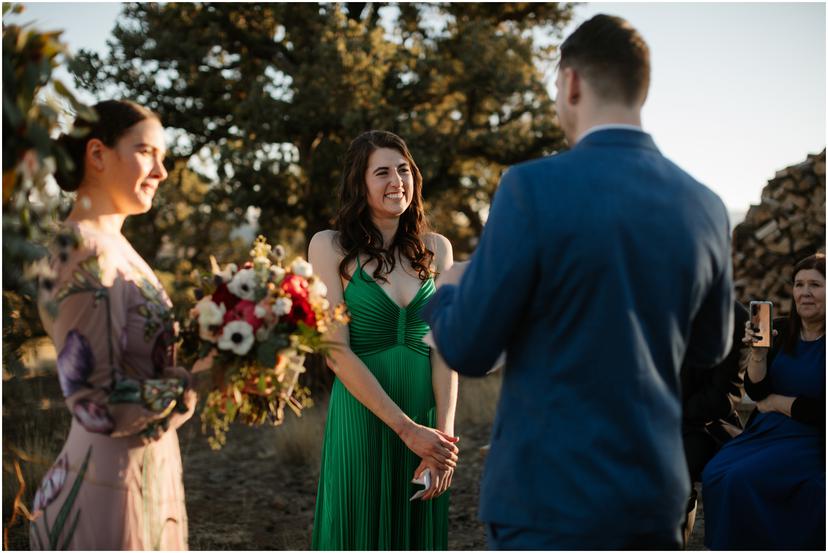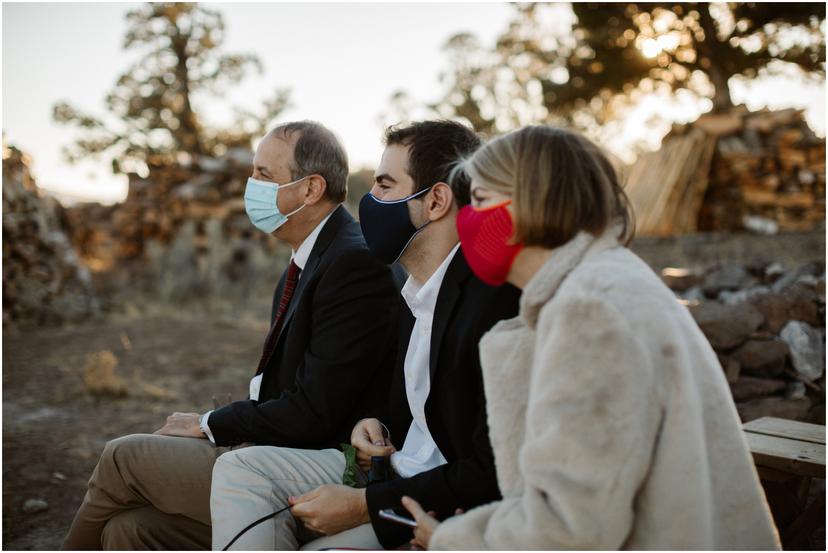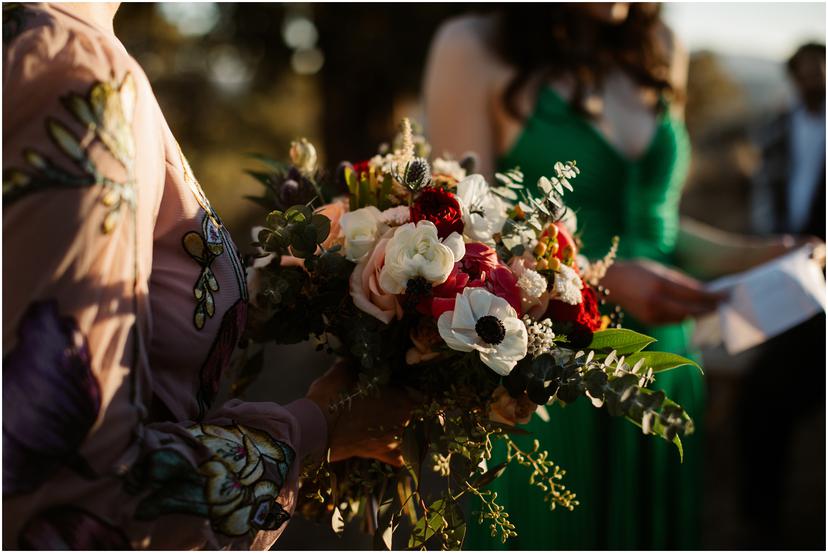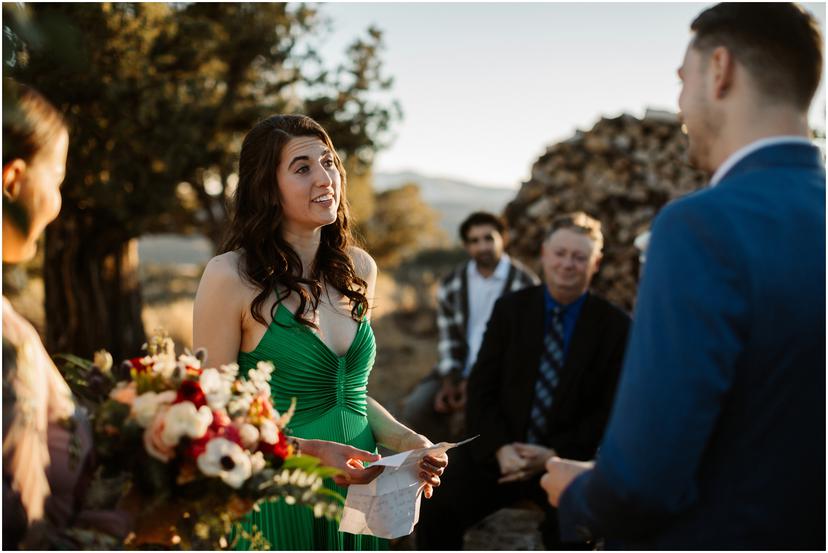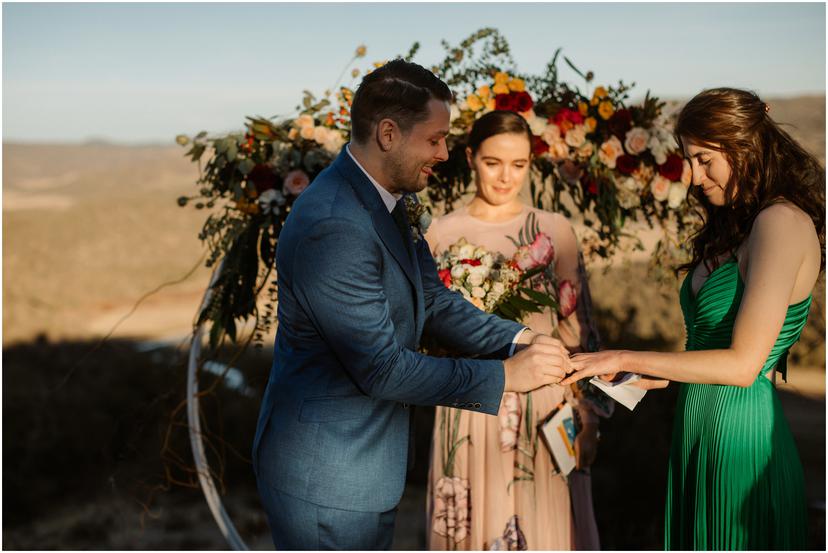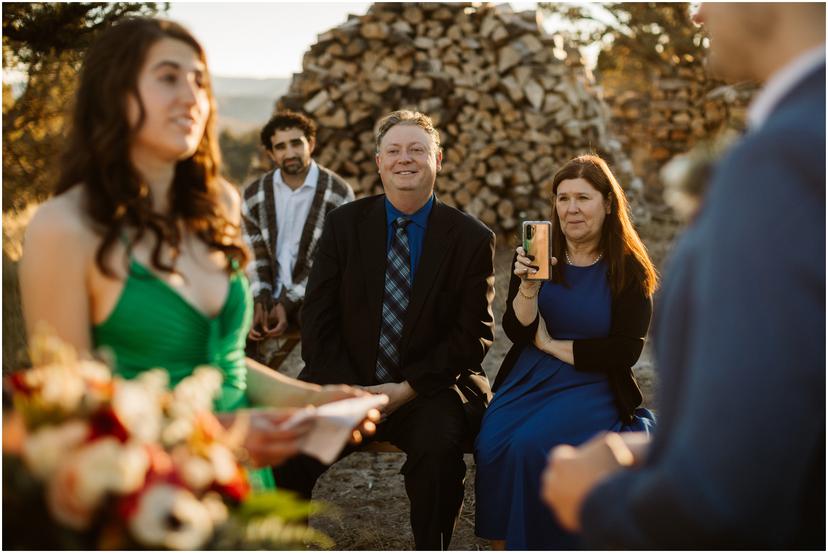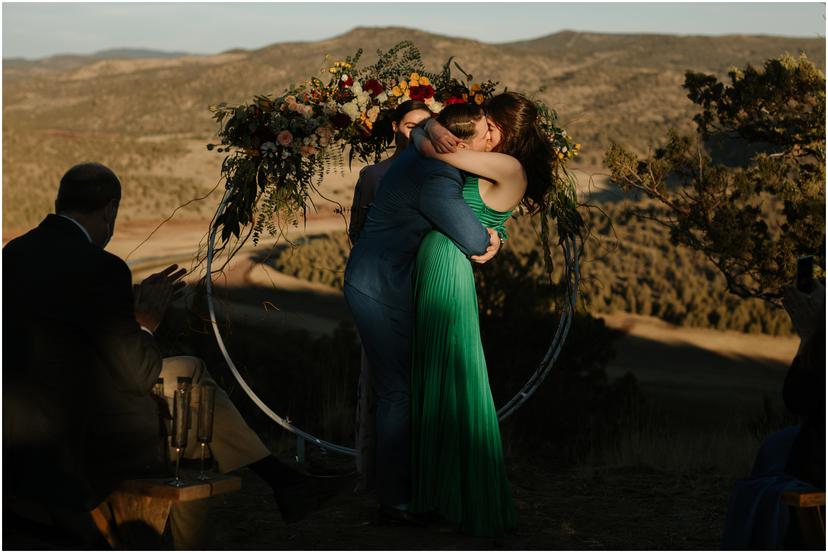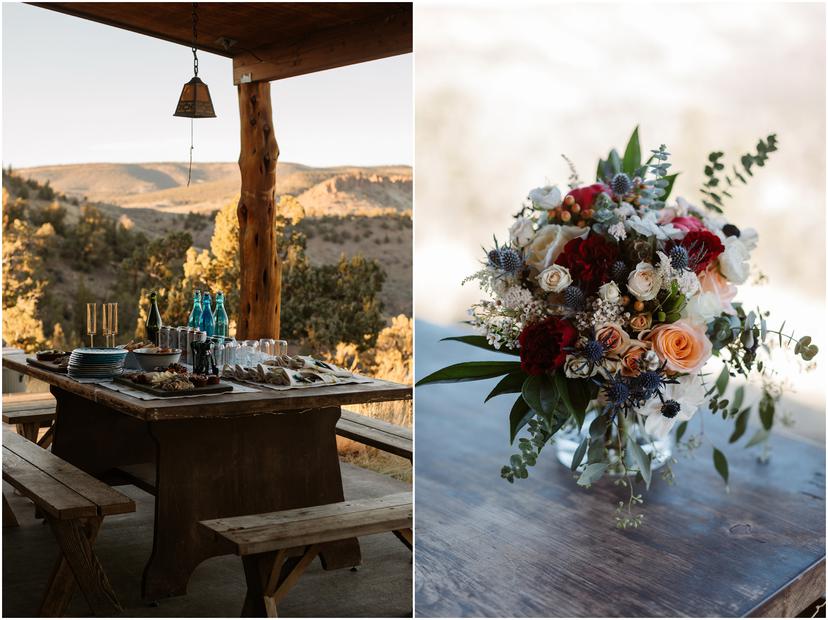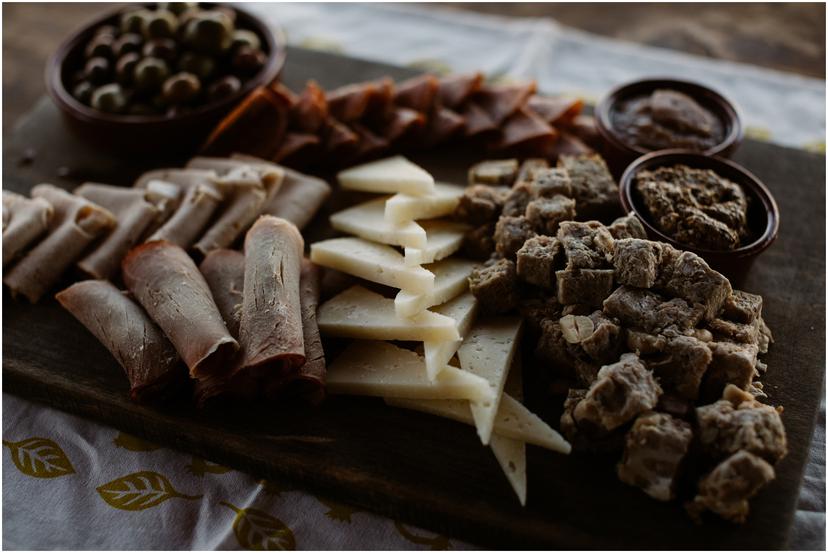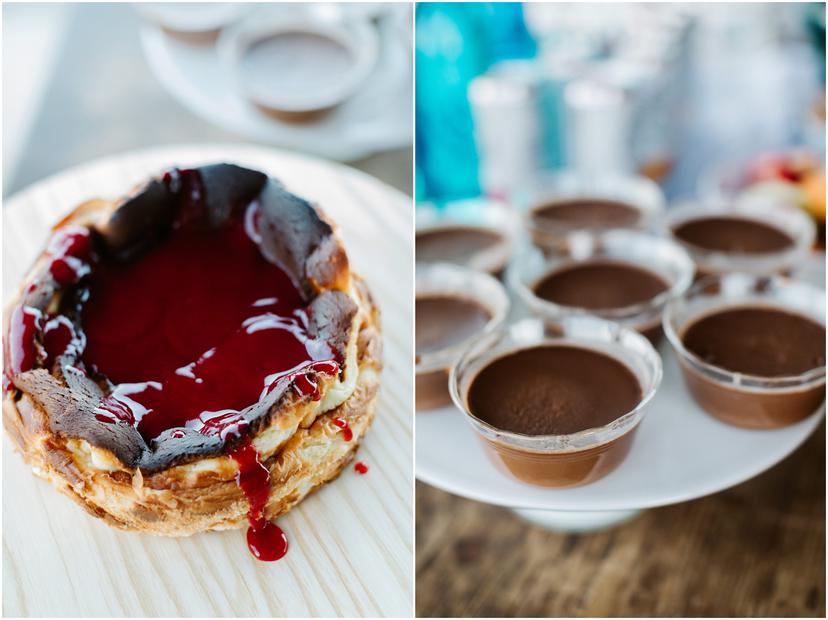 Planning an elopement during COVID-19
"I think it's important to be flexible," said Taylor. "It's been impossible to make plans this year because things keep changing. We got to be together after everything that happened this year, and that's all that mattered. So I guess my advice is to prepare as much as you can, but accept that you won't be in control, and focus on the people.
"Also, I would recommend giving vendors more creative control rather than trying to execute your vision exactly.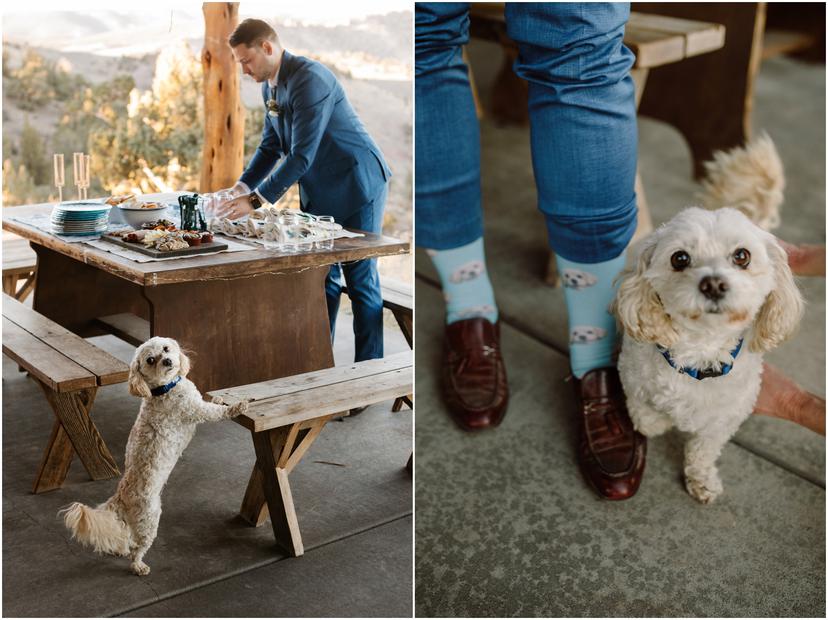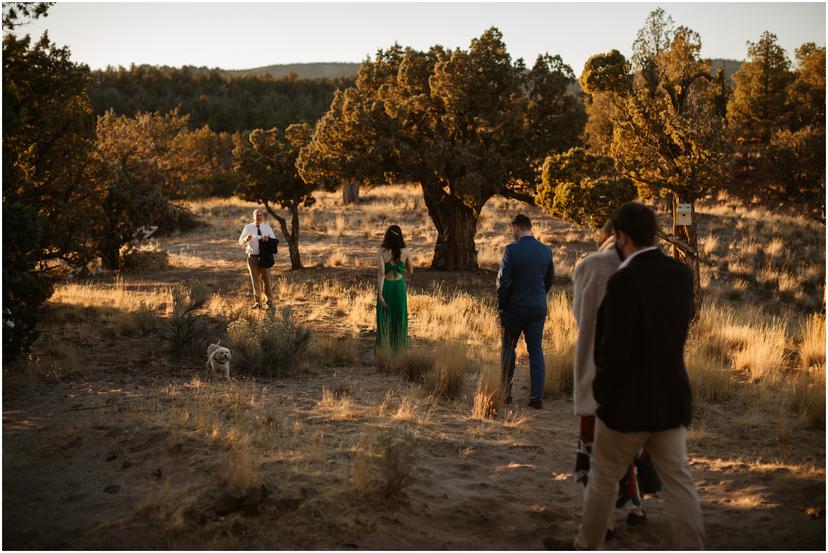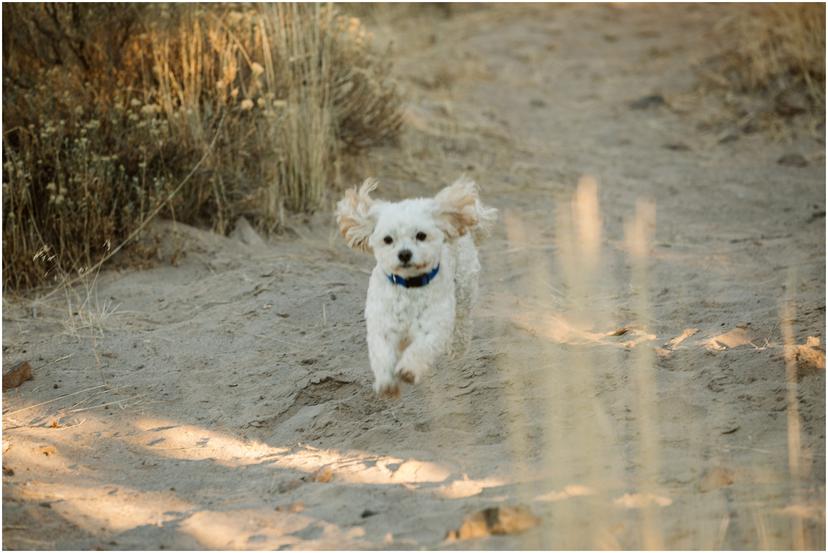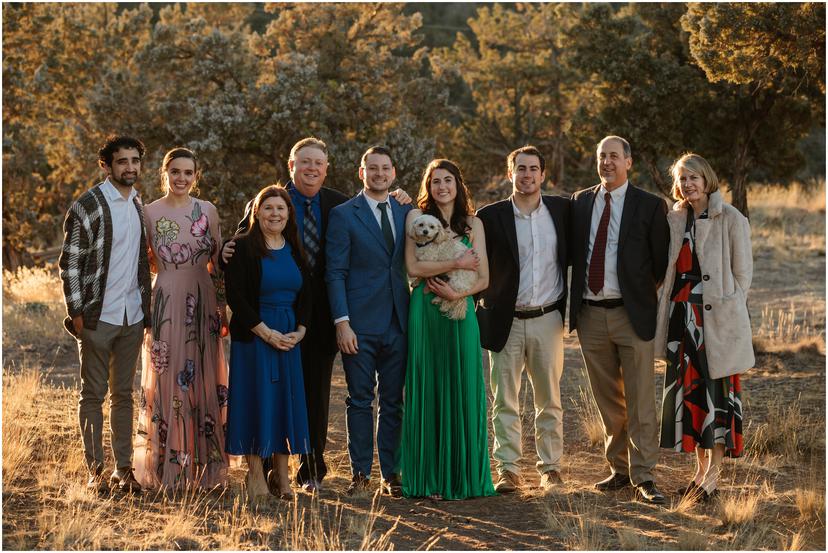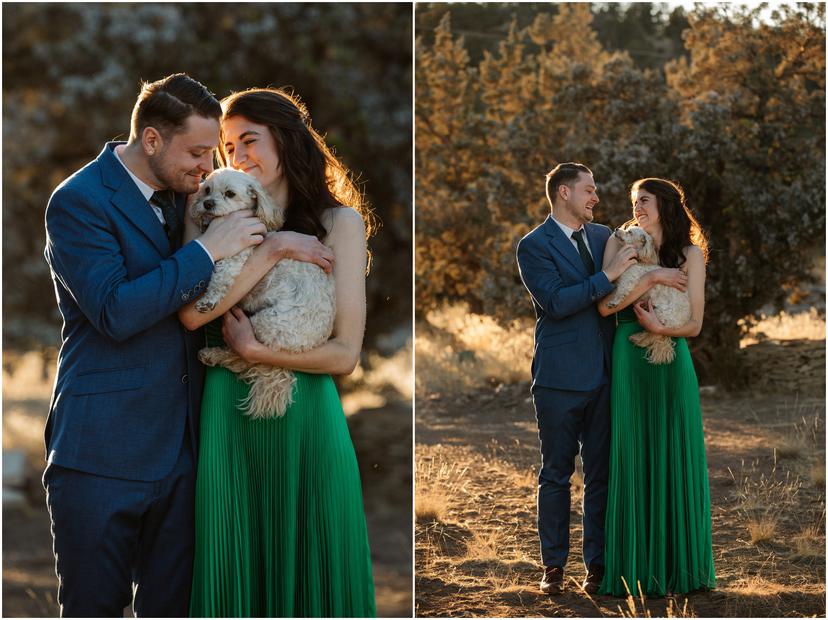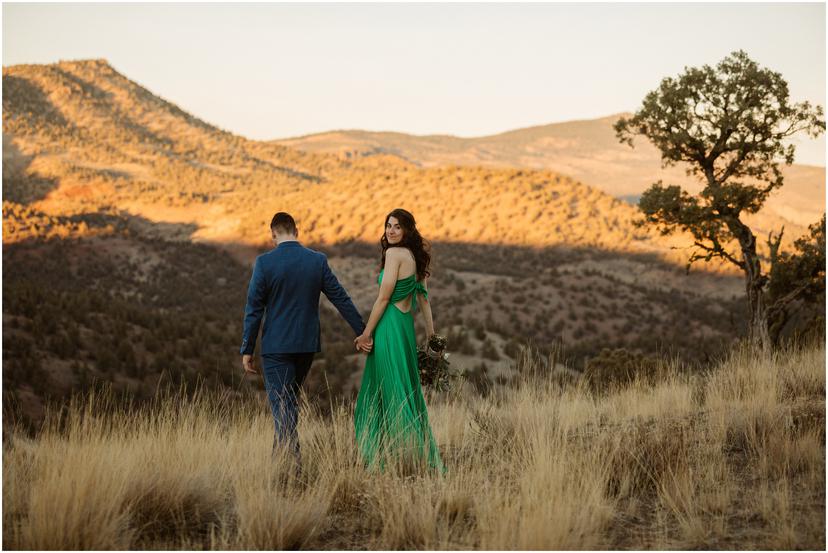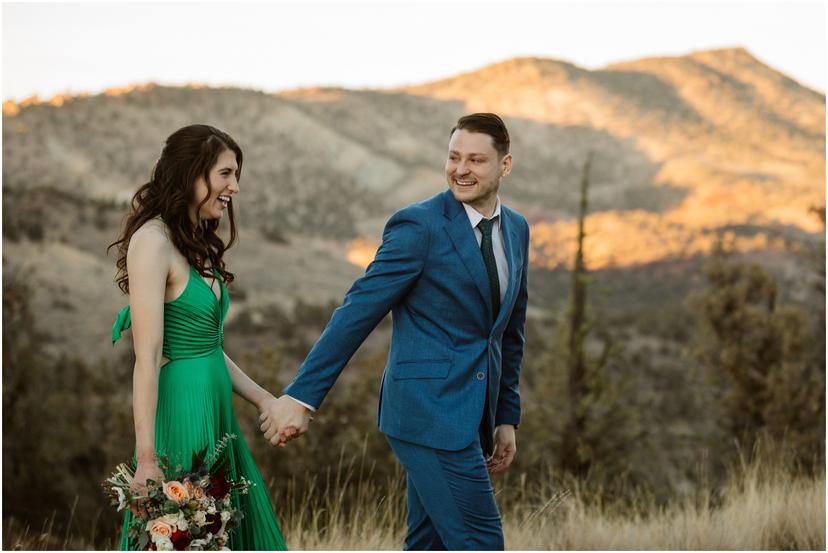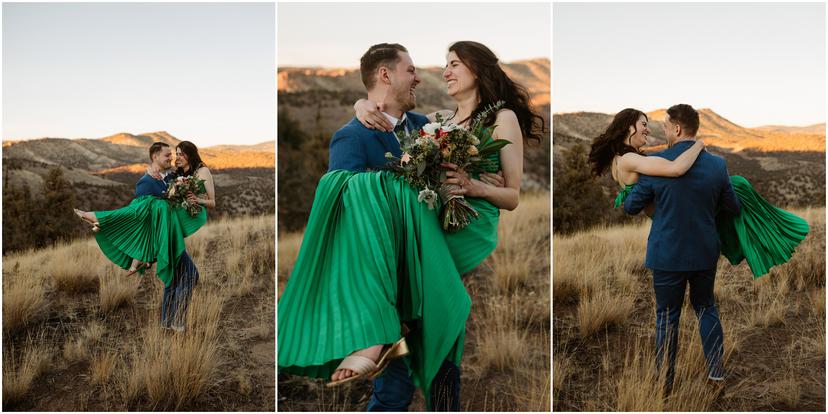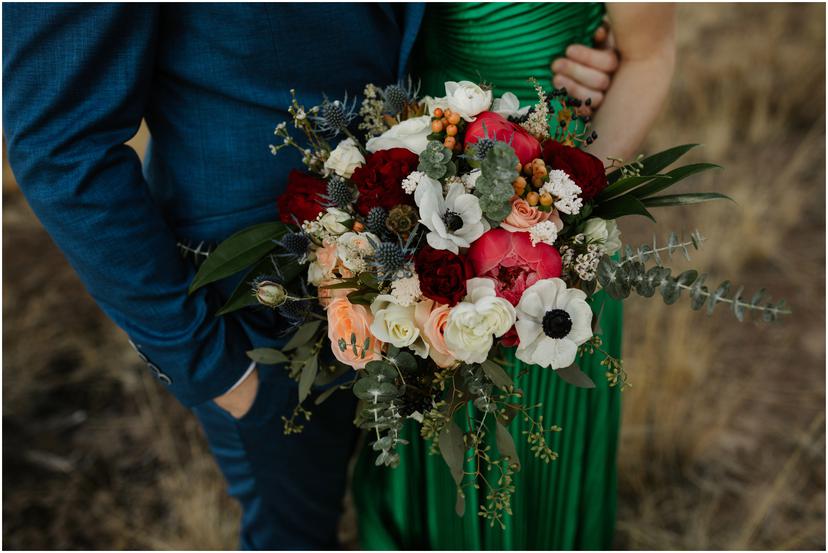 Reasons for eloping at the Prineville Reservoir
"My favorite things were the scenery and the privacy," said Taylor. "It was unbelievably gorgeous, and we were completely alone.
"John and I were looking for Airbnb's, and he actually found the cabin. We spoke to the homeowner to make sure it was ok, and discussed our plans. The homeowner was wonderful and easy to work with."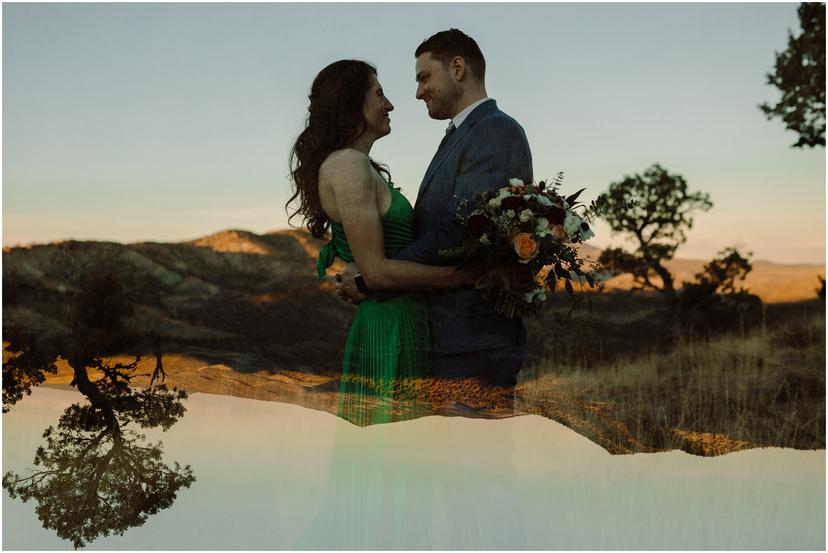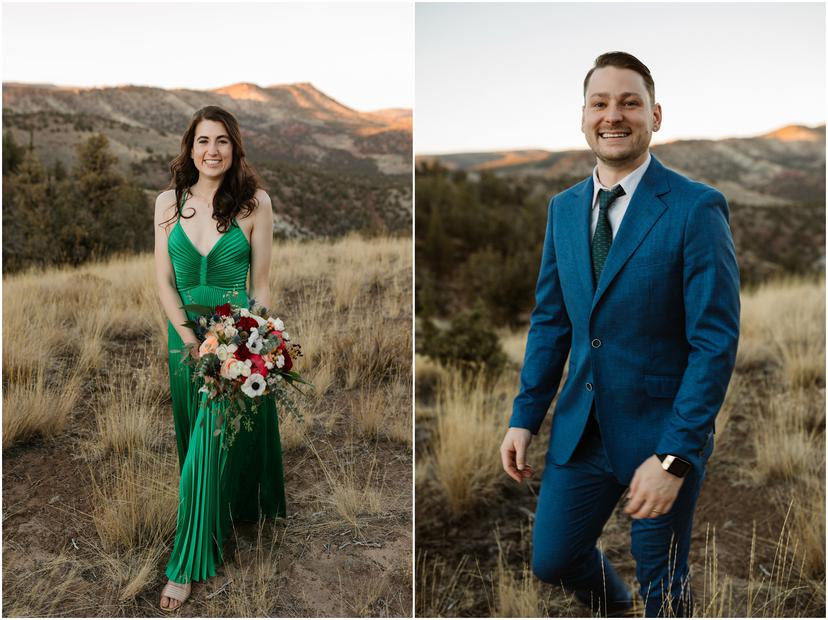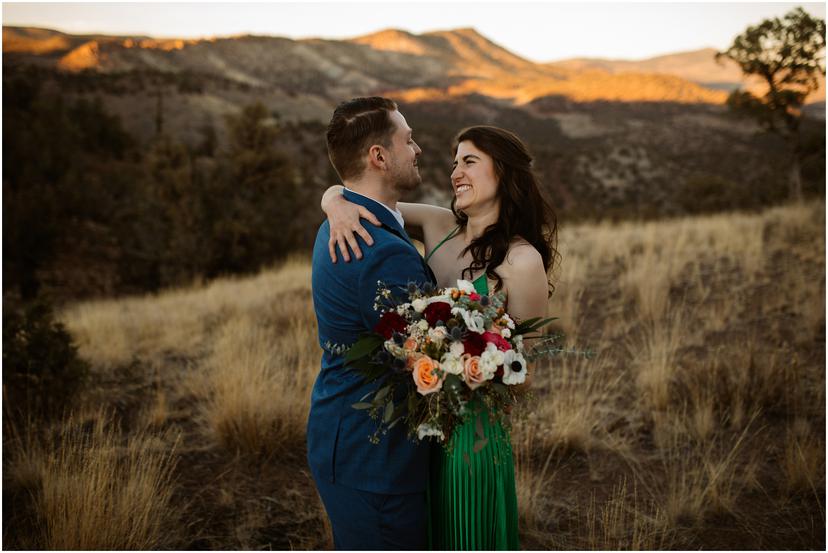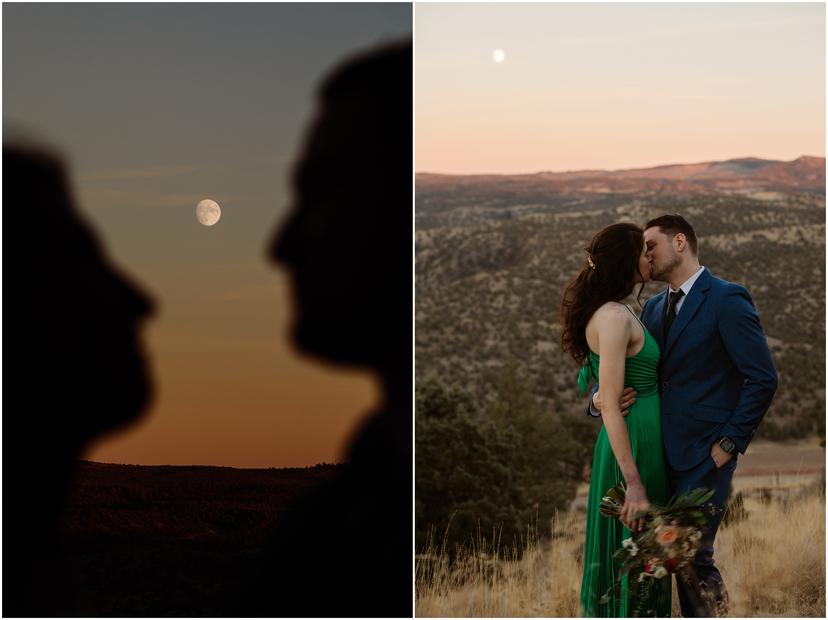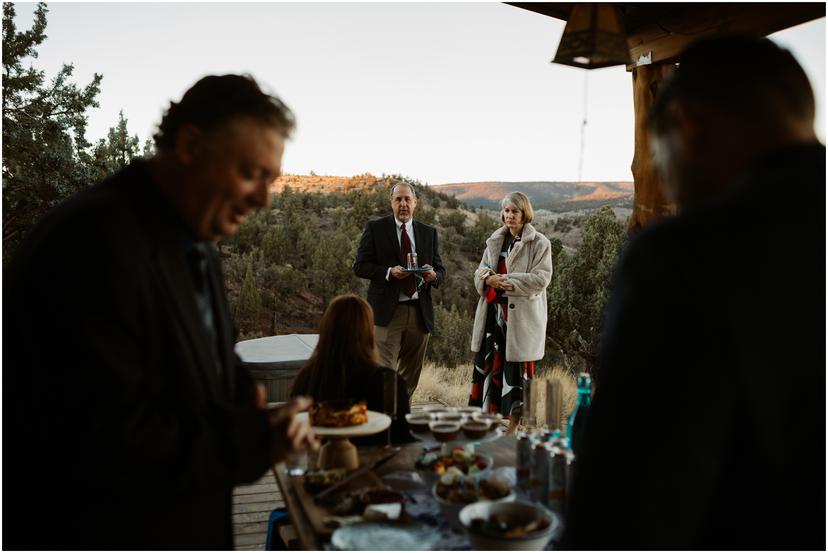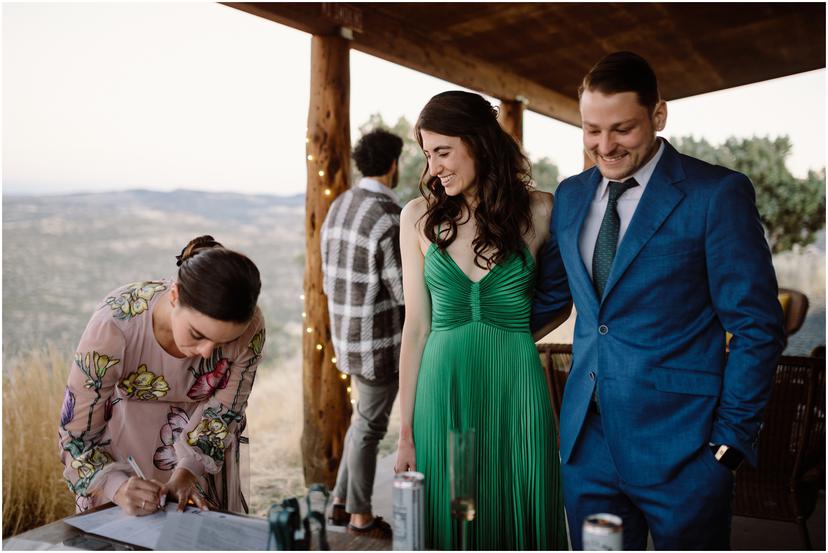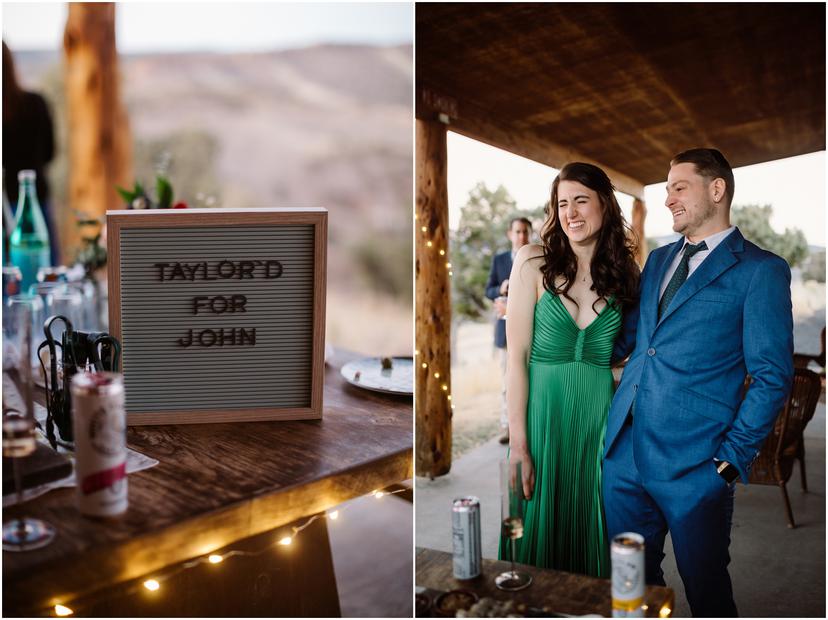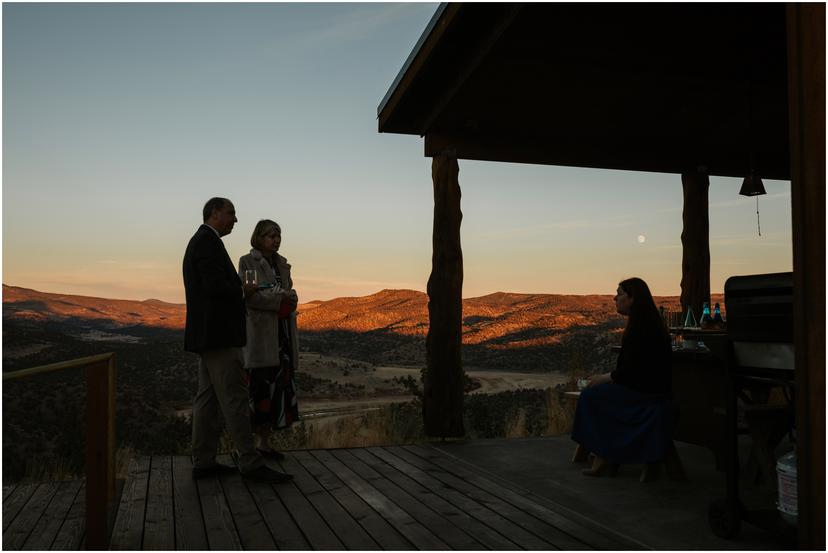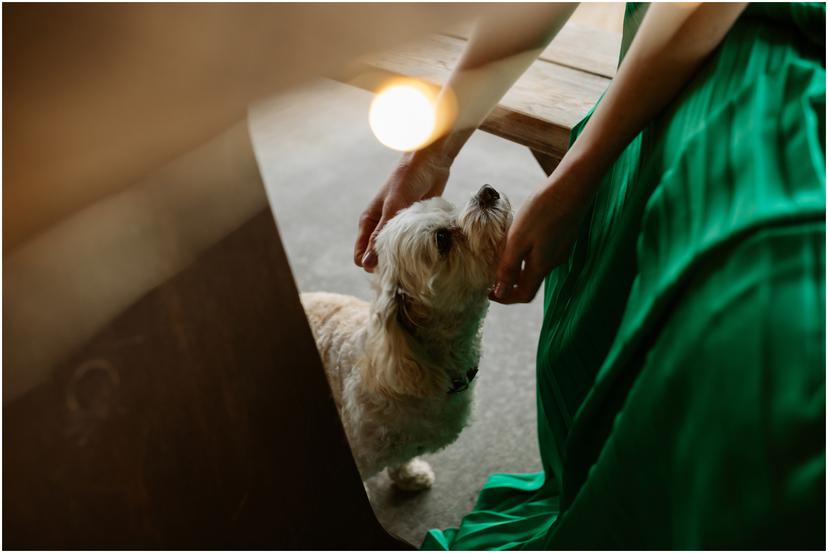 How to make your elopement unique
"Because it was a quarantine wedding, I made all the plans, and picked out everything, so everything felt special - and I'm glad I had the time to be so involved," said Taylor.
"I made the desserts, and it was a lot of work, but I'm really glad I did. The cheesecake turned out really well, and the raspberry sauce was made with raspberries from our yard.
"It was wonderful to have Bob and Val there, and I'm glad we got to incorporate a more traditional Ukrainian element by jumping over the rushnyk (embroidered cloth).
"I also got Ashlee a small gift to thank her for everything she did. Ashlee collects records, and I got her Sam Cooke, "Live at Harlem Square Club." It's a record that means a lot to both of us, and I'm really glad I was able to give her something meaningful."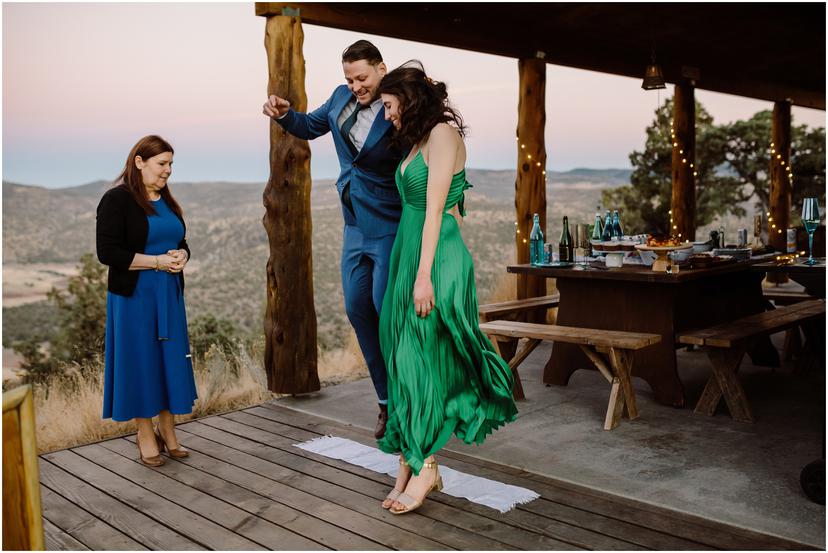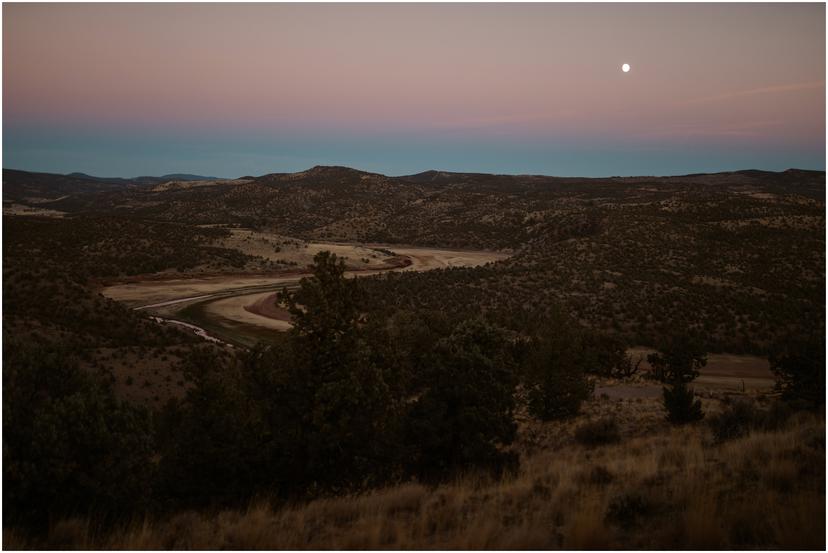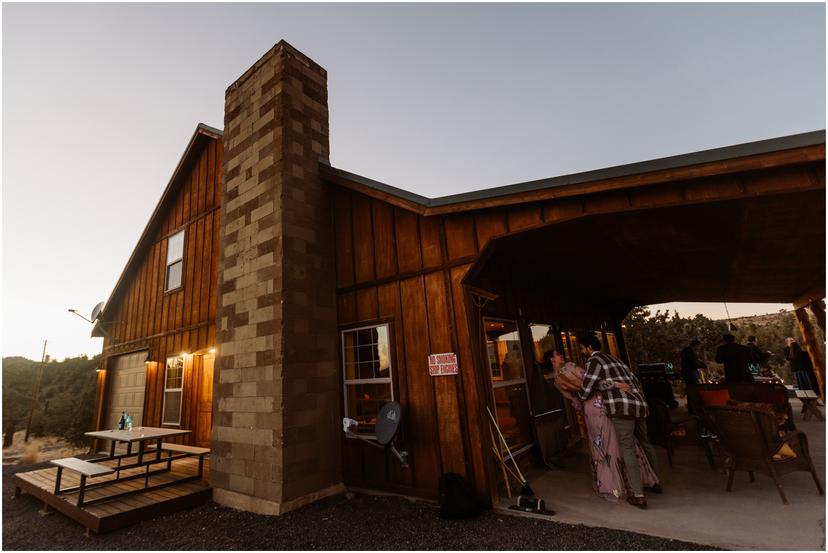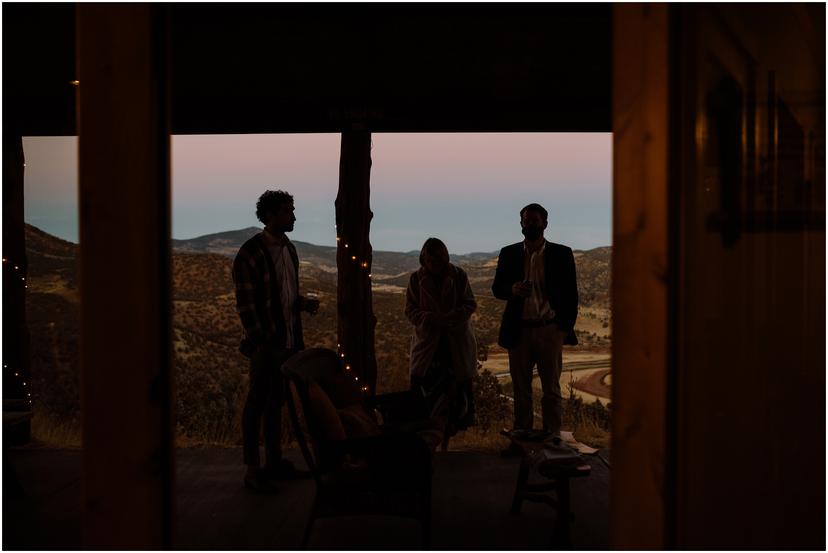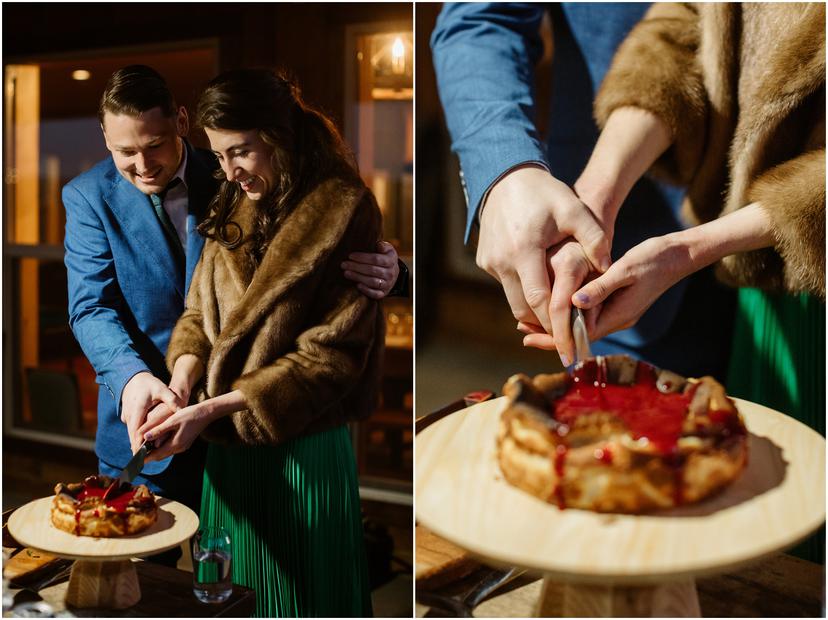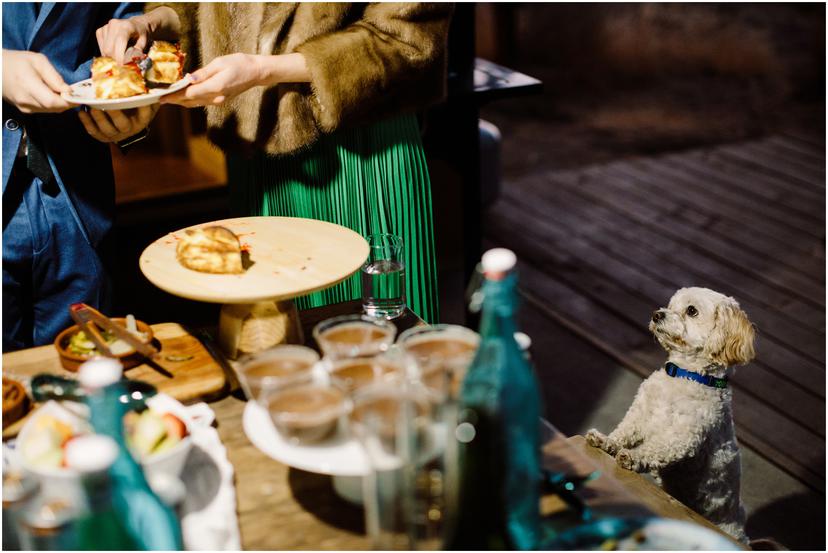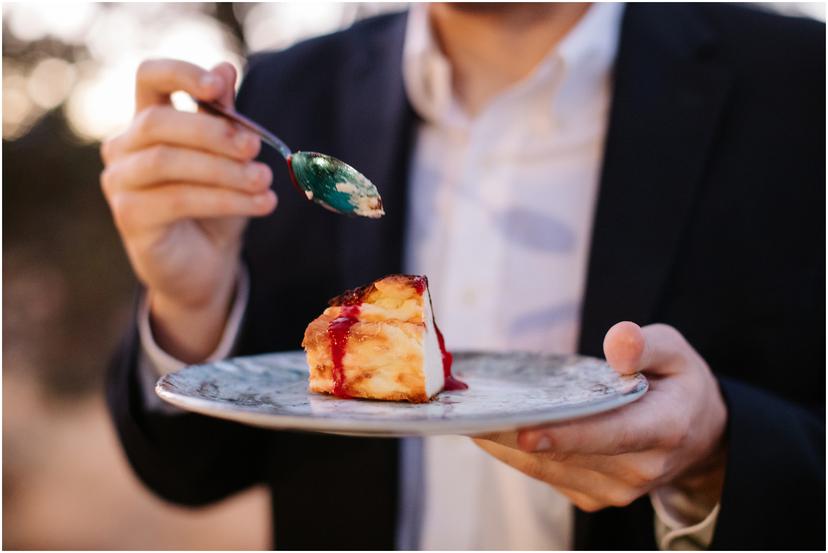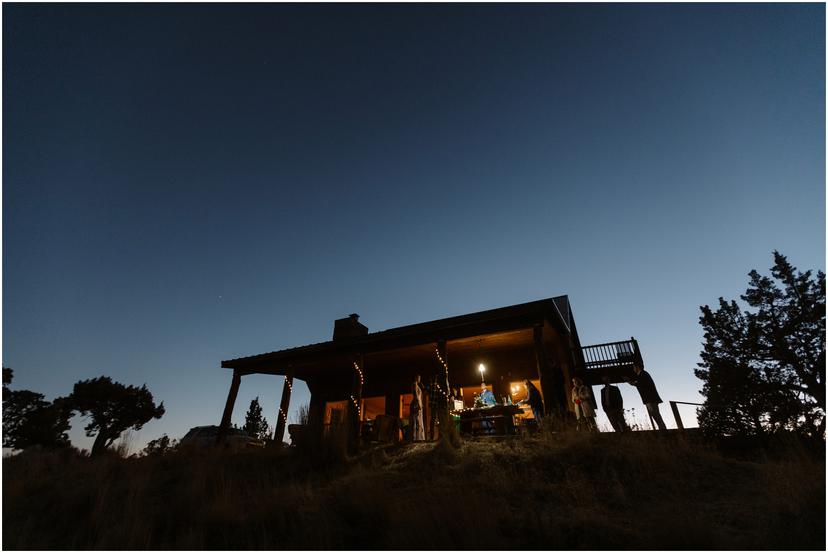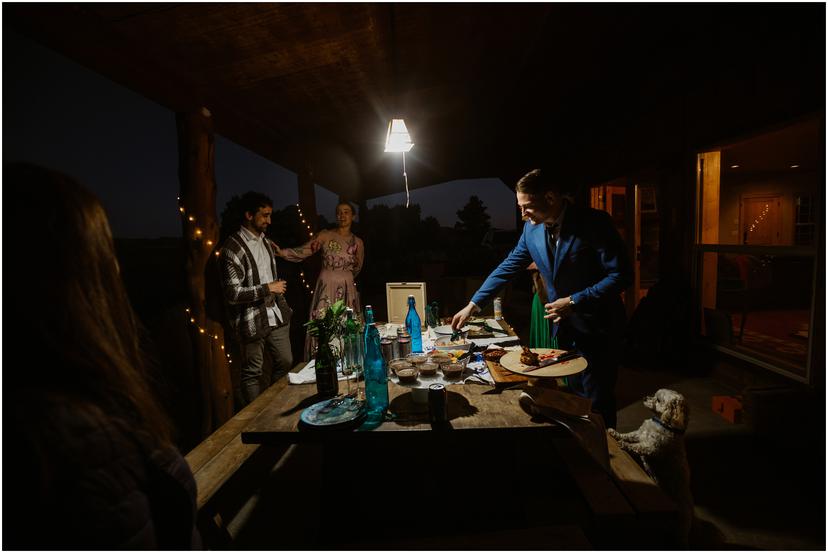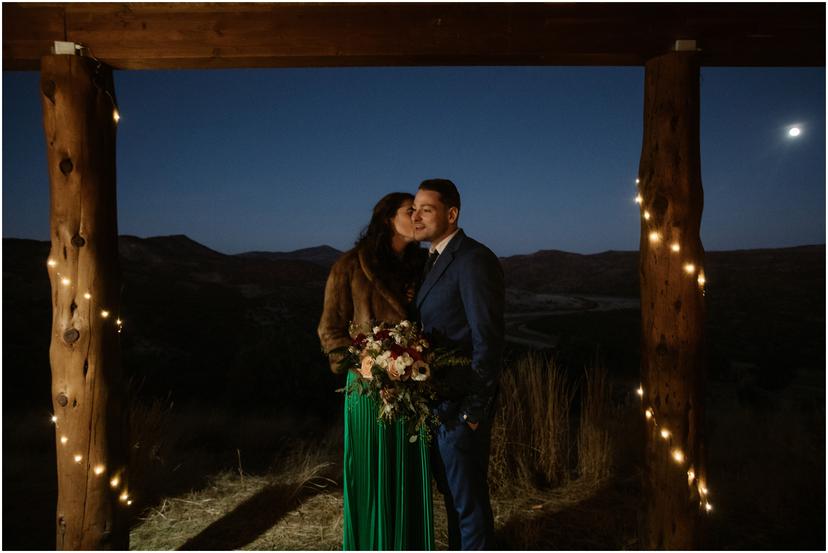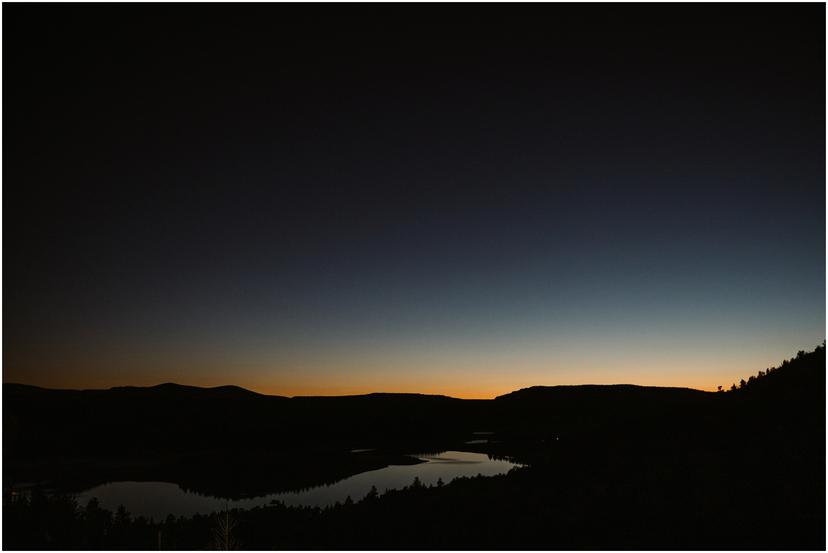 Vendors
Venue: Pete's Cabin on VRBO

Dress: ALC

Hair Stylist: Lori - Edge Hair and Makeup

Barrette: Tory Burch on eBay,

Jewelry: Kay

Florist: Emily Miller - Bend Floral Artistry

Officiant: Ashlee Aguiar

Snacks: Olympia Provisions

Cake: Cheesecake made by the bride
Browse more
Did you enjoy this intimate elopement in Central Oregon? If so, you might like these other elopements and intimate weddings I've photographed recently! And always, feel free to contact me if you have questions, or reach out if you are planning your own Central Oregon elopement!
INTIMATE HIGH DESERT WASHINGTON WEDDING