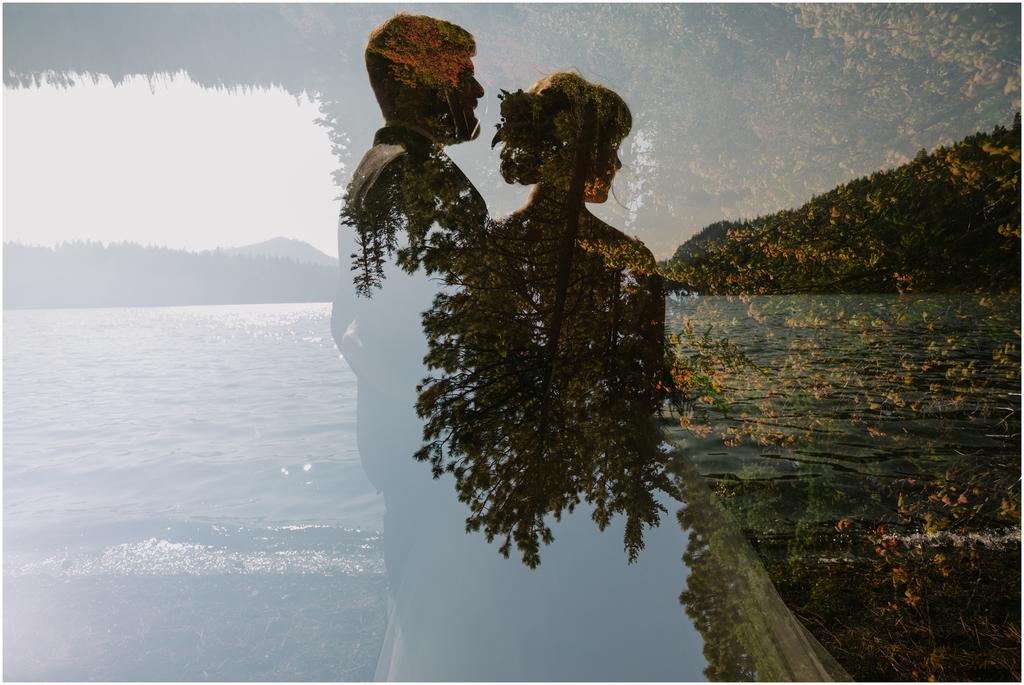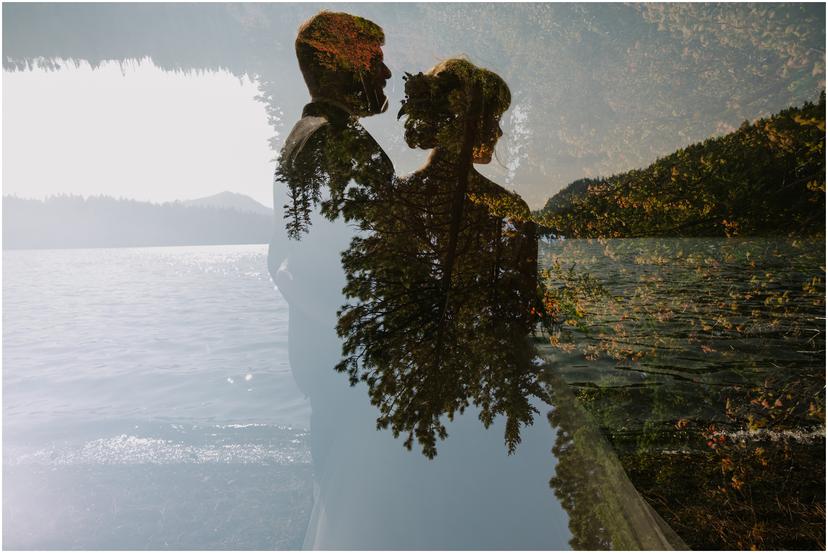 Suttle Lake Lodge Wedding
This Suttle Lodge wedding was the stuff of outdoor wedding fantasies. The warm fall weather, perfect golden light, and gorgeous decorations elevated an already very scenic location. I LOVED the clear tent, string lights, candles, and greenery. I also adored this couple and their quirky, playful vibes and appreciation for the outdoors and art. I loved every minute of this beautiful event and felt beyond lucky to document it!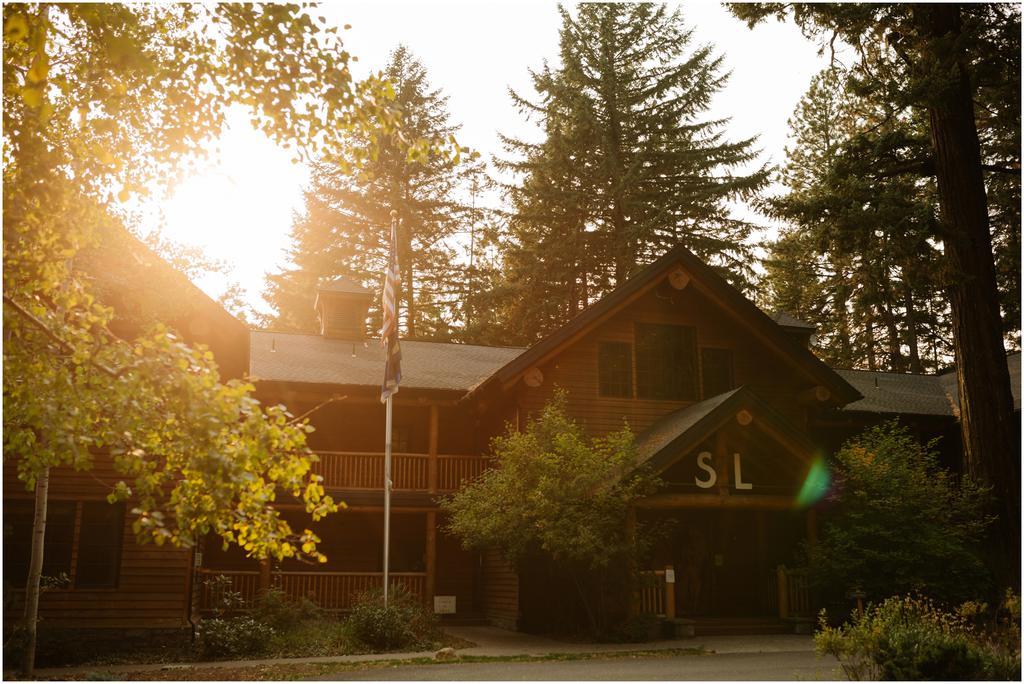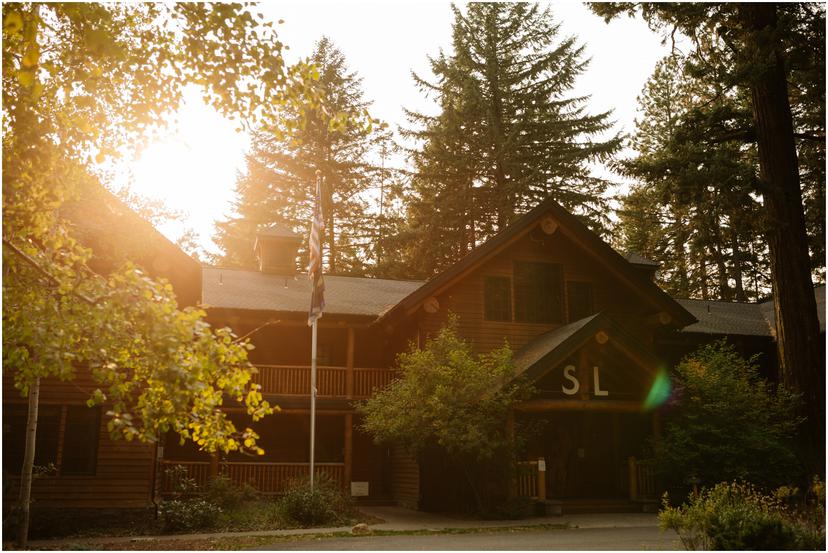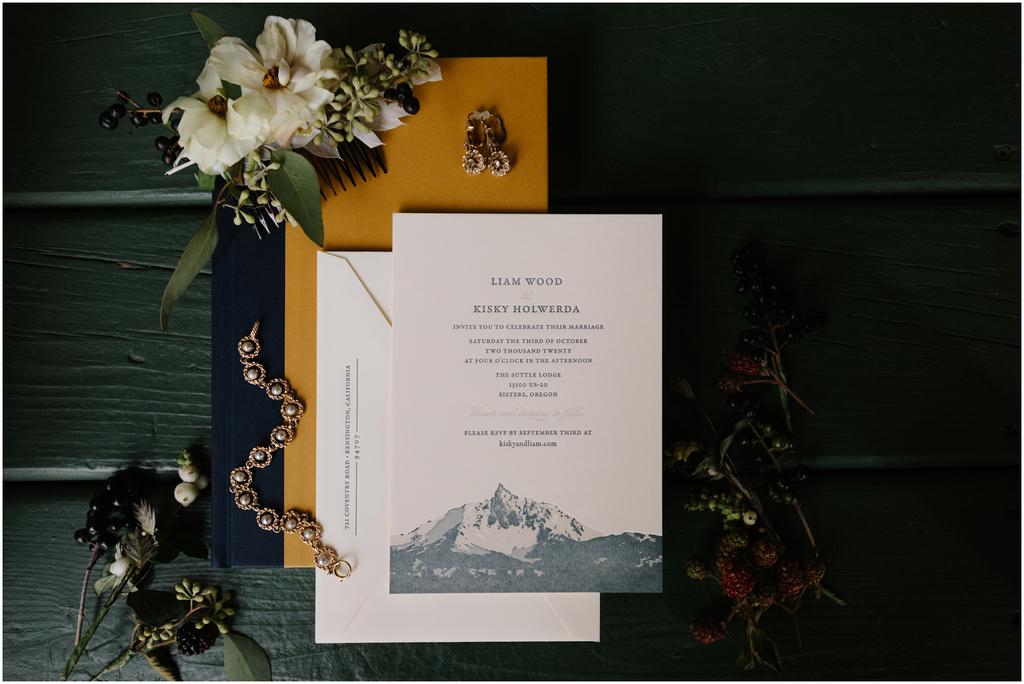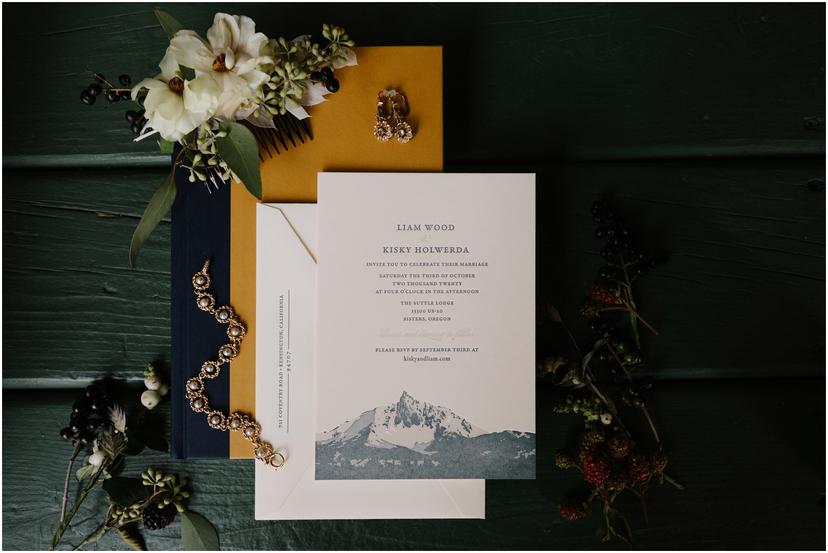 Where is Suttle Lake?
The Lodge at Suttle Lake is located in Deschutes National Forest, about 20 minutes west of Sisters, Oregon. It takes about 2.5 hours to drive there from Portland. The lodge is on the northeast side of the lake, surrounded by Pacific Northwest forests with western sunset views. The lake sits at about 3400 feet above sea level. The opposite end of the lake has campsites and public access, but the Lodge at Suttle Lake is privately owned and requires reservations.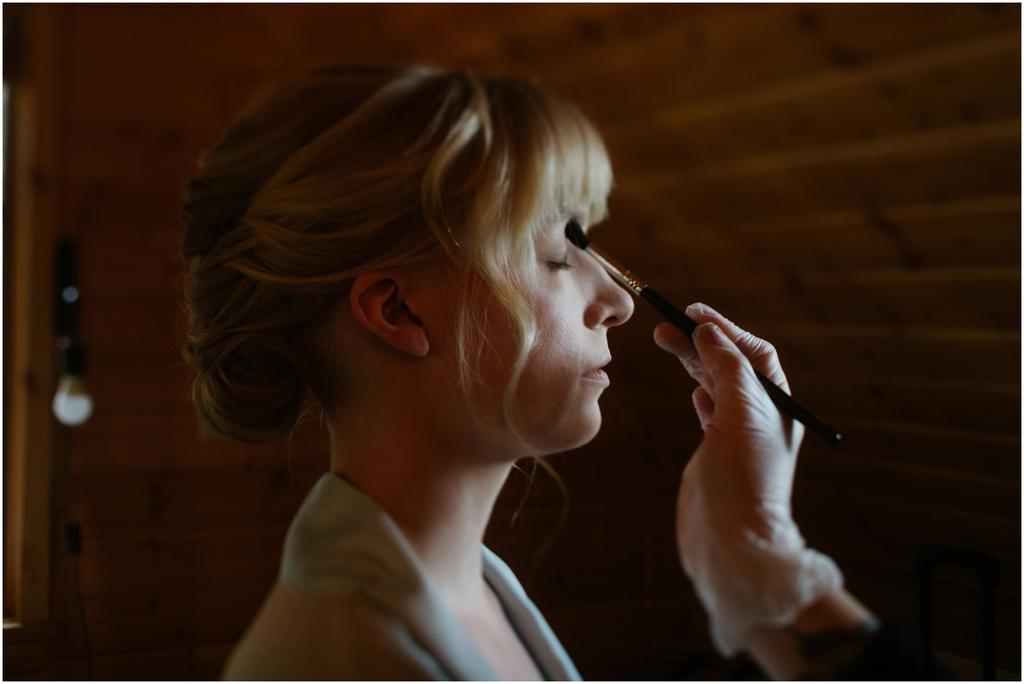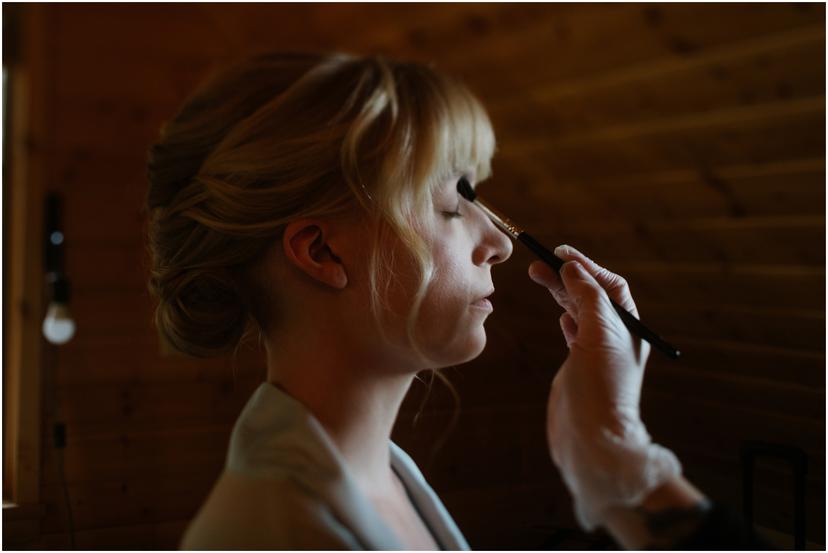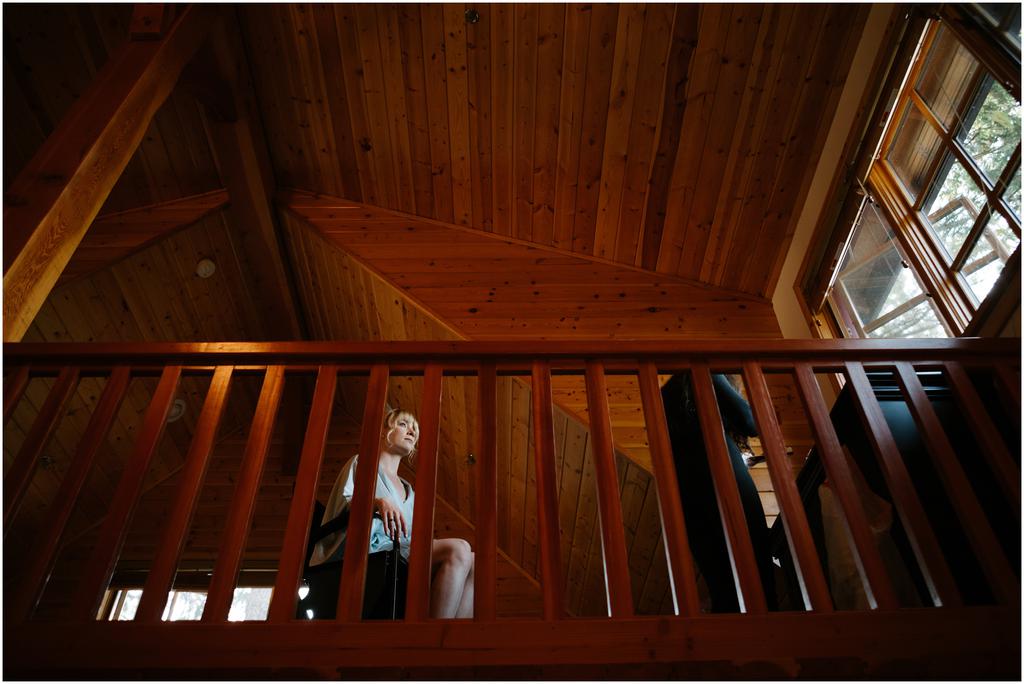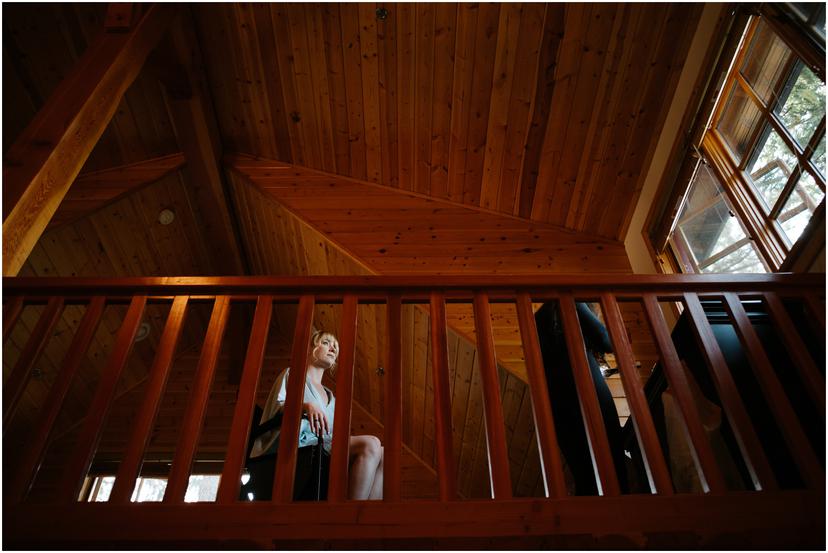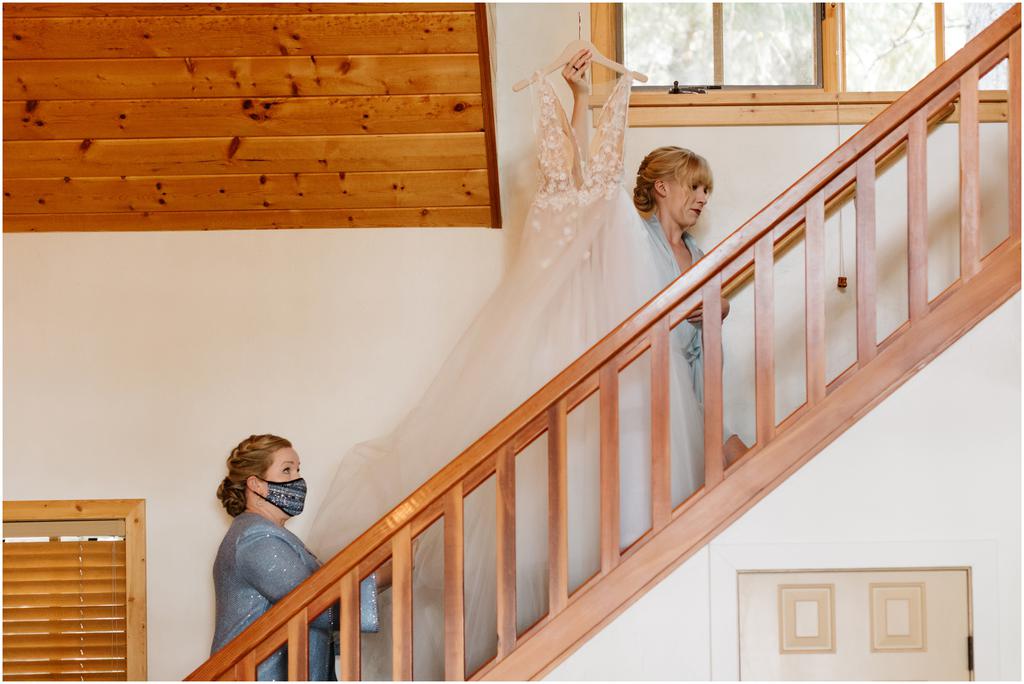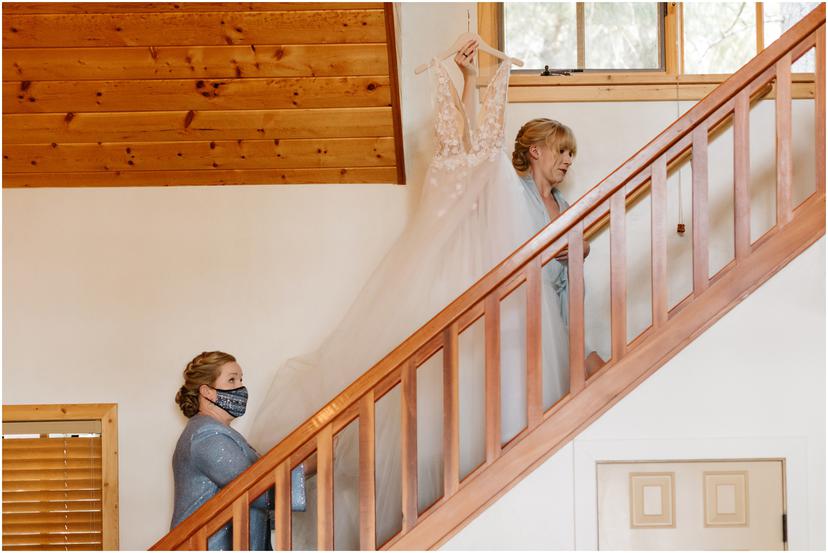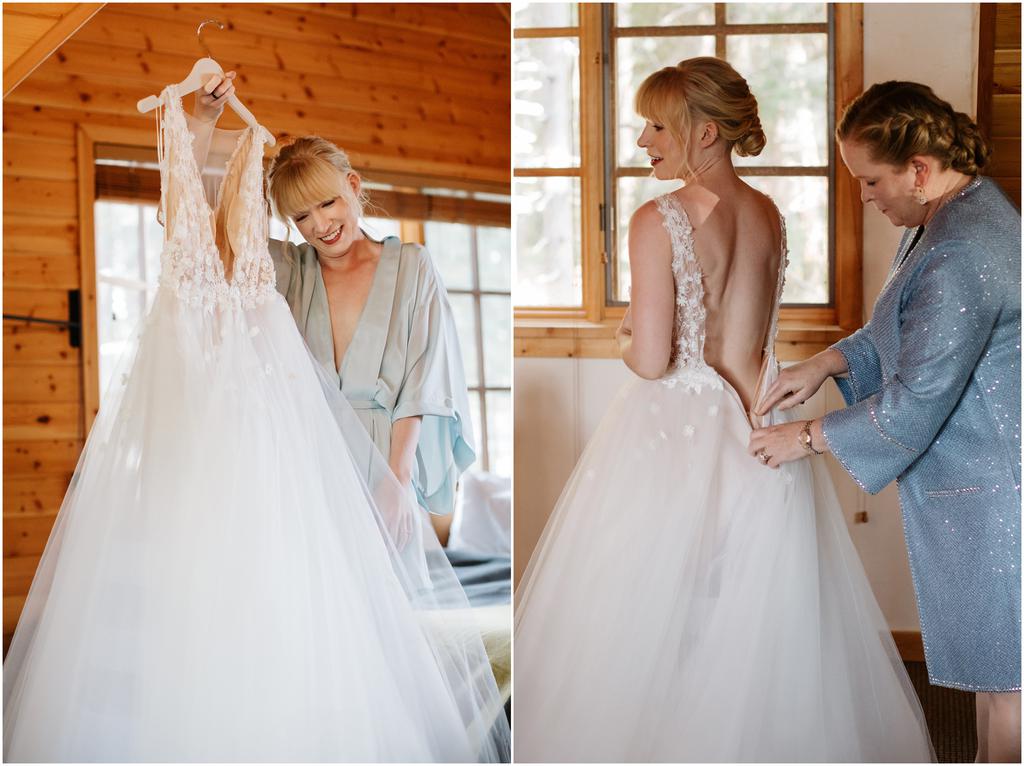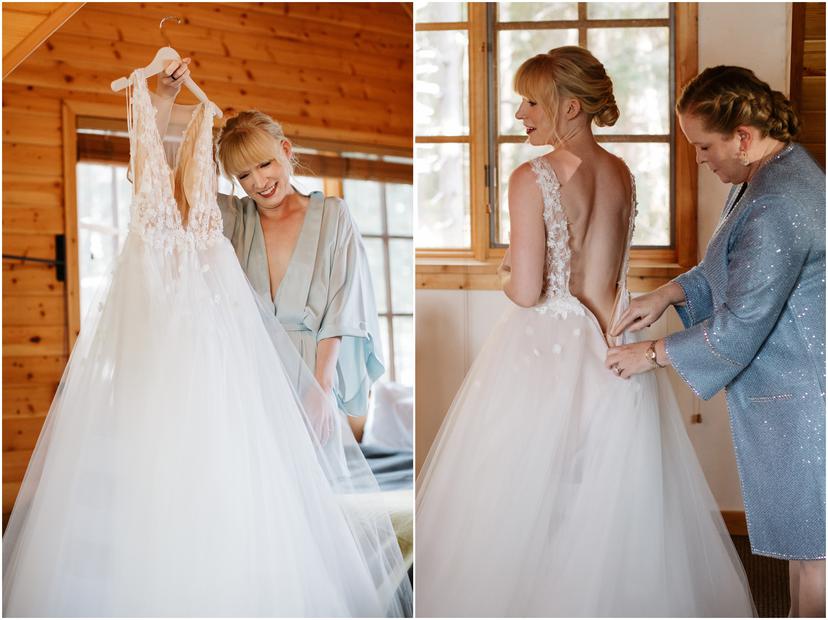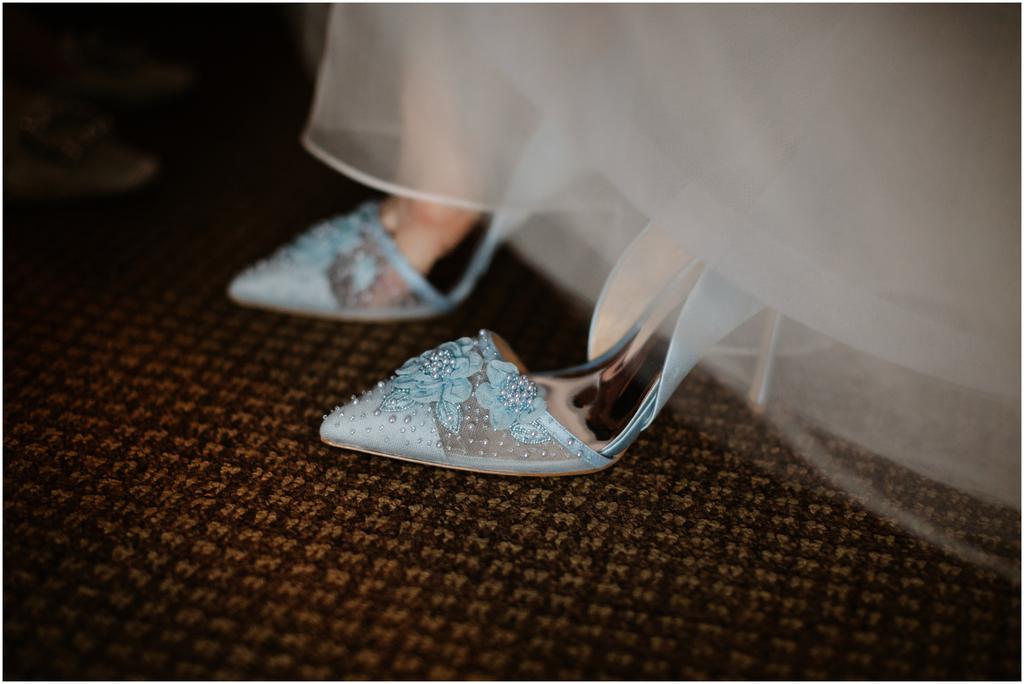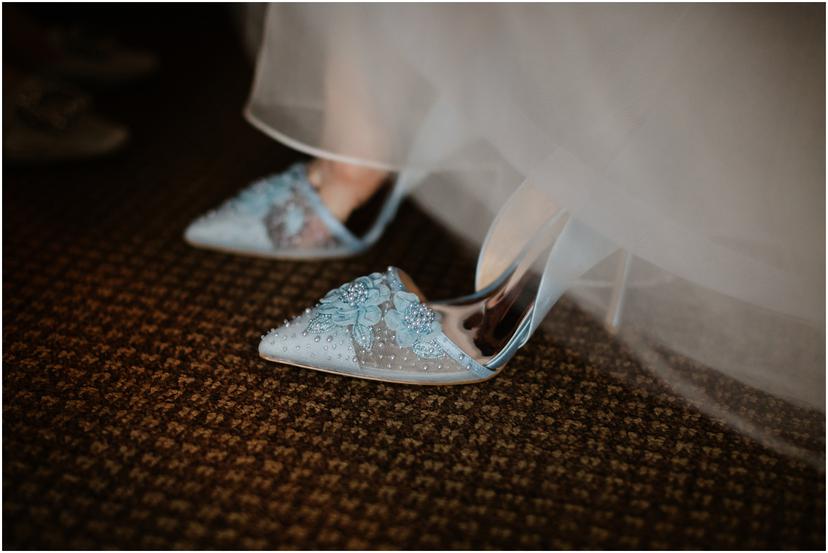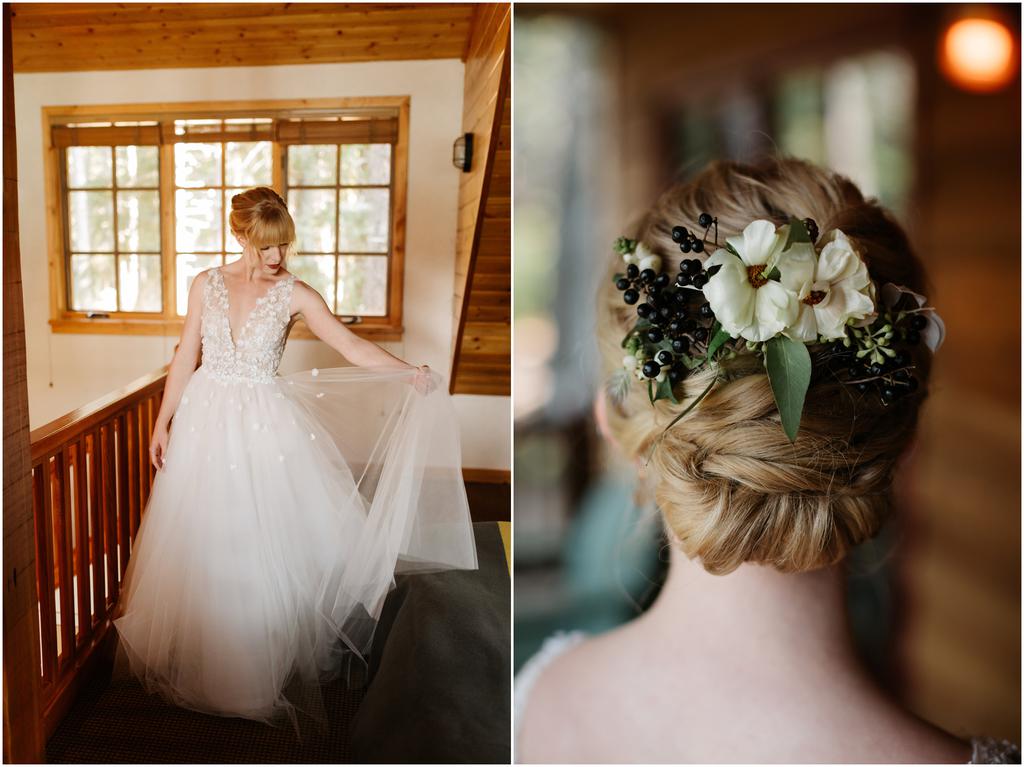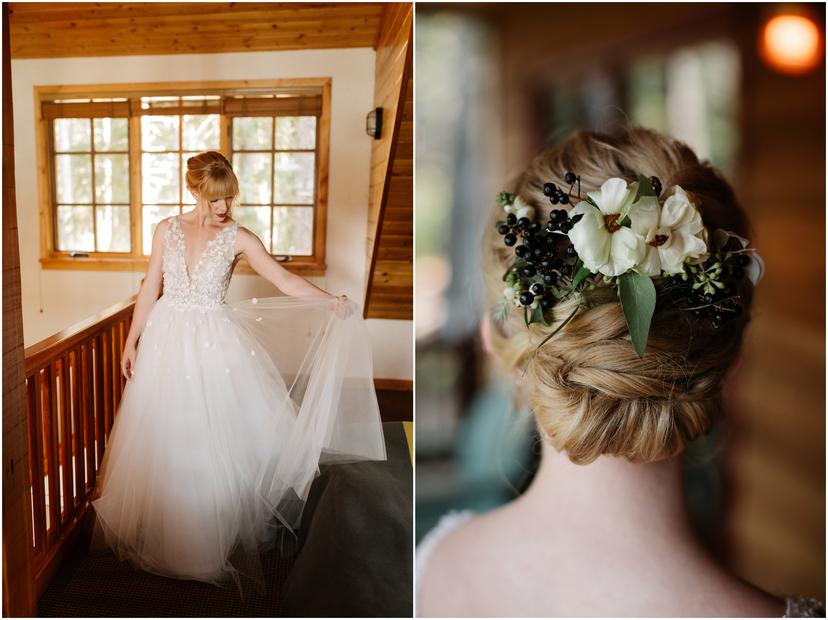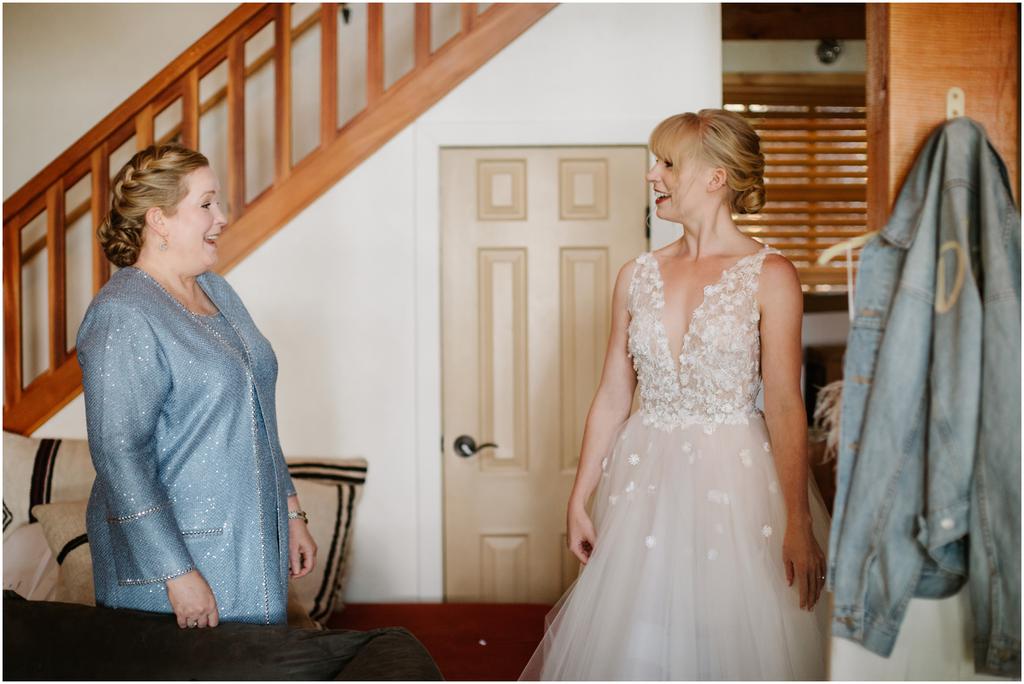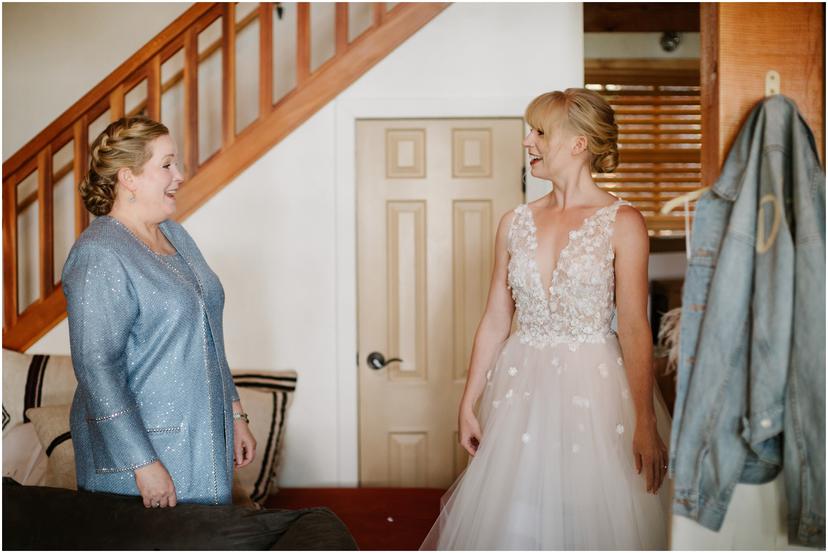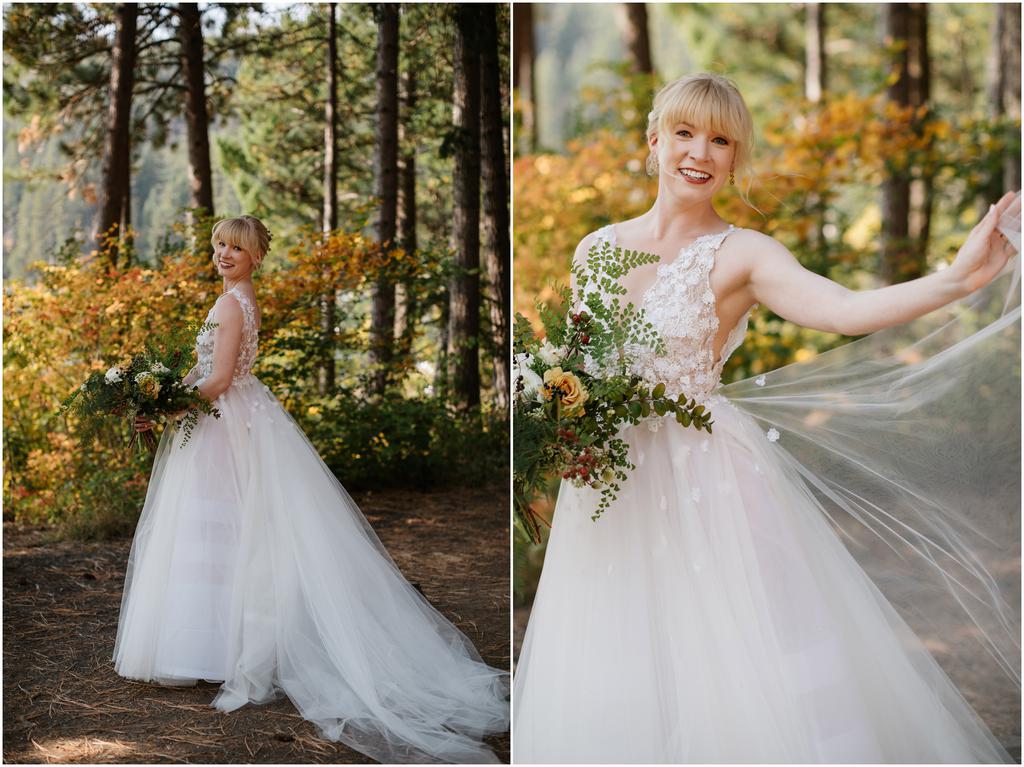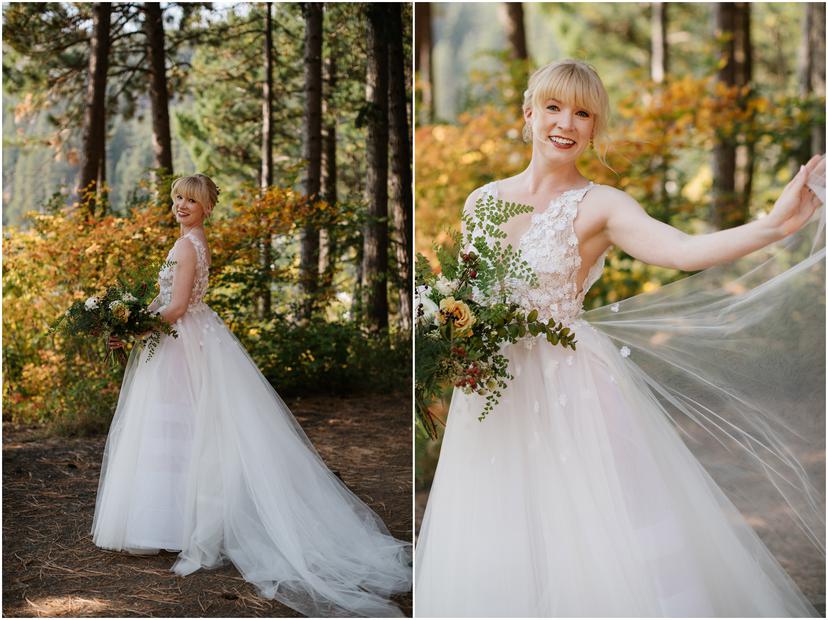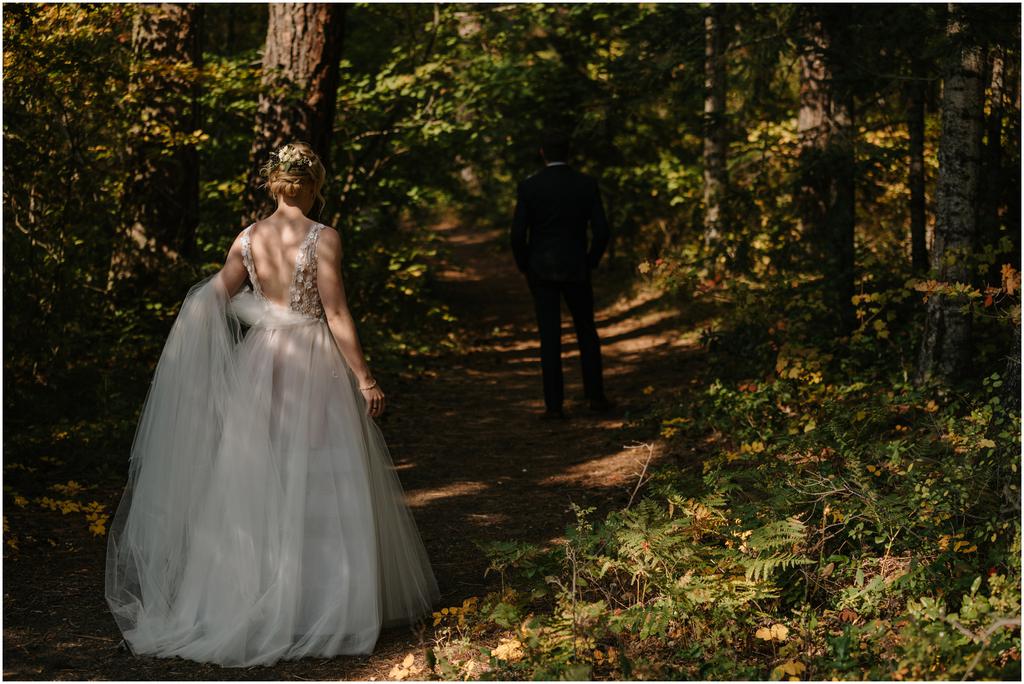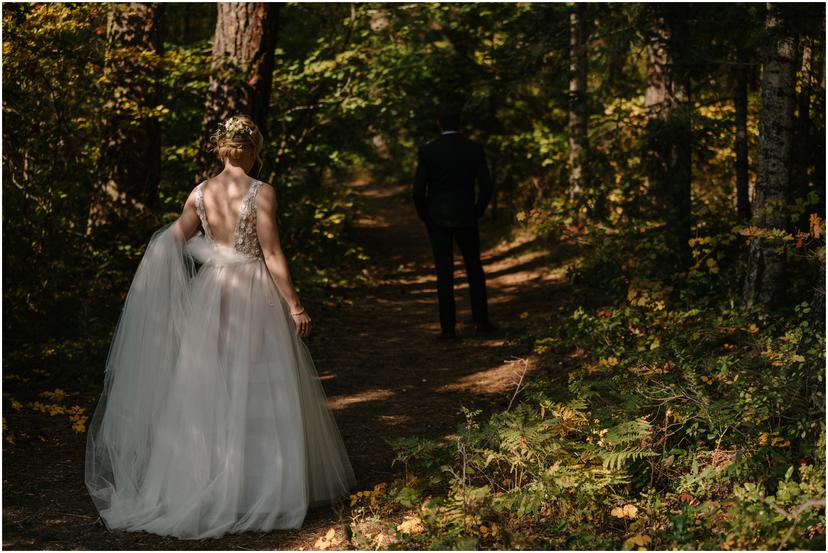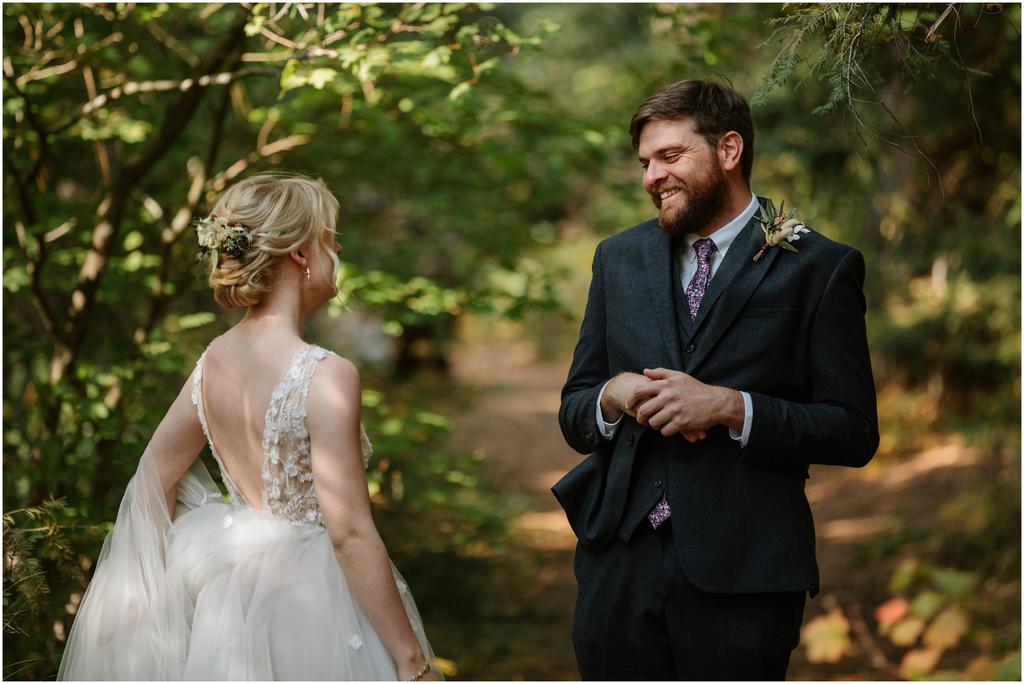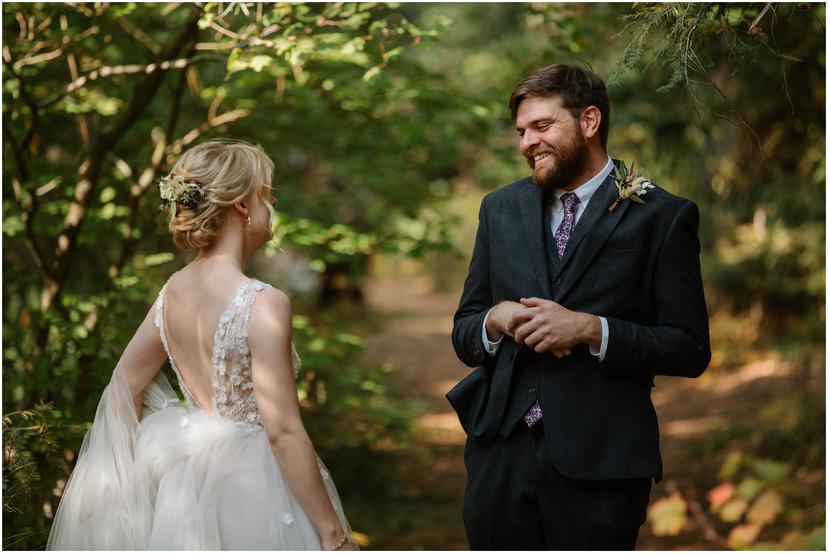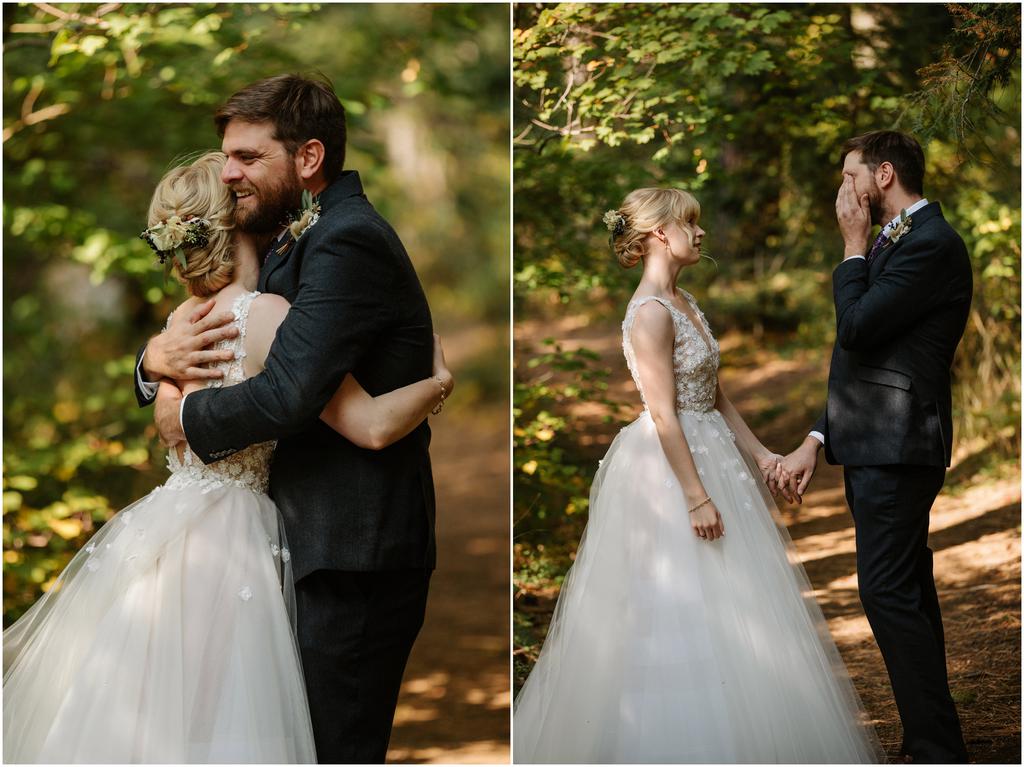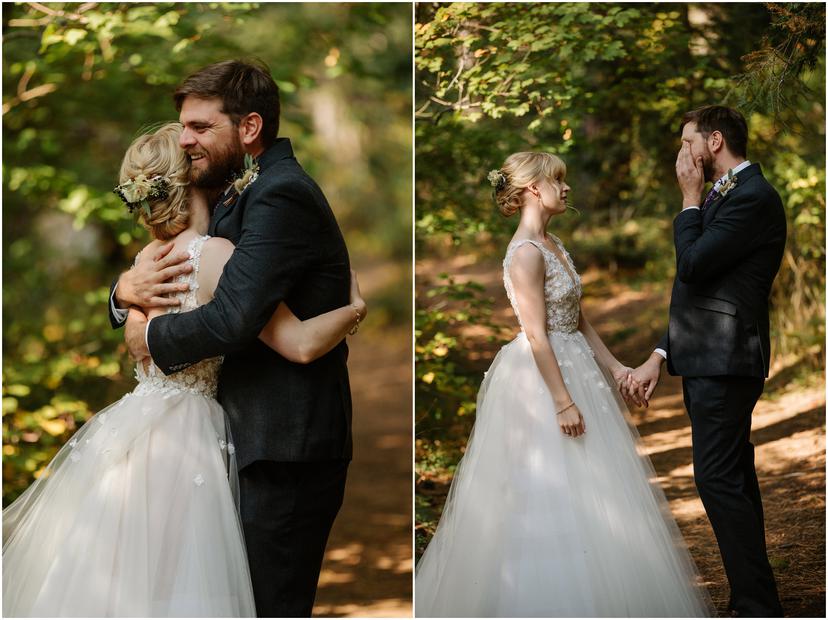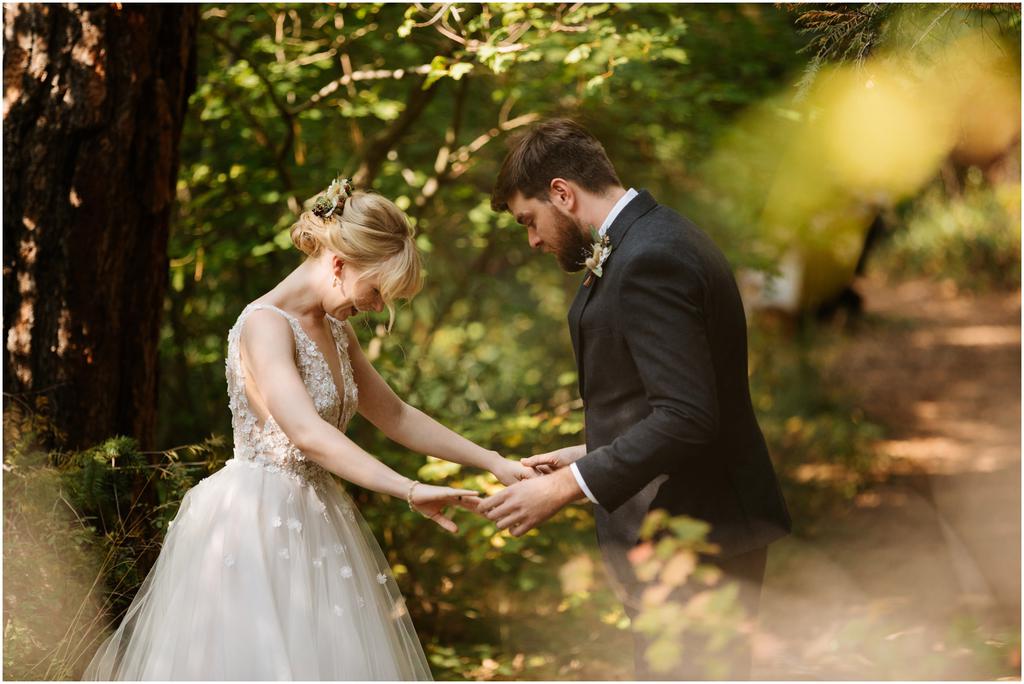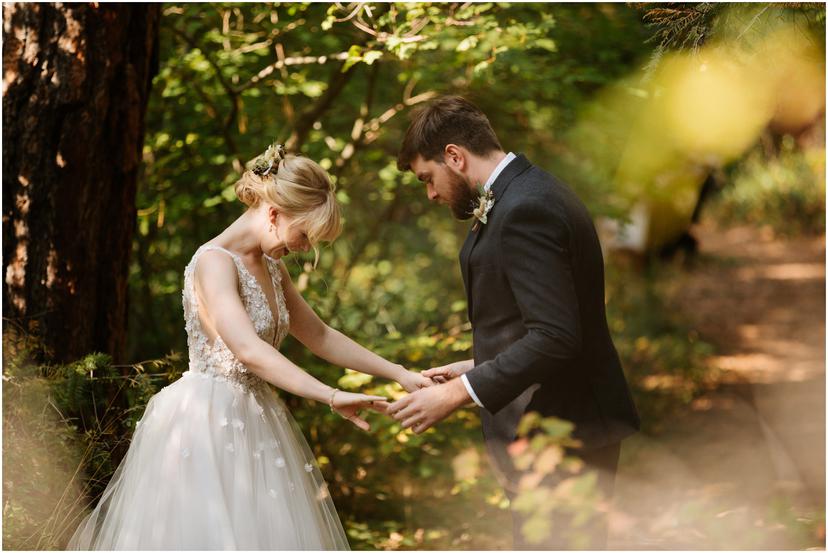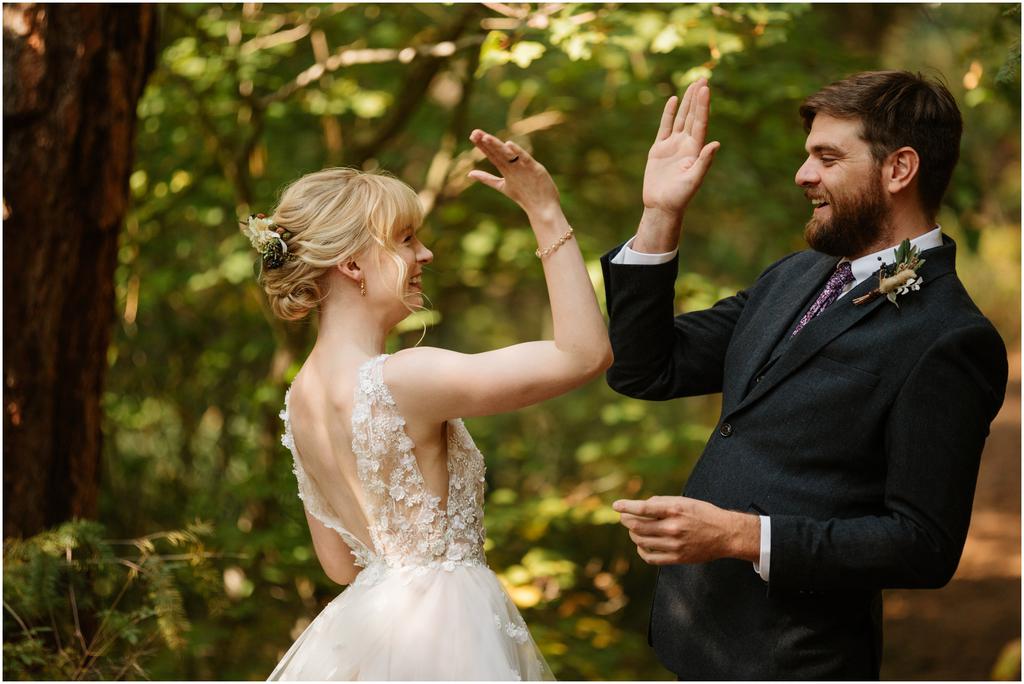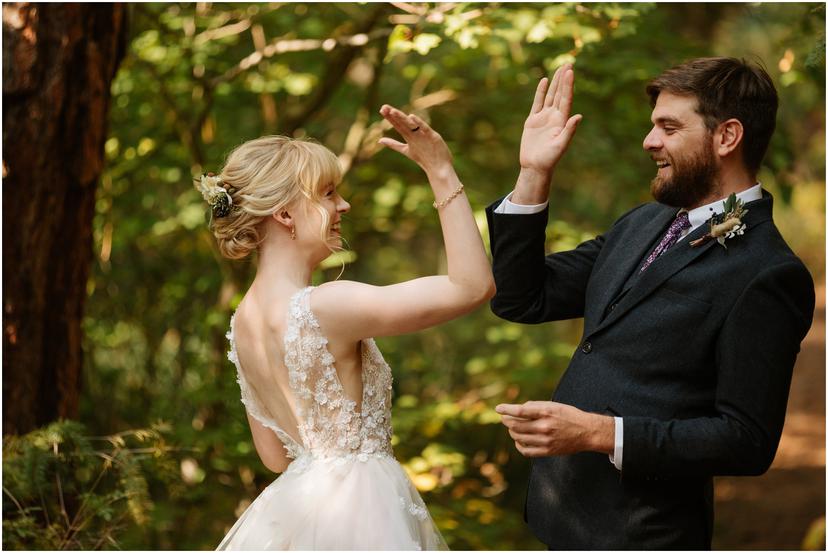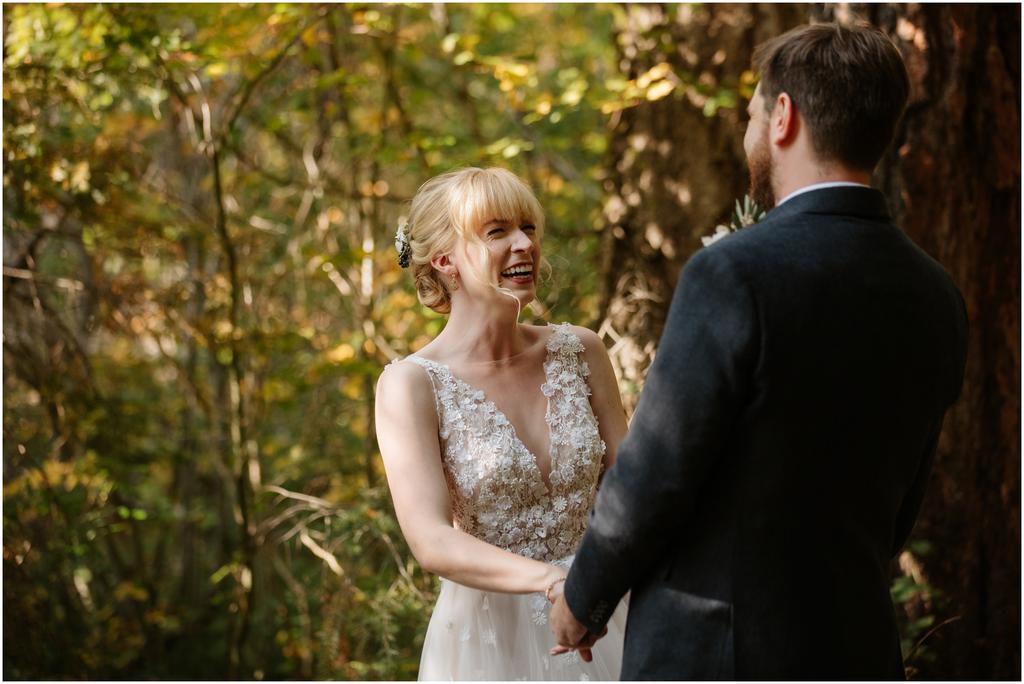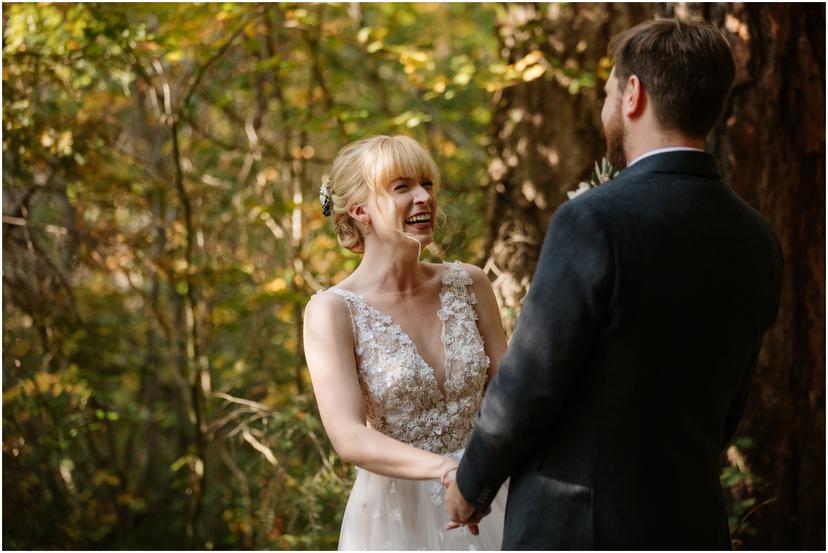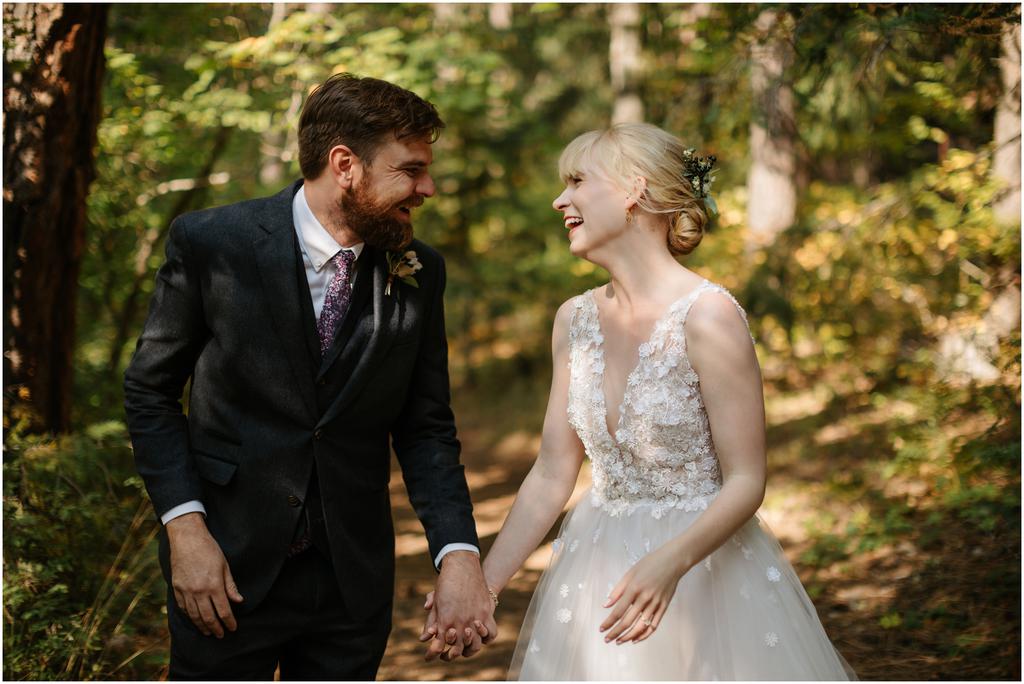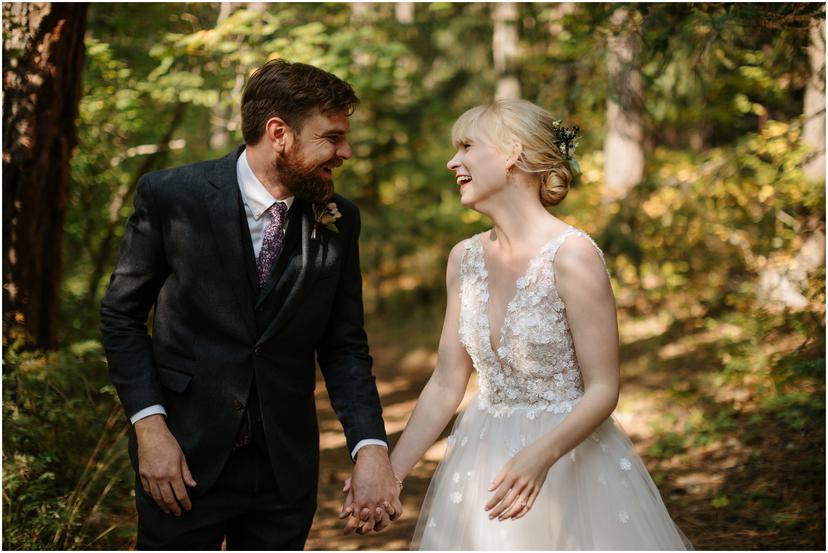 About the couple
Kisky and Liam grew up on opposite coasts and met in New York. She was raised in Oregon and came to New York for theatre and the literary world. He was raised around Pennsylvania and came to New York for the restaurant industry.
They met on accident, in a perfect New York type of way.
"I was sitting at a bar with a guy I'd been seeing, and he was not paying me much attention, talking to a random patron," Kisky recalled." This random dude eventually turned to me, realizing I was with this guy and asked my name. Mary Jane by Rick James was playing, so I turned back to him and just said, "I'm Rick James, BITCH!" - neither the guy I was with nor this stranger got the reference. But, a man sitting on my other side laughed and said he thought that was pretty funny. We went outside and talked for a bit. He passionately told me the entire plot of The Sandlot, so I thought maybe he wasn't that into me, and well, obviously, I was wrong. We made an elaborate plan for me to ditch my date, leave separately, and meet up at Liam's apartment. I've been inseparable with Liam ever since."
They've since moved to the Bay Area together and love to spend time cooking, watching movies, and when COVID isn't a thing, going out to new restaurants and bars. "We like to do everything together. We don't care if we're doing nothing; we just want to be around each other," Kisky said.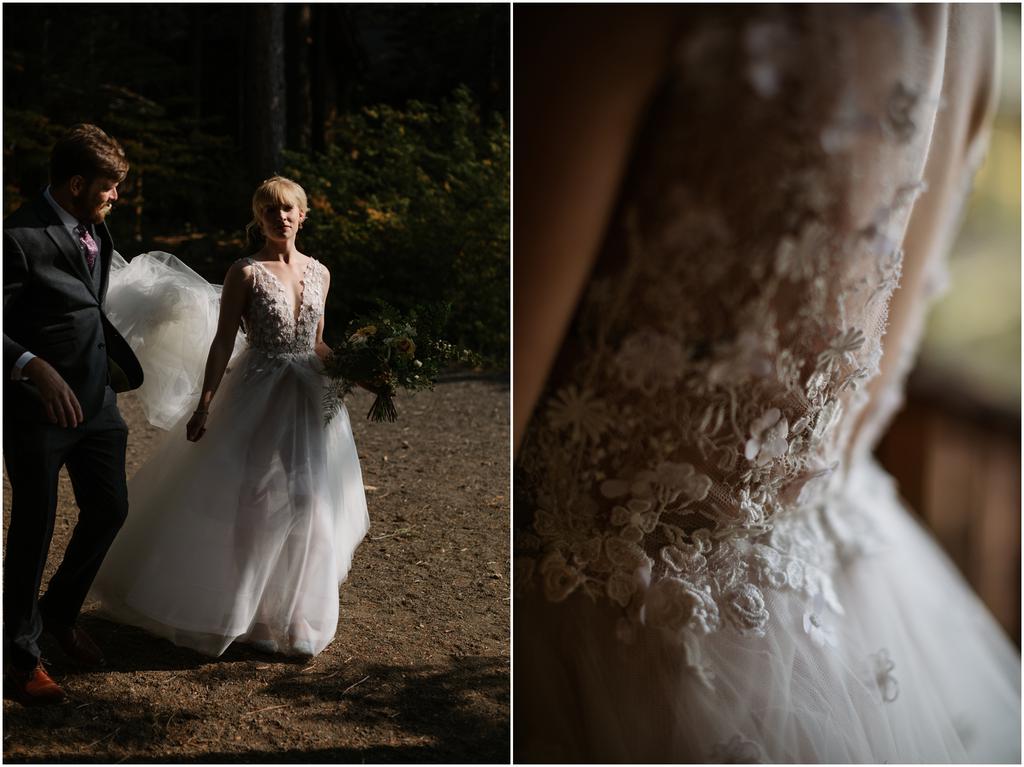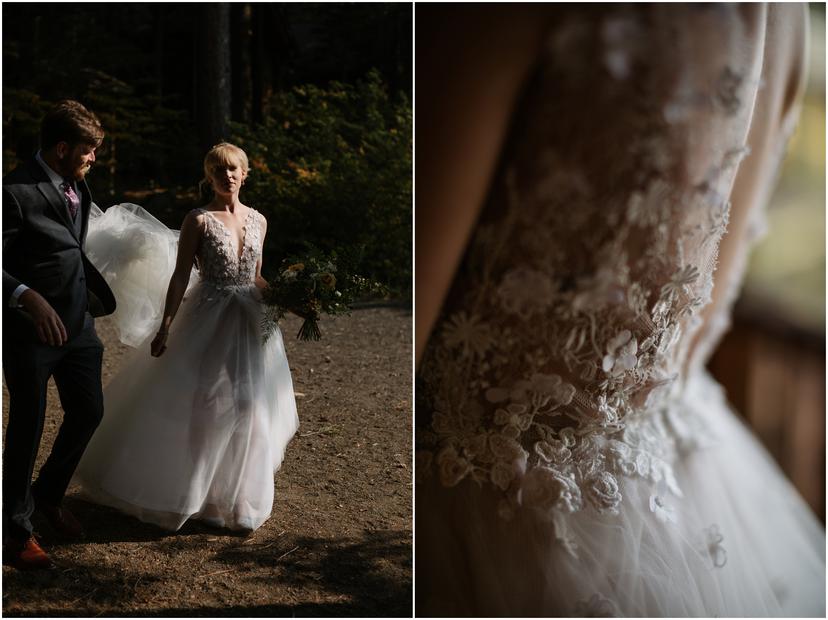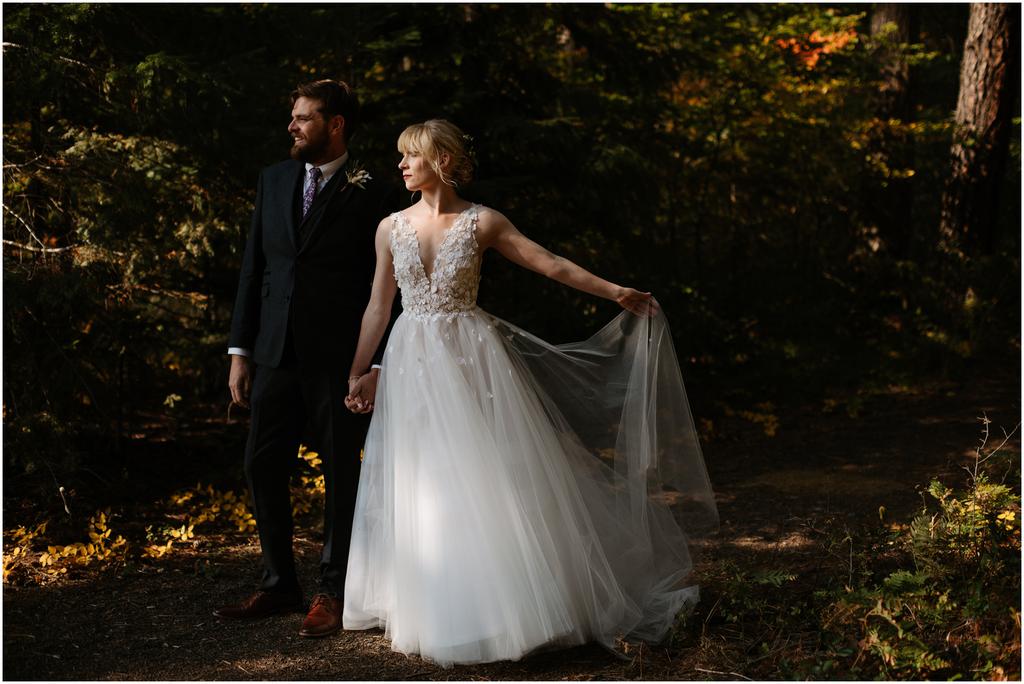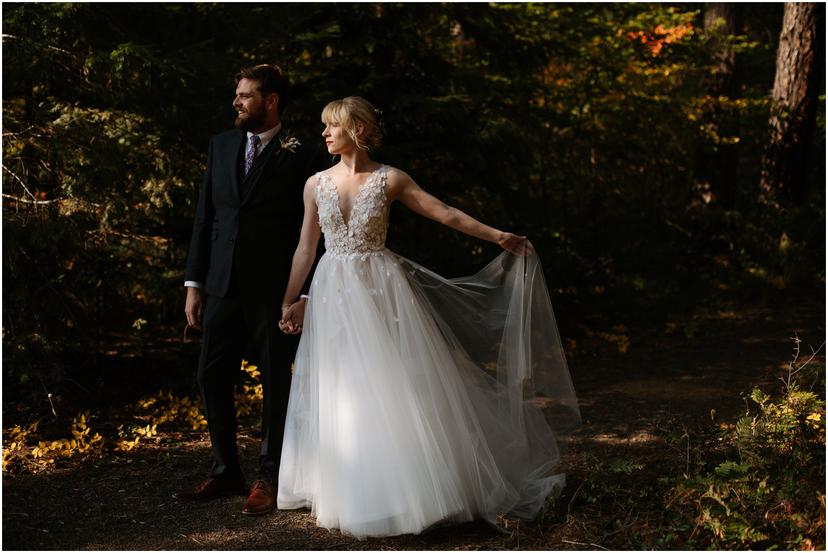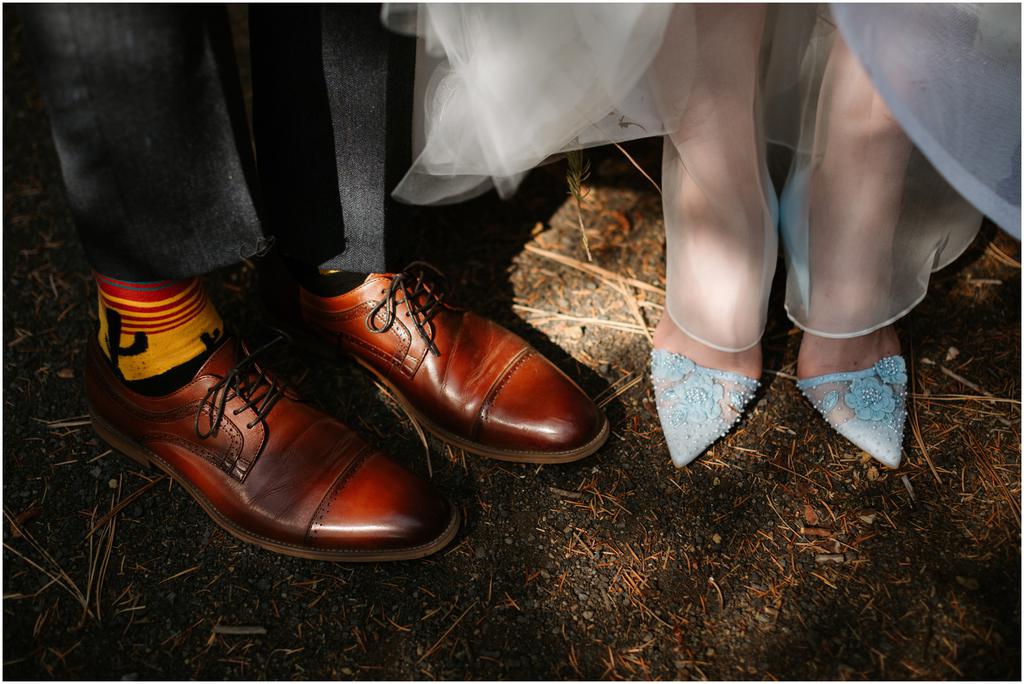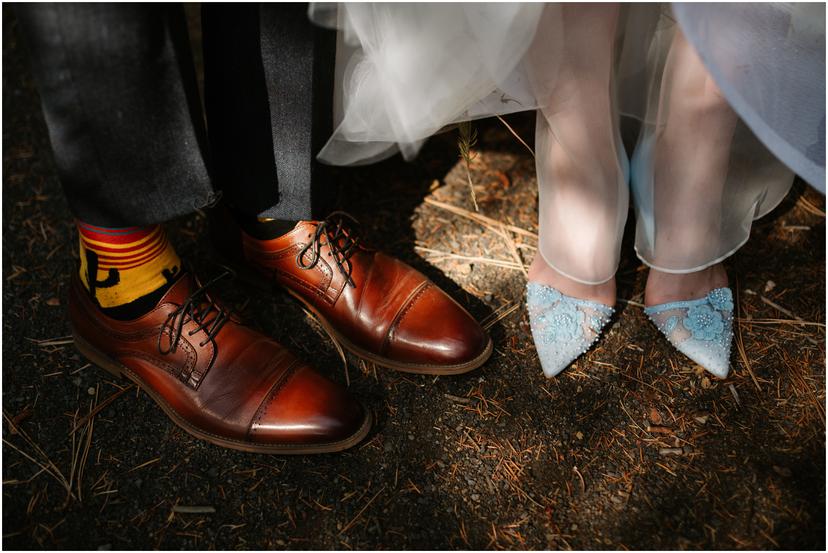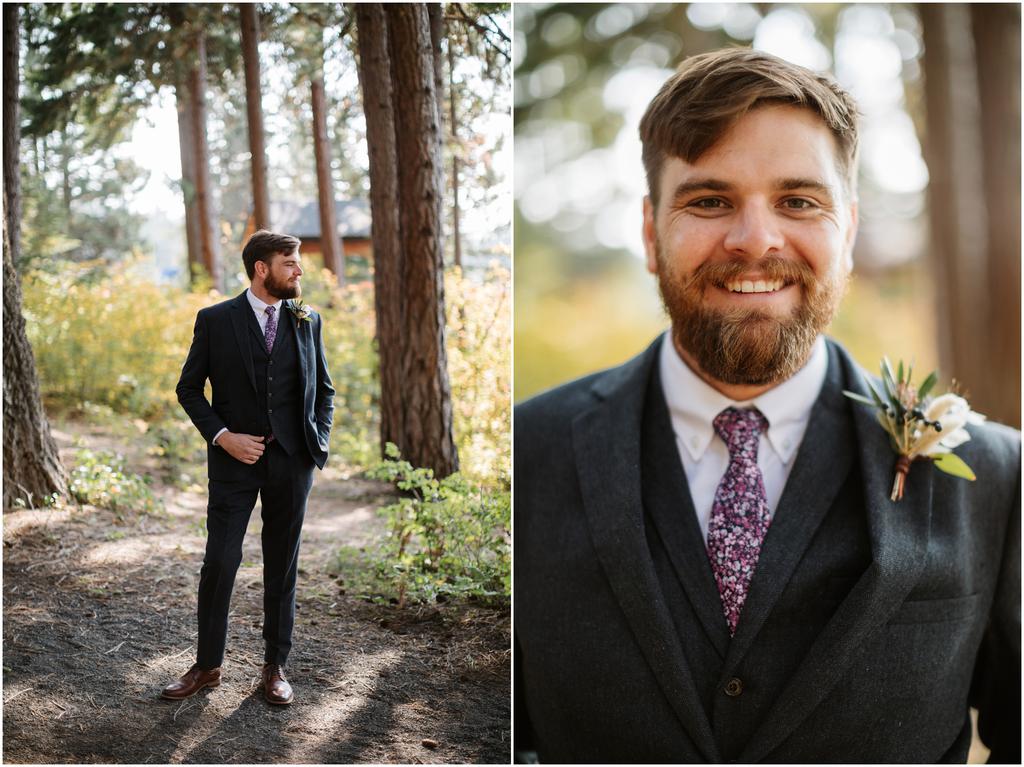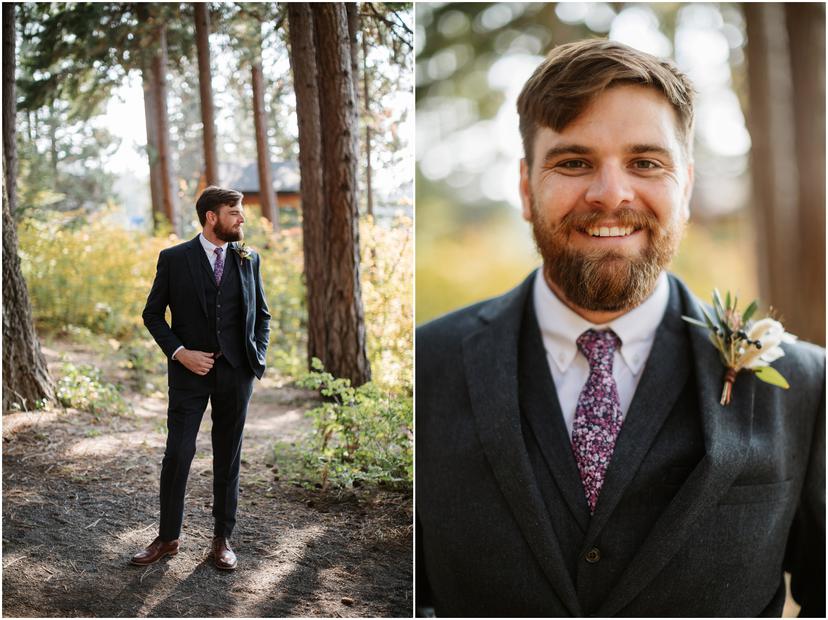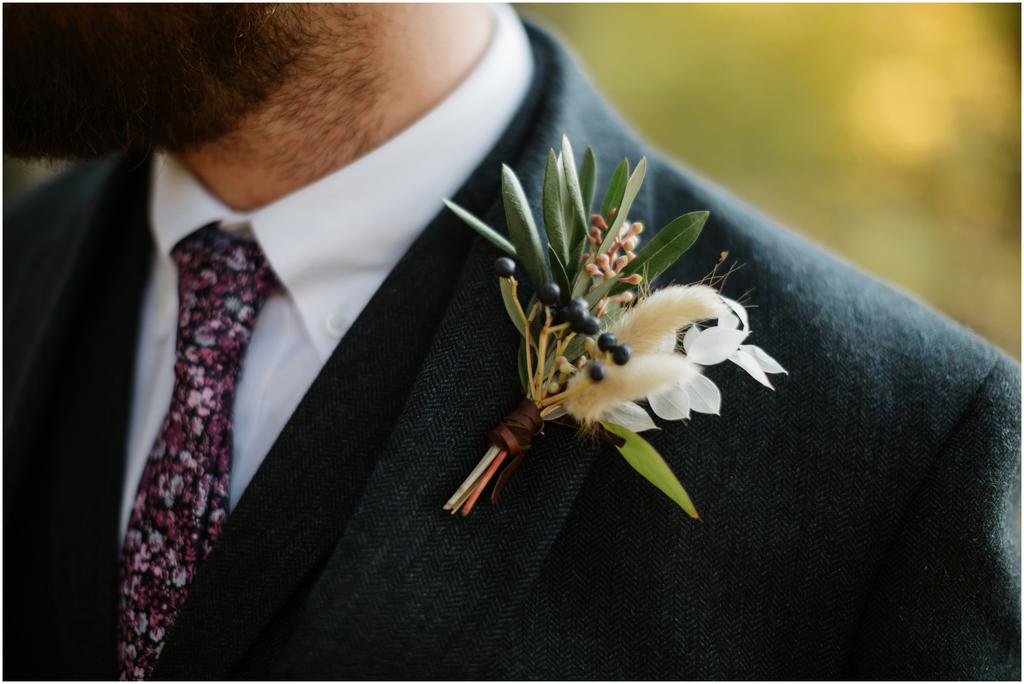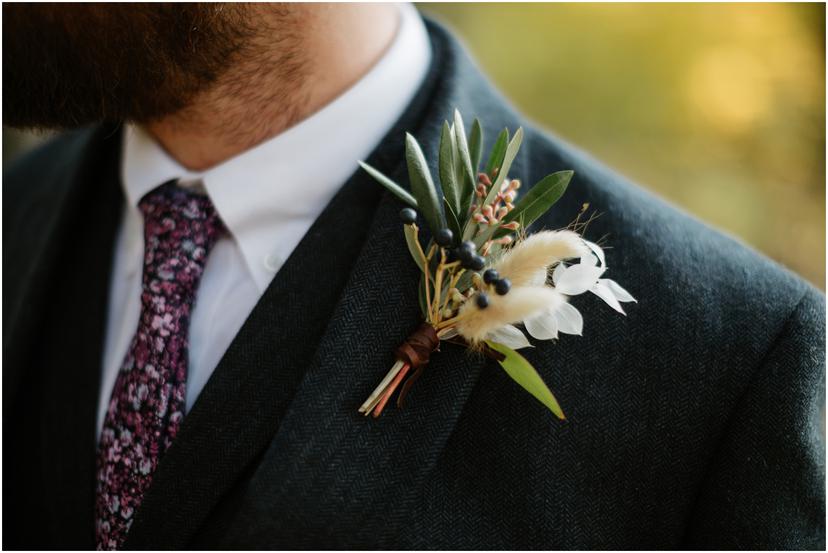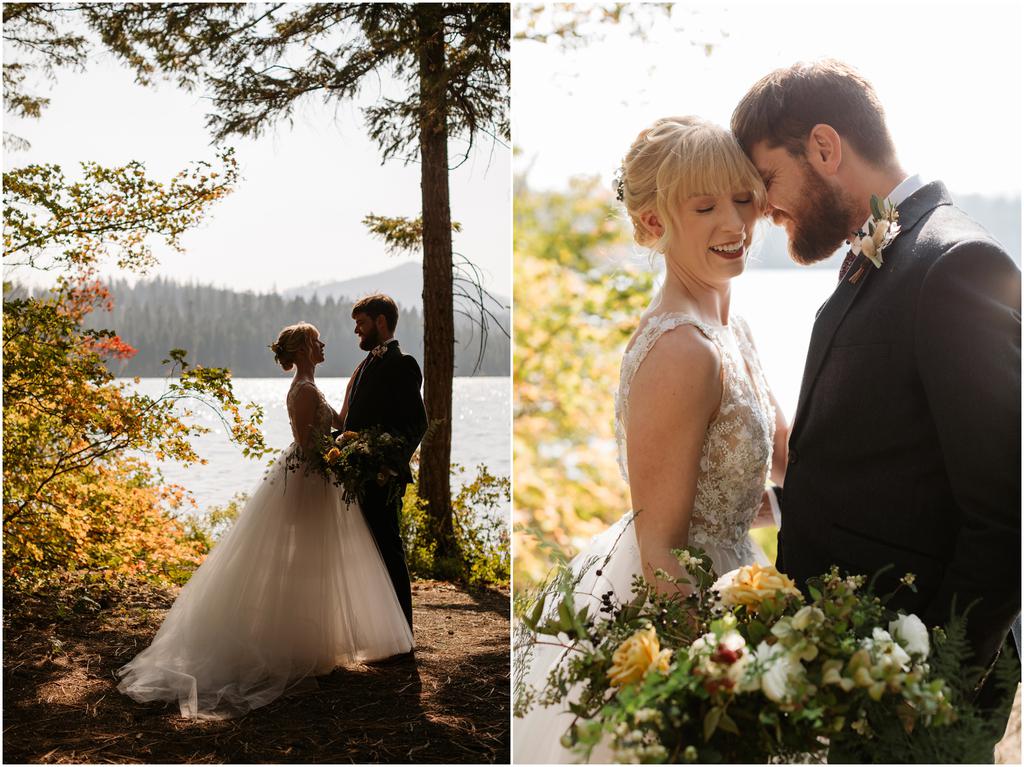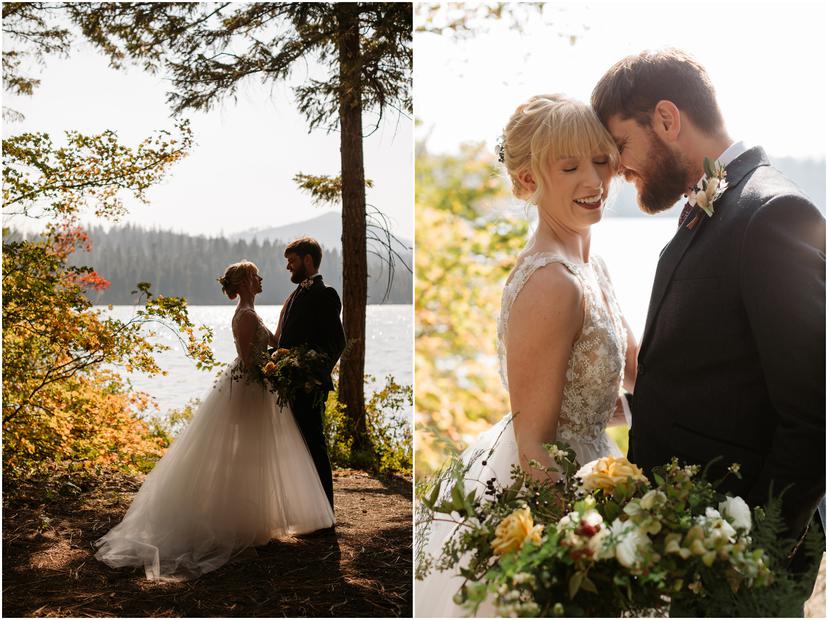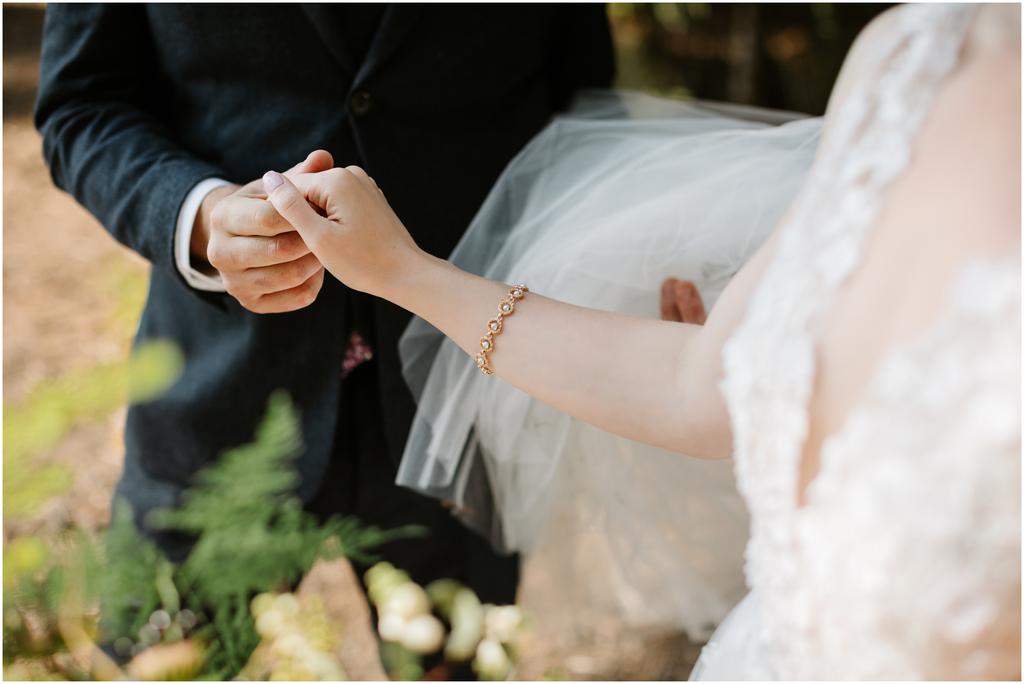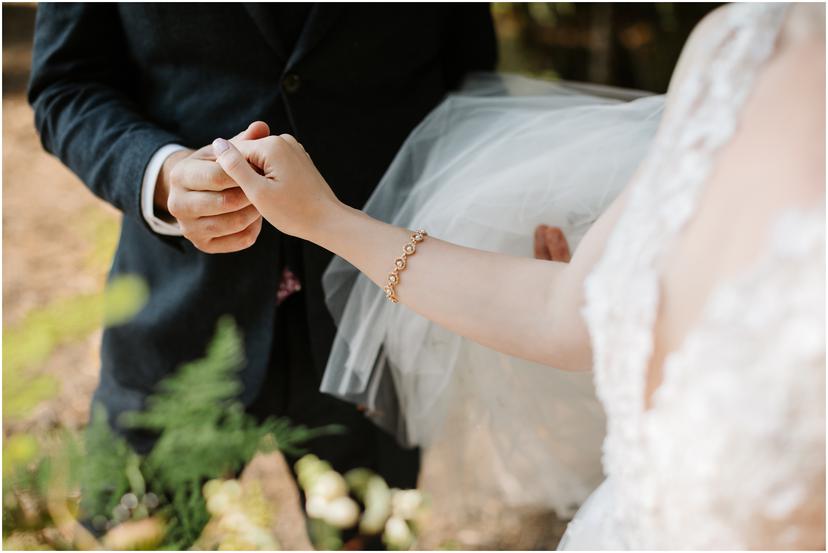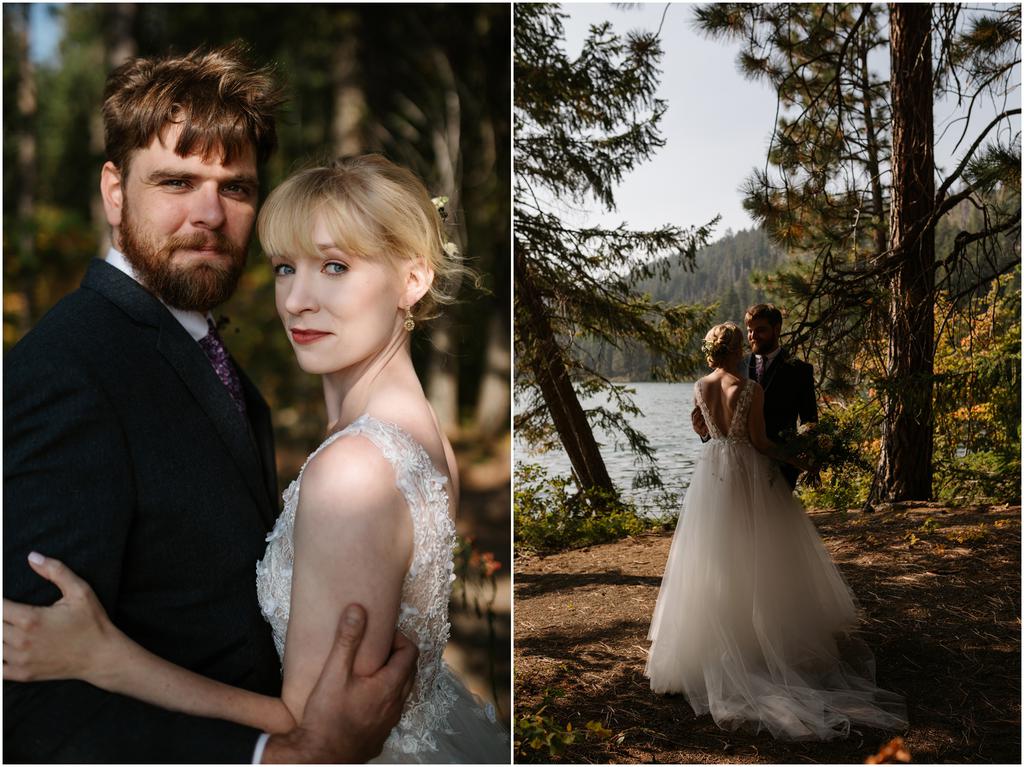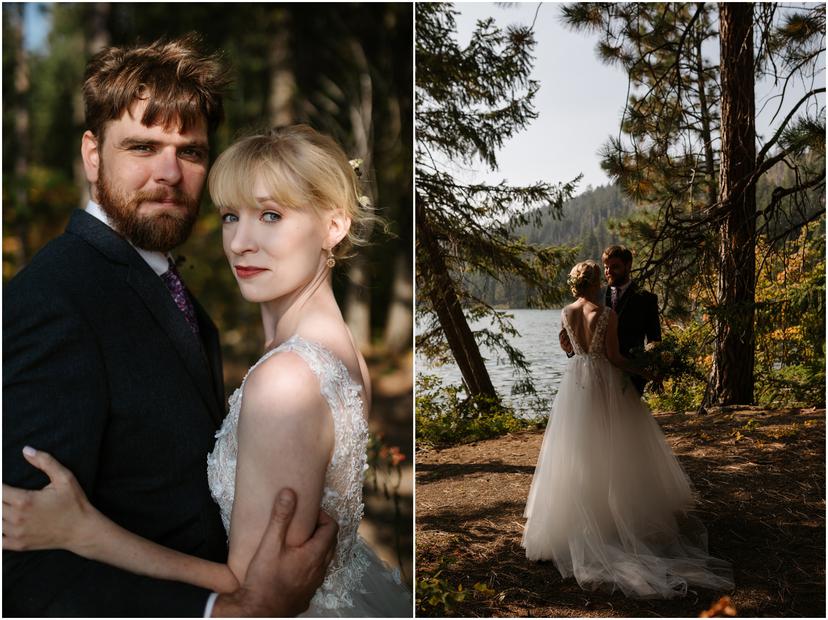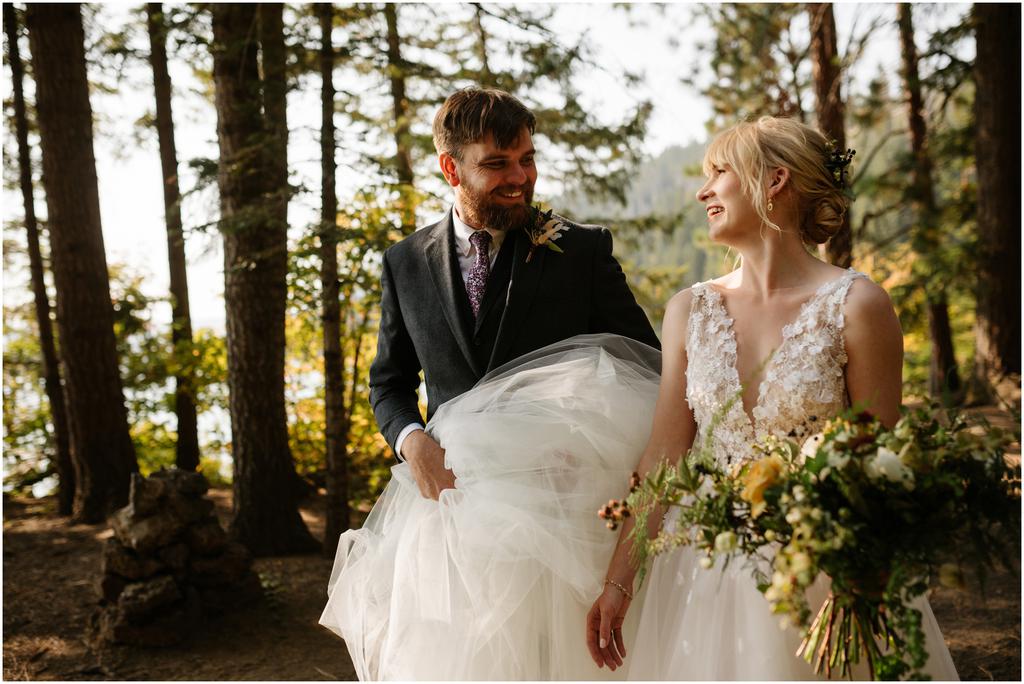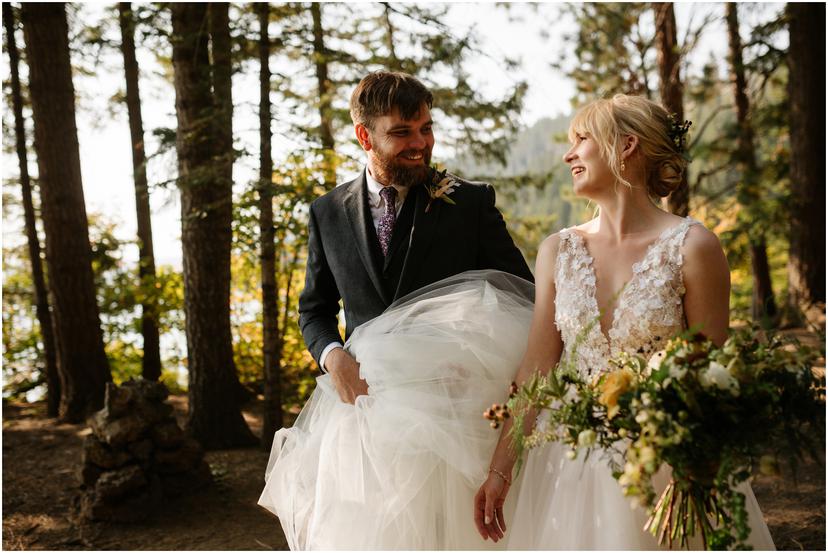 About the lodge at Suttle Lake
The Lodge at Suttle Lake offers a variety of amenities for recreation or private events. The main lodge has rooms inside, and there are both deluxe and rustic cabins. The boathouse has a delicious restaurant, and the lodge has a fun little bar inside.
The property is enormous, and there are various places where you can have a ceremony or reception. I've done three weddings here now, and all three took place in different spots on the property, so it's quite flexible. I LOVED this backlit ceremony by the lake and the beautiful clear tent on the back of the lodge for this wedding. And I always adore taking getting-ready photos in the cabins.
Suttle Lake is the perfect place for a Central Oregon wedding due to the scenery, delicious food, and cozy amenities. It really feels like a magical escape, and it's the perfect place for an Oregon destination wedding that shows off the Pacific Northwest in all her glory.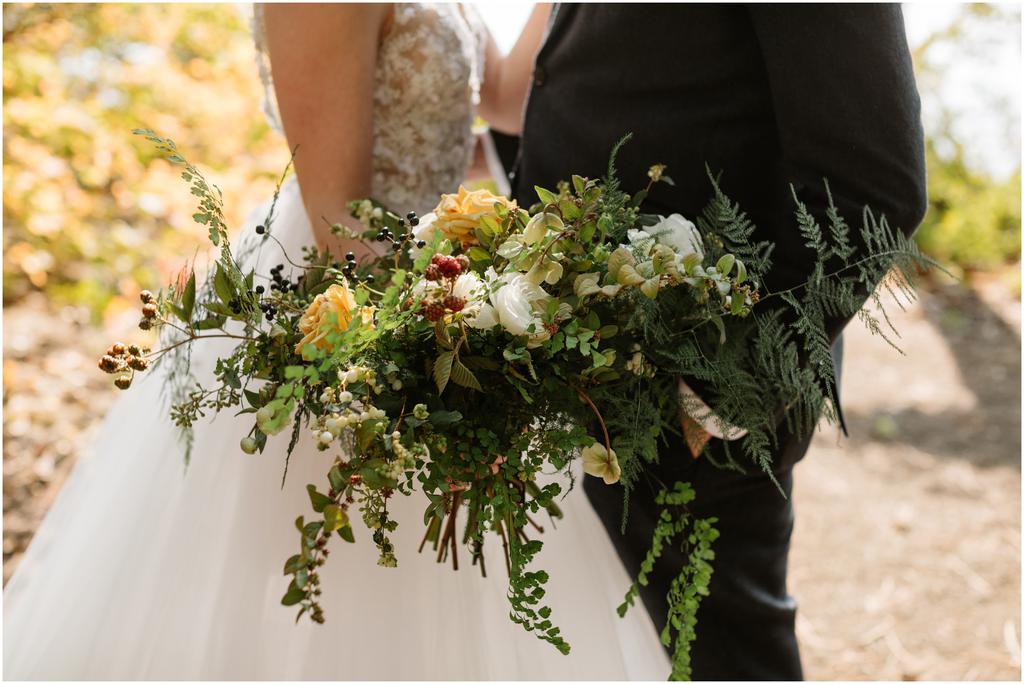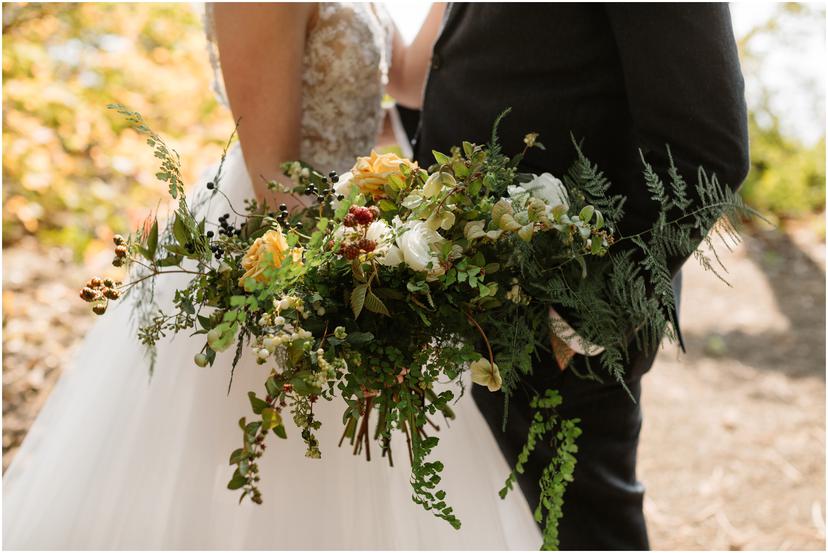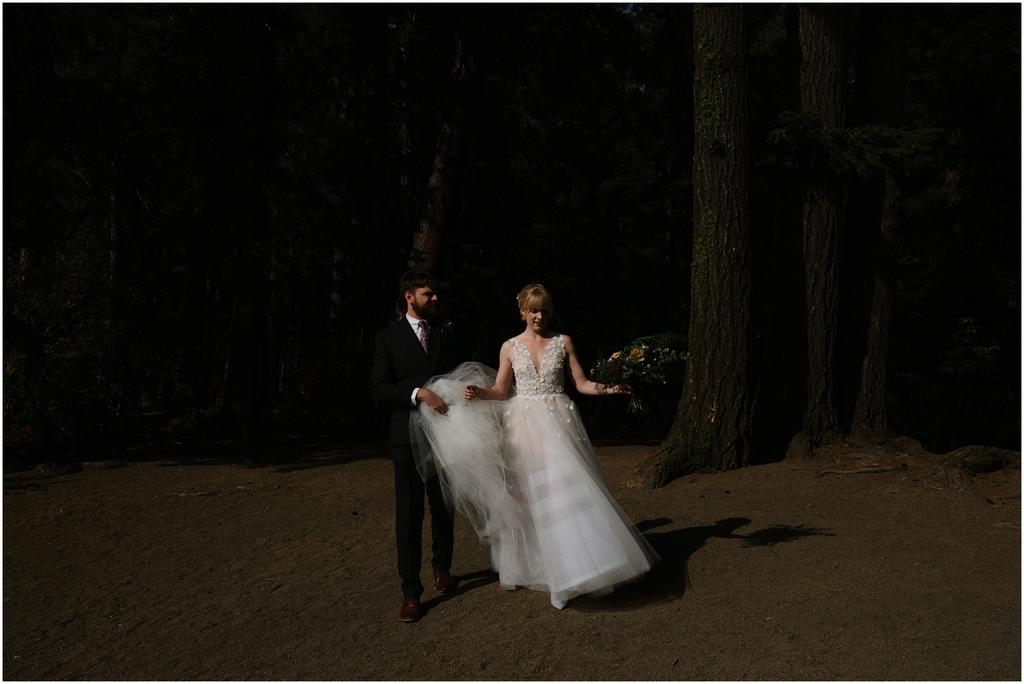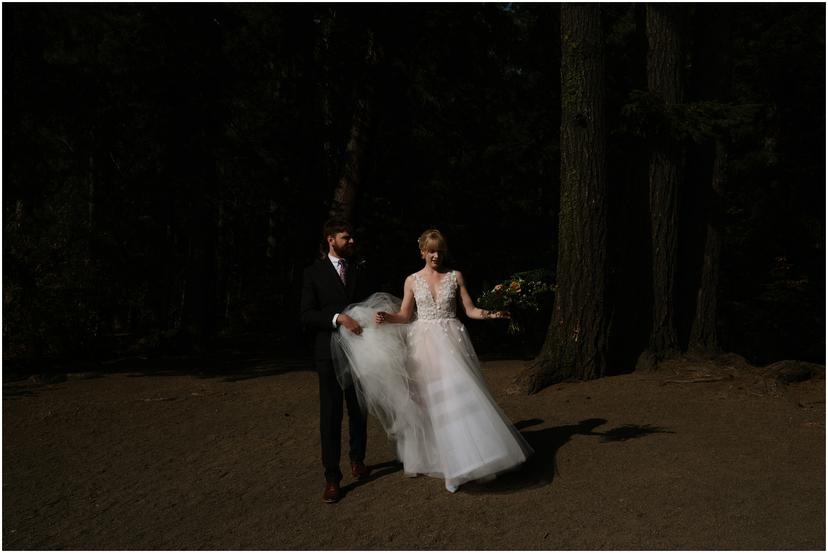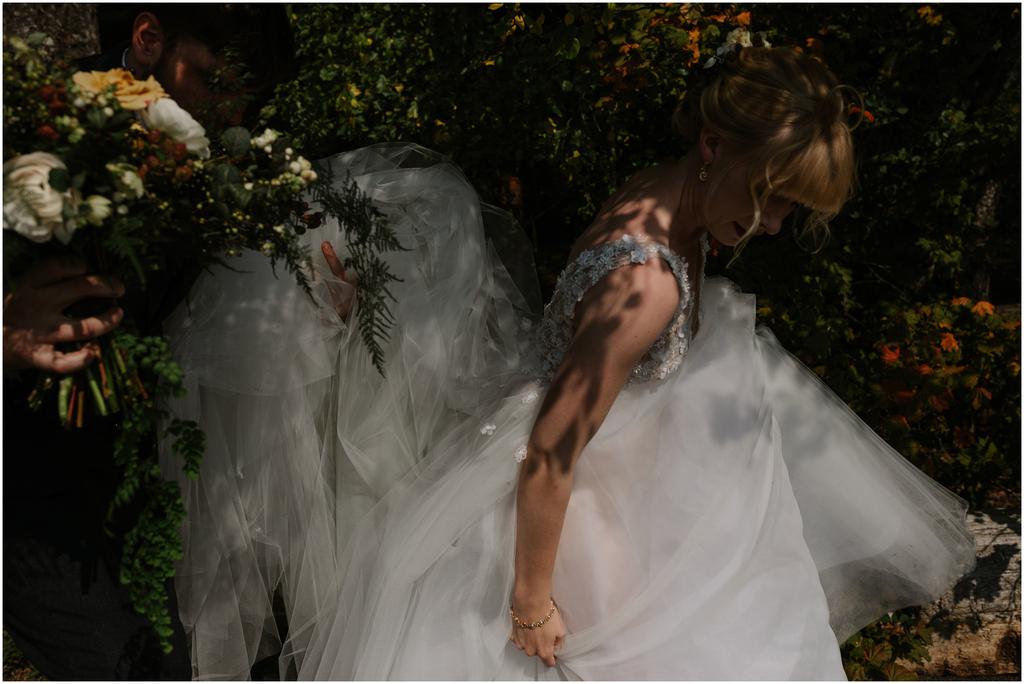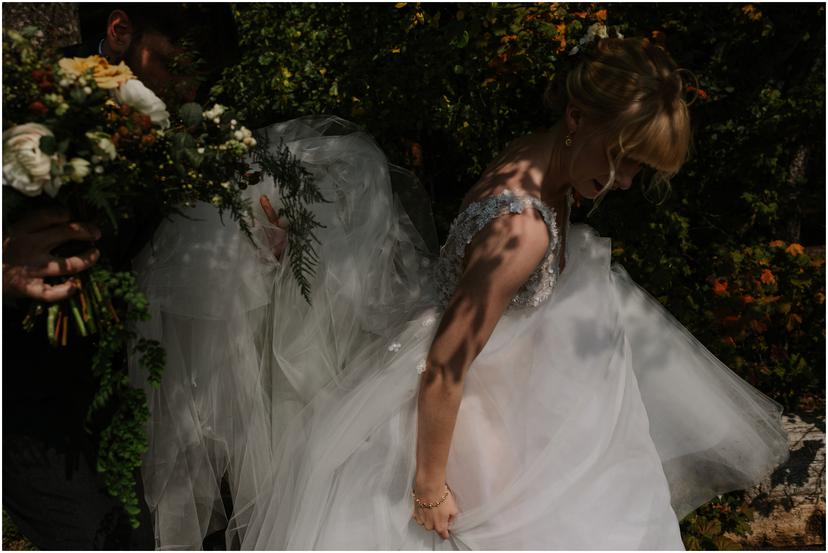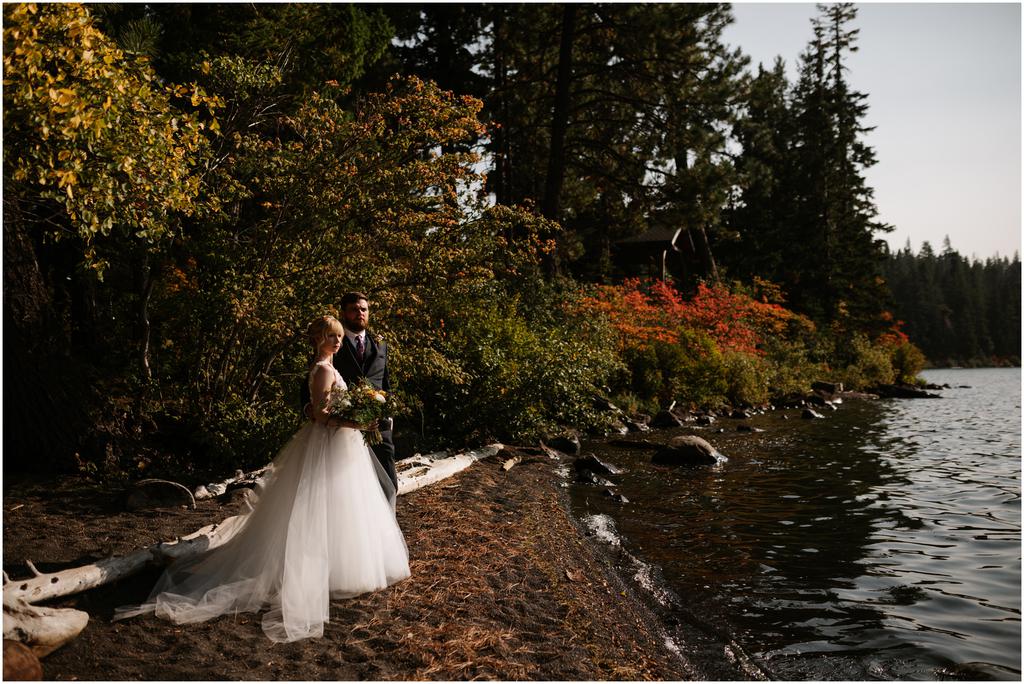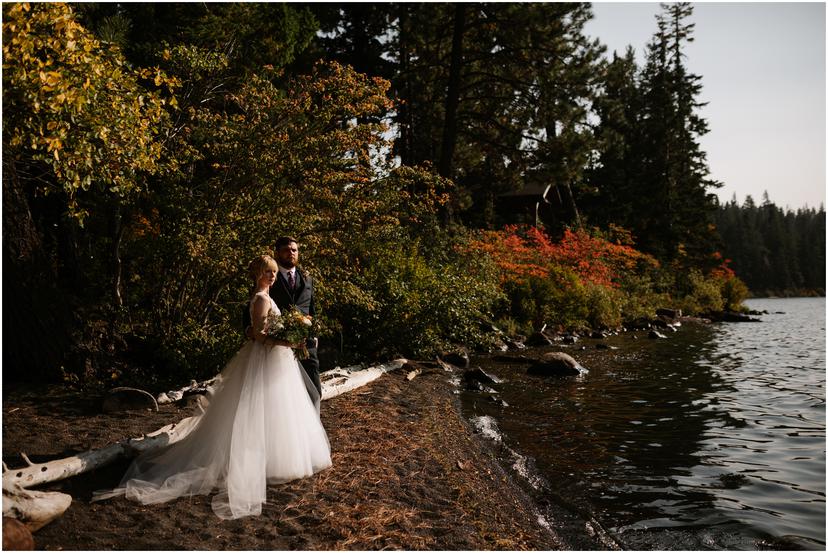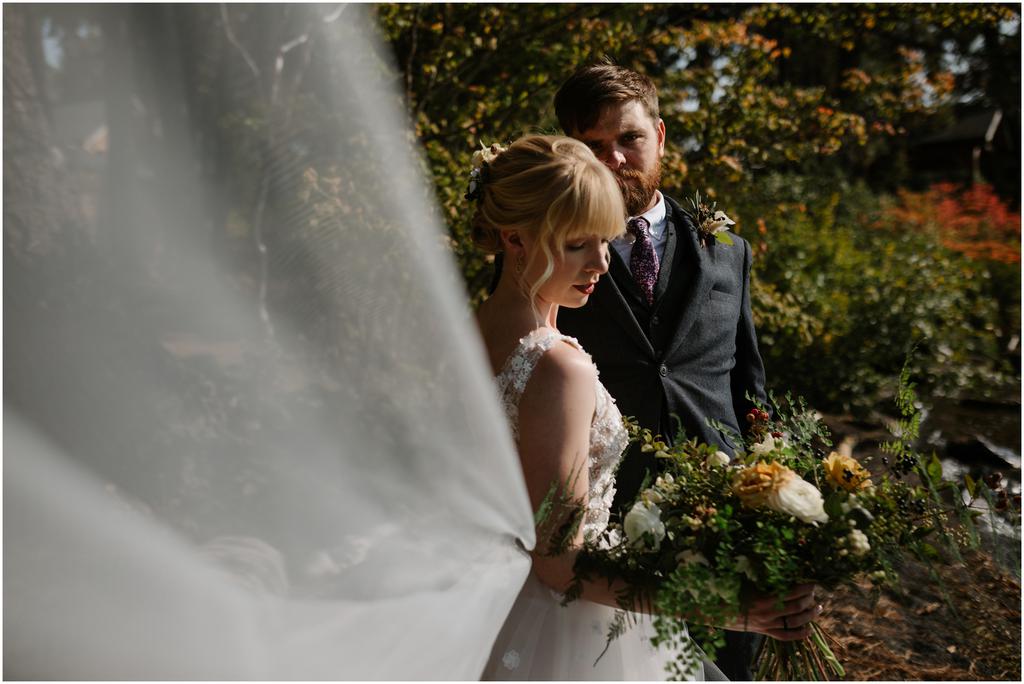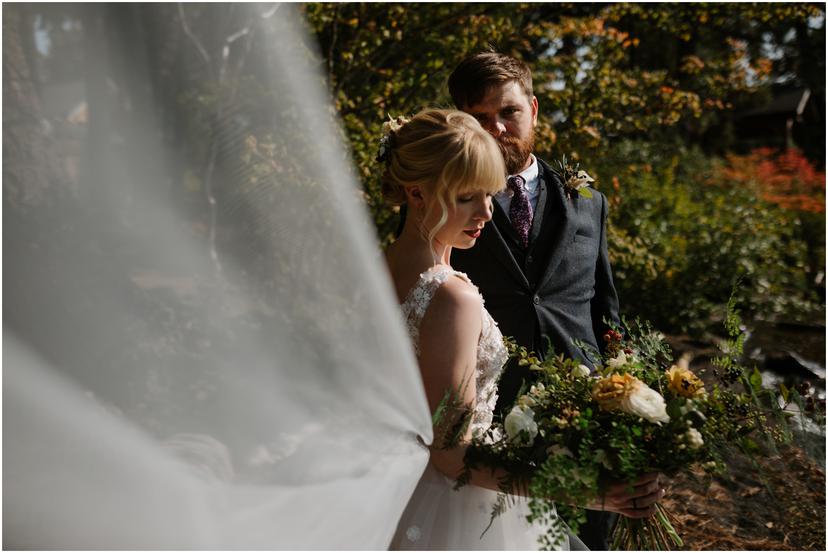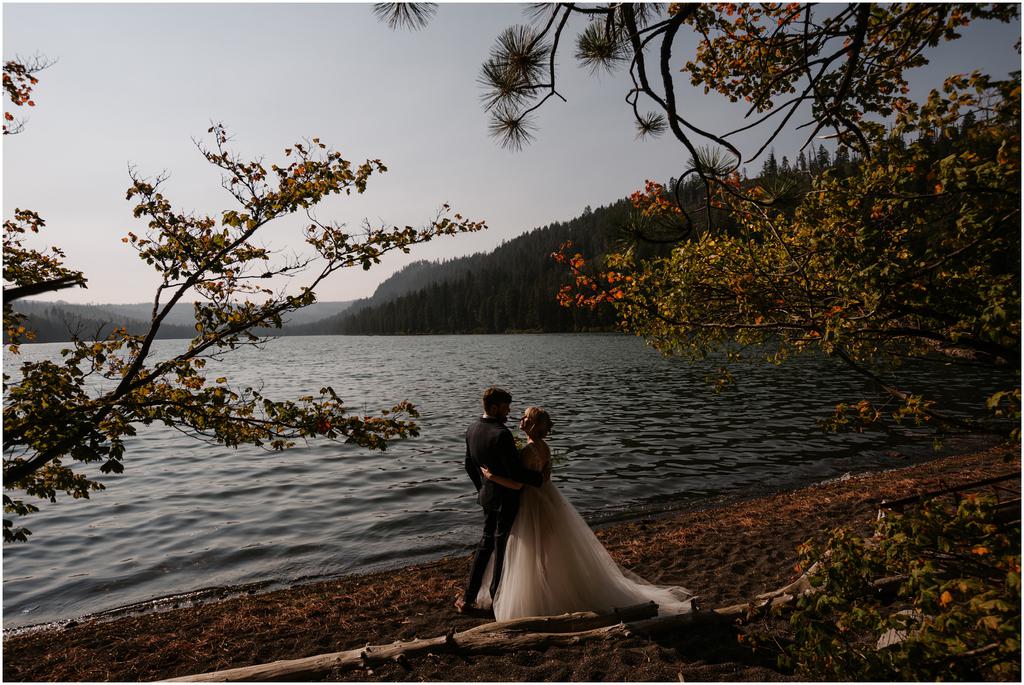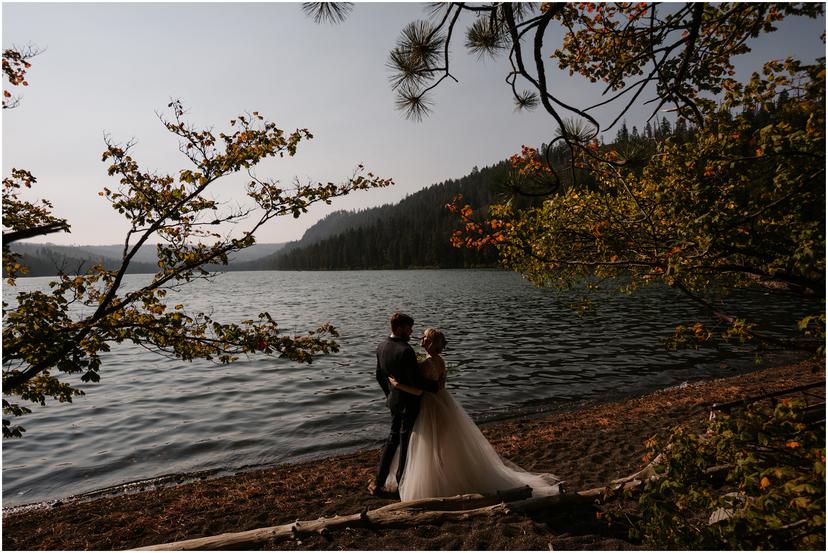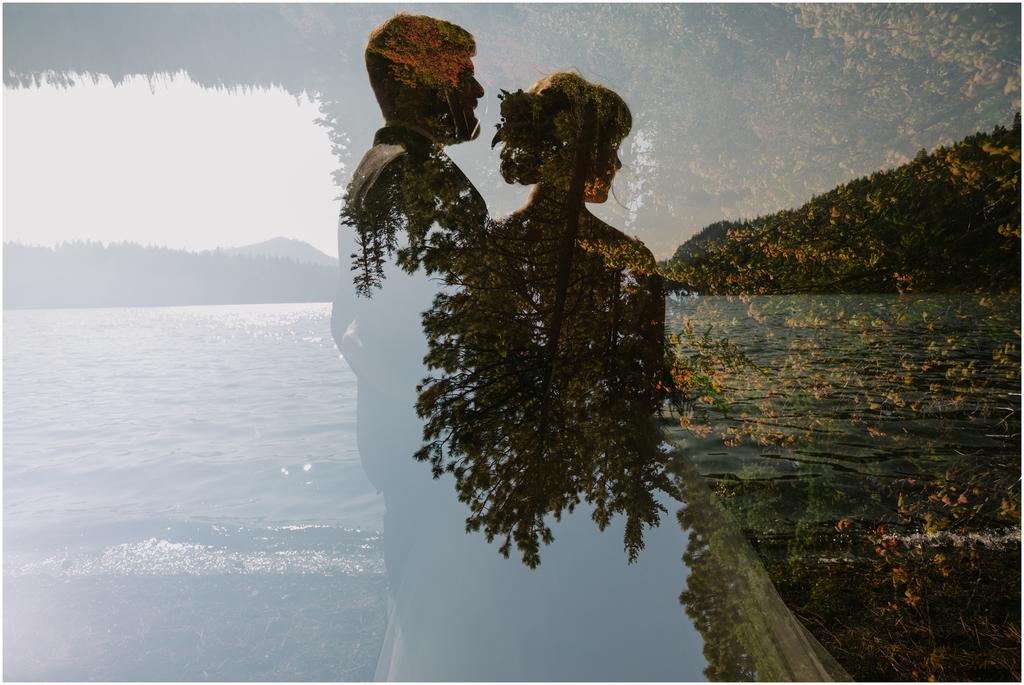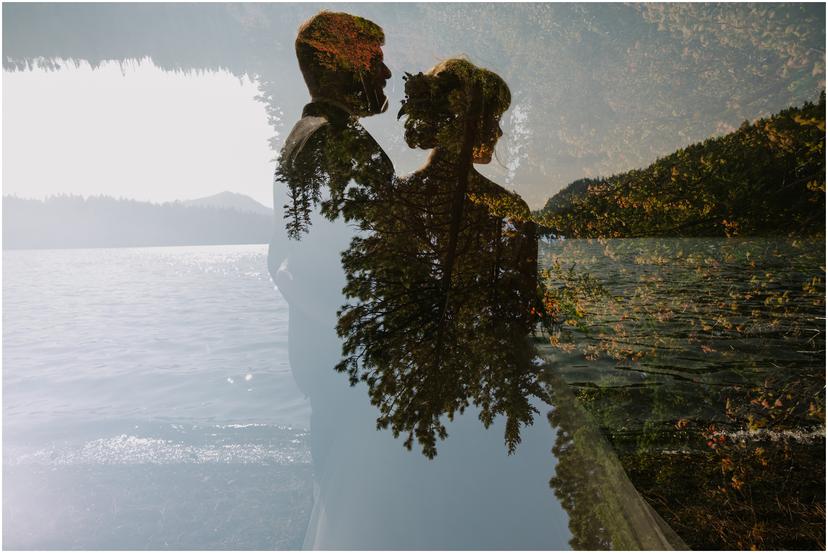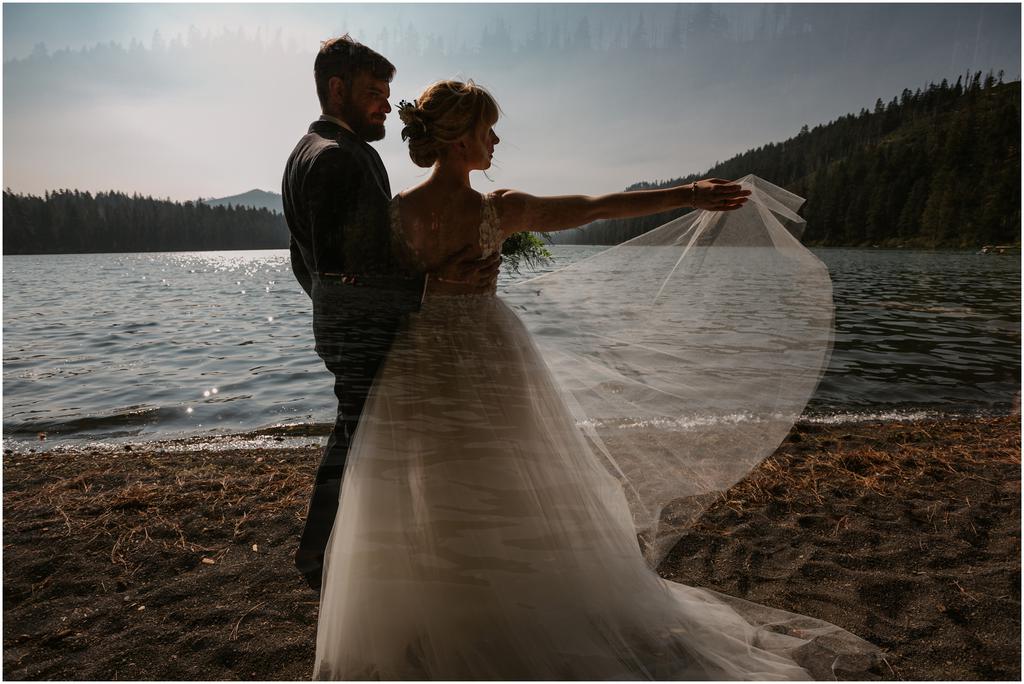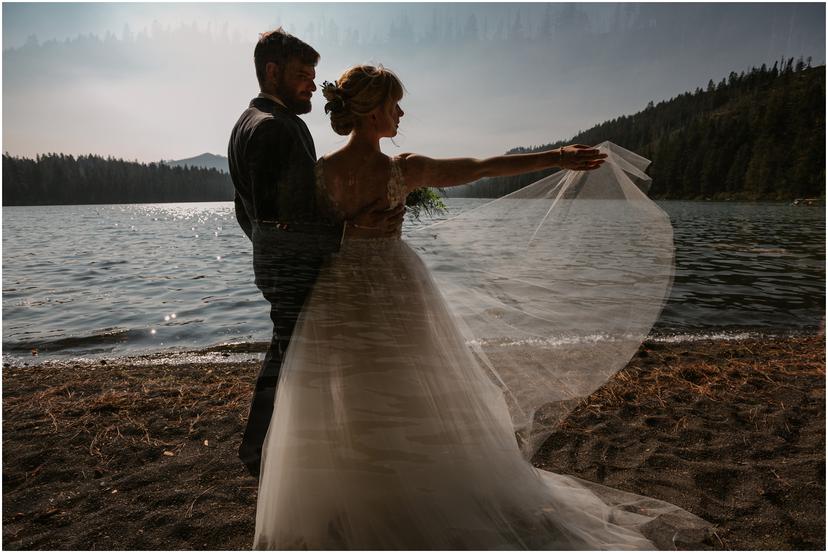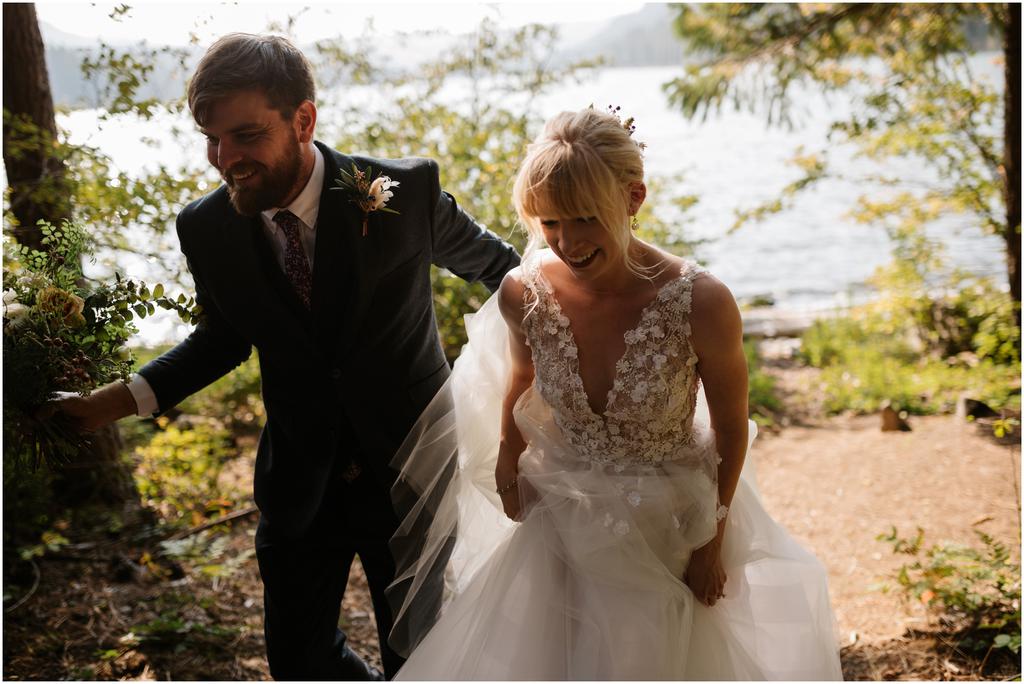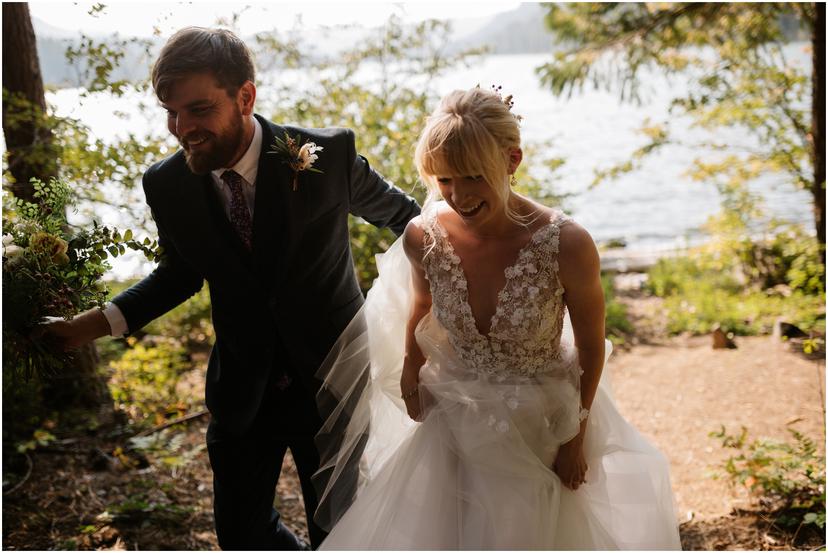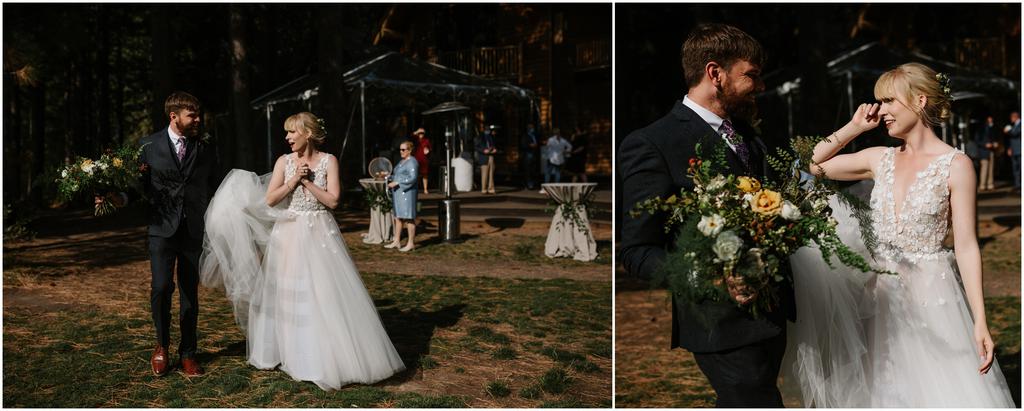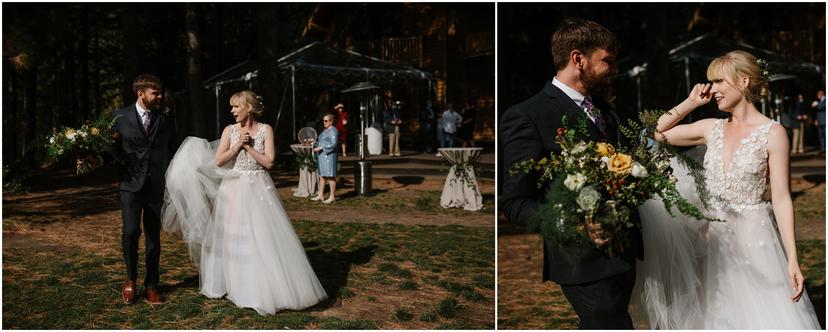 Favorite wedding memory
"Liam's favorite moment was really all of it, seeing it come together after a lot of months of stress and worry and in the end looking exactly how we envisioned it (or better!)," Kisky said. "Mine was that too, but also seeing Liam at the end of the aisle and feeling this sense of calm and that everything else didn't matter."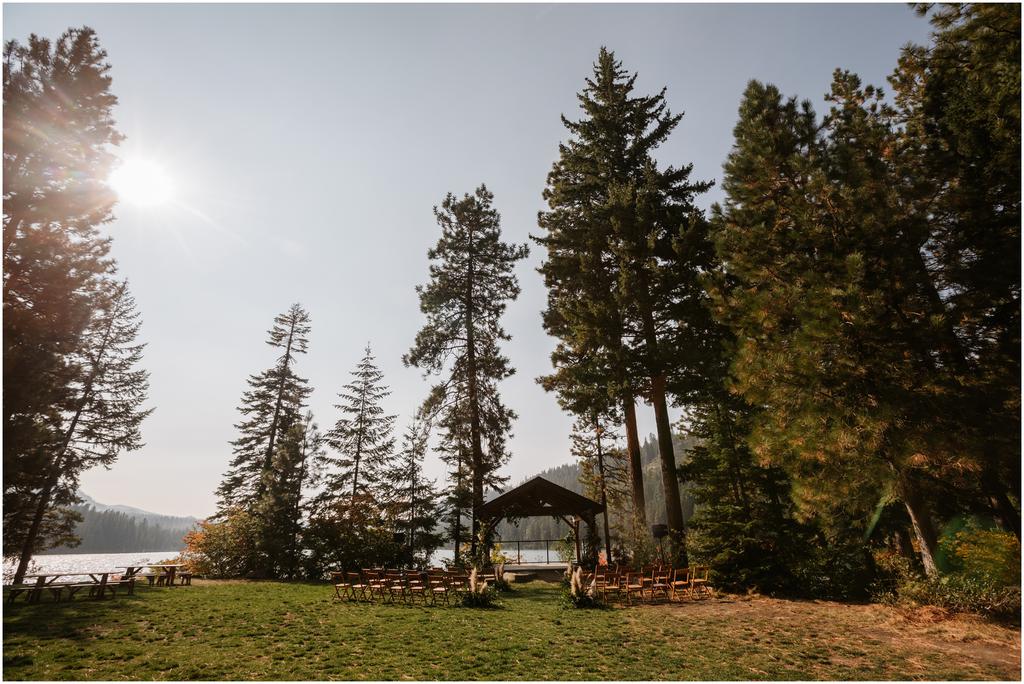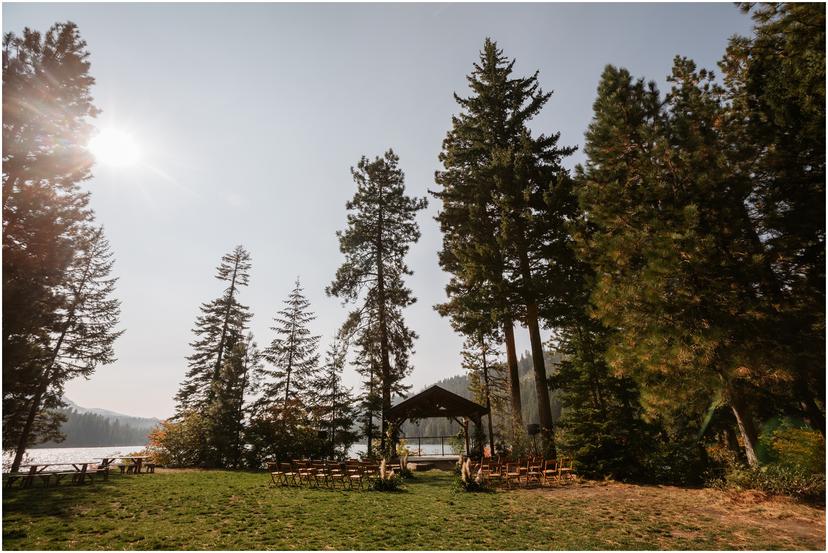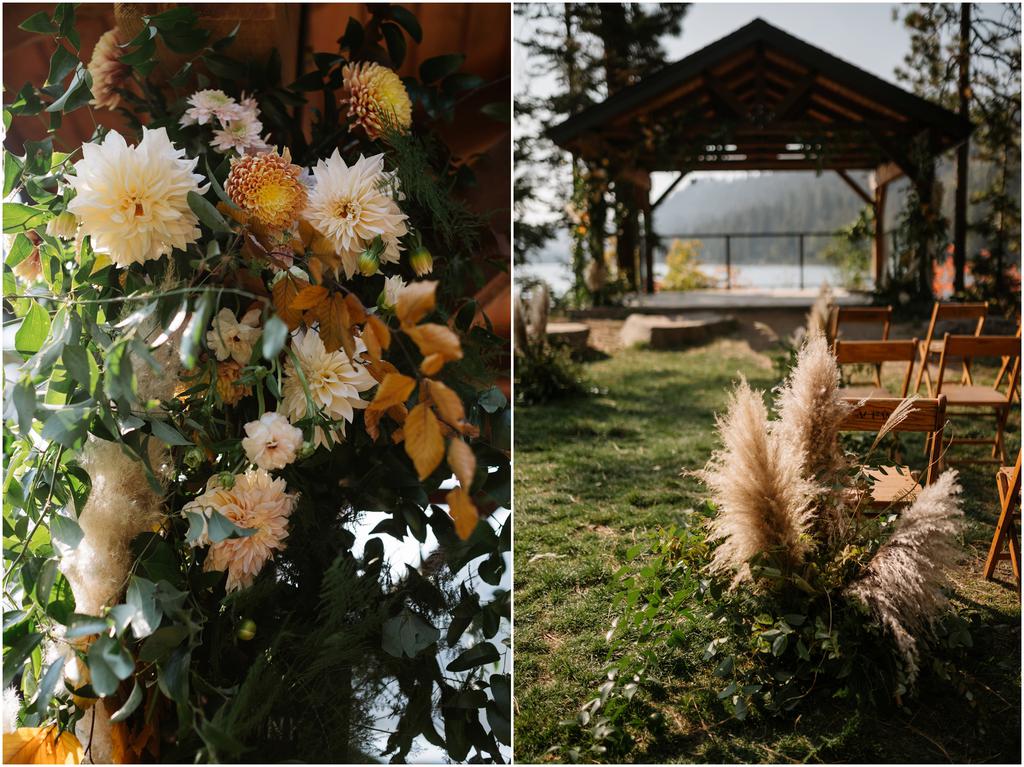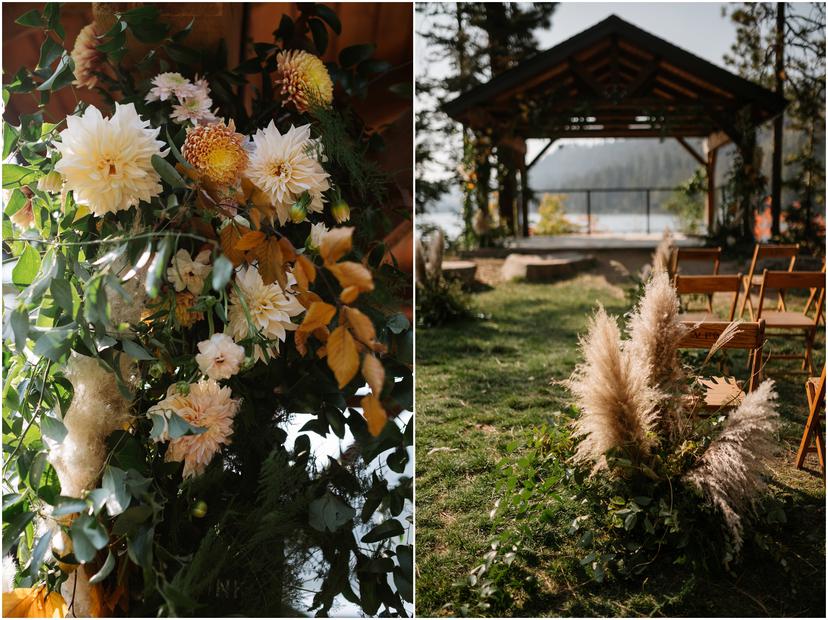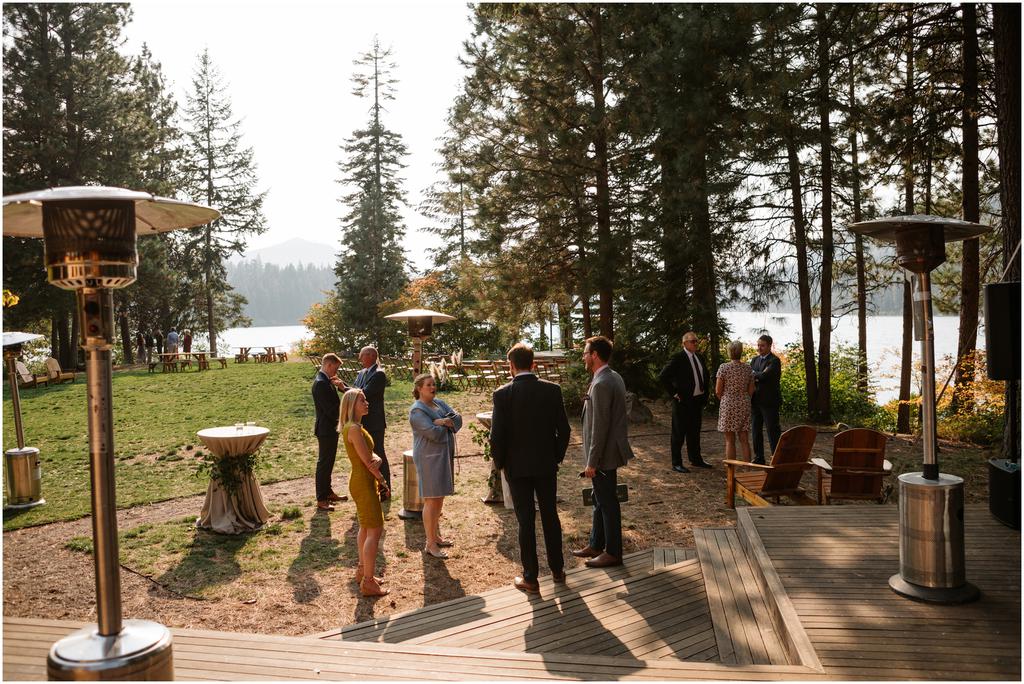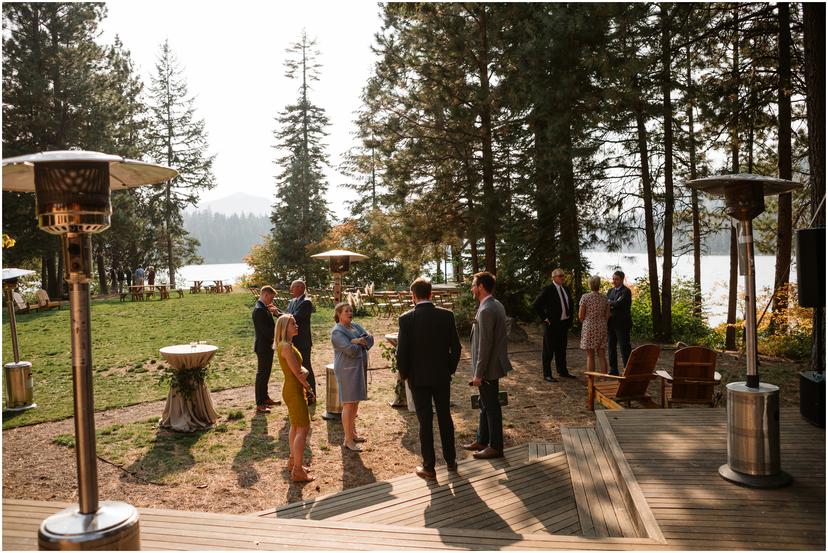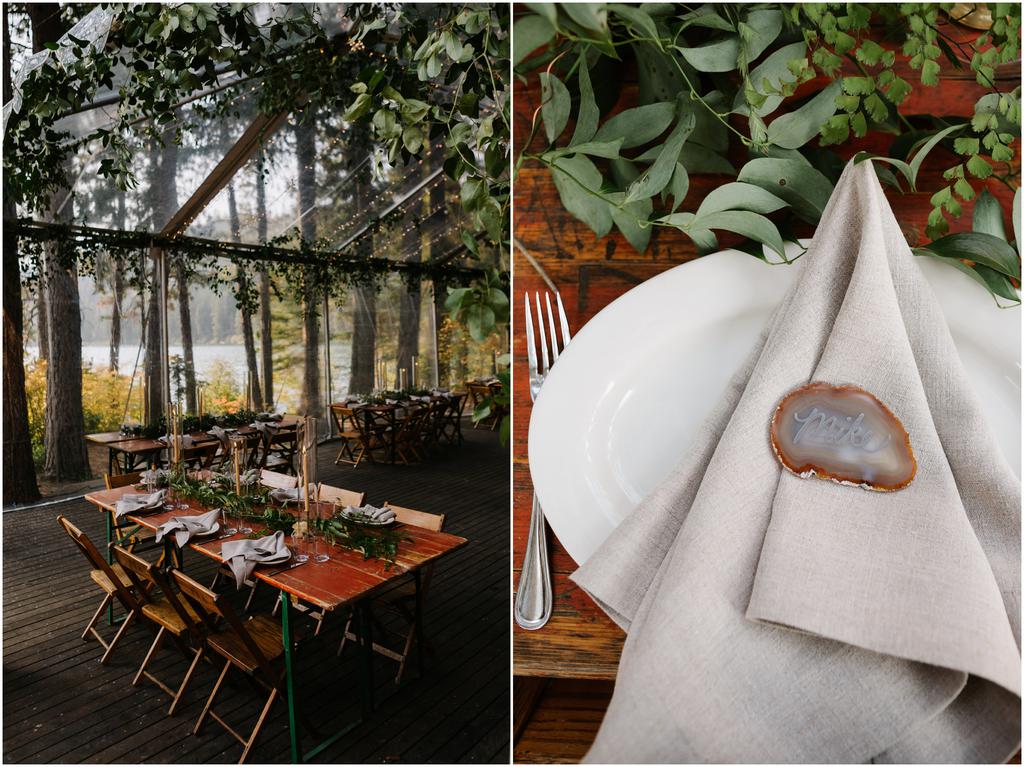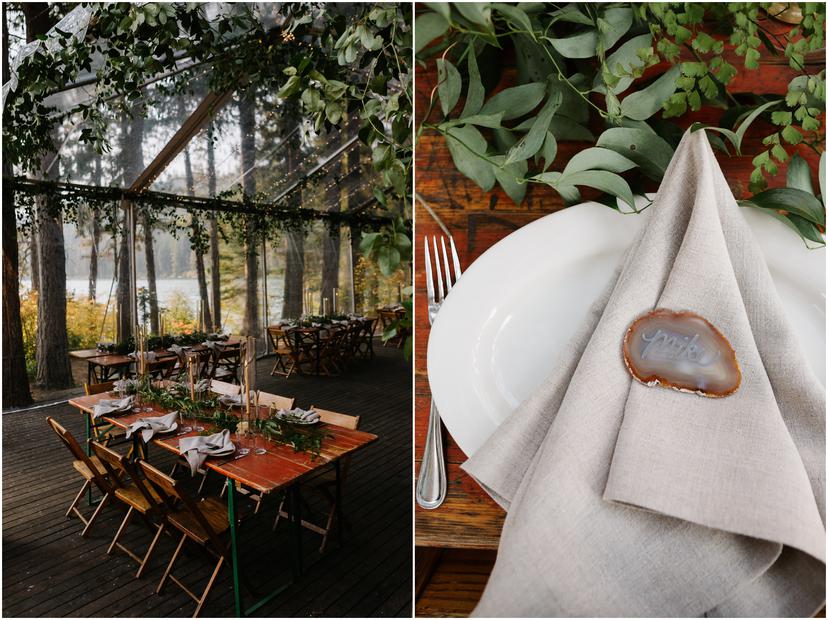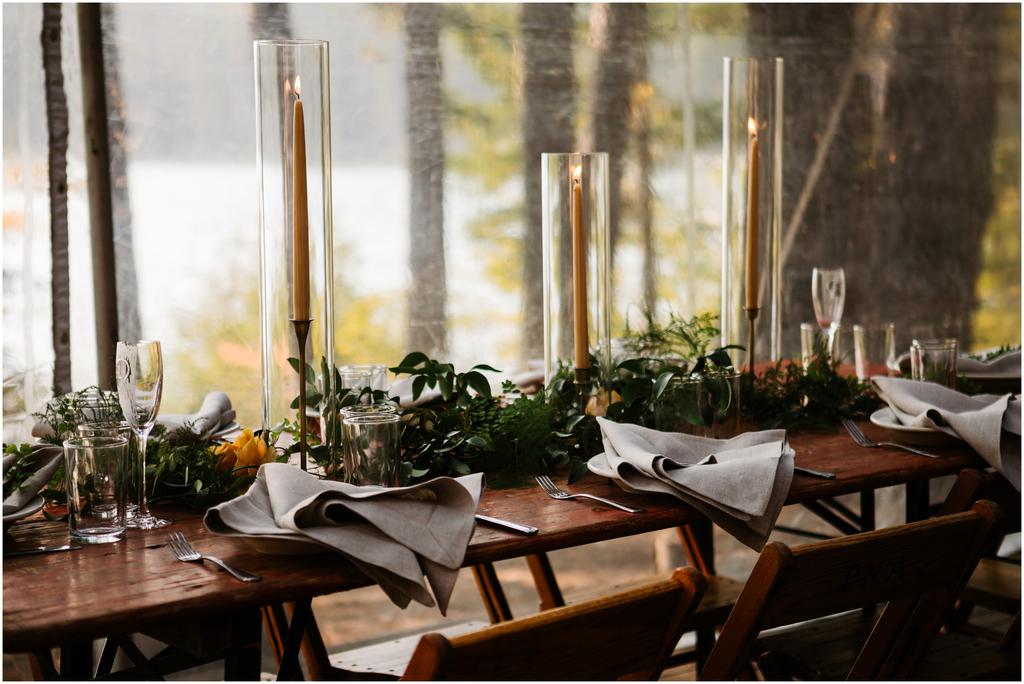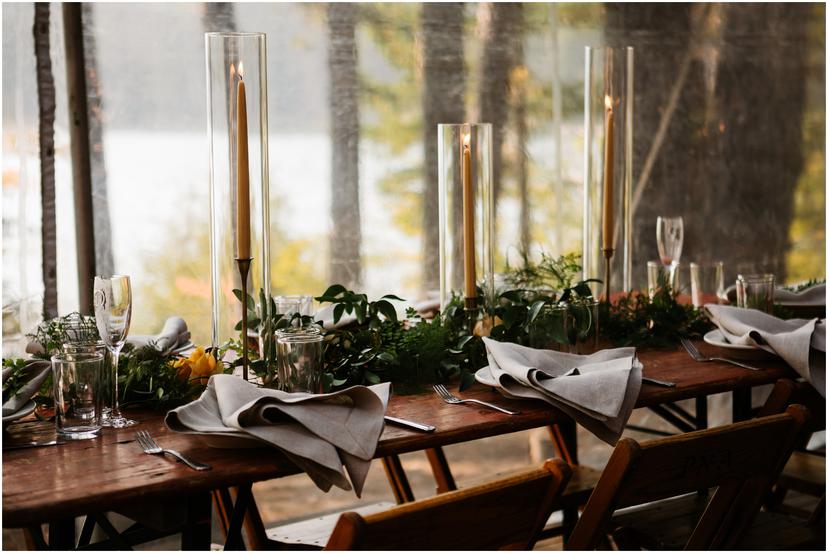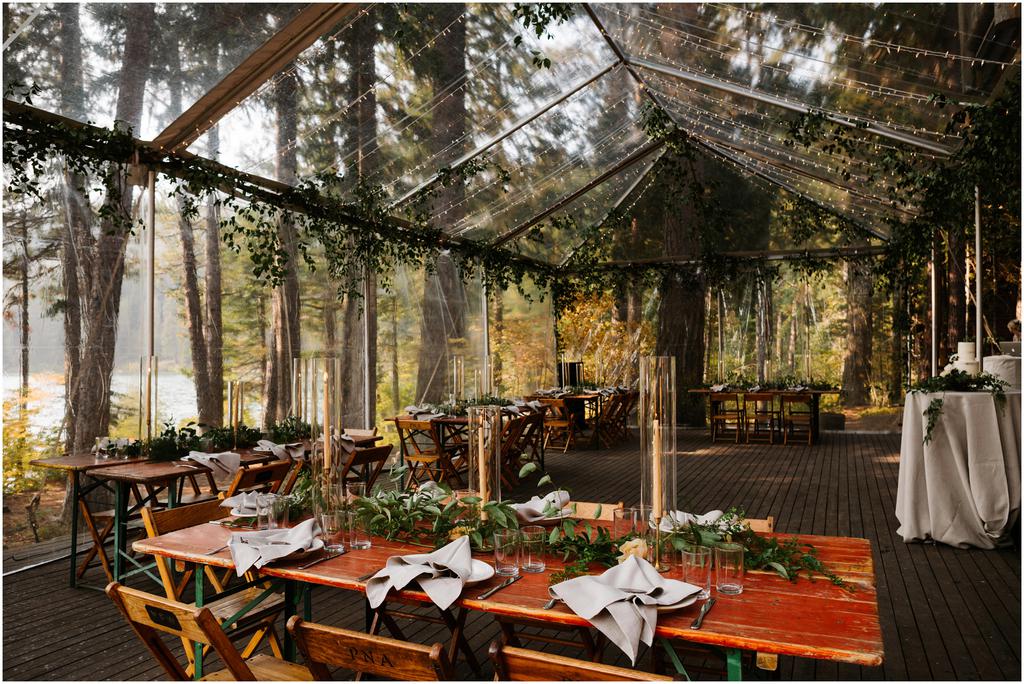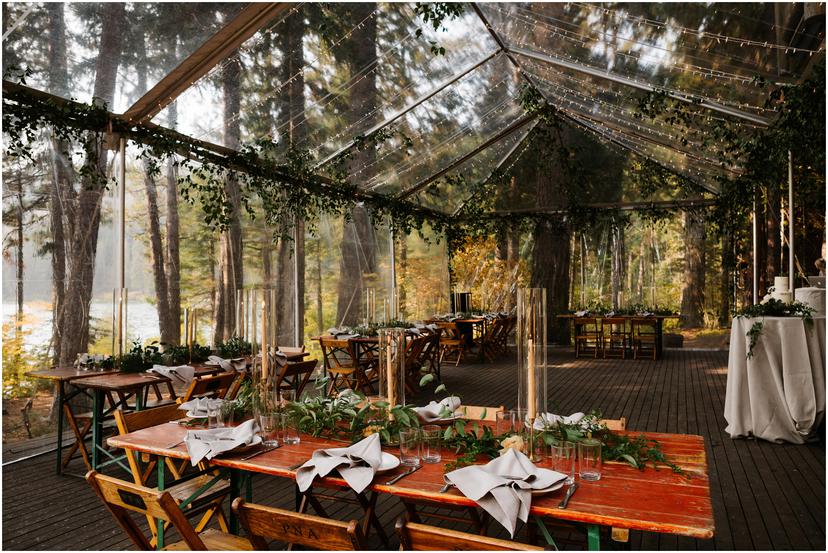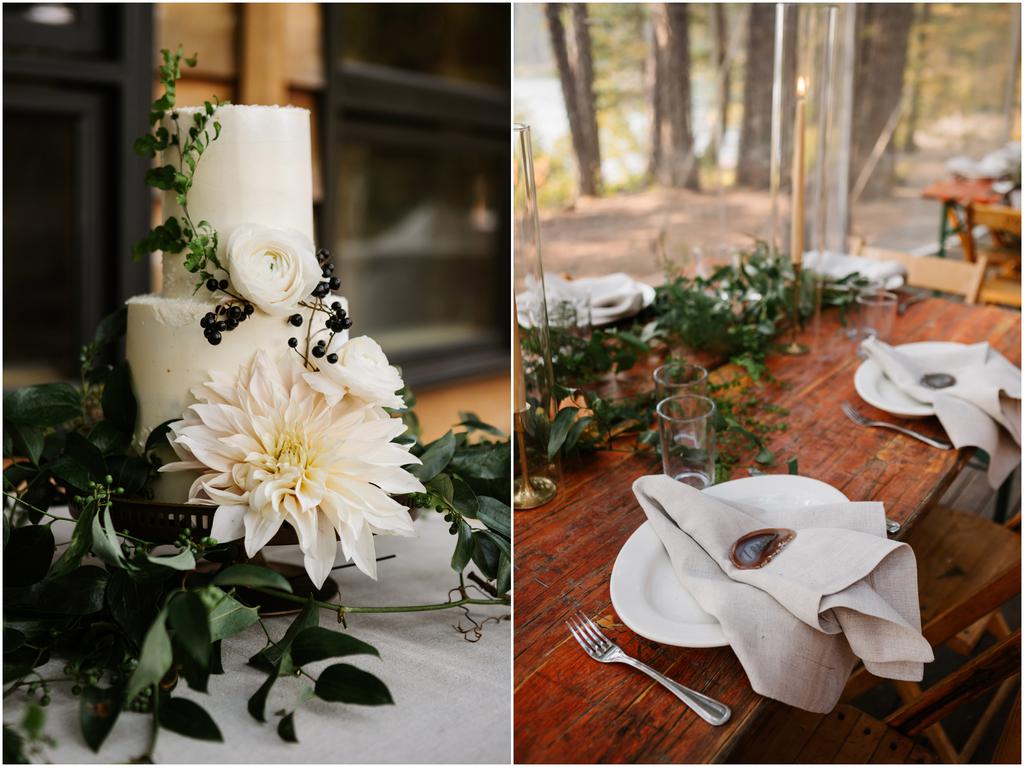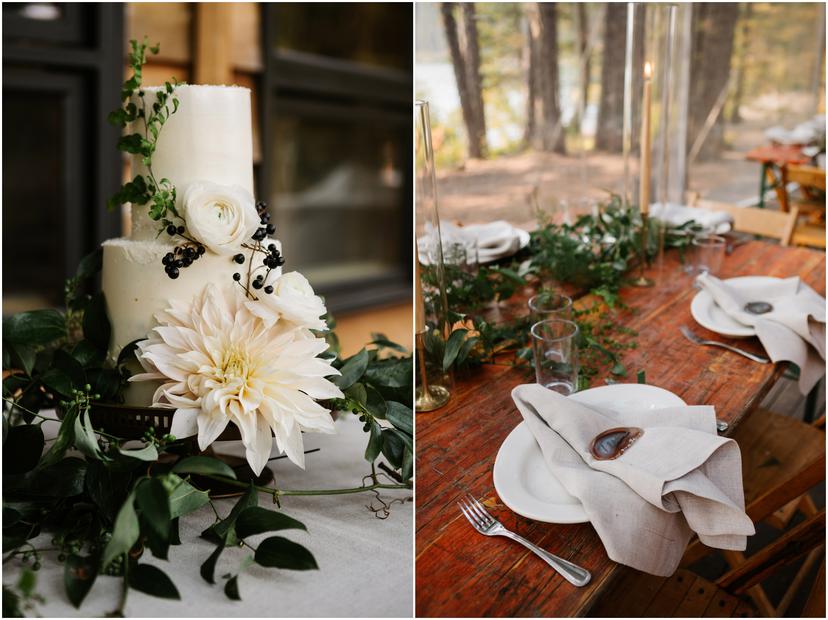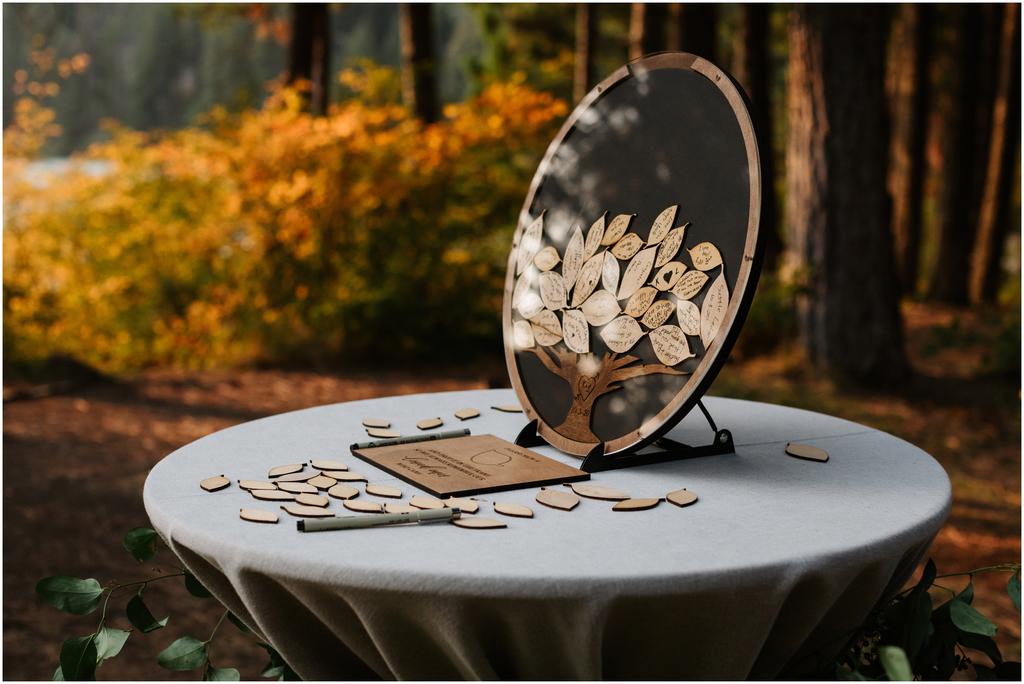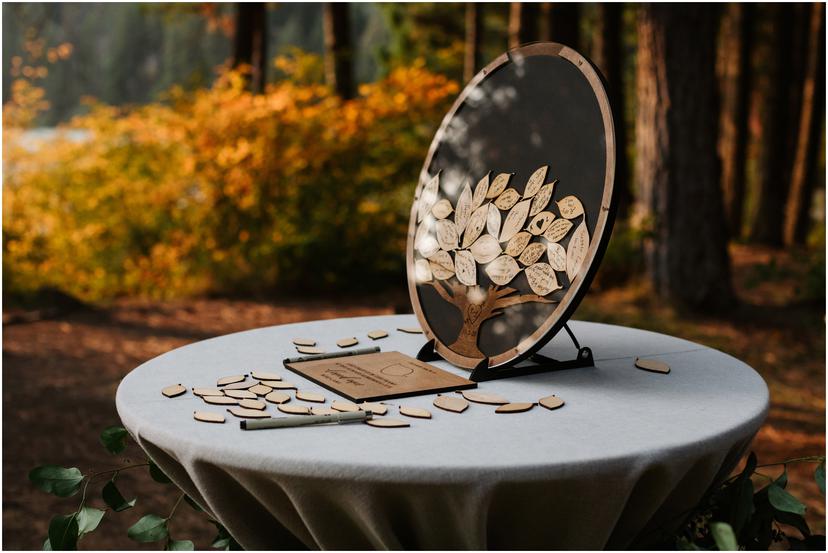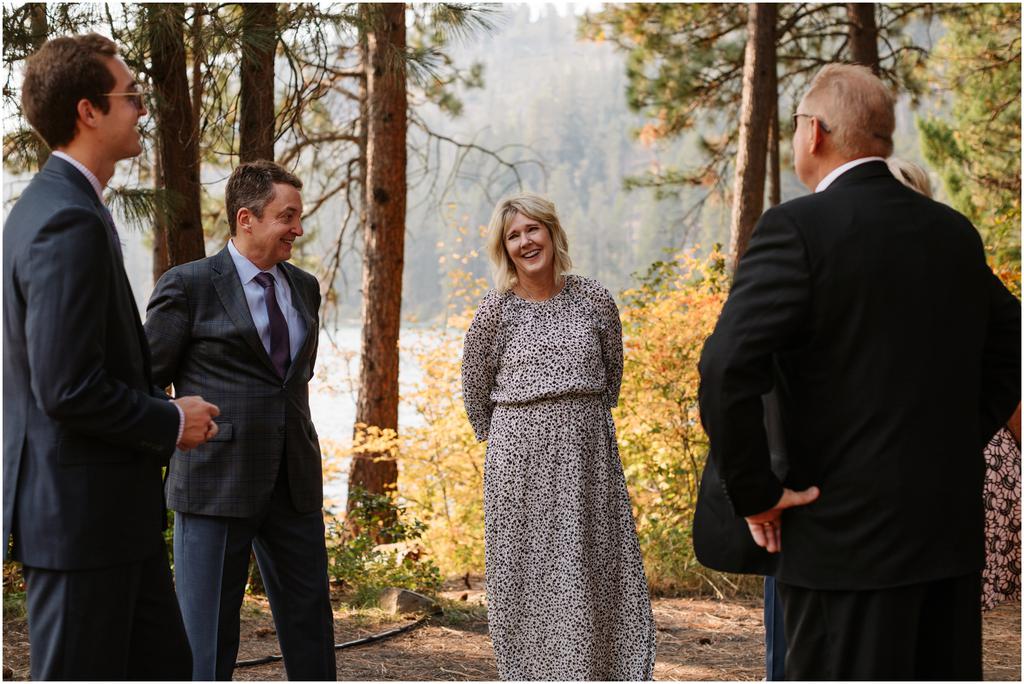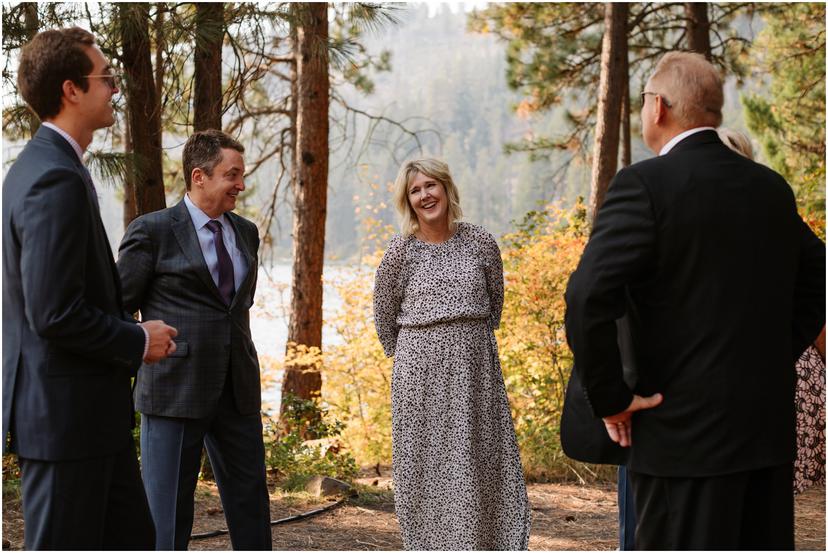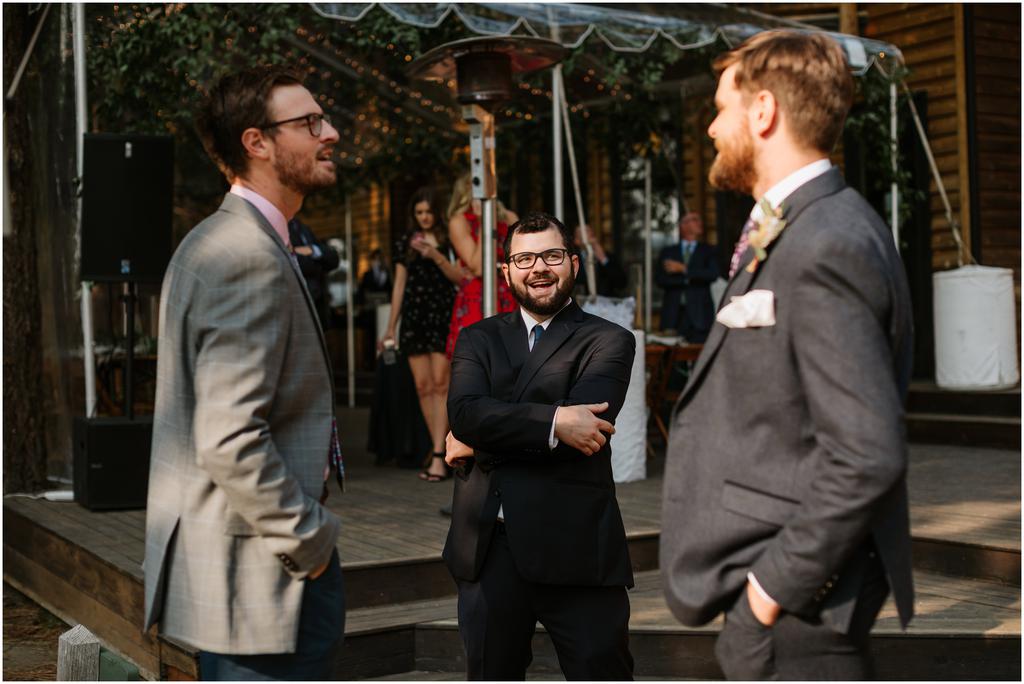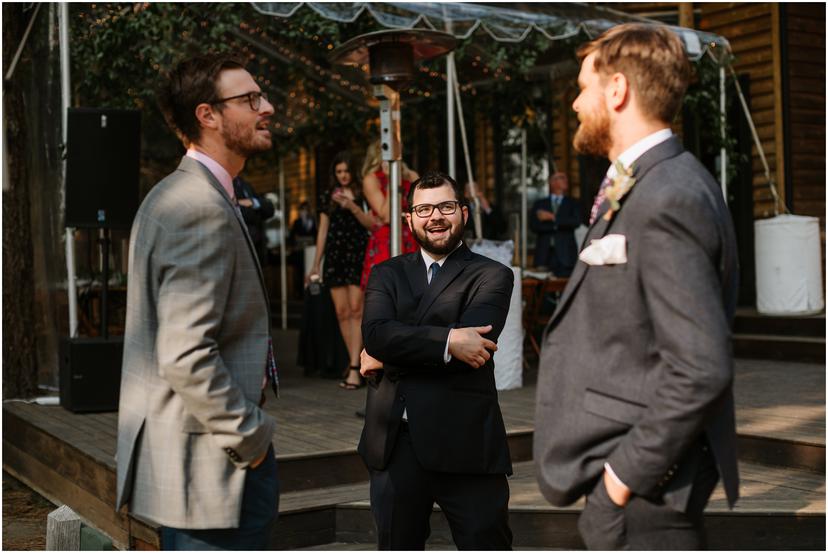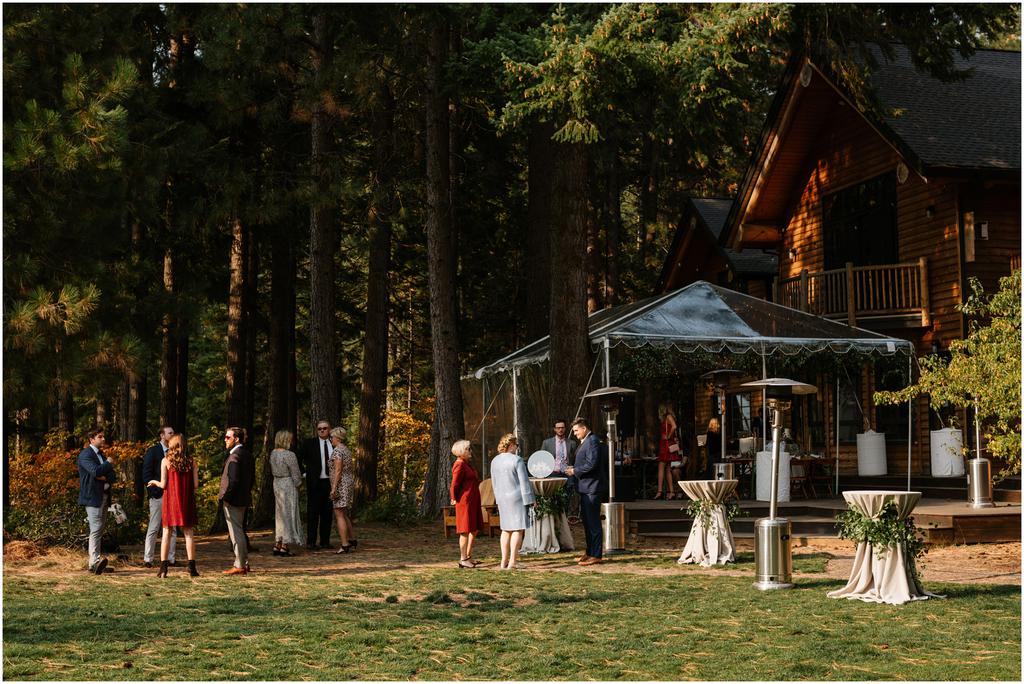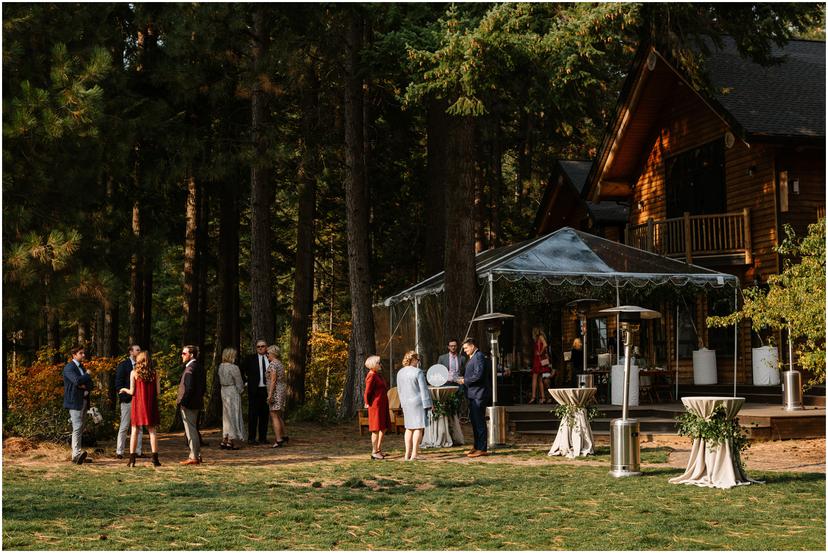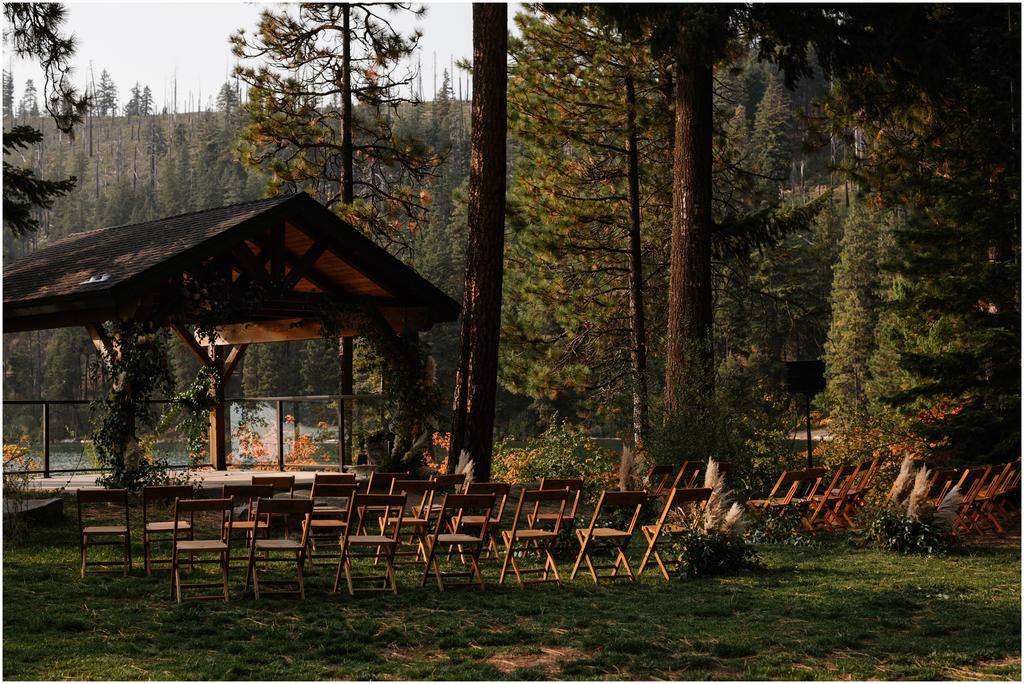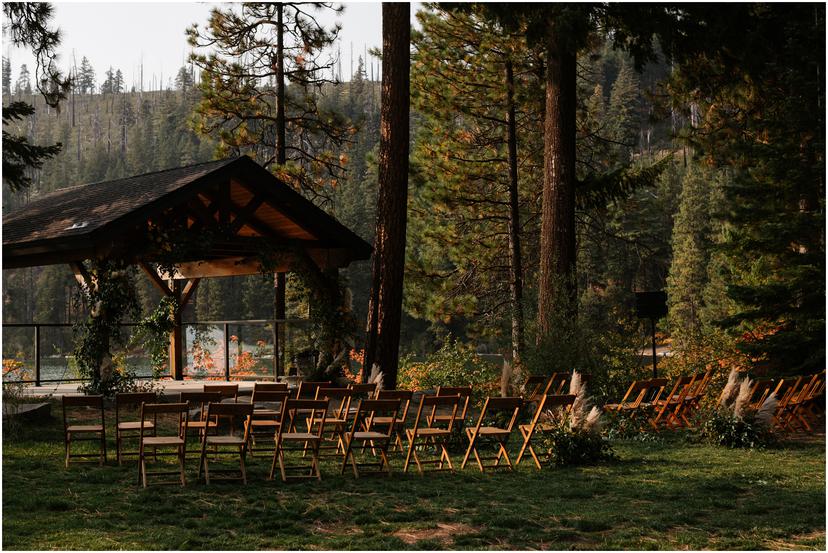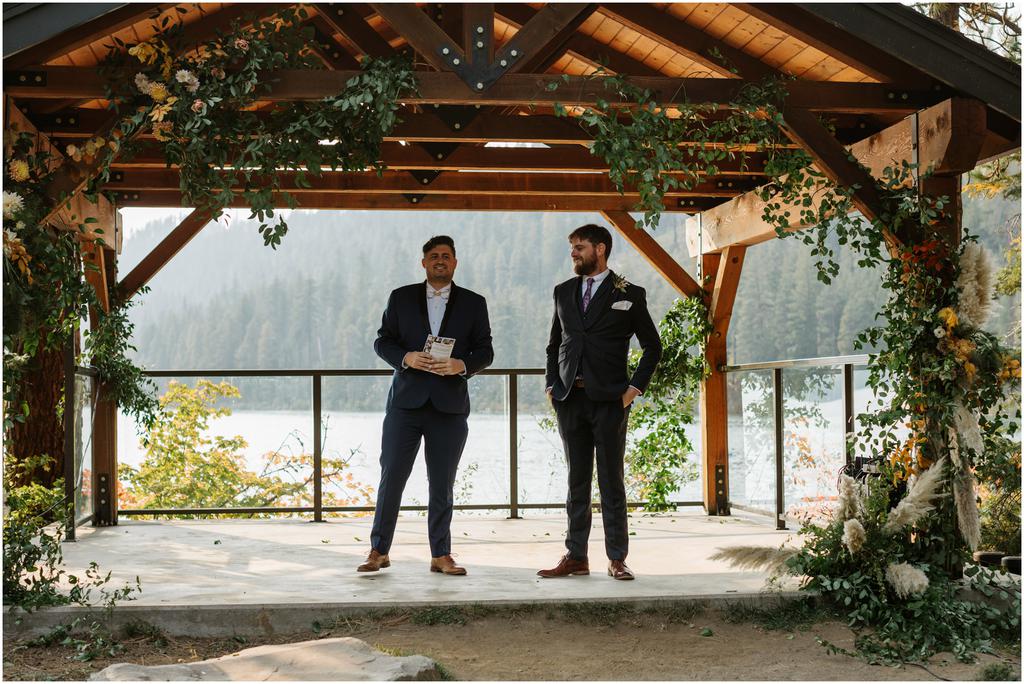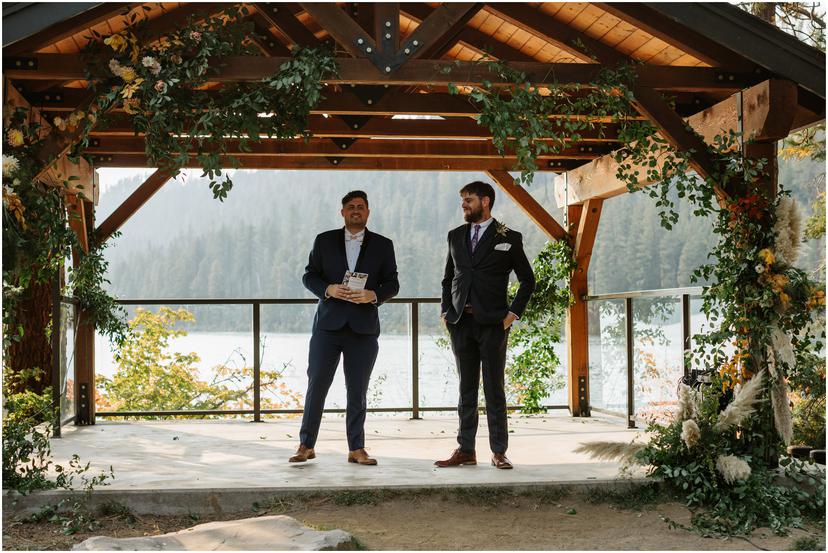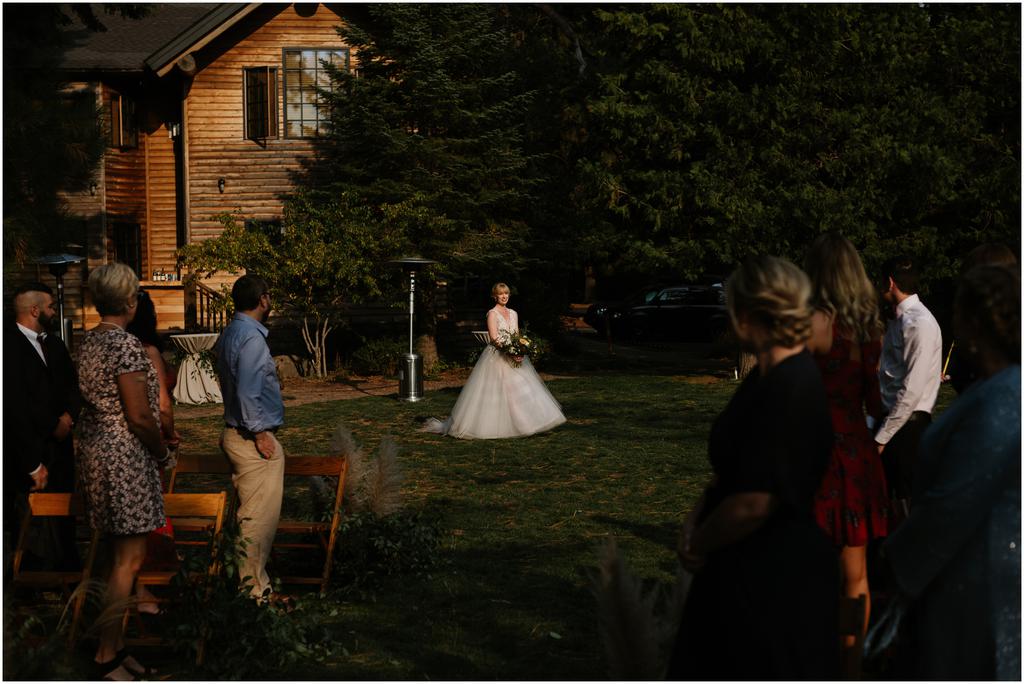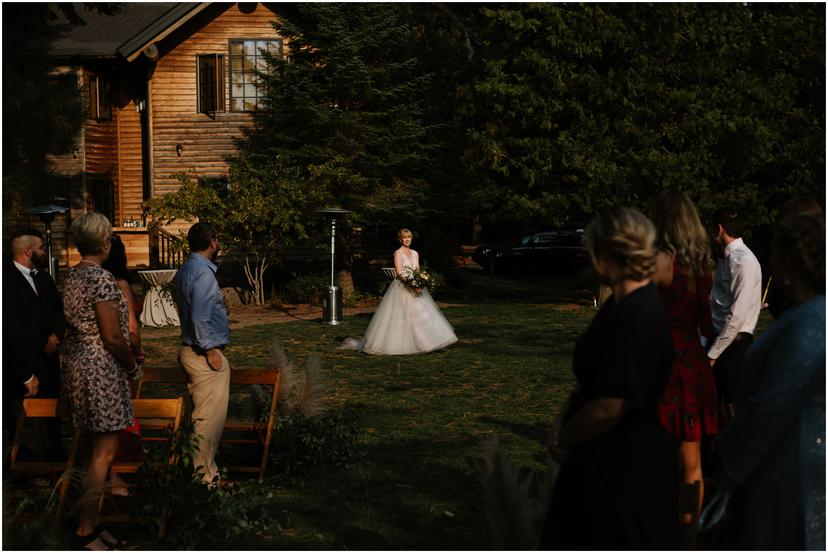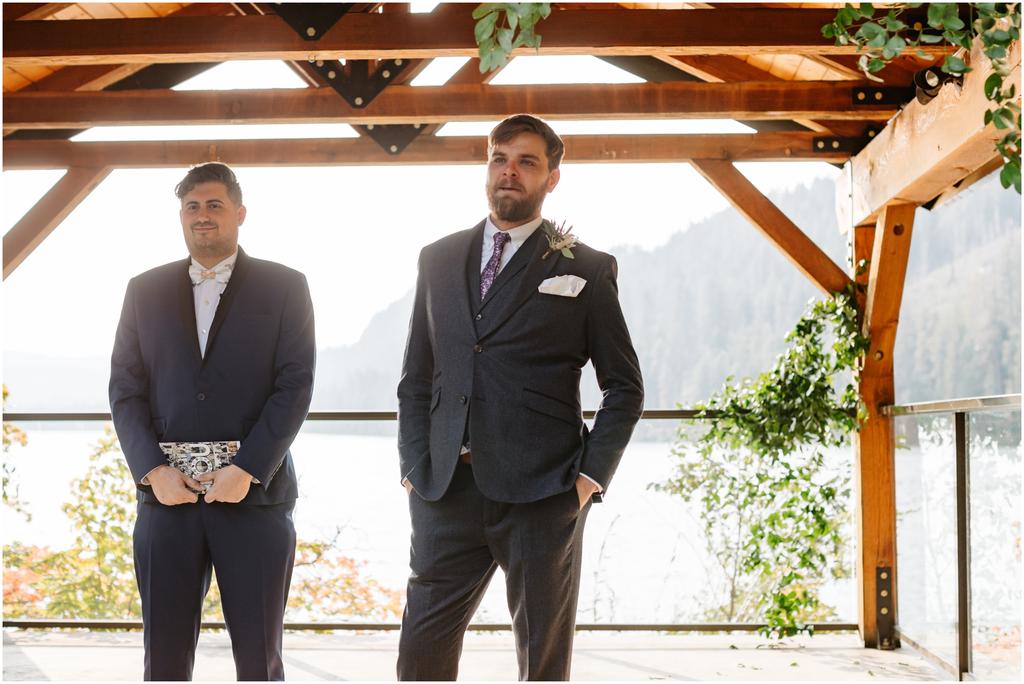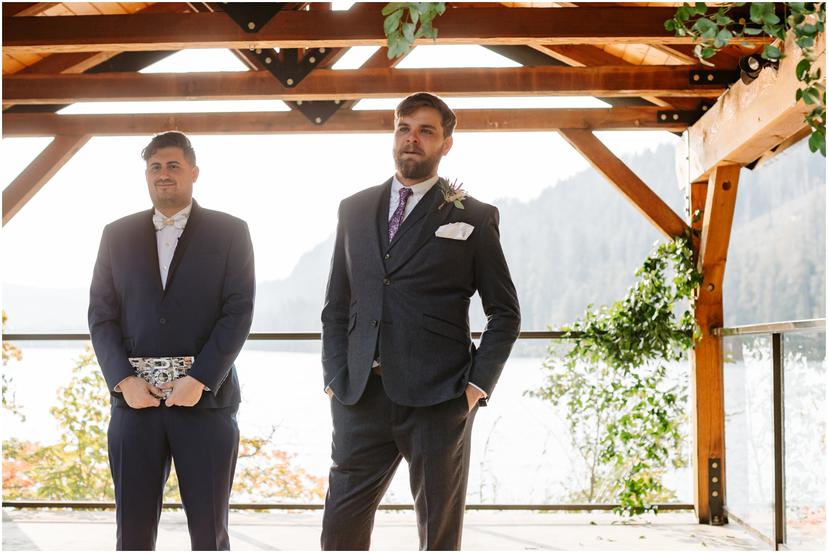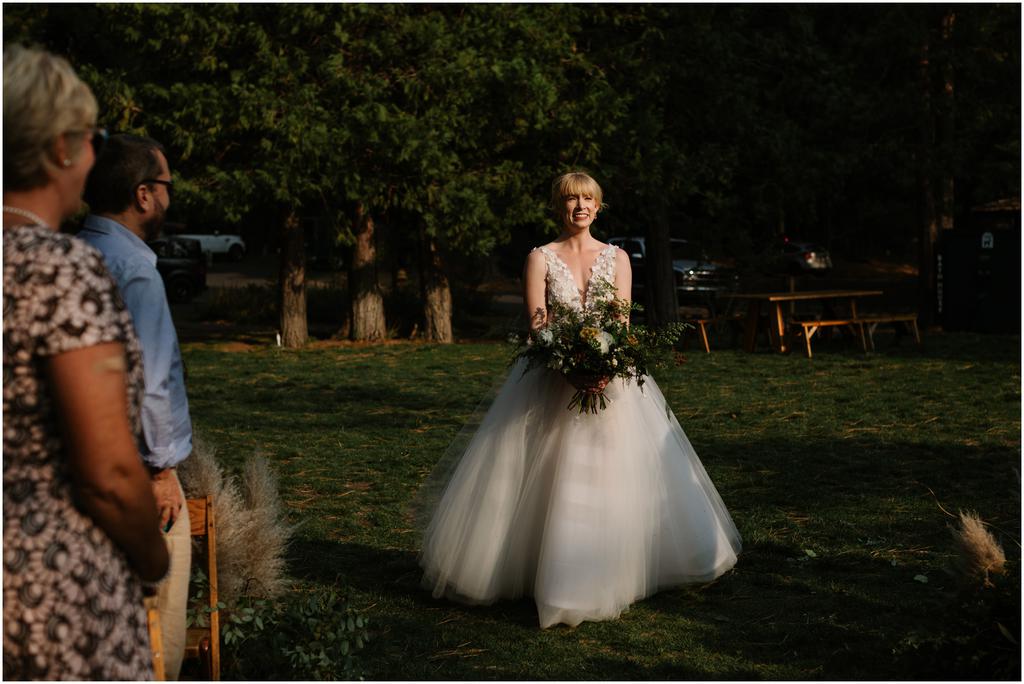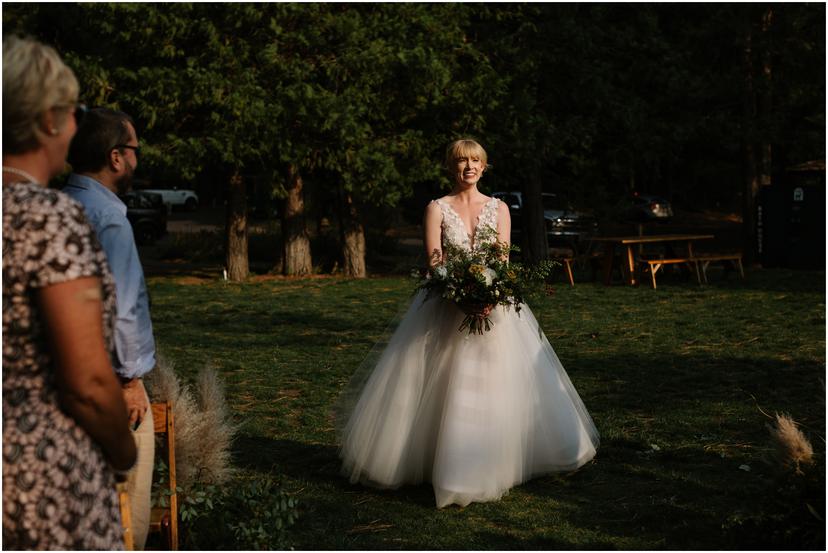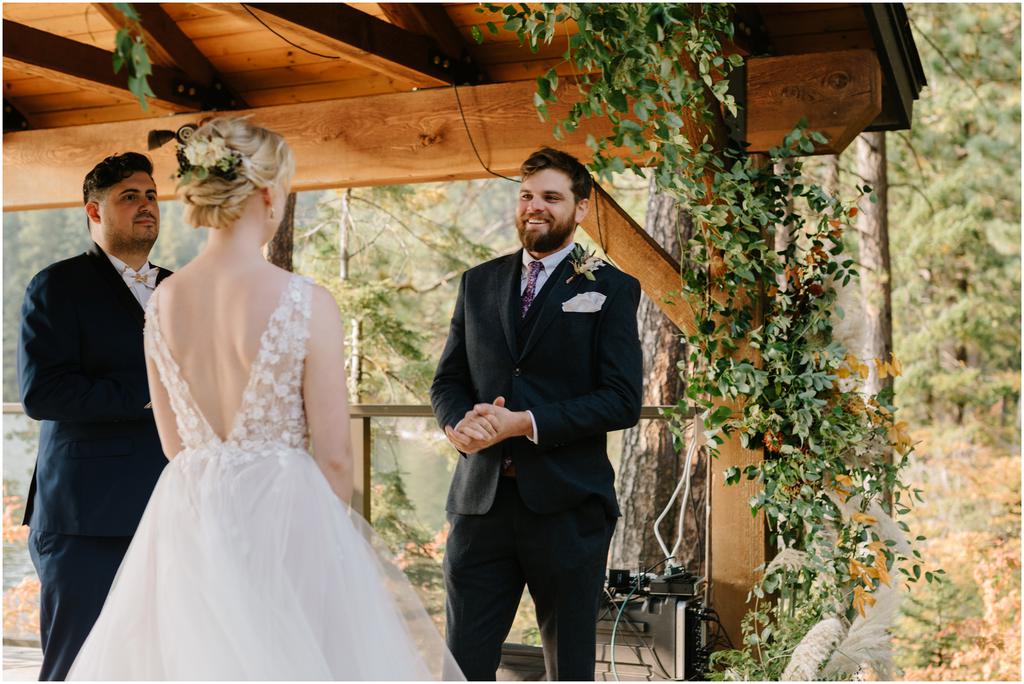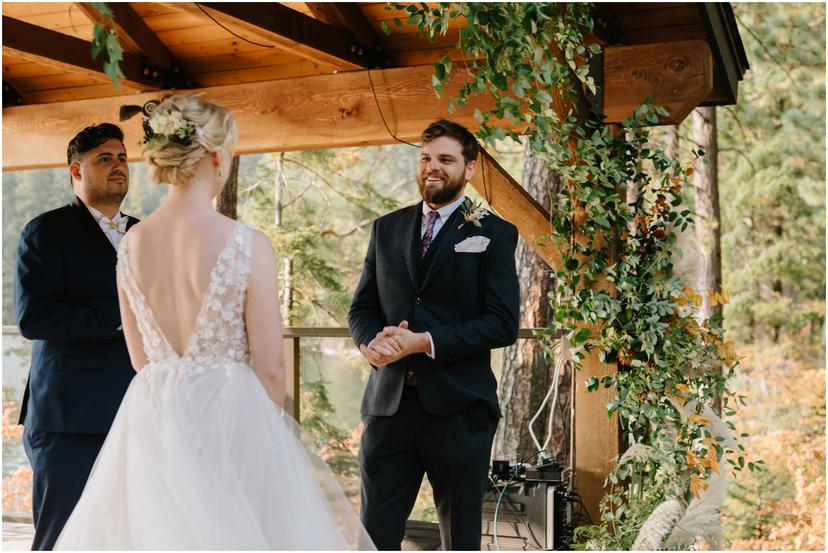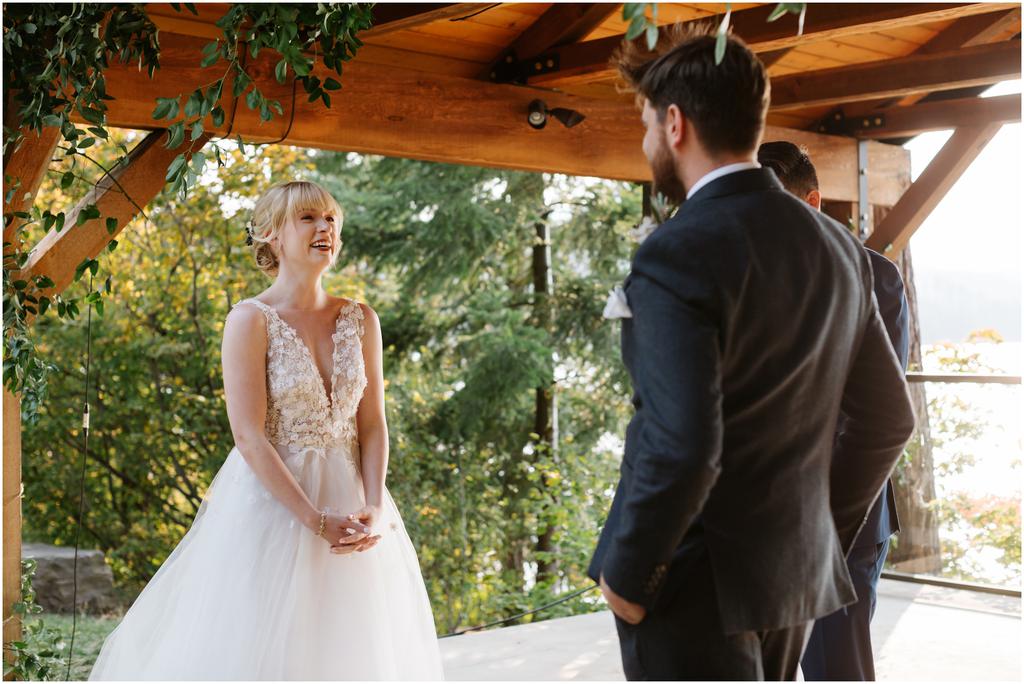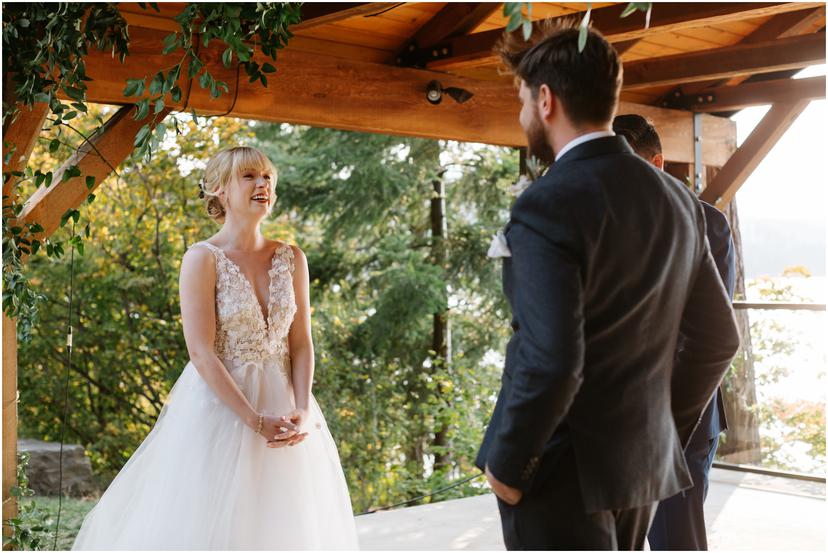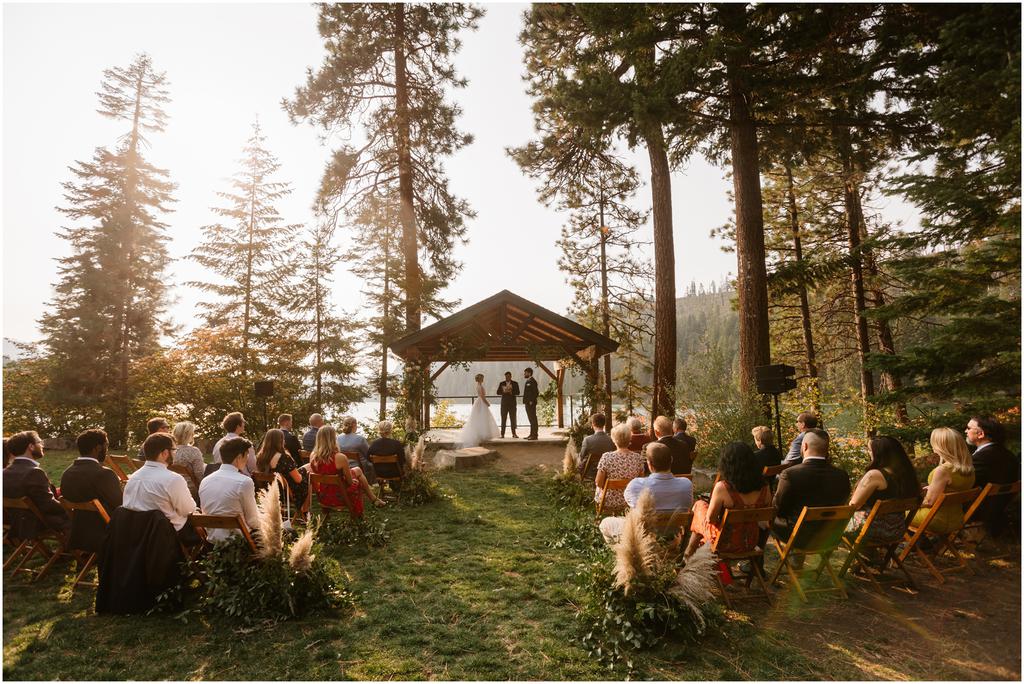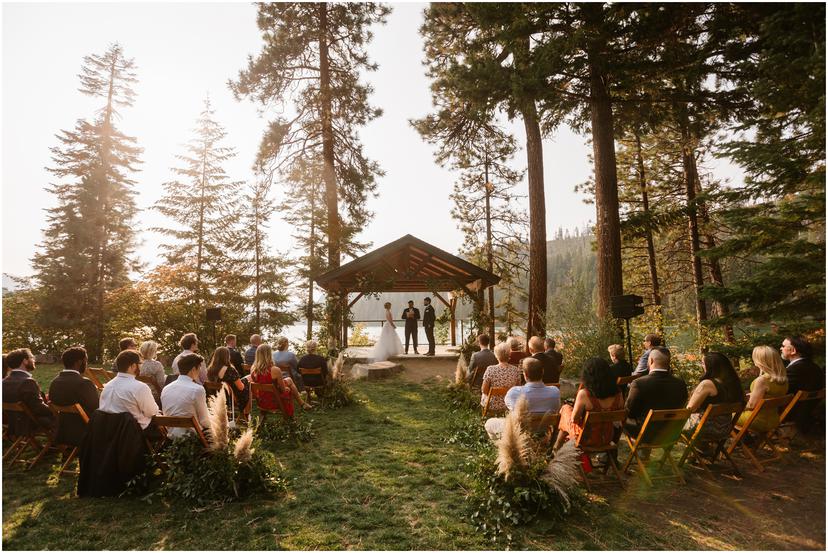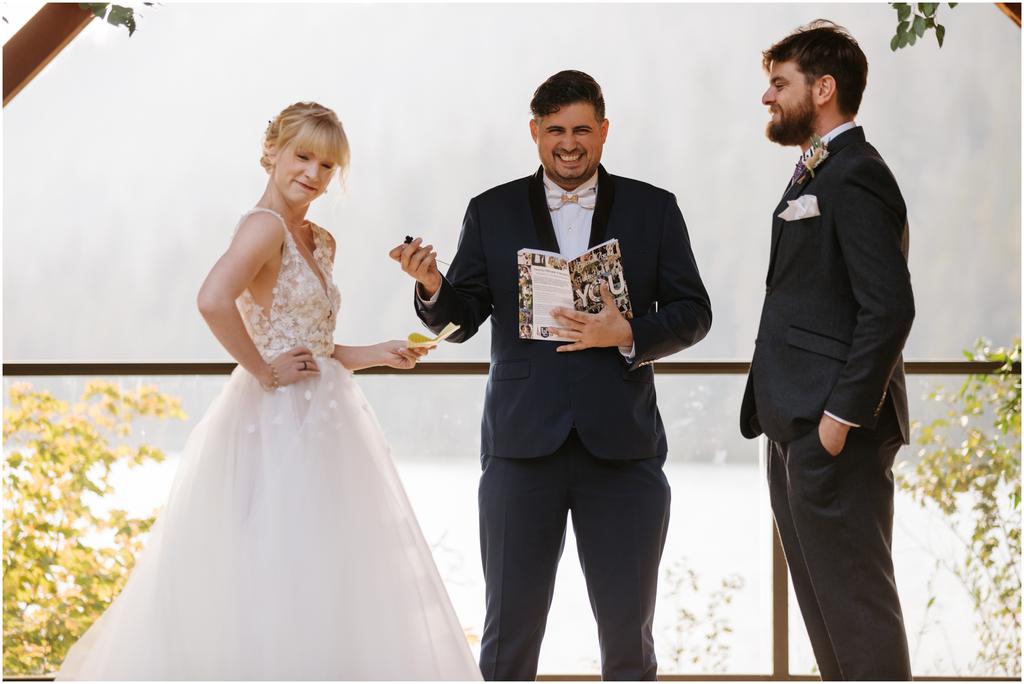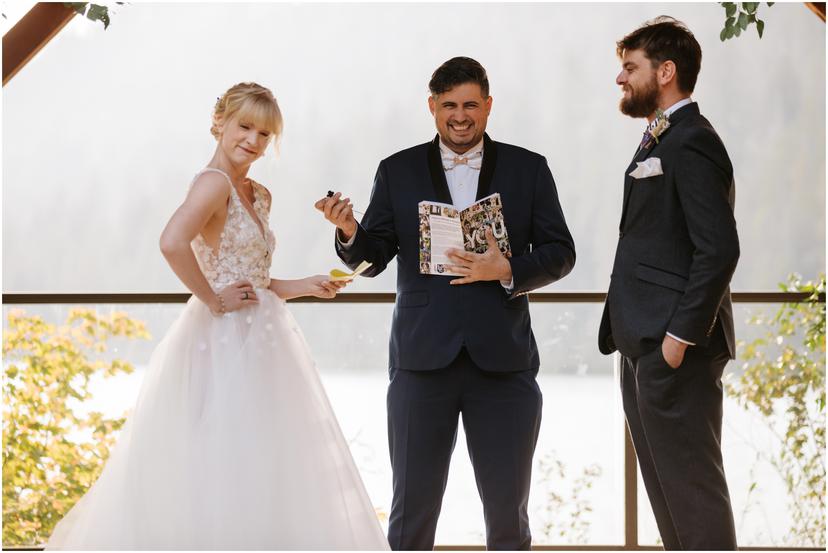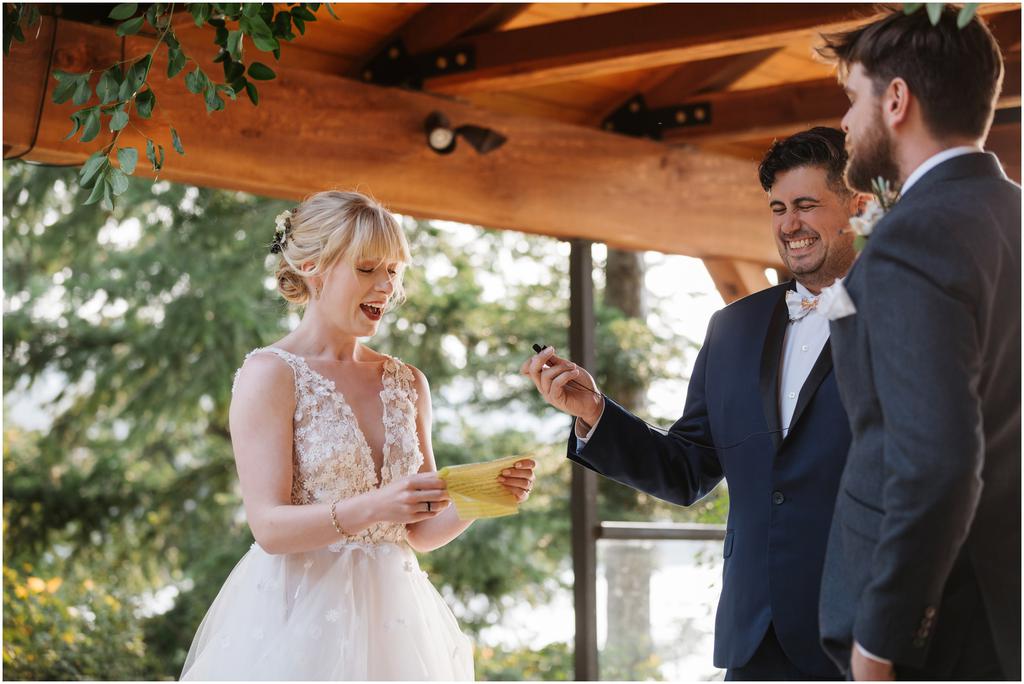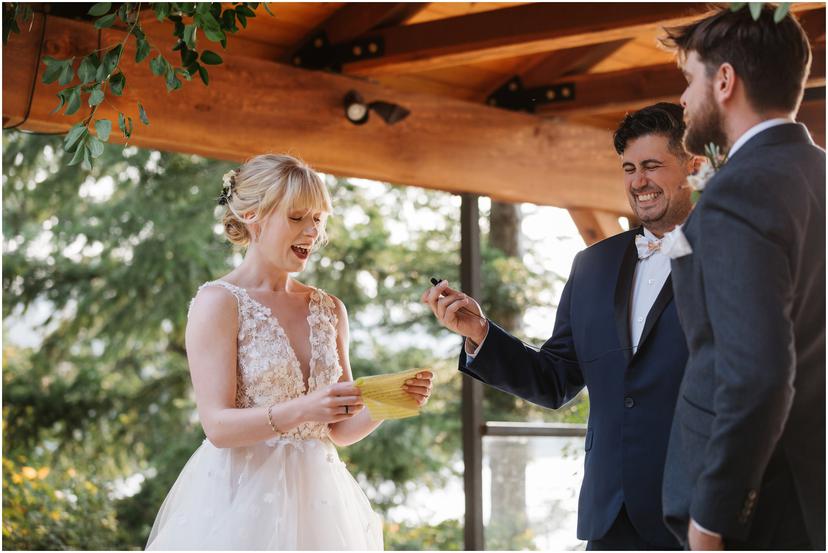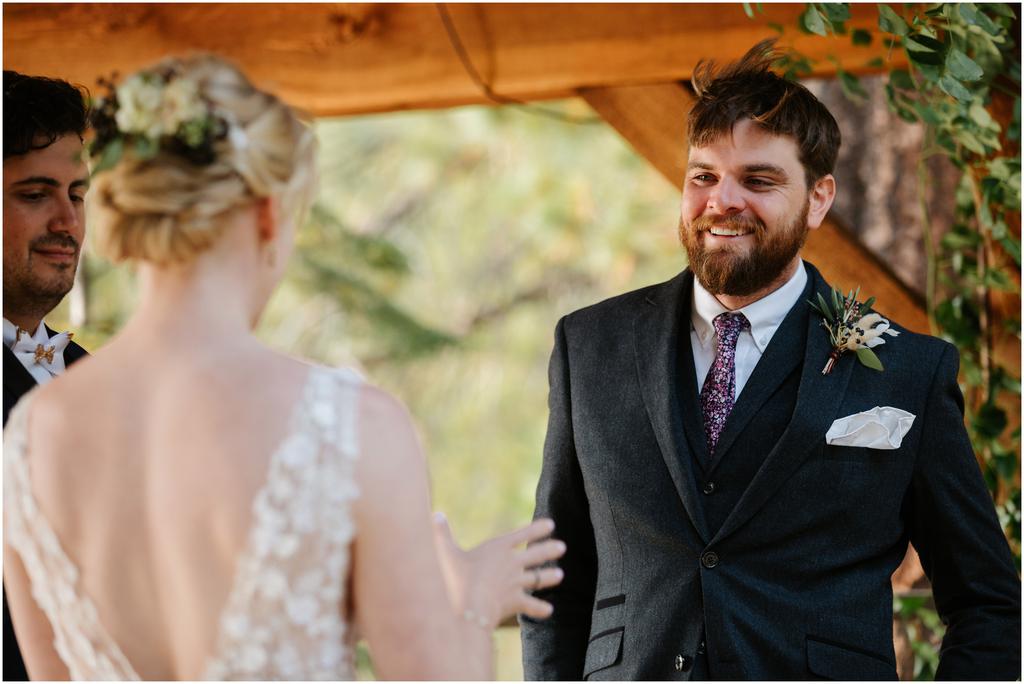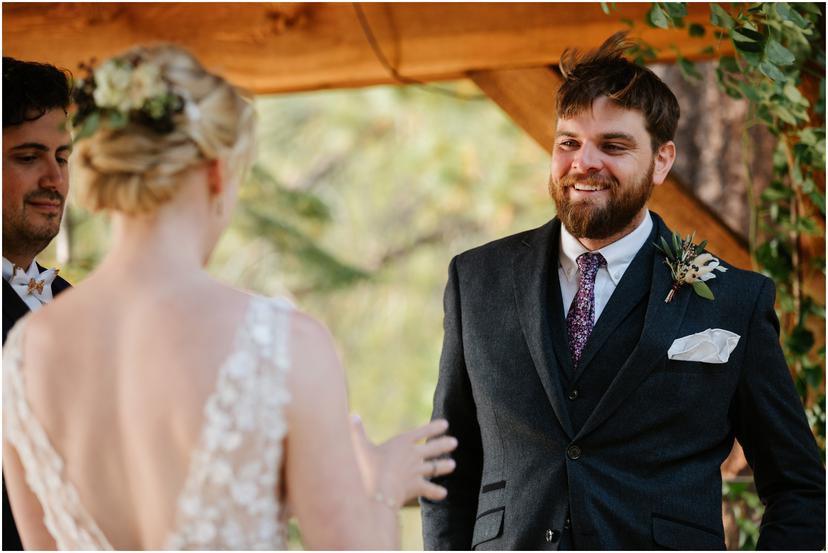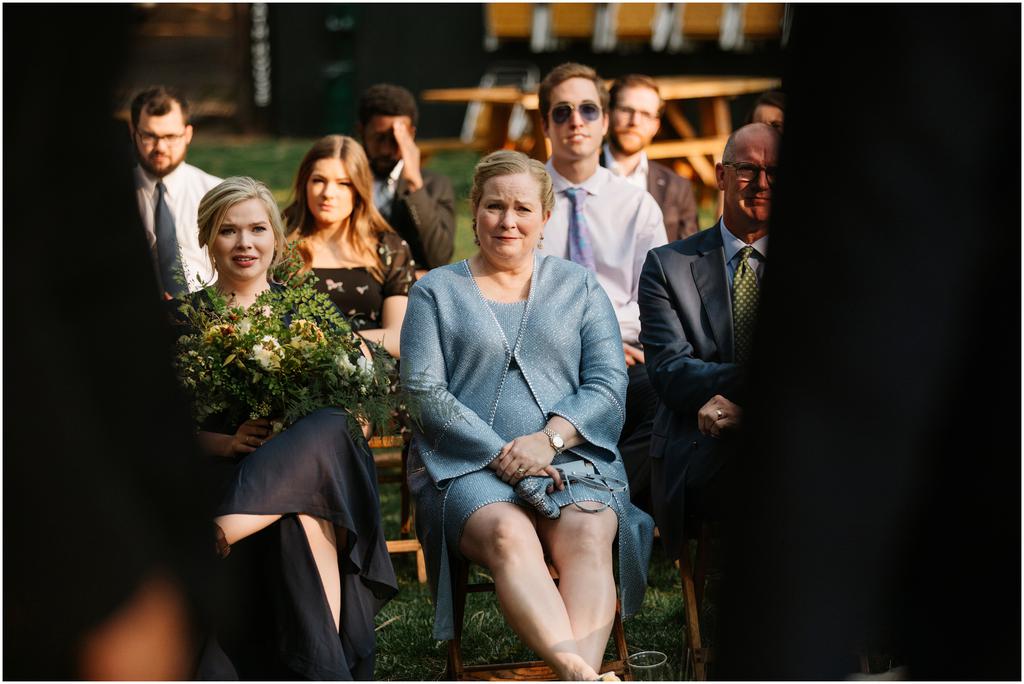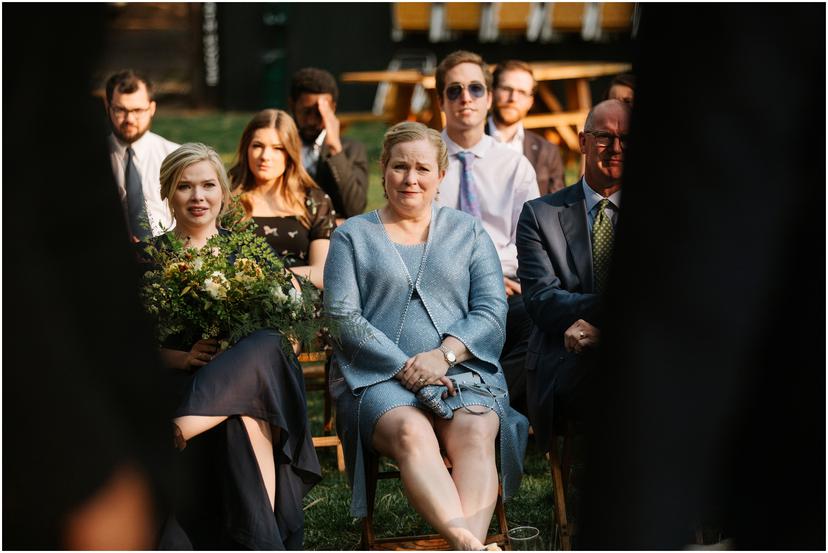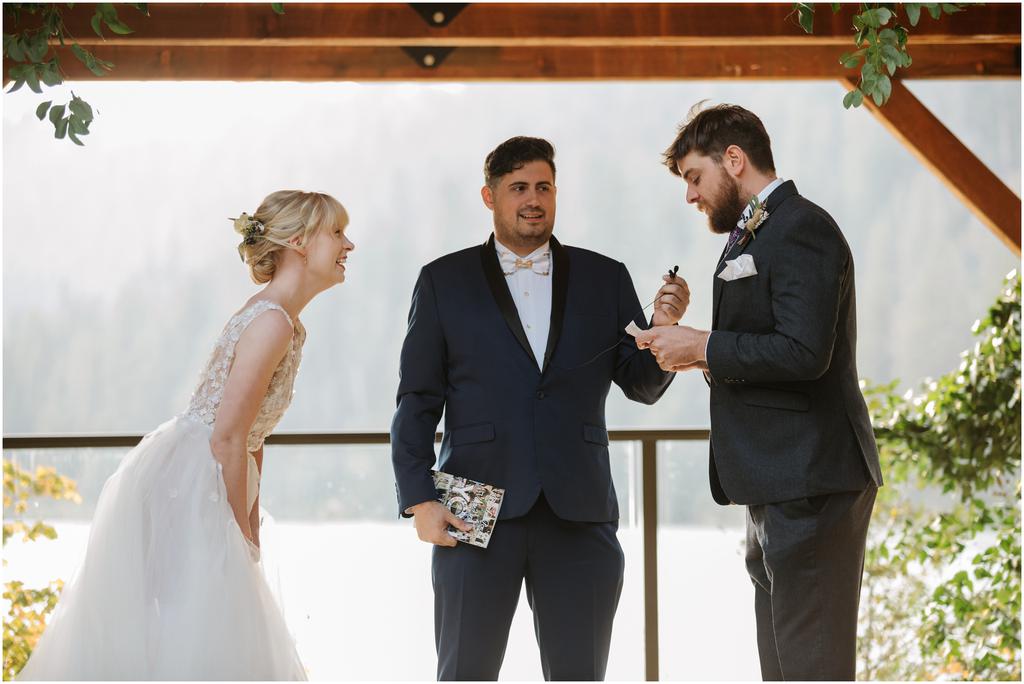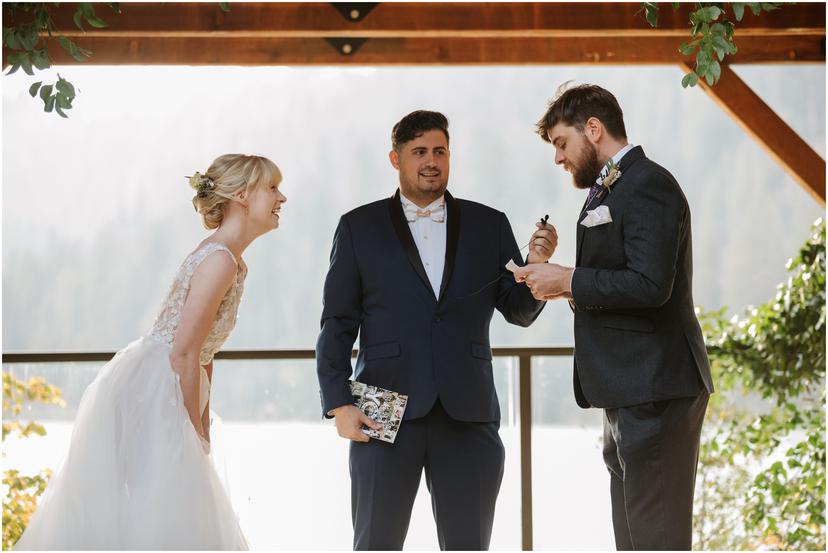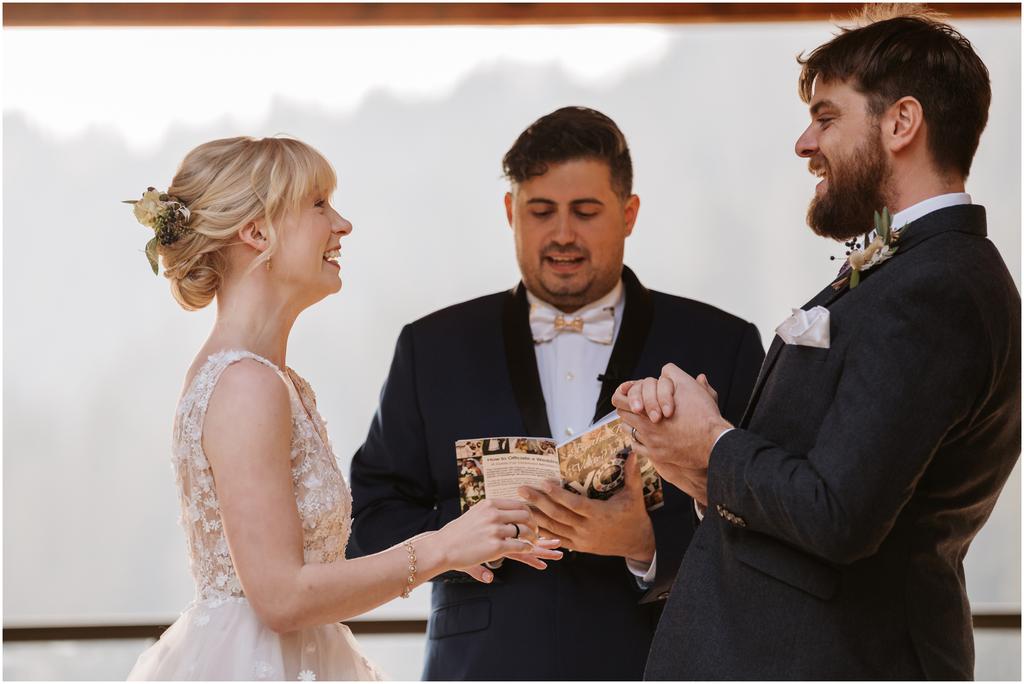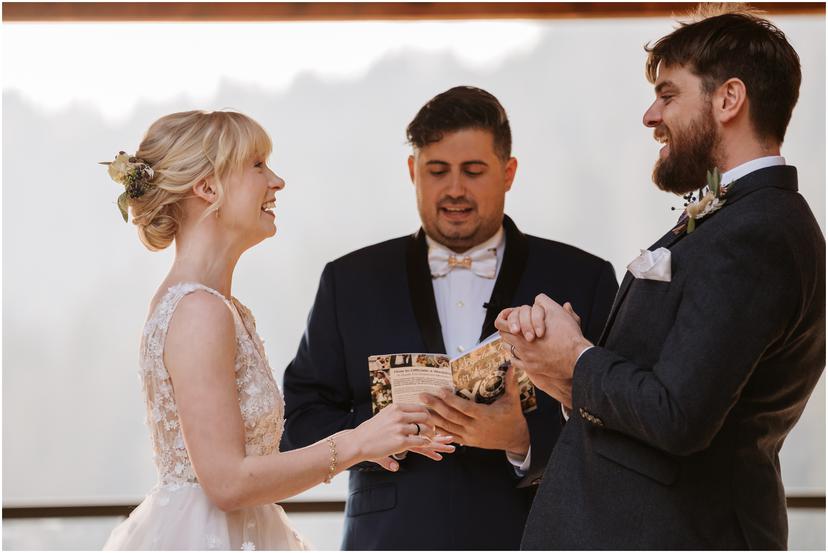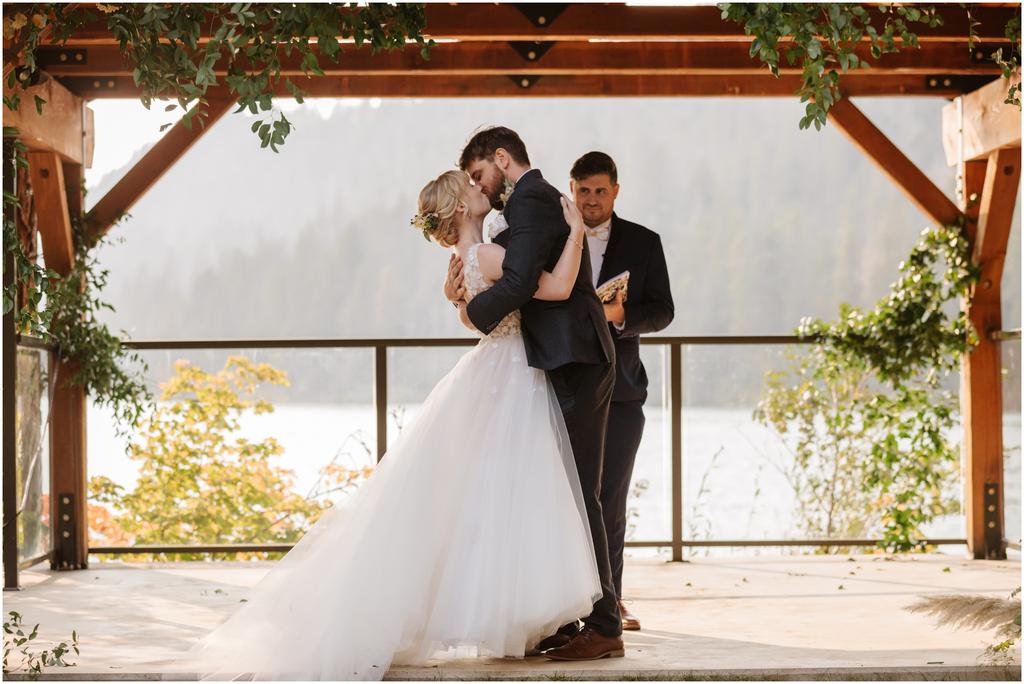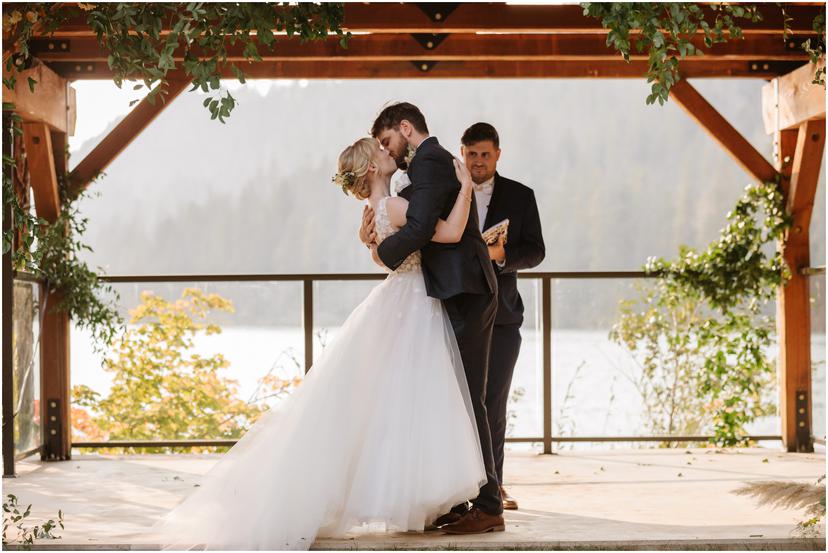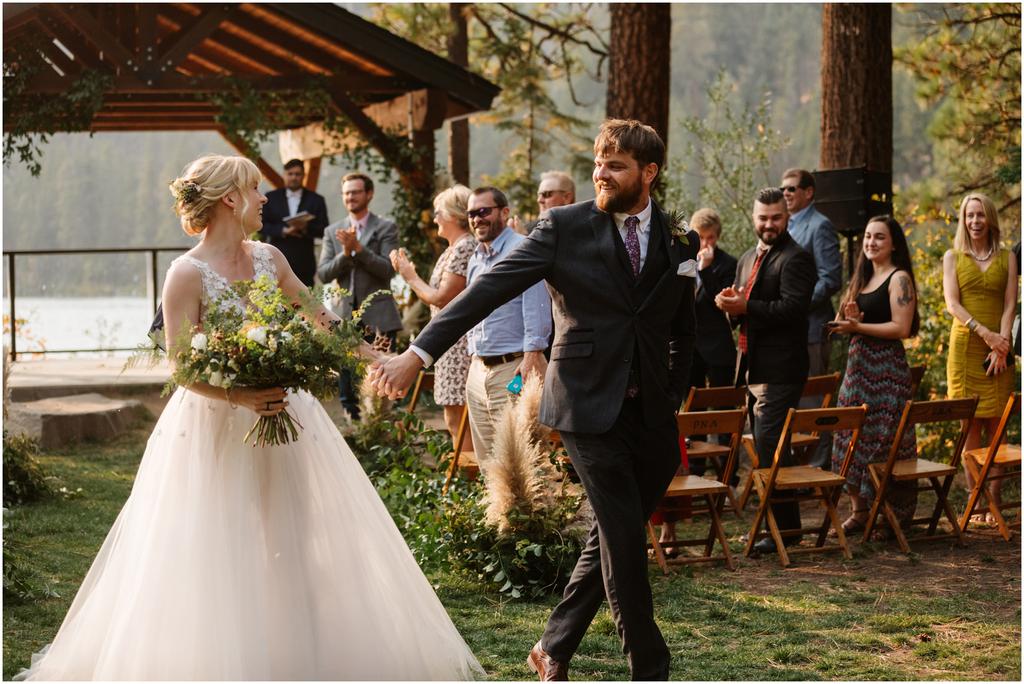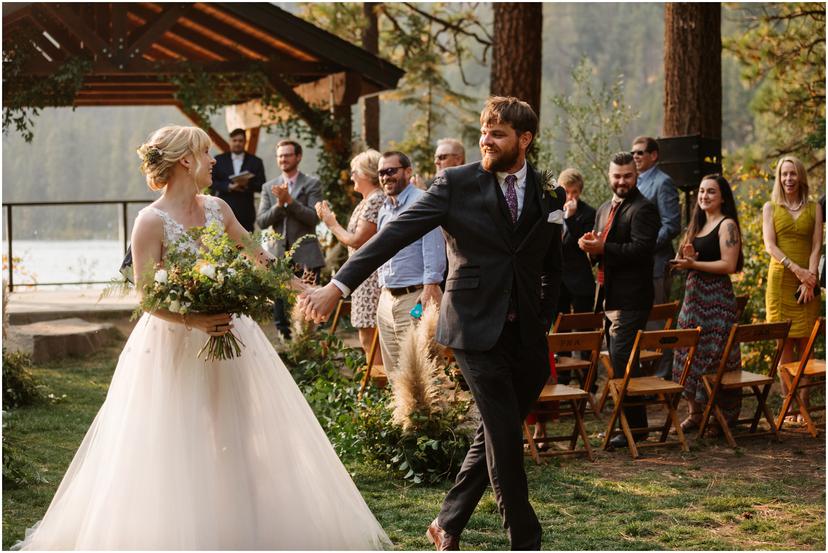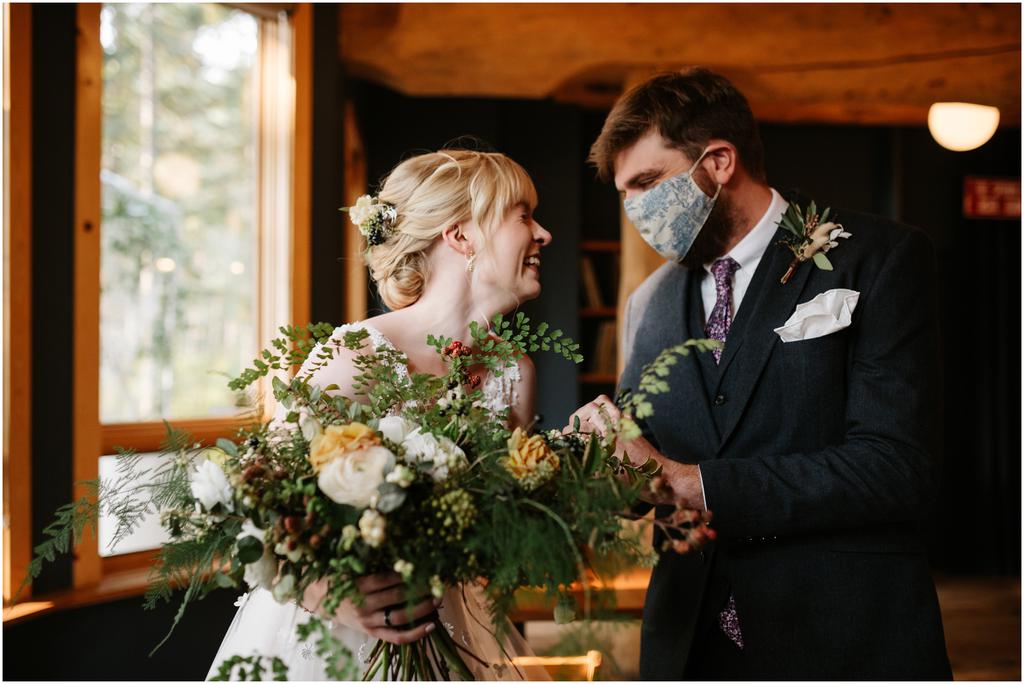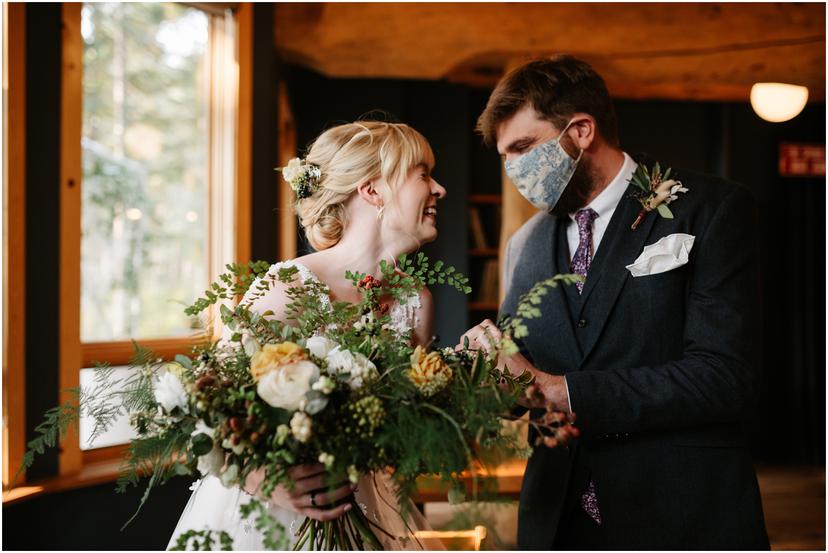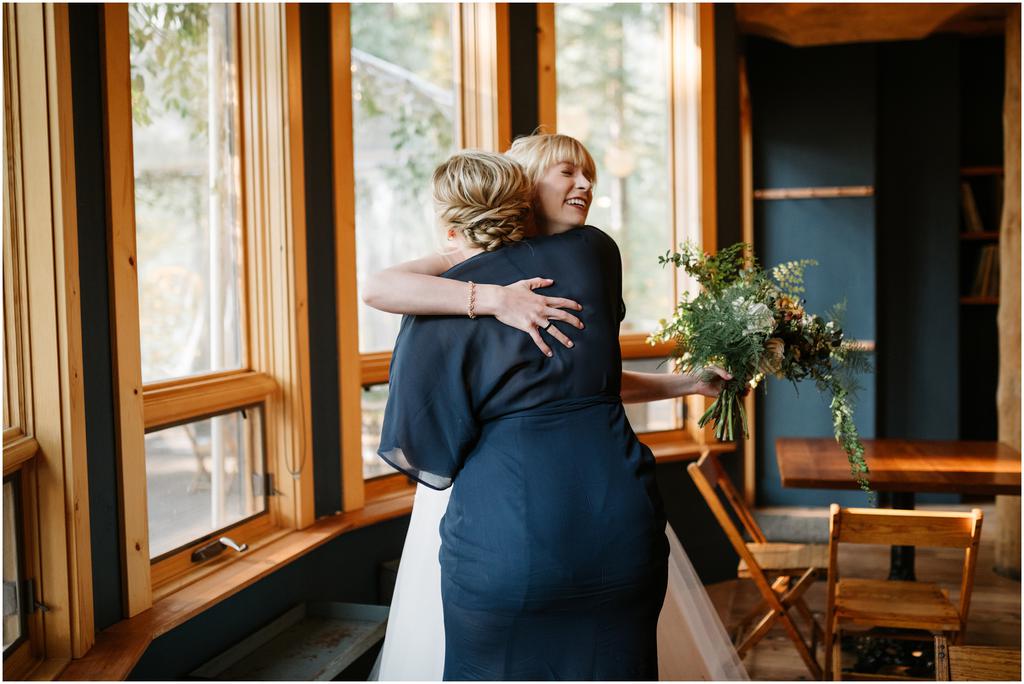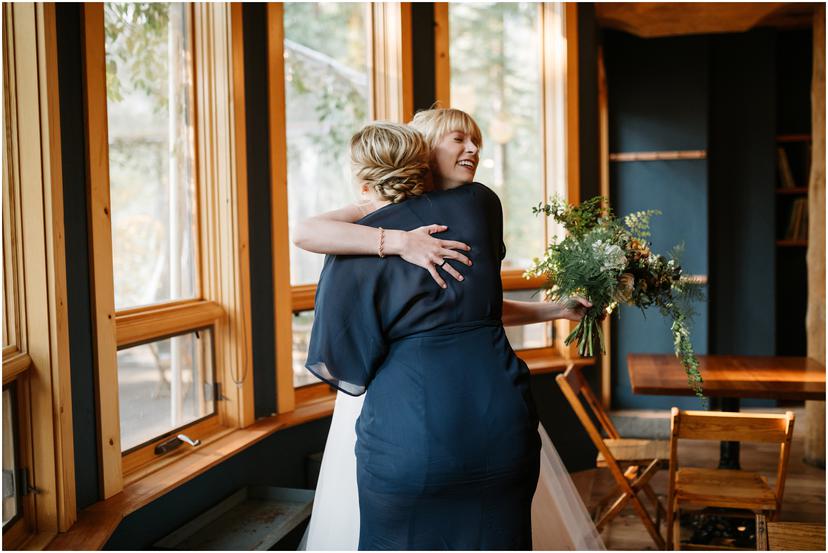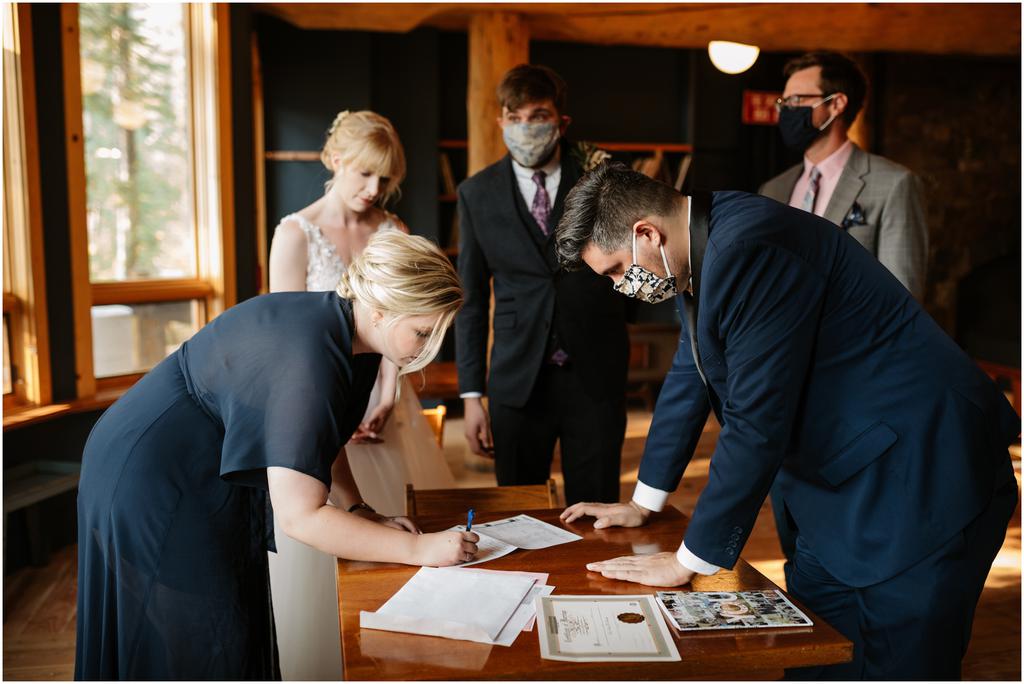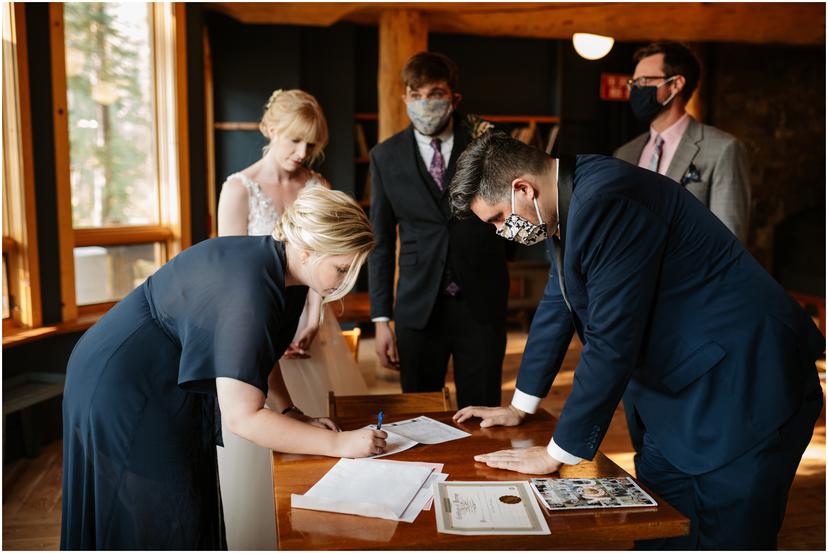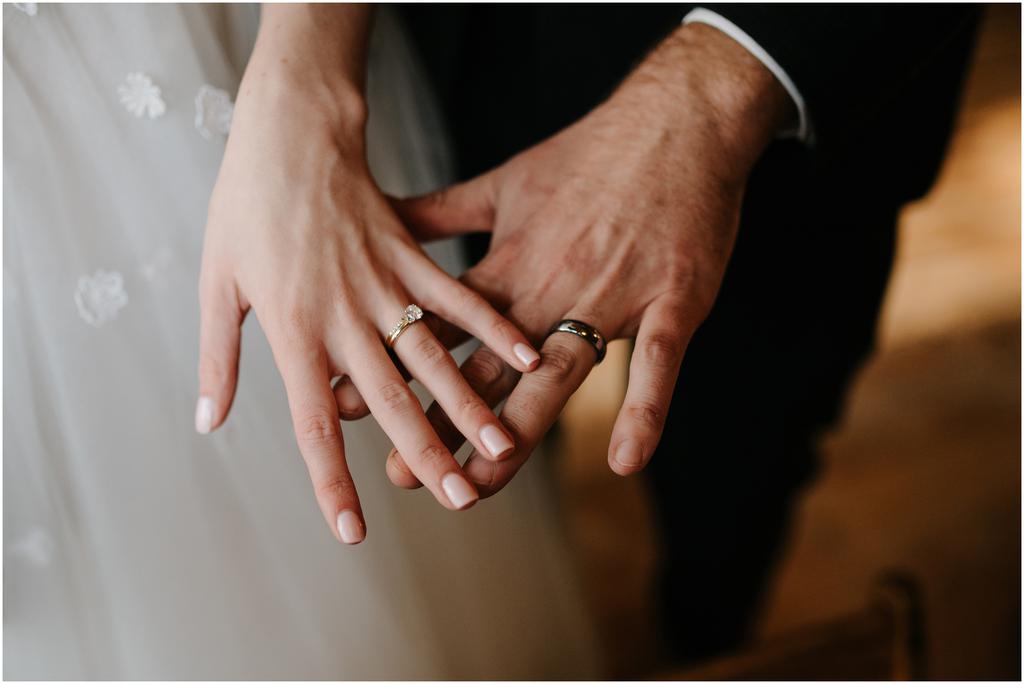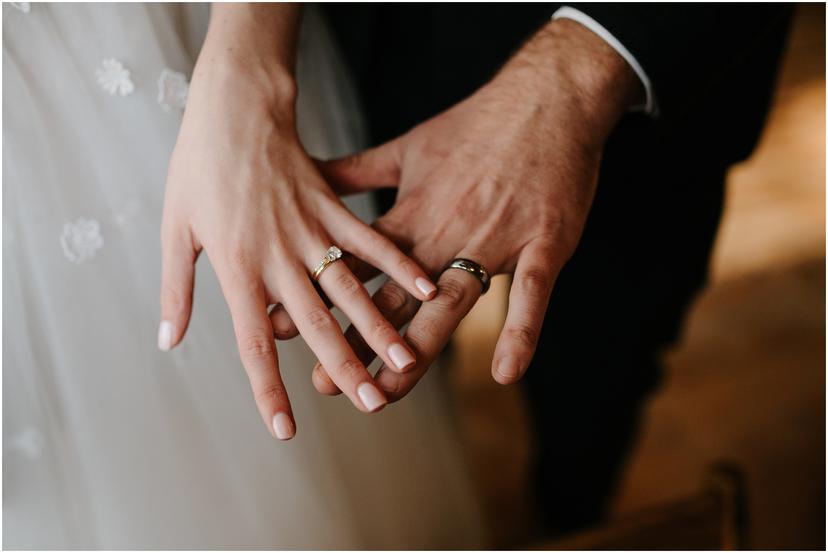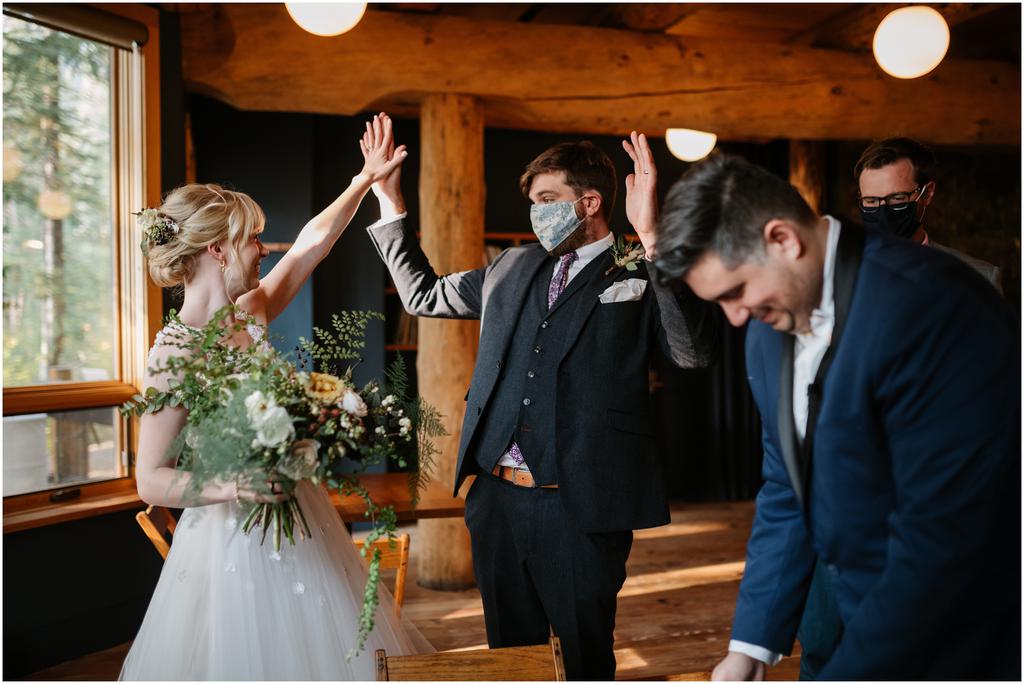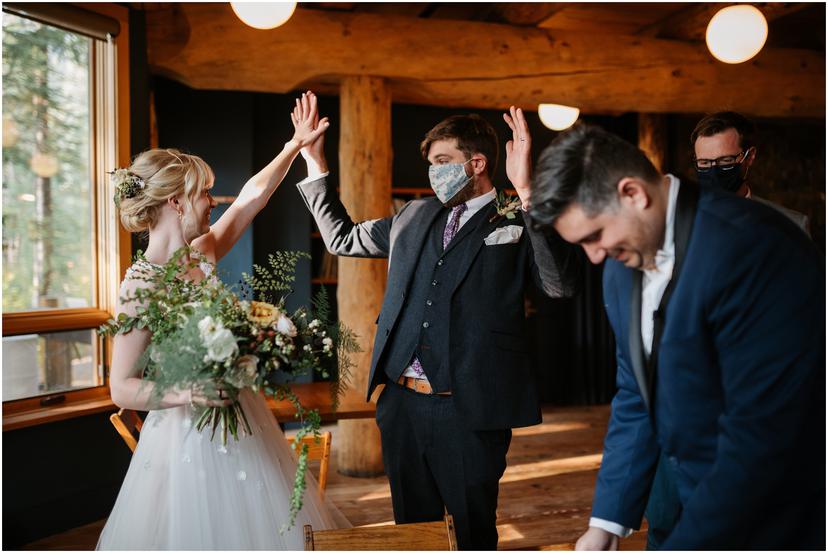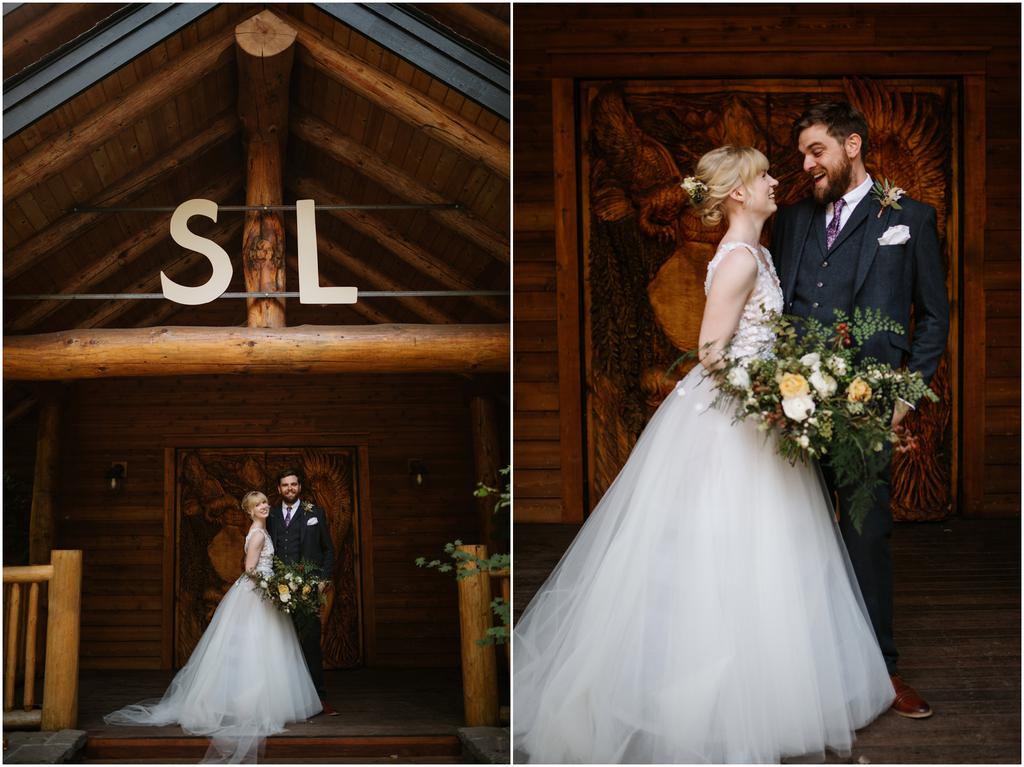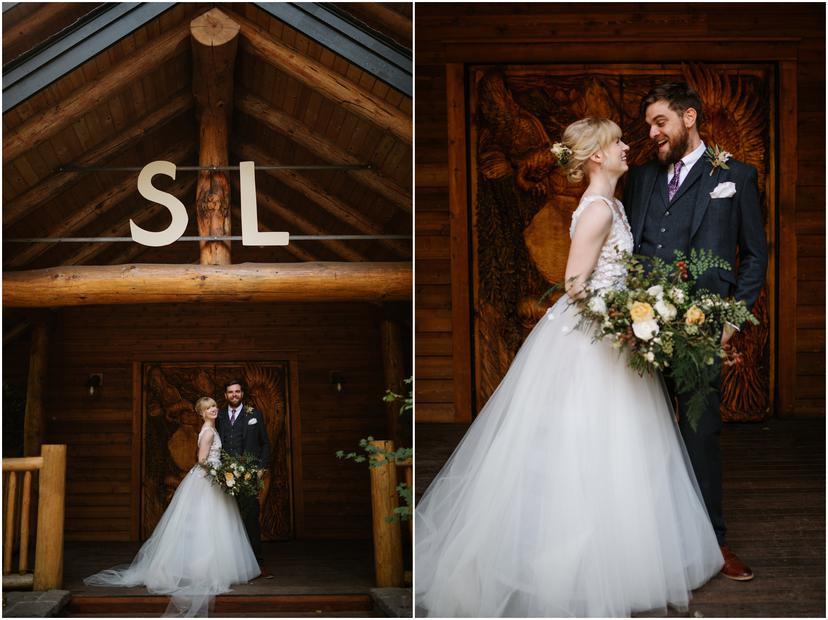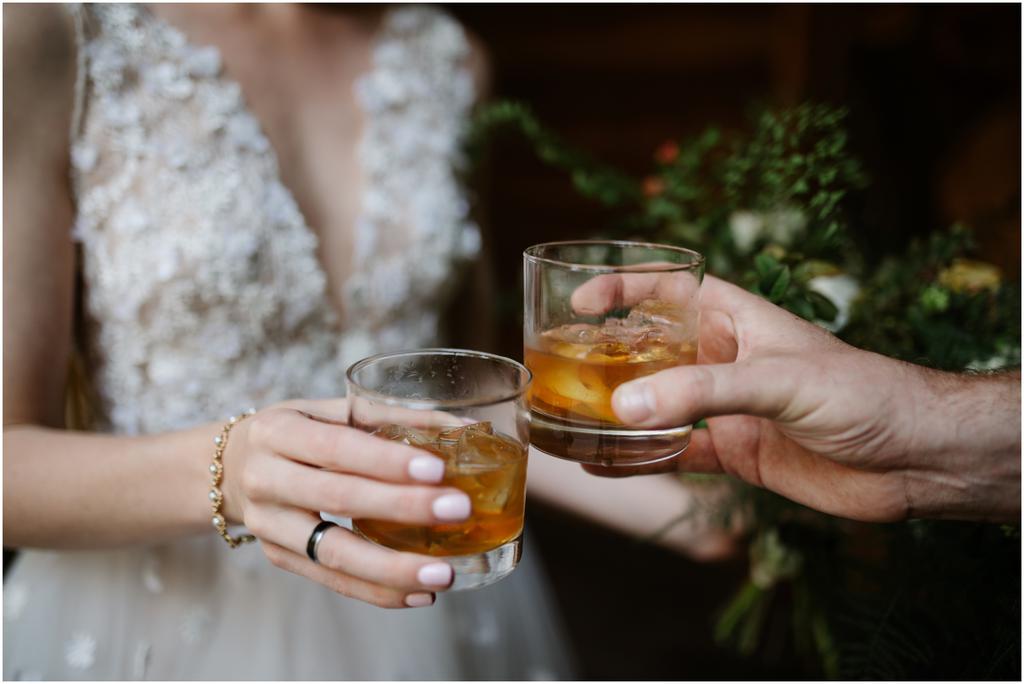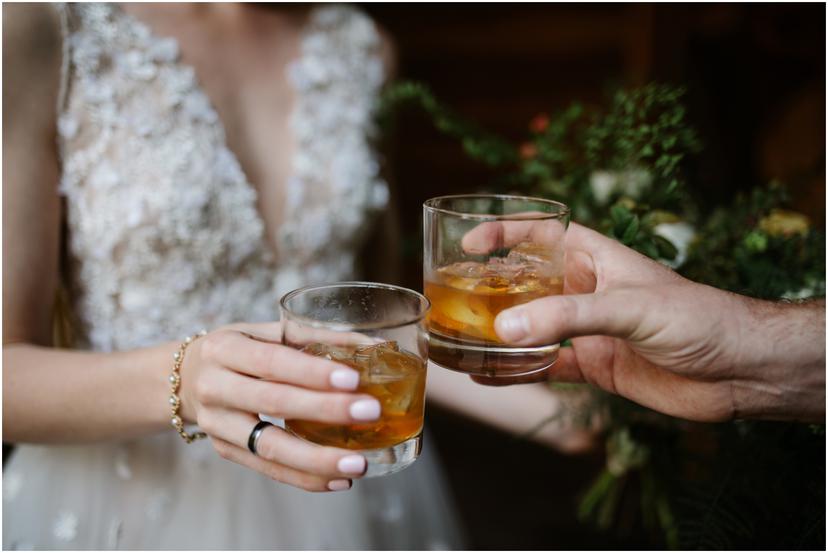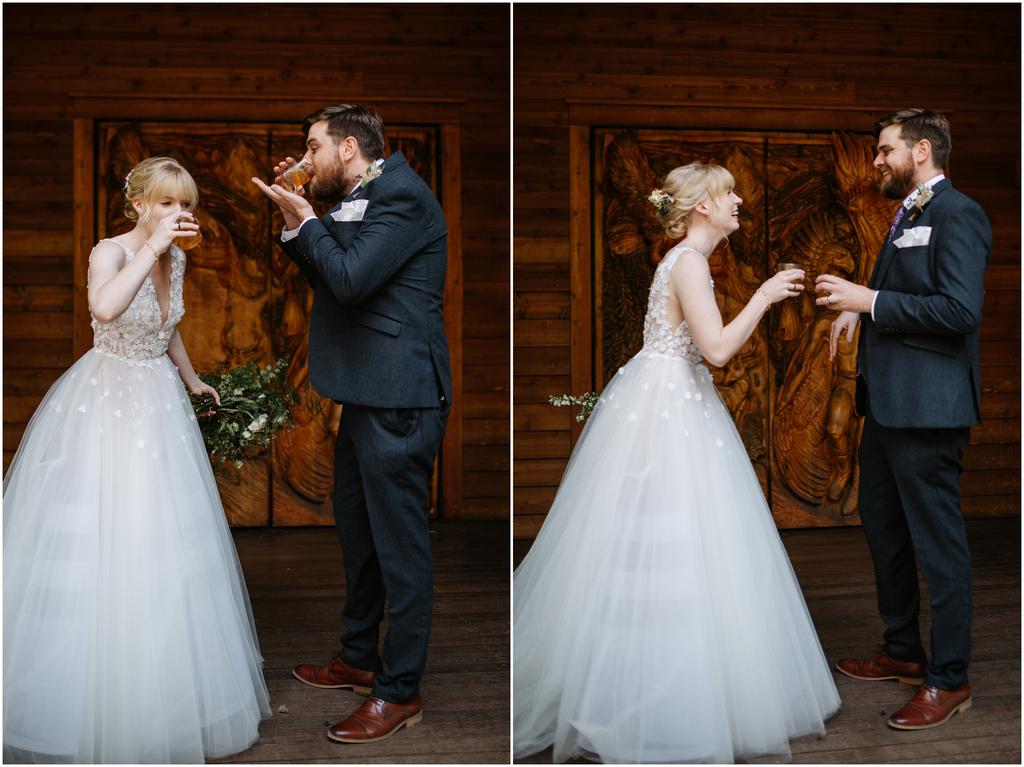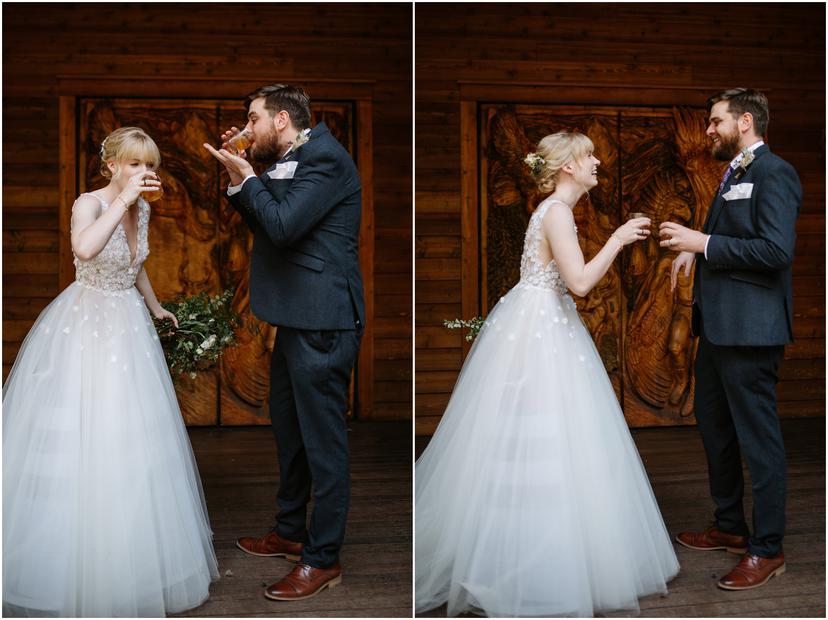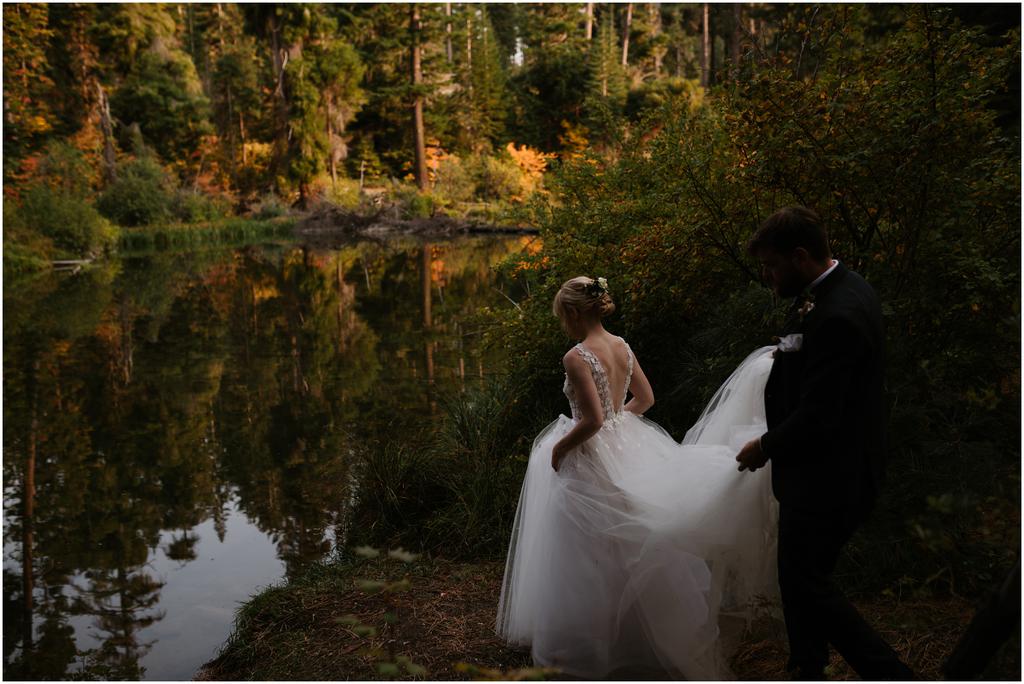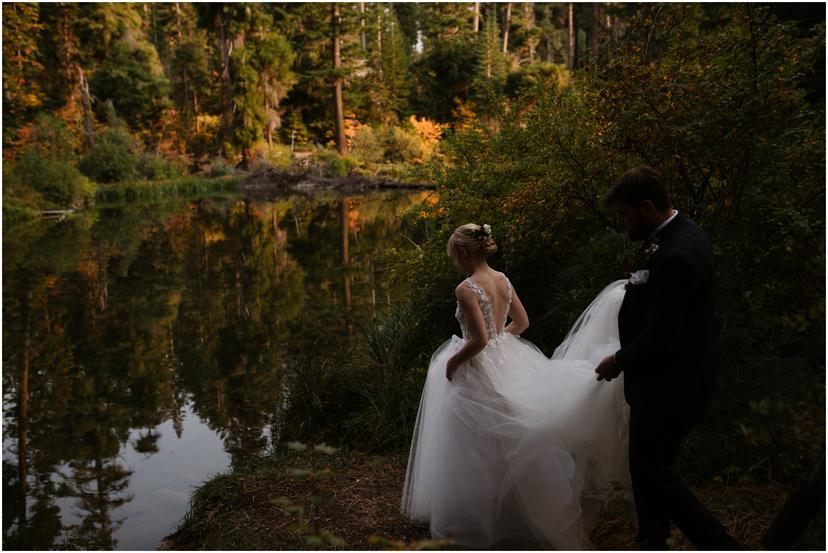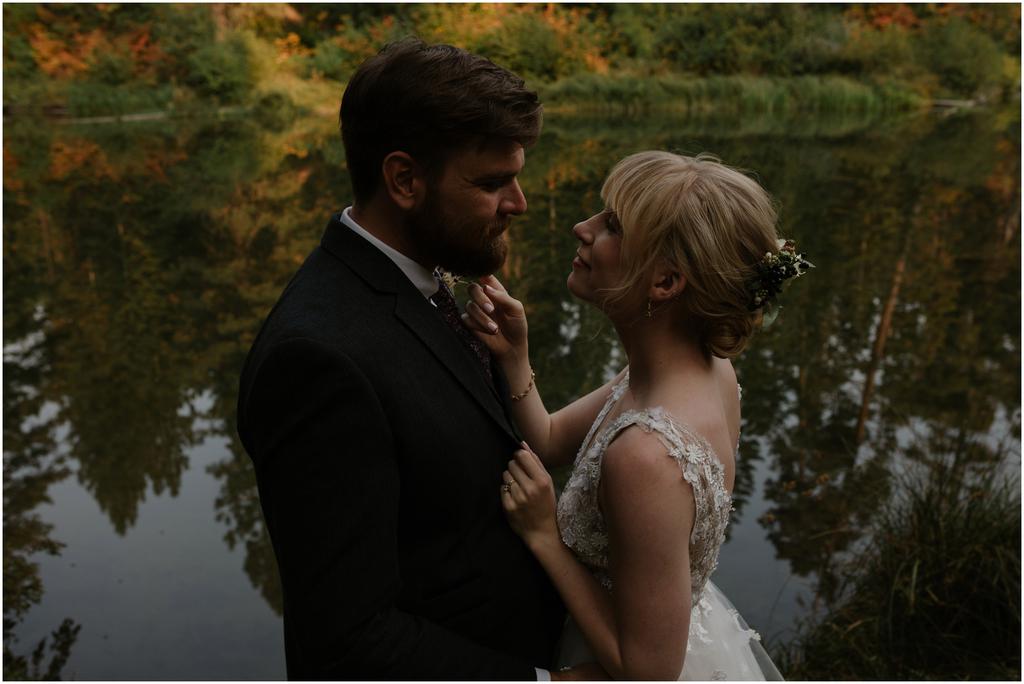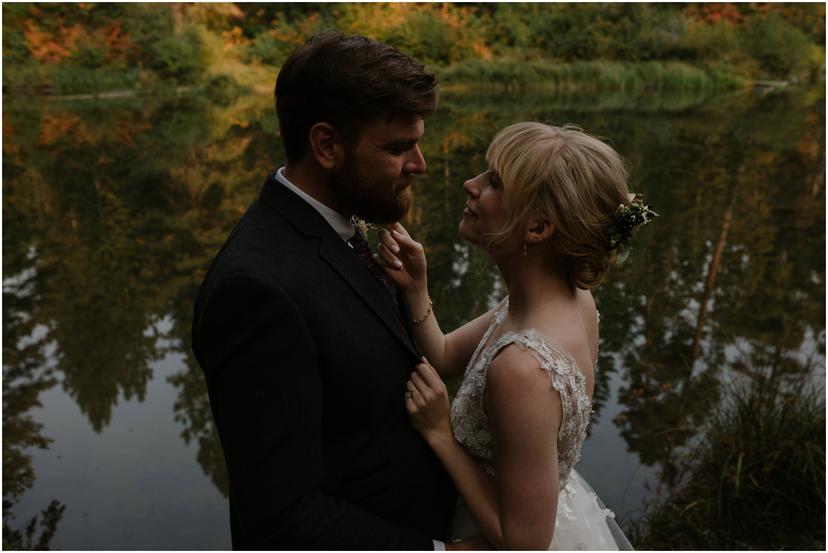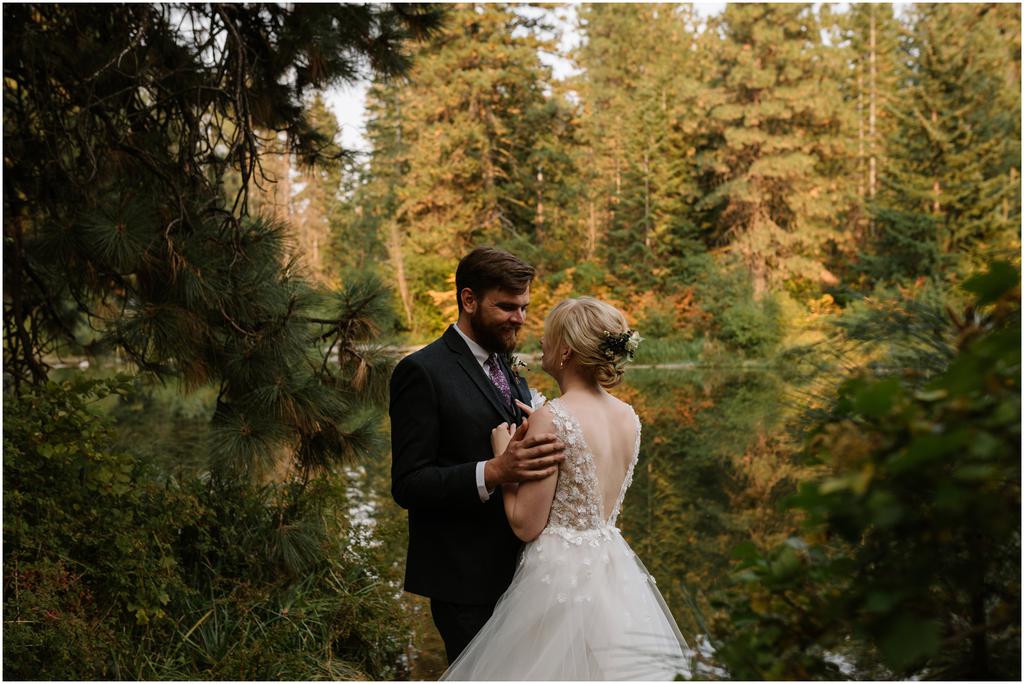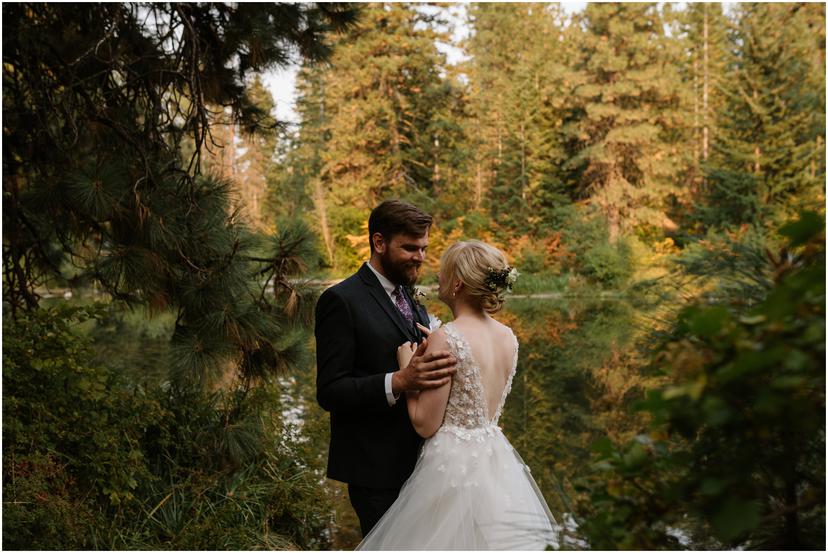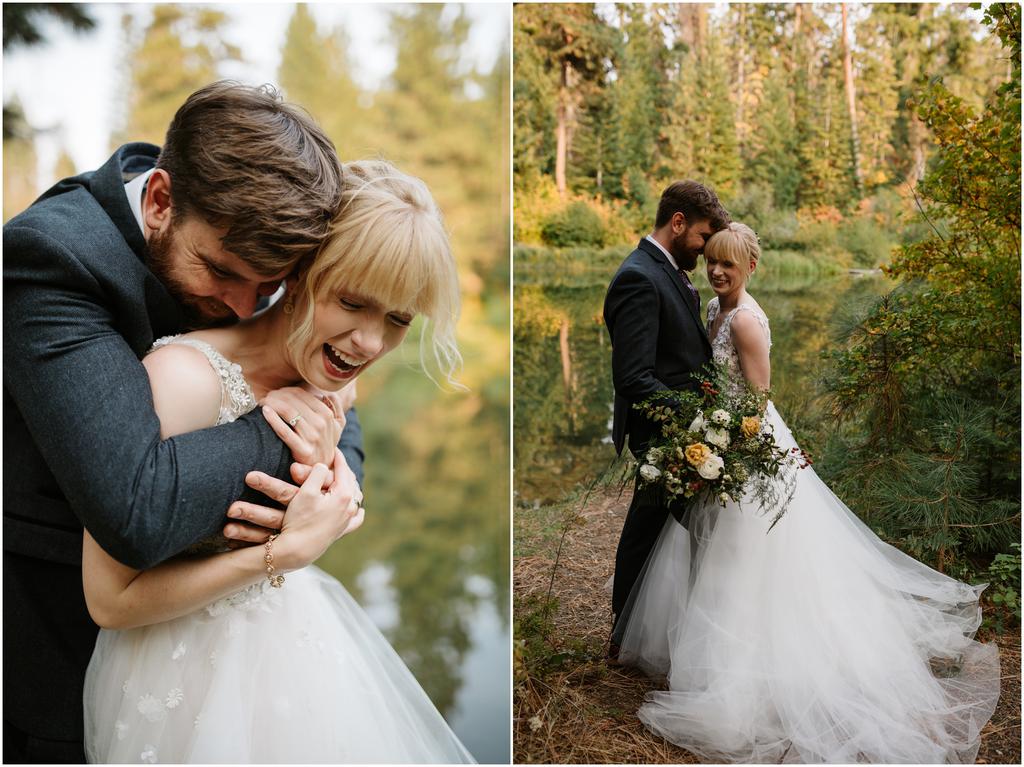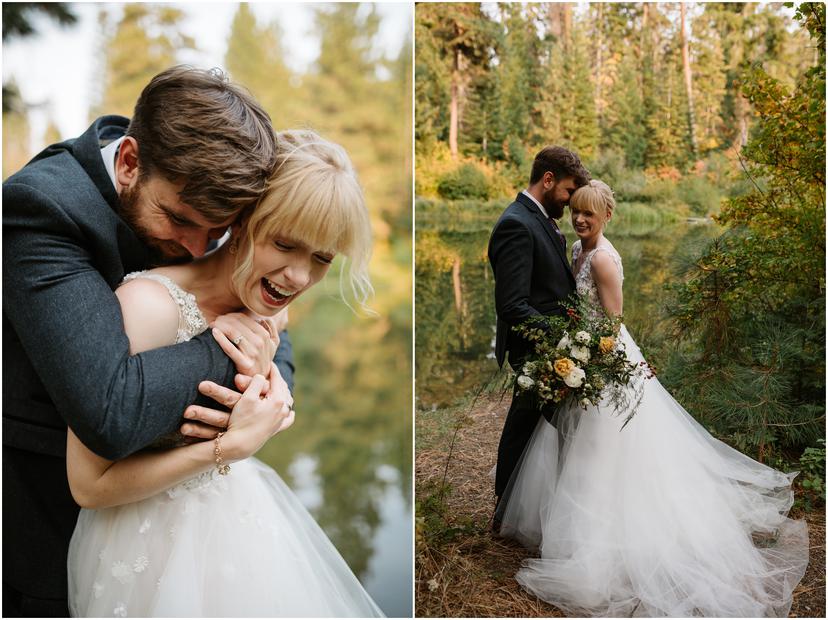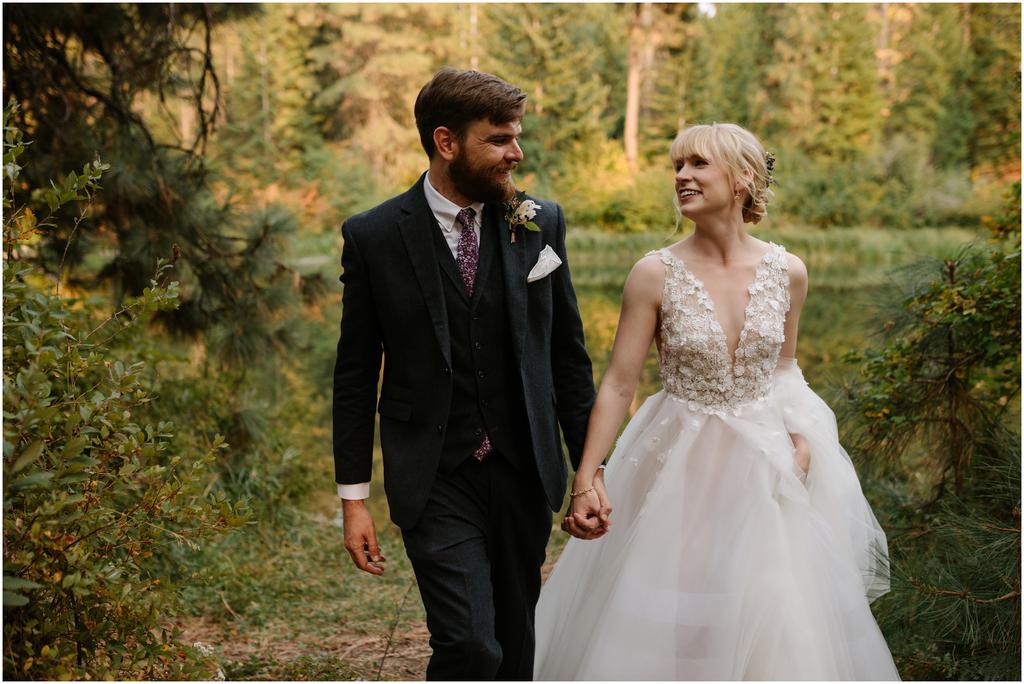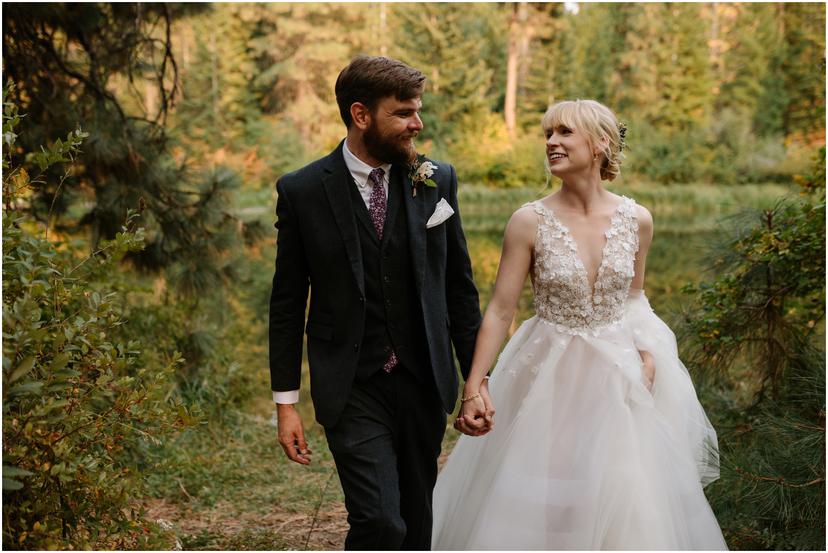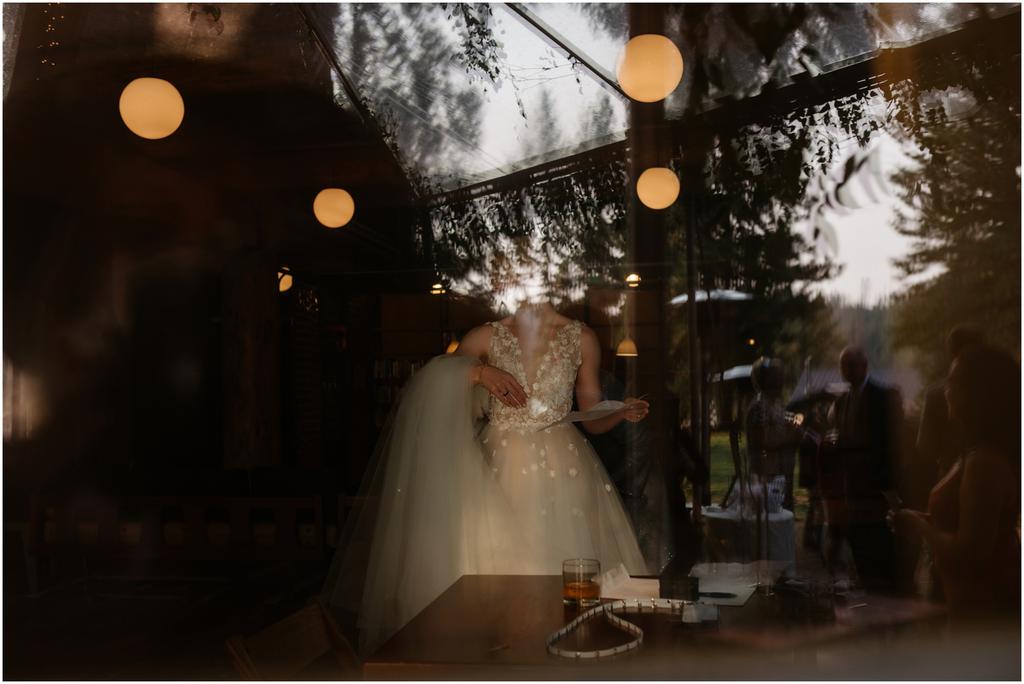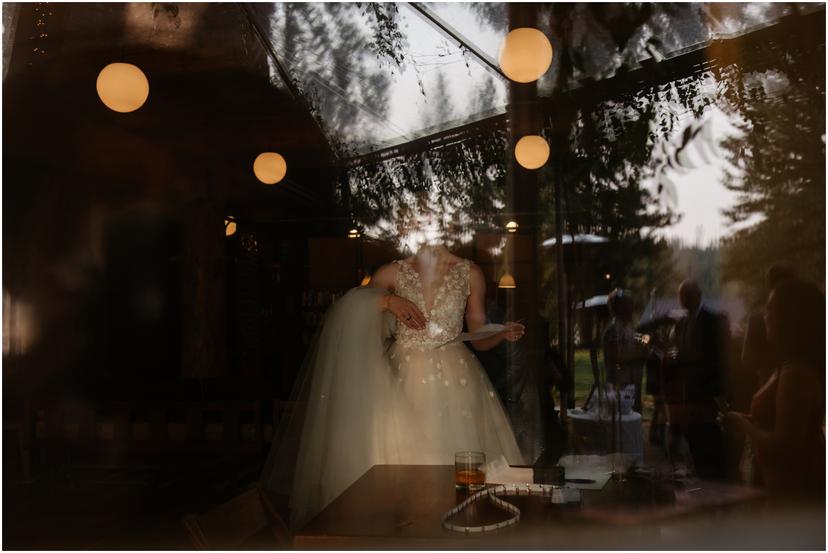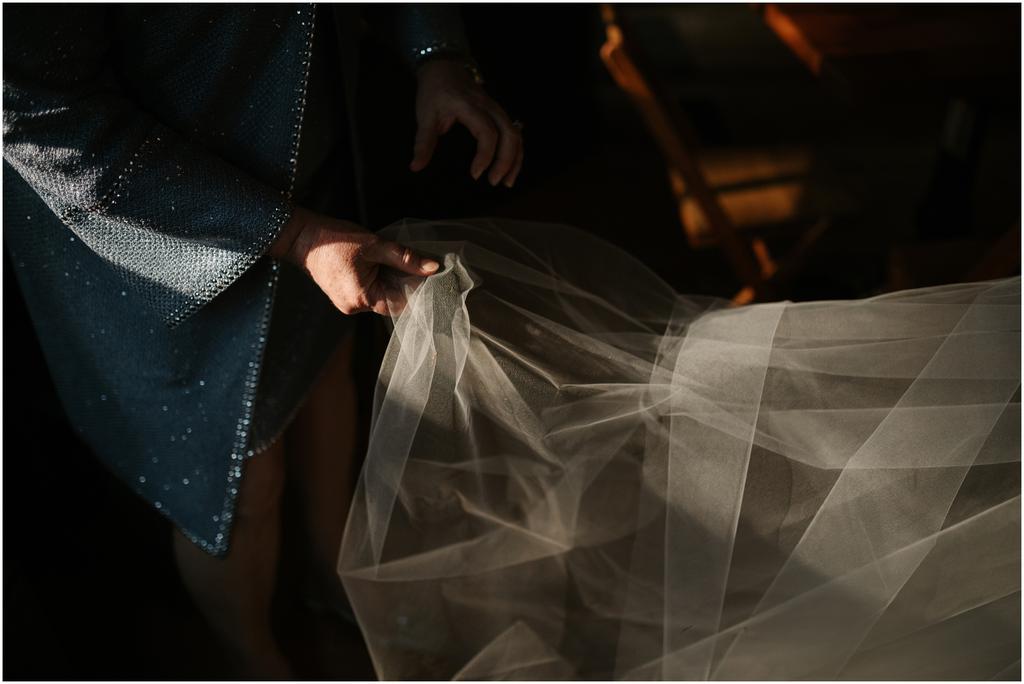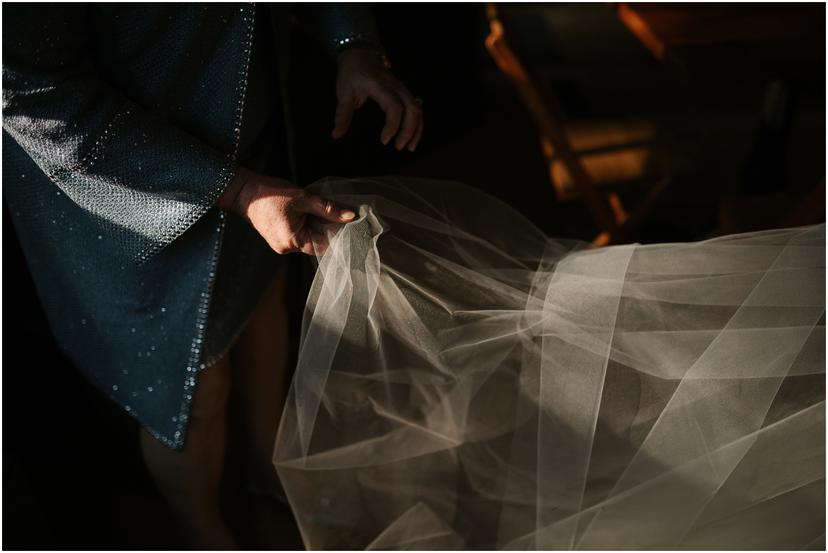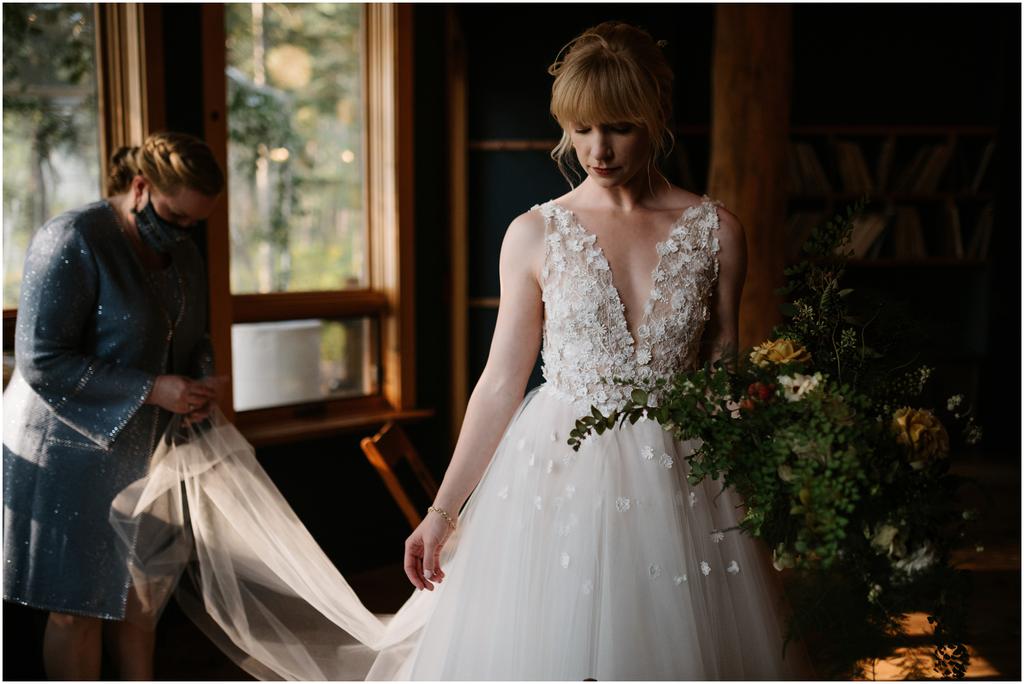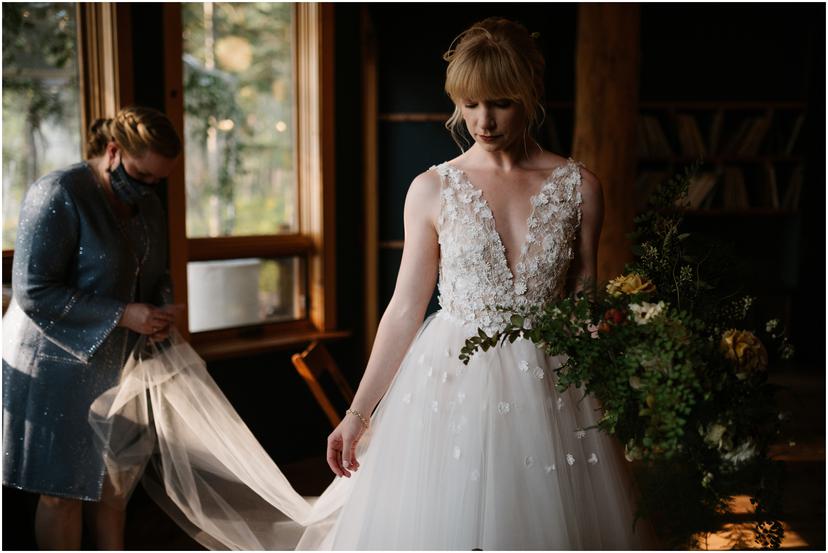 Insight for planning a wedding during COVID-19
"Don't do it. Stop," Kisky joked. "But if you, like us, just really wanted to get married, be prepared that it's going to suck way more than normal wedding planning. You'll need to adapt, adjust, and will probably cry a lot. It's a good test of how much you as a couple really want this. Everyone has even more of an opinion - so figure out what you care about and who is important to you and shut everything and everyone else out. Except, do listen to and follow all the guidelines, and know they'll change multiple times - and they'll have changed by the time you're reading this. It's a lot of making other people feel okay about your decisions or their decision to not attend. And be kind, know that you won't be able to have everyone you would normally want there. But seriously, listen to your vendors, the venue staff, etc. and make sure they feel comfortable. "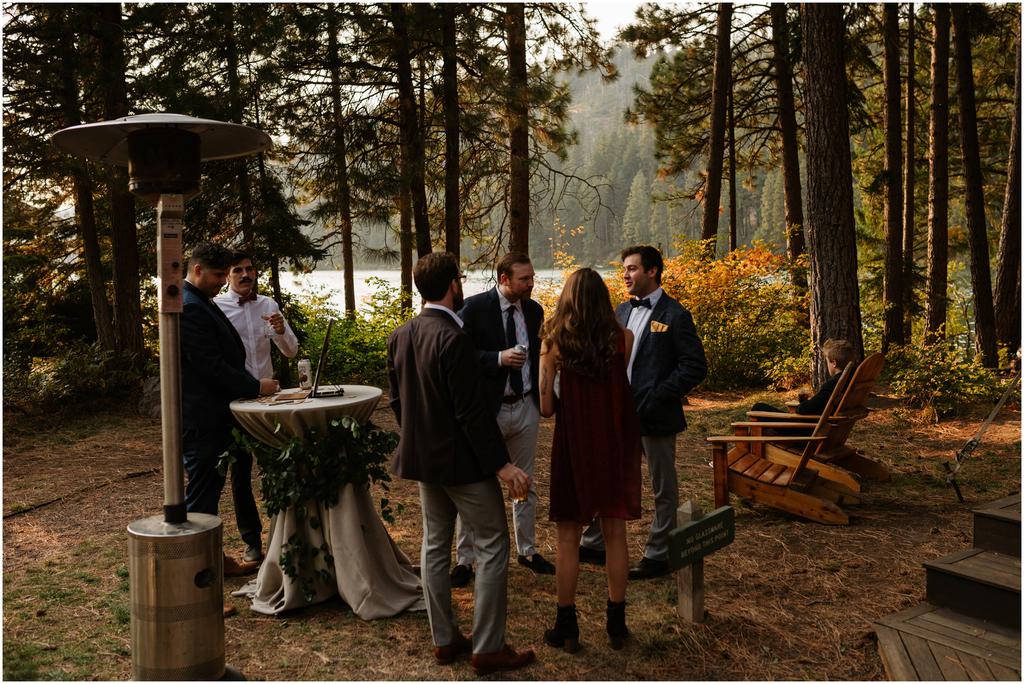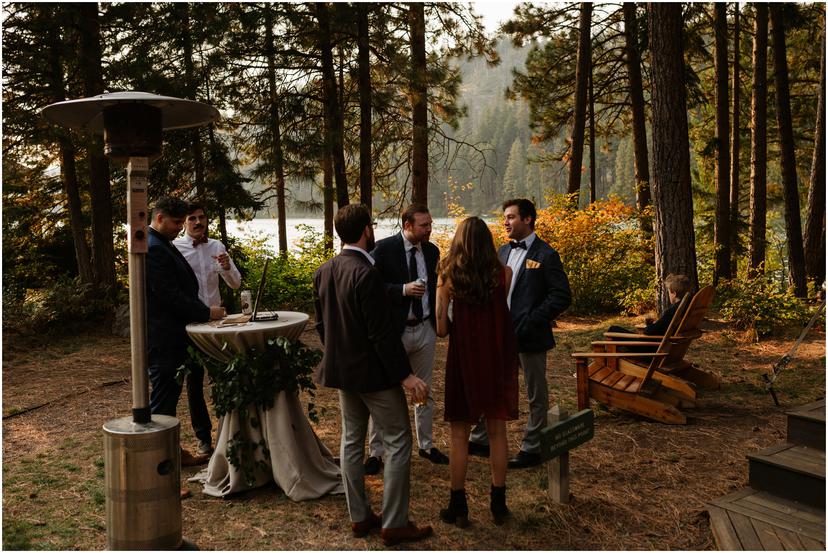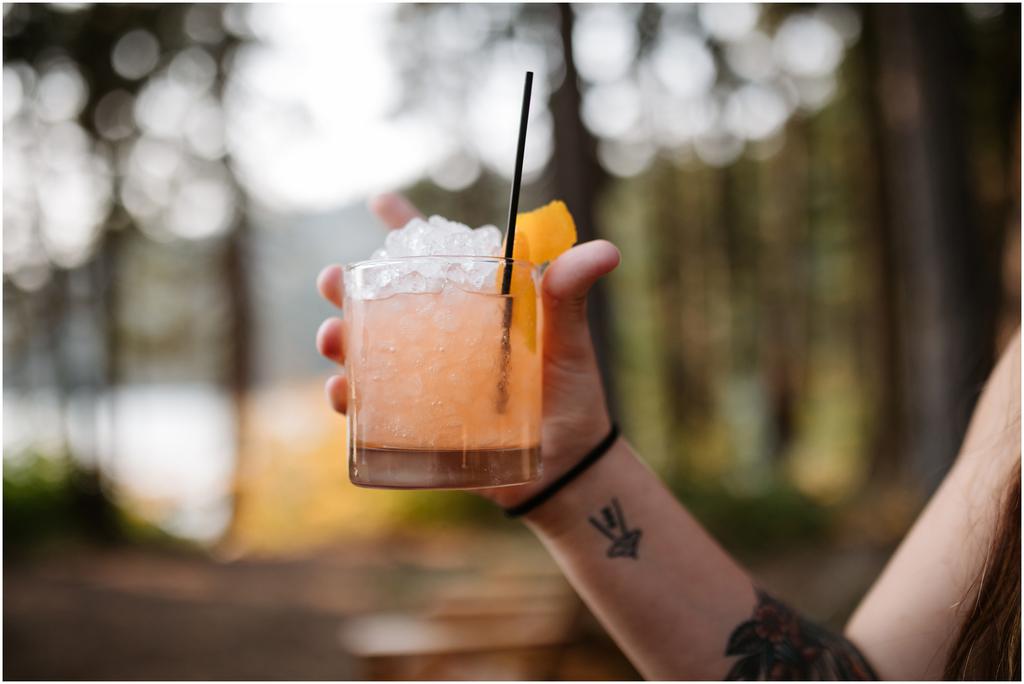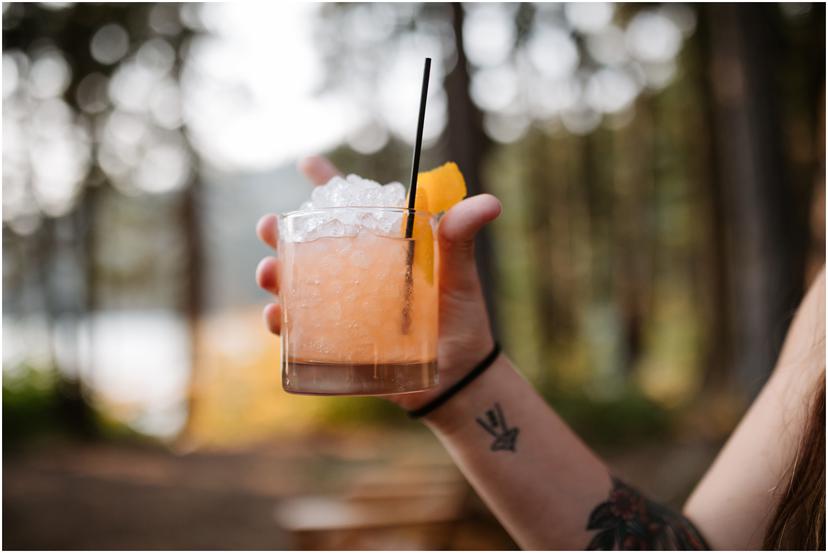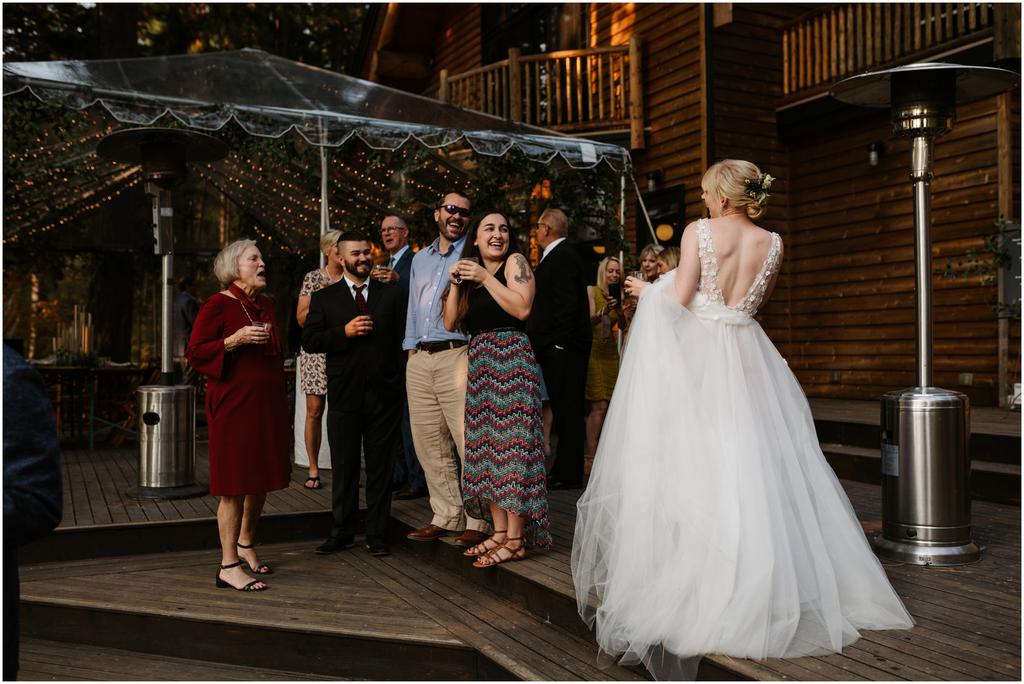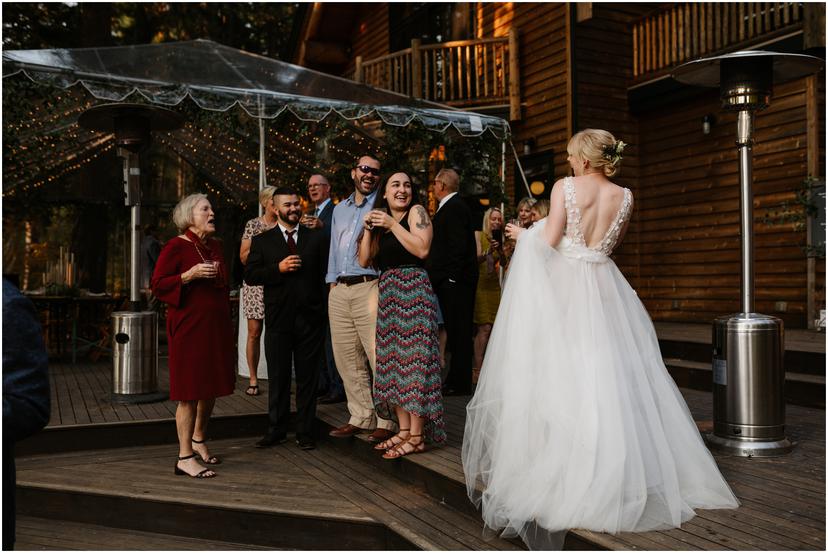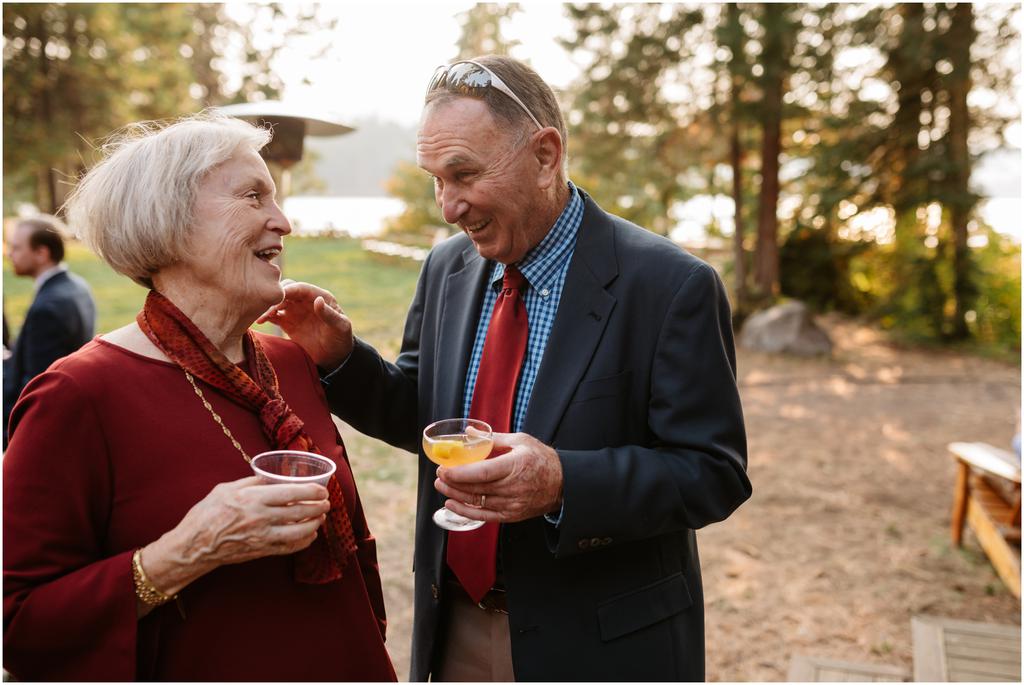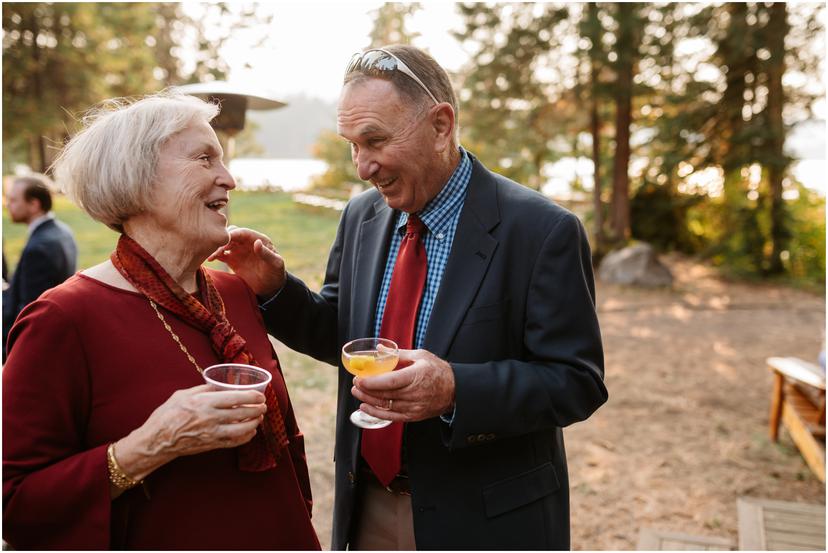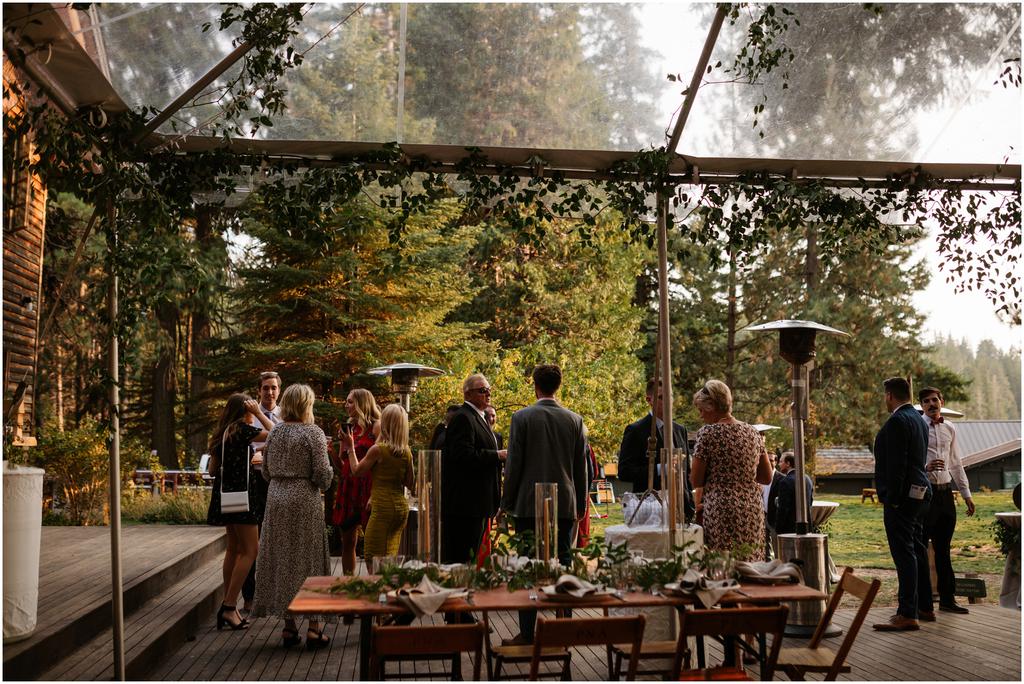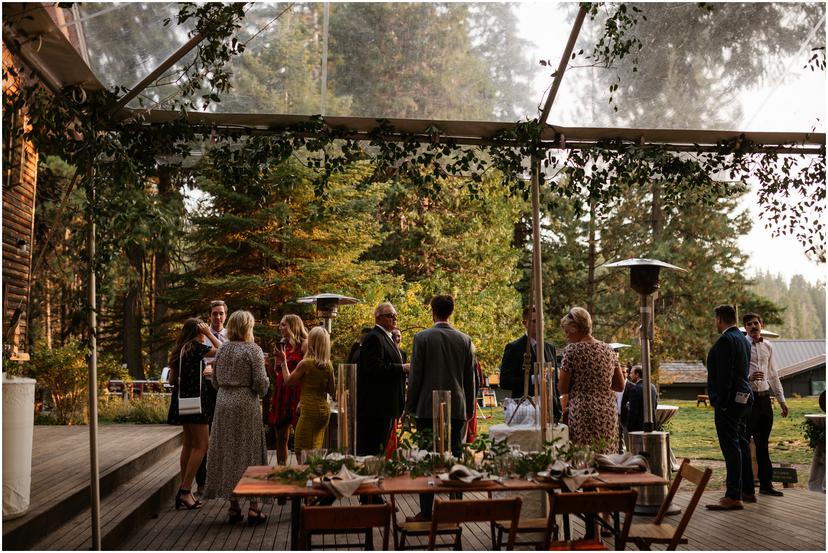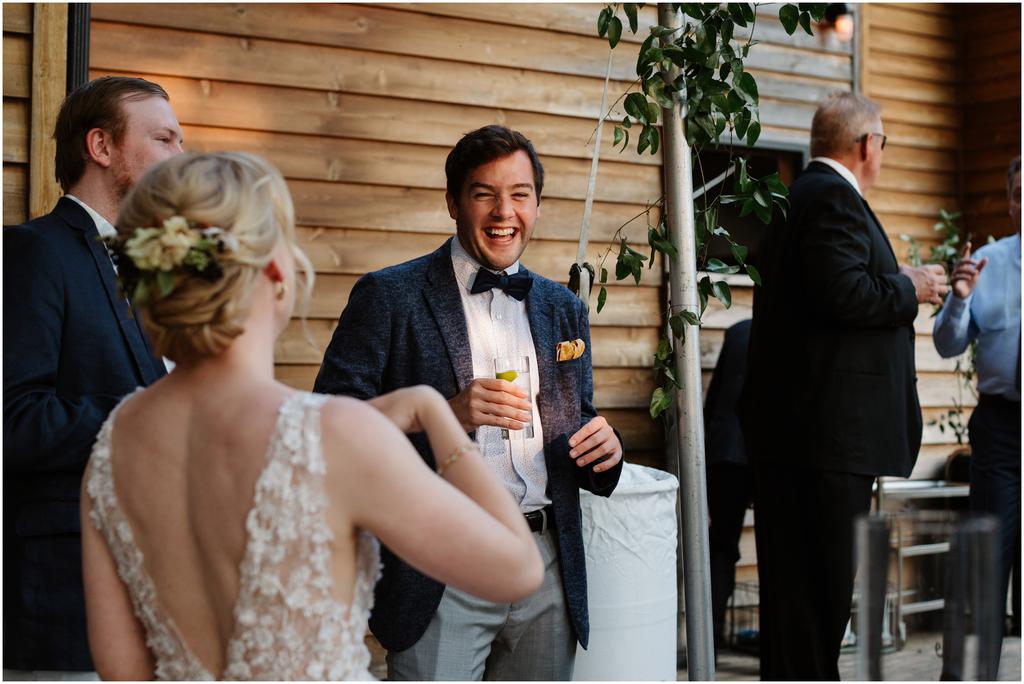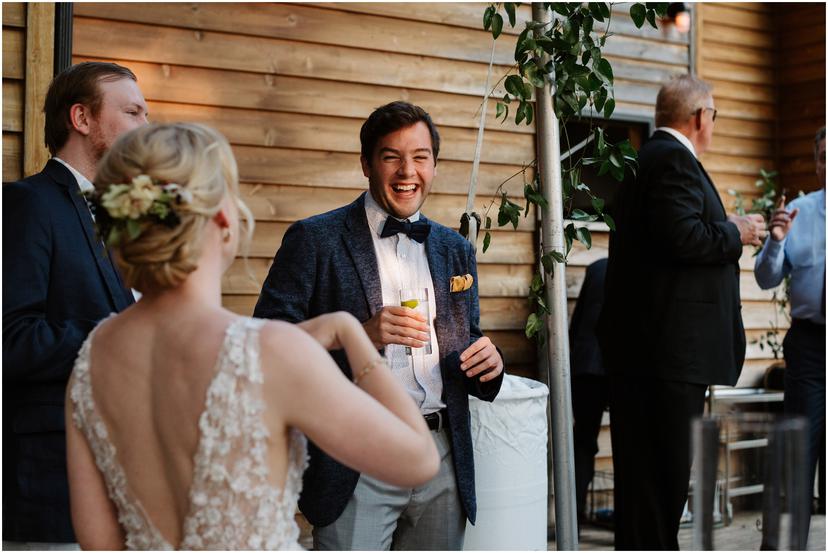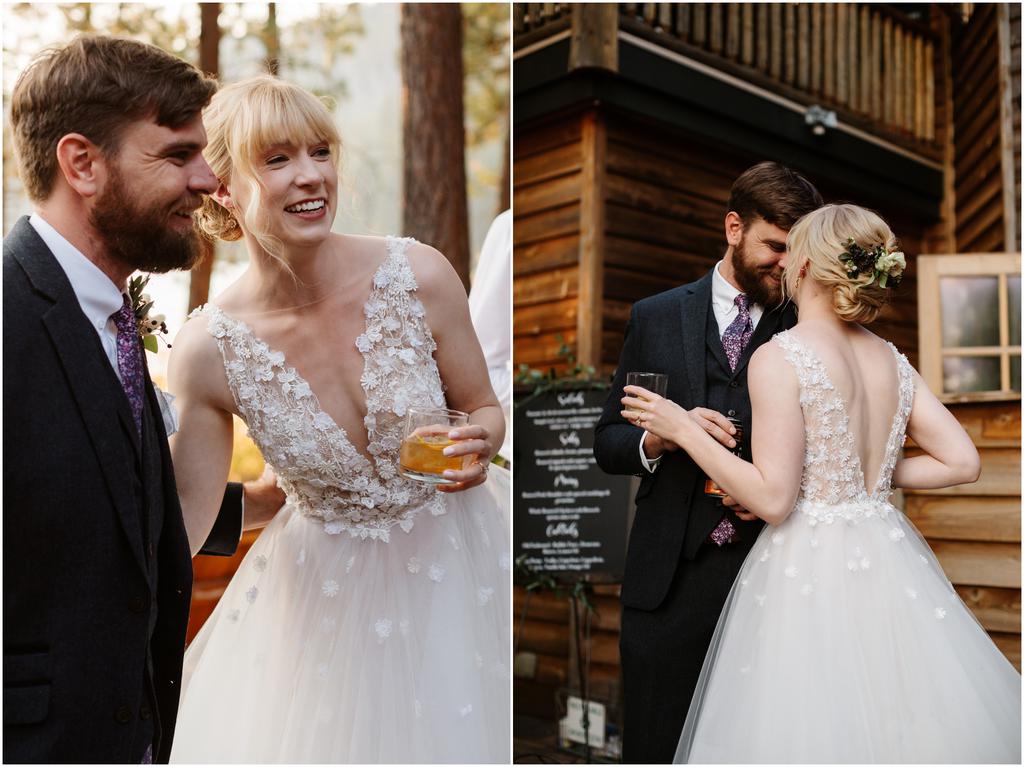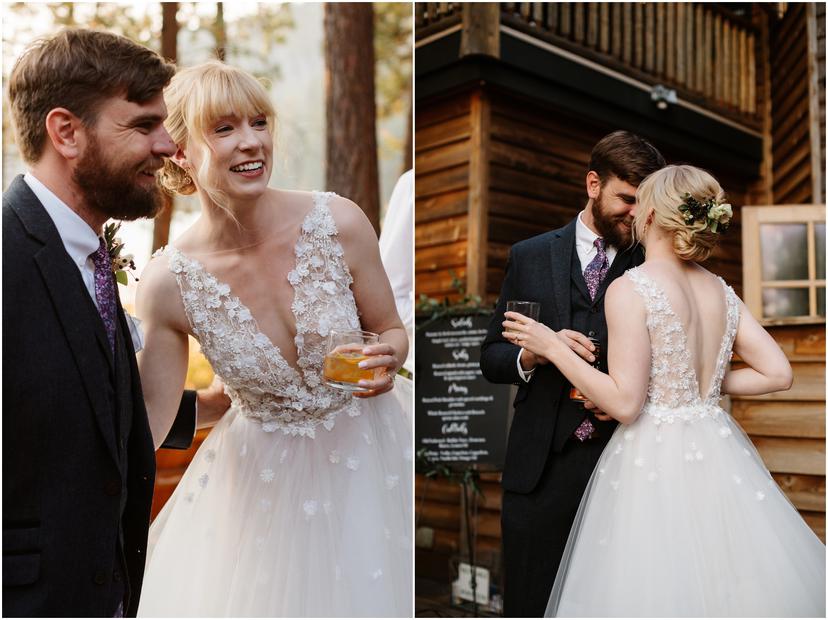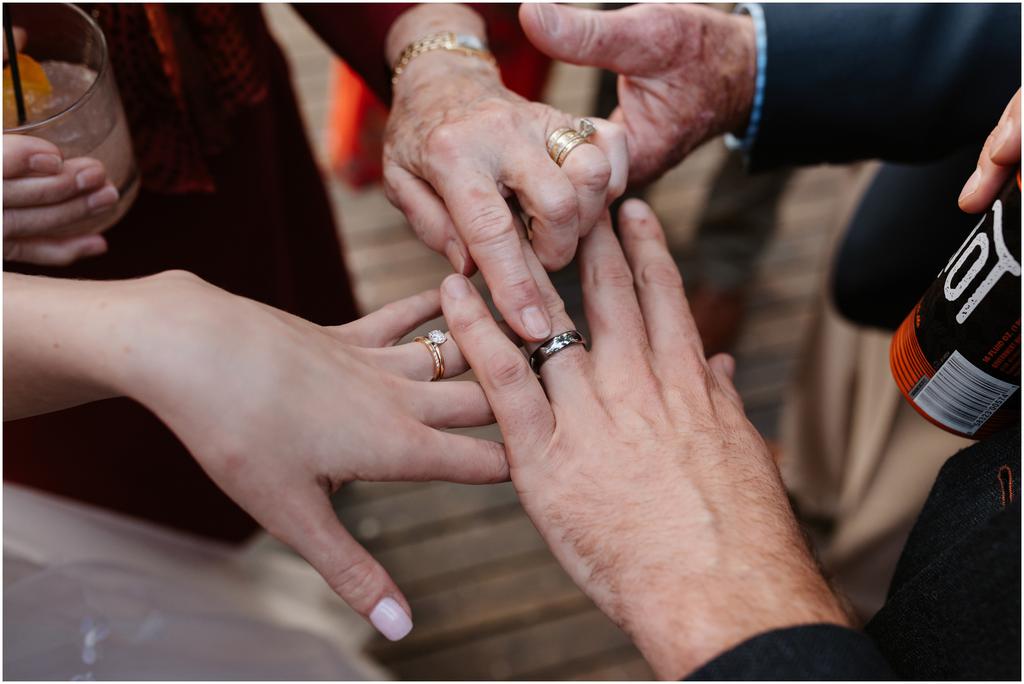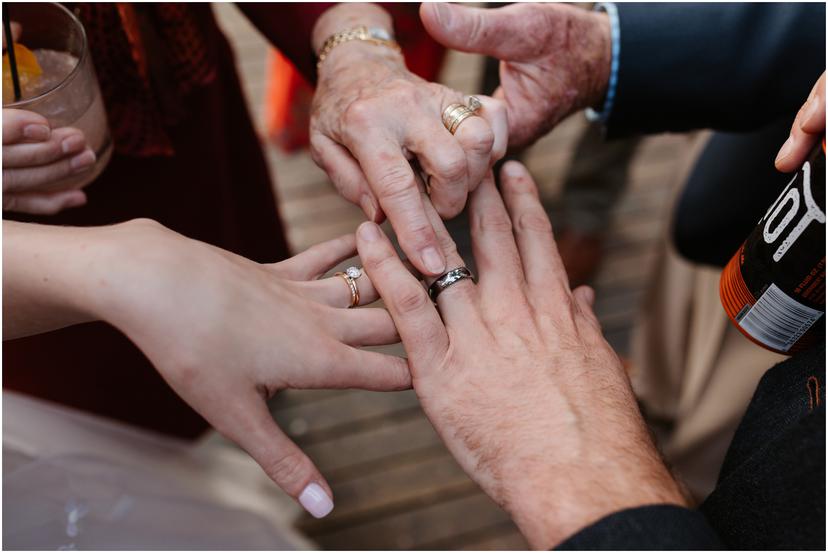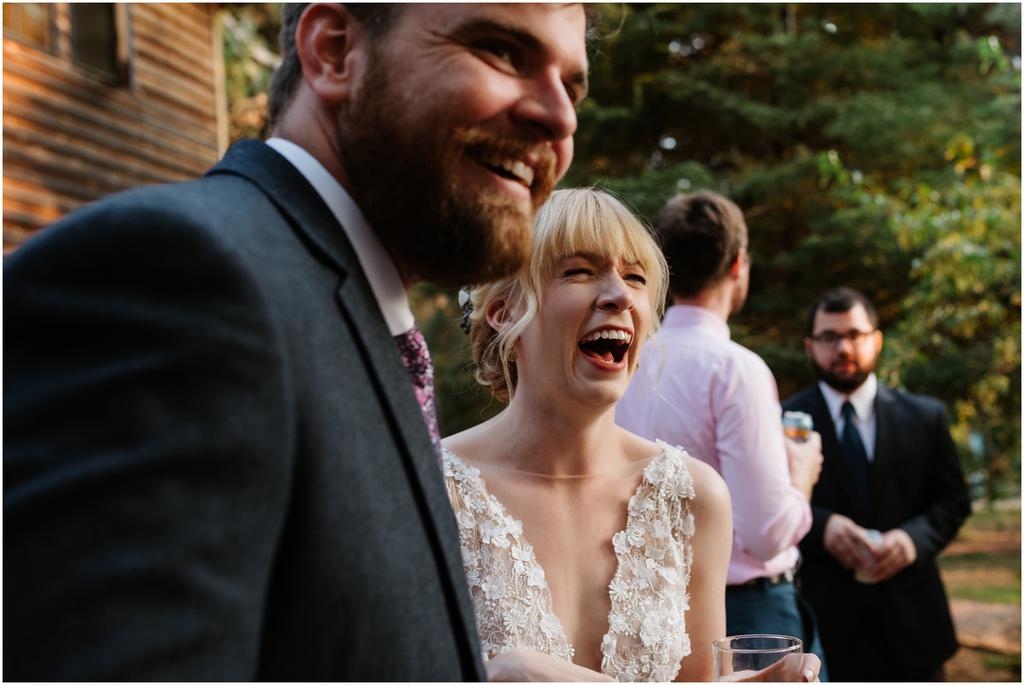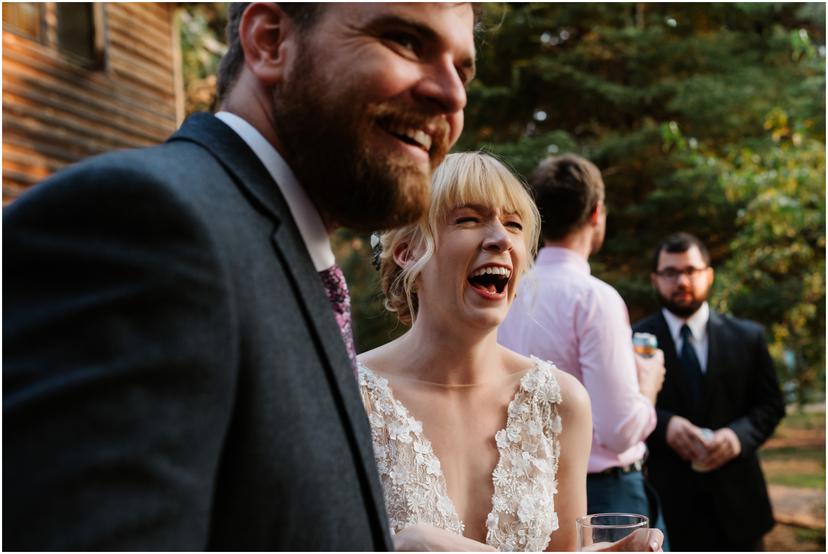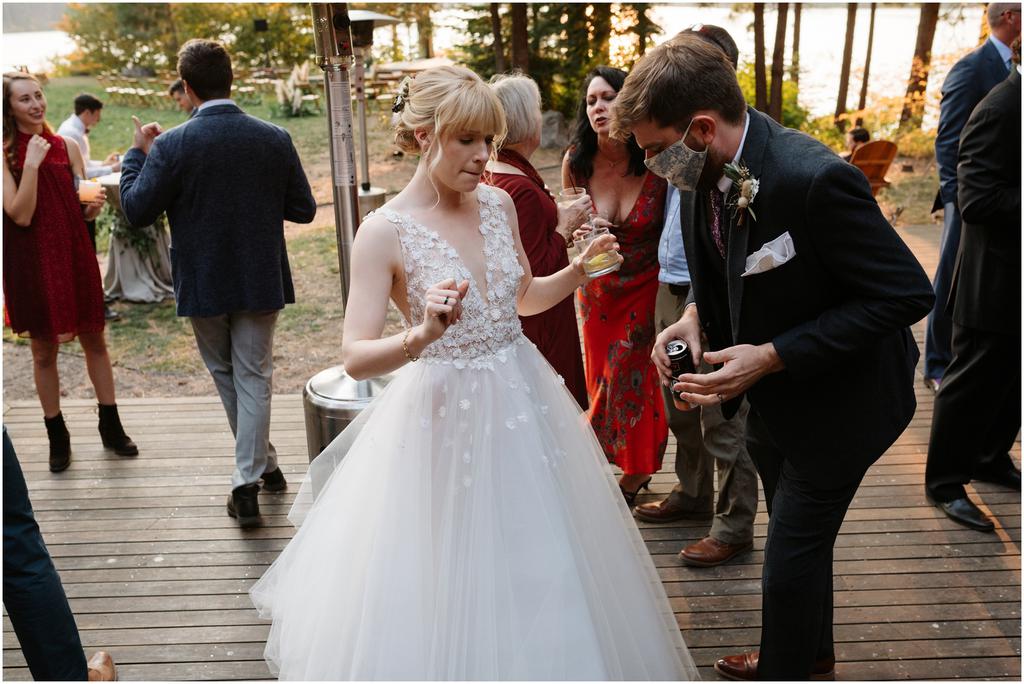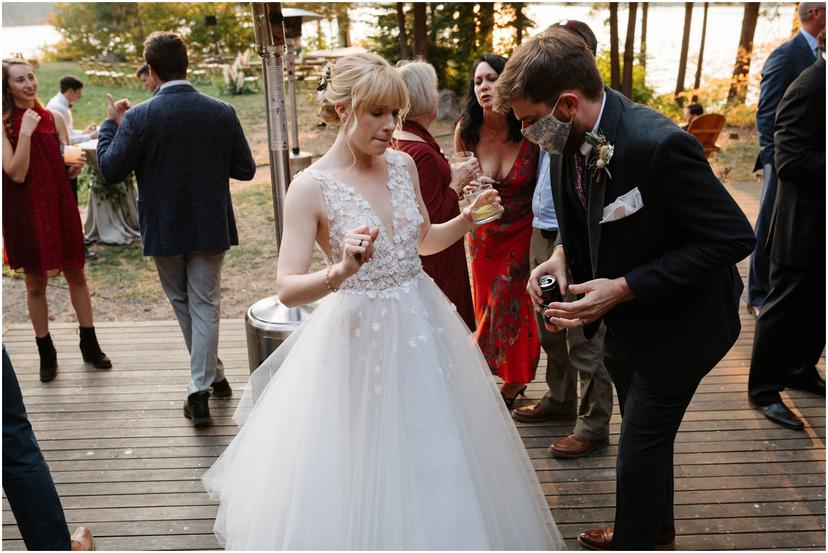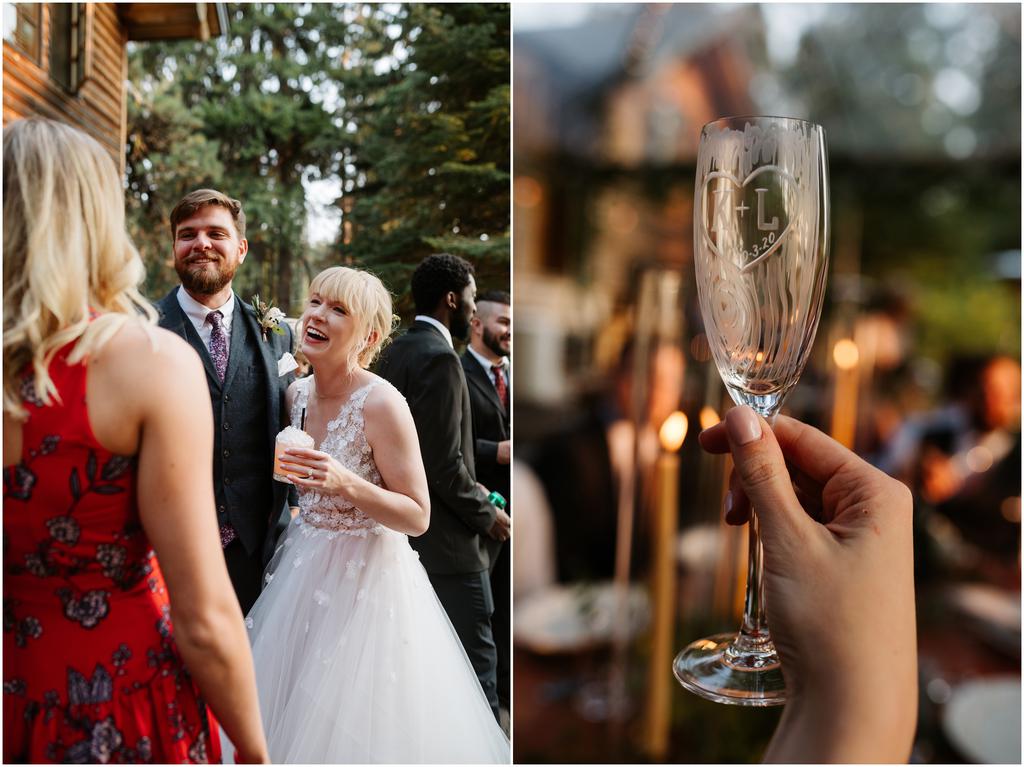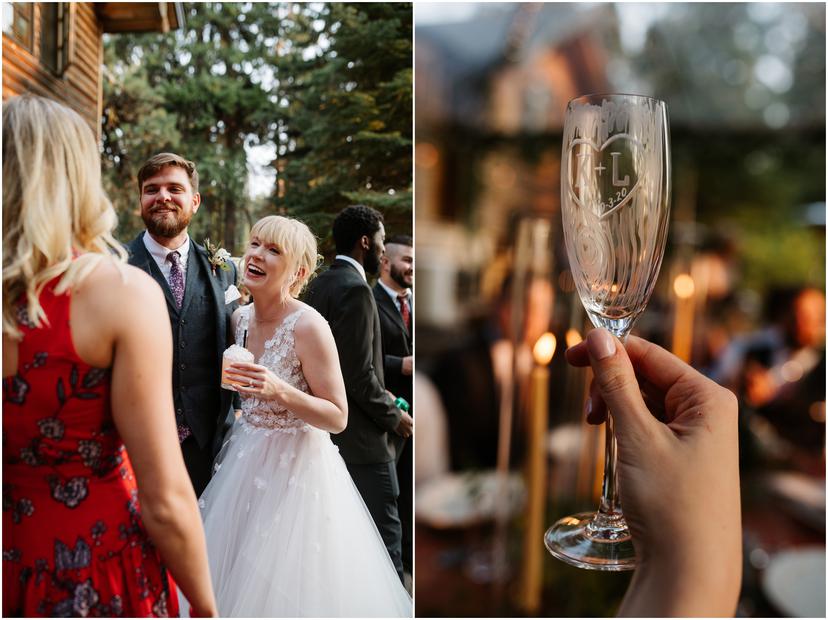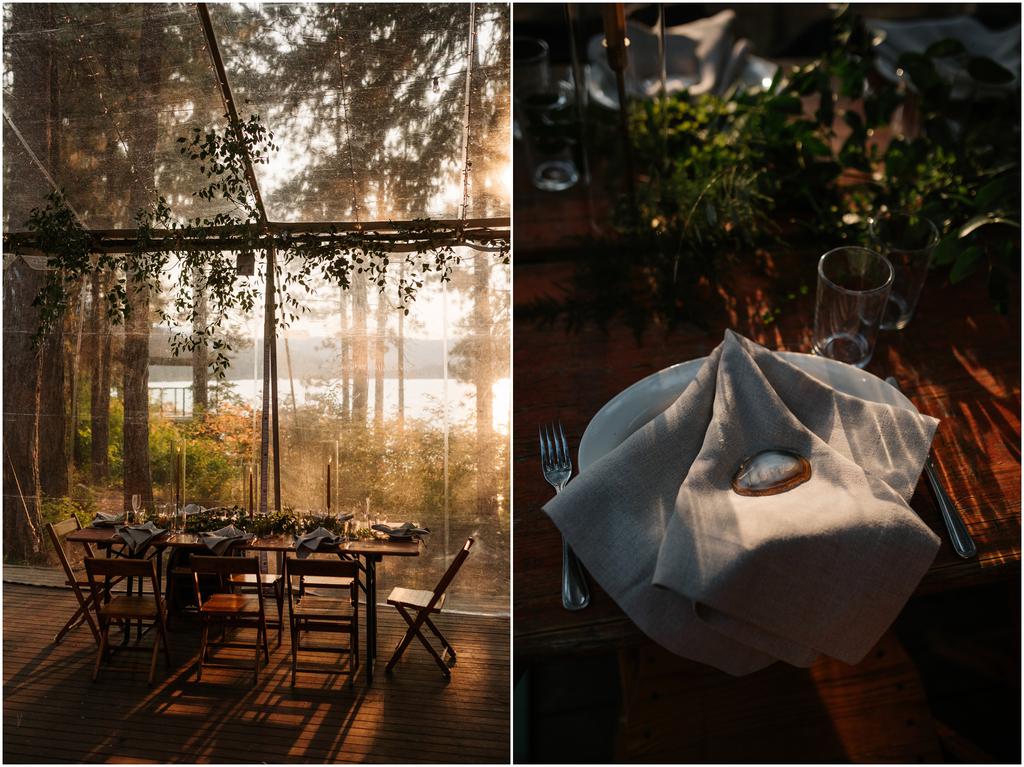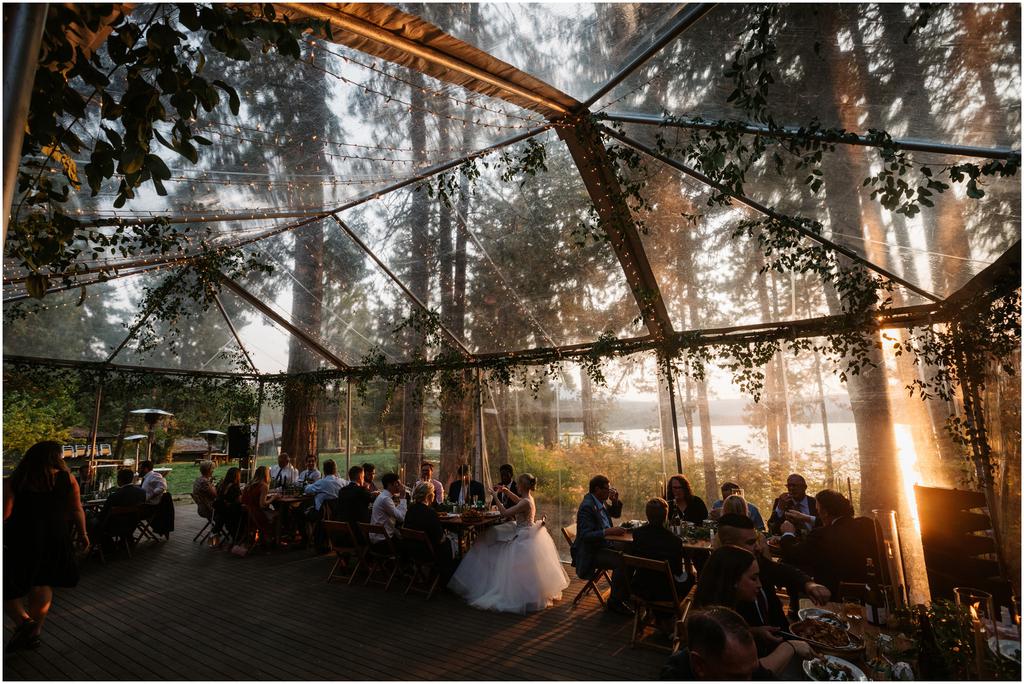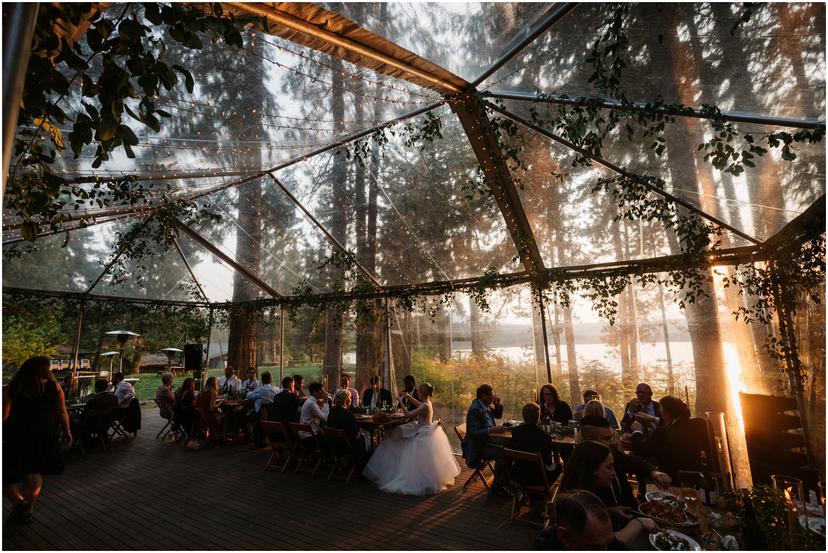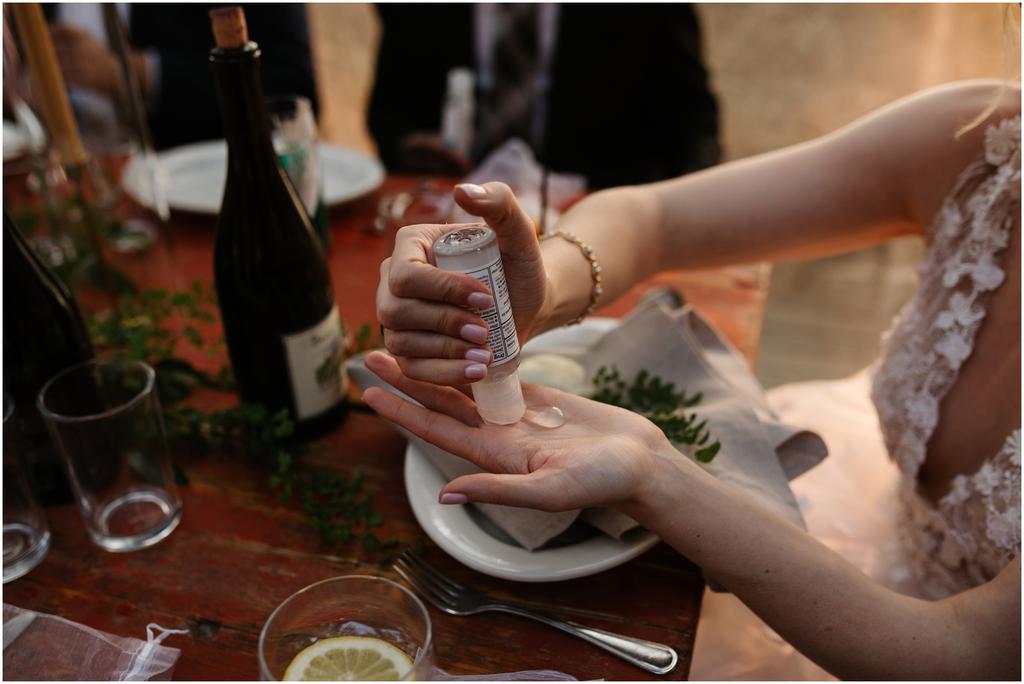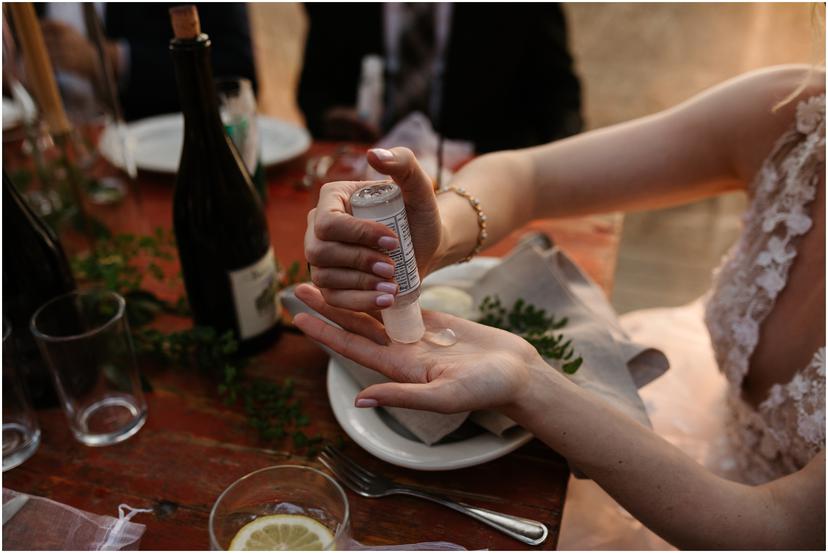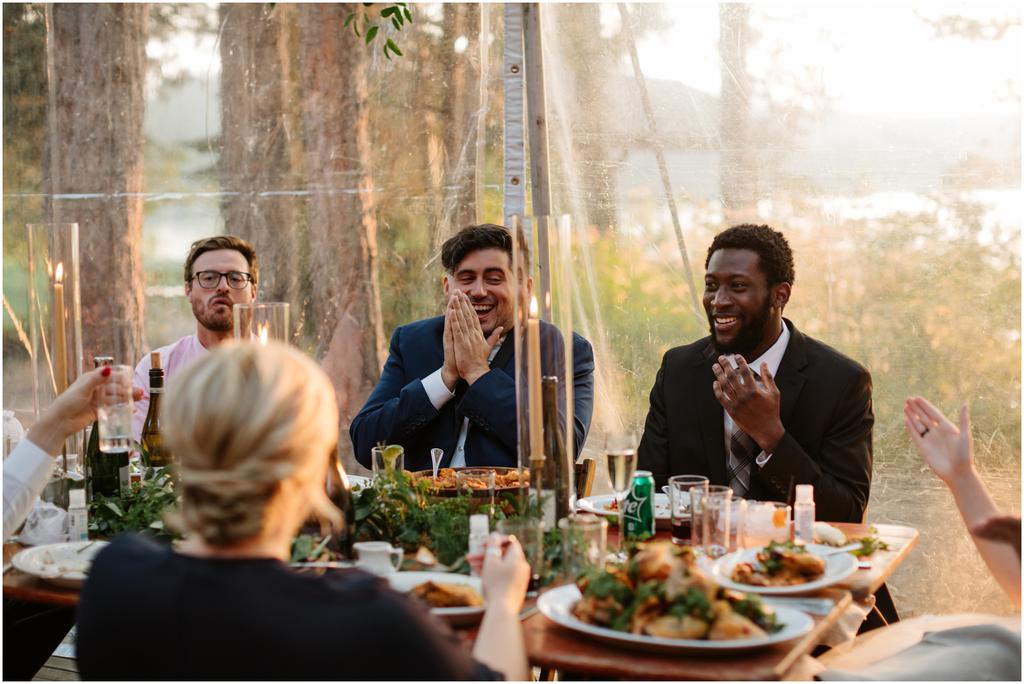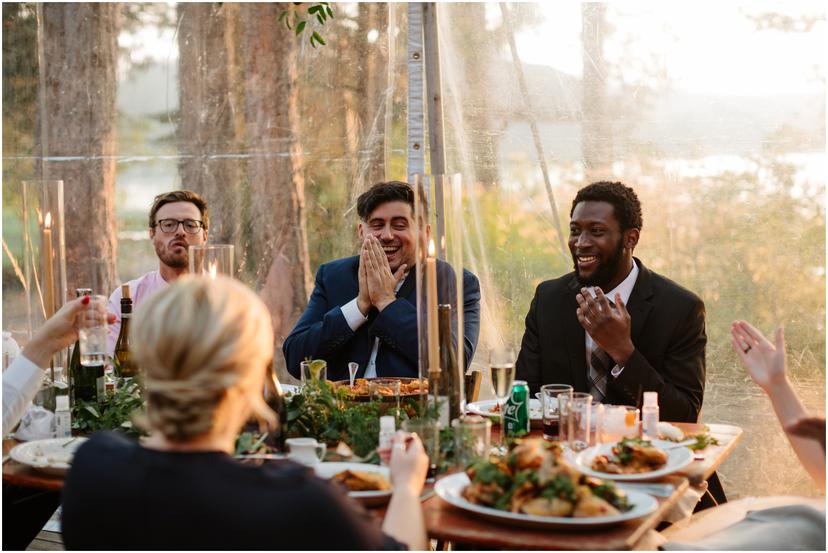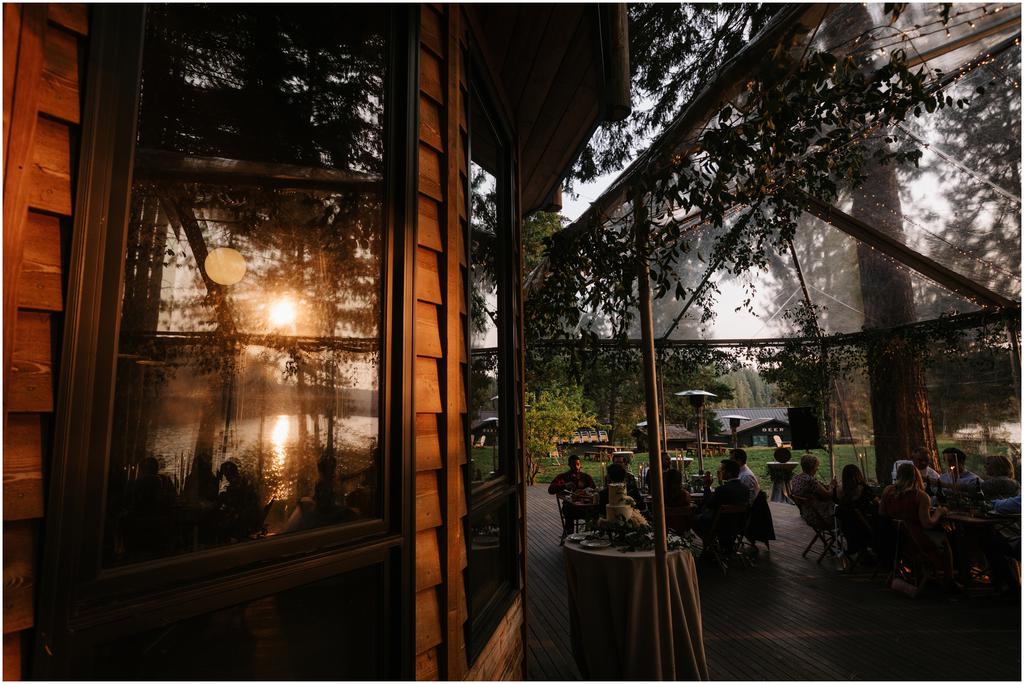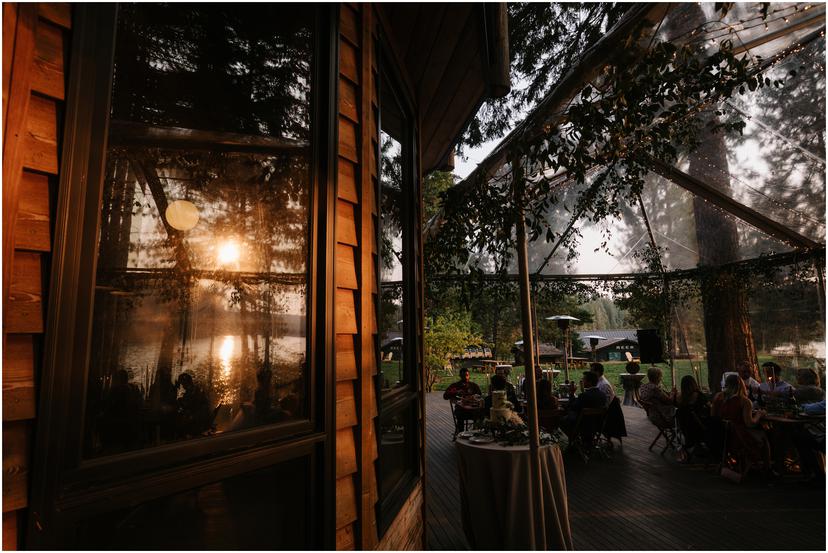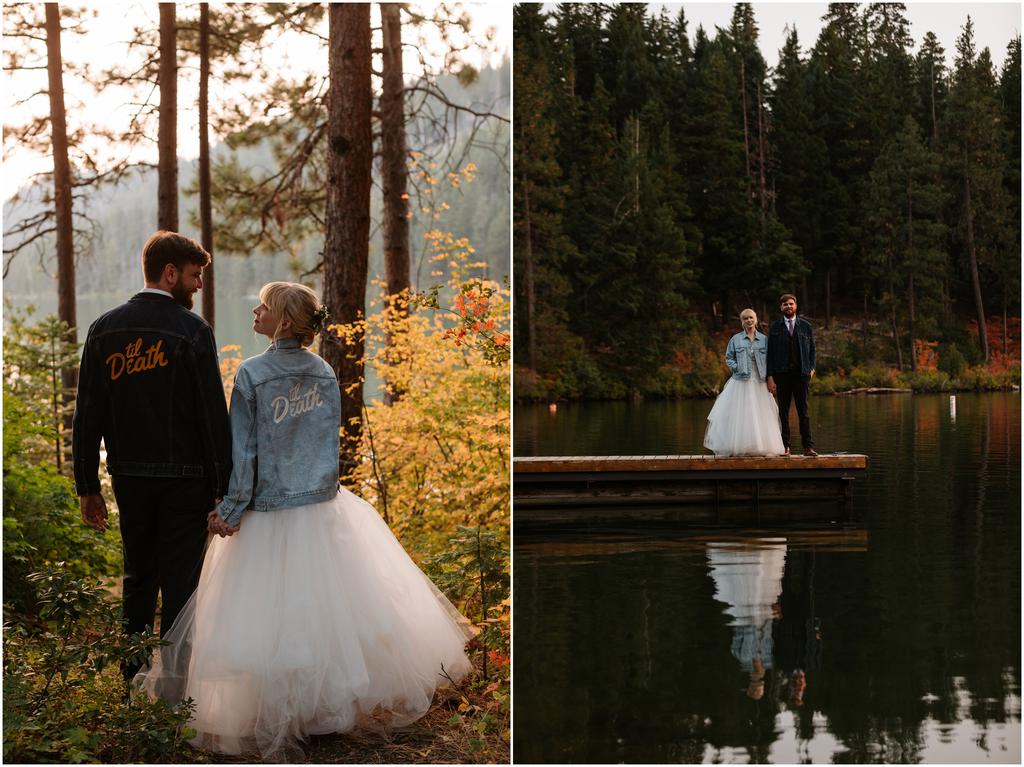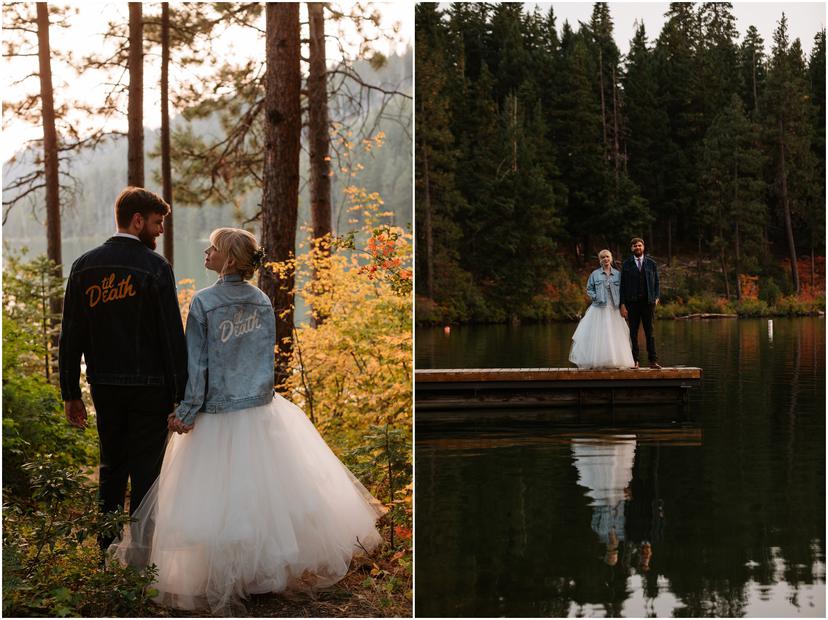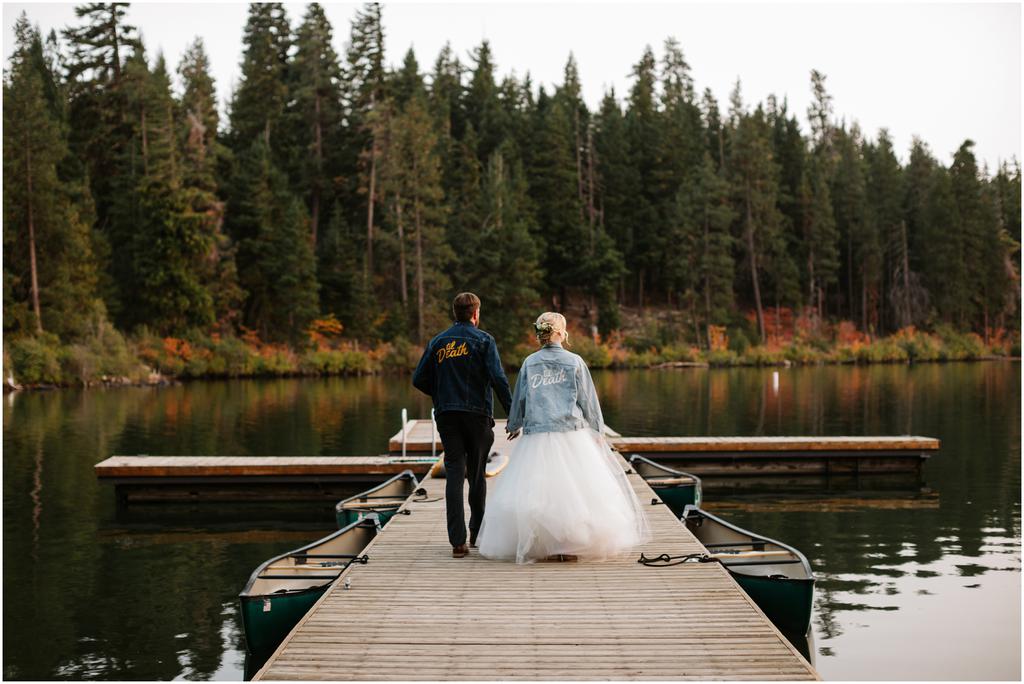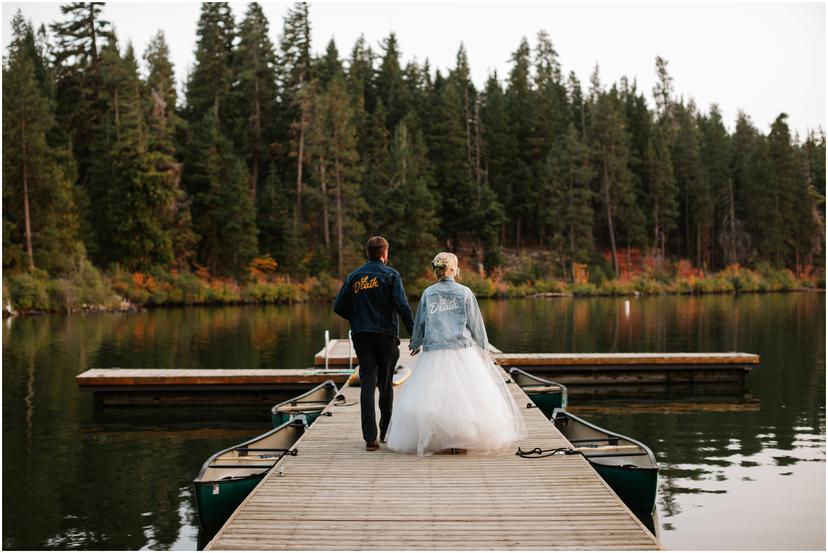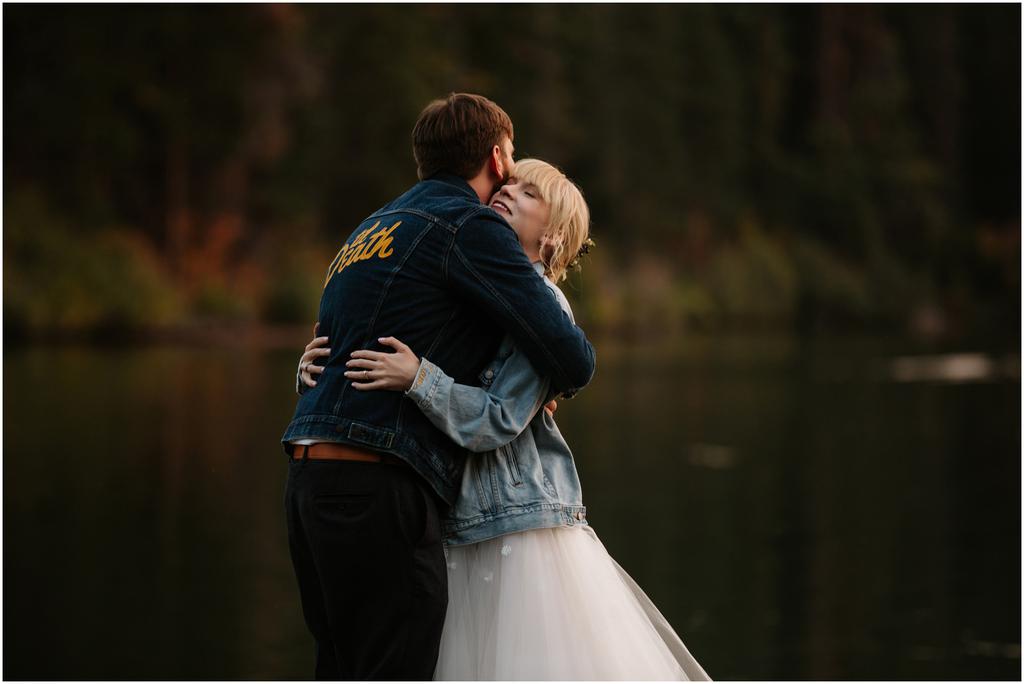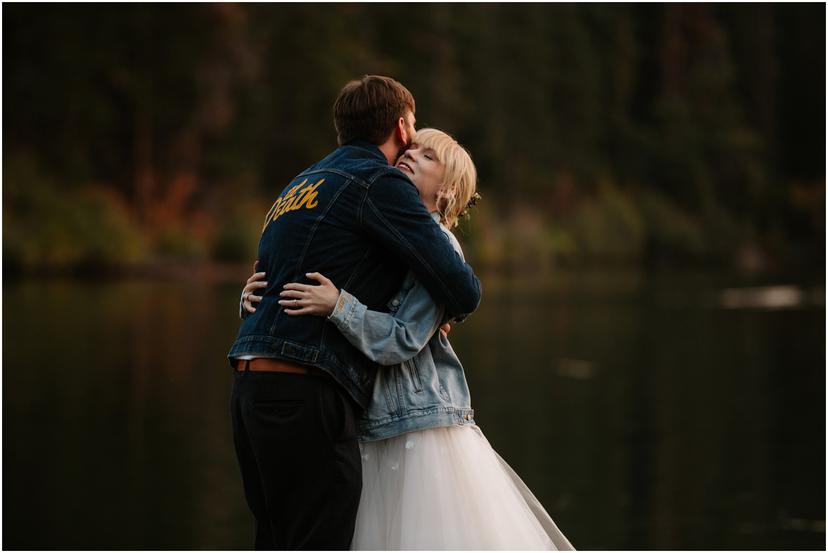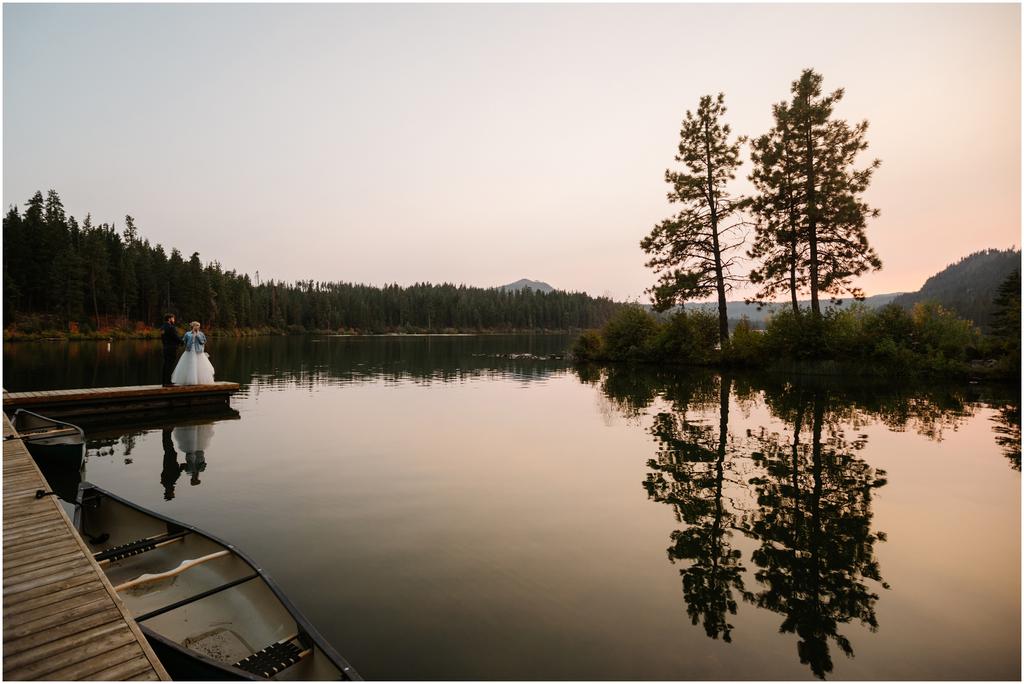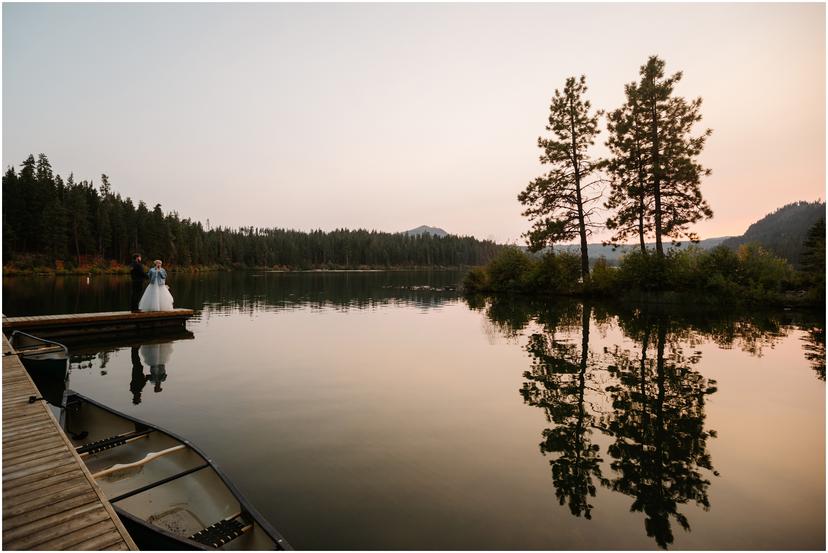 Why did you choose Suttle Lodge as your wedding venue?
"We chose it pretty much the moment we stepped on site," said Kisky. "We didn't even really need the full tour, just walking out back and feeling this sense of center - like this lake and forest has been here before and will be around after us - we just looked at each other and knew. And that was also our favorite part, being in the midst of that and being able to step away and appreciate it."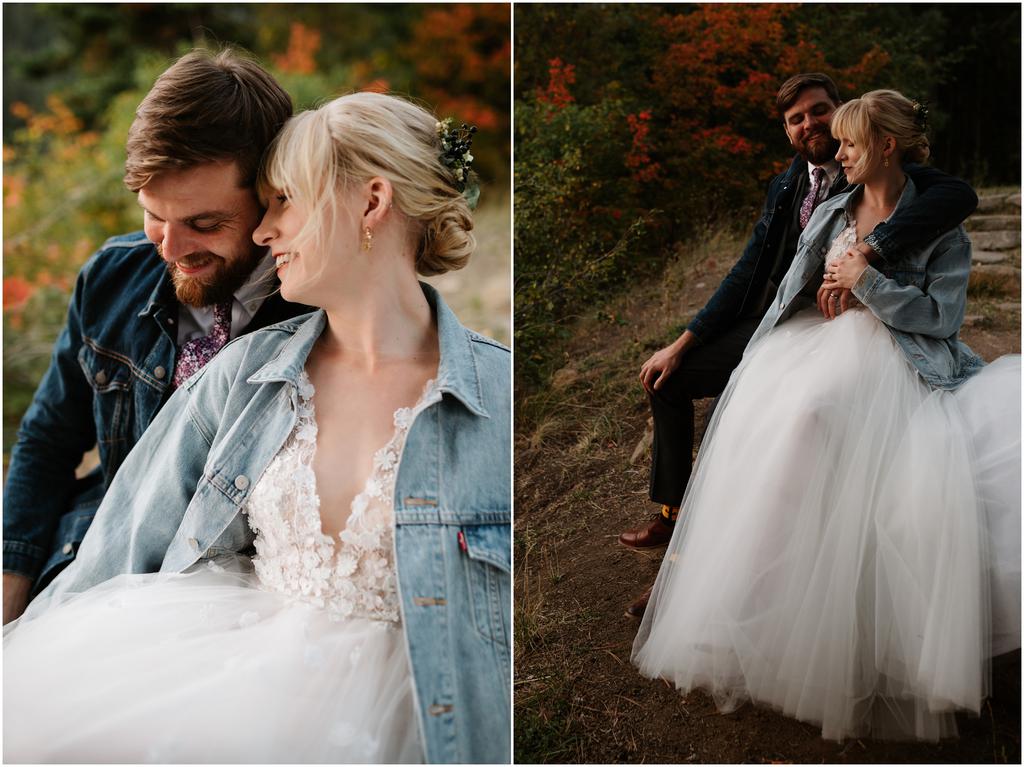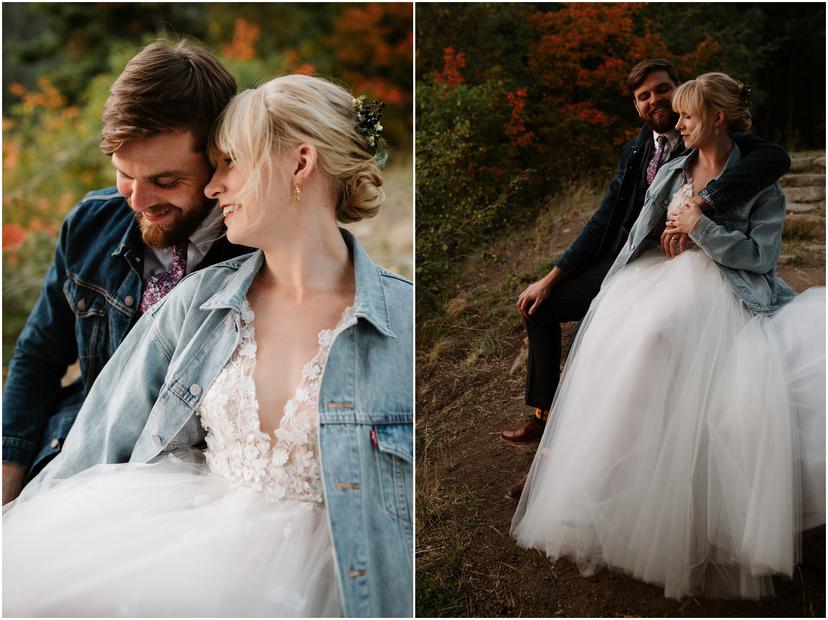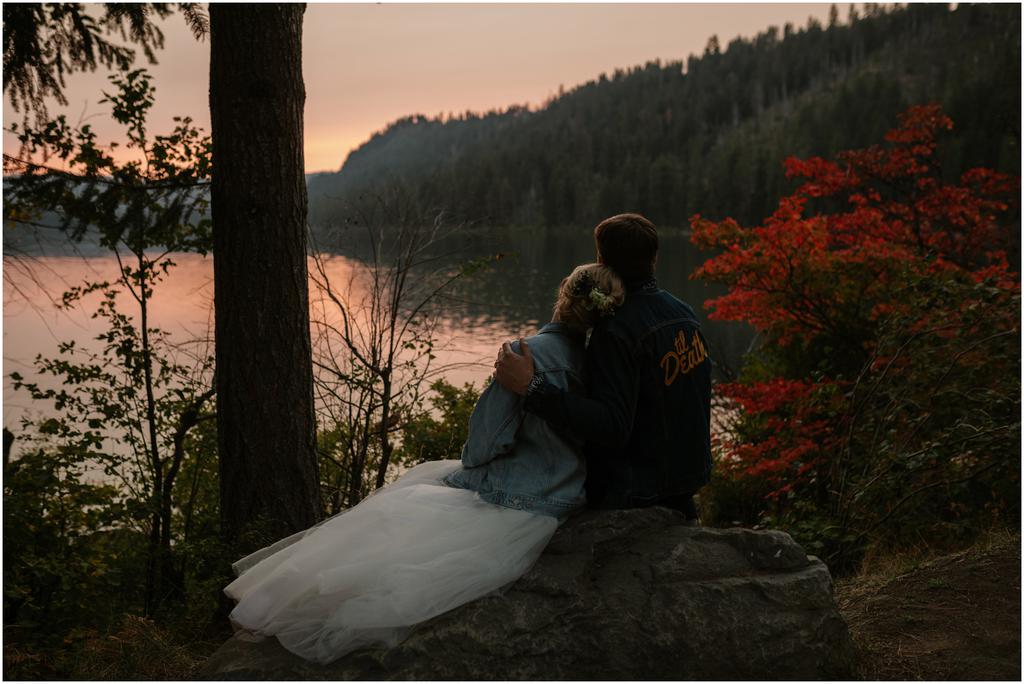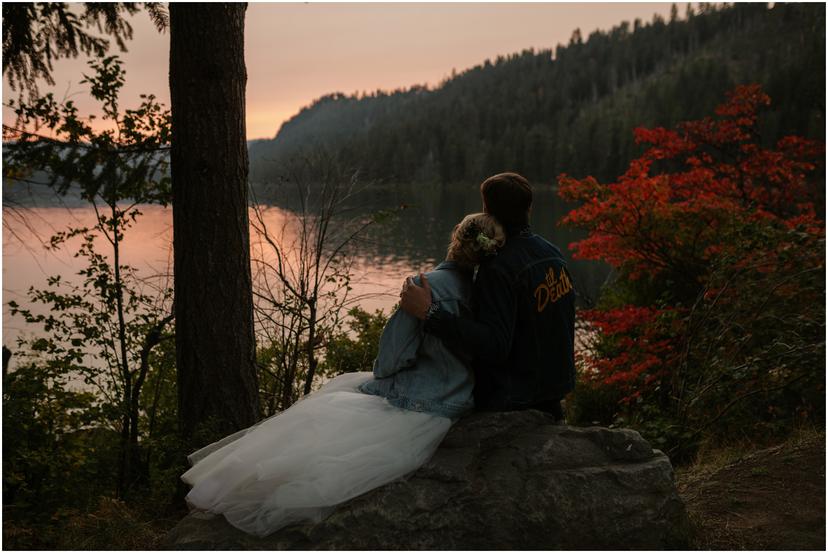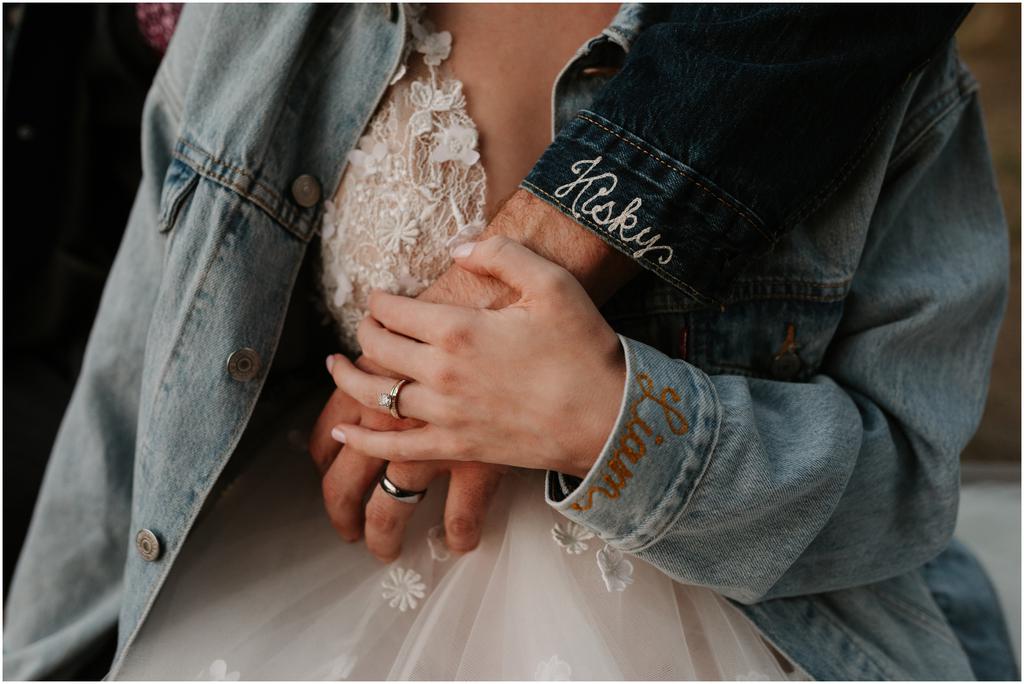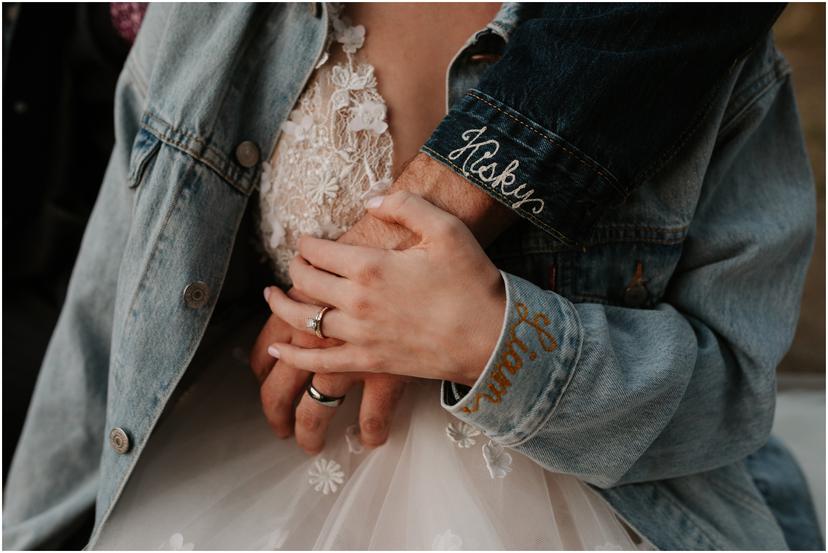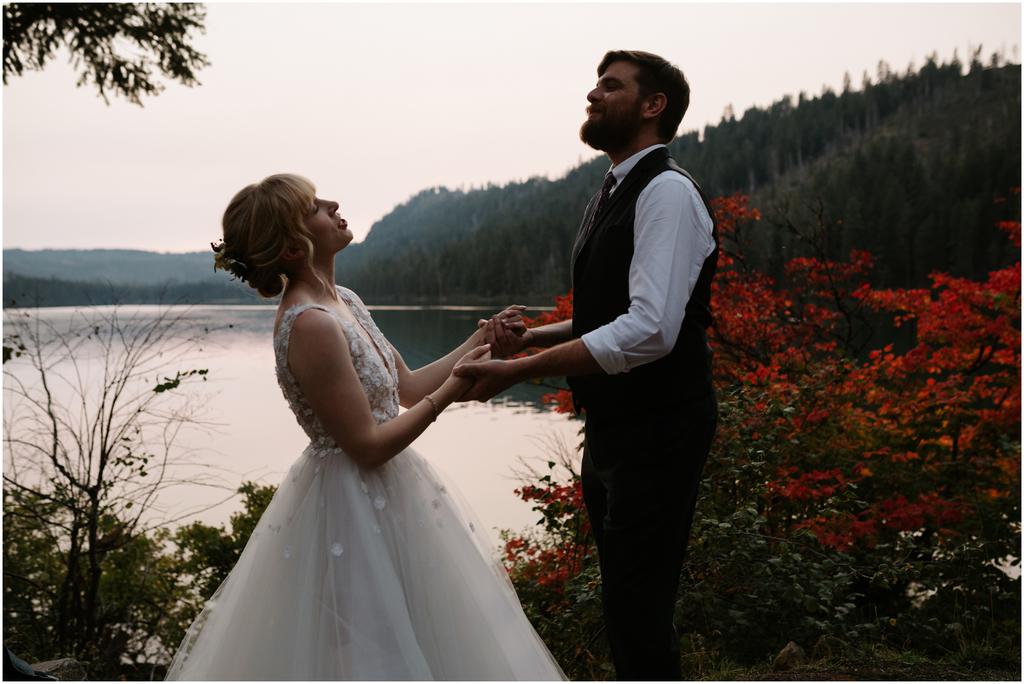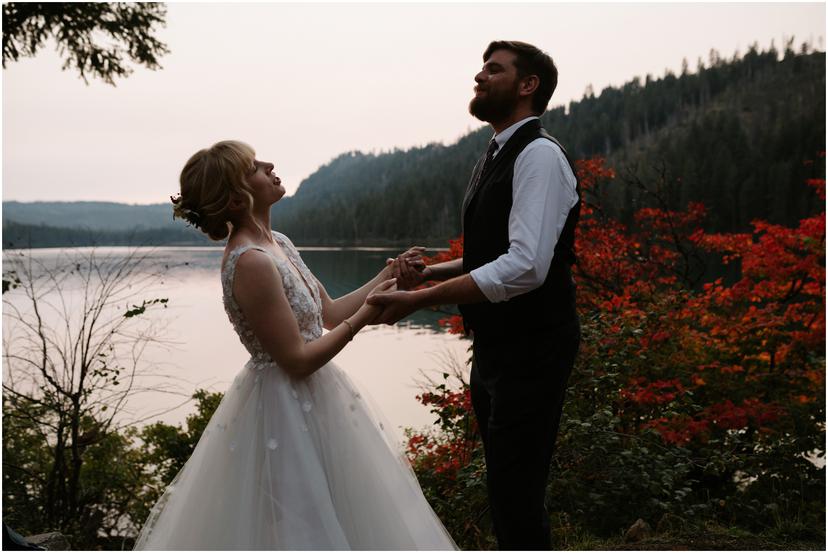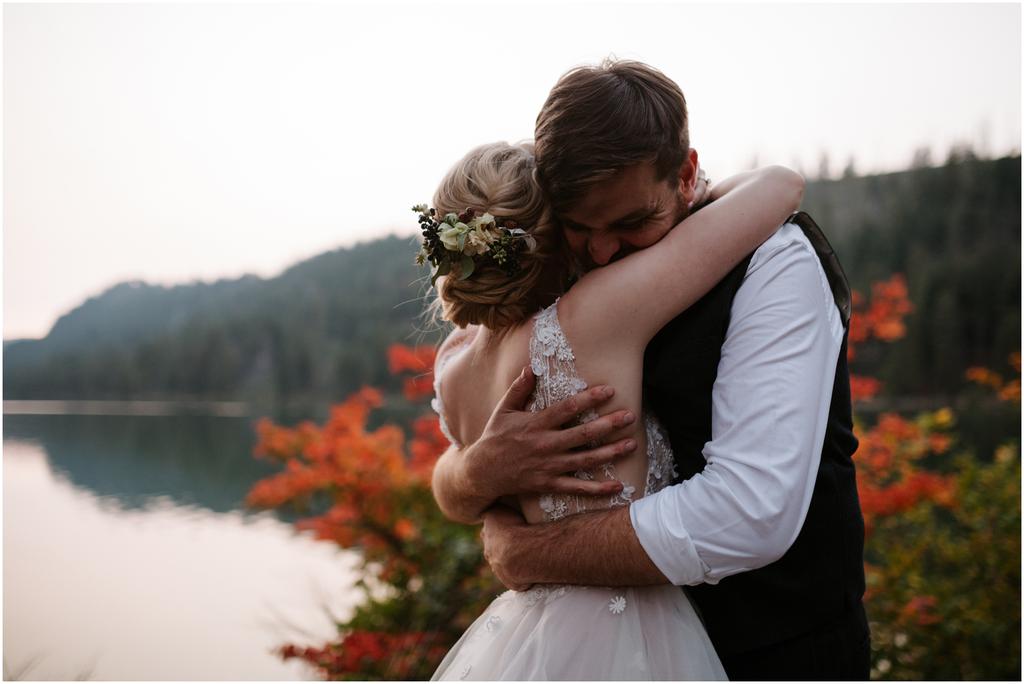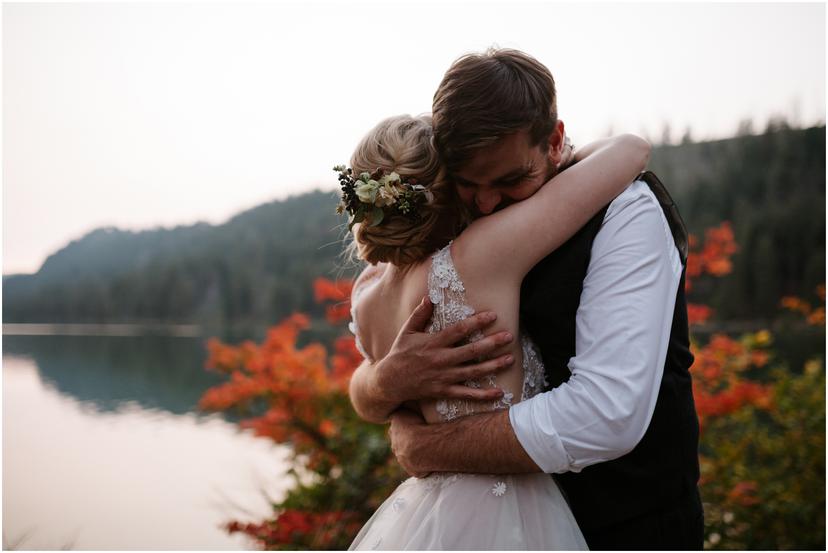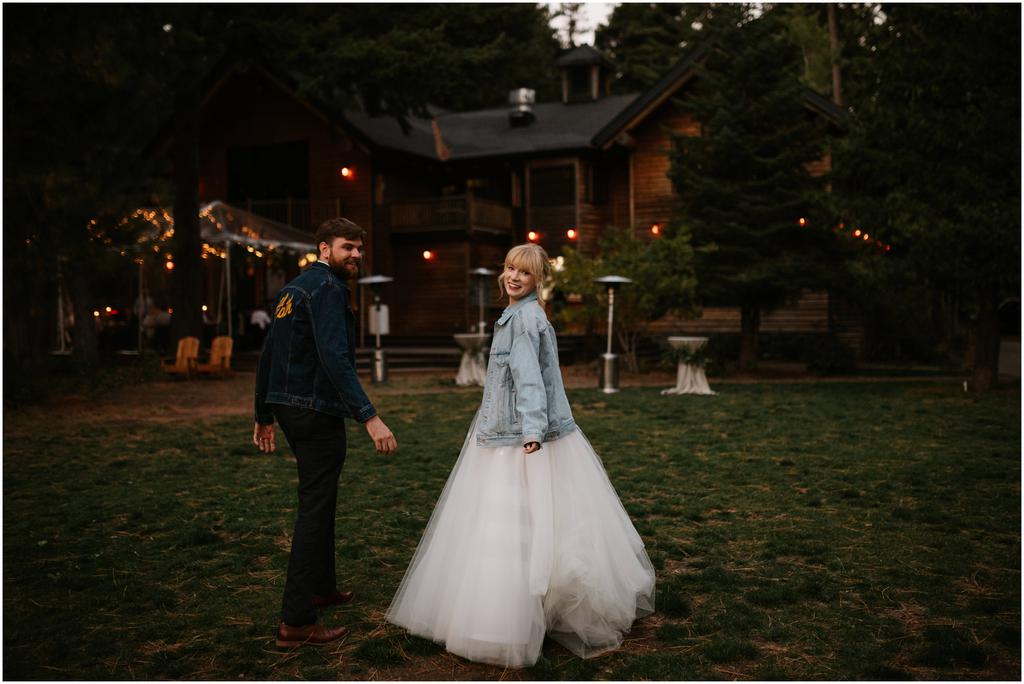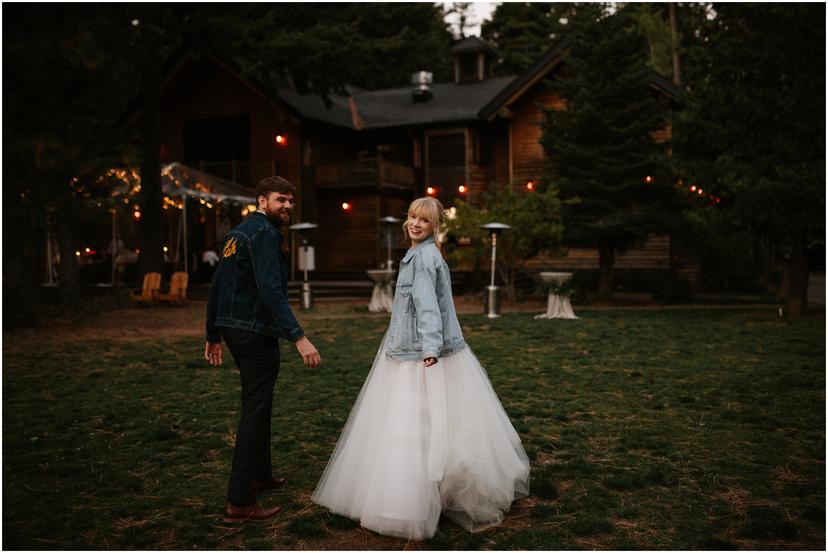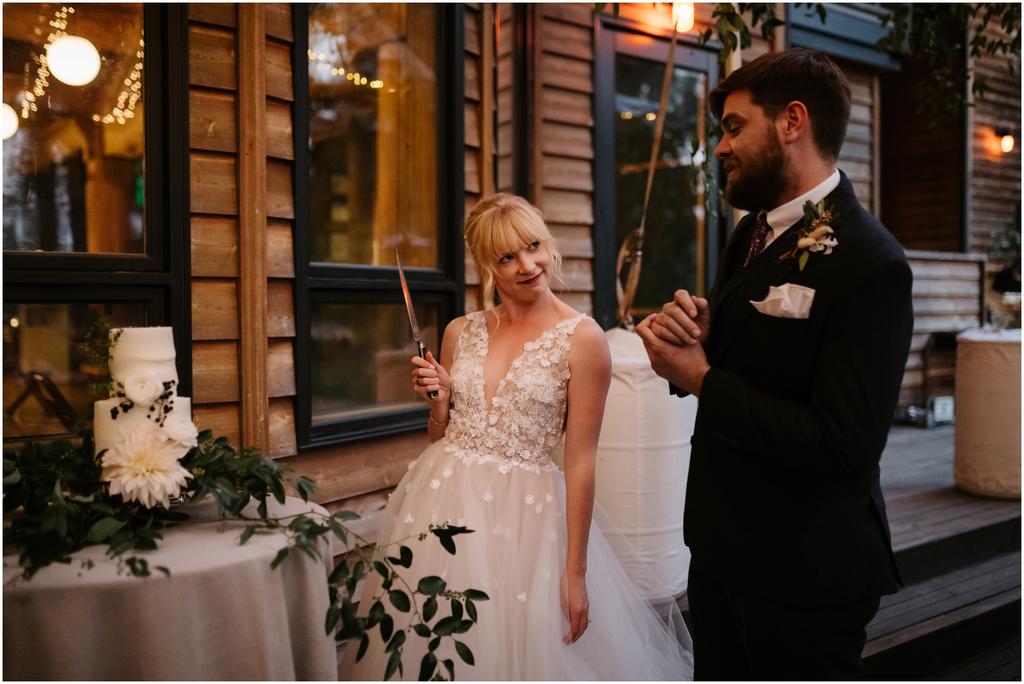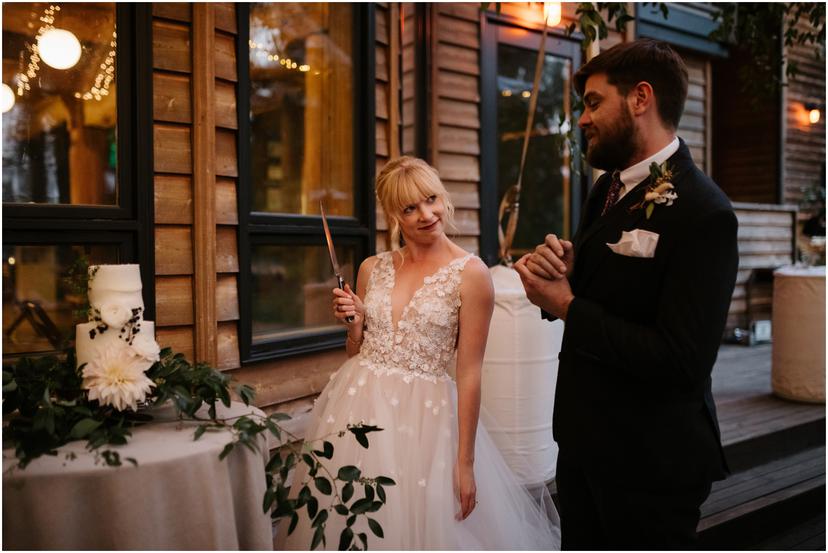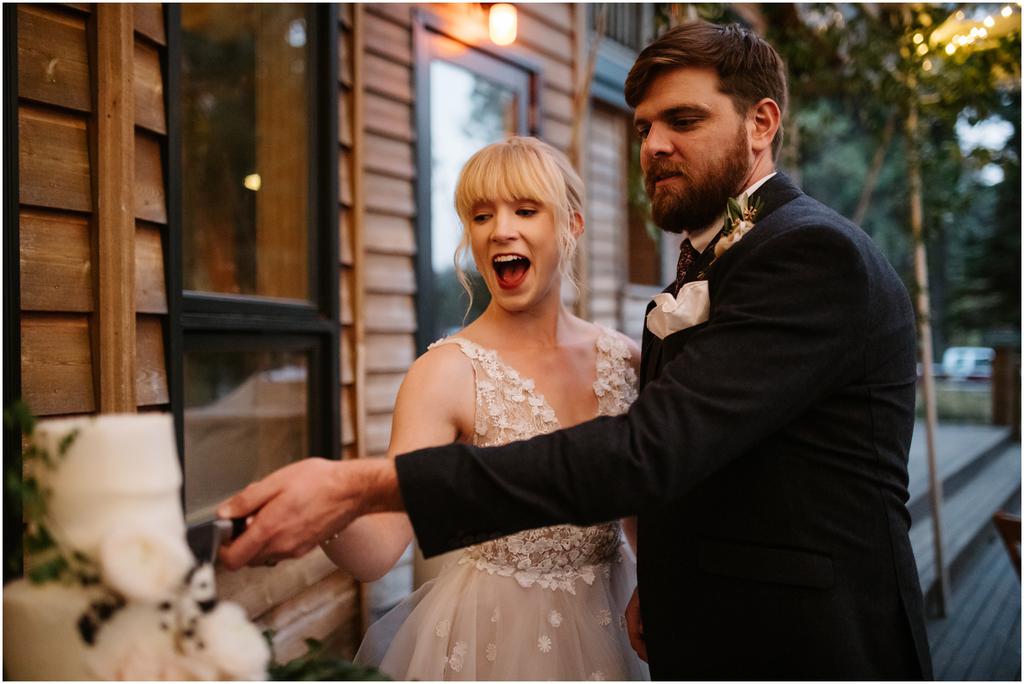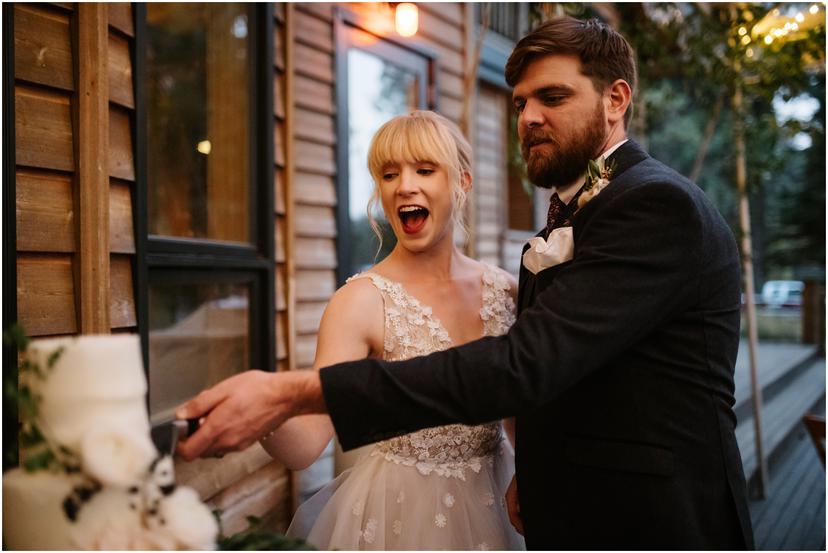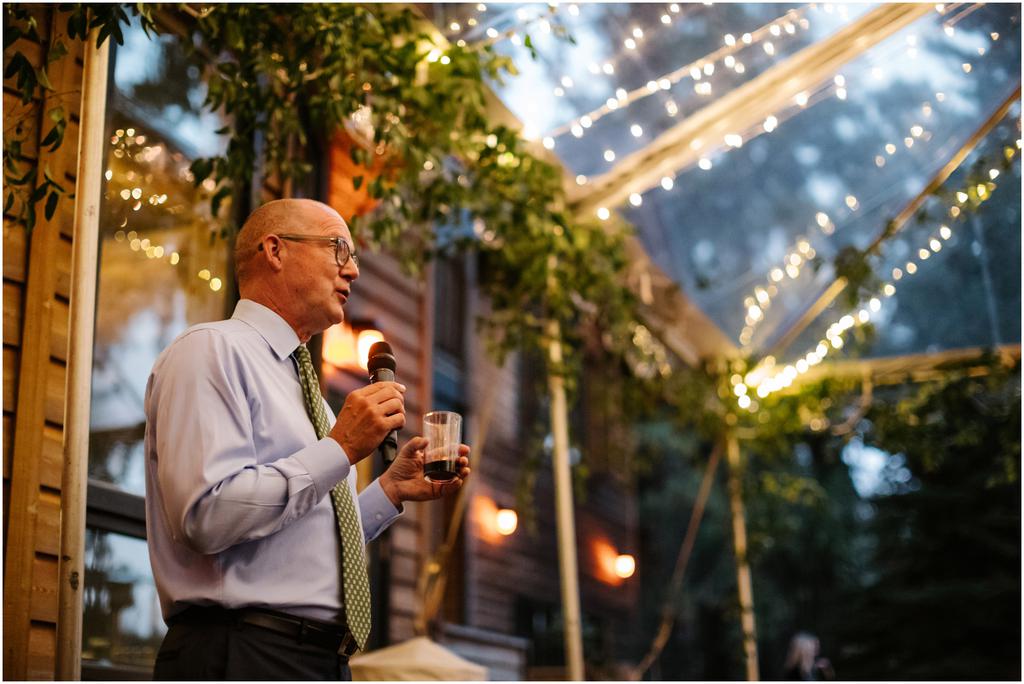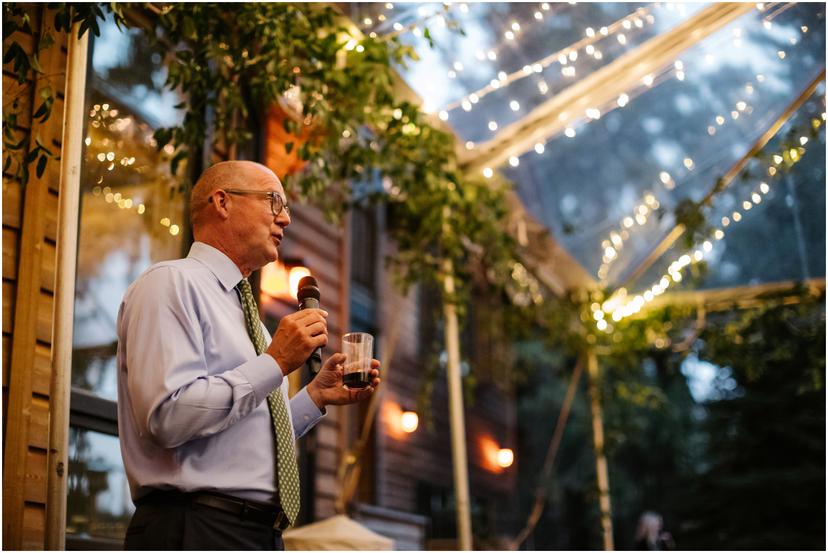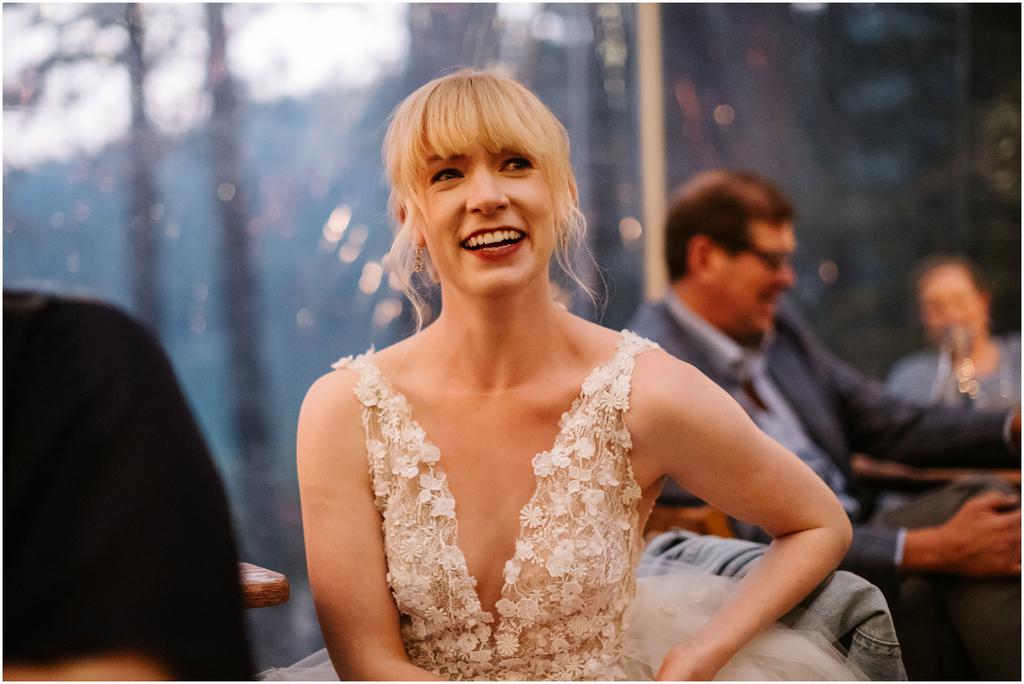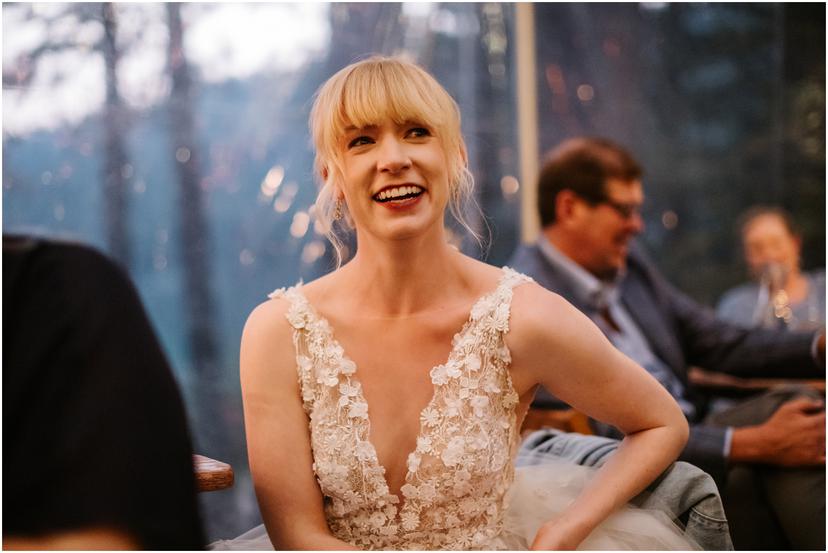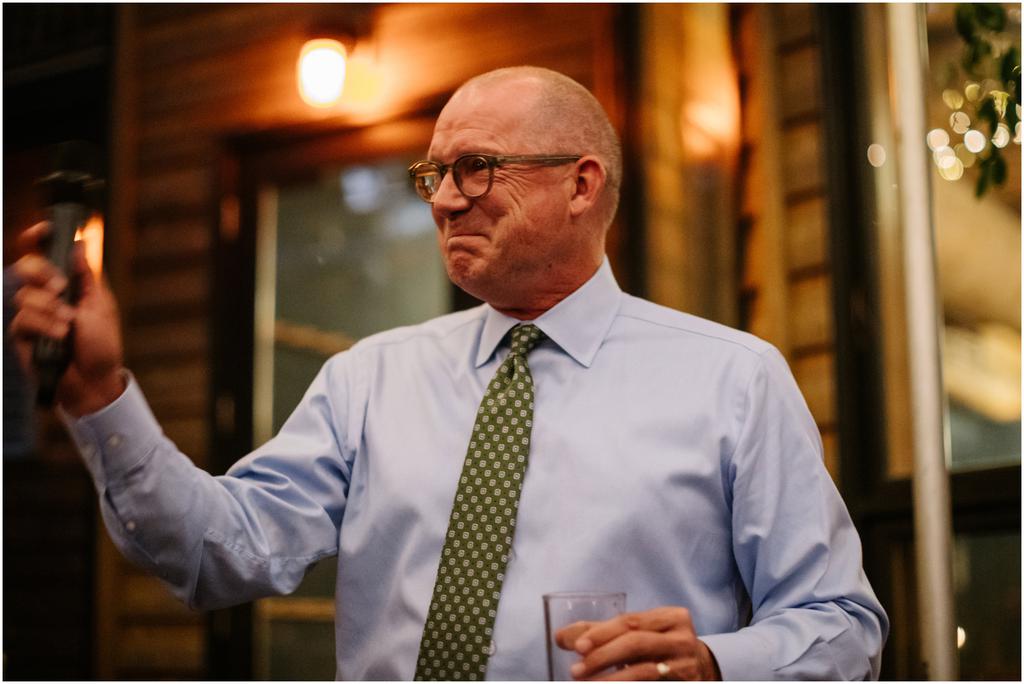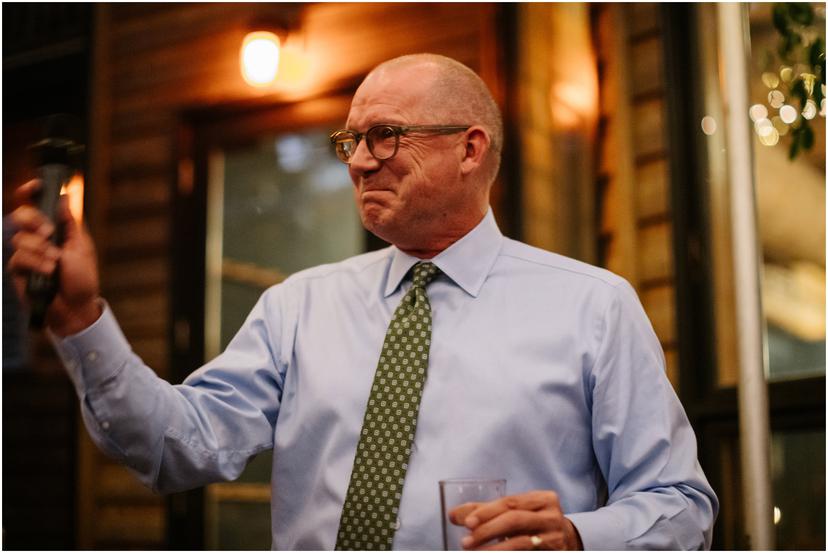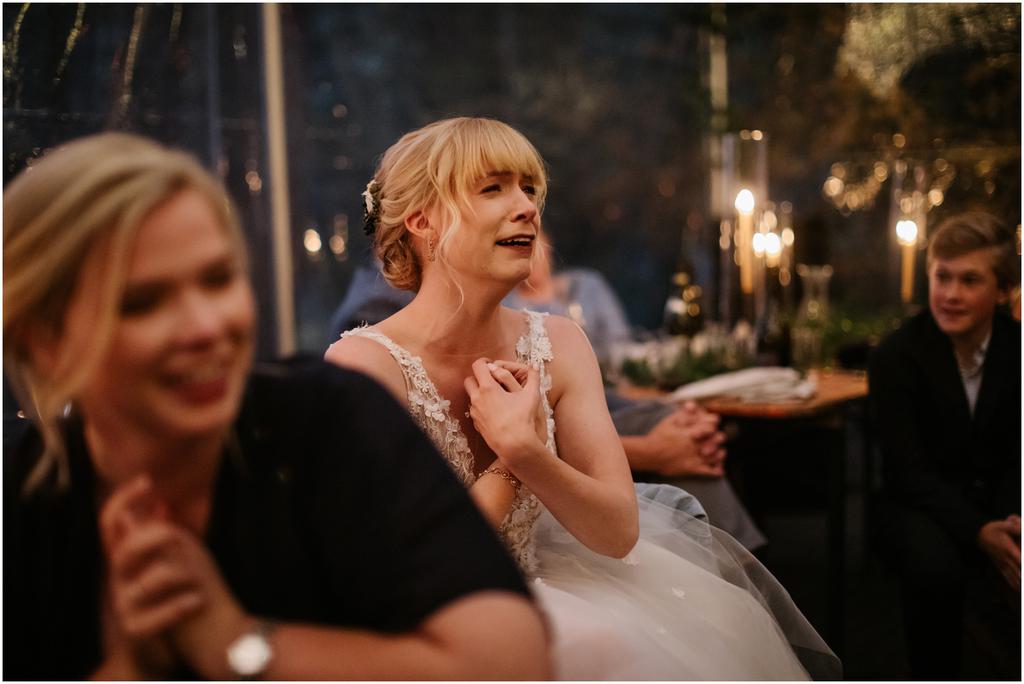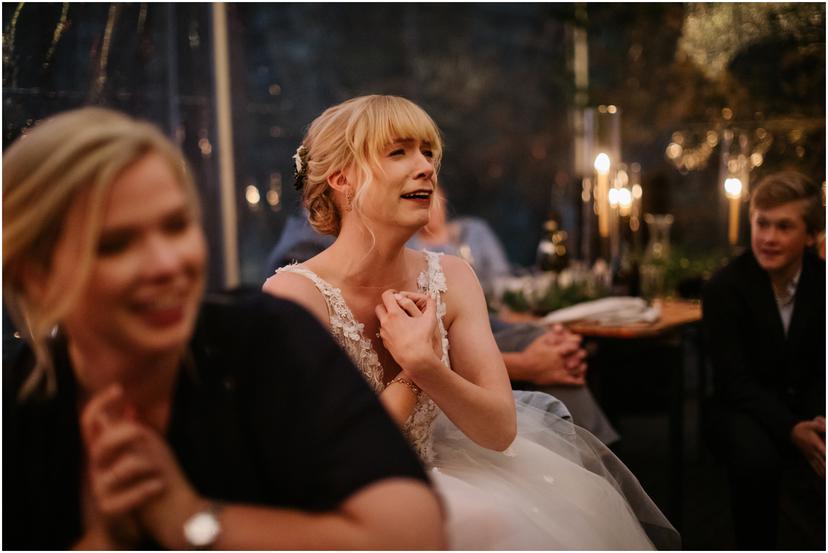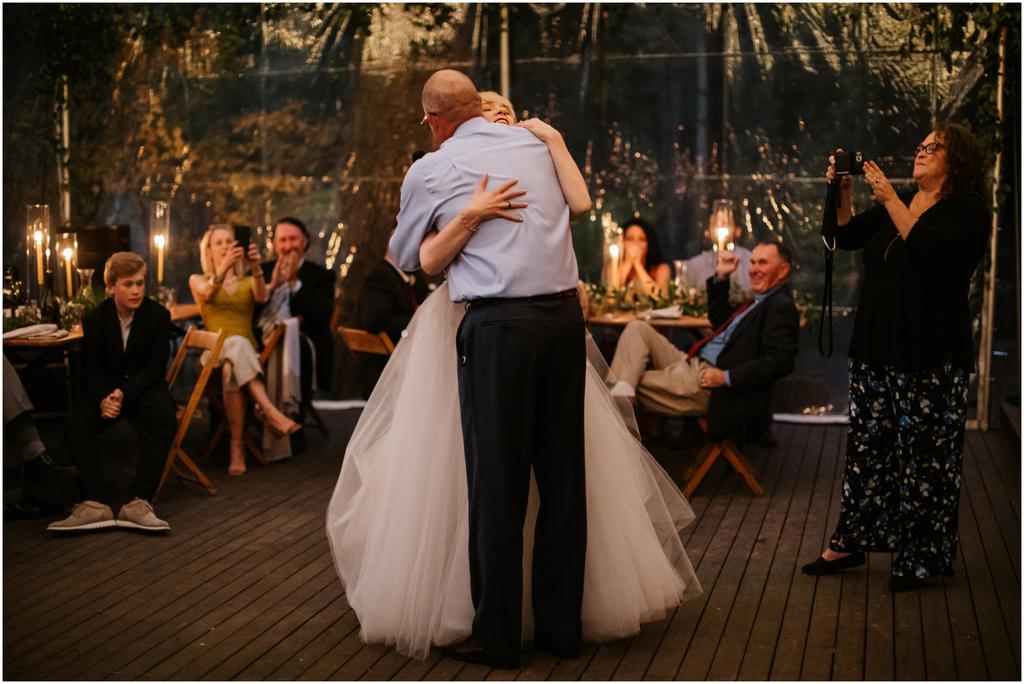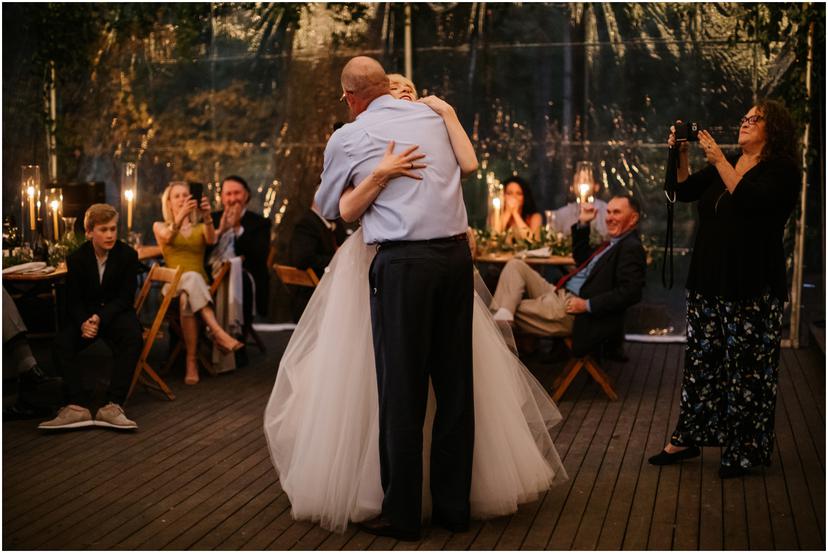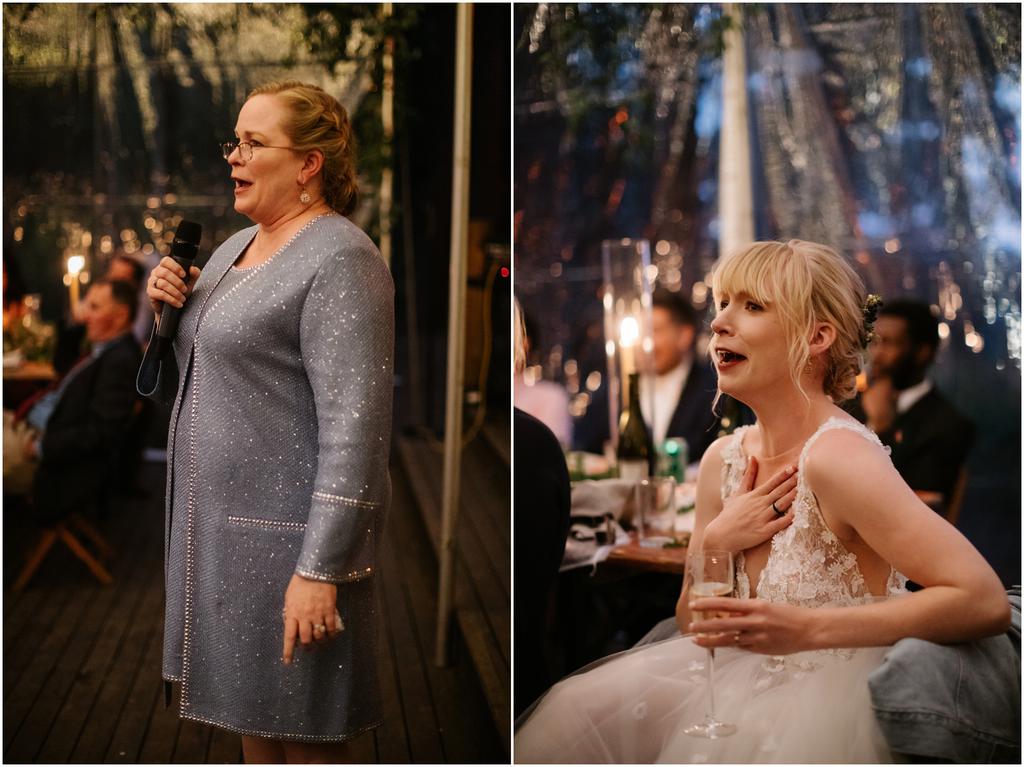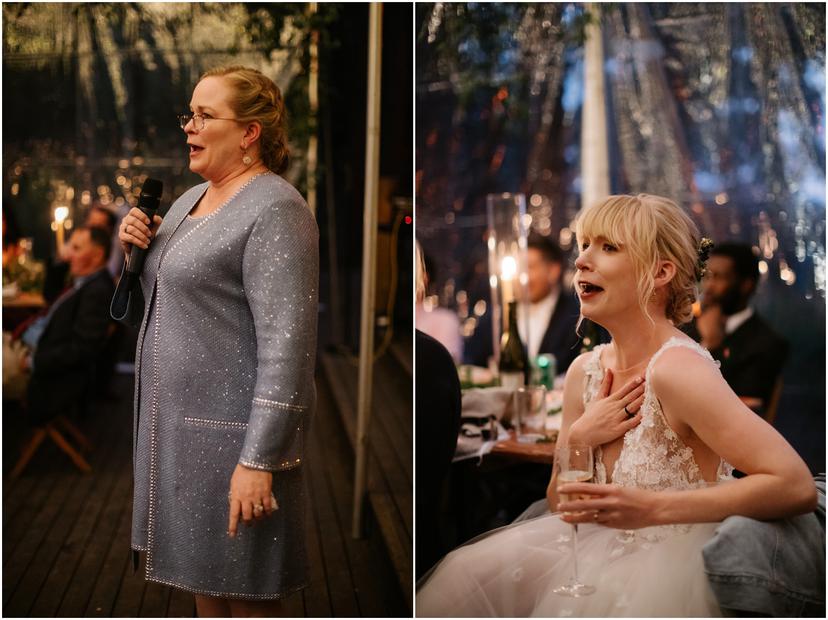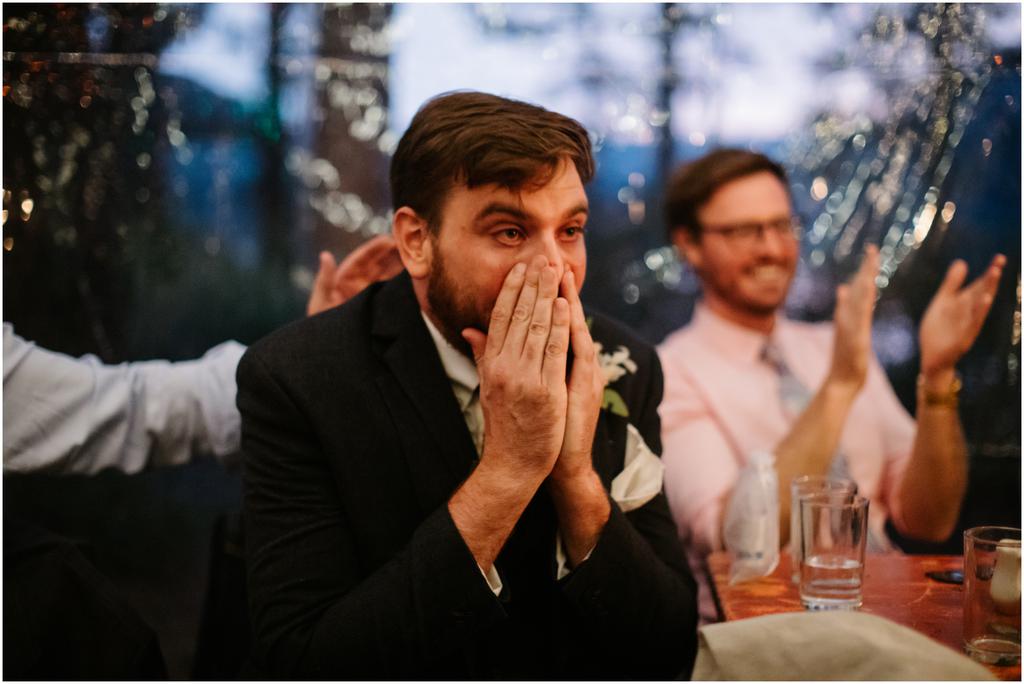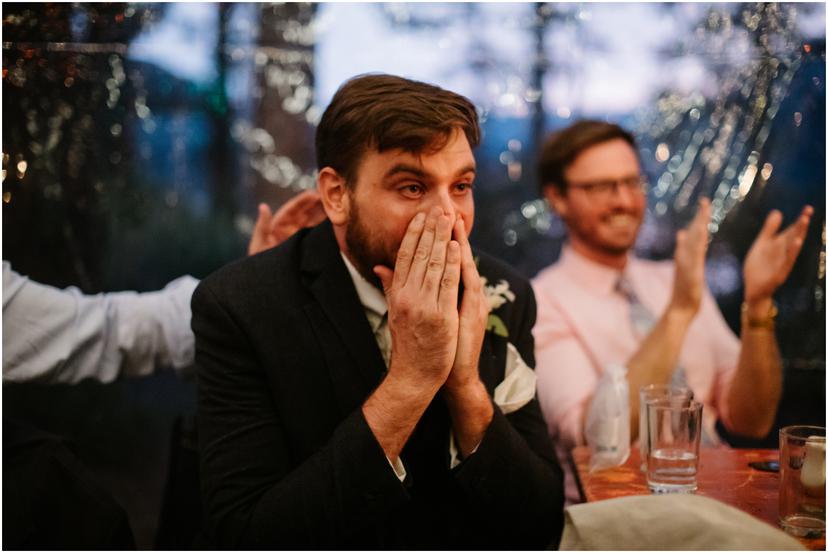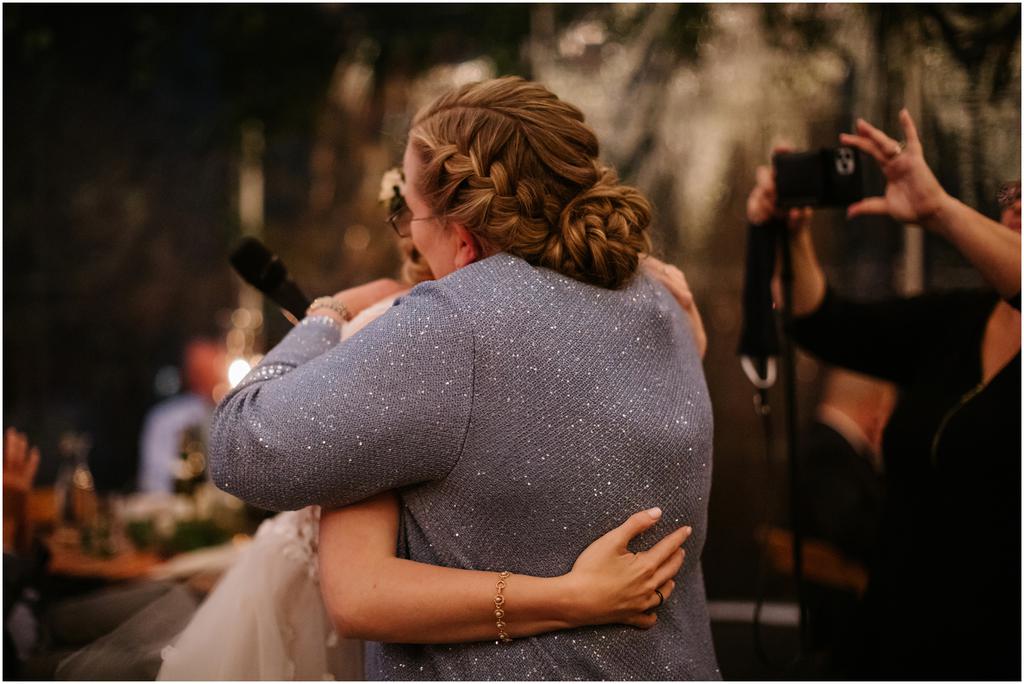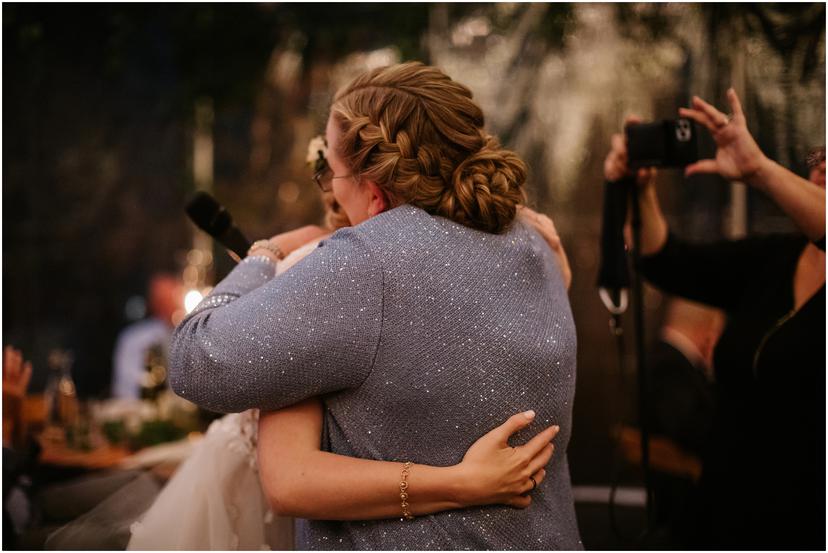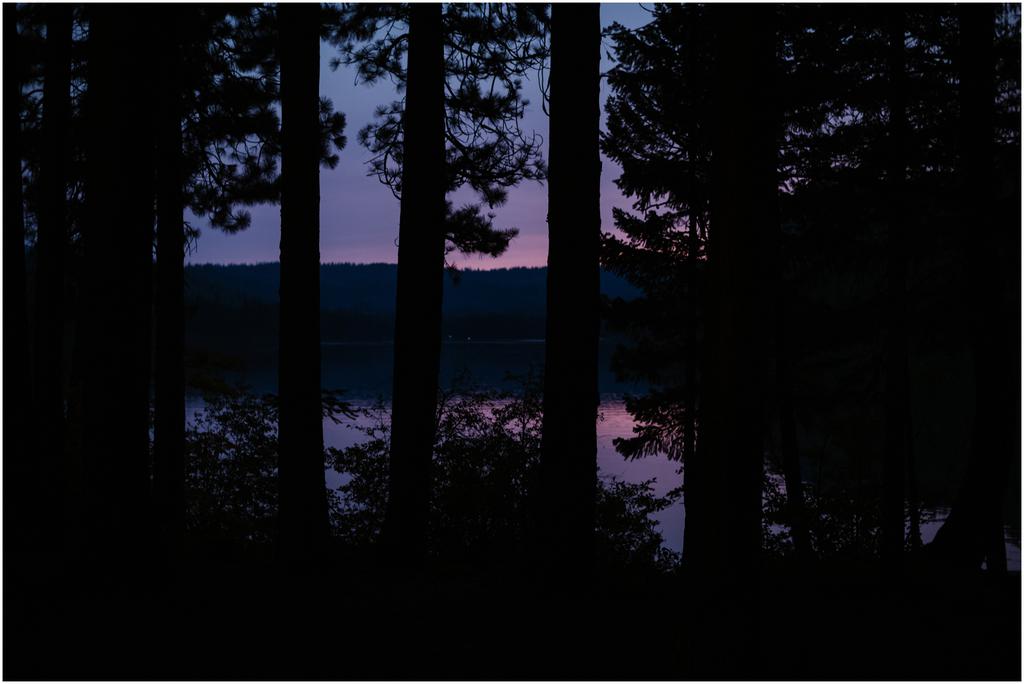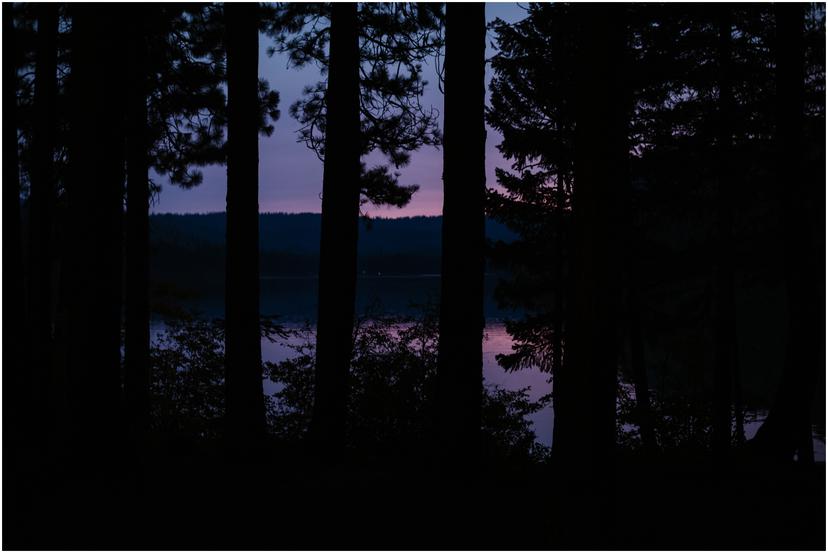 Advice for couples planning central Oregon weddings
"Work wit'cha girl Katy Weaver!!!!!!!," said Kisky. "She's a saint and a godsend. No joke. But also, make sure it's for you, and that you appreciate how special it is, don't fight the environment. We had no cell service or wifi, and that's not for everyone. We also really wanted to feel like we were working with and not against our surroundings."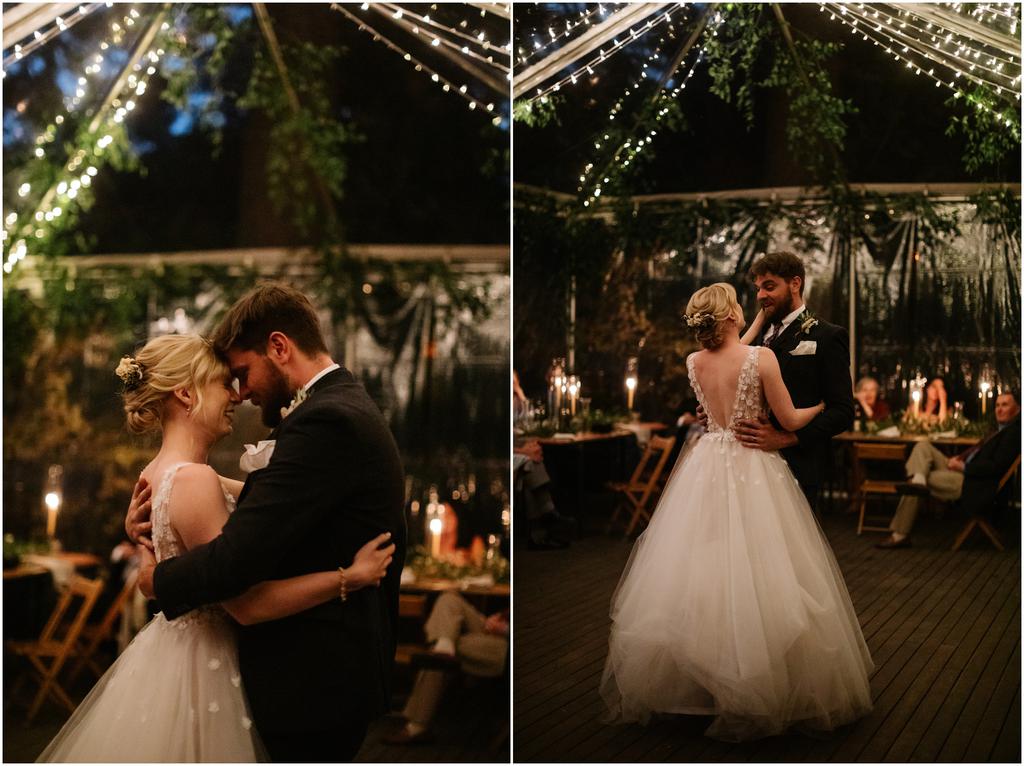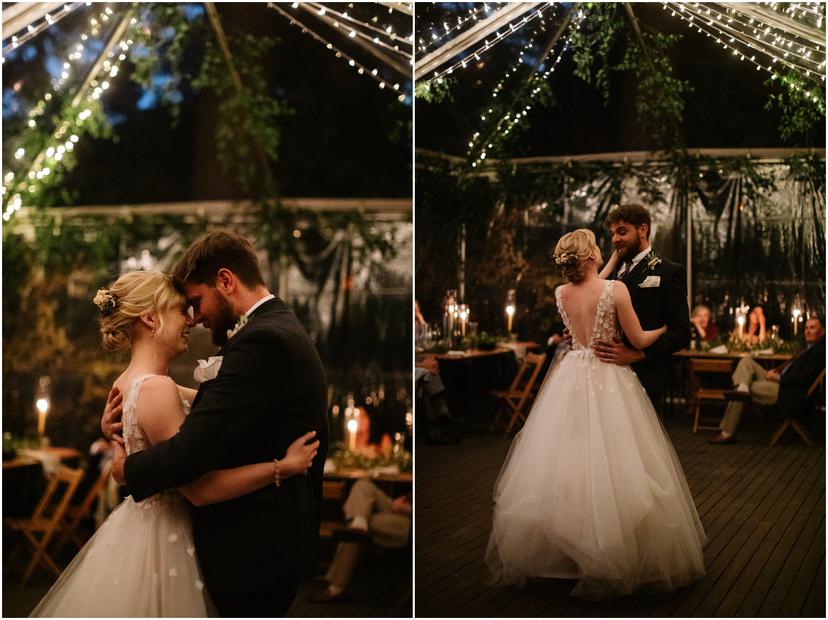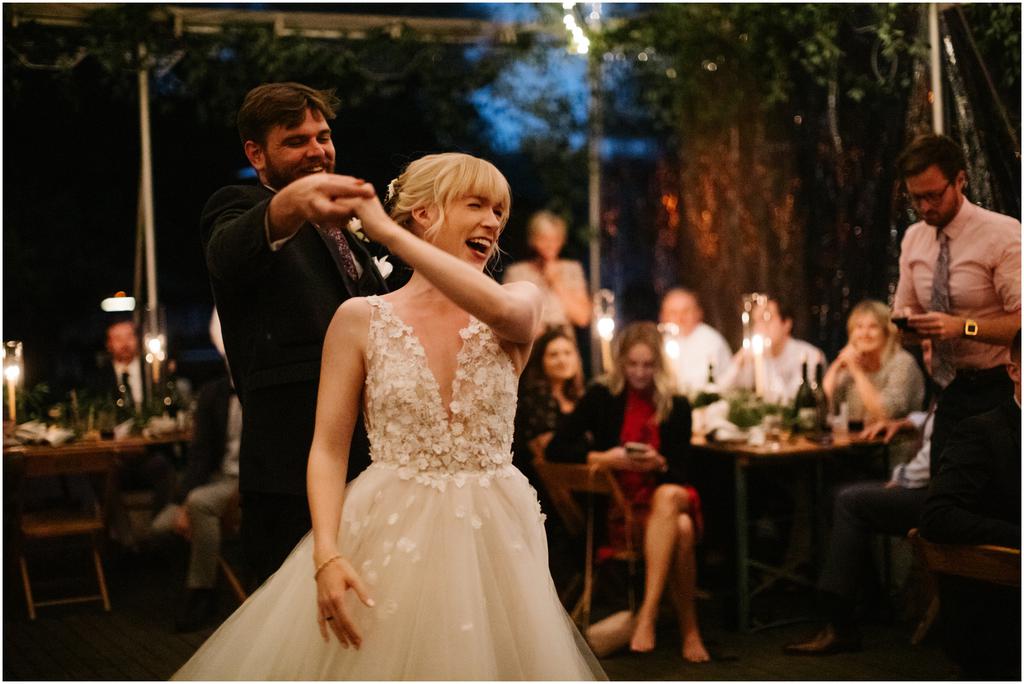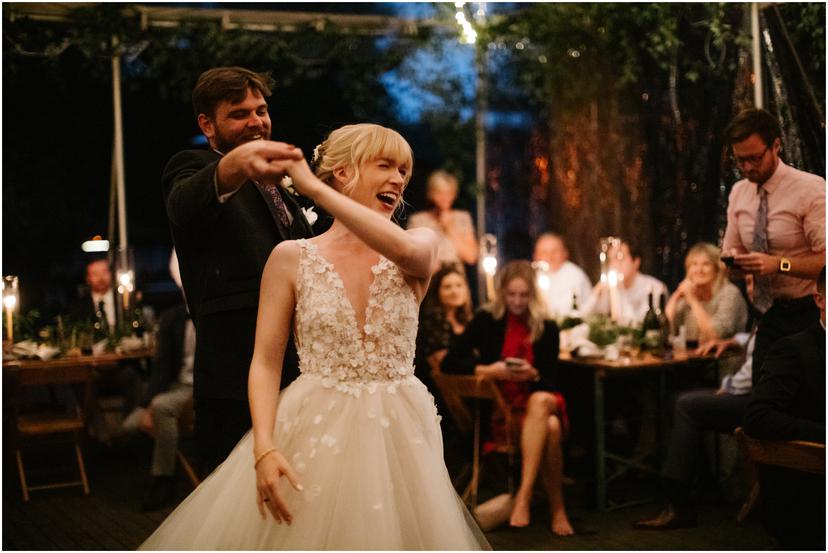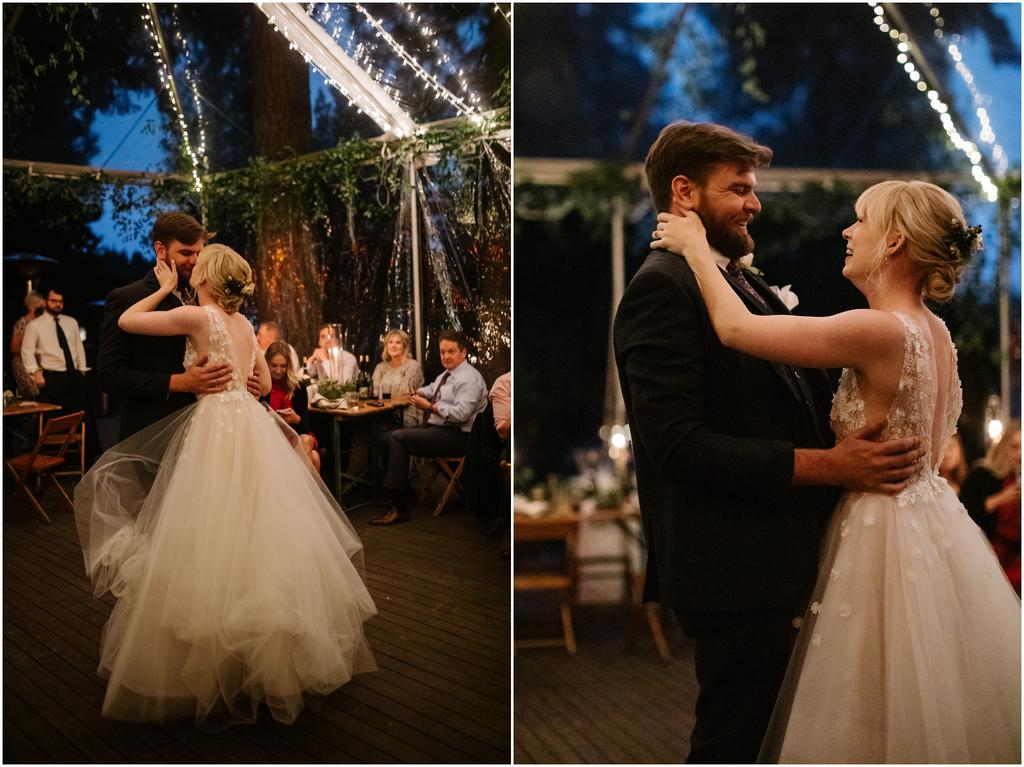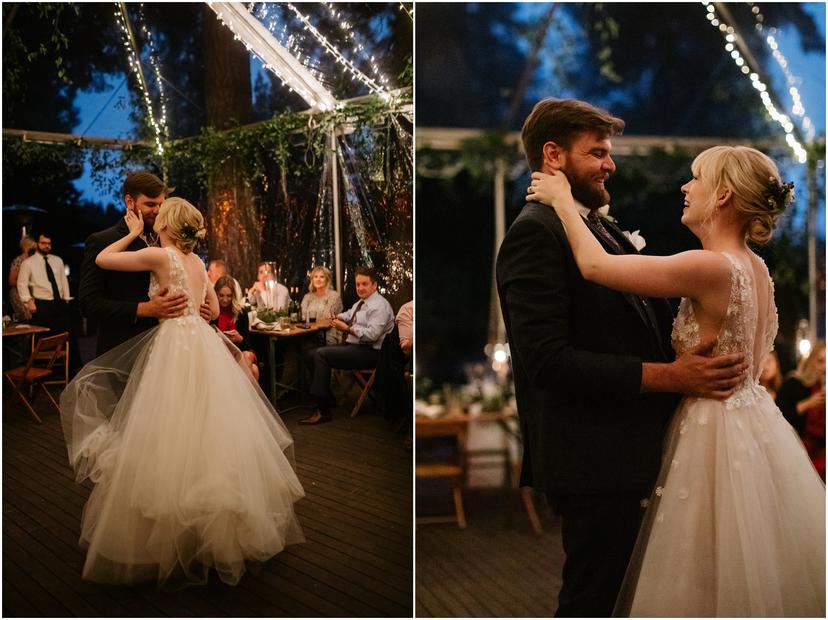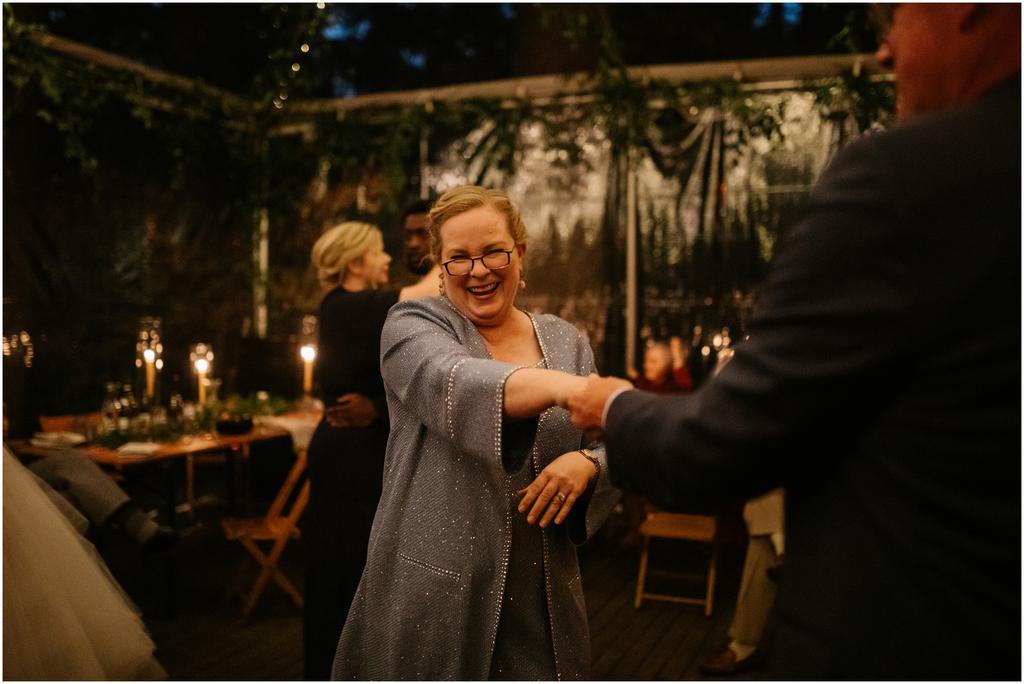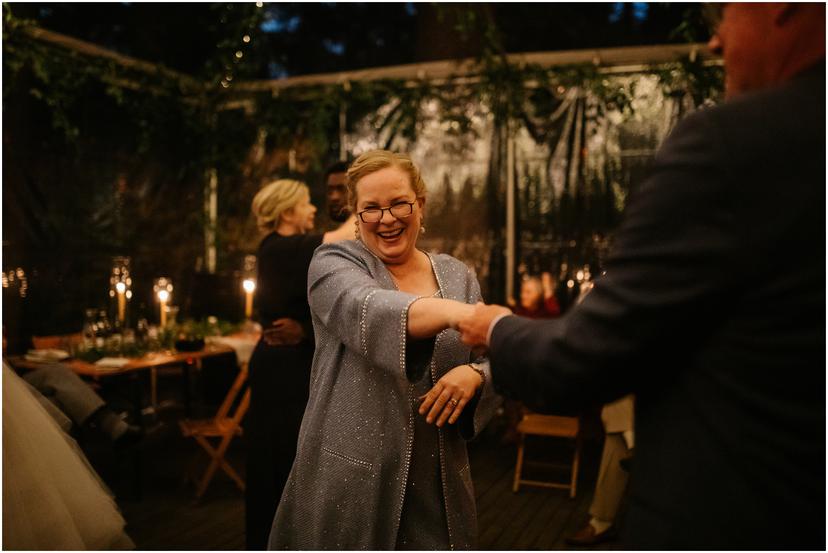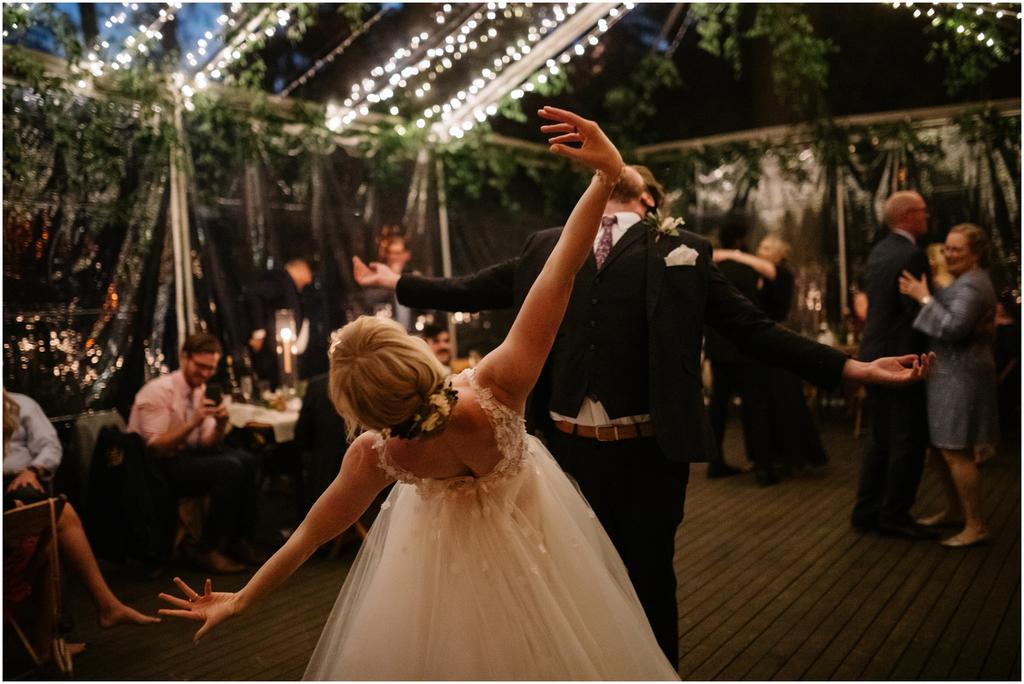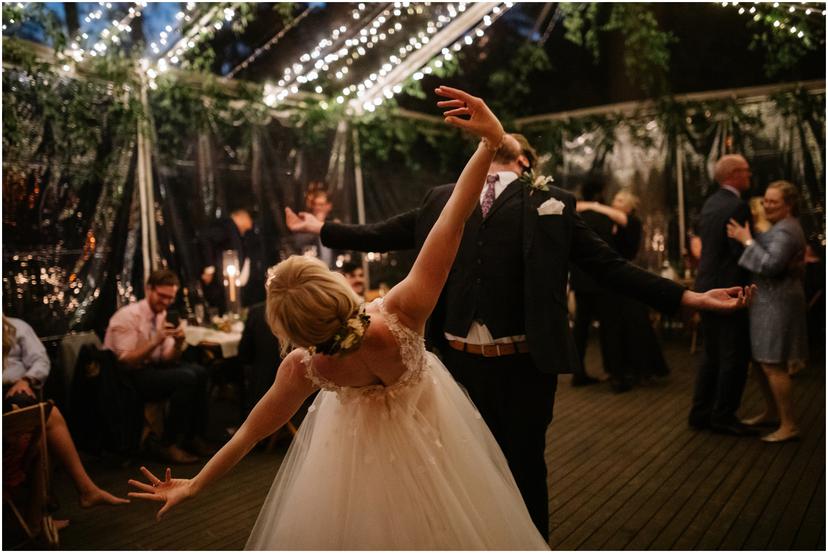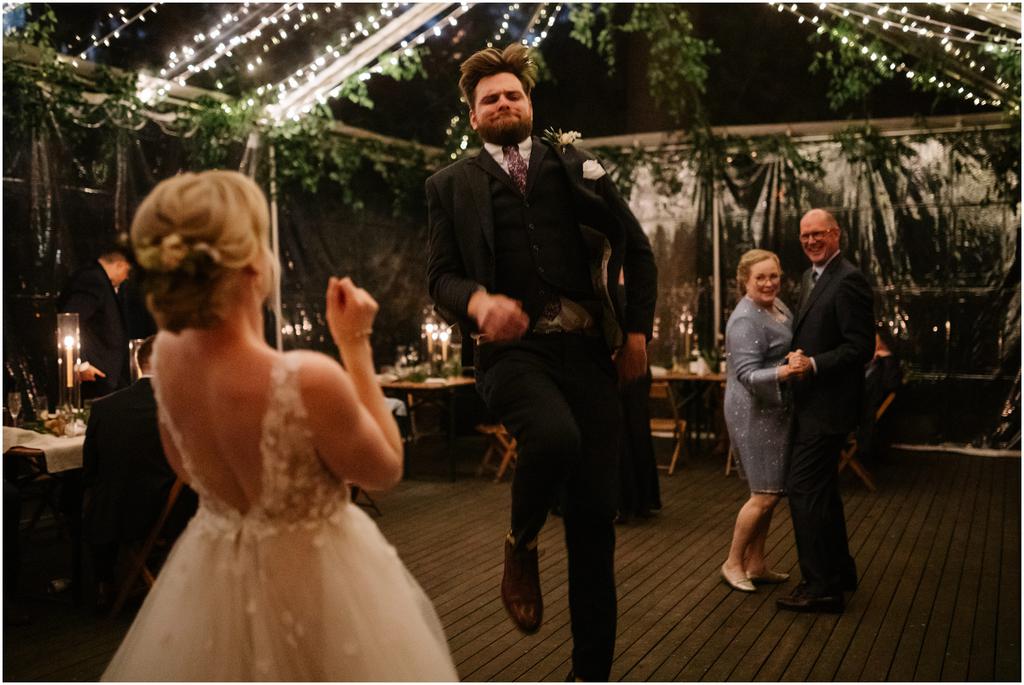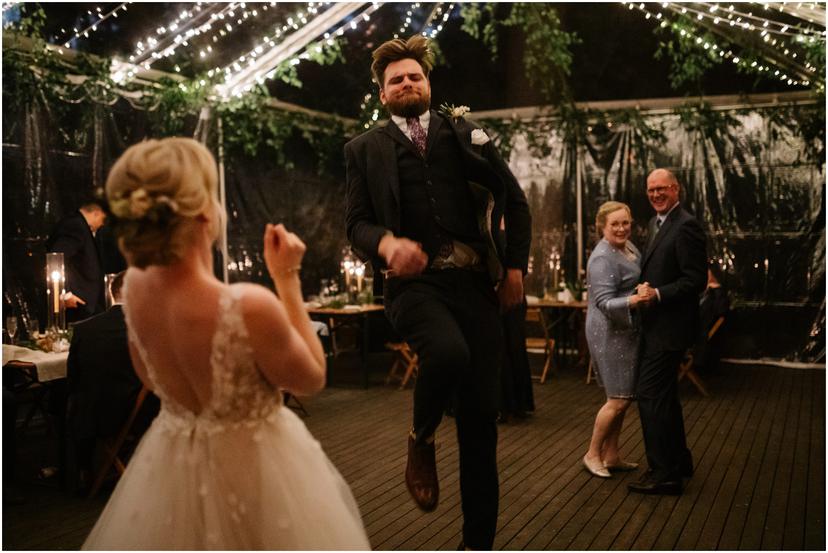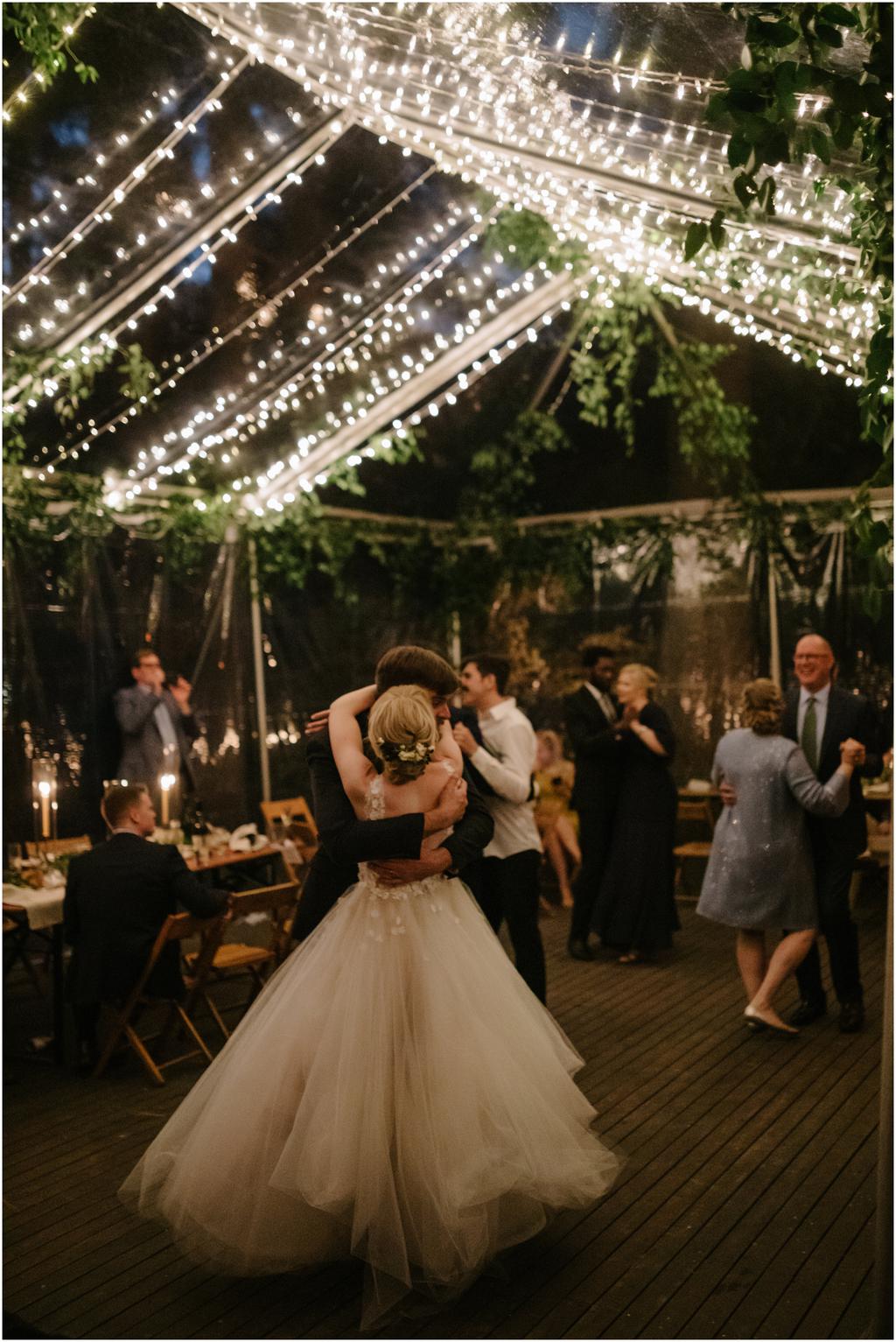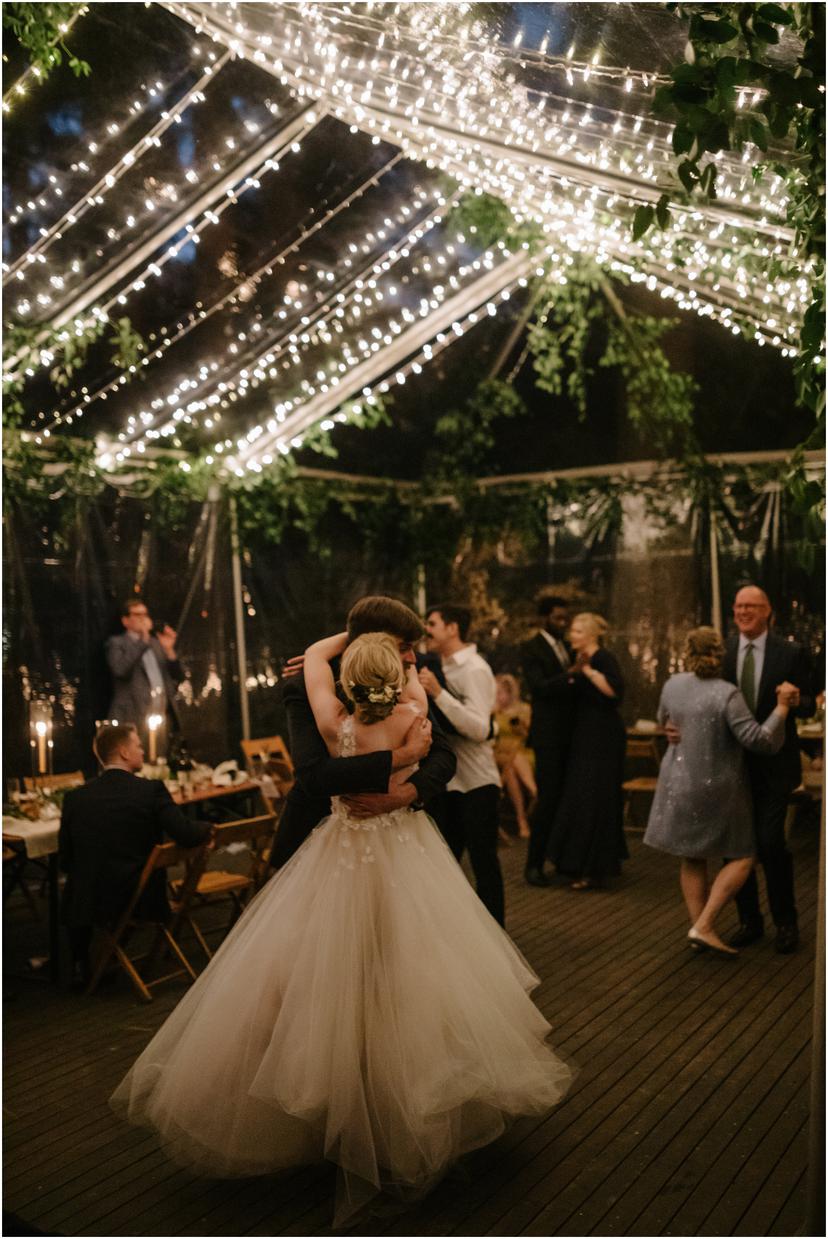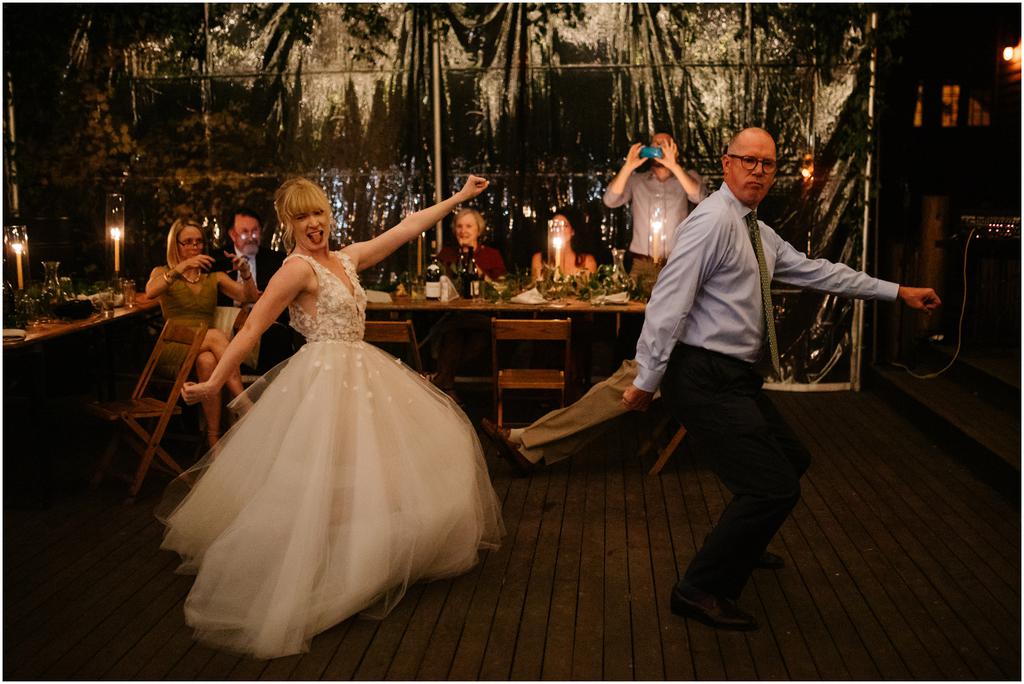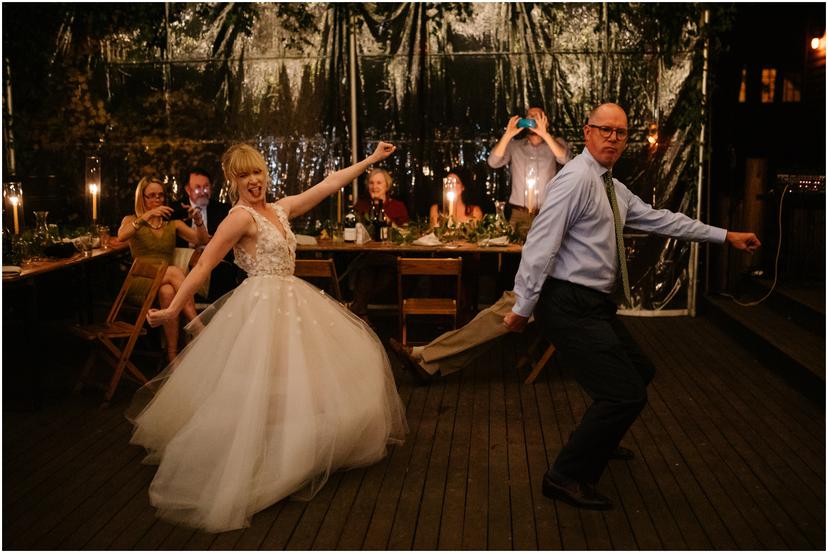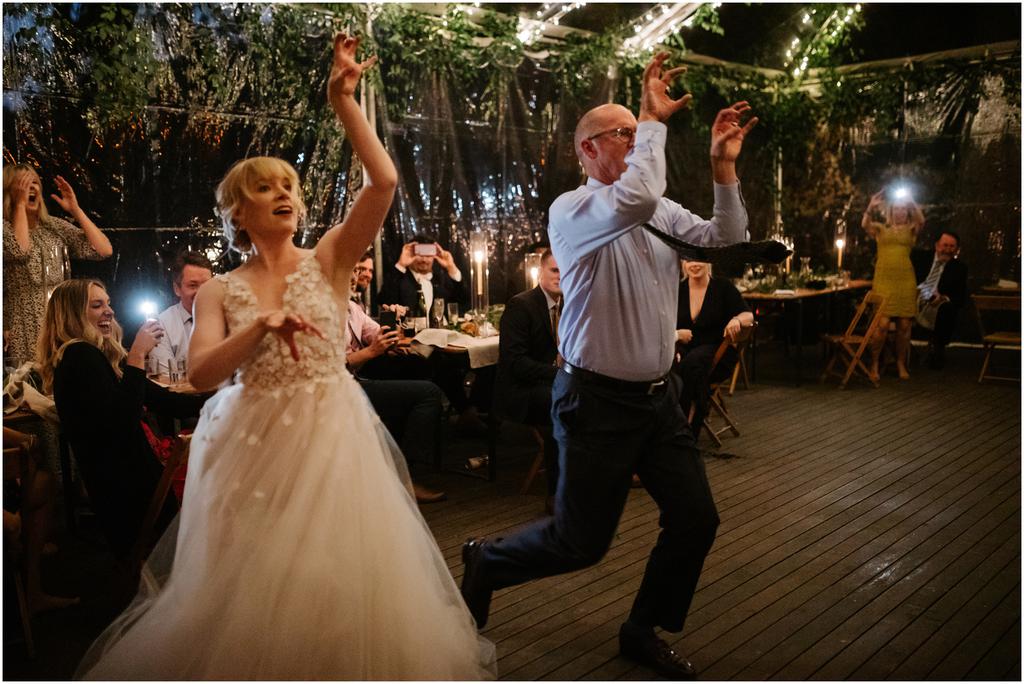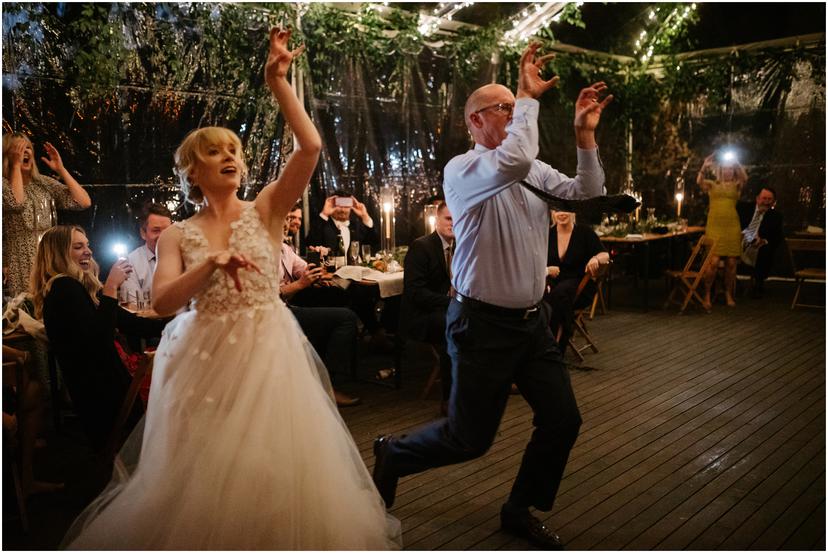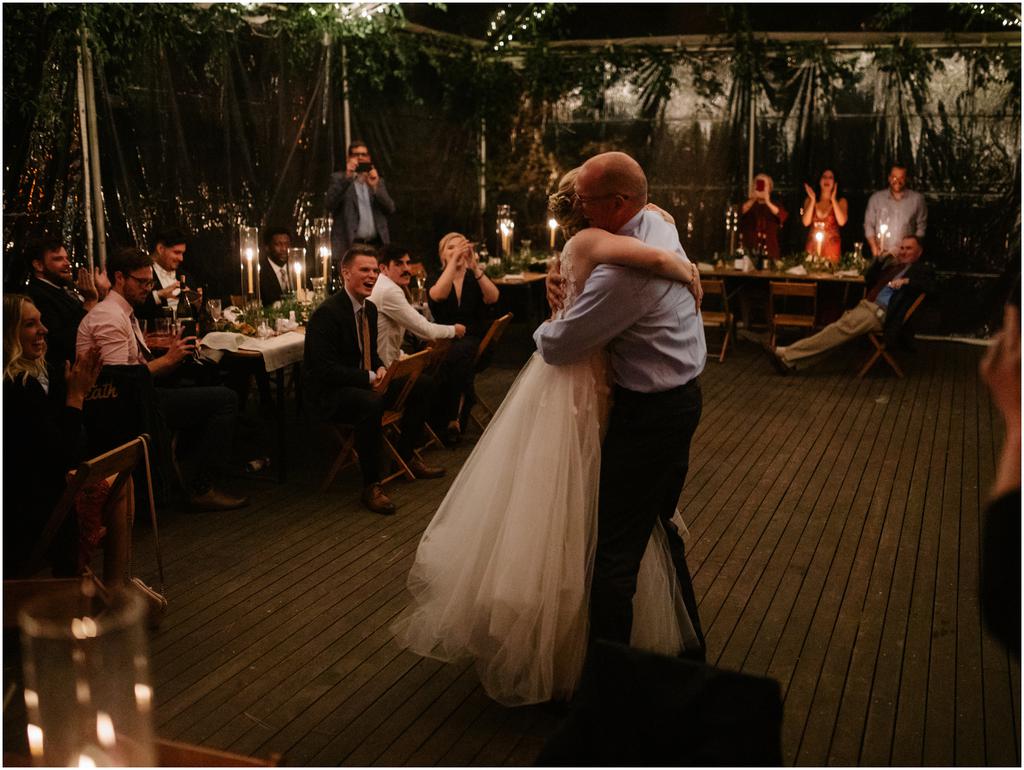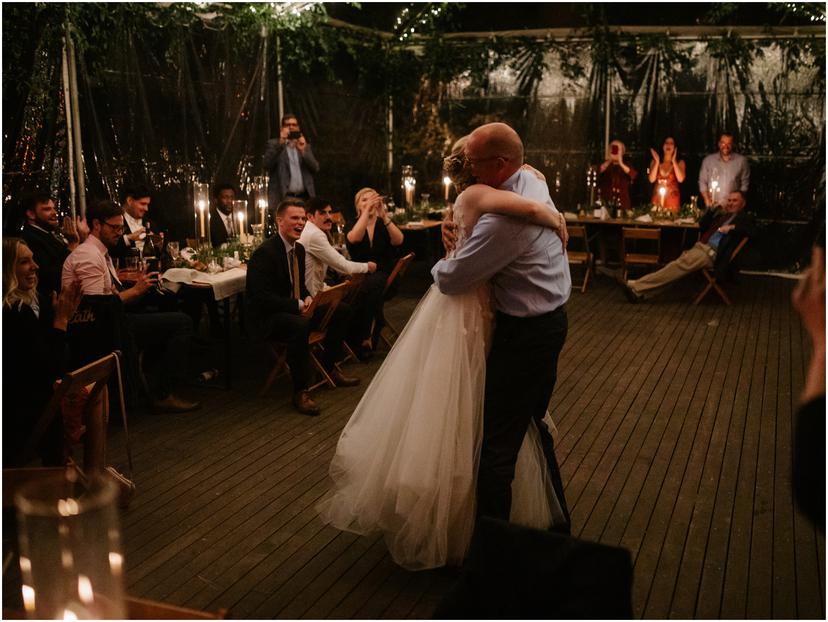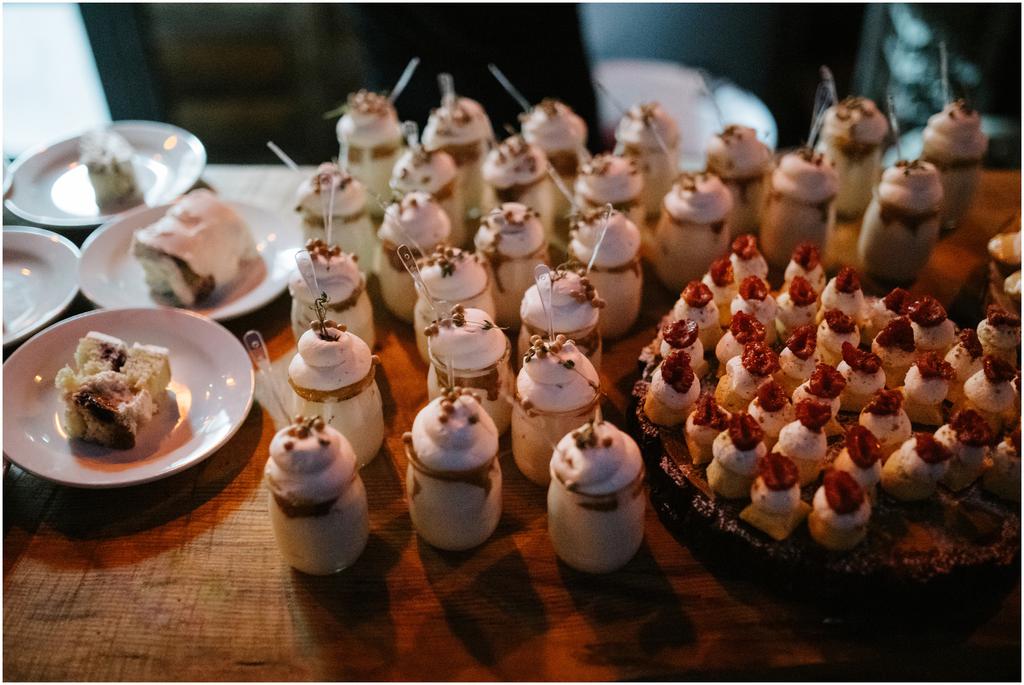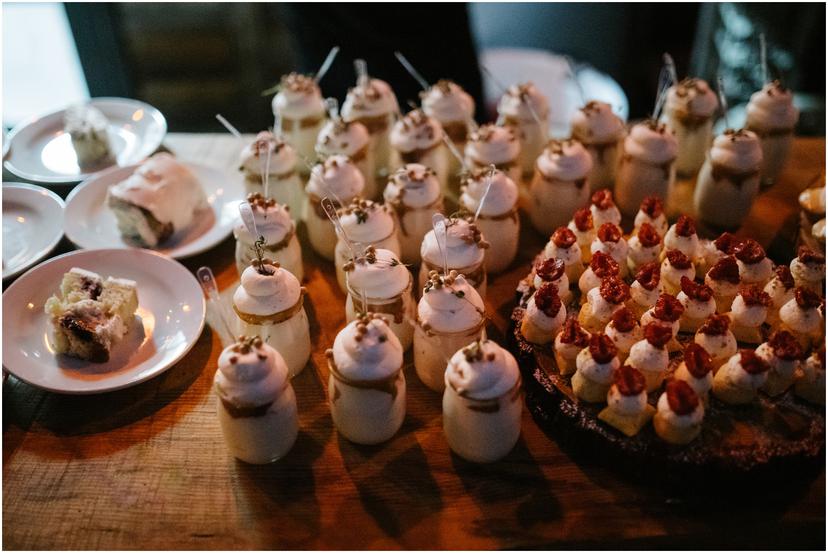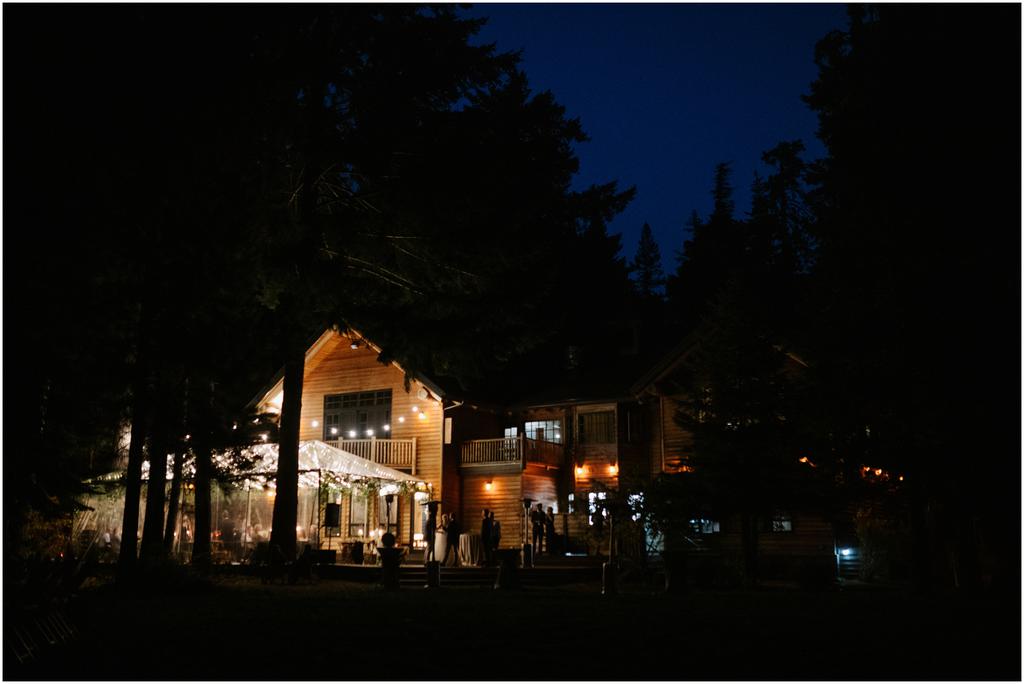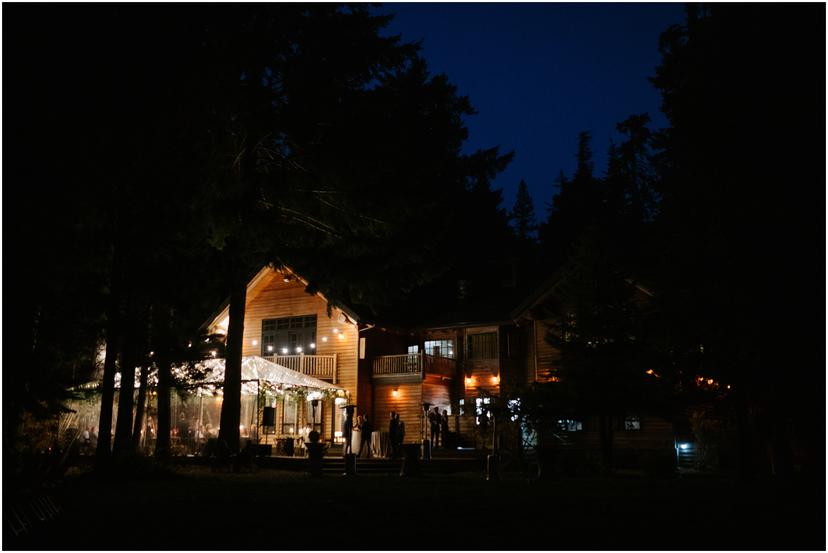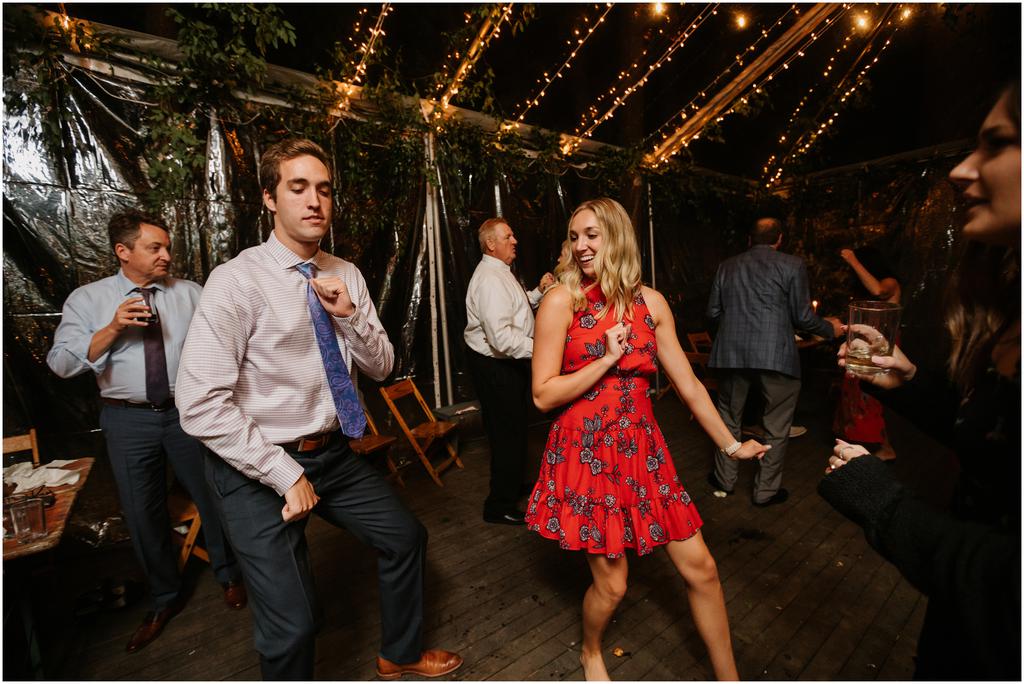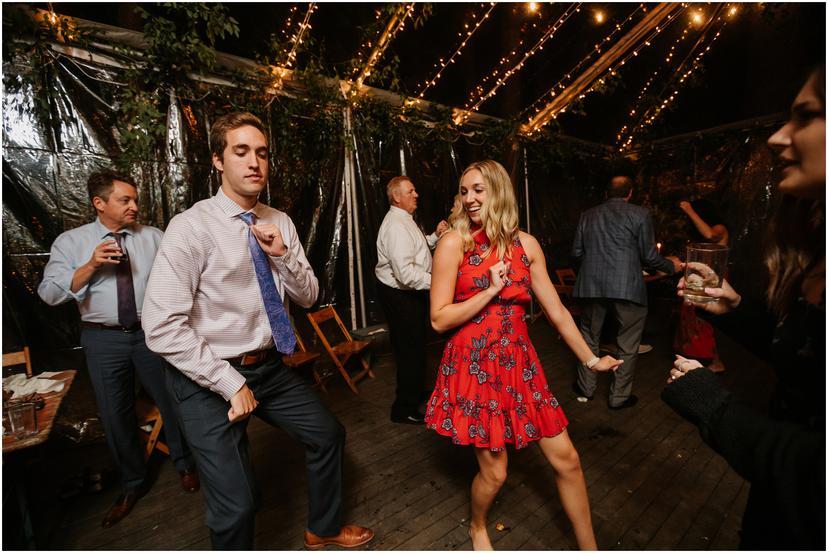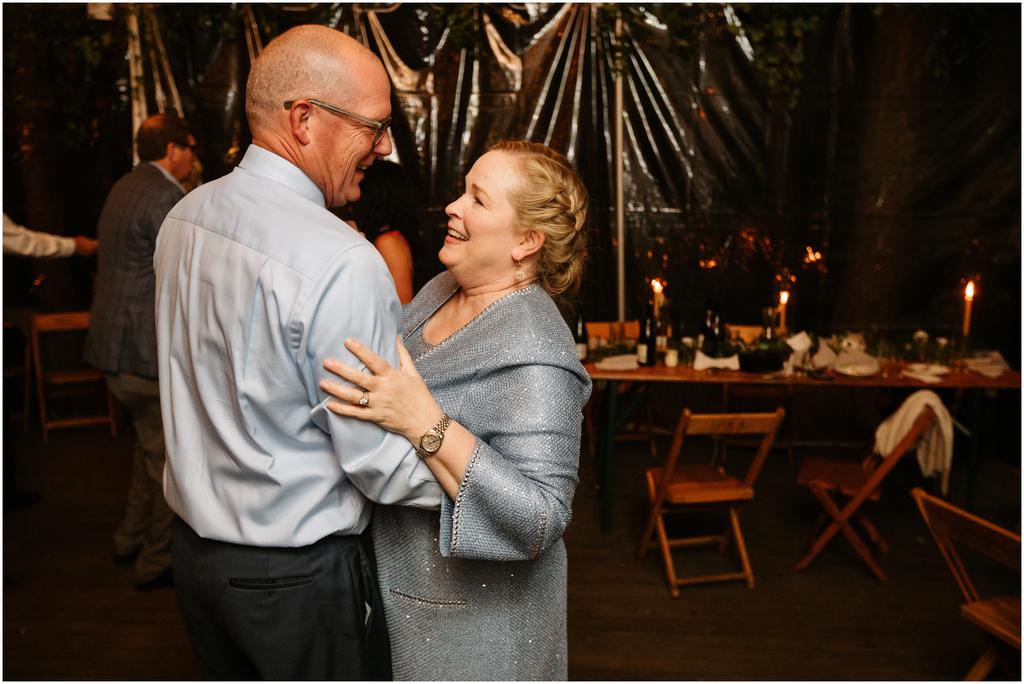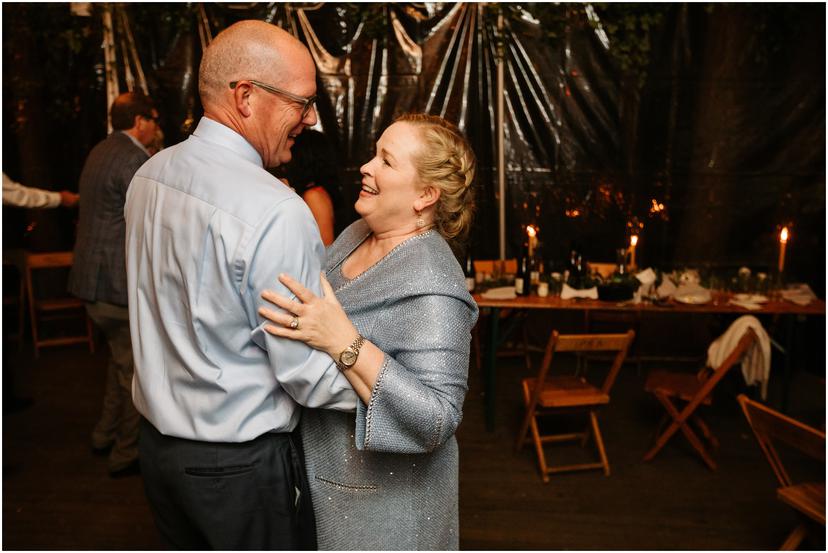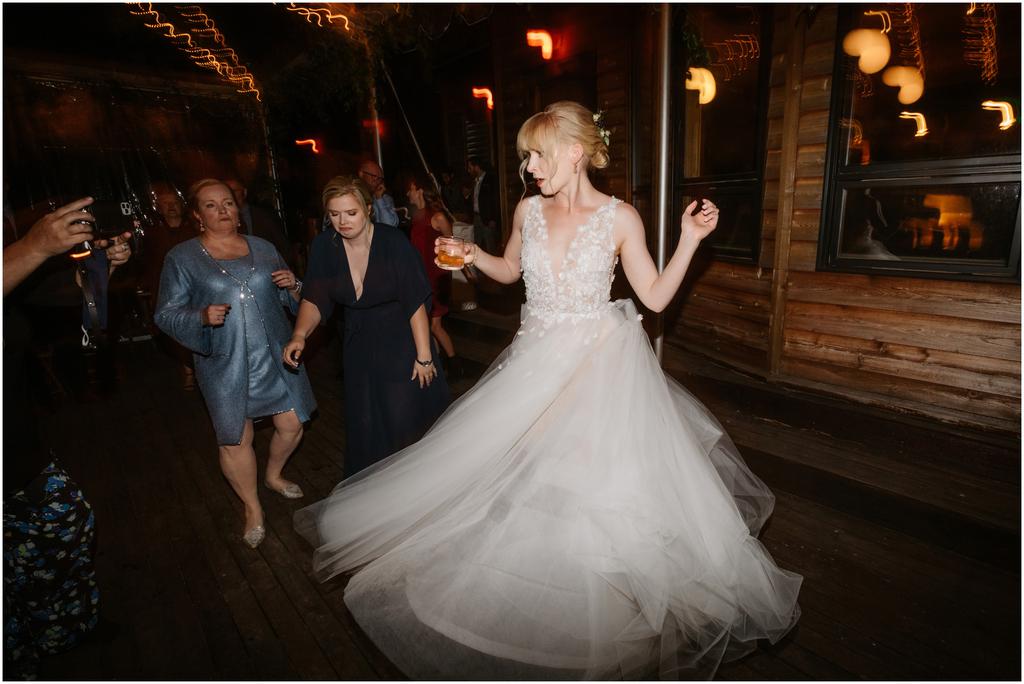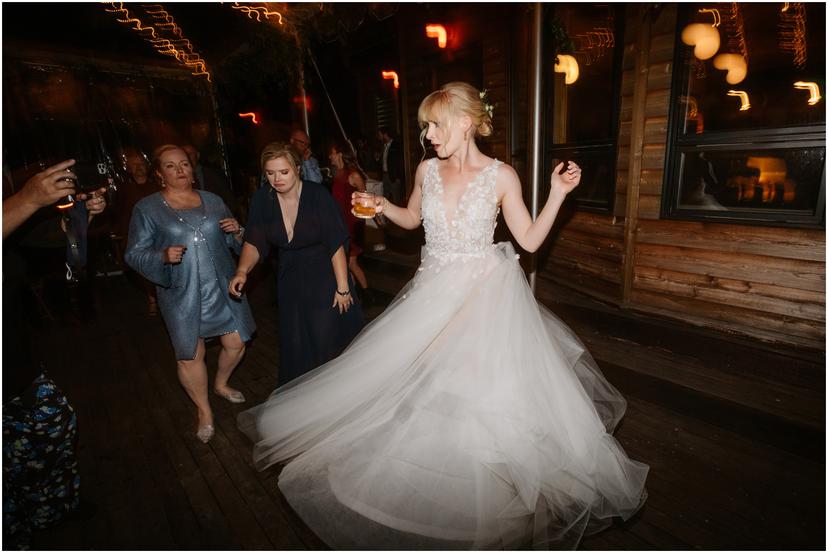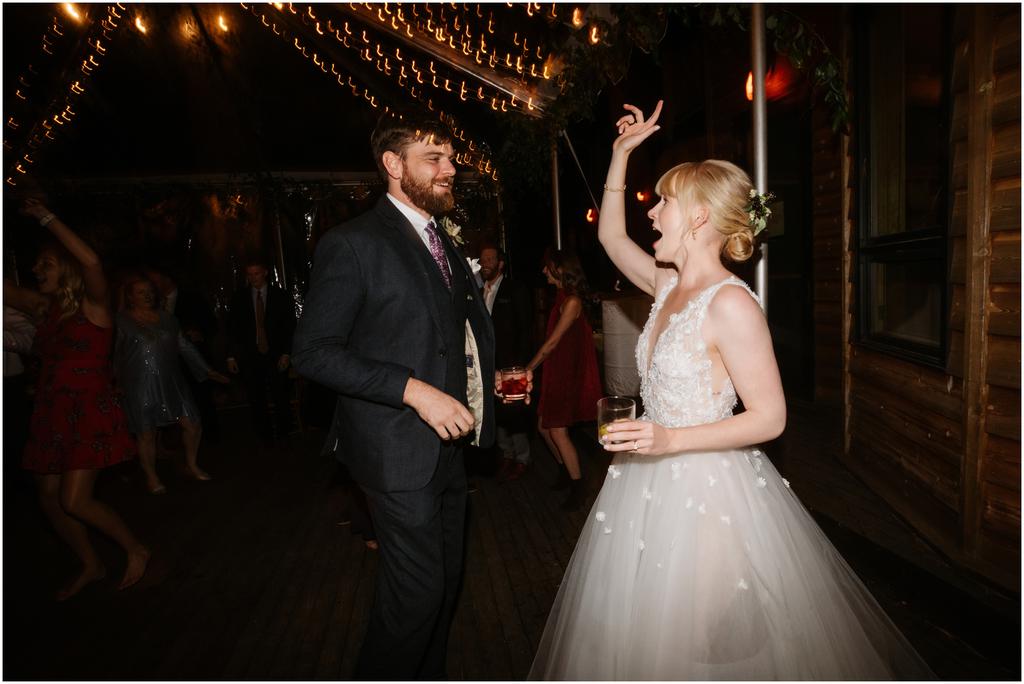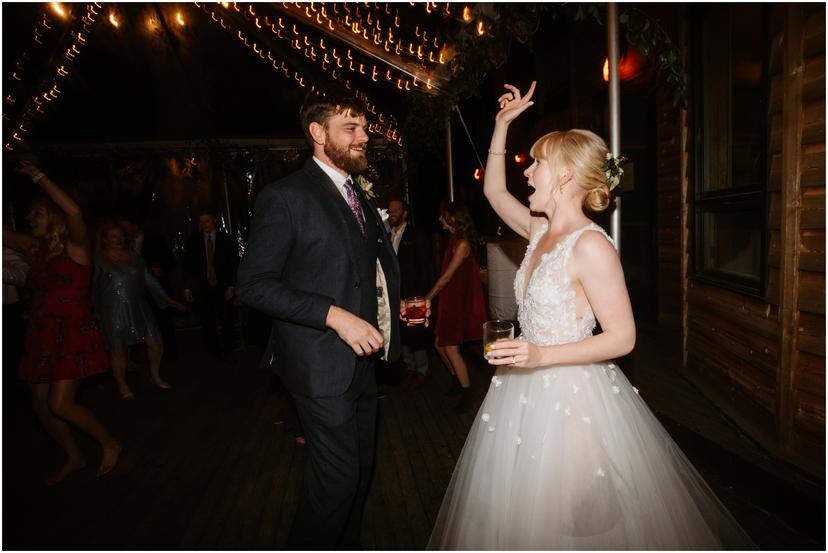 Favorite thing about each other
"We really trust and challenge each other. I know I can always count on him, and vice versa, no matter how stressful or scary things get. We have each other and can share anything."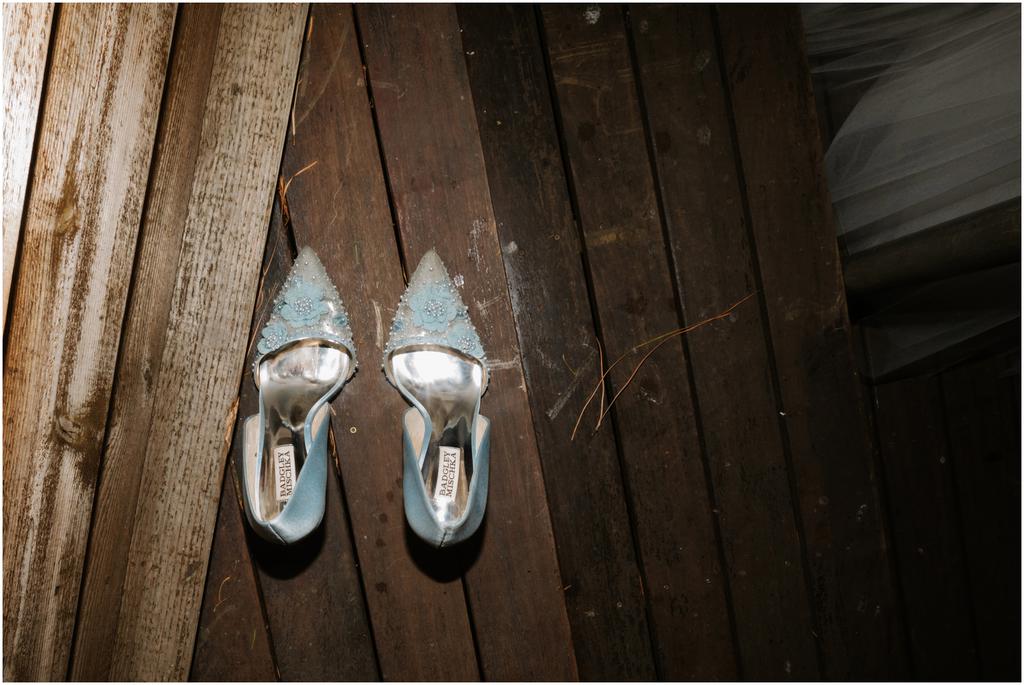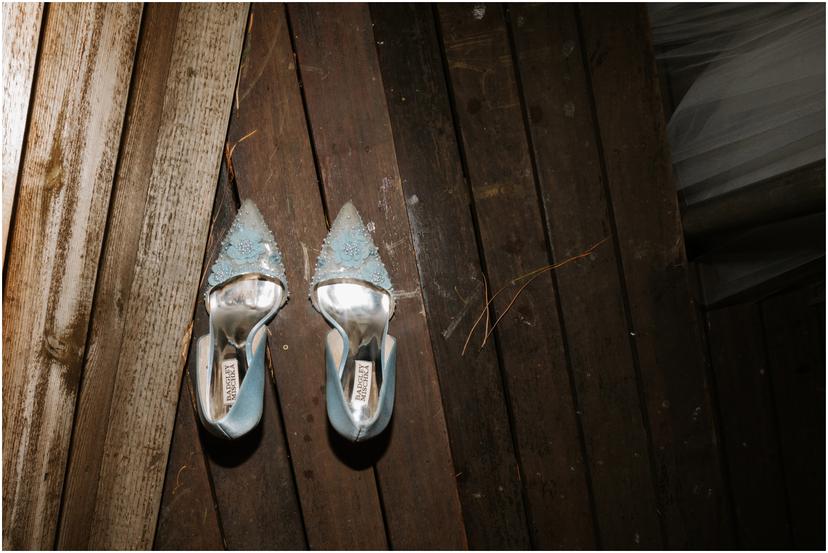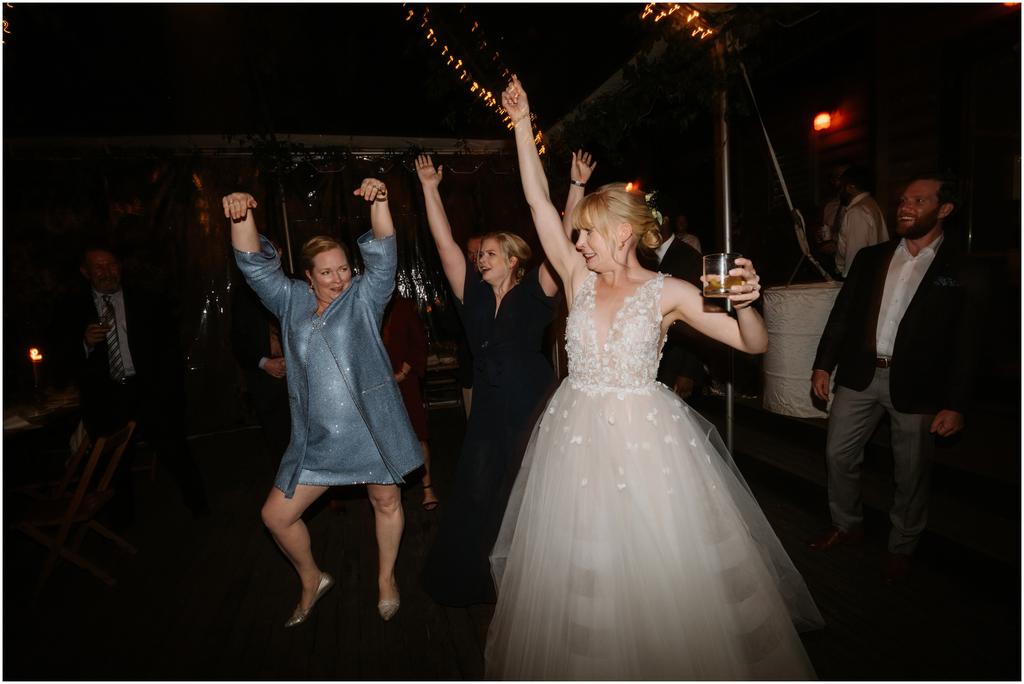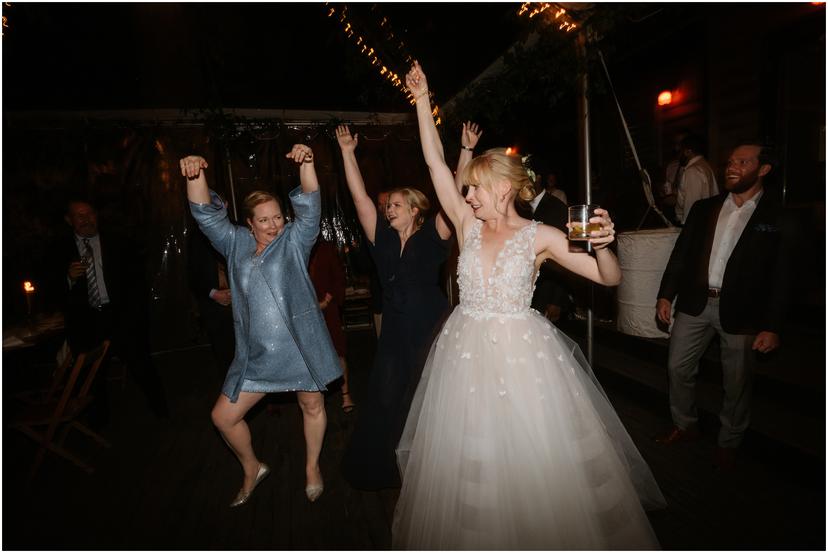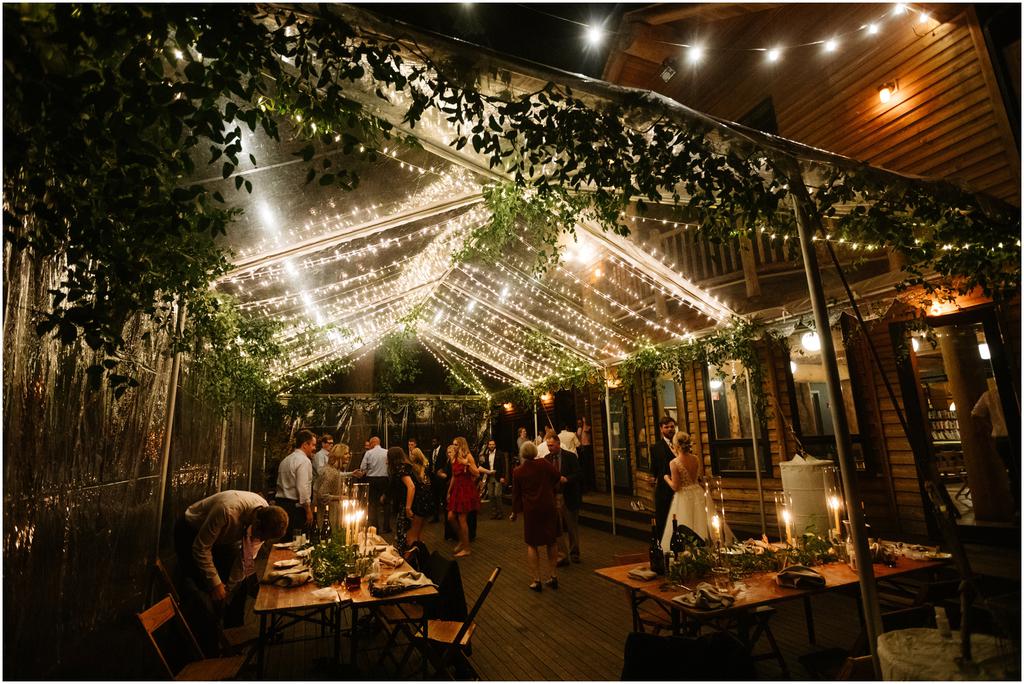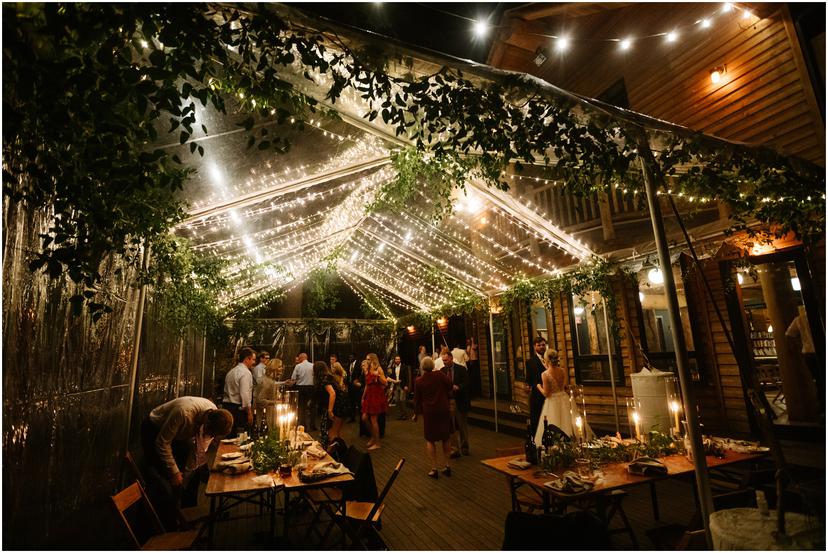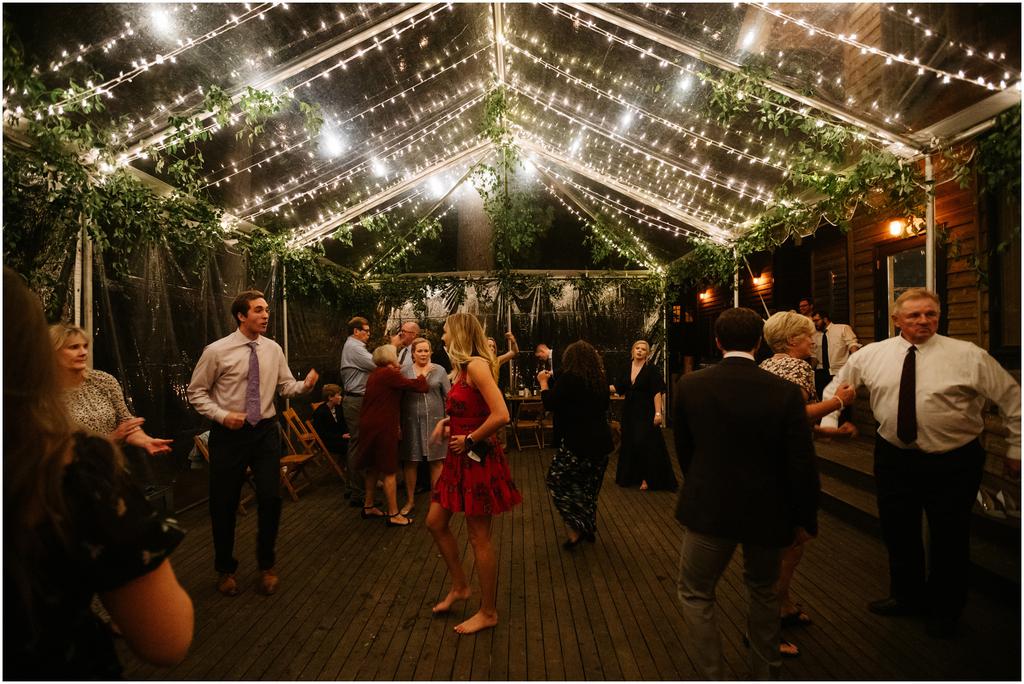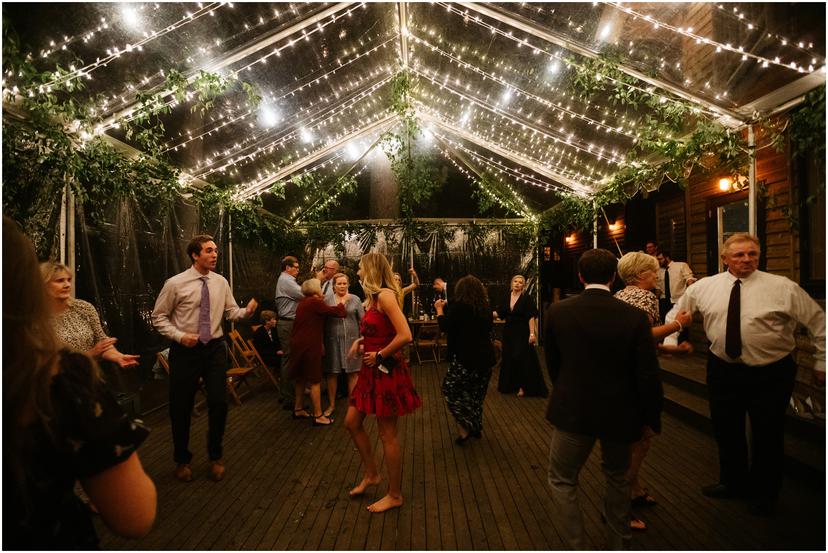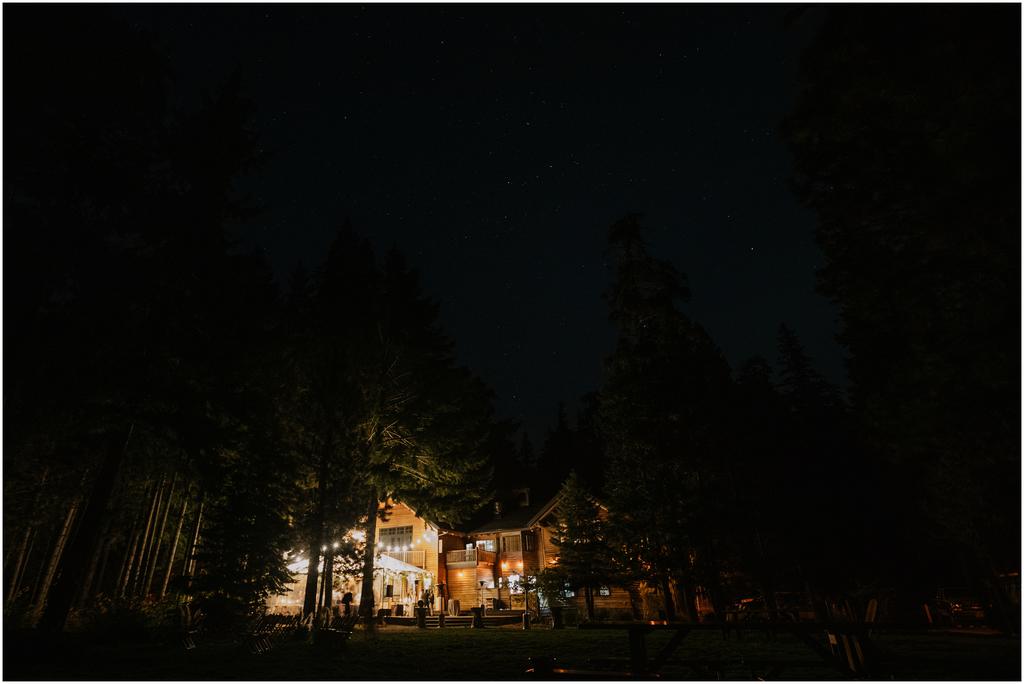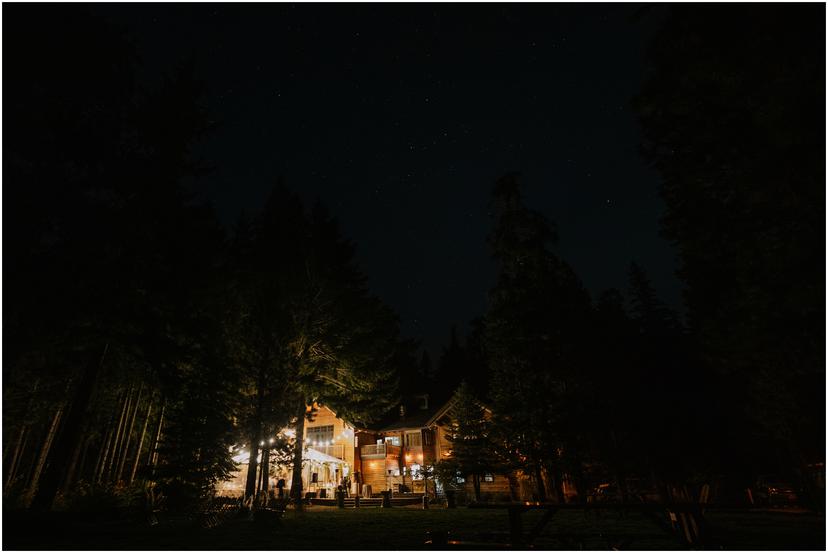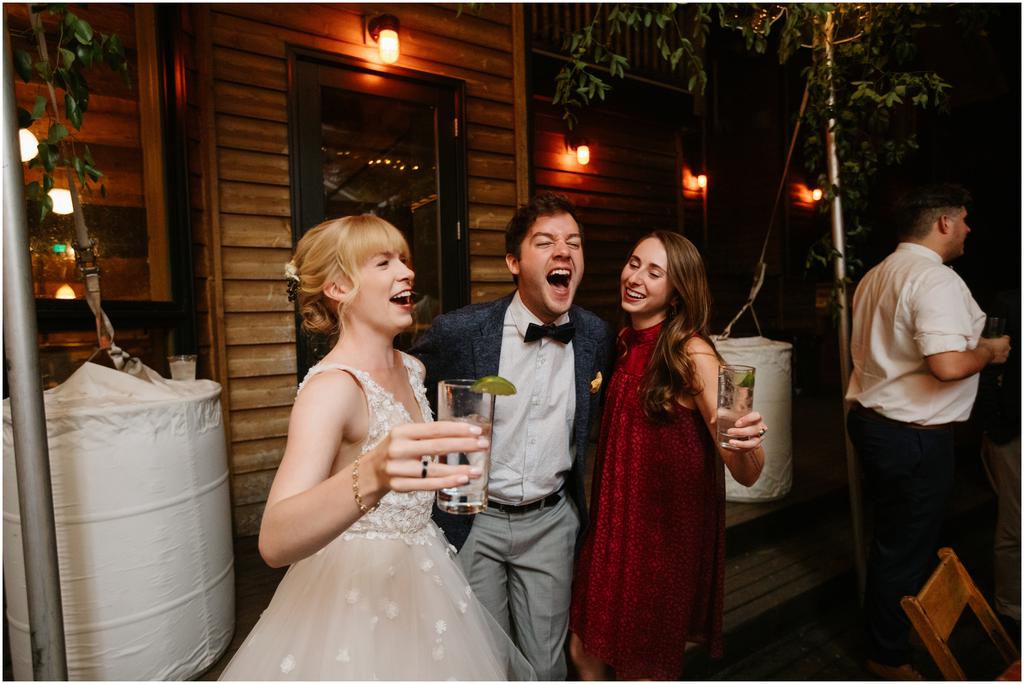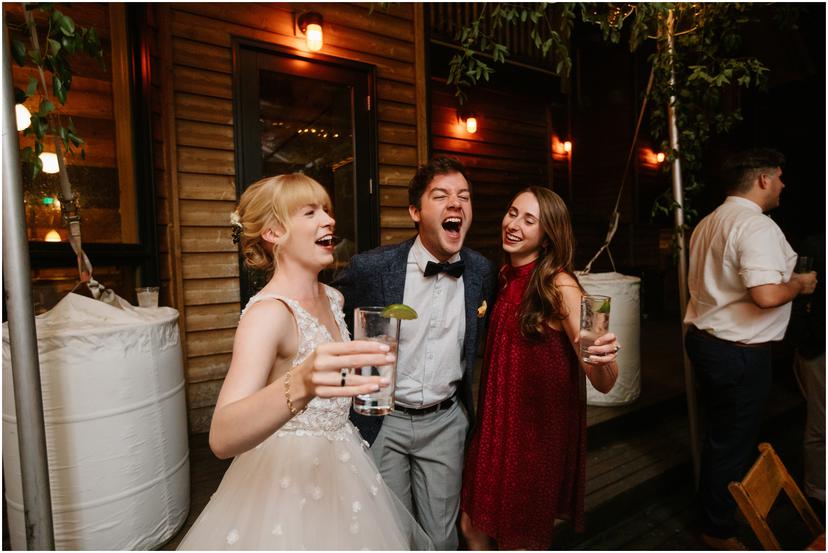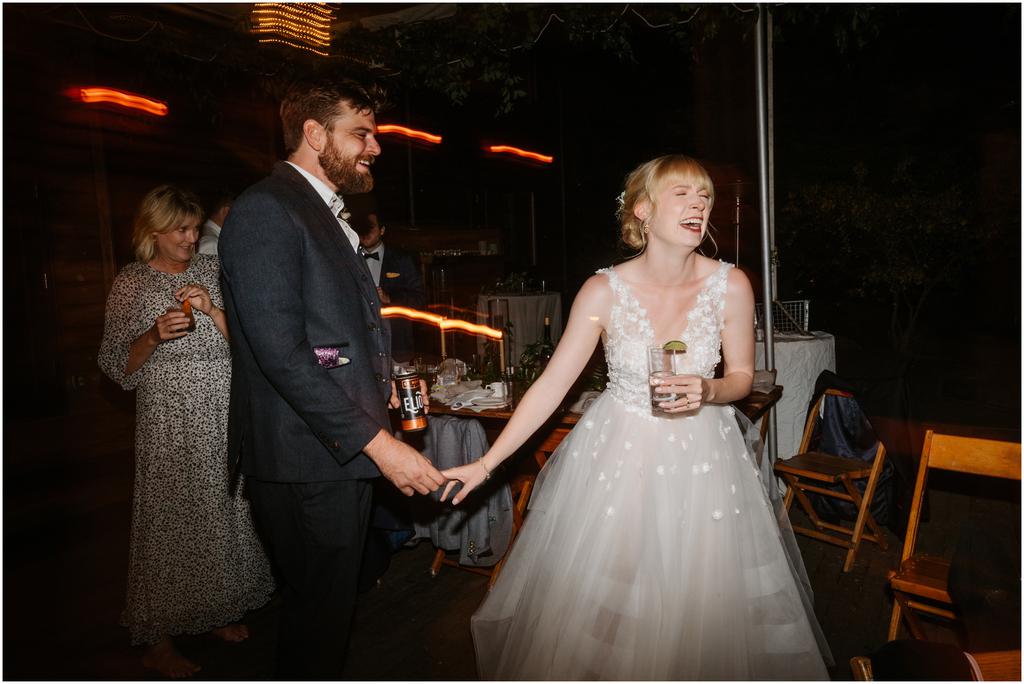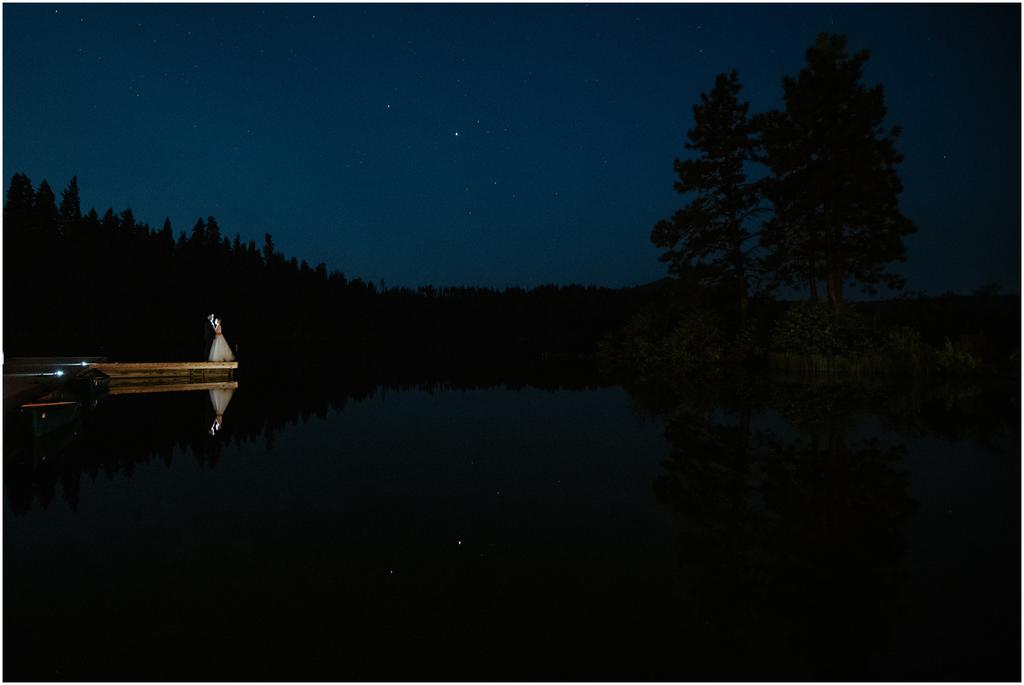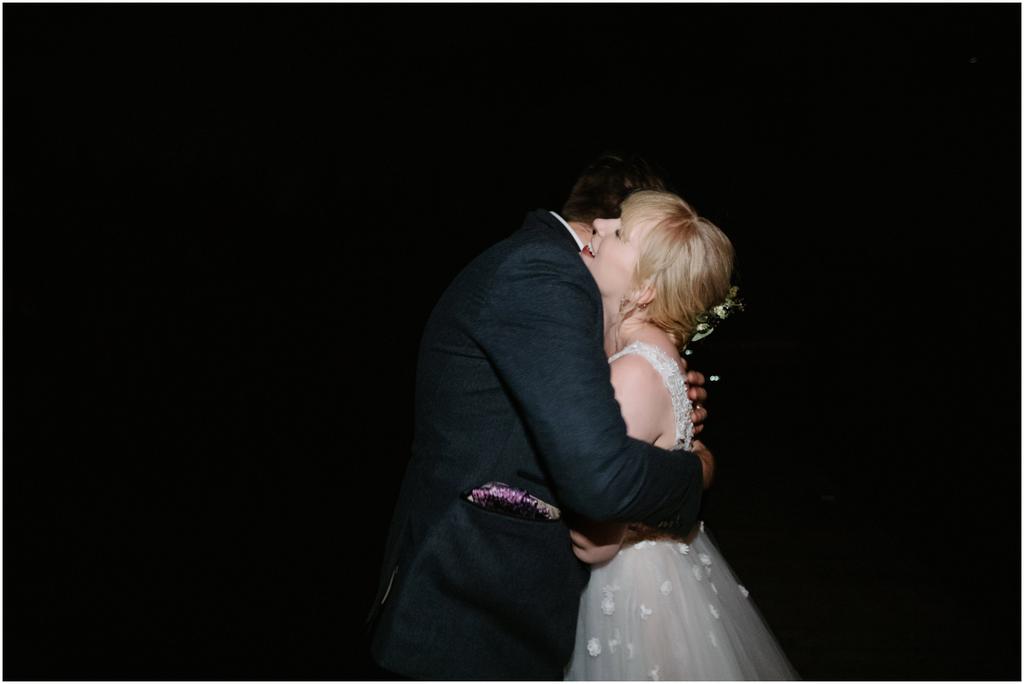 The vendors and what you loved about them
"Our florist, Raechel Schwarze with Events by Mint, did a f*cking stunning job making it feel like a magical forest and not a weird tent in the middle of the woods," said Kisky.
"Katy Weaver 1000000⁄10 for gracefully handling family and f*cking showing up and killin' it. And our DJ duo slapped, no idea if they'll ever do another wedding because they were friends from the Portland music scene but F it - email Ty Lerner [email protected]
"Everyone at Suttle was great, especially with all the changes we had with the pandemic. 10⁄10 recommend Chris Matheny for your Central Oregon sound needs. And full thanks to Jocelyn Arnold, who introduced us to Kerry Bergler, Events by Mint, and Raechel Schwarze, their in-house florist, who fulfilled our dream".
Venue, catering, alcohol: Suttle Lodge and Boathouse

Dress: Oscar de la Renta dress, purchased at Jin Wang in San Francisco

Hair and Makeup: Cassandra Kennedy

Shoes: Badgley Mischka

Florist: Raechel Schwarze with Events by Mint

Officiant: Anthony Colon

Cake: Foxtail Bakeshop

DJ: Raf Newman & Itay Lerner

Wedding Coordinator: Kerry Bergler with Events by Mint

Invitations Invites from Parklife Press
Browse more
Did you love this romantic Suttle Lake Lodge wedding? If yes, you might enjoy these other Central Oregon weddings and elopements I've photographed! And always, feel free to contact me if you have questions, or reach out if you are planning your own Suttle Lake Lodge wedding, or similar event in Central Oregon!!