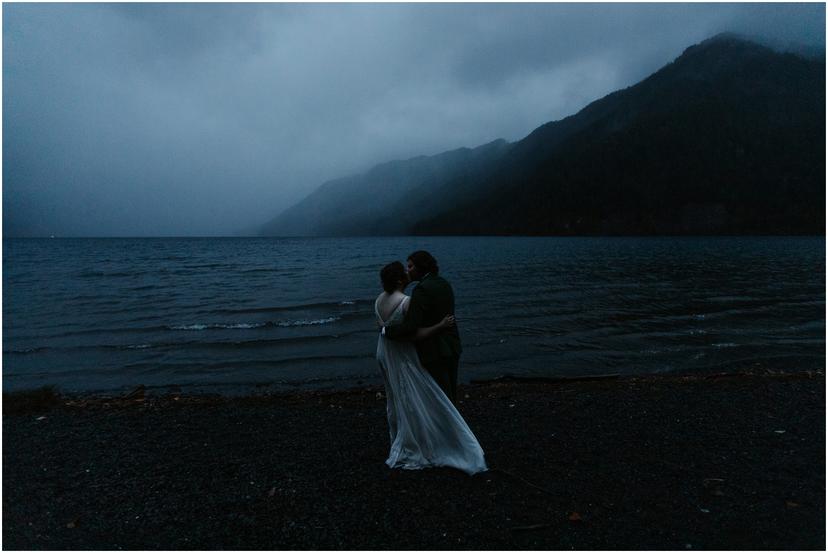 Port Angeles Elopement
Allison and Ethan got married on 10-10-20 on the Olympic Peninsula. It wasn't their original plan, but the day turned out spectacular in every way. Their larger Portland wedding transformed into an intimate elopement in Allison's parent's backyard. Instead of portraits in the city, we spent the morning wandering around the Olympic Peninsula, from Lake Crescent to Hurricane Ridge. We dodged rain, snow, sleet, deer, birds and even a bear. Quite an adventure! Then, Allison and Ethan held an intimate wedding ceremony overlooking the Strait of Juan de Fuca in her parent's backyard. The only guests were their parent and siblings. It was laid-back, but deeply meaningful in every way.
Getting ready together
Allison and Ethan opted to start their day with a sunrise portrait session at Lake Crescent and Olympic National Park. To make this easy, they got ready together! It was pitch-black outside when I arrived, but their little cabin at Lake Crescent was cozy and inviting. I loved snapping a few quick shots of them prepping for their day together.
Sometimes couples can't decide between doing a first look or seeing each other as they walk down the aisle. But often, NEITHER option makes sense, and you might as well just spend the entire day together like you normally would. This is really great for creating a relaxed, comfortable atmosphere, and makes your entire wedding feel more real, more normal, and more you.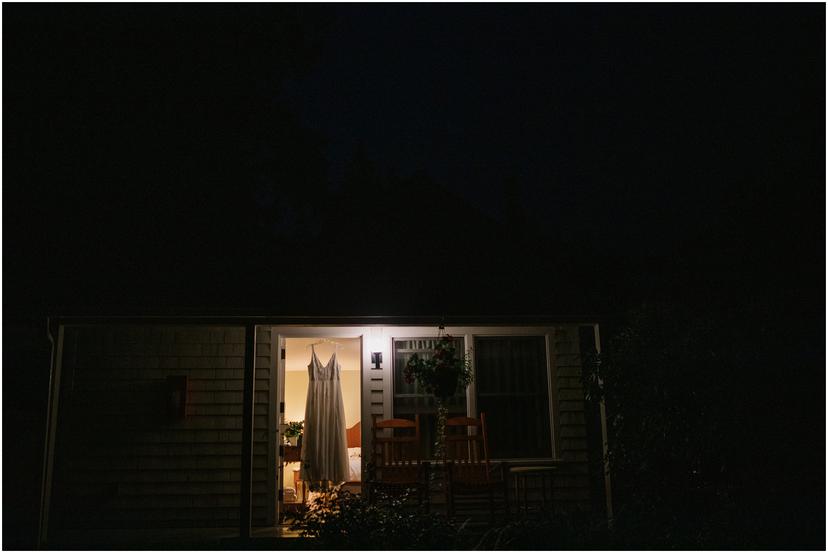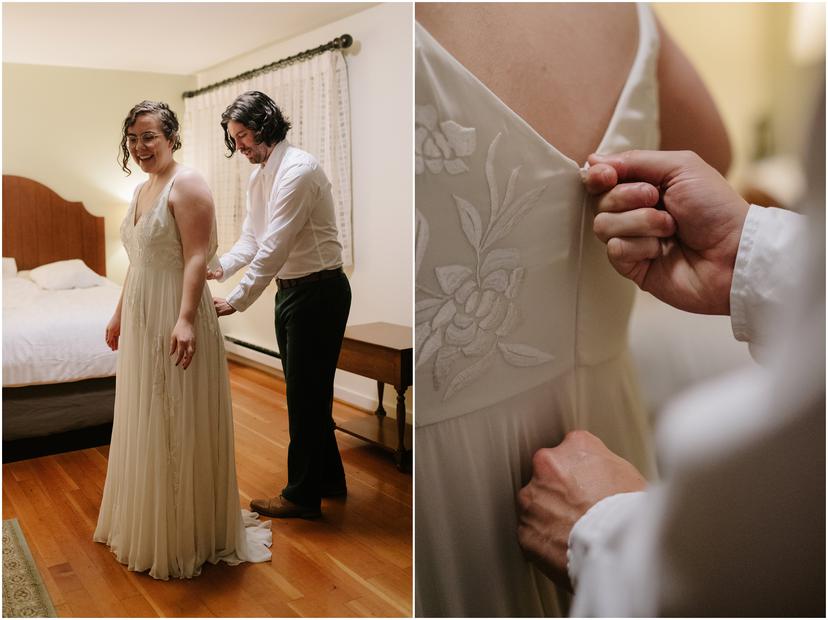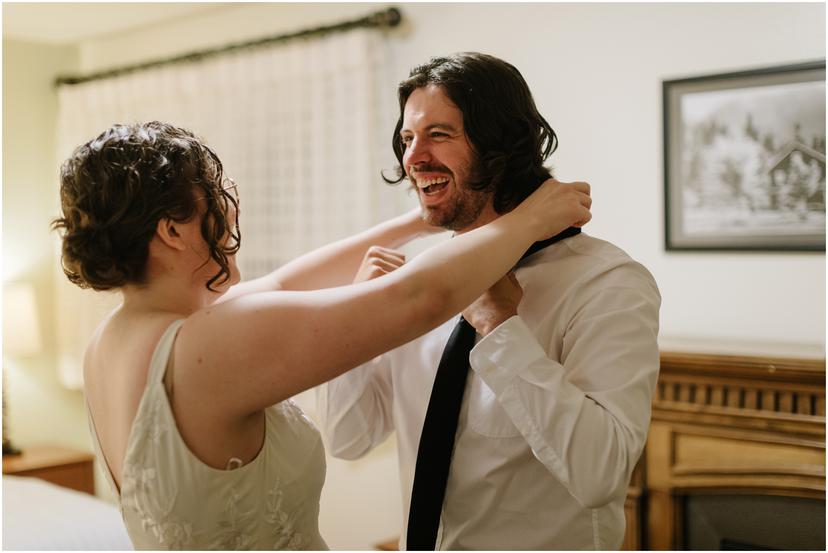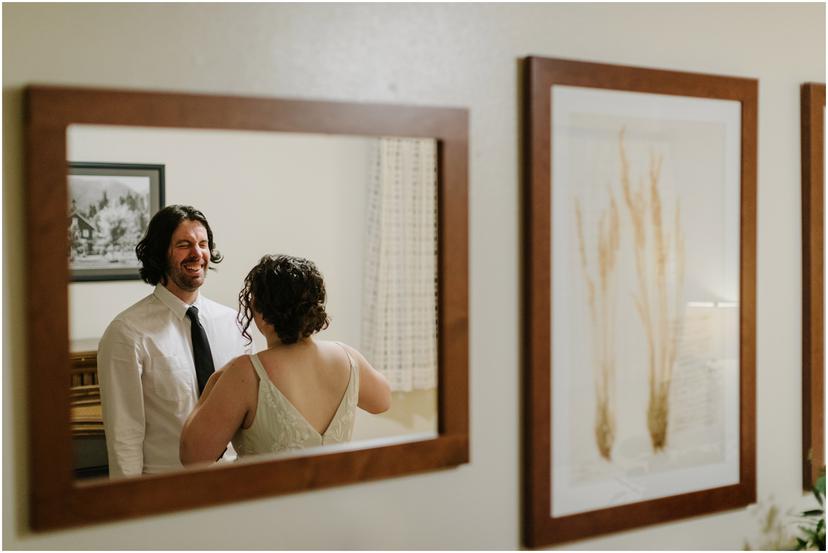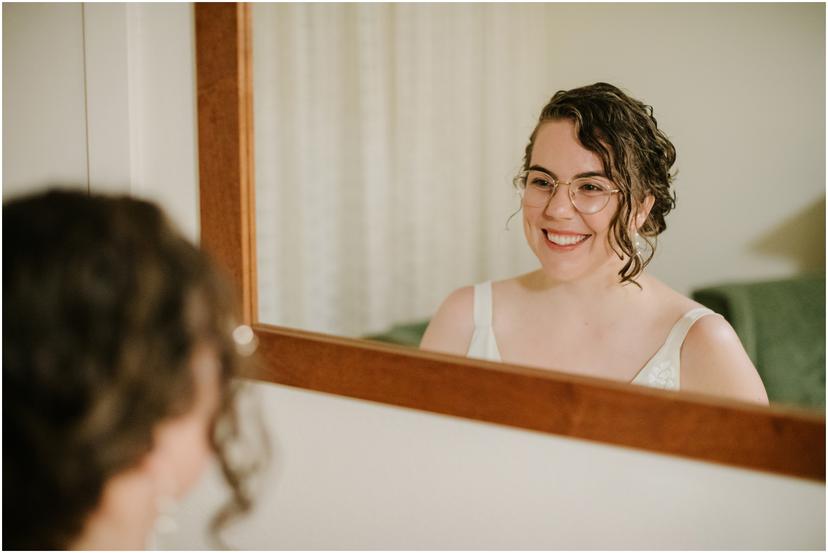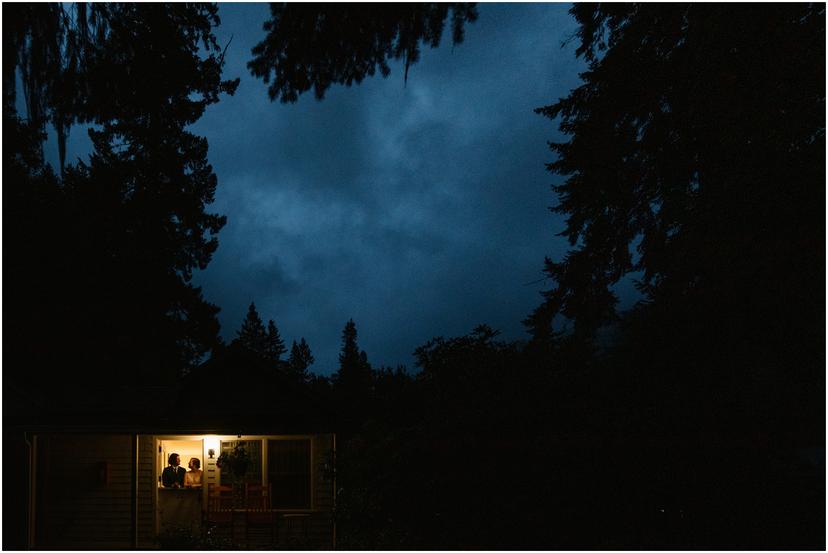 Elopement photos at Lake Crescent
Lake Crescent Lodge is a stunning backdrop for sunrise elopement photos! Although it was too rainy for a real sunrise, I absolutely loved the moody blue light in these images along the lake. Allison and Ethan were troopers in the rain and wind!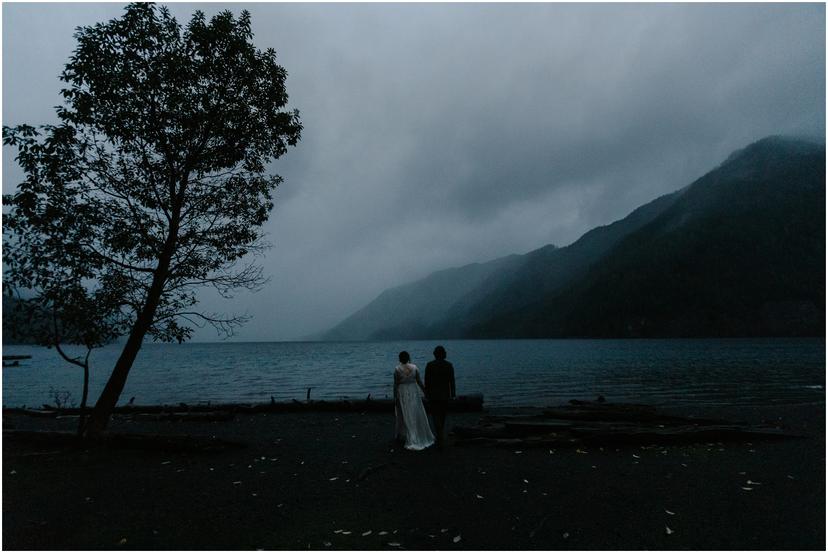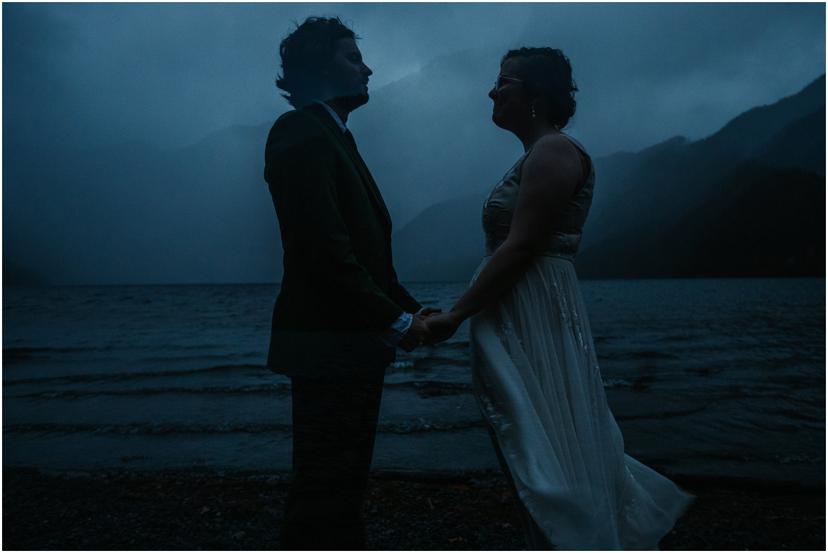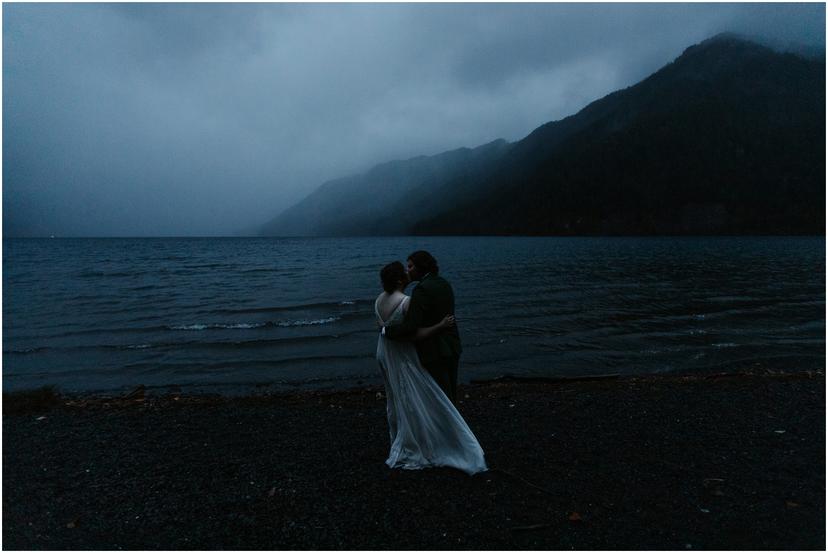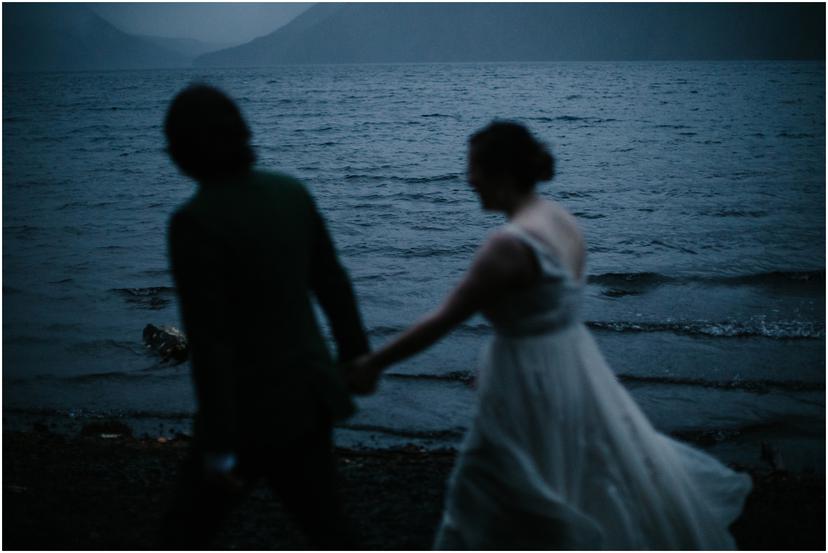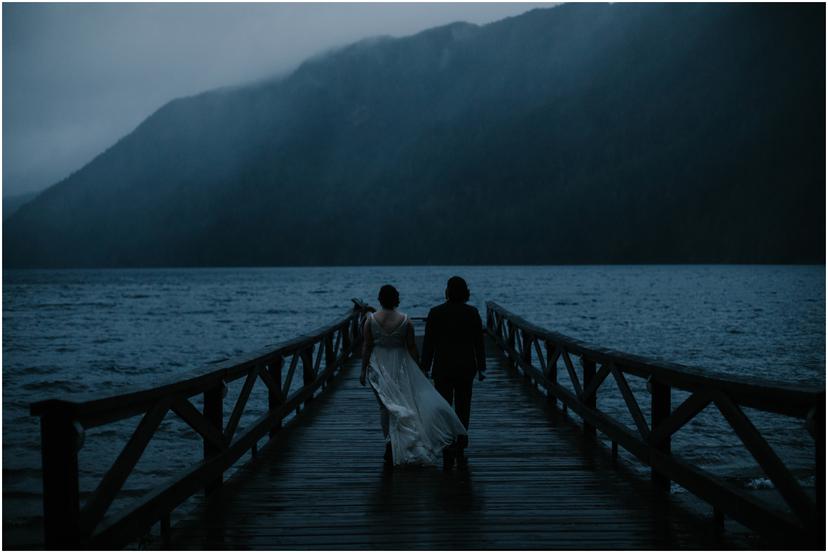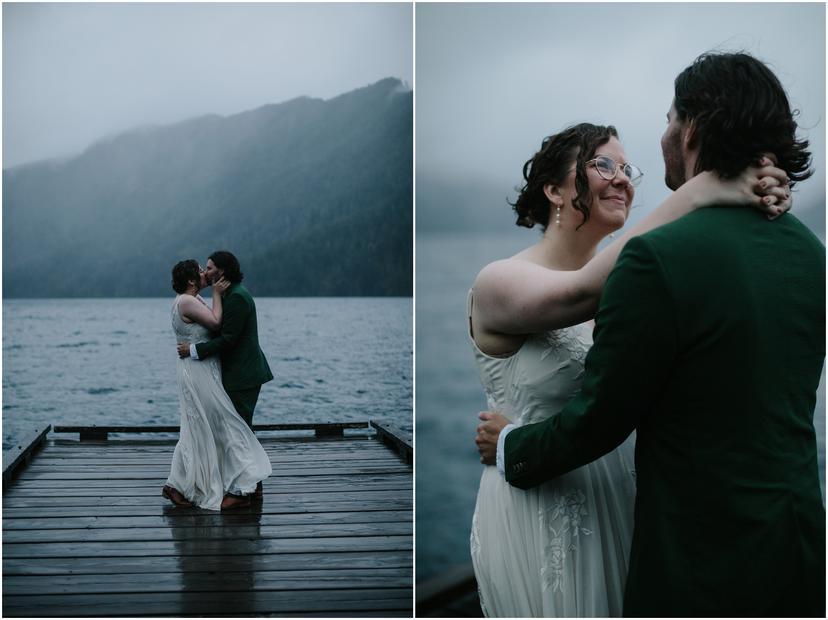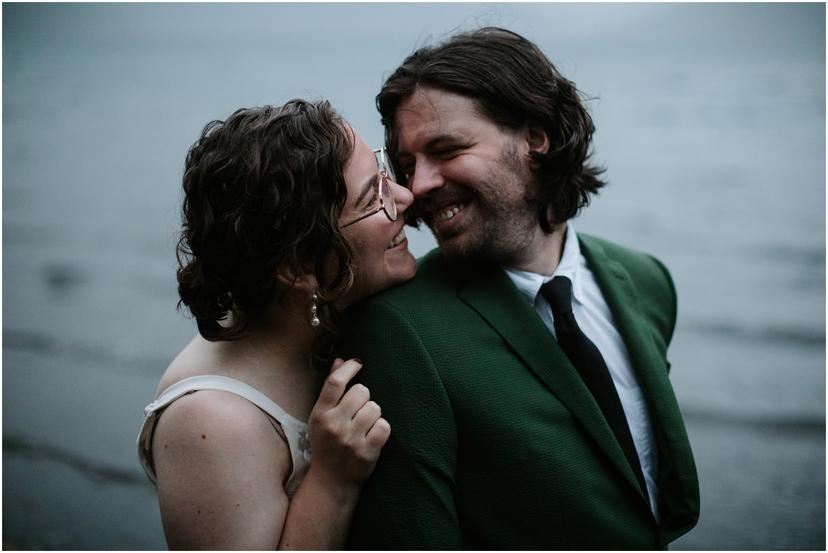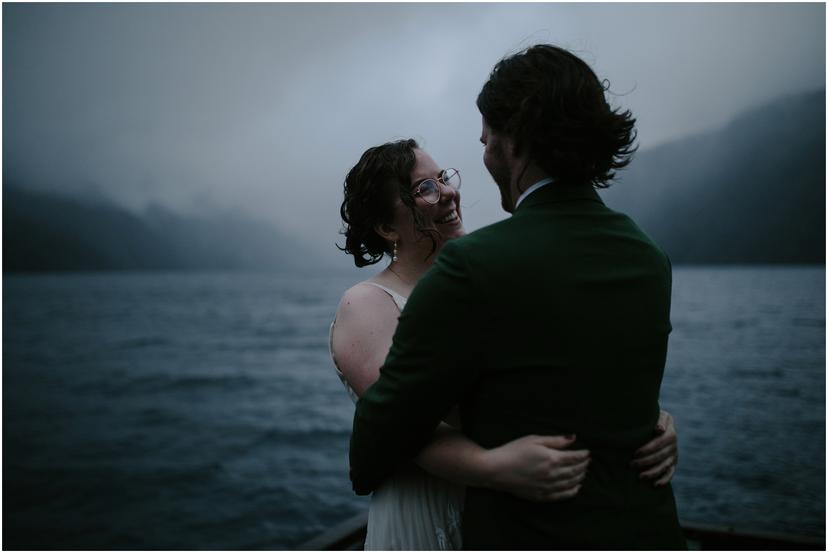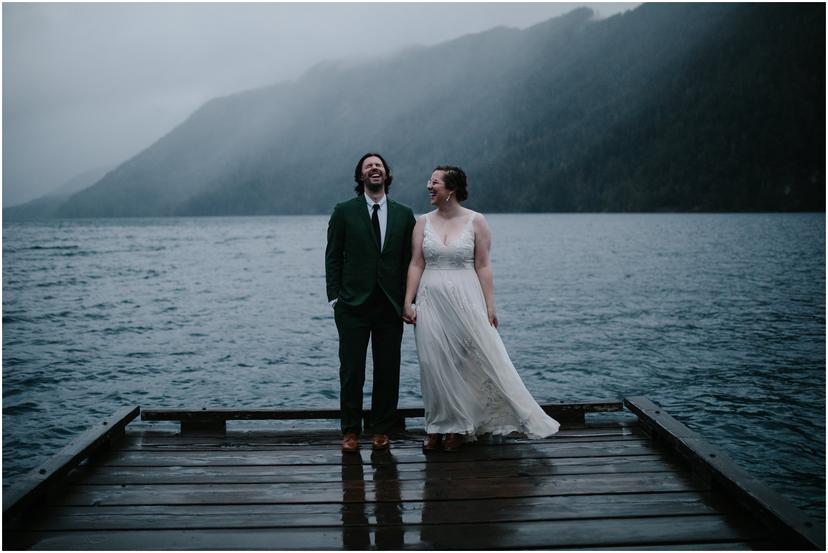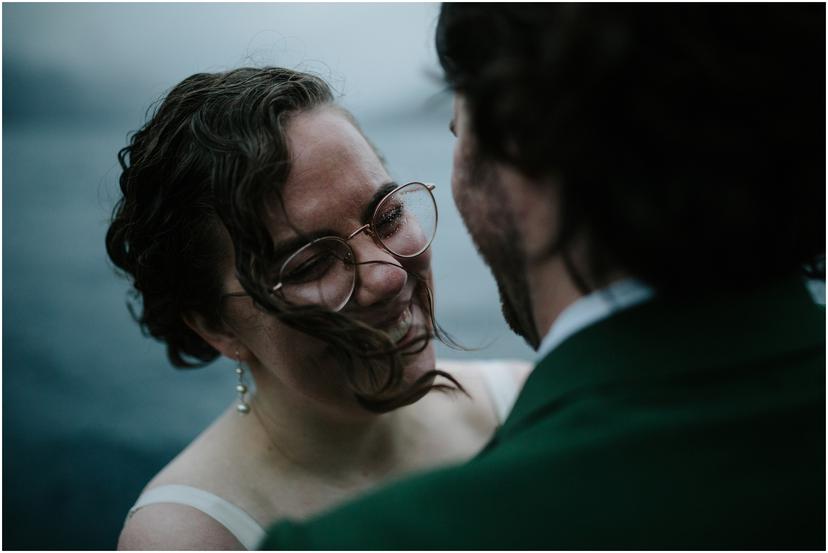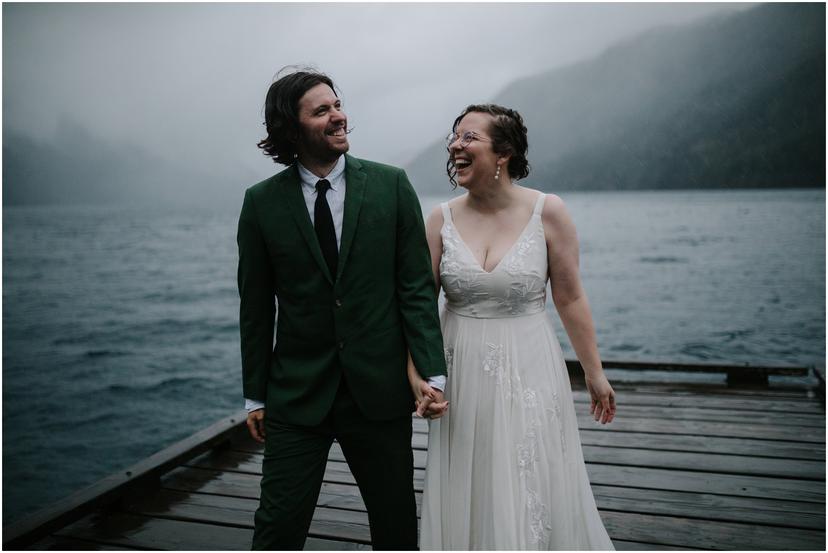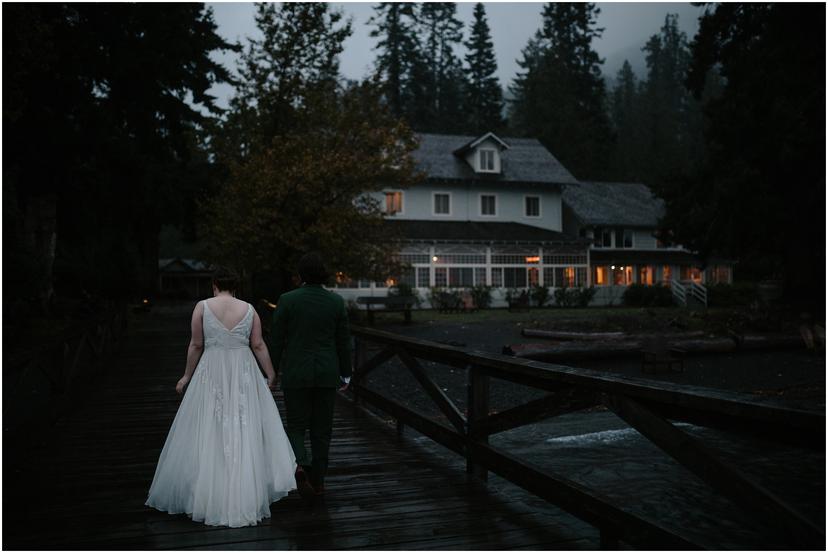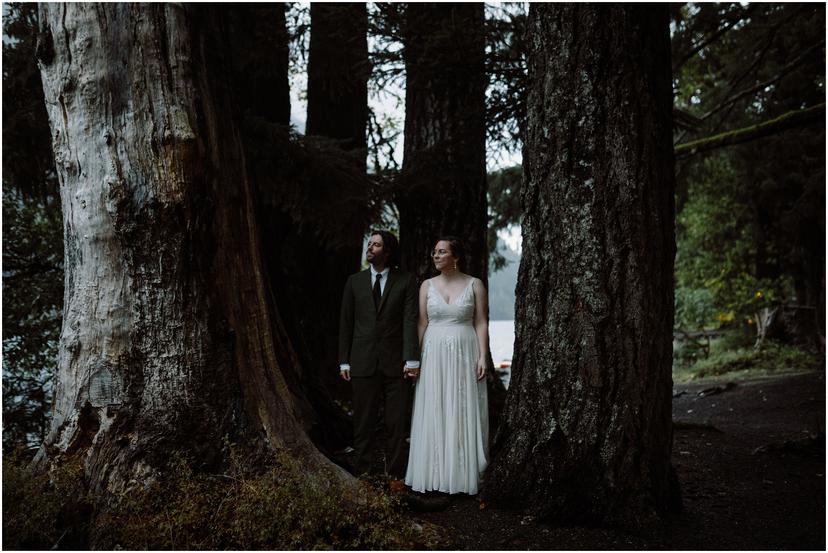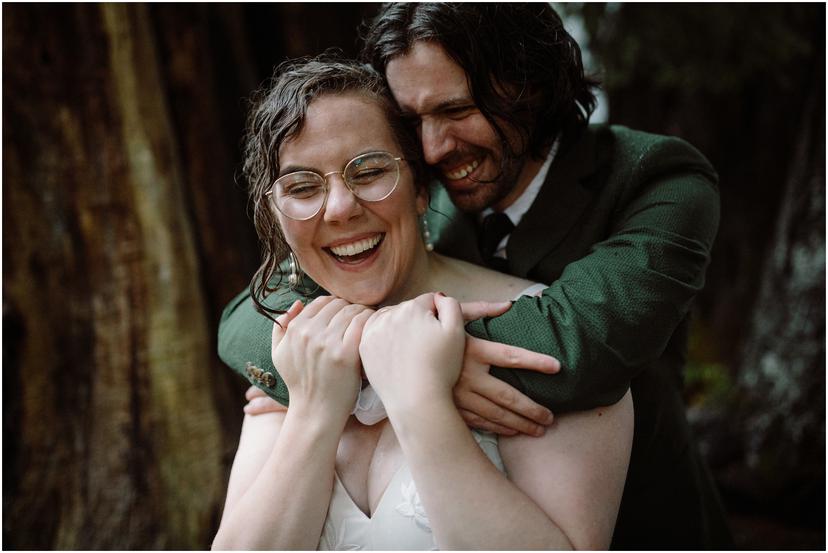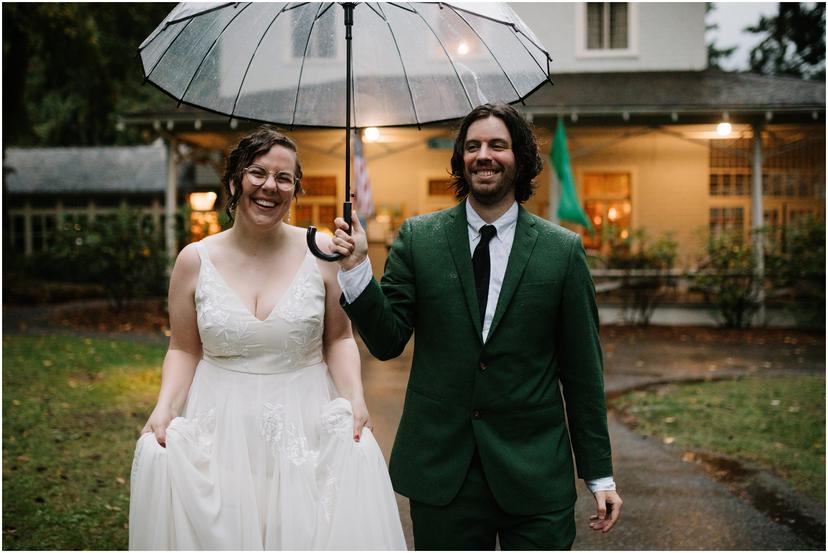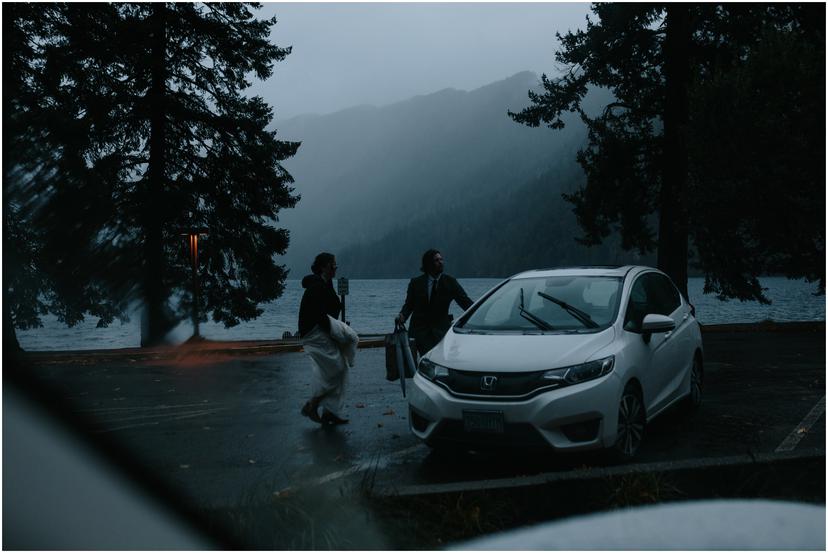 Olympic National Park elopement photos
After getting drenched at Lake Crescent, we drove up to Hurricane Ridge in Olympic National Park. Unfortunately, the weather continued to be uncooperative. After 5 minutes of photos in heavy fog, we got snowed on! It was soooo cold that we quickly retreated back down the mountain and found several other beautiful spots at lower elevations. Pro trip: sometimes the best views of the mountains are NOT at the top.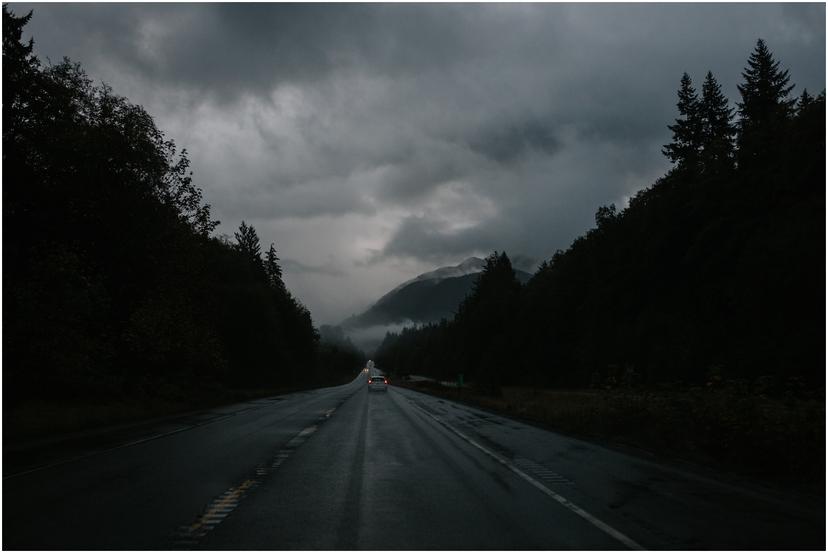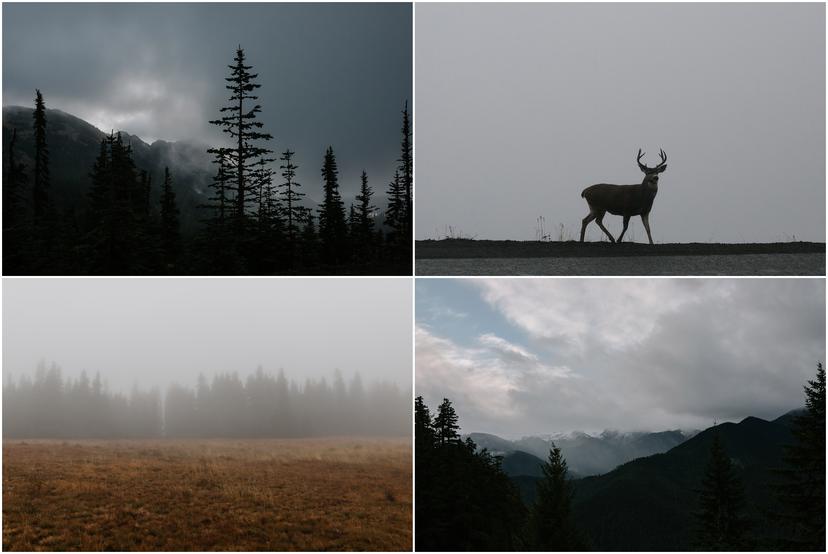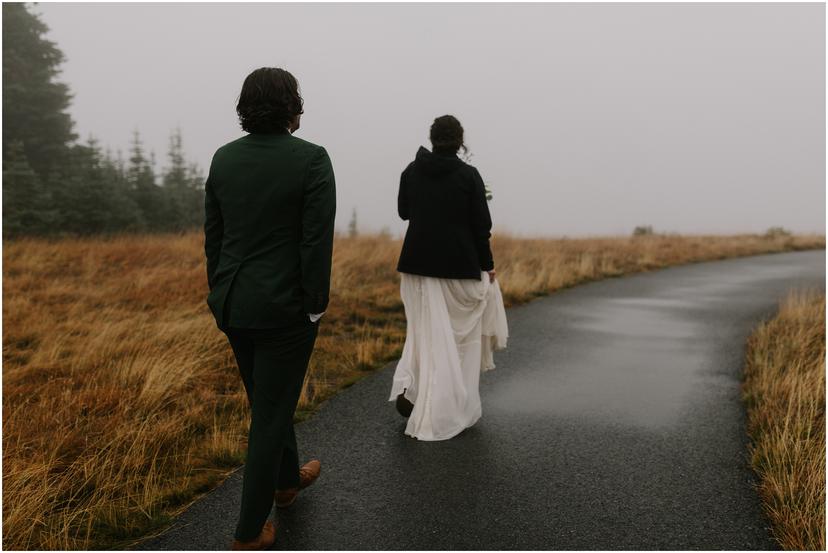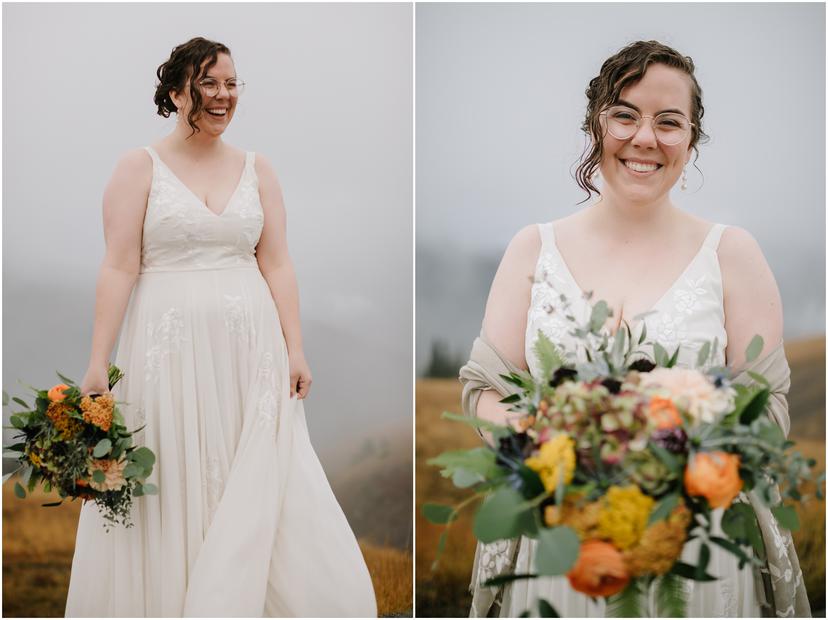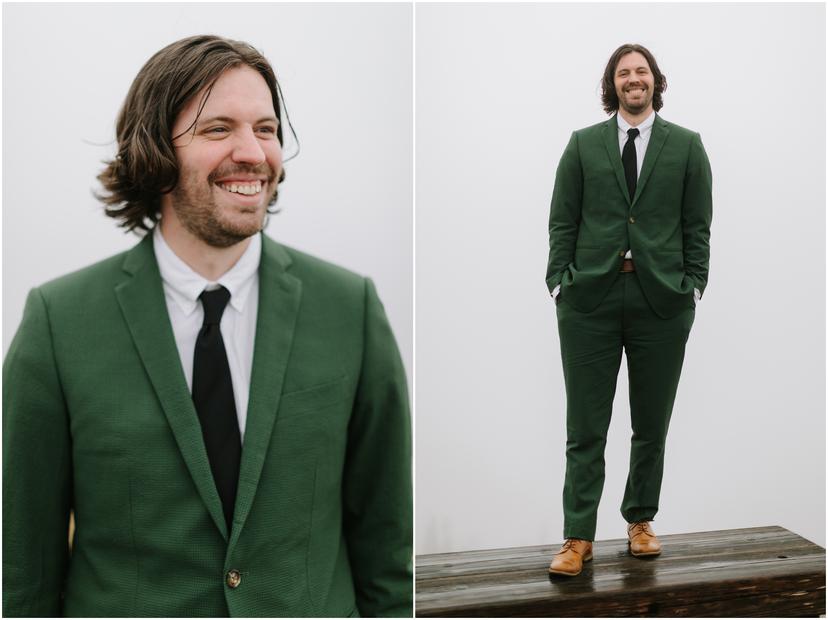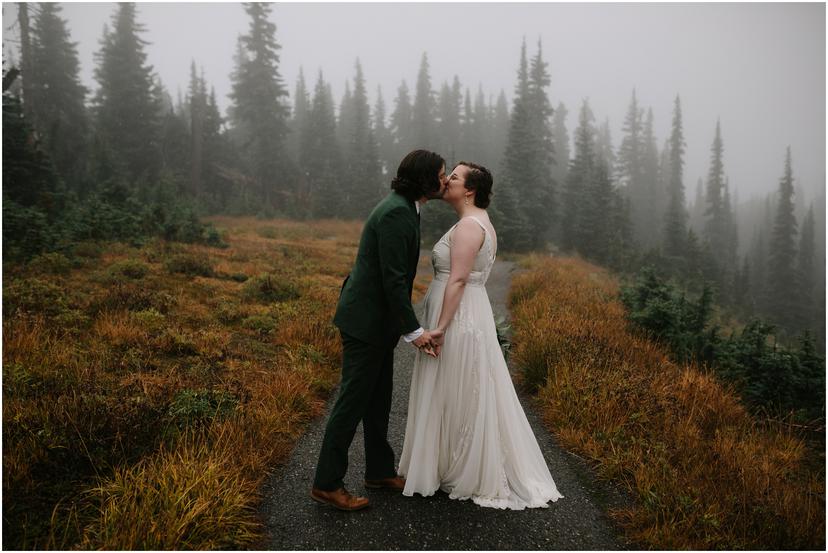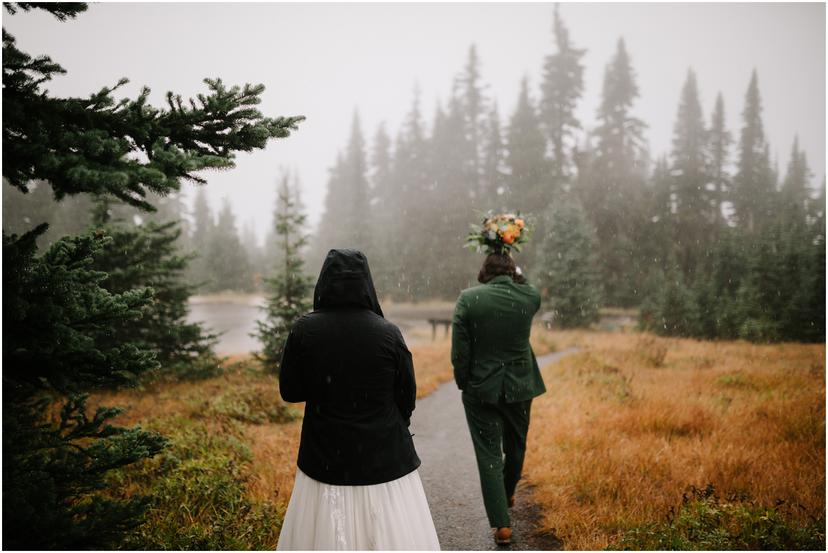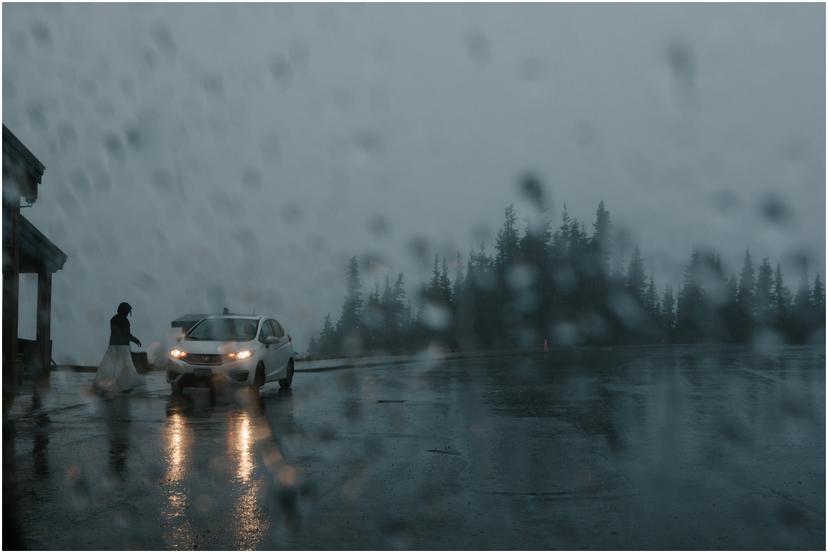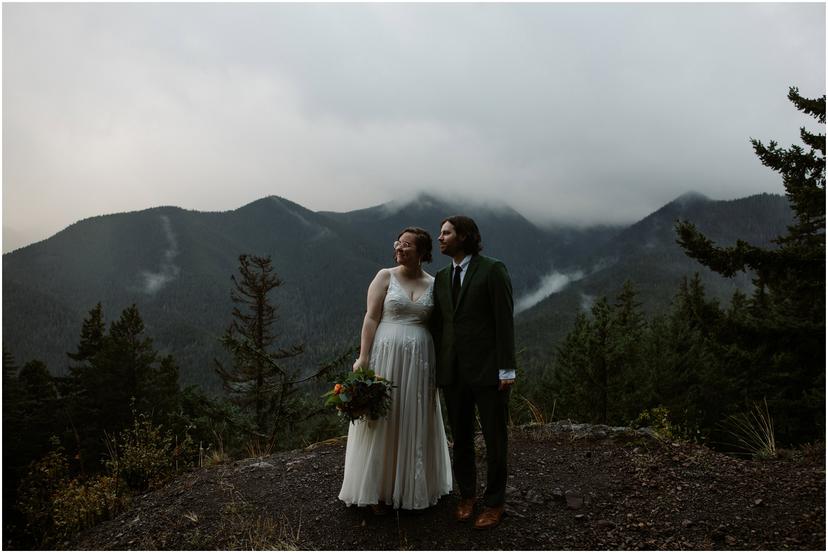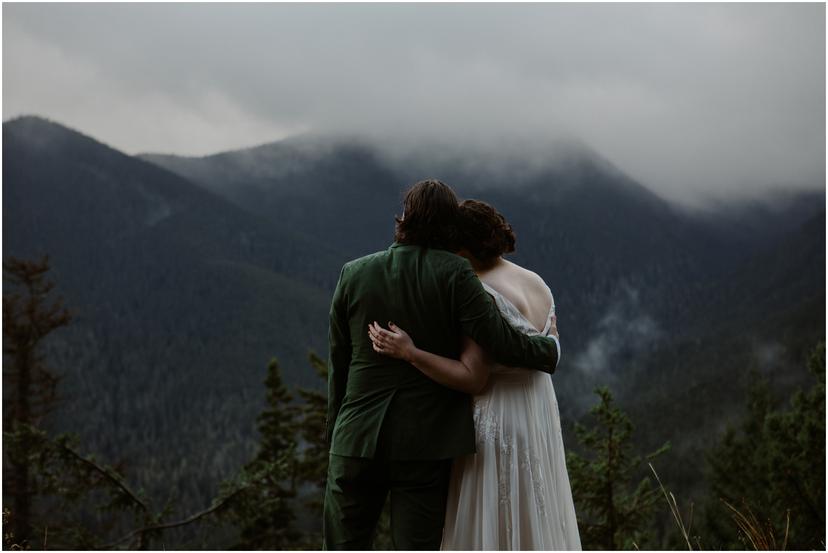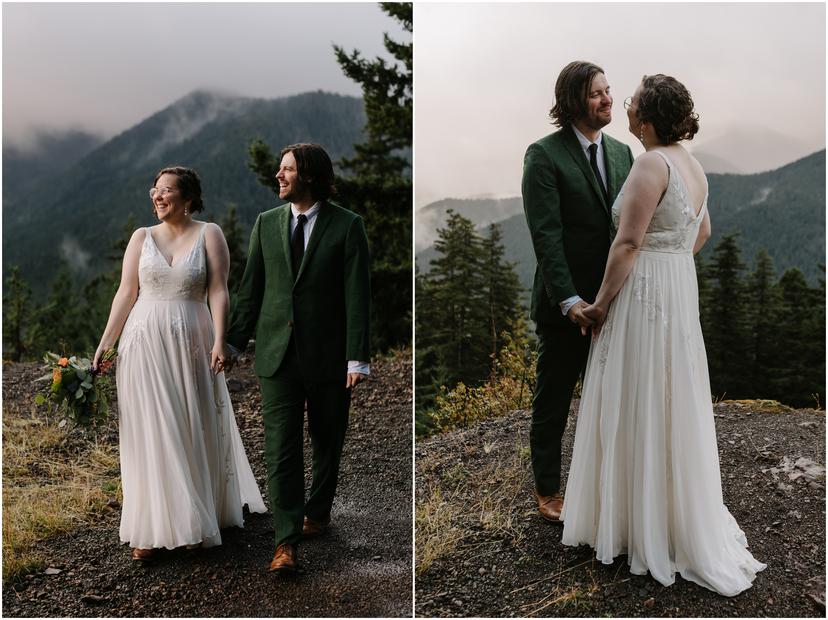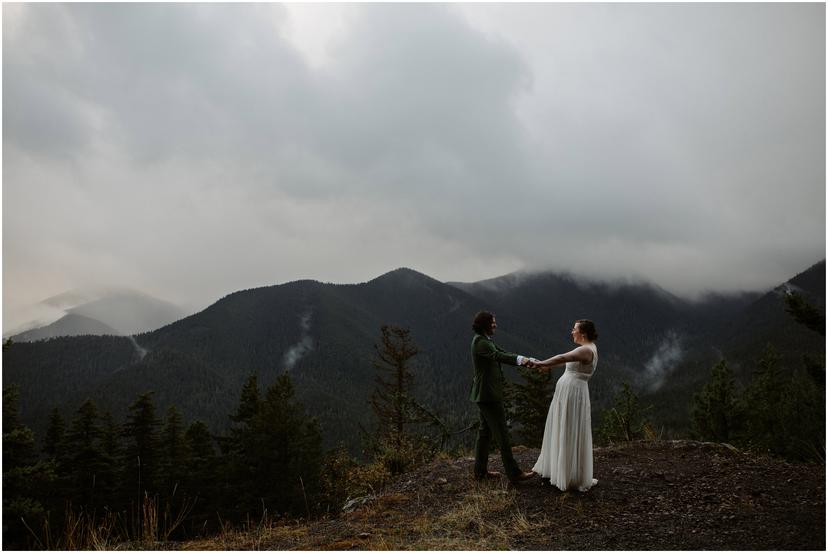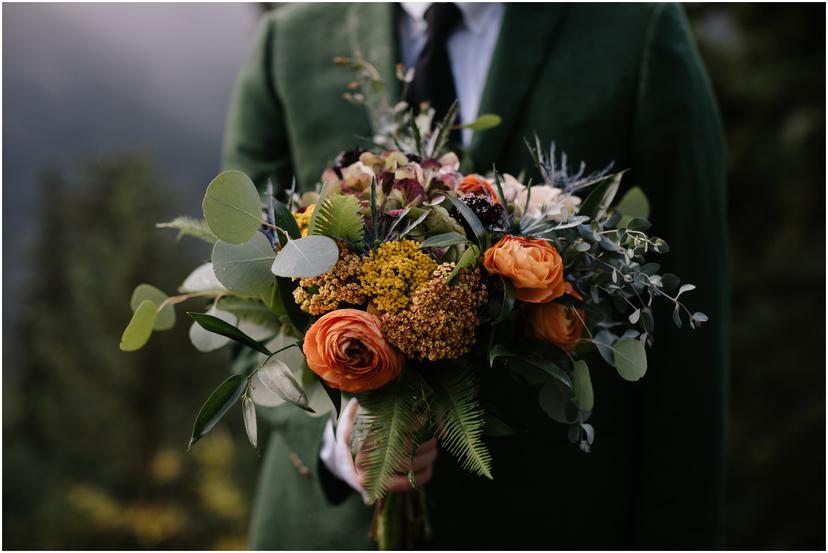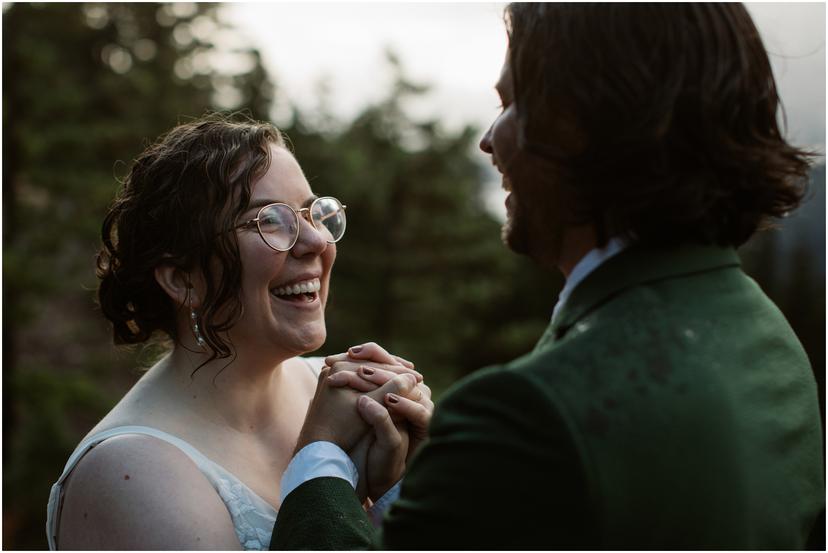 Advice for couples planning Olympic Peninsula weddings
"Highly recommend Lake Crescent, for photos and/or lodging!" said Allison. "We stayed in a cabin at the lakeside for several nights and it was magical and peaceful waking up there each morning. (It also felt very safe during the pandemic, as the cabins open to the outdoors. It was very easy to social distance, and we would get food to-go from the lodge restaurant). Also, for such a small town, Port Angeles has some really great and diverse dining options. And, have to recommend Hurricane Ridge for photos – though maybe avoid a morning when it is sleeting!"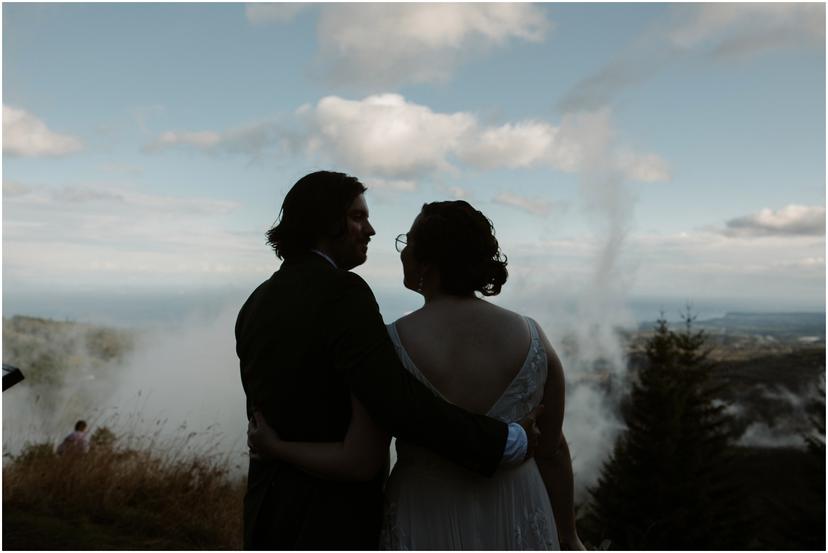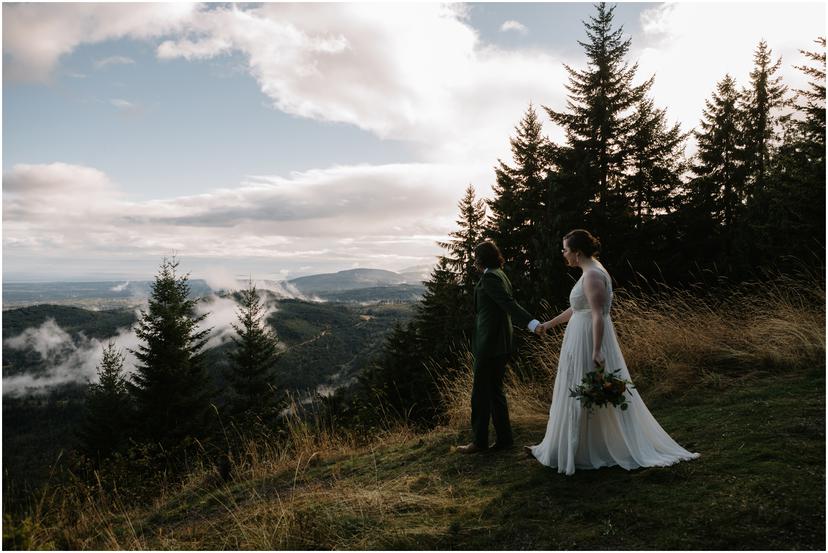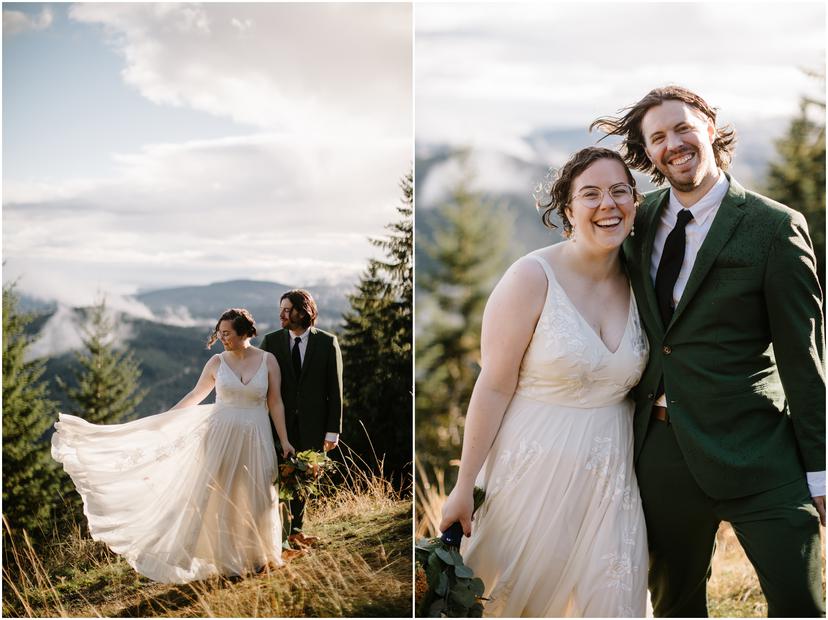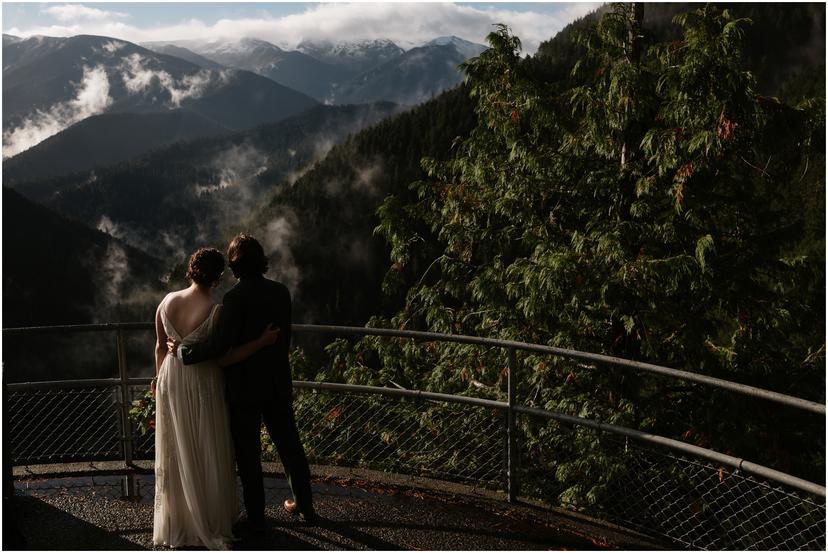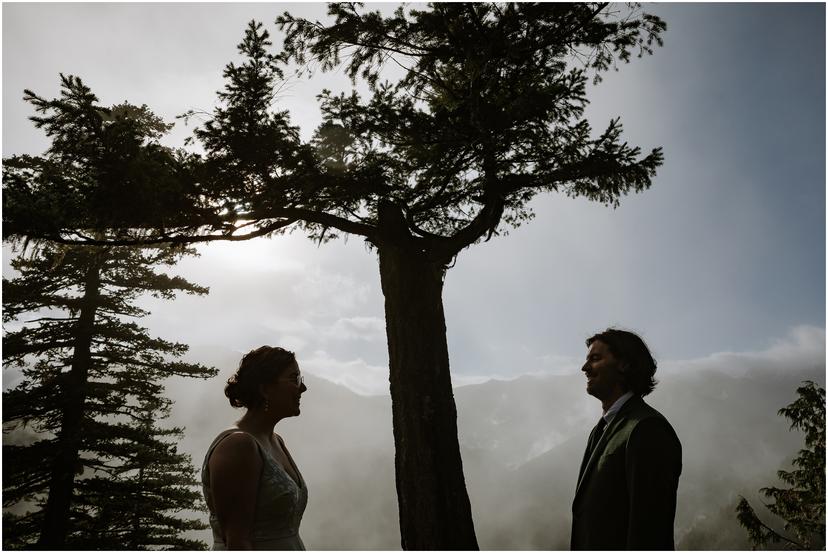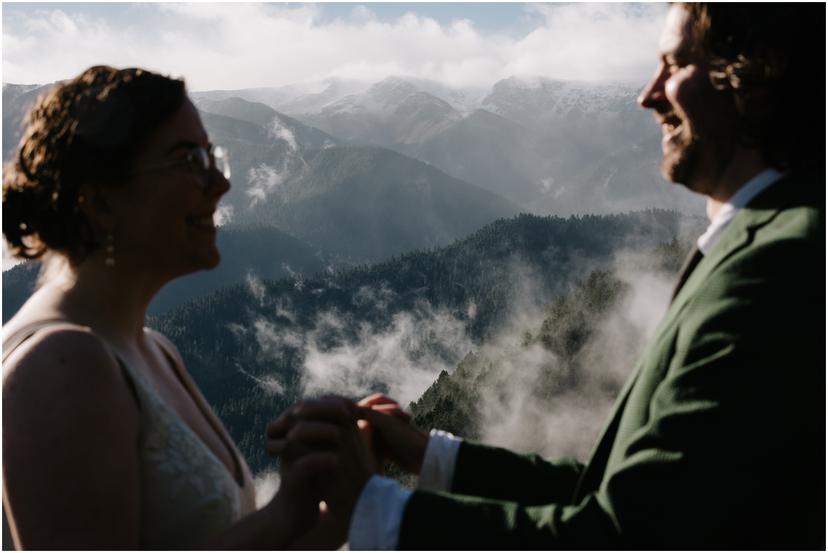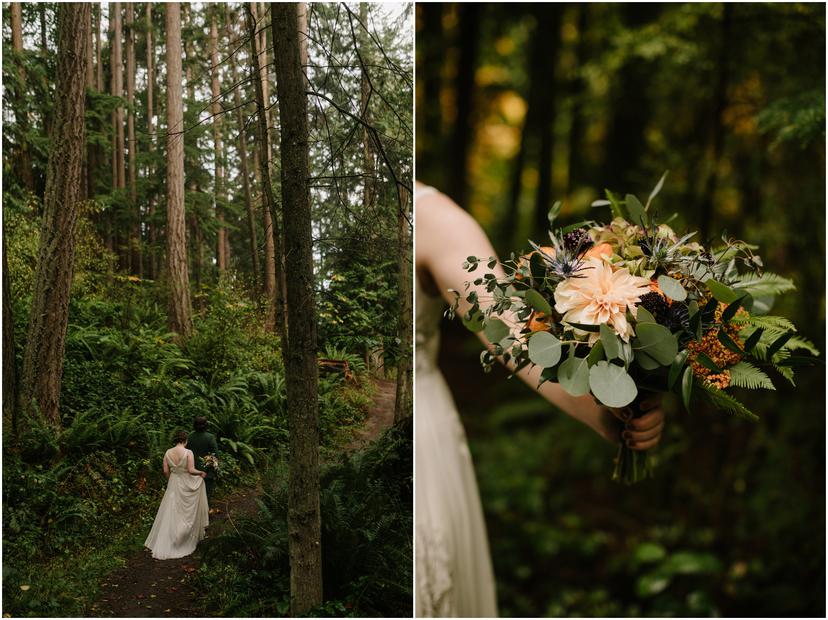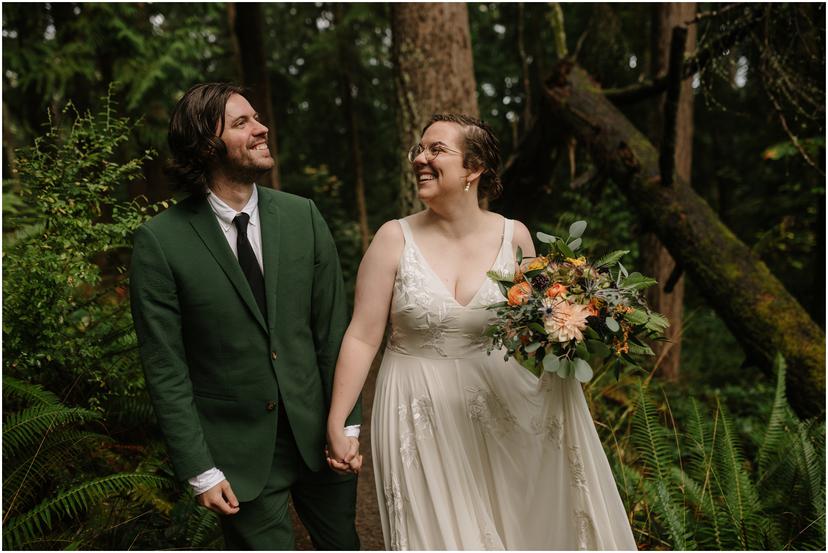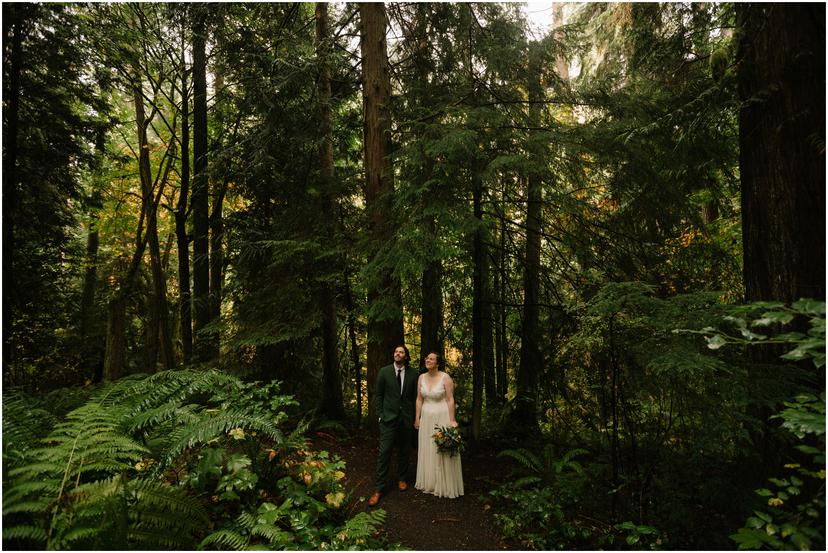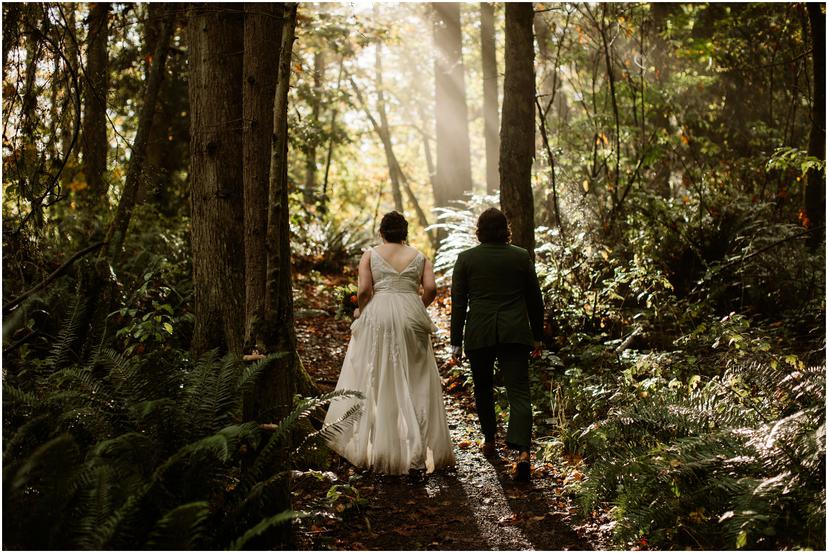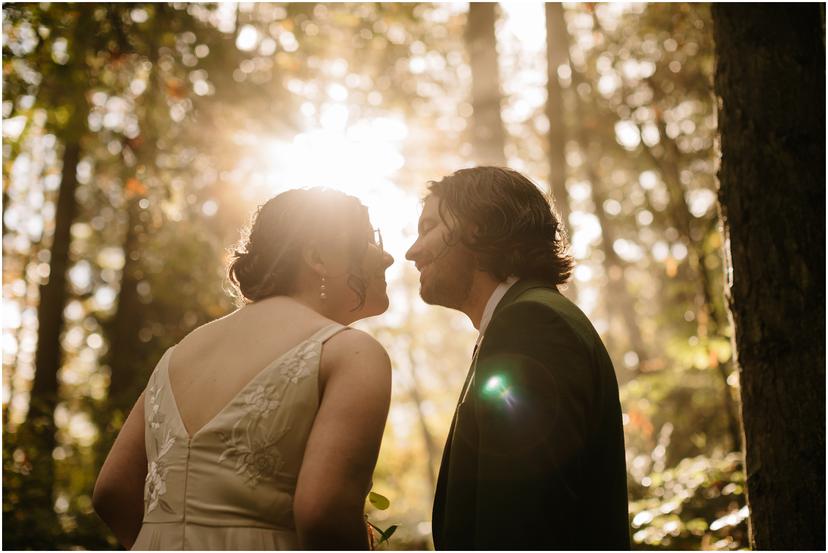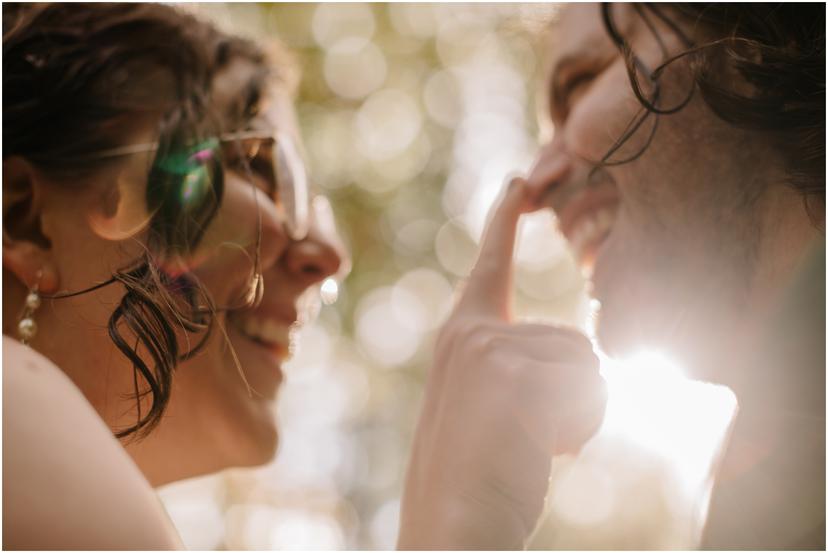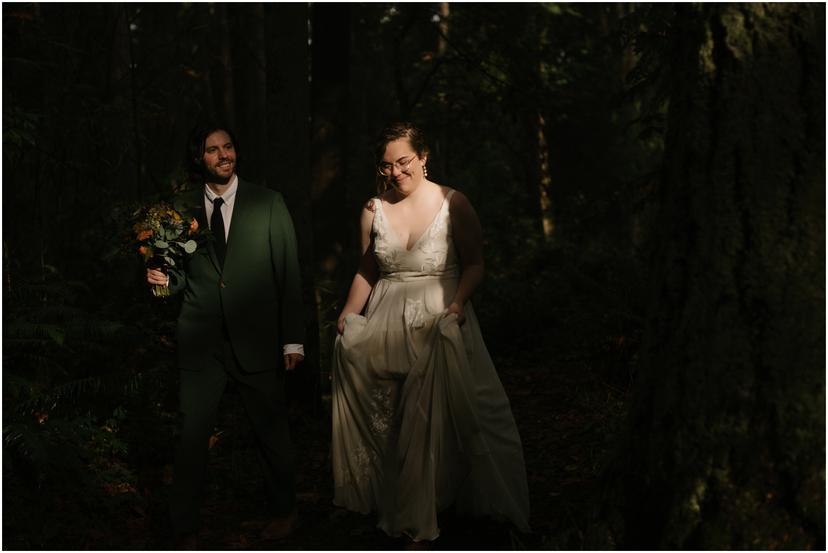 About their Port Angeles backyard elopement
"What's funny is that, ages ago, after we'd first gotten engaged, we mentioned that it would be the perfect venue!" the couple said. "Allison's parents live in Port Angeles and their backyard looks out on the Strait of Juan de Fuca, it's a stunning place. But at the time we were envisioning a larger gathering, and logistically it seemed challenging and a long way to ask many folks to travel, so we nixed it pretty immediately. When we needed to adjust our plans per the pandemic, it was pretty much the first thought we had as a venue to switch to. Allison's parents were thrilled to host, too."
"Also, on a personal note, for me the location held a lot of meaning," said Allison. "My dad grew up in Port Angeles, my grandparents lived there throughout my life. And when my parents got married, they had their reception at my mother's parents' house in Lake Tahoe, California. So it felt like a bit of a tribute to my side of the family to host the ceremony/reception at a family home in a town with a lot of family history and context. I have grown up spending time at Lake Crescent and in Port Angeles, and spending the wedding day there was hugely meaningful and emotional to me."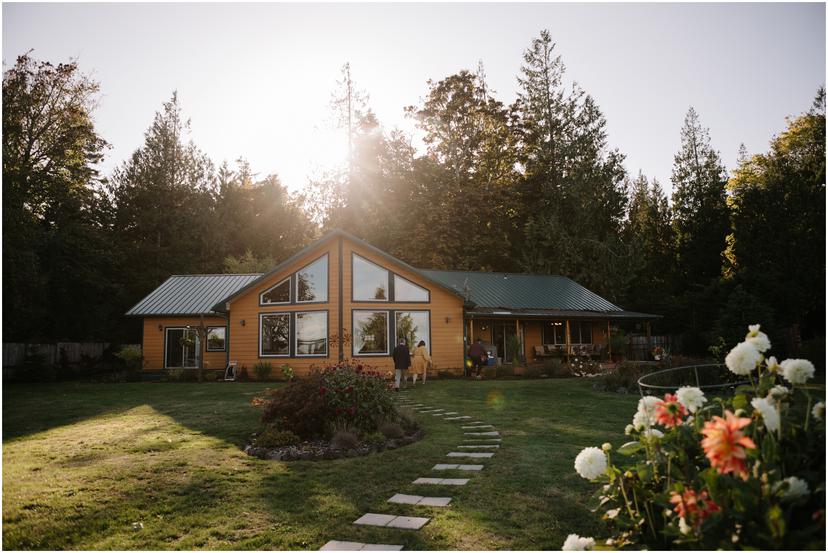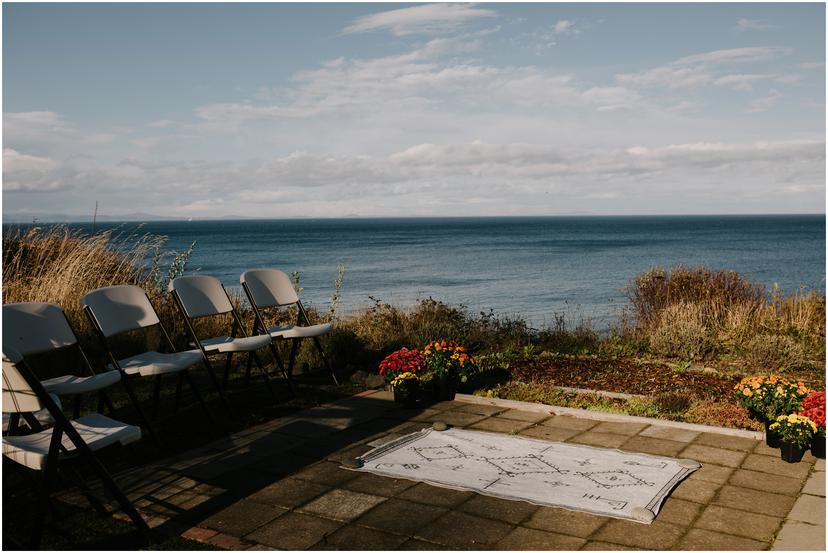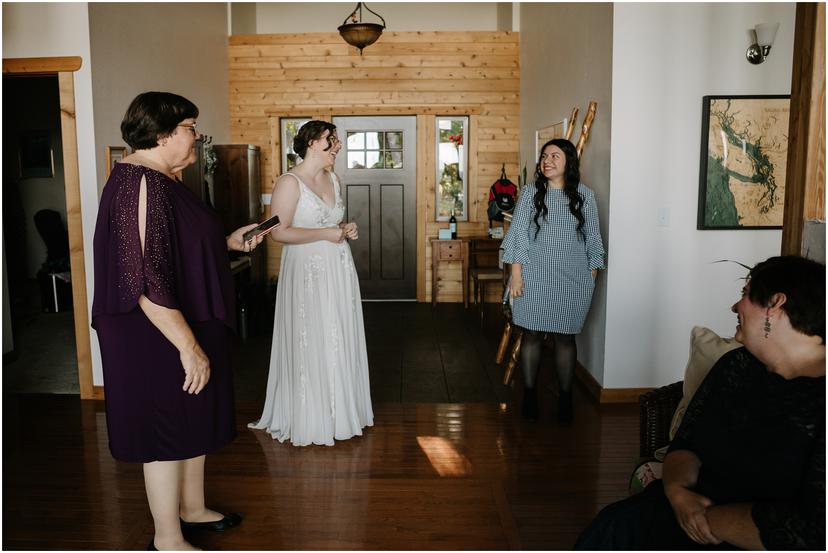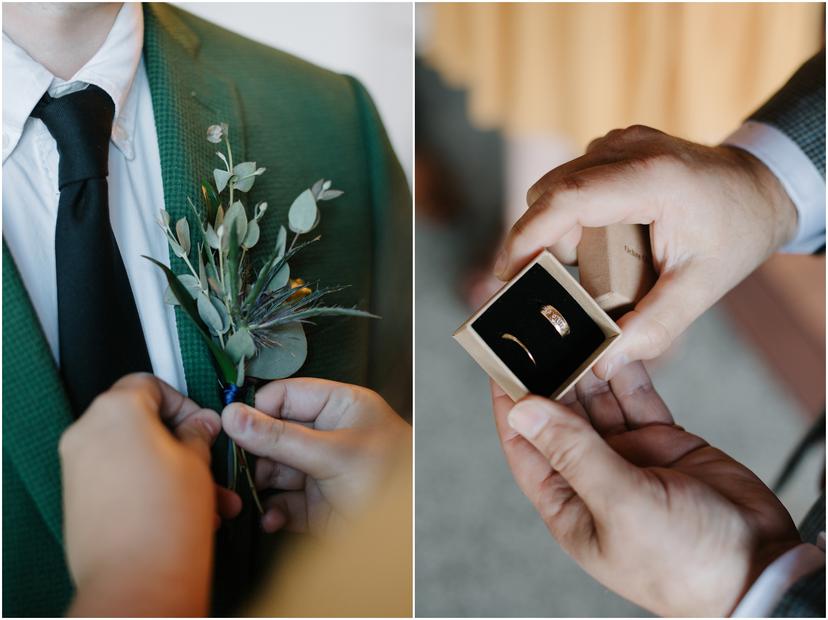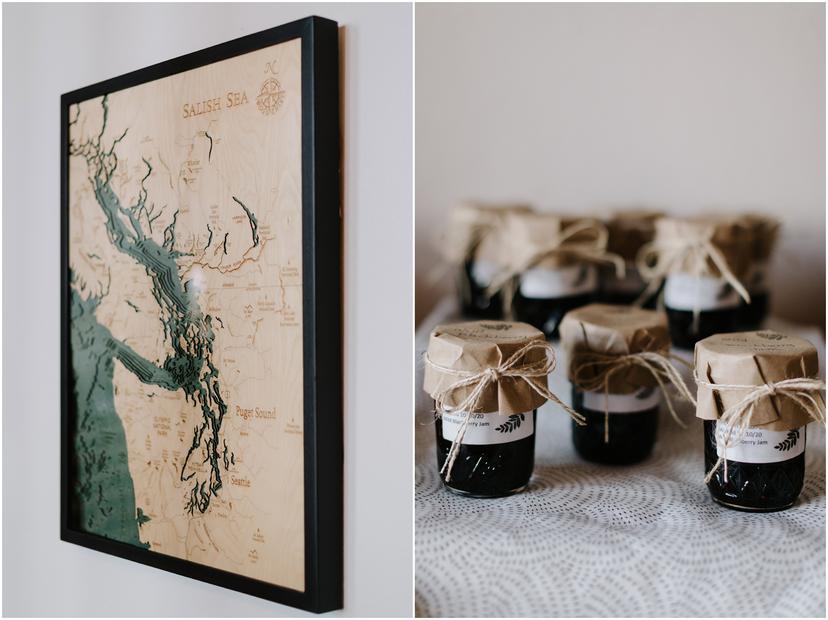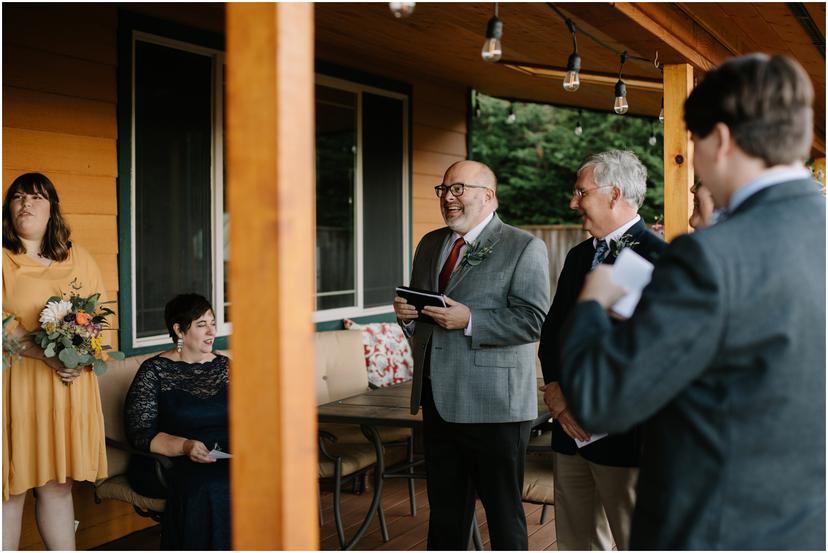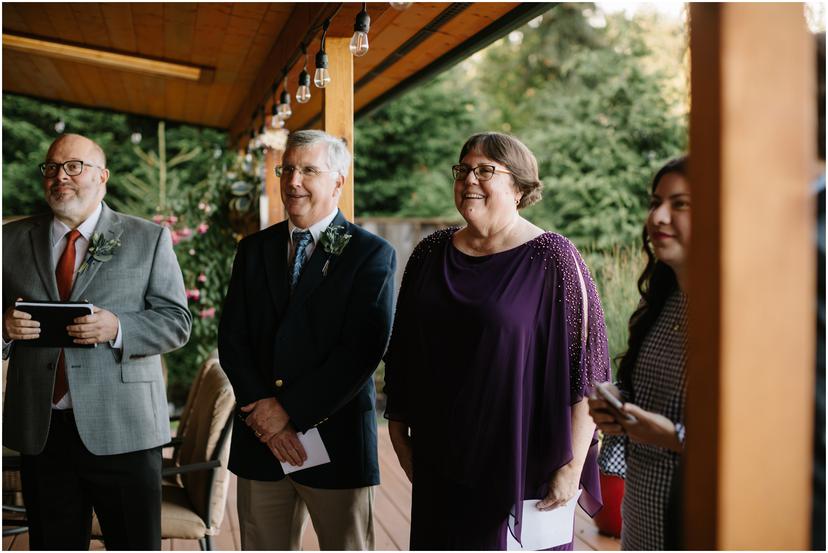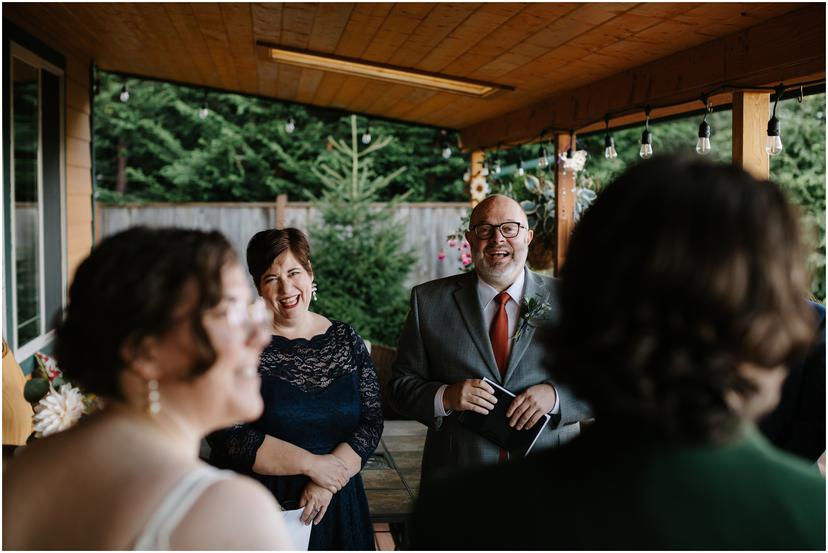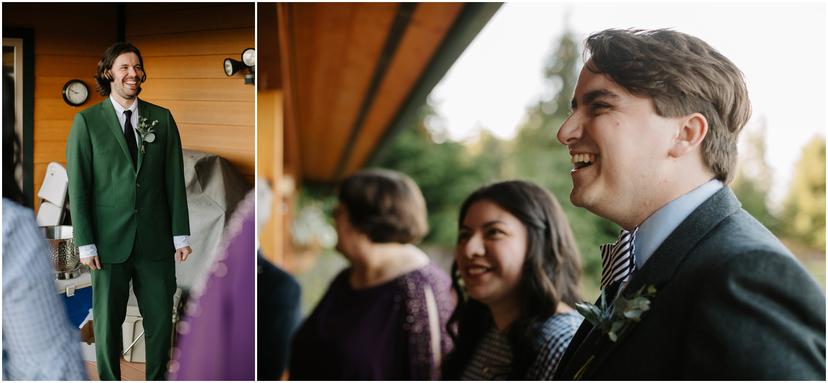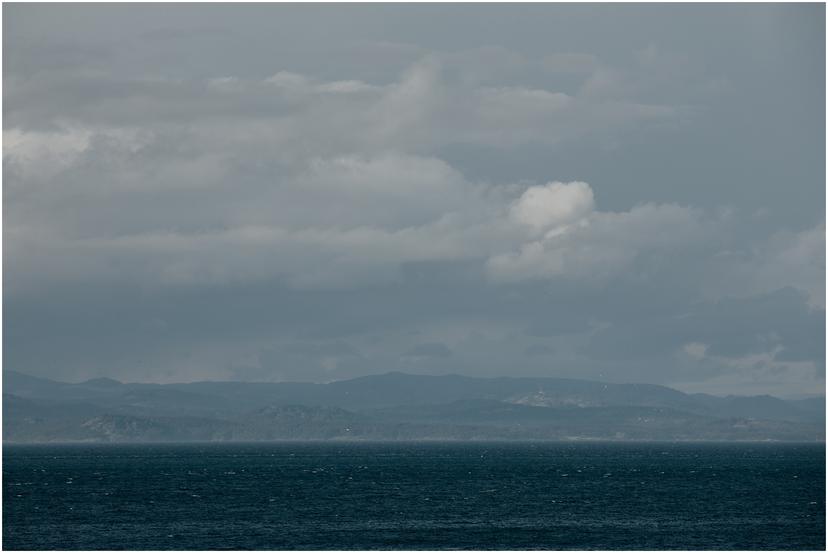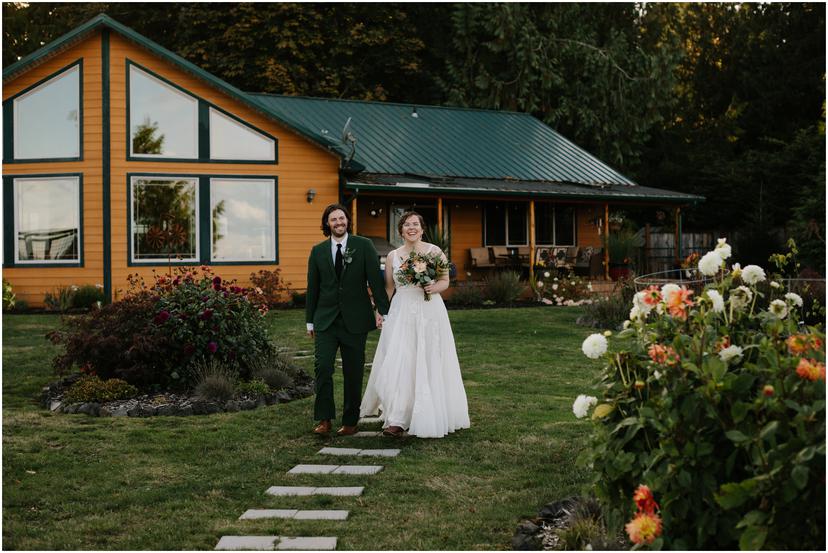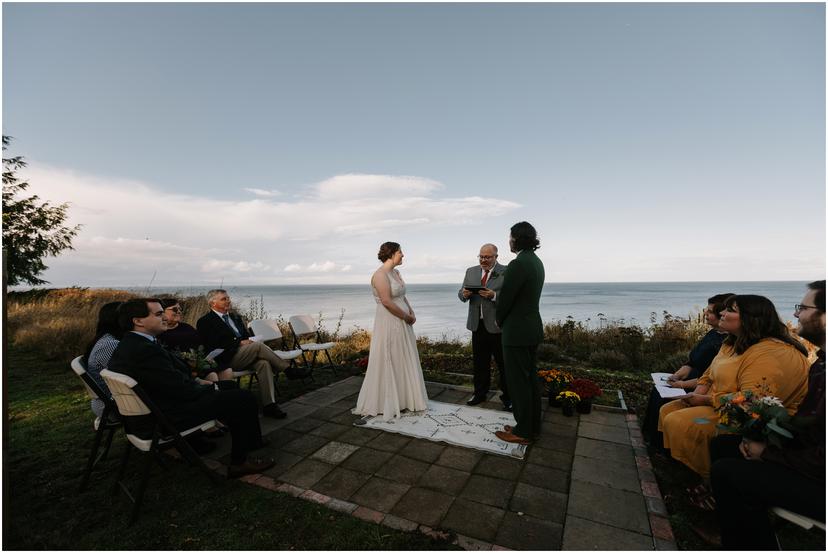 About the wedding ceremony
"With such a small group, it was lovely to move straight from the ceremony to the reception. We also brought a rug from our home that we love, to stand on when we said our vows and got married. We love that we will always have that "spot" with us, wherever we go. Also, we asked Ethan's dad to officiate. We helped write the ceremony script ourselves, which was really fun to have some direct involvement in. We liked the idea of incorporating readings, as we'd seen it done at weddings and liked how it involved more folks than just the officiant + couple getting married, so we chose lyrics from our favorite songs and asked our parents & siblings to each read. The whole day, despite being busy, felt largely relaxed and fun, which was what we wanted!"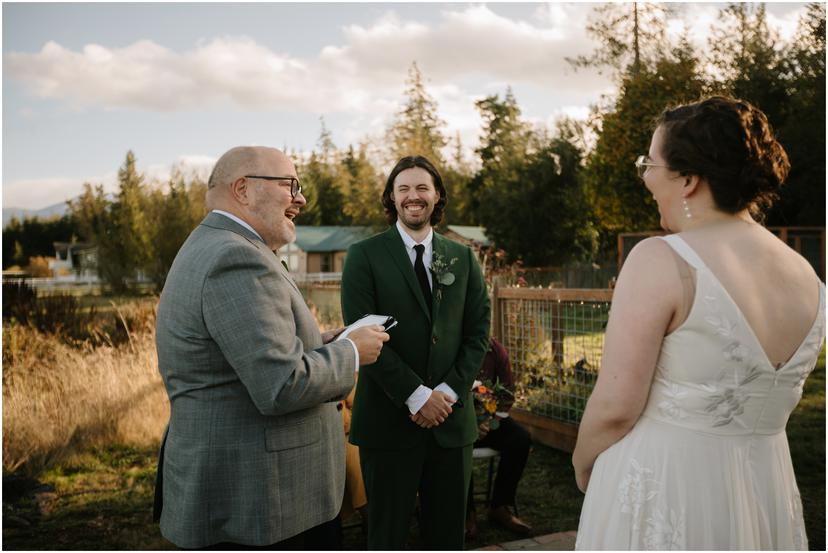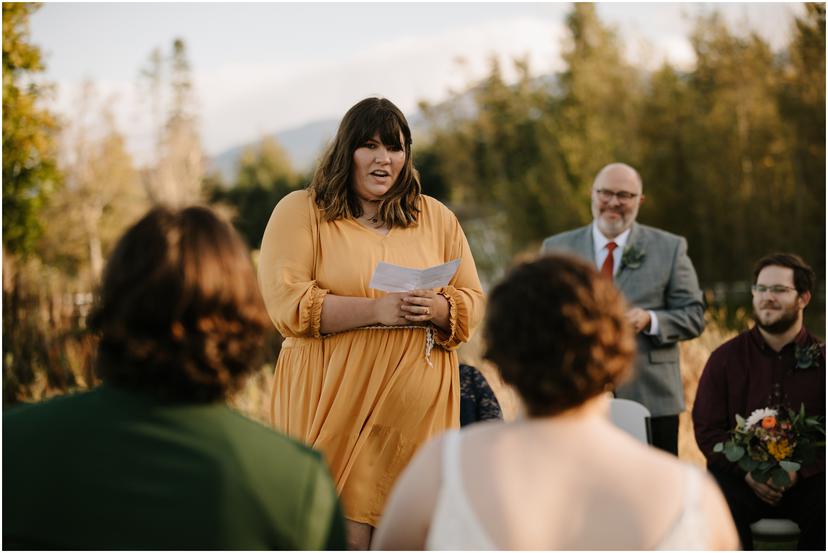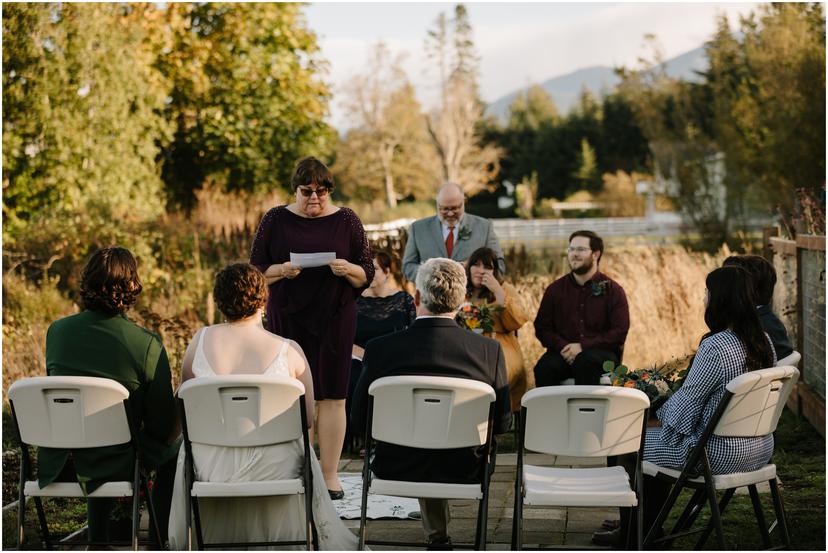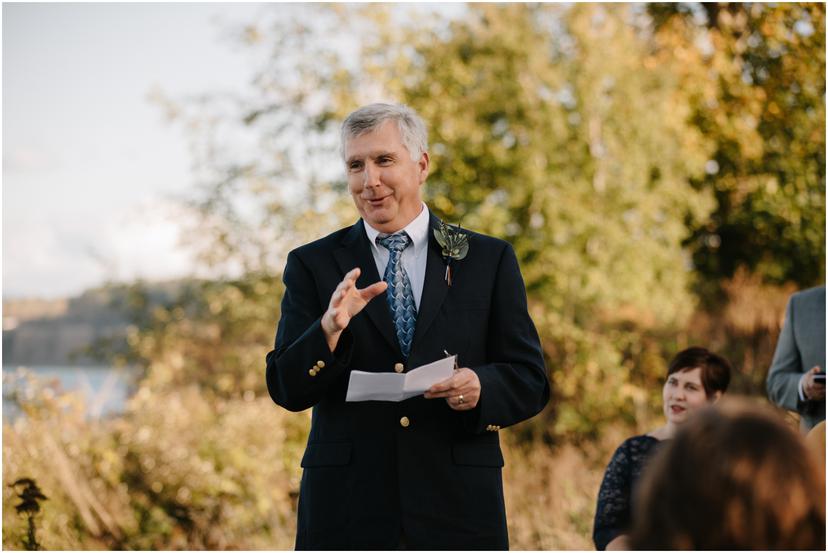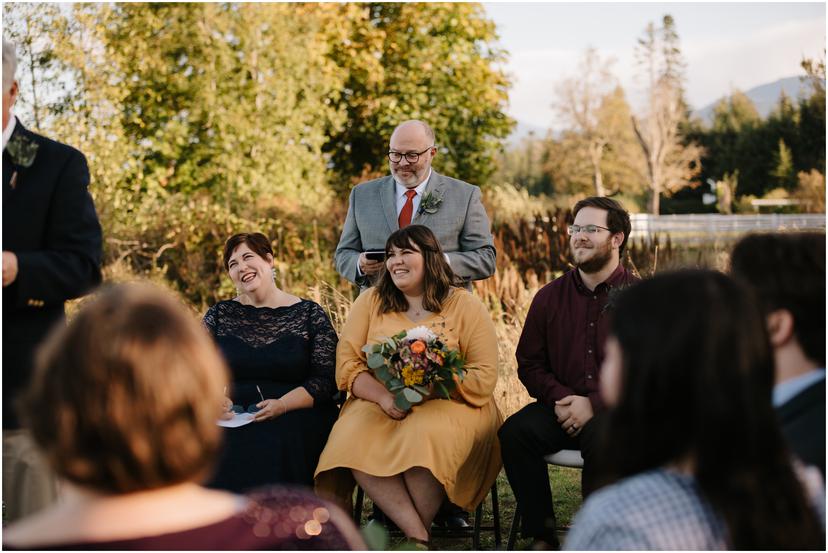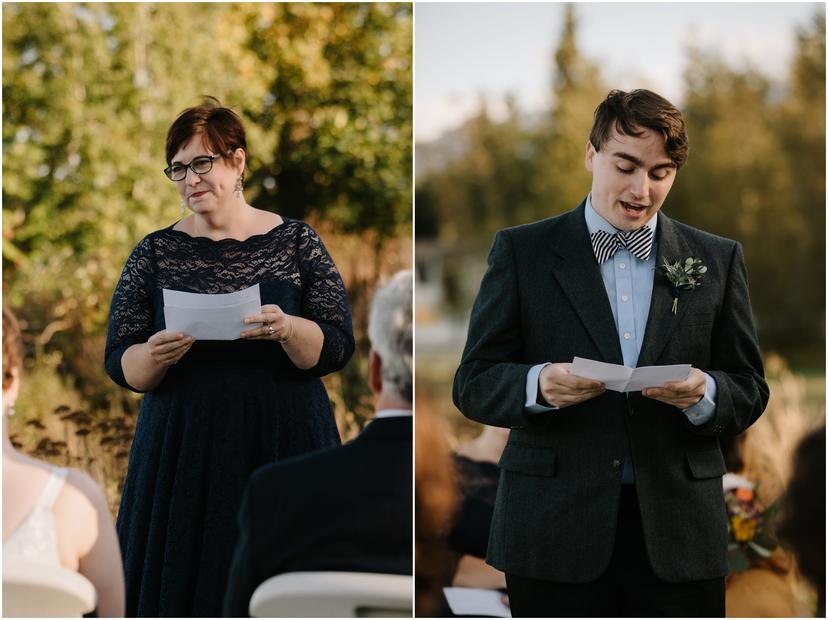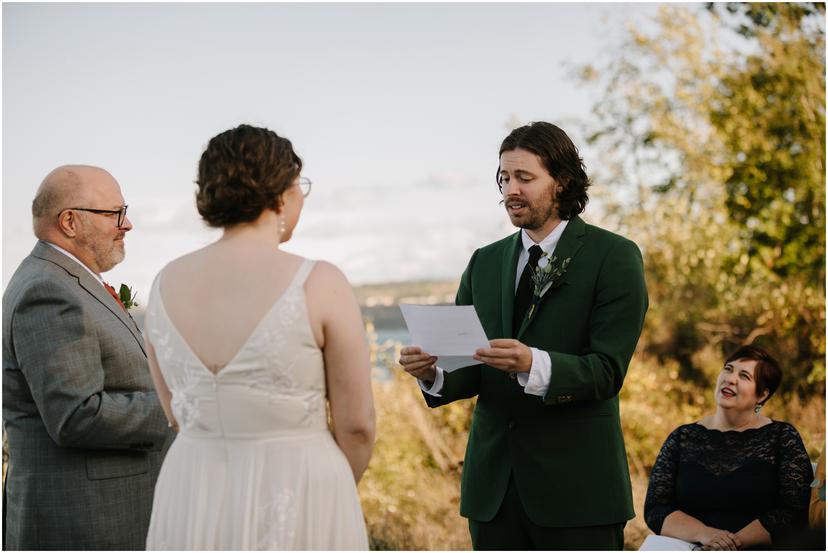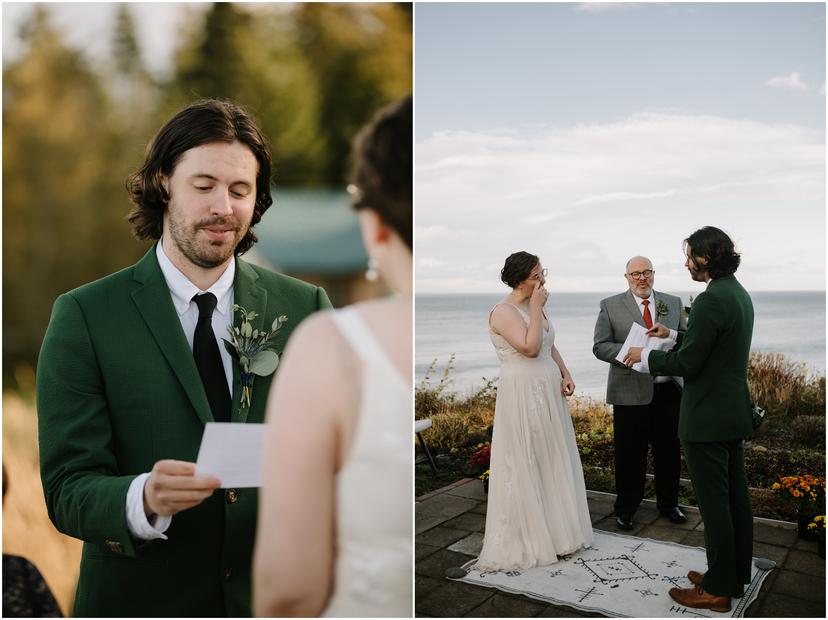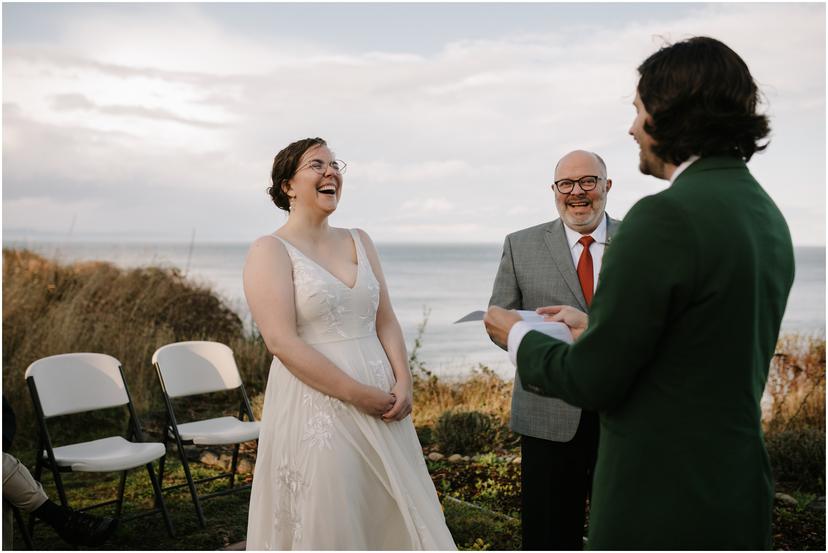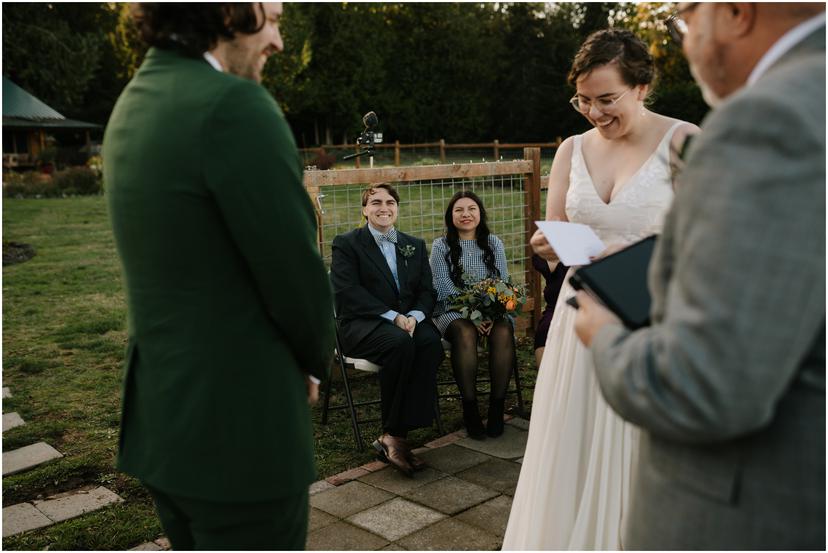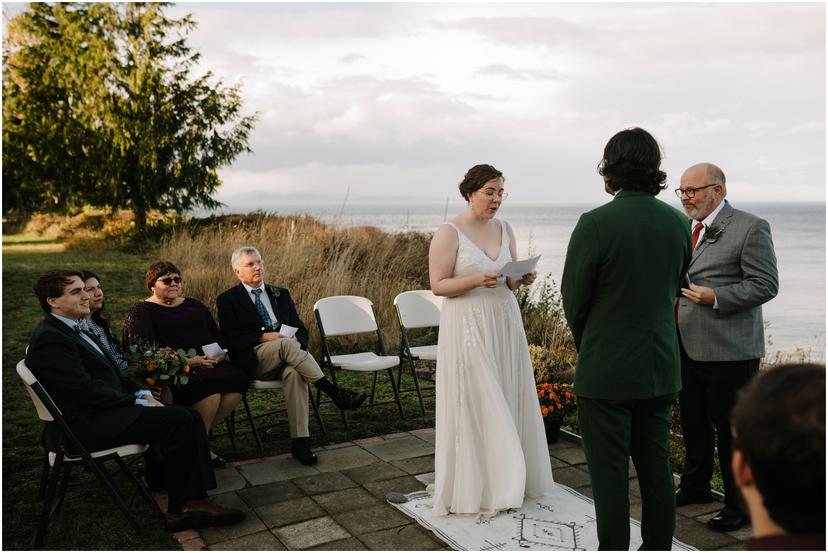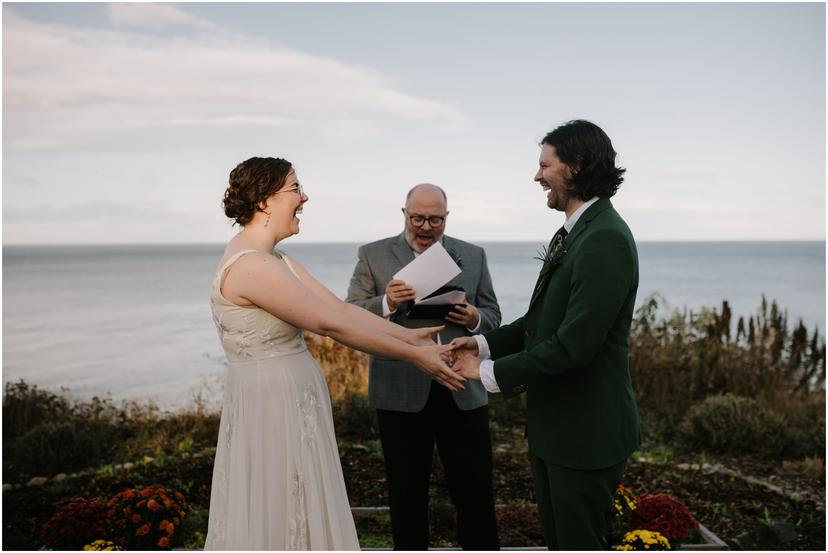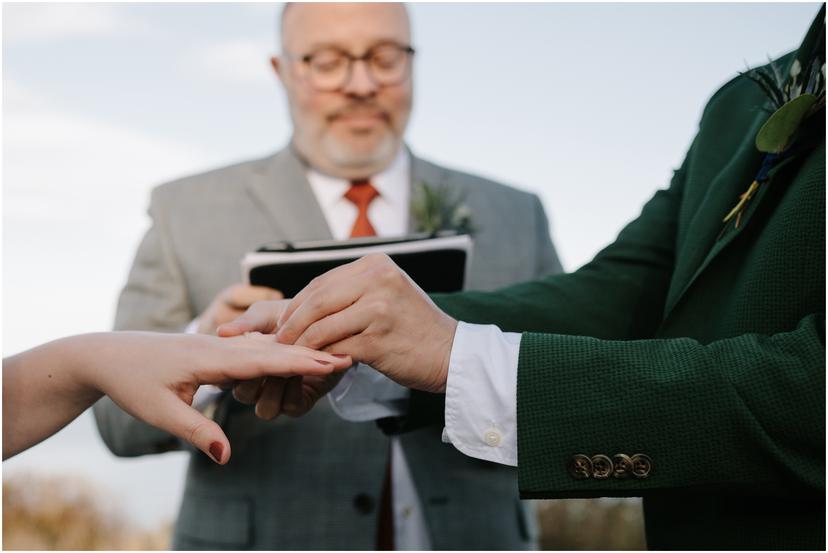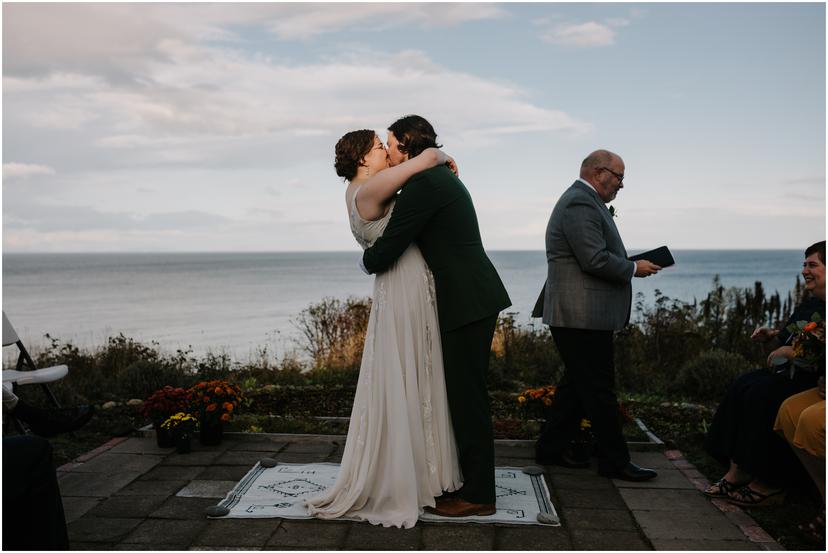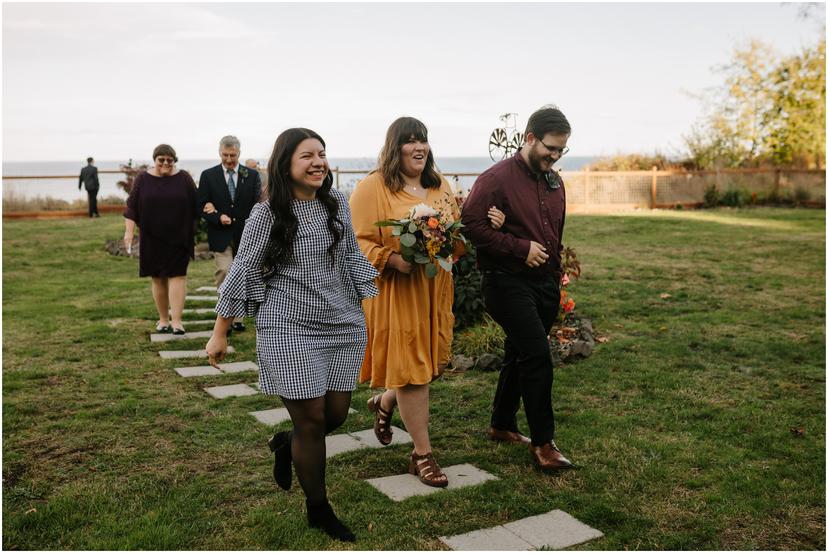 Insight for planning a wedding during the pandemic
"For us, the planning process became much more straightforward once the reality of the pandemic was upon us," said Allison and Ethan. "Having lots of decisions to make about the day had begun to overwhelm us, so when we had this huge thing come crashing down, it just grounded everything. Suddenly the most important aspects of our day – the safety of our attendees/their home communities and the simple action of getting married – stood out sharply as really the only priorities that truly mattered. Everything else would be a cherry on top! So having to alter our plans, while initially jarring, ended up being…surprisingly easy.
"As mentioned above, we had originally had some dreamy "what if" conversations about getting married in Allison's parents' backyard years prior. We'd let those ideas fizzle out, because logistically their home didn't make sense for a larger gathering. But once we shrank our guest list to 8 people, it suddenly seemed like the perfect location. So it was exciting to come full circle in our planning! Plus, it's wonderful that we'll so often return to their home for holidays (though maybe not until 2021 ☹) and recall the exact place we said our vows.
"I think our primary piece of advice for those who have to do a 180 on what they had originally been planning/envisioning, whether because of a pandemic or some other life event, would be to accept the new reality of what your event will have to look like, embrace the positives of how you'll need to change your plans, and focus on the parts of the day that are most important to you. You will get excited all over again!"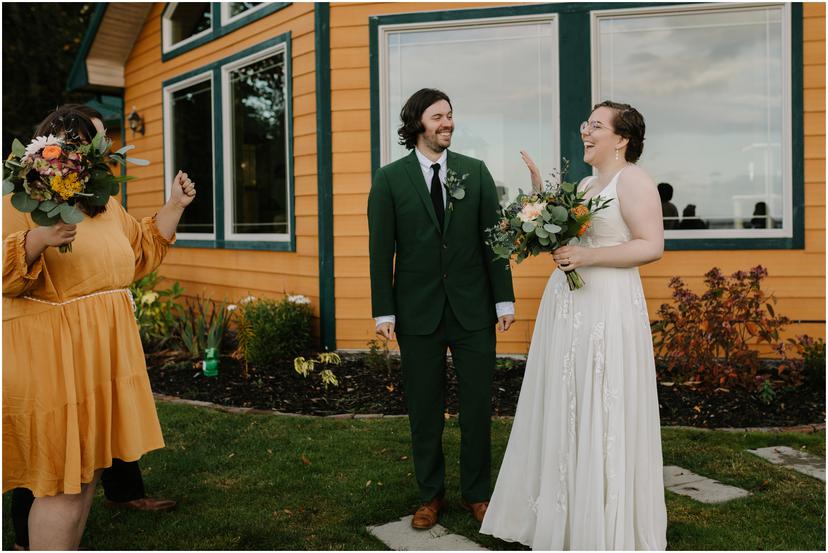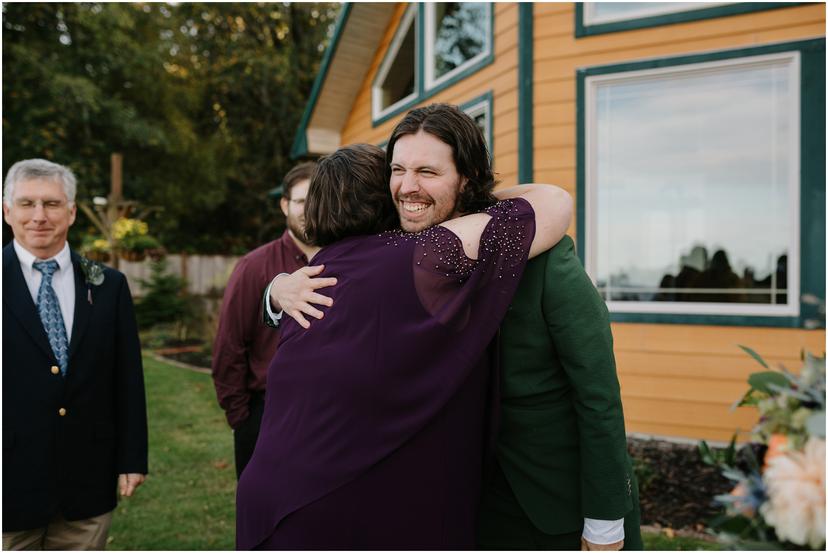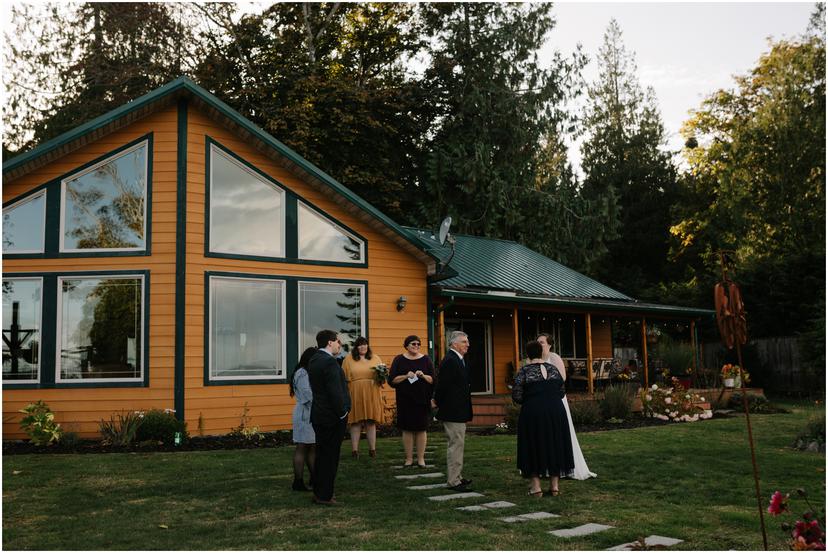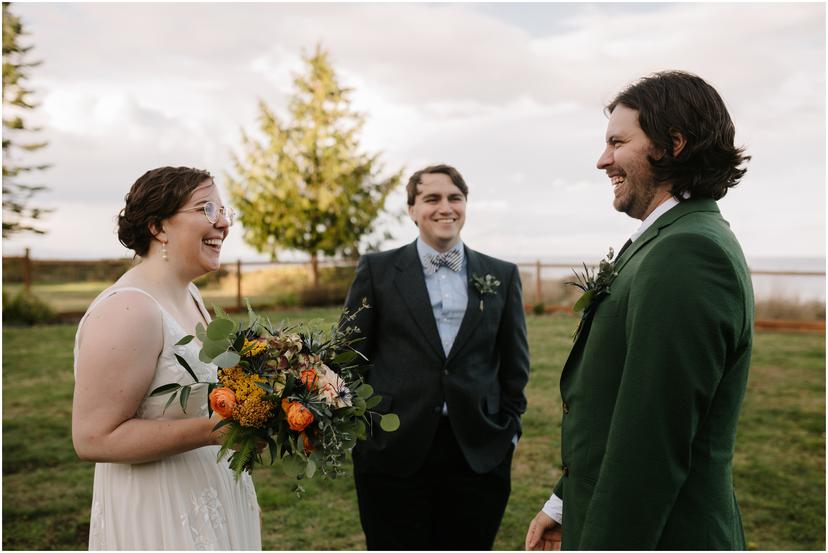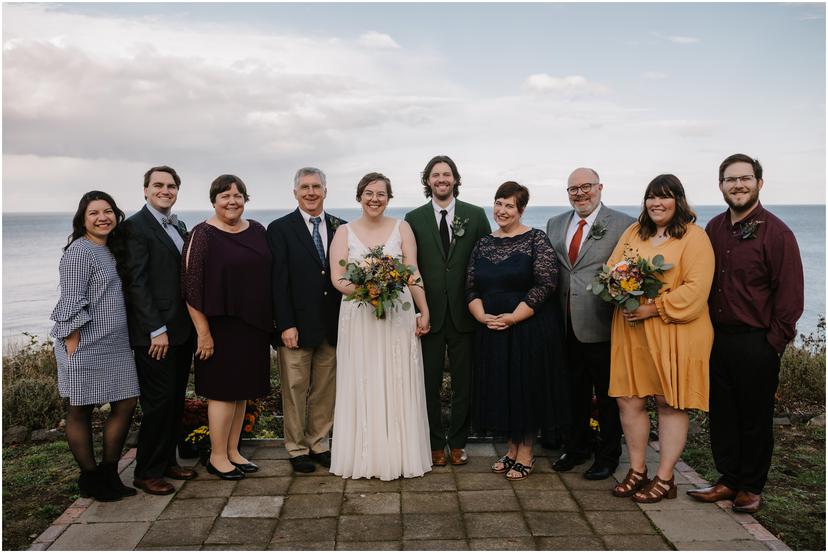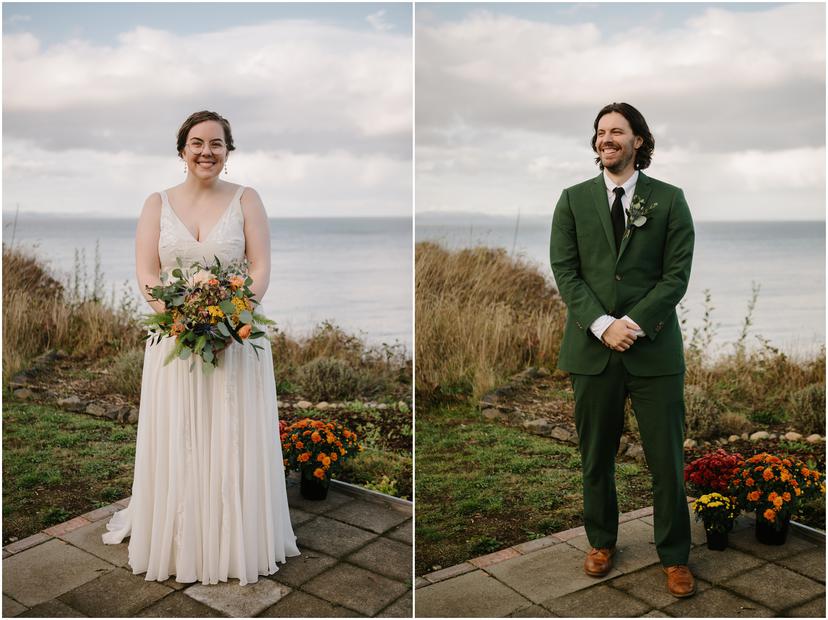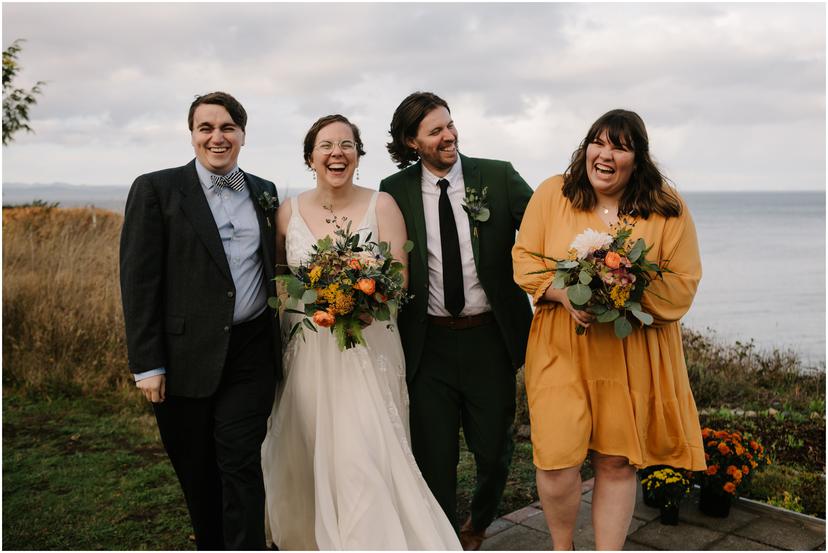 Reasons to have a small wedding
"Having such a small wedding was never our initial plan, but it was something we had consistently heard from friends/family members who are married – when asked about their wedding, every person said that if anything, they wish they had gone smaller. Even folks who had what would be considered pretty small weddings! And now we have to agree with them. With such a small group of people, it made:
1) Planning so simple – We had a loose schedule, had brunch all together mid-morning, had time to just hang around and chat, did our rehearsal the day-of (which made it really fresh in everyone's minds), did Thai takeout for dinner, and overall just saw a ton of each other throughout the day. It was special to limit it to only immediate family, because not everyone had met before, and it was lovely that everyone had so much time to chat and laugh and get to know each other.
2) Less prep/stress – There was much less to plan, and in this year of 2020 which is nonstop in its challenges, that was an emotional/mental health relief for the both of us. Even the week of the wedding, we had few errands to run and things to do! We took the week prior to the wedding off from work and had so much downtime, we spent a full day at the beach.
3) Involving everyone present – We had a job for every person in attendance, and incorporated readings in our ceremony so almost everyone spoke at some point throughout the ceremony. It was fun to involve everyone in attendance in a meaningful way.
4) Involving additional non-present attendees is still possible! – We set up a Zoom livestream, which we would never have thought to do otherwise, as a wedding video hadn't been something we were interested in. But watching the full recording back – including the pre-ceremony portion of the recording where attendees were trying to figure out all the Zoom settings and were chit-chatting – was hilarious and heartwarming. I'm so glad we have that recording!
5) $$$ - It was great to save money as well!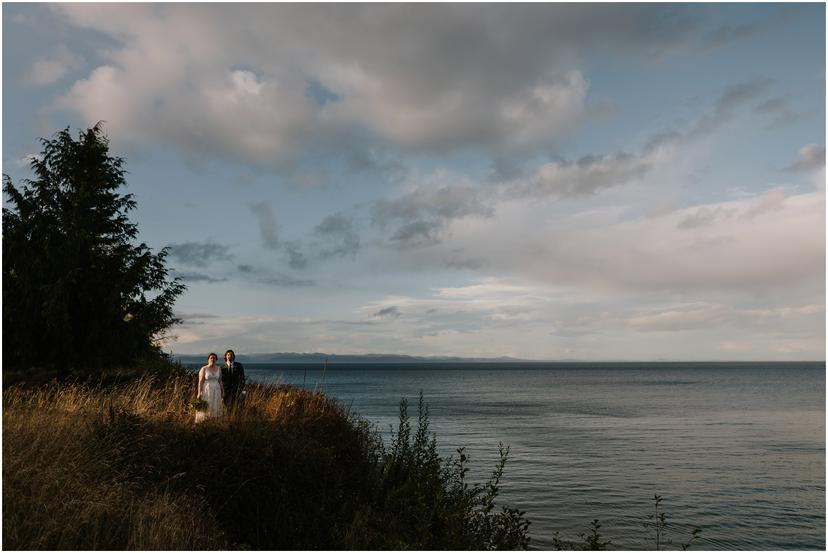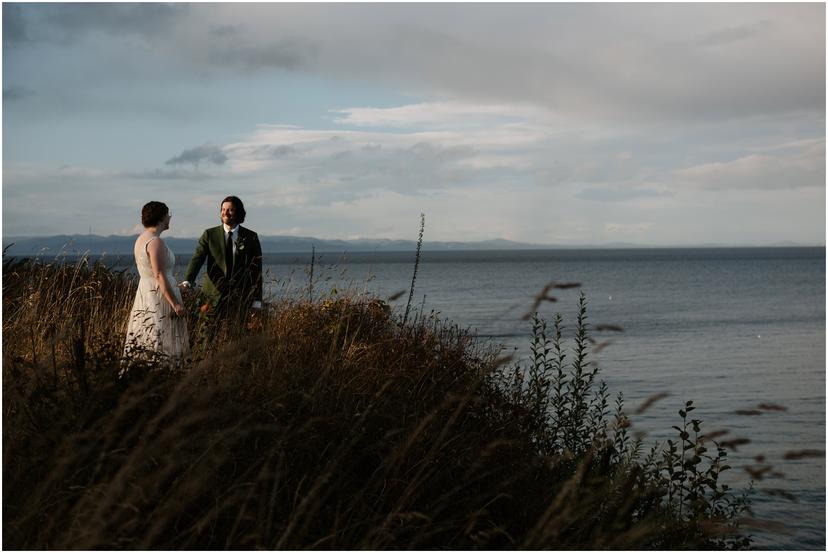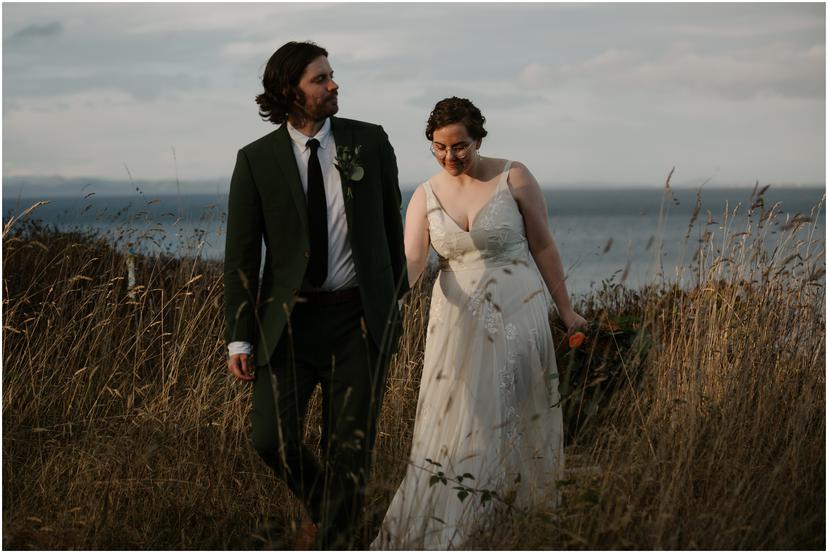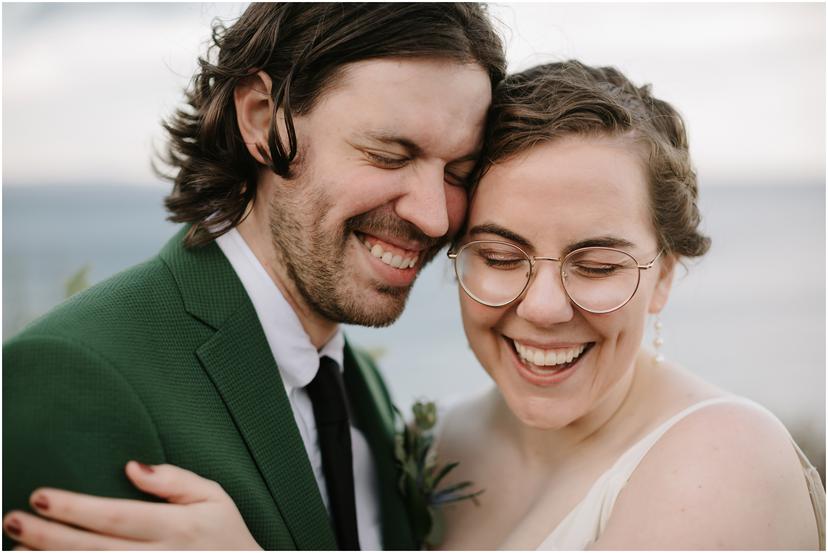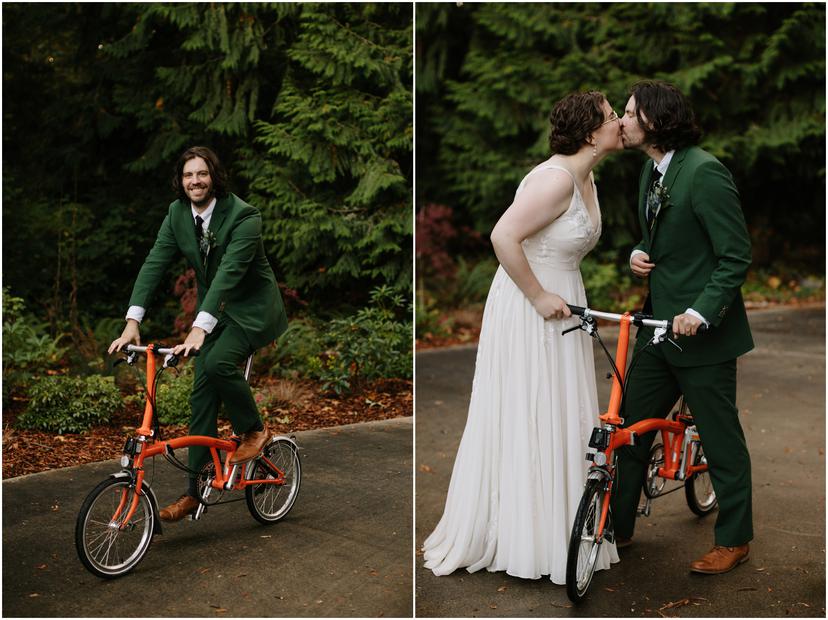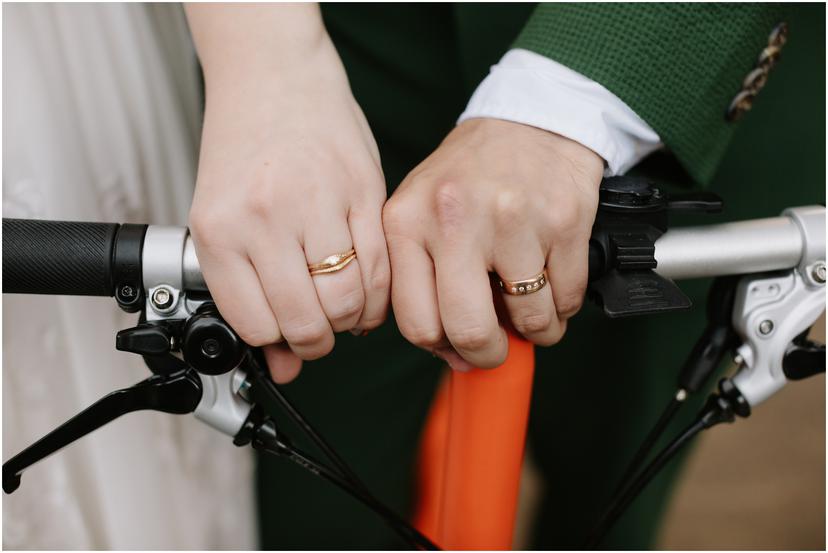 Wedding planning tips
"Remember that you can throw traditional aspects out the window if they don't suit you! Also, if you are writing your own wedding ceremony script, there are many, many sample scripts available online.
"Early on, we talked about what parts of the day were most important, and which weren't. That was a helpful conversation from both a budgeting and prioritization perspective, and it was helpful to return to/recall it throughout our planning."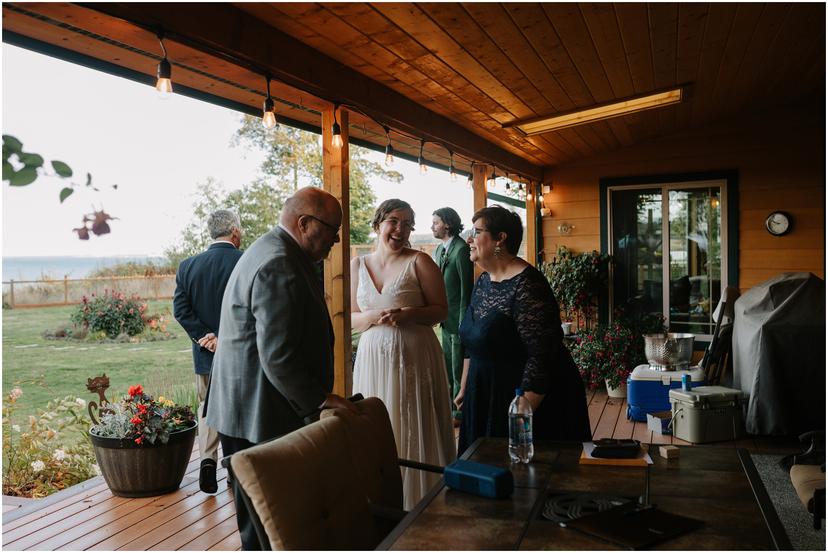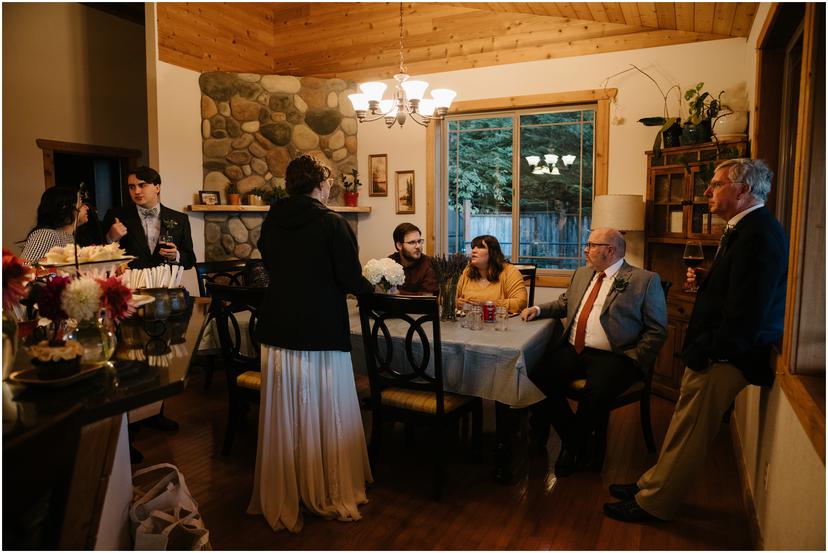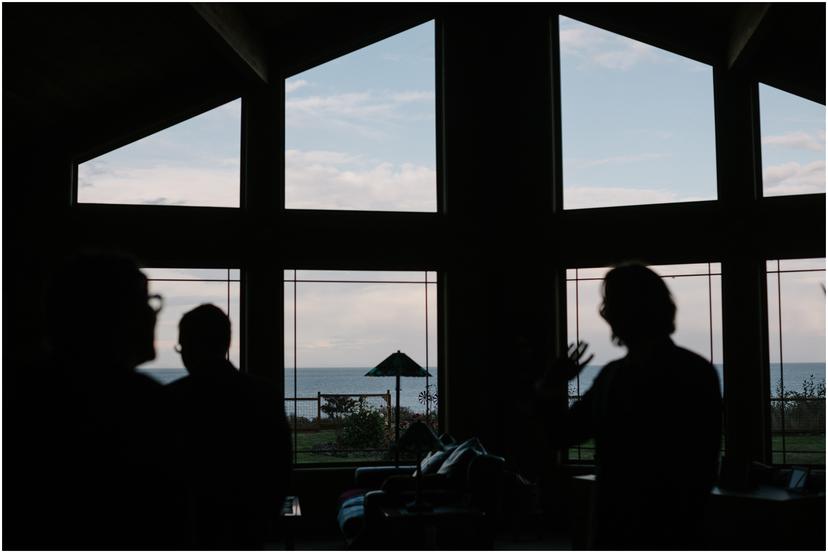 Vendors
Hotel: Lake Crescent Lodge

Dress: BHLDN

Suit: Indochino

Grooms tie and shirt: J Crew

Florist: Forte Floral Artistry

Dinner: Sabai Thai Restaurant takeout

Cupcakes: That Takes the Cake bakery

Alcohol: Home brewed cider, made of apples we picked last fall, in a tiny keg that serves about 10-20 glasses! Wine - harbinger winery

Chairs: First United Methodist Church
Browse more
Did you enjoy these Port Angeles elopement photos? If so, you might enjoy these other elopements and intimate weddings I've photographed recently! And always, feel free to contact me if you have questions, or reach out if you are planning your own Olympic Peninsula wedding!
WASHINGTON ELOPEMENT IN THE GORGE
SUNRISE OREGON COAST ELOPEMENT
SCENIC BEACH WASHINGTON WEDDING