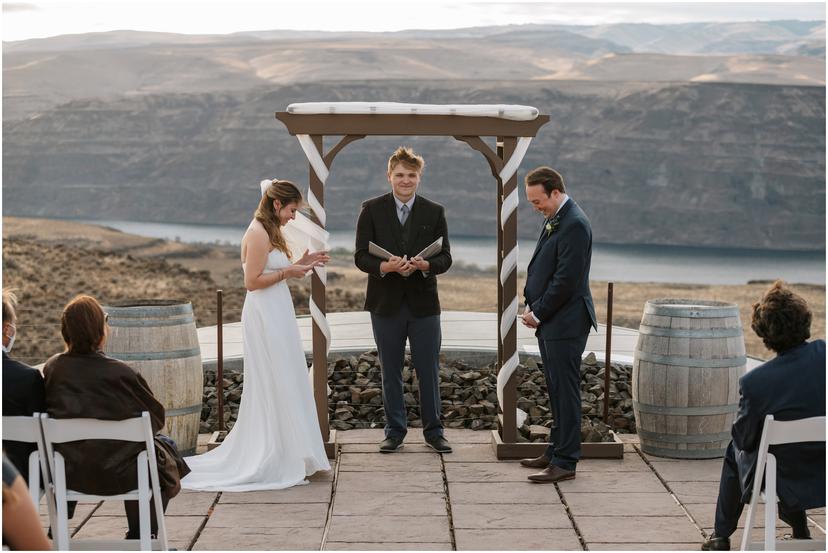 Cave B Winery Wedding
Christine and Corbin planned a perfect "plan B" wedding at Cave B Winery and Estate on 10/15/20. The were originally going to get married in Hawaii, but scrapped that idea once the pandemic hit. So, they downsized dramatically and had an intimate wedding in Central Washington instead. Cave B Winery was absolutely perfect in every way - it was private, the views were epic, the wine was delicious and the accommodations were luxurious. I was completely in awe of this venue from the moment I set foot on property. I am SO happy Christine and Corbin found this place and were able to have a meaningful wedding despite the chaos of 2020. They wanted their wedding to be sweet, simple, and fun, and it turned out exactly like that.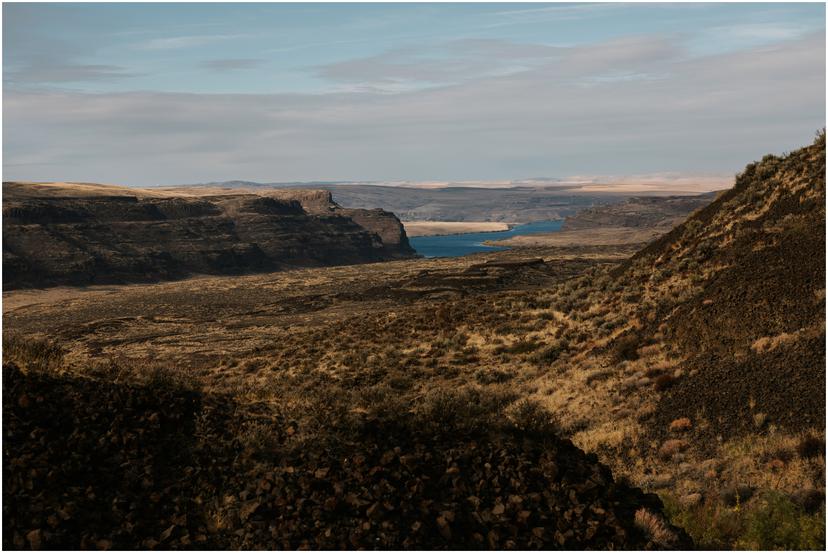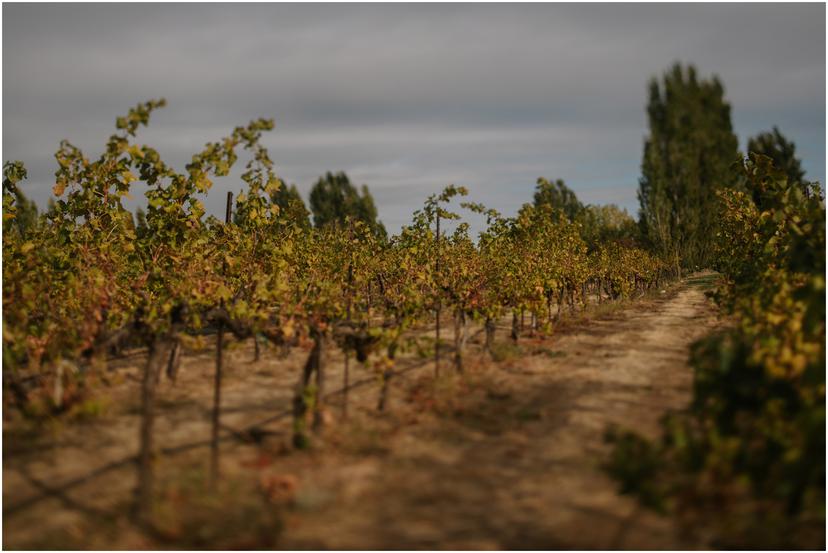 About Cave B Estate
Cave B Estate Inn and Winery is located just outside Quincy, Washington, right next to the famous Gorge Amphitheater. This Central Washington wedding venue sits 900 feet above the Columbia River, perched on a cliff with breathtaking views. You get epic vistas AND romantic vineyard vibes at the same time. The venue offers both indoor and outdoor spaces for weddings and receptions, with a capacity of up to 250 guests during a normal year. It takes about 4.5 hours to get to Cave B from Portland, and only 2.5 hours from Seattle.
Cave B Estate and winery has inclusive wedding offerings, including food, beverages, and most rentals. The maximum indoor capacity is 150 people, and outdoor is 250. Guests can stay on site and enjoy the wine grown on the property. The hotel accommodations include rooms in the inn itself, yurts, cavern rooms, and cliff houses.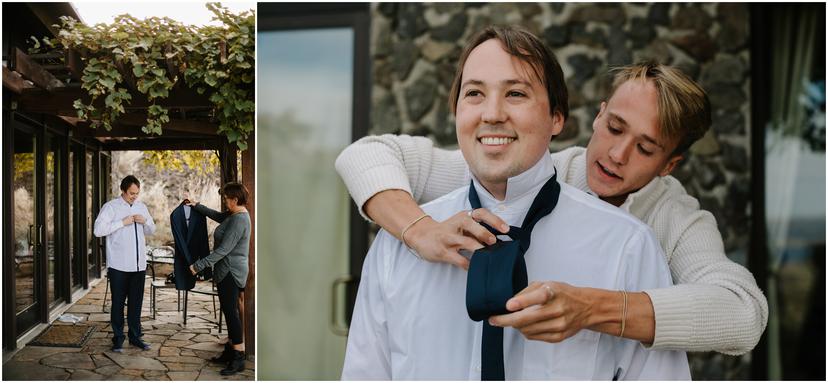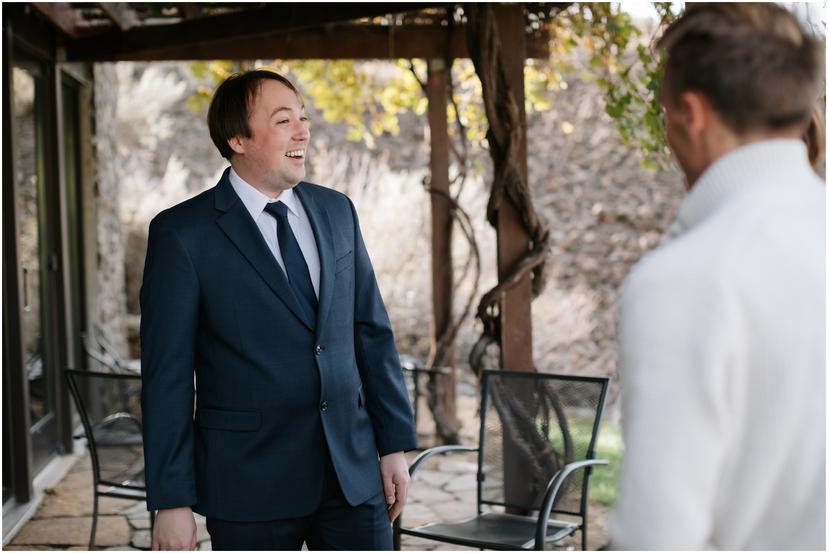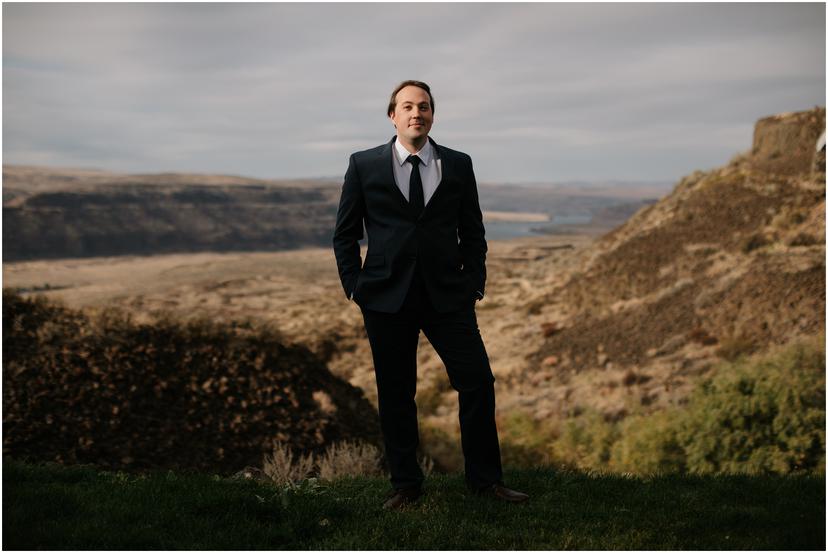 About the couple
Christine and Corbin both grew up in multiple places. She's from Arizona and Wisconsin. He's from Boston and New Orleans. But they met in Portland, on OK Cupid of all places. Corbin messaged her first, and they went to Bamboo Sushi for their first date. The learned that they both majored in Psychology but neither of them uses their degrees. They also discovered their shared loves for travel, games, escape rooms, hiking, and watching movies.
"From early on, I was always like, pretty reserved, and slow to trust people," said Christine. "With him it was so easy, so early.

"My favorite thing about us as a couple is just how well we get along. My favorite thing about Corbin is his sense of humor, although it is hard to narrow it down. Corbin's favorite thing about me is my kindness."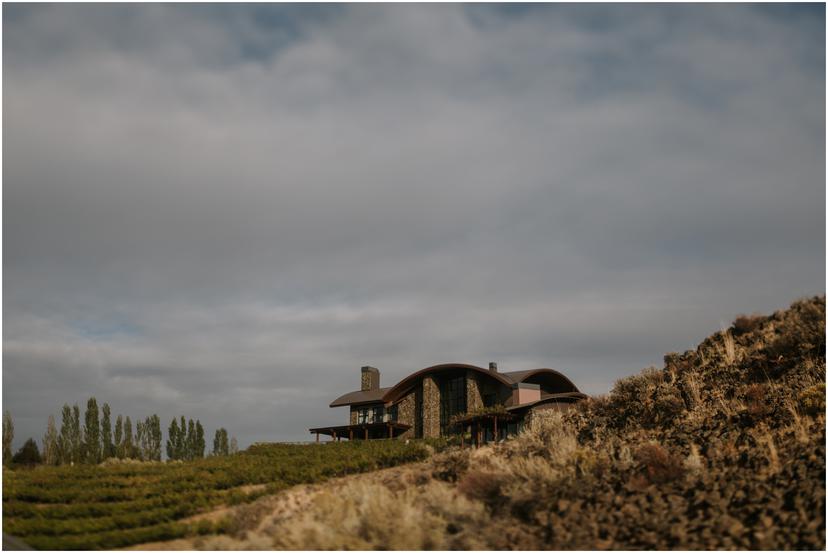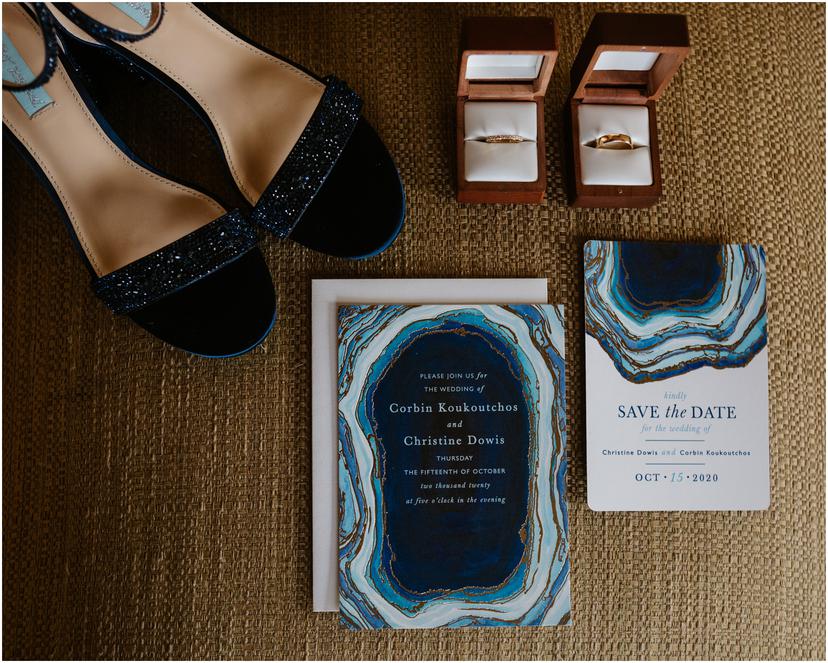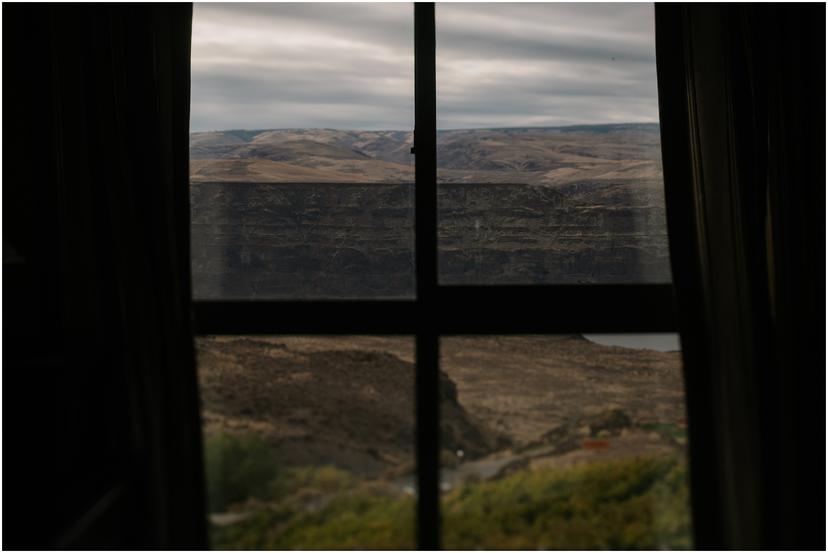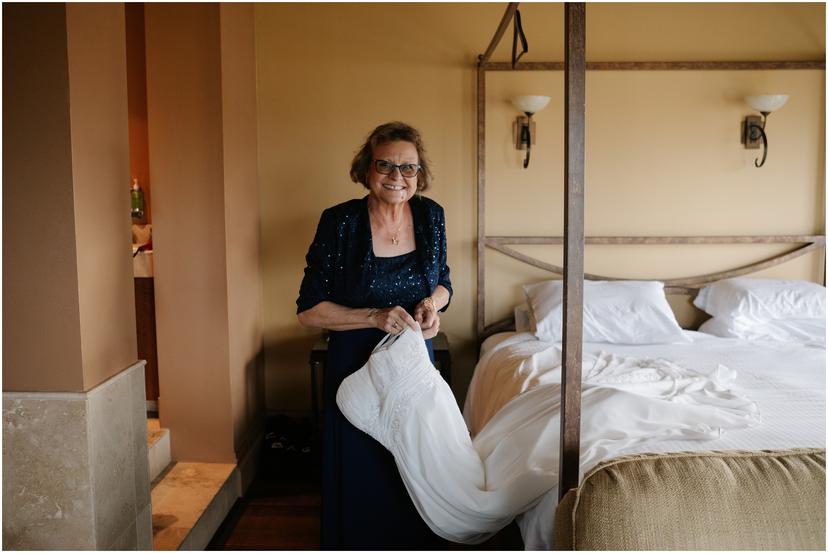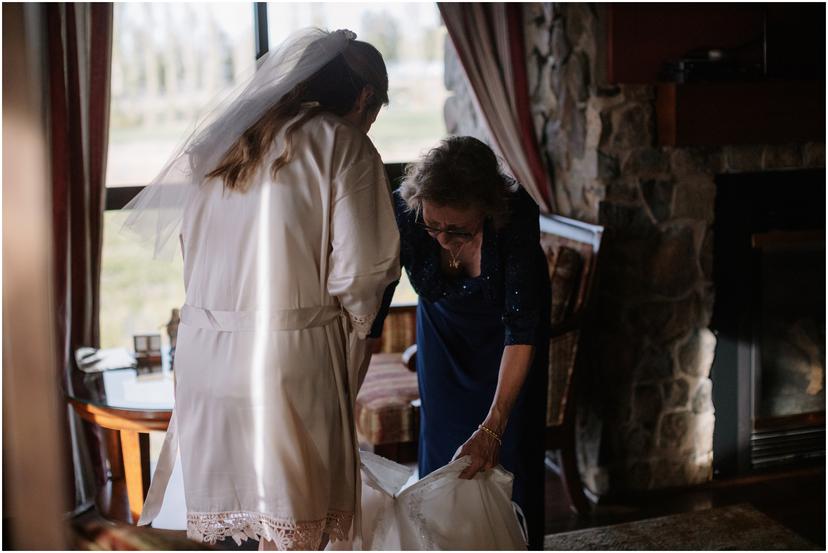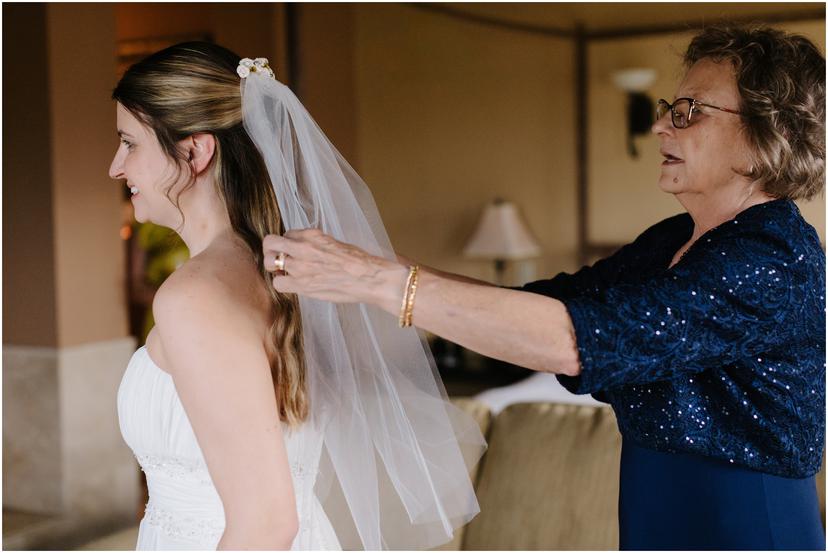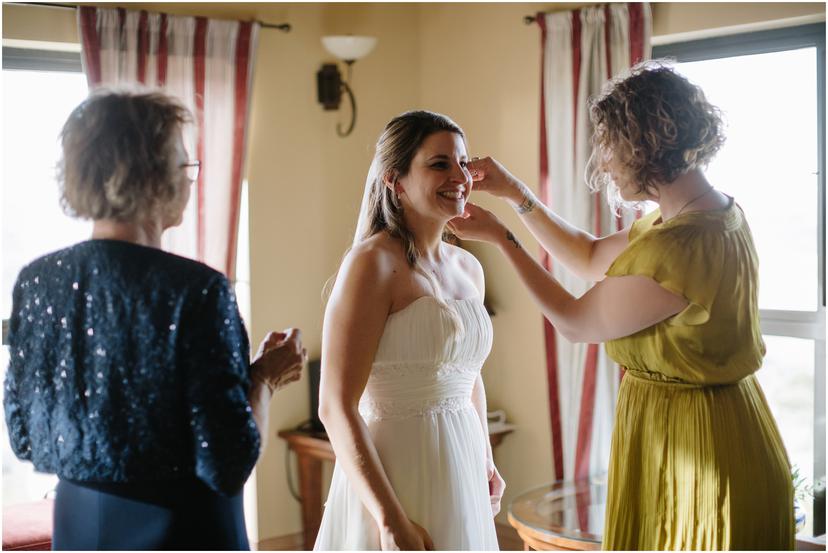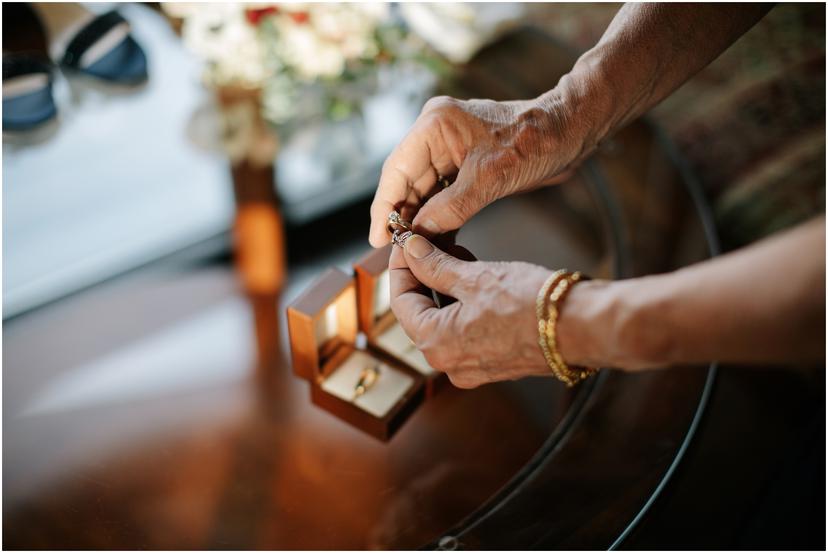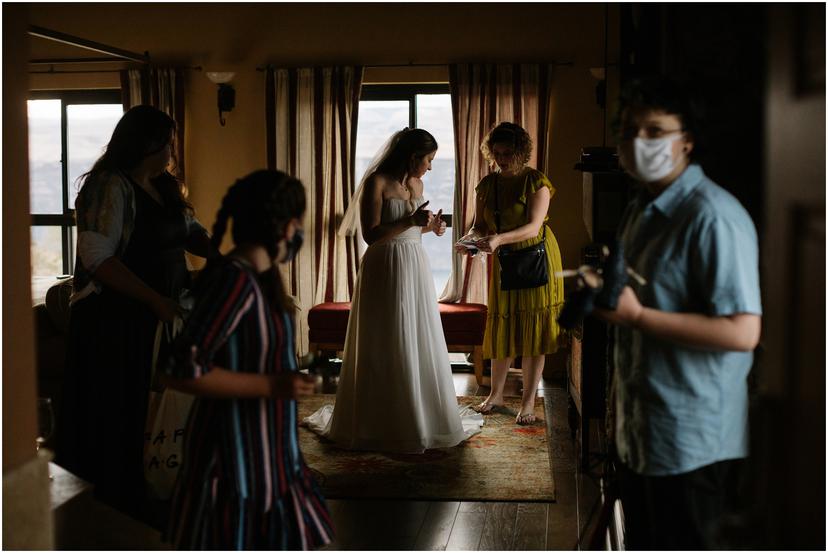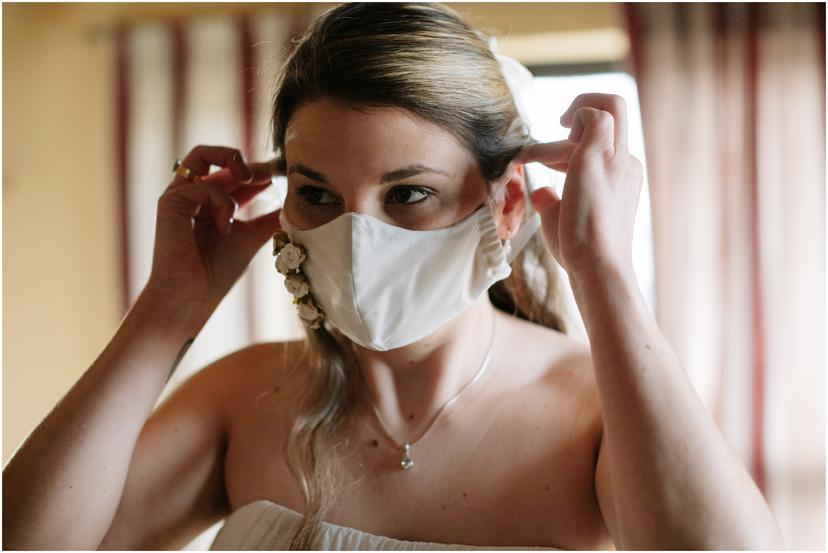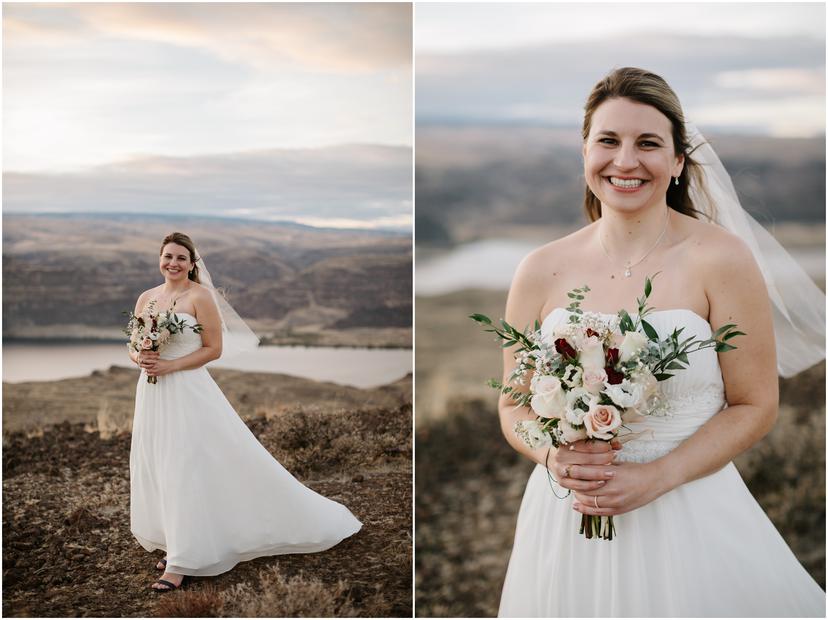 Favorite thing about Cave B Estate Winery
"Our favorite thing about the venue was the beautify scenery," said Christine. "The site for the ceremony was overlooking the Columbia Gorge and was during a lovely sunset."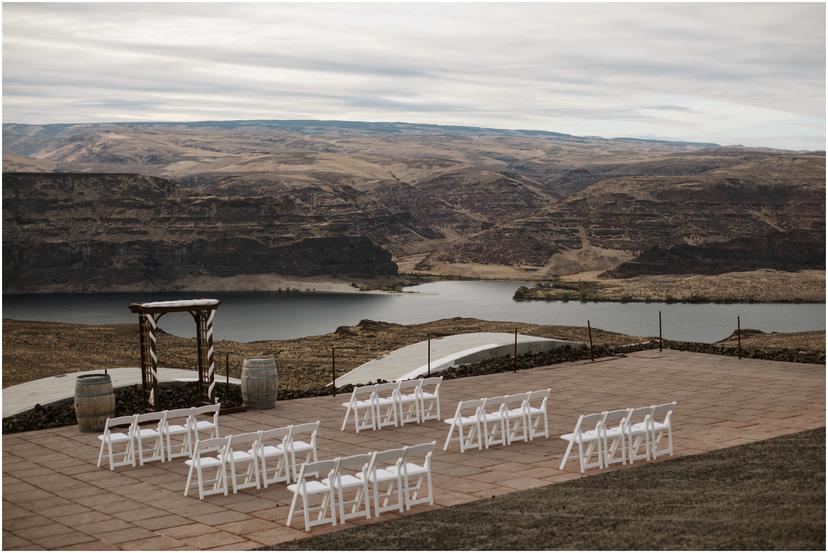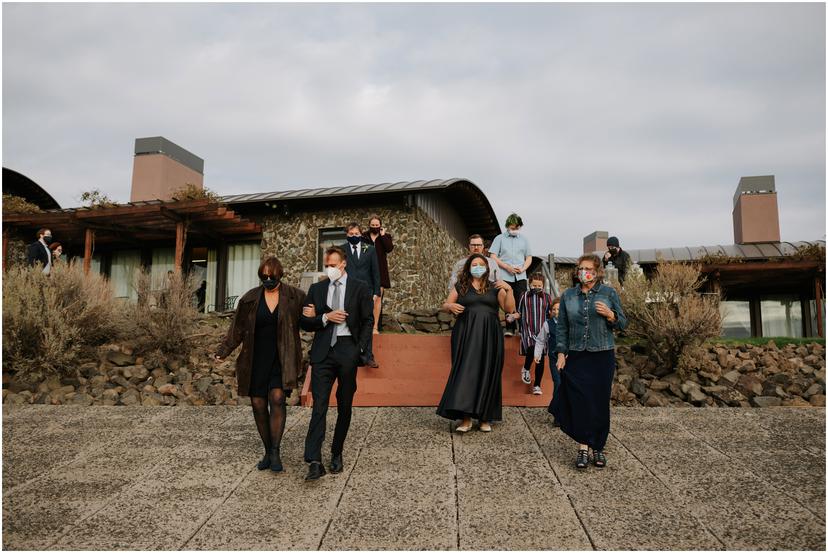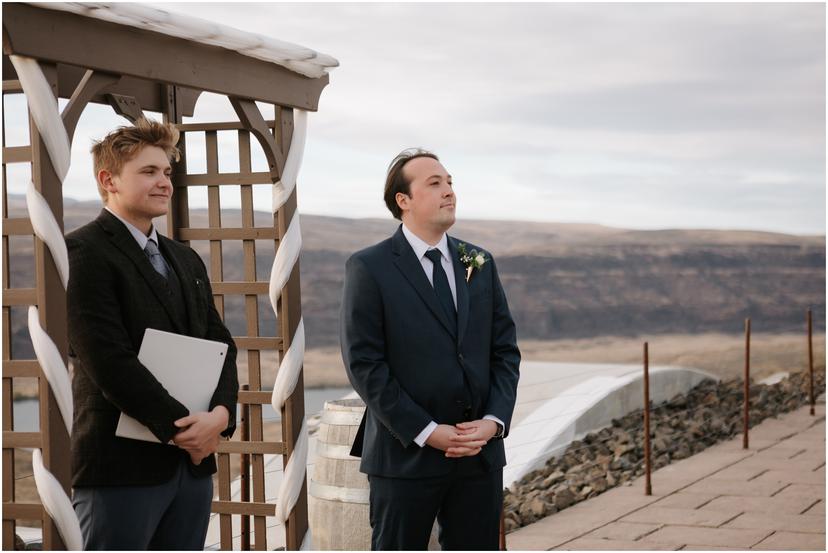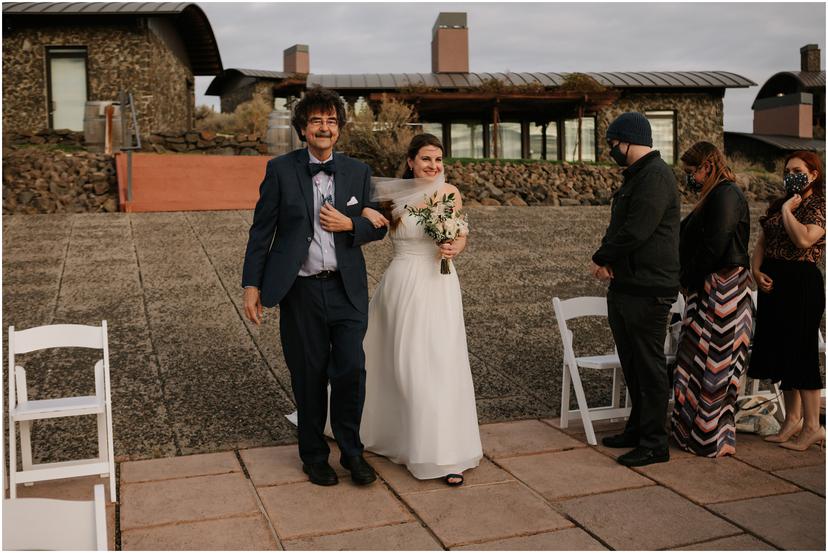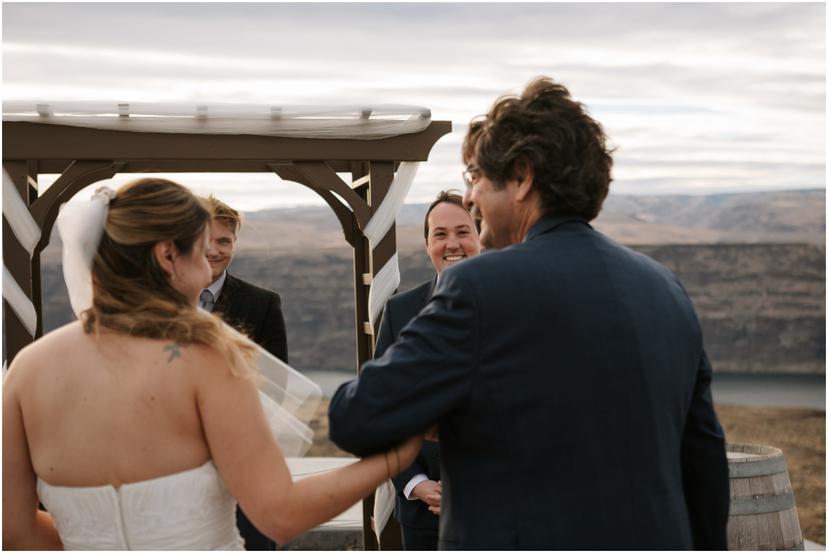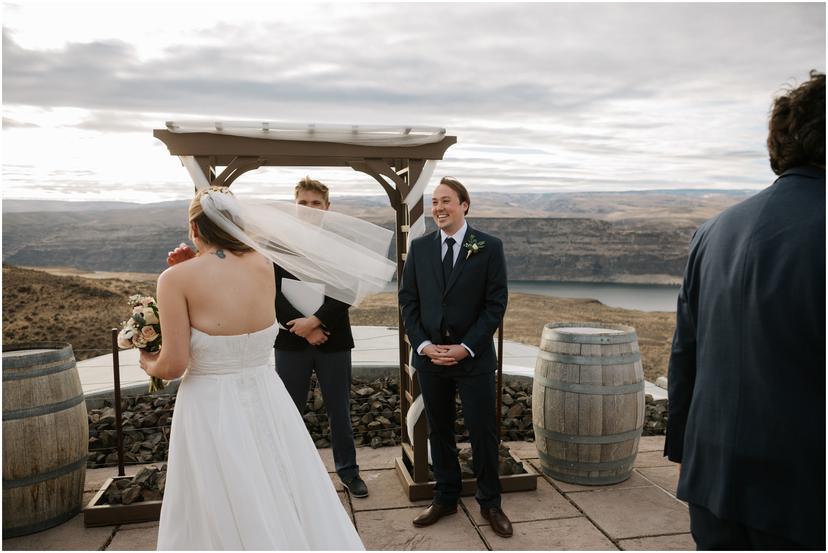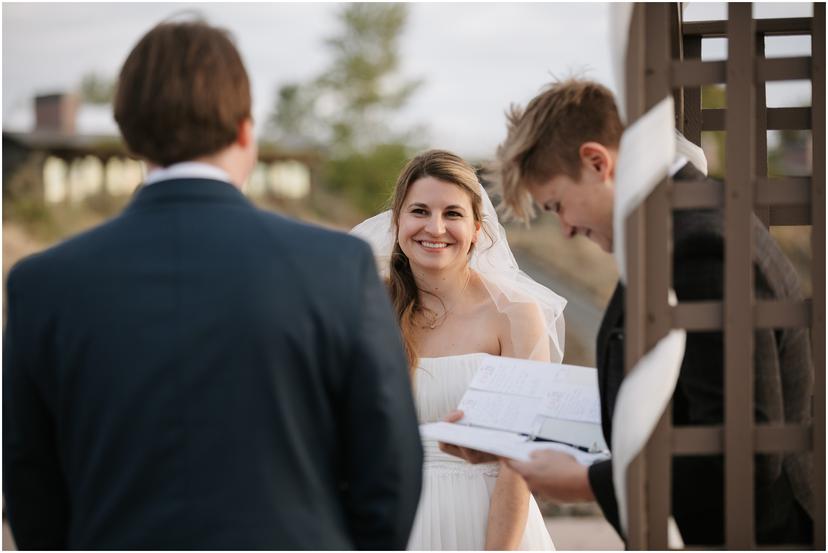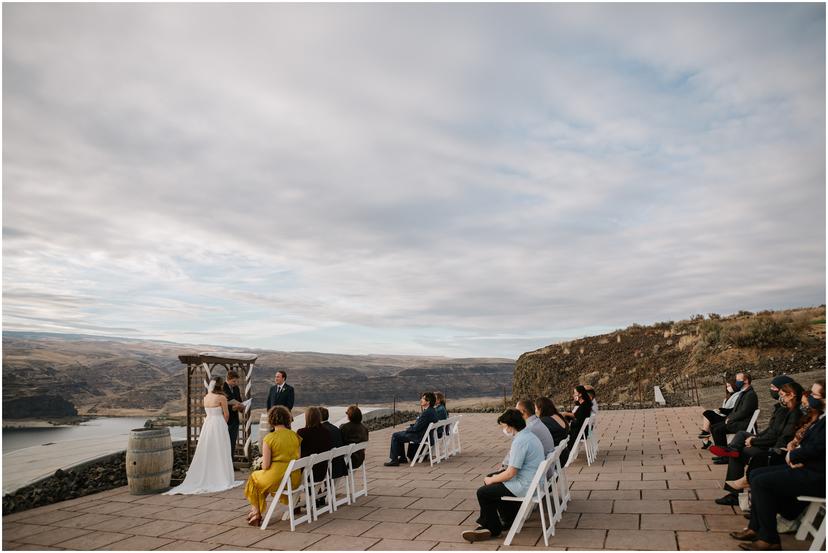 Reasons for choosing Cave B Estate Winery
"We had originally planned on getting married in Hawaii (pre-COVID)," said Christine. "Around July, it seemed pretty apparent that restrictions would still be in place in October. Our options were to delay a Hawaii wedding indefinitely or find a plan b. We both wanted a place with beautiful natural scenery and I had always preferred to have the wedding at or near a hotel. My Maid of Honor and I started researching options in Washington and Oregon and most places that fit my criteria were not hosting events for the rest of the year or did not have the scenery that we were hoping for. I liked the idea of getting married at a winery so I think we literally just Googled "winery weddings Washington". Cave B was one of the first places that we found and it fit all of our needs - beautiful location, had a hotel and restaurant, and was available the day that I wanted."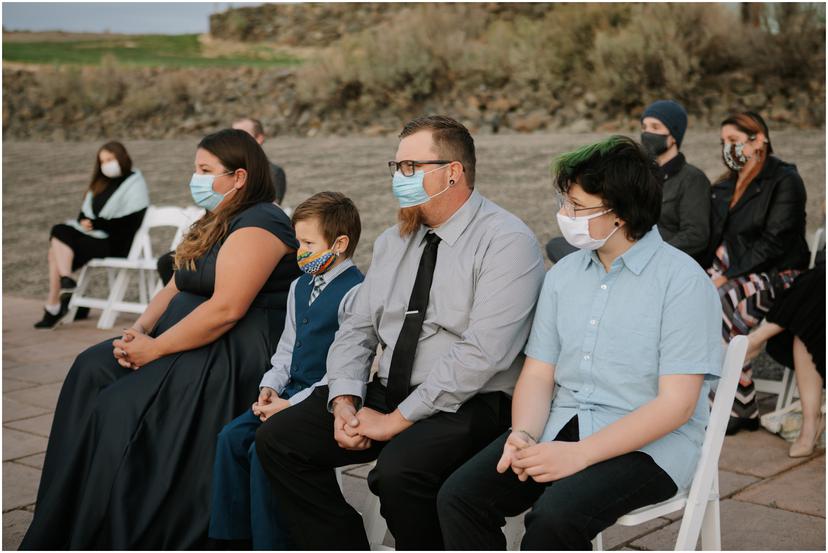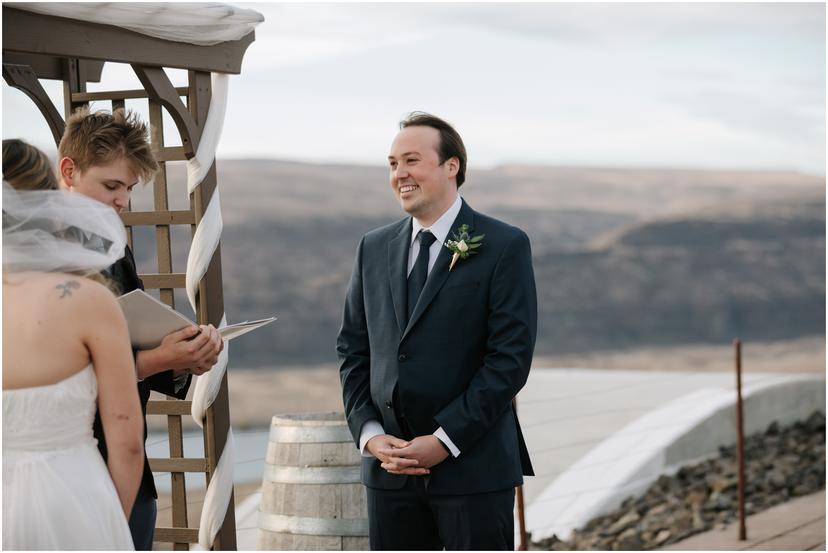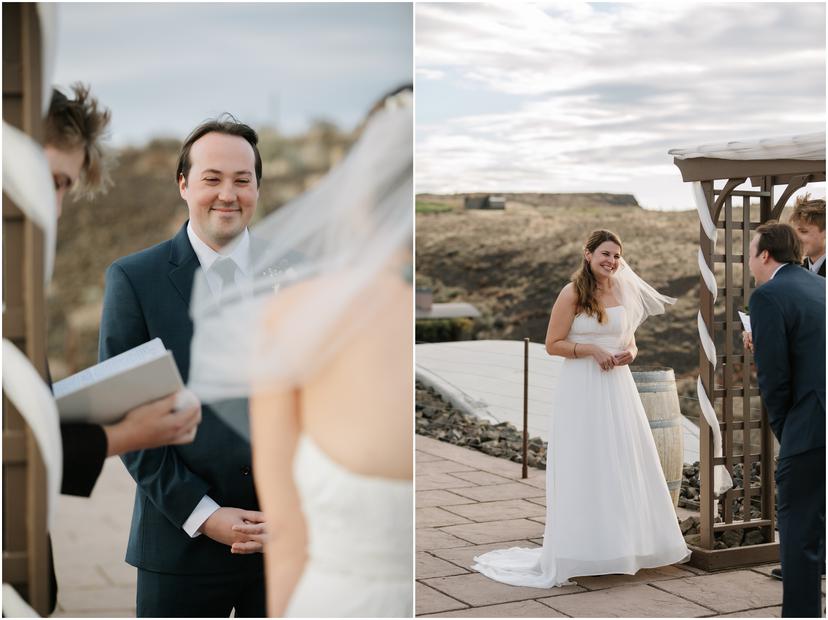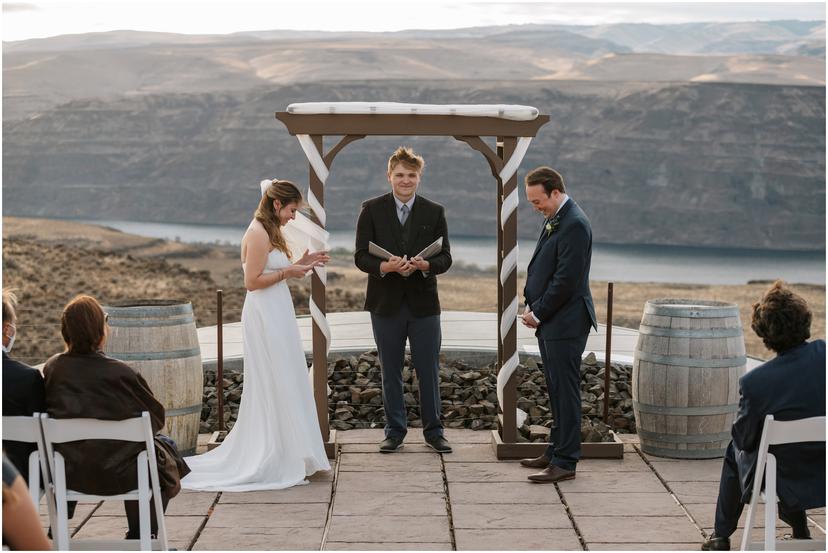 About the wedding ceremony
"Something that made the ceremony special was that it was officiated by my cousin Cohner," said Christine. "He had already been ordained and lives in Seattle, which is only a couple hours from the venue. Since we were basically planning the wedding from scratch, we were worried that we would not be able to find an officiant on such short notice. Fortunately, my cousin was available and honored to be a part of the wedding.
"Corbin and I found a poem for Cohner to read at the wedding that was very fitting for us ("How Falling in Love is like Owning a Dog"), since we are both dog lovers. We also wrote our own vows. Overall, the ceremony was short and sweet! "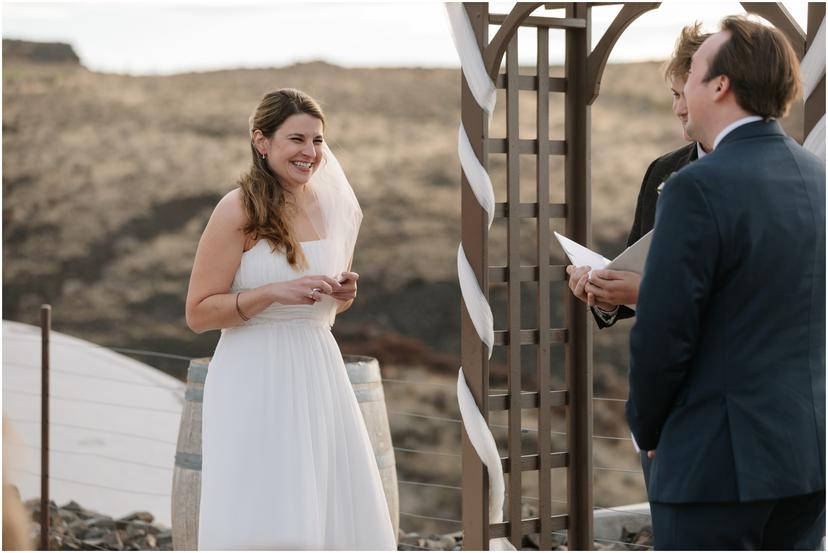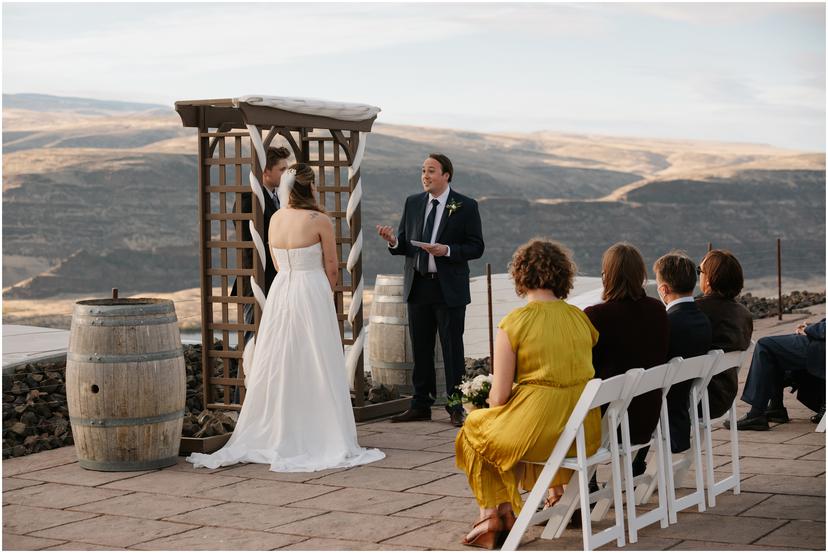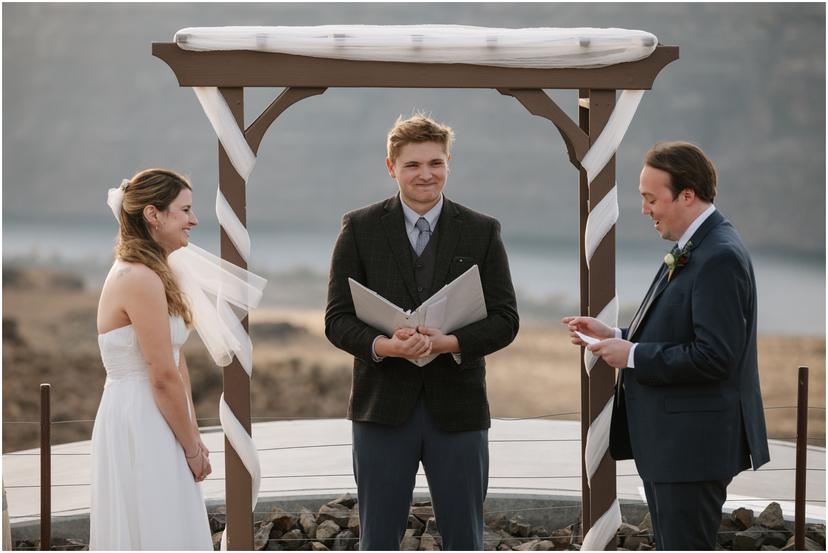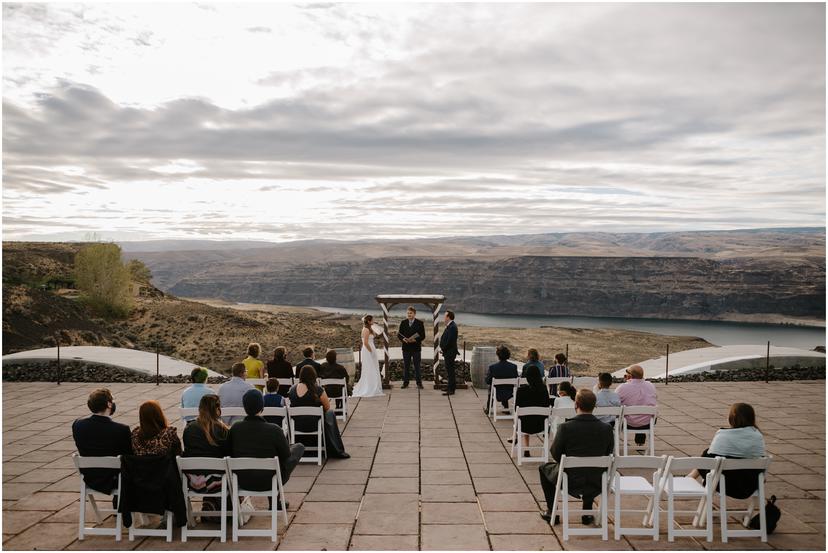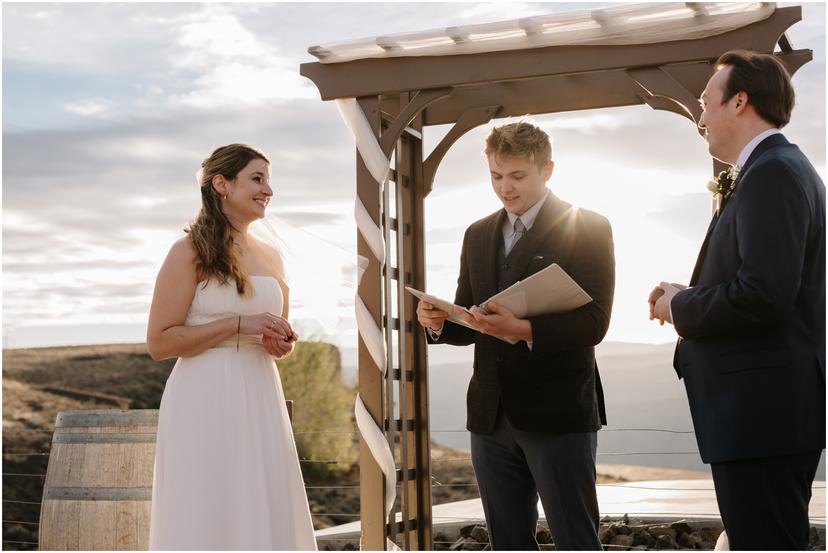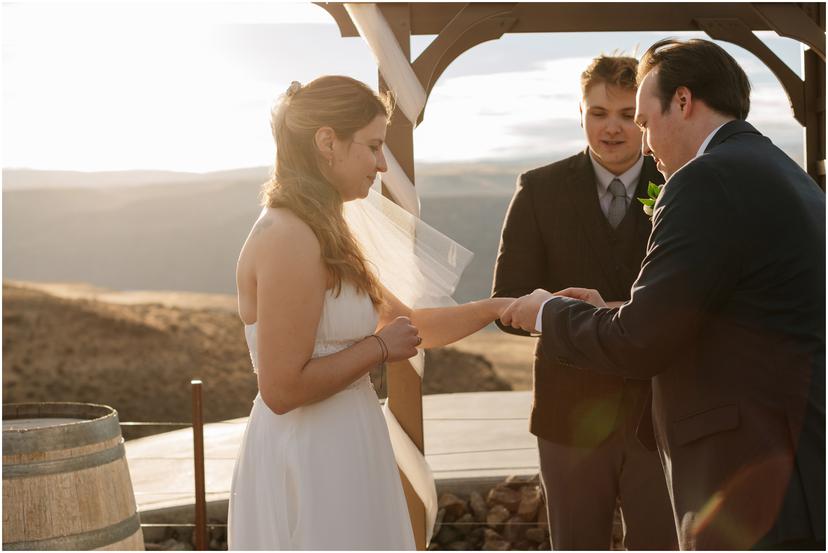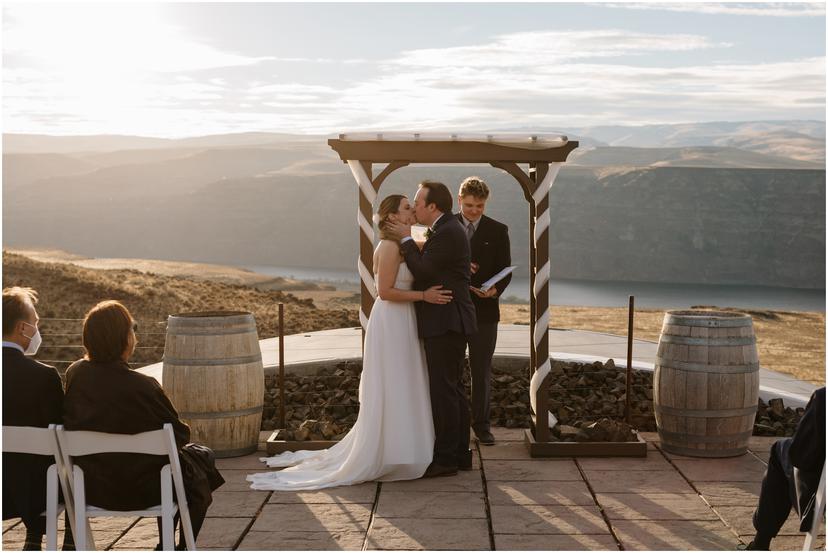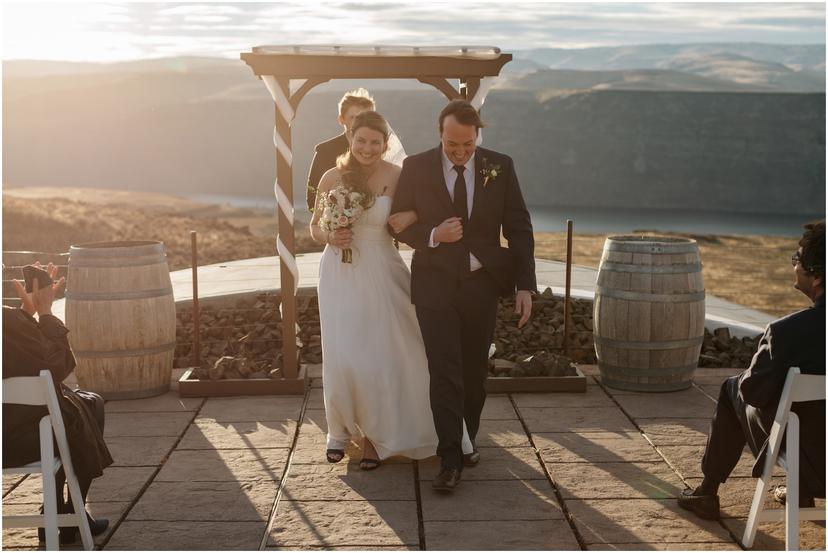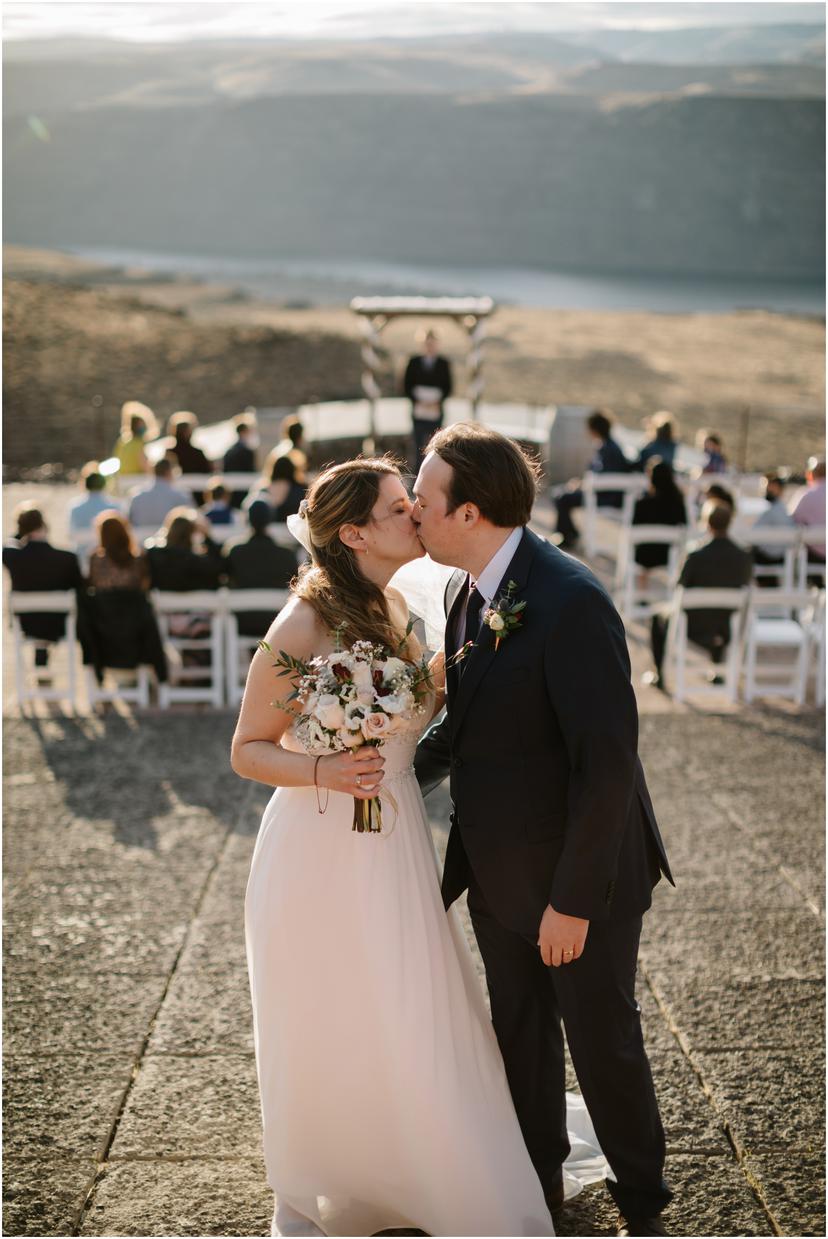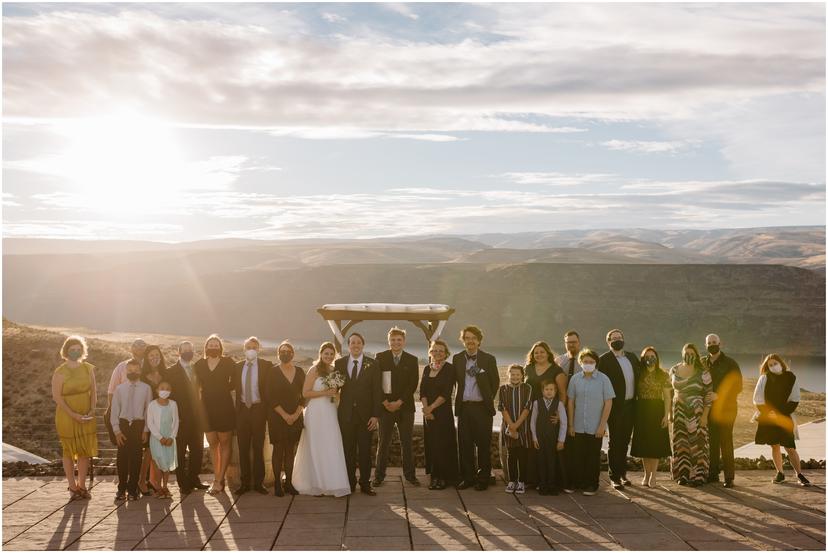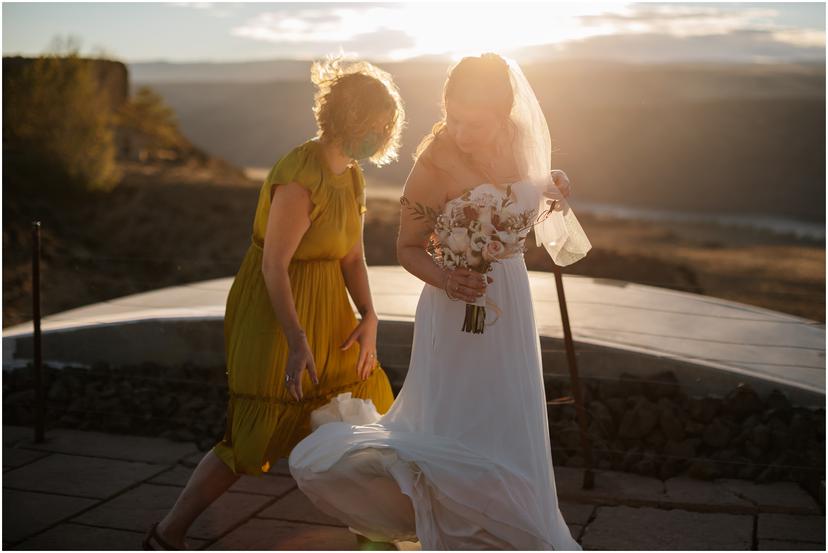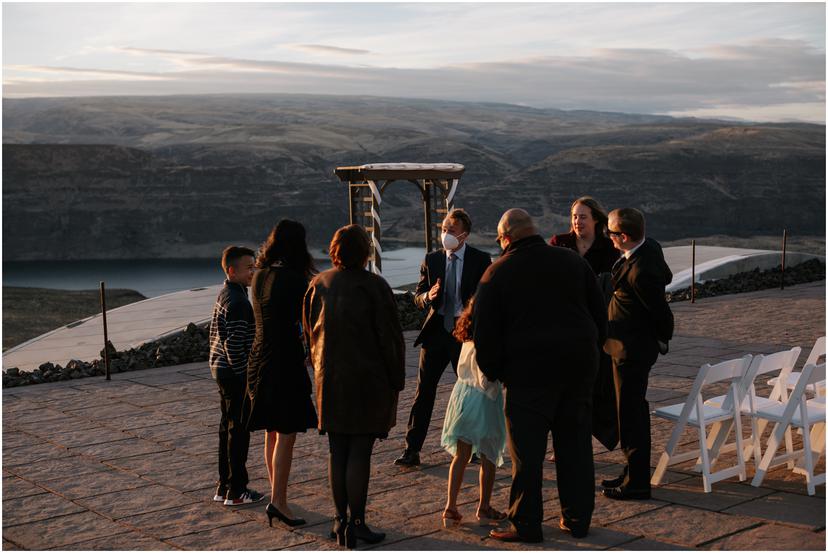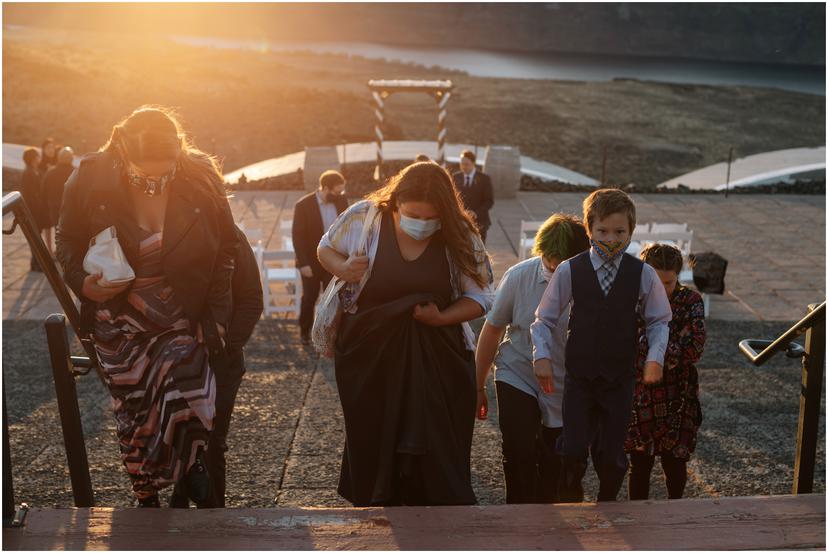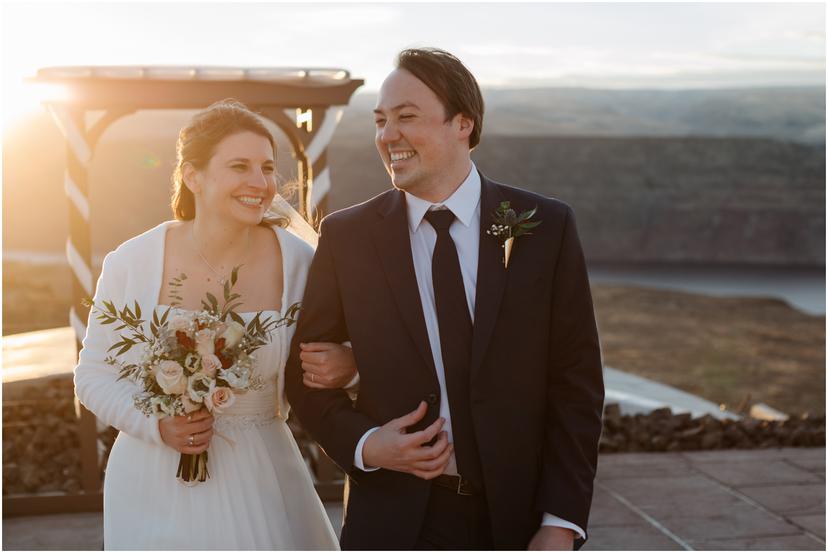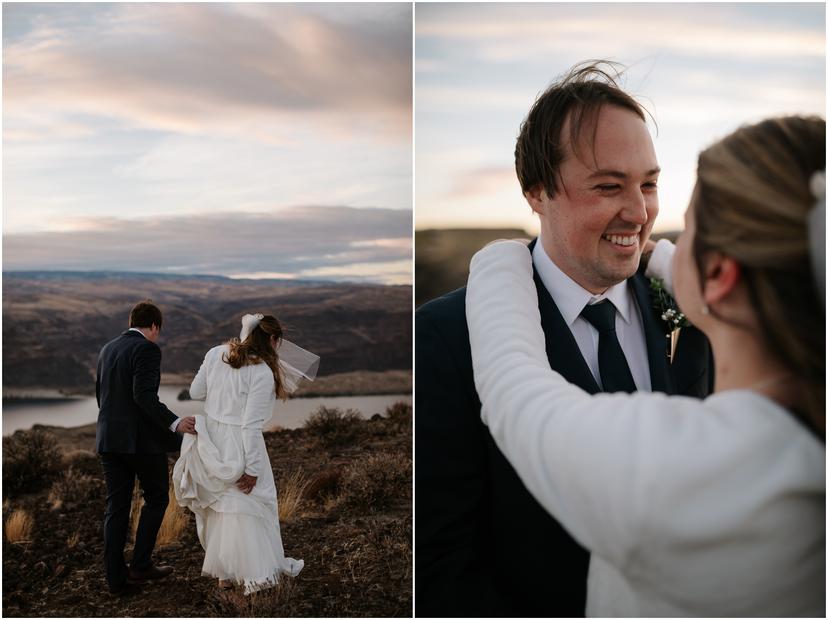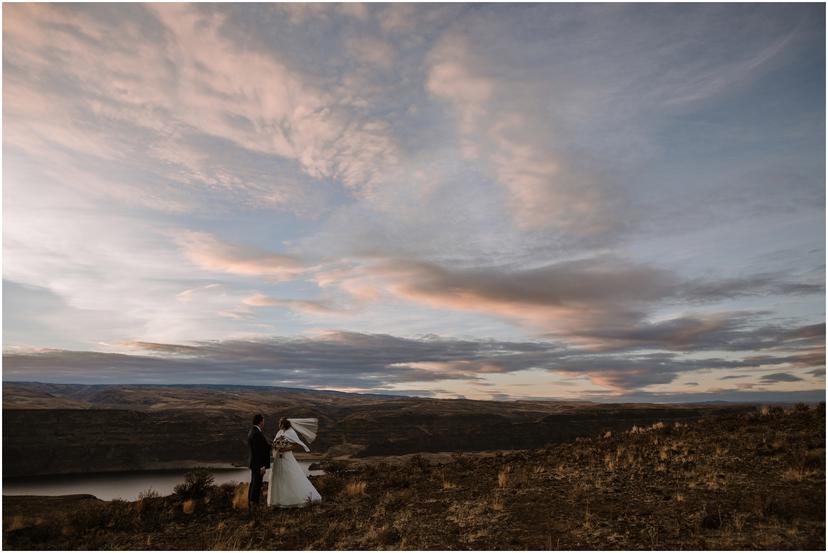 Advice about Central Washington weddings
"At least in mid-October, the weather was fairly unpredictable, so prepare the best you can," said Christine. "On the day of the rehearsal, the weather was perfect during the day. We had planned to have the rehearsal dinner outside until the winds picked up a couple hours before. We lucked out on the day of the wedding because it was chilly and windy, but clear. The day after the wedding was rainy. If we had had the wedding just a day later, the ceremony would have been entirely different. My advice is to be prepared - bring layers in case it is cold and extra hairspray in case it is windy!"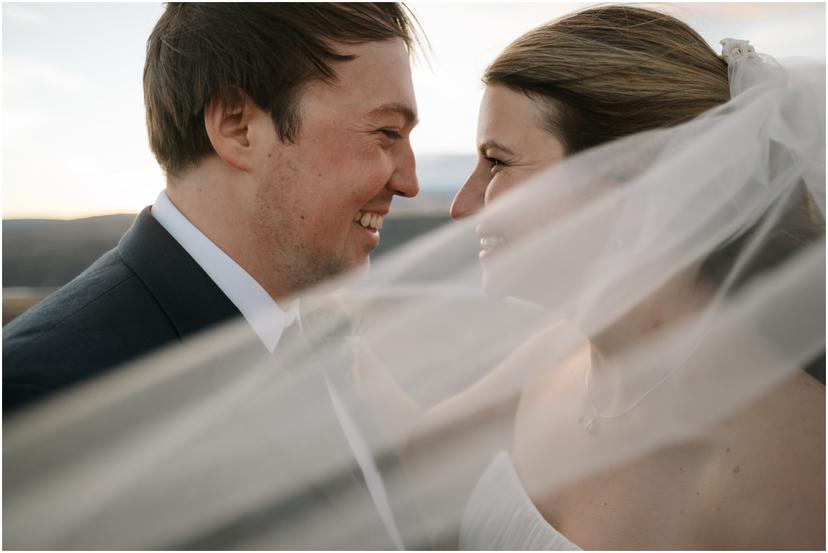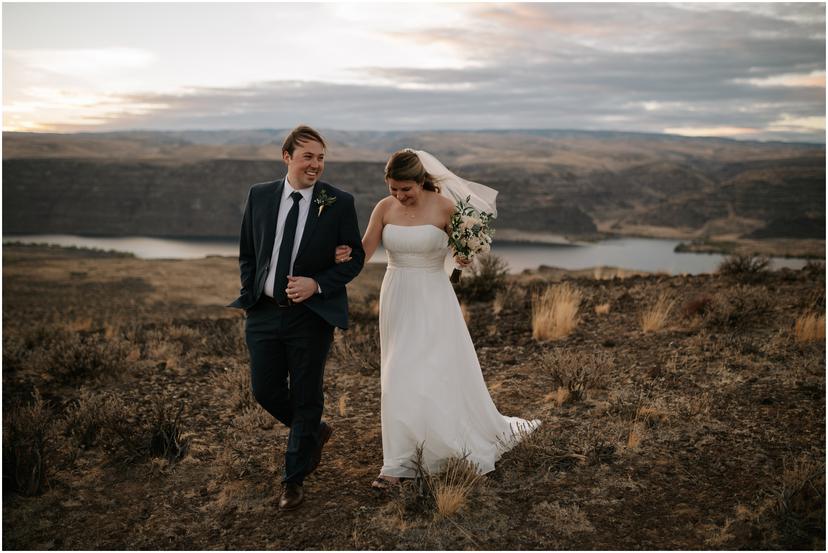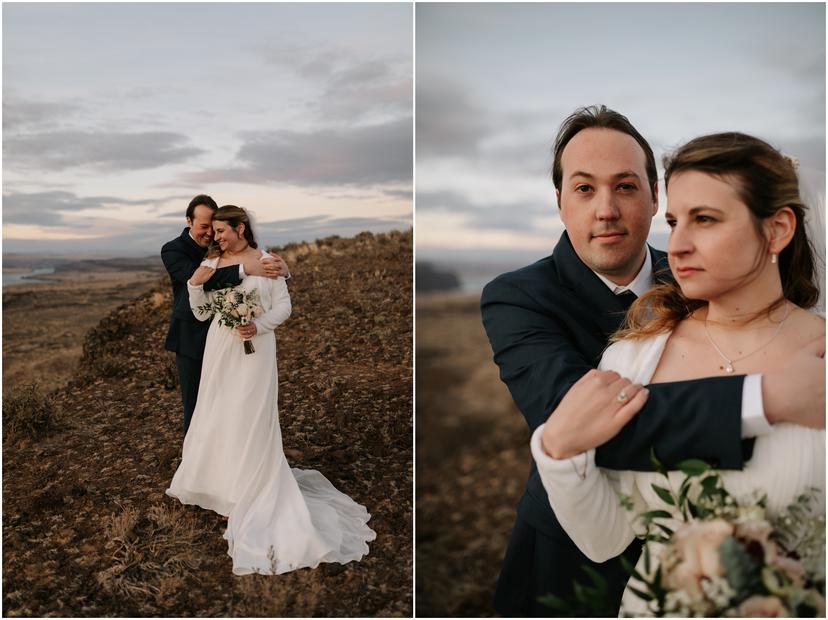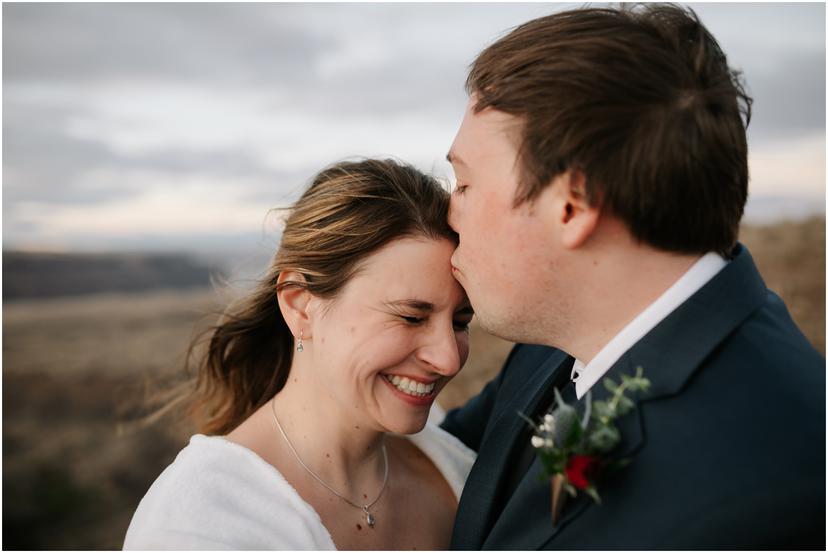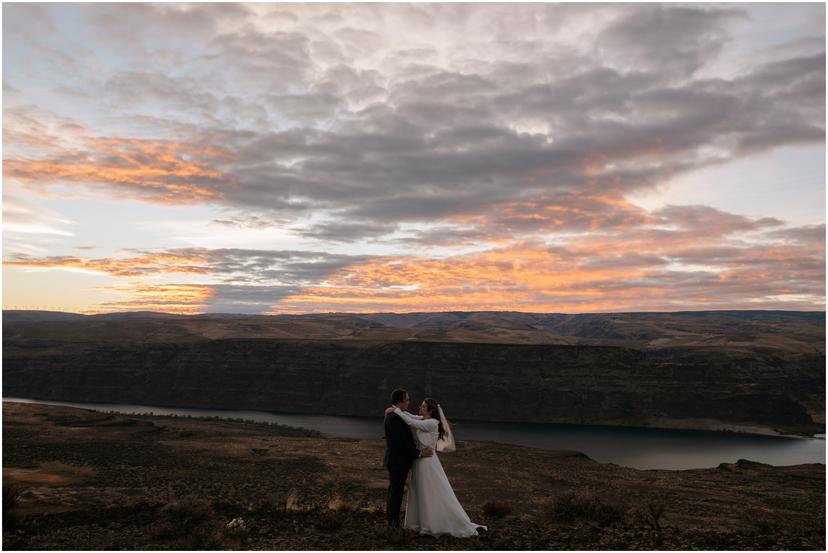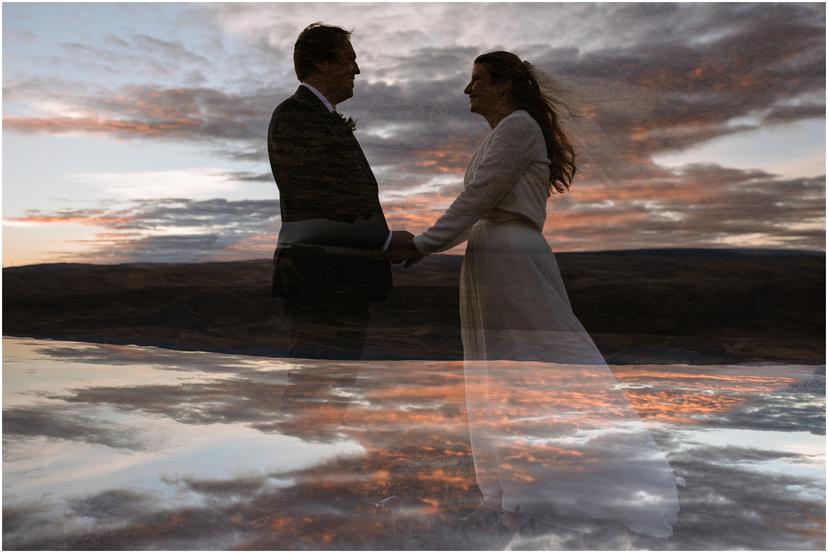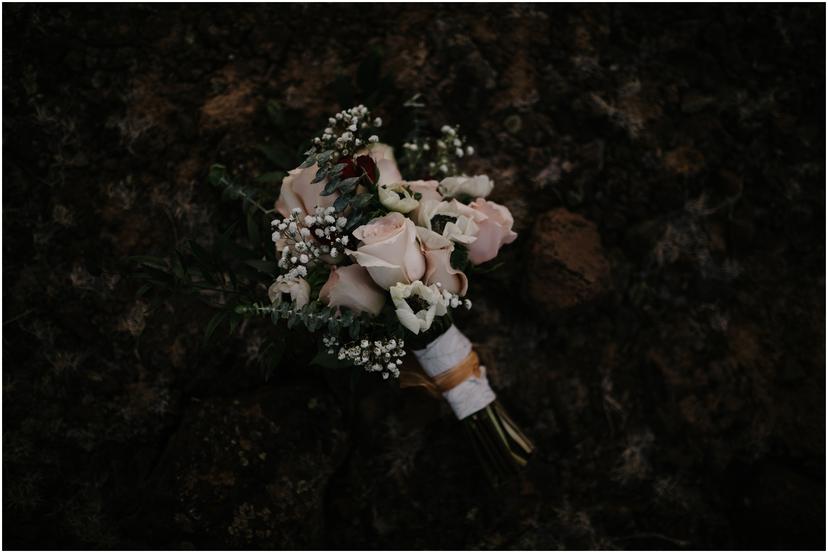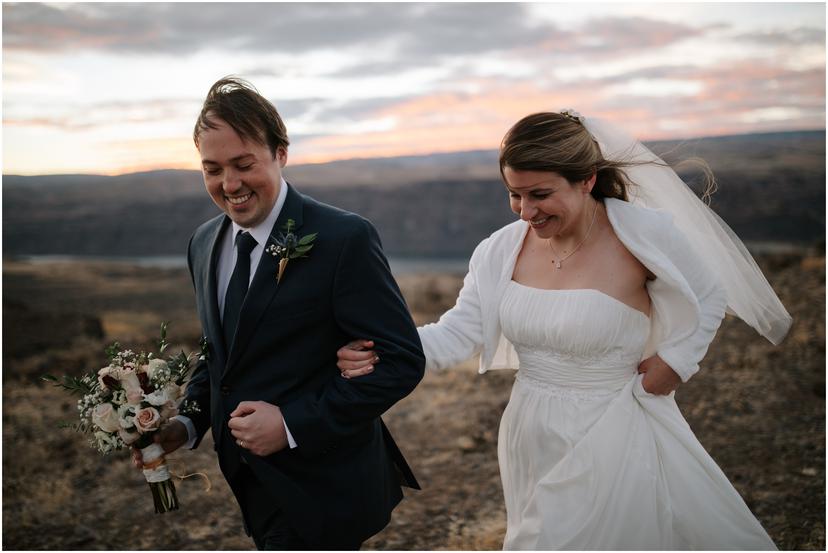 Cave B Estate Photo Locations
The photo locations at Cave B Inn and Spa are endless. Christine and Corbin had a short and sweet wedding day with 4 hours of photography coverage, so I didn't get a chance to take photos on that every part of the property, but overall it is HUGE and perfect for a lot of variety. Or course, you can get perfect sunset photos in the high desert with gorge views. But you can also take photos in the vineyards, along the road with autumn leaves, next to a beautiful pond, or even in yurts! It's such a unique place and there are many possibilities.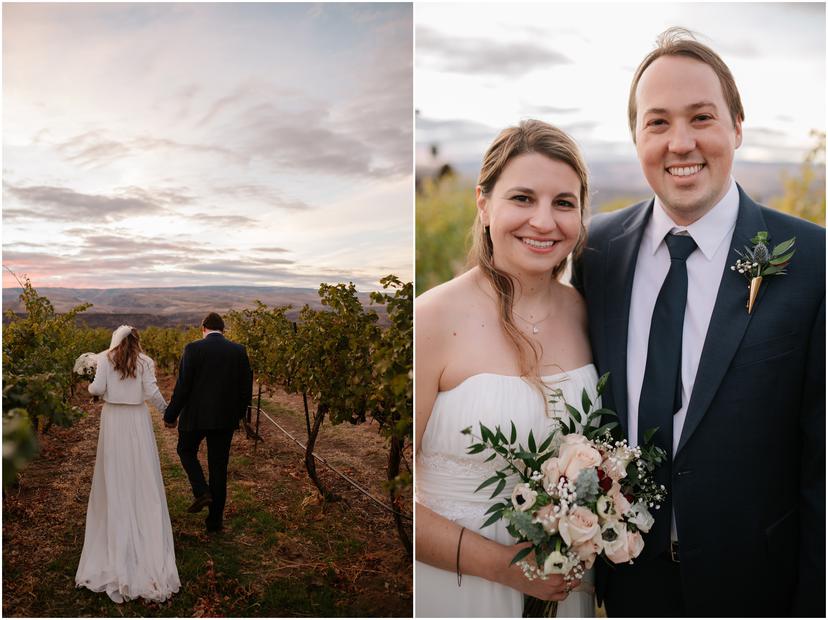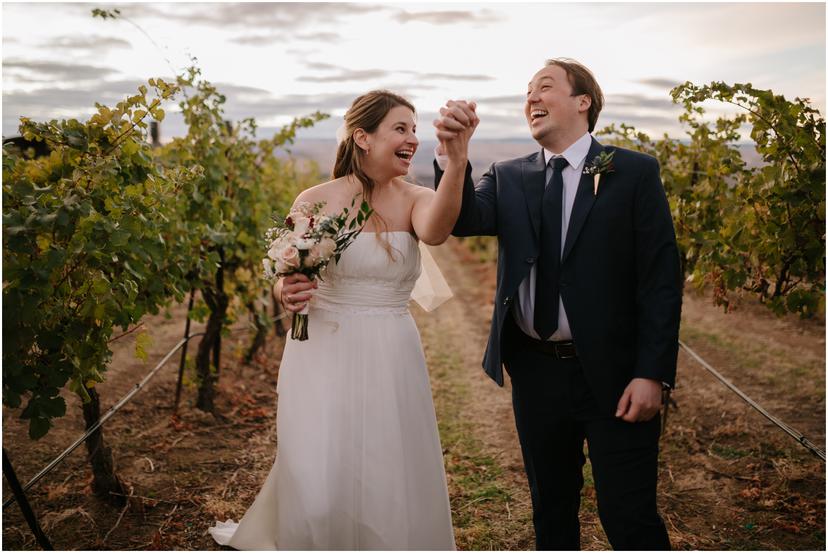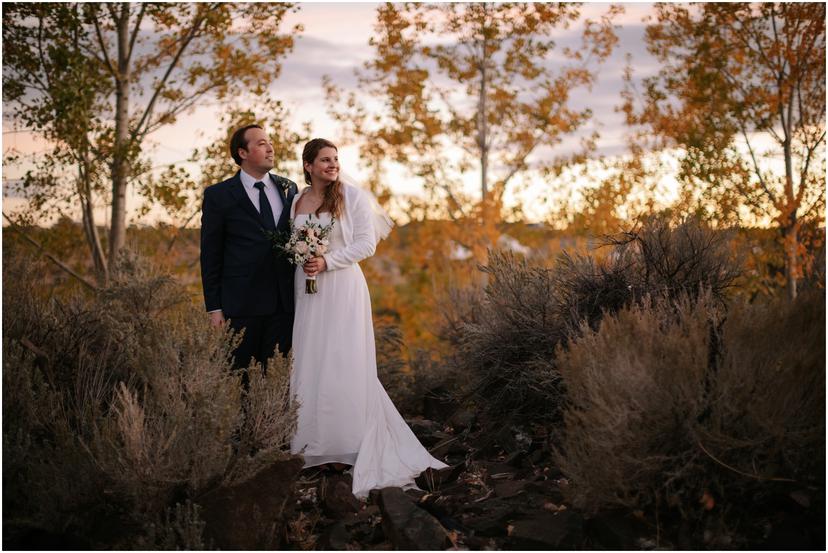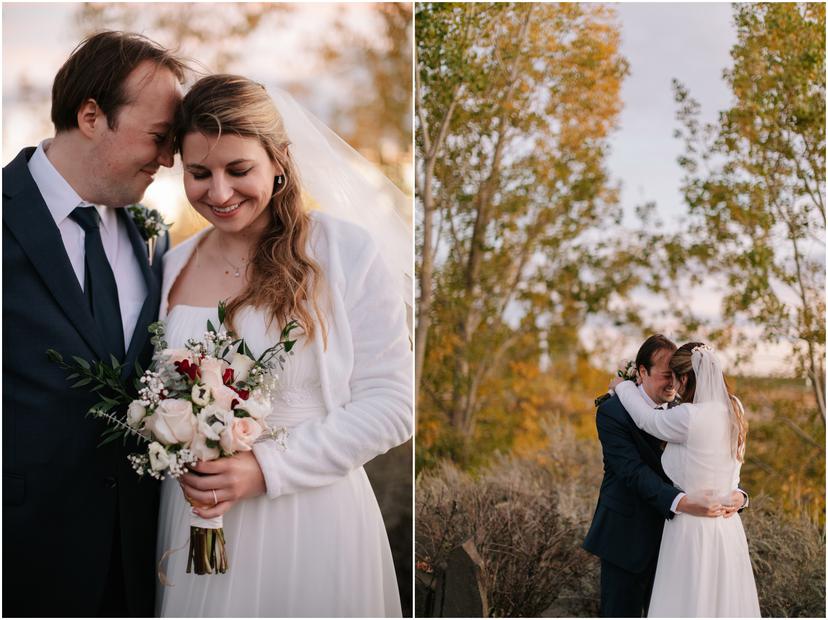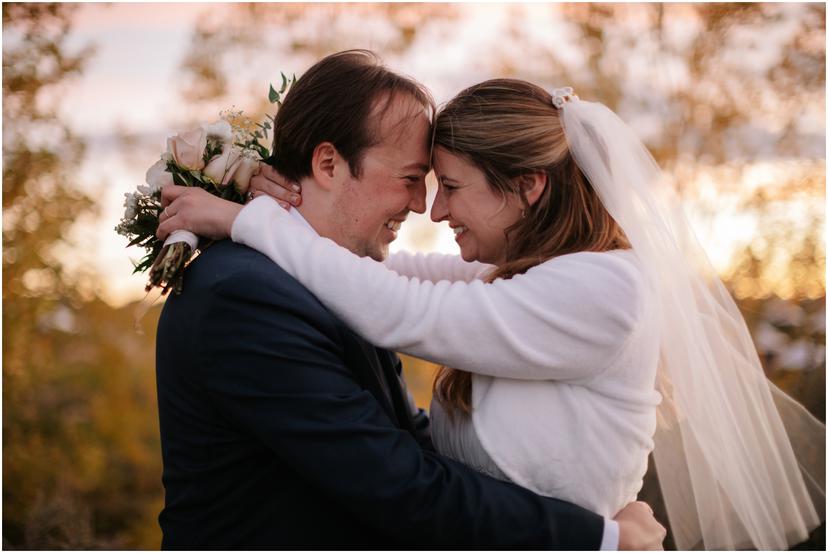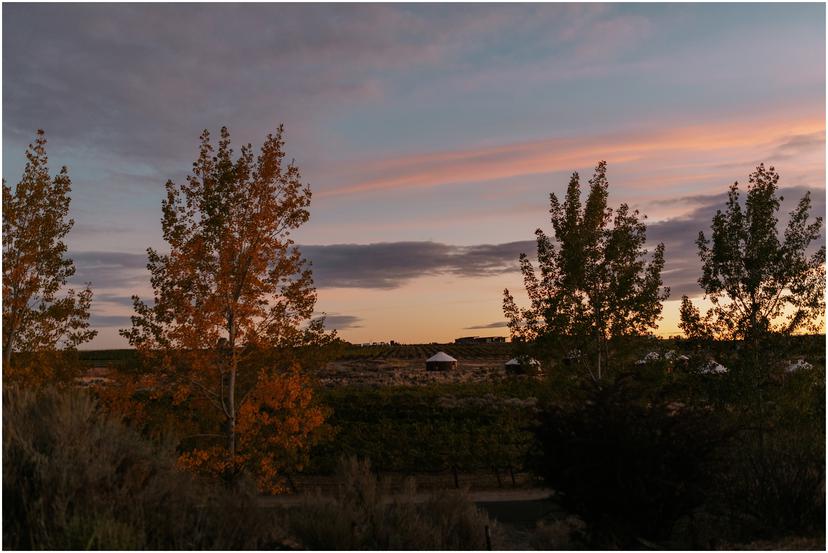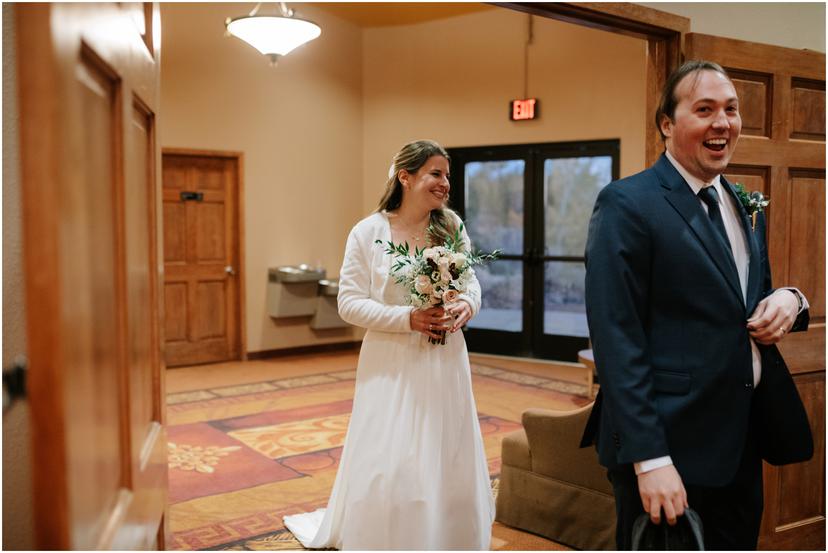 About the decor and vendors
"An interesting challenge was that we had to transition from a beach/tropical theme to a fall/winery theme," said Christine. "Fortunately, our original colors of blue, gold, and ivory are universal enough that they would work with either venue.
"Our Plan B/Cave B wedding ended up being much more of a "DIY" wedding than I had anticipated. My cousin was the officiant, a friend of ours made the cake, and my mom did all the flower arrangements. We were lucky in that we had people we love who wanted to help make the day as special as possible. The people at the venue were well organized and great to work with."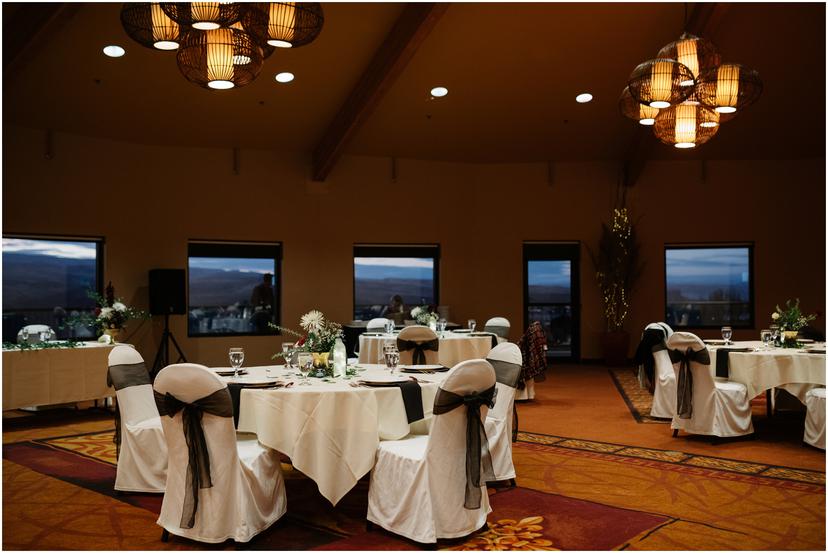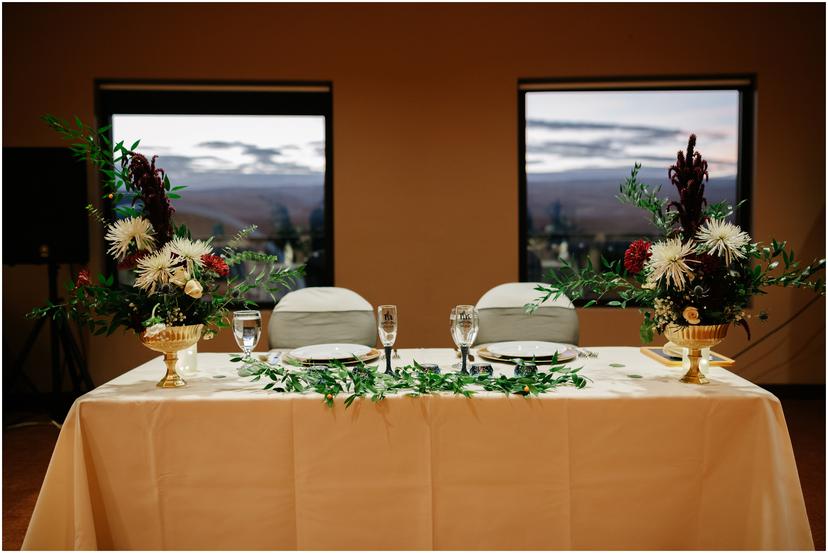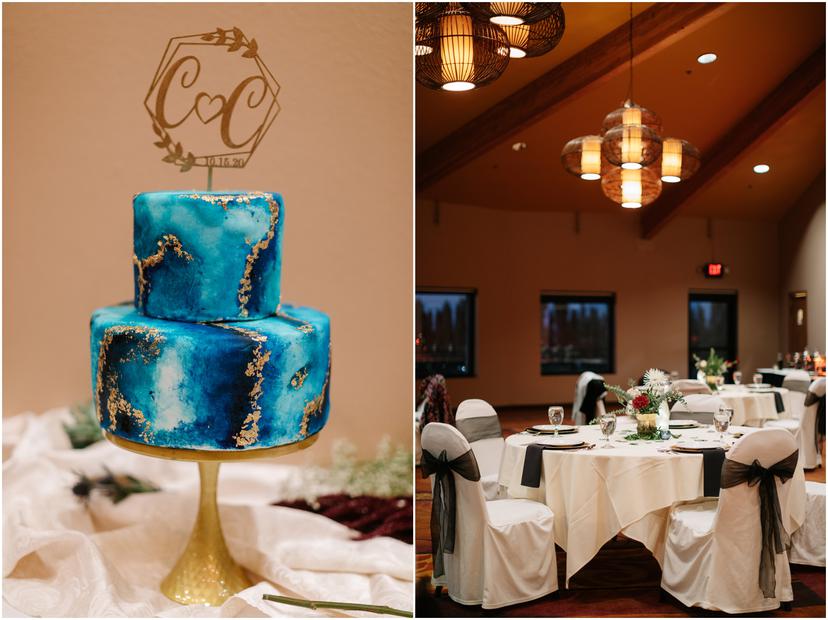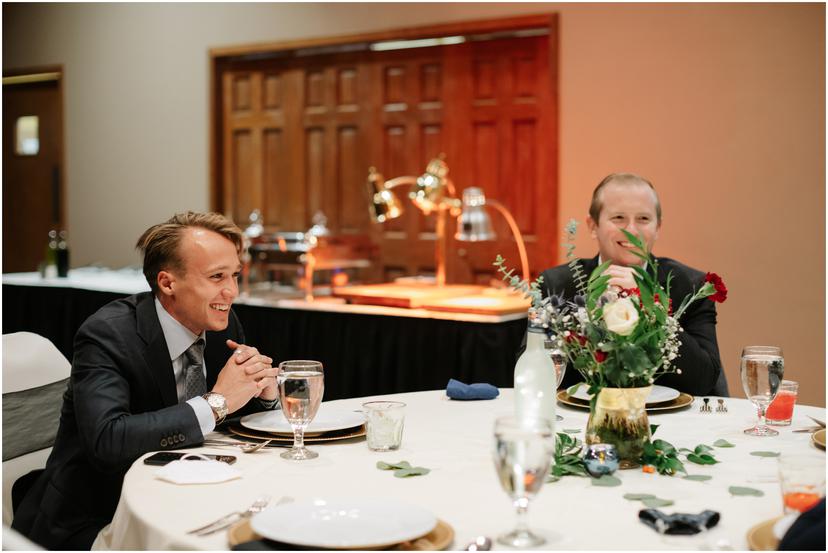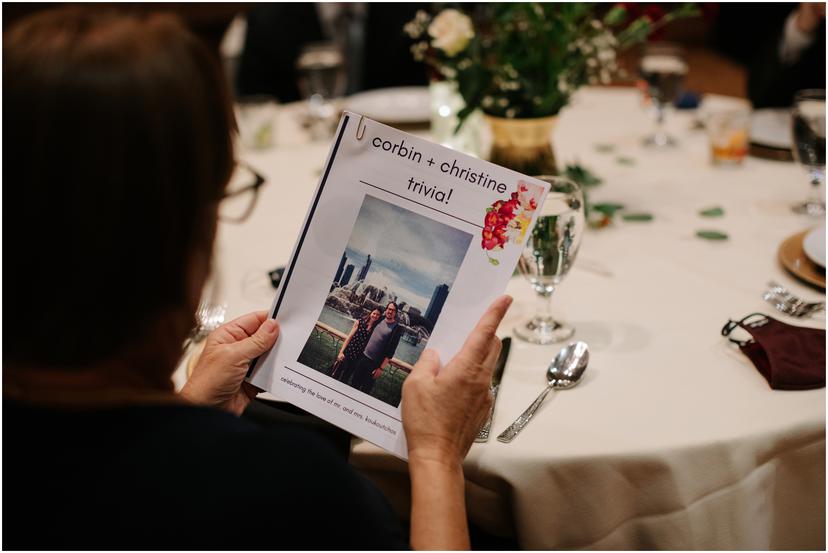 Wedding Reception Trivia
"Both of our favorite memory was playing trivia at the reception," Christine said. "Due to COVID restrictions, we were not able to have the traditional reception with dancing. Instead, we decided to have a game night. Some of the games were general trivia, matching quotes to their movies, and a newlywed game. It was a fun way for the guests to interact and still maintain social distancing."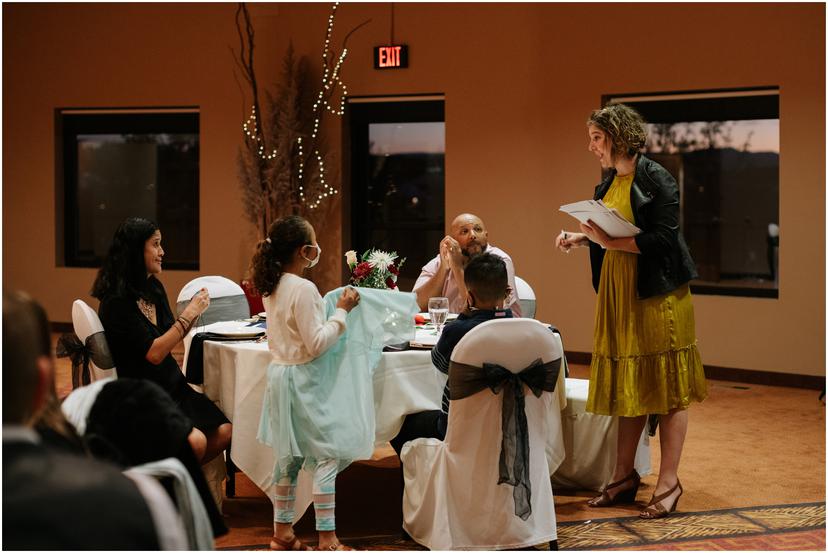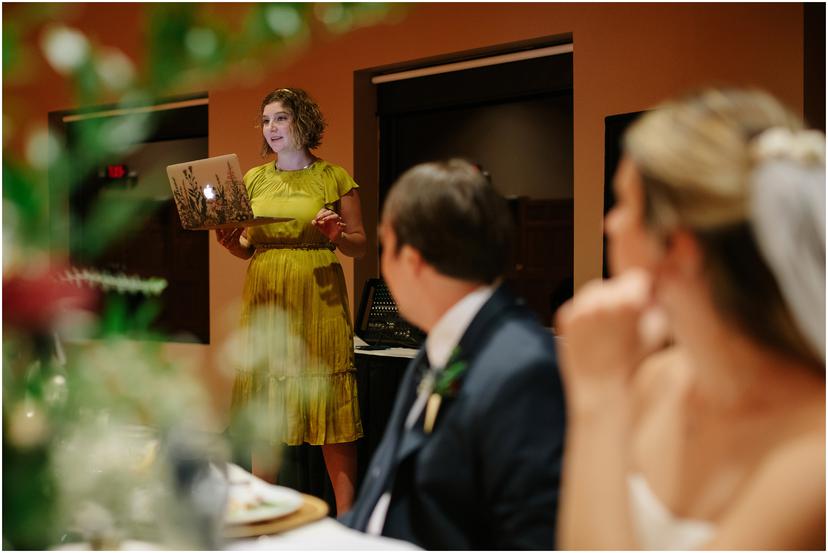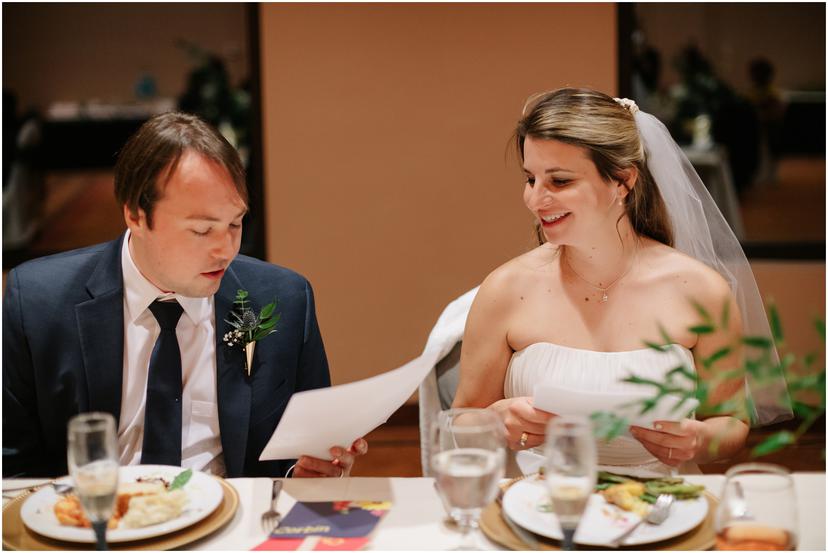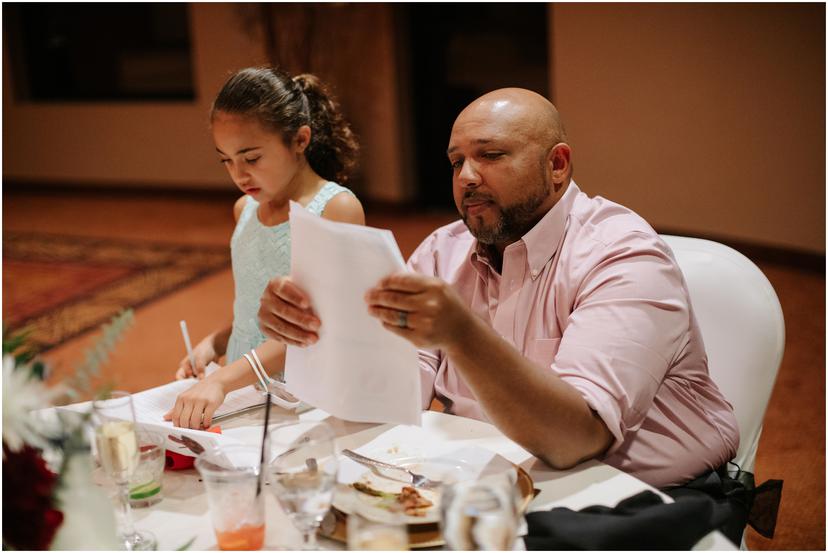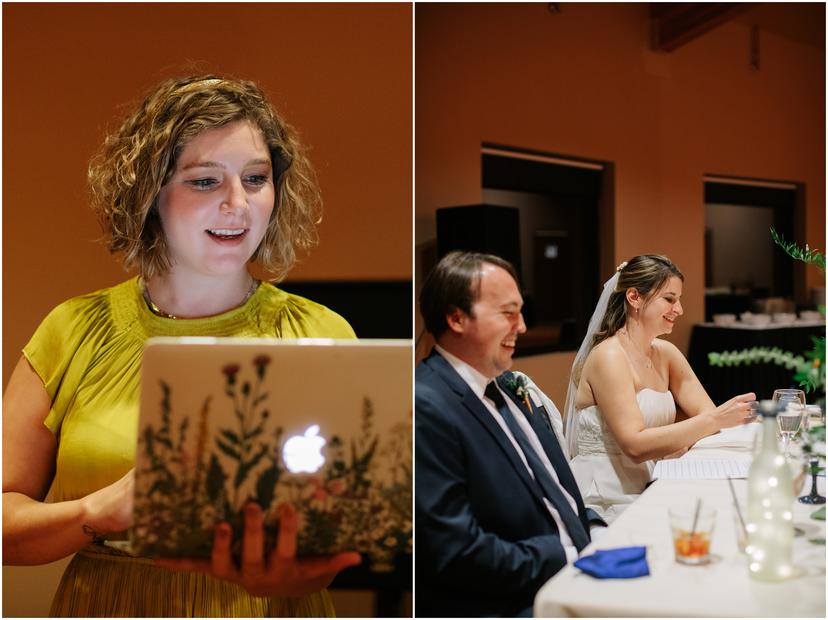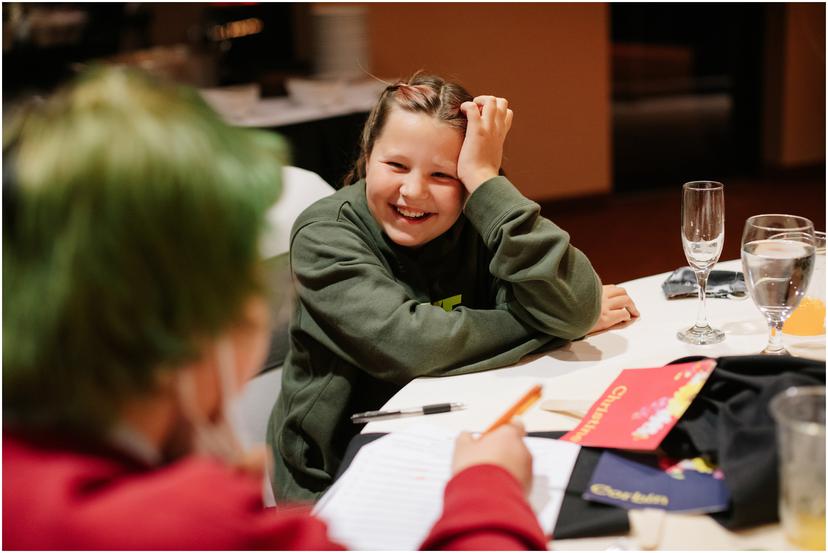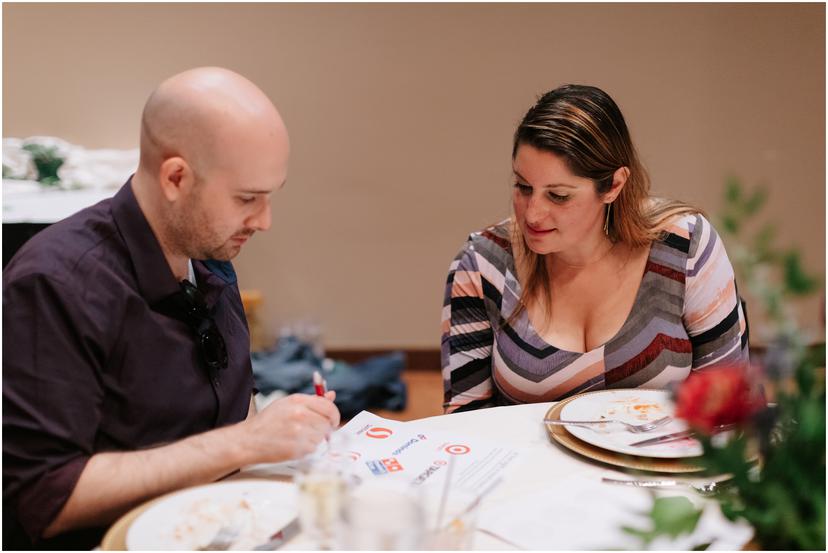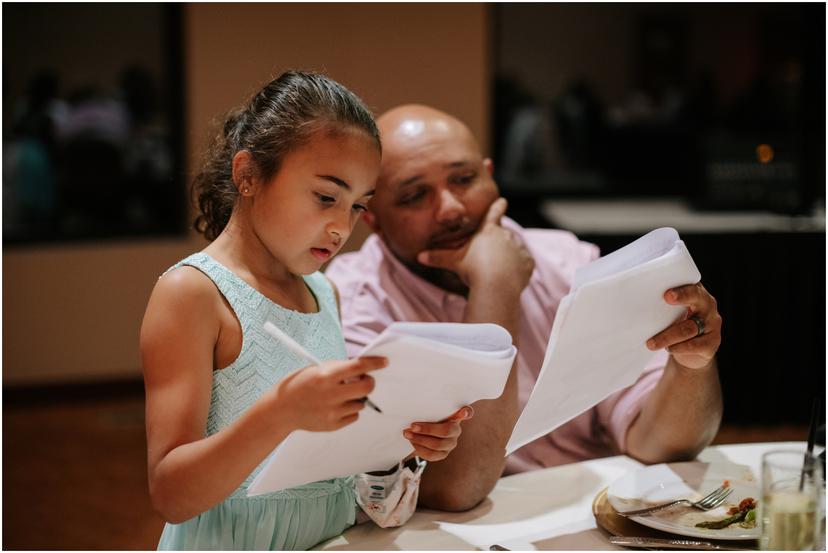 Tips for wedding planning during the pandemic
"I was anxious about the uncertainty about planning and re-planning during the pandemic so I tried to focus on things that I could control (I tend to be a bit of a control freak!)," said Christine. "For example, I was really excited about getting party favors and making gift bags for the guests. I figured that in the worst case scenario, we would just mail out the bags and everyone would still be excited to get them. My advice would be to find something, no matter how simple, that you will be excited about regardless of when or where your wedding ends up being.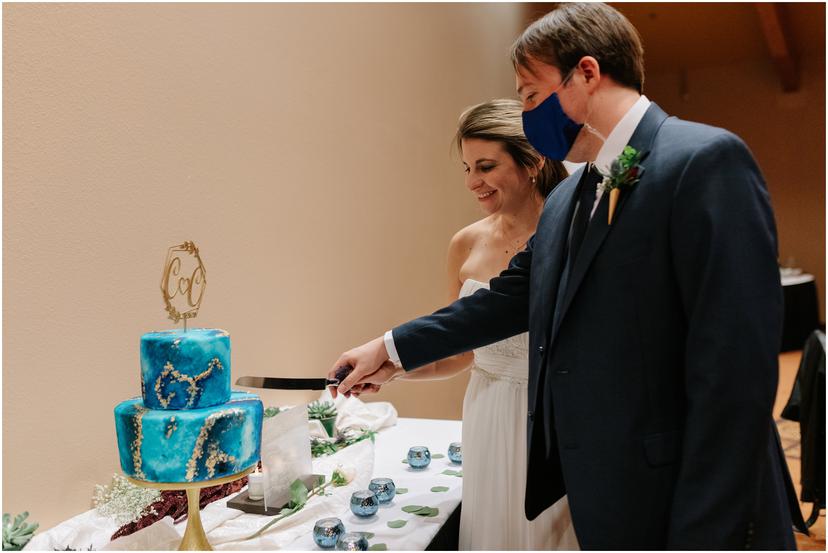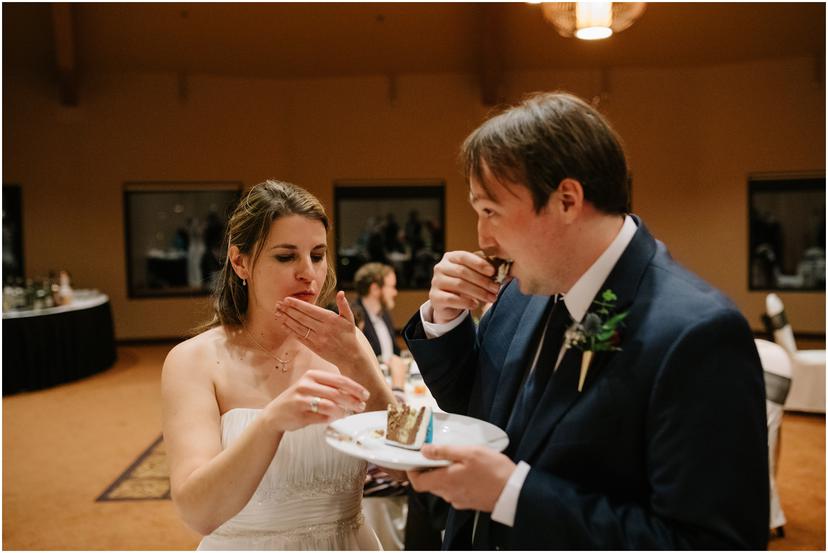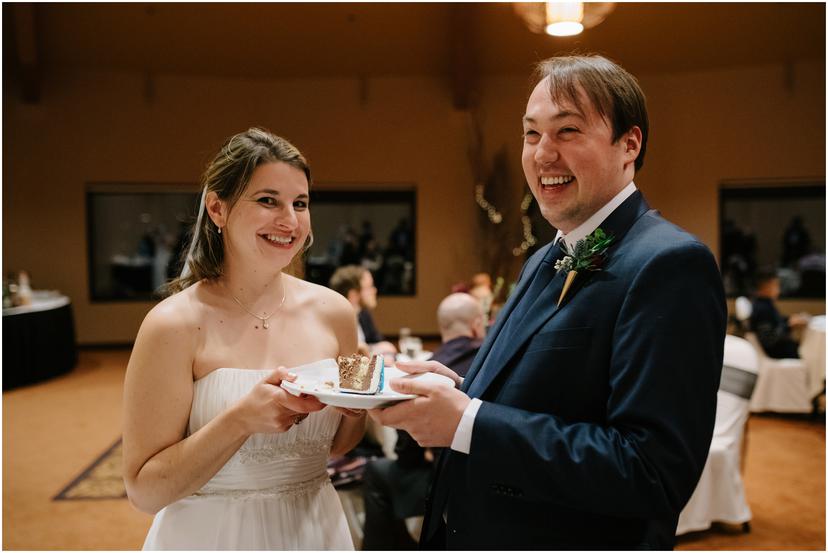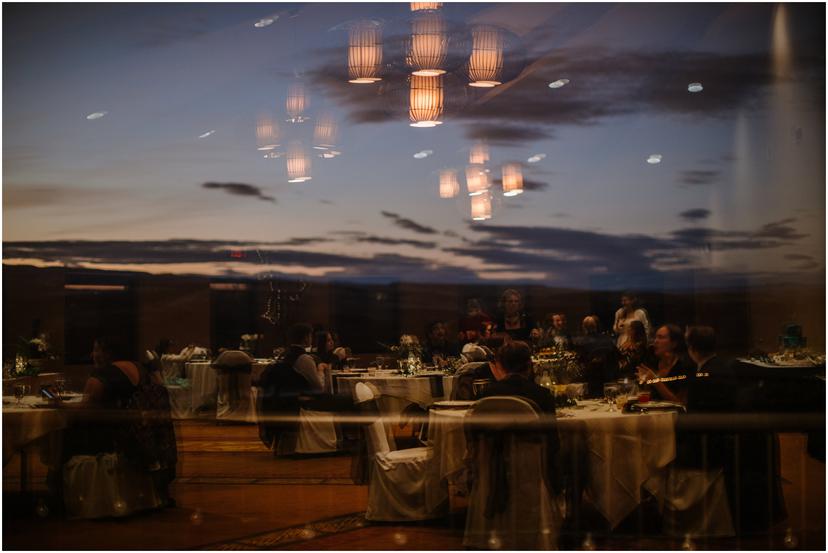 The Vendors
Venue, food and rentals: Cave B Estate Winery

Dress: Brides for a Cause

Suit: Tommy Hilfiger, bought from Macy's

Bride's shoes: Betsey Johnson

Rings: Brilliant Earth

Florist: Flower Moxie

Officiant: Cohner Schult

Cake: Rachel Carrillo

Invitations: Minted Weddings
Browse more
Did you enjoy this intimate wedding in Central Washington? If so, you might like these other elopements and intimate weddings I've photographed recently! And always, feel free to contact me if you have questions, or reach out if you are planning your own Central Washington wedding!
WASHINGTON ELOPEMENT IN THE GORGE