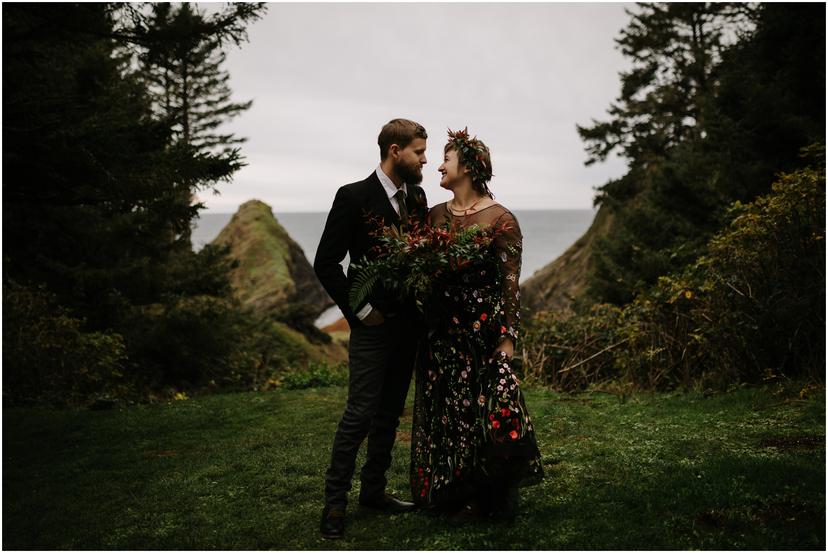 Heceta Head Lighthouse Wedding
This Heceta Head Lighthouse wedding was the stuff of dreams. Black, long-sleeved, embroidered wedding dress? Check. Floral Crown? Check. Unique thrifted groom's outfit? Check. Perfectly cloudy weather? You bet. A casual, brewery reception? Yes!
"My fiancé and I live in Eugene, but I grew up on the Oregon coast and have always loved the moody overcast days that fall and winter provide near the coast," Shelby told me in her initial email. "My partner is from Spokane, WA, but has always loved Oregon, where we intend to live the rest of our lives. We have many dear friends that we would love to celebrate with, but we've decided that our wedding will be more meaningful to us if we do things a little differently. I absolutely love the moody coastal photos I've found on your website."
Of course, reading those words, I was like HECK YES. As many of you know, the Oregon Coast is an extremely special place to me, too (I got married there this July). I love helping couples have the weddings or elopements of their dreams on the coast. Heceta Head Lighthouse weddings are some of my all-time favorites because the location is so dramatic. It really shows off the best of the Oregon coastline and is the perfect place for a wedding.
About Heceta Head Lighthouse
Heceta Head Lighthouse and B&B are located between Florence and Yachats on the central Oregon Coast. It takes a little over three hours to get there from Portland, or 90 minutes from Eugene. The lighthouse is perched on an epic cliff, with a short path leading to the Heceta Lighthouse B&B, where the lightkeeper initially lived. Both structures were built around 1894 and are on the National Register of Historic Places.
According to their website, Heceta Head Lighthouse is the brightest lighthouse on the Oregon Coast, and it is still currently in use.
"From a height of 205 feet above the ocean, its "first order" Fresnel lens casts its beams some 21 miles out to sea," their website states. "It is the brightest light on the Oregon coast. It is said to be the most photographed lighthouse in the United States."
The lighthouse is named after the Spanish explorer Don Bruno de Heceta, who sailed past it in 1775 and made a note of the rocky waters before turning around near the Columbia River. He had been on a secret mission from the Queen of Spain to sail the entire west coast. Years later, sailors complained about the dark stretch of coastline between Newport and Coos Bay and asked for a lighthouse. Construction began in 1892, with materials brought in on rafts or single-lane wagon roads.
The lightkeeper's house has been occupied by many families over the years, as well as the military during World War II. The beautiful Victorian house is also rumored to be haunted - one of the many reasons people love staying there.
Weddings at Heceta Head Lighthouse
I've done multiple weddings and elopements at Heceta Head (like this one last summer, or this one in 2016), and I can confidently say it's a stunning venue year-round, rain or shine. There are ample places to hold a wedding ceremony - from the covered porch, to the grassy lawn, to the beach below. It's a perfect location for moody wedding photos too. I love taking pictures in the surrounding forests, and it's frequently foggy, which makes pictures even more mystical.
All the weddings I've photographed at Heceta have been small, with 30 people or less. BUT, they do host larger weddings too! They can customize wedding packages for up to 150 guests with a tented outdoor reception on the lawn. For smaller weddings and elopements, couples can opt for a special ceremony-only package (like Shelby and Clinton did), where you can rent the house and grounds from 11:30am til 2:30pm when their calendar permits it. This is perfect if you want a more casual, intimate wedding on the coast. It's easy to head to Yachats or Florence and host a reception at a local brewery, hotel, or restaurant for a fun, laid-back wedding experience.
About Shelby and Clinton
Shelby met Clinton because her sister was dating his best friend/coworker.
"We met thinking it would be a one night stand, but we ended up falling in love," she said, laughing. Clinton works at the oil fields in North Dakota, so the two frequently do long-distance while he's away for a few weeks at a time. They are both dog-lovers, beer-drinkers, and adventure lovers.
Clinton proposed in the rain at Hobbit Trails, a few miles away from Heceta Head on the coast. "We were the only ones on the beach, and it was very romantic," Shelby said.
When I asked them their favorite things about each other, Shelby told me that she loves Clintons values. He values family above all else and is the hardest working, most dependable person she knows. Clinton said that he appreciates how loving she is, and the fact that she's his rock.
What was your favorite memory from your Heceta Head Lighthouse Wedding?
"Seeing everyone we invited enjoying themselves so much would be my favorite part of the wedding," Shelby said. "Also, when we announced that we're expecting. It felt great to see how excited our family and friends were."
Why did you choose Heceta Head Lighthouse for your wedding venue?
"We chose Heceta Head Lighthouse because we wanted our wedding to be small and intimate. The lighthouse is stunning, and I knew the venue would make for some remarkable moody November photos."
Do you have any advice for other couples planning Oregon Coast elopements?
"My advice to anyone planning an Oregon coast elopement would be to keep it simple. We spent money on what we thought was important; the venue, photography, and just a few flowers. We saved quite a bit by going out to a brewery afterwards instead of hiring a catering company. Looking back, I'm so happy with our decision to keep things simple, so we kept it as stress-free as possible.
"I got a lot of questionable looks when I announced that I picked out a black wedding dress, but I had a vision of our wedding day, which Katy completely captured. When it comes to your wedding, remember that it's about the two of you and no one else. Do things the way you want them, not how anyone else thinks you should. I'm so happy that I didn't succumb to the wishes of any family members. And after everything was said and done, everyone who seemed unsure of our wedding decisions, in the beginning, was raving at how it all turned out."
The Vendors
Wedding Venue: Heceta Head Lighthouse Bed and Breakfast

Reception Venue: Yachats Brewing

Dress: From Tonena on Etsy

Grooms Boots: Nisolo

Florist: Passionflower

Cake: Sweetlife