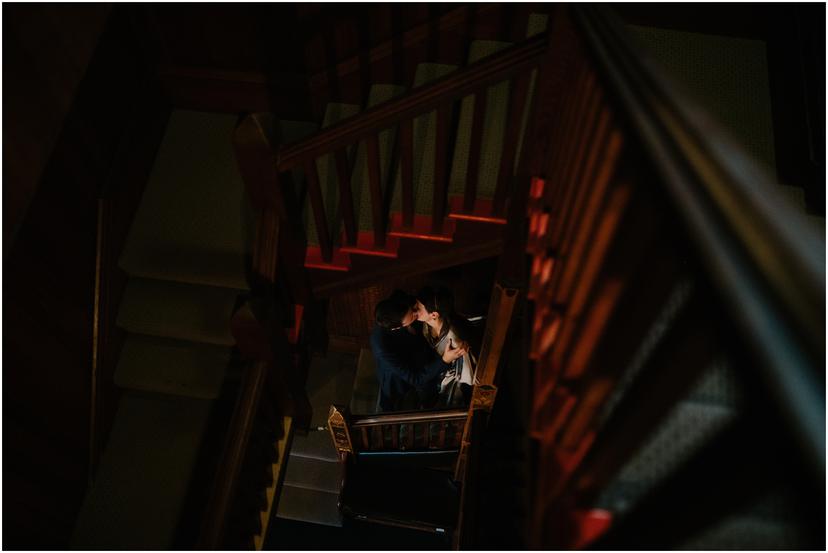 Shelburne Hotel Wedding in Seaview Washington
I love empowering couples to do EXACTLY what they want for their weddings. This non-traditional wedding at the Shelburne Hotel in Seaview, Washington, was a perfect example of that.
How Matt and Katy planned their unique, laid-back timeline
Katy and Matt had roughly 40 guests attend their wedding. They planned a relaxed, fun day that felt more like a beautiful party than a traditional wedding. They hung out in the morning together, got ready separately, and did a first look. Then, they greeted their friends and guests as they arrived, drinking cocktails in the October sunshine. Once everyone had gotten comfortable, they held a quick, simple, yet tear-filled ceremony outdoors. Matt's brother officiated. Then, they had a long, leisurely cocktail hour with appetizers, live music, and lots of quality time with their guests.
It was essential to Katy and Matt that they didn't have any cheesy announcements that interrupted the flow of the party. Dinner began naturally as people filtered into the dining room and toward the buffet.
After dinner, I took portraits of Katy and Matt around the historic hotel. Then we head over to the beach, which is only about five minutes away. As we watched the sunset together, the entire rest of their wedding flowed out onto the beach as well! We were stunned that they had followed us. Still, it ended up being a really magical moment as everyone enjoyed the sunset together. Their friends formed a circle around Katy and Matt and gave them a giant group hug - it was SO memorable and sweet.
After we got back from the beach, Katy changed into a dancing dress, the live band (their good friends) started jamming, and an epic dance party began! They didn't have a formal first dance, didn't make any toasts, and basically skipped the majority of wedding traditions in place of having a really relaxed, fun party. It was honestly one of the most well-planned, chill weddings I have ever documented.
About the Shelburne Hotel
The Shelburne Hotel is located on the south Washington Coast, in the little town of Seaview. Its got a vintage, art-deco vibe, and the hotel itself is over 100 years old. The property has beautiful gardens and can hold up to 200 people. Still, I personally think it's best suited for more intimate gatherings.
The hotel has a parlor, pub, dining room, and something they call an "inglenook," which is basically a game area with billiards and shuffleboard tables. The indoor details of the building are visually stunning; all-wood interiors, stained-glass windows, quirky art, you name it.
The best places to take photos at the Shelburne Hotel
I loved documenting this wedding because the Shelburne Hotel in Seaview has SO many great photo-opportunities. Especially for couples who like a moody, artsy approach. The gardens have great natural light and provide ample space for group portraits. The stained-glass windows are great to work with indoors, and I loved the dark blue walls as well. I really enjoyed taking photos on the stairwells and in all the little hotel nooks. Also, a quick drive to a beautiful beach doesn't hurt either! I was happy to take photos along the ocean and in the dunes. There is SO much variety in this location!
What was your favorite memory from your wedding?
"Going down to the beach for photos and seeing everyone else came down, too," said Katy. "Also - Dancing with the band."
What was your favorite thing about getting married at the Shelburne Hotel, and why did you choose it as your venue?
"The wedding events were close together," said Katy. "We didn't have to travel from the ceremony area to reception. And the place is our style. It felt like we were in control of the space."
Do you have any advice for other couples planning weddings on the Washington Coast or near Astoria?
"The Adrift now has a spa, sauna, and heated pool, which can be used as a relaxing self-care day before the wedding day," Katy said.
"We recommend the Salt Pub in Ilwaco and Pickled Fish event spaces. Pickled Fish is the restaurant at the Adrift Hotel in Long Beach, which has live music every night. Their food and drinks are excellent. They're also located on the fourth floor overlooking the ocean. There's also a distillery, and I would have to say everything there is excellent. The day after our wedding, people went for long walks on the beach and for hikes nearby, like at Willapa Bay nature reserve. Other people visited the quaint town of Oysterville and took home fresh or canned oysters. So, it's a good mix of good food and drinks and outdoor activities."
Any other insight or advice for couples that you would share about your wedding experience?
"We used Blooming Crazy Floral in Astoria, so it would be easier to pick up the flowers instead of bringing them from Portland," Katy said. "I was really happy with the bouquets and garland they provided. I saved some money by providing my own garland ribbons and little brown bottles for our tiny table bouquets.
"I can't recommend my designer Sonia Kasparian enough. I came to her about 10 months early with some Pinterest dress ideas. Using those, she sketched and suggested silhouettes and fabrics. We went to the fabric store but ended up using material she already had at her house: matching taupe satin, velvet, and chiffon. She gave me advice on where to find a bustier, which she also modified to fit my body exactly. I found flat bronze shoes online (BCBG). I also asked her to make a custom hairpiece and matching boutonniere using an idea from Pinterest, which was made of feathers. They are made of goose and pheasant feathers and have small bronze jewelry details. My earrings and ring are silver with several moonstones.
"For Matt's suit, we found a retailer seem to fit with our millennial approach. Online reviews said that Lance at Hall Madden was rated highly for professionalism, and being easy to work with and approachable. We have never gotten a custom suit before, so it was intimidating. We bought the shirt and got it tailored at Nordstrom, along with shoes and a belt. I found a jeweler in Portland at an art show who we commissioned to make a pounded oxidized silver ring modeled on some that we found on Pinterest.
"For my end of evening look, I changed into a dark teal velvet wrap dress from Anthropologie. It allowed me to move around and dance freely, and I didn't feel overdressed even at the karaoke dive bar we went to later. And it was in the same style as my wedding gown, since it was also a wrap, with flowing but shorter sleeves, and almost full-length skirt.
"Overall, my advice is to make your wedding only as complex as you want it to be, make sure you have enough time to hang out with your guests and be very mindful about how much you spend and how big your guest list is.
"We used a shared Google spreadsheet to keep track of our to-do list, our budget, our wedding timeline, our guest list, and packing list. We set aside a Sunday morning, hour to two hours, for a couple months to work on wedding stuff together, so it's a shared and equal task. Sometimes we had to skip it due to other commitments, but the fact that it was there gave us some structure. We also went to couples counseling for several months to make sure that we were spending as much time working on our relationship as we were planning our big party.
"We also recommend not just taking the day before or the day after your wedding to relax and say goodbye to everybody. We didn't leave for our honeymoon until the day after that.
"We definitely relied upon our family and friends to help us out on the day of. We knew what tasks needed to get done, we trusted them to make it happen, and it did! And last, roll with the punches because there were always be little curveballs, but they don't have to slow you down or have a negative impact unless you let it."
The Vendors
Venue: Shelburne Hotel

Silver Dress, headband and boutonniere: Sonia Kasparian, from Portland.

Teal Dress: Anthropologie

Suit: 3 piece suit by Hall Madden.

Hair and Makeup: bride's friend Caitlin

Tie: Mario's

Groom's shoes and belt: Nordstrom

Bride's shoes: BCBG

Florist: Bloomin Crazy in Astoria, OR

Officiant: Christopher Brown, groom's brother

Catering, Alcohol, and dessert: Shelburne Hotel chef Casey

Band: Groom's childhood friends: Steve (keyboards, vocals), Jerome (guitar, vocals), Colin (piano, drums), Anthony (bass)

Rentals: provided by the hotel
The Photos