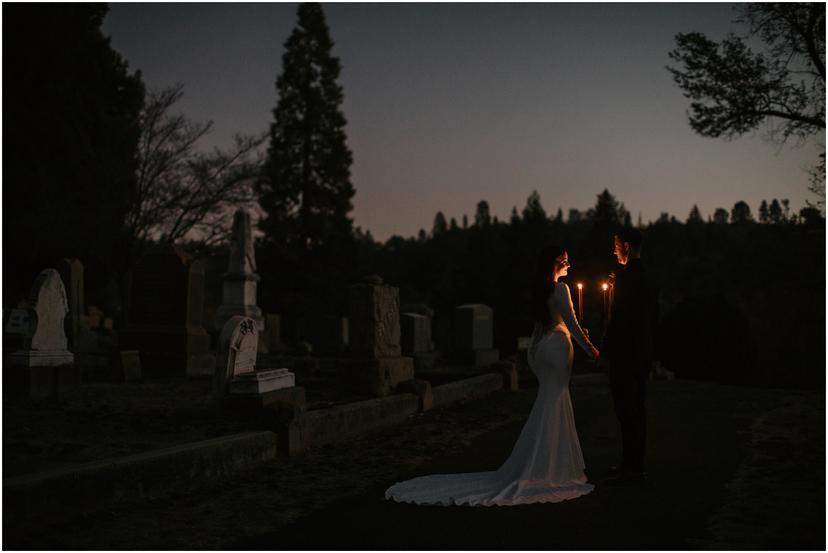 Wedgewood Sequoia Mansion Wedding
This Wedgewood Sequoia Mansion wedding was FULL of moody romance. Jackie and Dewey have been through SO much together. They wanted their wedding to be celebratory, but also edgy and dark. "A real reflection that everything isn't bright and happy all the time, but it can be beautiful," Jackie said.
About Wedgewood Sequoia Mansion Weddings
The Sequoia Mansion is a part of Wedgewood Weddings, an all-inclusive wedding venue group that has 43 venues across the US (but mostly in California). Their focus is an inclusive wedding experience, minimizing stress for couples! Their website is SUPER easy to use, and Jackie and Dewey only had positive things to say about their customer service.
"We loved how the character of the building was decoration in itself- we didn't feel like we had to worry much about making it wedding-ready,'" Jackie said. "We chose this venue for so many reasons. We love the all-inclusiveness of, and customization options of Wedgewood packages, the location of the mansion, especially for our fall date, and the customer service was exceptional."
The Sequoia Mansion itself is located in Placerville, tucked in the beautiful Sierra Foothills, and an easy drive from the Sacramento area. The venue holds 220 guests, and you have the option of doing an indoor or outdoor ceremony. The mansion has a stunning, historic Victorian exterior with modern indoor updates (hello white ceilings, I love you). The location photographs beautifully and has tons of space/options for a great party. I love that it had vintage personality but wasn't overwhelmingly Victorian (aka it didn't feel like being in someone's grandma's house). The ballroom also had ample space for a comfortable, relaxed party. All Wedgewood packages include food, chairs, tables, and linens, with options to add-on beverages, DJs, photo booths, etc. It's an excellent choice for couples who don't want to deal with the stress of rentals and catering. They do a TON of the work for you which makes things easy!
Best places for photos at the Wedgewood Sequoia Mansion
I was beyond stoked when I first saw this venue. SO MANY GOOD PHOTO OPPORTUNITIES! Oh, man. We had a tight timeline this day, but there were SO many epic photo spots and options we didn't even end up using all of them. First, let's talk about the getting-ready rooms. They are amazing. Huge, spacious, with tons of natural light. Because Jackie and Dewey had a dark and moody theme, we ended up using the room with black walls for both the groom AND the bride. We also took a lot of group photos up there before the ceremony. It felt like I was in a photo studio, and I loved it.
The stairway, parlor, and bar all have beautiful lighting (day AND night), and we were able to get some awesome photos there during the reception. I loved the fireplace!
Jackie and Dewey held their ceremony indoors on the white veranda. This spot has incredible south-facing light, and it's perfect for photos. I wish I could have gotten a few more in this space, but we didn't have the time. The ceremony looked beautiful here, though!
Outdoors, the porch works great for family photos, and the grassy lawn below can be used for group portraits or for an actual ceremony too! And the cemetery across the street is magical if you are into that sort of thing (Jackie and Dewey absolutely were). I loved taking moody photos there at dusk!
What was your favorite memory from the wedding?
"Our short and sweet ceremony where we exchanged our vows, rings, and I do's!" said Jackie.
Do you have any advice for couples planning Sacramento or Placerville weddings?
"Take your time figuring out the vibe you want for the wedding day, tour venues with friends, and have your friends help you as much as possible!" Jackie said. "Having our friends so involved helped our wedding feel more authentic and celebratory. Also, be flexible about your date! We originally wanted 11/9/19 as our date, and it wasn't available. We are so glad we switched so we could stick with the venue we loved."
Any other insight that you would share about your wedding experience?
"Make time for introspection about what makes your relationship special, and articulate that early in the planning process. (For us this was perseverance through/appreciation of darkness.) Anytime you have an opportunity to incorporate this element, or anything you both love, do it! Our wedding was perfect for us because it reflected who we are together and what we value in each other. We had a theme to communicate to vendors, and it all came together beautifully.
"No matter how long your engagement is, or how much you get done "ahead of time," the two months leading up to the wedding are absolutely insane. Self-care is crucial! For us, that meant couple's therapy sessions and saying no to a lot of social events and extra obligations. It was almost like hibernation mode- but it strengthened our bond and brought us even closer together."
The Vendors
Venue and Catering: Wedgewood Weddings

Dress: Sottero and Midgley from The Bridal Box

Wedding Bands: Grebitus Jewelers

Hair/Makeup: Cheree Hodson and Melyssa Beier at Lavender Salon

Flowers: Dottie McKenzie

Dessert: Frank Vilt's Cakes

DJ: Steve Boutte Productions

Styling: Matti & Ben with Cocomont Styling

Signage: Kathryn Yue with Camp Sleepytown

Invites: Wedgewood

Save the Dates: Zazzle

Cocktail hour music: Jayson Angove

Trivia: William Silveira with Trivialogy 101

Nails: Star Nails Roseville

After-wedding transportation: The Limousine Club