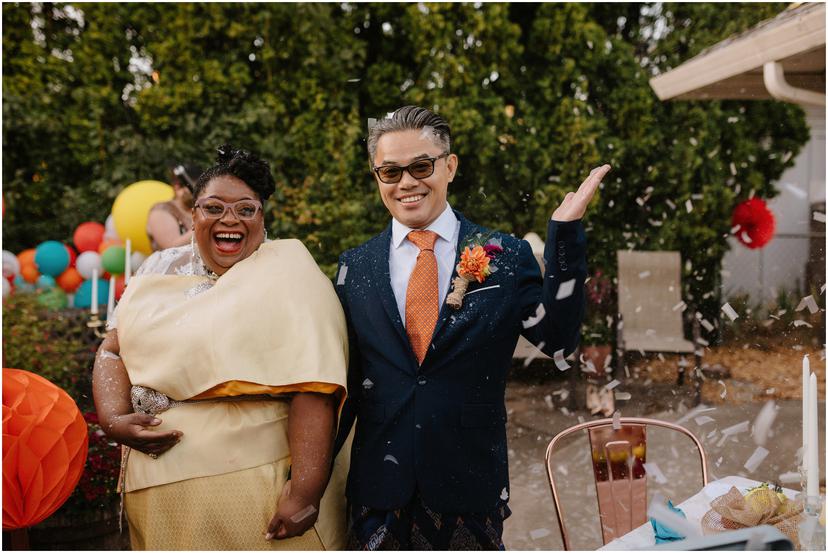 Colorful Backyard Wedding
Have you ever seen a technicolor, virtual, backyard wedding with a drive-by reception photoshoot before? No? Well, now you are about to. Because this is 2020 and this is how we do weddings now.
This multicultural wedding borrowed aspects from the groom's Thai background, while taking place in the bride's childhood home in Vancouver, Washington. The bride wore three different dresses, several of which she made herself.
"We had three outfit changes," the bride said. "Mainly, because that it's want I wanted to do. My husband likes to dress up too. So, there were no complaints. The first outfit was Chut Thai. My husband was born in northern Thailand. So, I ordered custom silk from Thailand in northern Thai style. The second outfit was for the photoshoot. All yellows and bows. It was a bit ridiculous, but that was my intent. My final outfit was a white sequin party dress. I loved it."
The day started with the couple getting ready together, dressed in traditional Chut Thai attire. They began the wedding with a virtual ceremony in the backyard. During the ceremony, the groom sang a song in English as the bride walked down the aisle. Then, she sang him a song in Thai before they exchanged rings. After the ceremony was over, they did a virtual first dance and cake cutting while answering questions over Zoom. After the cake, everyone transitioned to the front yard and the couple changed into a more avant-garde second outfit. They waited as friends drove by the house and stopped to take a few photos on a colorful couch setup. The vibe was colorful, enchanting, and inspired by masquerades.
"I'm usually more into gothy-black stuff, but because of this year I want full color," the bride told me. "We're kinda like two weird crazy people."
As the sun set, the bride tossed her bouquet in the street, changed into a third dress, and we took a few dusk photos at the nearby park with some colorful LED-filled balloons. Then everyone came back for an outdoor candlelit dinner and Thai food. It was unique and incredibly fun.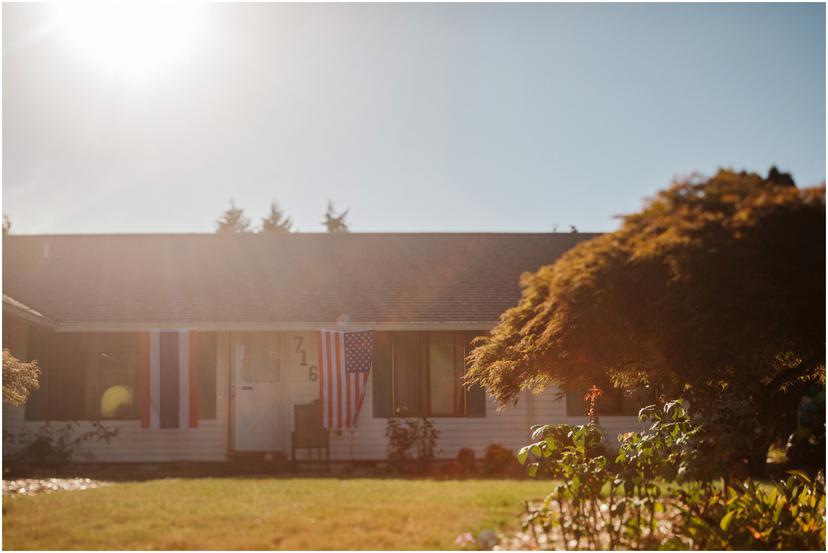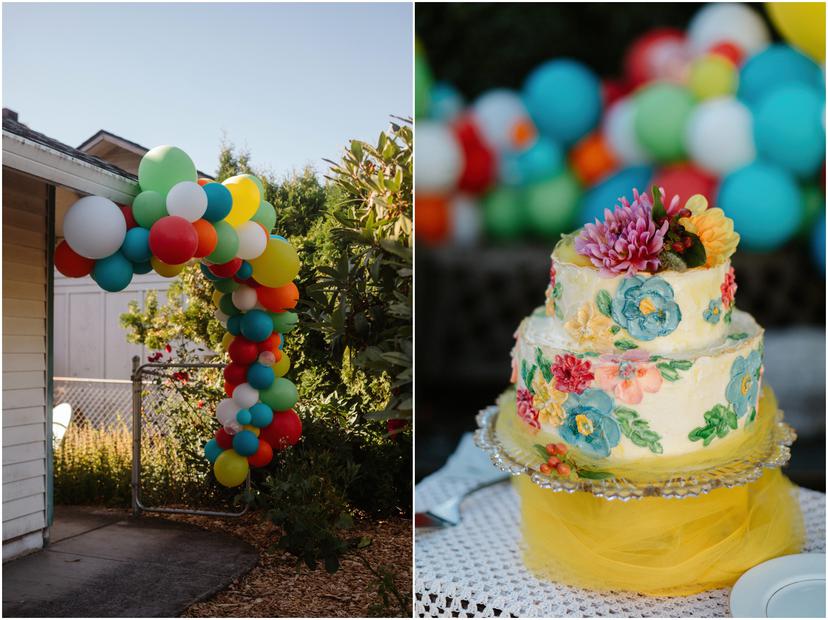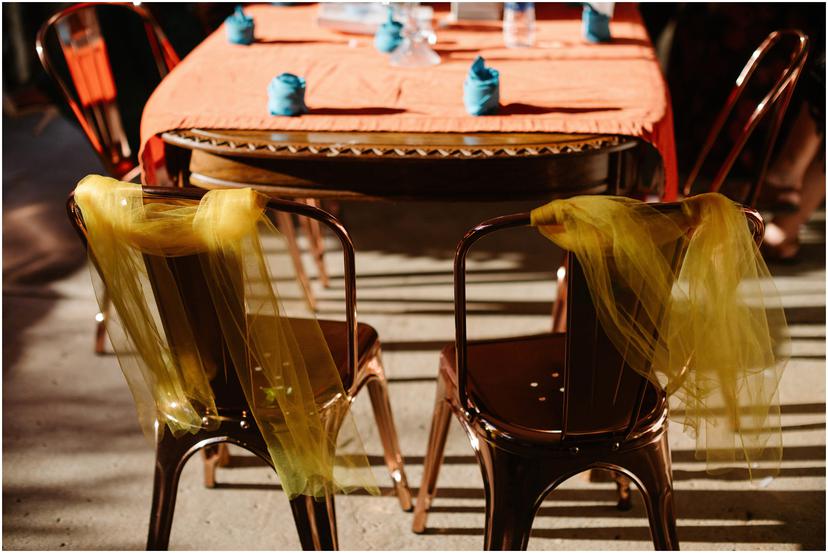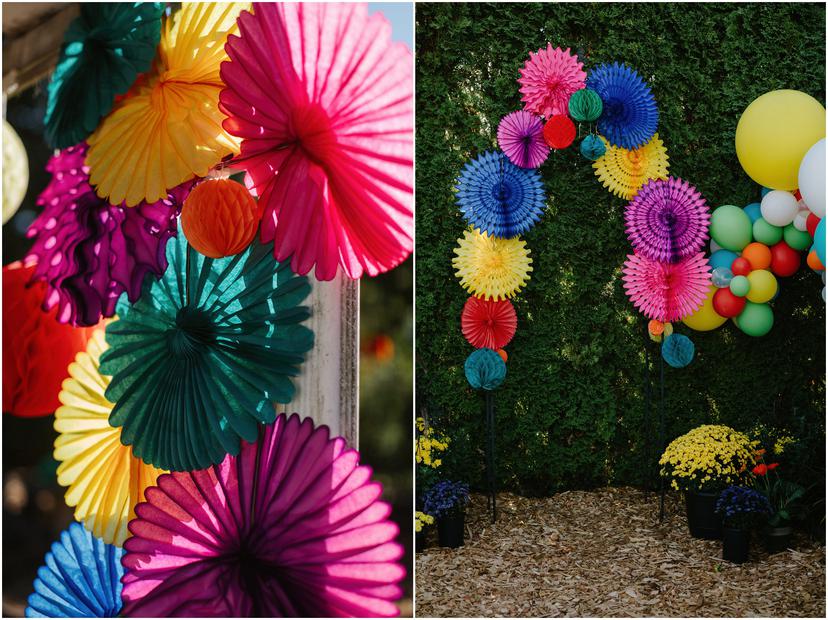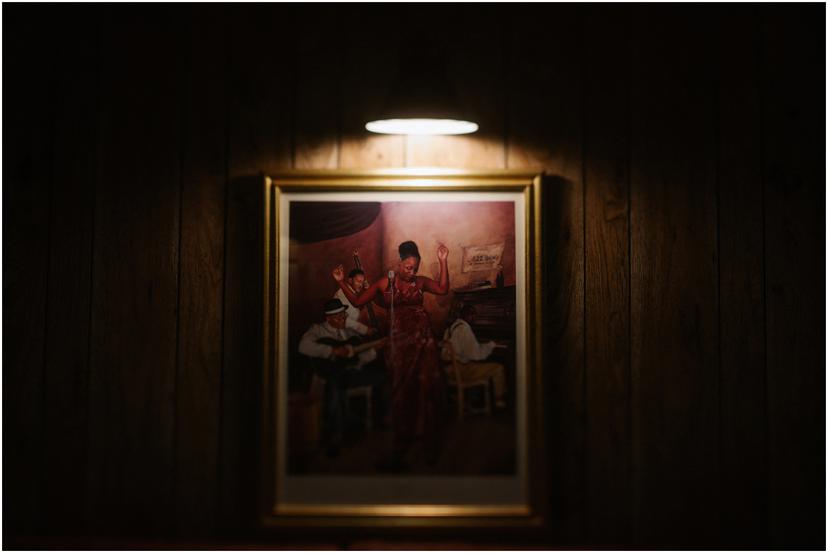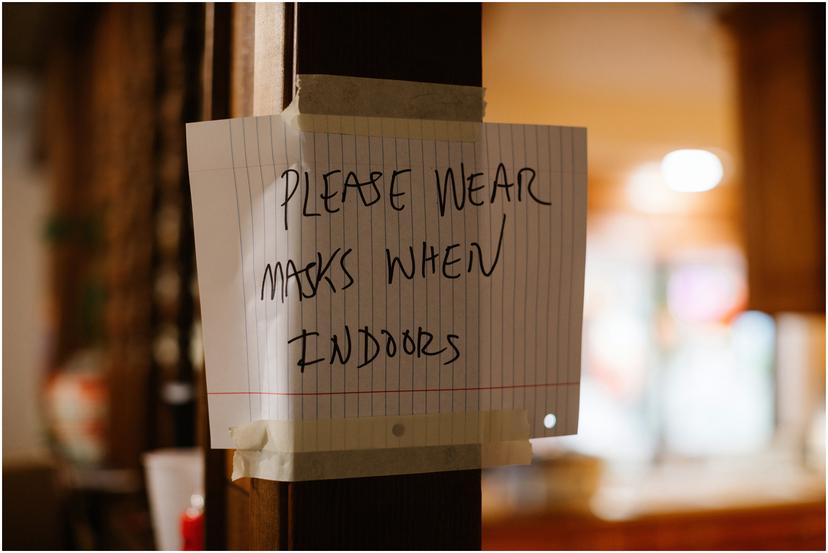 Reasons to have a backyard wedding
"My parents used to tease us as little girls that we would hold a wedding in the backyard," the bride said. "My mom would put out gingham table cloths and daisy flowers. And Dad would be BBQ'ing ribs all day. He would have blues blasting out to the neighbors and potato salad on all of the tables. Of course we rolled our eyes…. 'mommmmm, daaad, no way, how embarrassing.'
"Our wedding has been postponed about 4 or 5 times this year," said the bride. "My father became sick and he passed away around New Years Day and a year prior my oldest sibling suddenly passed away. We tried to pick up the pieces and continue on with our lives. I planned a fabulous, super funky wedding at the Hilton Canopy, but Covid-19 put the world on hold. My wedding was late August, so I thought we would be in Phase 2 by then. Then, we reduced the wedding list. As time went on, I cancelled the contract. I thought, I could find an outside venue somewhere. However, the cases of infection went up. I was forced to cancel the wedding. During this time, my other sibling passed away. I was so focused on this ideal, that I kind of lost focus on what was really about: love, life, gratitude, hope. We then decided to have wedding in my childhood home.
"It was cool though, all that 70's and 80's nostalgia; my entire existence in one place. It was perfect because this is the time when I need to near family most. They are no longer in physical world, but I felt they where there with us that week."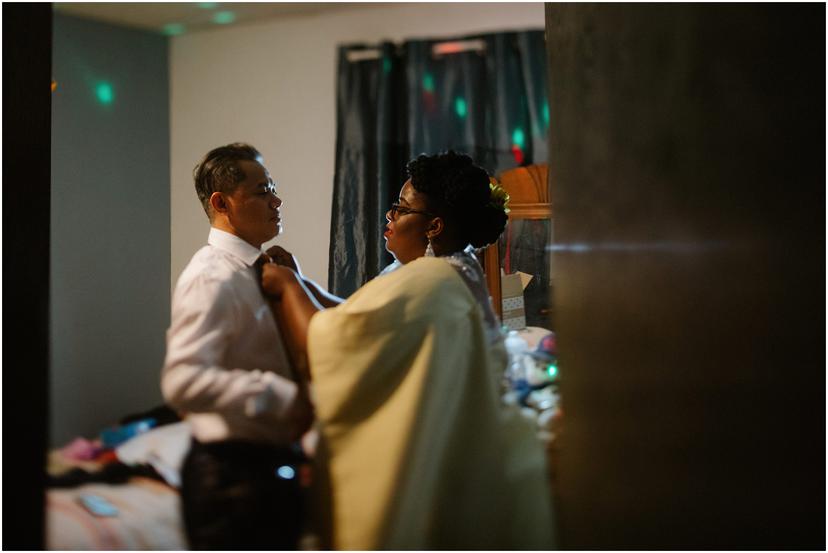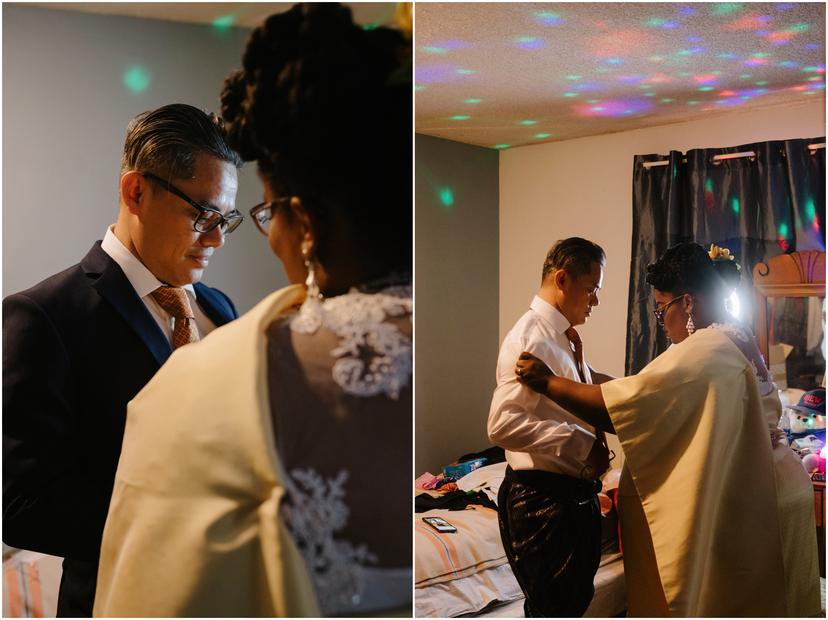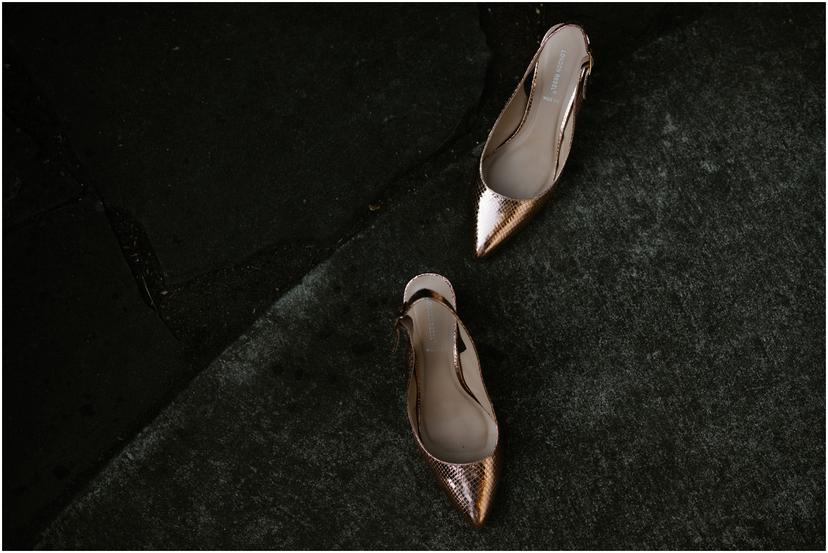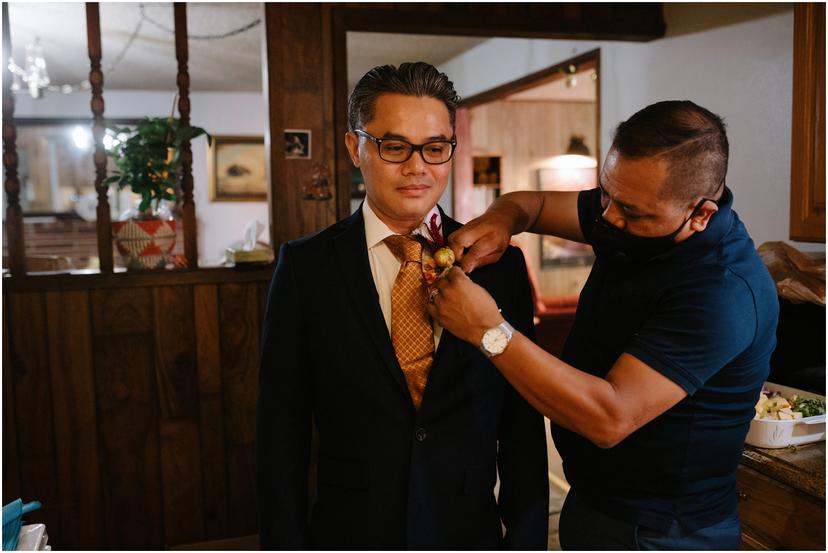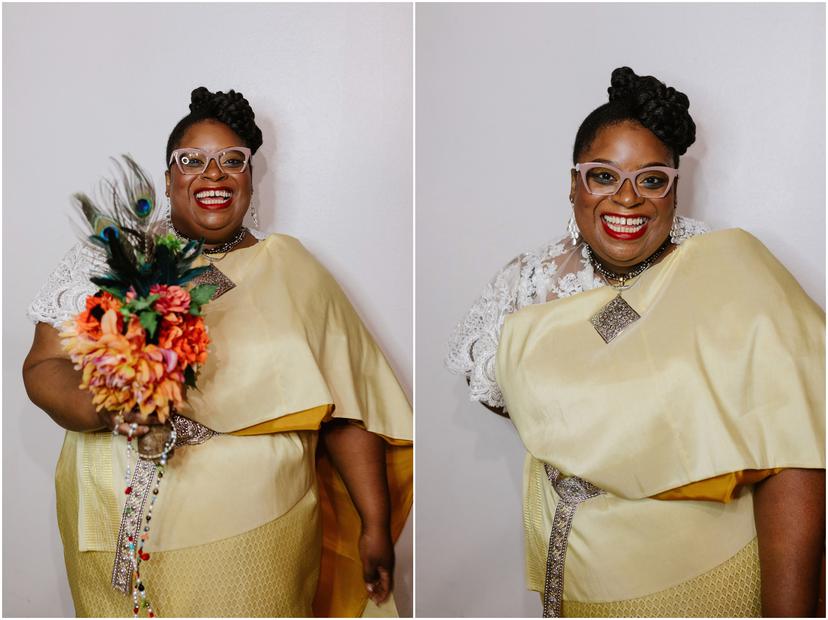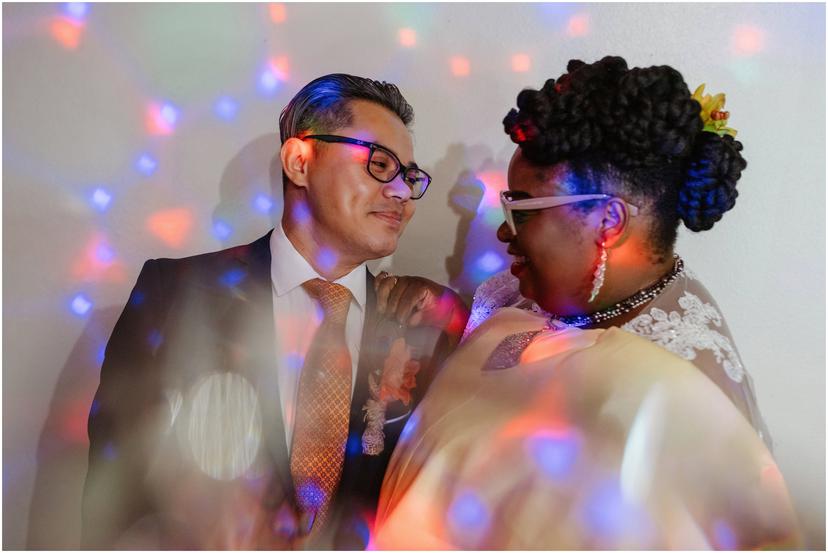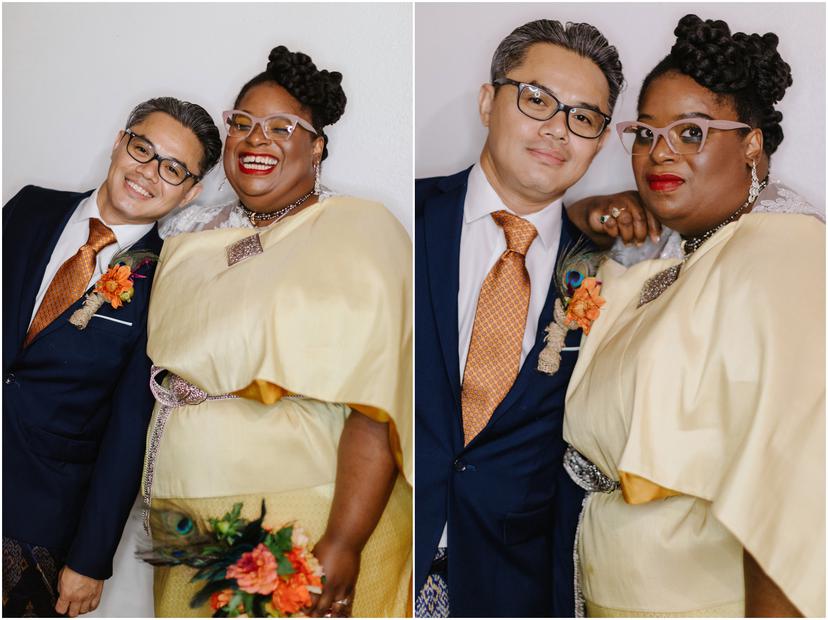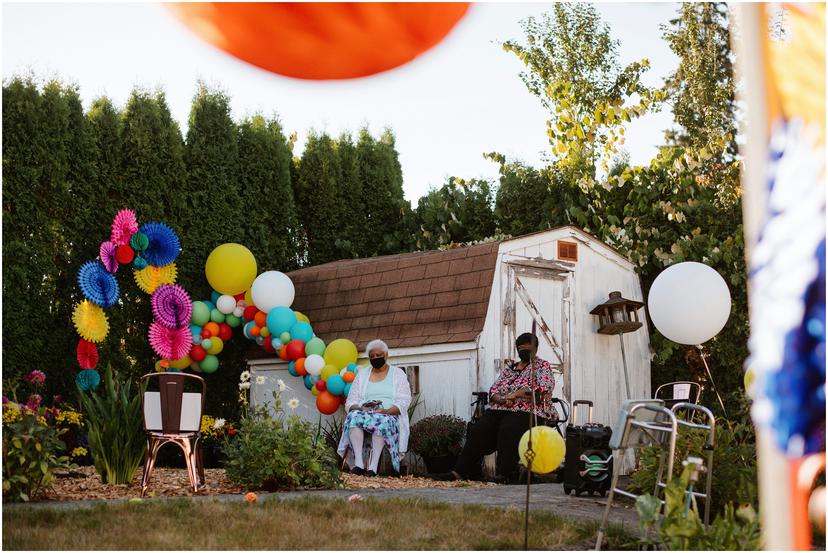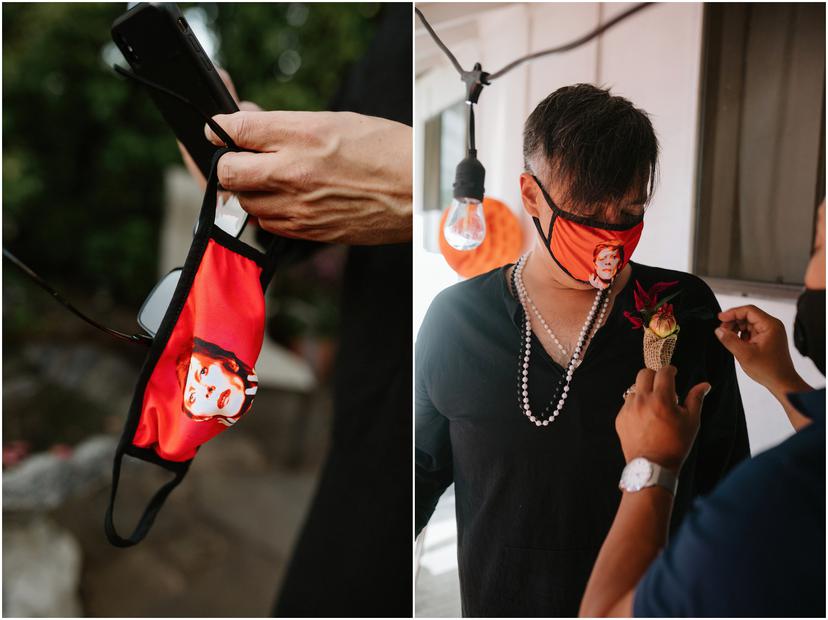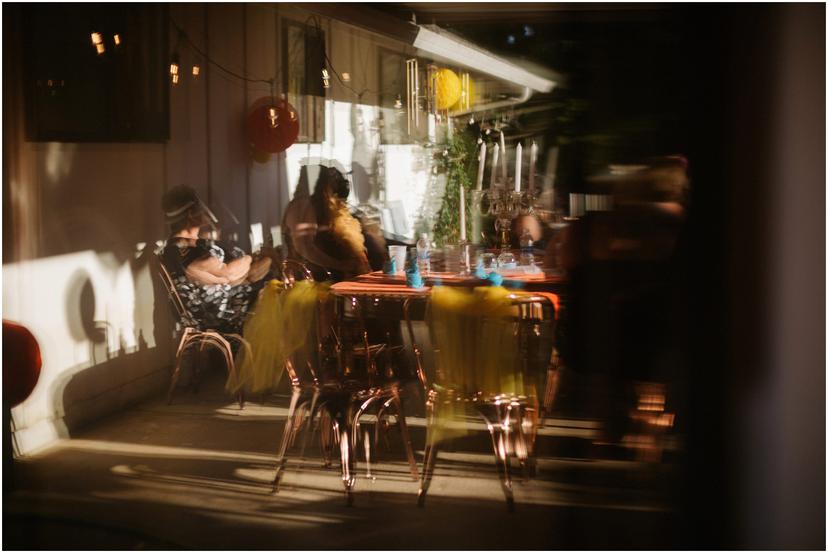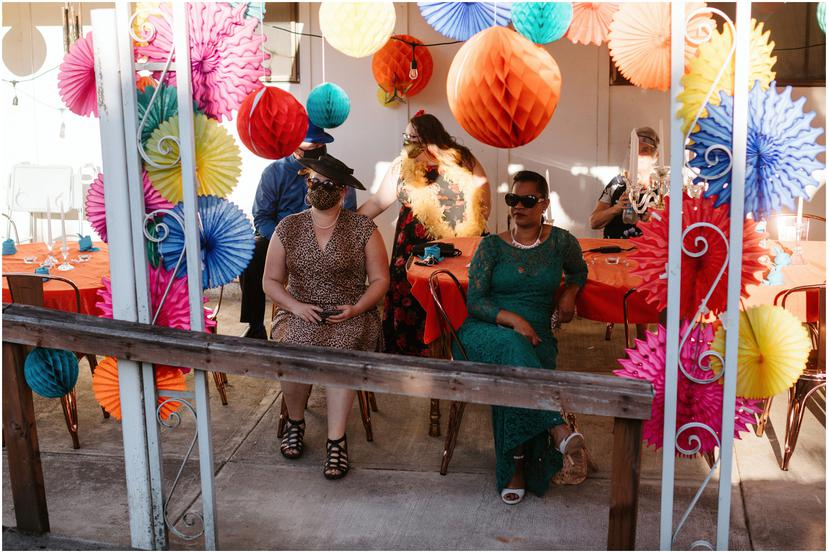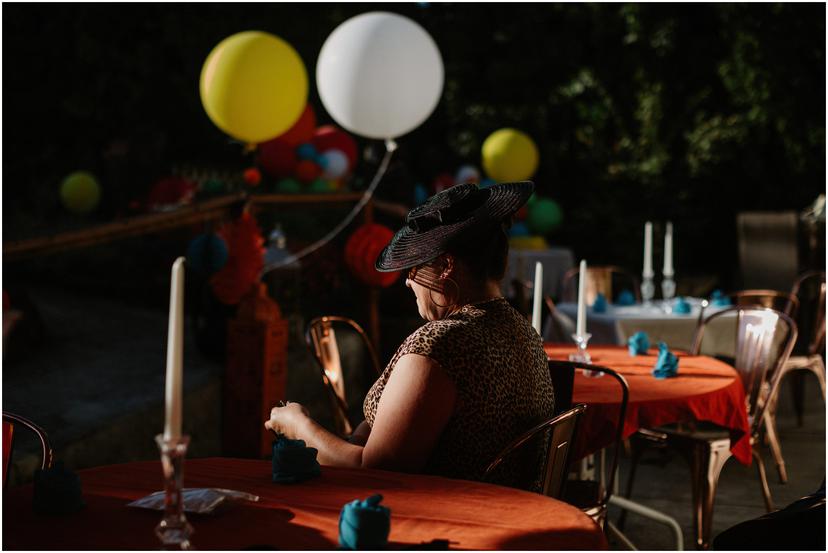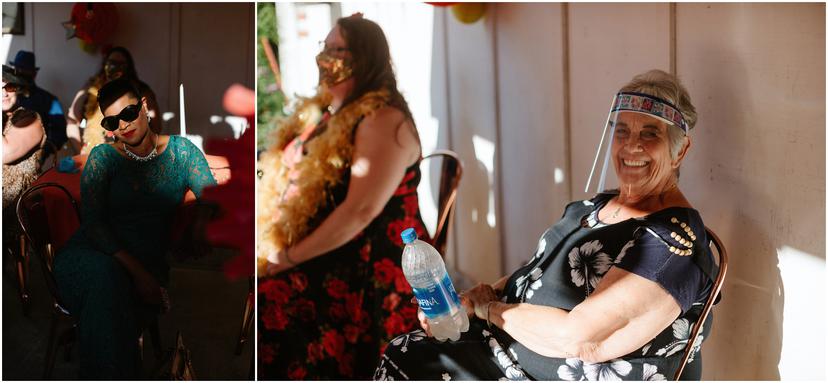 Tips about planning a wedding during Covid-19
"If you decide to have a Covid-time wedding, be clear with your expectations," the bride said. "Also, please make your guest list very small. Only invite people who have not be travelling around, unless they had been quarantining and tested.
"We were very strict with the rules: social distance, wearing a mask indoors, we strongly encouraged guests to wear masks outside, disinfect bathrooms before and after use, keeping guests out of the house and the party outside. Even with everyone being careful, we self-quarantined to ensure that we were not infected with Covid."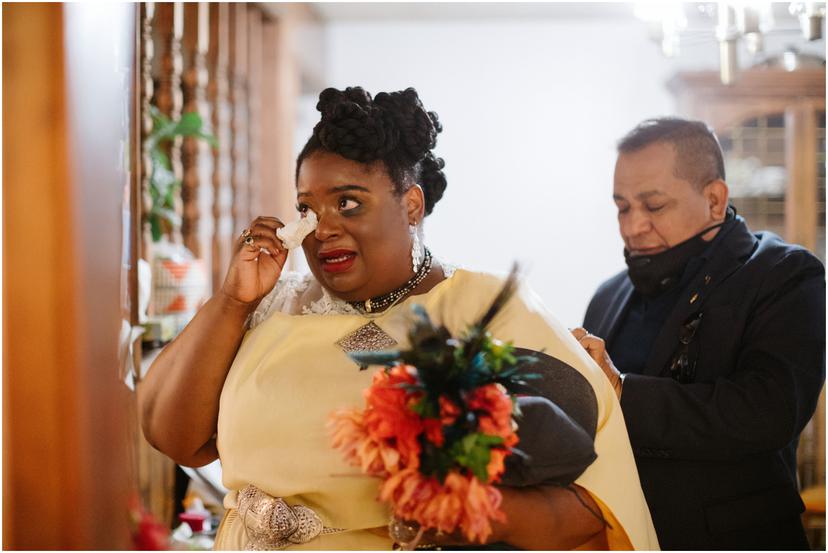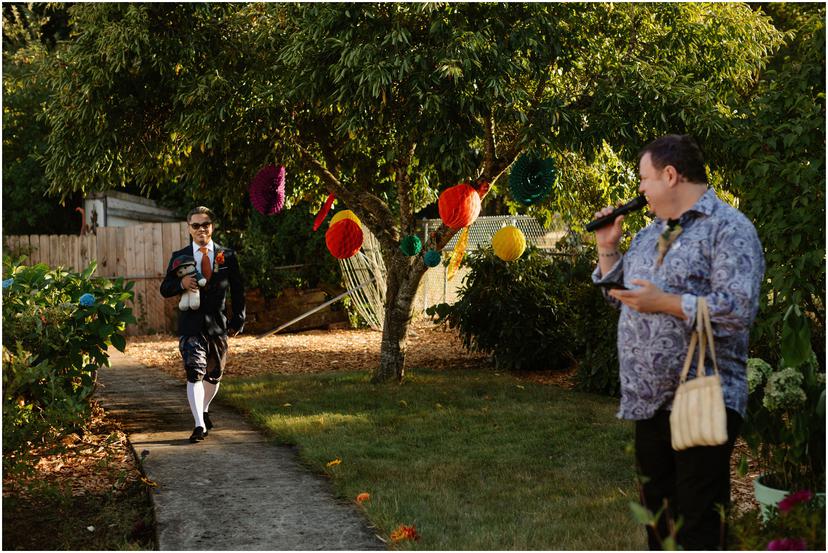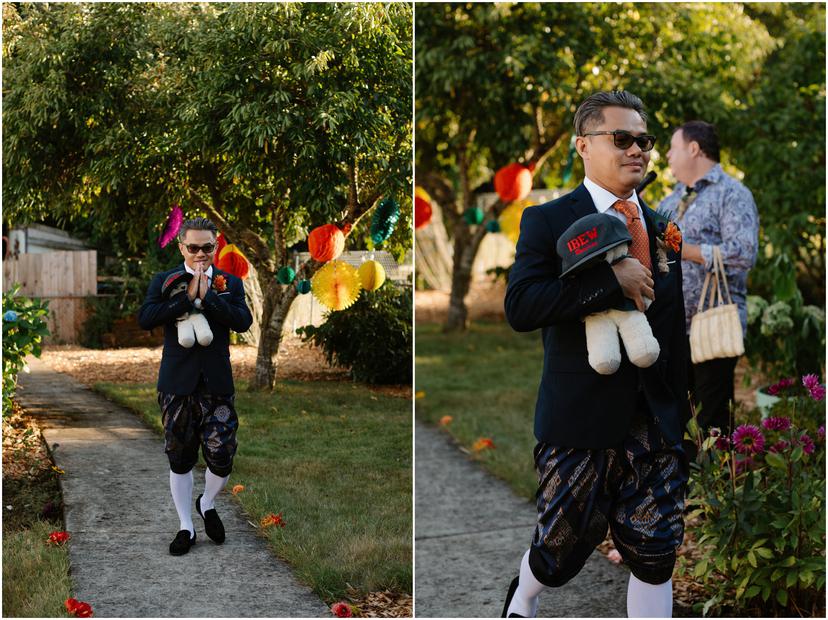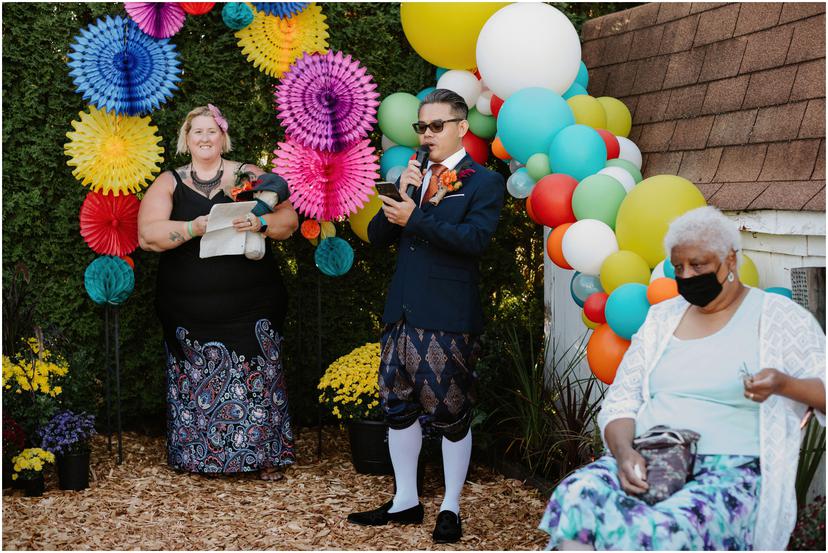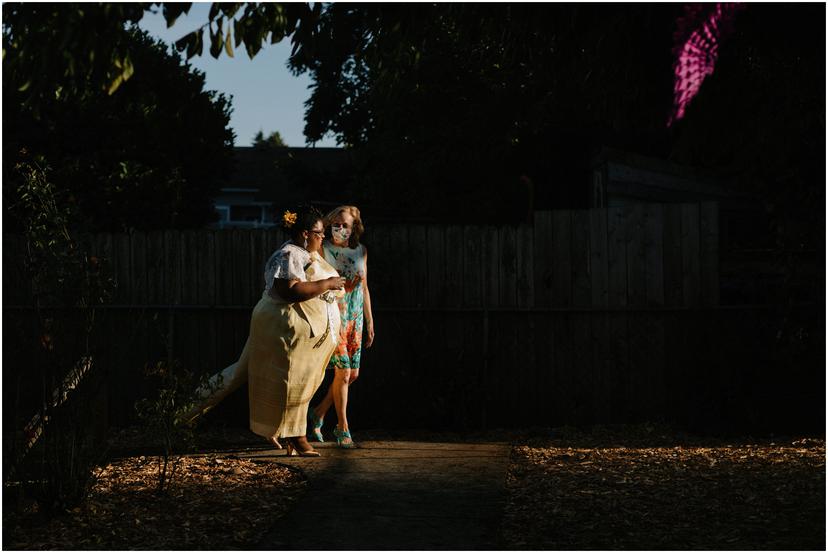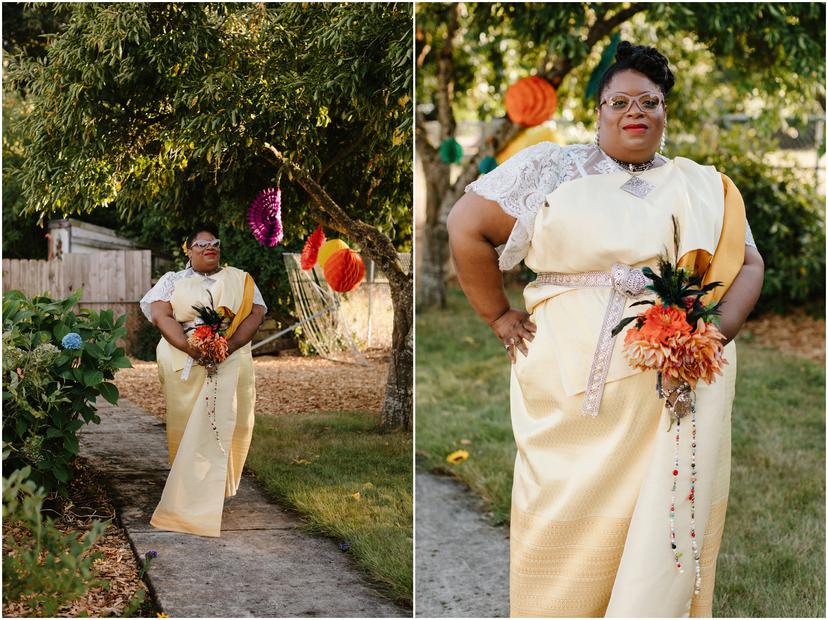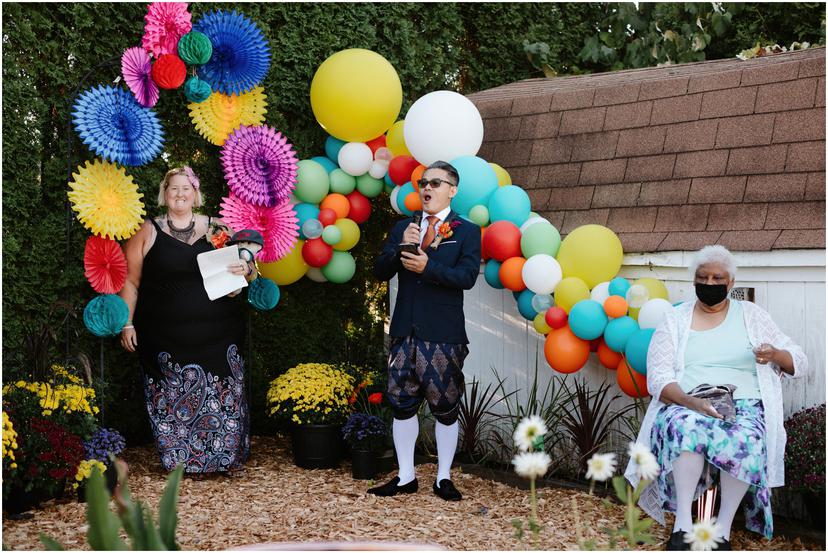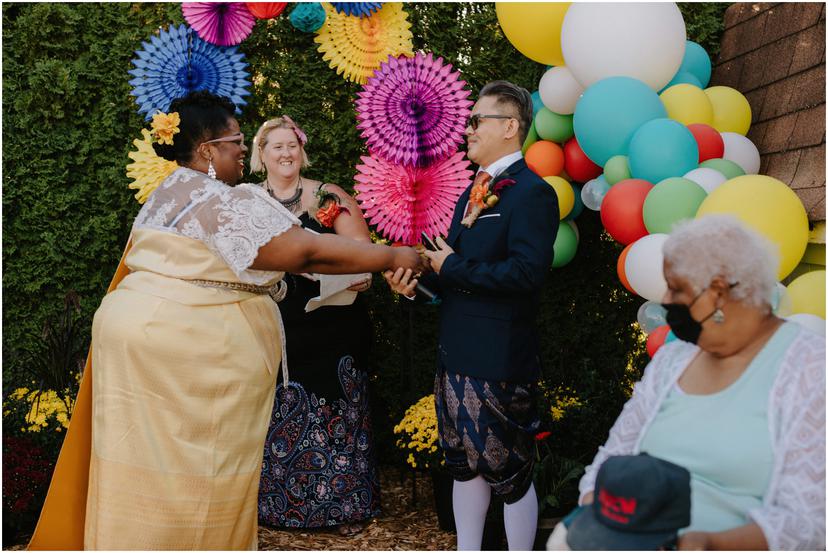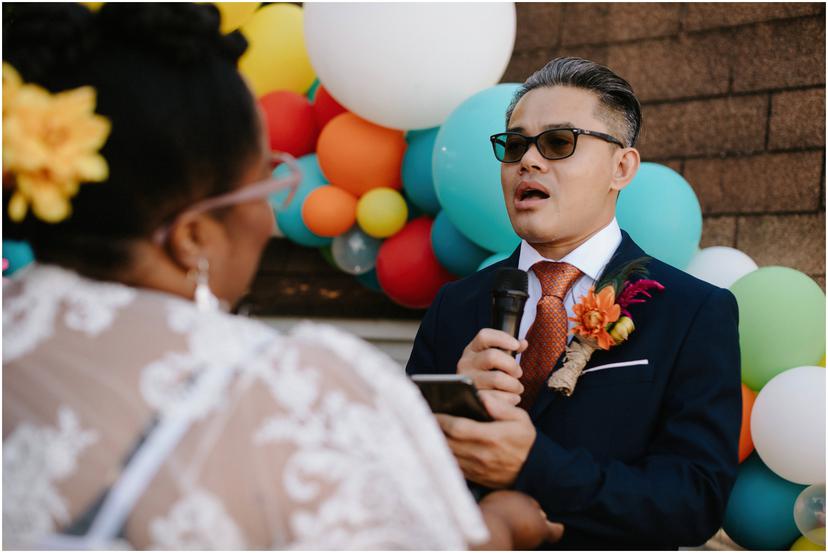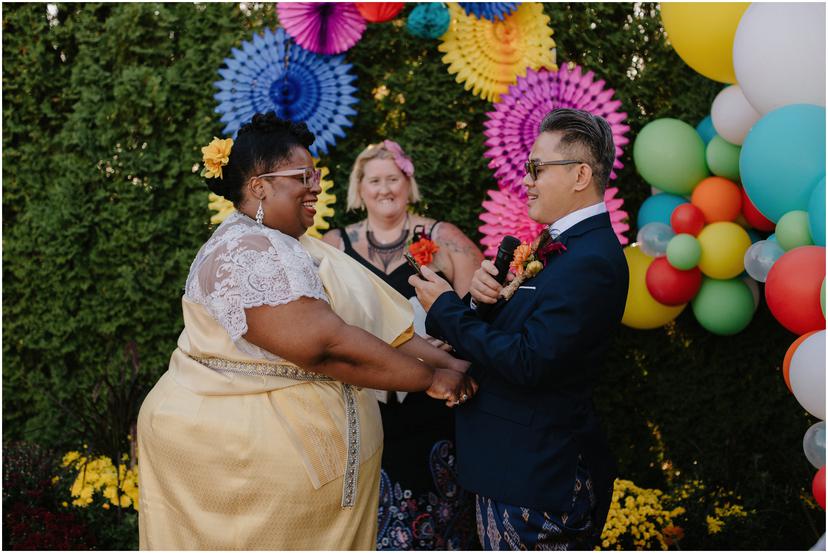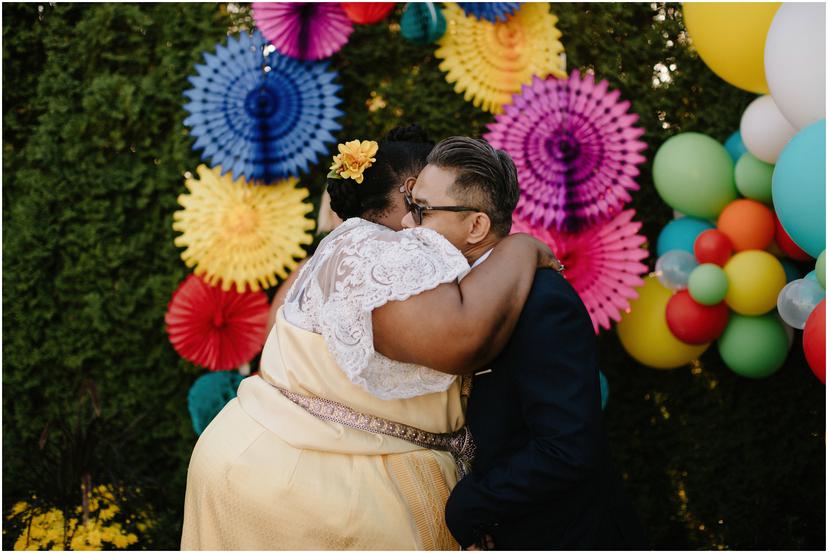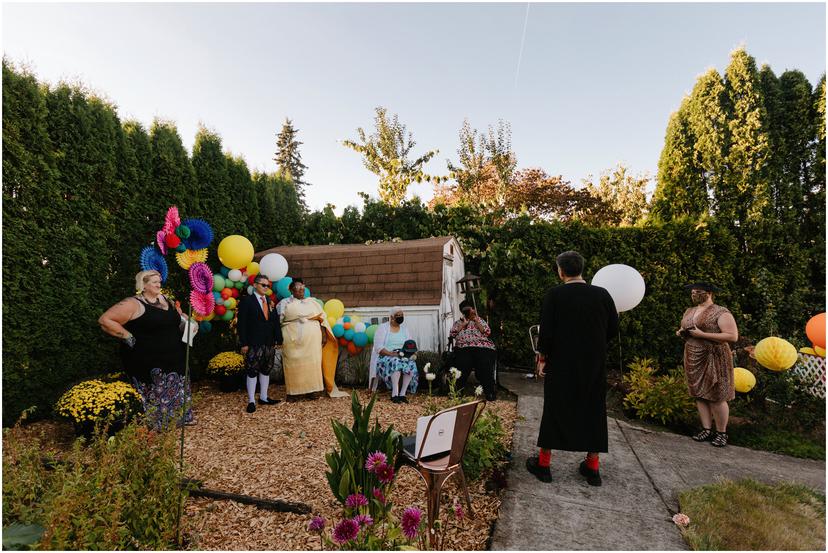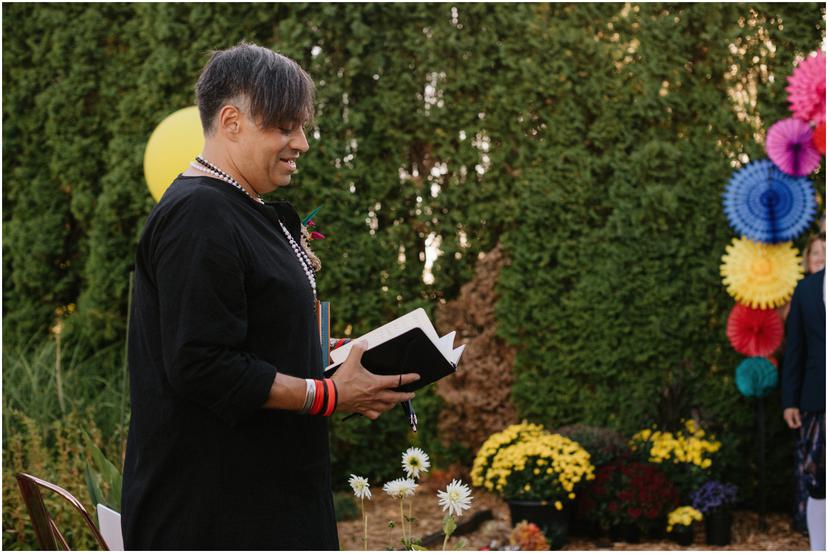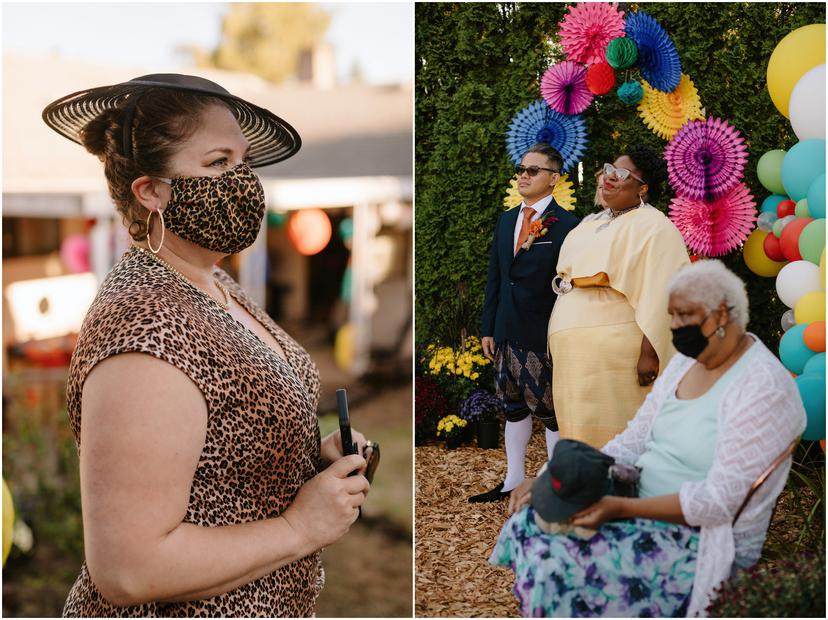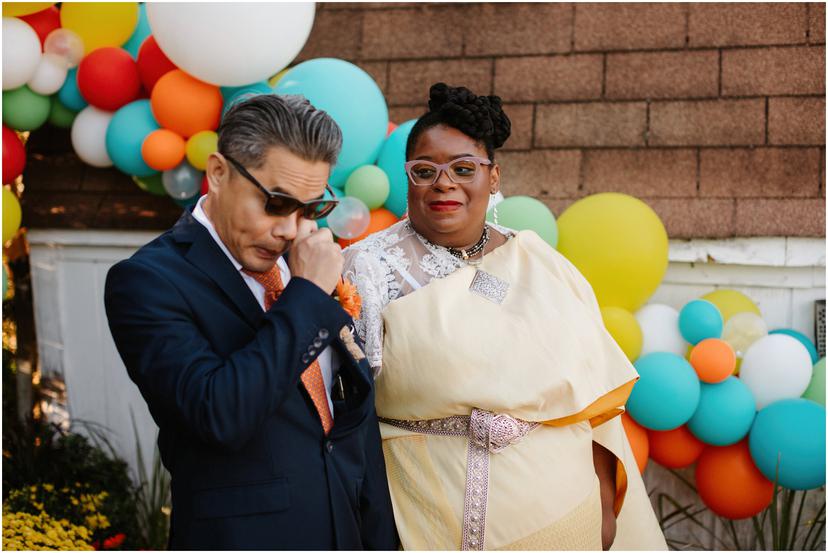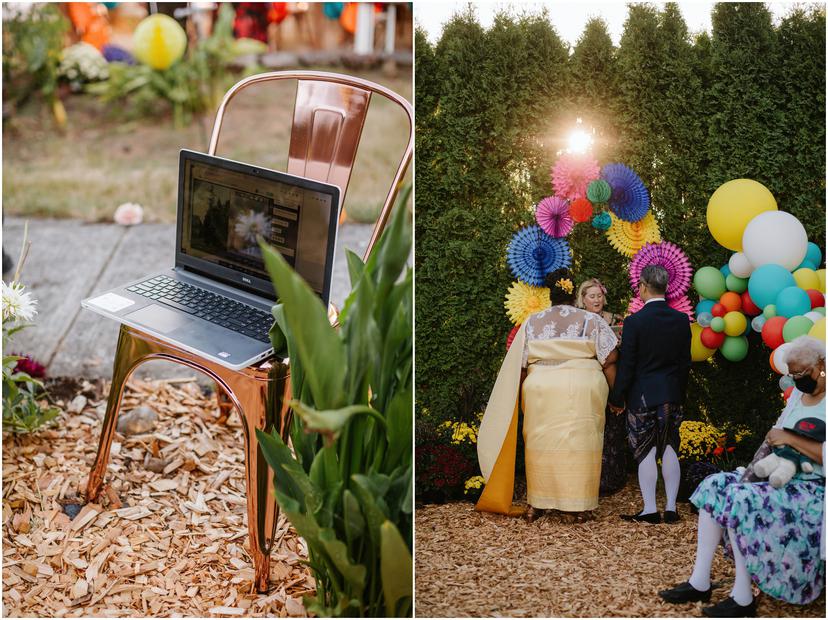 Virtual wedding advice
"Test your video streams and the audio before going live," said the bride. "In fact, test it the previous day. I think I would have embraced social media more and created a hashtag. I encouraged guests to dress up for the event and text us photos. However, I wish that I had asked them to use a special hashtag on Instagram.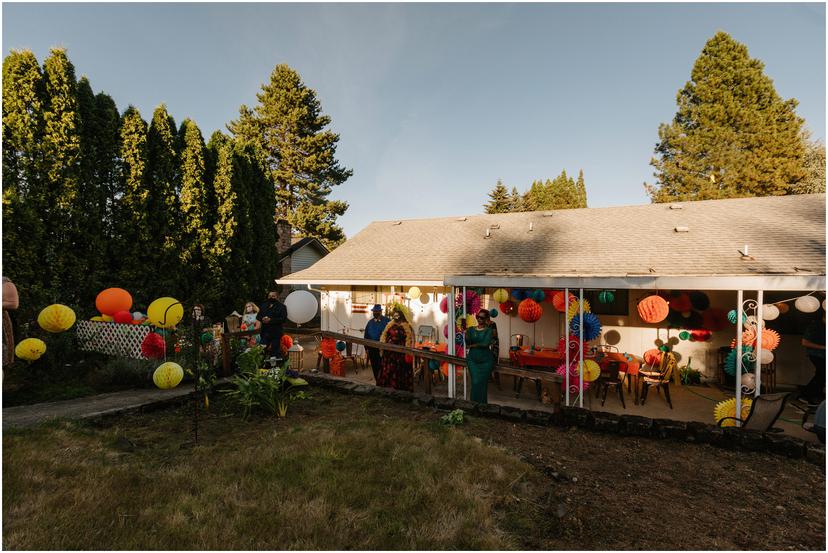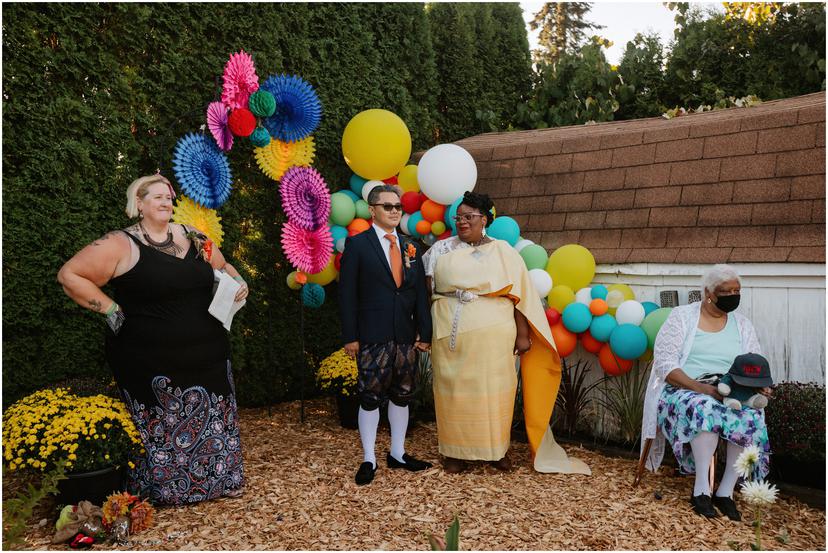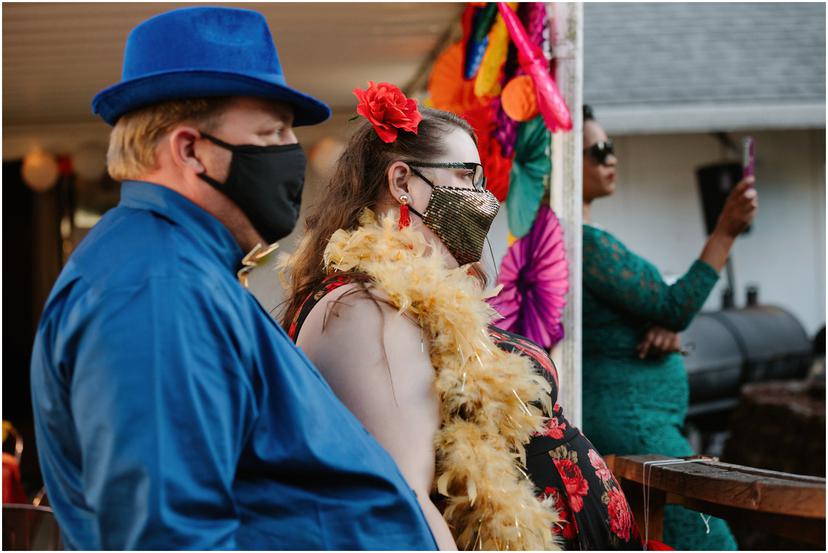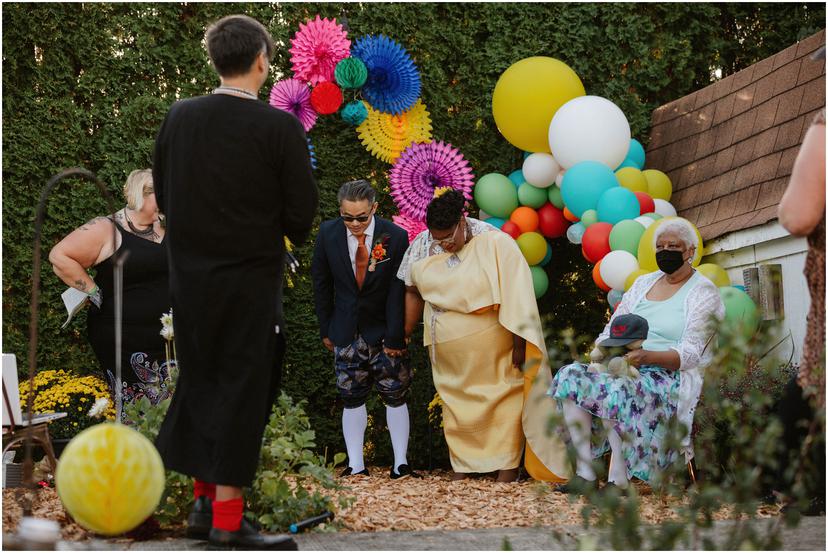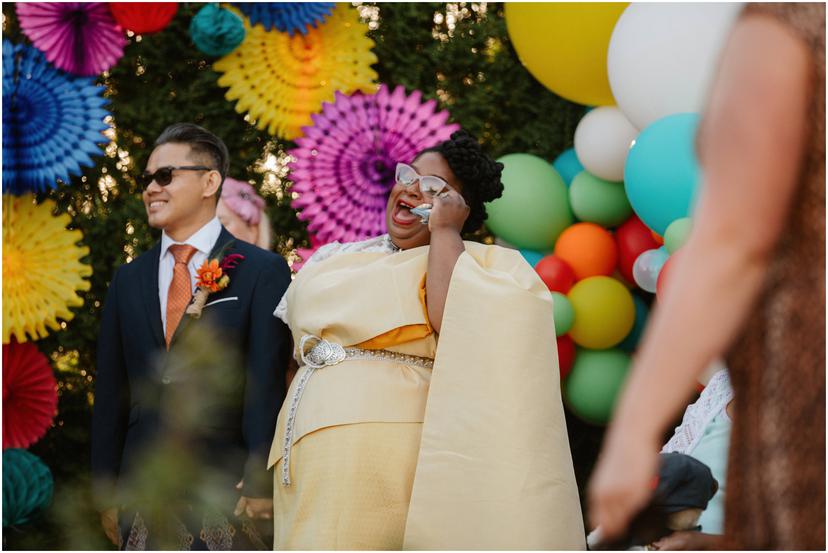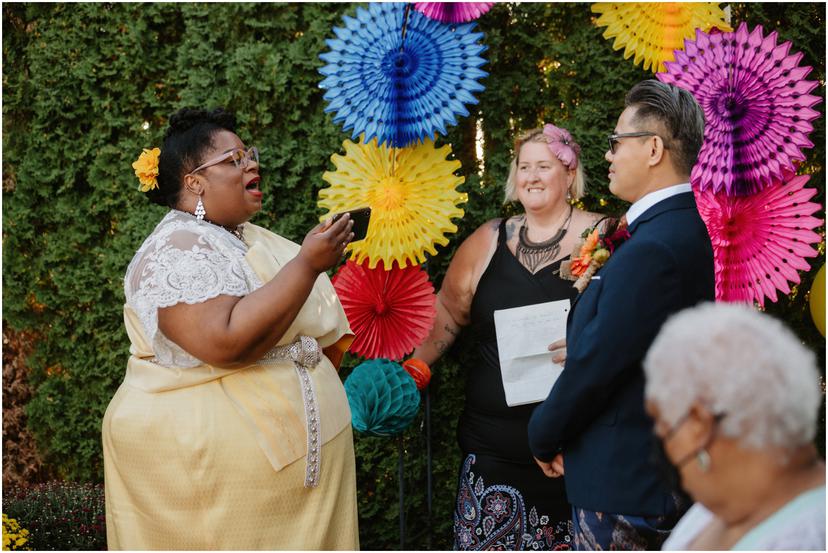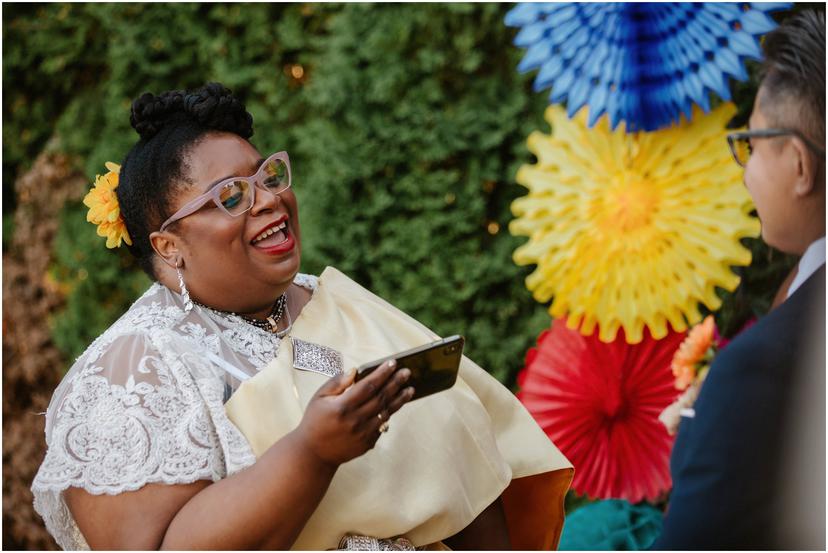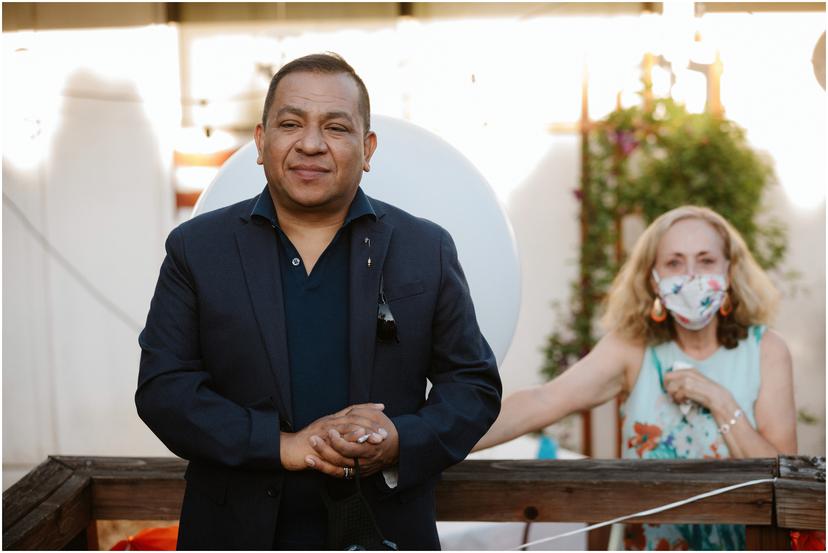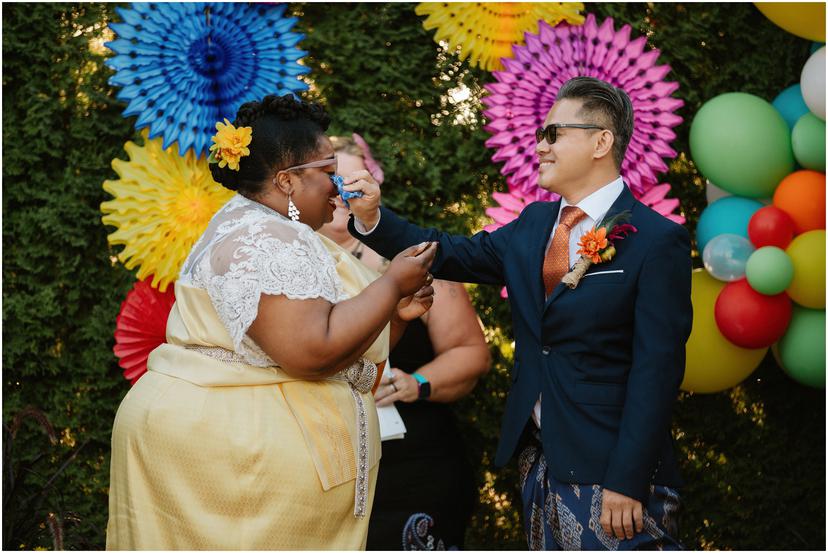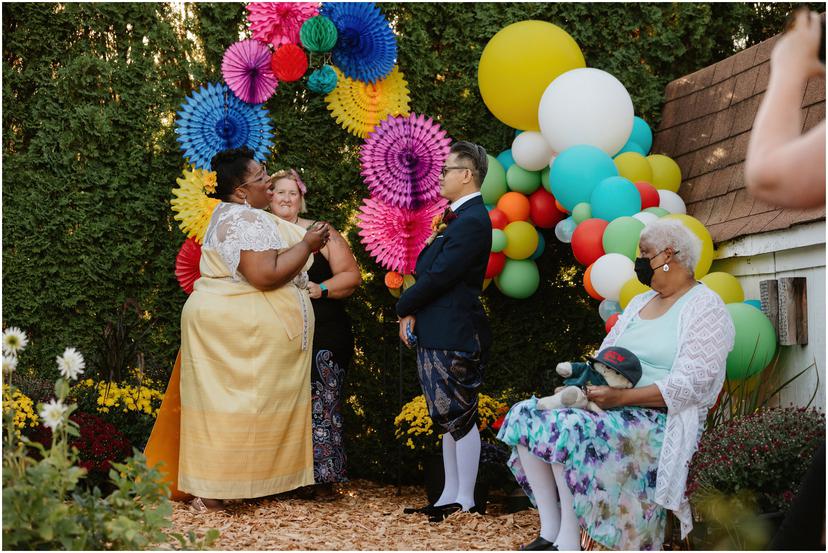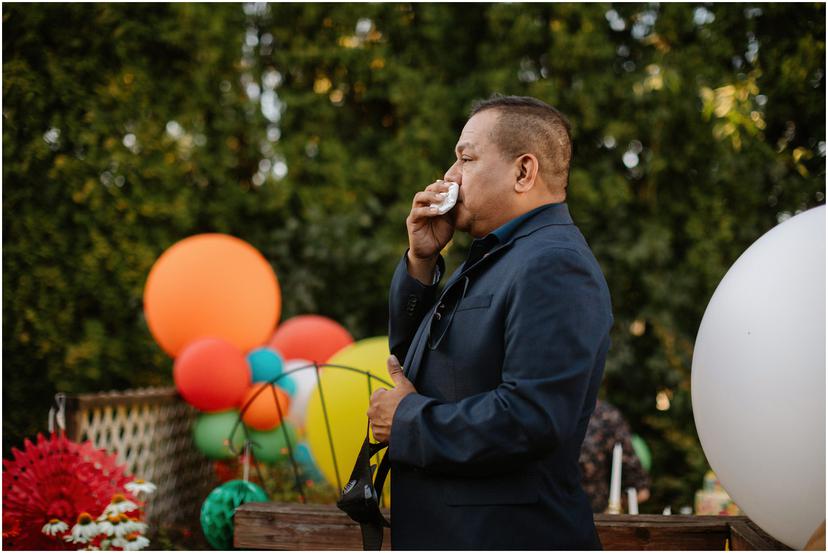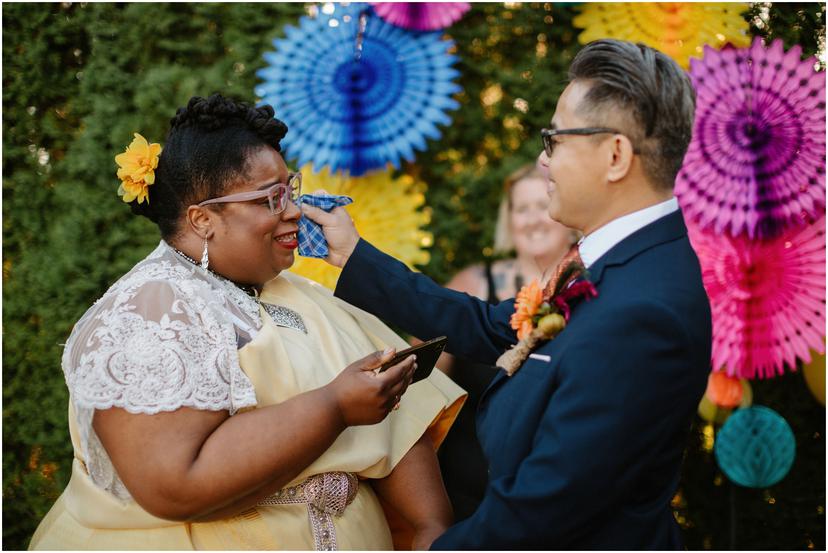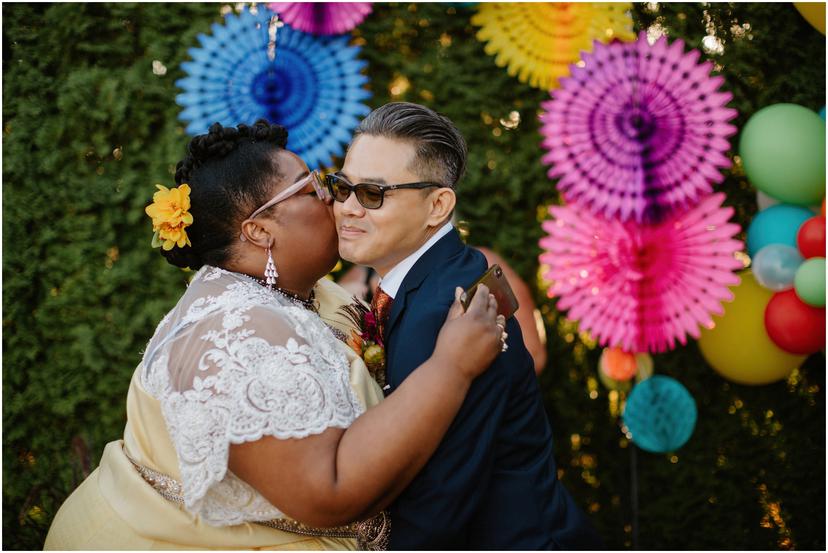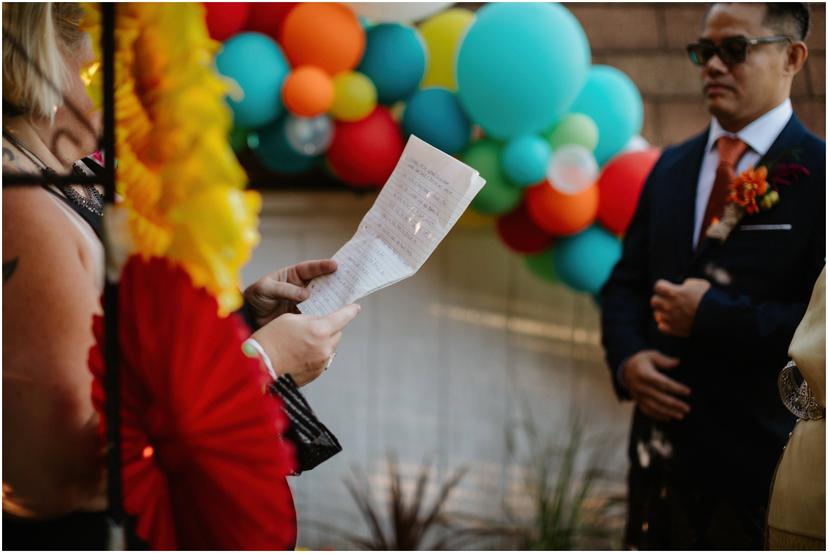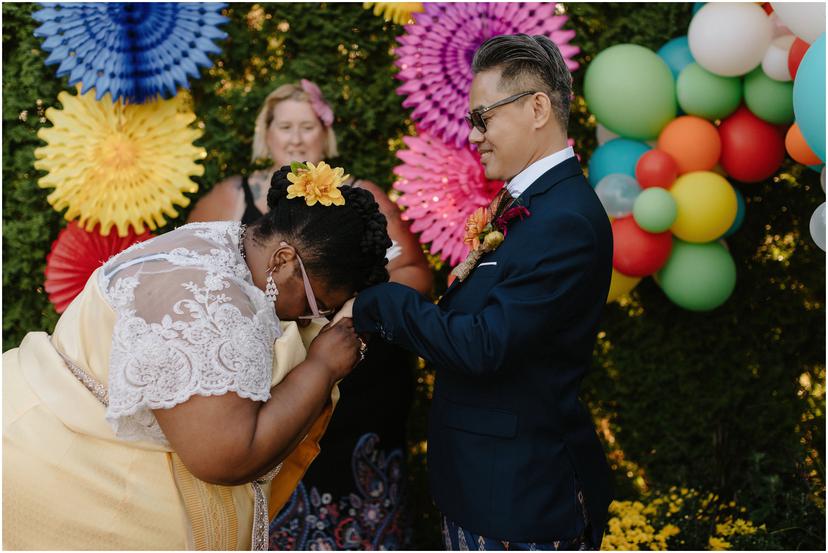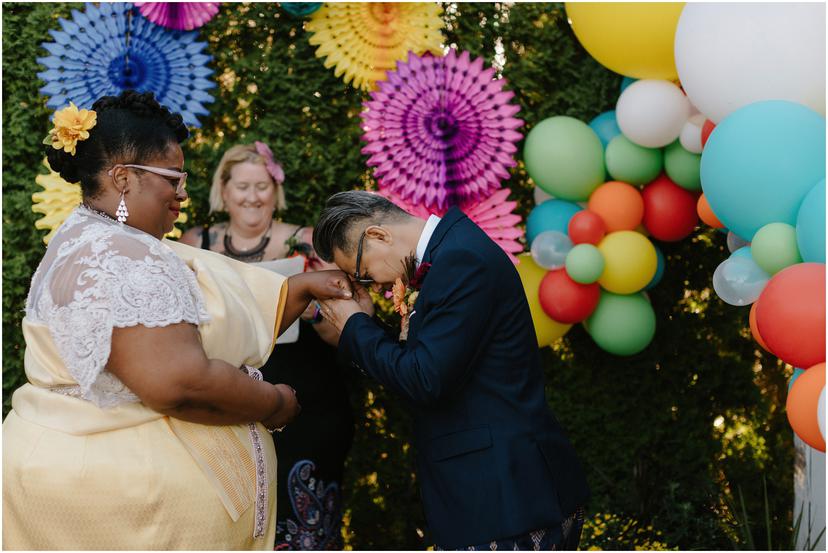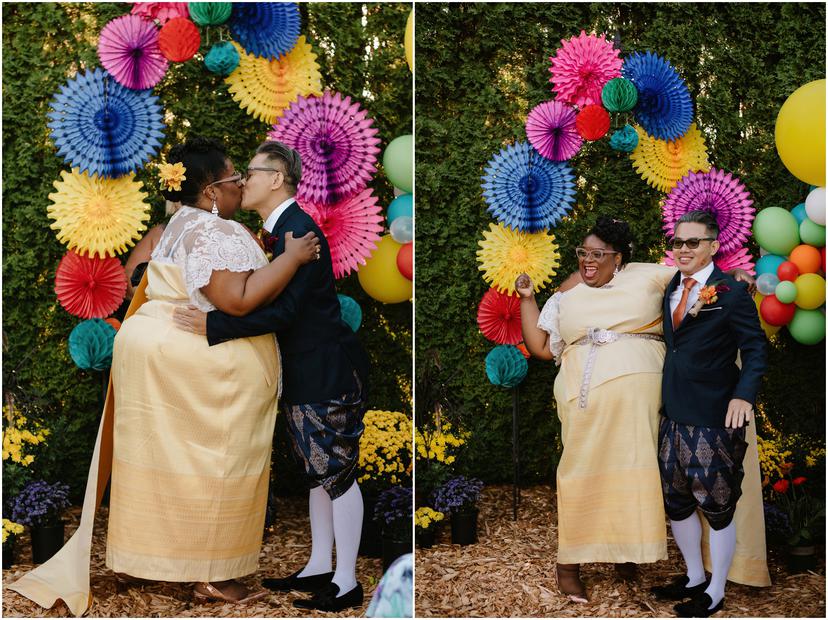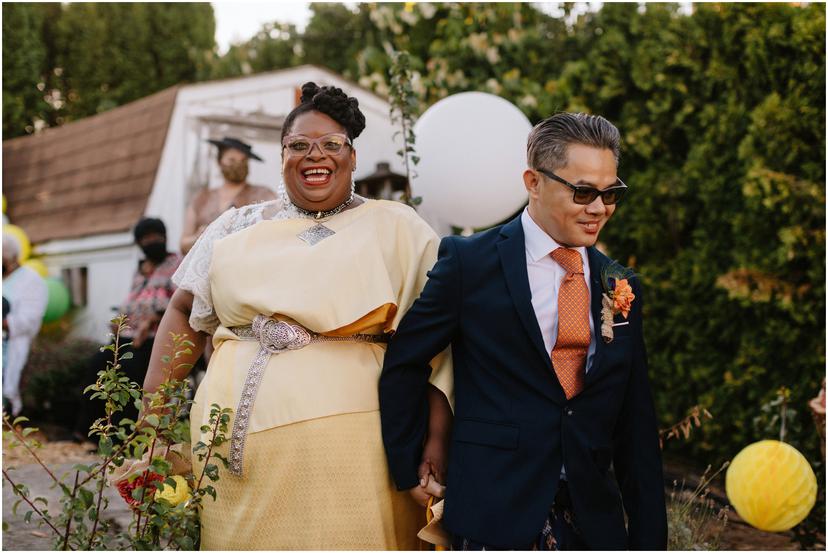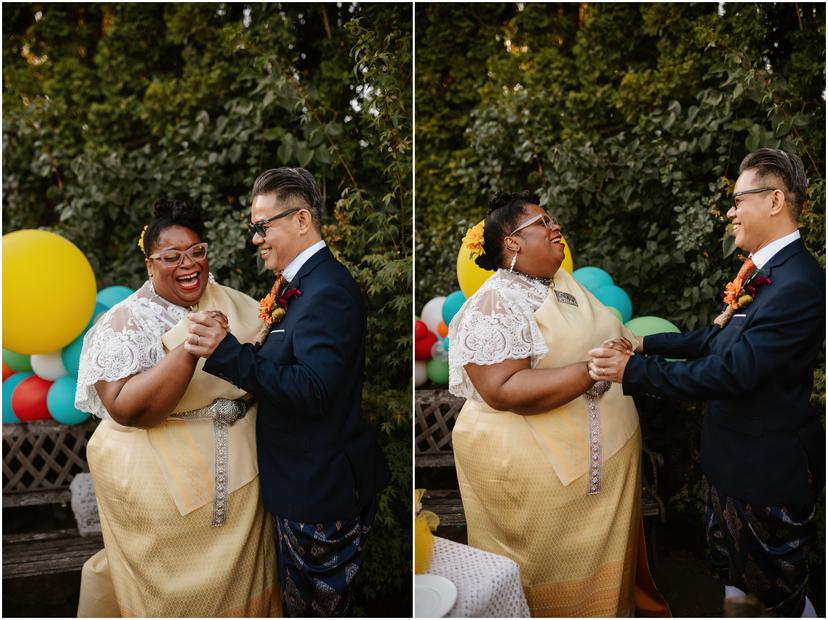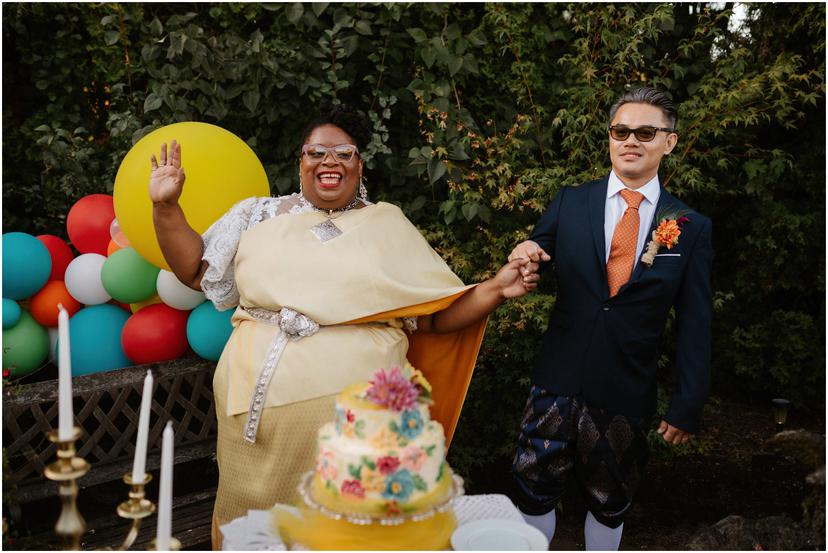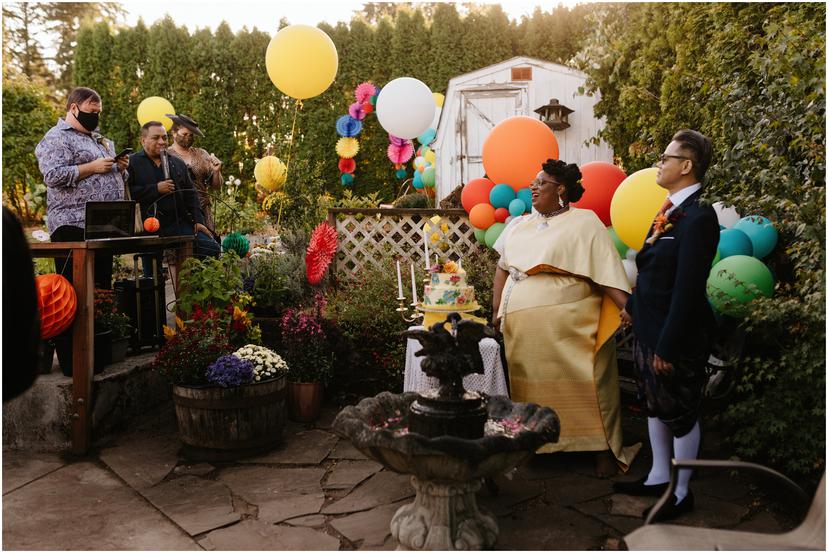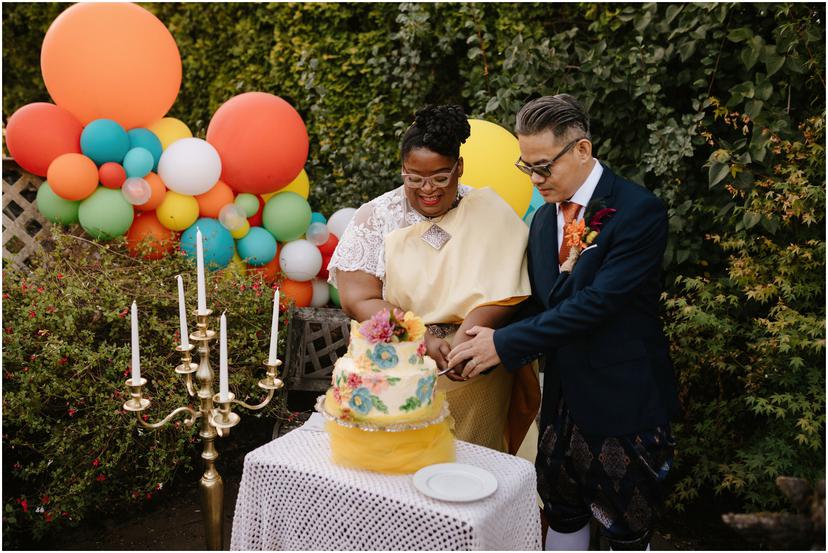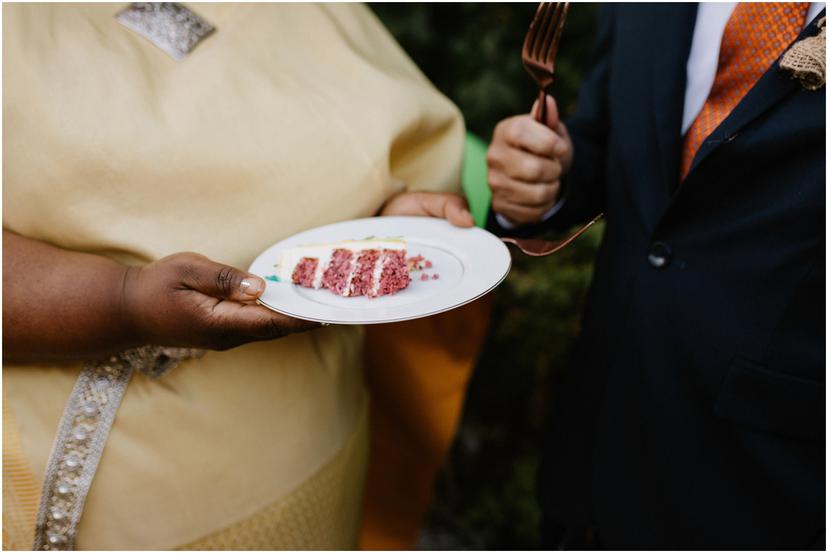 Advice for planning a backyard wedding
"If you choose a backyard wedding, simply embrace it," said the bride. "Our backyard isn't fancy, but my parents put a lot of work to make something out of that plot of land. Don't drag out your family's walnut dining room table, like I did, instead rent everything. Rent the plates, forks spoons, napkins, chaffers, glassware, chairs, and tables. Everyone wants to help setup, but be sure to recruit the same people to clear up the next day. Of course treat them to lunch, coffee, or a hair-on-the dog hangover cure."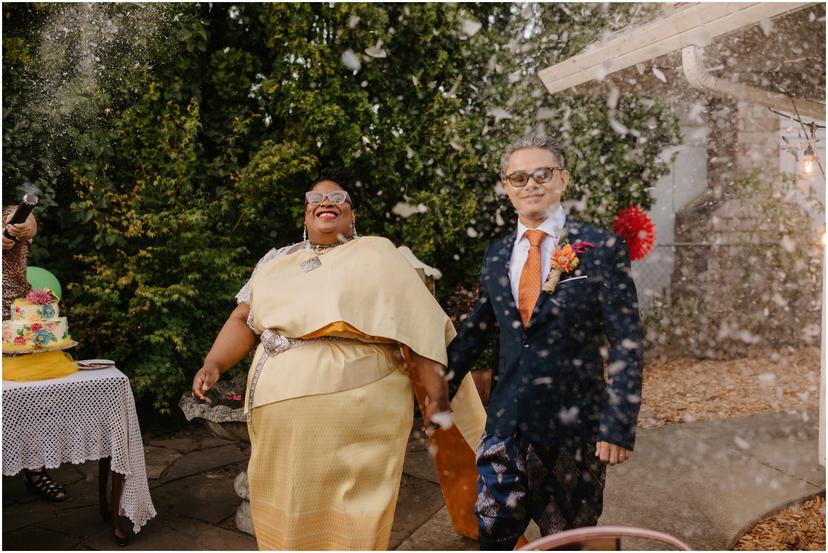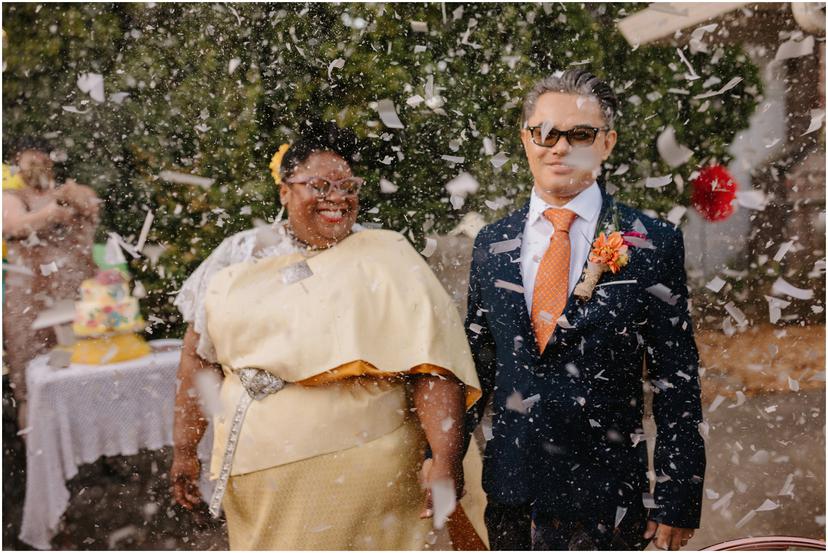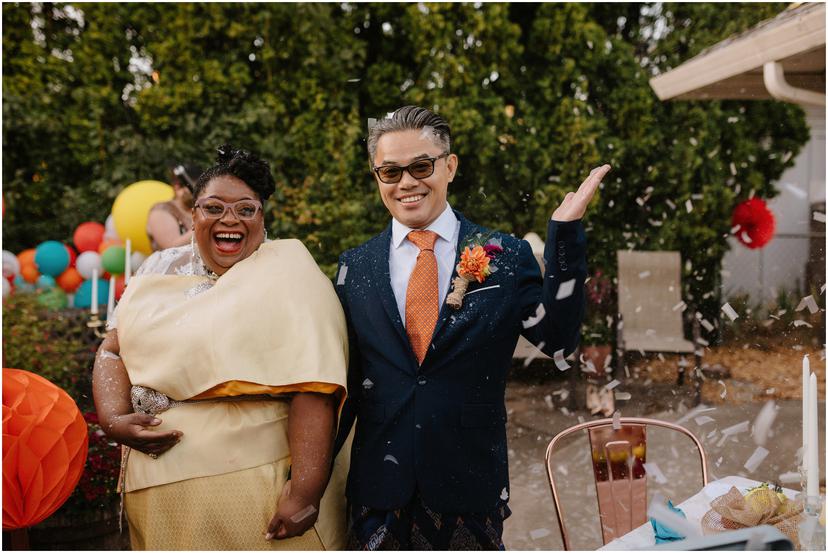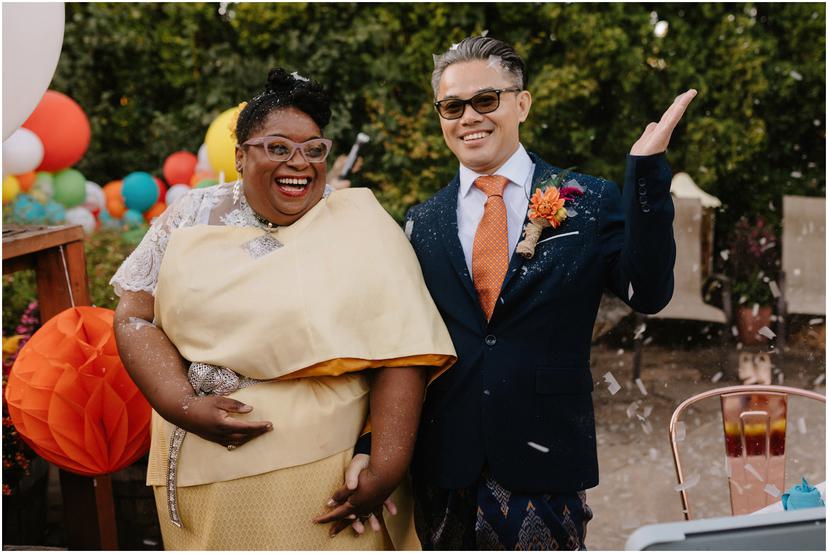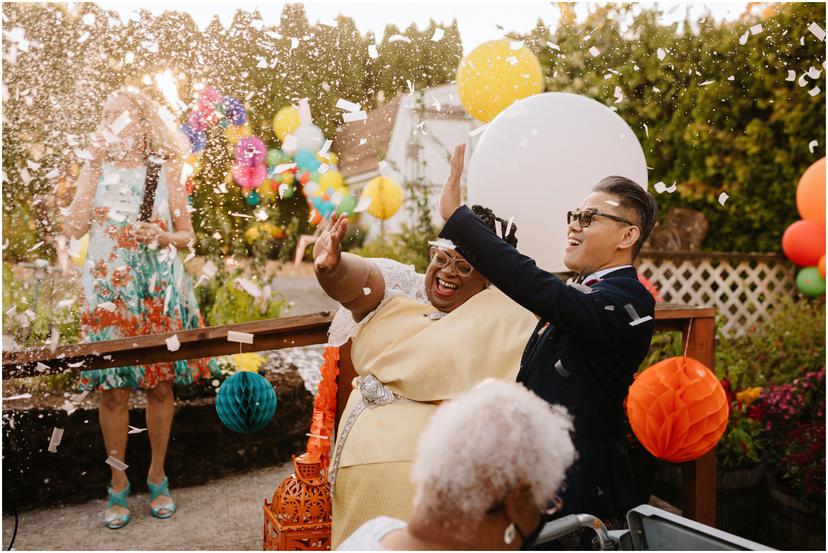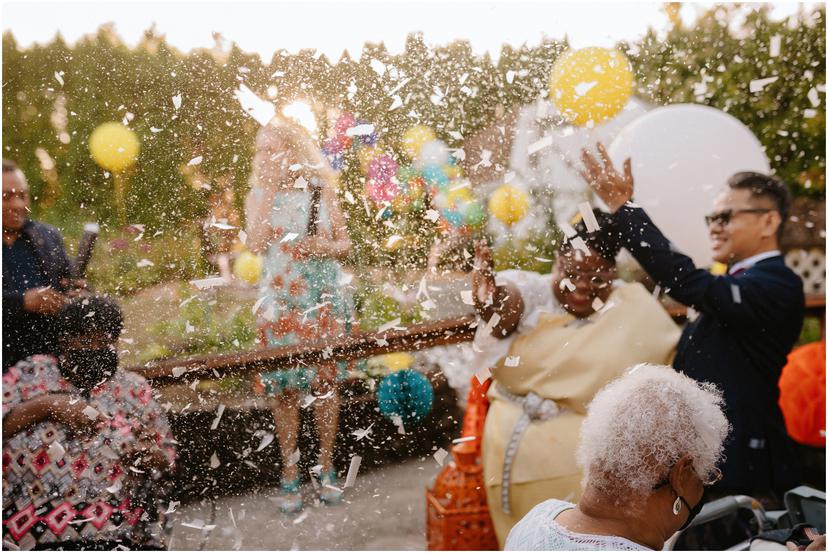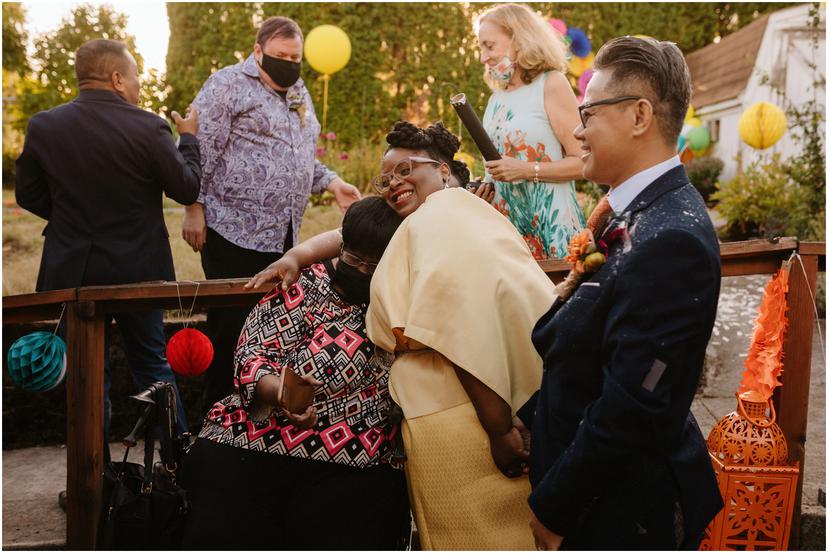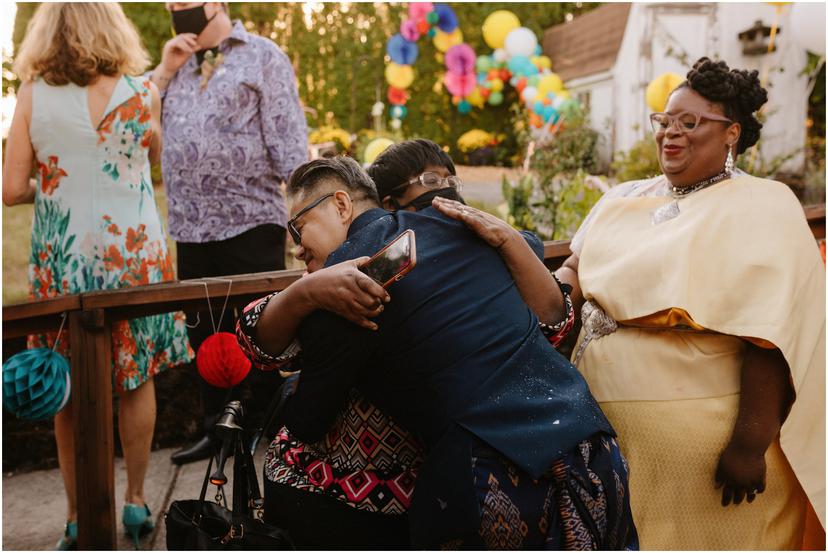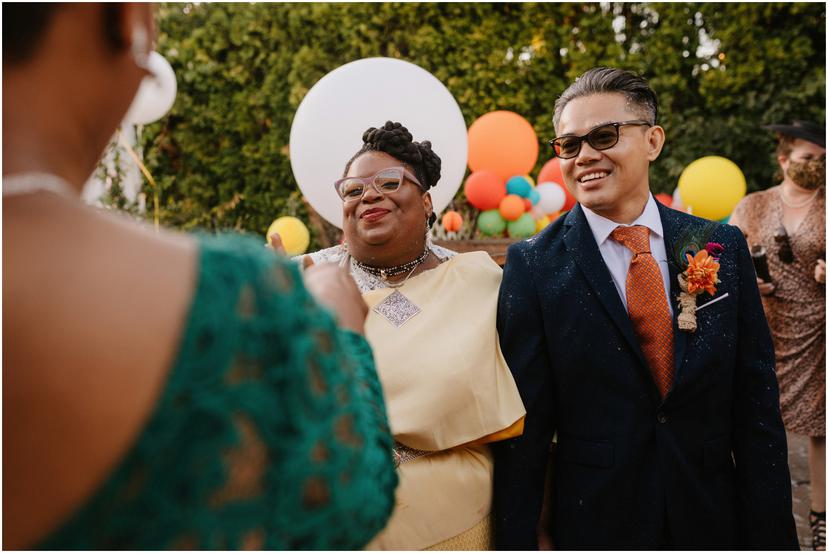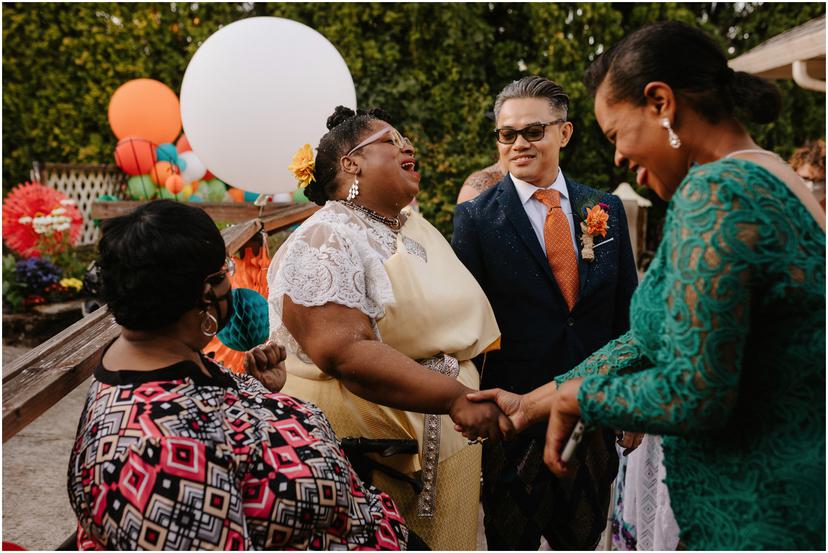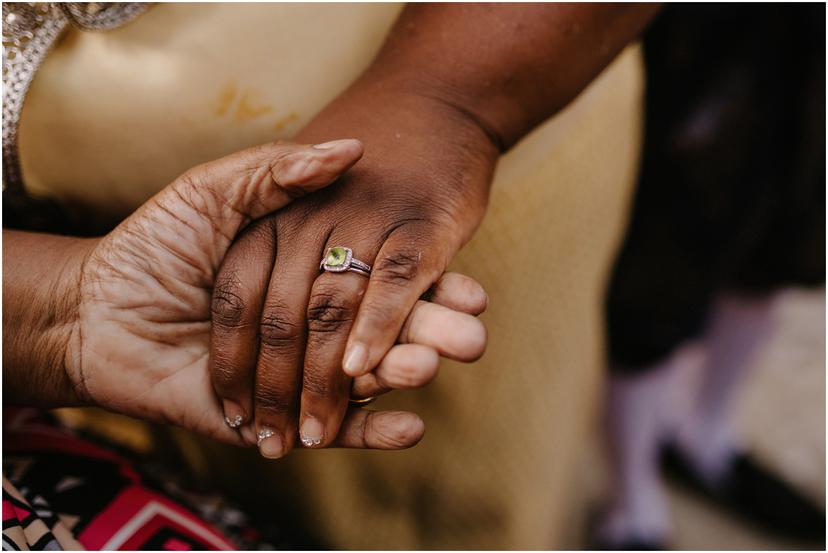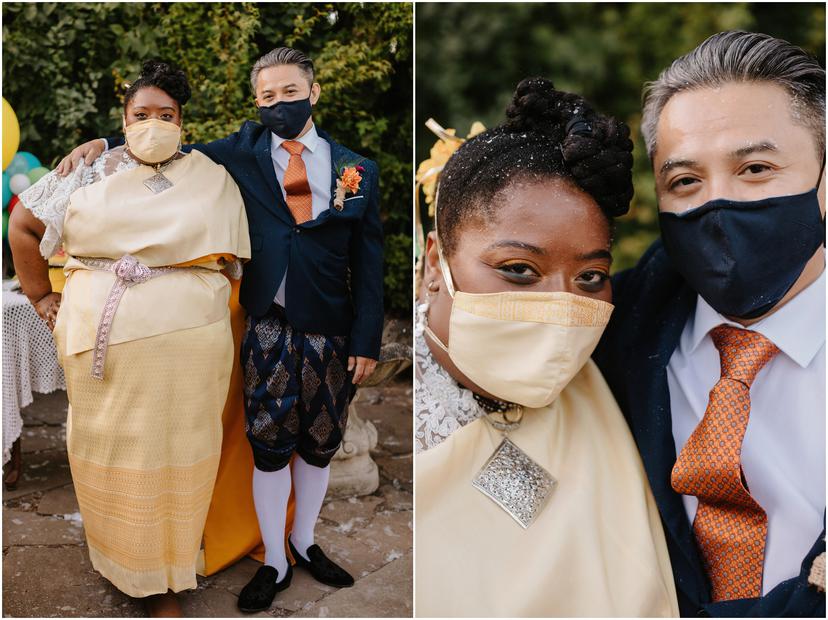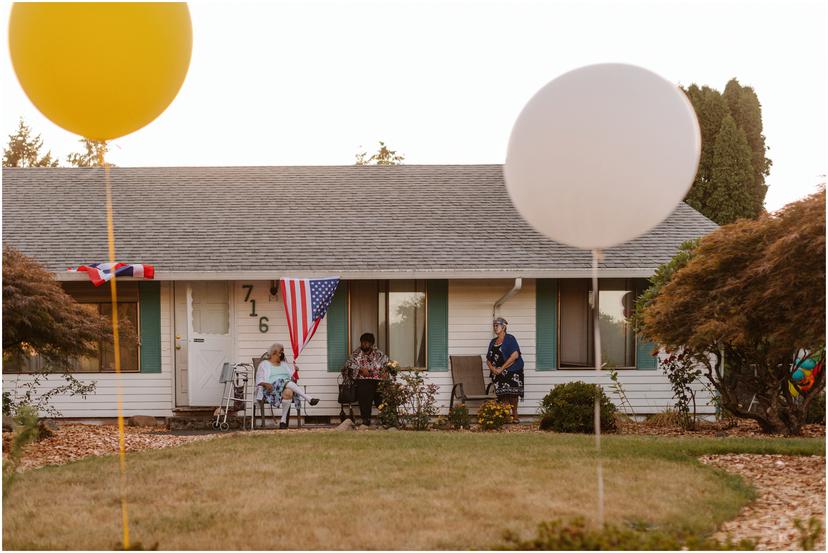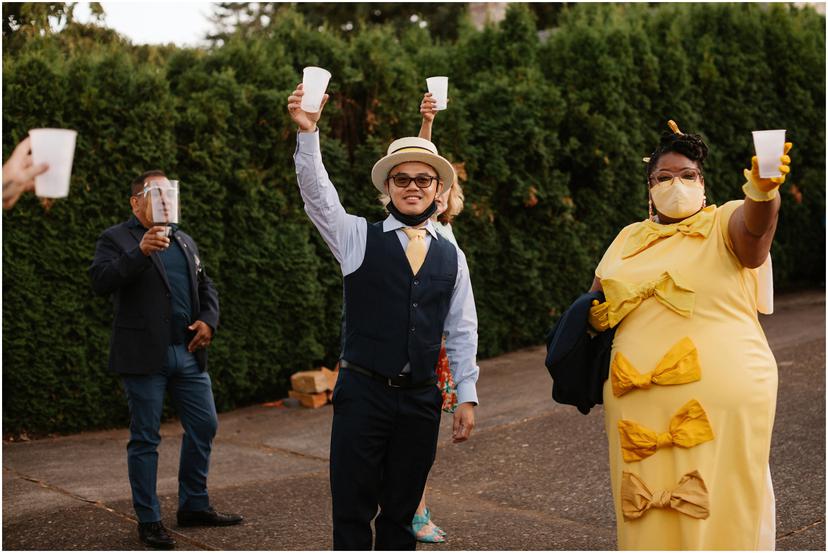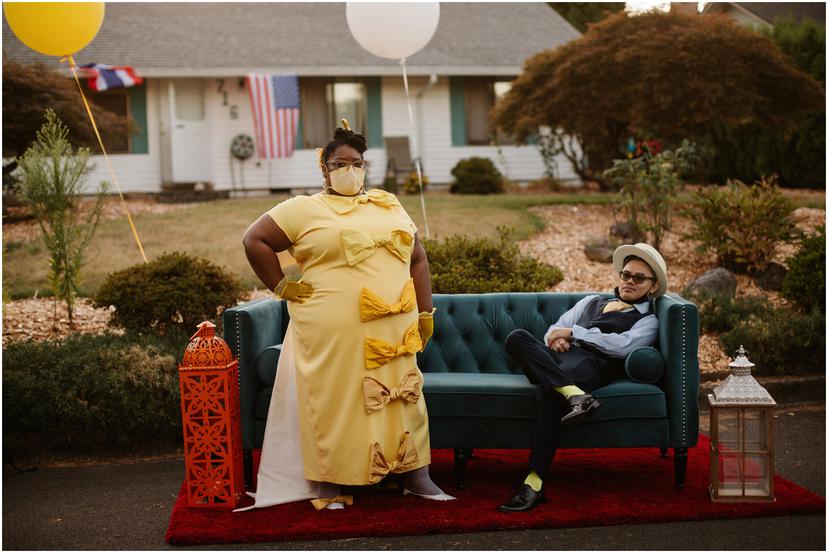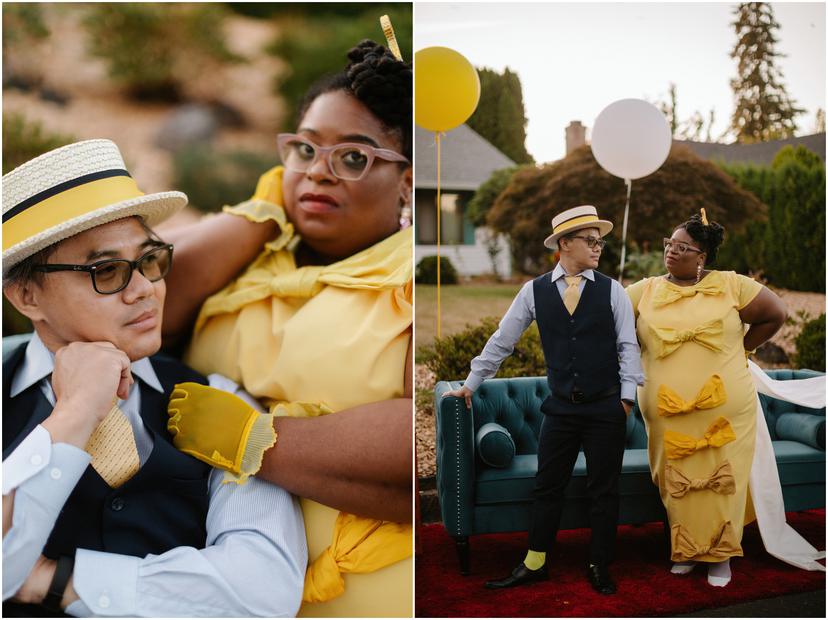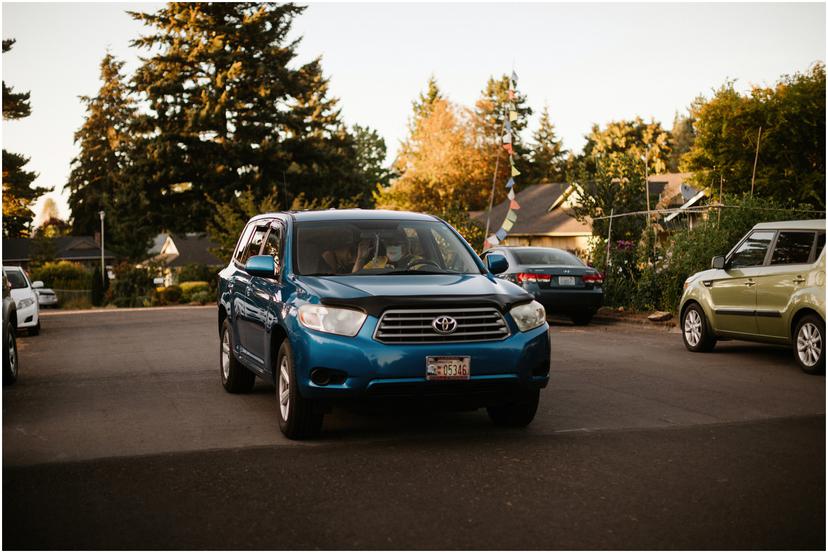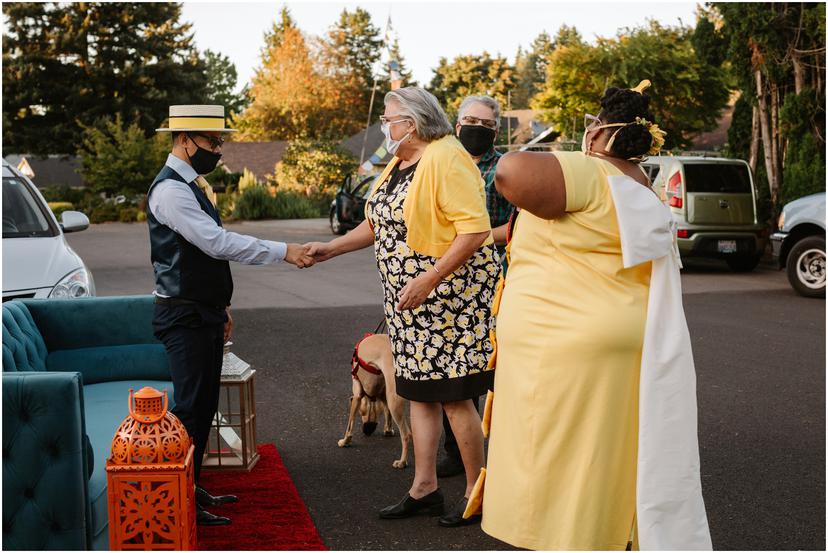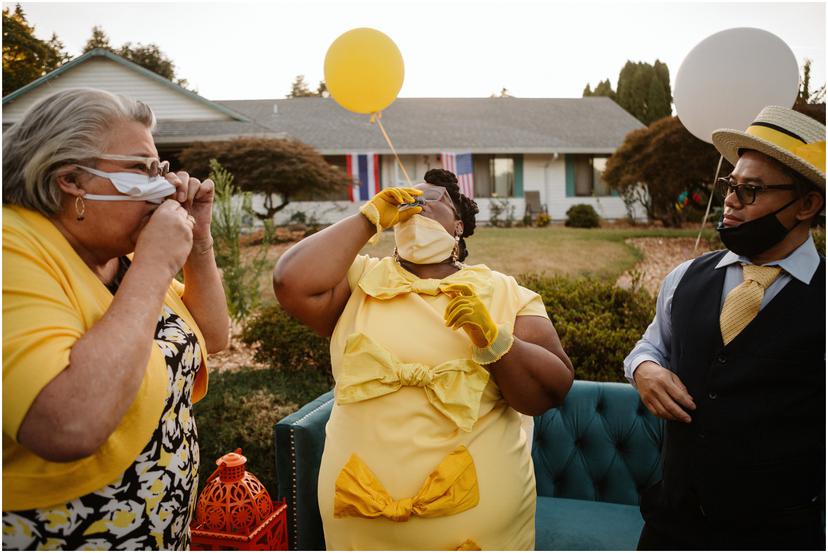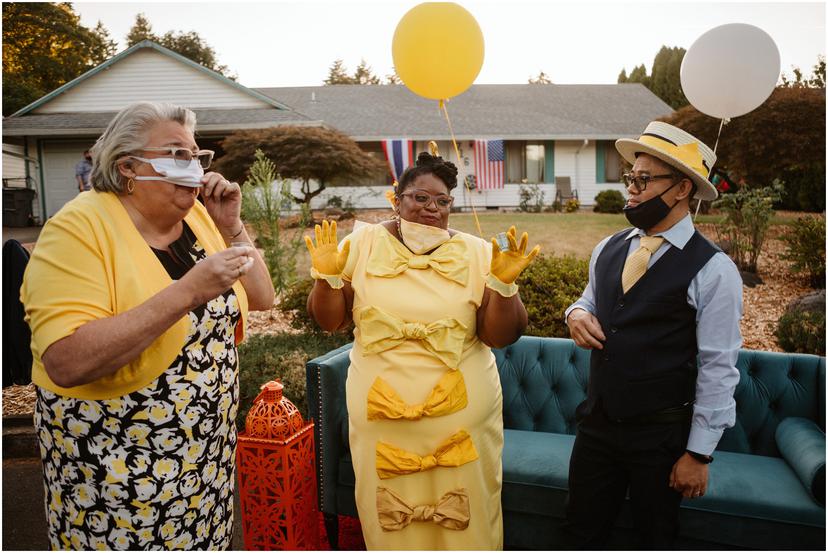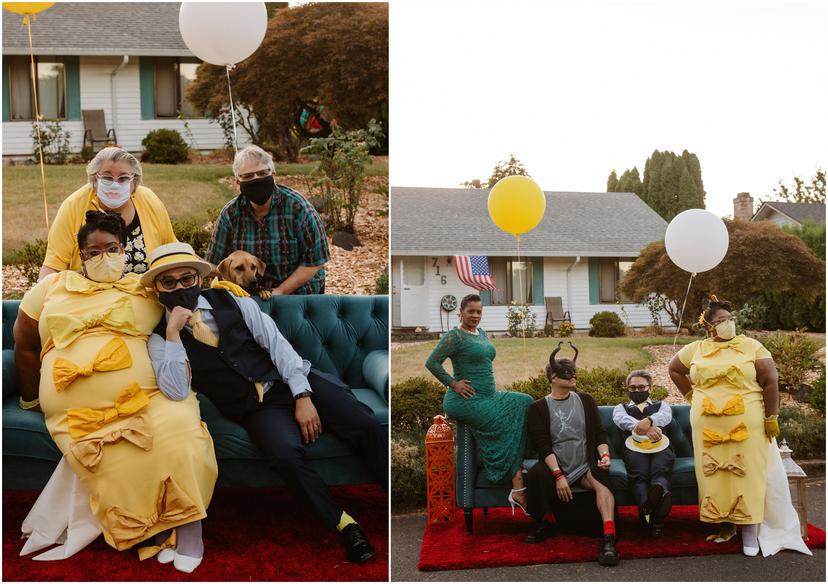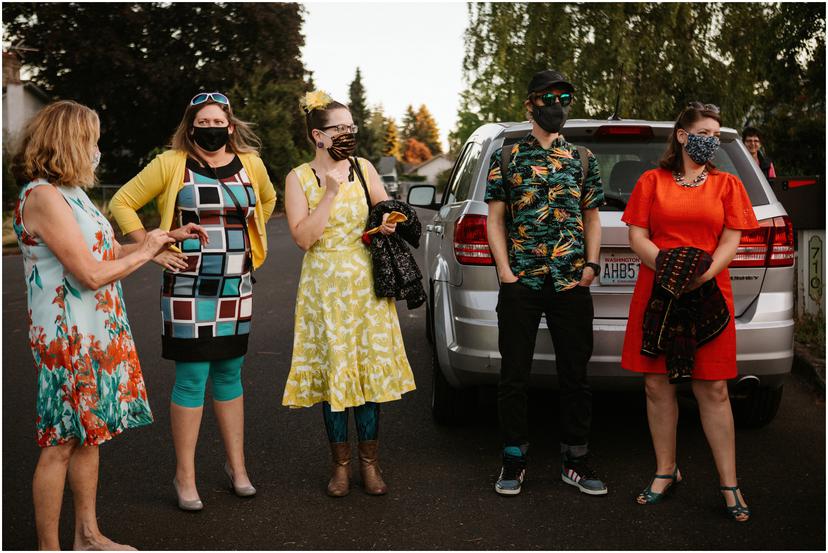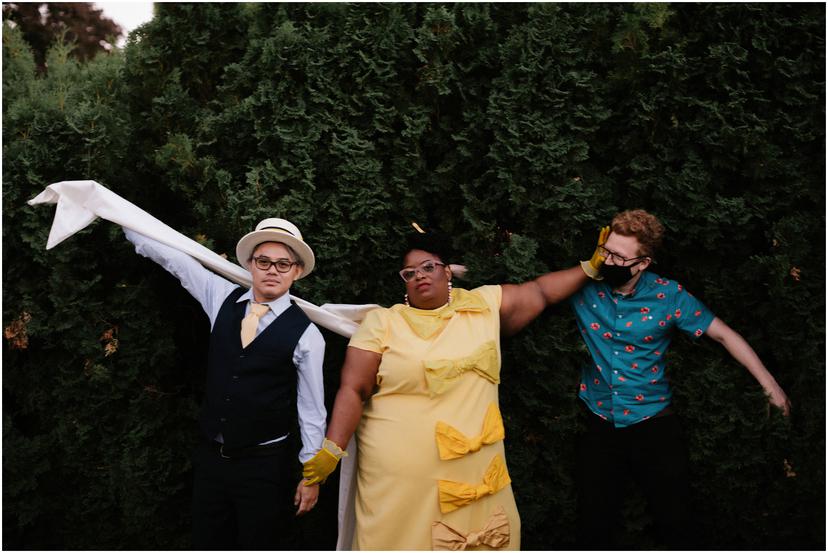 Favorite wedding memories
The groom: "The confetti: Because people where smiling laughing and supporting us. Everyone celebrating together with my new family. Everyone wanted to play with us and laugh like we do. I loved the sofa photoshoot, where I really was able to meet my new family in an unusual way. We sat on the sofa and looked liked models. It was a fun concept. The first pictures, I look back on. I liked to see us getting dressed. My wife dressed me in Chut Thai. She is American and studied a lot about my country [Thailand]. I also think about giving rings to each other. She put my ring on and bowed her commitment to our lives and I put a ring on her and I committed myself to her.
The bride: "Funny thing, I think one of my favorite memories was just before the wedding. I was in my dressing room, alone, and he came in with a mango seed. He knows that mango seed is my favorite part of the fruit. I hadn't really seen him all day, so just for a moment he came over to give me a sweet reminder of our love.
"I think also, when he sang to me and I arrived right in front of him. Tears falling and he's trying not to "ugly cry". I helped sing the song with him towards the end. It took so much courage to sing in English for me. It was want he wanted to do for our wedding. I think too was when I was fumbling through my Thai song that I sung to him. Tears streaming down my face and he blotting my tears away.

The event was so very much full of love and support. I knew that my friends/family online were there to wish us both happy."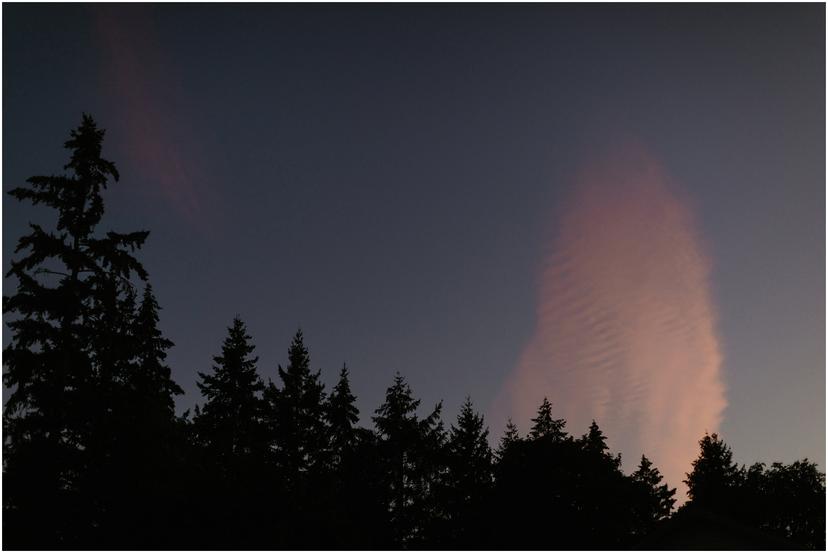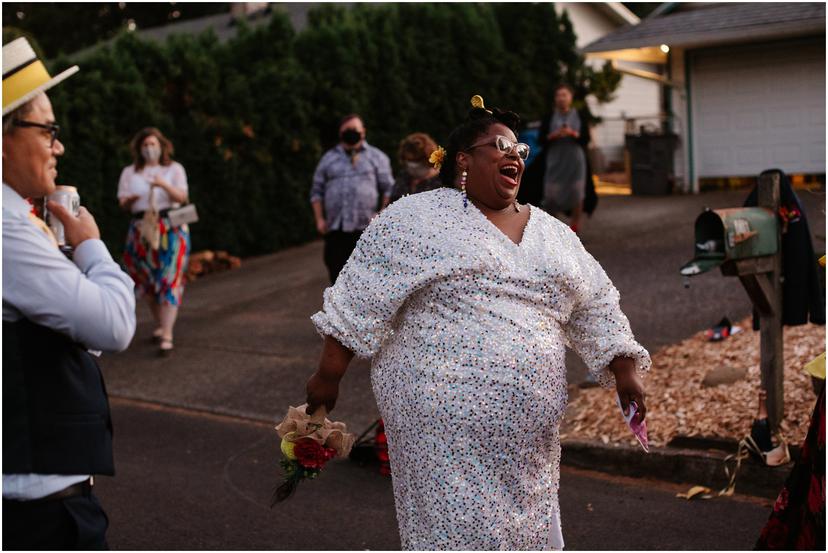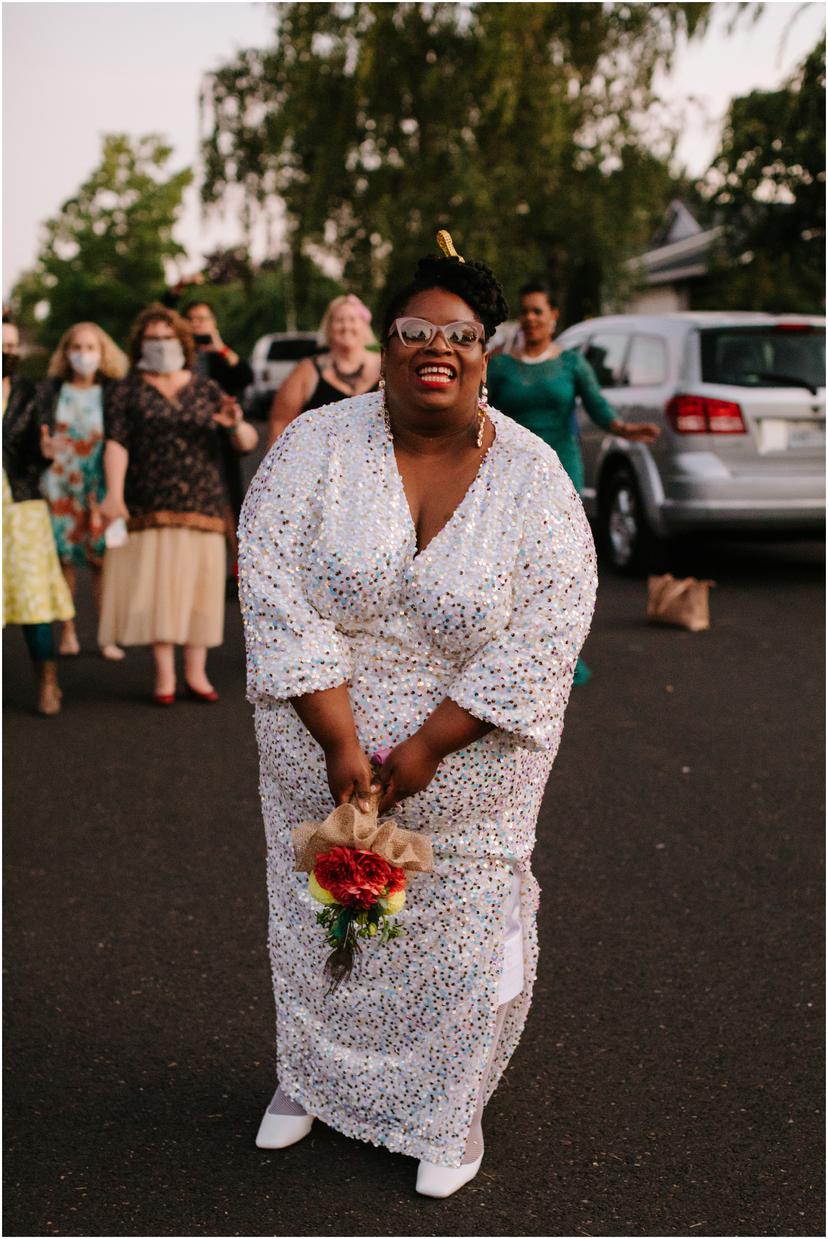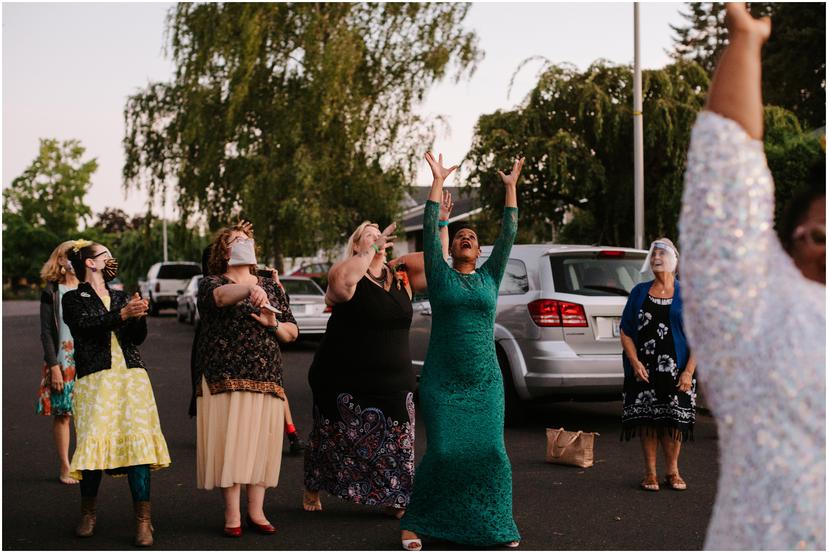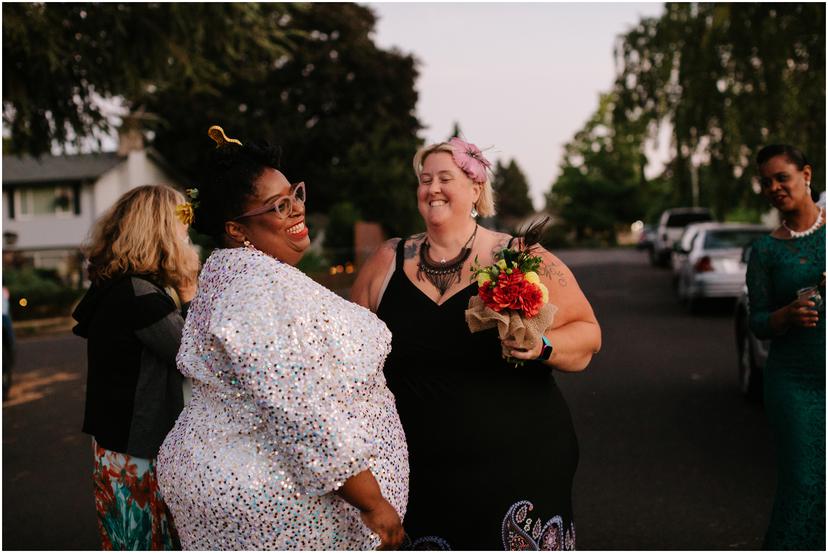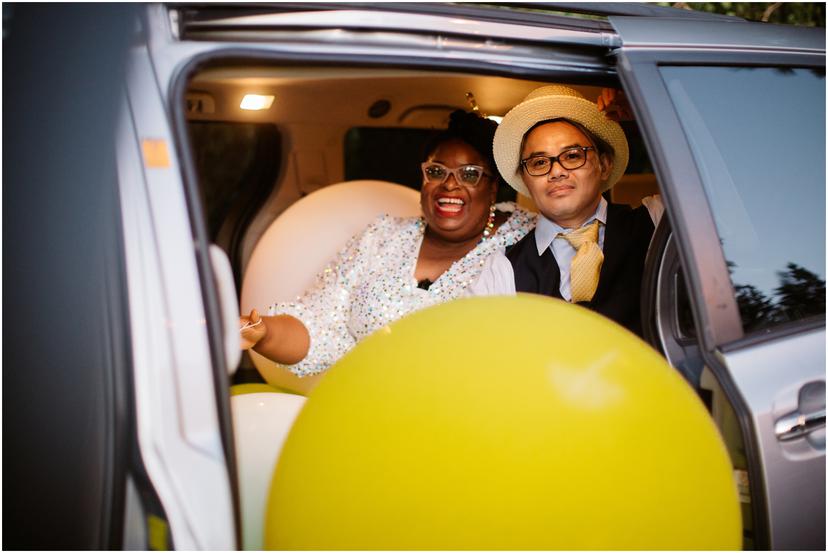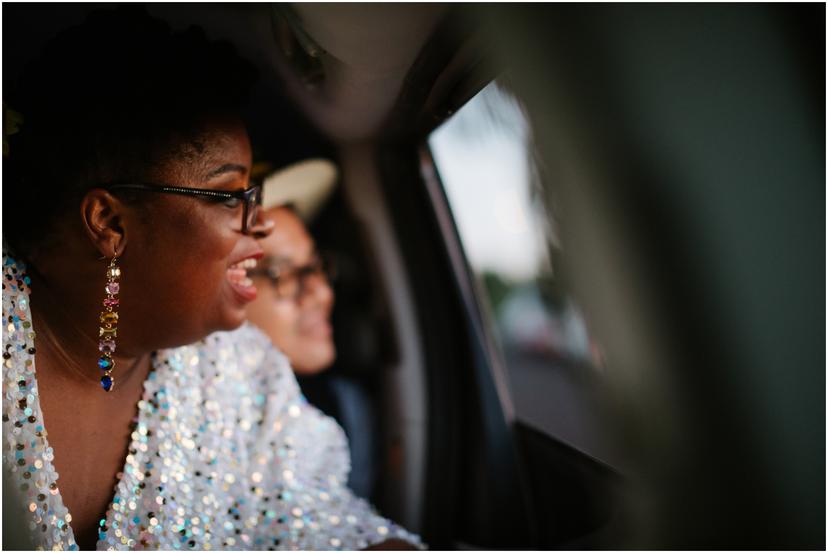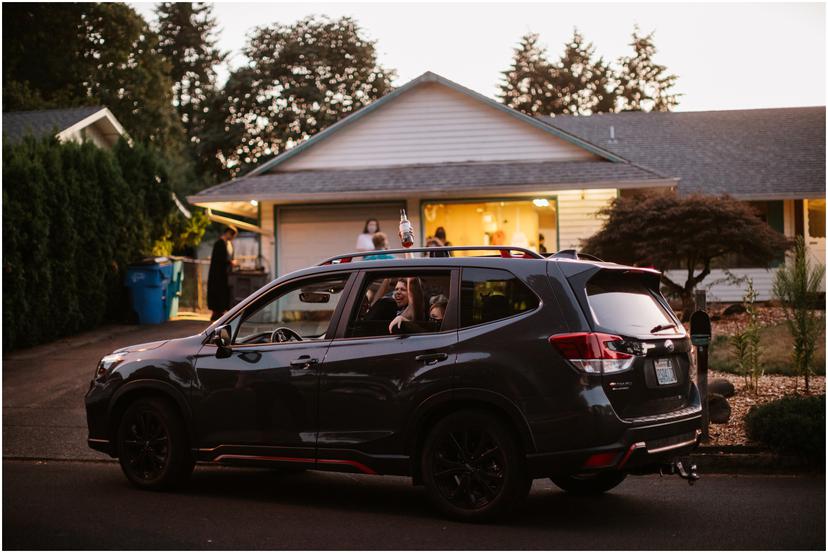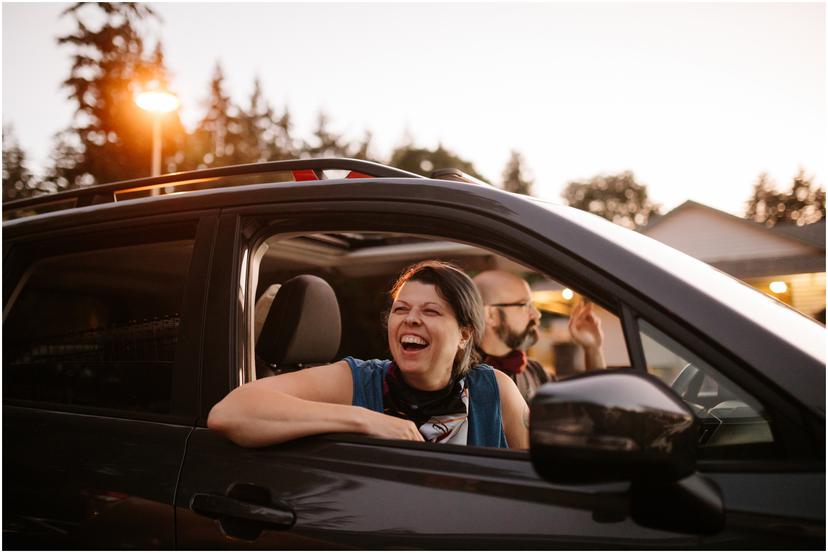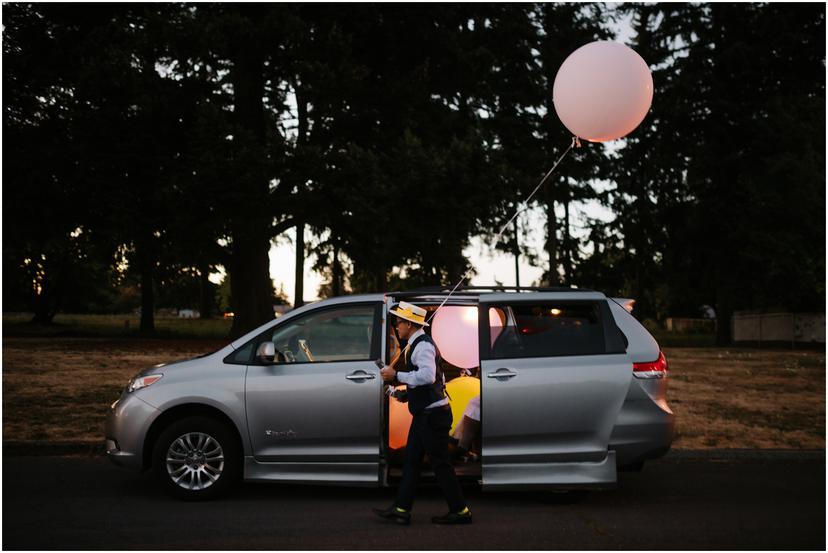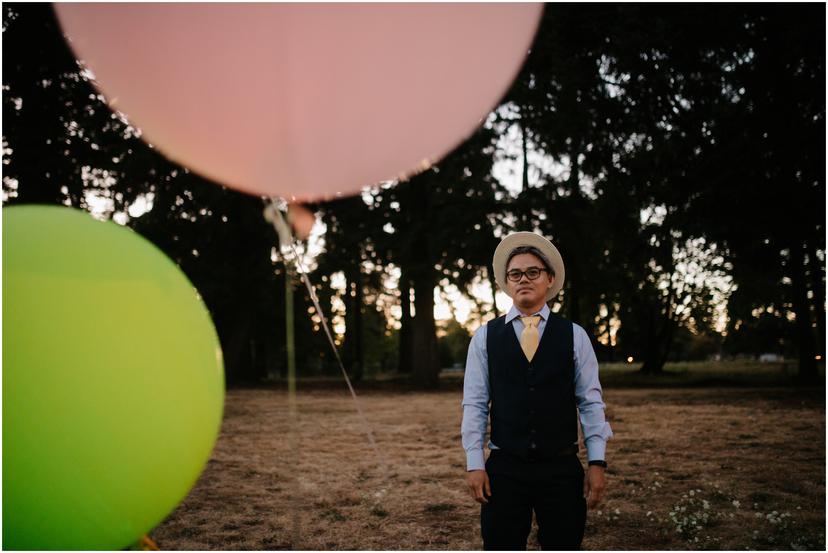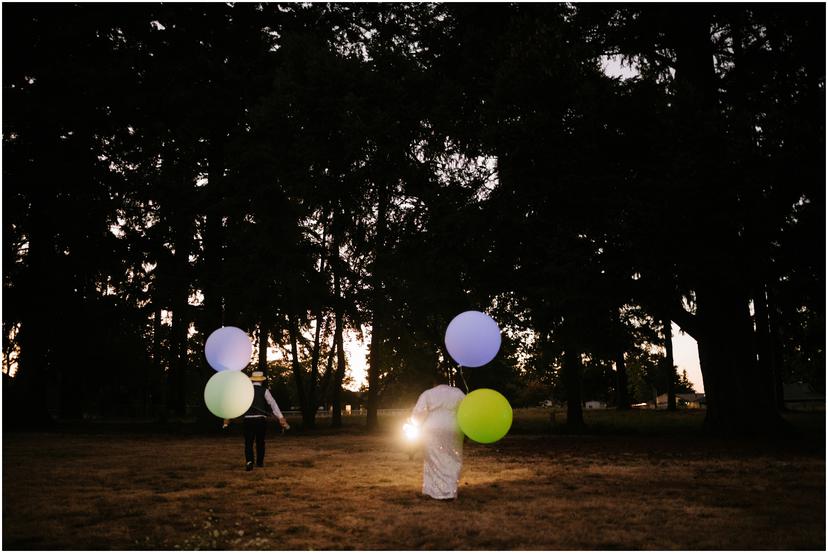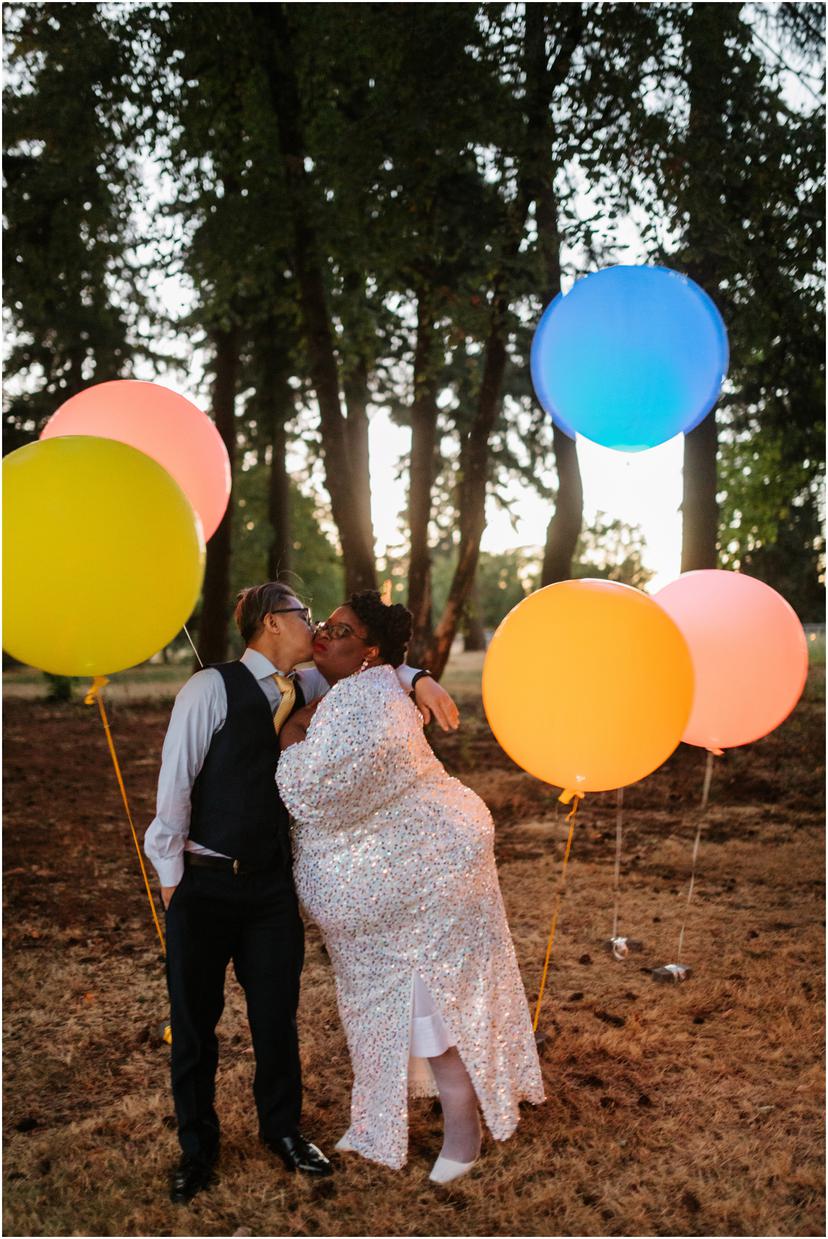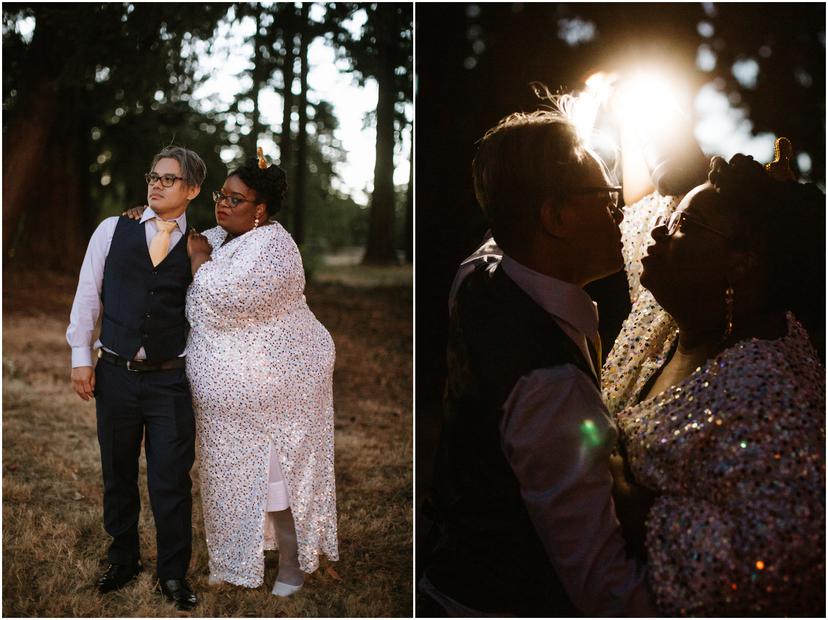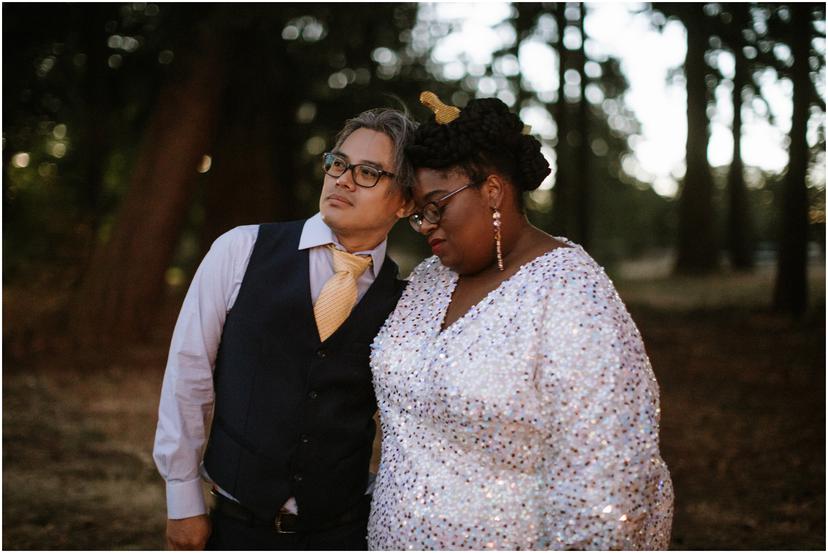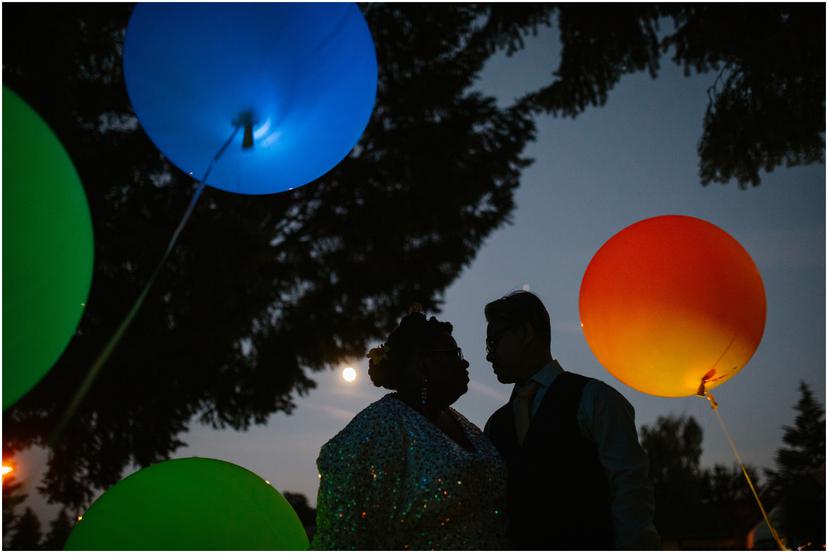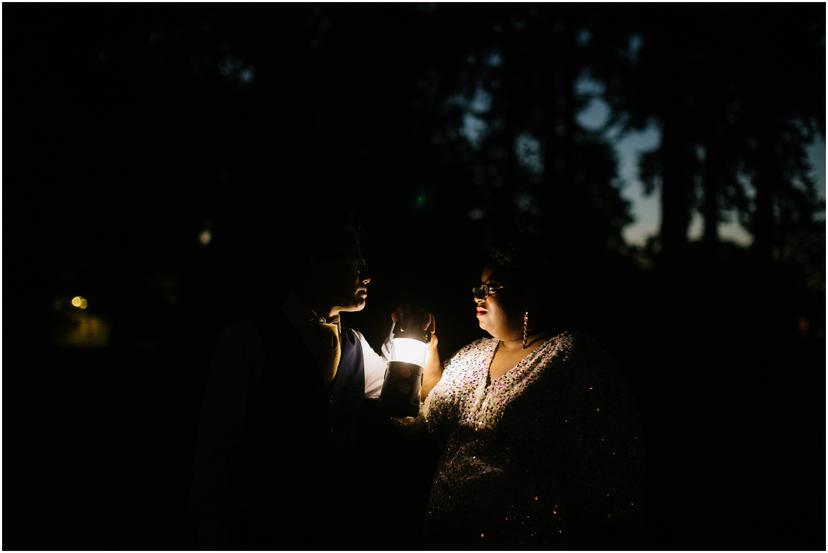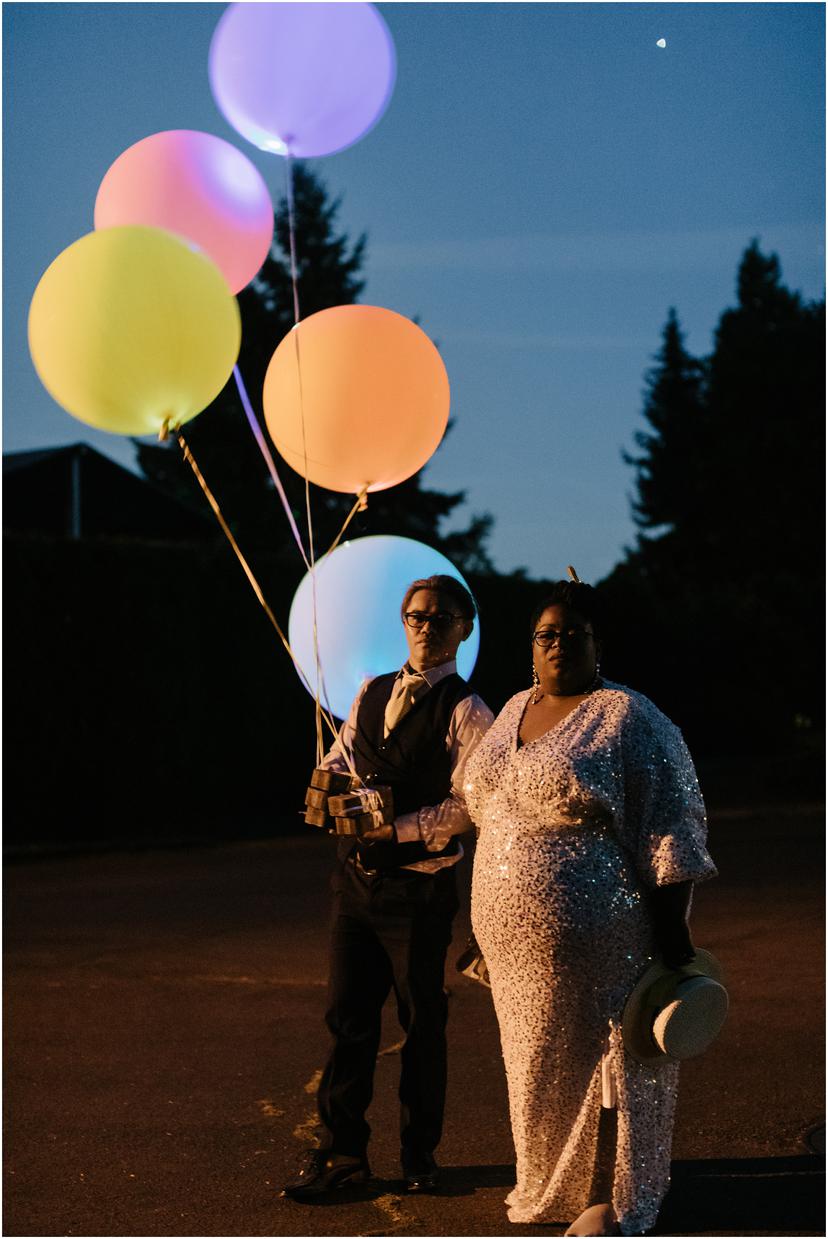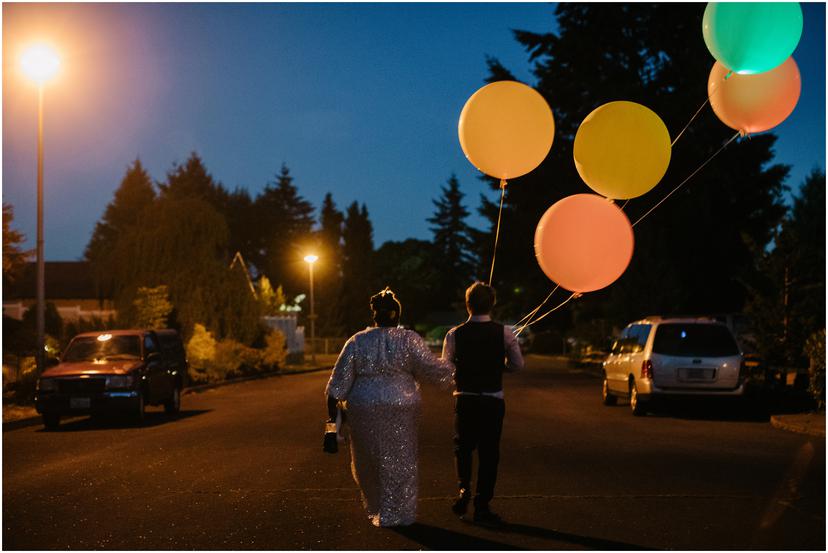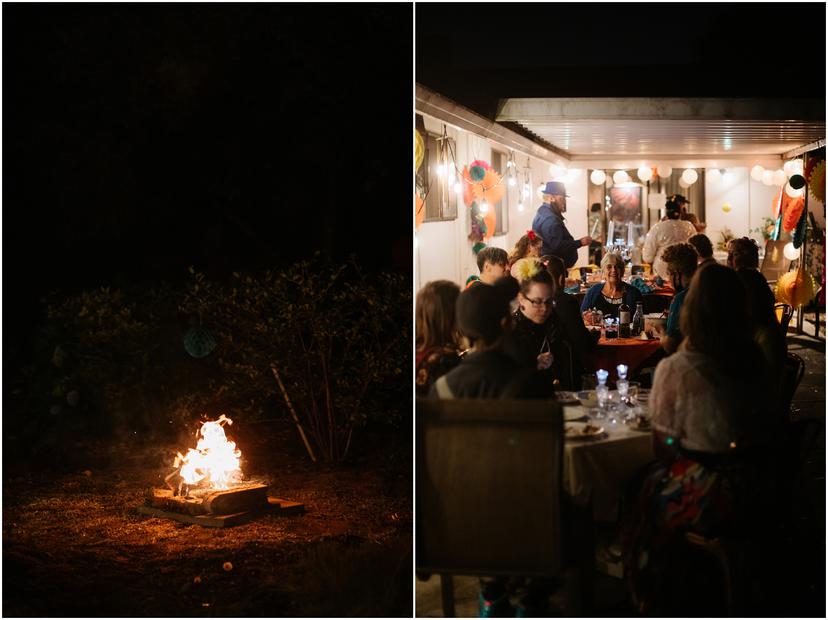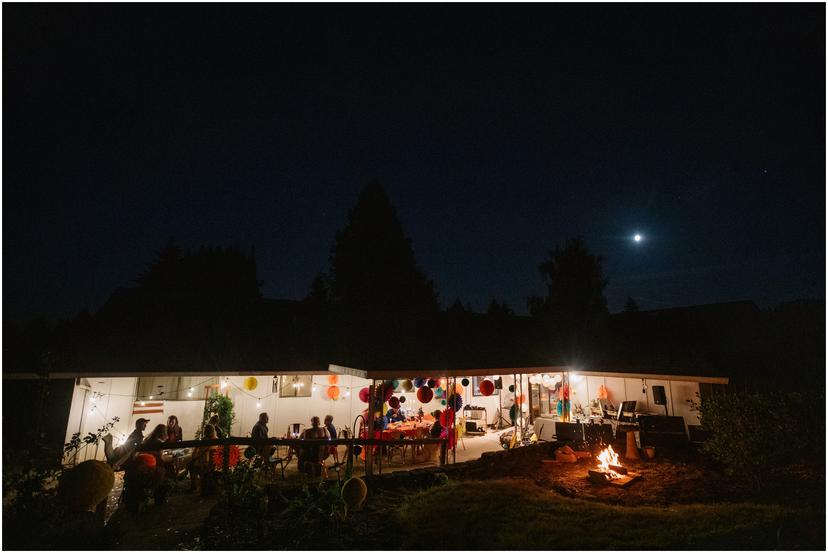 Browse more
Did you love these colorful backyard wedding photos? If so, you might enjoy these other weddings I've photographed as well! And always feel free to contact me if you have questions, or reach out if you are planning your own backyard wedding!