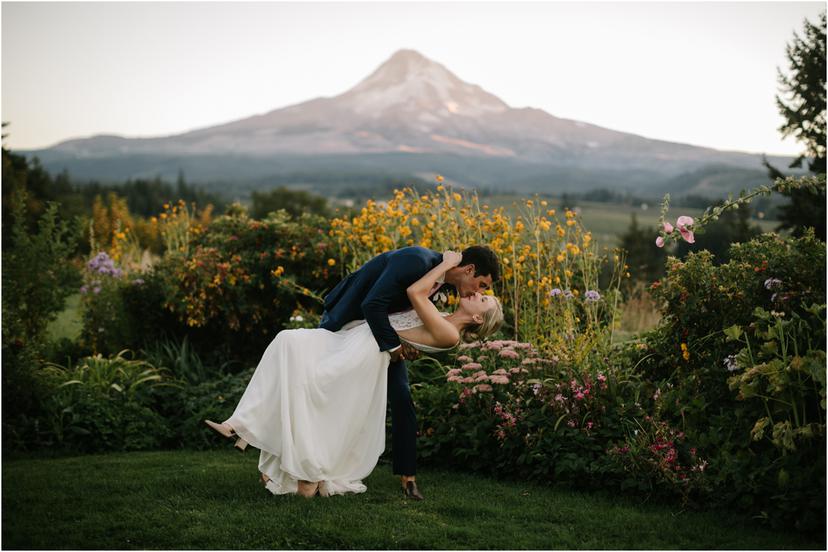 Mt. Hood Organic Farms Wedding
This couple had the most STUNNING Mt. Hood Organic Farms wedding last week! It was a hot, sunny and cloudless day in Hood River. Perfect for an outdoor wedding at one of Oregon's most beautiful wedding venues! The team of vendors did an incredible job making this day so special. I'm super obsessed with everything that Madison from Hart Floral produces and this wedding was no exception. I loved the color palette of creamy florals, green ferns and pops of soft yellow. She makes the most AMAZING floral archways and I loved the gorgeous arch that set the backdrop against Mt. Hood for the ceremony. Whitney Werts did an amazing job creating one of the most unique seating charts I've ever seen. The clear glass vases with white lettering and ferns inside looked amazing and all the guests were so obsessed with how cool it was! This entire day was seriously so fun. The couple lives in New York so a ton of the guests came from out of town to experience a truly Oregon destination wedding. It was awesome to share the beauty of Mt. Hood and Hood River with them!
Their Story
These beautiful people met through a dating app called Hinge. It matched them through a mutual friend who attended college with the groom and went to medical school with the bride. After their first date, the bride texted her mom and basically told her that she had met the perfect man. Her mom told her no one was perfect, but the bride wasn't convinced. Both the bride and groom live busy, connected lives with fast-faced, high stress jobs. But when they are together they are total goofballs. They absolutely love to unwind by being silly together while doing intense outdoor activities. They love surfing and biking and they have traveled the world together to experience epic mountains and stunning beaches on their bikes and surfboards.
The Proposal
The groom proposed 1980's style in a restaurant.
"I was shocked!" the bride told me. "A saxophone player entered the restaurant playing "All of me" by John Legend and then kept playing at our table. Then C got down on one knee and proposed! The best part was that we went for a drink afterwards and he had planned an entire surprise party at the Soho House with his family and all of our closest friends." When they were planning their Mt. Hood Organic Farms wedding, they wanted it to feel lighthearted, fun and filled with natural beauty. I'd say they accomplished that perfectly! It was a magical day and I was so happy to be a part of it!
The Vendors
Venue: Mt Hood Organic Farms

Dress: Sarah Seven, from Lovely Bride

Hair and Makeup: Destiny Taylor

Florist: Hart Floral

Caterer: Ginger from Cultivate Catering

Videographer: Christian Hartwell

Band: Patrick Lamb 

Bridal Cape:  Noon on the Moon 

Event Planner: Whitney Werts 

Cake/dessert: East Fork Baking co

Linens: La Tavola Fine Linens

Rentals: Riverhood Rentals

Transportation: Columbia Wine Tours