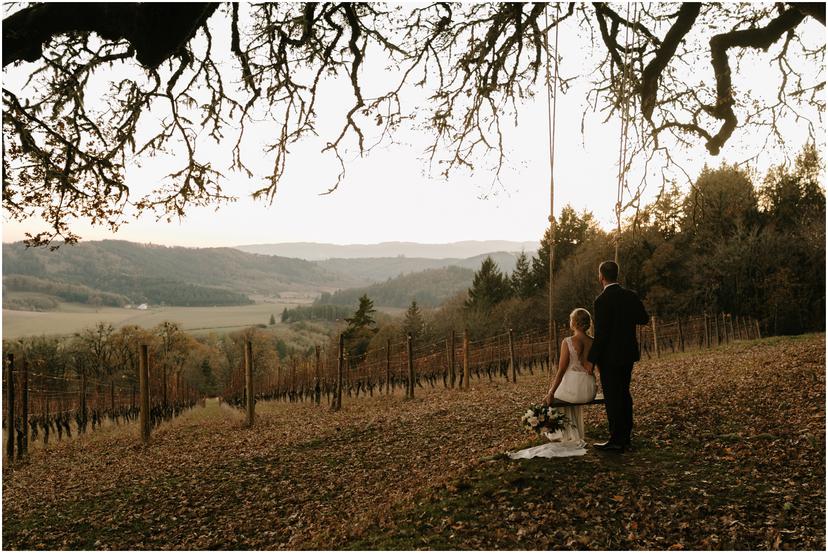 Youngberg Hill Wedding
Erica and Tim were married two weeks ago on bright, sunny November day at Youngberg Hill. Have I ever told you how much I love Youngberg Hill weddings?! This Oregon Wine Country wedding venue is one of the most stunning EVER. The views are unreal, and the photo options are endless. It's incredibly romantic, and just being up there is a breath of fresh air. Even if you aren't going for a wedding - I highly recommend just doing a tasting up here sometime with friends or your significant other. Pro tip- their Pinot Gris is amaaaaazing!!
This fall wedding was glorious. I kept joking that Erica and Tim's November wedding was literally warmer than one I did at Youngberg in August haha. Oregon is crazy like that. These two were SO laid back and they went through the entire day with a casual, stress-free, happy vibe. Their friends and family came from the midwest to celebrate with them, and the views did not disappoint. Tim is a chef and his company catered the event, which was really special. Blum floral did an amazing job with the flowers (I loved the tall arrangements!) and everything went so smoothly all day!
One of my favorite moments from this day was when I caught a few bridesmaids casually saying hello to a baby longhorn cow on the property! SO CUTE! We fed it apples and it was such a sweet, quirky moment. The bridesmaids were still wearing robes and fuzzy slippers. It was definitely memorable!
About Youngberg Hill
Youngberg is a 50-acre wine estate perched on a hilltop above McMinnville. Their vineyards are 30 years old and are grown organically! The wine is SO good, and like I already said, the view is next level. It's definitely one of the most romantic vineyards I've ever been to.
Youngberg Hill has both indoor and outdoor wedding options! Their space accommodates 350 people outside and 200 inside so you can go BIG if you want. They also have a bed and breakfast so you can stay overnight and get ready there. I LOVE their getting ready space! The room has a large balcony that photographs so well - whether you want more traditional photos or more artsy shots.
Another cool thing about this venue is that they charge you for your actual beverage consumption, not wine purchase minimums! Perfect for all you wine-lovers (like myself haha).
Wedding Photo Locations at Youngberg Hill
There are several AMAZING spots for wedding photos on Youngberg's property, depending on what you want and how far you feel like walking!
My go-to spots are the balcony in the getting-ready room, and the area surrounding the venue on the top of the hill. These are the most accessible spots to access. Even if you don't venture further, you can get incredible wedding photos just from here!
Another spot you can access is this tree swing above the vineyards! It's just above the parking lot, so it's a little longer walk. Not everyone is into swing photos, but if you are, it is stunning! I love the shots I got of Erica and Tim swinging together at sunset.
I've also had success walking deep into the vineyards for photos, or even driving down the road for a few different views! This all depends on how much time you budget for pictures, of course.
What was your favorite memory from the wedding?
"It's hard to choose just one!" said Erica. "I loved walking into the reception to see everything put together. It was perfect and everything I wanted! The first look was also really exciting and emotional."
Why did you choose Youngberg Hill for your venue?
"The view! It's so vast and beautiful. Perfect for a wedding!"
Do you have any advice for other couples planning weddings at Youngberg or in McMinnville?
"Take advantage of the Inn and stay there for a few days. It was so nice and relaxing to get ready and spend time with guests outside of the wedding events. Plus, it's beautiful! Breakfast is also delicious, so you don't have to worry about going out."
Any other insight/advice for couples that you would share about your wedding experience?
"I recommend a coordinator. Shannin MacCarthy was really helpful and easy to talk to about the wedding details. Also, I was against a DJ at first, but am happy we had one. It was one less thing to worry about!"
The Vendors
Venue: Youngberg Hill

Dress: Wtoo, purchased at Anna's Bridal in Lake Oswego

Bride's Shoes: Badgley Mischka

Bride's necklace and earrings: BHLDN

Bride's bracelet: Olive and Piper

Tux: The Black Tux

Groom tie and pocket square: The Tie Bar

Hair Stylist: Jordyn Kell

Makeup Artist: Carolyn Childs

Florist: Blum Florals

Officiant: Liz Mosely, groom's sister

Caterer: Bon Appétit

Wedding Coordinator: Shannin MacCarthy

Dessert: Amy Gailbraith

DJ: Kevin Venables
The Photos