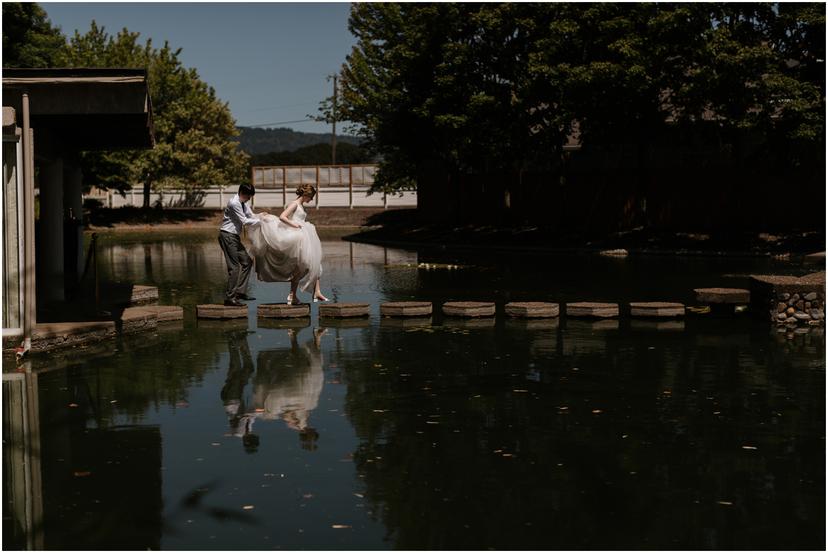 2020 Water Oasis Wedding
Corinne and Brandon planned the sweetest little brunch wedding at the Water Oasis in Newberg! These two are some of the kindest people I have ever met, and I loved documenting their sunny wedding in mid-July. Of course, COVID-19 made everything challenging, but these two persevered! Their friends, families, and vendors all worked together to host a safe, fun, and celebratory event during the pandemic. I loved that guests decorated their own masks, and the dance floor was large enough for couples to stay spaced apart! The brunch food from Sassy Onion was DELICIOUS too. Such a fantastic day. I was also stoked to have my friend Marissa Solini by my side, helping out as a second photographer on this hot day. A portion of the images in this post were taken by her - she's incredible!
About The Water Oasis
The Water Oasis is a wedding and event venue outside of Newberg, Oregon. It's located in the heart of Oregon wine country! It has expansive views, stunning gardens, and MANY photo locations across the property. The Water Oasis can accommodate up to 300 guests, with various different spaces that hold varying numbers of people. Corinne and Brandon opted to use the Arbor area for their ceremony, with their reception under the Courtyard and Pavillion.
The Water Oasis is great for both local and destination weddings. It's close to Portland, but its proximity to wine country is perfect for out-of-town guests. I love that couples can get ready at the lounge and the salon on site, and the whole area is super relaxing and peaceful. There are abundant water features, flowers, and views to enjoy!
If you want even MORE Water Oasis wedding photos, you can check out the last Water Oasis wedding that I photographed in fall 2018!
Why did you choose the Water Oasis as a venue?
"What we loved most about the Water Oasis was just the abundance of natural beauty," Corinne said. "There were so many different, beautiful areas to explore and take photos in. We also loved that because it was naturally so beautiful, we wouldn't have to do much in terms of decor, we could just let the venue shine. It's also a great location; it's not in Portland but it's not too far either, so it was convenient for all of our local guests. We also liked that we could have the ceremony and reception in two different areas without our guests having to travel or walk too far. Also, the reception area (the pavilion) was undercover, which was perfect for a hot, summer day. In general we loved having the views of wine country without the venue being a vineyard (we did a morning wedding and weren't planning on serving wine, which is typically included with vineyard venues)."
"Unfortunately, due to the pandemic we didn't get to spend as much time in Newberg as we had planned. However, I will say that Newberg is absolutely beautiful and to take advantage of that when planning a wedding there! There are great restaurants in the area (Newberg, Dundee, etc.), and my bridal party and I stayed at an airbnb nearby the night before the wedding that was incredible (Amani Acres). In general, it's beautiful and there's great food so take advantage of that when planning rehearsal dinners and wedding night accommodations!"
About Corinne and Brandon
Corinne and Brandon grew up in Portland and have been together since high school! They met in IB chemistry class and started dating before their senior year. They decided NOT to go to the same college and did long-distance for years, learning to grow together while still retaining their independence. They love watching TV and movies together, playing board games or video games, and traveling.
"We love how we're best friends, we support each other and all of our goals," said Corinne. "We make a great team, but we also value and respect each other's independence. We accept each other fully for exactly who we are, but still challenge each other to grow."
Proposal story
"In 2012, we went on our third date to the Oregon Zoo," Corinne said. "During that early date, I was hoping Brandon would hold my hand or officially ask me to be his girlfriend (but he didn't because he was so nervous!), and this is something I tease him about sometimes. So last summer (2019), he took me to the zoo on the anniversary of this date. We went near closing time, went to the PNW area of the zoo to the exhibit with the ducks (where it was quiet and not crowded; I also love ducks!). At this time, not only did he hold my hand, but he asked me to marry him! It was very romantic. He also had his parents hiding out to take photos, and when we left the zoo, my parents and sister were there to celebrate with us and take more photos. He knows how important my family is to me, and thought of everything to make that moment special for both of us. It wasn't exactly a surprise (we'd been together for seven years and had already picked out an engagement ring), but it was a really perfect moment."
Favorite Water Oasis wedding memory
"Our favorite memory from the wedding was probably our ceremony and saying our vows. We've been together for eight years now and we'd been looking forward to this day for so long, and we were just so happy during the ceremony because it was finally happening!! It couldn't have been any more perfect. Our other favorite moment was our first look! We had decided not to see or talk to each other until that moment on our wedding day, and it was so strange not being able to be together for an extended period of time! It was also difficult not to stress about wedding details that morning, but once we saw each other we both felt a weight lifted, so it was just a really nice and intimate moment."
COVID-19 wedding advice
"COMMUNICATION!" said Corinne and Brandon. "This was the biggest thing for us. We really appreciated our vendors who communicated frequently and clearly about their plans and what they needed from us. Planning a wedding is always overwhelming, but it became even more so once we had extra safety issues to worry about. It was also important for us to be clear about where we were in our planning and what decisions and changes we had made (since there were so many last minute changes). Also related to communication: communicate frequently with your guests! We sent out so many emails with updates on our decision making process, but I know people really appreciated being kept in the loop and knowing what precautions we were taking to keep them safe.
"Another piece of advice: decide what's most important to you when it comes to your wedding, and keep this in mind whenever you're making decisions or compromises. We had to determine what was most important to us and what we were willing to sacrifice in terms of our wedding vision. In the end, we managed to have a wedding that we will still look back on fondly and with so much joy in our hearts. It was different than we had originally planned, but still perfect in its own way. In general, just be patient, flexible, and open-minded! "
"We truly loved all of our vendors, but something we ended up doing last minute that we hadn't originally planned on was videography! In the beginning, we decided this was something we didn't want to spend money on, but then the pandemic started and two-thirds of our guests could no longer attend our wedding in person. So, we hired a videographer that actually livestreamed our wedding! Married Livestream was so great to work with and really understood our vision for our special day (even though we only hired them two weeks before the wedding)! They made it so that all of our guests could still attend virtually, and it was so special to be able to include them this way.
Other wedding planning tips
"We were really conscious of our spending/budget, and we had certain amounts we originally wanted to spend on various things/vendors. However, we discovered that it's worth it to spend a little more on vendors that you really connect with and feel confident about. That peace of mind is truly priceless when you trust the people you're working with, and it makes the planning process so much more pleasant!
"Also, the actual day of the wedding goes by SO fast. So do what you can to ensure that you can enjoy that day to the fullest. Make sure you have friends/family/vendors in charge of all the day-of details, and make sure they're people that know your vision and what you want. You don't want to spend your wedding day worrying about little details.
"Overall, just make your wedding as personal as you can by adding things that are special and unique to you in any way that you can. For instance, we did a "Generations of Love" table to honor and celebrate both of our families. I loved having so much of our family there with us (even if they couldn't be there in person). We also had a picture of my dog, Dasher, on our guestbook table since he played a special role in the early days of our relationship (and he passed away in January), and we included this story in our ceremony as well! We had a macaron tower with a small cake on top since neither of us are huge fans of cake, so this allowed us to do something more unique to us without sacrificing that cake-cutting tradition! And finally, my father-daughter dance was a tap dance to celebrate a special hobby that my dad and I share (and it was choreographed by my grandma!). By making it feel more like you and your partner, it makes your wedding an event that truly feels special and full of love.
About the Wedding Vendors
"We seriously loved all of our vendors," said Corinne. "Portland Makeup and Hair for making me feel the most beautiful I've ever felt. Flowers in Flight for creating bouquets and centerpiece arrangements that were subtle and elegant. Blackbird Designs for creating beautiful centerpiece decor and making our day go smoothly. Sassy Onion catering for the best brunch wedding food (especially those scones). Farina Bakery for the most delicious macarons and other assorted desserts. Katy for making us feel so comfortable in front of the camera and taking such beautiful photos to document our day. NW Mobile DJs for selecting the perfect music to give our event the vibe we were going for. Happymatic Photobooth Co. for providing a fun and socially distanced activity for our guests. And of course our officiant, Melissa Coe, for creating the most beautiful and personal ceremony for us. She told our love story perfectly and made our ceremony more perfect than we ever could have imagined."
Venue: The Water Oasis

Main Photographer: Katy Weaver

Second Photographer: Marissa Solini

Wedding Coordinator: Willow Muhr with Blackbird Designs

Dress + Veil Store: Charlotte's

Bride's shoes: Steve Madden

Suit: main components of the suit from Bonobos

Hair and Makeup: Bri Ellis with Portland Makeup and Hair

Florist: Flowers in Flight Lily Hutchins

Officiant: Melissa Coe

Caterer: Sassy Onion

Dessert: Cake, macarons, dessert bars, cookies from Farina Bakery

Videographer: Married Livestream

DJ/Band/ Entertainment Kevin Venables with NW Mobile DJs

Draping: from Wine Country Wedding Rentals

Linens: from Simply Event Rentals

Photobooth: Happymatic Photobooth Co.
The Photos