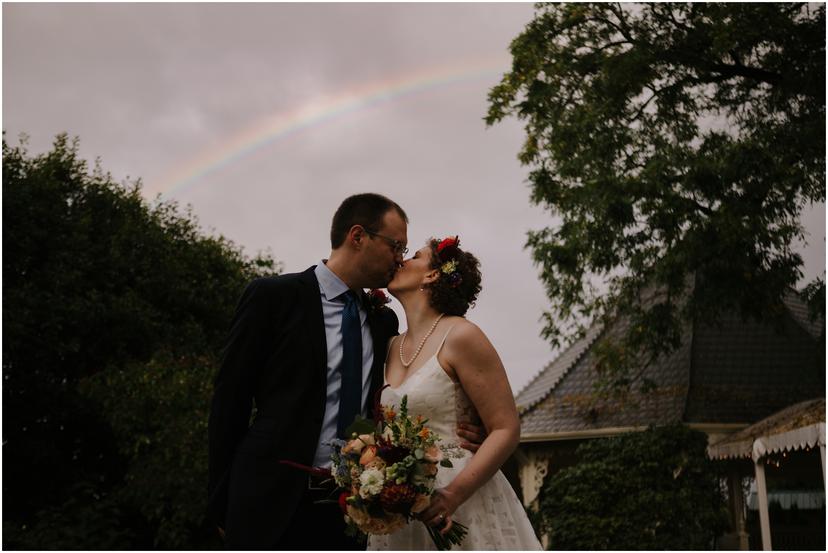 Victorian Belle Elopement
Erica and Mark planned their Victorian Belle elopement after COVID-19 threw a wrench in their original wedding plans. This North Portland wedding venue was the perfect place for an intimate outdoor gathering, rain or shine. Despite being different from their original plans, this day came together beautifully. I was obsessed with the rainbow color palette (complete with an ACTUAL RAINBOW!). I also loved that the bride knitted her own colorful shawl. The celebration was short and sweet, but brimming with personality and unique details. I was so happy to be a part of this day!
Opting to get ready together
Erica and Mark decided to start their day by getting ready together, instead of separately. I LOOOVE when couples do this because it is so intimate and memorable. I arrived at their downtown condo early to snag a few quick photos and helped Erica with her makeup when it wasn't going as she had planned.
"Obviously, I owe Katy big time," Erica recalled. "I had to do my hair and makeup myself, and I do not have those skills. Katy came to our hotel room early with her N95 mask on to give us some extra time taking photos. I had a huge eye makeup meltdown, and Katy ended up applying all of my eye makeup for me. Needless to say, it looked great, and I will never use that eyeliner again."
After getting ready, we had a few extra minutes to take portraits in front of Erica's favorite Portland building, the Armory. We didn't plan this at all - it just ended up happening and was so fun!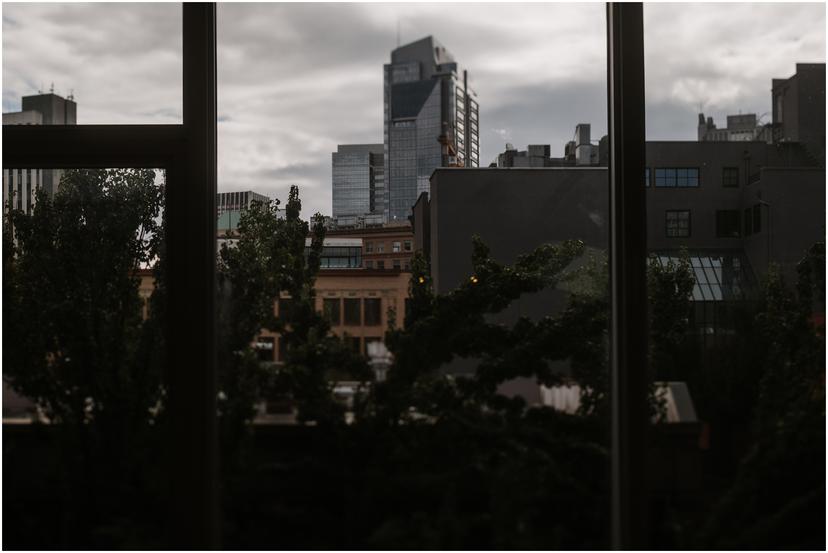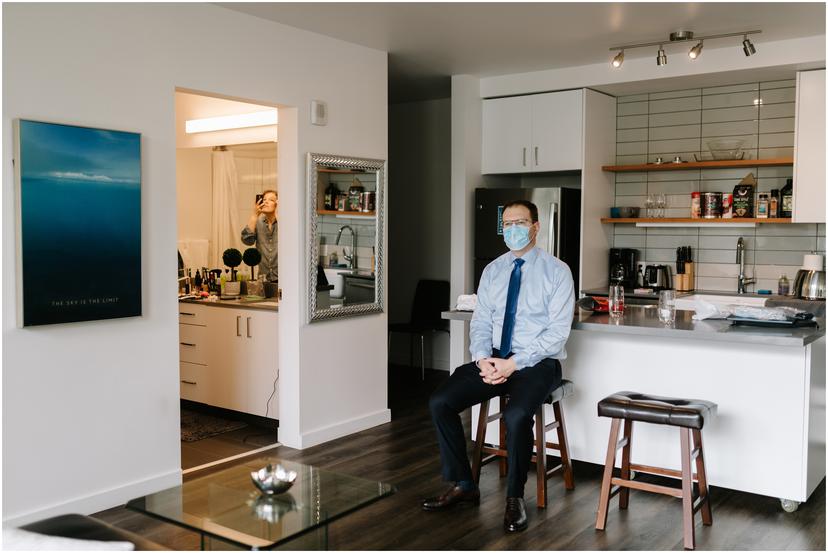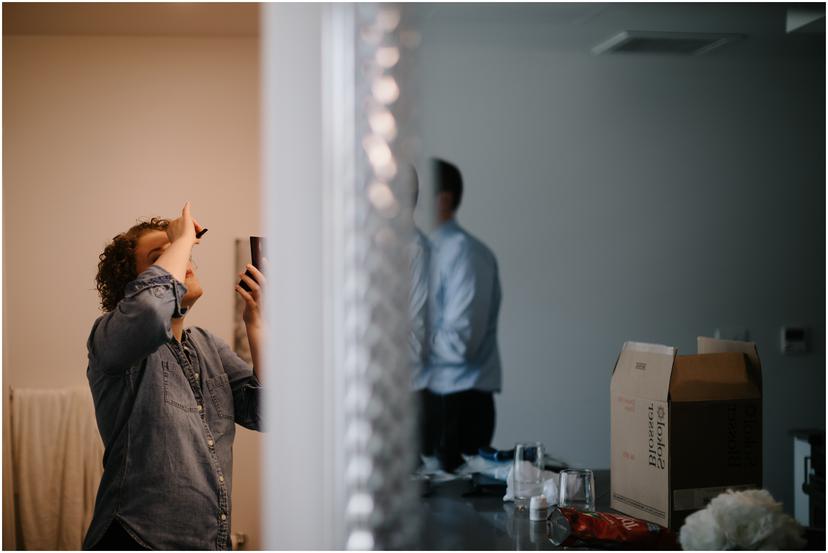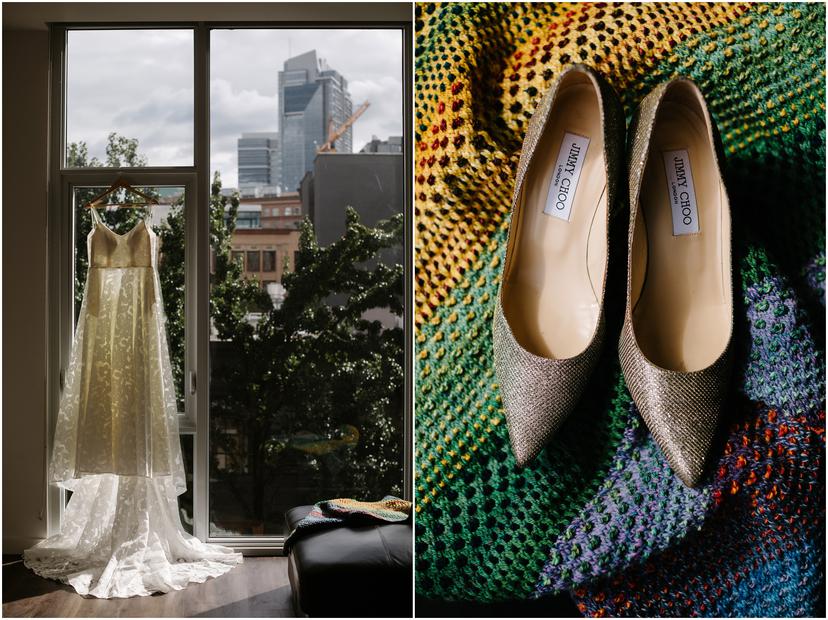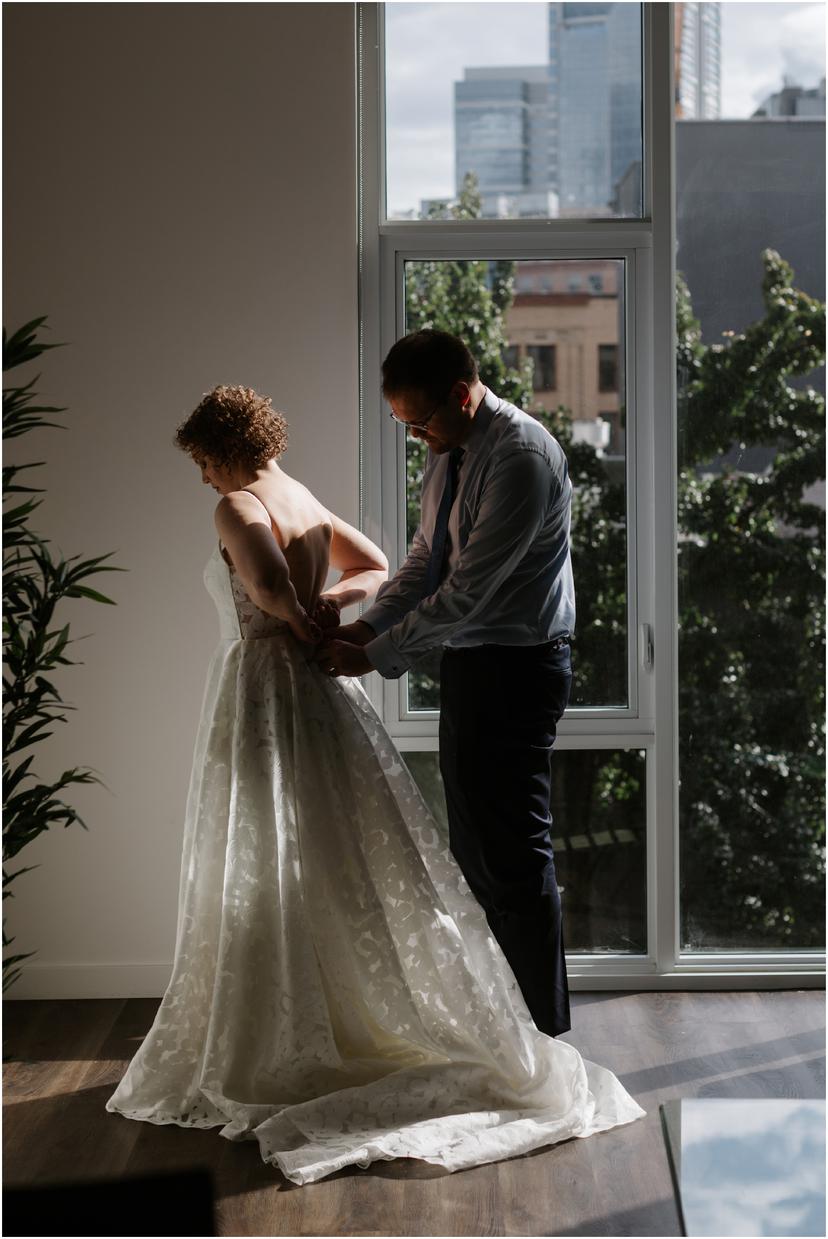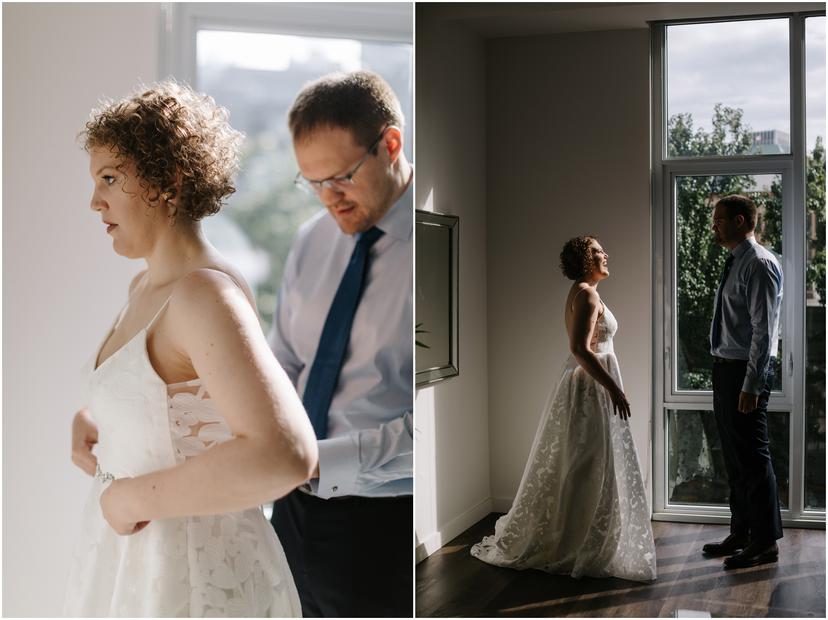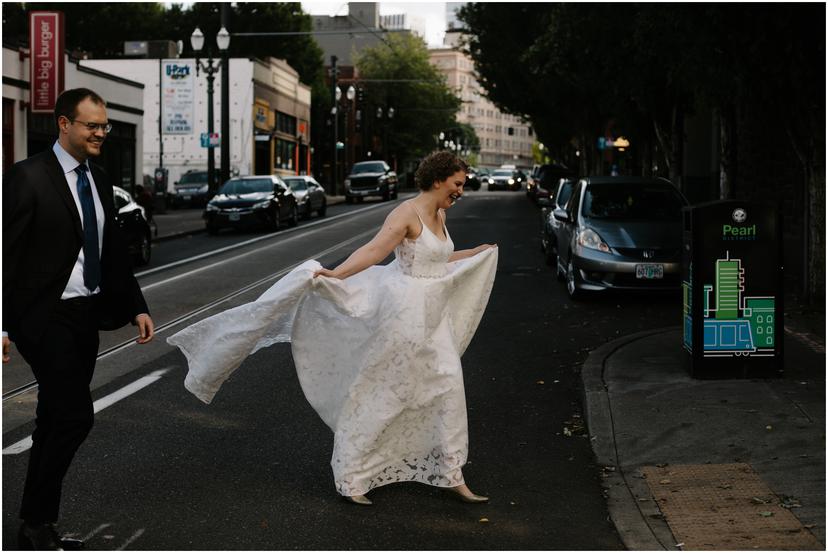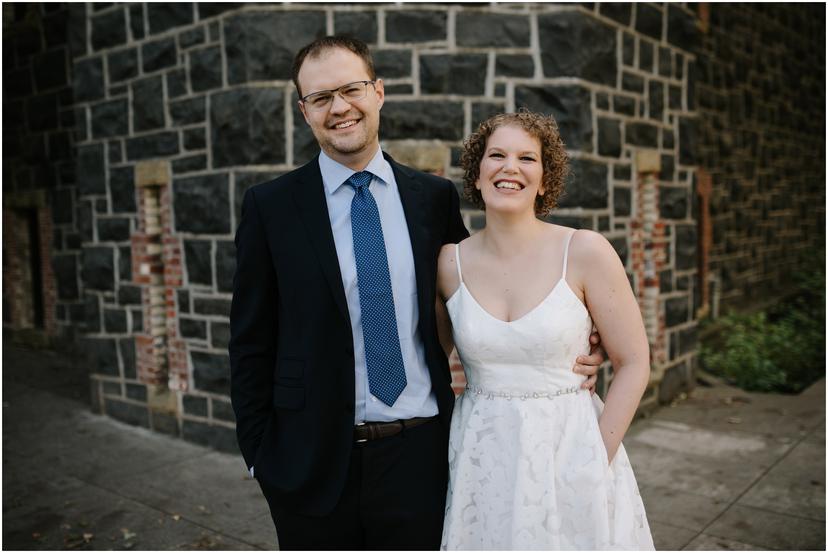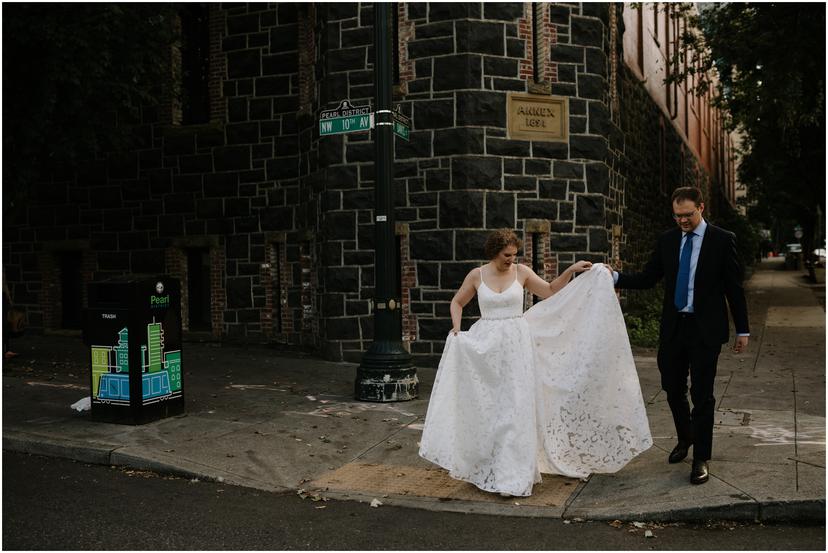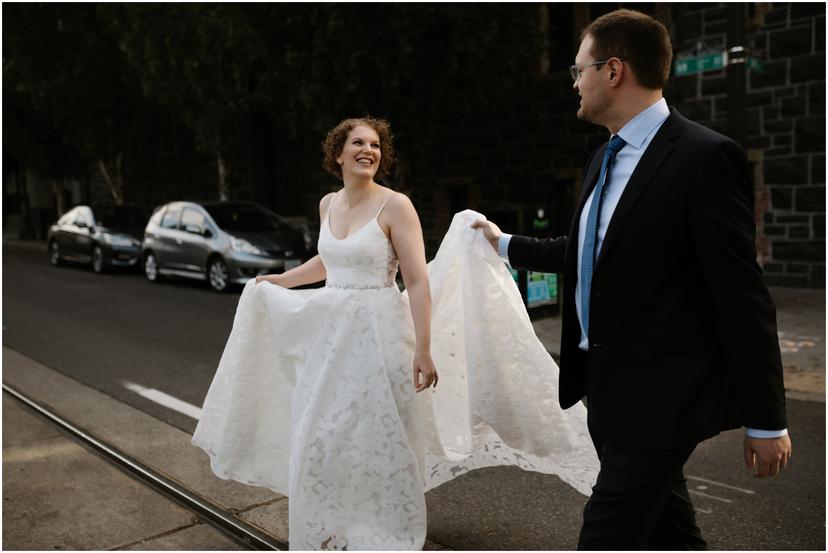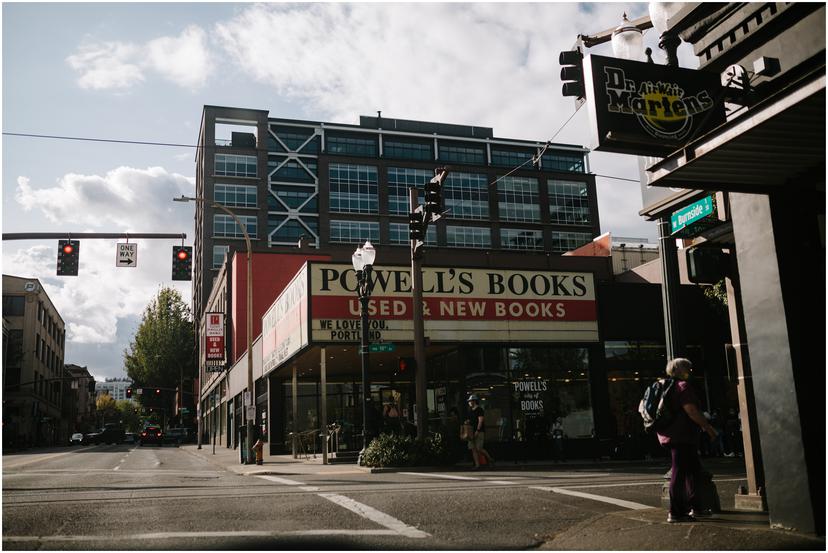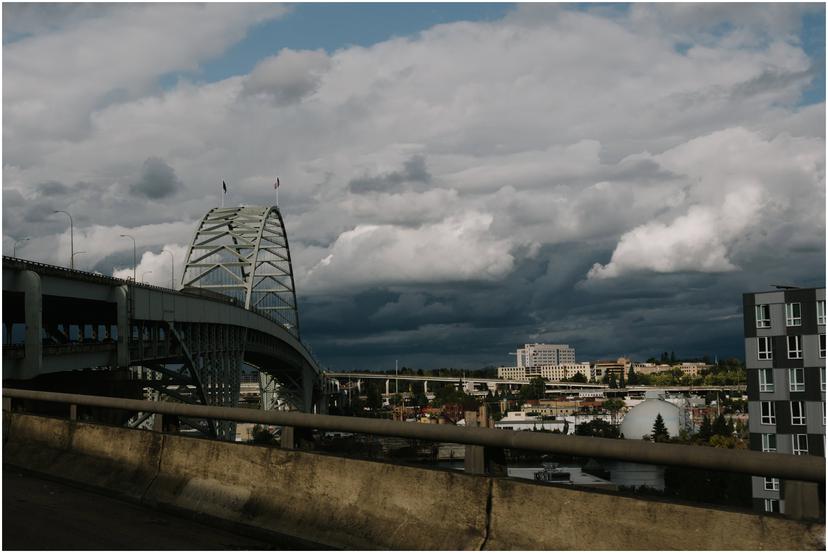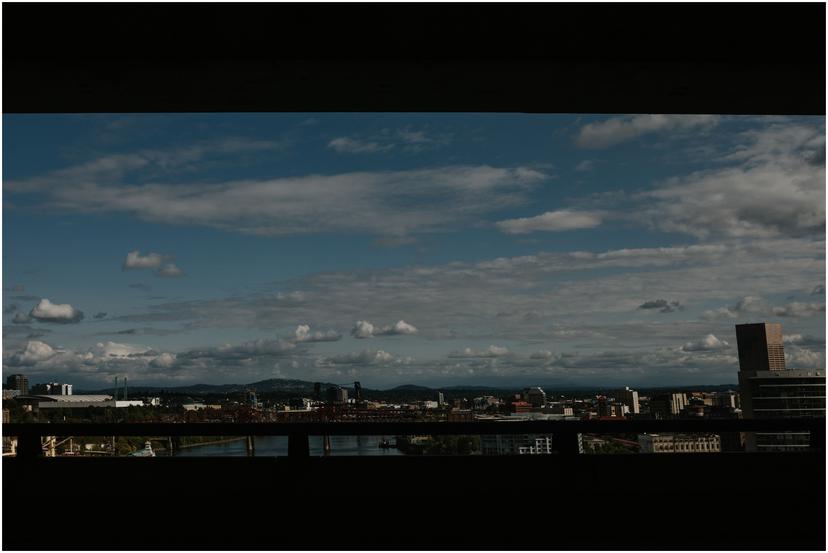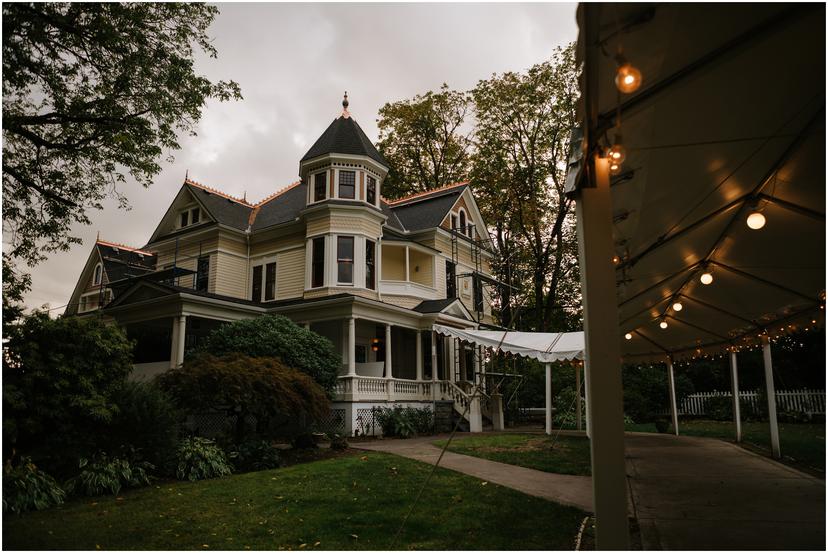 Why elope at the Victorian Belle?
"We chose it because it was one of the few places with a covered area outdoors what was available on our wedding date and was reasonably priced," said Erica. "Planning a wedding, then canceling it, then replanning a micro wedding/elopement/whatever you want to call it was super complicated."
About the Victorian Belle
The Victorian Belle Mansion is a historic wedding venue located in North Portland. It's only a 10-minute drive from downtown, easily accessible off I-5.
"The historic Victorian Belle Mansion was built in 1885 as a wedding present from David Cole to his new bride, Amanda Laura Boone, great-granddaughter of frontiersman Daniel Boone," according to the venue's website.
The Victorian Belle is said to be "the first Portland-area residence to have indoor electricity and hot-and-cold running water supplied by a windmill-powered water pump. Rooms were vented to a wood-burning stove to provide central heating. A voice-powered intercom, similar to tube systems found on ships, summoned servants," according to an article in The Oregonian.
As a wedding and elopement venue, the Victorian Belle hosts events with full-service and inclusive offerings, including catering, alcohol, coordination, rentals, decor, and event staff.
"The Victorian Belle was excellent and worked with us to pioneer this micro wedding/elopement experience," Erica said. "I really hope that their micro weddings take off this fall/winter."
The Victorian Belle is currently offering multiple micro-wedding packages to serve couples during COVID-19. The venue's outdoor gazebo area protects guests from the rain while still being a safe outdoor space to minimize airborne germs. You can head over to their website to learn more about what they offer!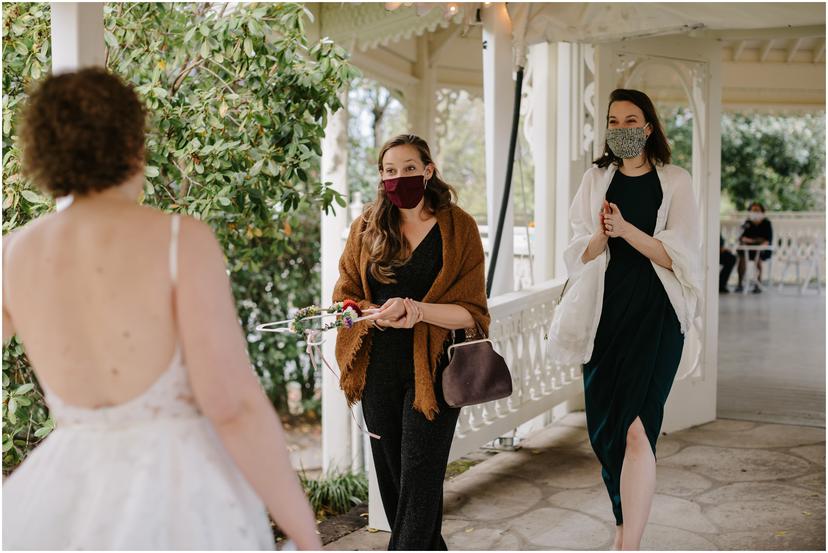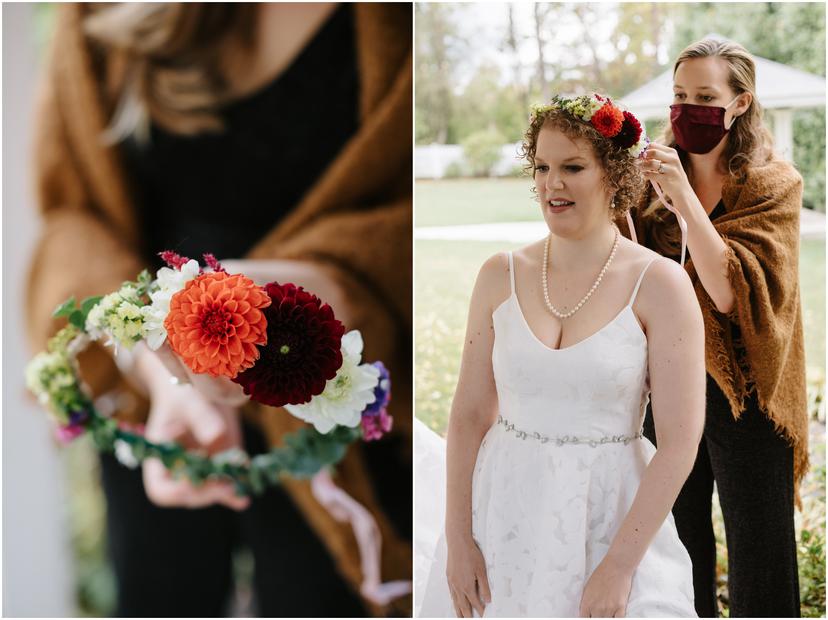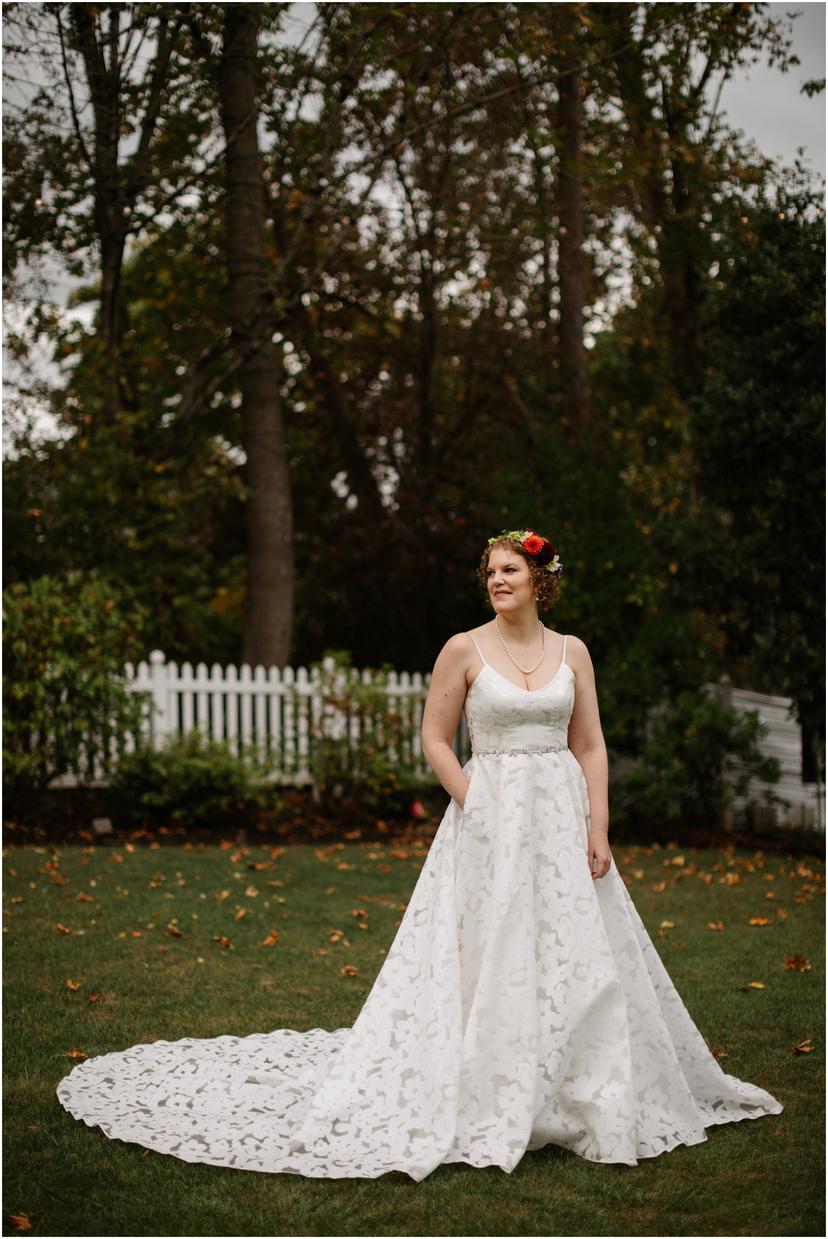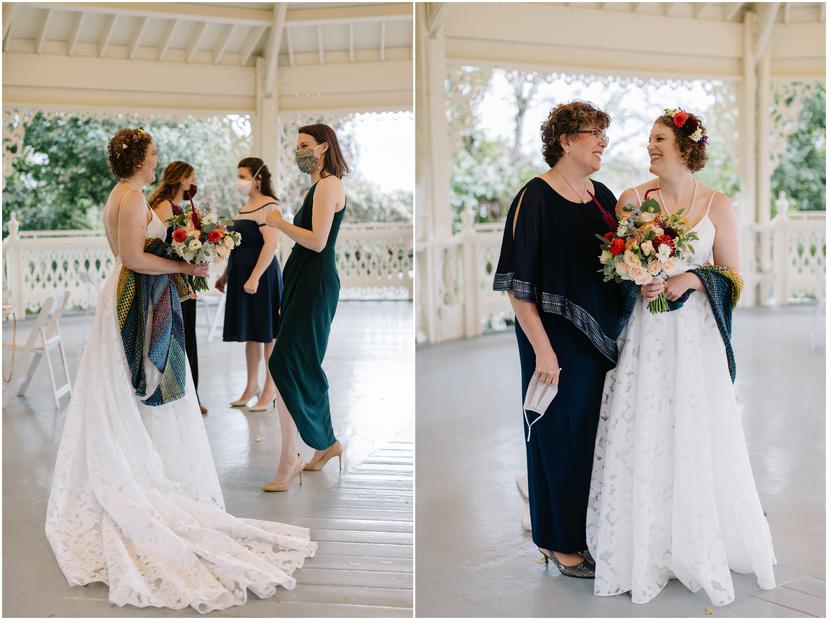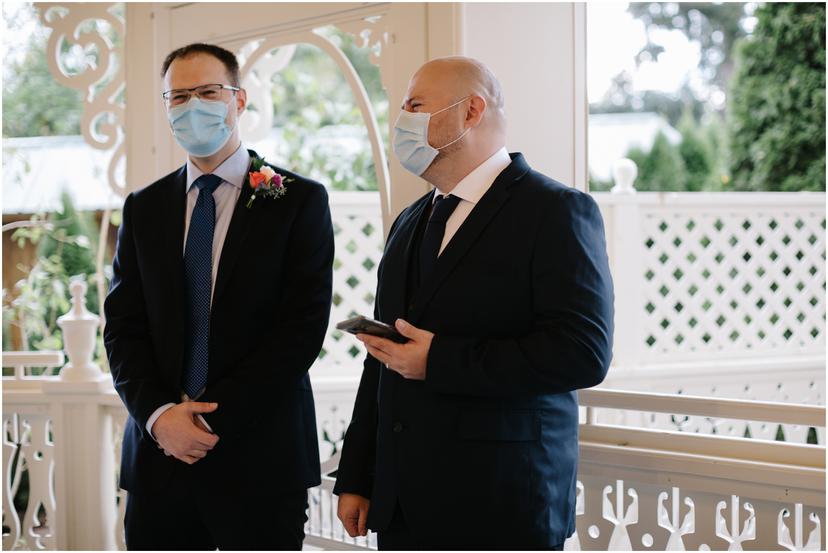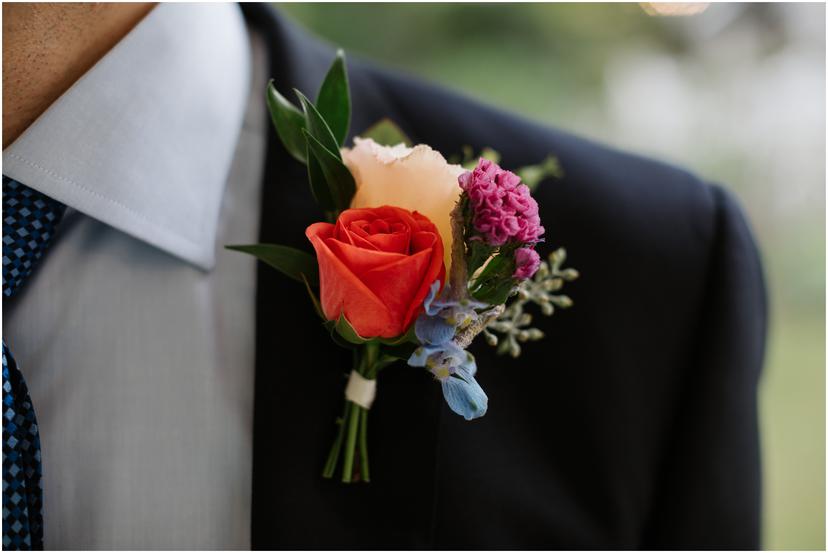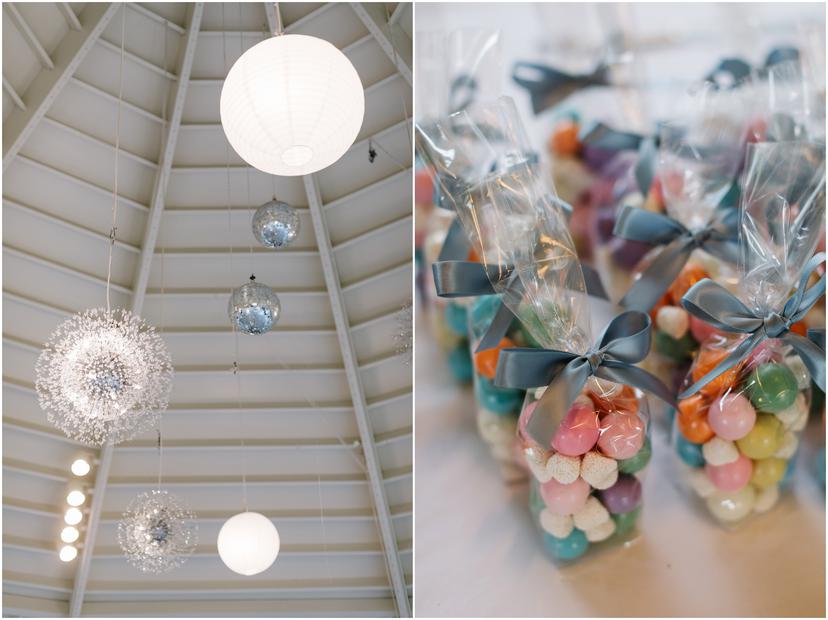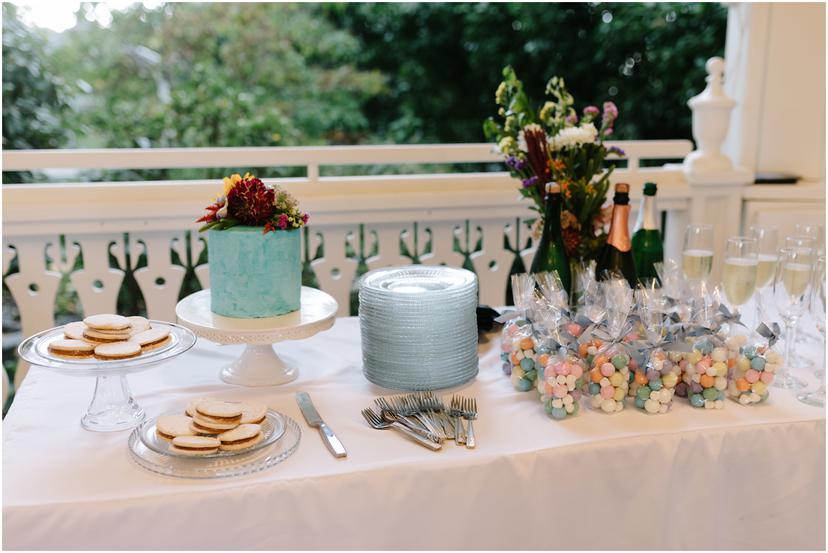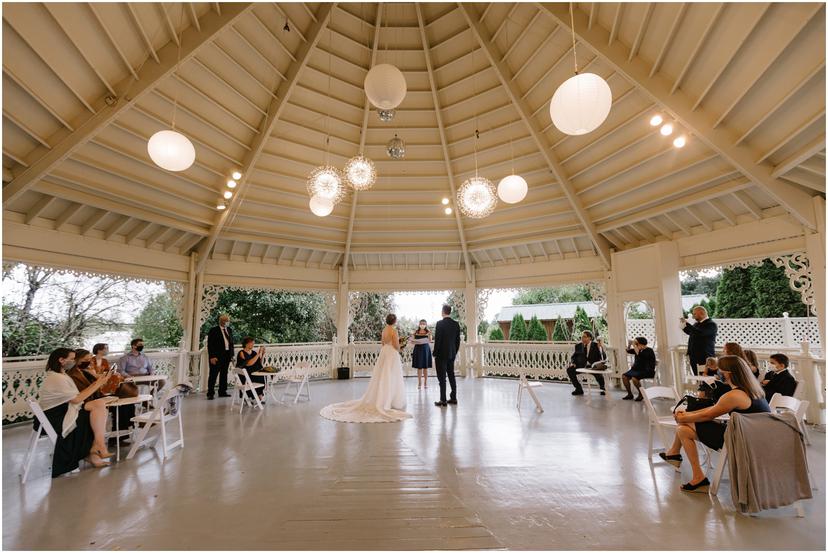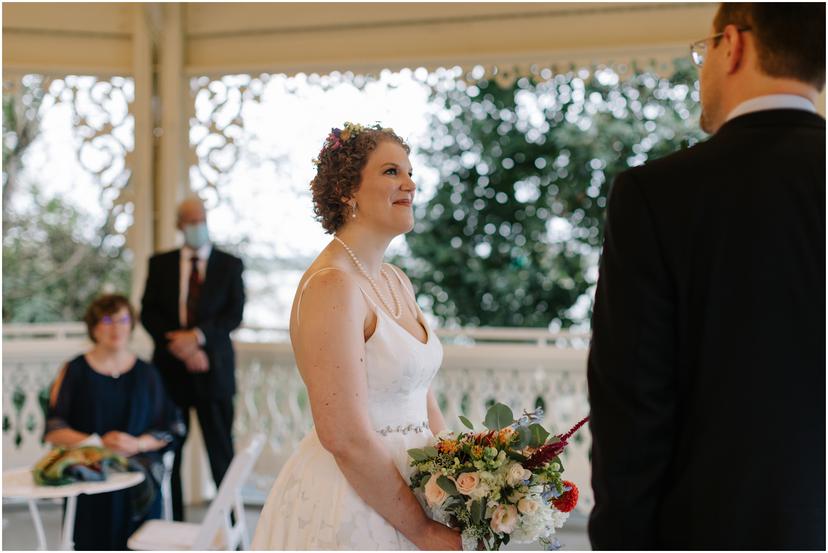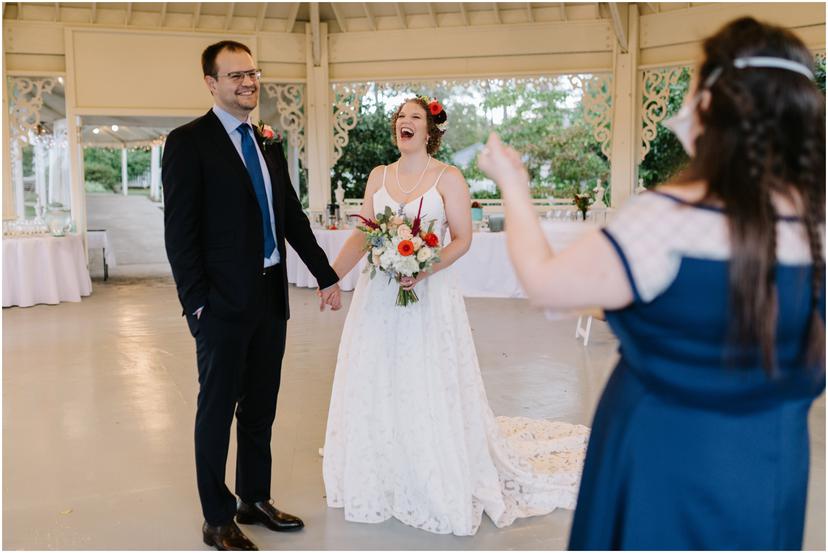 Favorite wedding memory
"One of my closest friends, Dr. Missy DeSouza, officiated our wedding, and she has watched Mark and I progress through our relationship," said Erica. "While we were planning the service, Mark requested that Missy serenade us with a 90's pop song during the ceremony as a joke. Missy actually started off reading the lyrics of Backstreet Boys' "As Long as You Love Me" and then burst into song when she got to the chorus. It made both Mark and I laugh so hard we were crying! Definitely one of my favorite parts of our wedding. Missy added some great stories to our service and made it personal. If you have a friend who is willing to officiate, I totally recommend it."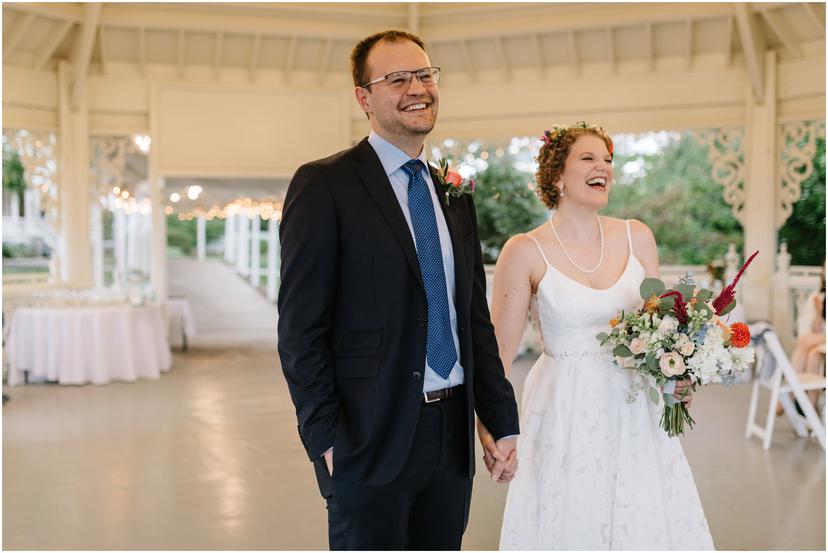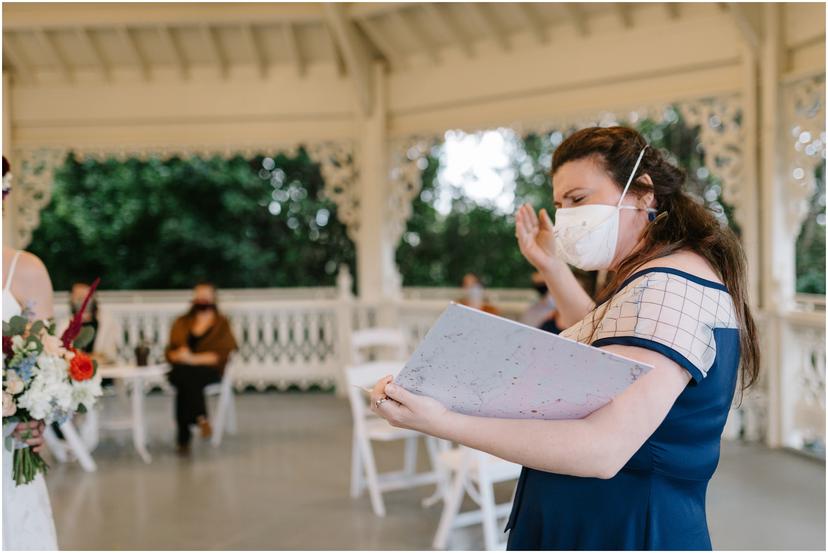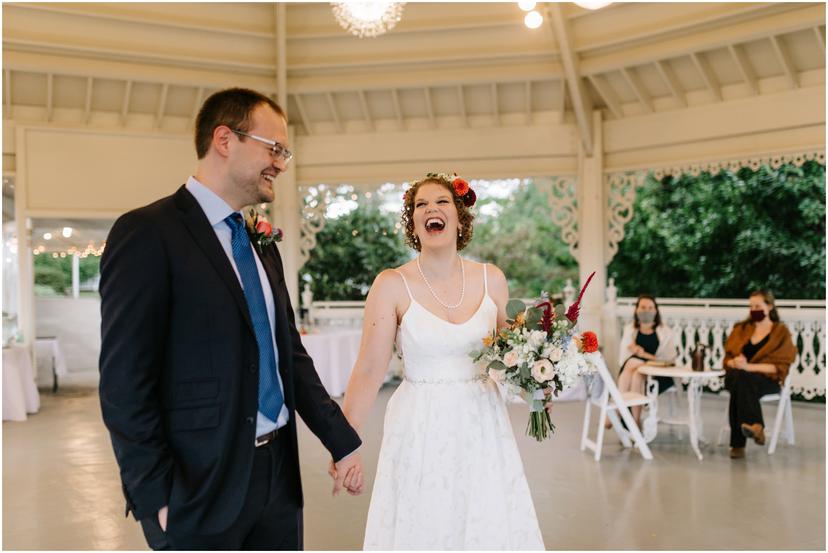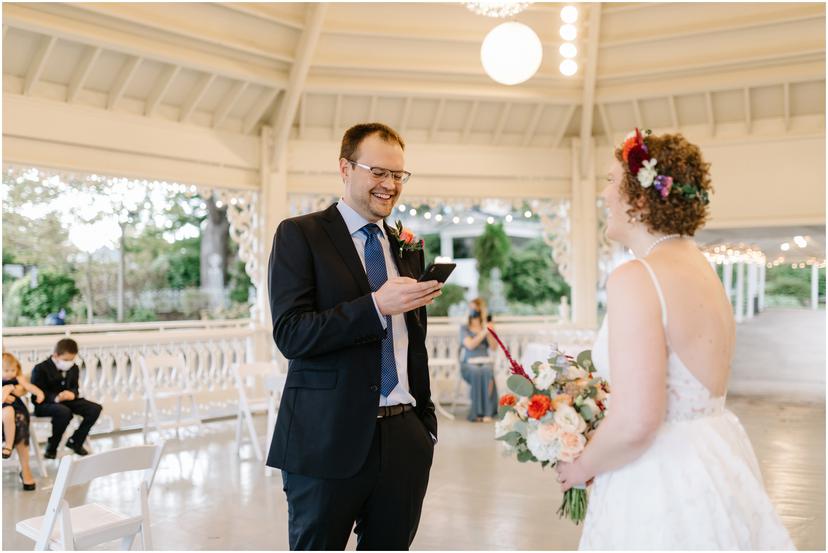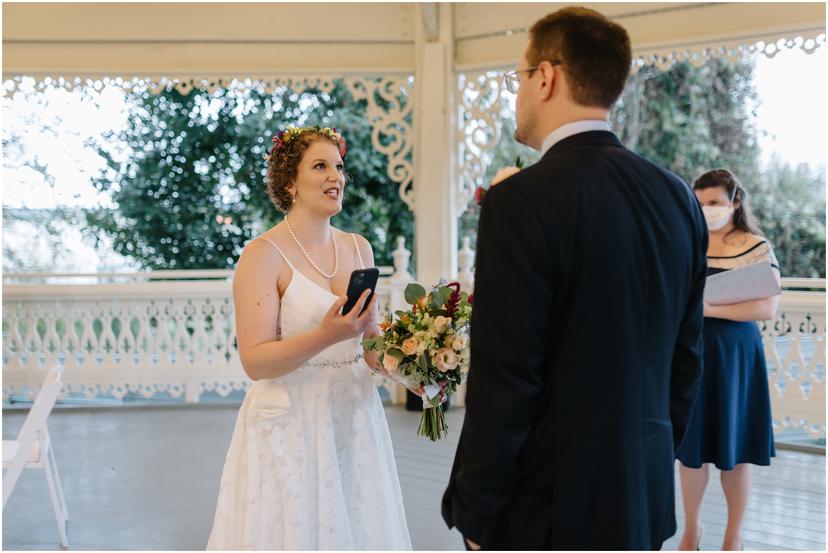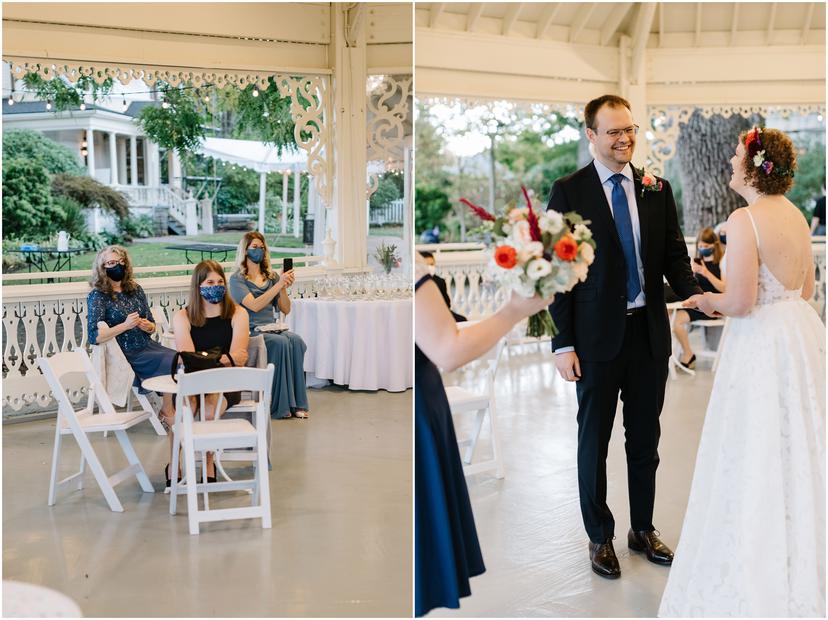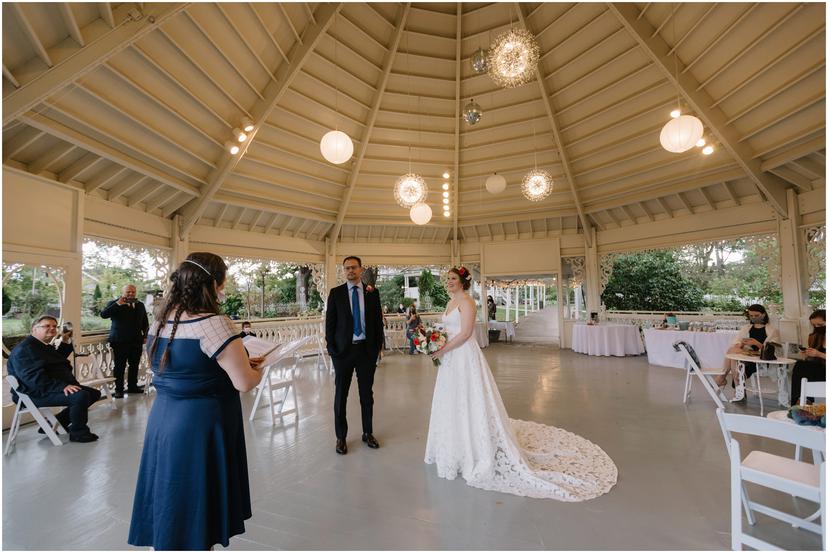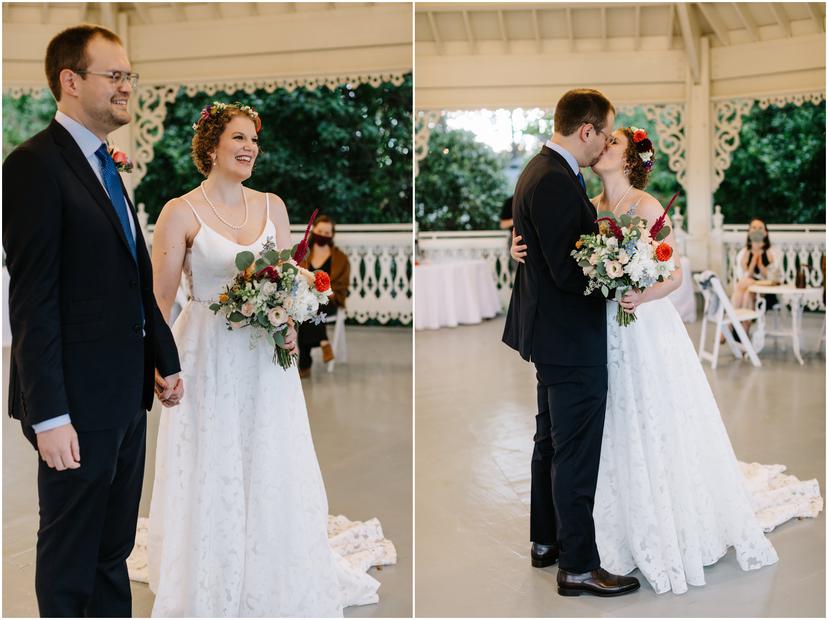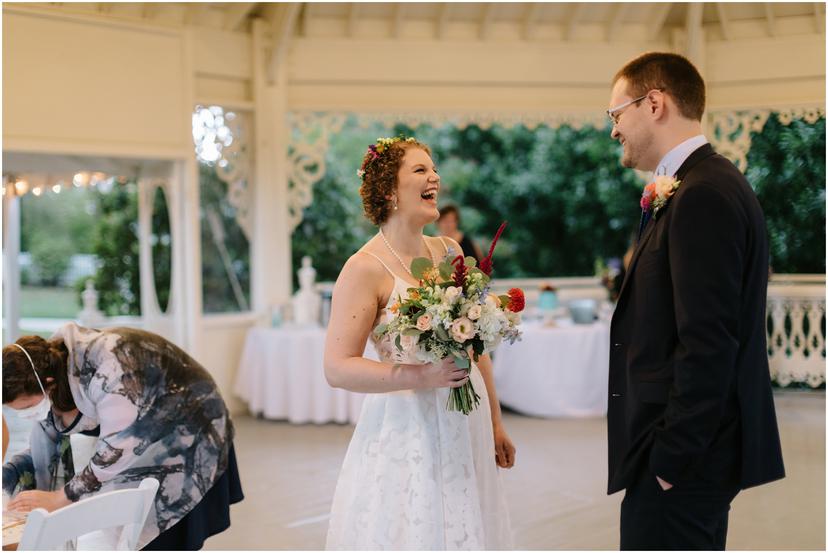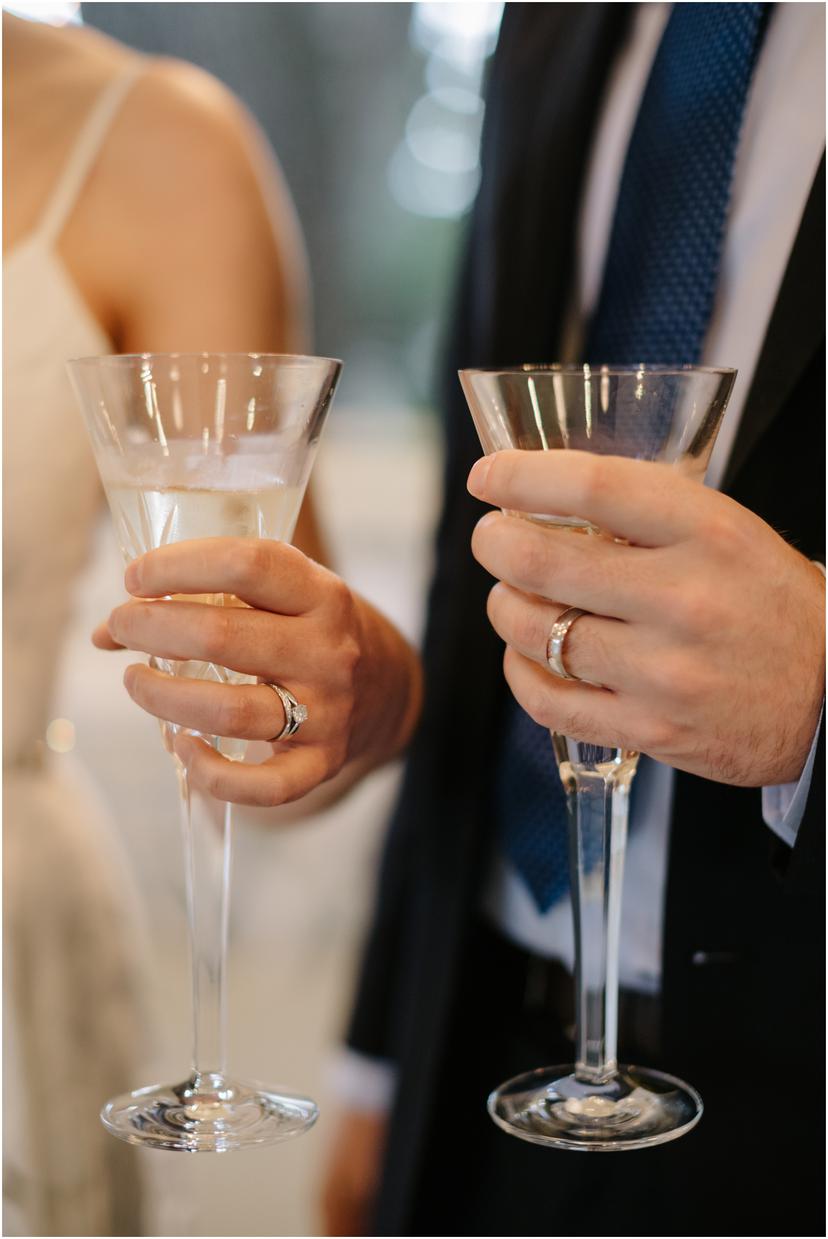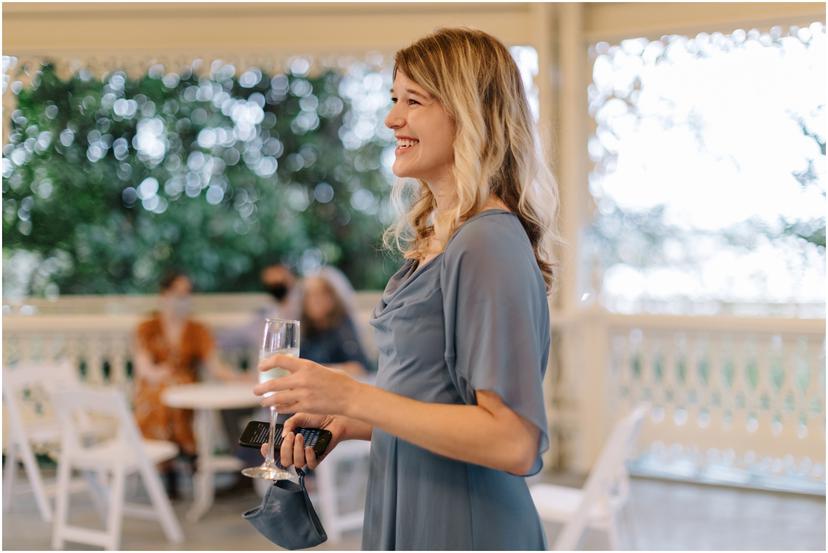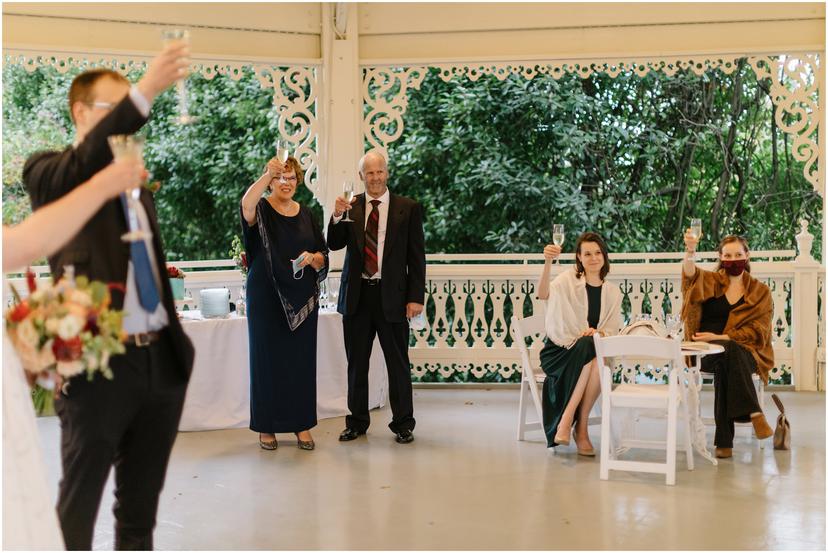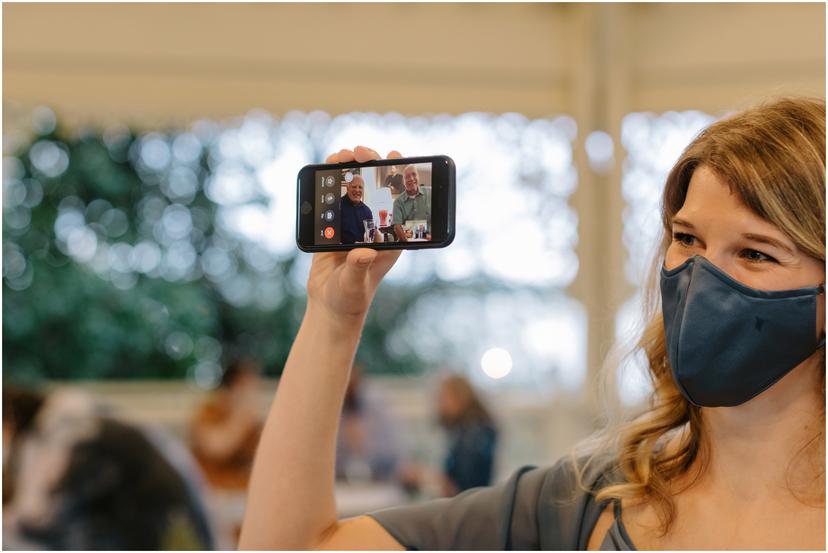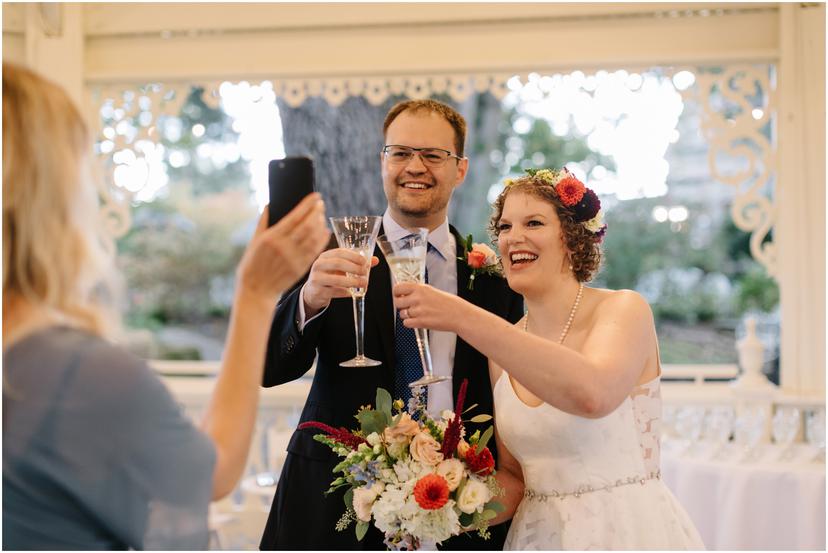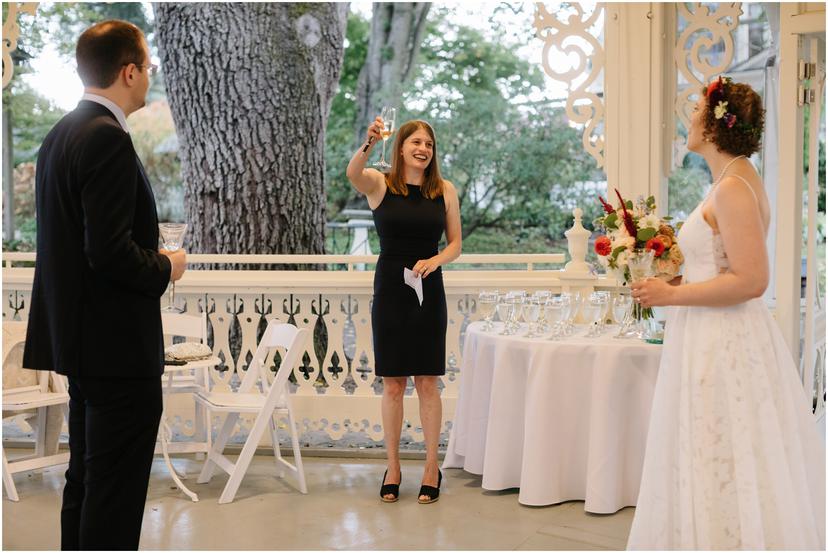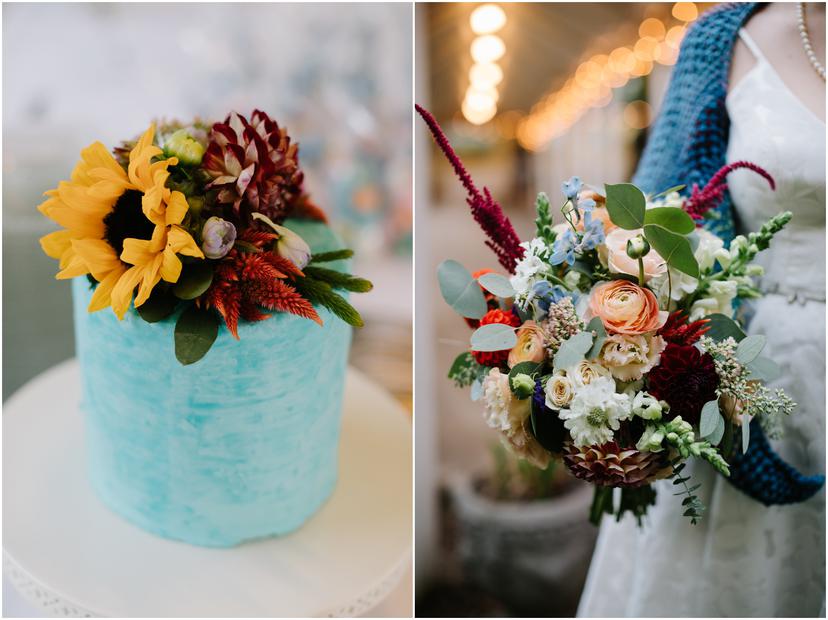 Advice for engaged Portland couples
"Planning a wedding is stressful," said Erica. "I got some great advice from friends to create the wedding that you want. Don't feel constricted by tradition. I thought the bouquet toss, the garter toss, the cake smashed into the face, the giving the bride away by her family, and a lot of other traditions were patriarchal. Mark and I worked to create a wedding that focused on uniting us as partners. I also asked for help from my friends and family. My mom did a lot of the wedding planning; my friends officiated, made the wedding cake, flower crown, and added pops of color to my bouquet. Mark and I also tried to include little things that mattered to us. We went to Sokol Blosser, our favorite winery, the day before and tasted wine. We brought a ton of bottles to the Victorian Belle for a sparkling wine toast after the ceremony."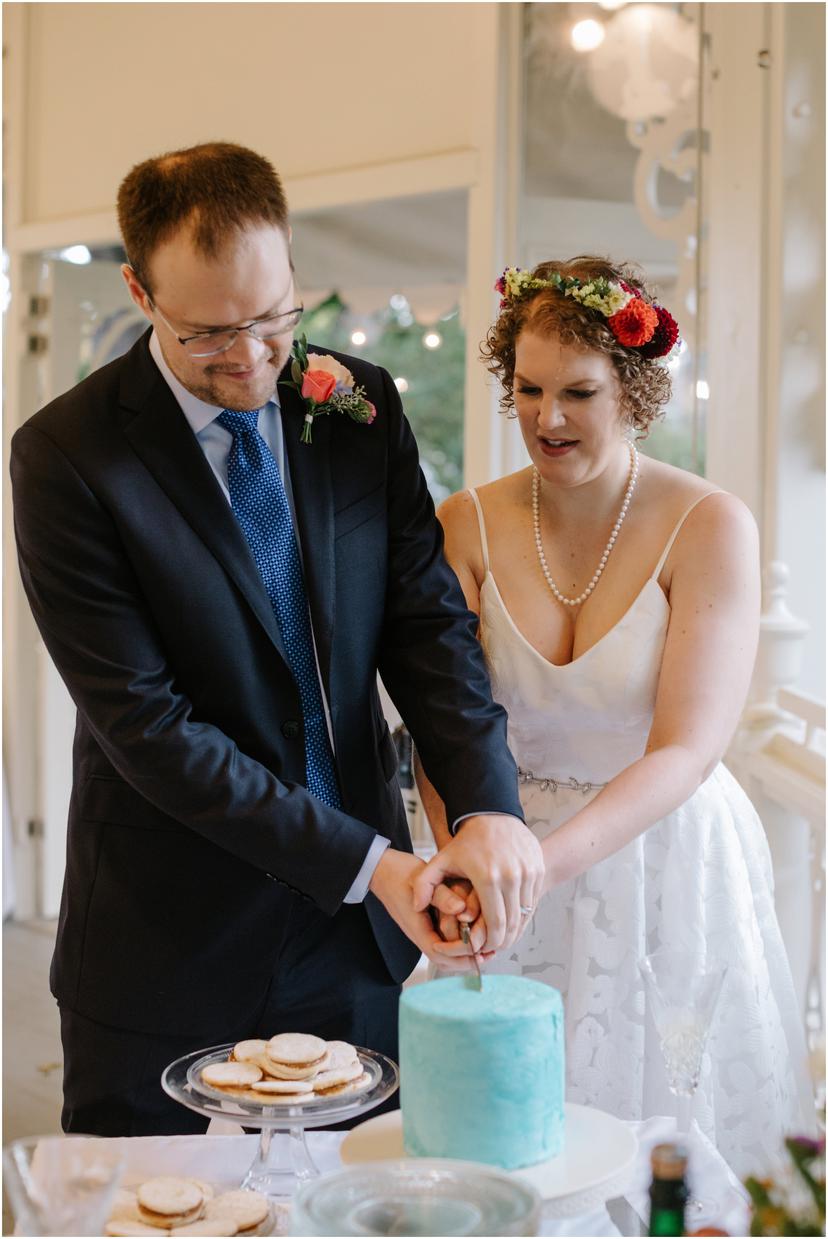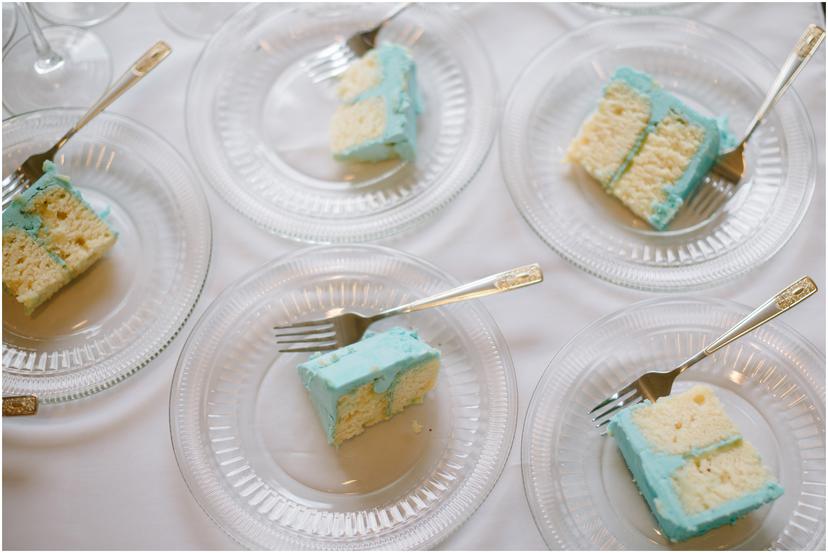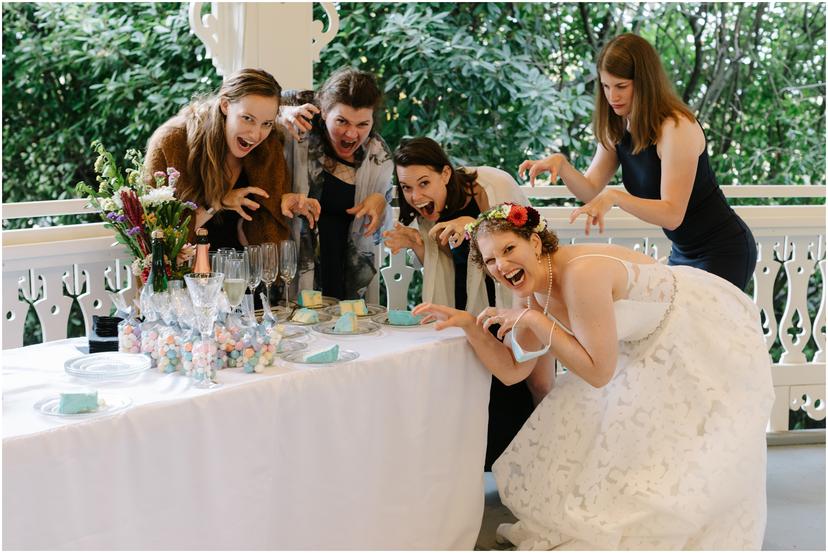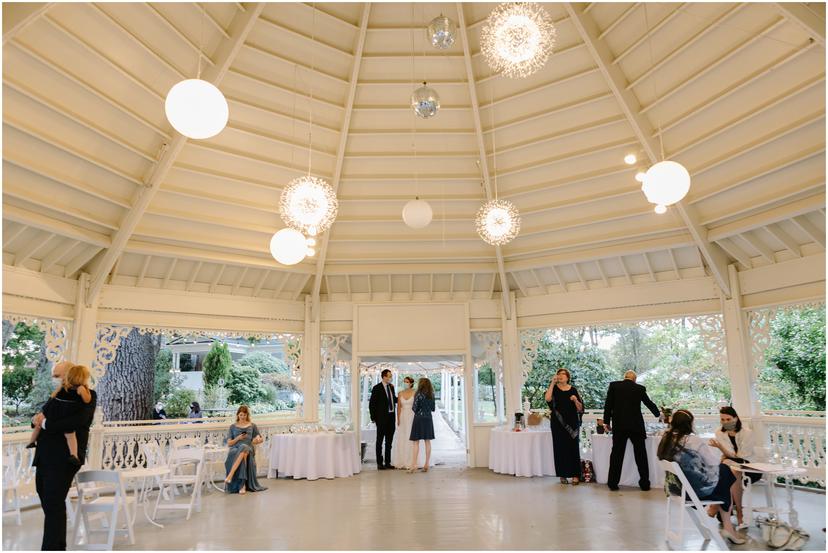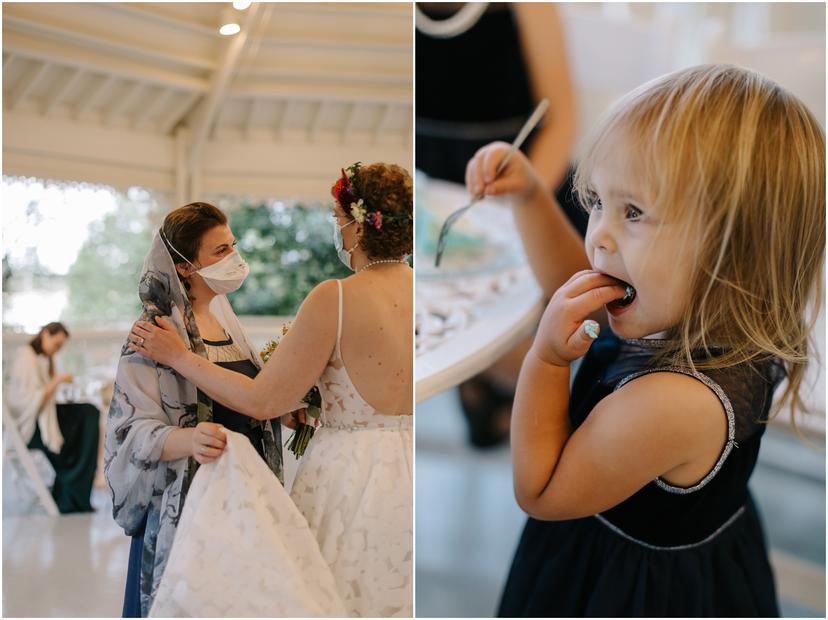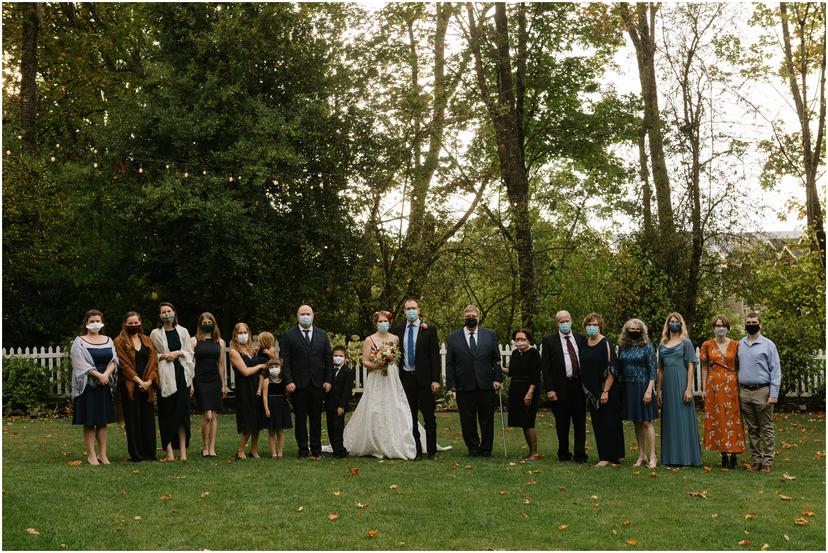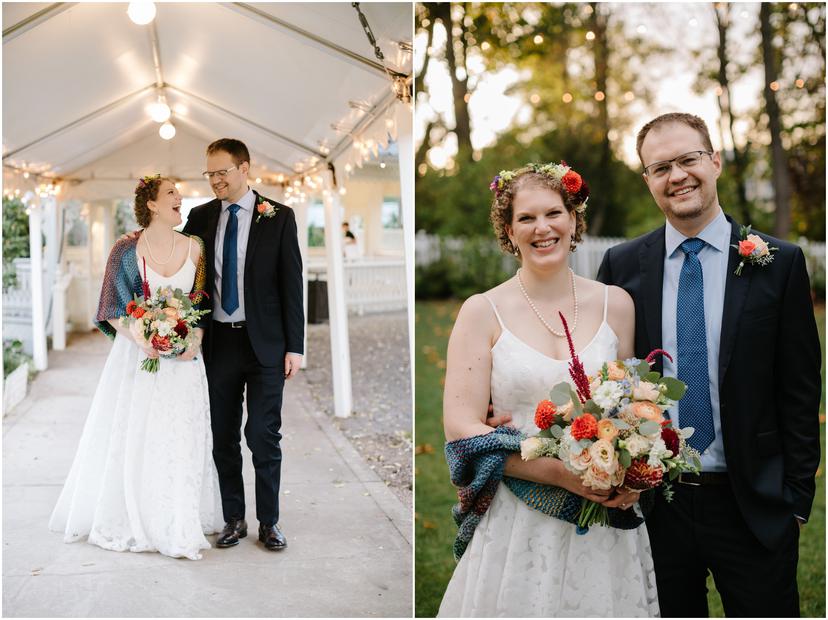 About the rainbow shawl
"I made my shawl with yarn from Spincycle Yarns," said Erica. "Their yarn is produced in the USA from sheep to skein, and they dye their yarn in Bellingham, WA, which is where my adopted grandparents lived. I have so many wonderful memories of spending holidays with Annette and Lynn Palm, and it was really special to wear a shawl that I made with yarn from Bellingham."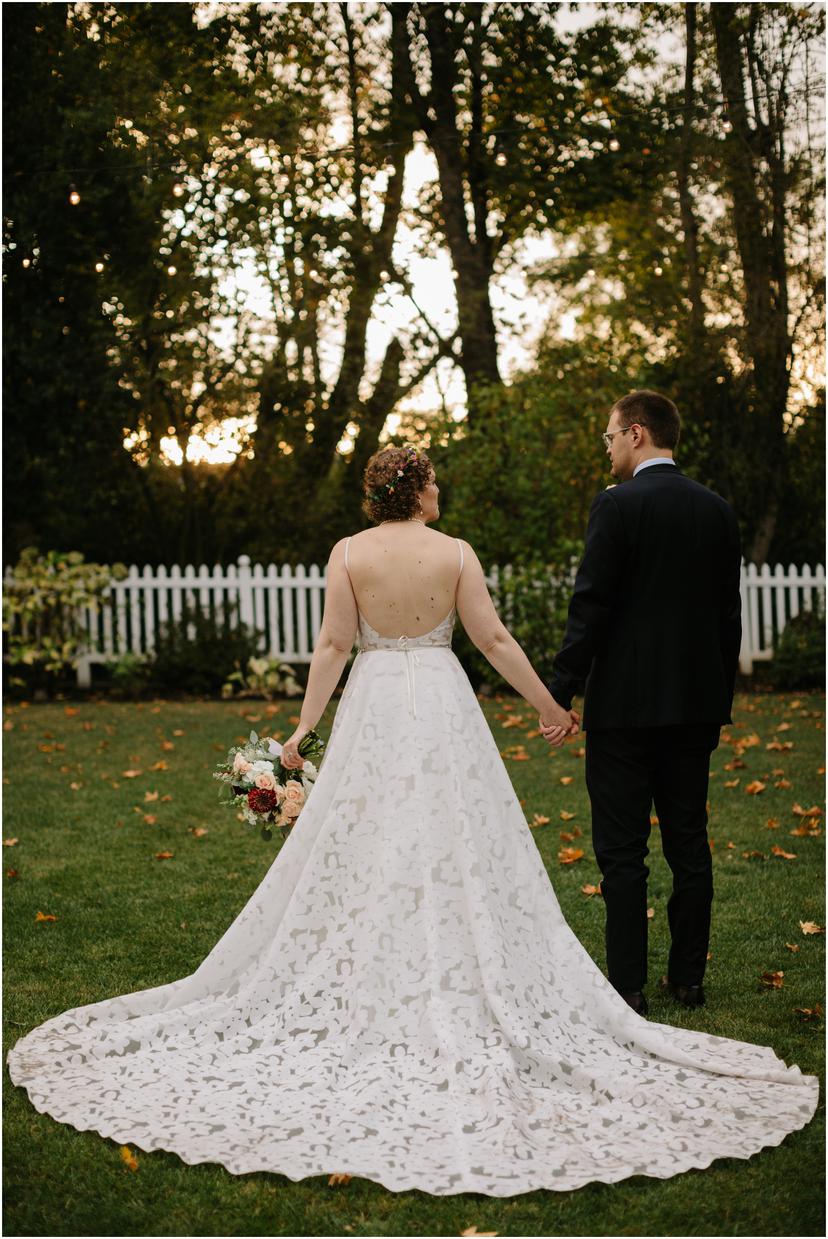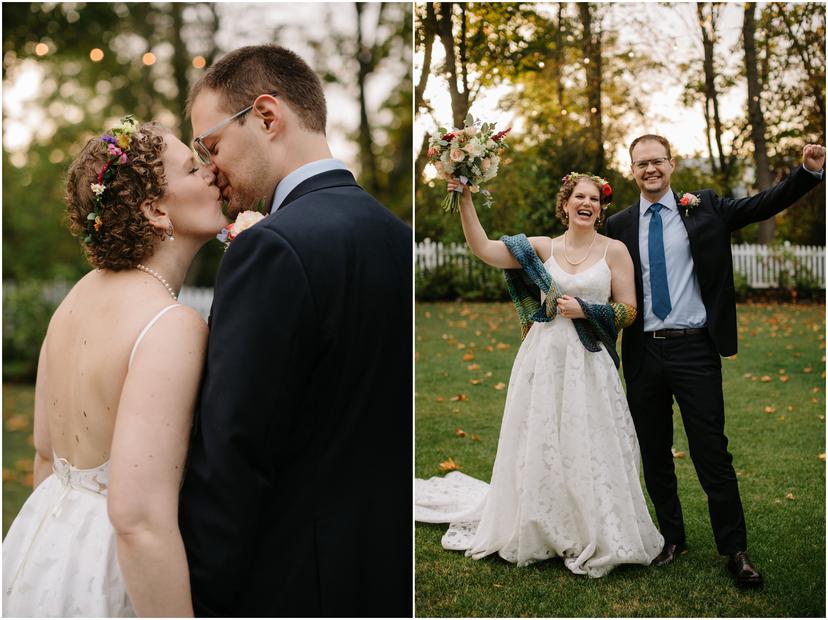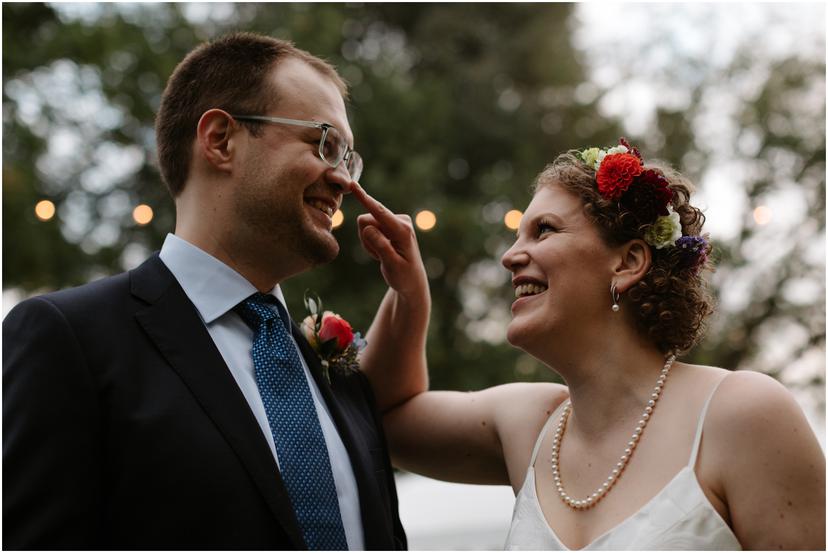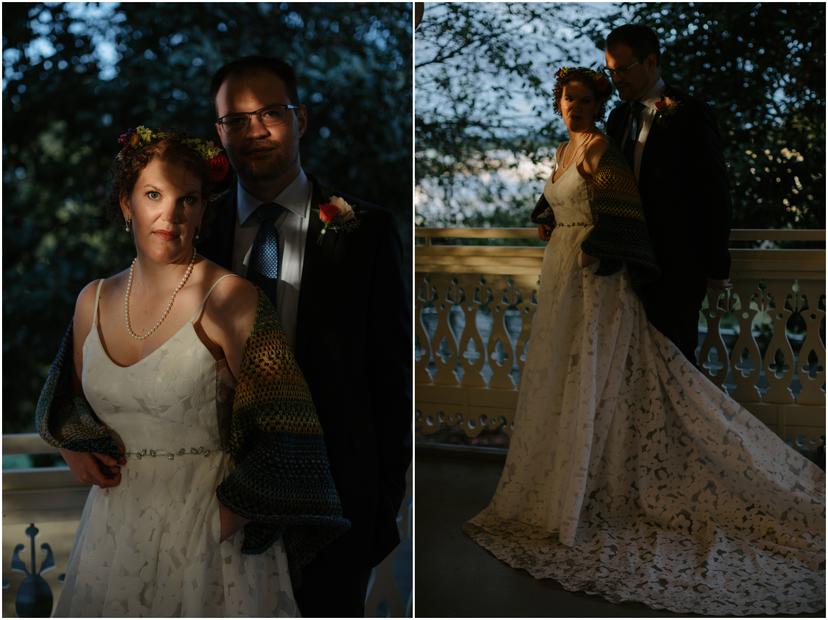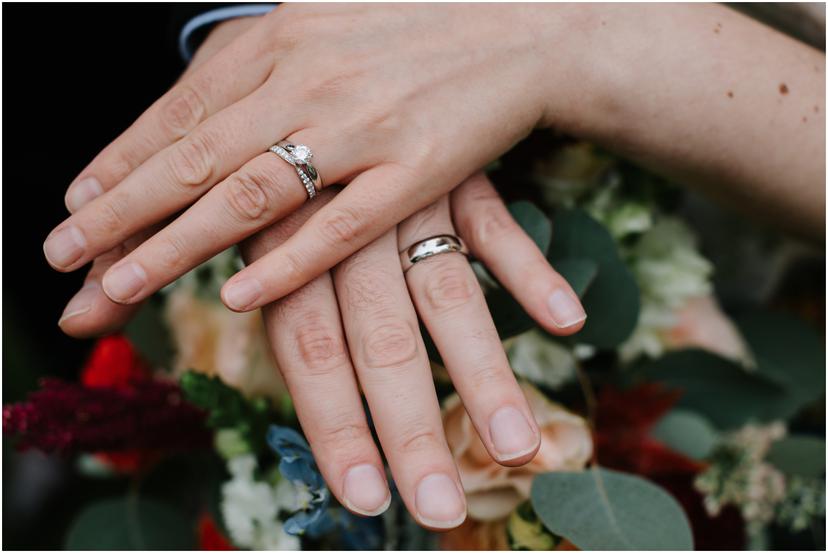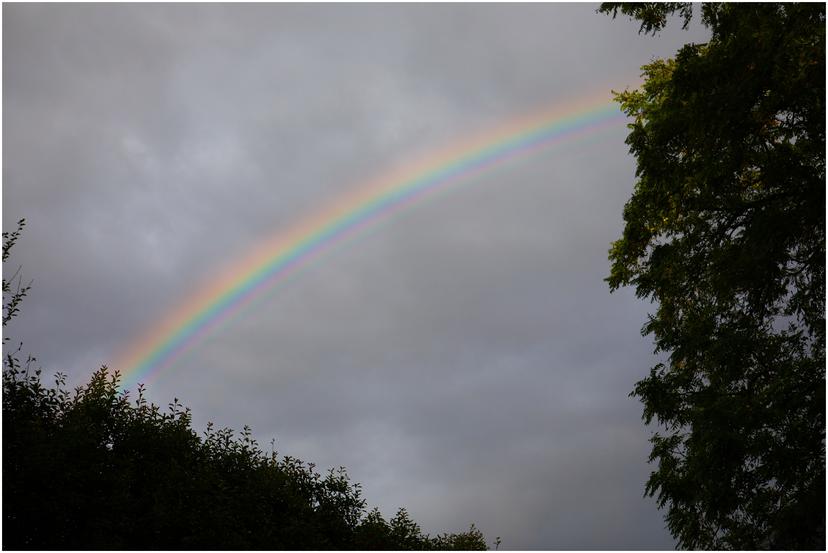 How to plan/replan a wedding during COVID-19
"Be flexible. It is just way too stressful to try to force things to work out the way you want them to right now. So much is up in the air, and the rules are constantly changing. I really tried to remind myself that the most important part of getting married is being surrounded by as many of your special people as possible. Also, listen to yourself. Mark and I experienced a lot of stress in mid-July, 2020, when we were trying to decide to cancel our wedding or go forward with it as planned. By that point, most of our guests had RSVP'd "no" because of the risks of flying. They were concerned about having so many people in one place, even though we had originally planned an outdoor wedding. It felt like such a relief to reschedule for October 2021 and to stop feeling like we were putting people at risk by going ahead with our large wedding. Then the forest fires started in Oregon, and we thought we were going to have to cancel our micro wedding at the Victorian Belle. I was wishing and praying so hard that the smoke would clear up and really didn't want to cancel at the last minute. Mark and I stuck it out, and it rained on 9⁄18, so by 9⁄19, the sky was clear. It even rained a bit during our wedding, and we had a brief rainbow. I'm so glad we listened to ourselves about canceling the big wedding and also about going through with our plans for the elopement."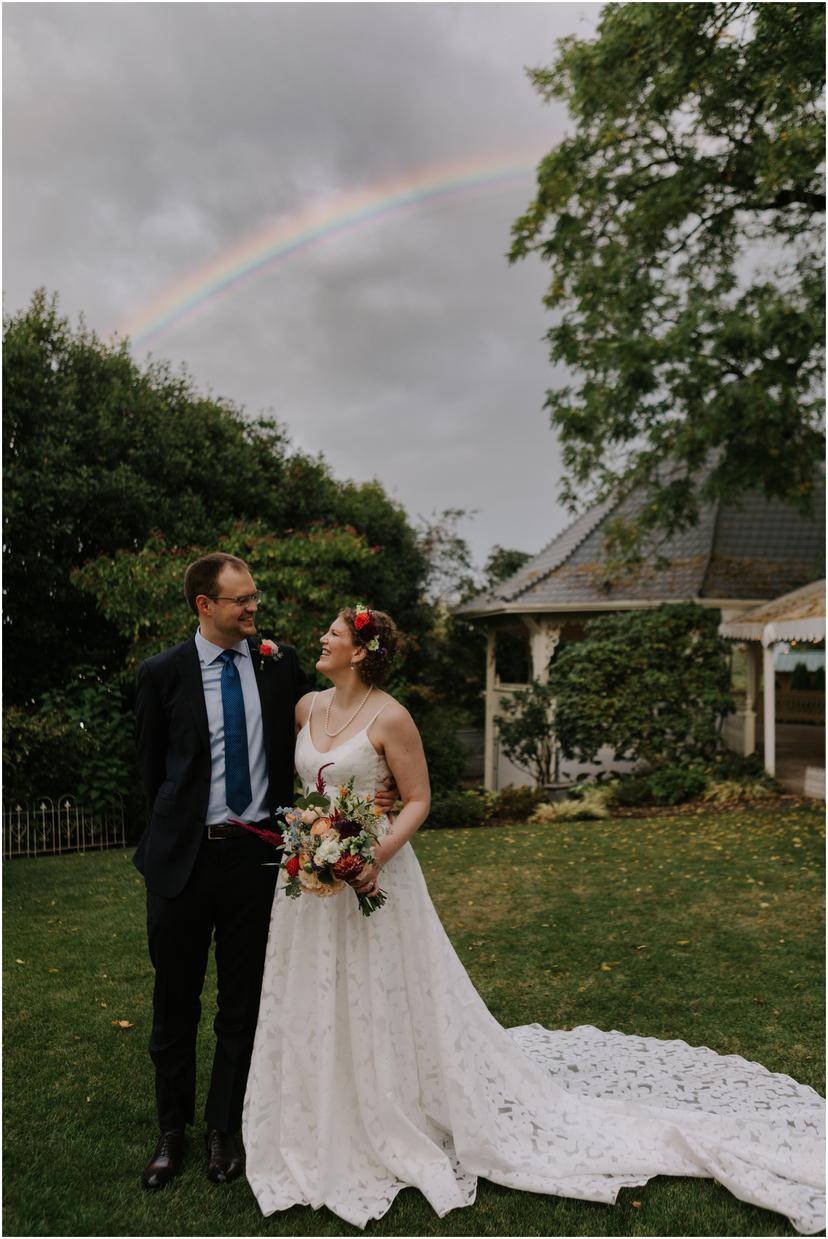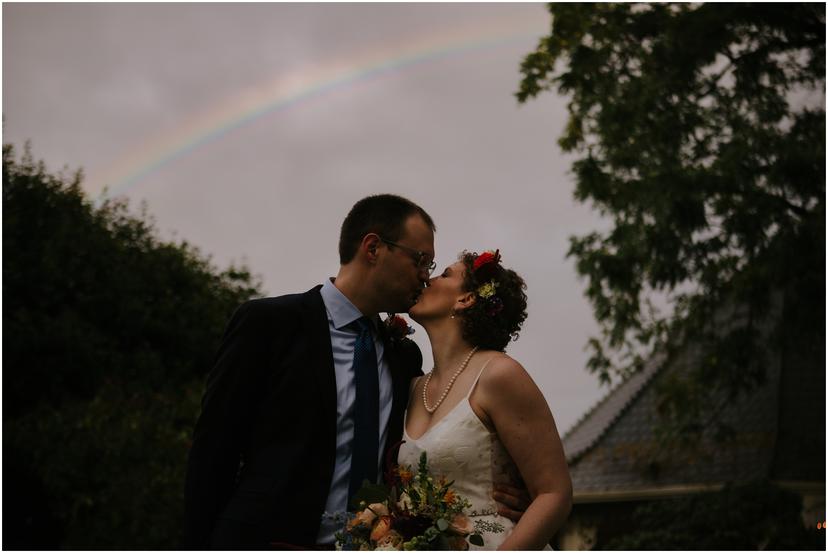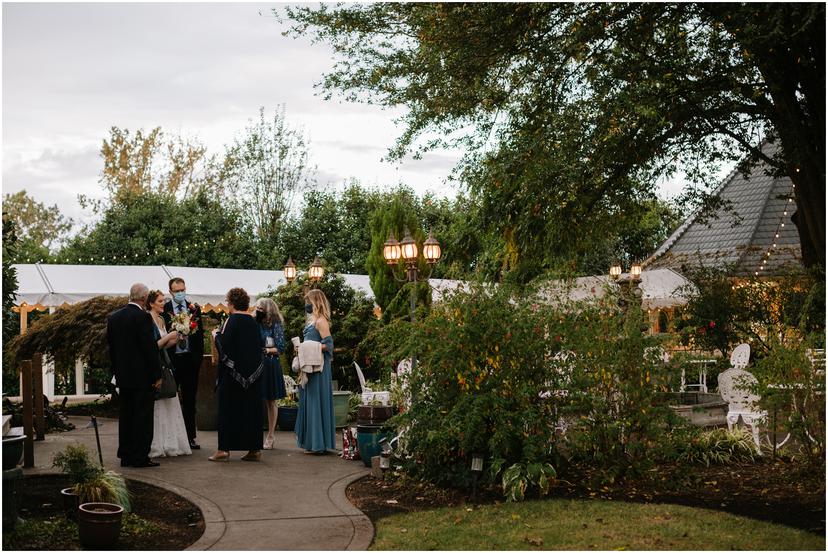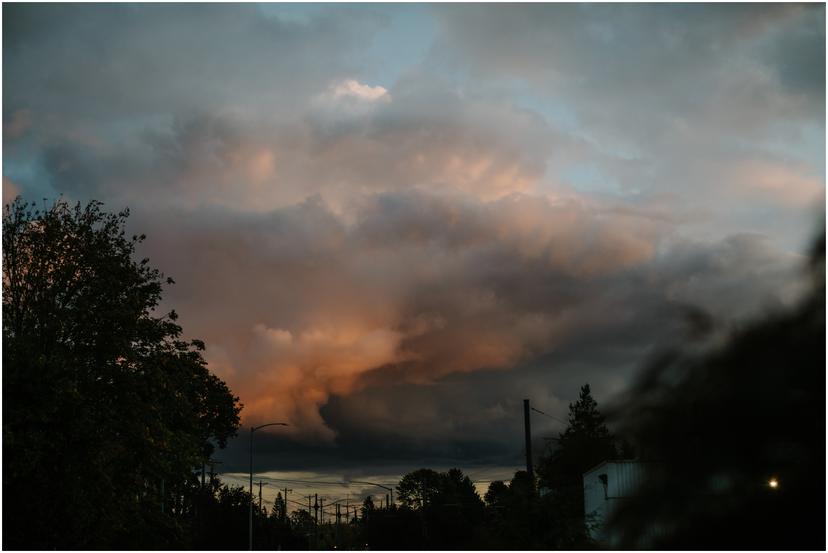 The Vendors
Venue: The Victorian Belle

Dress: Truvelle, purchased at A&Be Bridal

Suit: Collier's in Portland

Flower crown: by Sabrina Drexel

Engagement ring: Tiffany and Co

Shoes: Jimmy Choo

Shawl: knit by the bride, pattern designed by Drea Rene Knits, wool from Spincycle Yarns

Officiant Missy DeSouza

Cake: Kristen Limbach

Alcohol: Sokol Blosser wine served by The Victorian Belle staff
Browse more
Did you love these colorful Victorian Belle elopement photos? If so, you might enjoy these other intimate weddings I've photographed as well! And always feel free to contact me if you have questions, or reach out if you are planning your own backyard wedding!