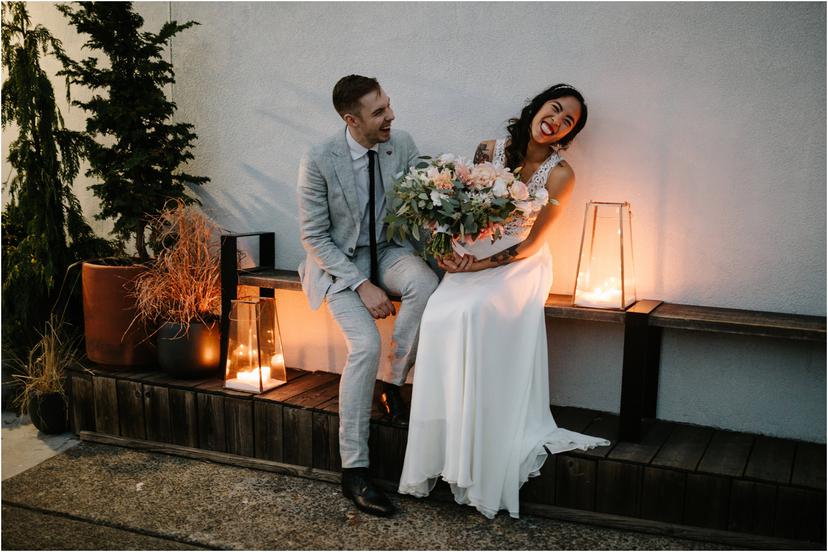 Union Pine Wedding
I always ask couples what three words describe their wedding, and Kyle and Jamie summed it up perfectly with "damn good fun." Their wedding decor was elegant and simple. They had a clean palette of navy, white, green, and blush, with wood accents in Union Pine's urban space. They kept things casual with delicious Sizzle Pie pizza for dinner, then classed it up with an excellent wine and beer selection. All their favorite people came, and the dance party was legendary!
I've actually known Jamie and Kyle for YEARS. You might remember their engagement pics, as well as some couples photos I did a long time ago. When they asked me to photograph their Union Pine wedding in Portland, I almost cried. Then, I actually cried because their wedding was everything I could have hoped for and more. I wept tears of joy when I hugged them after their ceremony. Then when I got home and went through all the photos, I was ever happier. This was one of the most creatively fulfilling and fun days I've ever had, and I am honestly SO proud of the photos I took. I had so much time, badass lighting, and trust from Jamie and Kyle to create the most amazing imagery. It was refreshing, and I am stoked to share them with you!
Where is Union Pine Located?
Union/Pine is located in Portland's Central Eastside, close to literally everything. It's only a few minutes to downtown, I-5, and I-84. It's an awesome area with lots of bars, restaurants, clubs, and hotels. The Central Eastside neighborhood used to be more industrial, but in the last few years, it's exploded with new businesses. The area still retains a lot of its original industrial charm, though, making it the perfect place for an urban Portland wedding!
About Union Pine Weddings
Union Pine has two venue spaces available. The main venue space downstairs has a seated capacity of 130 guests, with a standing capacity of 300. Union Pine's upstairs venue, The Loft, is smaller and perfect for intimate weddings, elopements, or events. It can hold 30 seated or 40 standing.
Something I love about Union Pine is that they offer an open catering policy, which is hard to find at a lot of urban Portland venues. Couples can bring in any catering company that is licensed in the City of Portland and State of Oregon. In this case, Kyle and Jamie were able to bring in Sizzle Pie Pizza for their wedding and keep catering costs WAY lower! So fun.
Both venues have beautiful natural light, simple white walls, and flexible layout options. As a photographer, the space is a dream because it's a perfect blank canvas to work with for photos.
Where to take photos at Union Pine
There are abundant photo locations near Union Pine. First, the actual venue itself is stunning, and the natural light coming in through the window looks beautiful in photos. So you can get great images without even going outside. The white walls make it really easy to bounce a flash too.
Just outside, the front facade of Union Pine is a great spot for group pictures. We took all the family pictures in the front, and they turned out perfectly. We also went out there at dusk for a few couples portraits, and those ended up being some of my favorite pictures of the day.
A few blocks away, there are several beautiful walls to use for portraits. I found a blue-gray wall that suited Jamie and Kyle's palette perfectly for wedding party pictures. We also got beautiful images just walking through the streets.
If you are looking for a place to relax before your Union Pine wedding, Loyal Legion is also nearby and it's a great place to hang out, drink a few beers, and take photos! We took portraits of the groomsmen there and it was really fun.
If you want, it's only like a 5-minute drive to the Eastbank Esplanade, where you can get portraits in front of the city skyline along the Willamette River. It would be easy to budget in a little extra time and do this at sunset if you wanted!
Where to stay near Union Pine
Jamie and Kyle rented rooms at the Jupiter Hotel, just a few blocks away from Union Pine. I highly recommend staying at the Jupiter if you are looking for accommodation nearby! The rooms are beautiful, elegant, and the hotel itself offers a TON of great photo opportunities, especially if it happens to be rainy. It's on Burnside with lots of fun bars (including their own Hey Love bar, which is a blast), perfect for a late-night after-party.
About Jamie and Kyle
I met Kyle and Jamie in college at Oregon State, which is also where they met each other! Kyle loves to cook and would always host the best dinner parties. On one such night, Jamie was there. "We joke that his potatoes were what did it for me," Jamie said. "He flirted with me that night, but I was completely oblivious. Then, a few weeks later, he personally invited me to another dinner party, sat veryyyy close to me on the couch at one point, and I finally caught on!"
They've been together for years now, and both have fantastic careers in design (him with interiors and her with clothing). They both love cooking and eating, exploring, and seeing shows. Their favorite days are spent just wandering around a city together, eating at various places along the way. When I asked them what they love most about each other, Jamie said that she loves how Kyle is both supportive and honest. Kyle loves Jamie's smile and the way her nose wrinkles, as well as her positive influence and guidance, which keeps him pointed in the right direction.
The Vendors
Girls getting ready location: Jupiter Hotel

Guys getting ready location: Loyal Legion

Wedding Venue: Union/Pine

Dress: Tara Keely – bought at Ania Bridal

Makeup artist: Shawna Kim

Hair stylist: Cheyanne Grayson

Florist + website: Fieldwork

Caterer: Sizzle Pie

Shoes: Nine West from Nordstrom Rack

Cake: JaCiva's Bakery

Cookies: Bluebird Bakers

Invitations: digital through Paperless Post

Menswear: Suits bought from Suit Supply

Rings: designed by the bride and groom in collaboration with Holly McHone in Astoria

Rentals: Tables and seating from Classic Vintage Rentals
The Photos