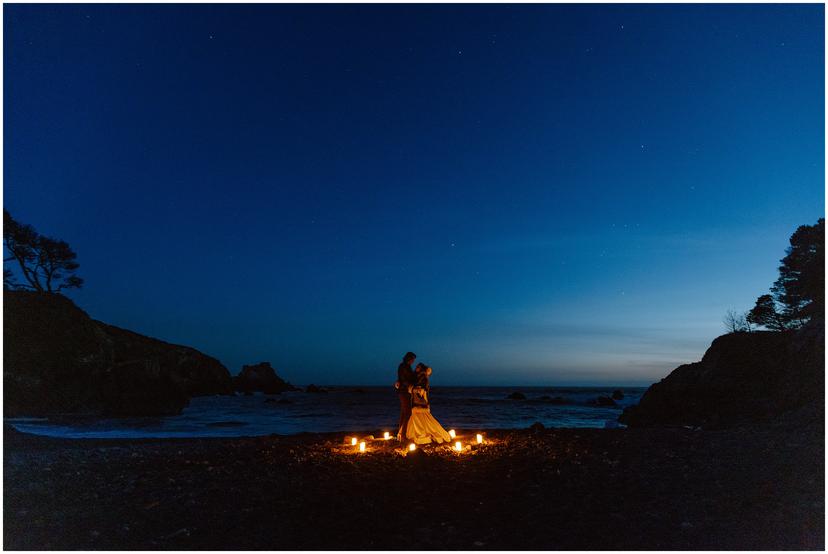 Unconventional Sonoma Coast Elopement
Weddings come in all shapes and sizes, and I am here for it.
Anyone who reads my blog or follows my work knows that I love a non-traditional timeline and unconventional day. This one was both.
Hannah and Charles planned a wedding that was unapologetically themselves. The day spanned a huge swath of Sonoma Coastline, from Portuguese Beach to Stewart's Point. They rode their motorcycles. They got naked. They laughed, cried, danced, and even got into the freezing ocean under the stars. He's an Inuit Native from Alaska, and she's an Ashkenazi Jew. They interwove both cultures into the day - from ceremonial furs to smashing a glass. Ultimately, they told me they wanted their day to be "intimate, moto-centric, and selfish."
"This is for us," said Charles. "The energy is that we feel important, and spoiled. The day is organized and there is a focus on photography. Our wedding aesthetic is gypsy swagger, sunset cliffs, moody spring coastal fog, and wind. To quote, "behold these truths: romantic moments, the pursuit of happiness, sexy, sultry and luxurious."
That said, Hannah and Charles met many challenges along the way. After booking with me a year ago, they lost two of their closest friends and family members. These two people were deeply involved with the wedding - as their wedding planner and officiant. Hannah told me that she was at one of her lowest points going into this wedding weekend. "I want to be myself, even if right now that's not the most polished look," she said. While I could never relate entirely to her situation; I did understand. I also lost one of my closest friends a few months before my own wedding. Many people expect these days to be pure happiness, but there are SO many complicated layers of love and sorrow present. As a photographer, it is so important to hold space for all of this.
The importance of photography
Hannah wrote me these words after the wedding, and they brought tears to my eyes. I wanted them to live here on this blog - to add context to these images, but also for me to remember the depth and meaning in this work.
"First off- I know we have told you 100 times over but the entire highlight of our wedding week was our time spent with you," said Hannah. "My mom has a masters in photo journalism and many of our friends and family members work as professional photographers. Everyone was gobsmacked by you- jaws to the floor just on your sneak peek alone.
"I"ll never forget your Instagram post, crossing your fingers for a Jenner wedding- my heart literally skipped a beat. I've always been a fan of your work and your process. You are one of a kind in more ways than one. I love your dog, your honesty, your partnership, the way you laugh and your raw feelings. Following your self portrait journey was cathartic and beautiful. "Beautiful" is a funny word to use when referencing your work- it's not big enough, it's not ferocious enough. Your eye may be your gift but your voice is your fire. You make people feel perfect even when we are wrapped in blankets of flaws."
"I wish you could have met my best friend before she died- she would have given you soulful glances and quirky smirks. She was the one who saw through my weirdness and straight though my pain. She knew life was more than perfect white dresses and polished silver. Thank you for letting my scream into the sea for her. Thank you for letting me start my ceremony an hour late. Thank you for hearing us and capturing the blurry moments in between the stillness. We are not wealthy people and I hope you know how much your efforts and artistic contributions mean to Charles and I."
Portraits at Portuguese Beach
Hannah and Charles decided to begin their wedding at one of their favorite Sonoma beaches. We spent 2 hours taking portraits in sun and wind. Their families met us there and we got all the group photos out of the way early.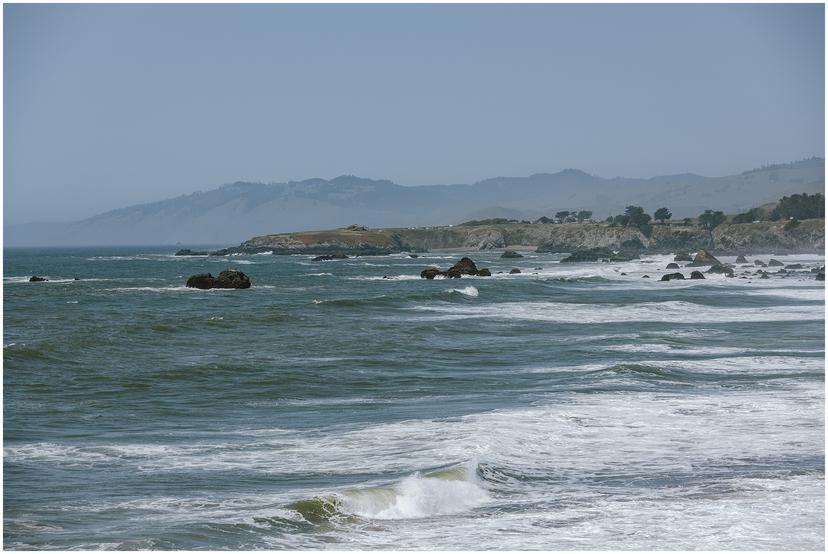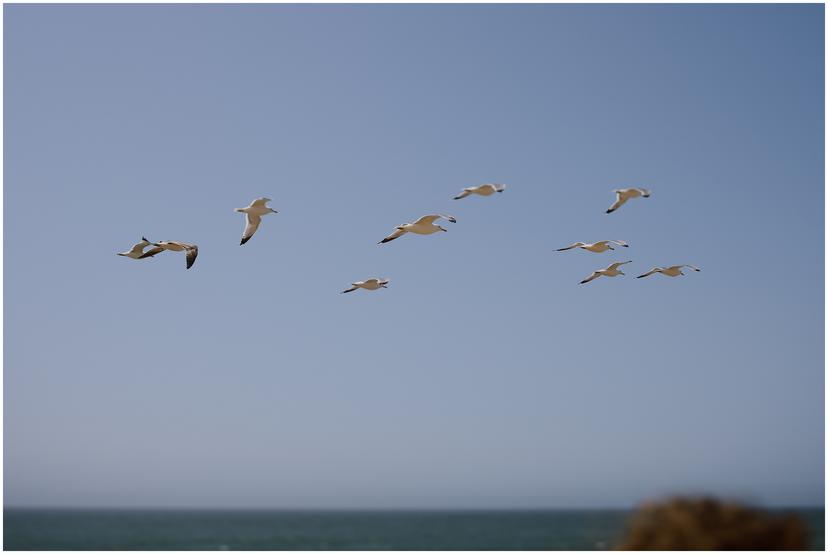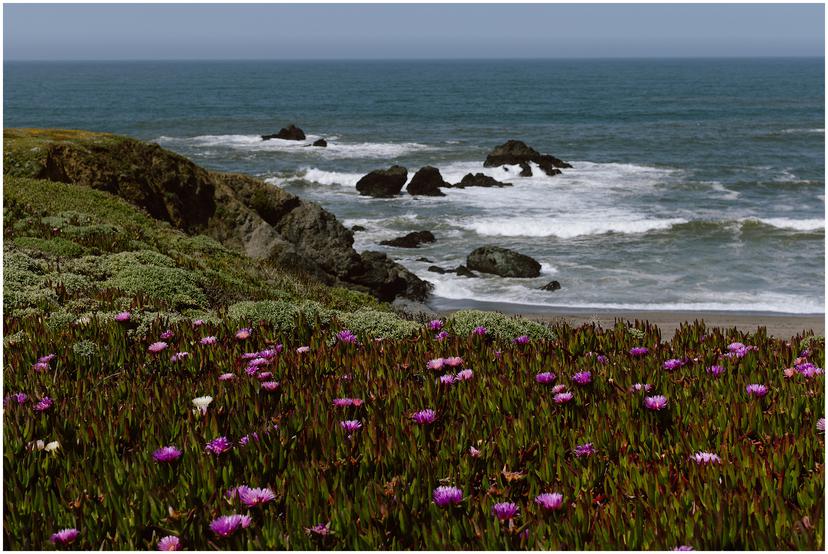 About the outfits
In a playful and unique move, Hannah and Charles started their wedding day by arriving on motorcycles and changing into their wedding clothes in the open air on the side of a cliff.
"I would love you to shoot the tripping, the holding each other up, the silliness of riding our bikes and then getting into dresses and suits," said Hannah before the wedding. "I want to remember the energy of friends, of us stripping in public, taking off our helmets and being silly."
I joked with Hannah that I had never photographed so many outfit changes in one day before. After starting in their motorcycle leathers, they changed into a sea green dress and red suit for portraits at Portuguese Beach. After that, they changed back into their motorcycle gear and rode an hour north to Stewart's Point. Upon arriving to the venue, they changed out of their leathers again, this time into a more formal dress for Hannah. Unfortunately her original dress suffered from some major alteration errors - and they managed to find a replacement one THE DAY BEFORE THE WEDDING. Not stressful at all…
"It was a comedy of errors for the bride," said Hannah. "Ultimately it didn't matter what led to the final aisle look - what mattered is how much I laughed and how often I got naked."
After the ceremony, Hannah changed into a shorter party dress.
"My party dress fit off the rack and I bought it myself which meant a lot to me," said Hannah. "It used to be a full length gown and after Erica died I had it hemmed into a cocktail dress.
"Charles' outfit was 100% designed by our friend Taylor and fit him like a glove. We always knew our Aries man was going go wear a red suit, and to quote the show "Working Moms," he said he wanted to feel like the prettiest boy in the room. We also both got $100 haircuts from the best of the best (Mathew fom Ritual in Santa Rosa) which helped achieve our wind whipped natural vibe without the traditional hair and makeup team."
Finally, Hannah changed into a ballgown at the end of the night that she ceremoniously trashed in the ocean for our night images. Epic.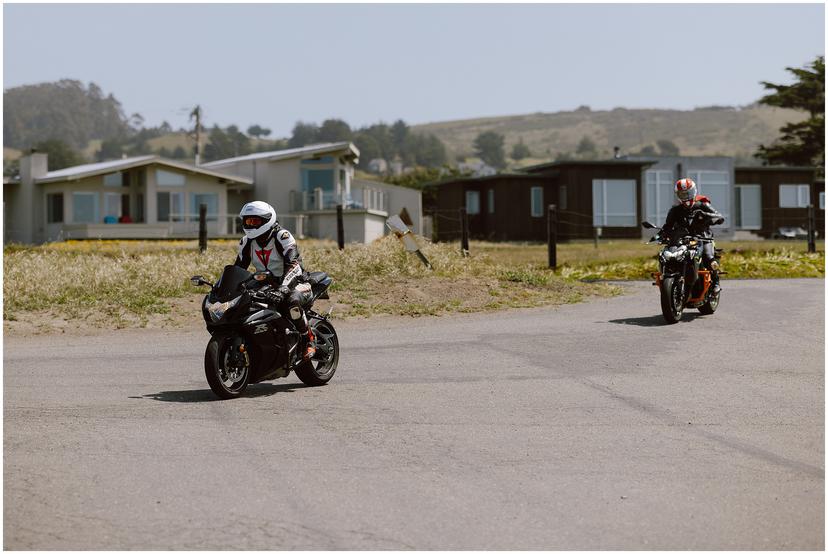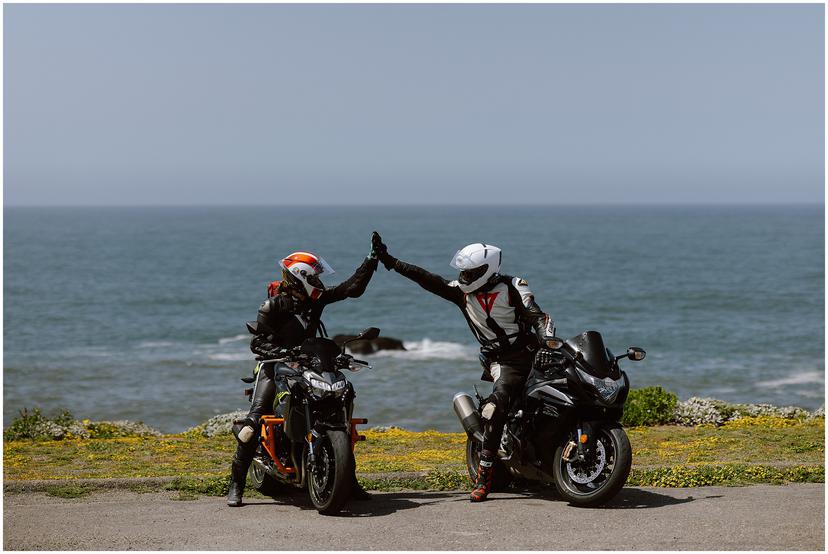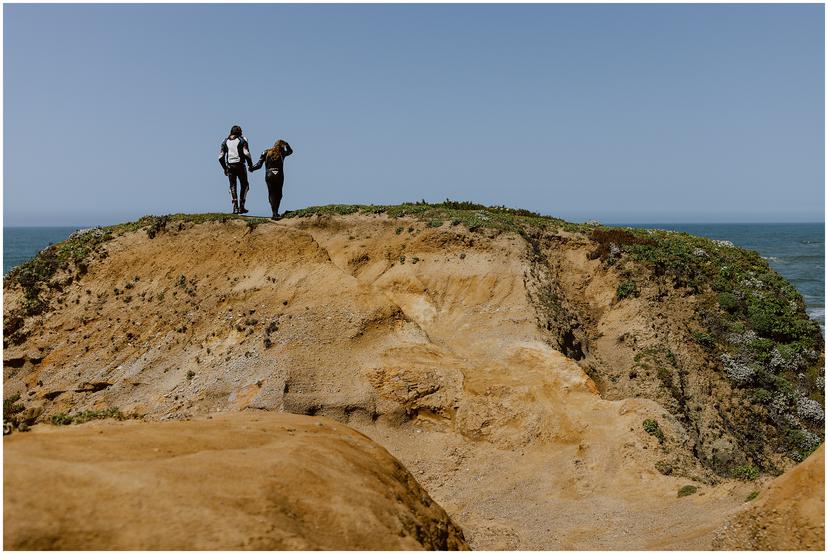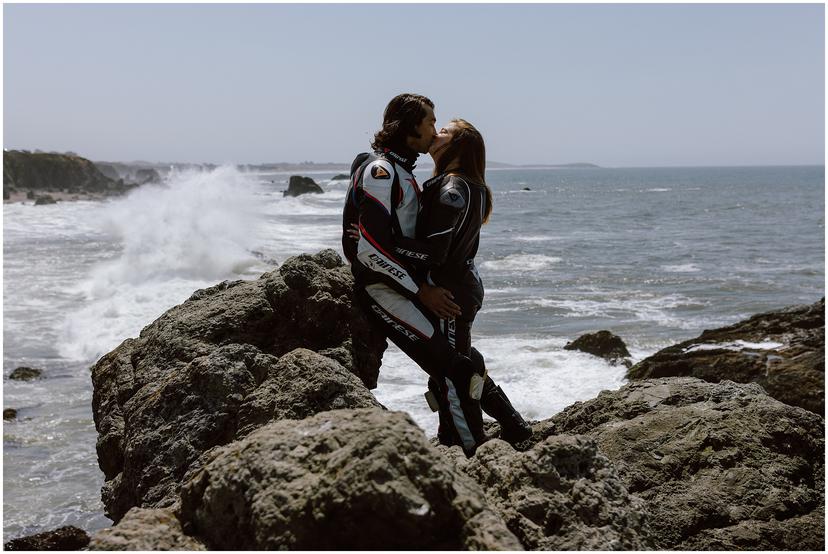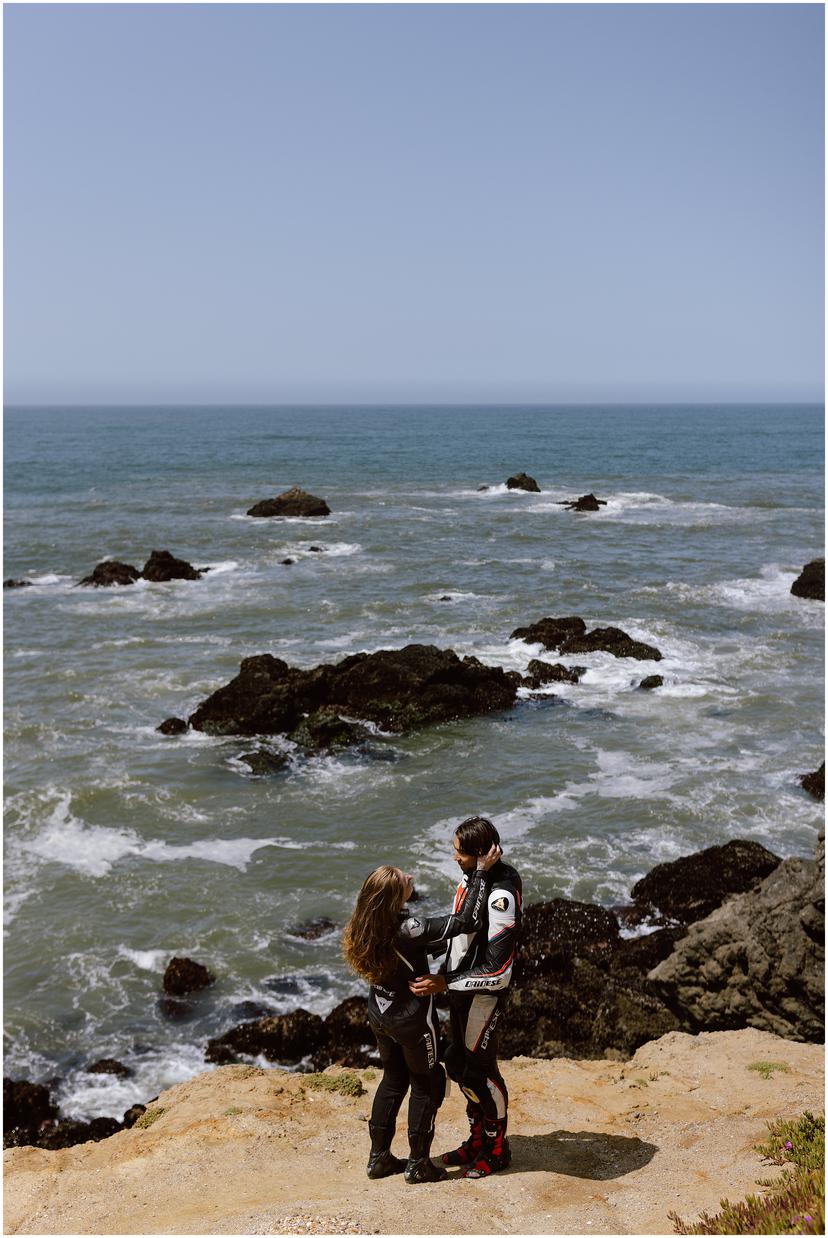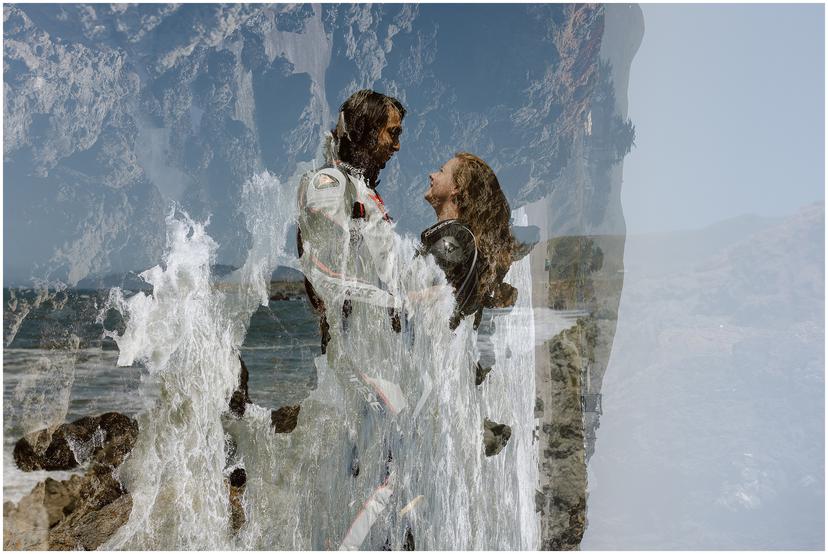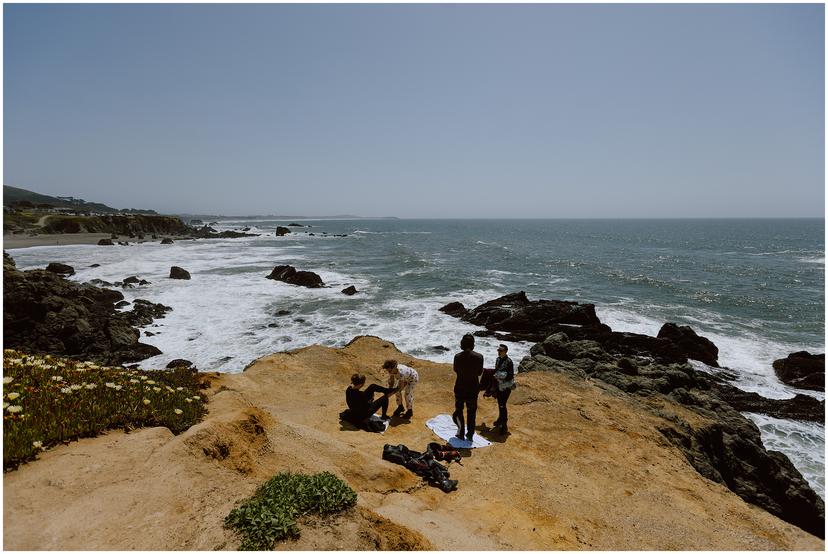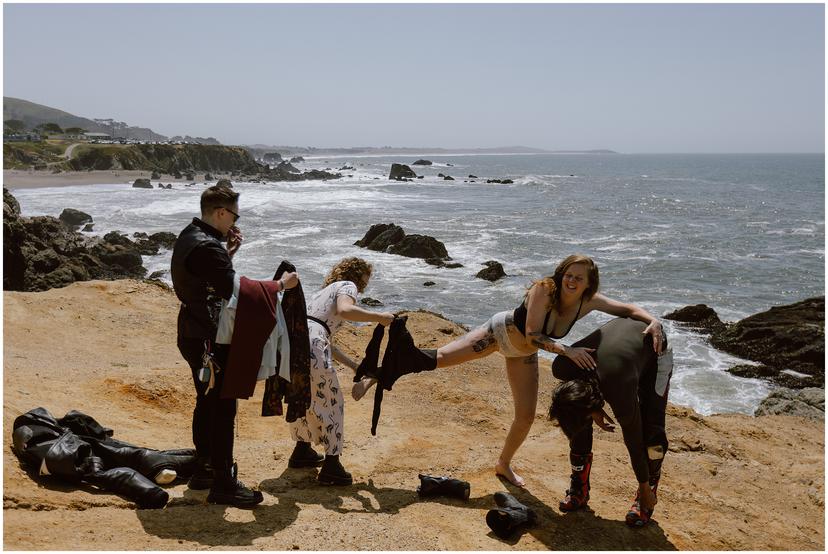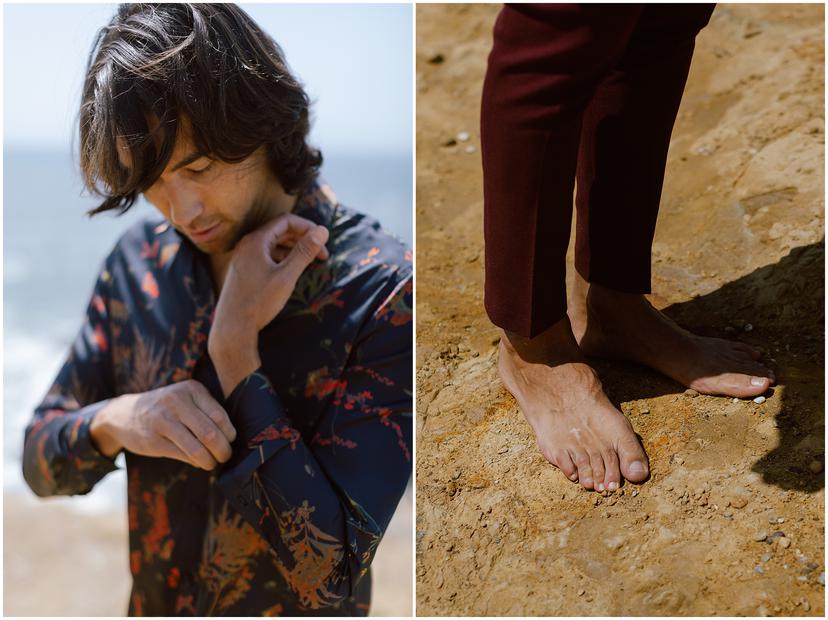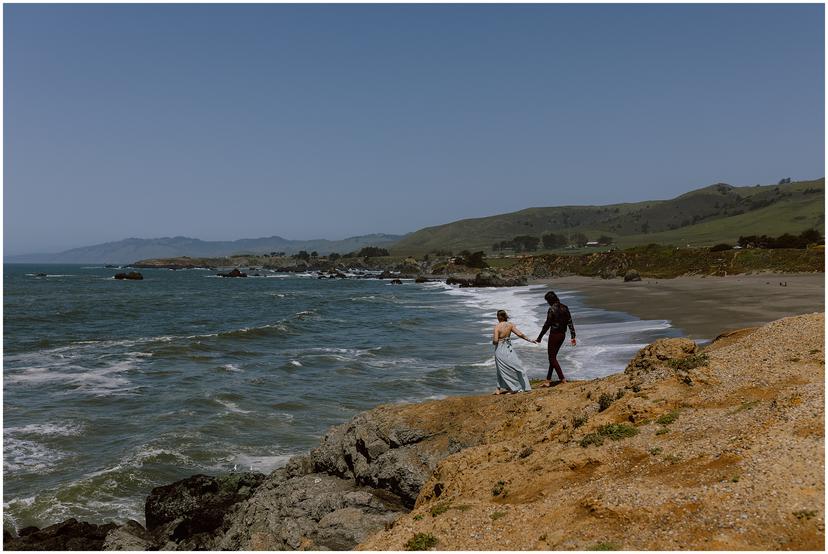 How they met
"We met in 2009 at 2am in the airport in Anchorage, Alaska, the summer of my senior year of high school," said Hannah. "It was love, it was crazy, we were old friends and still total strangers. I ran away with him and rode on the back of his motorcycle until the sun came up. I told my mom I kept missing my flights when in truth I was smoking weed, doing wheelies and having the best sex of my life. There were surfing lessons, rock climbing dates, a perfect mixtape and many loving calls before I went off to College in September. 10 years later we found each other again and have never let go."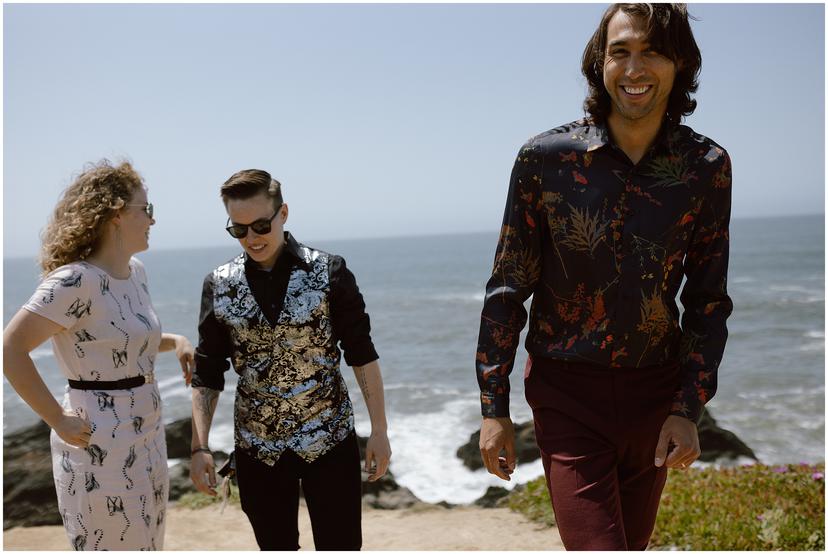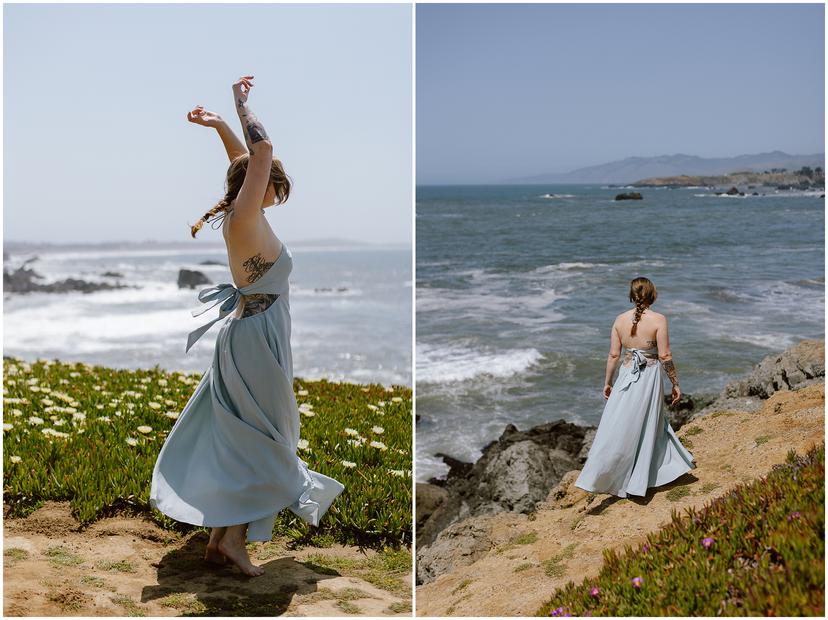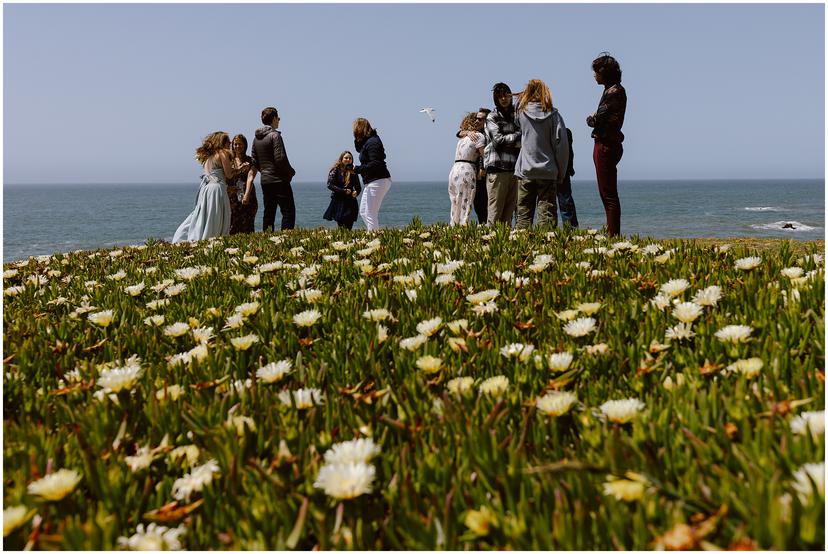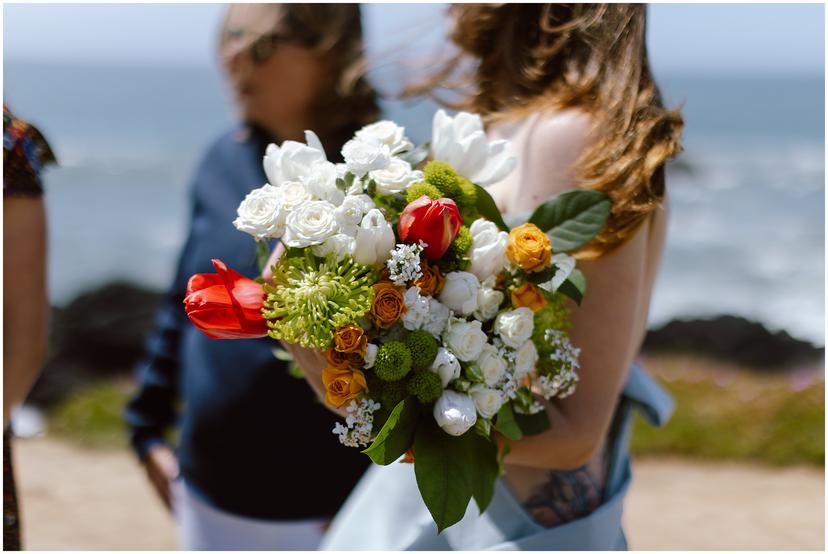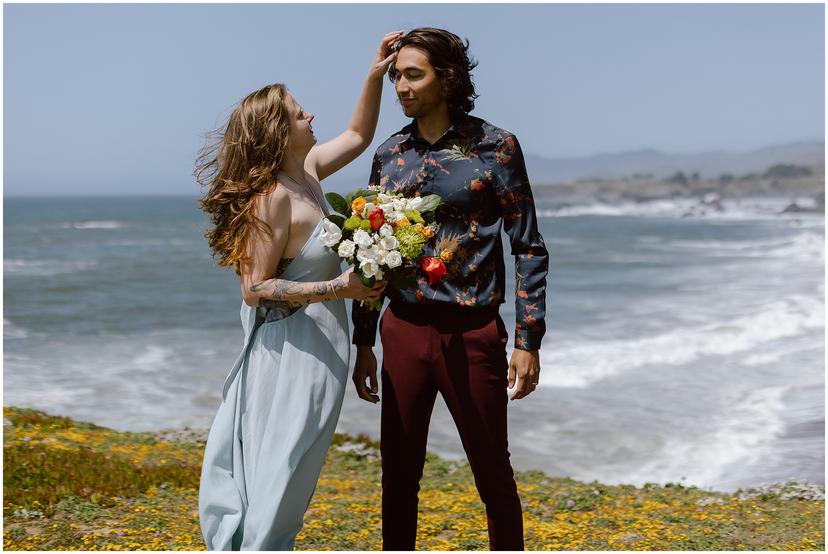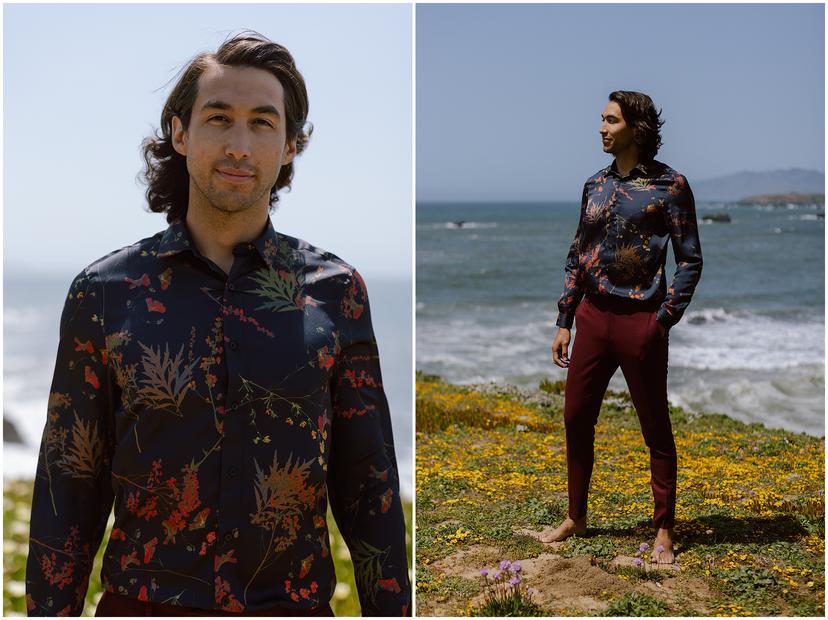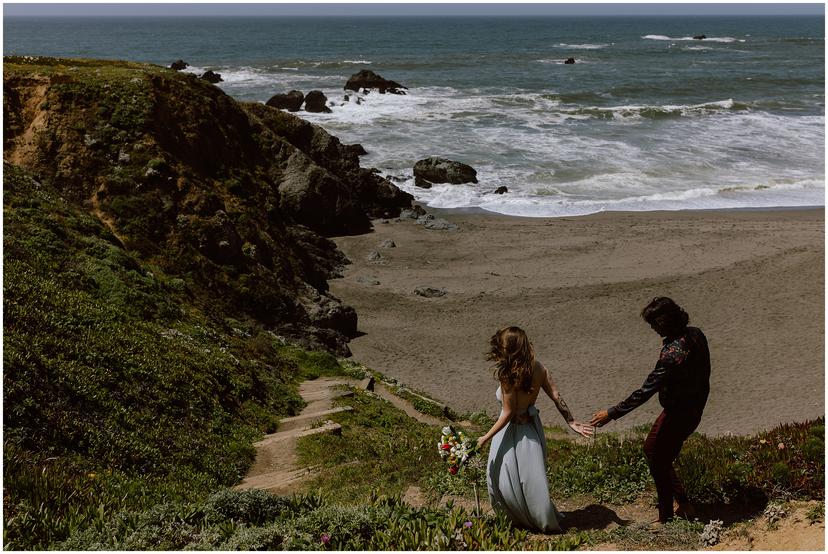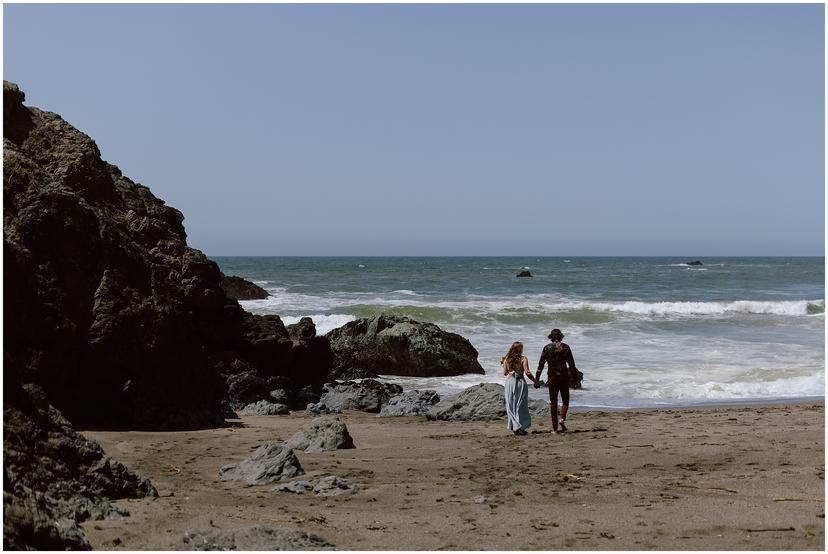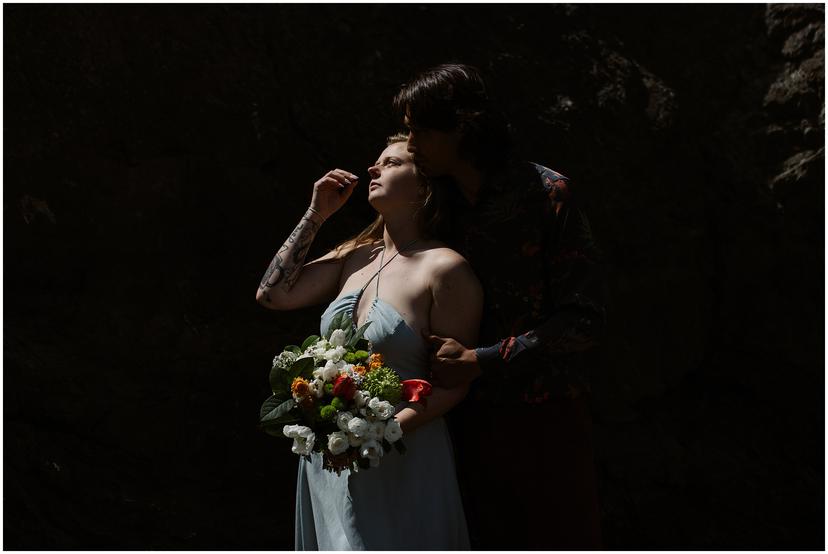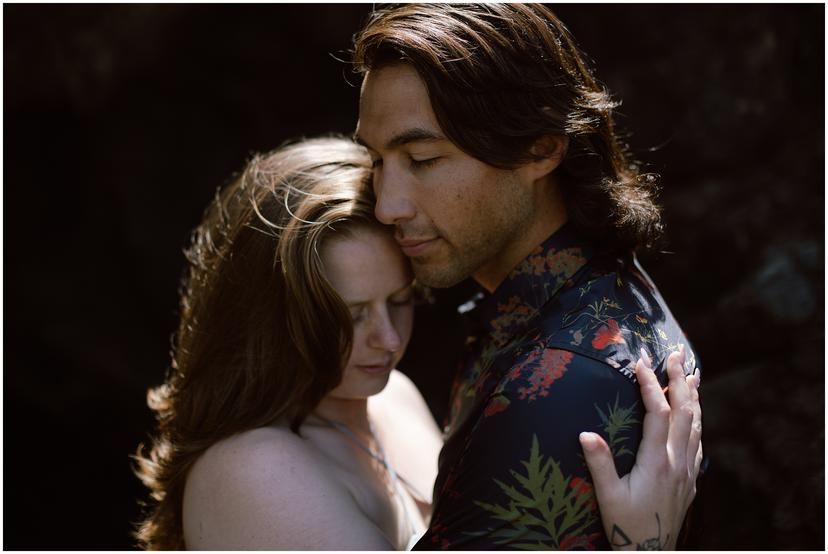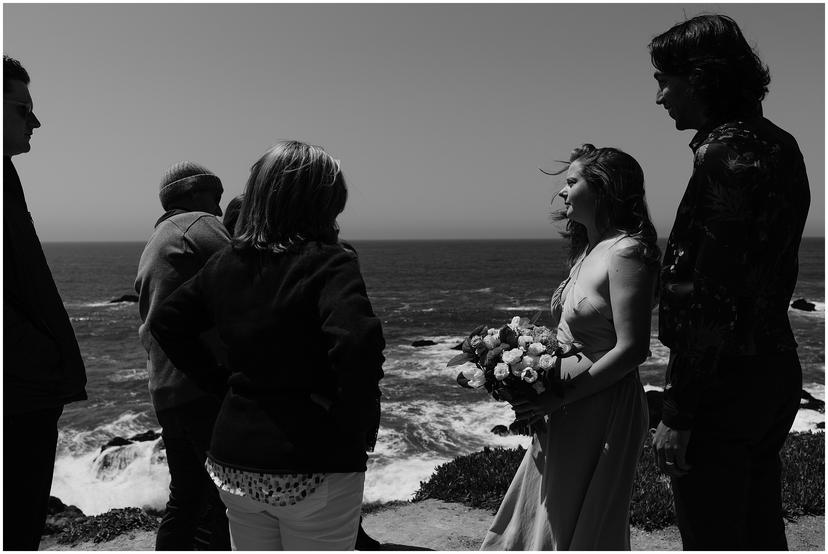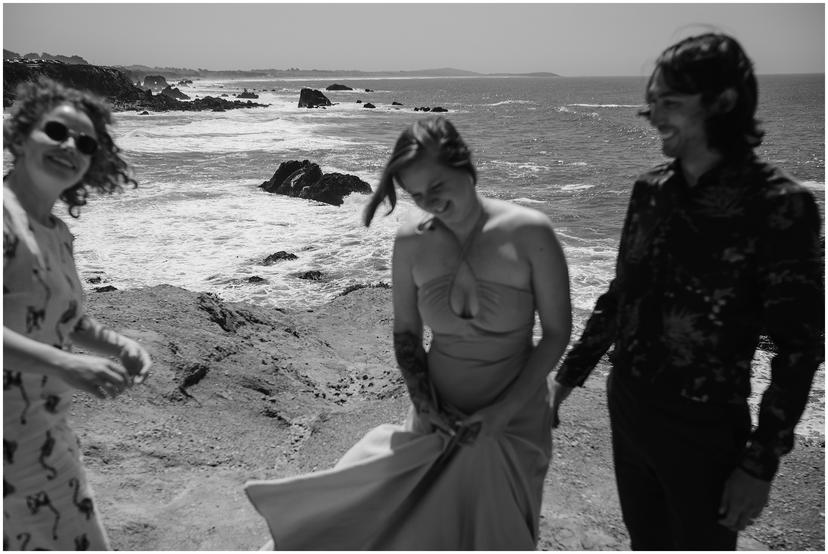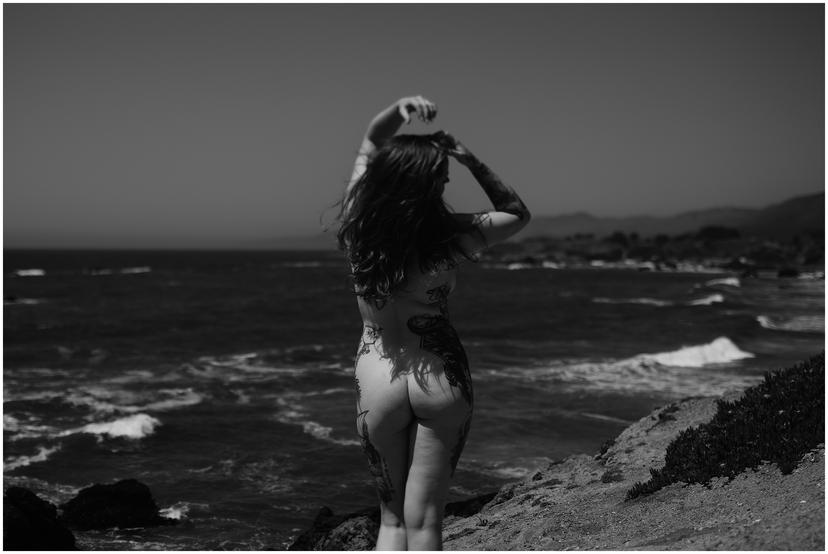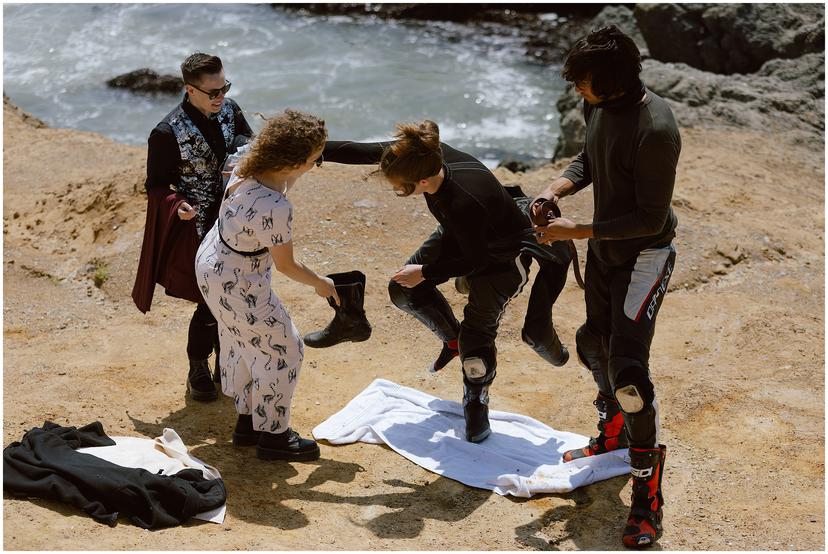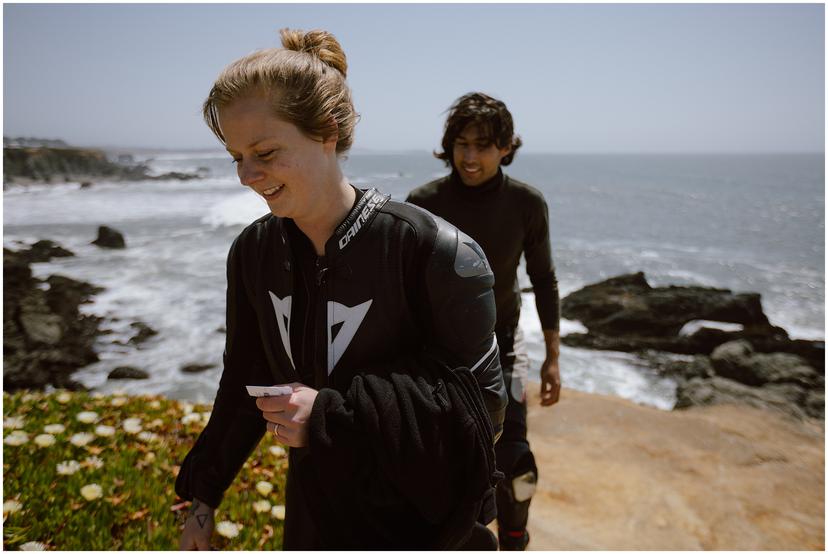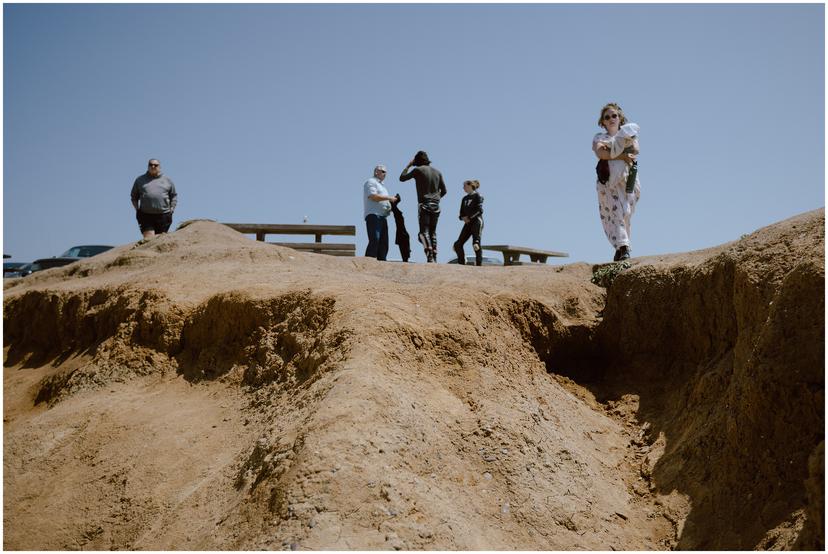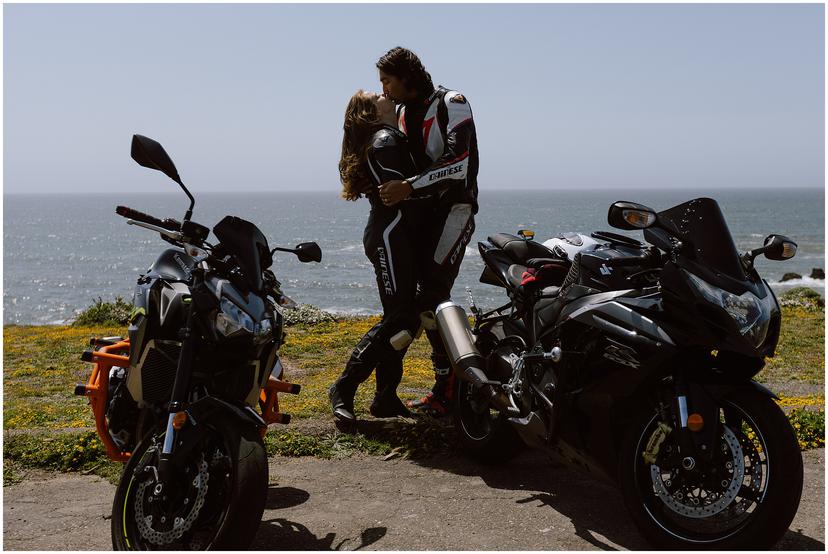 The Wedding at Twofish Baking
Hannah and Charles biked an hour on the winding CA-1 highway to one of their favorite places for their ceremony. The quirky Twofish Baking in Stewart's Point has a secret upstairs speakeasy with dark wood, chandeliers, and quirky vibes. After befriending the owners on their multiple visits, Hannah and Charles decided it was the perfect place to host their ceremony and dinner.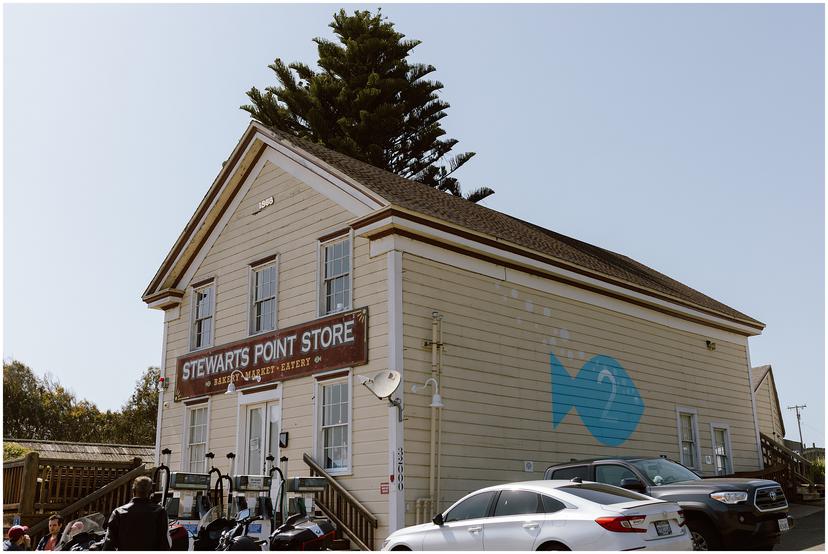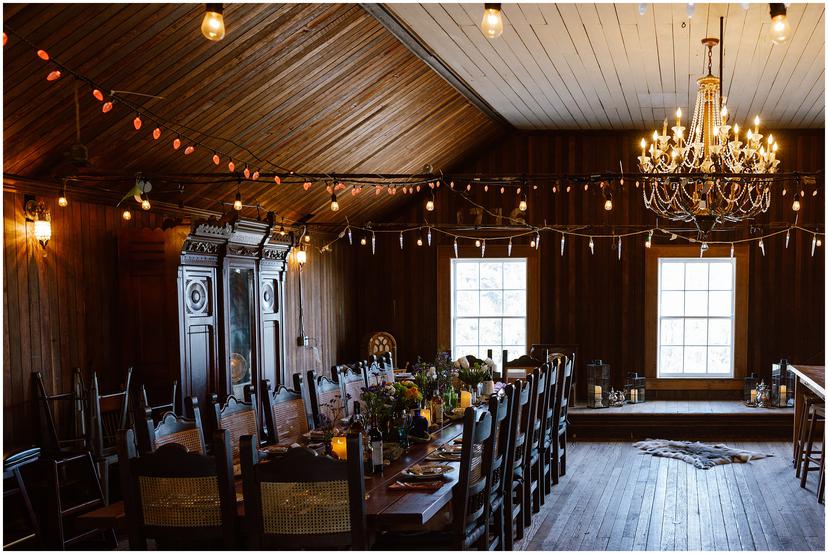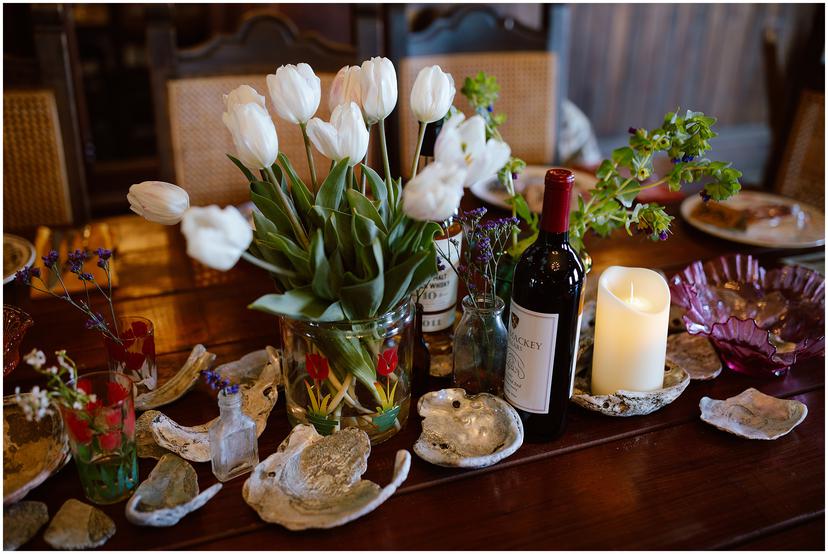 About the decor
"All decor, including our gold wedding bands, came from our favorite antique shop, Whistlestop Antiques. We didn't want anything perfect or anything new. We wanted to use items that had lived other lives - seen other places, felt other unimaginable things. The plates and glass and abalone shells were all collected over the years and we wanted our guests to take away a small piece of our precious adventures."
Their invitation suite was also entirely handmade by the two of them.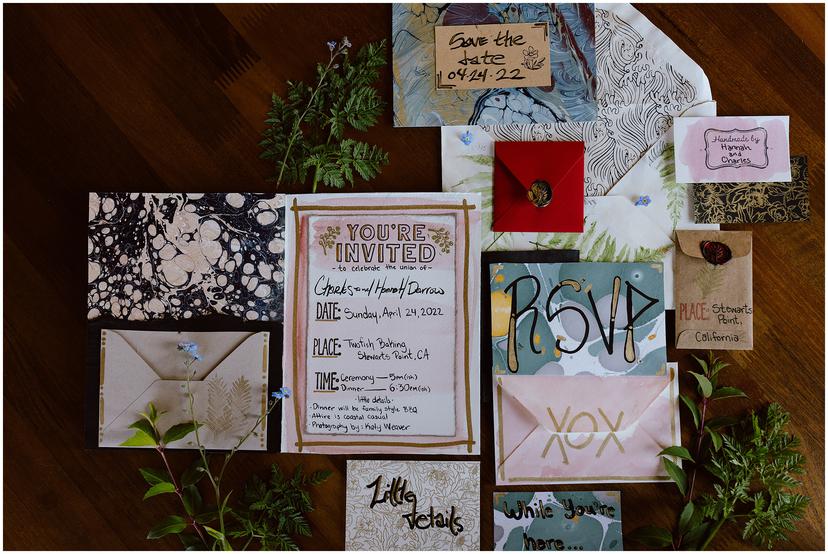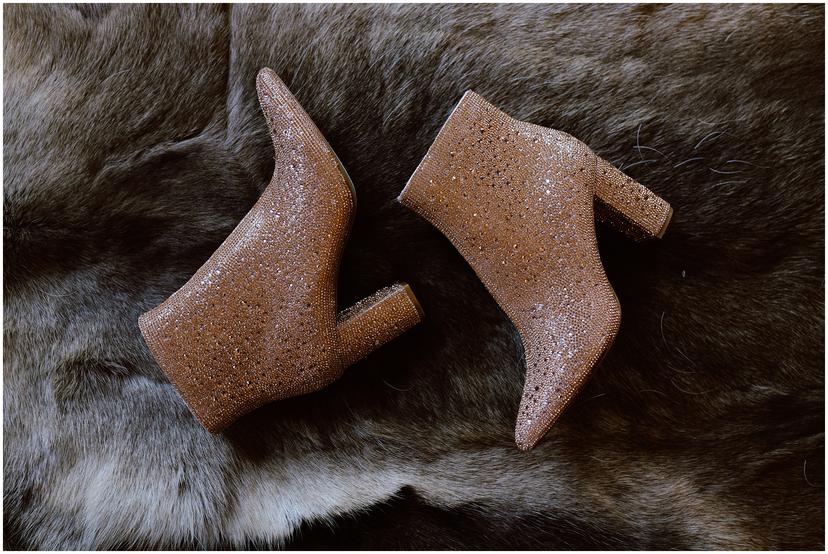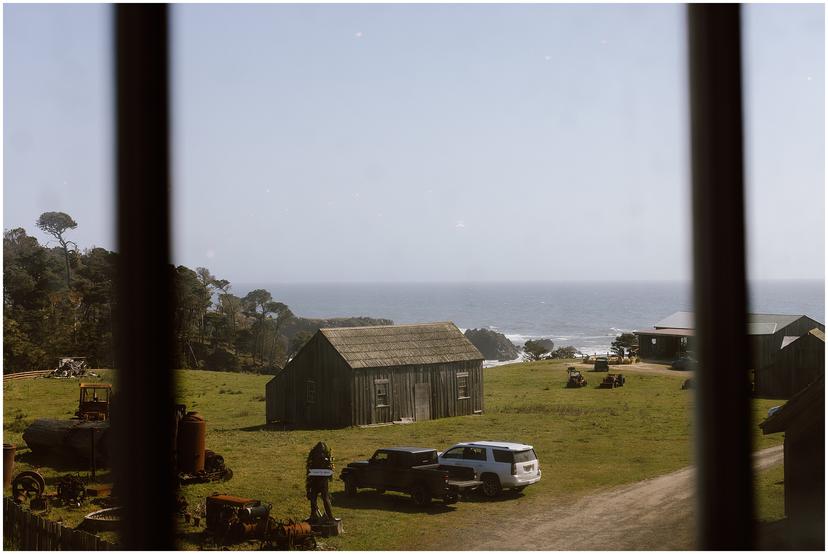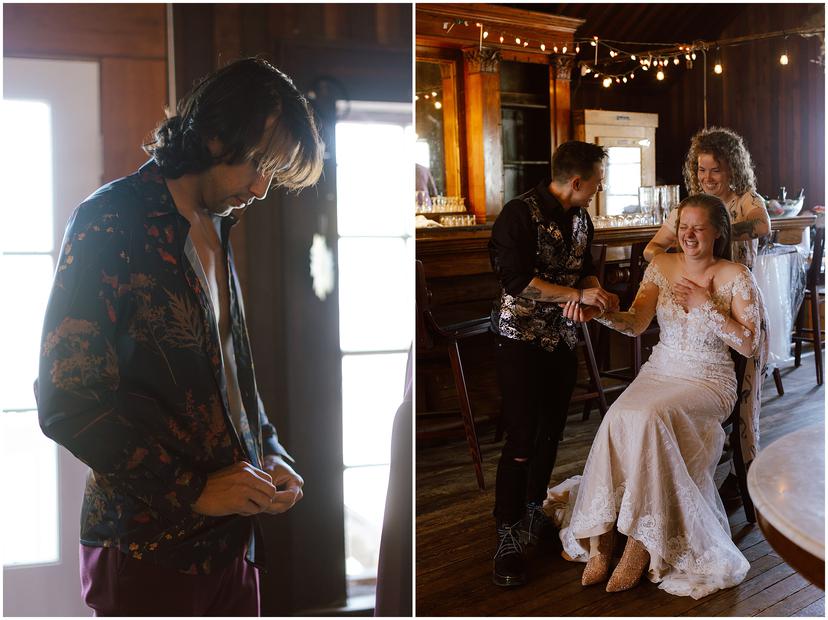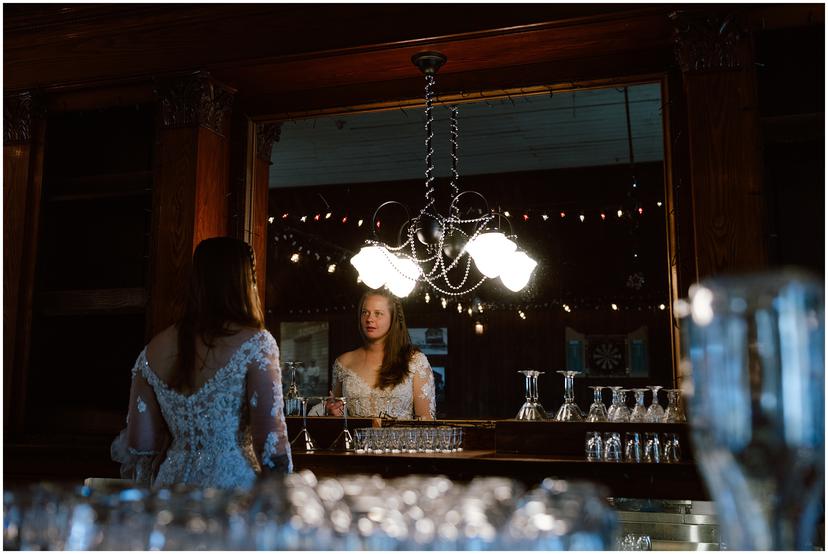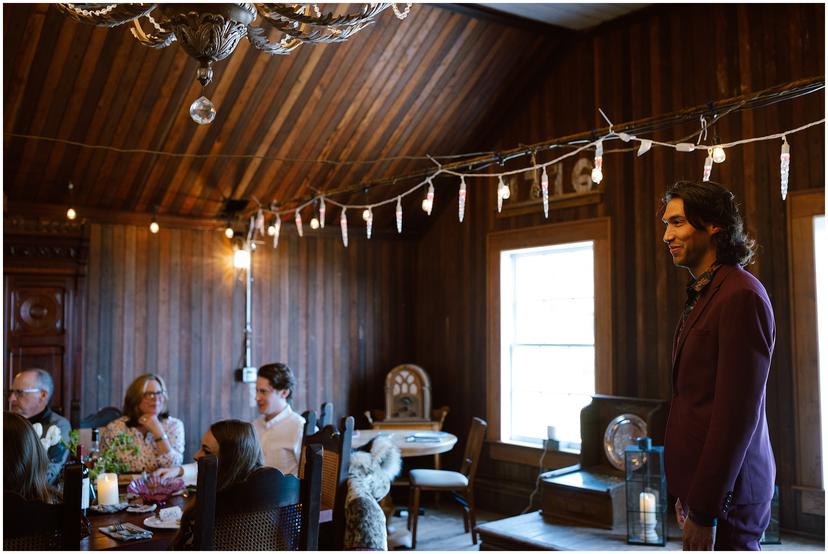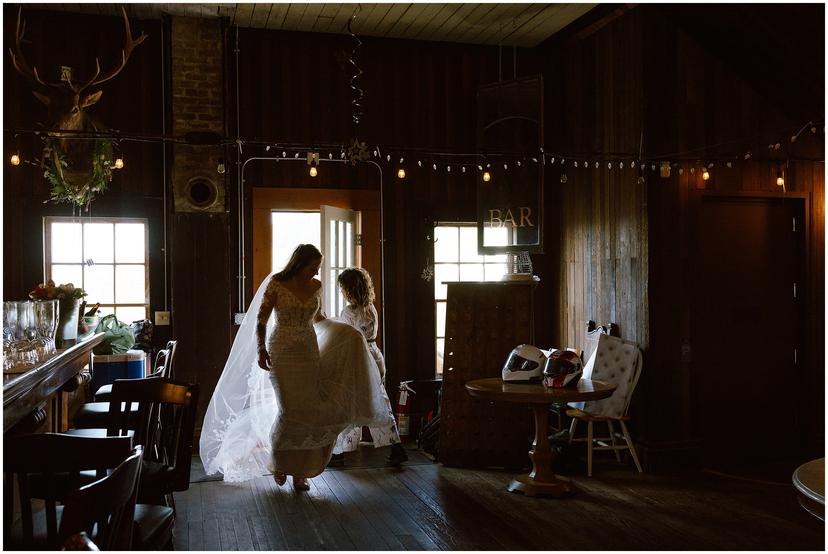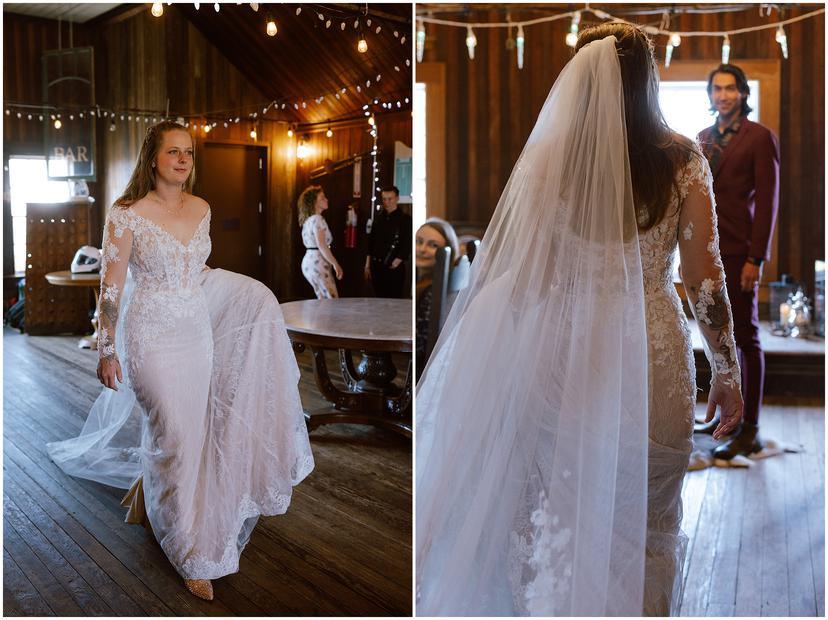 Choosing music for the wedding
Hannah and Charles started their ceremony by doing a first dance.
"We chose music that was nostalgic for my dad and Charles' daughter," said Hannah and Charles. "We also created a four hour playlist of sounds we love and sounds you can converse over. We created a pace to match the evenings events. Our aisle song meant so much to us both- the lyrics rang true to all those who have embarked on the adventure of love with a foundation of honesty and fortitude."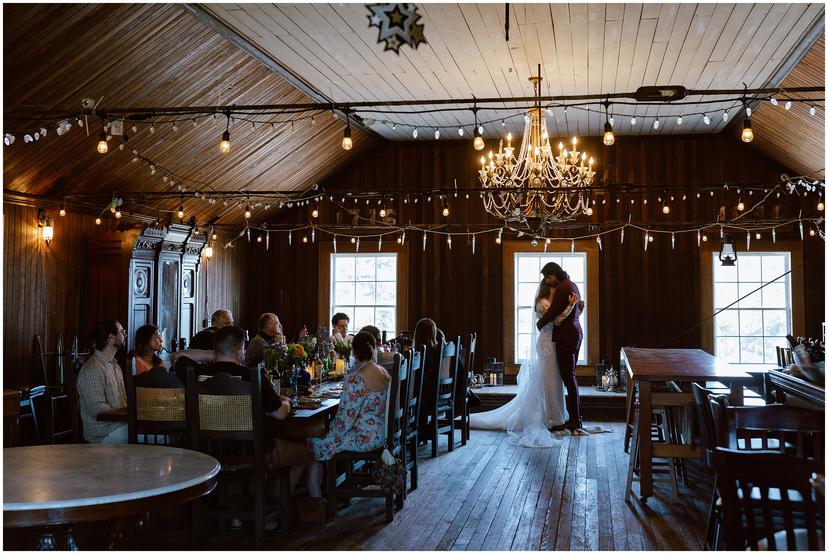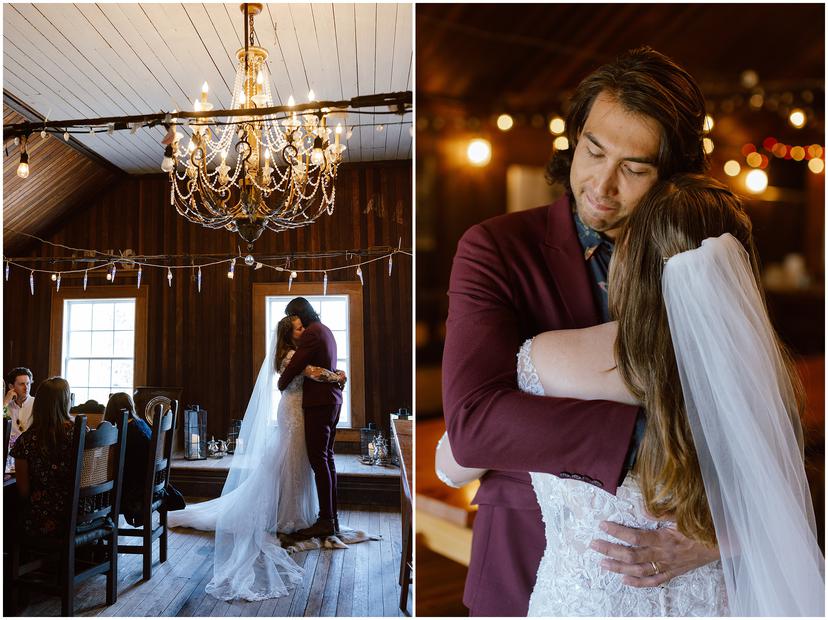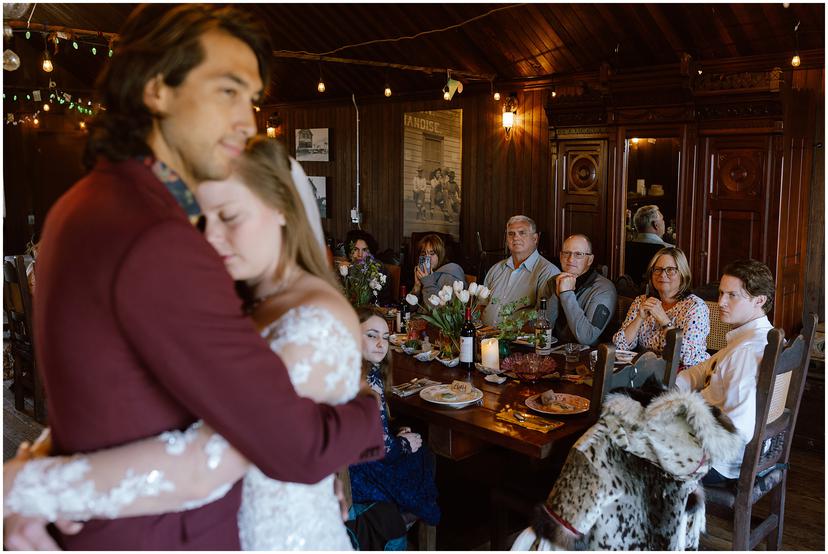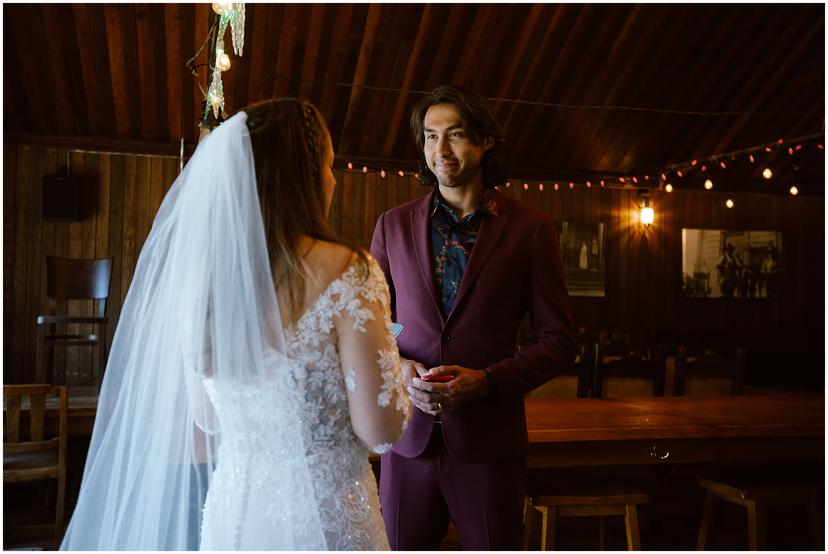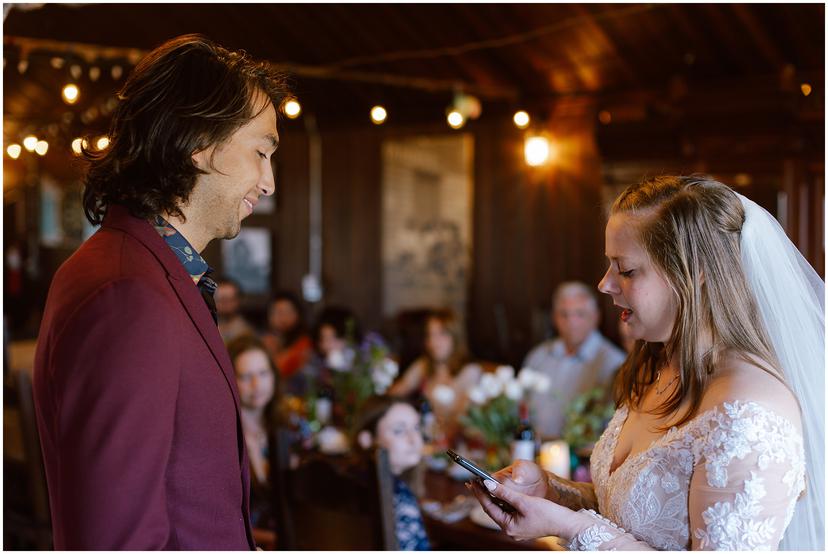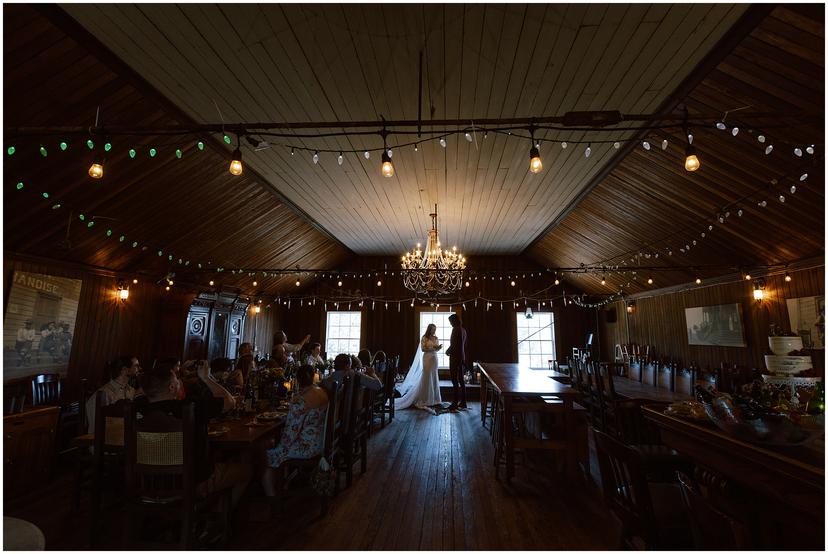 Favorite wedding memories
Hannah: "Without a doubt- holding Charles while we listened to our favorite song. Holding each other, kissing when we wanted to, not feigning some outdated form of pre-nuptial separation."
Charles: "Not having an officiant, walking ourself down the aisle. Not recreating anything. We created the time that we wanted, the amount, the flavor, the strangeness, the familiarity. We gave people the feeling that we always get every day, living in this beautiful place."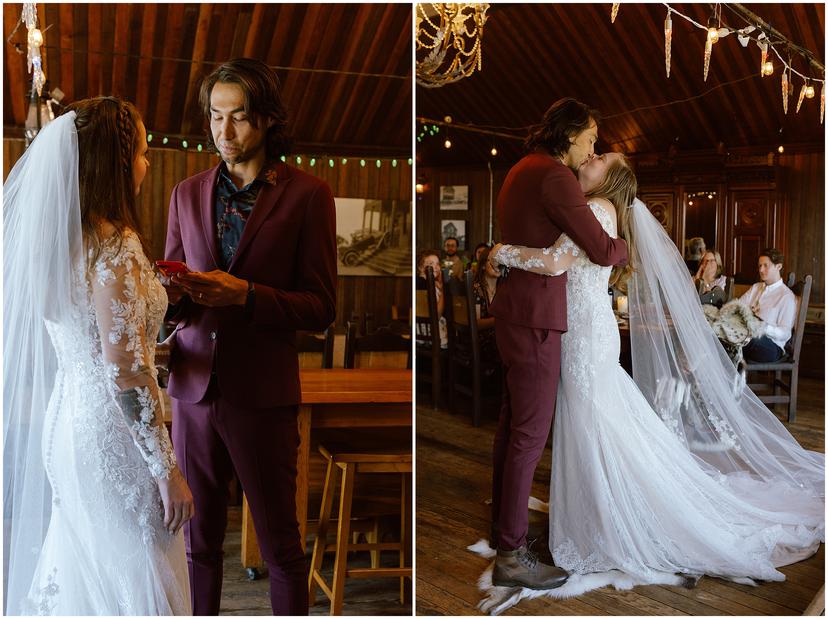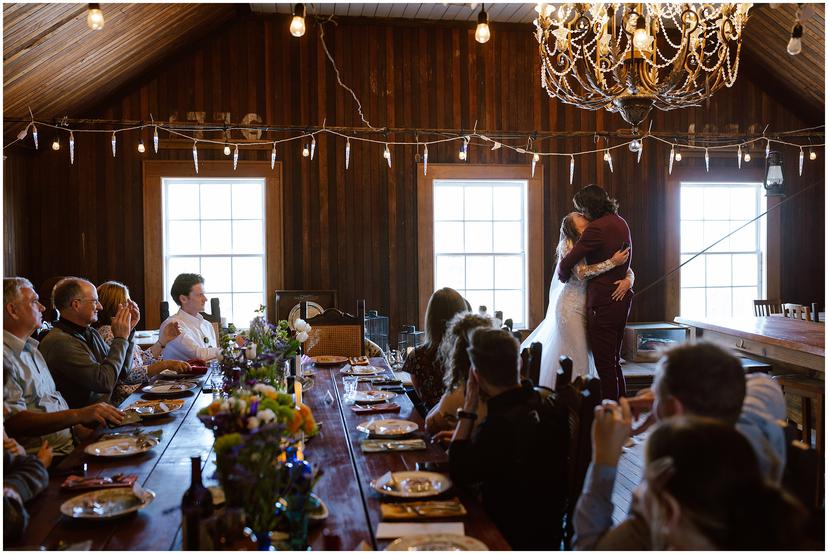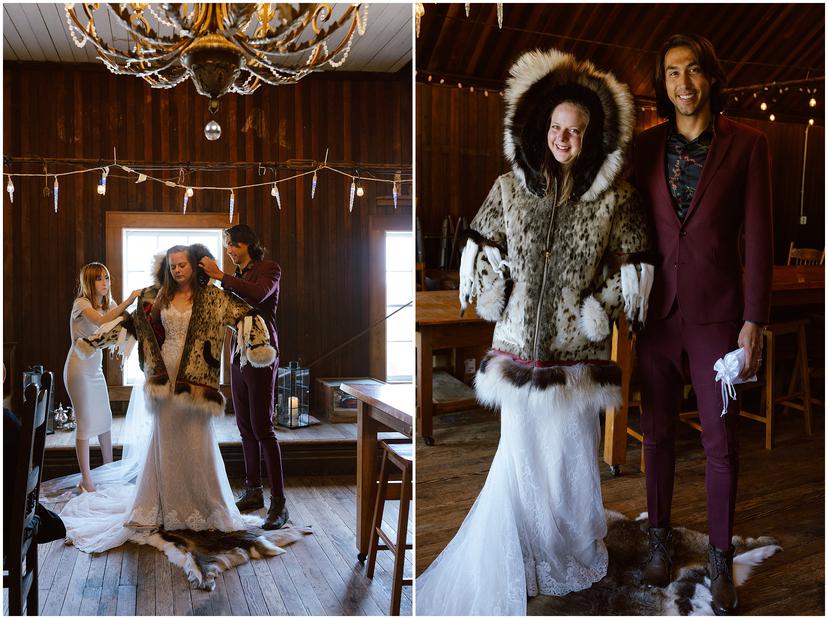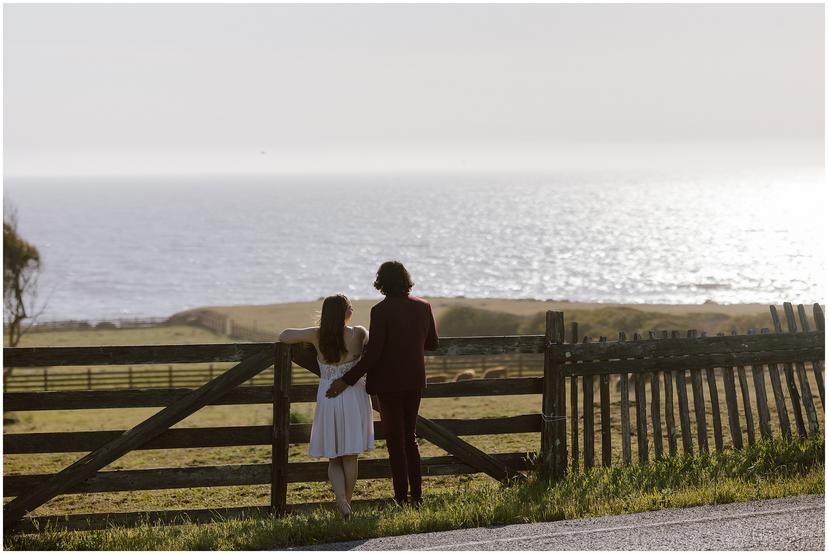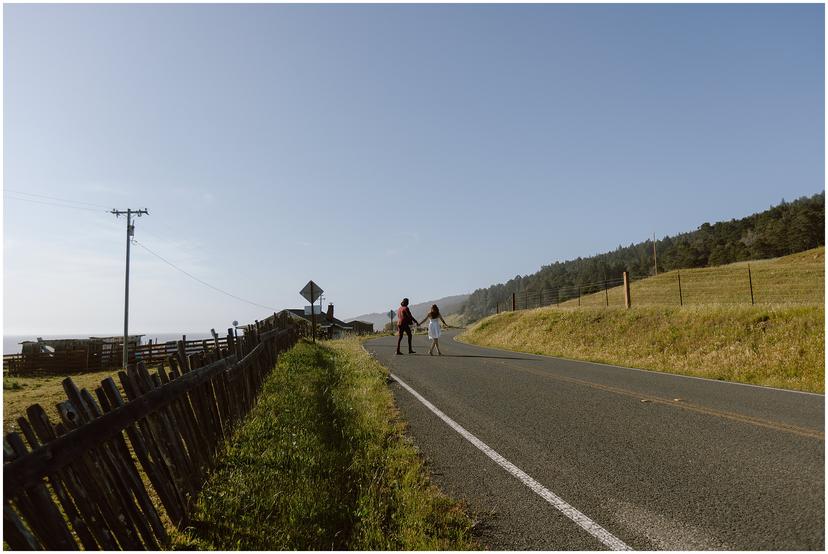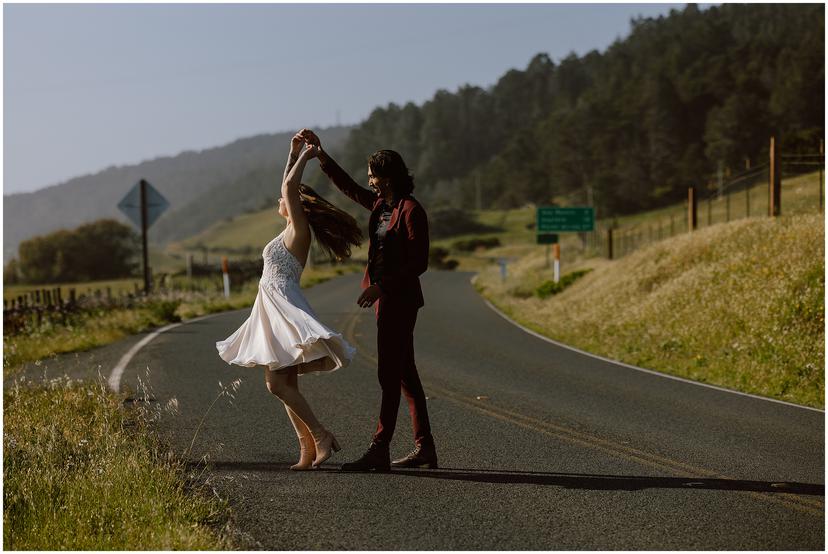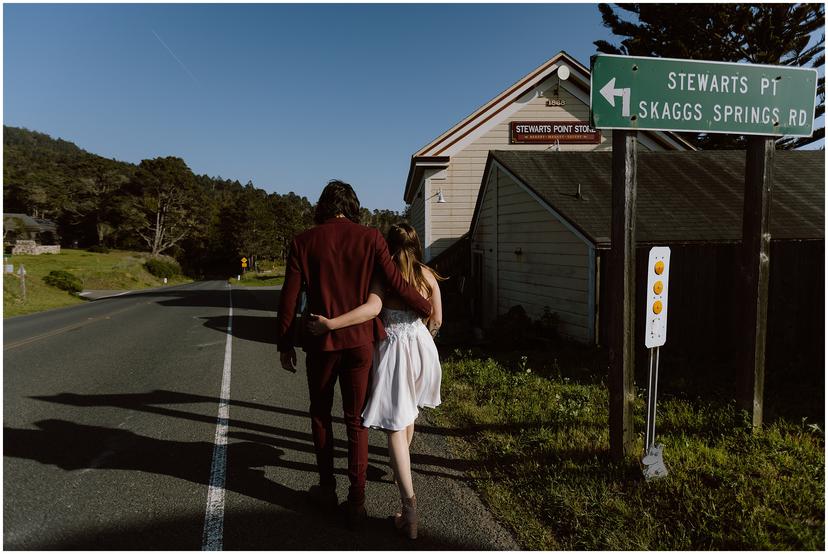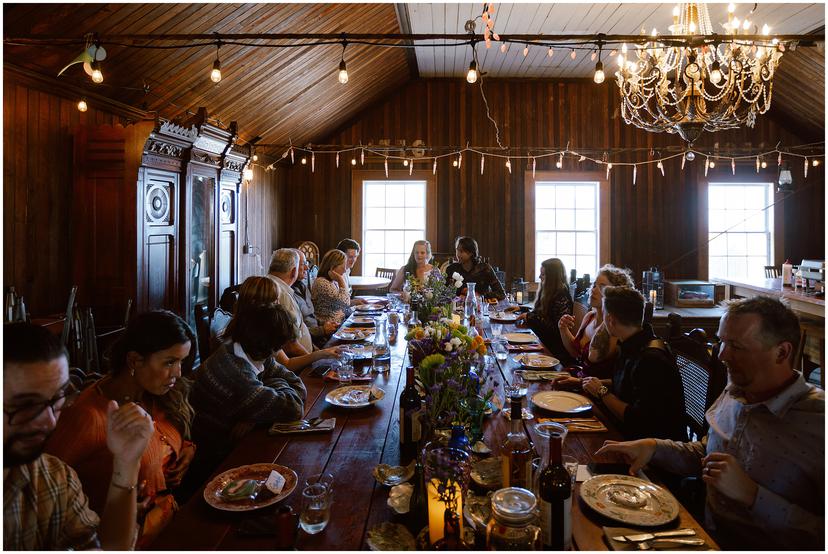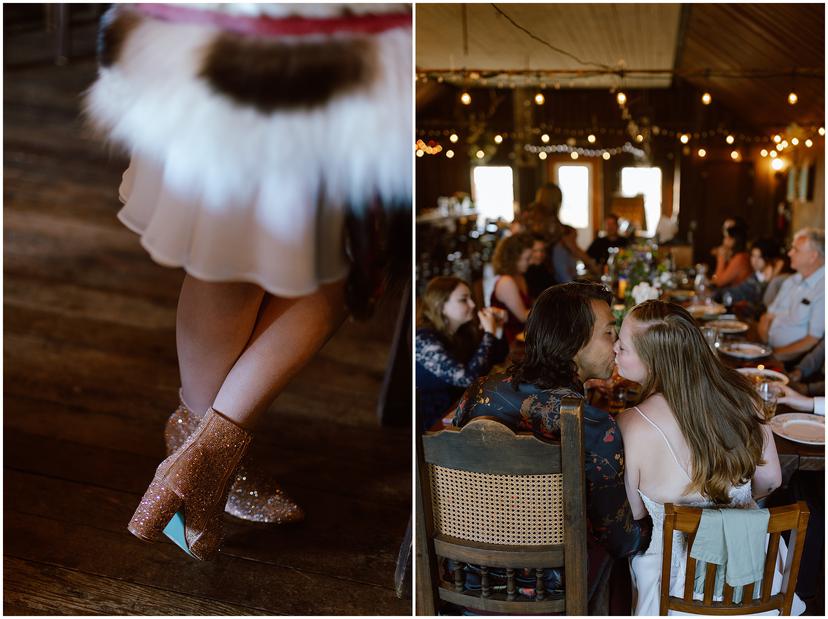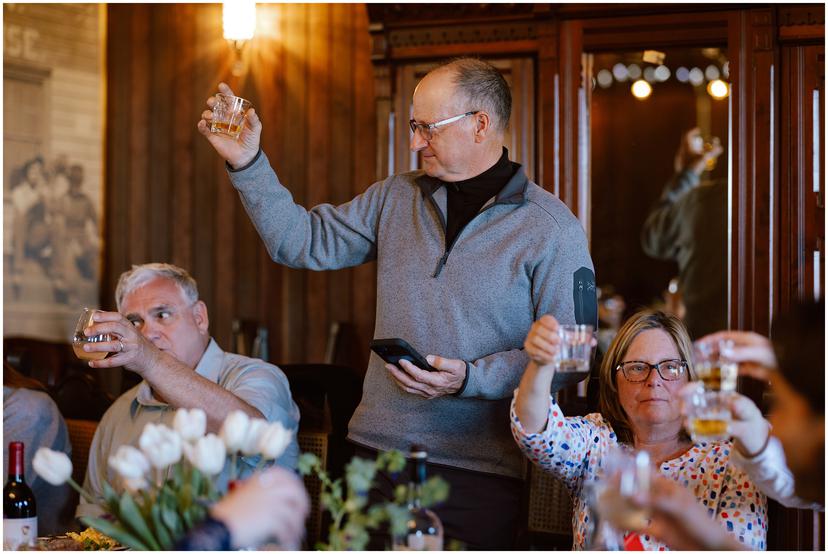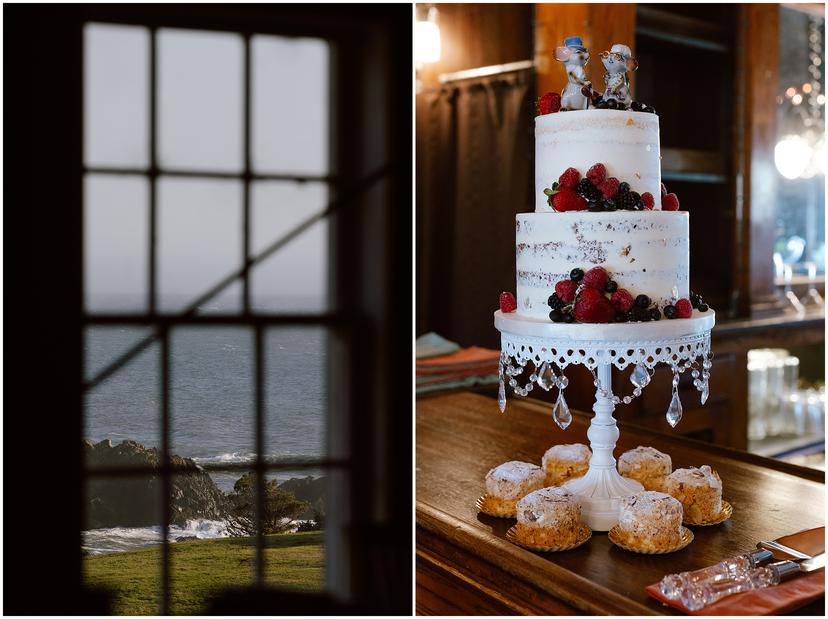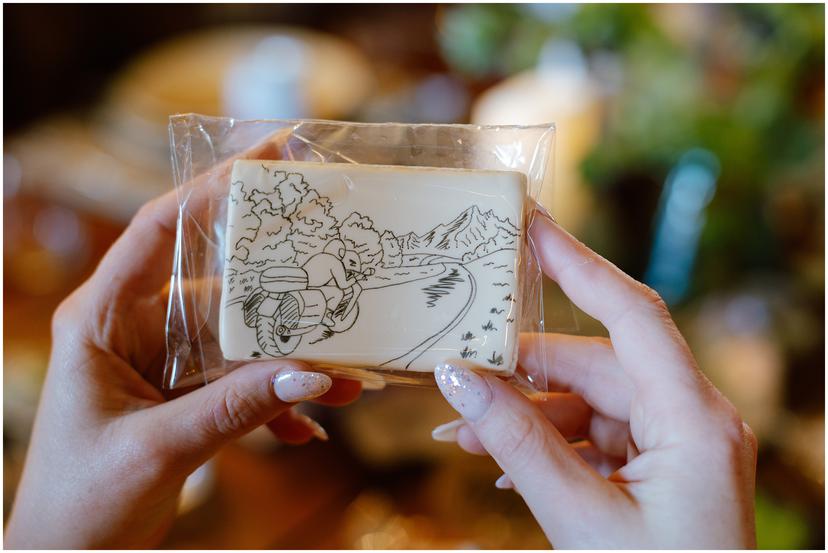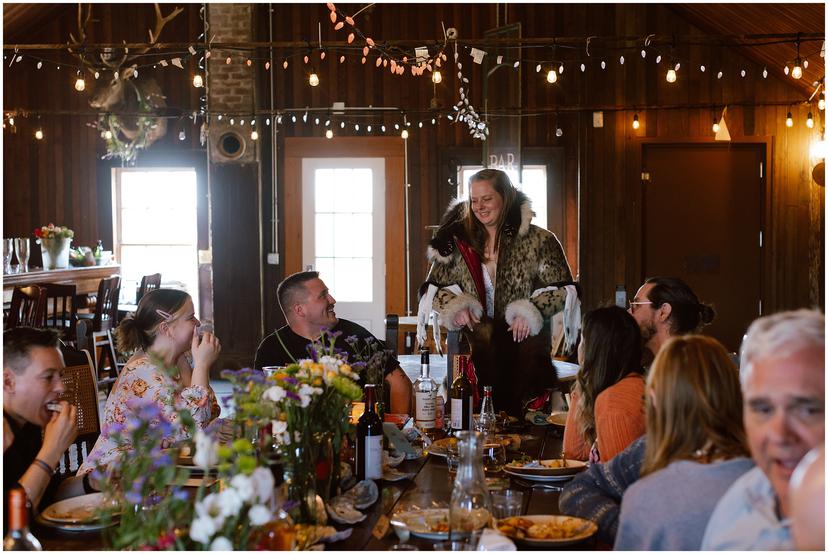 Favorite thing about each other
Hannah: "I love the way his mind works; the way he metabolizes his surroundings. I love knowing that if I ever were to go blind I trust he'd guide me and tell me the exact shade of orange the sunset is casting on my salty hair and just how perfect the ocean water sparkles with the distant stars."
Charles: "I love how her shameless love is glued to my arm, and quick to grab back on when anything gets loose in our relationship. How her sensitivity reminds me that I am fragile, and we are two cuts from the same cloth. At the same time we have so much energy and how we freely save nothing for later."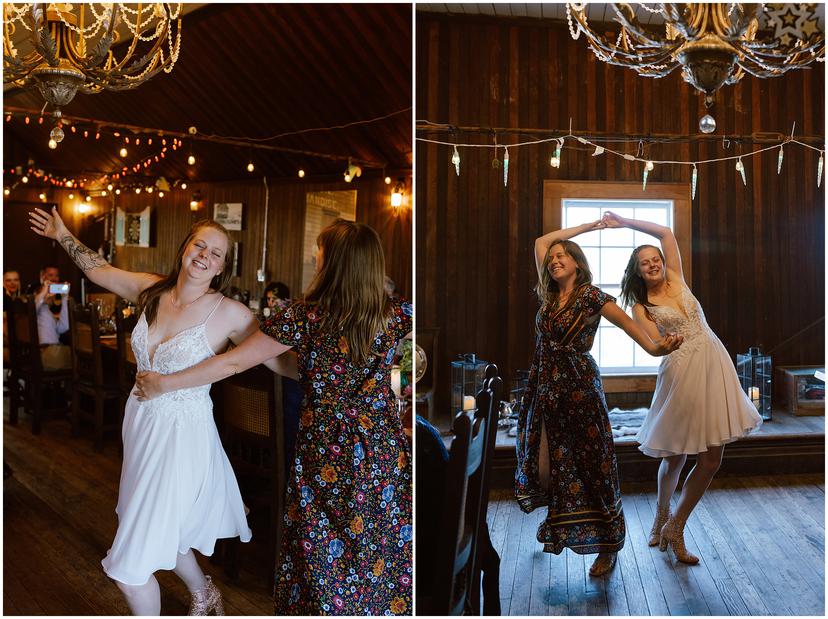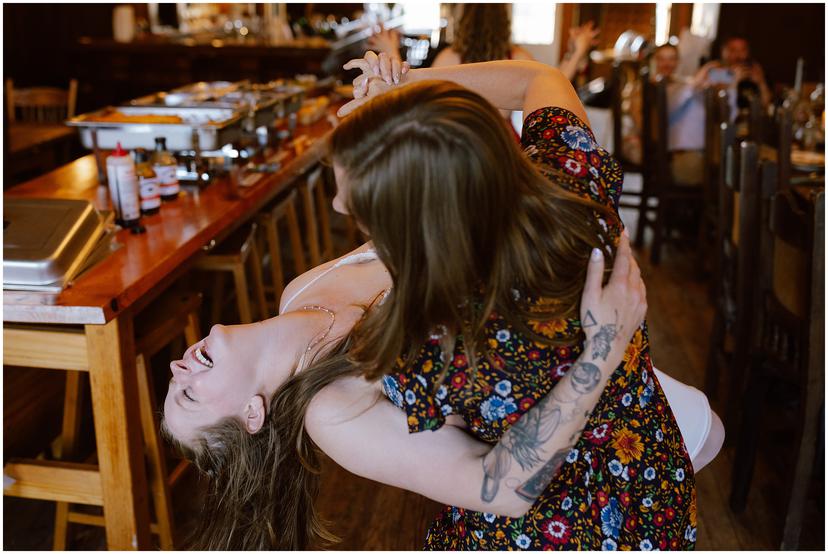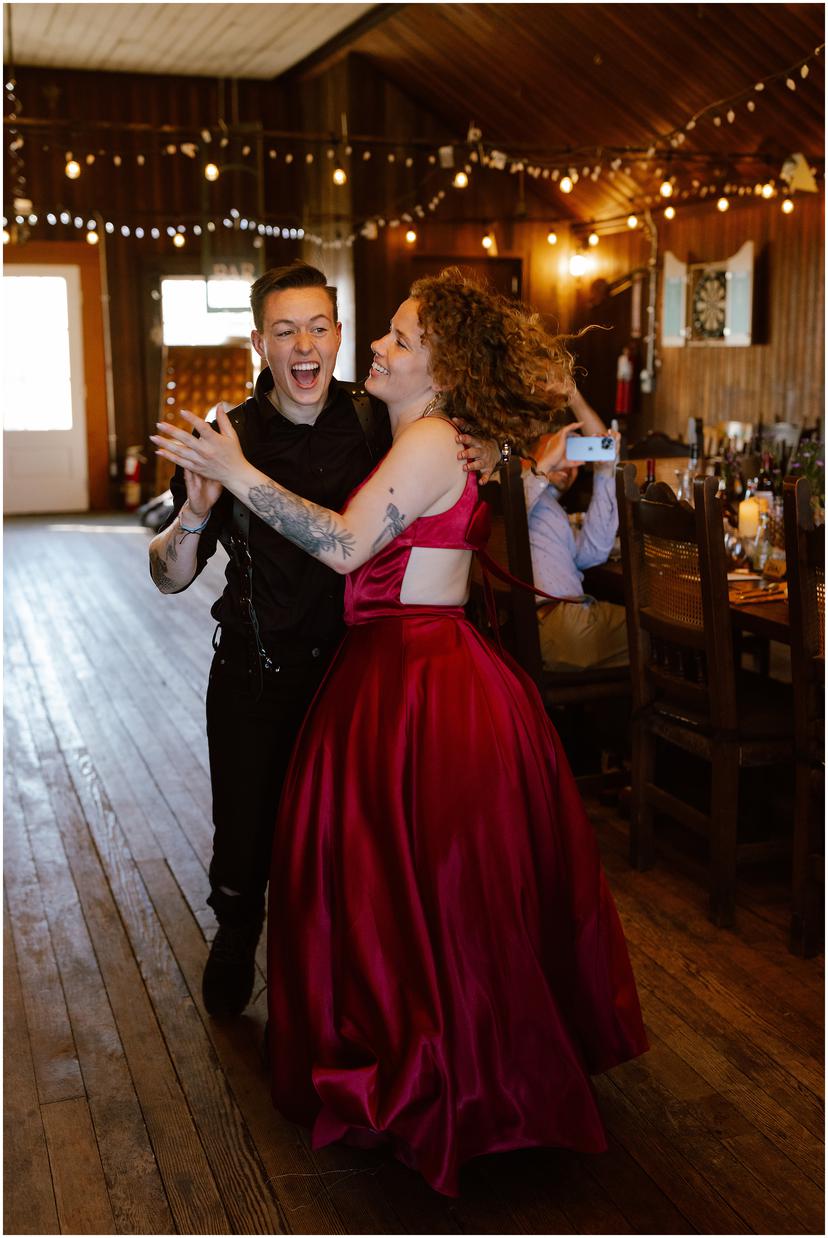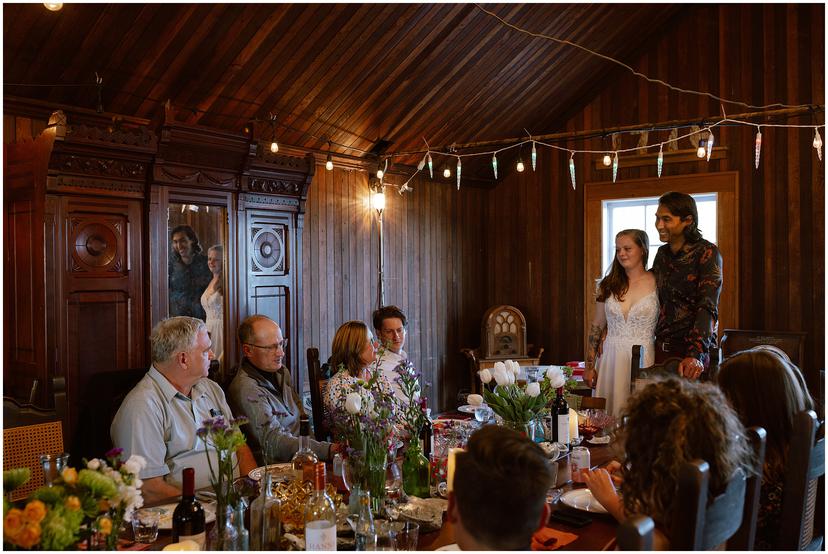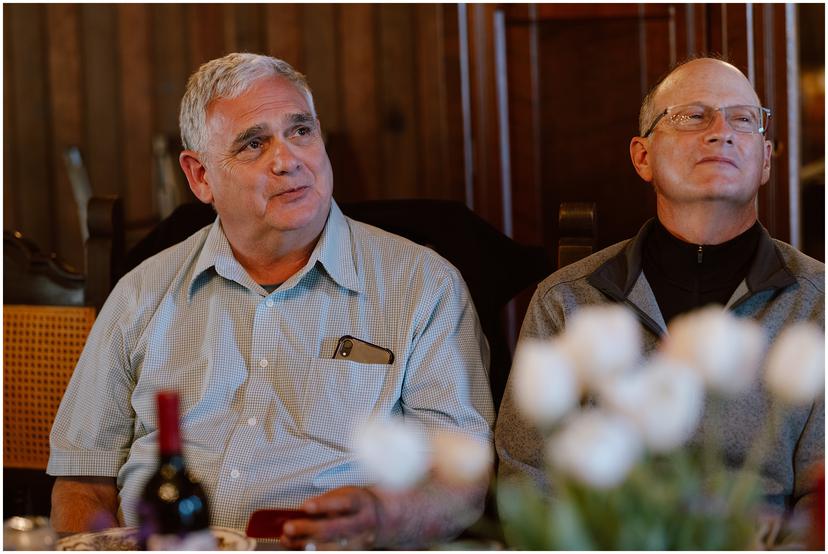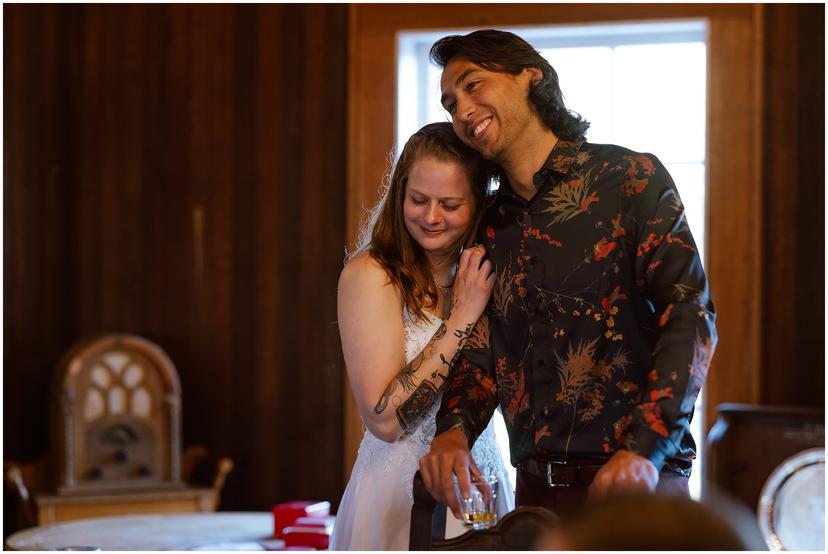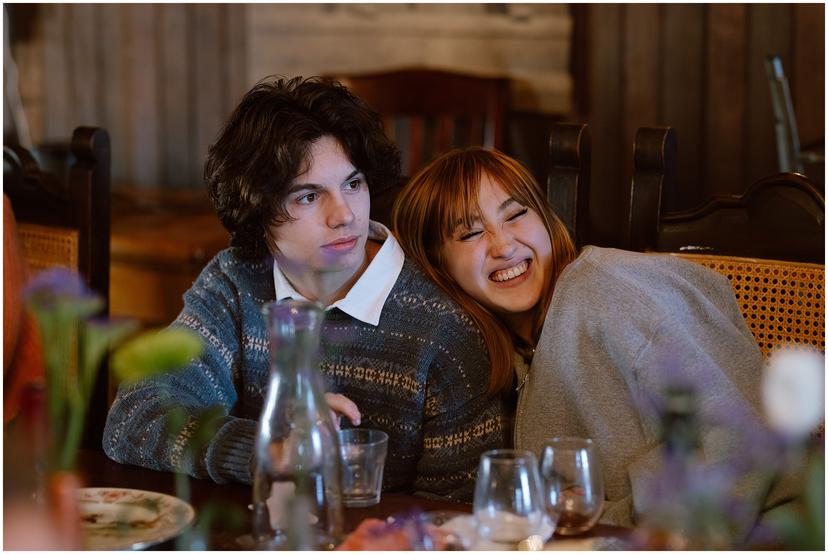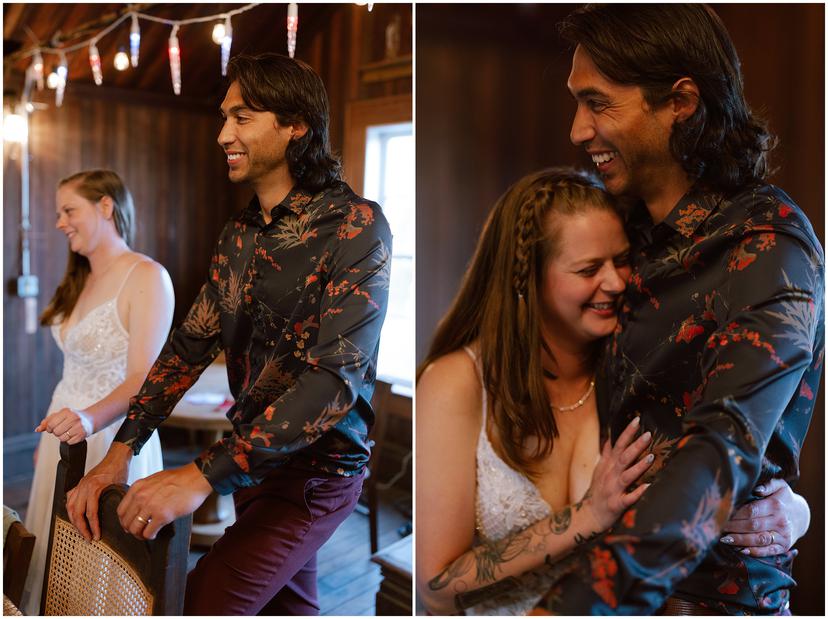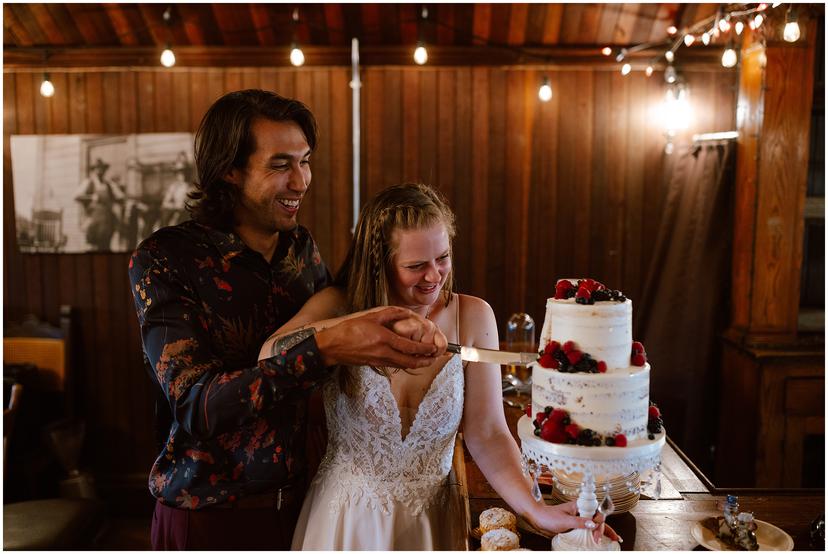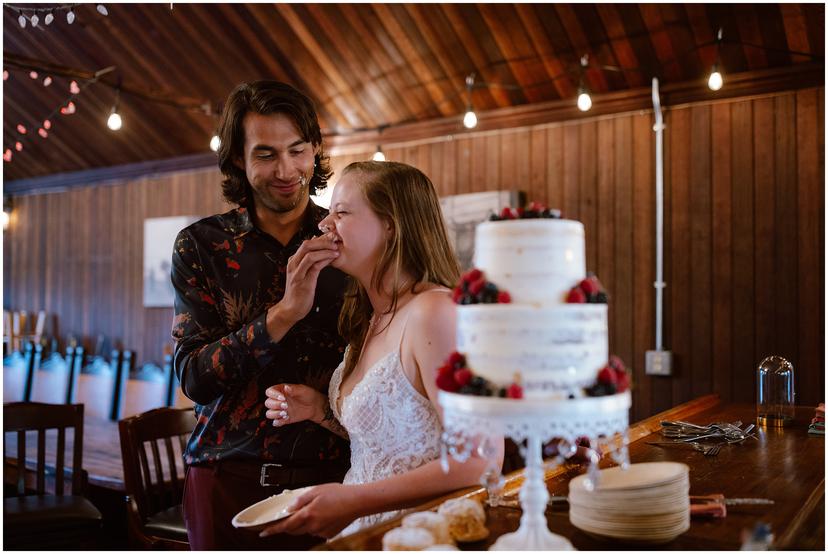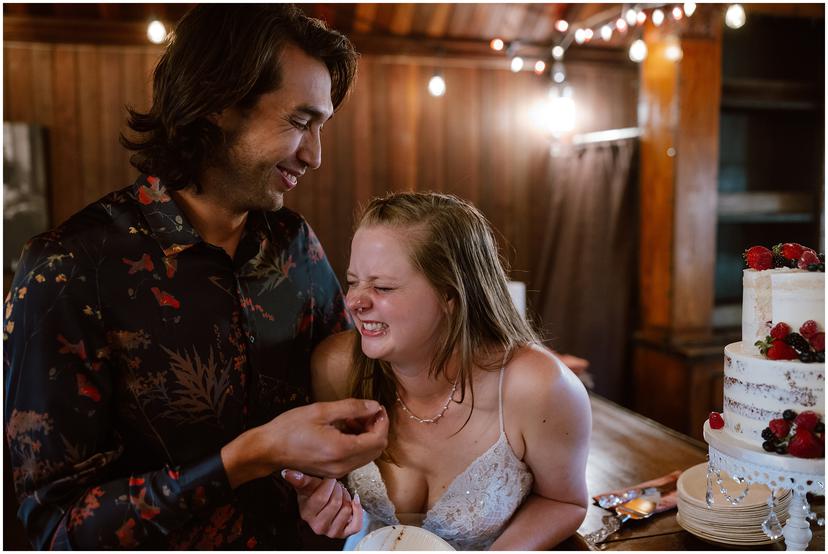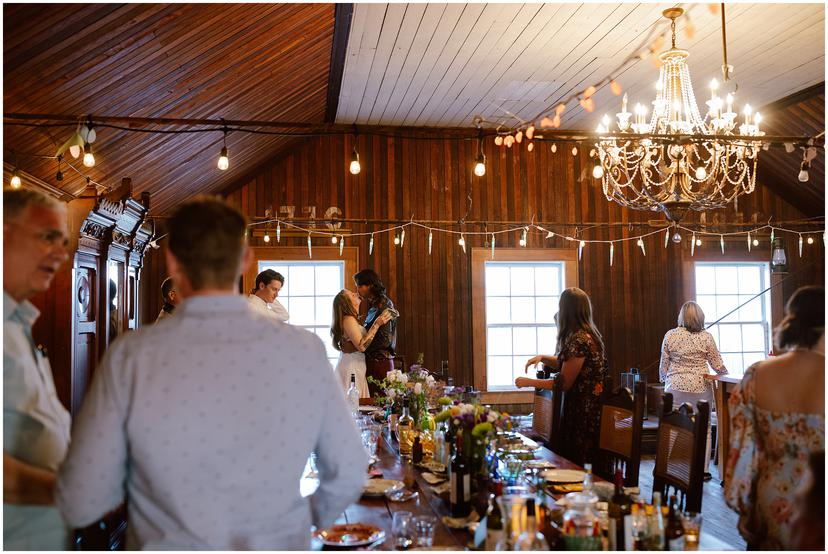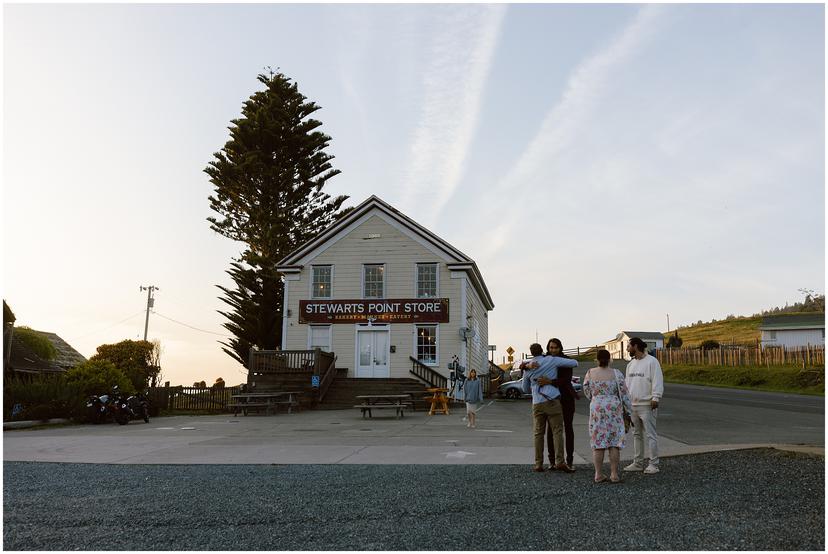 Night photos at Stillwater Cove
After dinner, Hannah and Charles wanted to spend the rest of the evening taking moody night time photos and celebrating alone. We drove to Stillwater Cove to create their dream: a blue-hour, blurry, imperfect aesthetic. This was one of the most fun photo sessions I have ever done. These are taken with natural light and with my iphone flashlight.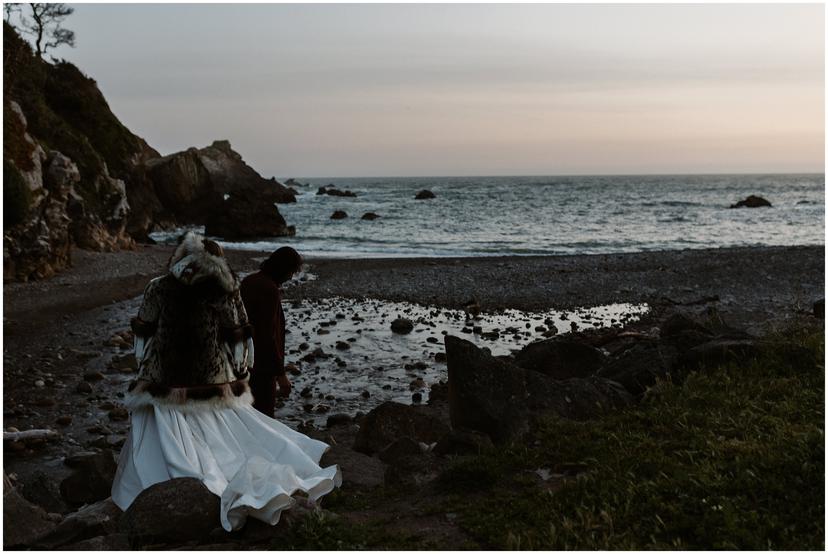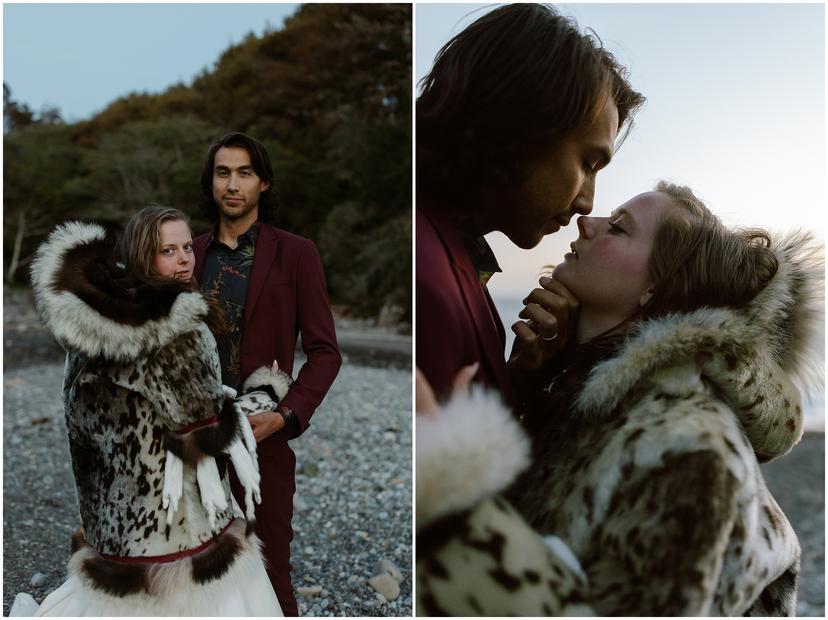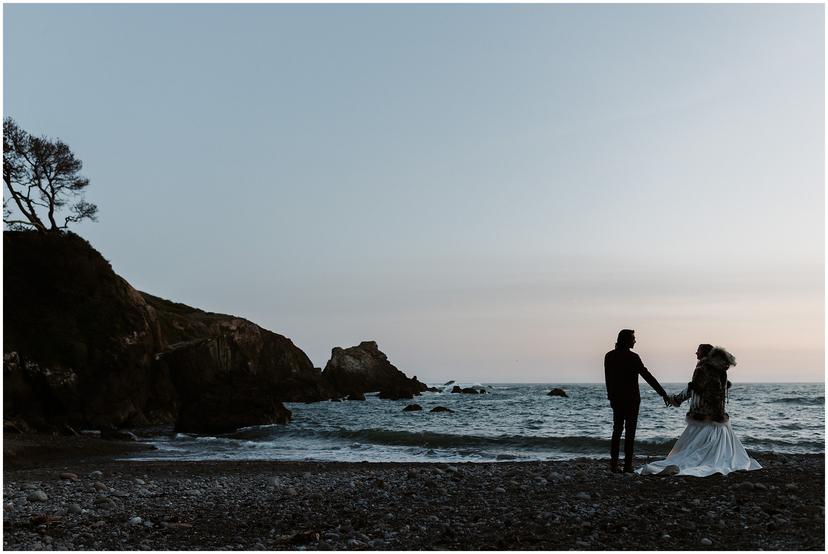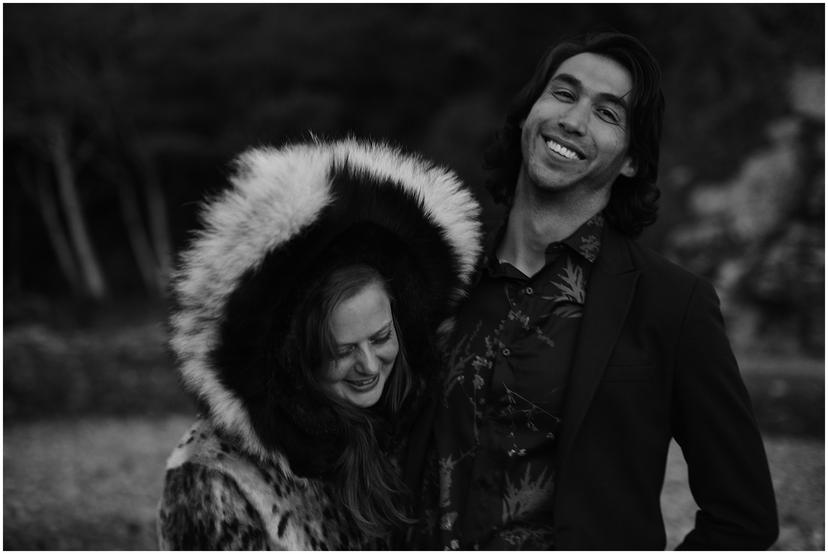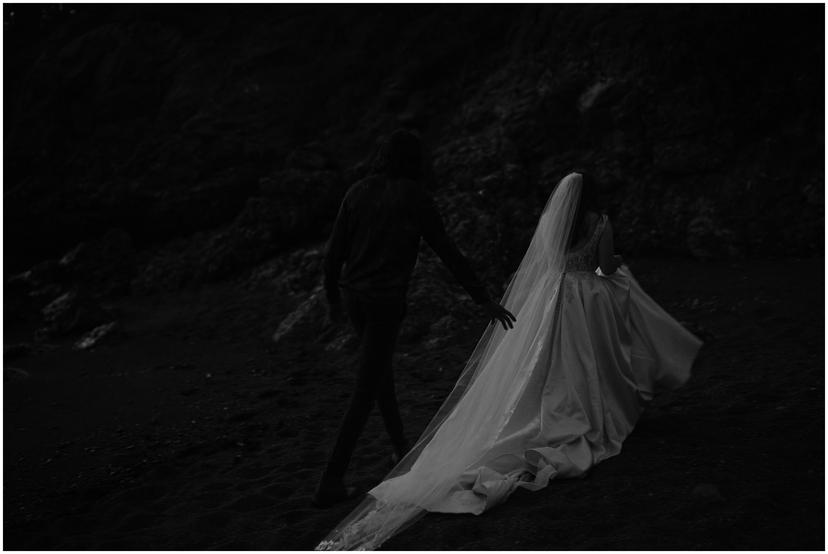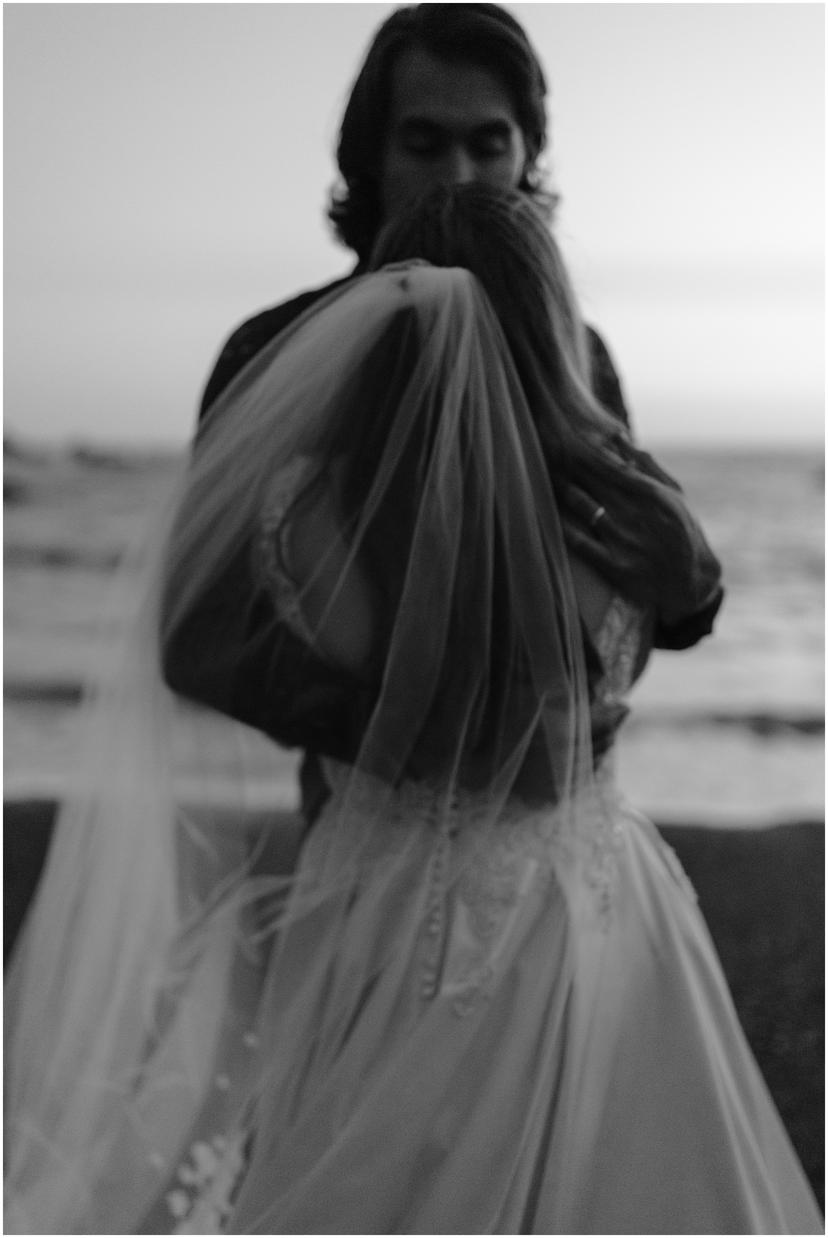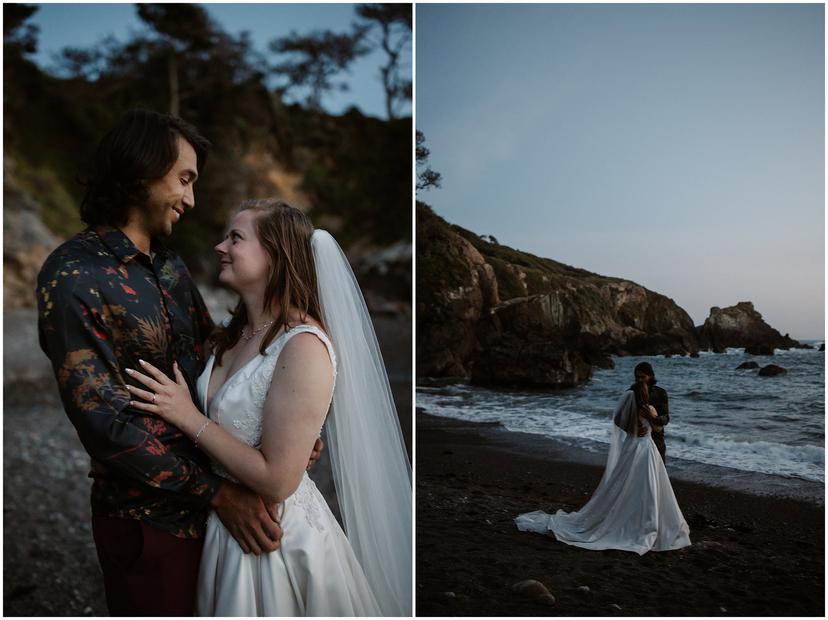 The proposal
"Charles proposed," said Hannah. "We were on a beautiful sunset ride on his motorcycle (two-up) and he took me to a grassy knoll on a secret turn off on the way up to Stewart's Point. We laid in the soft grass and let our legs dangle off the edge of the cliff as I admired the jagged, moody, collection of coves between where we were and Jenner. He asked me to go get him a rock to put under the kickstand of his motorcycle so it didn't sink into the grass and soft soil. When I came back with the rock he was down on one knee and he proposed with my dream, a simple gold wedding band that had lived a life before, found at an antique store. I was already jumping and kissing and laughing when he stood up and said he had another surprise. He knows I don't like the ownership of a woman wearing a ring when I man traditional does not during an engagement. He pulled another ring box out and showed me a matching gold band that I got to place on his finger. As soon as I placed the ring on his finger a thick bank of fog came rolling in from the North, erasing the northern road from sight. We scampered back to the guardrail and bobbed and weaved all the way home- the fog chasing our tail all the while."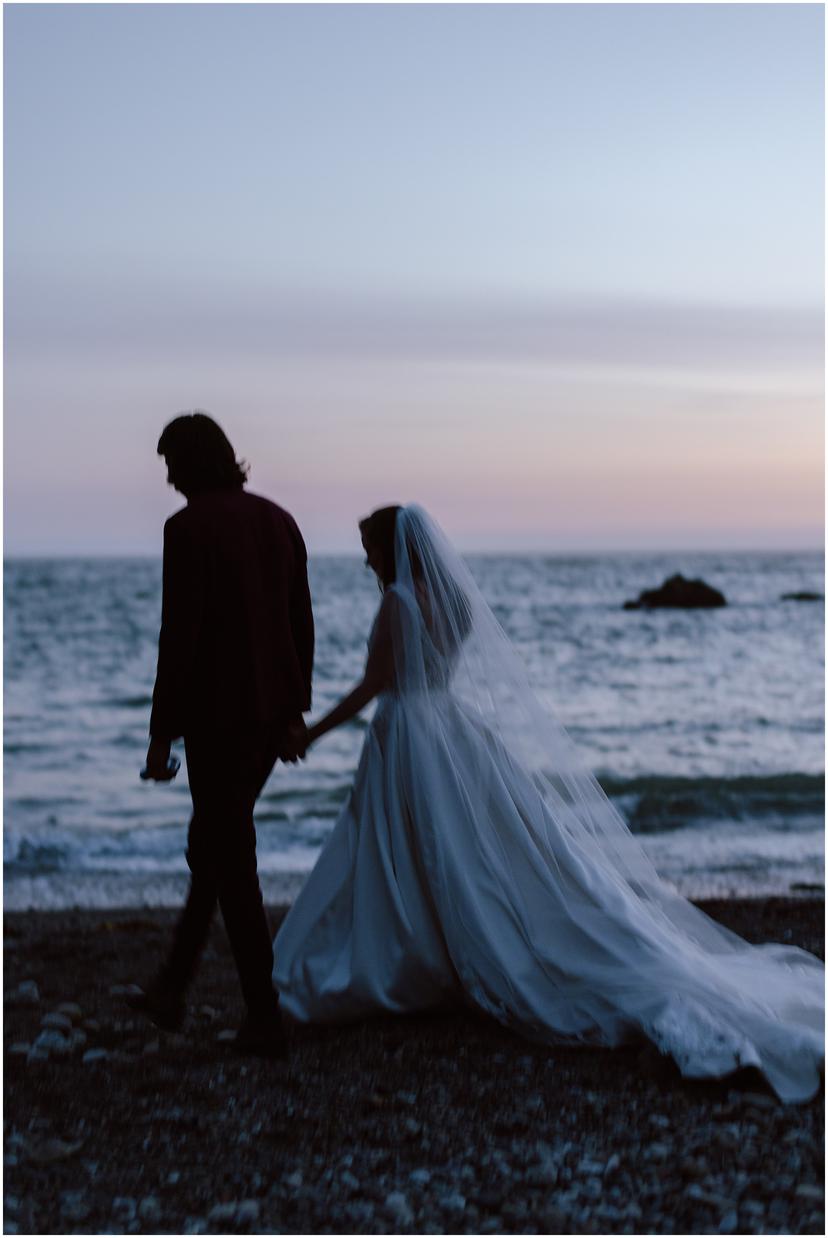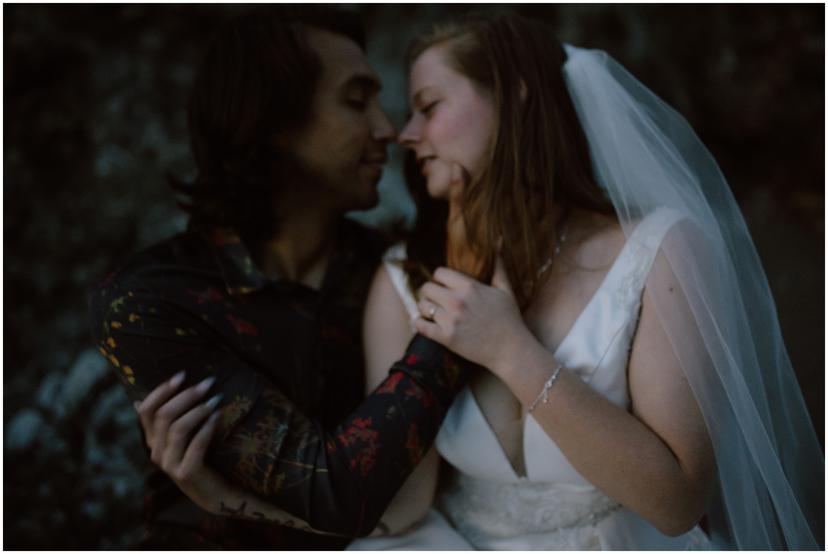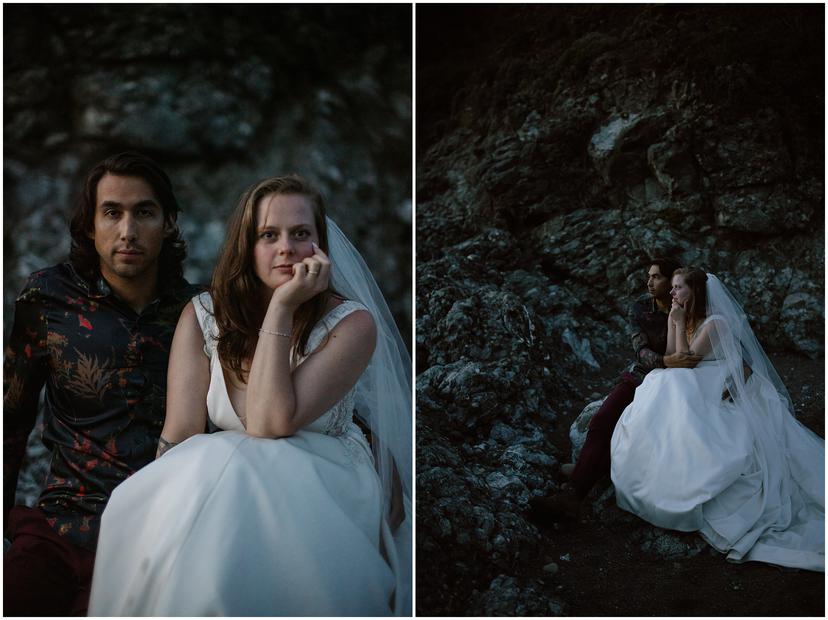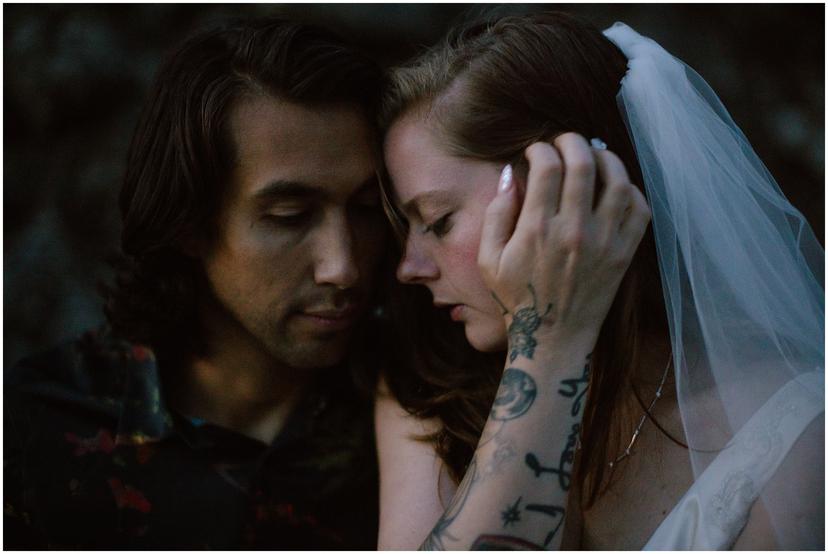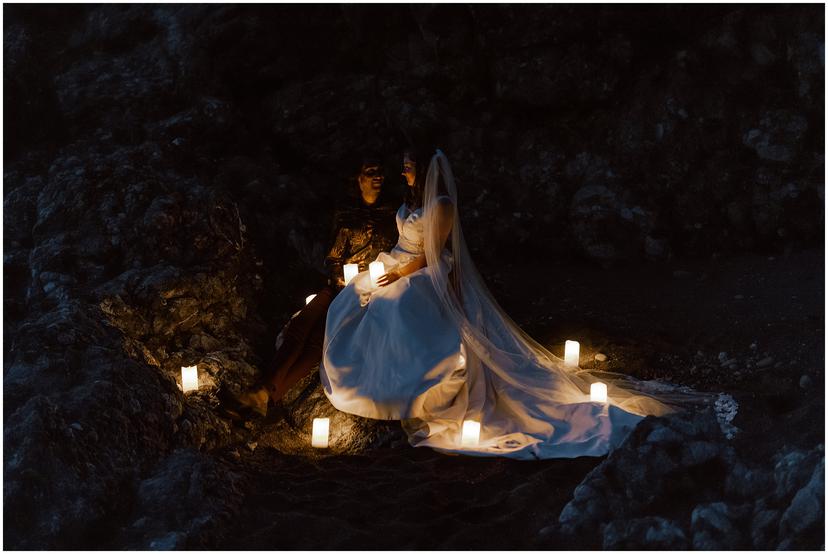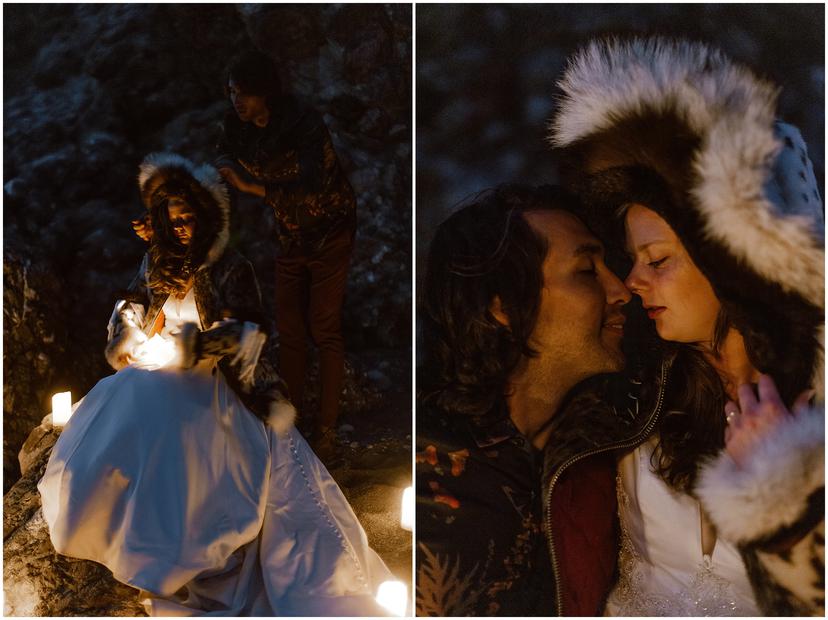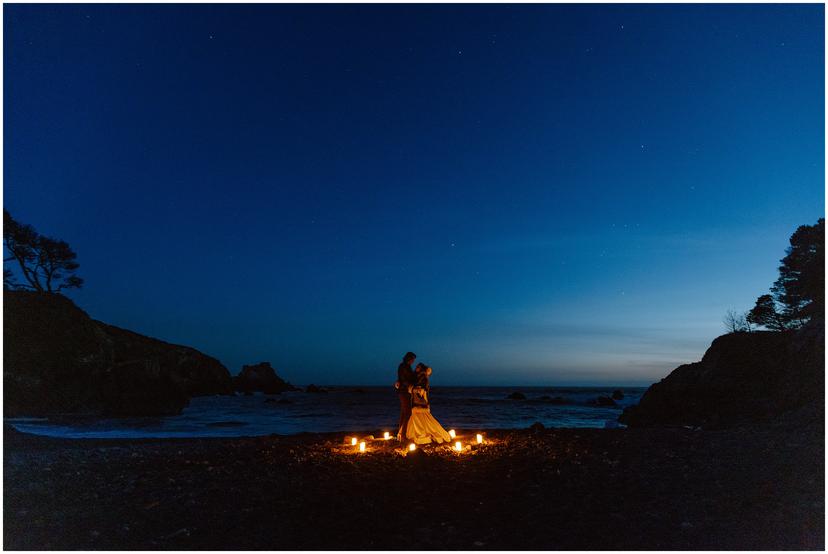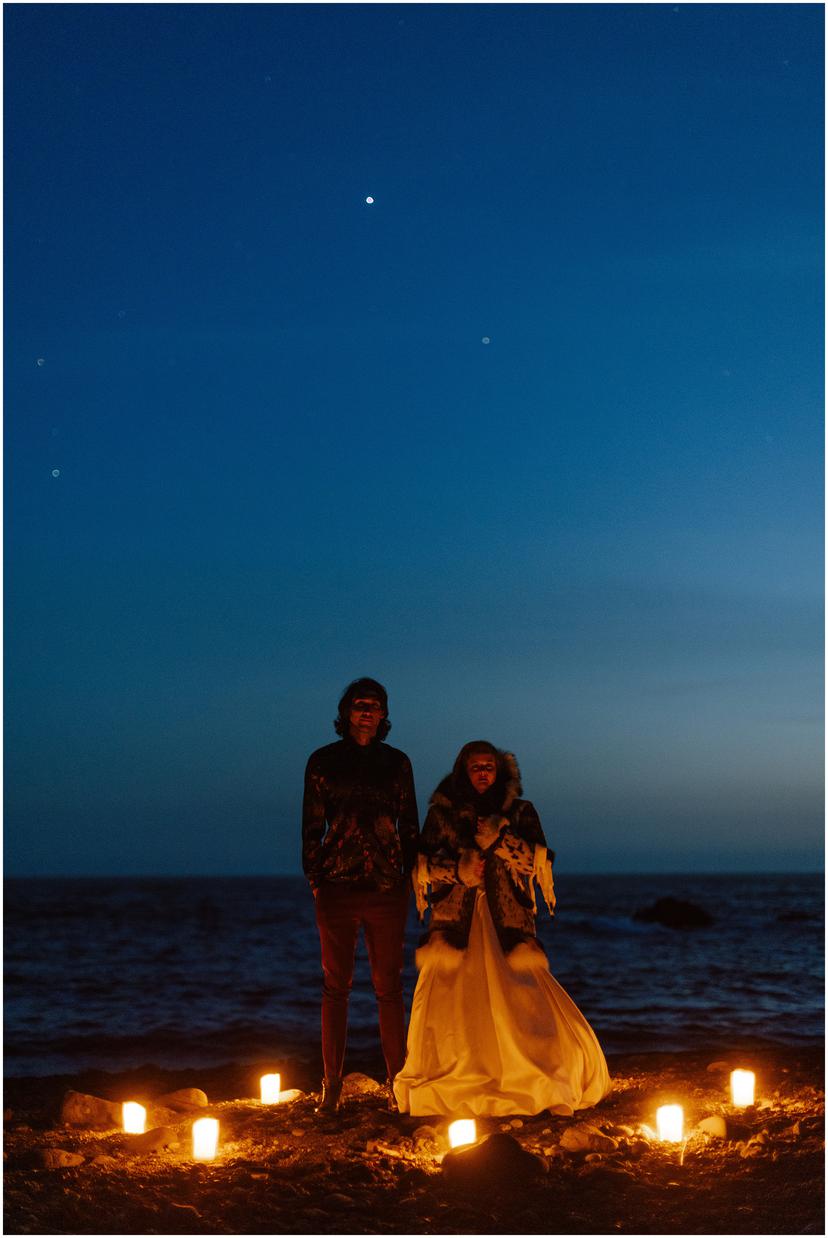 Advice for planning weddings in Sonoma County
Hannah and Charles: "Don't do it at a fucking vineyard. Find the hidden gems, don't settle for the obvious answer. Sonoma County has so much more to offer than good wine and farm to table dining."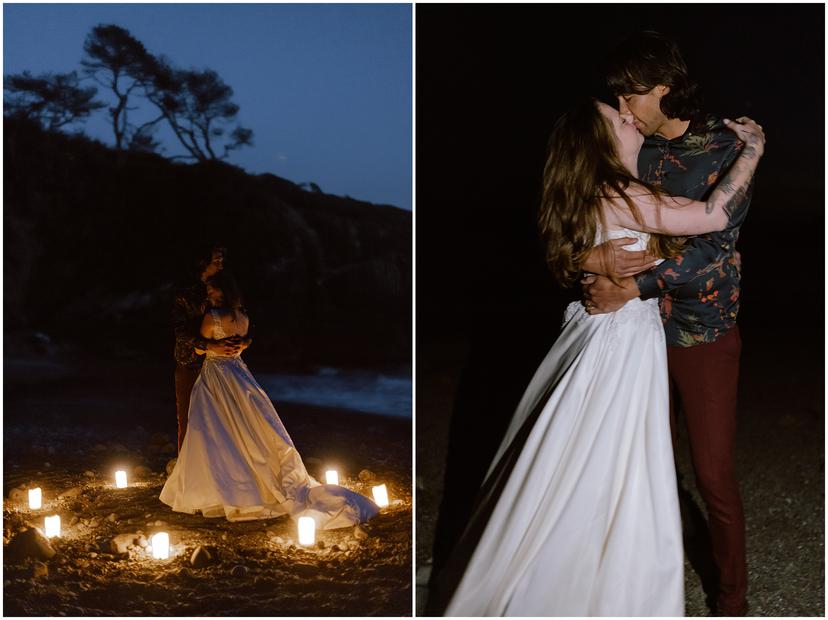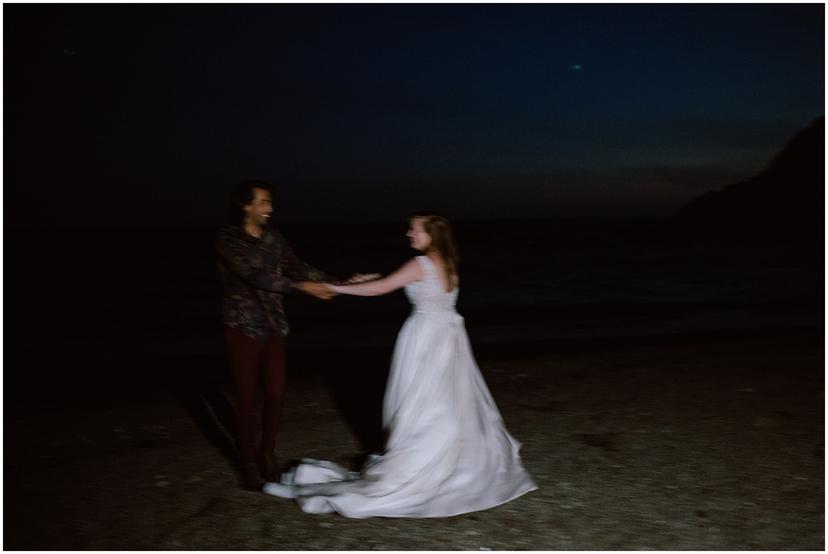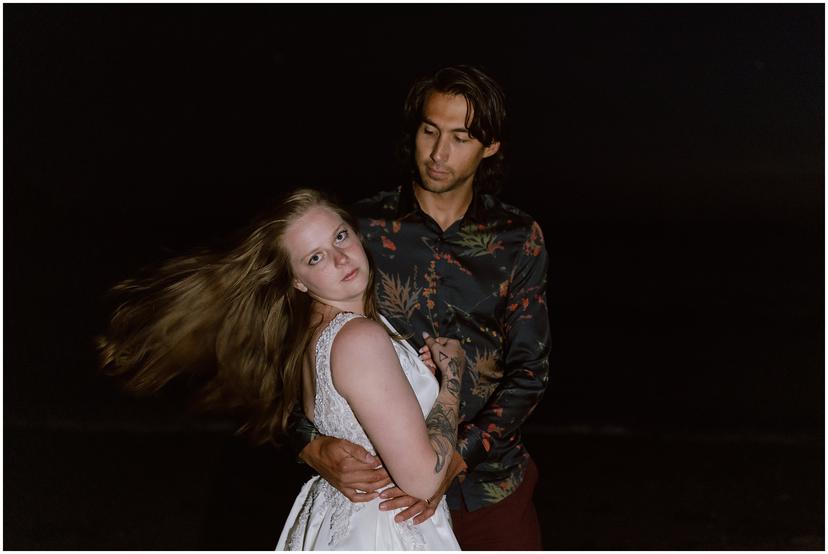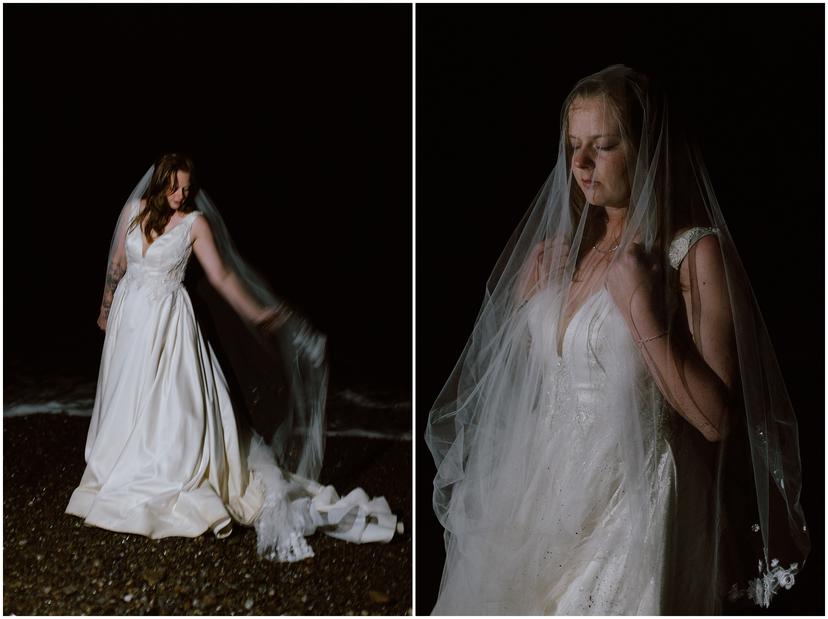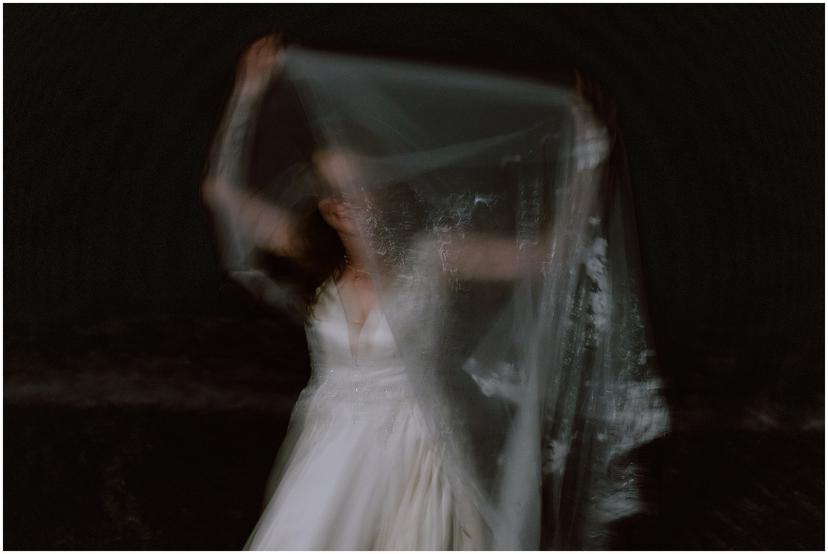 How to plan a deeply personal and unique elopement
"Remember it is about the love you share between each other, not about your guests and not about perfection," said Hannah and Charles. "Weddings should be about kissing when you want, not following the mold, and honoring your heart's deepest desires (no matter how strange and unconventional). It's tacky, but don't sweat the small stuff and be impulsive. Dance if you want - make a plan and be prepared to change the plan. Challenge your photographer- get the shots of your dreams. Talk extensively about what images you hope to capture. Be patient. Create a seating chart. Keep your party small. Tend to your guests nutritional needs. Above all else - I'll say this again and again, accept help. Unabashedly, accept help."