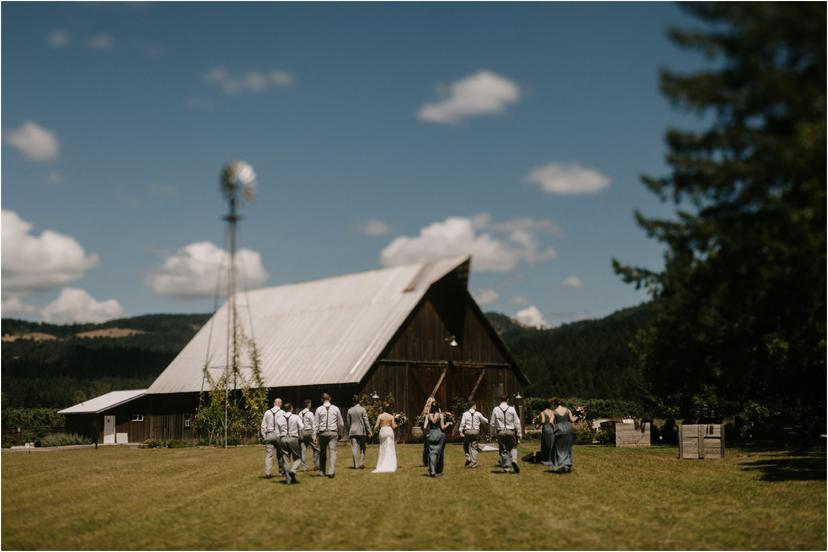 Nina and Zach's Tin Roof Barn Wedding
Nina and Zach love music, the outdoors, and wine (three things I also adore haha). They wanted their wedding to be a big, laid-back party that celebrated the beauty of the Pacific Northwest.
Zach and Nina first met through their shared love of music.
"We were both teaching a bass workshop in Kansas City (where Zach and his family are from). Nina had just won her job with the Oregon Symphony, and she was making her way back up north from Houston to visit her family in Maryland before moving to Oregon. During the week-long workshop, we got to know each other and hit it off. On the last day of the workshop, Nina asked Zach for his number because he was lame and didn't ask her. They kept in touch via phone over the rest of the summer, and then Zach drove with Nina from KC to Portland. It was a fun and exciting weeklong first date!"
Because Zach was in a band for ten years, and Nina plays bass for the Oregon Symphony, it made perfect sense that music was a massive part of their wedding day.
Their bridesmaid Rebecca sang while Nina walked down the aisle, and again during Nina's first dance with her father. Their bridesmaid Laura played during their processional. And Zach's dad sang the song for Nina and Zach's first dance.
Zach currently works at Beckham Estate Vineyard, and he had a hand in making all the wine for their wedding too!
What's your favorite thing about each other?
"Nina's talent and work ethic, but most of all her empathy towards pretty much everyone in her circle," Zach said.
"My favorite thing about Zach is his calm and friendly persona and his ability to converse with anyone," said Nina
Who proposed and what was it like?
"Zach proposed on a crazy beach in Hawaii. It was a cliffside hike with tide-pools and waves crashing. Nina's parents were along for the hike, but we separated for a quick second for the actual proposal. We climbed up on a large boulder overlooking the waves. Nina had to tell Zach to get down on one knee. Then the four of us went out for dinner in celebration."
Why did you choose Tin Roof Barn for your wedding?
"We chose Tin Roof because it was a gorgeous venue in the mountains that was the perfect mix of indoor and outdoor. Everything is beautiful there, but it still feels relaxed and low key."
What was your favorite memory from the wedding?
"Zach's favorite memory is our first dance, with his dad singing!" Nina said. "My favorite memory is the ceremony, because it was such a release of nerves and having my brother officiate and Zach's uncle and my aunt speak was perfect and made me laugh so much."
Advice for other couples or insight about your wedding experience?
"My advice about picking vendors is to pick people that you connect with!" said Nina. "And don't worry too much about specific design details, because in the moment, that will not make or break the day. I also think the first look was a really good idea because we were able to relax for the rest of the idea! And time management is key for stress levels LOL!"
The Vendors
Photography by Katy Weaver Photography

Venue: Tin Roof Barn

Wedding Coordinator: Stephanie with Union Event Co

Dress: Martina Liana from The White Dress

Suit: The Black Tux

Hair Stylist: Subhadra Katz from Subi Salon

Makeup: Tabitha Colie from Pearl and Blush

Florist: Blair Carroll from Trellis Fresh Flowers

Caterer: Celilo

Rentals: Union Event Co

Dessert: New Cascadia Traditional

DJ: Gorge Music

Calligraphy and Signs: Sprig & Fern Studio
The Slideshow
The Photos