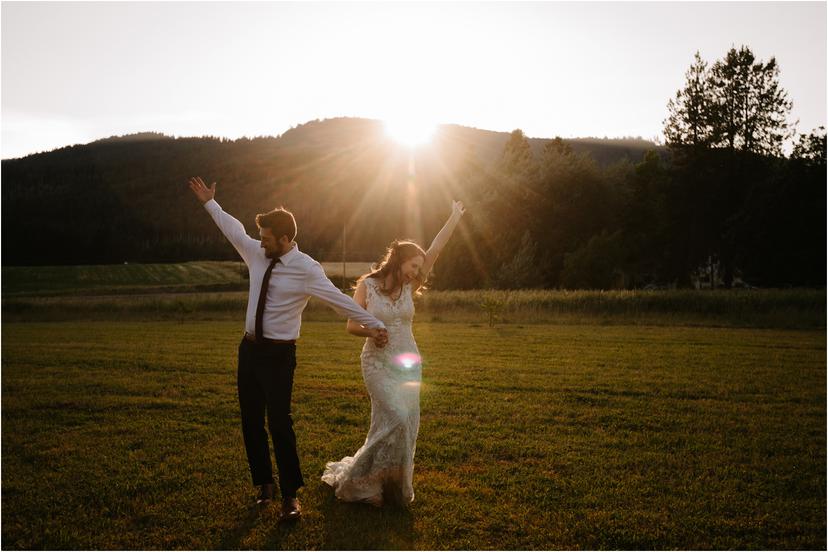 Tin Roof Barn Wedding
Open fields, mountain views, a 100-year-old barn, orchards, forests - honestly what is NOT to love about Tin Roof Barn weddings?! This Columbia River Gorge wedding venue has it all, and I love documenting weddings here!
Marisa and Alex planned a beautiful Tin Roof Barn wedding with bold burgundy dresses and florals, lots of greenery, and navy accents. They also surprised their guests with their favorite ice cream from Salt and Straw for dessert!
Tin Roof Barn includes a TON of decor (tables, chairs, furniture, and more) so they didn't have to worry about many other rentals! The venue has such a fun, cozy, and eclectic vibe. I love the way that Marisa and Alex made it their own!
The best places to take photos at Tin Roof Barn
The Tin Roof Barn has SO many great photo opportunities! The bridesmaid and groomsmen getting-ready rooms have good natural light and minimal decor, which makes for great shots. The tree next to the main house provides ample shade that works great for a first look or family pictures. The barn has SO many cute vignettes with vintage furniture and the light streaming in looks amazing at all hours of the day/night. There is also a forest on the back side of the property that photographs well, although you need to get special permission from the owners to take bride and groom portraits there (group photos aren't allowed in that area).
Something interesting about Tin Roof Barn is that the sun sets early there! Because of the hills to the west, golden hour actually occurs one hour earlier than the sunset. This is great to remember so you can get the best sunset photos possible! The fields around the barn make for a stunning backdrop for evening pictures.
In the middle of the day, things can get pretty bright, so I usually take most photos under the big tree, or I head off-site to a nearby park! We took a lot of the wedding party photos at Northwestern Park, a 5-minute drive away. It's located on the edge of the White Salmon River and has pretty wildflowers, different-looking fields, and some spots with shadier, even lighting for portraits.
About Marisa and Alex
Marisa and Alex are college sweethearts. "We met in sophomore year of college at APU on a group adventure with friends from our living areas to an ice skating rink," they said. "Alex went to talk to Marisa as we were both skating, which started a friendship. It wasn't until our junior year that we had the same class together, and Alex asked Marisa to study with him. The rest is history!"
Alex's favorite thing about Marisa is "her sense of humor and being able to come back from any stupid comment Alex makes." Marisa's favorite thing about Alex is "how selfless he is around others and her, and how cute he is."
Both Marisa and Alex love to exercise and go on hikes together. We actually hiked to Tamanawas Falls for their engagement session together if you want to check those photos out too!
Marisa and Alex wanted their wedding to feel exciting, romantic, and spontaneous, and it was precisely that!
What was your favorite memory from the wedding?
"The first look," said Marisa. "By the time I finally got to see Alex, I was just ready to start enjoying our day together. So glad we got to have that moment together and then get all the other formal photos done before the ceremony. Second favorite was the ice cream!! I am a huge Salt & Straw fan.
Alex's favorite memory was their dinner. "I loved being surrounded by my bride, my groomsmen, and the bridesmaids having dinner together. The food was delicious, and a head table is a must at the Tin Roof Barn. Also, I was super nervous the whole day, so I didn't have an appetite until after the ceremony had ended, so it was the first time I really ate that day!"
Why did you choose Tin Roof Barn for your wedding?
"We loved the atmosphere in how inclusive it is with the very little decor needed. We liked the eclectic feel of the barn, furniture, and tableware. Also, Kelly, the owner, is awesome! And it's neat how it is her families barn."
Advice for other couples planning weddings in the Columbia River Gorge?
"Try and stay local with your vendors. Portland vendors either won't be willing to travel that far or will charge extra for travel fees (which can add up with how far from Portland it is)."
Any other insight you would share about your wedding experience?
"Forget tradition and go with Salt & Straw for dessert!!! Stay true to who you guys are as a couple. The celebration is for you, and you should only pay for the things you enjoy. Don't feel pressured to follow traditions if they aren't important to you."
The Vendors
Photography by Katy Weaver Photography

Venue: Tin Roof Barn

Wedding Coordinator: Ally with Union Event Co

Dress: BHLDN

Suit: Boss Huge

Hair Stylist: Alex Do

Makeup: Natalie Murphy

Shoes: Sam Edelman

Florist: Bloomsbury

Caterer: Boda's Kitchen

Ice cream: Salt and Straw

DJ: Apogee Events

Calligraphy and Signs: Sprig & Fern Studio
The Slideshow
The Photos