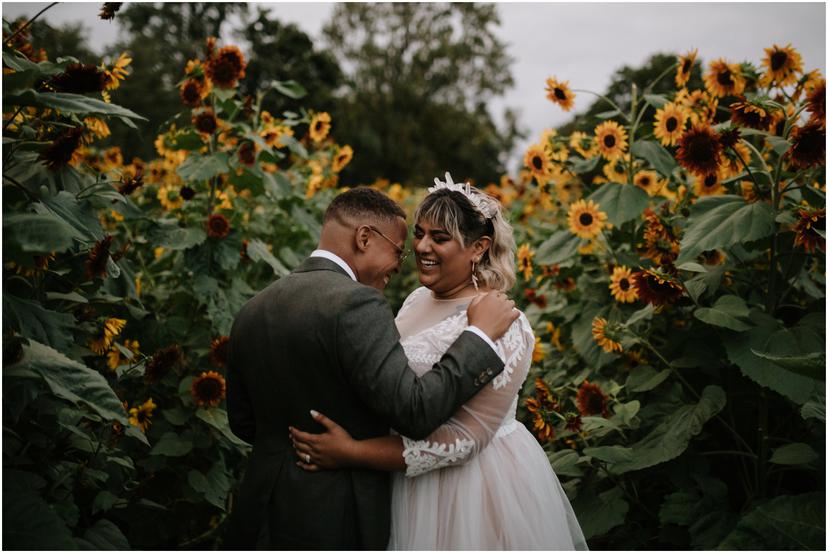 The Barn at Locust Hall Wedding
You guys are going to LOVE this crystal and gemstone themed wedding on the night of the full harvest moon. Pri and Reggie were inspired by nature and the colors of rocks when they created their moody wedding palette. The rustic, historic property at Johnson's Locust Hall Farm perfectly complemented their earthy neutral wedding colors. They decorated it with moss, stones, grass, and greenery, with some warm-toned florals, allowing the natural beauty of the place to shine through as well. Their favors were matchboxes that said "written in the stars," and that celestial feeling permeated the entire mood of the event. It was totally them.
"It actually all started with the invitations," said Pri. "I found the perfect invitations that were crystal/stone themed with a neutral/earthy/pastel color palette. From there, I picked all the bridesmaids dresses to go along with the color scheme of the invitations, and all the other decorations flowed from there with the same minimalist and natural vibe."
A fun fact about this couple? I actually took Pri's senior photos 10 years ago in Portland! She was one of my earliest clients when I first started my business. I was flabbergasted and honored when she reached out about flying to New Jersey for her wedding. The entire weekend was a blast, and Pri and Reggie really welcomed me into their friend group with open arms. After their rehearsal dinner, I went back to their cozy house. I hung out with Pri and her bridesmaids as they watched hilarious home videos they made as kids together. We died laughing and then went out for Karaoke after at one of their favorite bars. I loved hanging with their eclectic and hilarious friends - everyone from comedians to MMA fighters. And I loved how much of their unique selves they inserted into their wedding weekend. It was definitely one of my favorite weddings of 2019!
About The Barn at Locust Hall
Pri and Reggie's rural wedding venue was located in Jobstown, New Jersey, about 45 minutes northeast of Philadelphia. It is BEAUTIFUL. I wasn't sure what to expect as an Oregon photographer flying into Jersey. But honestly, this little patch of countryside blew me away. The Barn at Locust Hall was peaceful, photogenic, and a perfect place for a wedding. I was stoked, to say the least.
The farm gets its name from a small grove of locust trees on the property. It's 315 acres include apple orchards, sunflower fields, rows of corn, pumpkins, and so much more. The farm itself was started 100 years before the 13 colonies originally became the United States. The driveway leading to the original clapboard home (which has been added to over the years) was first built in 1693. The gorgeous stone barn was first constructed in 1787.
A fun historical fact is that the first-ever iron plow documented in the United States was brought to Locust Hall to test on the property. It was later donated to the New York Museum in 1865.
Weddings at The Barn at Locust Hall
This New Jersey wedding venue accommodates weddings from 50 to 150 guests, with both indoor and outdoor spaces. The historic house is perfect for getting ready photos, and I LOVE the vast field for outdoor ceremonies. The stone barn has an old-world charm that is perfect for cocktail hour or an indoor ceremony. And the main event space, the Breezeway Barn has such a rustic elegance that photographs so well and sets the perfect backdrop for a grand wedding reception.
I absolutely loved working with the staff at this wedding - they were SO kind to me and helpful throughout the weekend. I also loved that the venue provided golf carts to take pictures around the expansive property, allowing us the chance to take some incredible moody sunflower pictures at dusk.
What was your favorite thing about getting married at Locust Hall, and why did you choose it as your venue?
"It was actually our parents that made the final call to go with Locust Hall," Pri said. "We had been running around all day visiting different venues, and the moment we turned onto the long driveway flanked by sunflower fields on either side, both our parents were like "Sold! Check please!" and I have to say they made a great call.
"What I loved most about getting married at Locust Hall was the progression through the different spaces on the property that really give the wedding a feeling of momentum and energy. There is also just so much natural and scenic beauty that it really didn't need all that much decorating, and our guests had a great time just wandering around the property petting goats and whatnot."
What was your favorite memory from the wedding?
"One of my favorite memories was Reggie and I's vows that we wrote ourselves," Pri said. "I was SO nervous because I have horrible stage fright, and my vows were definitely the most personal piece of original writing I had ever read aloud (in front of like 100 people). But Reggie held my hand through it all and made me feel like I was talking just to him in our own little world.
"One of my other favorite moments was getting ready with my bridesmaids when my hairstylist got everyone in the bridal party to download the co-star astrology app, and then we all proceeded to have a big heart-to-heart about our birth charts. It was very on-theme for the wedding."
Do you have any advice for other couples planning weddings in New Jersey?
"There are SO MANY wedding venues in New Jersey, when we were starting out it was a little overwhelming trying to go through them all to find the perfect place, said Pri. "It helps to have a pretty good vision of what you're looking for so you can narrow down your search criteria. My advice to people getting married in New Jersey would be to think outside the box and find someplace that is unique and meaningful to you in some way. There are many banquet hall type places in New Jersey, and I have been to plenty of banquet hall weddings that were beautiful and memorable, but going with a place where you can bring in the food and decorations and really customize the experience to your taste will ensure your day is unique and unforgettable.
Any other insight you would share about your wedding experience?
"If you're on a tight budget and a full-on wedding planning is out of the question, definitely hire a day-of coordinator to make sure all the setup and scheduling is taken care of for the day of the wedding," Pri said.
"And that being said, the number one piece of advice I can give is don't sweat the details. There were a couple small things that were forgotten or not executed exactly to my vision, but now I honestly can't even remember what they were, and no one else noticed, so don't worry about it! Your wedding day is about celebrating the love you have for your partner with all your friends and family. Everything else, like place settings, flowers, and decorations, is just background noise that most guests will forget. But what they will remember will be the way they felt, how much fun they had dancing, and how happy they were for the couple."
The Vendors
Venue: The Barn at Locust Hall

Crystal crown: Judy and Madeleine on Etsy

Crystal earrings: Emerald and Opal Design on Etsy

Dress: Stylish Bride Accessories on Etsy

Florist: A Garden Party

Hair: Opalescence Salon with Kristina Francisquini

Makeup: Danielle Santiago

Bridesmaids Dresses: BHLDN

Groom and Groomsman suits: Indochino

Officiant: Heather Lowry

Caterer: Toscano Ristorante

Dessert: Bean Appetit Bakery

Videographer: Will Vafides

DJ: Kirk Fleming (DJ Kizzerk)

Rentals: Johnson's Locust Hall Farms
The Photos