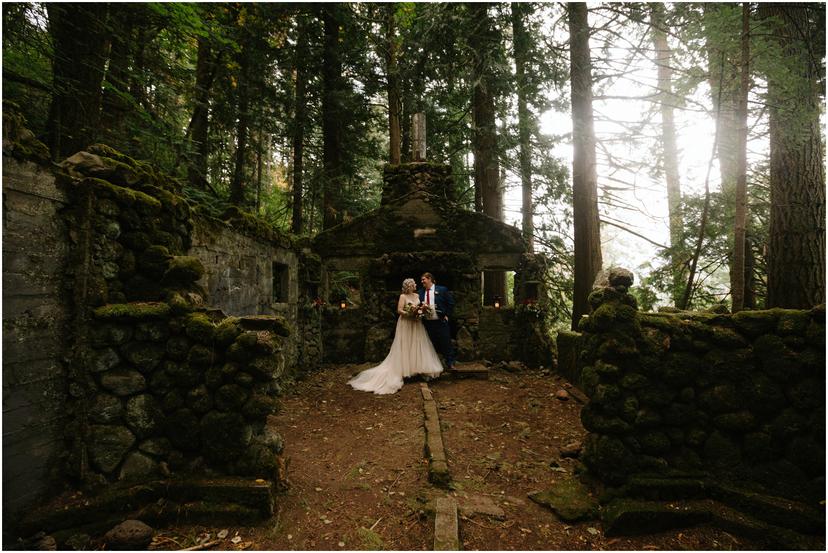 Columbia River Gorge Elopement
Madison and Dillon came all the way from Oklahoma for their elopement in the Columbia River Gorge! They planned the whole thing way before COVID-19 hit, and luckily their wedding was pretty pandemic-proof. They knew up front that they wanted a super small gathering with only a few family members and close friends. They also knew they wanted to be somewhere in a forest because they love the outdoors. They discovered the this location after doing some deep internet searching. Coincidentally, they found me and my photography at the same time, from this wedding back in 2017! It was an honor to work with these two and incredibly fun to show them around some of my favorite locations in the gorge.
2022 update: since publishing this, the owners of this property have reached out and weddings are officially NOT allowed here. Please enjoy these images but know that this location is off-limits and I won't be photographing any future couples here moving forward!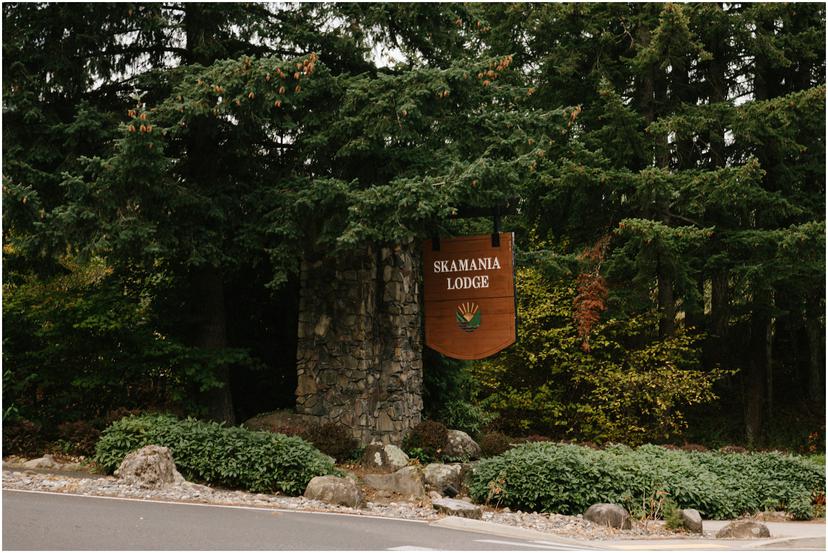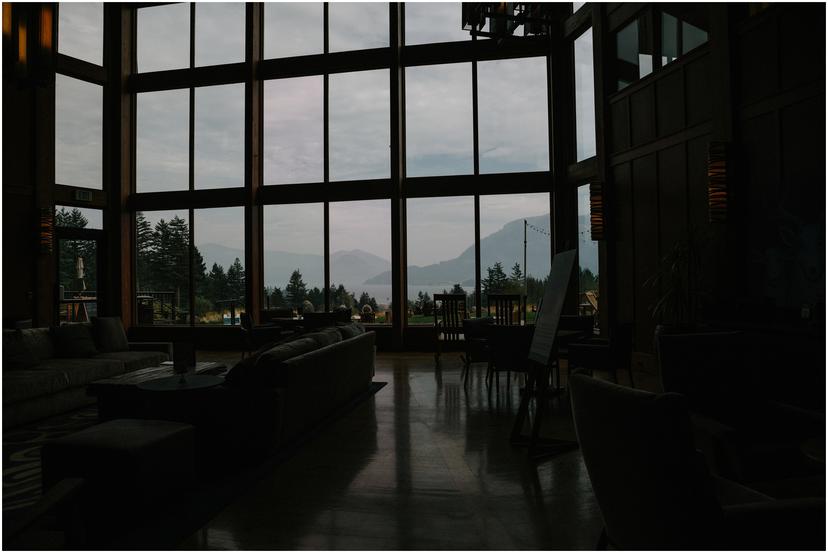 Getting ready at Skamania Lodge
Madison and Dillon started and ended their day at the stunning Skamania Lodge. It's close to Steep Creek Falls, and it's the perfect jumping-off point for all Columbia Gorge adventures! The vast lodge has luxurious rooms and epic views; you can even stay in a treehouse if you want! It's perfect for getting-ready photos and doing a first look. We took portraits in the rooms, in the tall grass out front, and in the moody forest behind the lodge.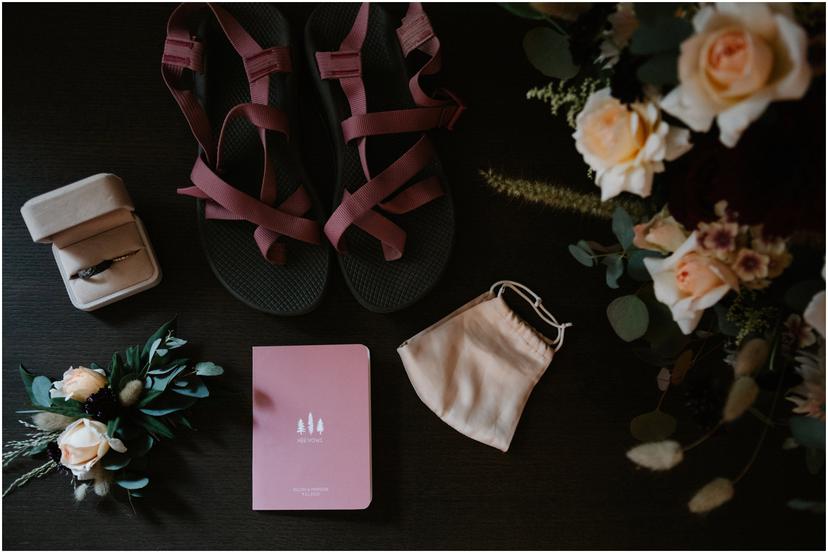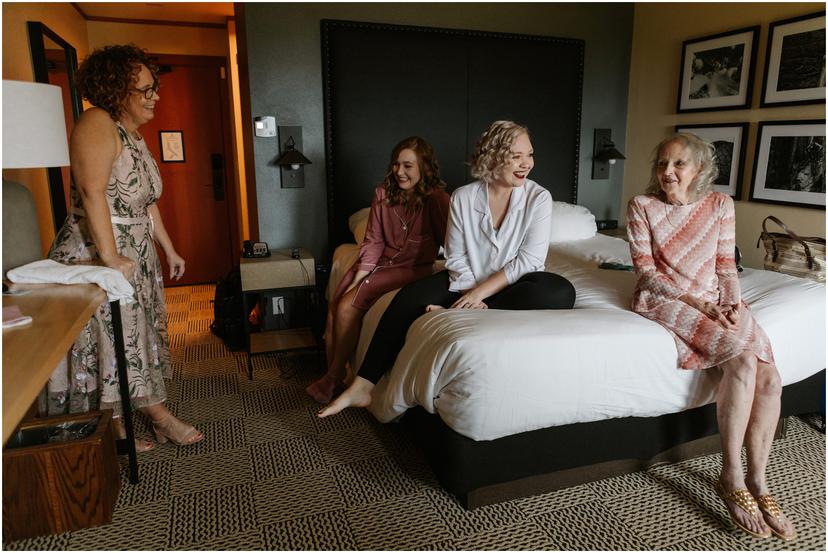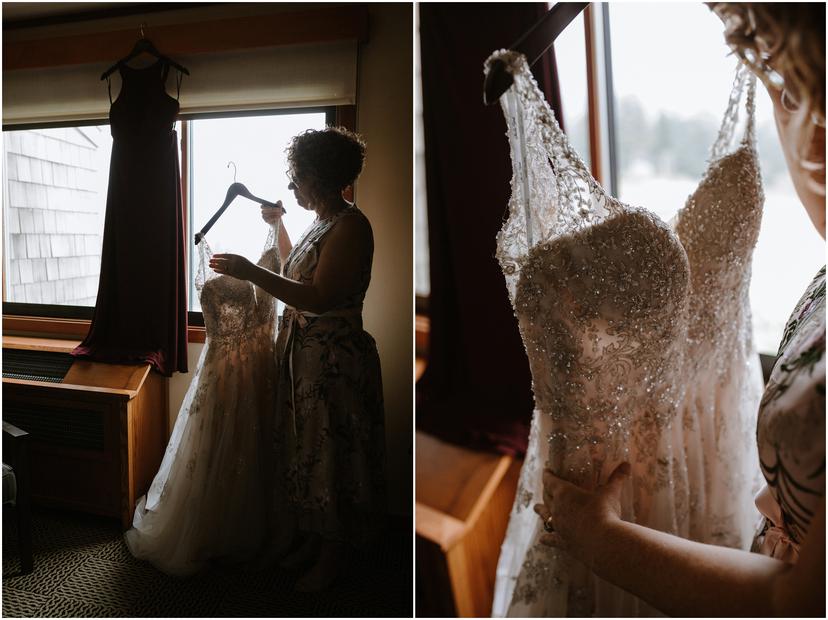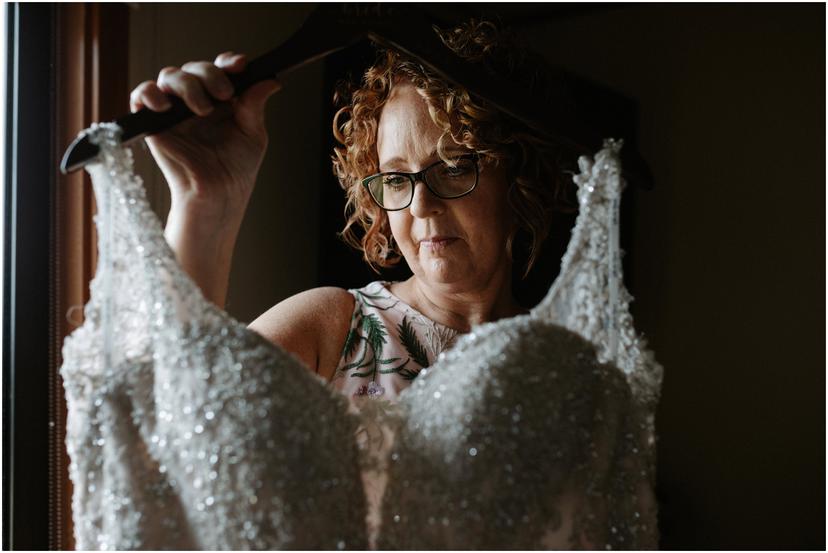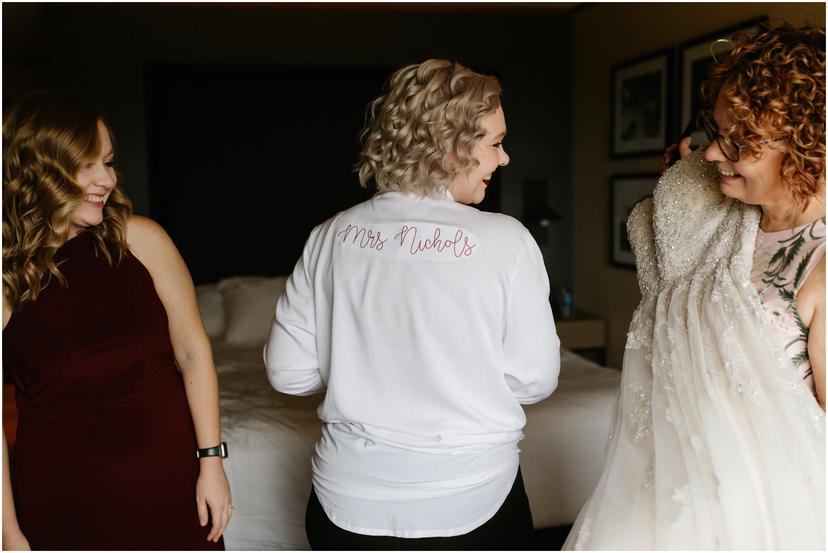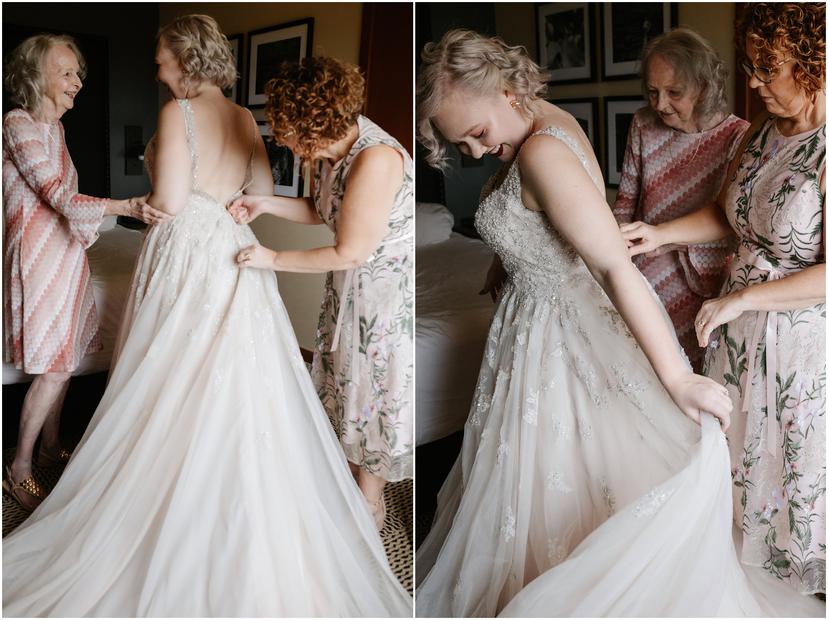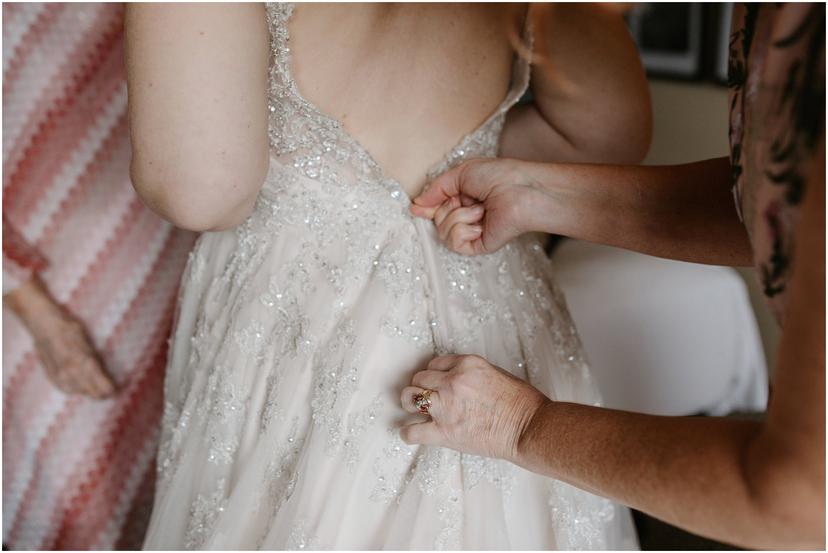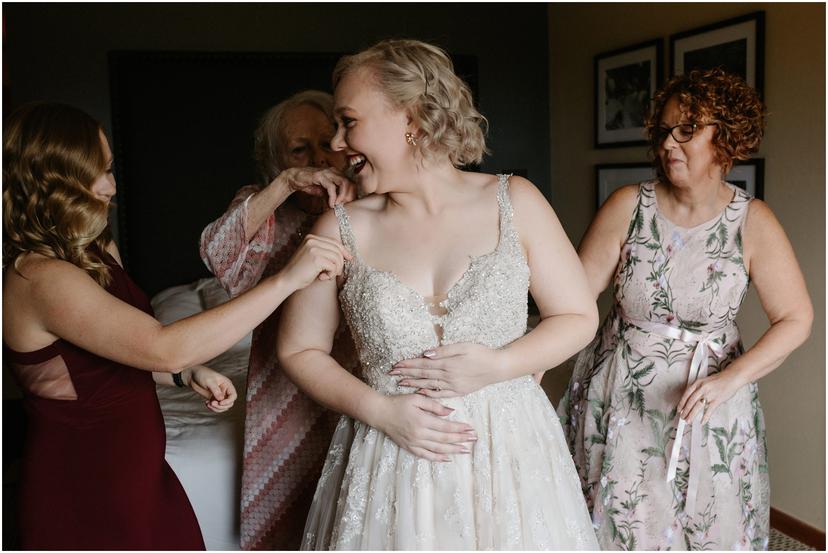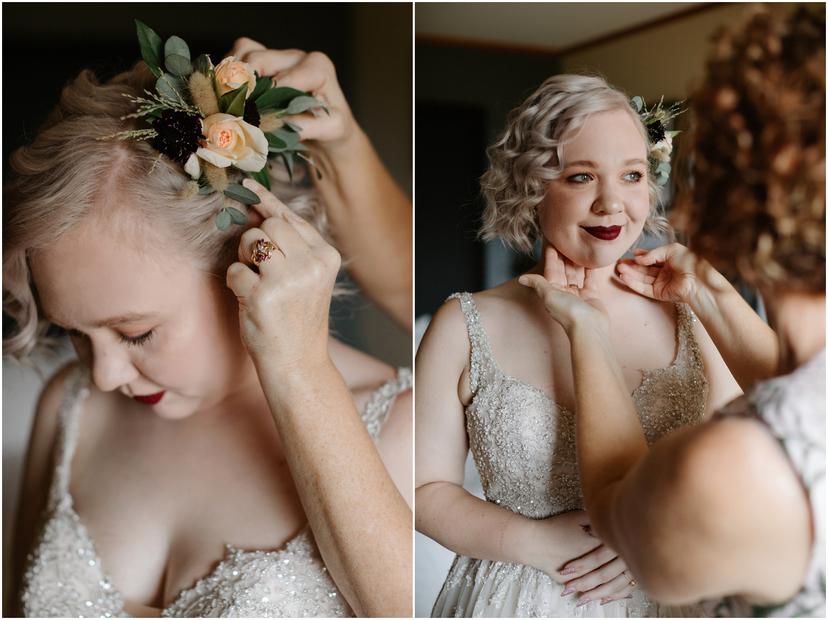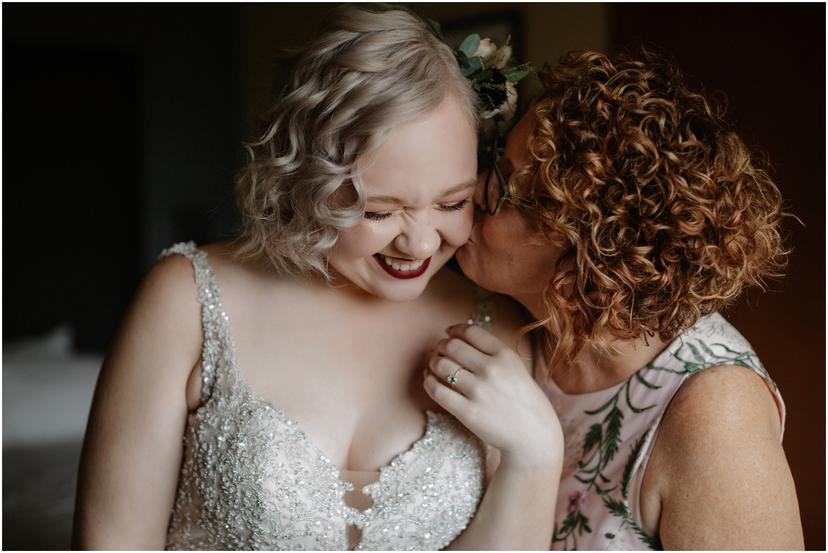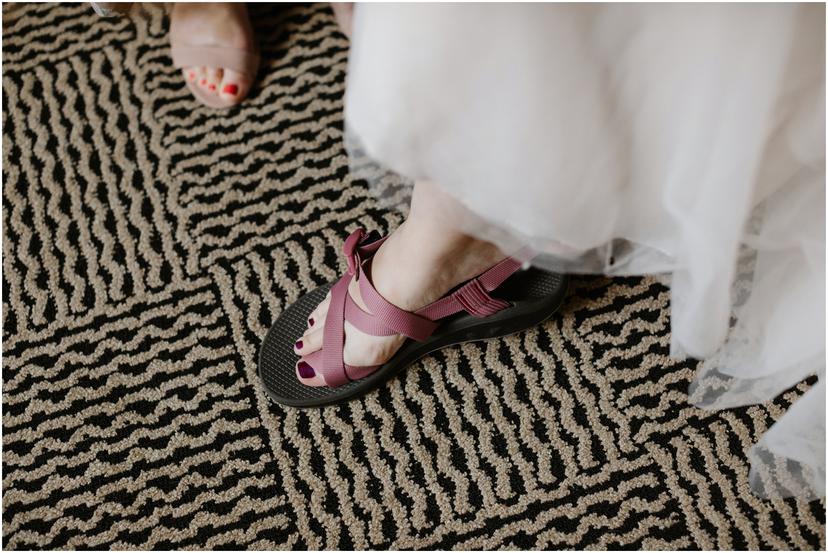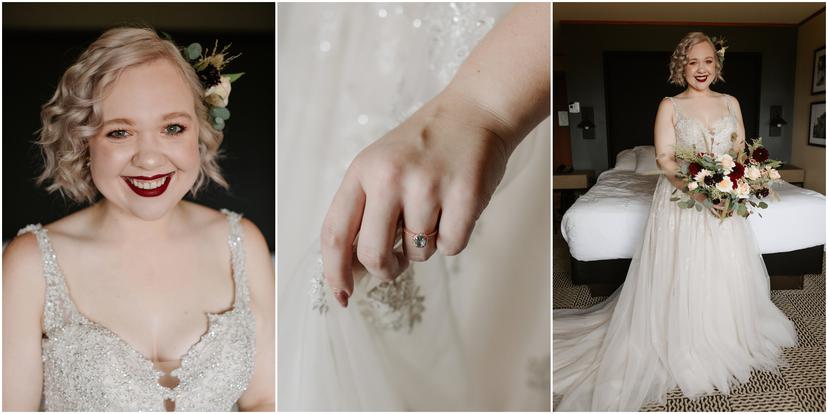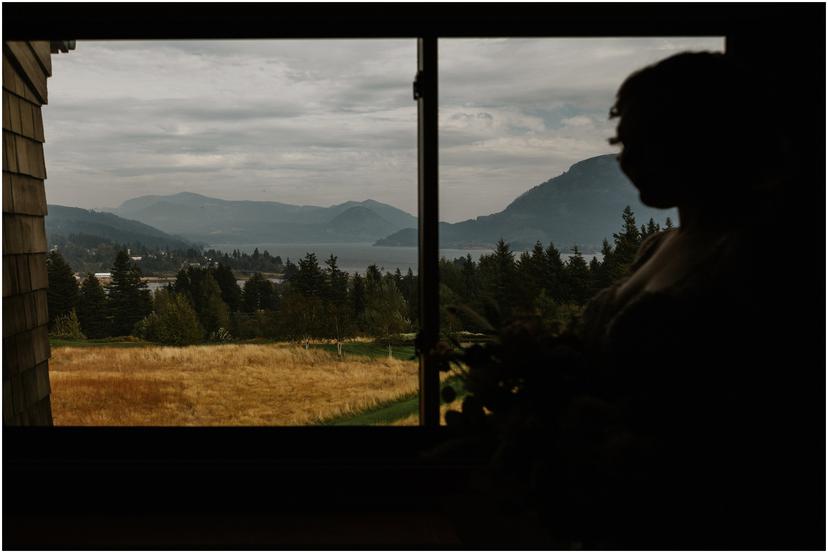 Advice for planning a destination elopement
"As for planning from afar, I would say that you have to be willing to let go of some details that you are unable to micromanage," said Madison. "Like my bouquet, I had no clue about any flowers, but they turned out beautiful."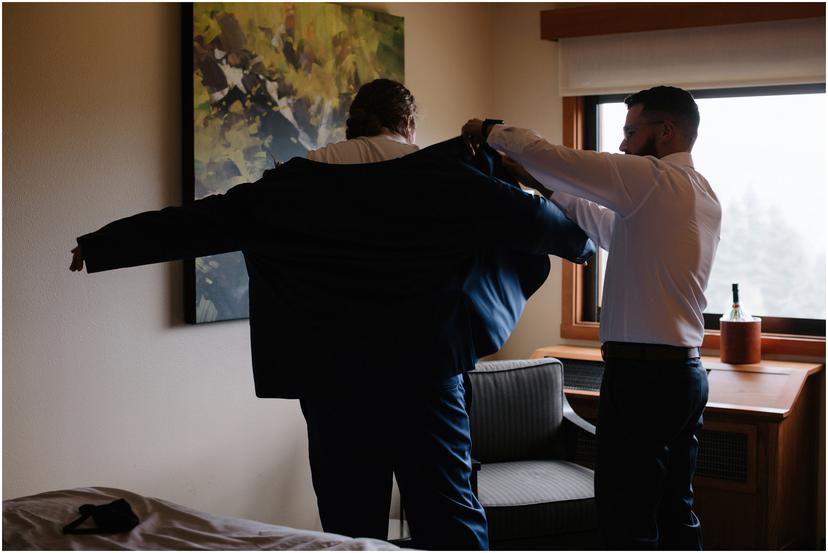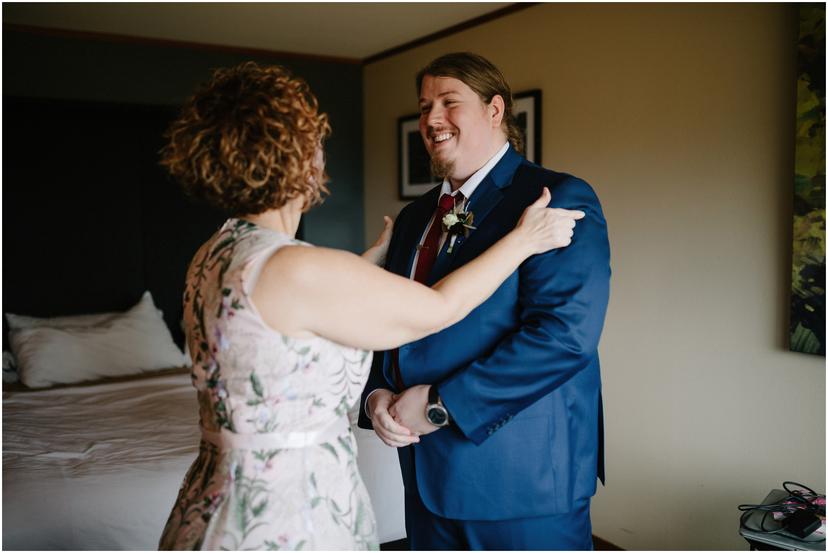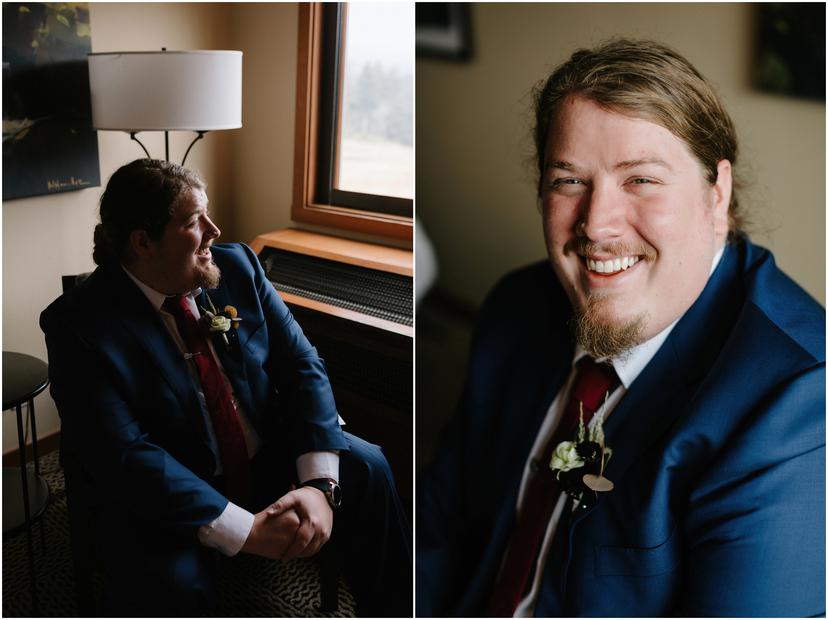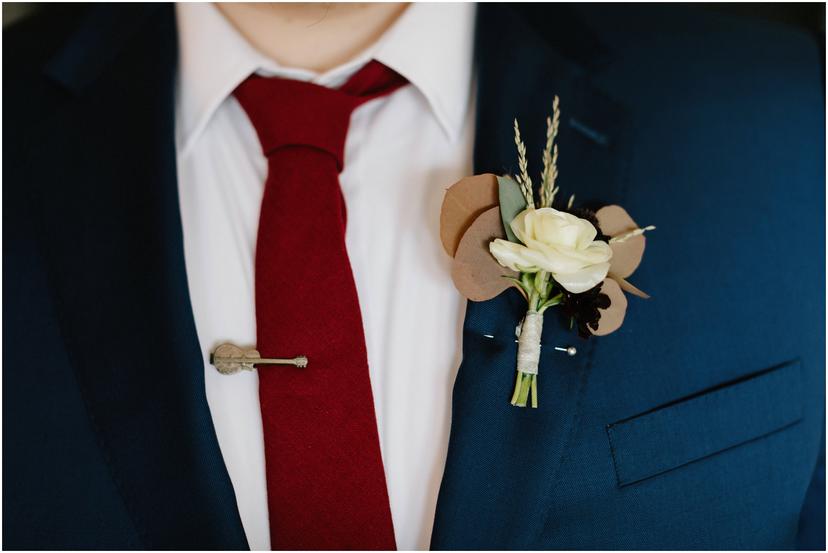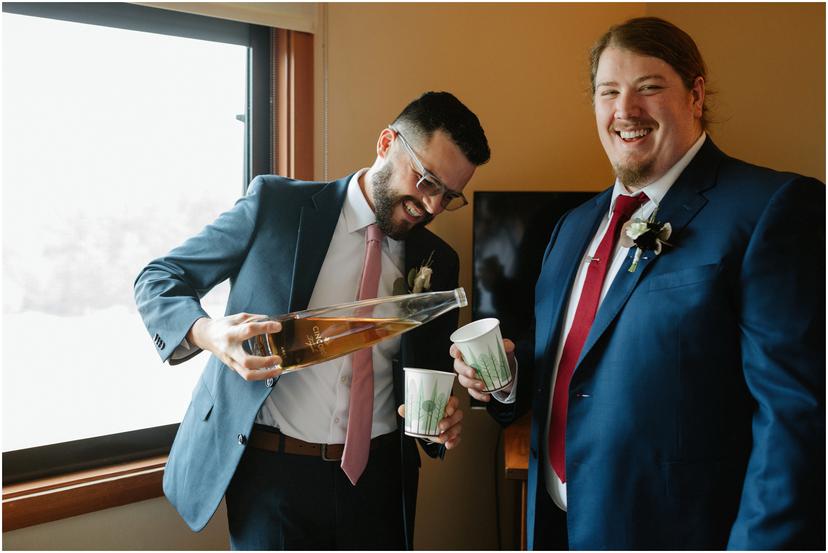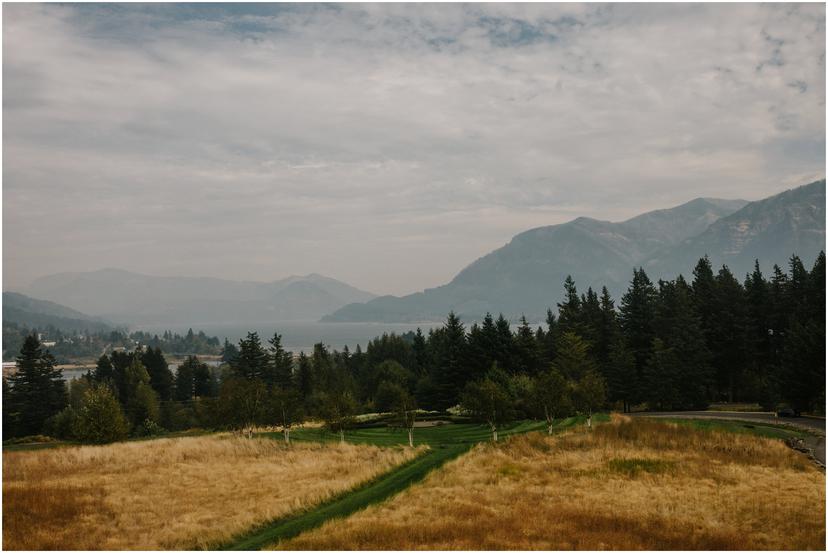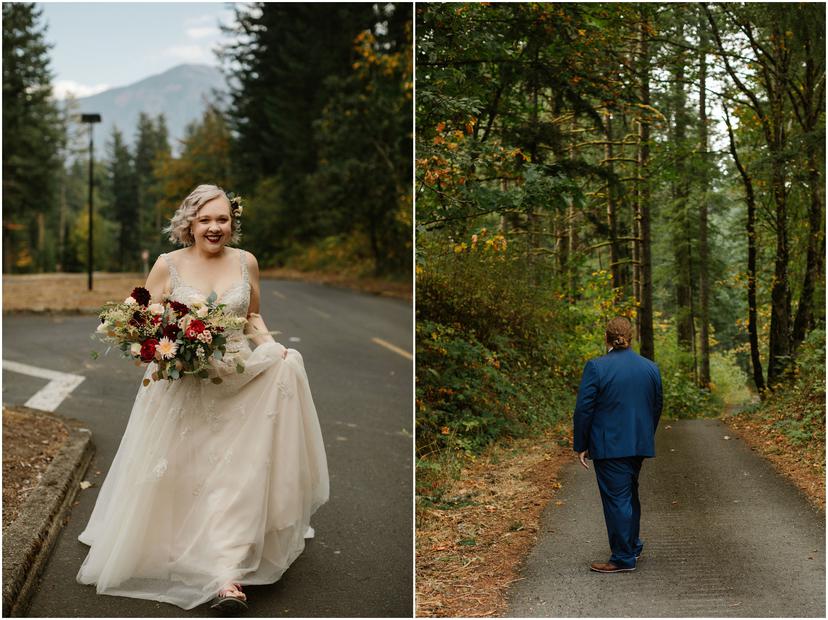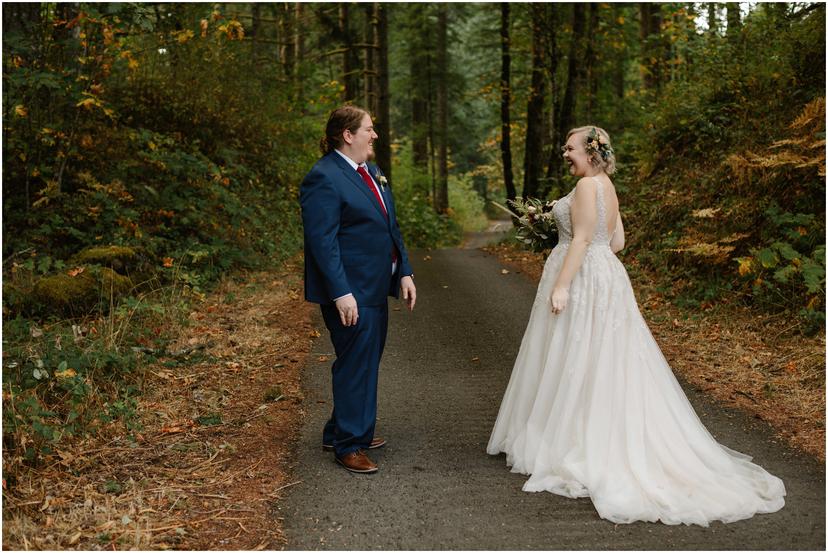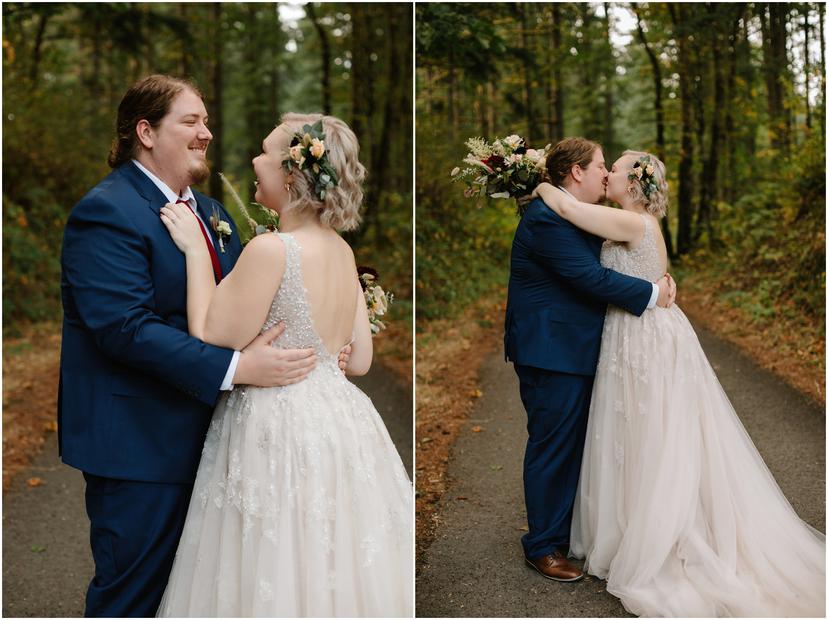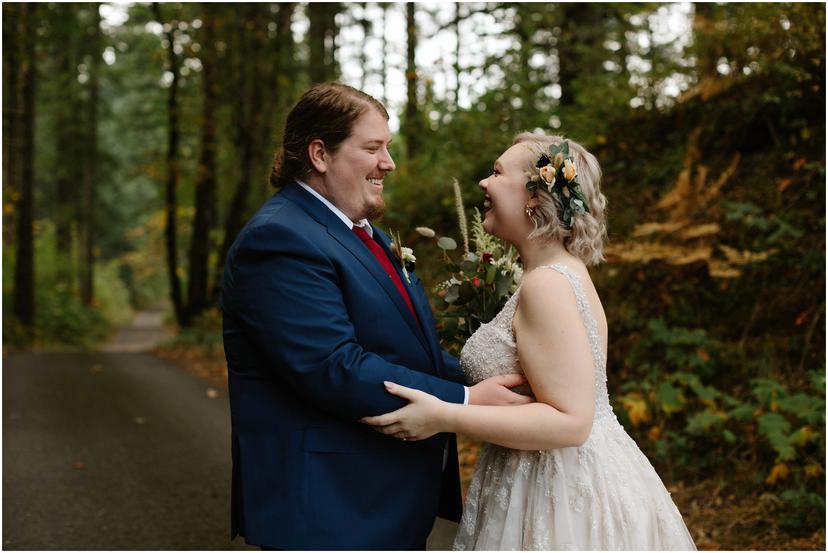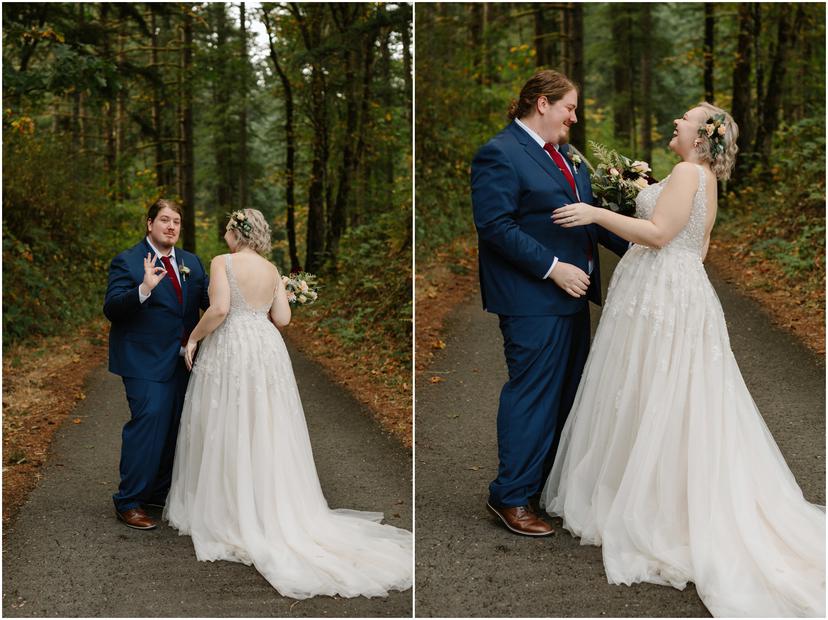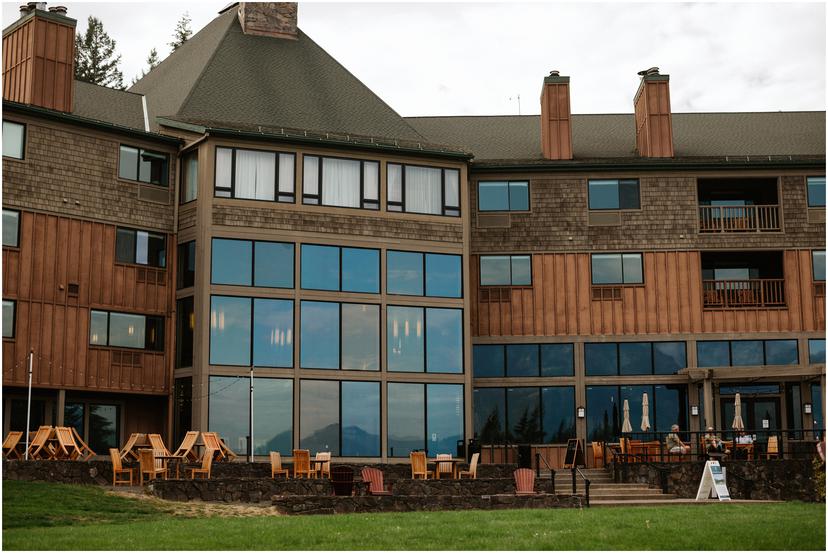 About the couple
Madison and Dillon grew up in the same area, just 15 minutes apart. But they never met until they took the same chemistry class together in community college. "We had chemistry, lol," Madison joked. "But really, we were BFFs for two and a half years before we dated. Our friends kept telling us to date, and we were like, 'no we are just best friends.'" Conveniently, his best friend was dating her best friend, and they definitely pushed them in the right direction.
Madison realized she liked Dillon on Christmas break when she got back home. "We were talking on the phone, texting, having the same class schedule, having lunch and dinner daily," she told me. So she went home and actually MISSED HIM. They had both been dating other people but coincidentally ended up getting dumped on the exact same day. And that's when he realized he liked her as well. The rest is history.
Once they were dating, Madison and Dillon continued to study biology, parasitology, and biomedical sciences. Madison now works in a lab that focuses on COVID-testing. When they aren't doing science things, Madison loves camping and hiking, crocheting, making T-shirts with her vinyl cutter, and all things Broadway and musicals.
Madison lovingly refers to Dillon as "the most extroverted person she knows." She laughed, saying, "he can make friends with someone in the Walmart aisle. It's crazy. He has LONG curly hair and loves playing guitar and going to metal concerts. He loves to go out and be social and be crazy and has the BIGGEST laugh. It's so loud and infectious."
Dillon proposed to Madison in front of Cinderella Castle at Disney World, which was perfect because she loves all things Disney. And that passion for fairytale vibes definitely came through in their Skamania Stone House elopement!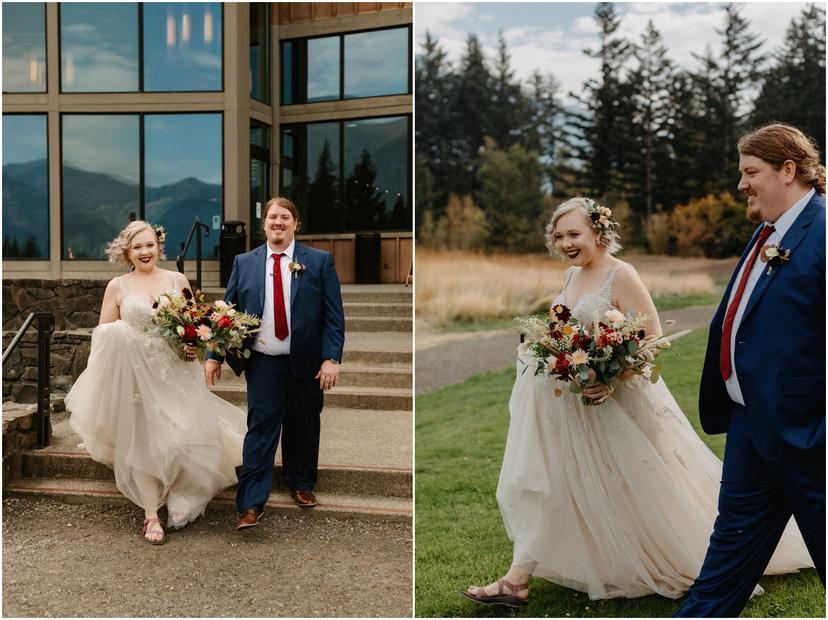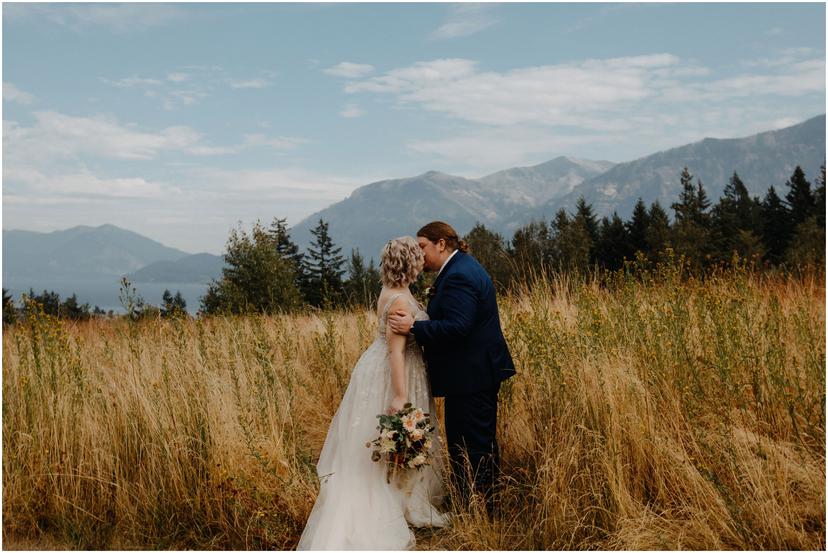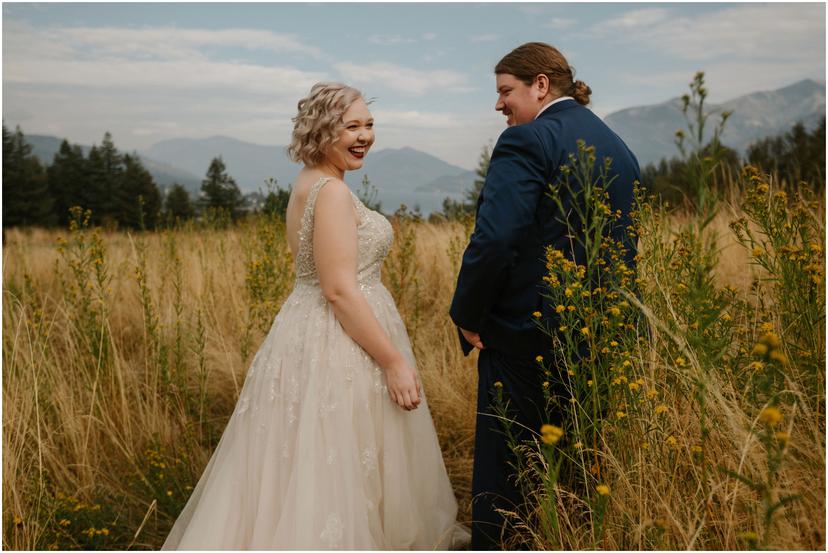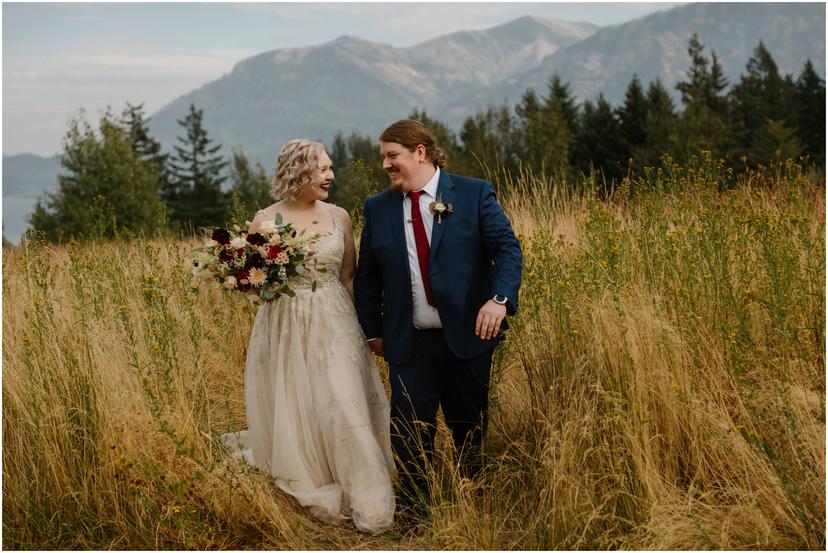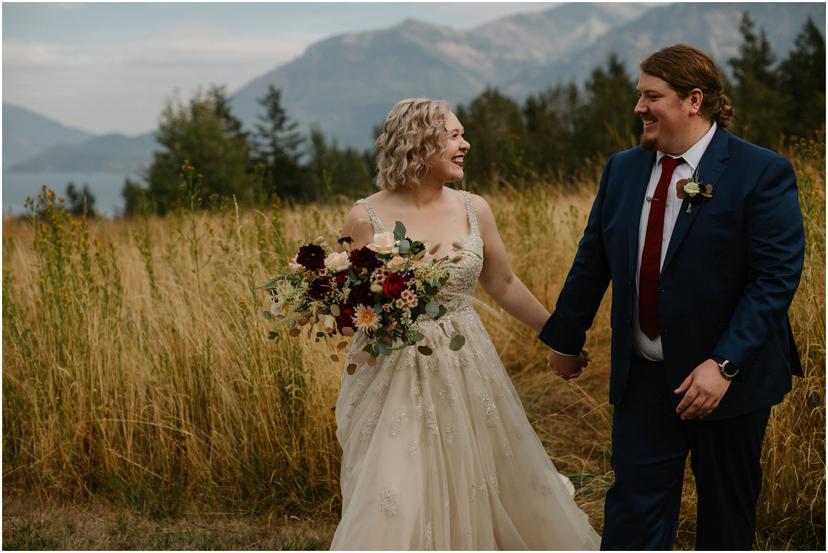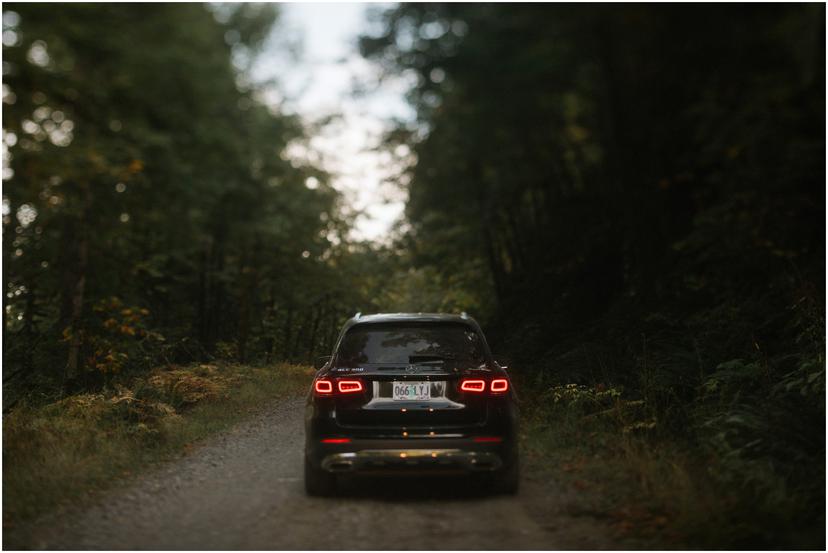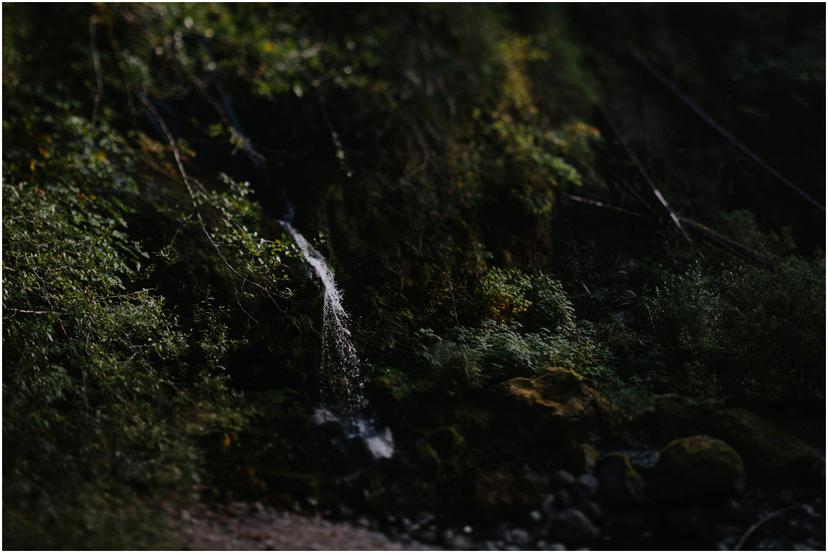 Portraits at Steep Creek Falls
It wouldn't be a complete Columbia River Gorge experience without a waterfall! Madison and Dillon budgeted several hours for a photo-adventure with me, their maid of honor, and best man. Since there was still a lot of smoke from the fires, we skipped Government Cove (a stunning location on the Oregon side of the gorge with epic views) and went to Steep Creek Falls instead. It's about 20 minutes from Skamania Lodge down a bumpy, winding gravel road. We took photos on the bridge and by the waterfall, using teamwork to climb down the trail to the base of the falls with Madison's long dress. It was worth it, though. I love the dramatic images we took here! It's one of my all-time favorite locations for sure. You can see more Steep Creek Falls photos here and here!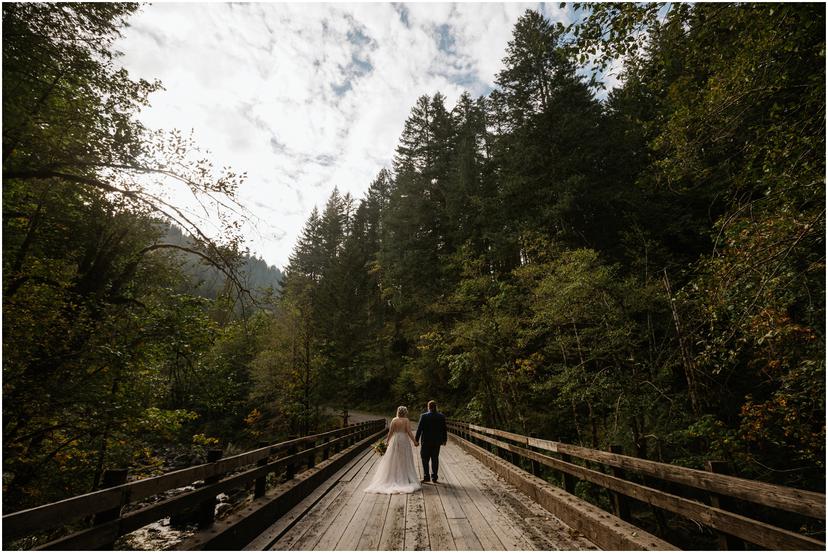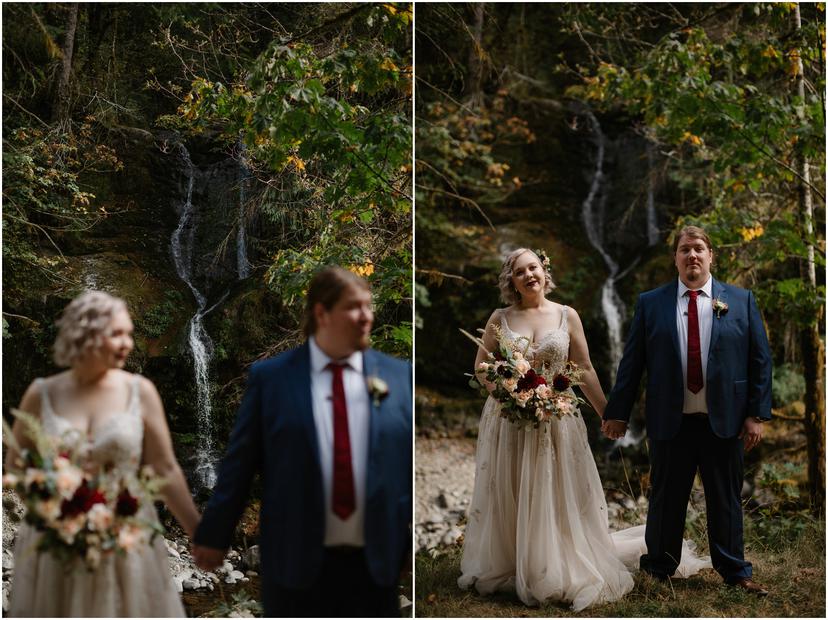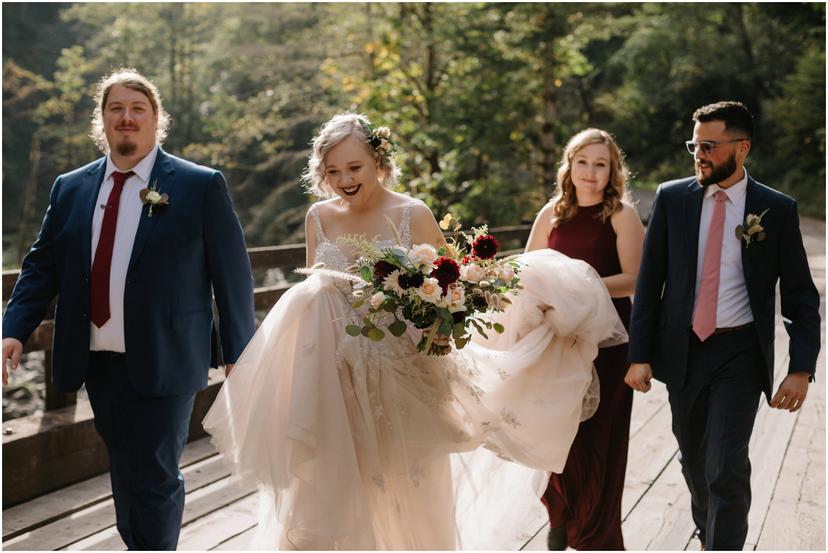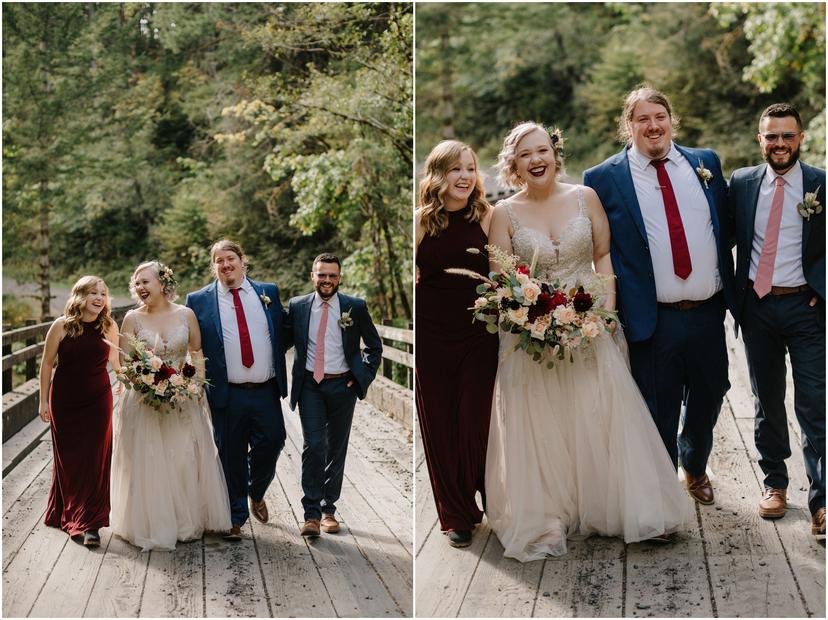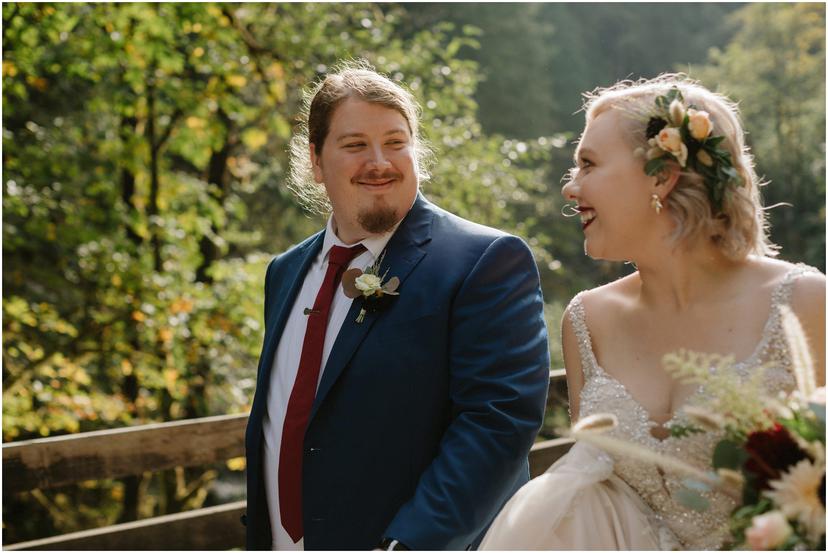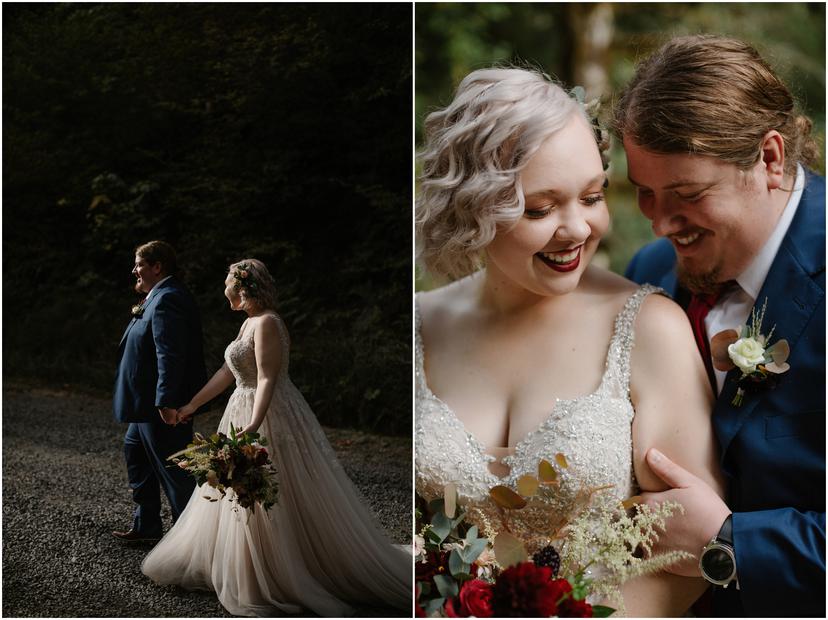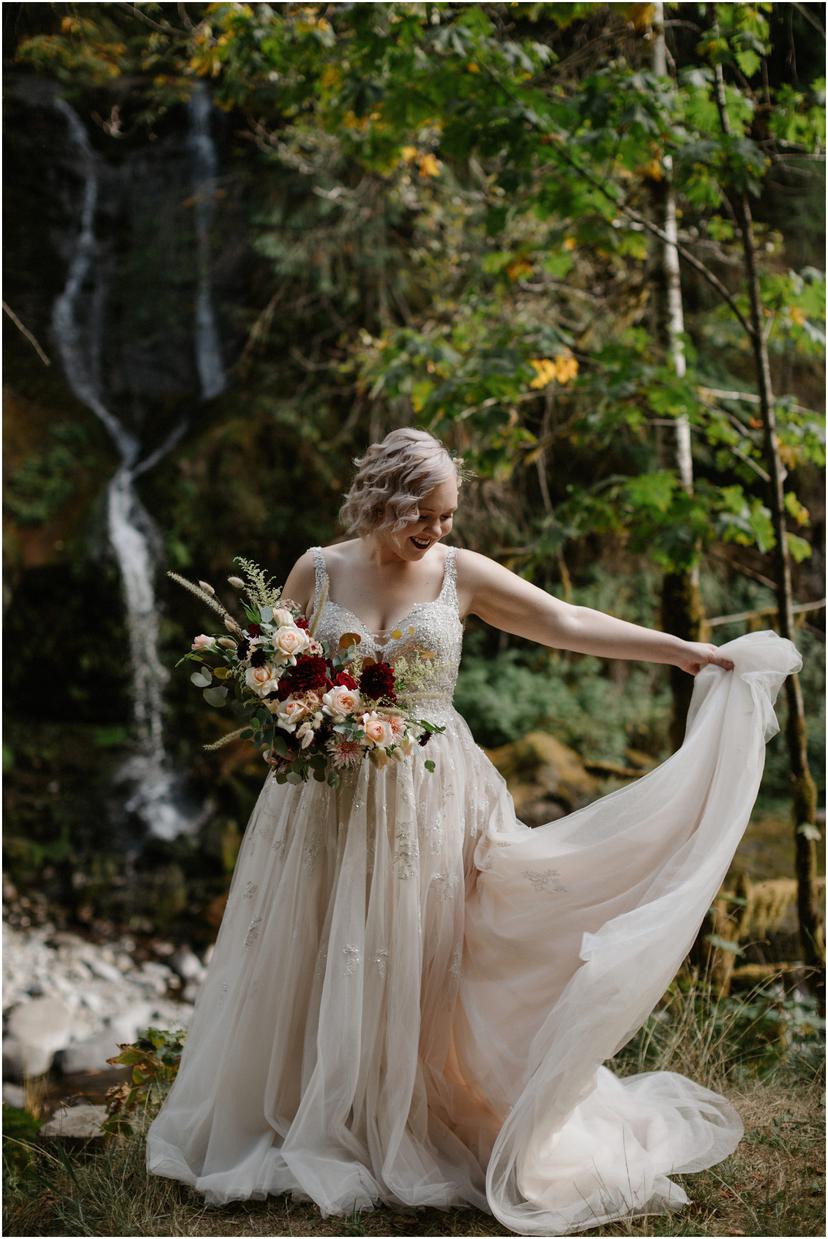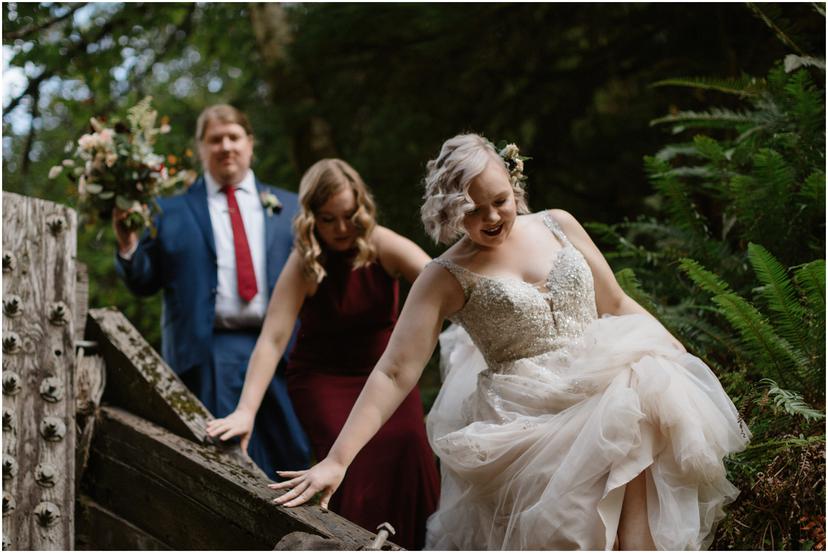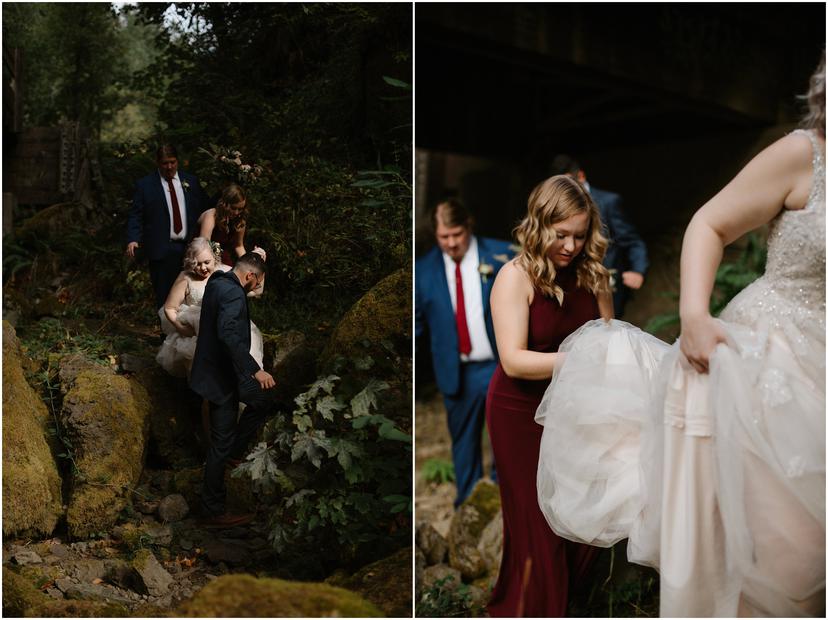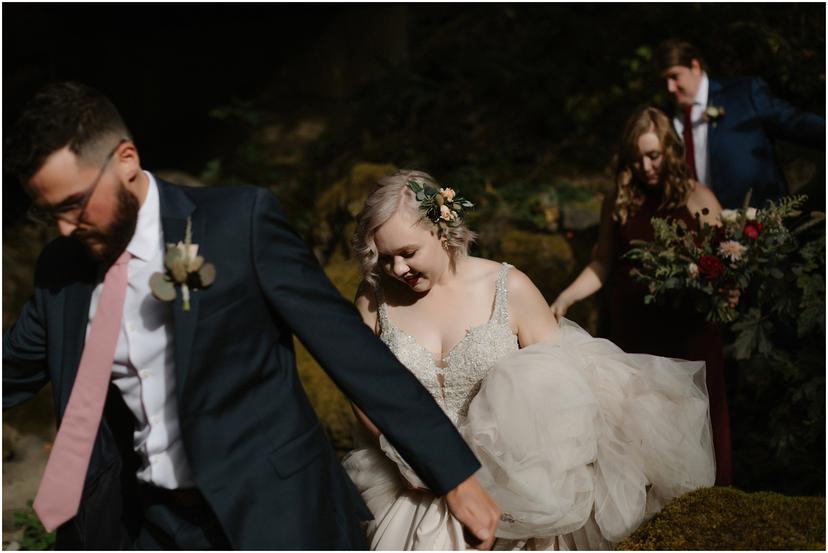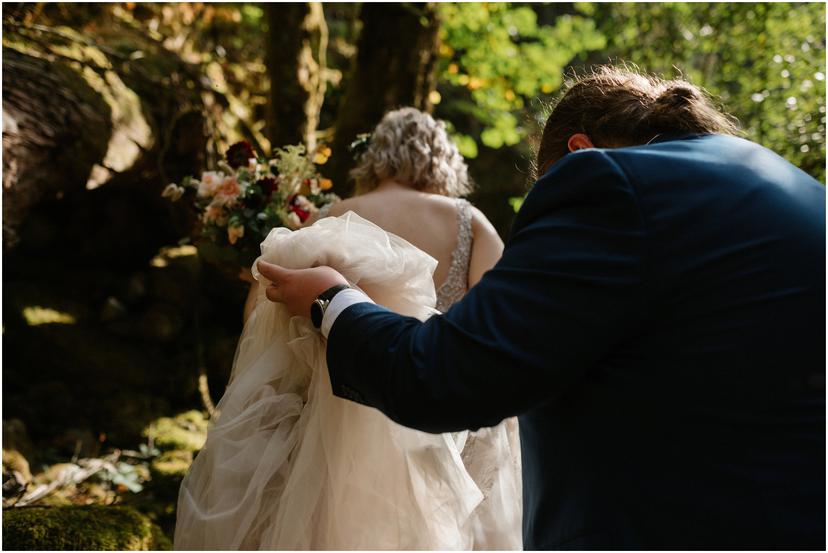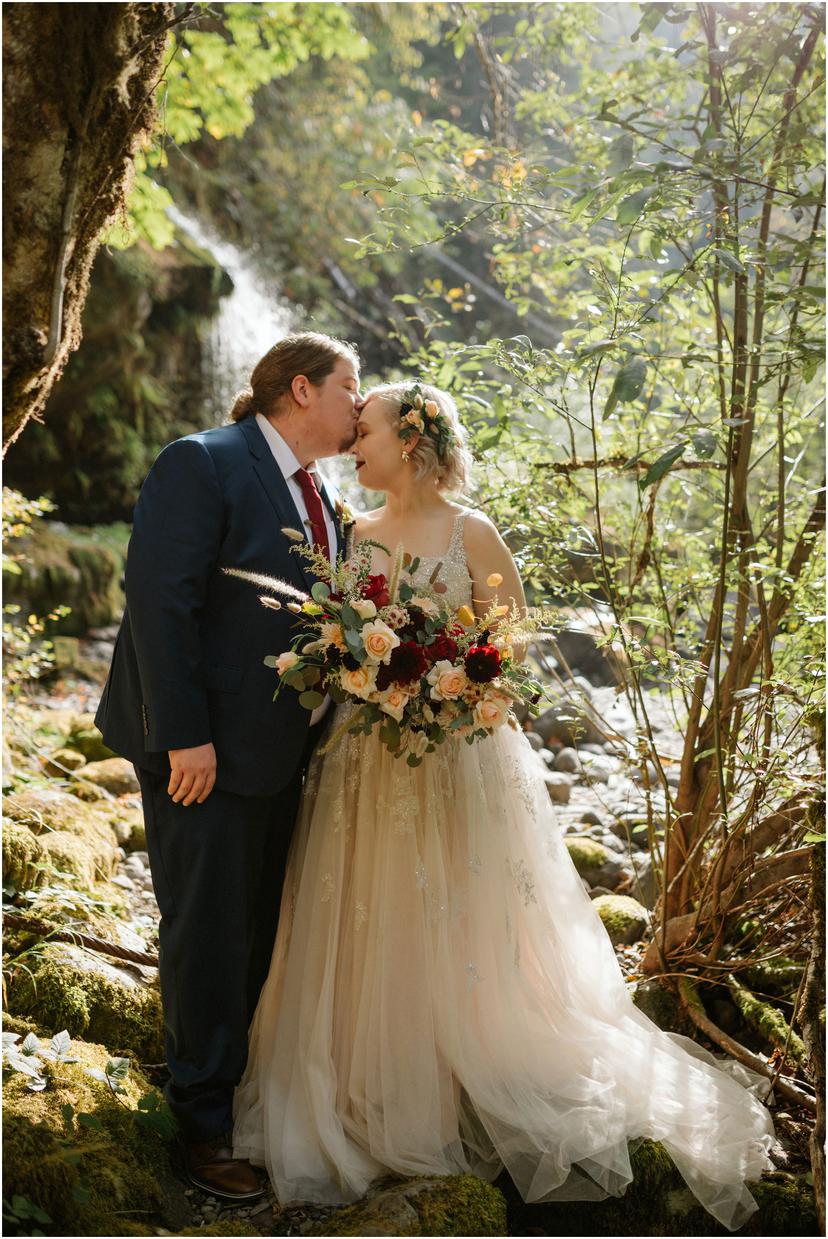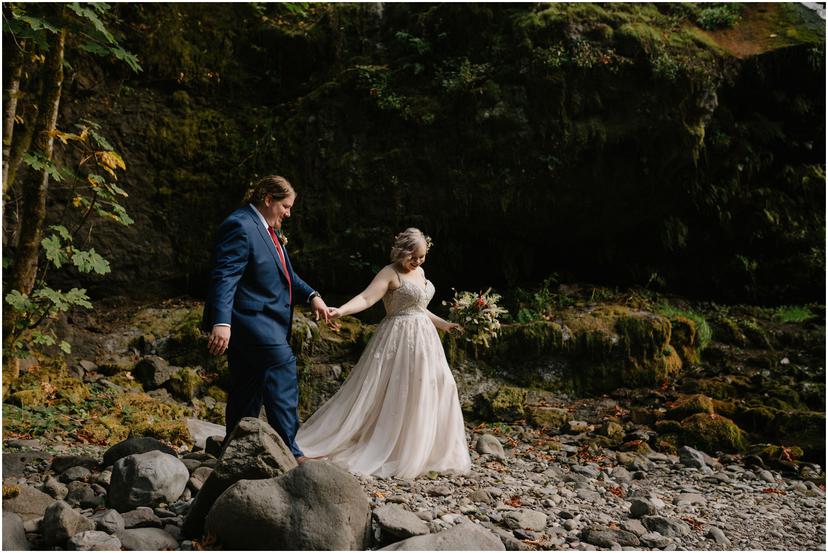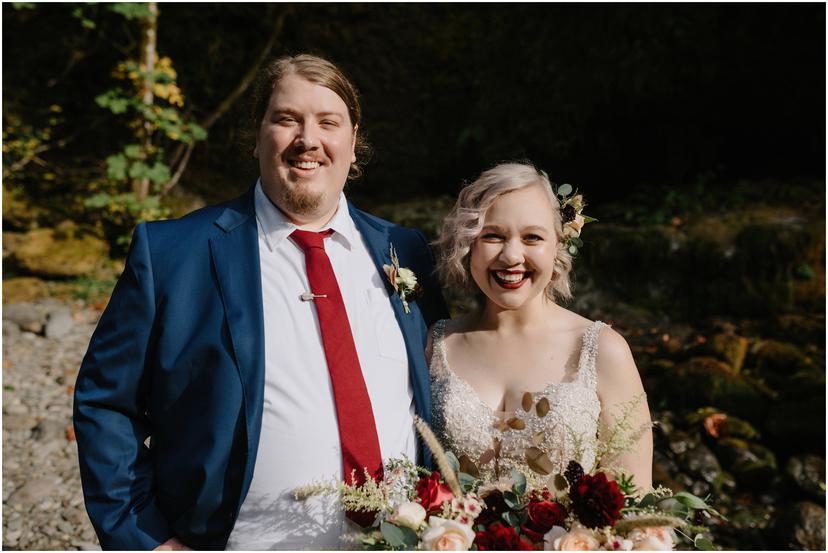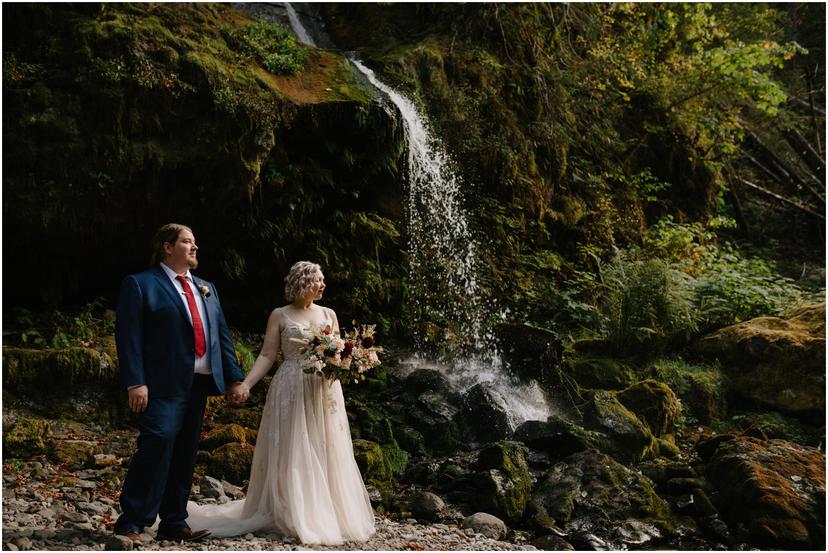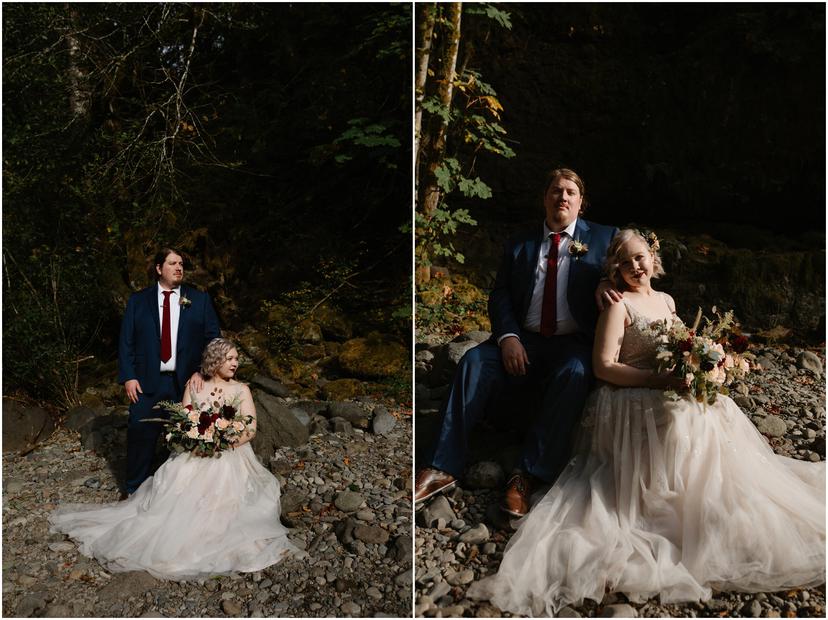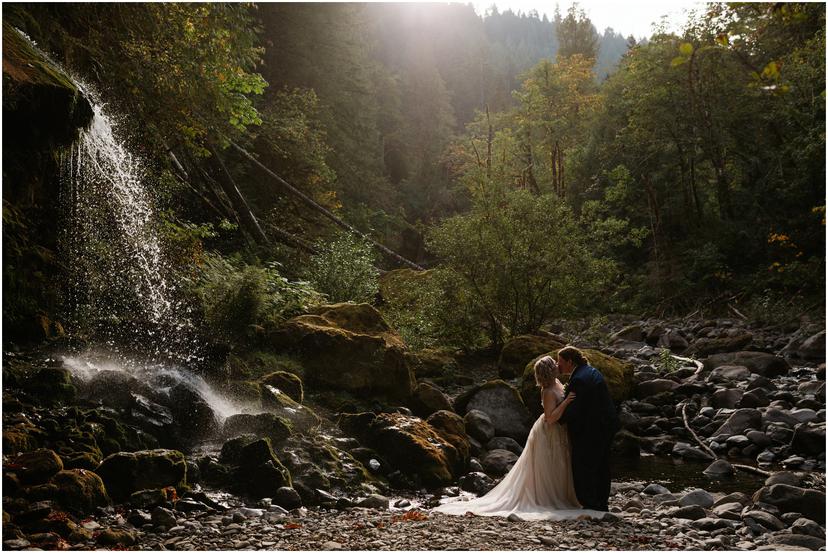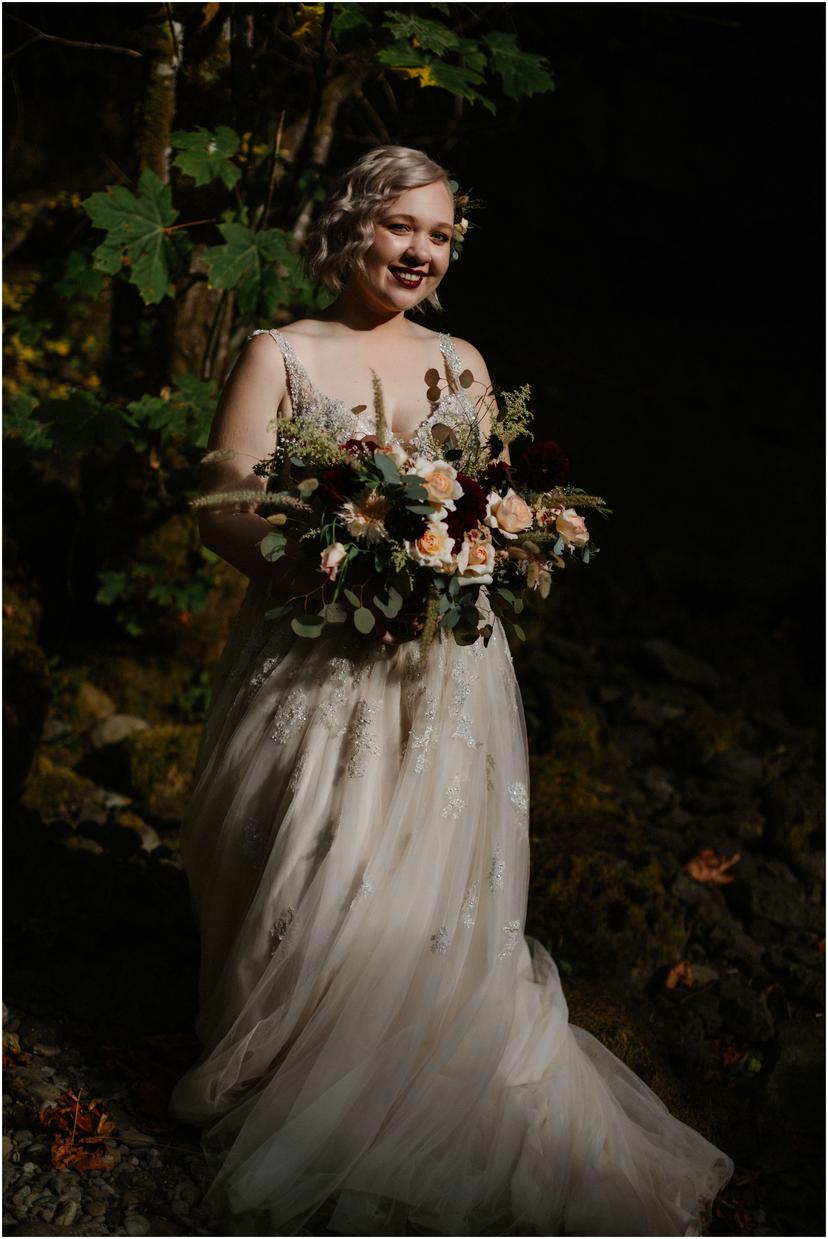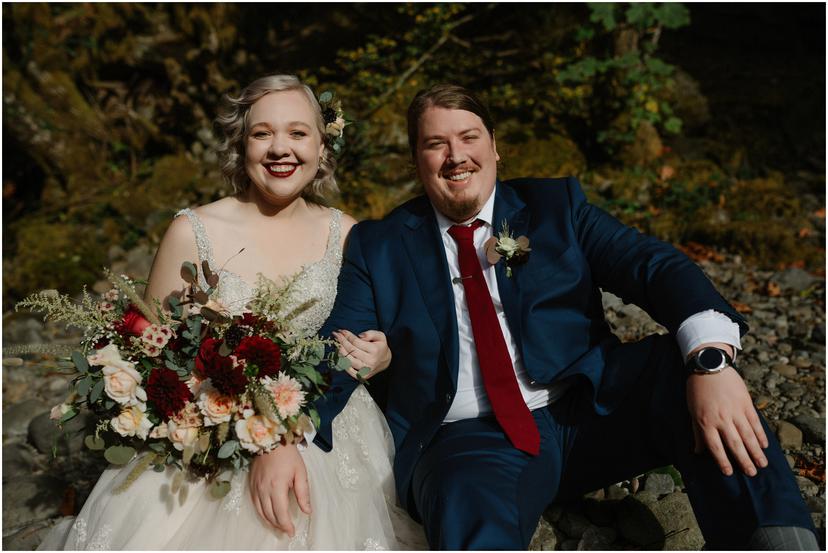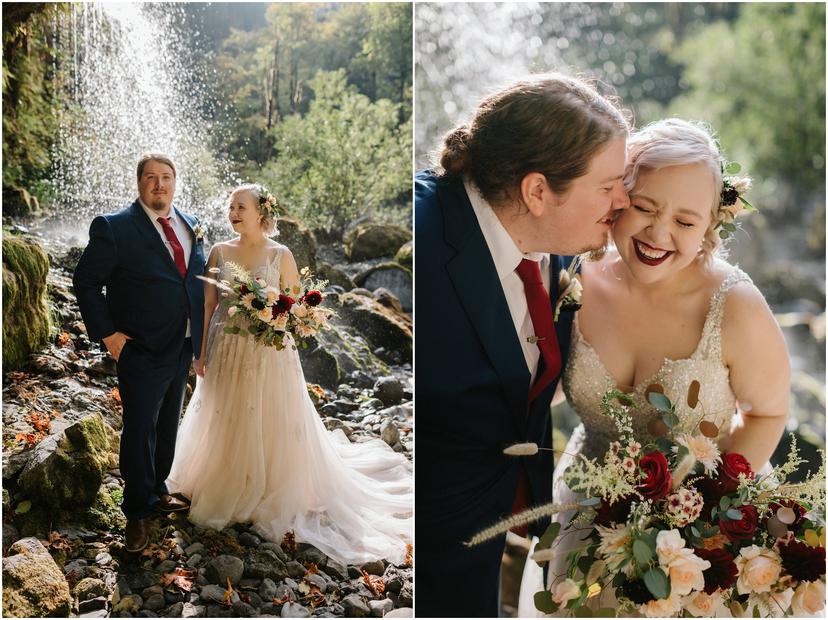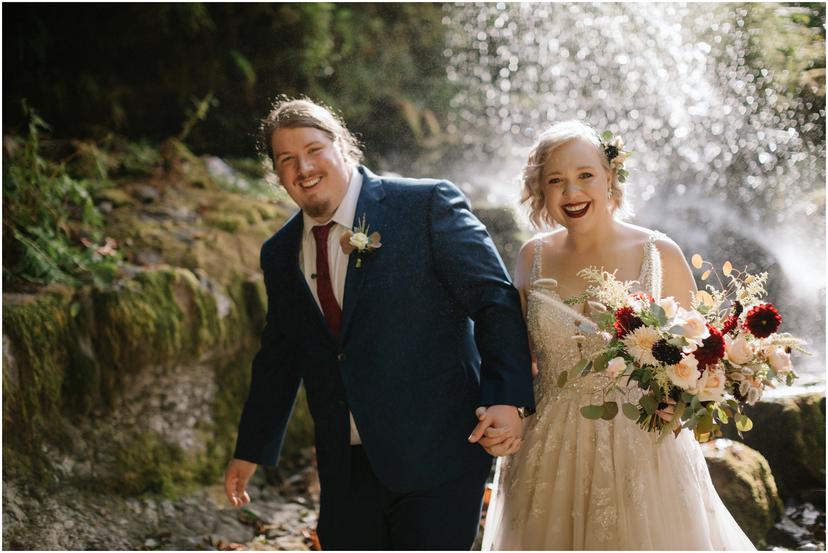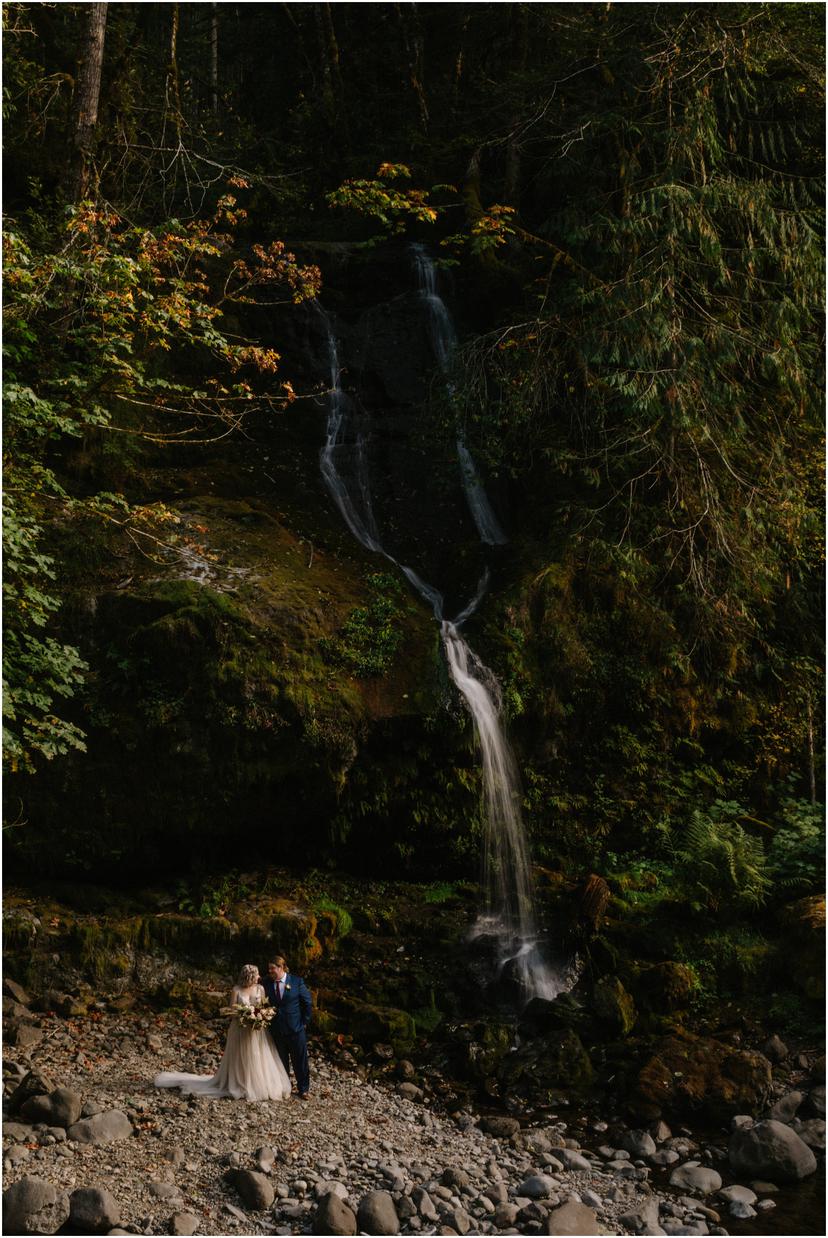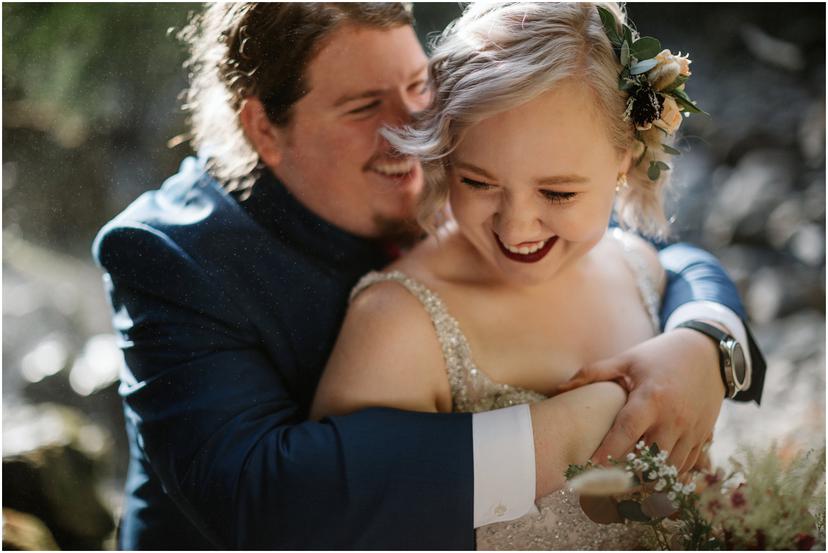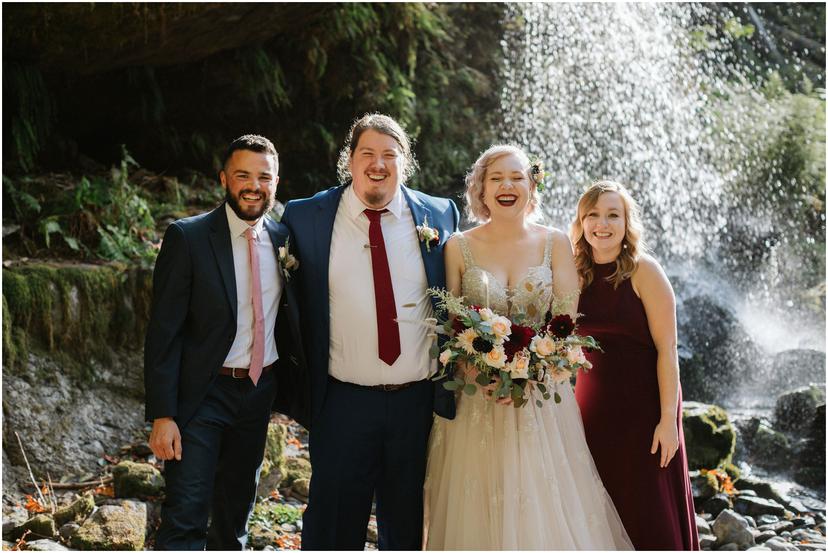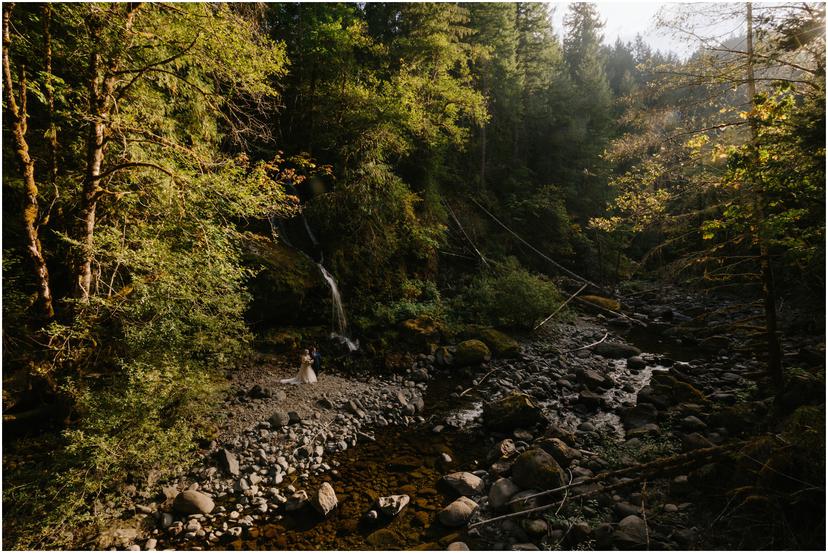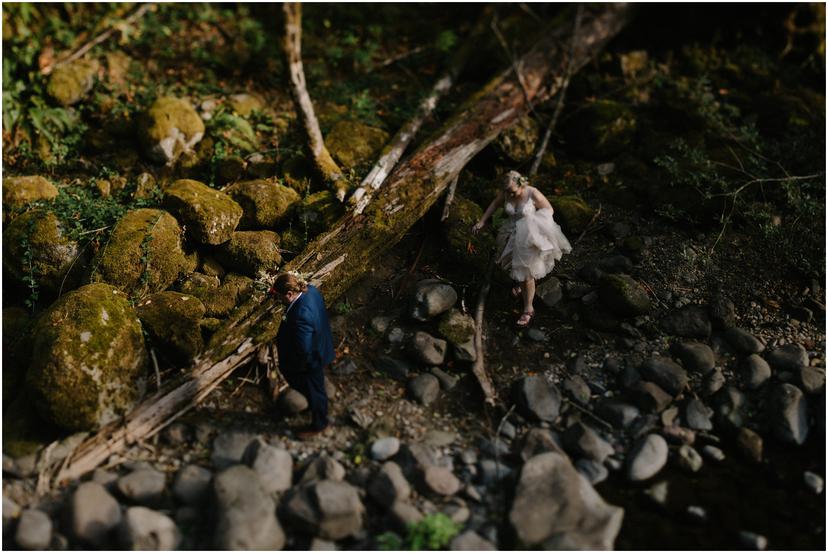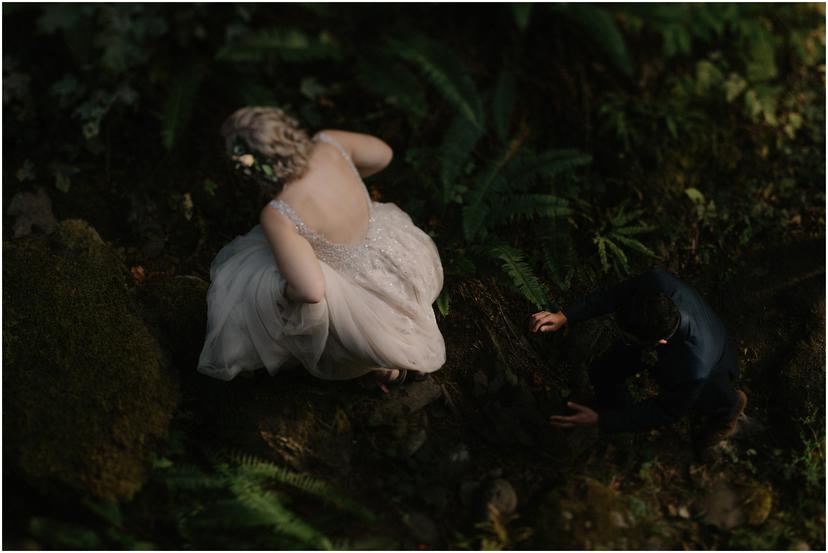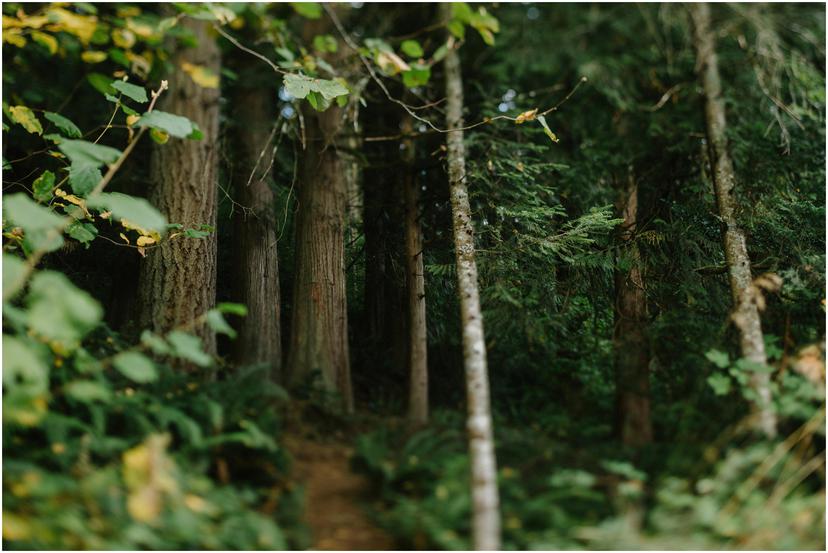 Why elope in the gorge?
"What I loved about the gorge was just how beautiful and different it is from where we live," Madison said. "Oklahoma is just so flat 😂."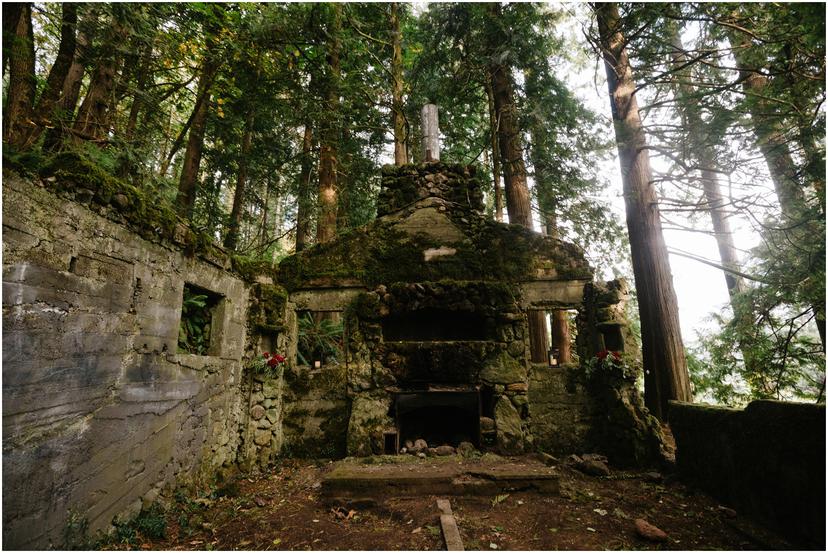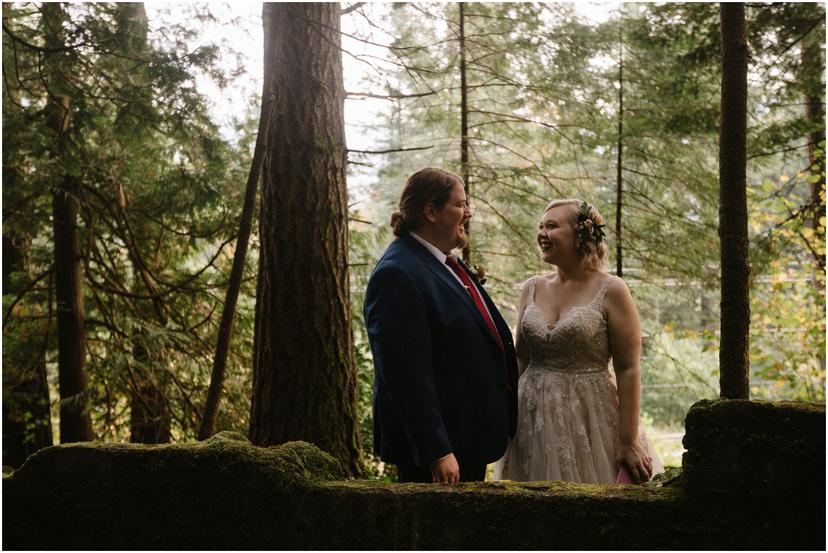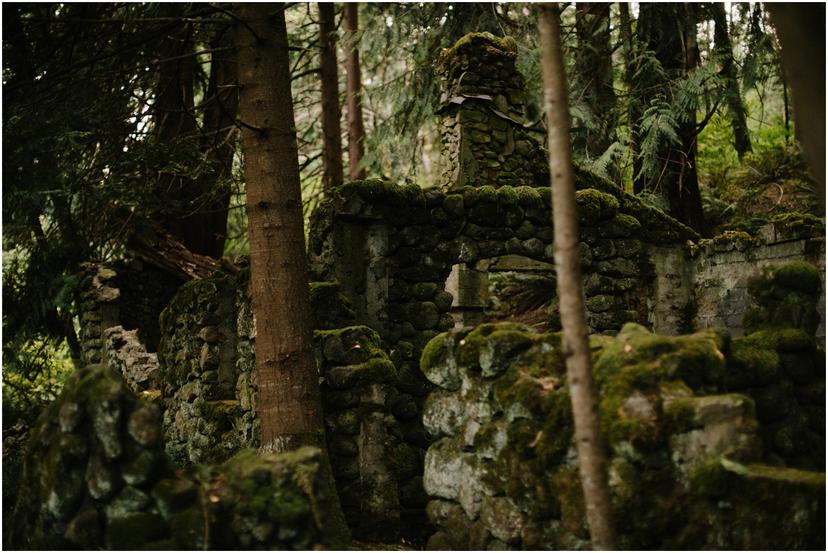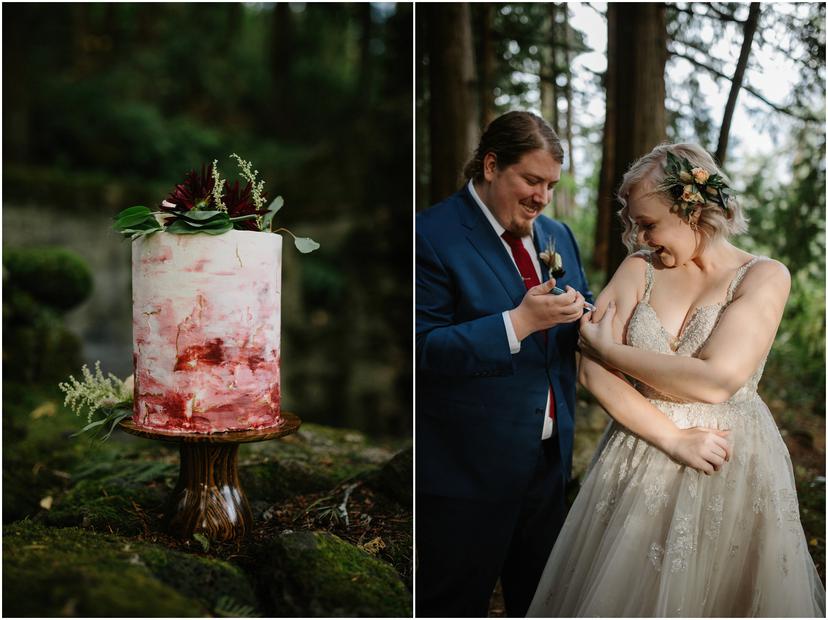 Insulin before cake
A few years ago, Madison was diagnosed with type 1 diabetes and ended up in ICU for a week. Dillon stayed there the entire time and was there by her side, always making sure everything was okay. "It was a huge life-changing event," she said. "That's when I knew."
Because of this significant part of her life, Madison really wanted a photo of Dillon giving her an insulin shot before their wedding ceremony. It was a sweet and quirky moment that represented a big part of their relationship.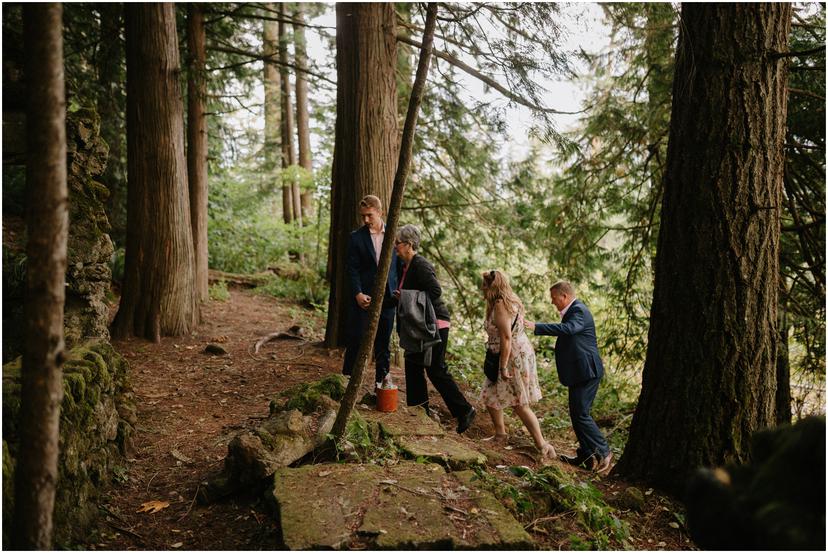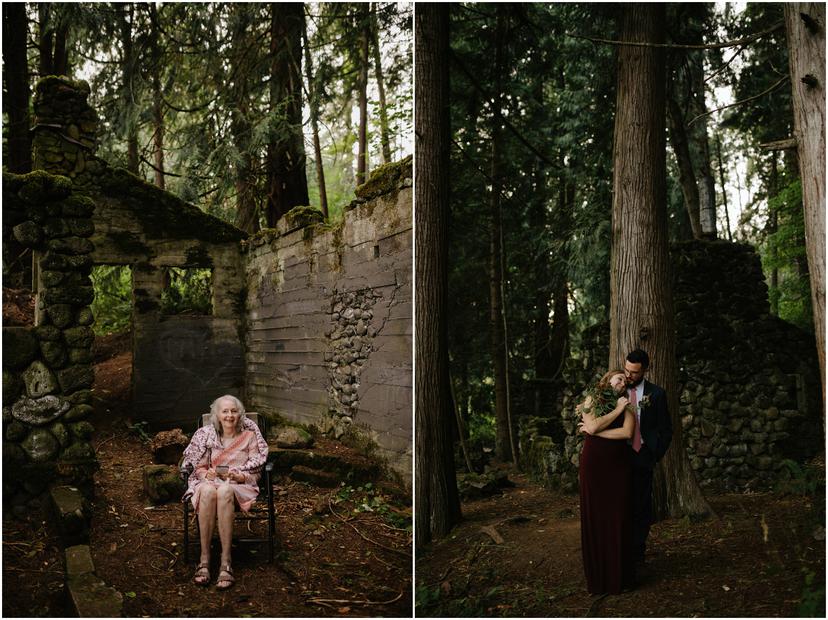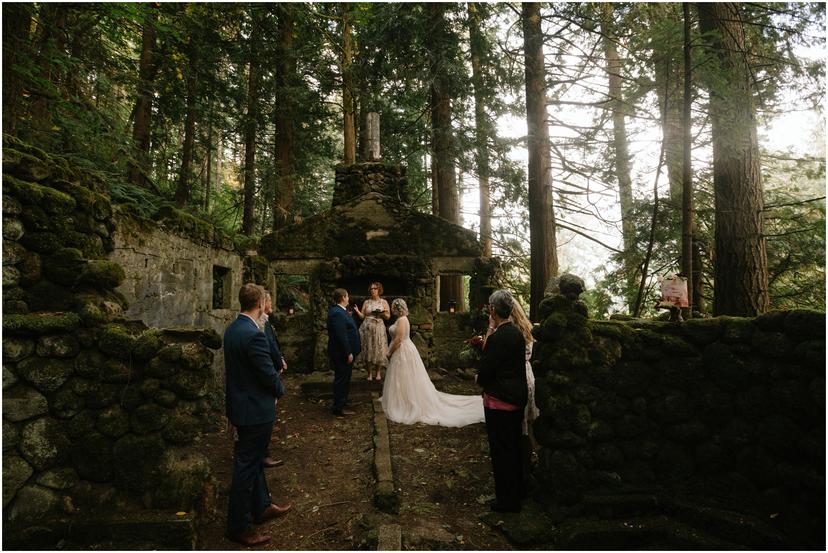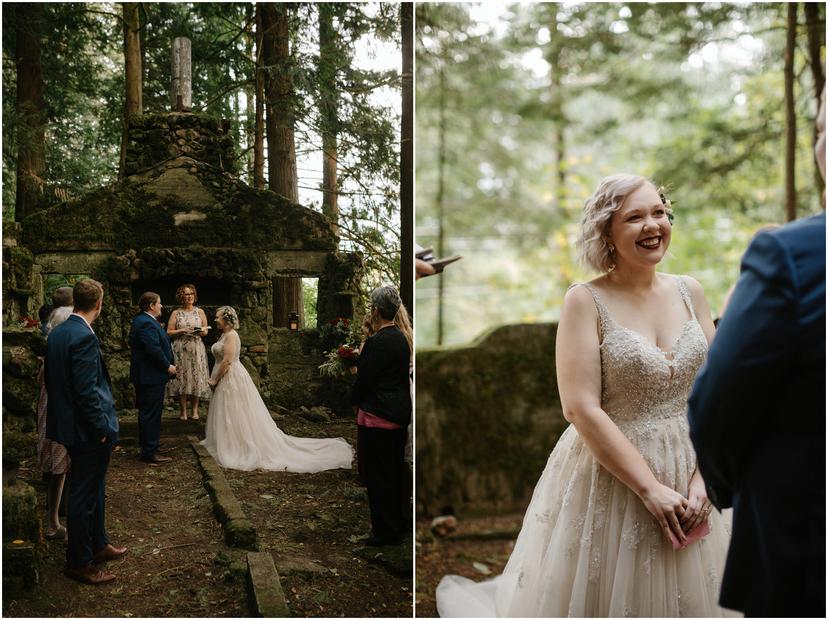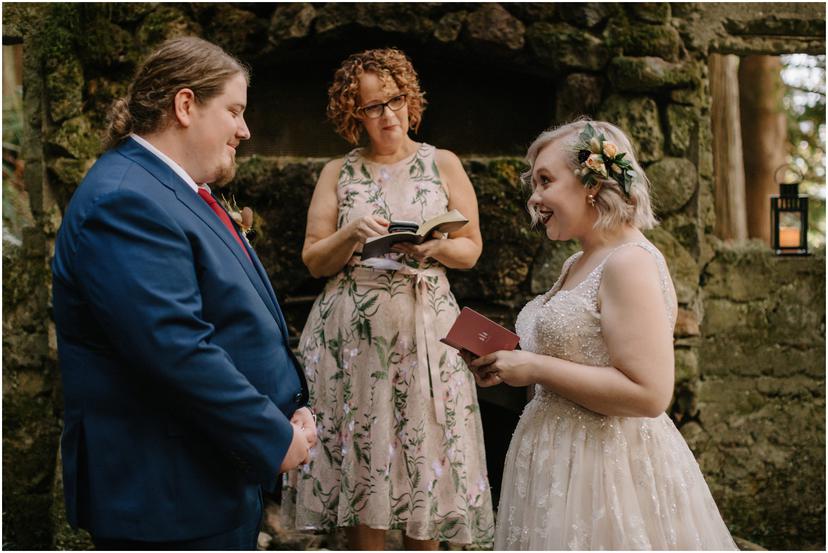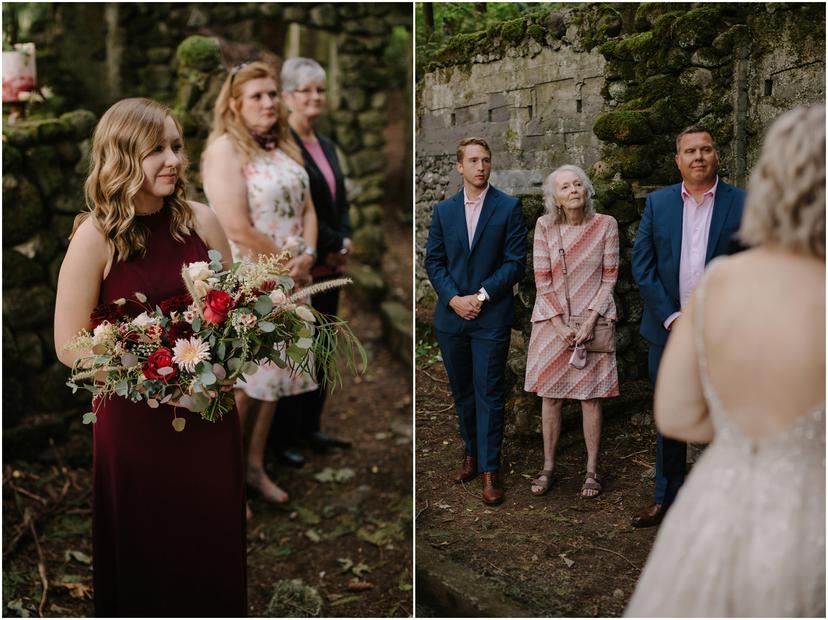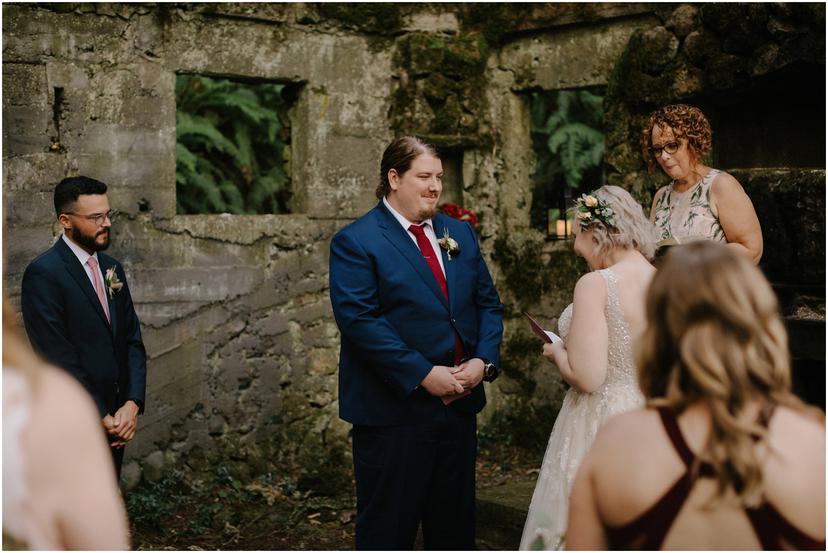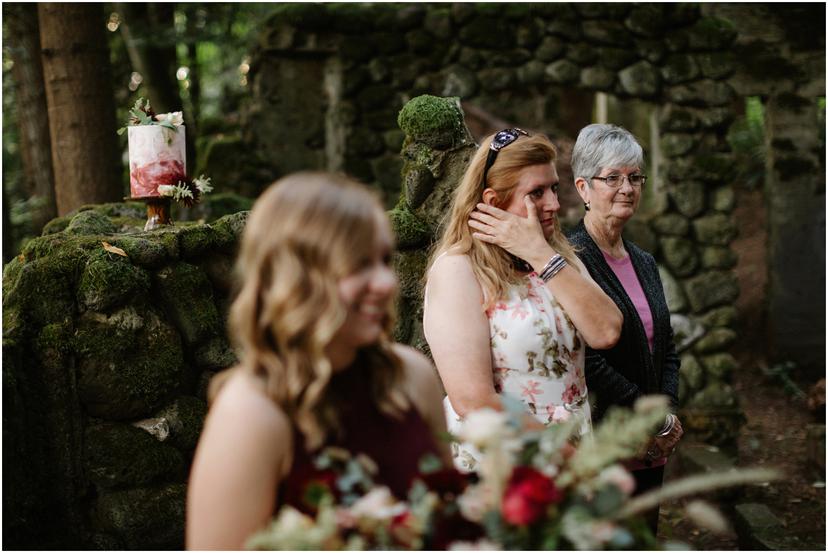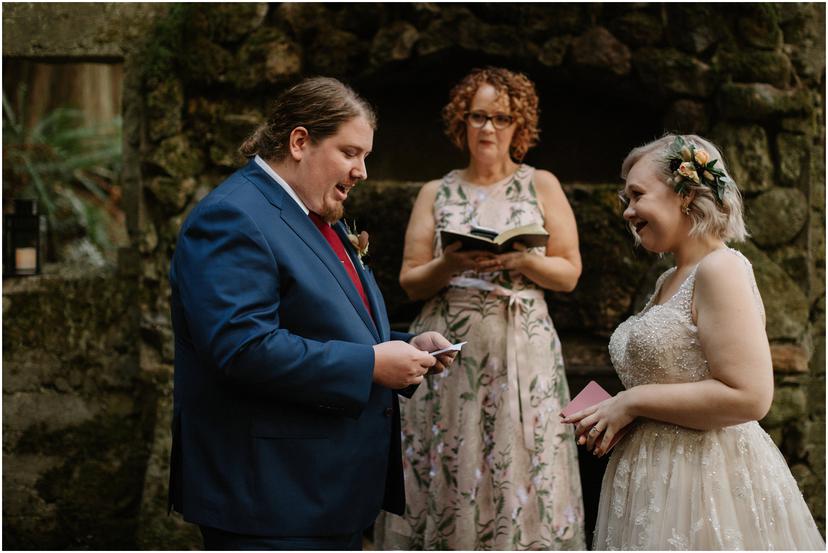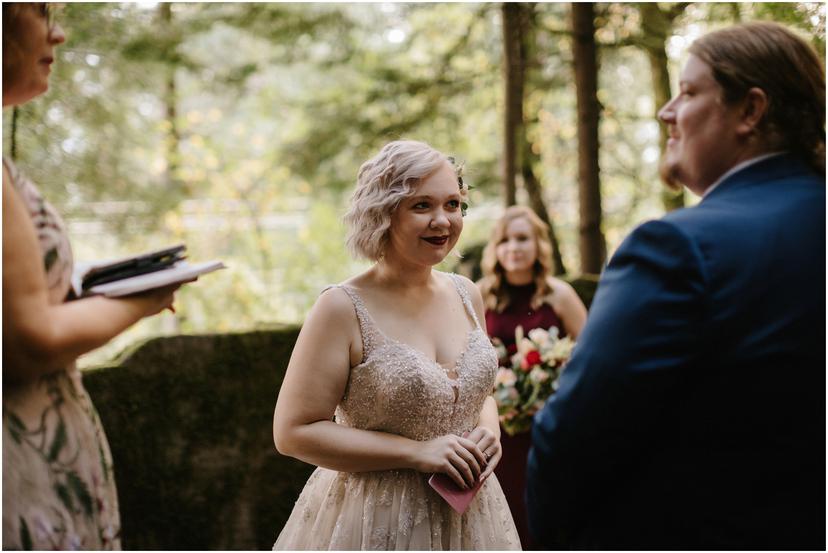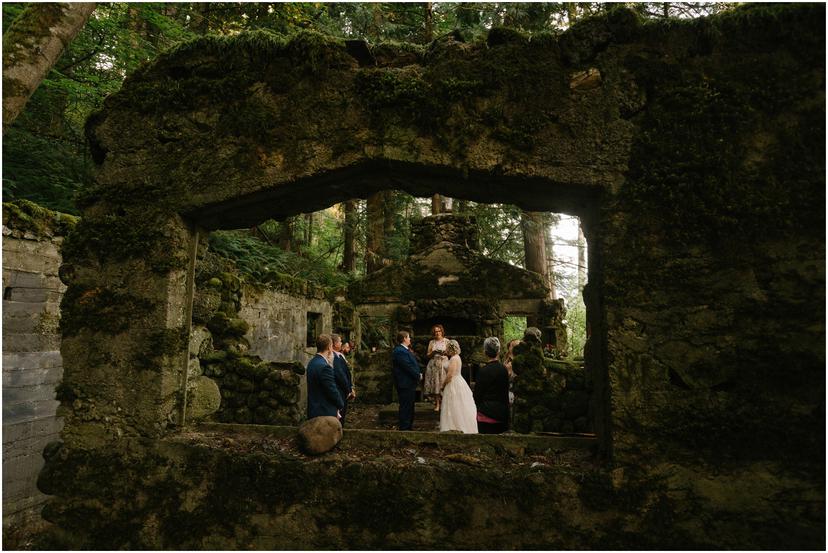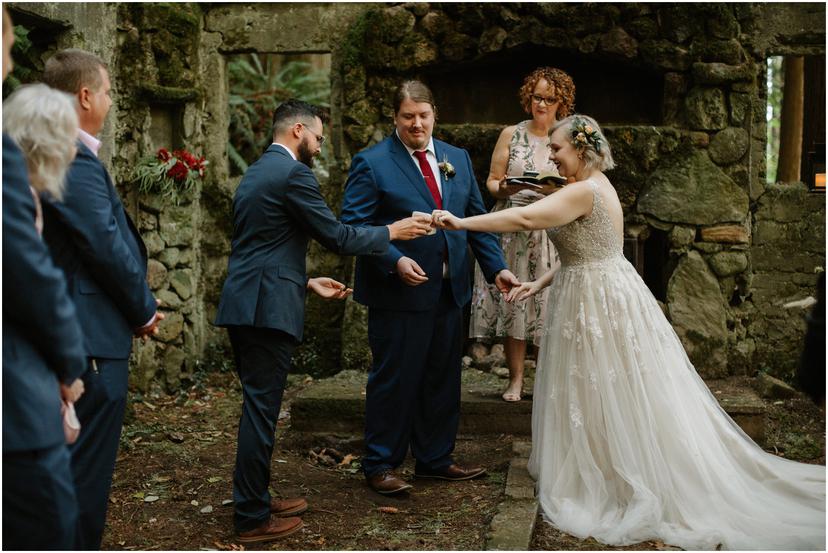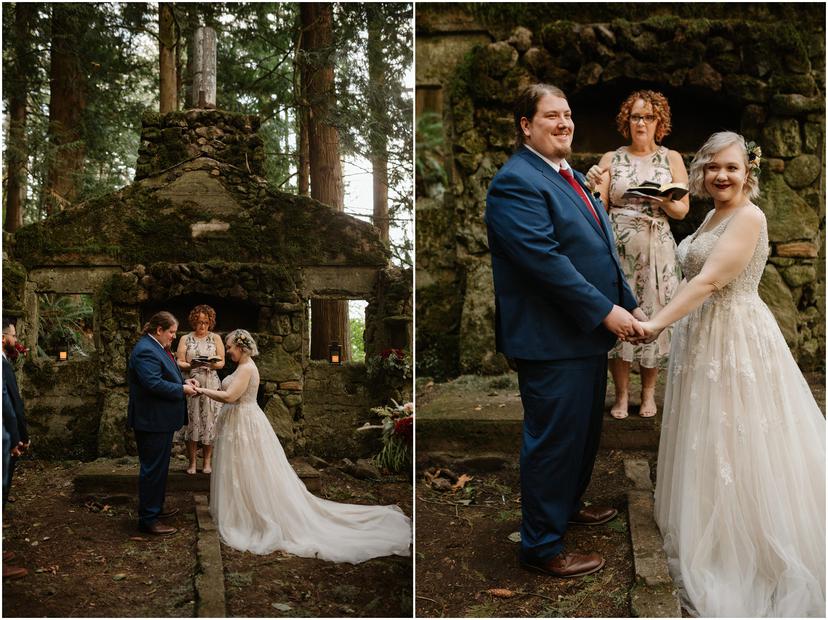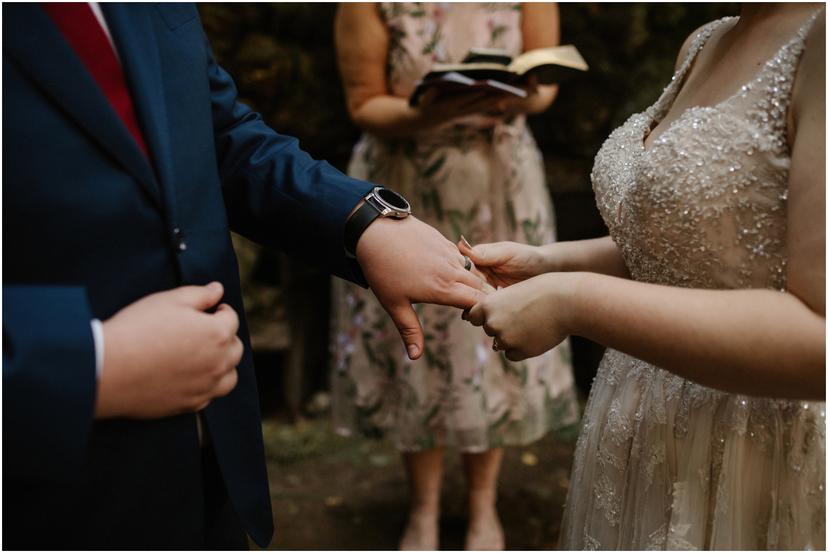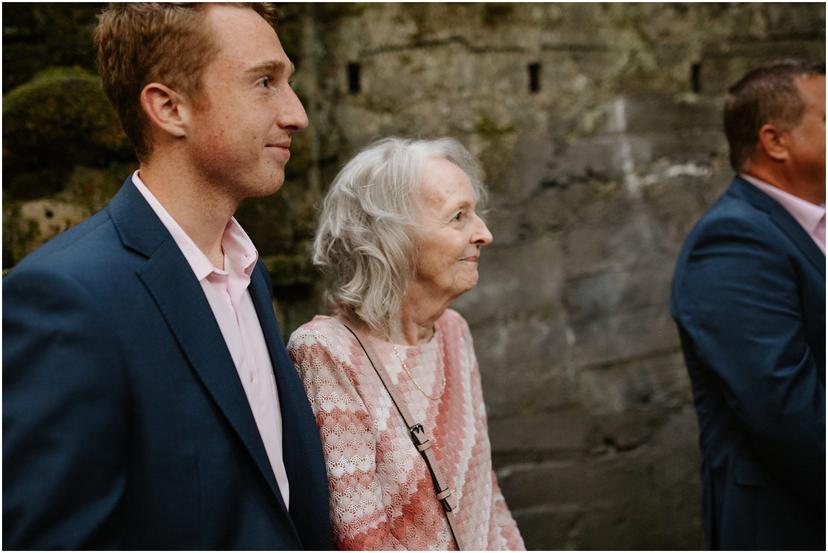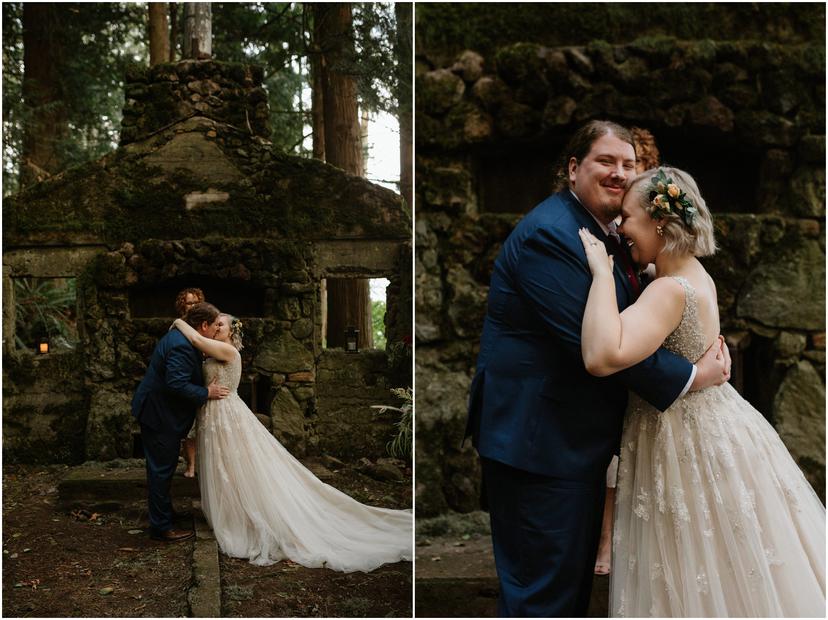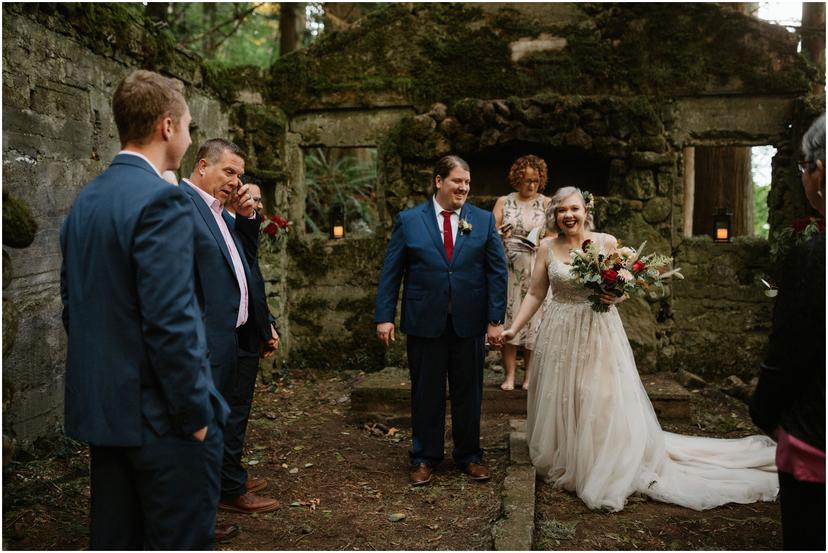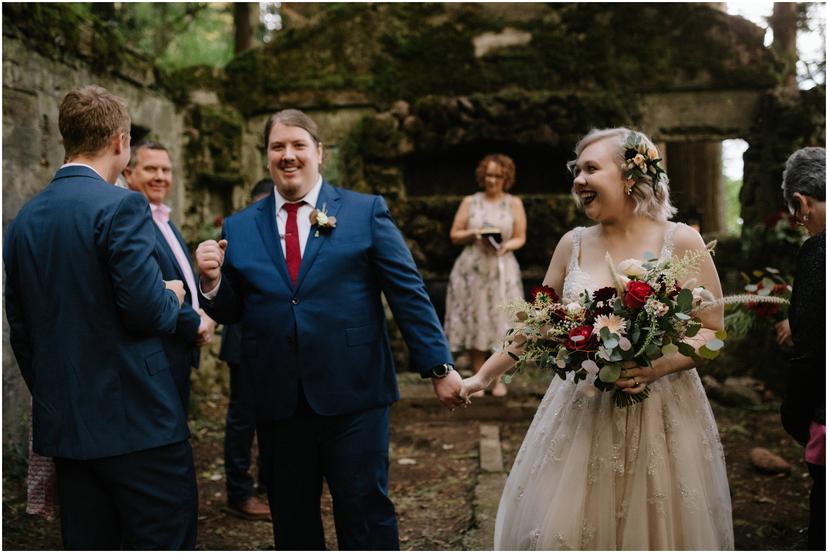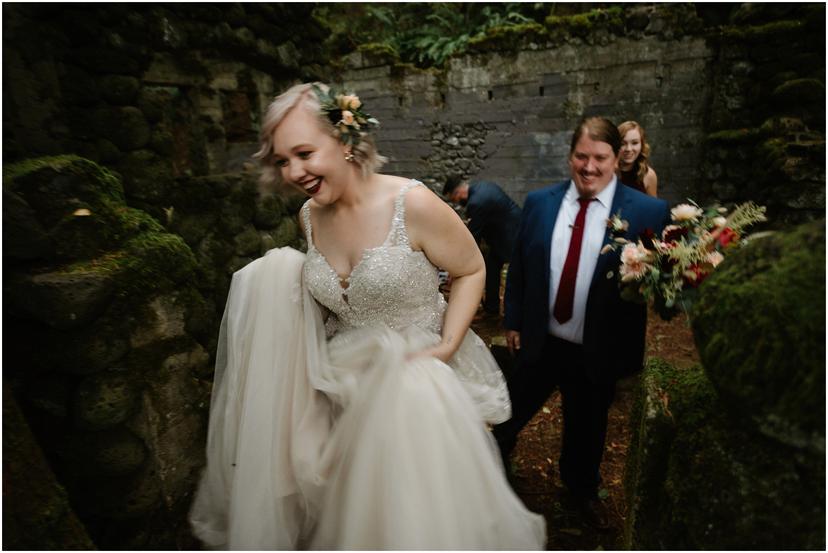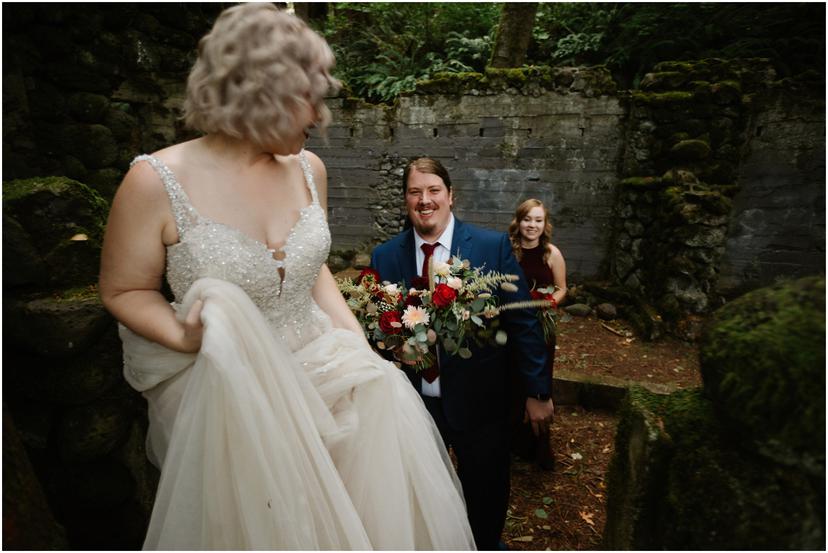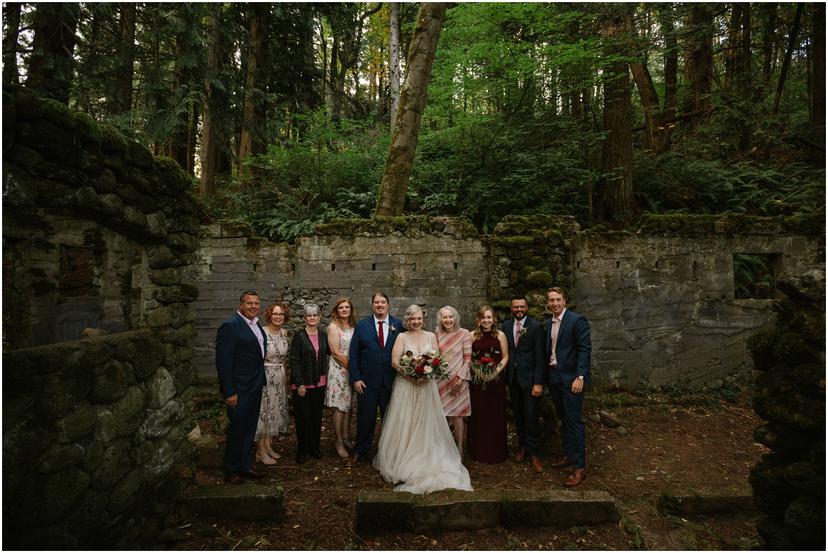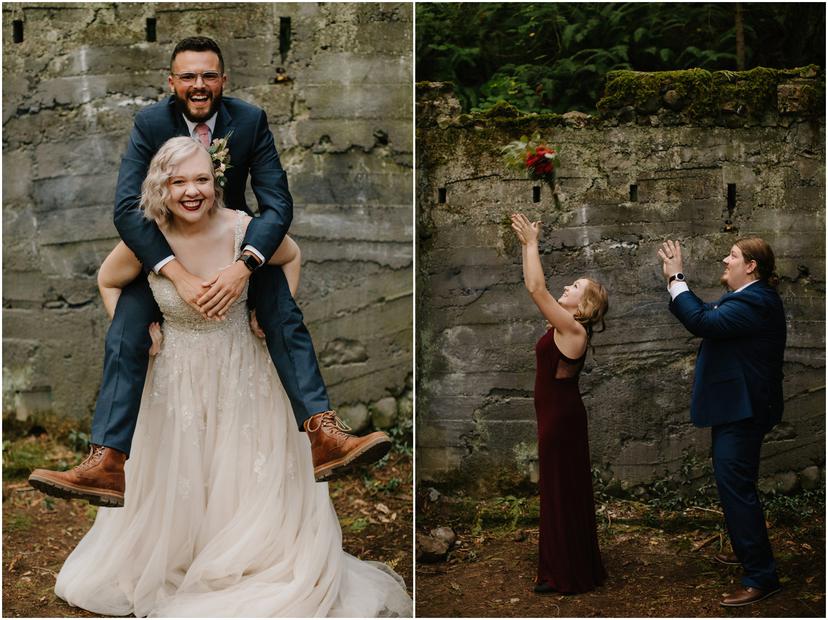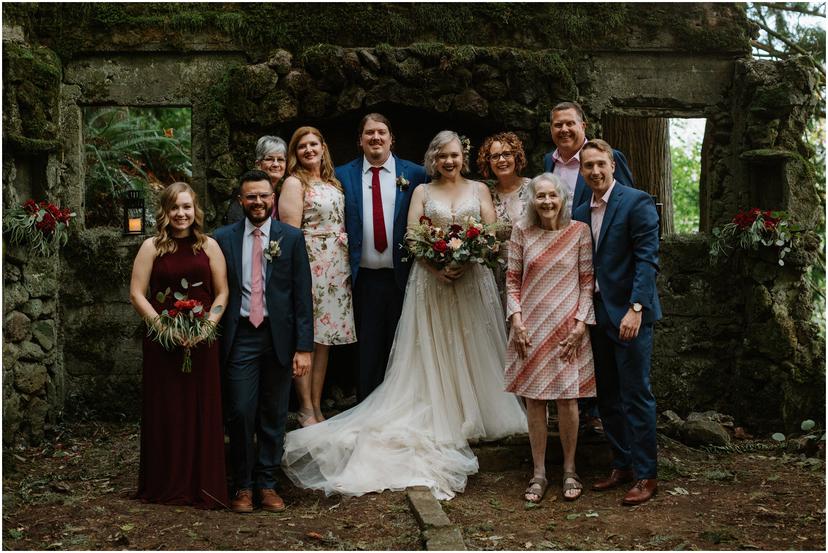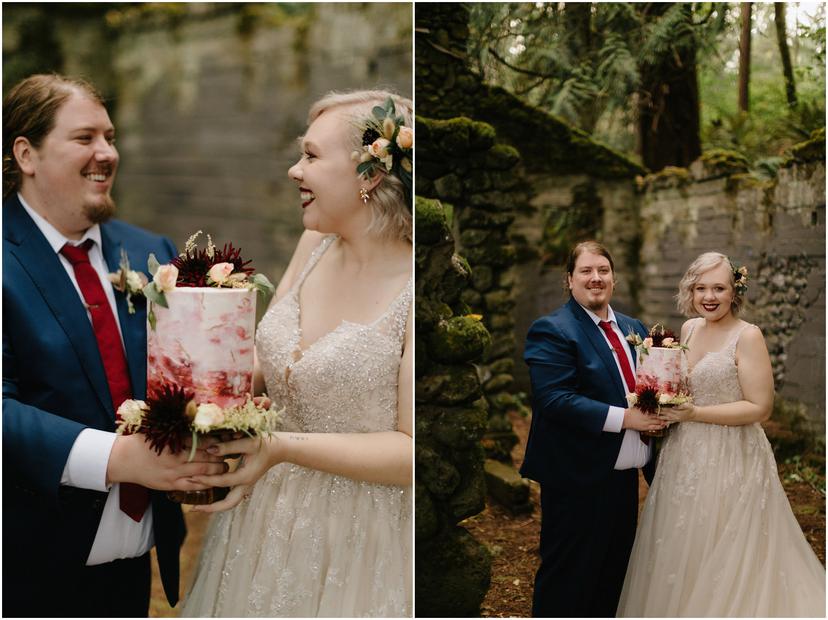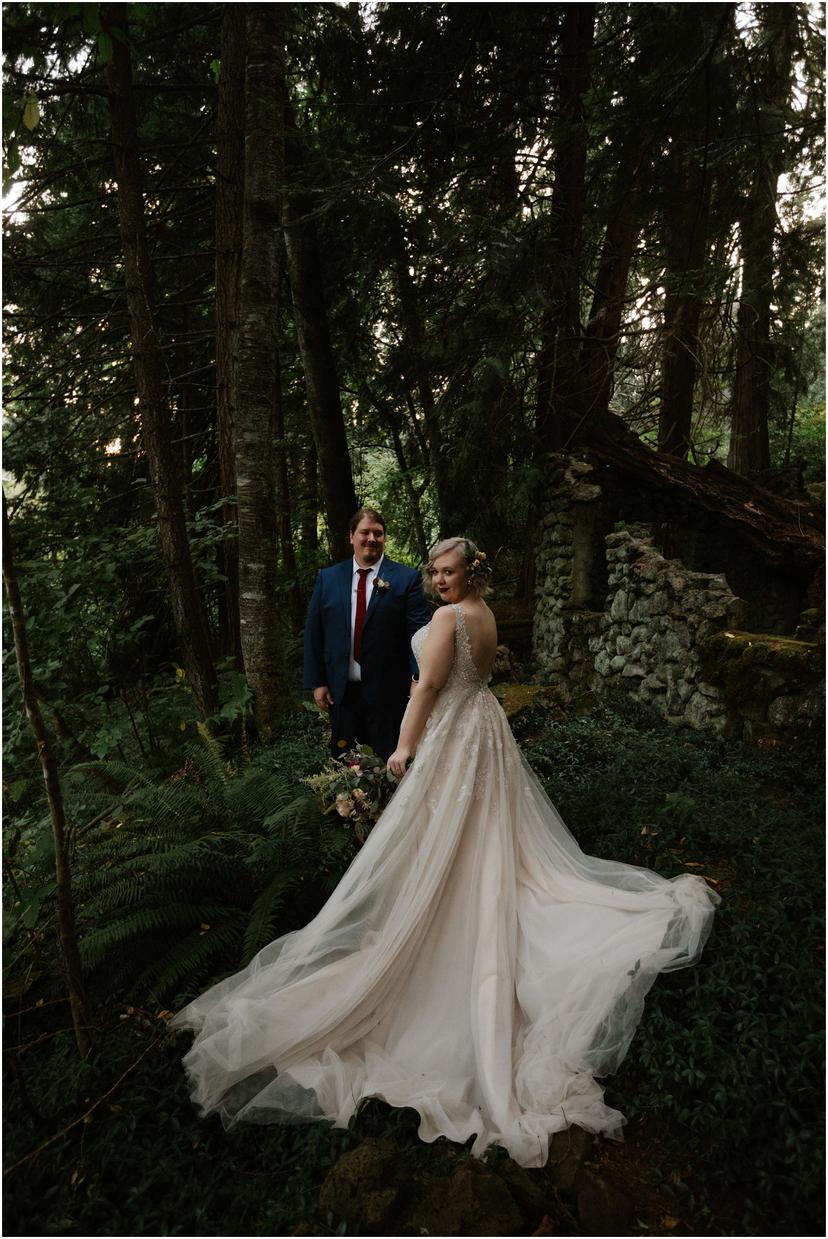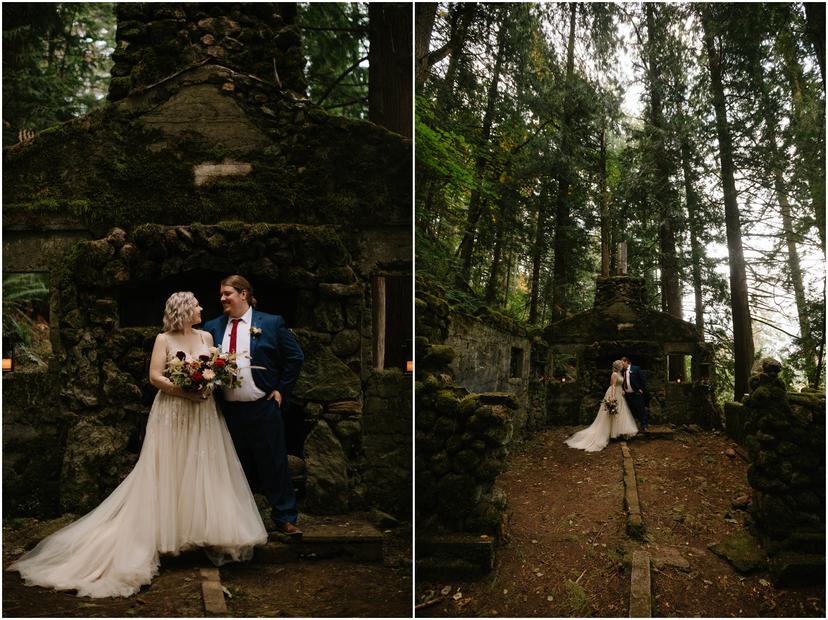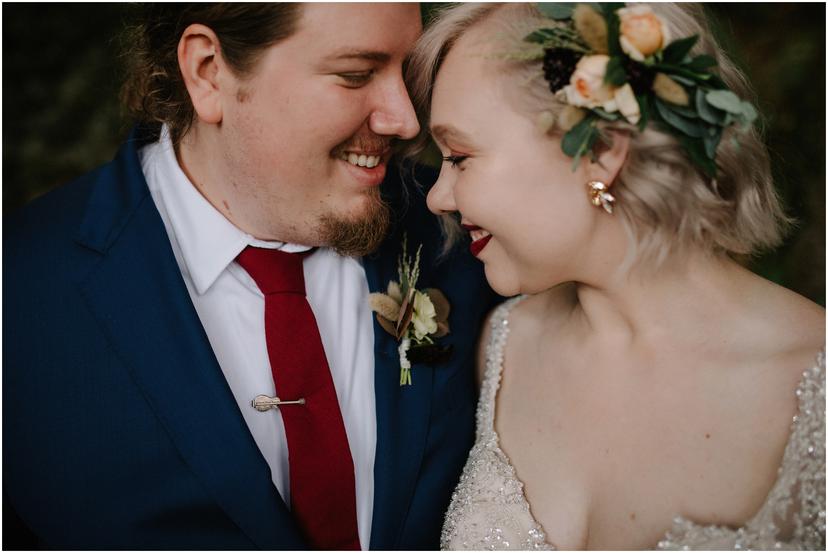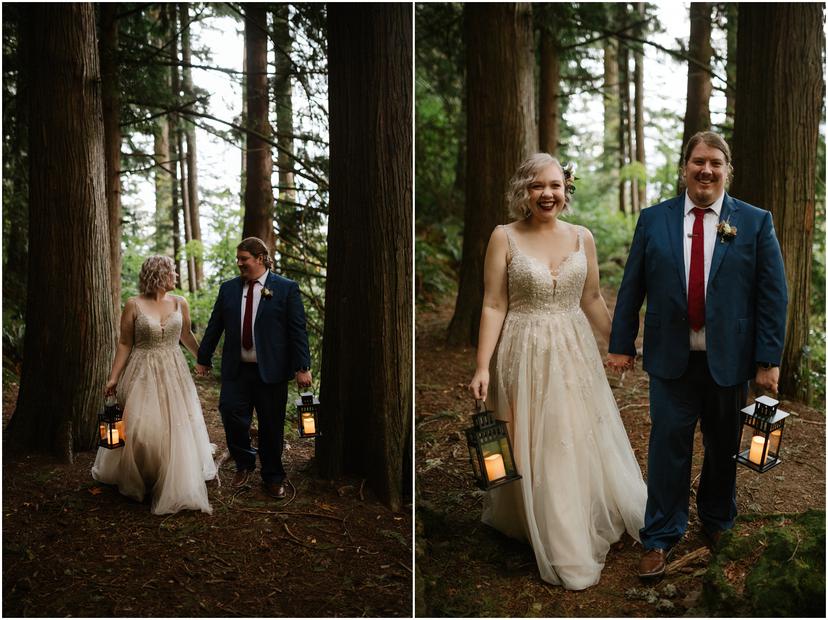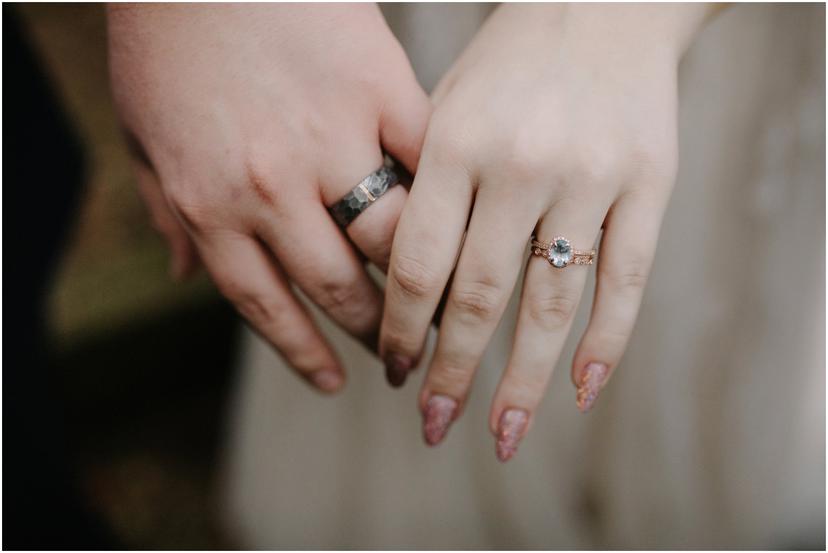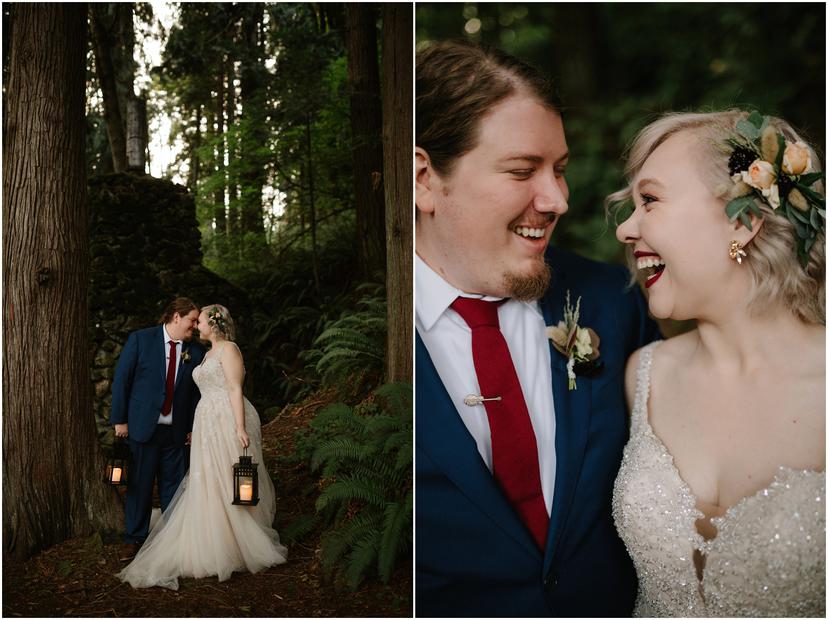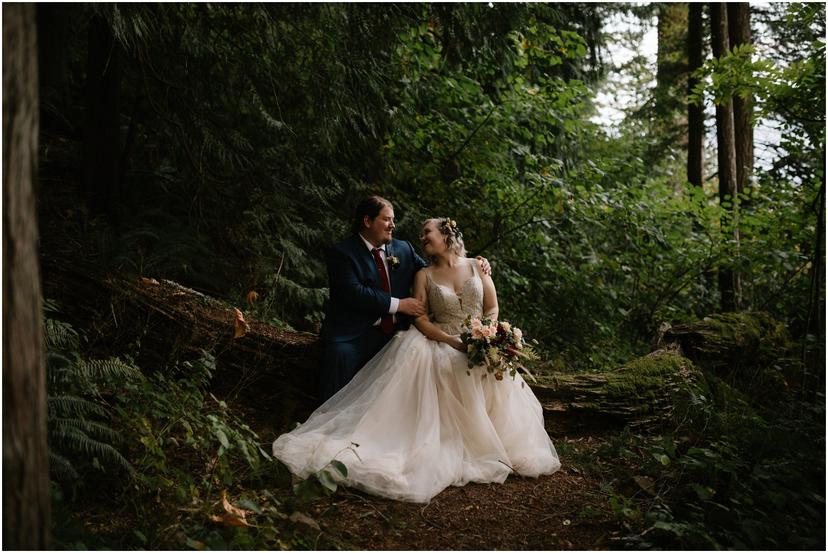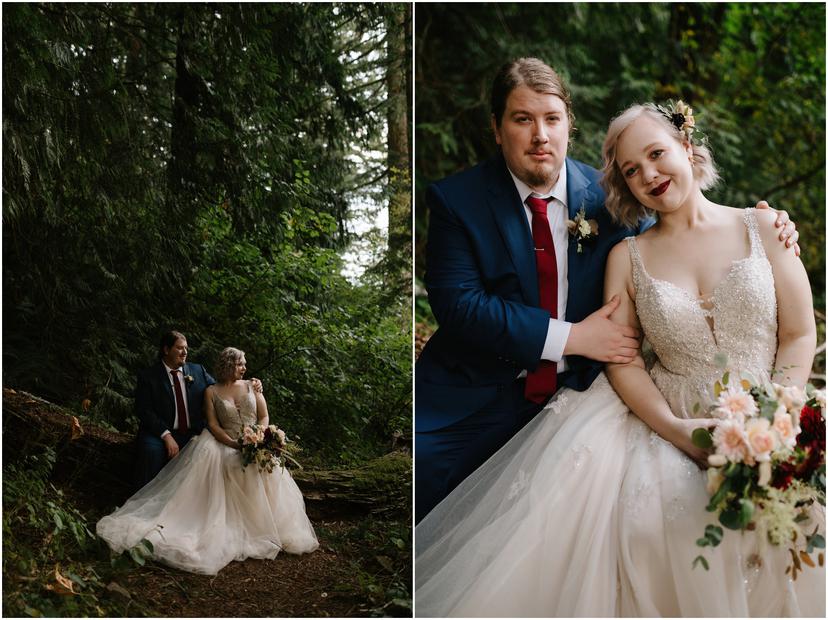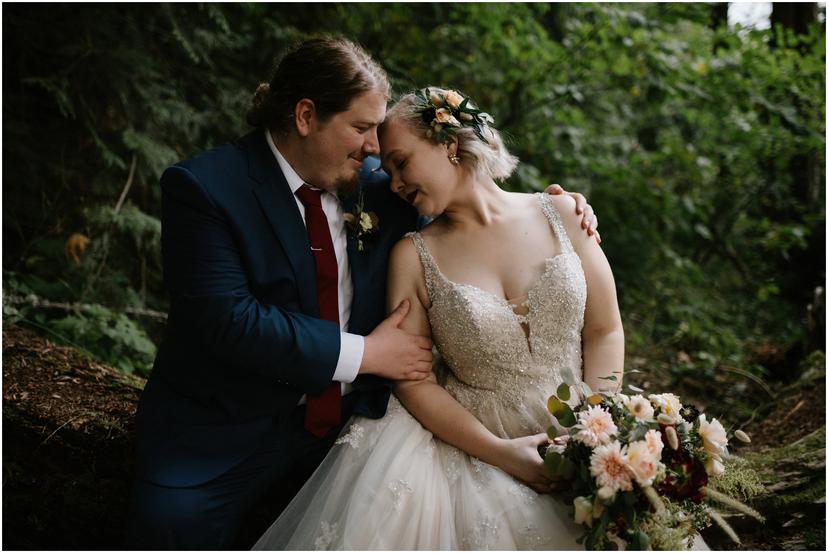 Favorite wedding memory
"One of my favorite moments was after the ceremony when we were driving to the reception," said Madison. "Jessie put on "Signed sealed delivered" and the four of us had a super fun, zero stress dance party in the car."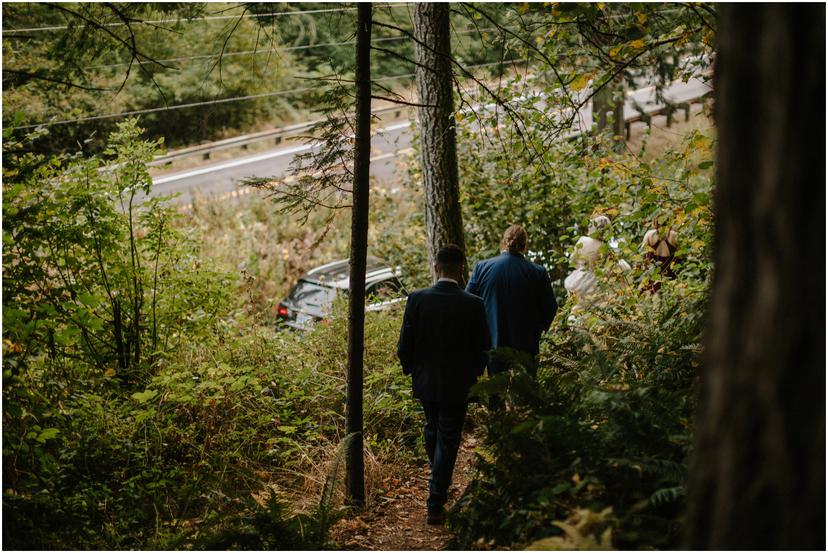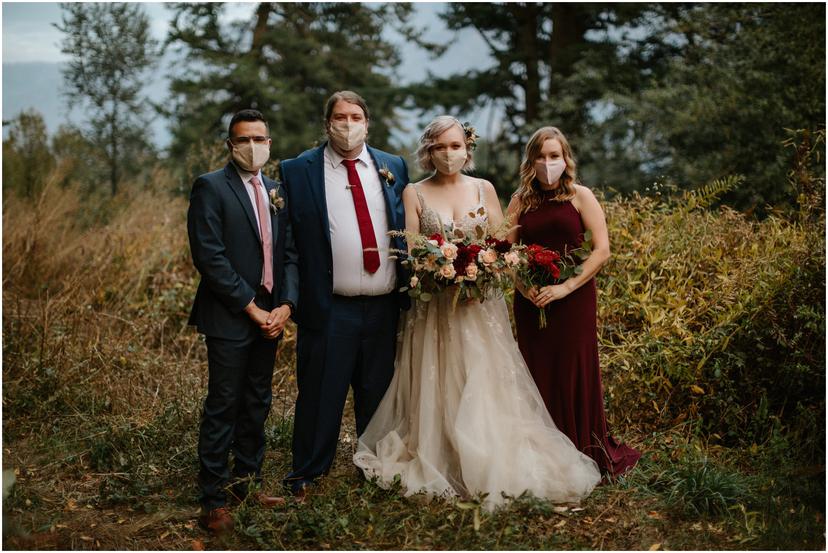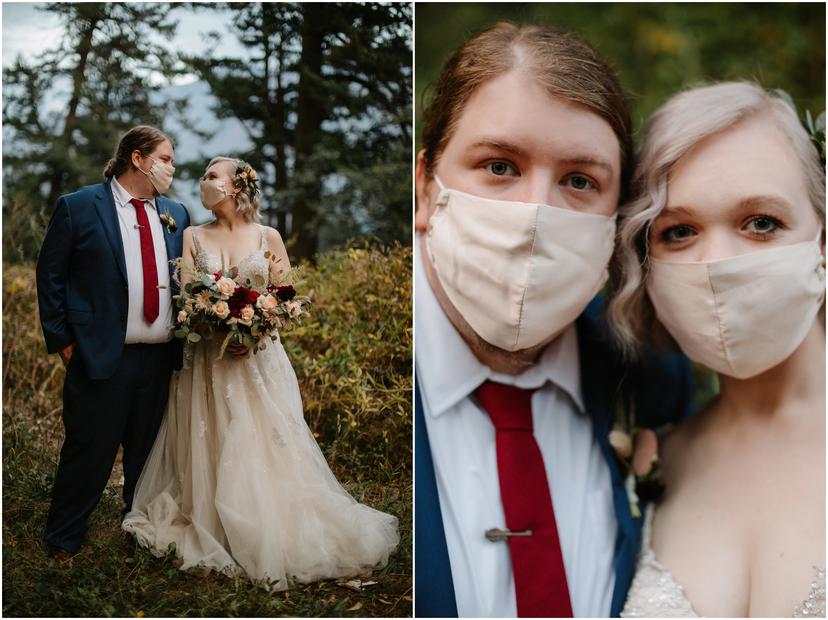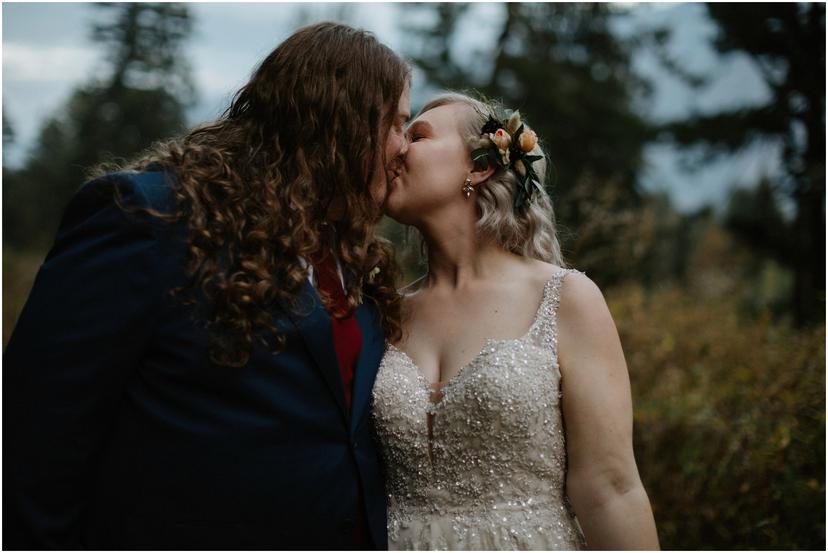 How to plan an elopement during COVID-19
"For wedding planning during Covid, I think you need to have a sense of humor about it," said Madison. "That may just be the lab techs in us, but we have a slightly dark sense of humor after working in Covid labs during the pandemic." She said just having the ability to go with the flow, ignore outside opinions, and focus on what's important, was necessary.
The Vendors
Hotel + Reception Venue: Skamania Lodge

Ceremony Site: Skamania Stone House

Dress: Stella York gown purchased at Couture Bridal of Northwest Arkansas

Suit: Pinpoint Resource in Tulsa Oklahoma

Flowers: Solabee

Cake: Lux Sucre

His ring: Revolution Jewelry

Her ring: Etsy

Bride's shoes: Chacos
Browse more
Did you love these moody Columbia River Gorge elopement photos? If so, you might enjoy these other intimate weddings and elopements I've photographed recently! And always, feel free to contact me if you have questions, or reach out if you are planning your own Columbia River Gorge wedding!