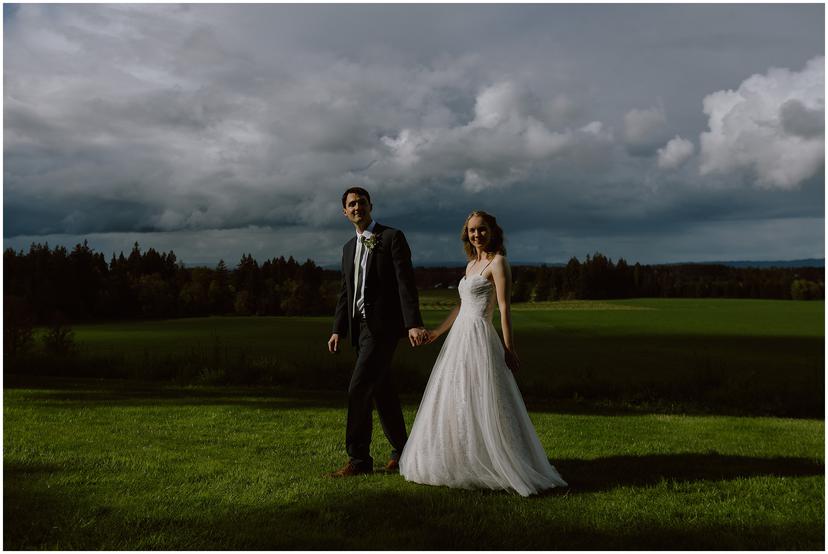 Scholls Valley Lodge Wedding
It was a beautiful spring day in Oregon. Sun, rain, epic clouds - the perfect weather for photography. And a gorgeous day for a wedding at Scholls Valley Lodge.
Annie and Ben hired me multiple years ago, before the pandemic. After many reschedules, they finally got to have the wedding of their dreams. The lush hills, orchards, and vineyards around Scholls Valley Lodge were the perfect backdrop.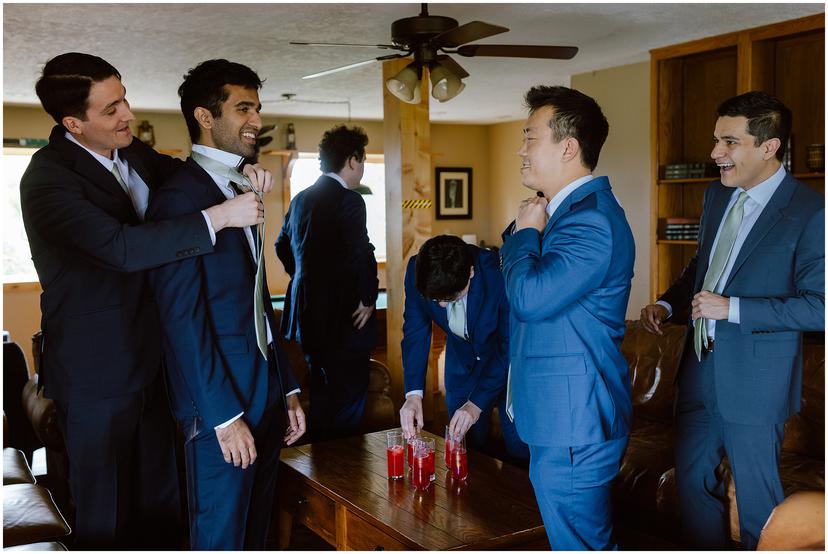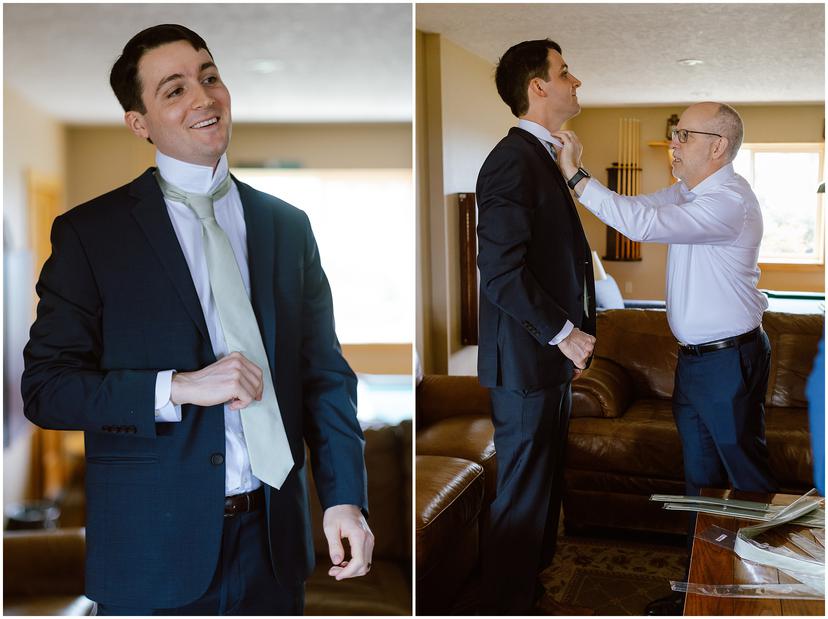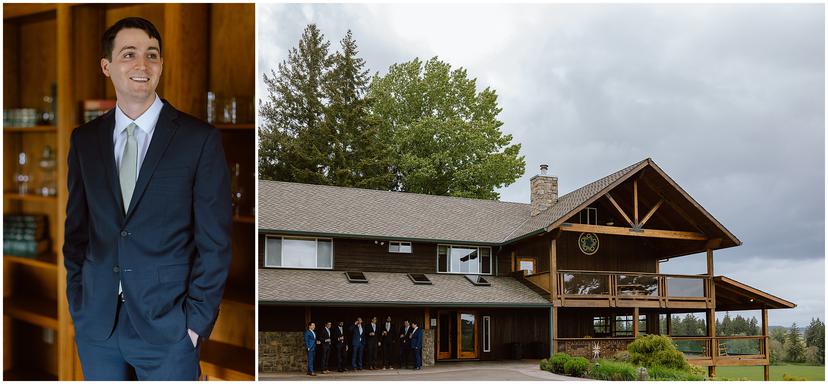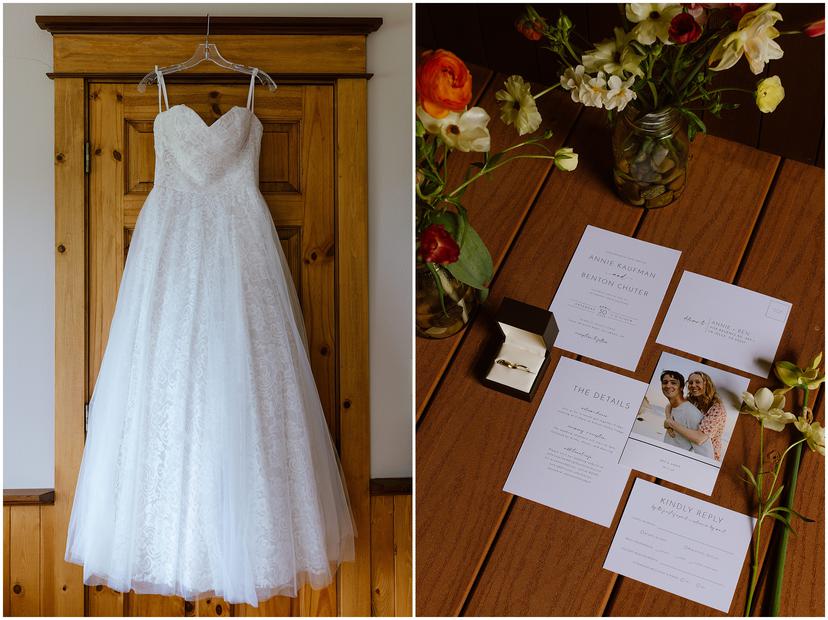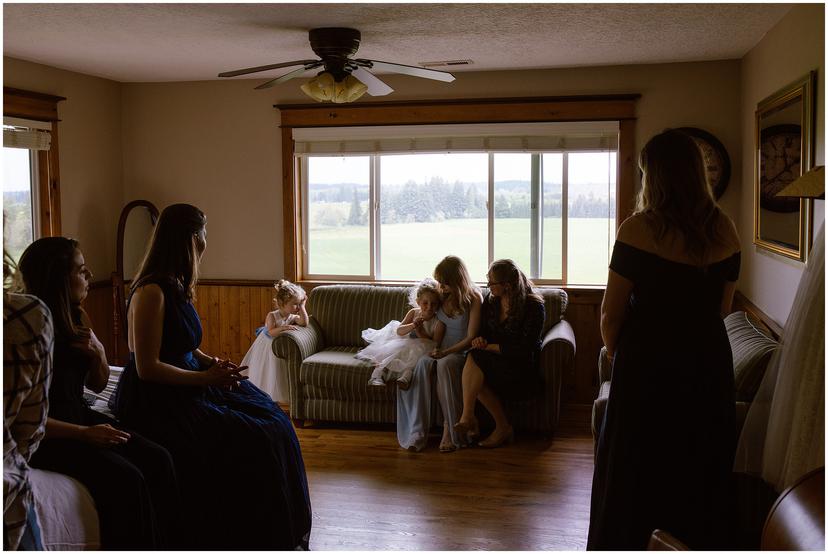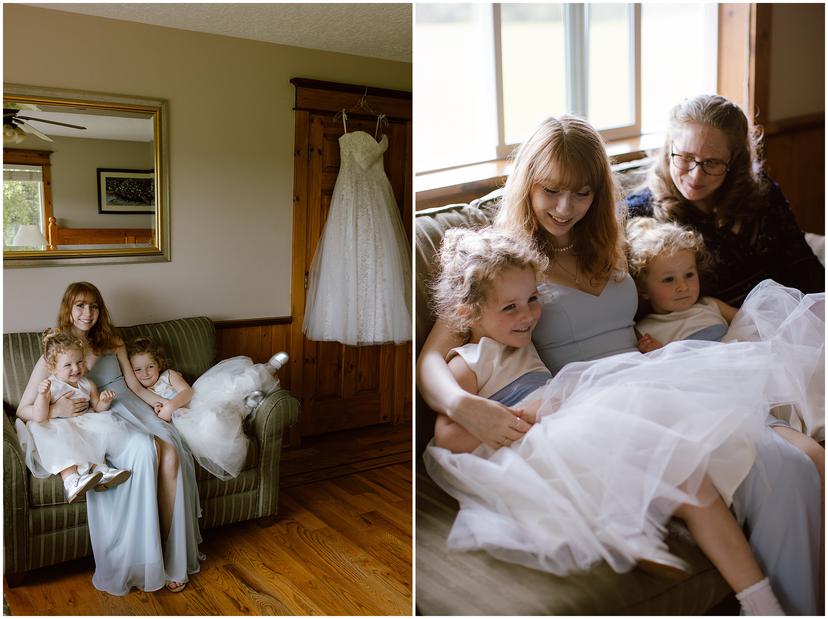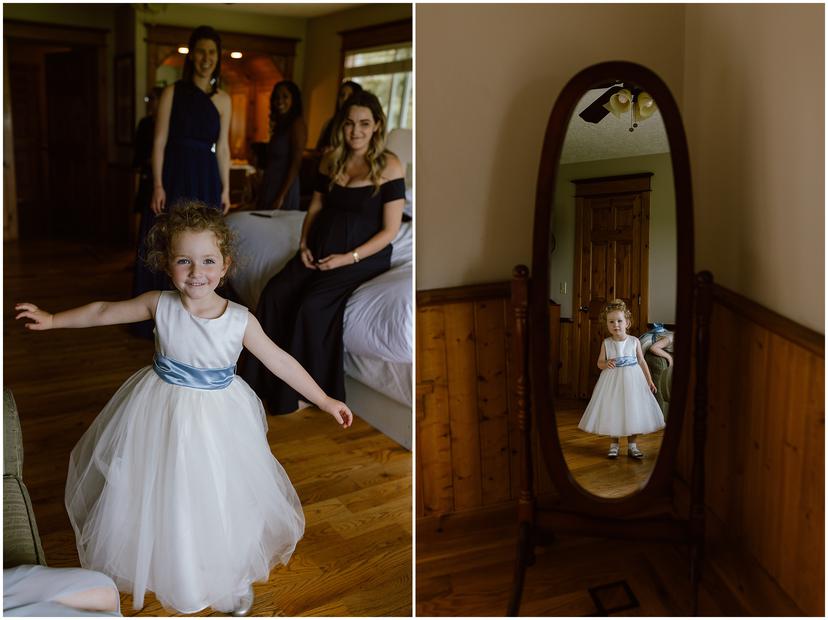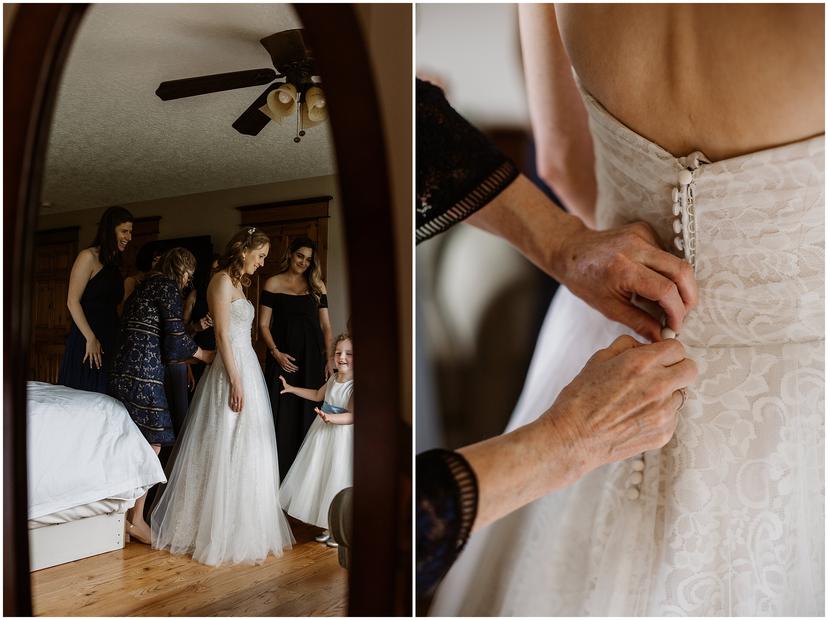 About Scholls Valley Lodge weddings
The lodge is a perfect place to host a Portland or Wine Country wedding, especially if you want to spend the weekend there spend the maximum amount of quality time with friends and family.
Scholls Valley Lodge has 9 bedrooms and can sleep 32 people. The property is situated on four acres of scenic lawns with panoramic views in multiple directions. The venue has indoor and outdoor, as well as covered and uncovered options for a variety of events types.
The venue is a part of Vial Family Farm. The family used to live in the building when they first purchased the property back in 1986. The original structure has been remodeled multiple times, most recently in 2011 to create the current lodge. You can read all about the history of the property on their website here!
The lodge is also full of local art! You can learn more about the artists and designs here.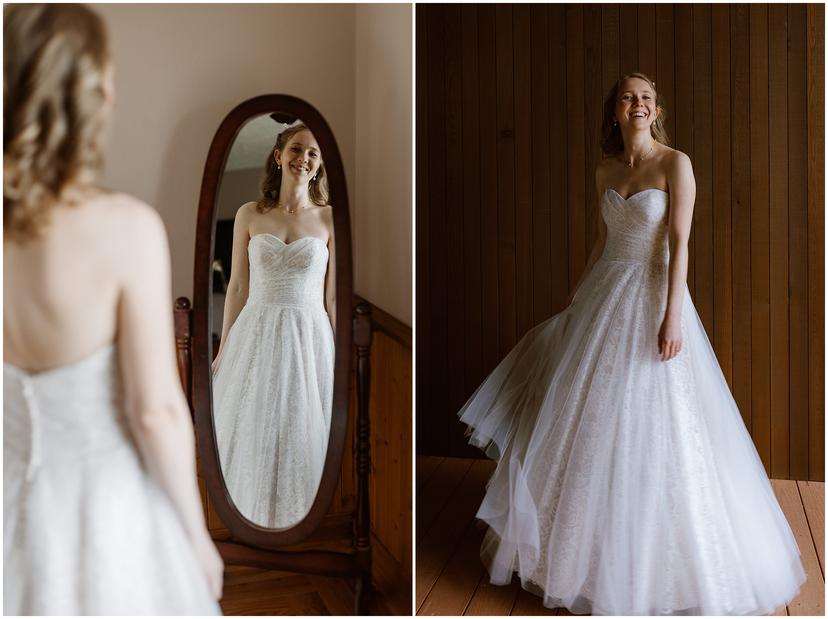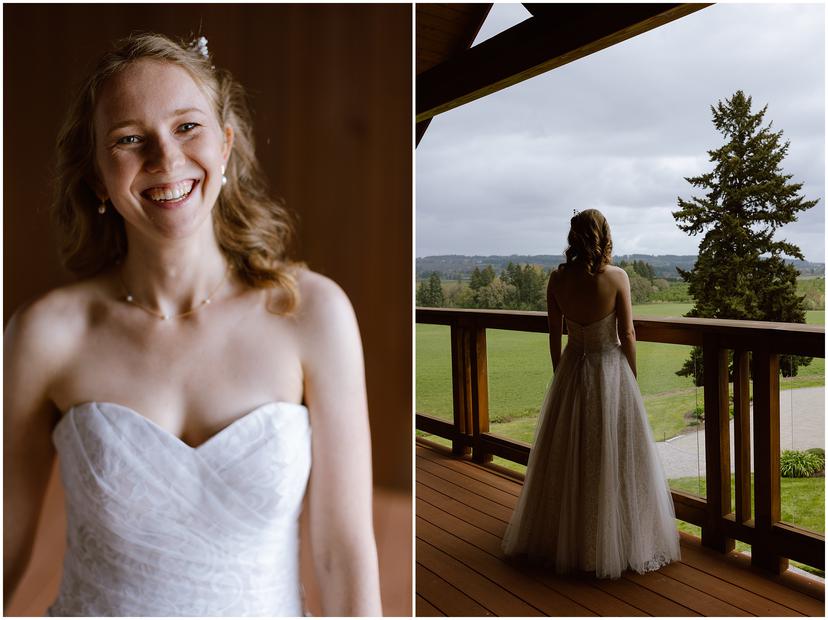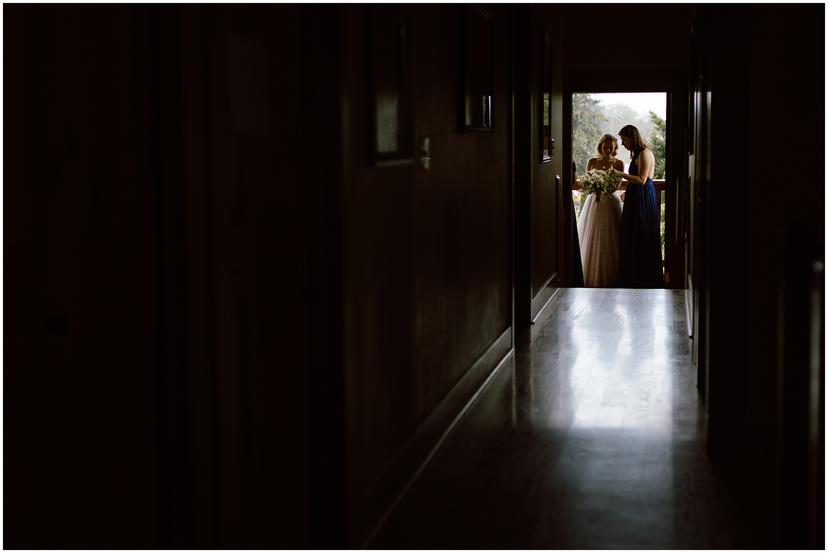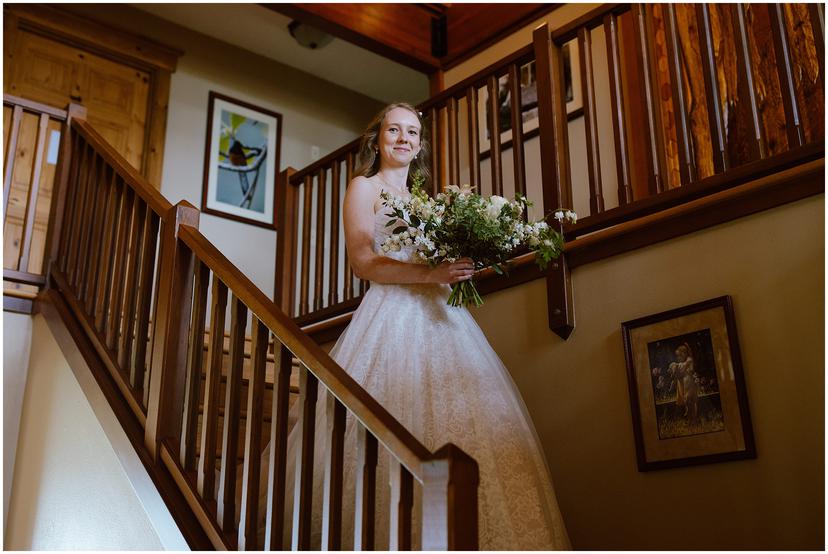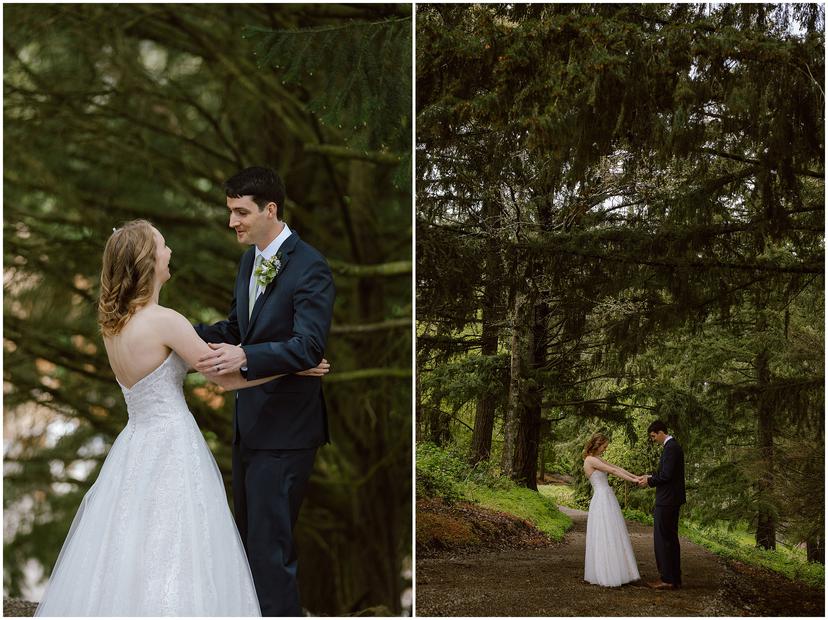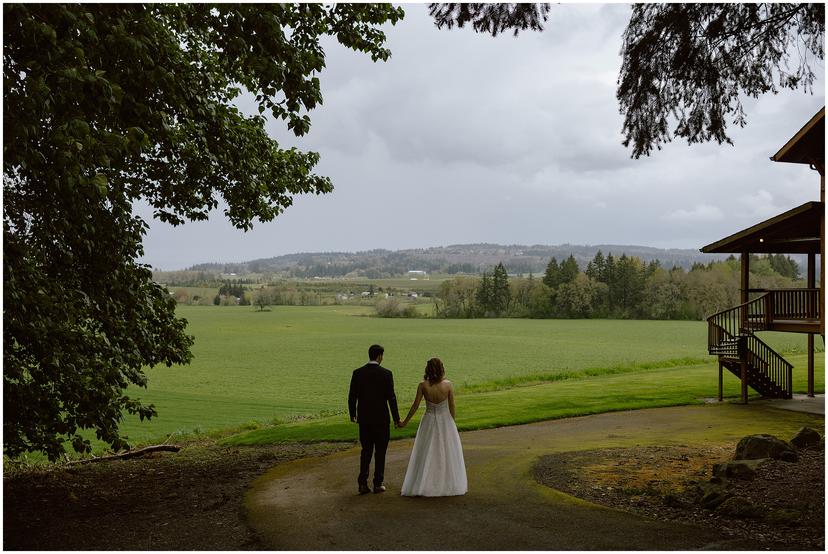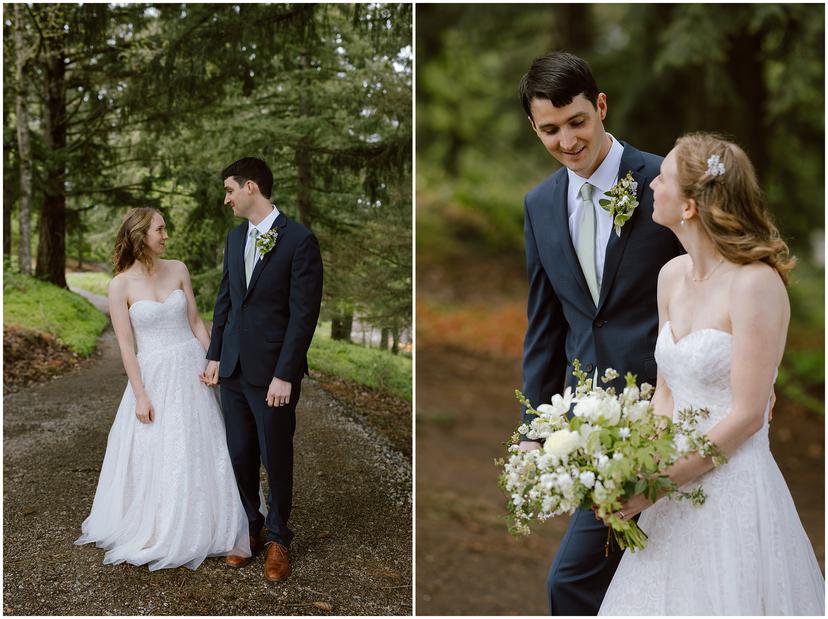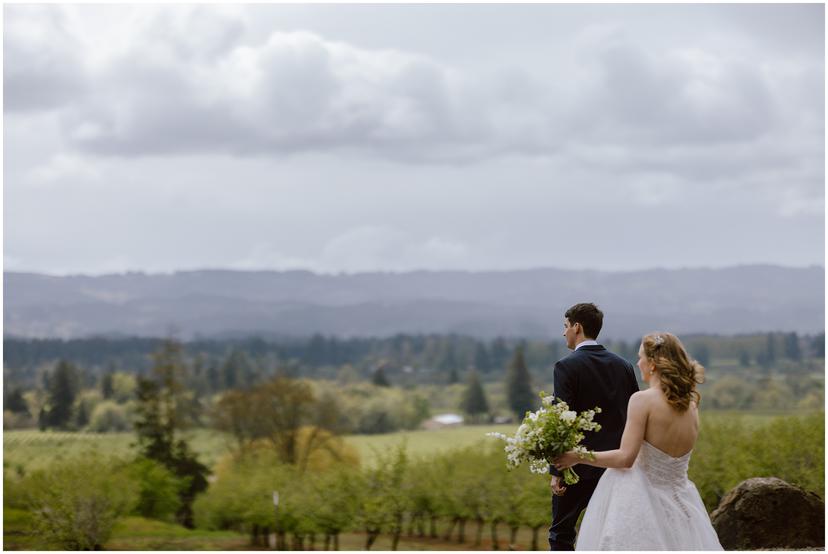 Scholls Valley Lodge location
The Scholls Valley Lodge is conveniently located on the southwest edge of Beaverton, Hillsboro and Tigard. It's close enough to Portland and the rest of the metro area that it's convenient for guests. But once you are there, the location feels completely remote. It's the best of both worlds. It takes about 50 minutes to get there from Portland International Airport, and 30 minutes from downtown.
The address is 12840 SW River Rd, Hillsboro, OR 97123.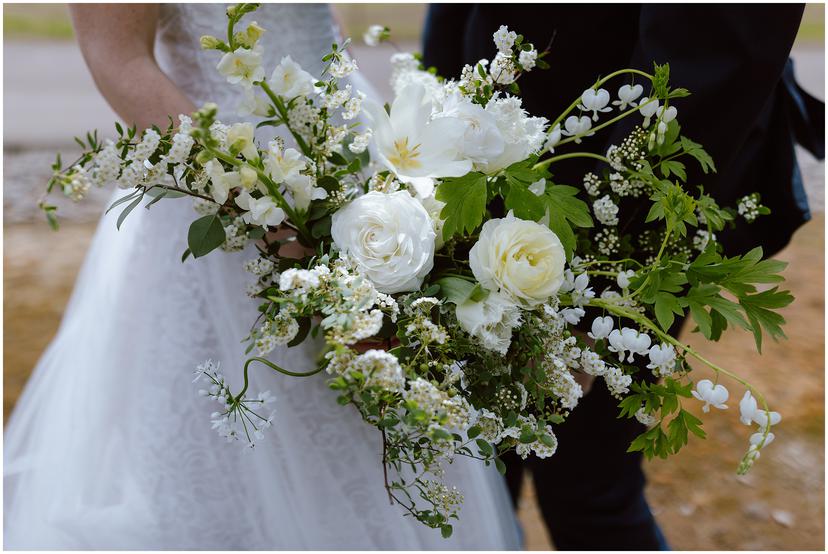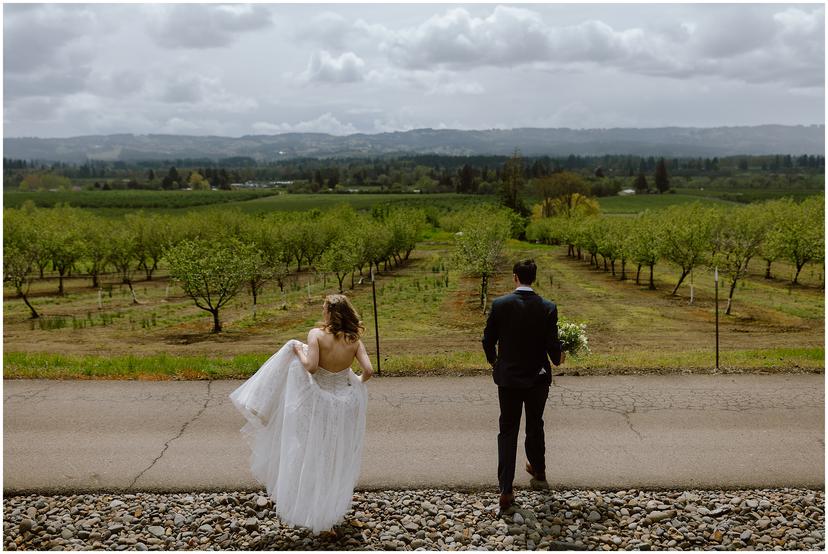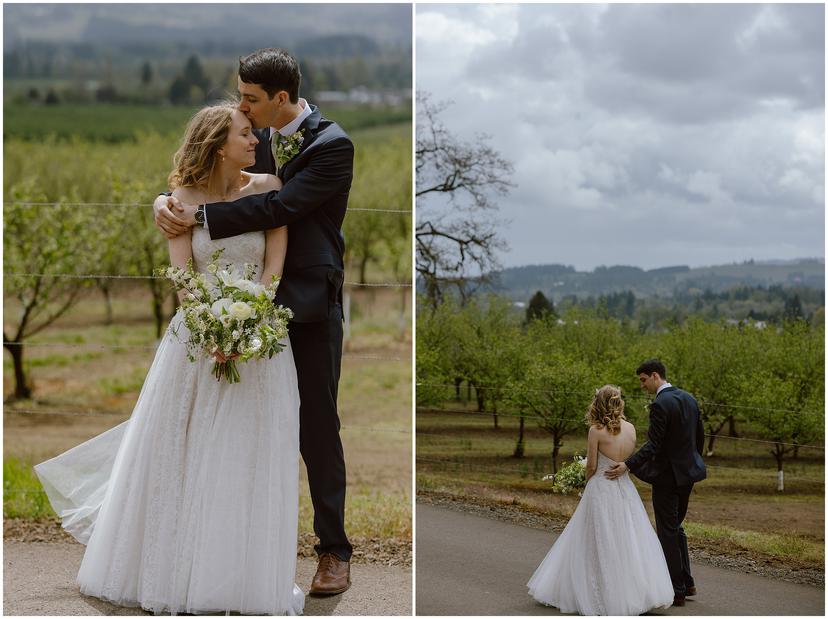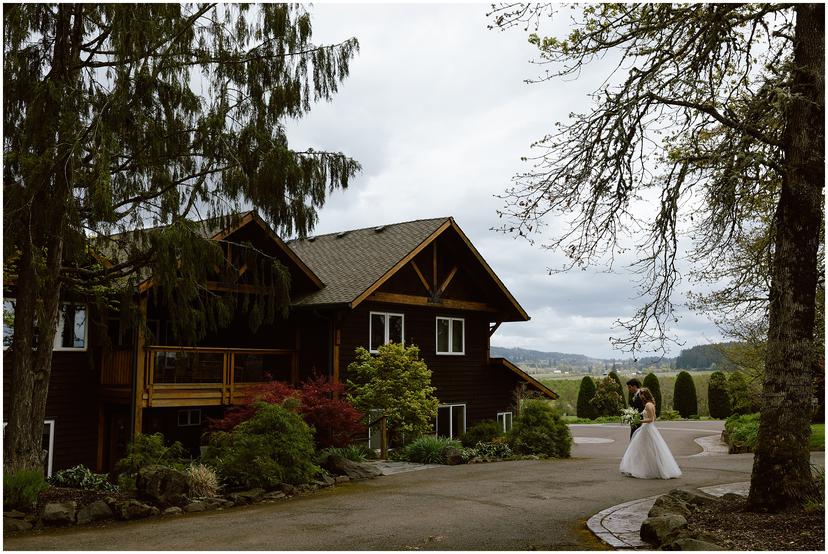 Reasons to have a Scholls Valley Lodge wedding
"Scholls Valley Lodge has awesome views and great flexible indoor/outdoor/covered space options that you can use for the whole weekend," said Annie. "We loved that there were rooms for us and the bridal party to stay at the venue - it was a great way to have a lot of quality time with people and not have to rush in or out and we were able to have a casual welcome dinner there too. We also loved that it's close to Portland but feels remote/surrounded by nature. It was easy to get to but gave us the feeling of being away from everything."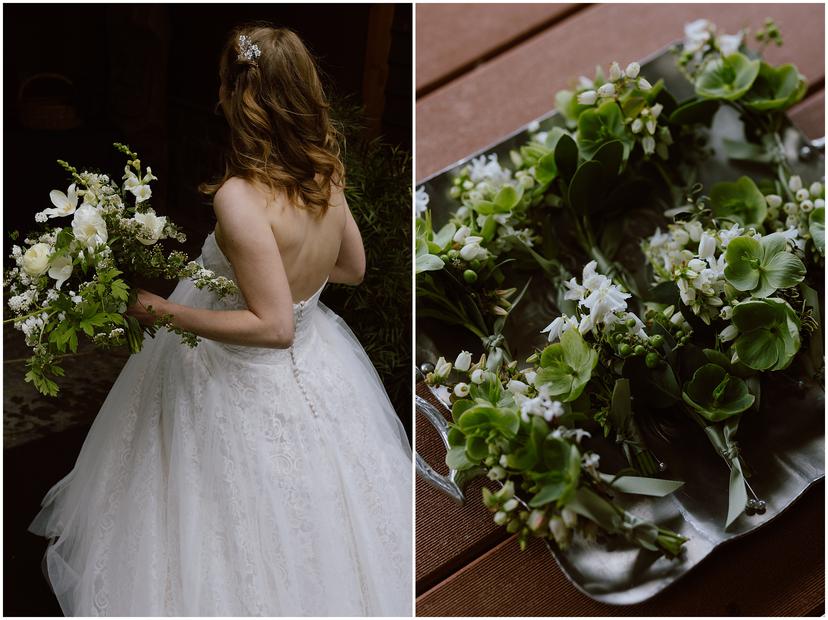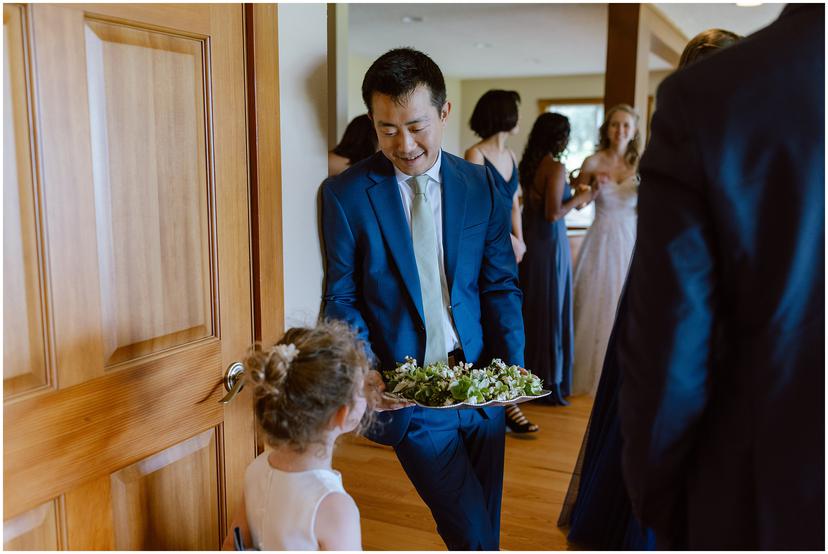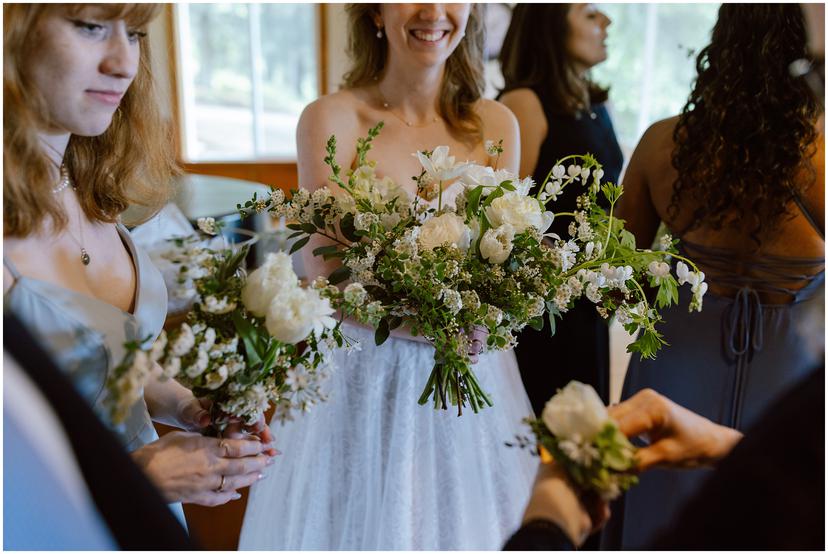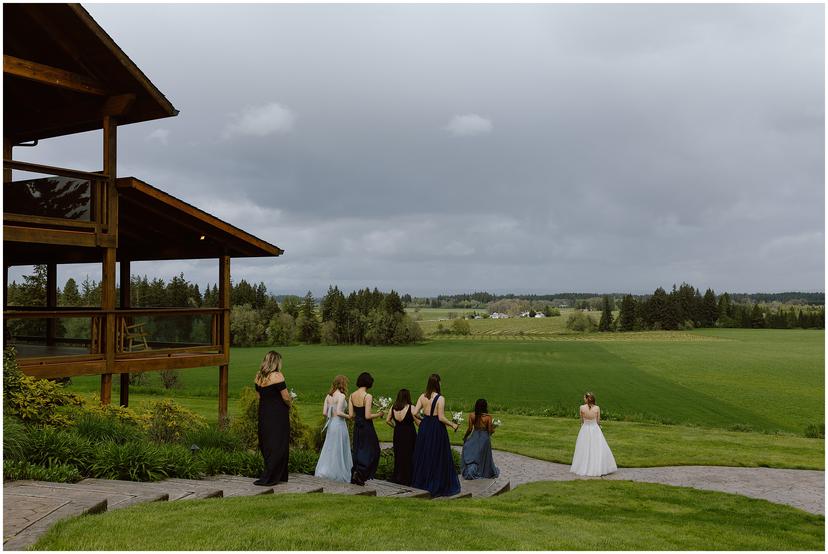 About the outfits
"We were so impressed with how good our bridal parties looked despite relatively loose guidance!" said Annie. "We liked things looking a little varied and wanted everyone to find outfits that fit in their wardrobe/budget/preferences. We asked people to pick long blue dresses and blue suits. With matching ties and florals, it came together beautifully!"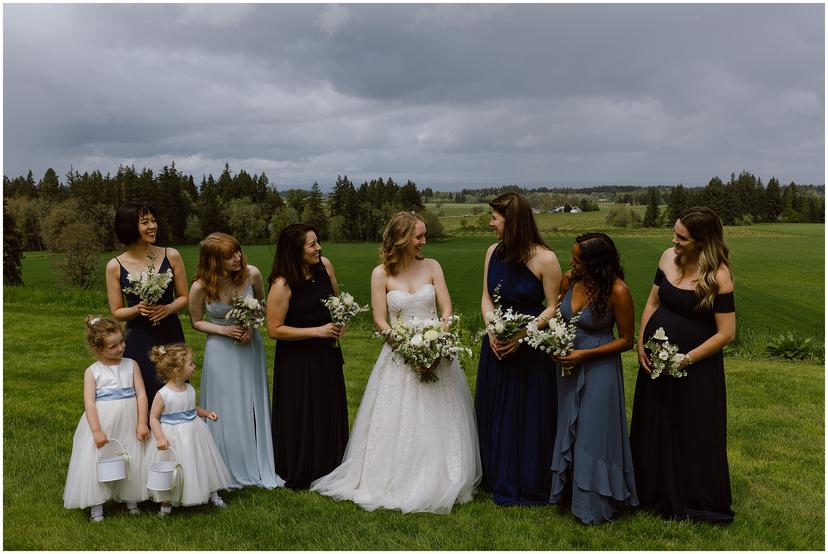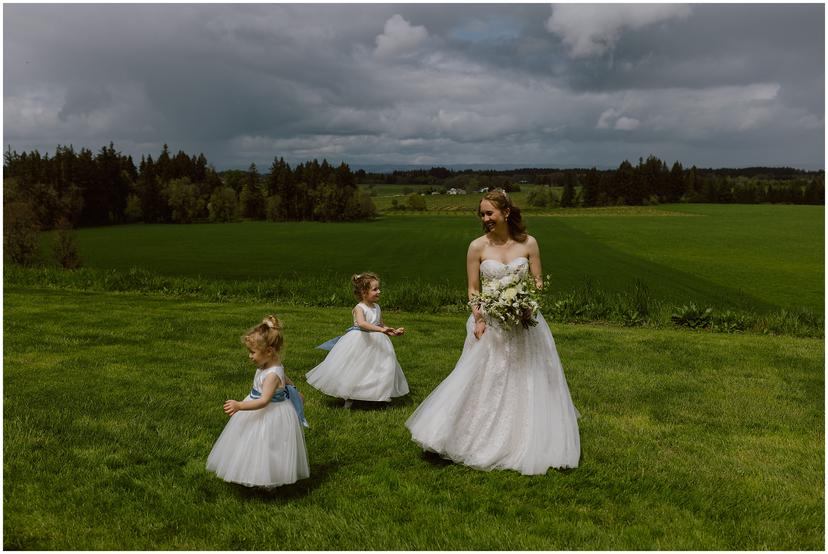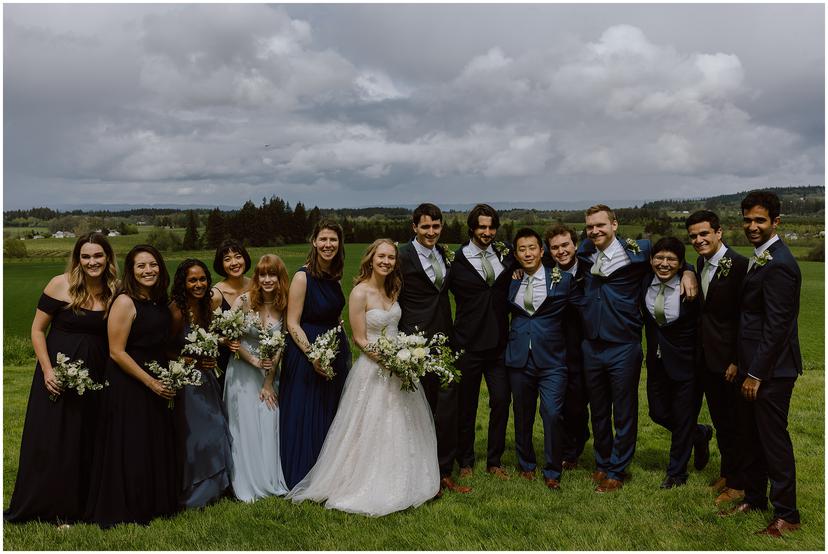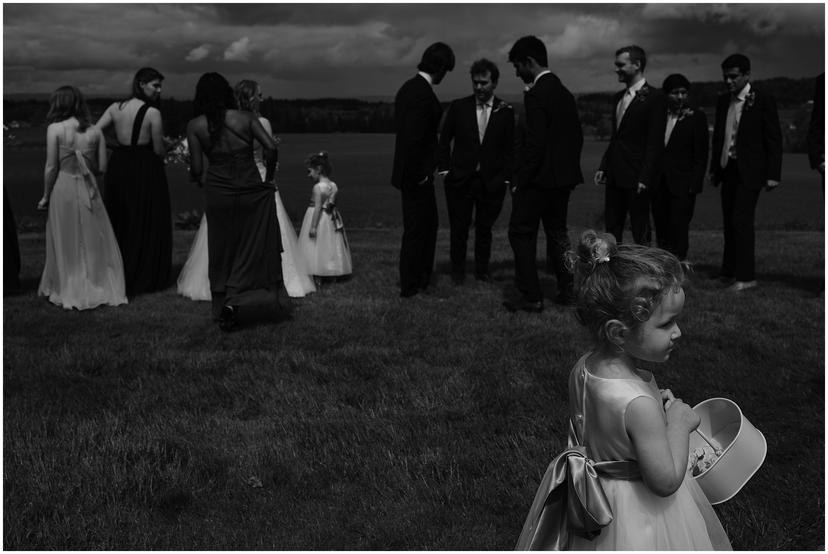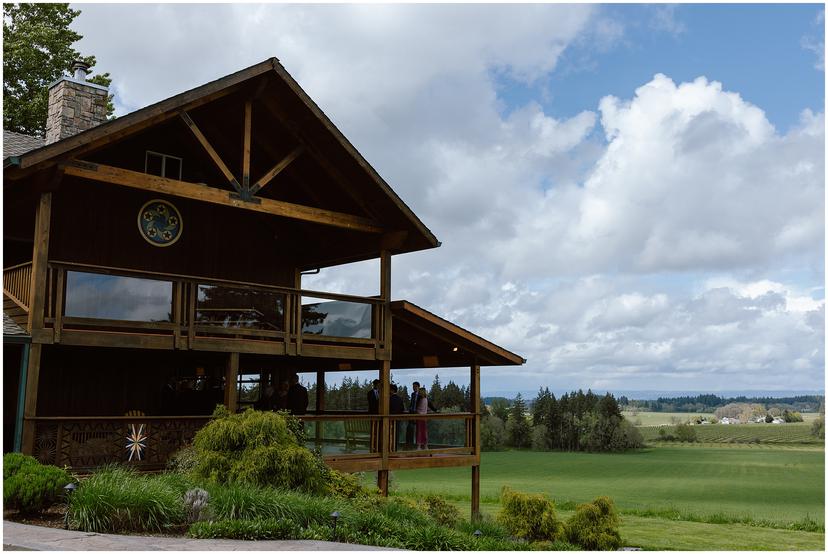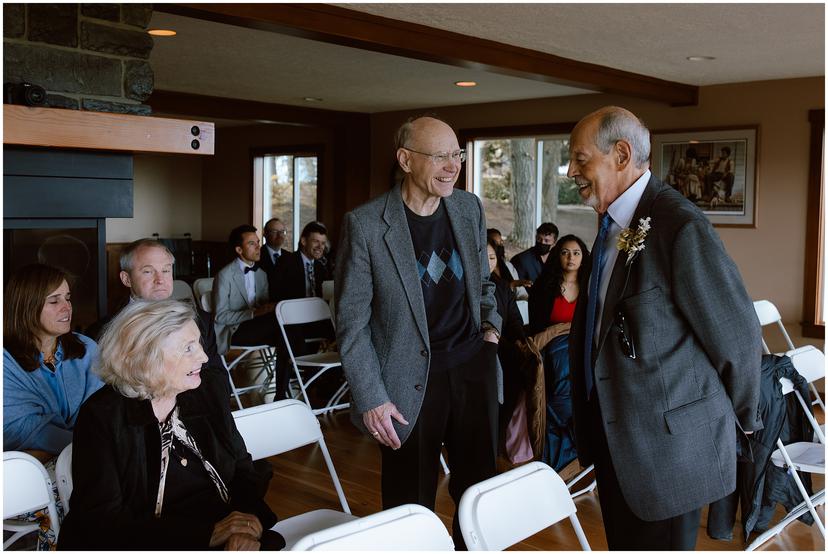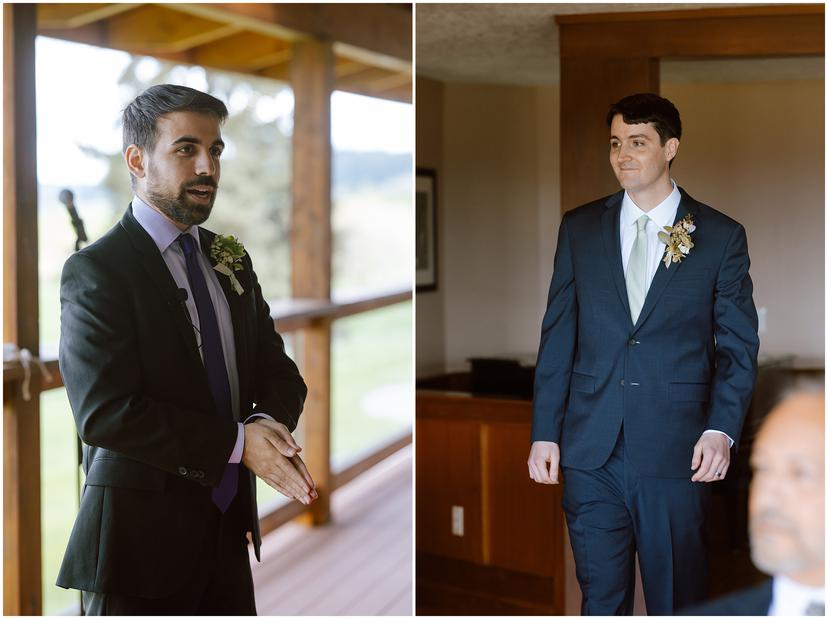 Wedding planning advice
"Weather in Oregon is unpredictable but there are lots of options to make it work!" said Annie. "We originally picked our venue for August 2020 but rescheduled twice and ended up getting married in April. We were worried about rain, but it ended up being a really beautiful day with just a couple sprinkles here and there. Our original August date ended up being super hot and with some heat lamps in the covered barn, April weather in the 50s was actually really comfortable! We just made sure to encourage our guests to bring jackets and had rain contingency plans."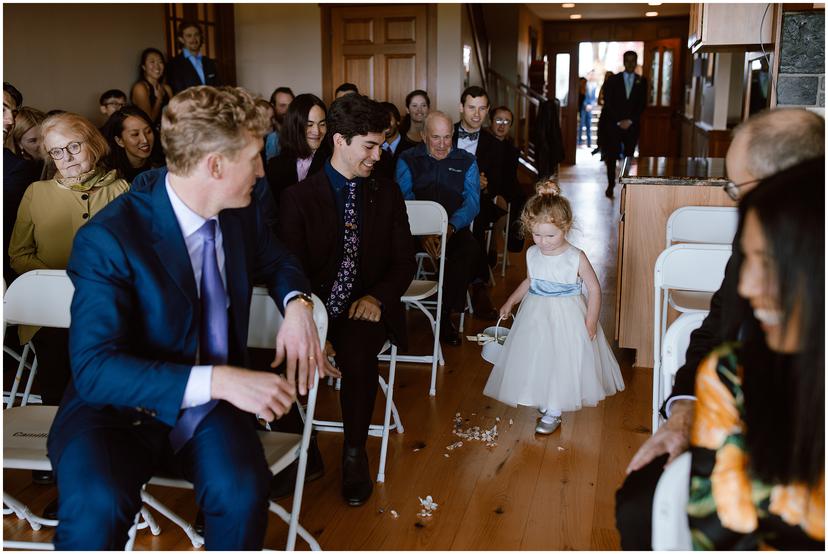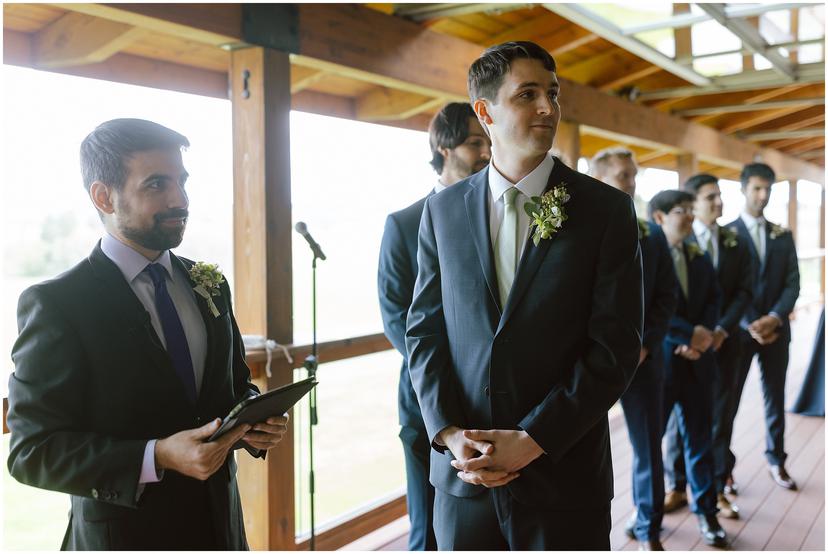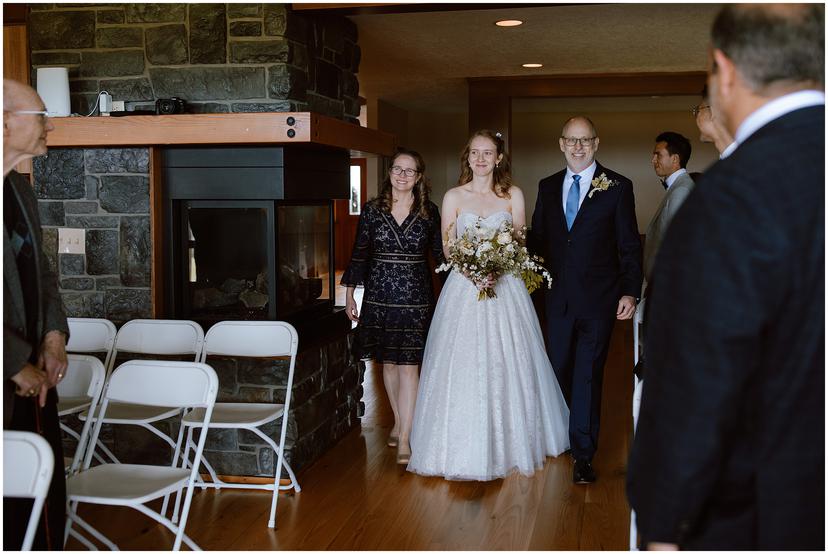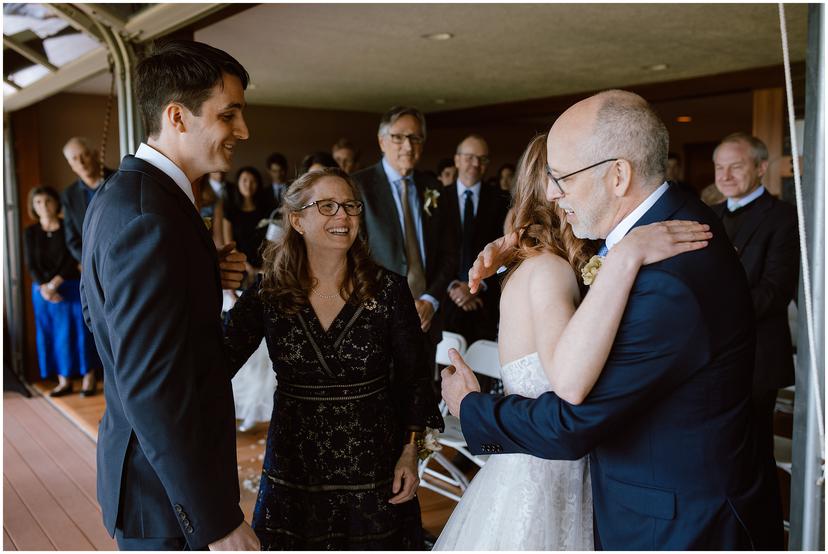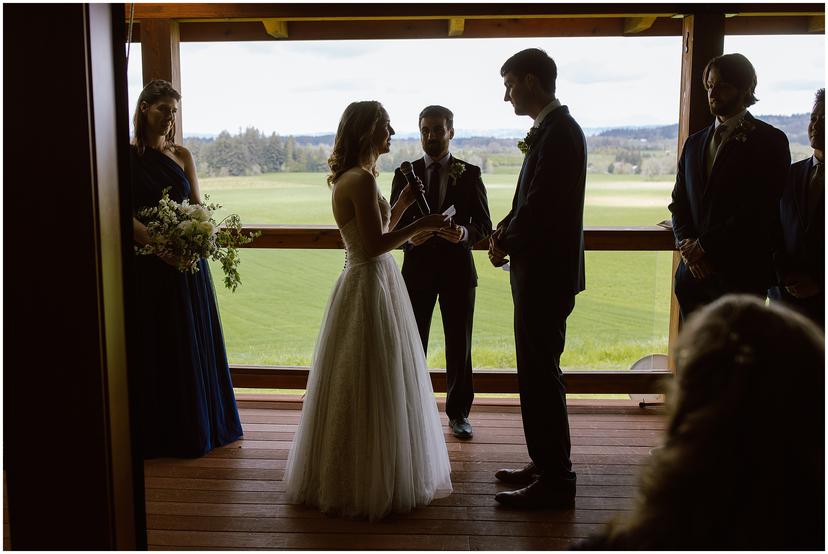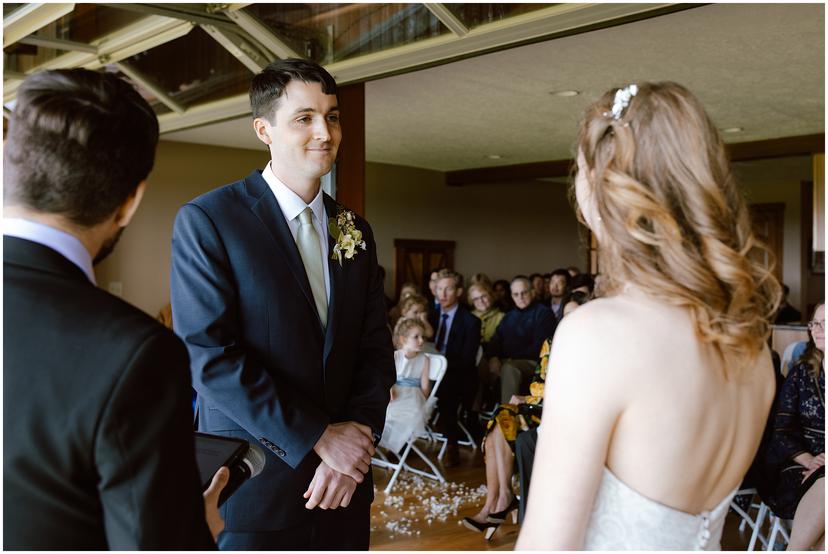 About the wedding ceremony
"We wanted to have a secular wedding ceremony but incorporate some family/cultural traditions. Ben's granny has read a bible passage at all of his family weddings, but she lives in England and wasn't able to travel, so we played a recording of her giving the reading. We also adapted some secular versions of the Jewish seven blessings and had each grandparent read a blessing. This was really sweet and one of our favorite parts of the ceremony."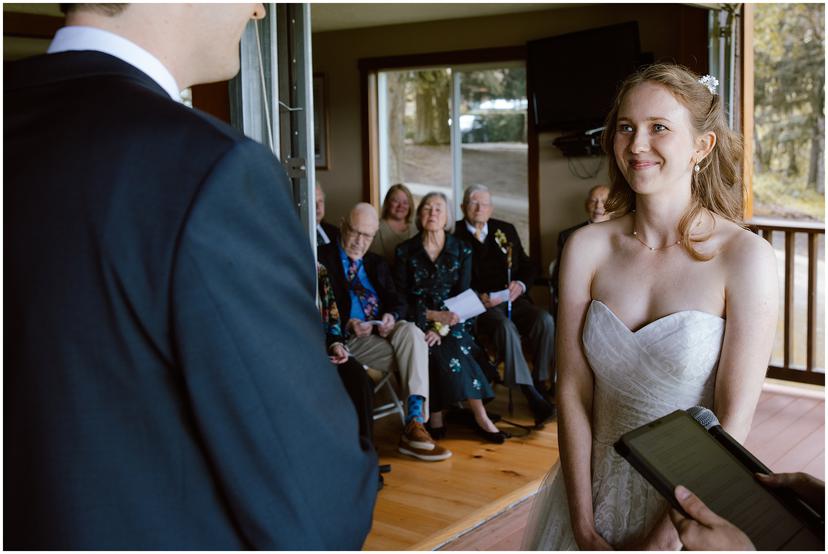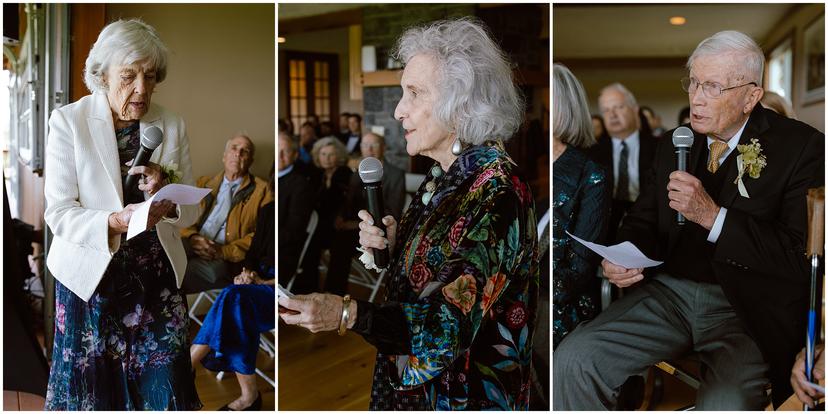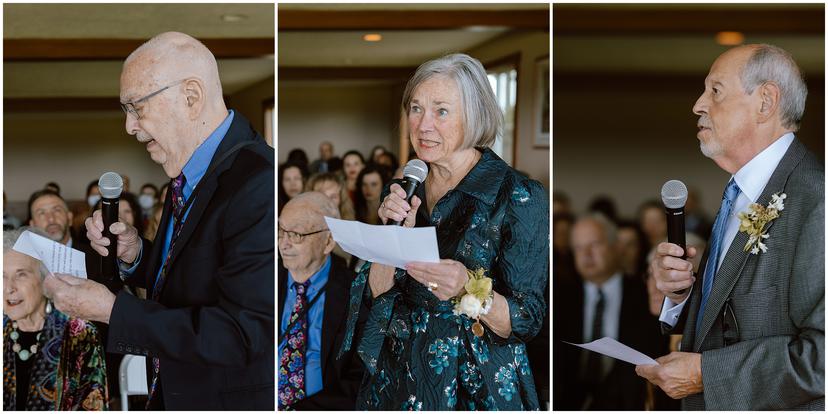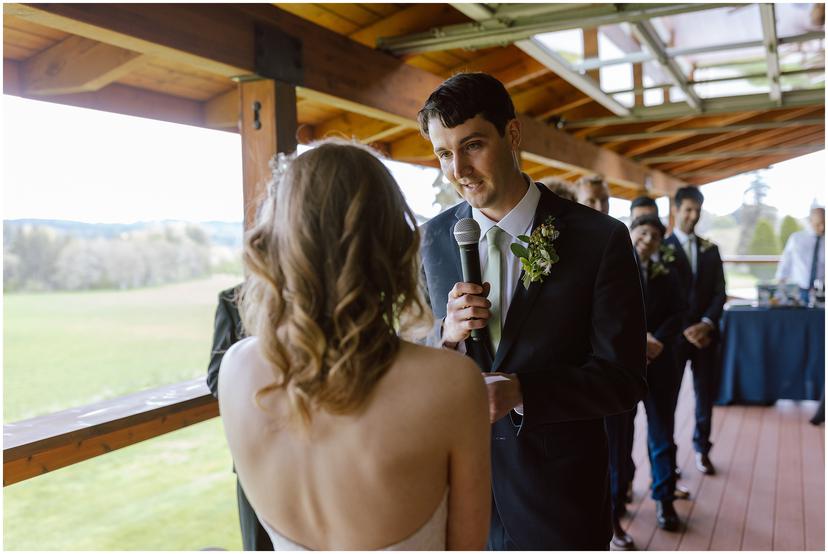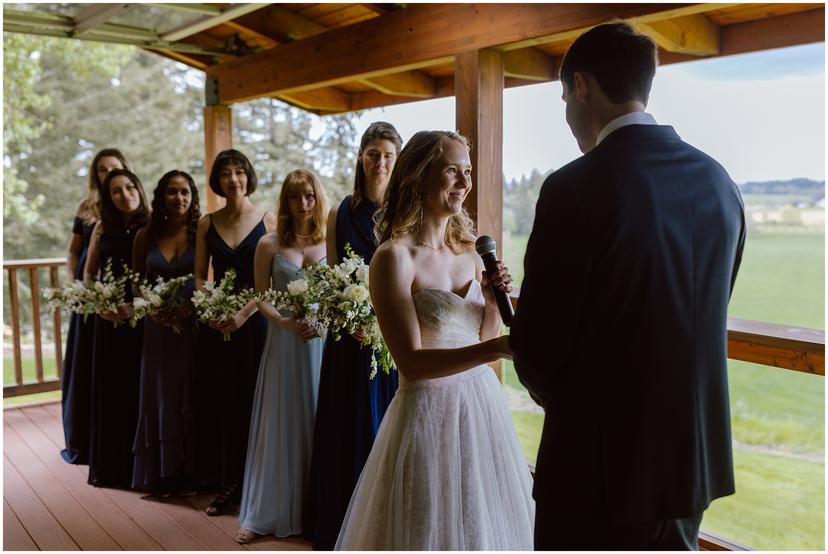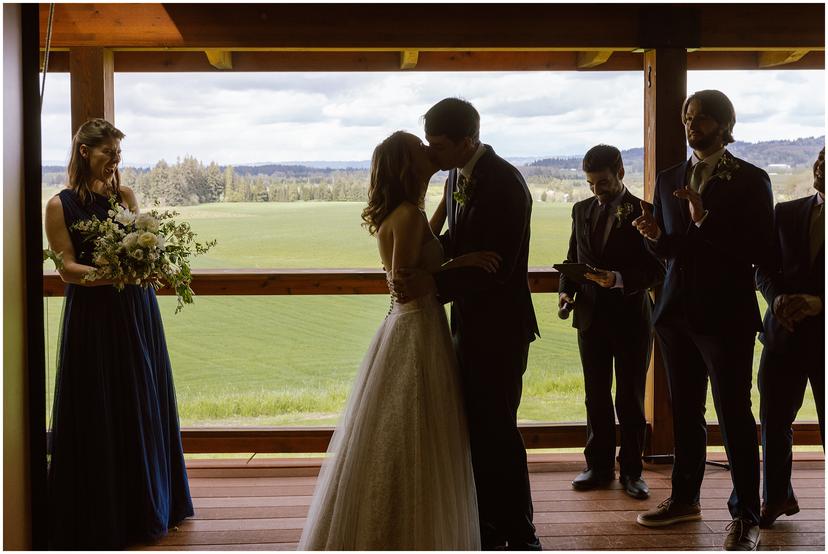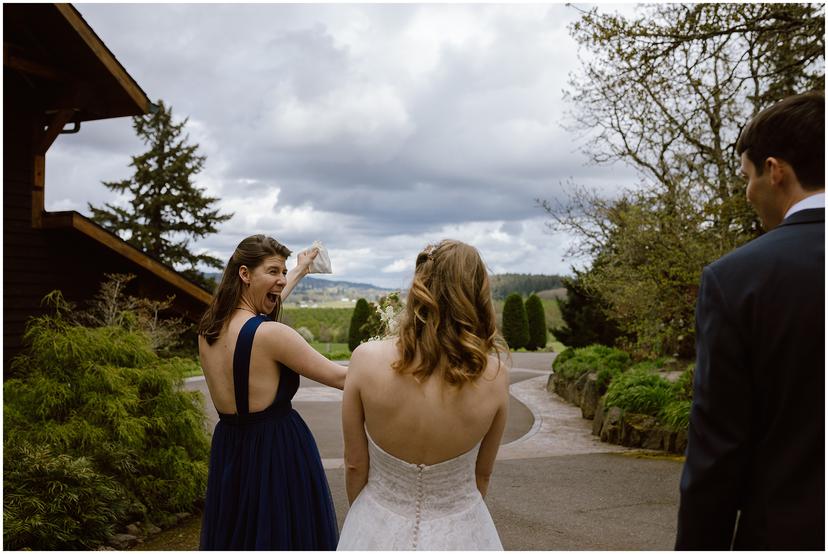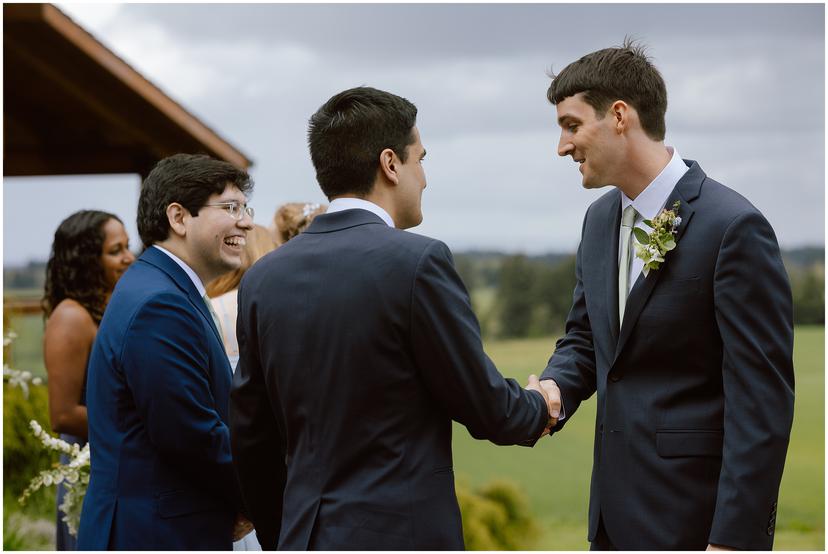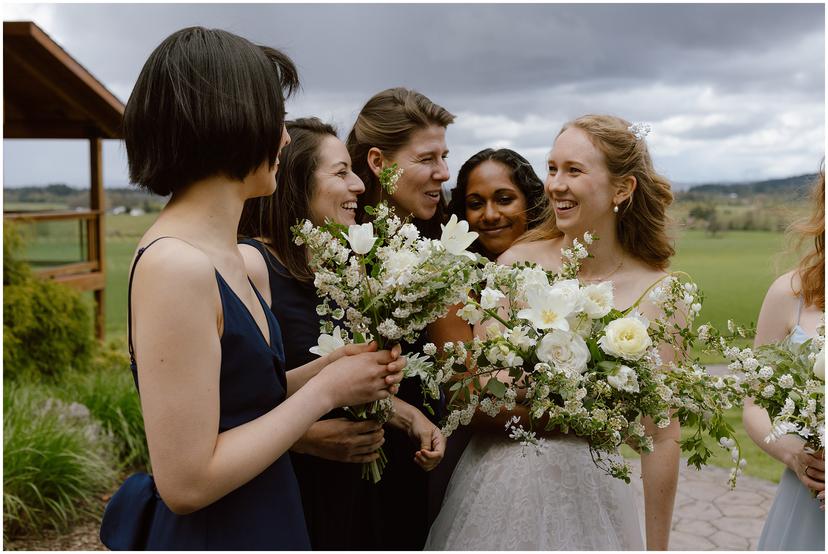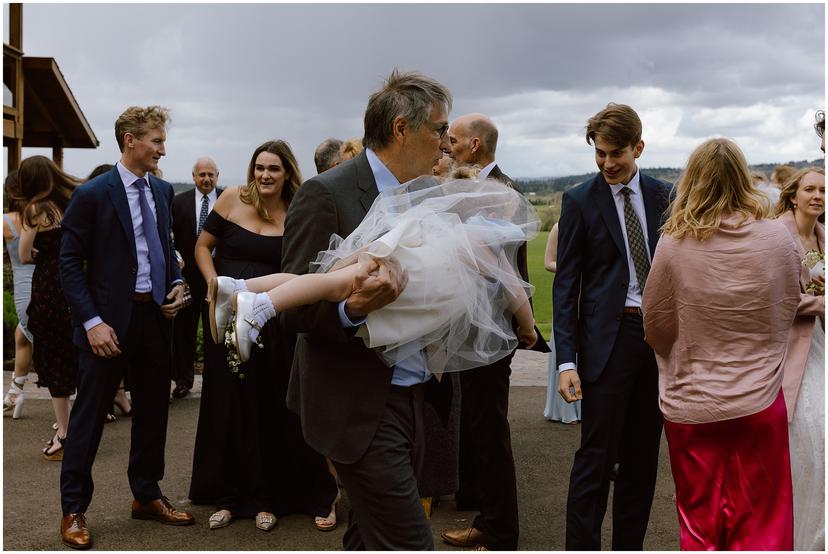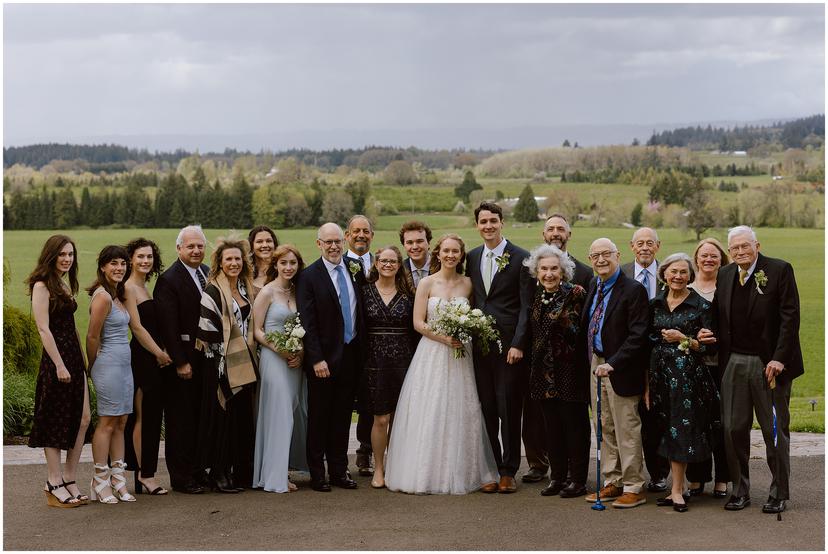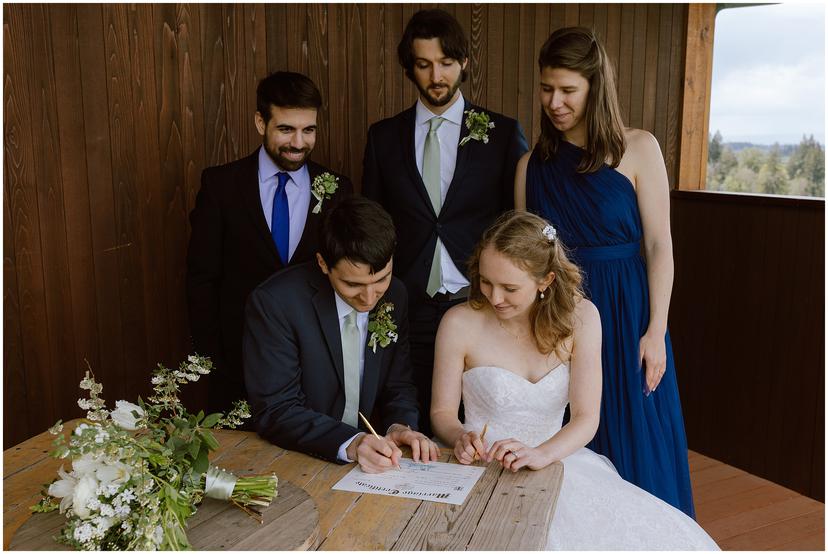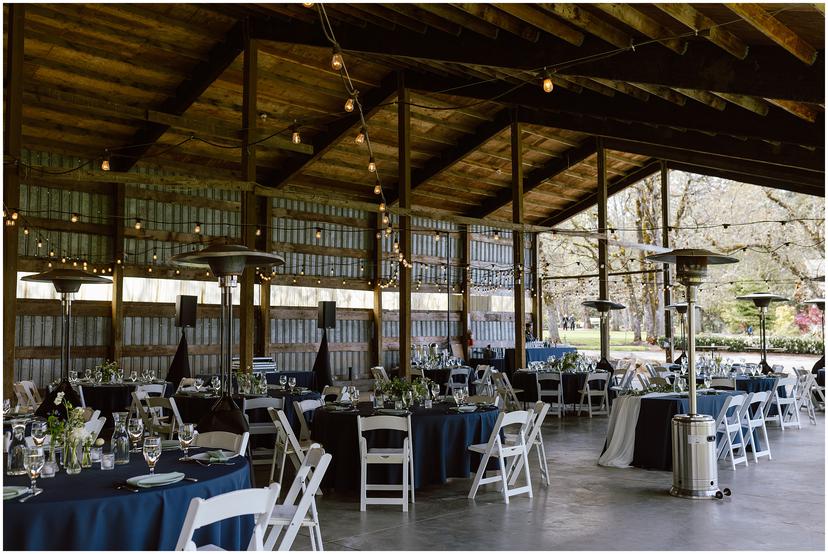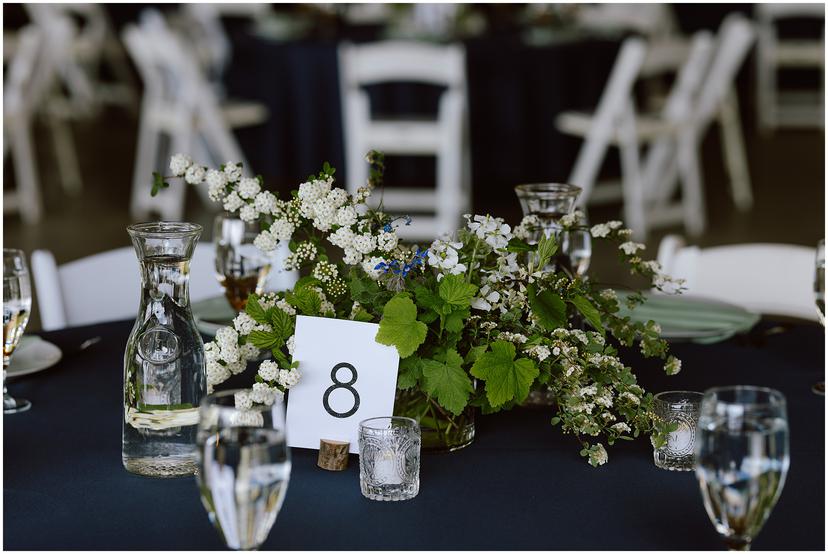 Reasons for choosing vendors
"All of our vendors were amazing!" said Ben and Annie. "They helped things run smoothly and made us feel relaxed on our wedding day. We really trusted them all."
"Katy was incredible - neither of us is super comfortable in front of the camera but it felt very natural taking photos with her. She put us at ease and captured so many beautiful moments."
"We hired Your Perfect Bridesmaid for day-of-coordination, and they did so much to help with wedding prep and making things run smoothly on the wedding day. We worked with a couple people due to covid rescheduling, but ended up with Dena as our lead and she was incredible! So experienced, helpful, and on top of things!"
"Jai, our DJ, was excellent. He took our music as inspiration and created a great playlist for each part of the day. He had great emcee vibes too and incorporated a lot of fun requests on the dance floor! He also helped us use audio recordings from close family who couldn't attend - he played them during the ceremony and toasts and also made recordings for us of special moments. We really appreciated his help with this!
"We chose Bellyful for catering after we tried their cedar plank salmon - it was sooo good and had great PNW vibes. The rest of the food was also delicious and the leftovers we had after our wedding were amazing.
"Huge shout out to our florist, Leah at Indigo Gardens too. We were actually her last wedding ever and she definitely put extra love into it! We thought we'd picked relatively small bouquets and arrangements, but they were all gorgeous and blew us away! She is still growing and selling beautiful local flowers at her farm in Portland which we would highly recommend. We bought a bucket of her flowers for our welcome dinner to arrange ourselves and also put some on our cake.
"Finally, we also really appreciated our friends and family who helped us make our wedding happen. My mom and sister did my hair and makeup, our friend Erica made an incredible wedding cake, and our friend David was an amazing officiant! All of their personal touches were really special."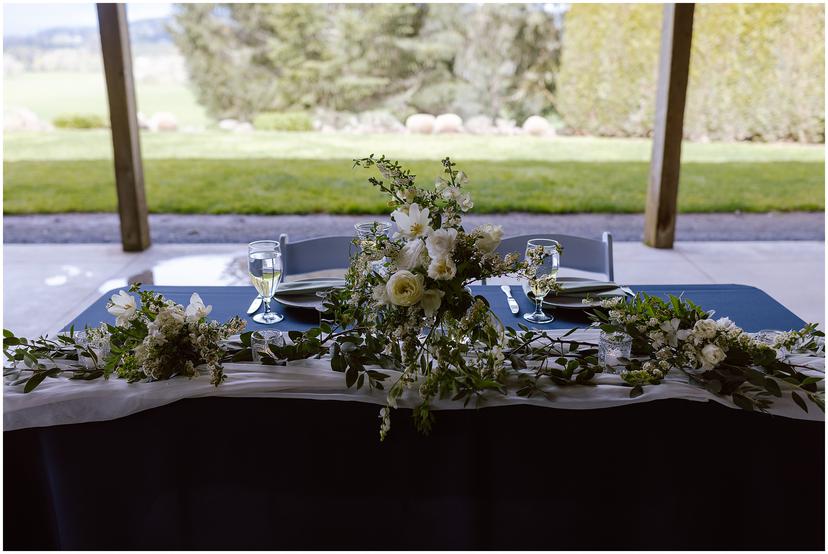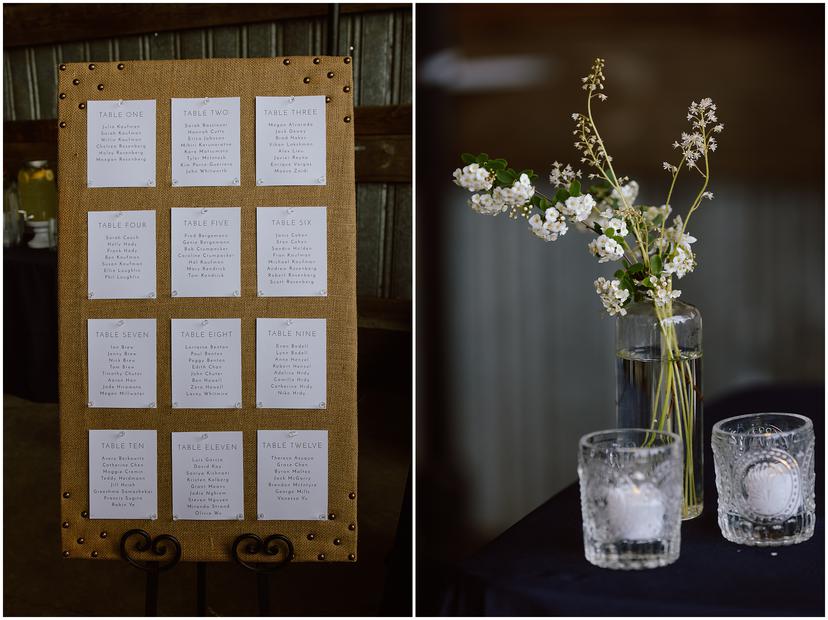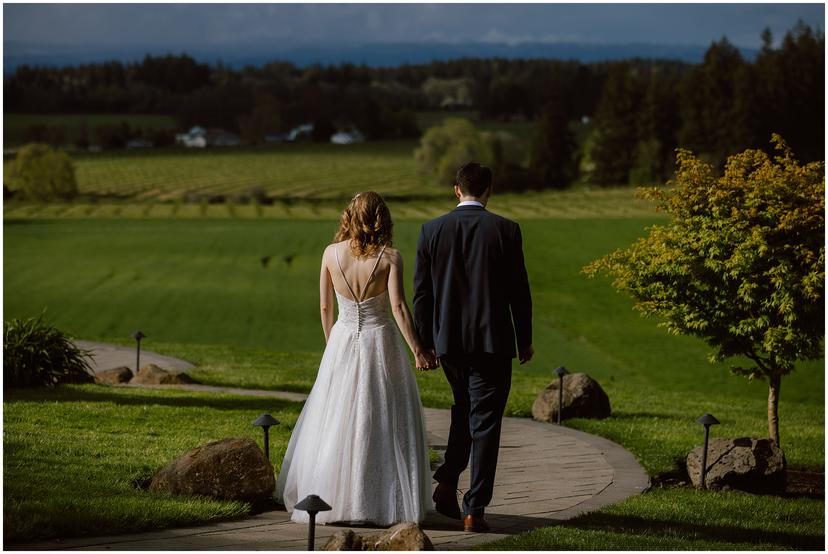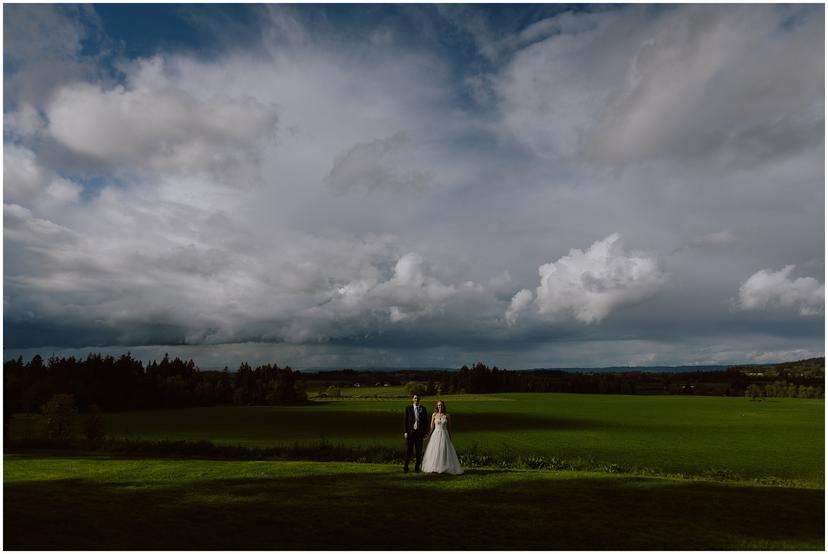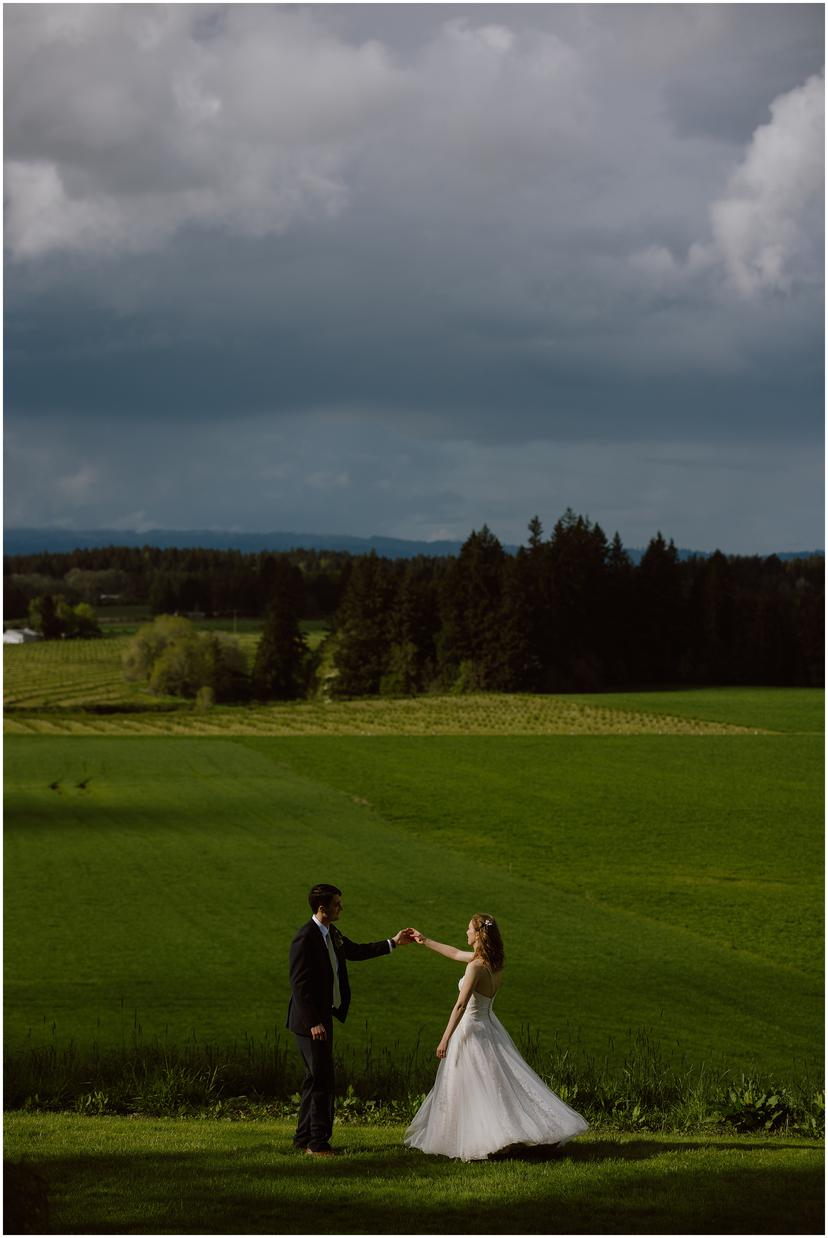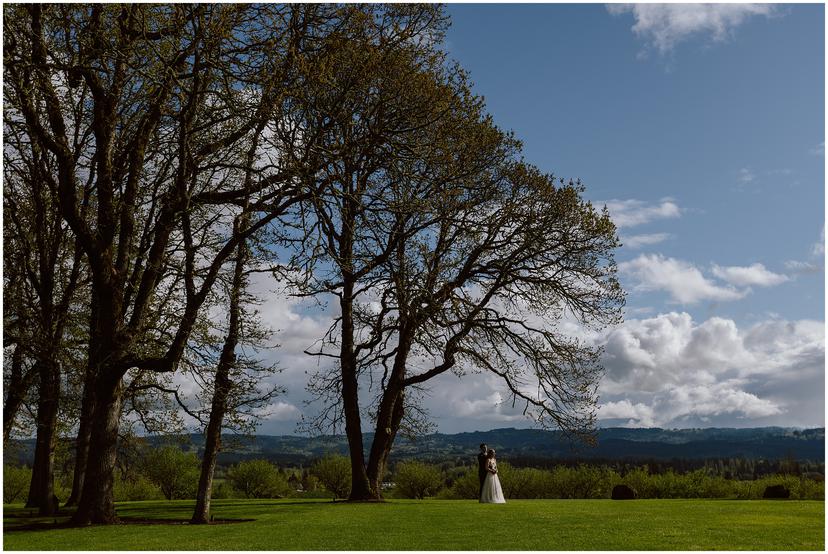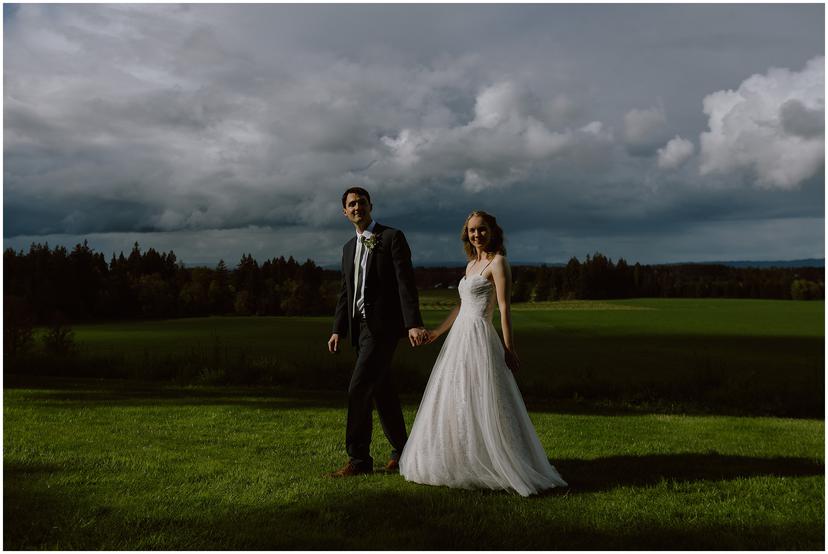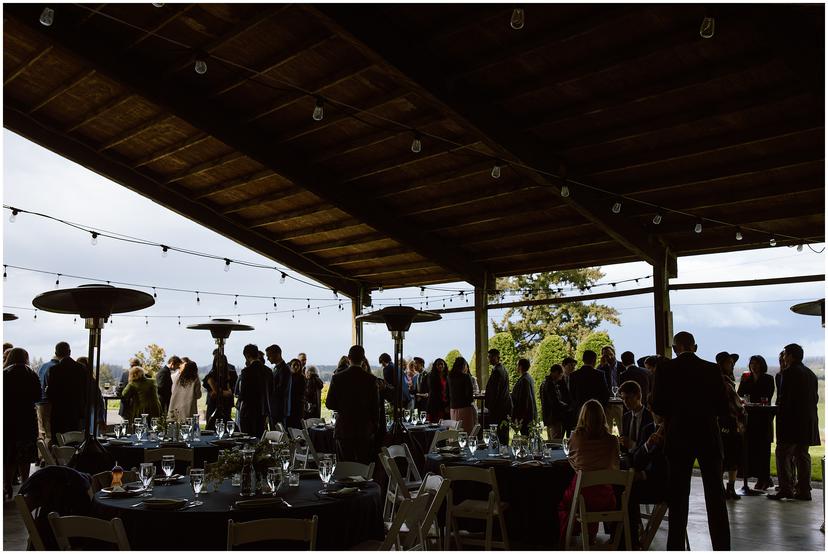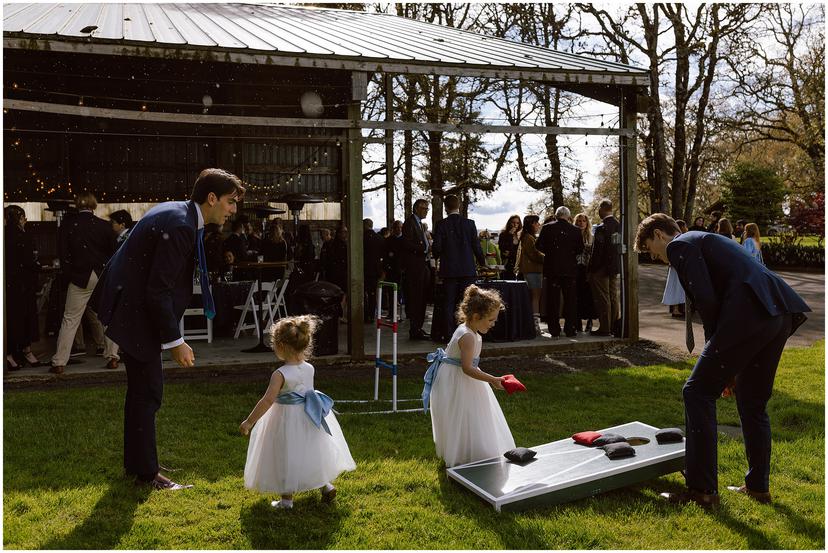 How to spend more time with guests
"We tried to prioritize quality time in our wedding planning/timeline and that really paid off!" said Annie. "We had been to a couple weddings for Ben's family in England that had longer cocktail hours and more mingling time, and we really liked that flow. We had almost 2 hours for cocktail hour, a bit of a longer wedding day overall (3-10pm), and a chill mingling welcome dinner to give us more time to just be with people. Everyone talks about brides and grooms being too rushed to enjoy their wedding day, but we never felt rushed and really enjoyed being able to interact with everyone. We had just under 100 guests and it felt like the perfect size and timing."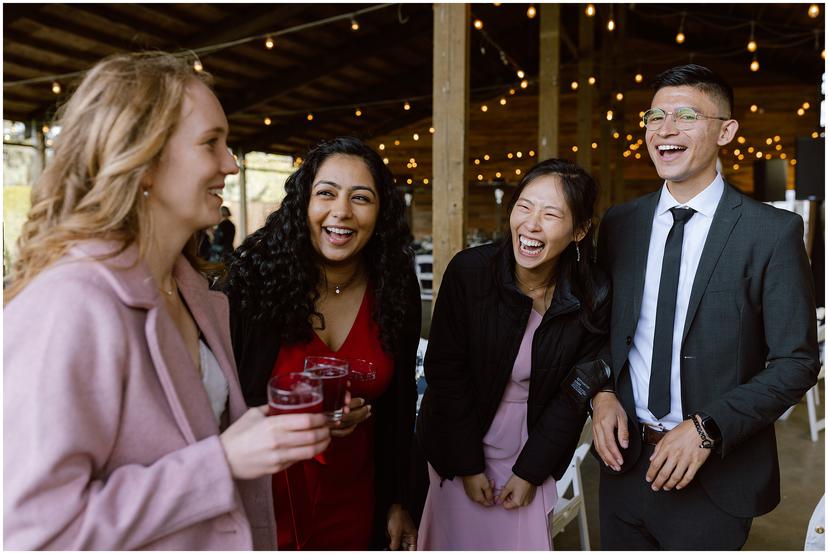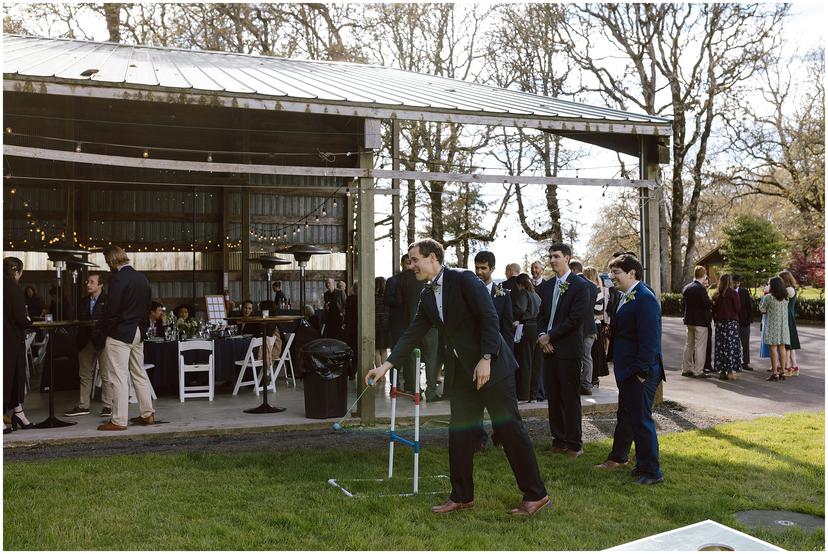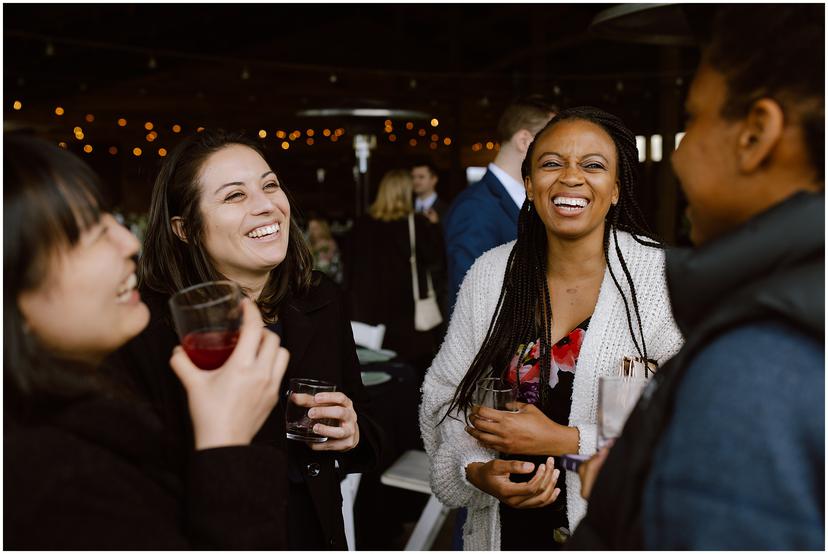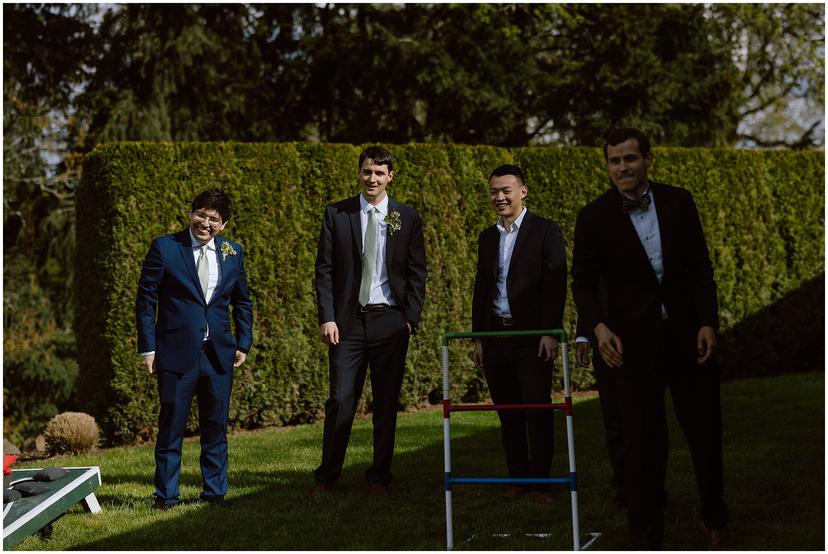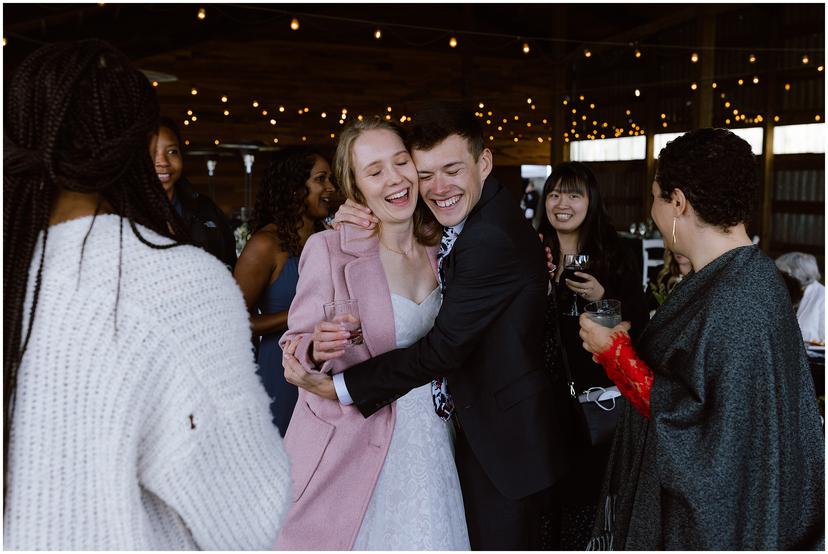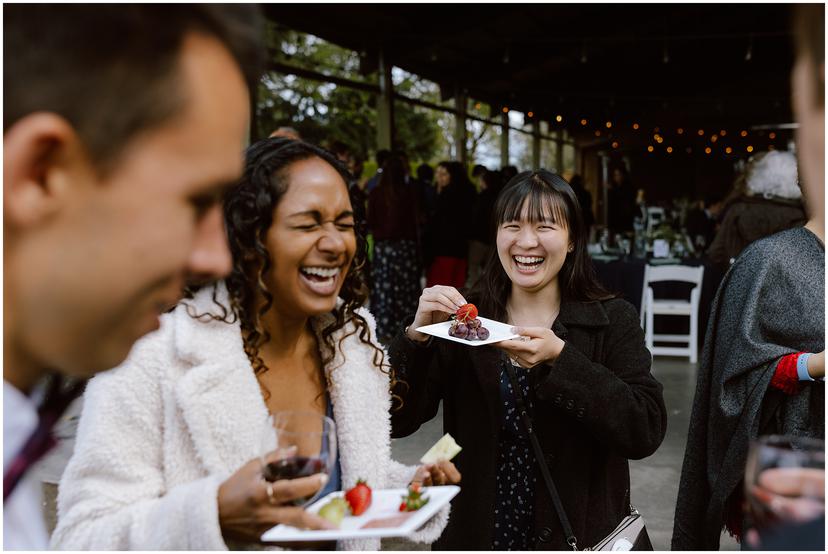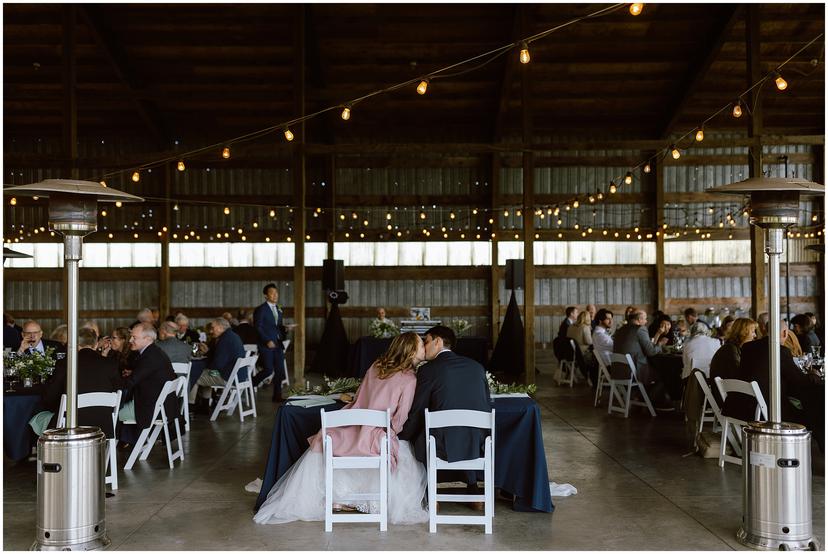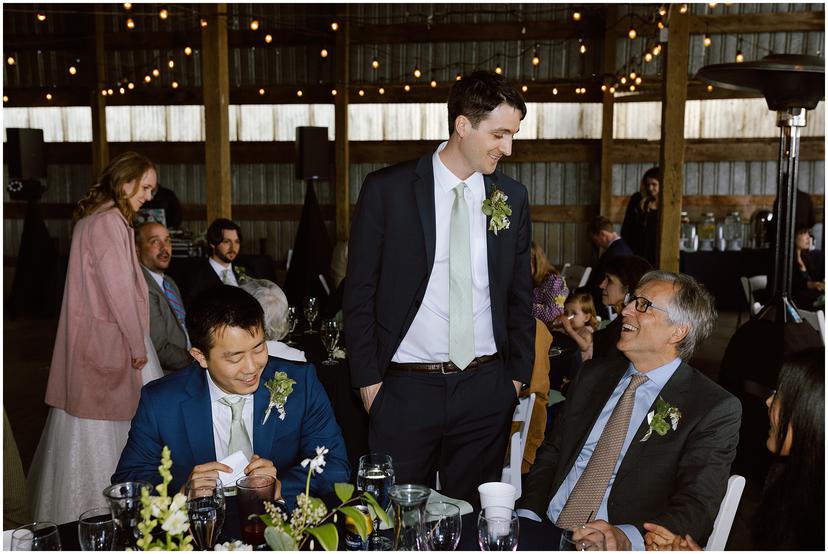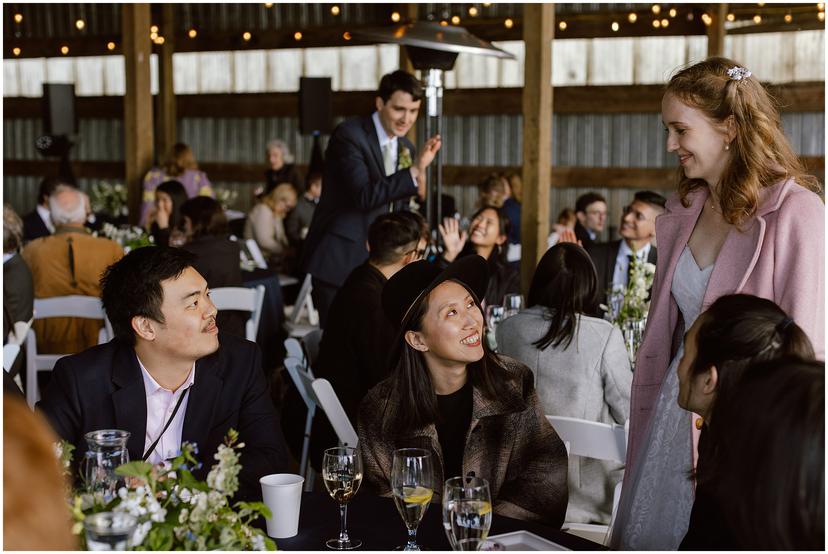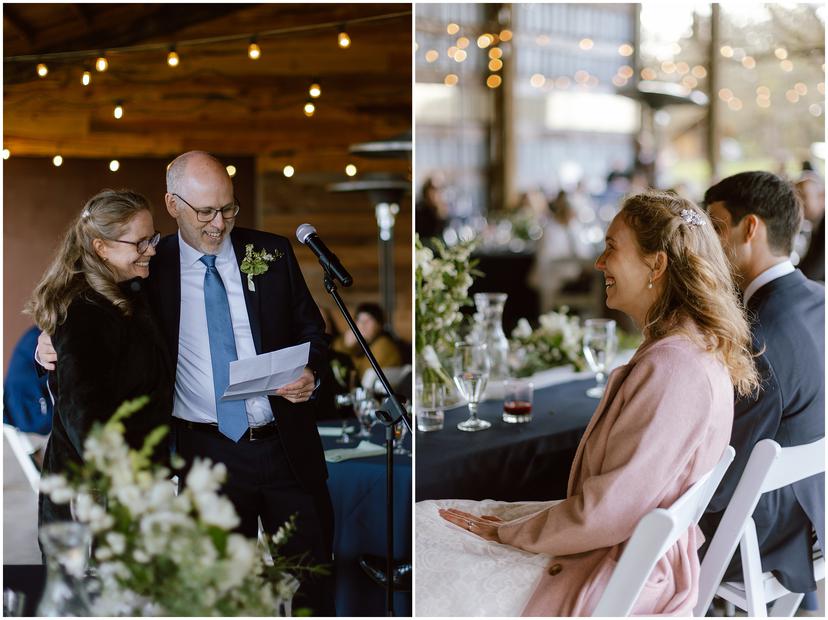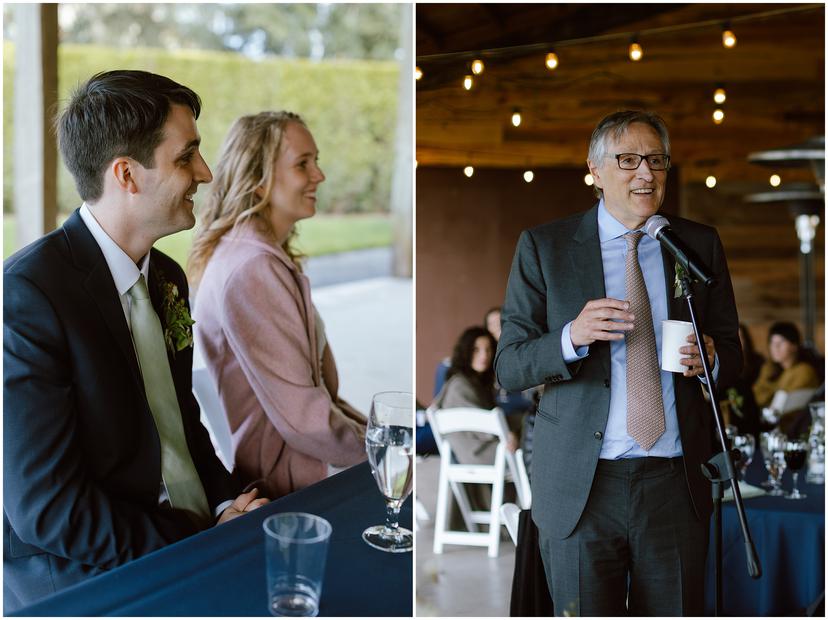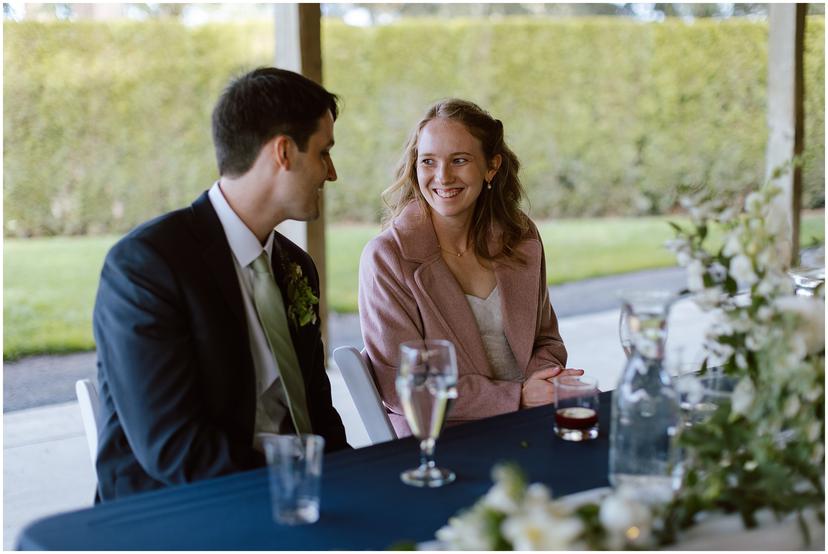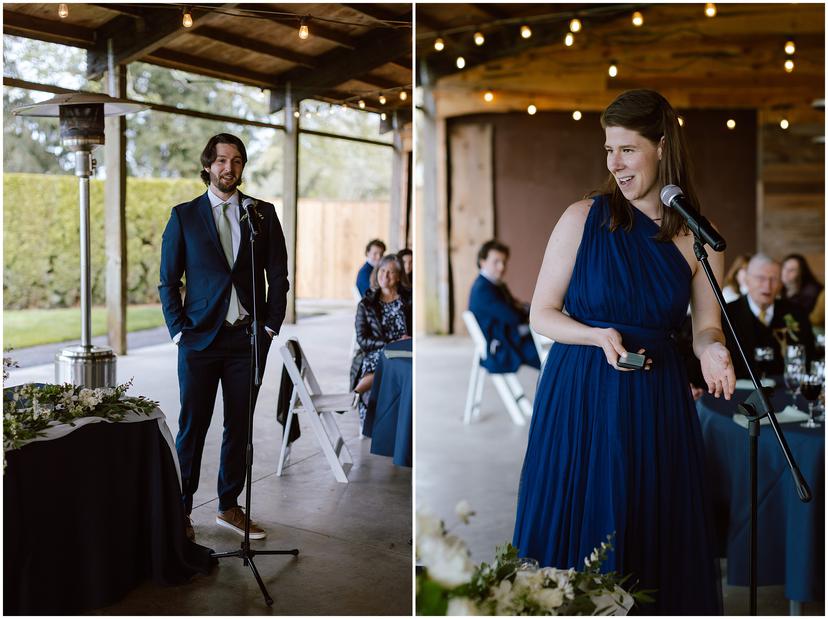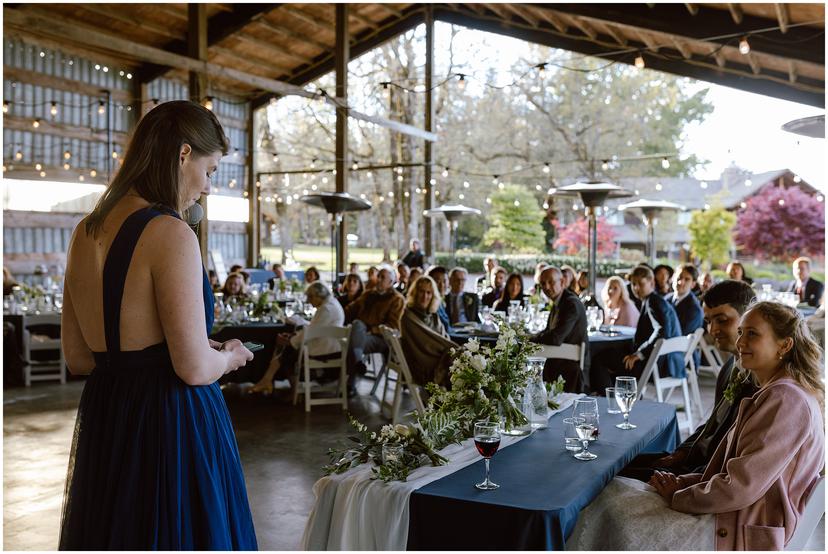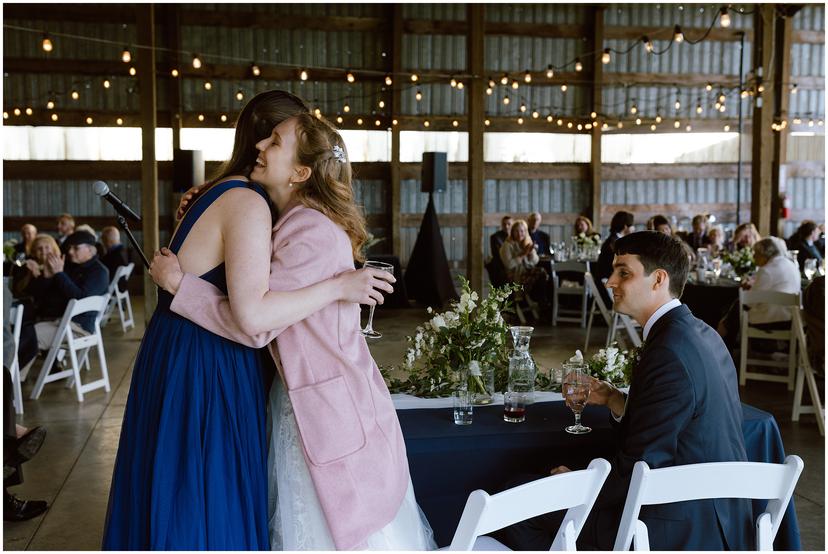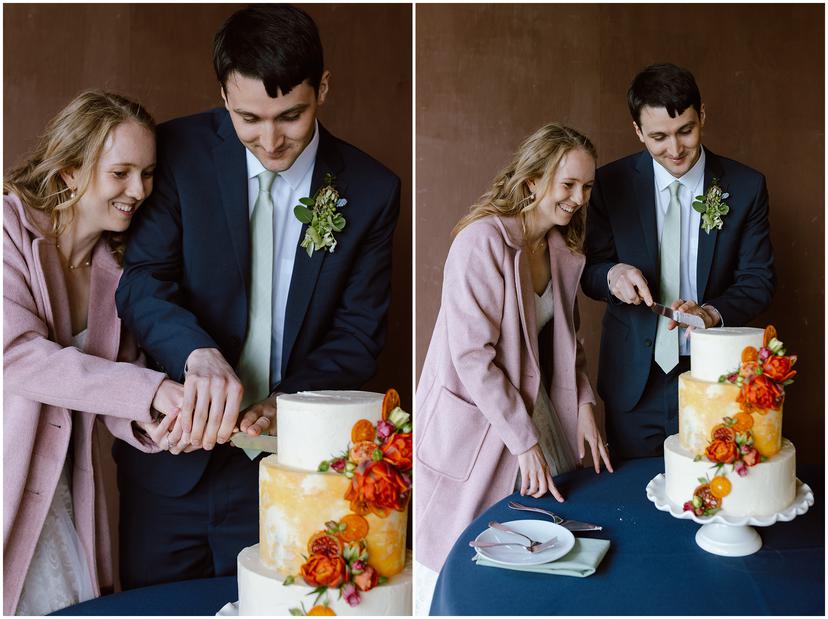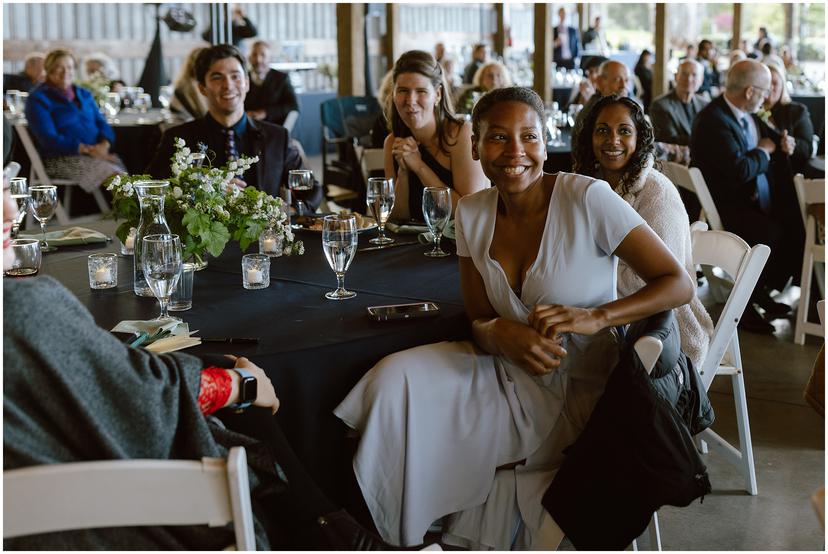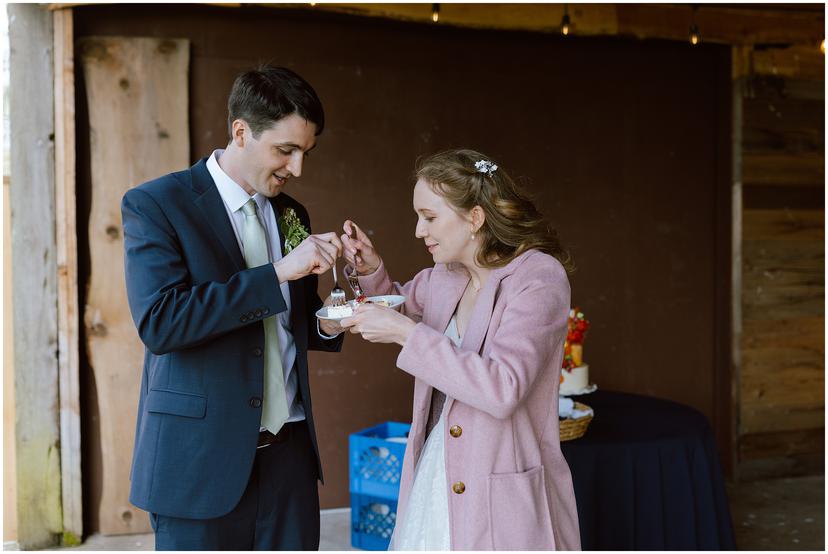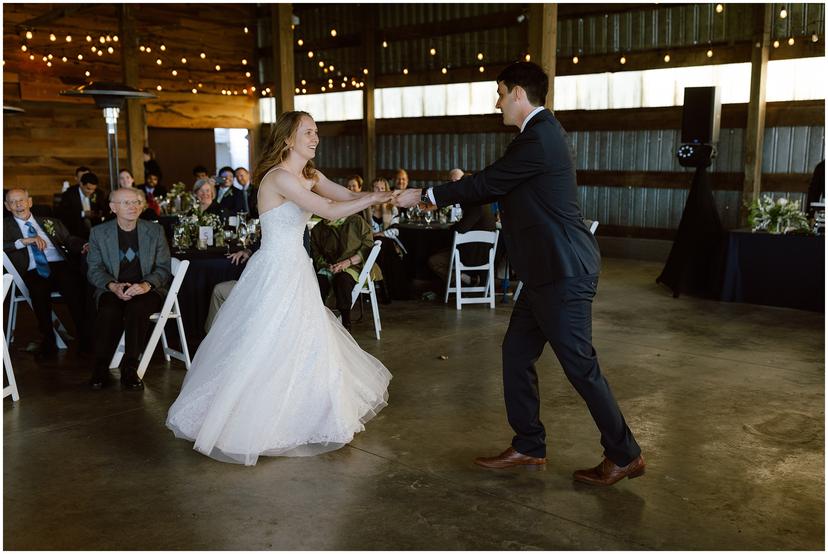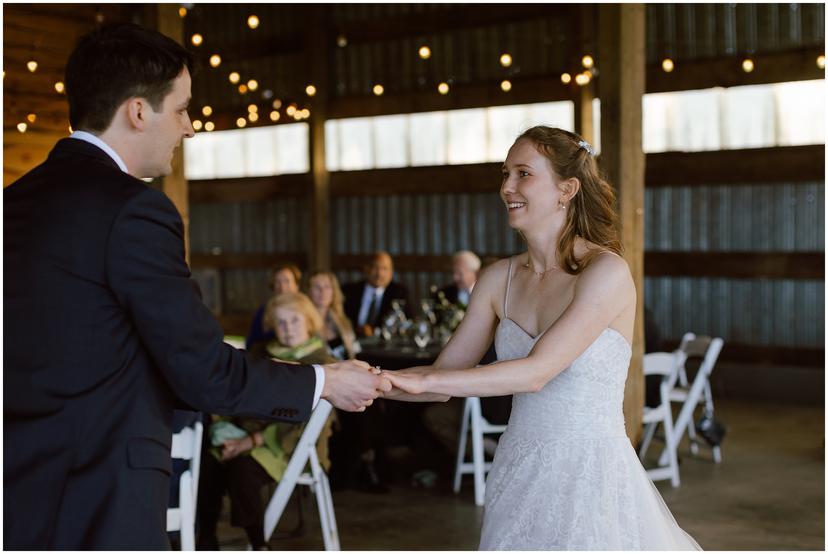 Favorite Scholls Valley Lodge wedding memories
"Our favorite memory was being with family and friends - it is so special to be with so many loved ones!" said Ben and Annie. "Many of them we had not seen in a long time. Our first dance was really fun too! We both took social dance classes in college and love swing dancing so it was fun to dance again."