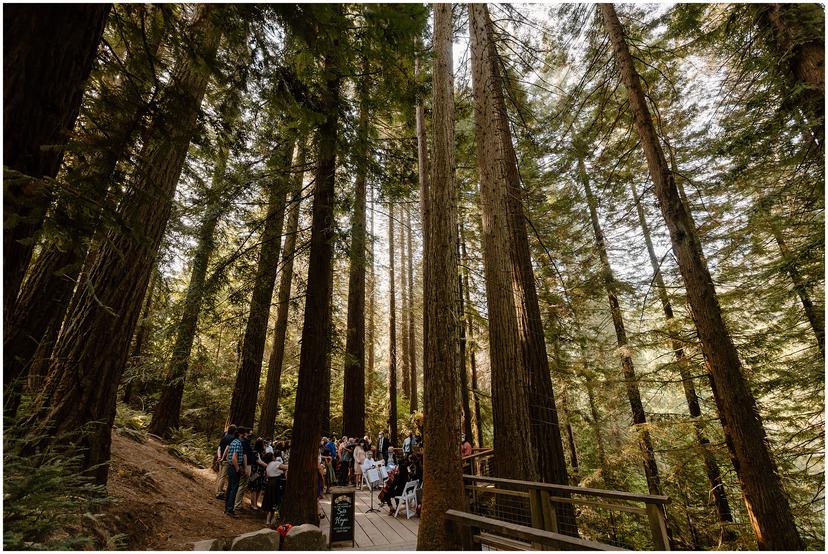 Redwood Deck Wedding
It's no secret that I adore the Hoyt Arboretum in Portland. It's one of my favorite photography locations and wedding venues, and it never gets old. The fact that we have a vast forest only a few miles from downtown is pure magic. And then there is the Redwood Deck. Arguably one of the deepest parts of the forest at Hoyt, it has a certain tranquility that's hard to beat.
Kayci and Seth said their vows at the Redwood Deck under towering trees and soft morning sunlight. The ceremony was emotional, peaceful, and true-to-themselves. Their color scheme, outfits, and flowers from Solabee made it even more amazing. Their relaxing brunch afterward at Black Door PDX just added to the delight.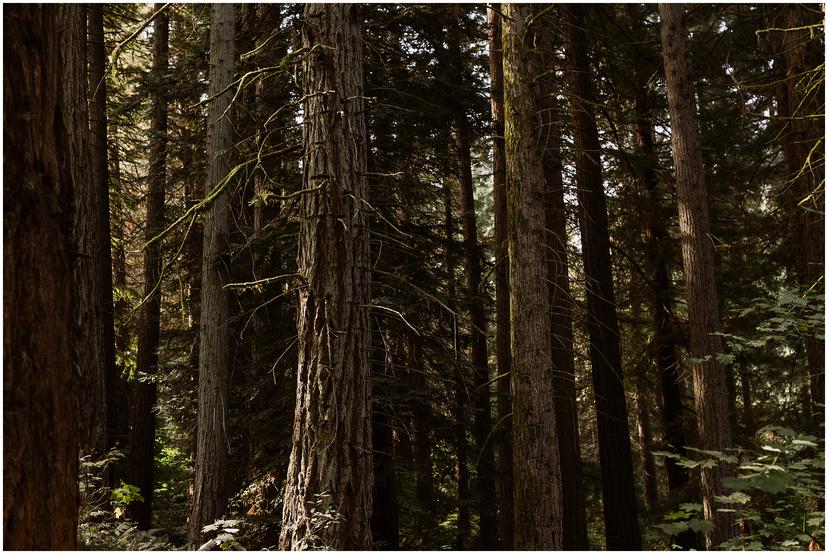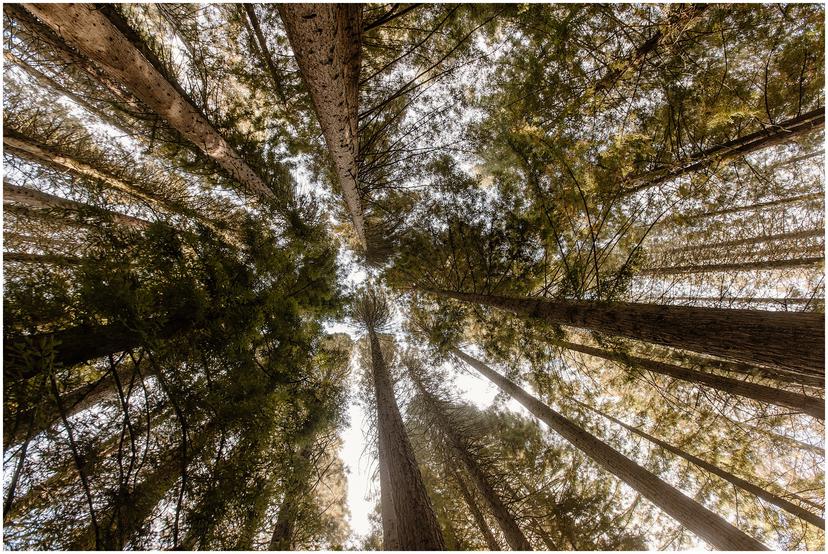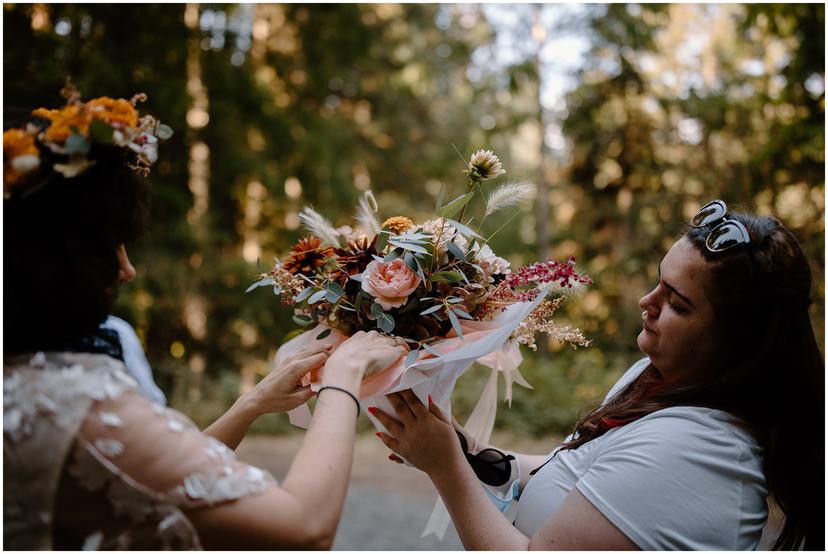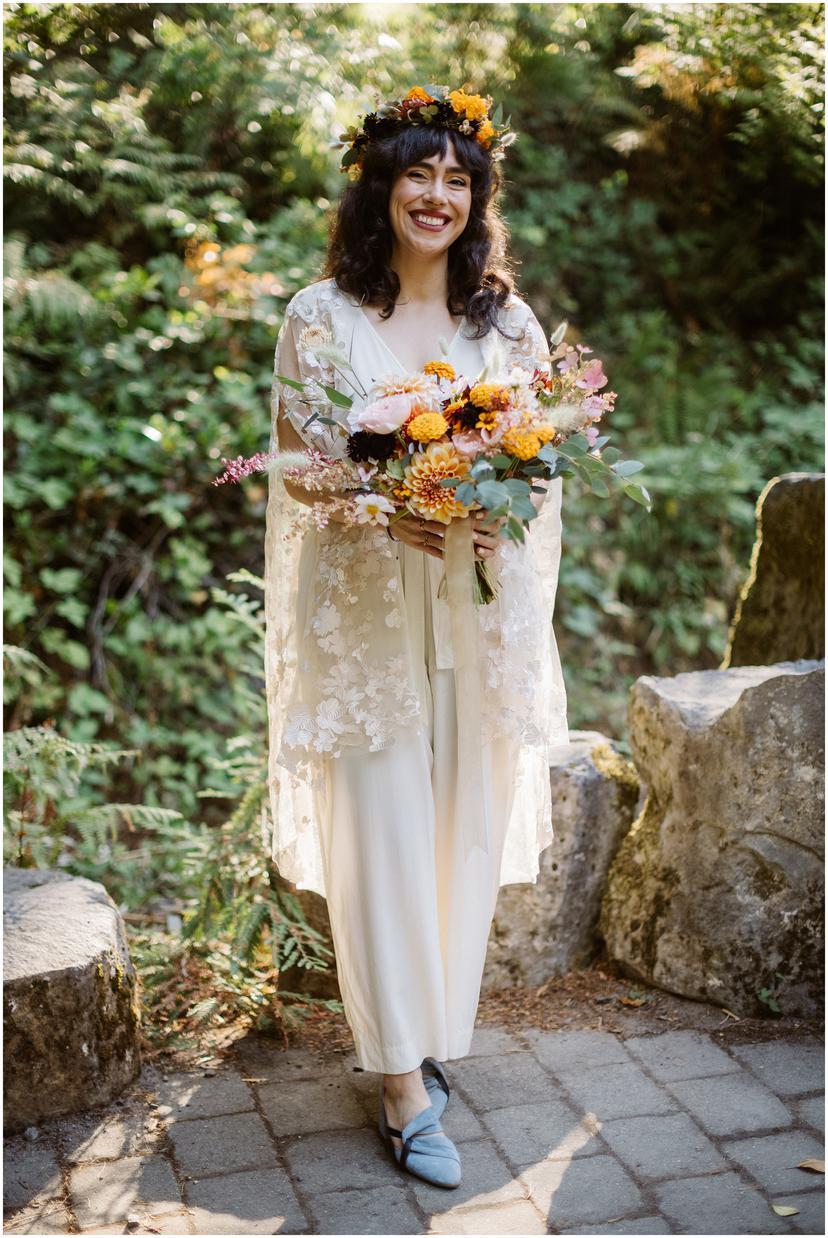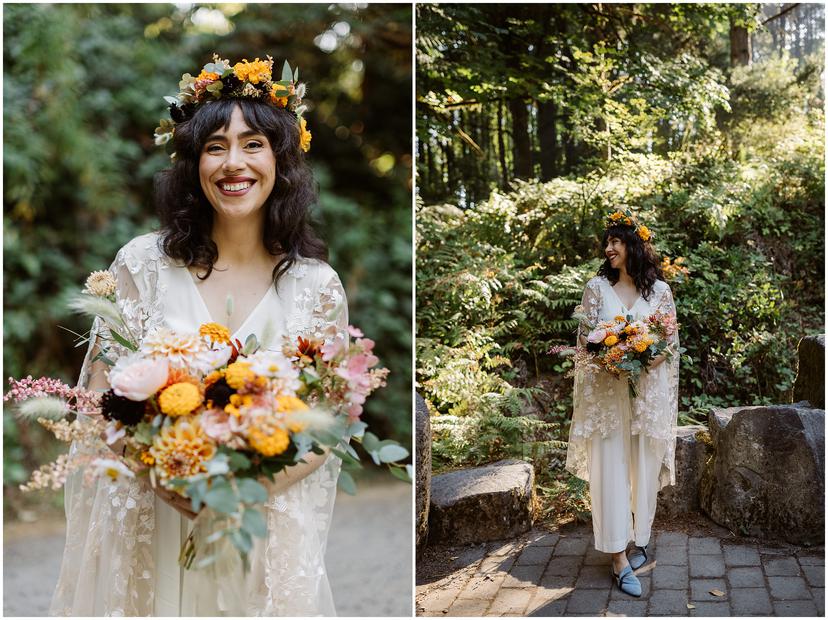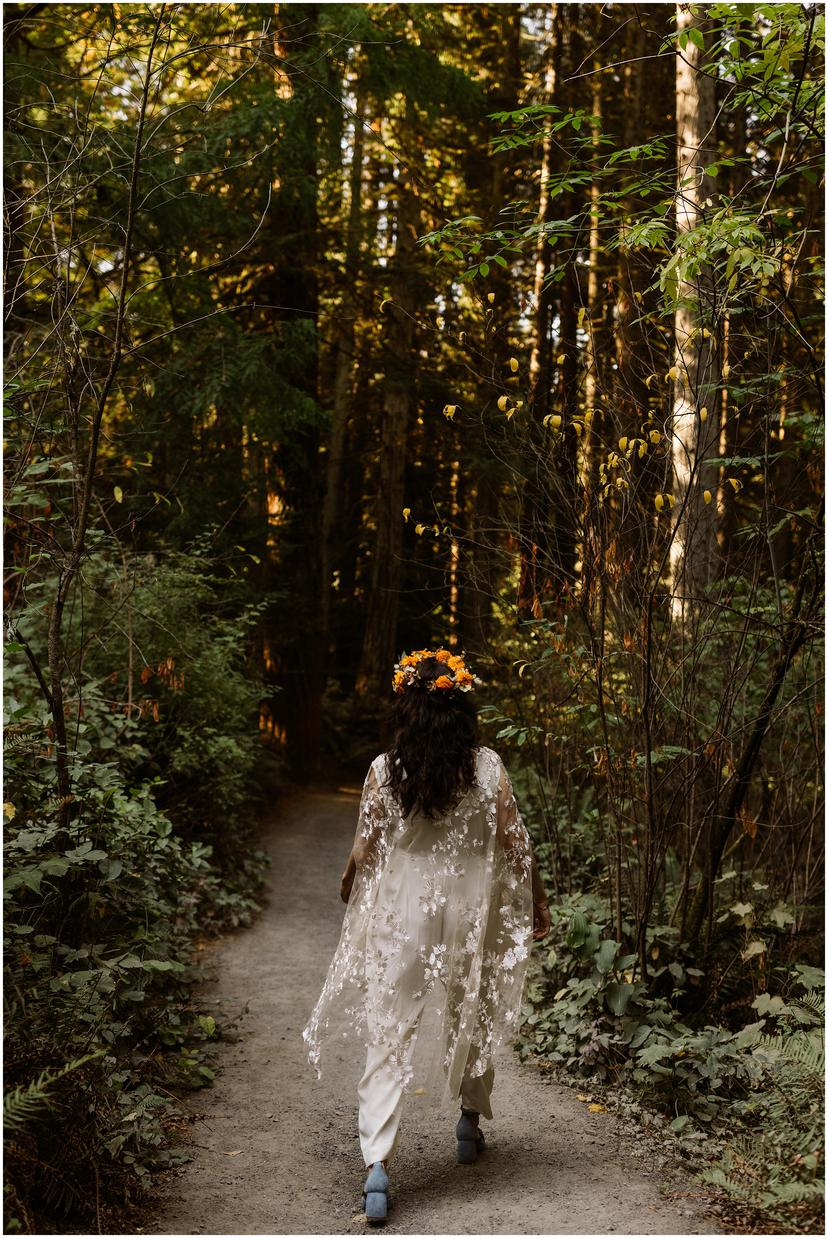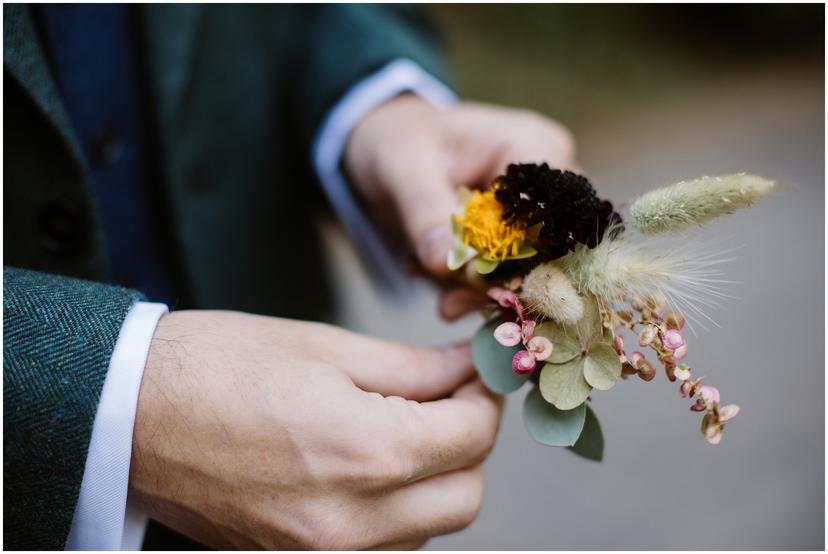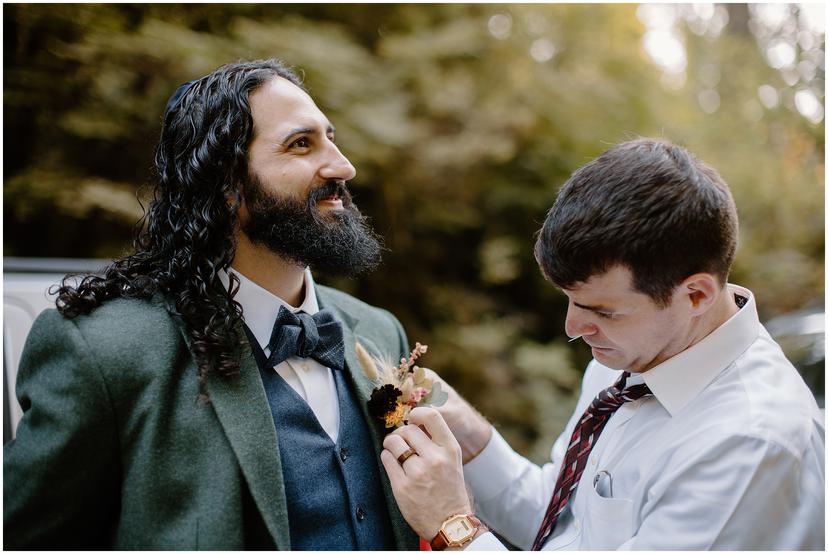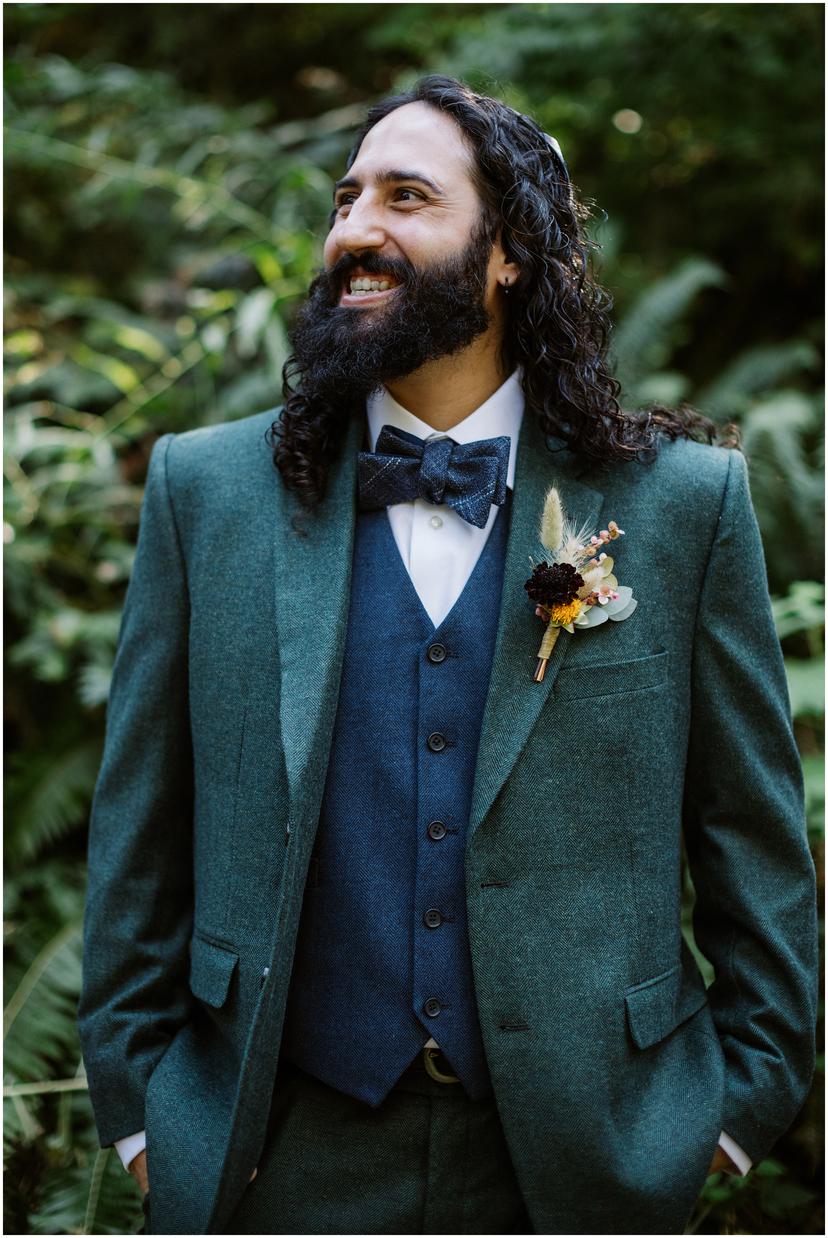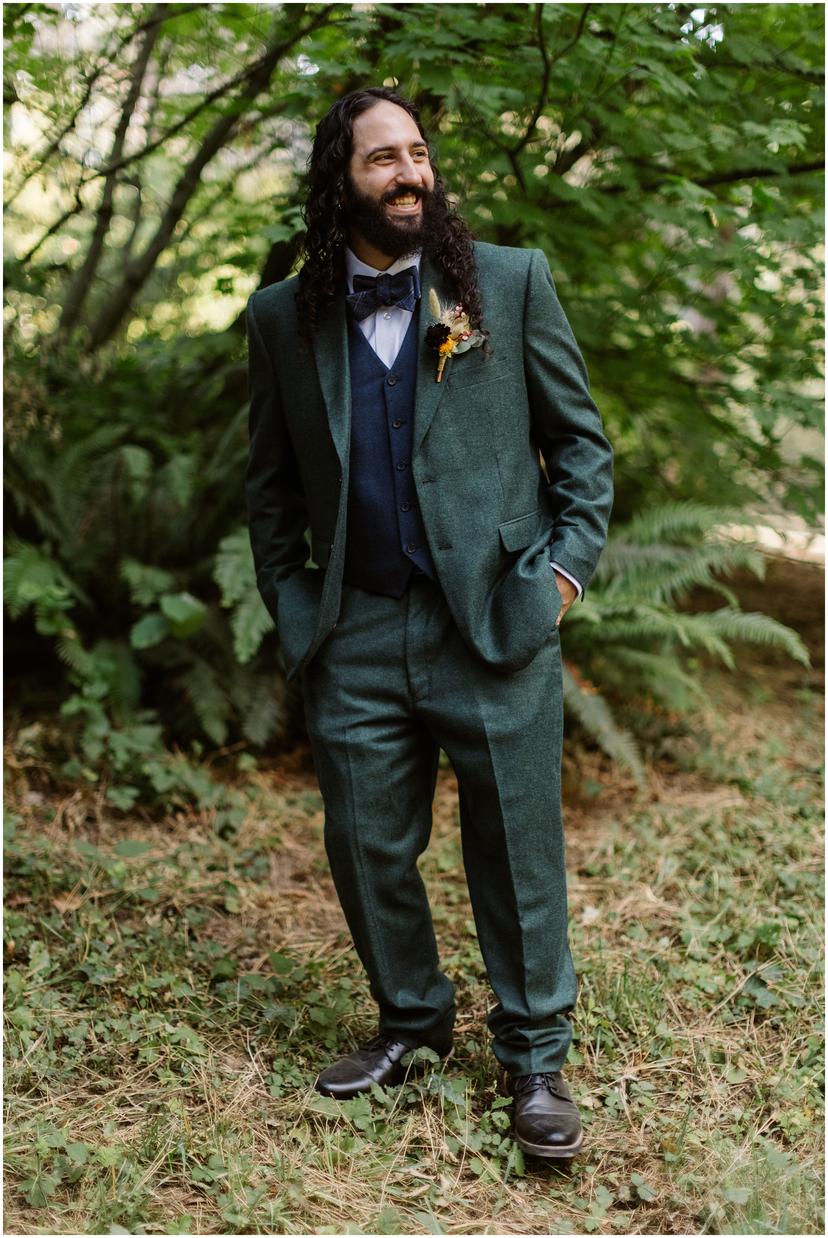 About Redwood Deck weddings
The Redwood Deck is a majestic, shaded deck surrounded by redwoods on all sides. It is a beautiful spot for a photoshoot or a wedding. The deck is located just off the Wildwood Trail, and it's roughly a third of a mile from the Hoyt Arboretum Visitor Center. The wooden deck has spectacular views over the surrounding forest and Johnson Creek. Several Sequoia trees protrude through the deck itself and there are multiple benches to sit on.
According to the Hoyt Arboretum website: "The Redwood Deck is not ADA accessible, but there is nearby site access via Bray Lane. The Redwood Deck can be rented in conjunction with the Wedding Meadow for the natural contrast of deep forest views and open green space. No electricity, water, or restrooms at the site (located at Visitor Center)."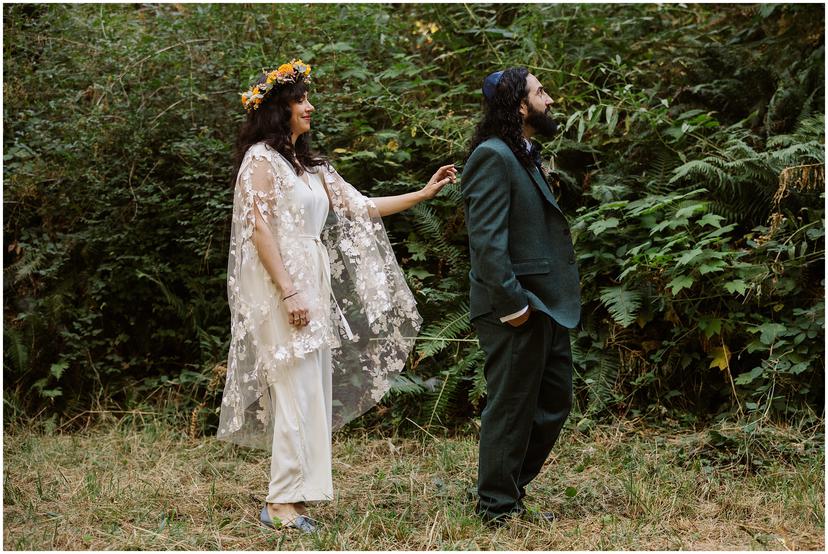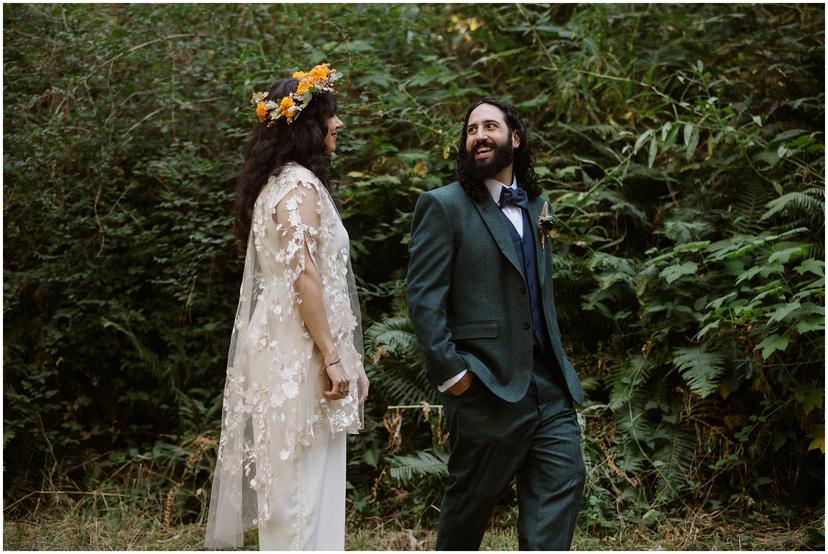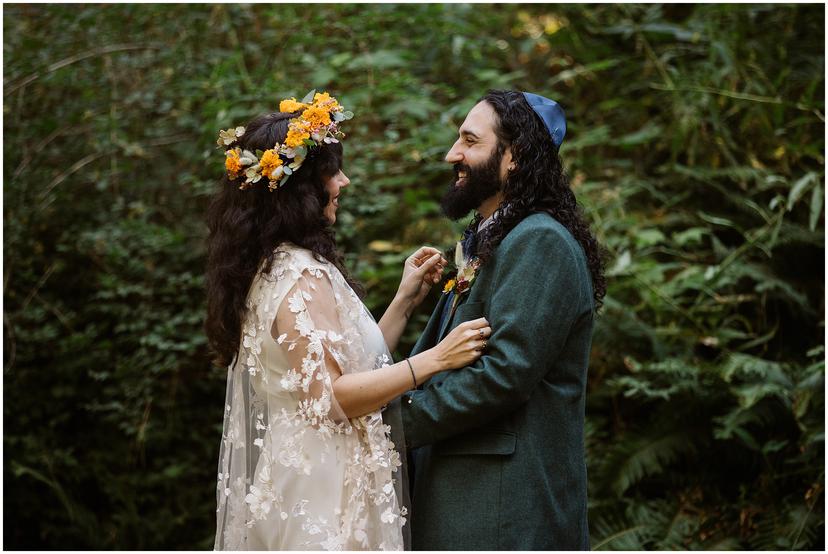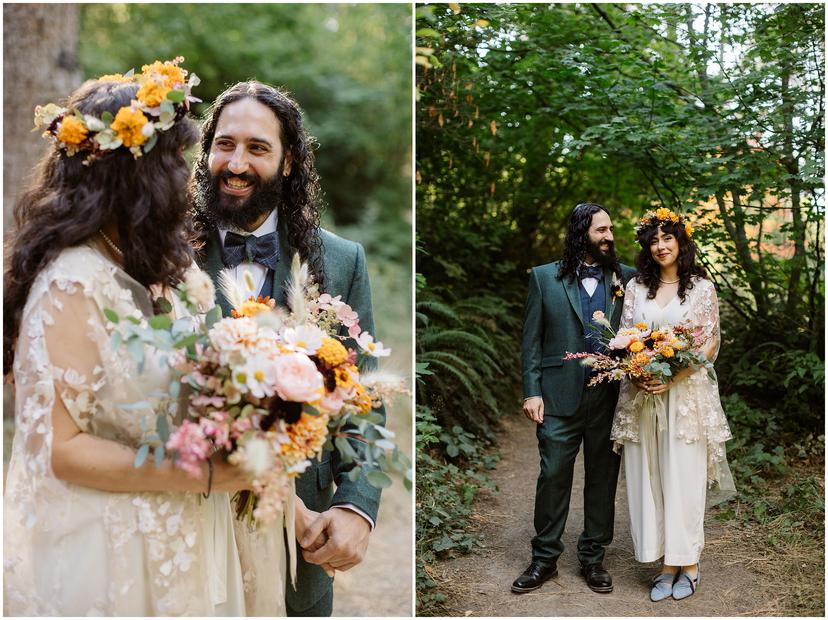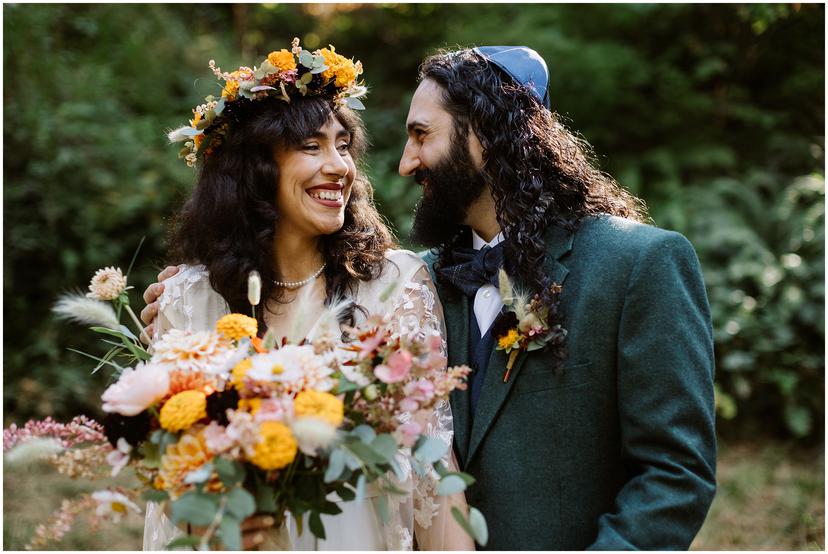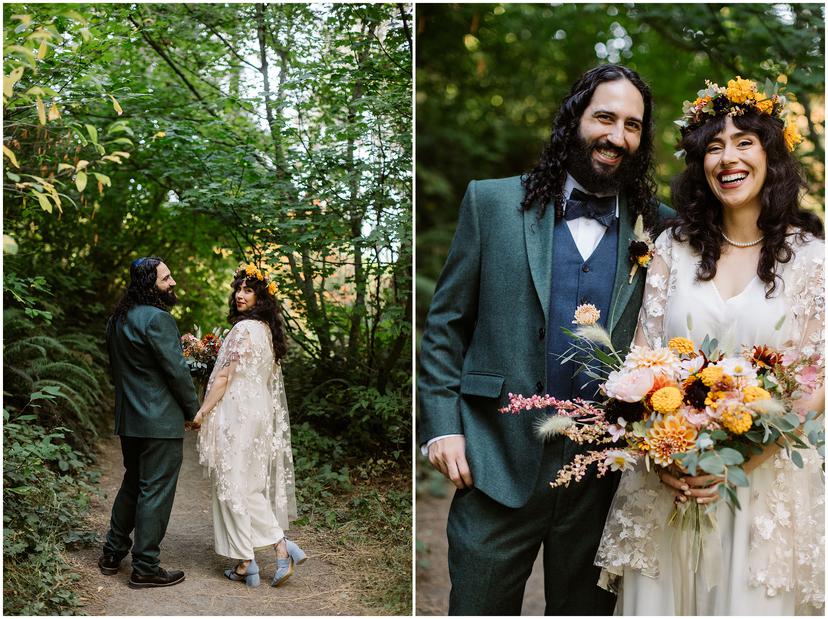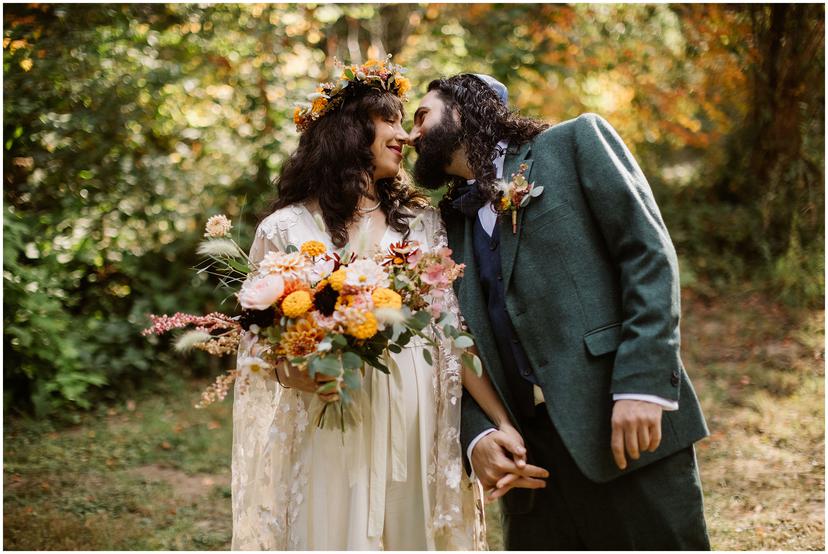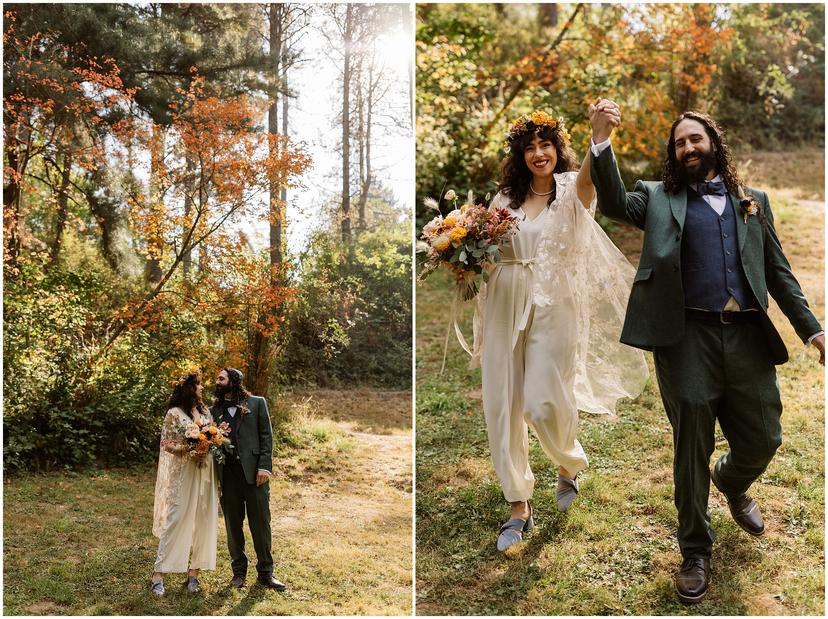 Favorite Redwood Deck wedding memory
Seth: "My favorite memory of the day was turning the corner on the path and seeing everyone and feeling like we were walking into this new life together. Kayci's family and friends have been so welcoming to me (and I would say mine to her) but it still felt great to be greeted by so many smizes."
Kayci: "I loved getting to be with Seth pre-ceremony to sign our ketubah and center ourselves before walking down to the ceremony together. Agree with Seth re: turning the corner and seeing everyone, especially since it had been over a year and a half or more since we'd seen most of our midwest friends + family - we moved to the northwest during Covid and didn't get a chance to say goodbye! We also did a lot of things ourselves with the help of friends and family and seeing our them coming together to help make our day what we envisioned was so special. We're so grateful to have such a great community. We had an after-party hang to extend the day and hanging out and playing games was so fun - I'm so glad we planned that in."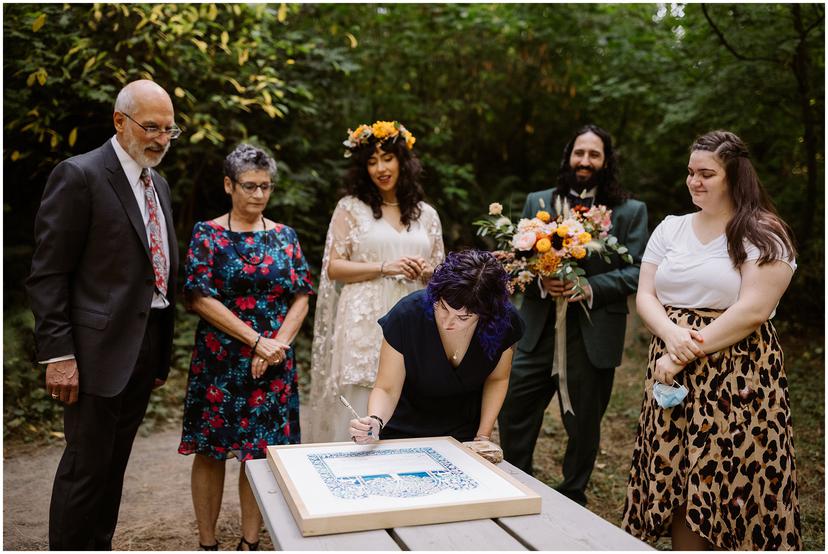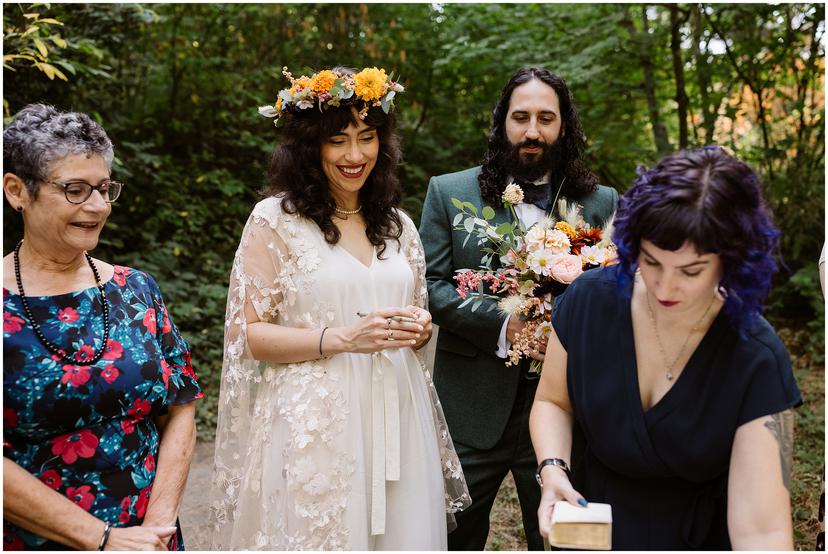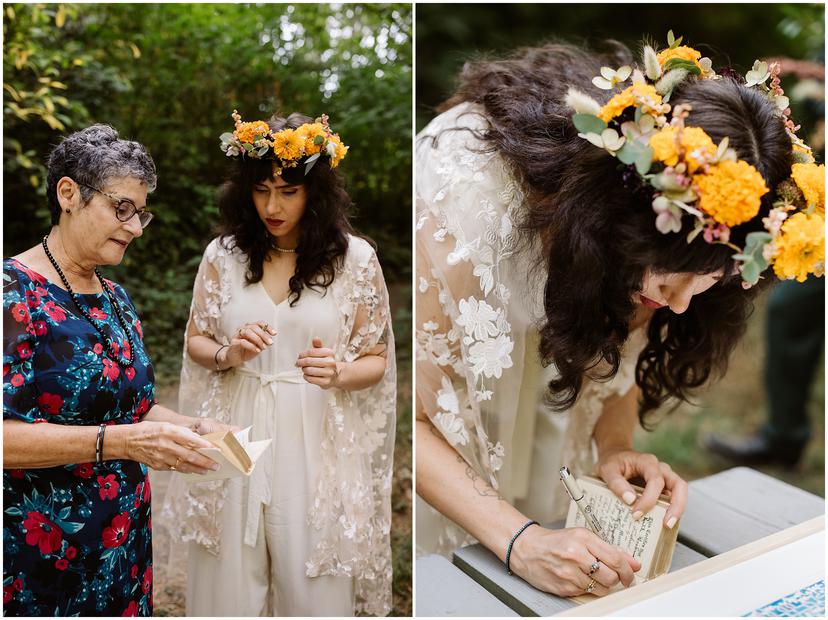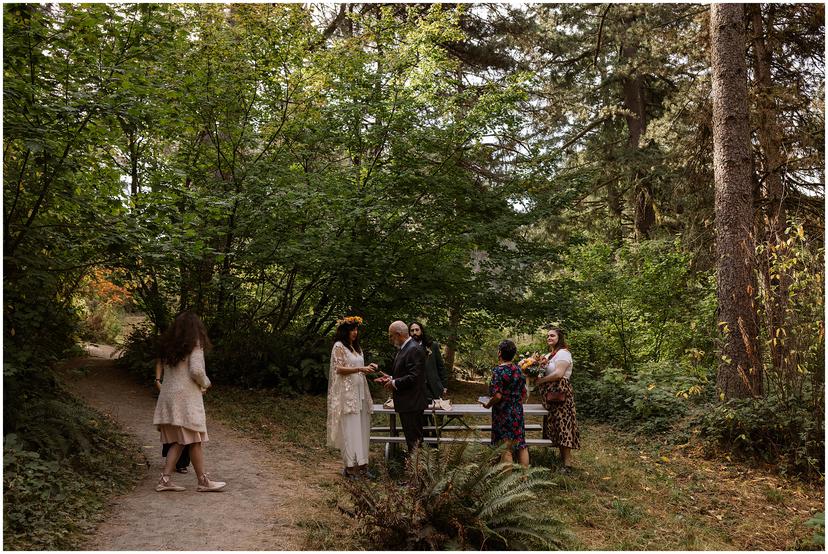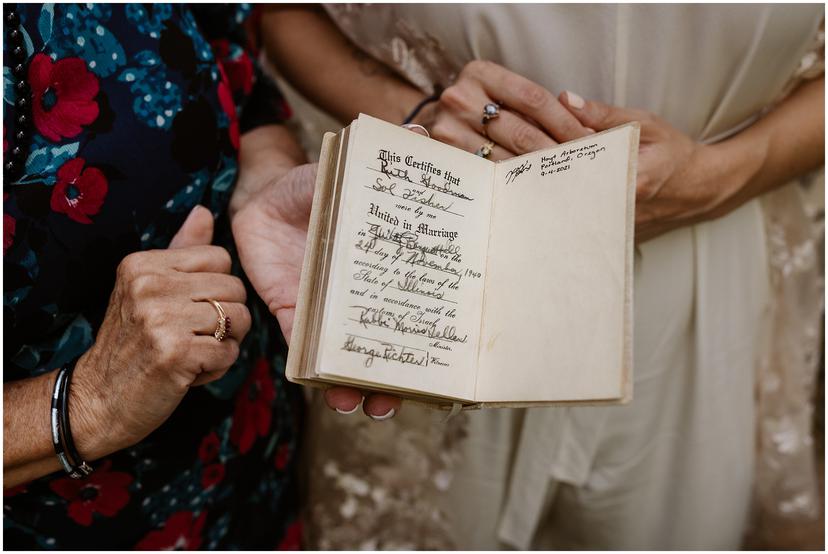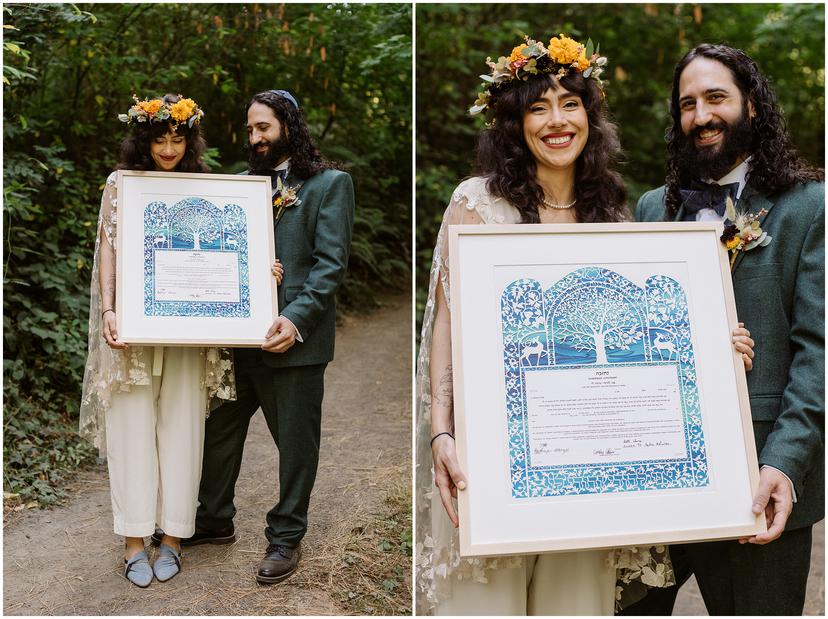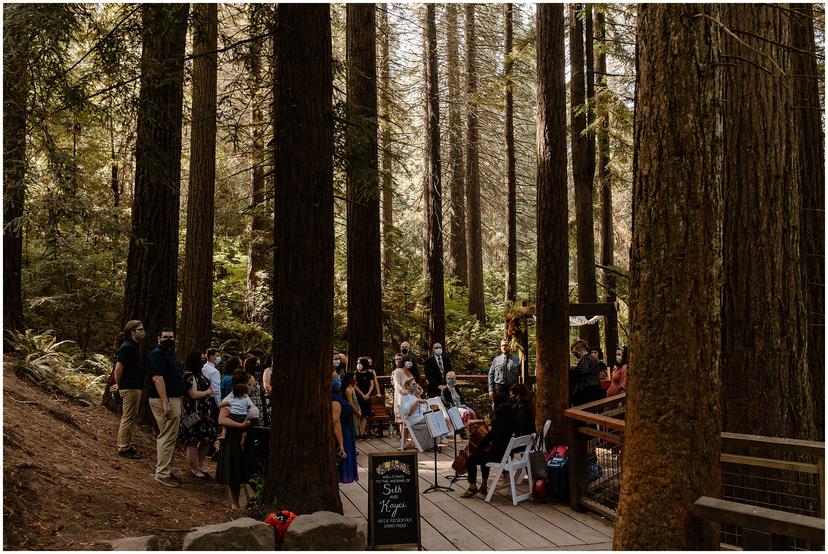 About Hoyt Arboretum
Hoyt Arboretum is a huge park and of my favorite places to take photos in Portland. There are many ideal spots at Hoyt for a forest ceremony. Hoyt Arboretum belongs to Portland Parks and Recreation and Hoyt Arboretum Friends. The park is massive - it consists of 190 acres and 12 miles of trails. It's also home to over 2300 species of plants and trees. The arboretum first began in 1928 to educate the community and conserve endangered species.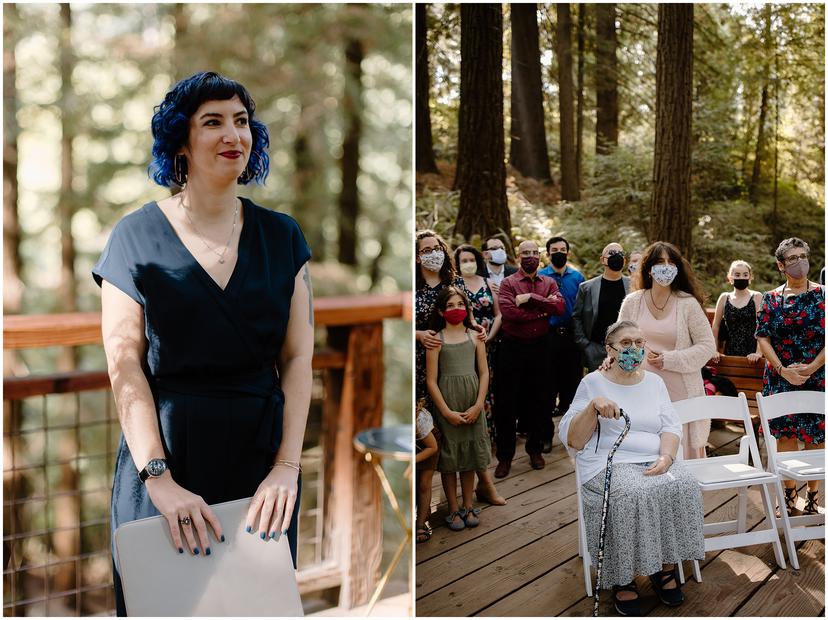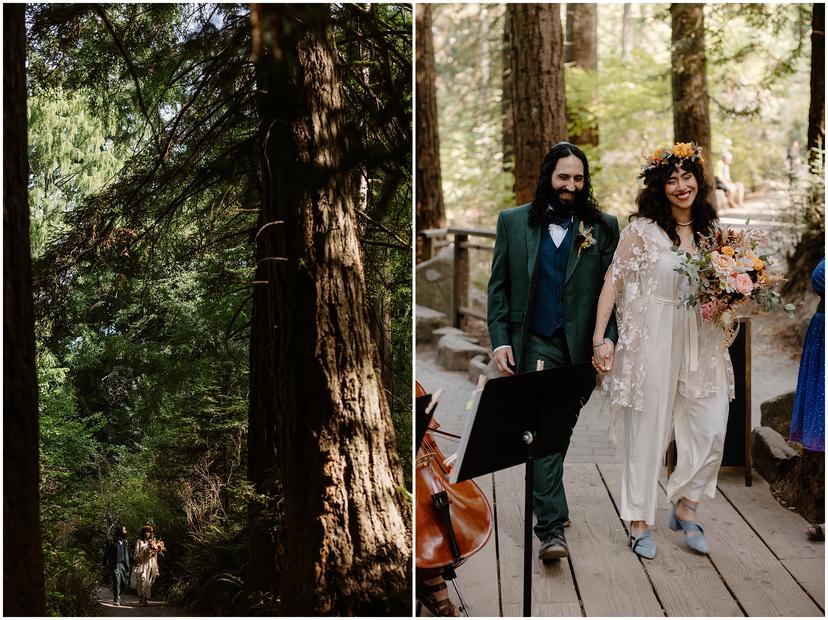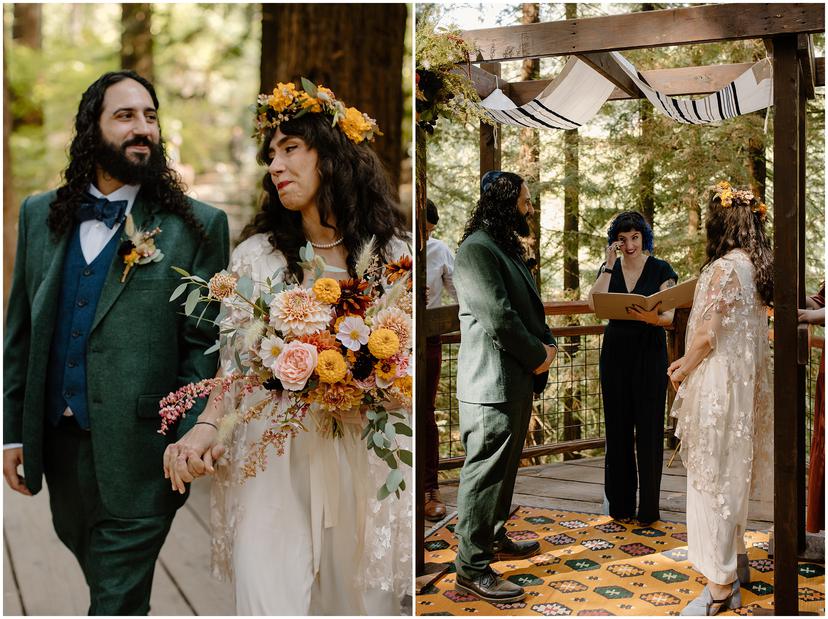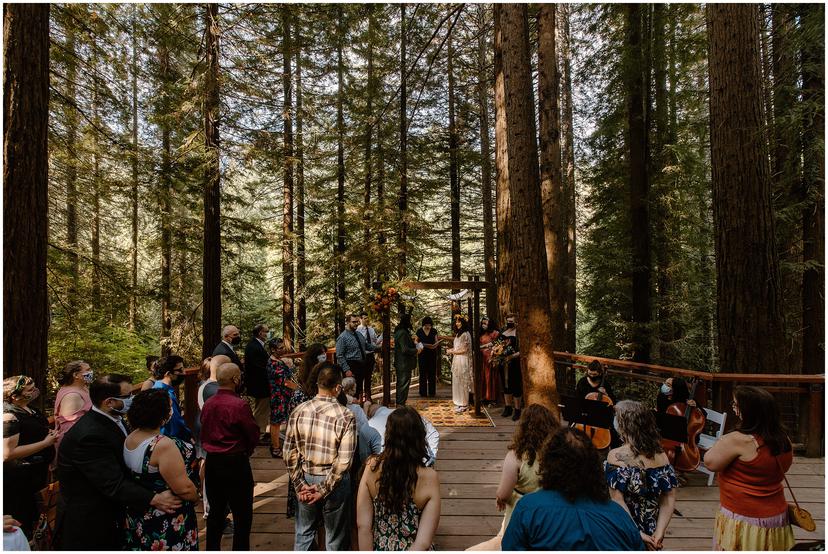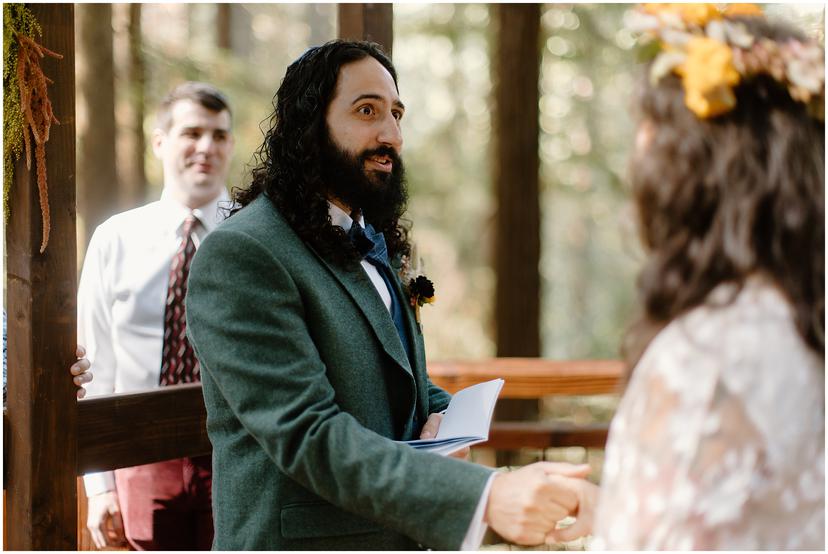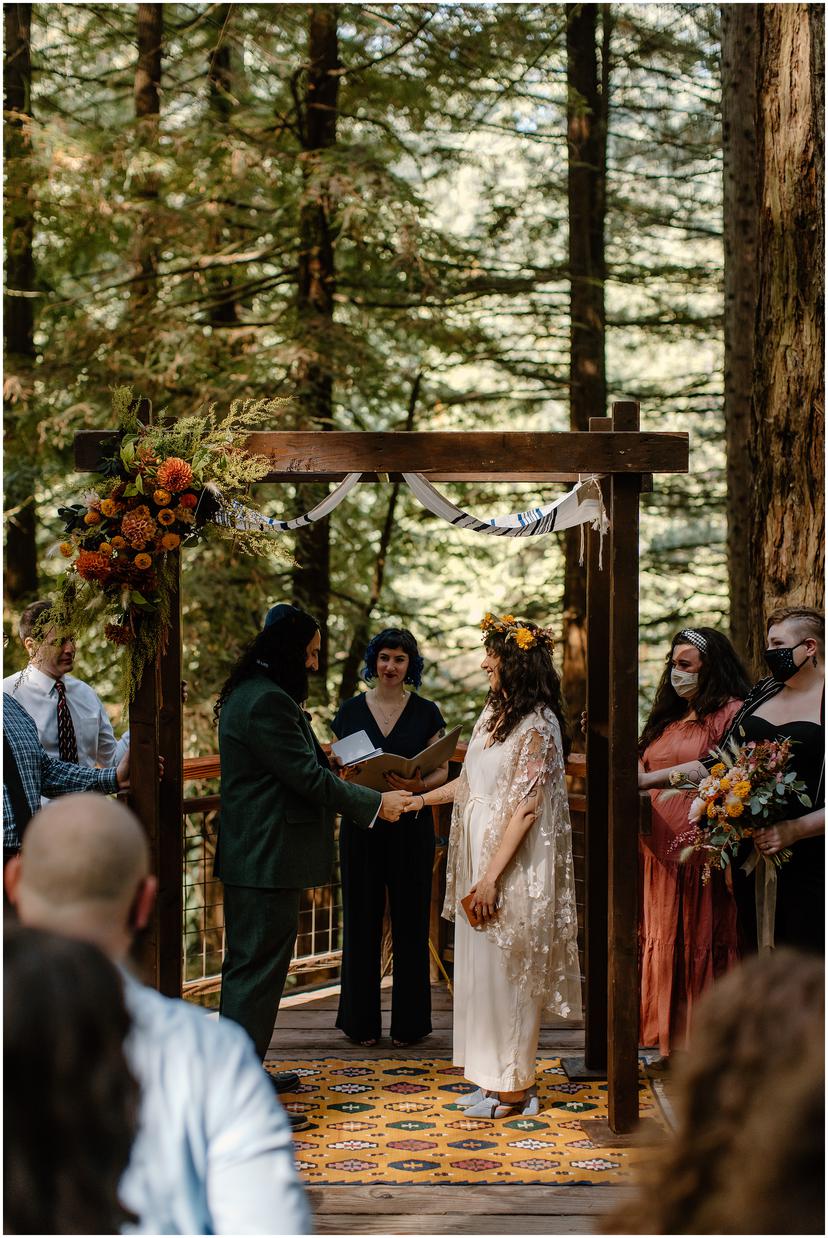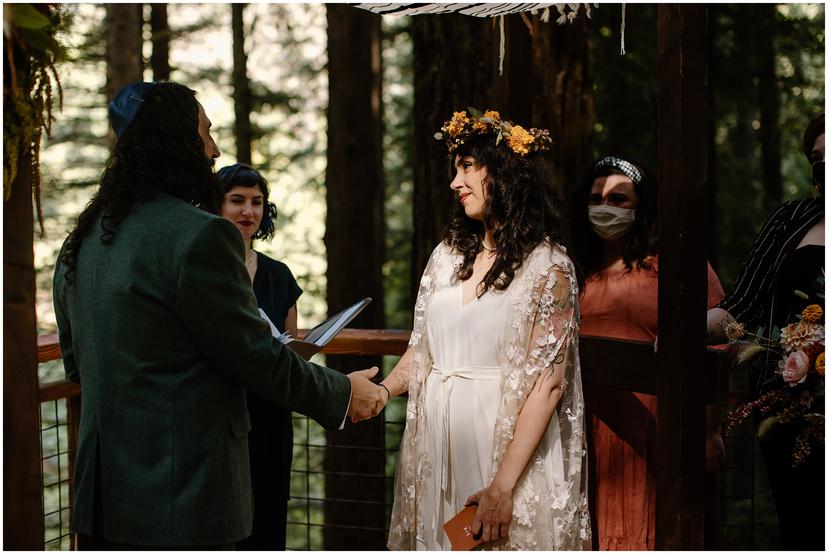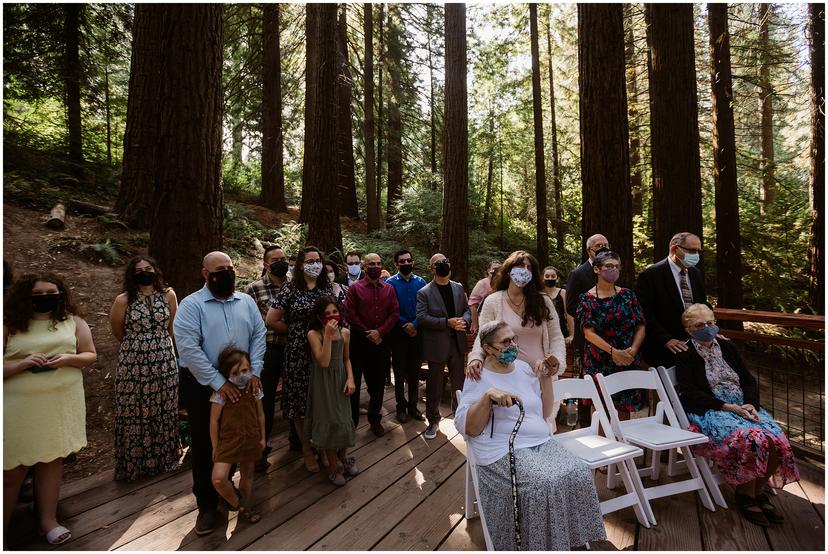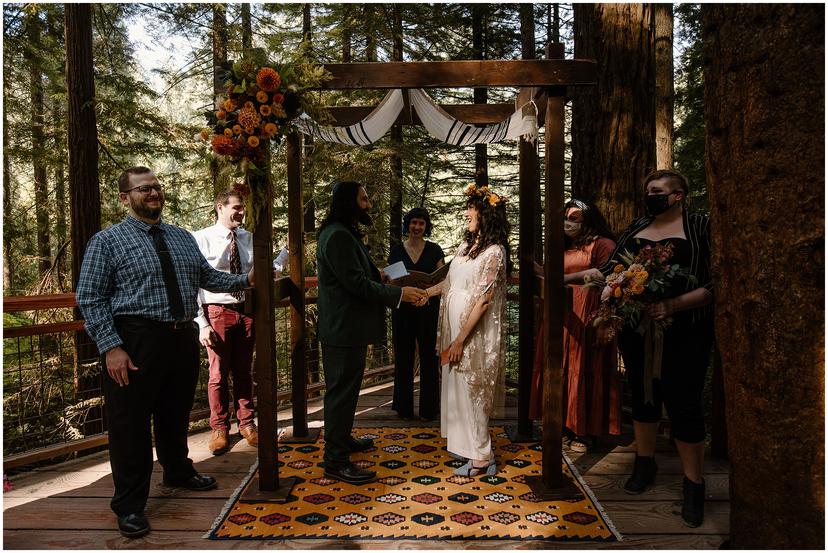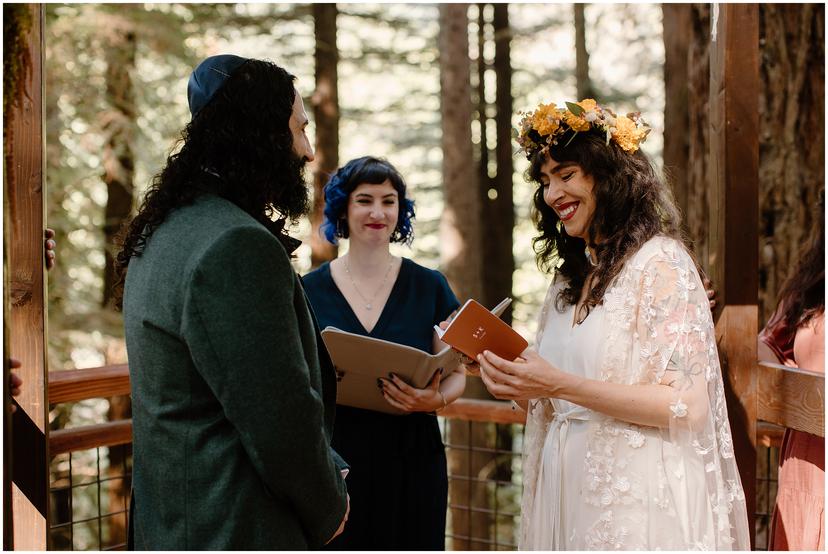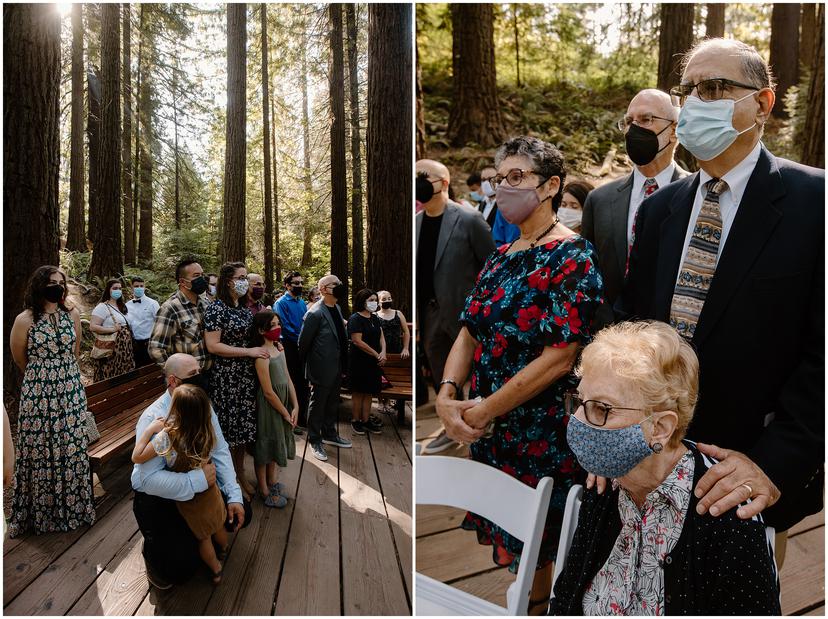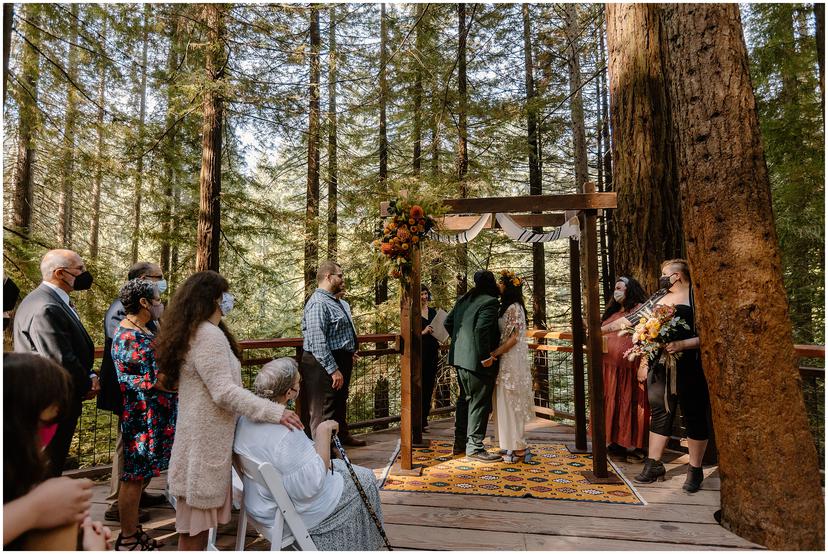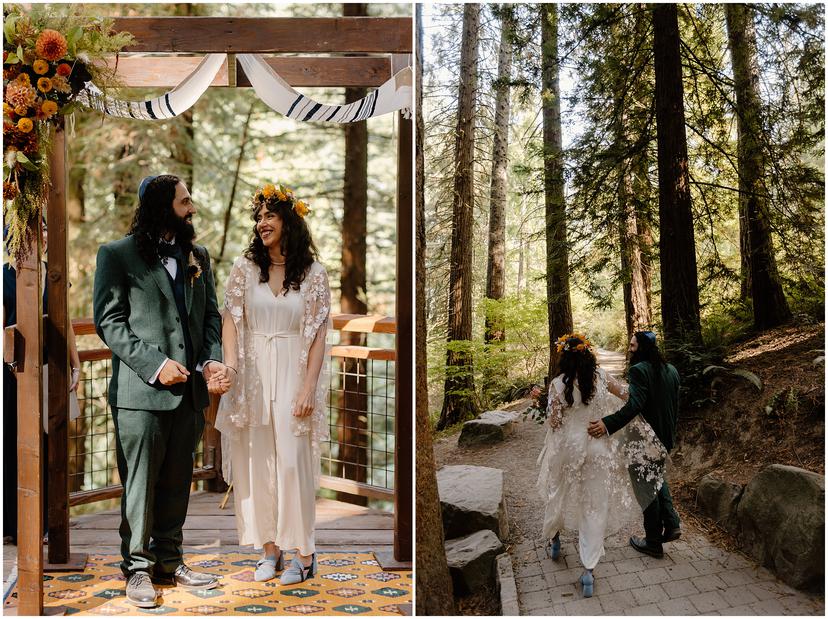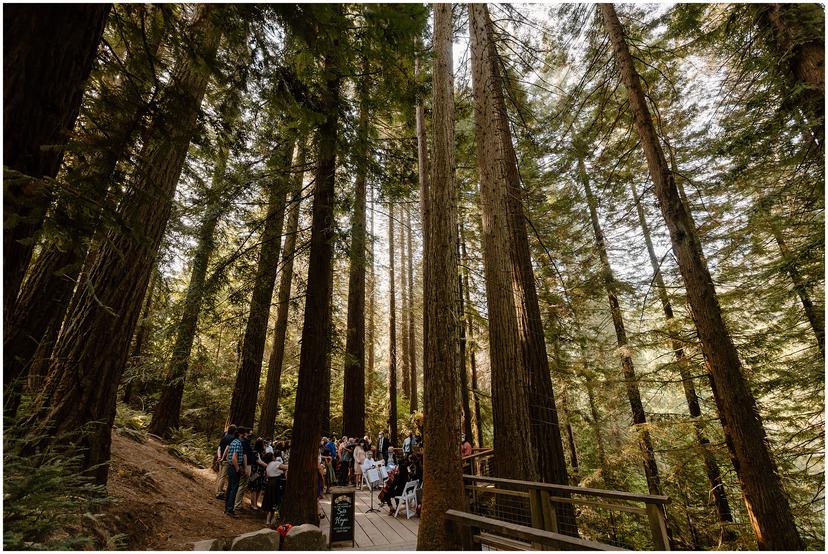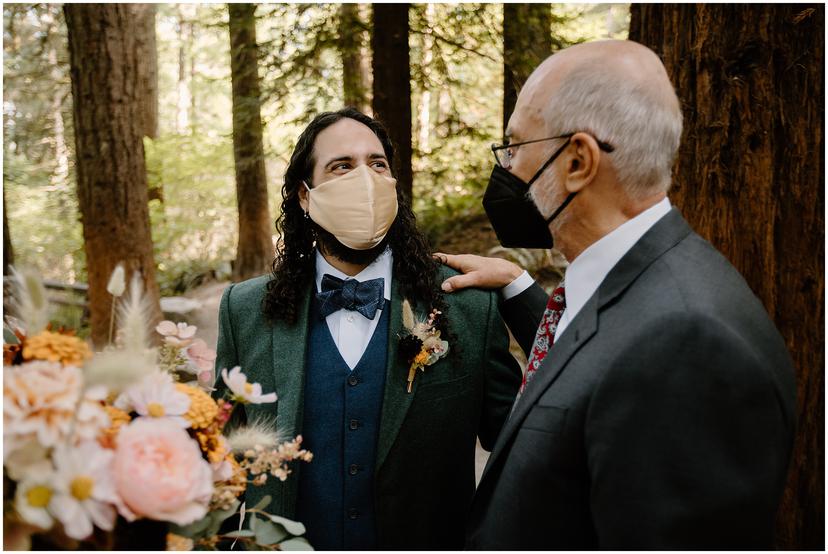 Why did you choose to have a Redwood Deck wedding?
Seth: "I liked the tranquility of the deck. It's not that far from downtown but it feels very separate. I think the redwoods and the rest of the forest feel thematically related to weddings as well – these trees are hundreds of years old and the forest itself outlives each individual tree; just as our love will last and this new relationship is more than just the two of us. The idea of the chuppah and the four friends holding it is that it represents our new home and the support of our community. I think the forest reflects that in the way it needs all of its parts (big trees, little trees, moss, loam, animals) to work together but it becomes more than the sum of those parts."
Kayci: "I agree with Seth's answer; I feel most tranquil and at home in the woods, it's humbling to be in that setting and it felt special to share that with our family because nature is so much of what drew us back to the northwest."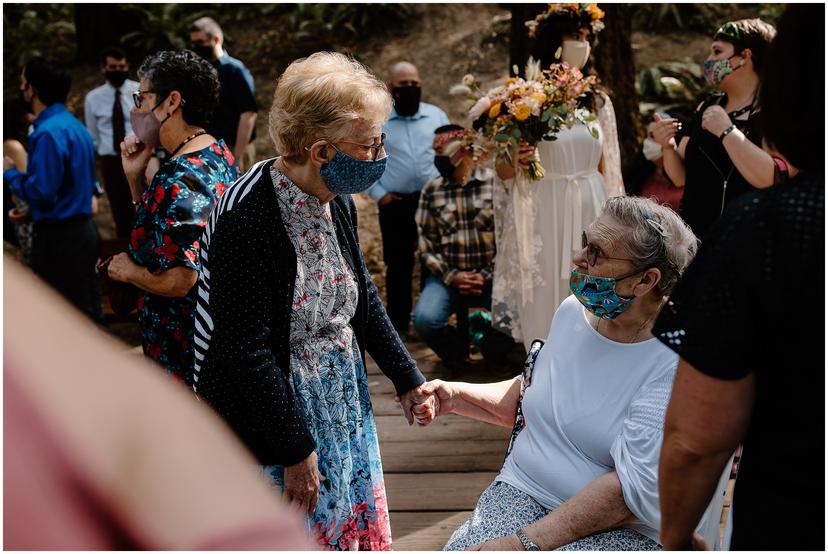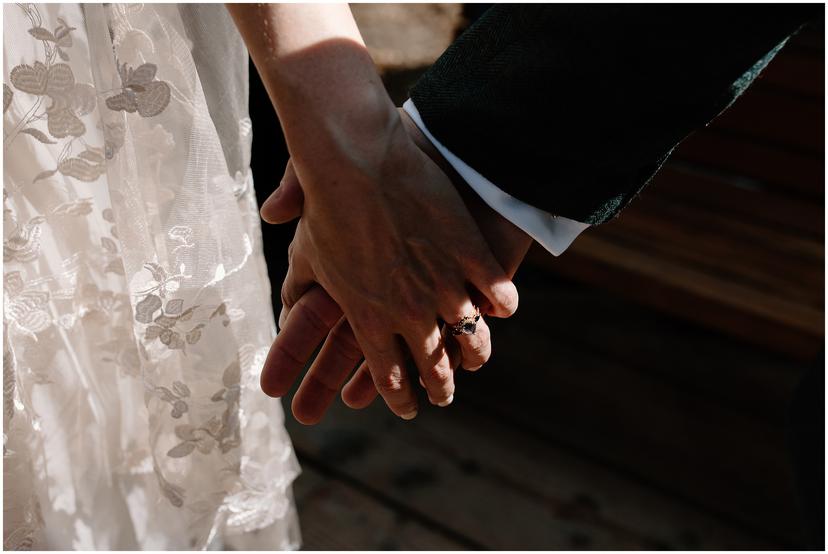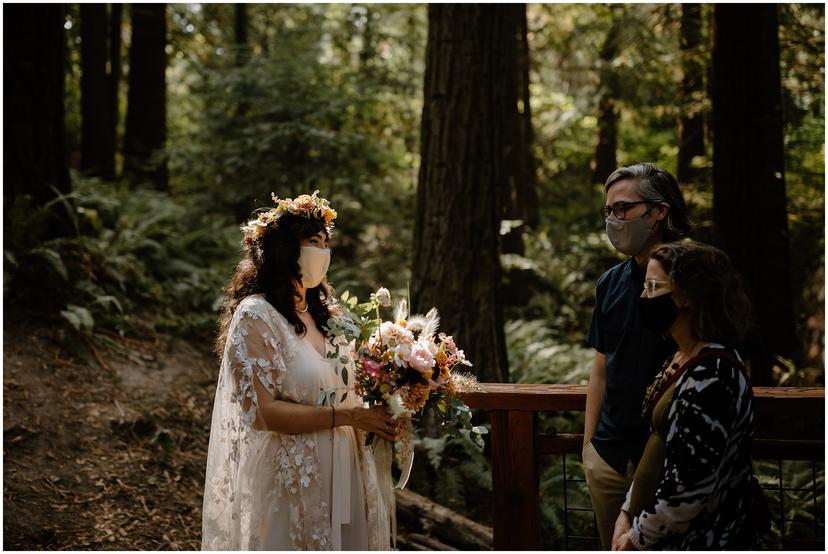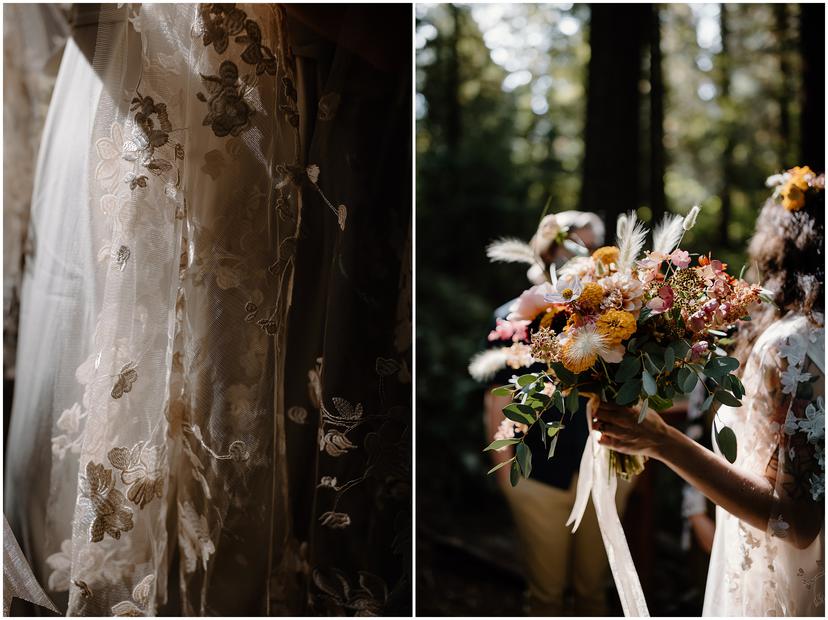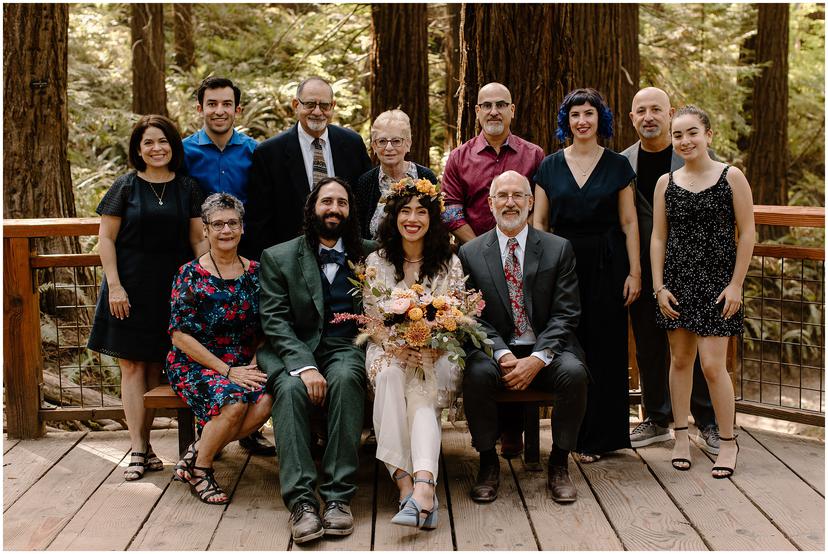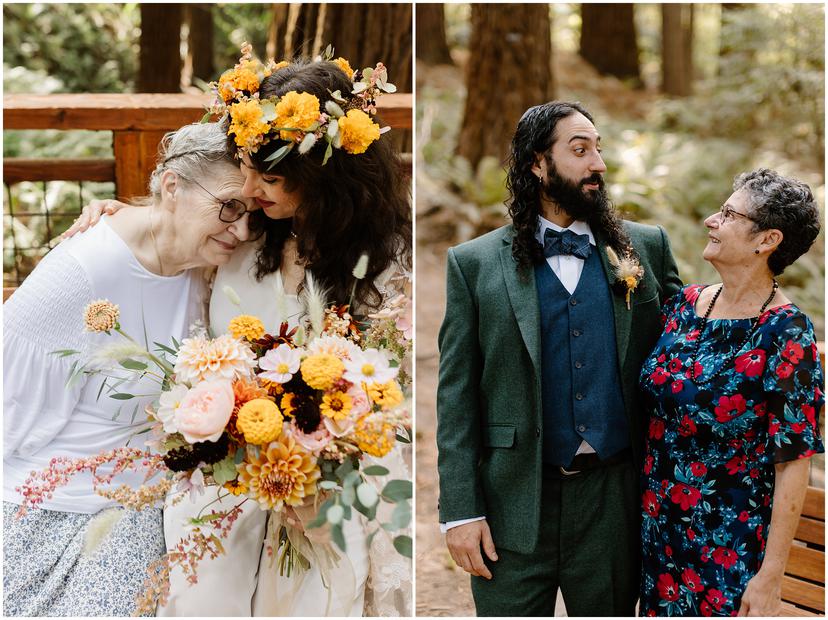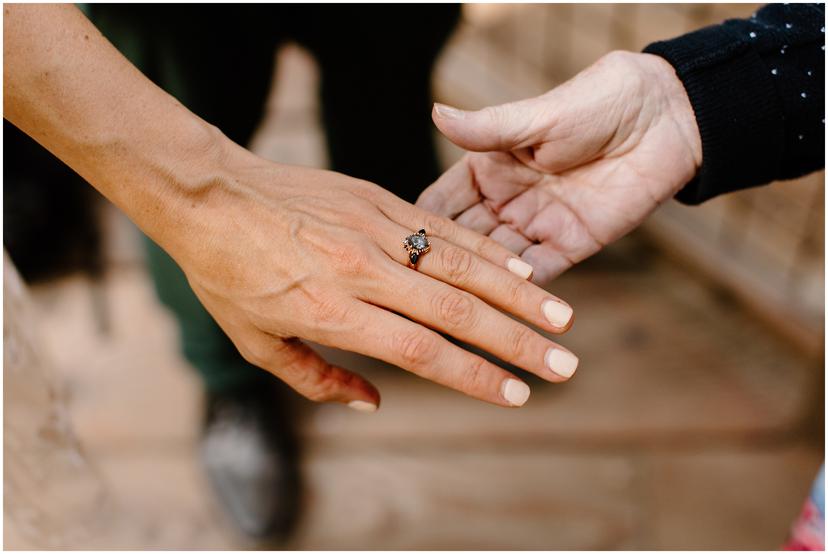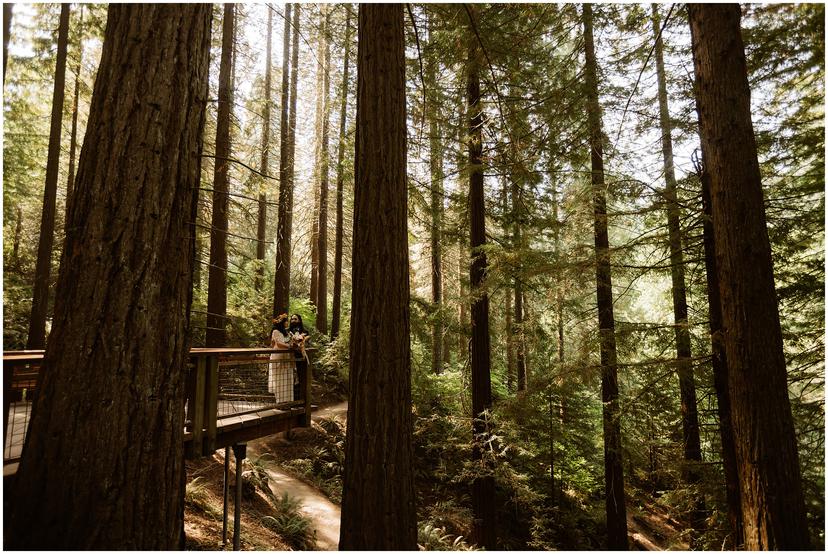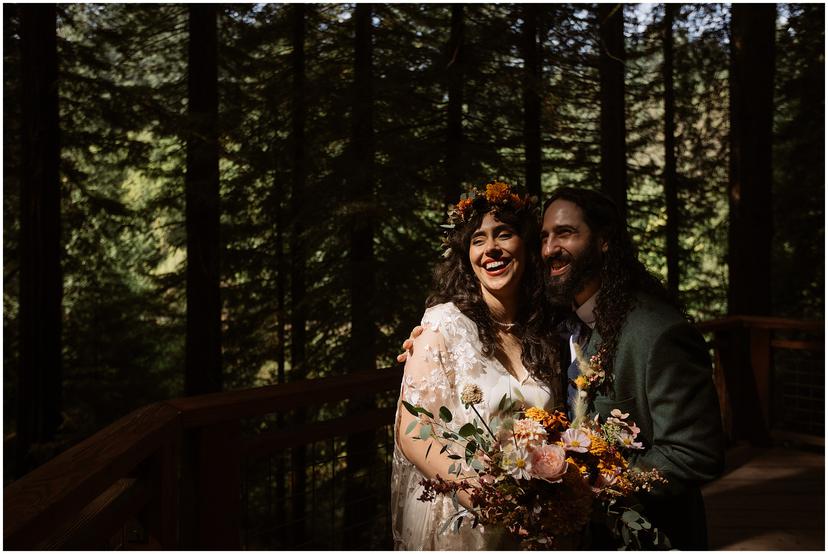 About Hoyt Arboretum wedding venues
Hoyt Arboretum has 4 different venues available for wedding and event rentals. This wedding ceremony took place at the the Redwood Deck. You can also rent the large A-frame covered structure known as Stevens Pavilion, or the open Wedding Meadow (see this wedding I did in 2018), and the brand-new venue, Stone Circle.
If you are interested in renting a Hoyt Arboretum wedding venue, contact Portland Parks & Recreation Customer Service Center at: 1120 SW 5th Avenue, First FloorPortland, OR 97204. Phone: (503) 823-2525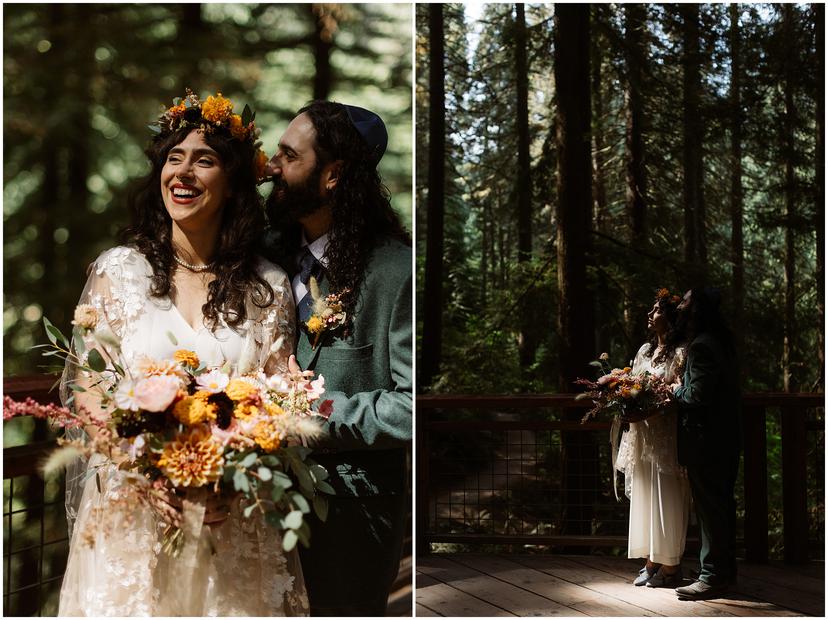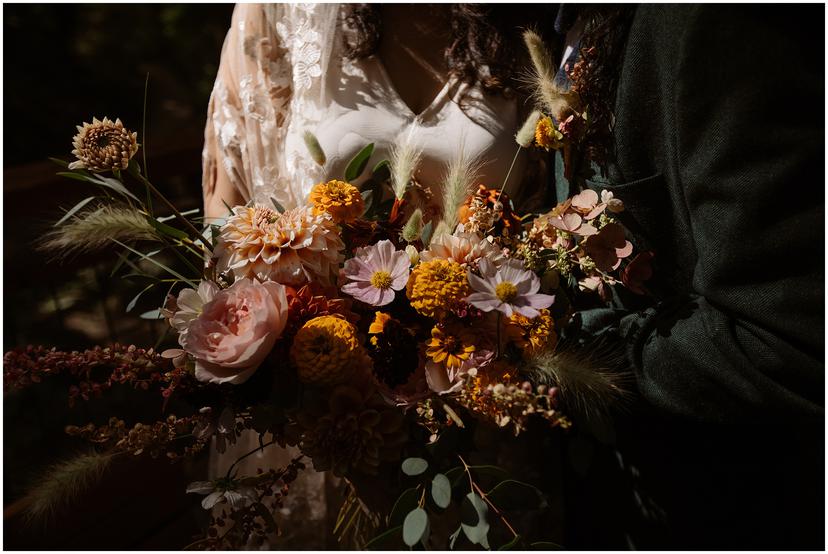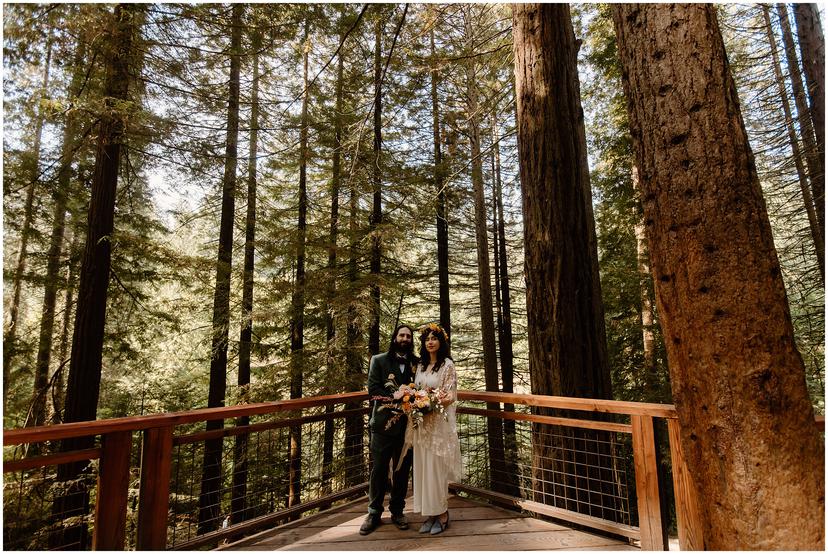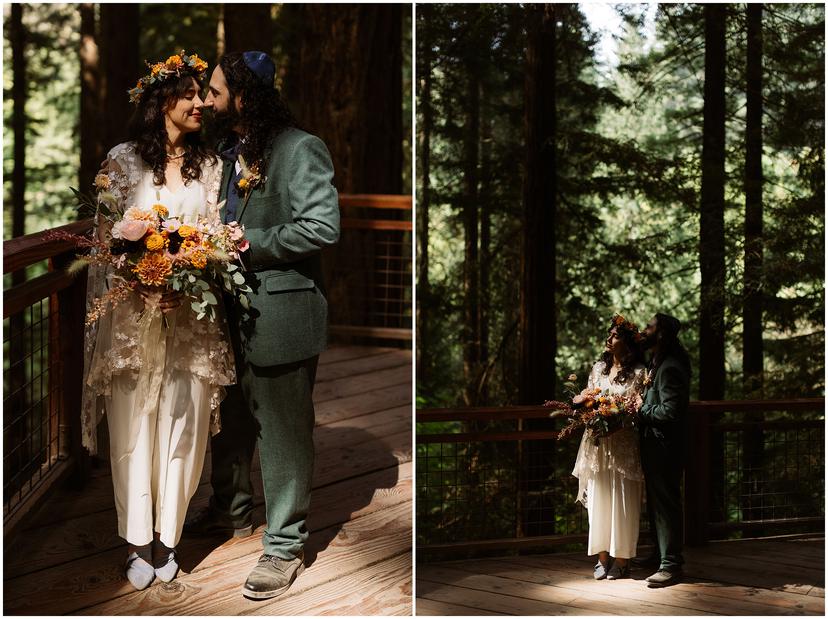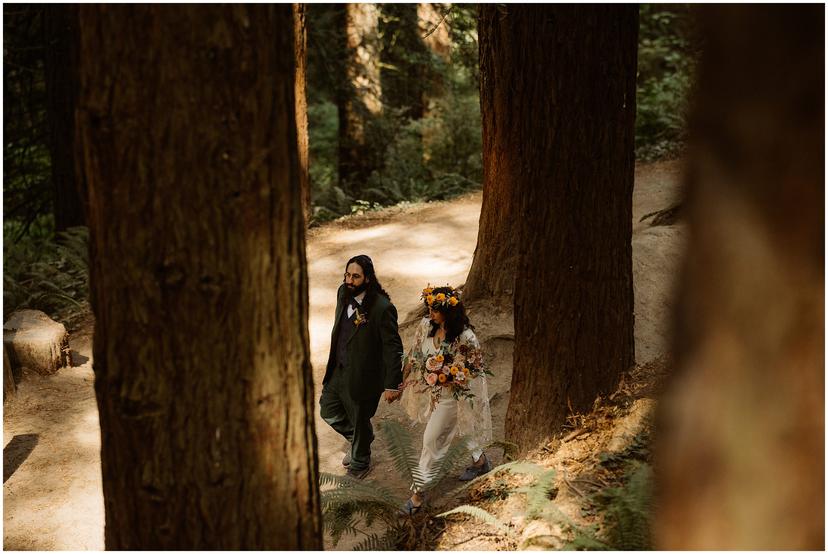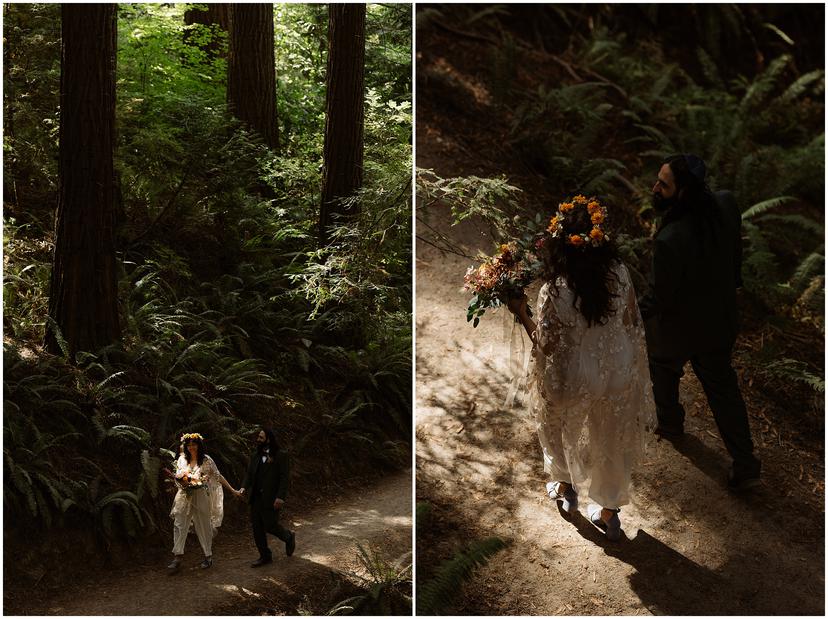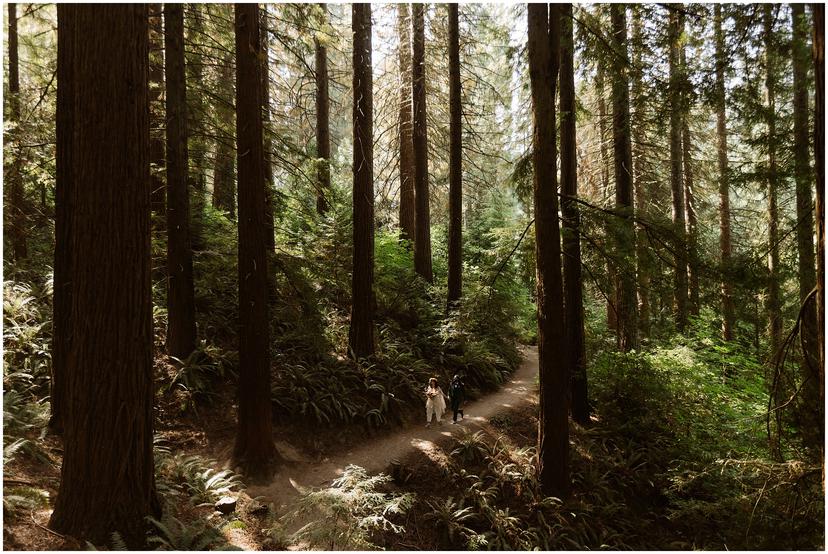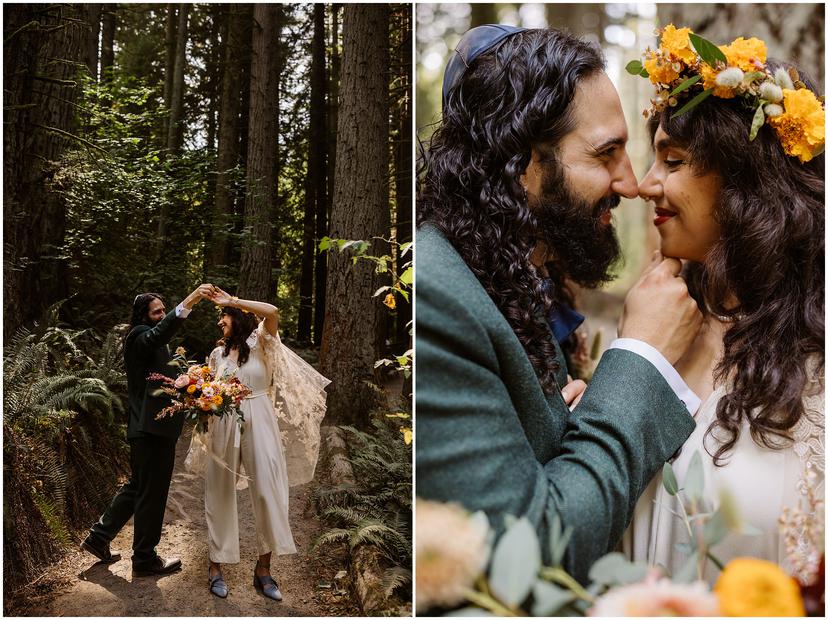 About the outfits, cultural elements, and color scheme
Seth: "For my outfit I wanted something with color that I could continue to wear in the future. I like earth tones and patterns. I had always pictured getting married under a chuppah with my close friends, smashing a glass, and signing a ketubah that we could display forever. I am glad we did those things and found ketubah wording that fit our understanding of our relationship. Eventually we are going to have it on display with some of the dried flowers, the shattered glass, and photos which I think will look really nice. I am also glad we walked in together but Kayci can talk more about that."
Kayci: "We love earth tones and late summer/early fall colors, and getting married in early September felt like the perfect opportunity to embrace that with our florals and decor. We especially loved working with Solabee - they were great communication-wise and with some last-minute changes we had to make, and they went above and beyond what we dreamed of with the reference pictures we sent them.
"For my outfit - I started envisioning what I'd wear in 2019 when we first got engaged. The cape and flower crown were also something I knew I wanted but Solabee and Fyn Apparel helped bring that to life. I knew I wanted something a little untraditional and super comfortable and also wanted something I'd wear again, so was really excited to find the perfect secondhand jumpsuit and got it tailored to fit me just right and had a great experience with Silhouette Studio. I envisioned blue suede shoes and happened to find the perfect ones during a trip I took to Portugal with our officiant - Seth's sister Courtney. I also bought a beautiful double strand pearl necklace and totally forgot it! The one I'm wearing during the ceremony on was borrowed from a friend who immediate took off and offered hers when I was lamenting forgetting mine!
"Seth is Jewish and I have loved learning about many Jewish traditions and holidays from him and his family. I really love the symbolism in the traditions we included in our ceremony and am so glad we incorporated those things and will have the broken glass and Ketubah as tangible reminders of our wedding day and the vows we've made to one another."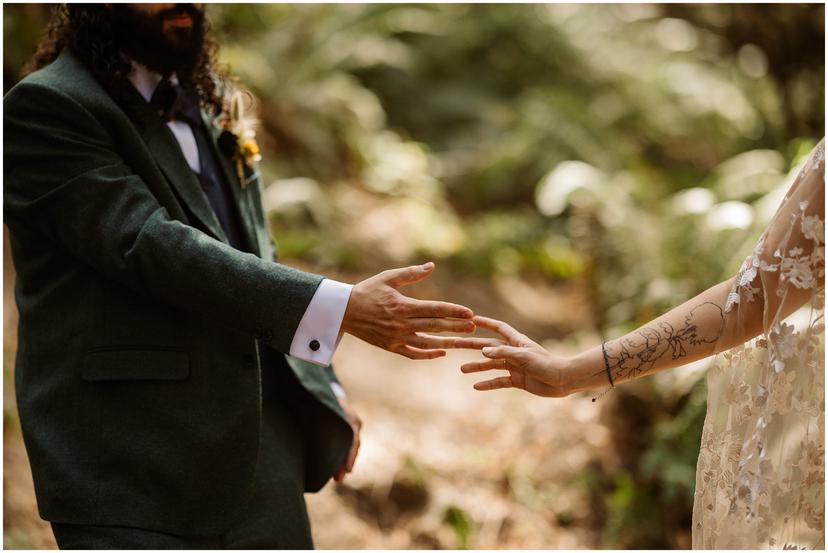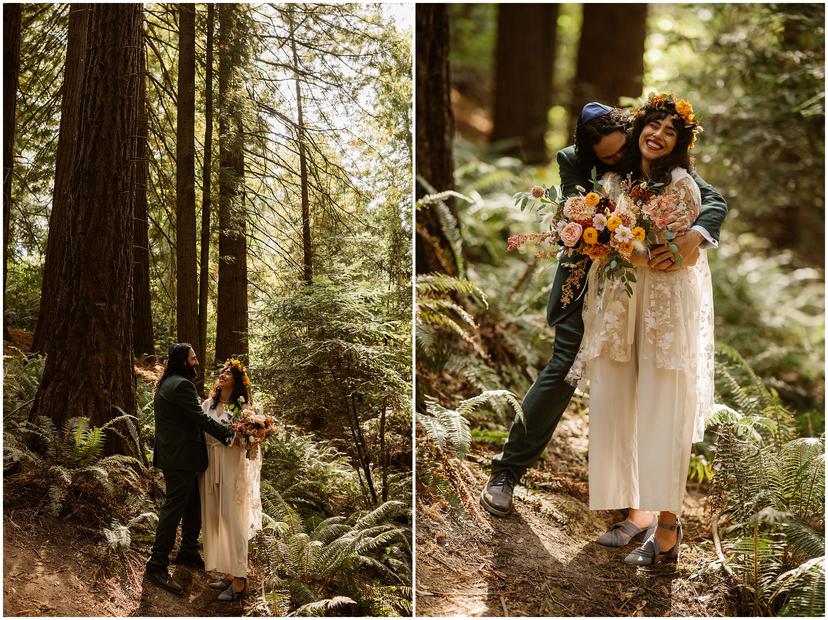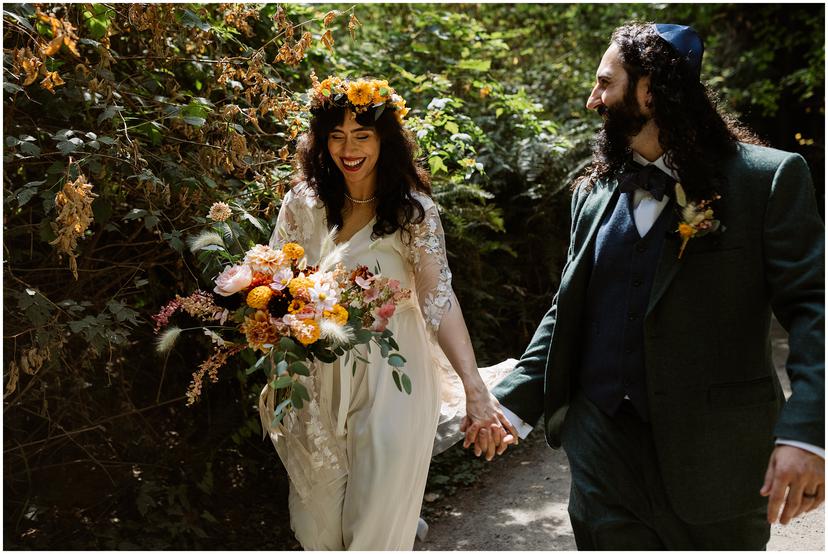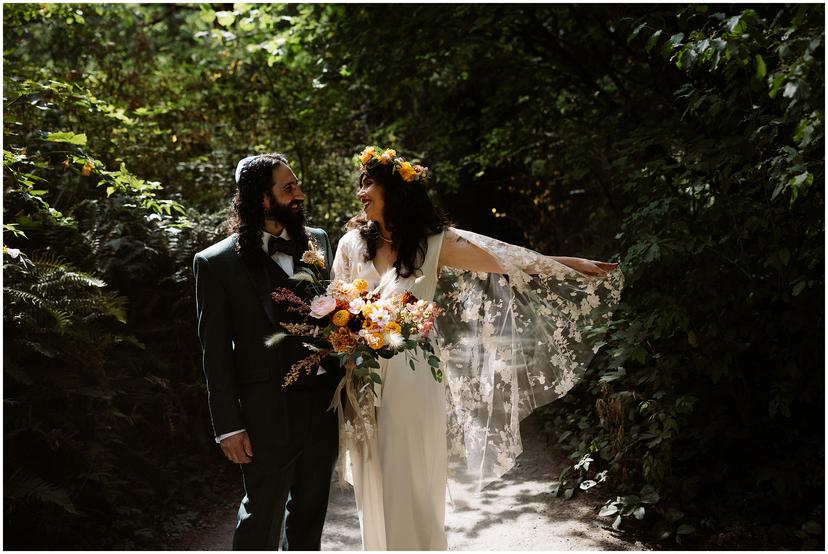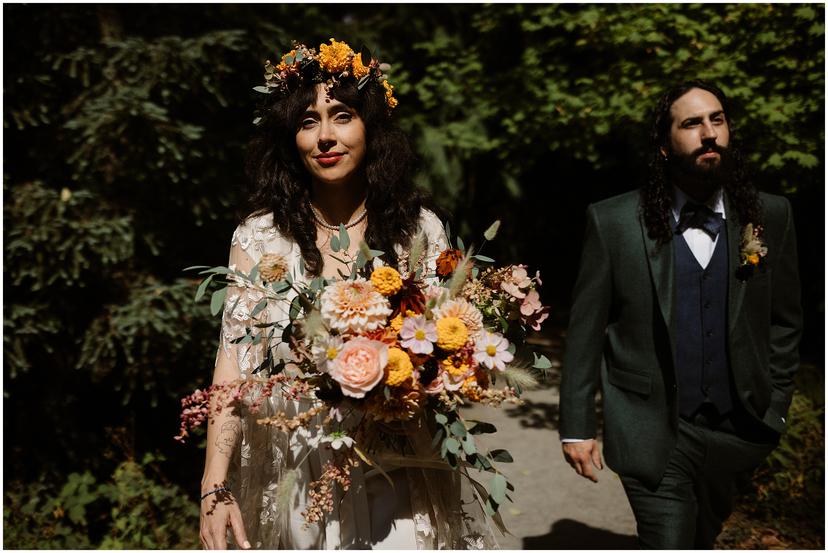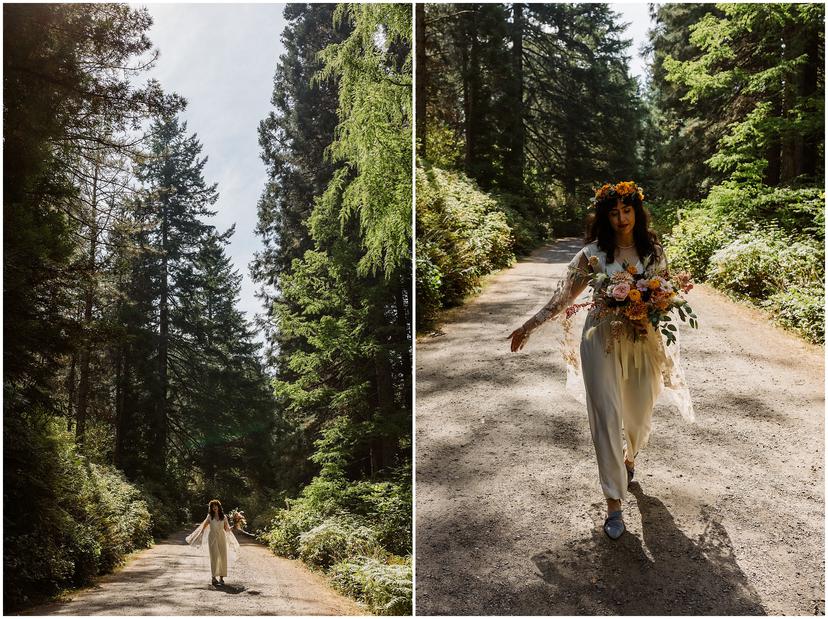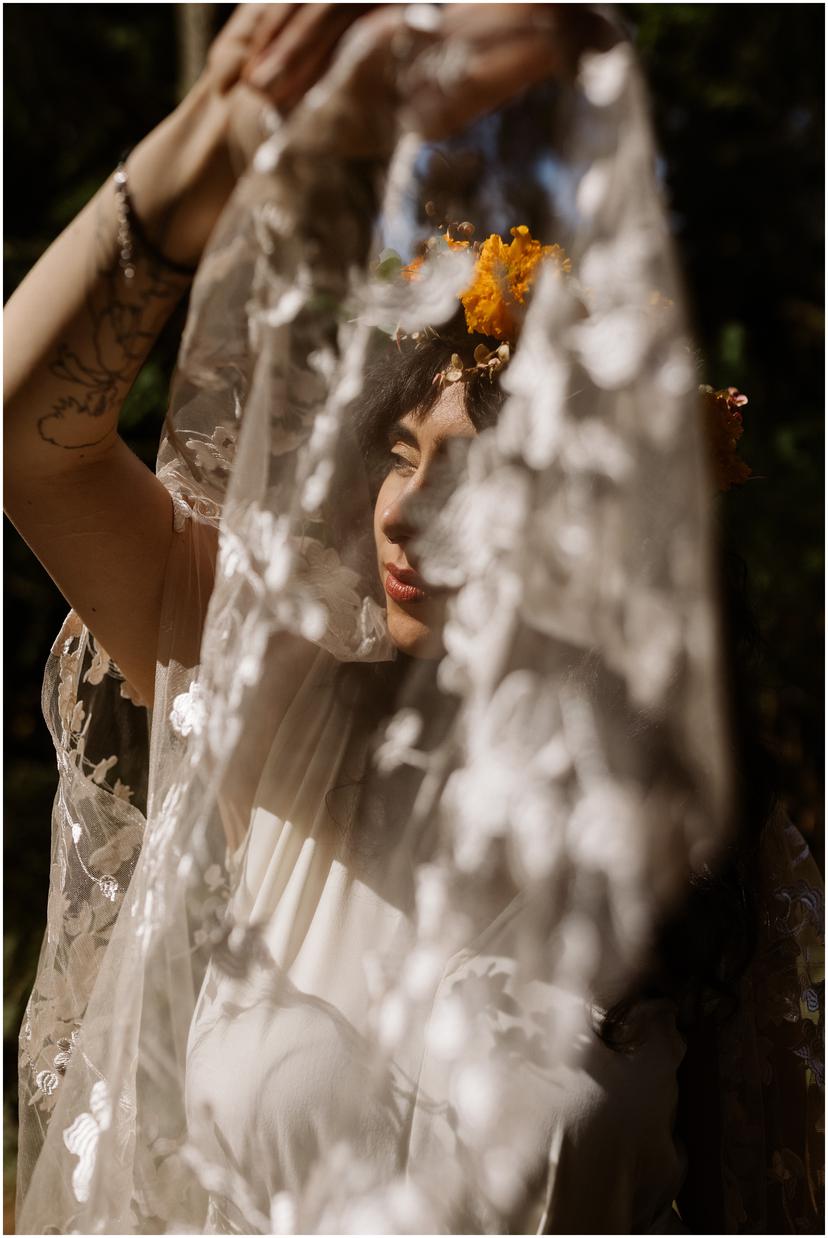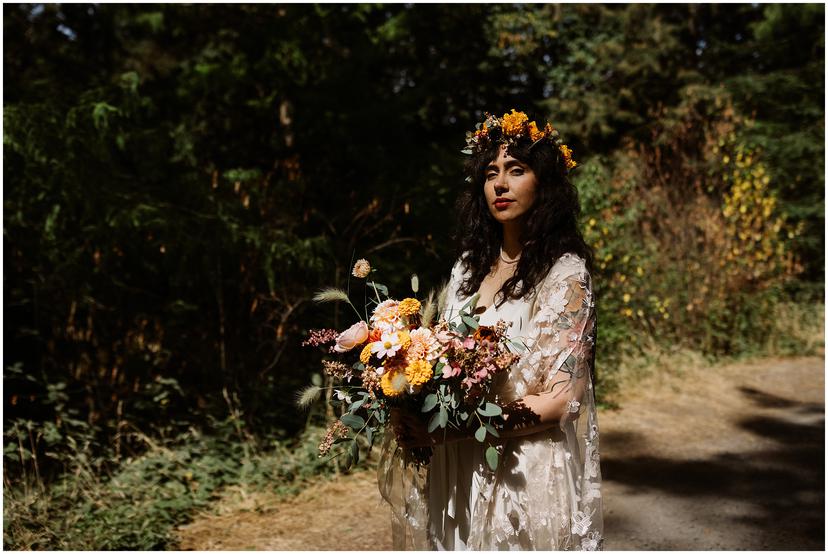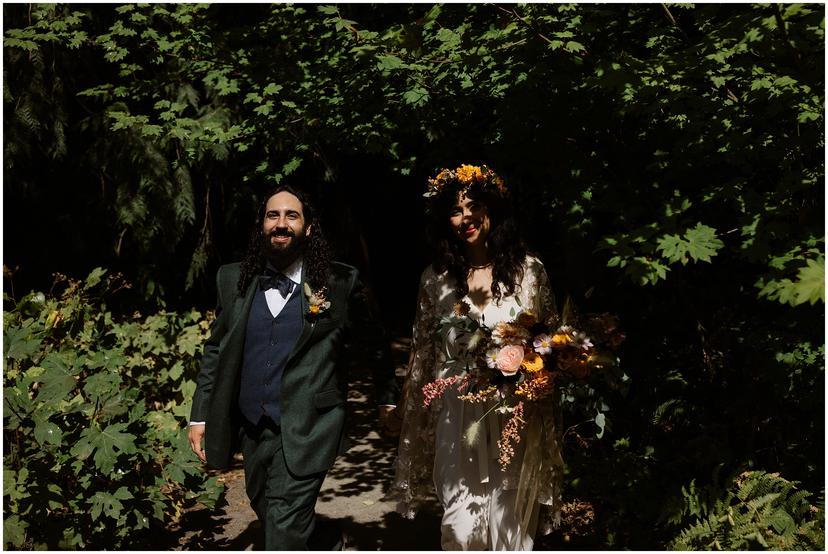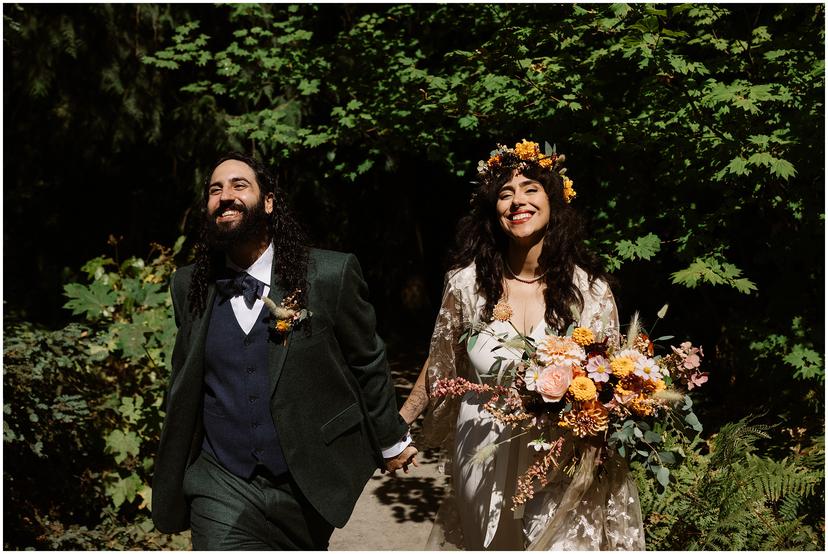 Why did you choose Black Door PDX for your reception venue?
Seth: "This goes a bit into the next two questions as well but it was in a good location and they were very flexible. It had good options for indoor and outdoor space in case it rained or (as happened) we needed to be extra careful about distancing indoors. The staff were helpful and good with changing things on short notice."
Kayci: "Again agree with Seth - we liked that it was flexible and workable whatever would happen weather-wise or pandemic-wise, and their team was really communicative and collaborative."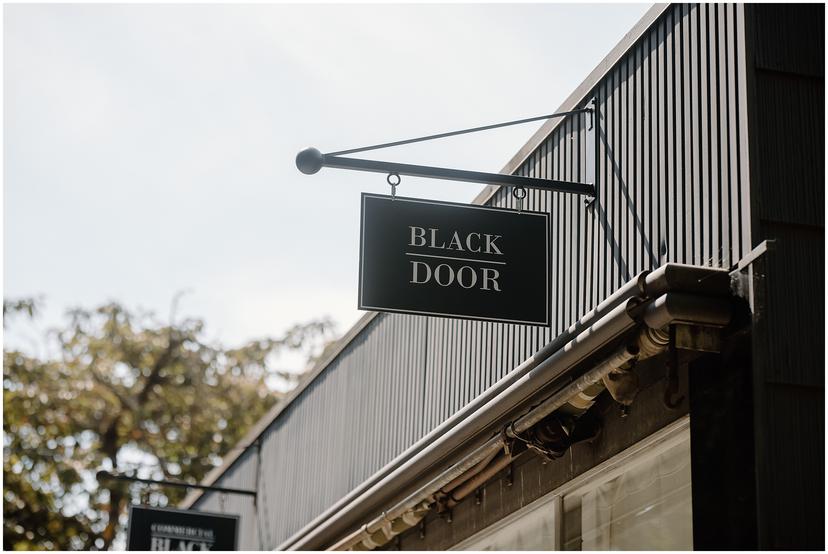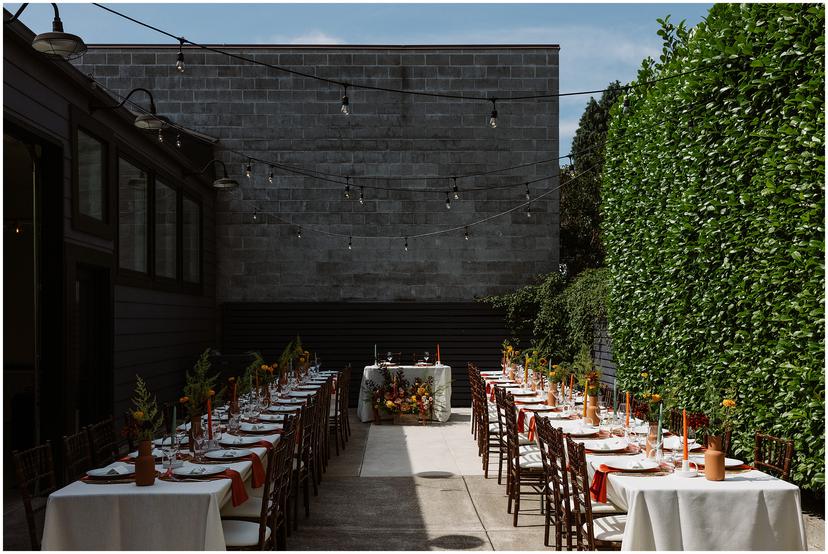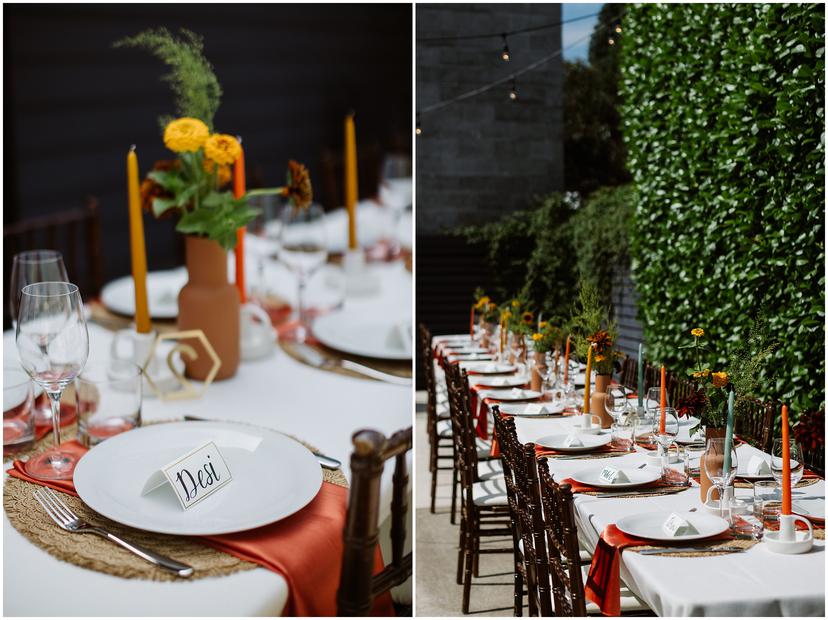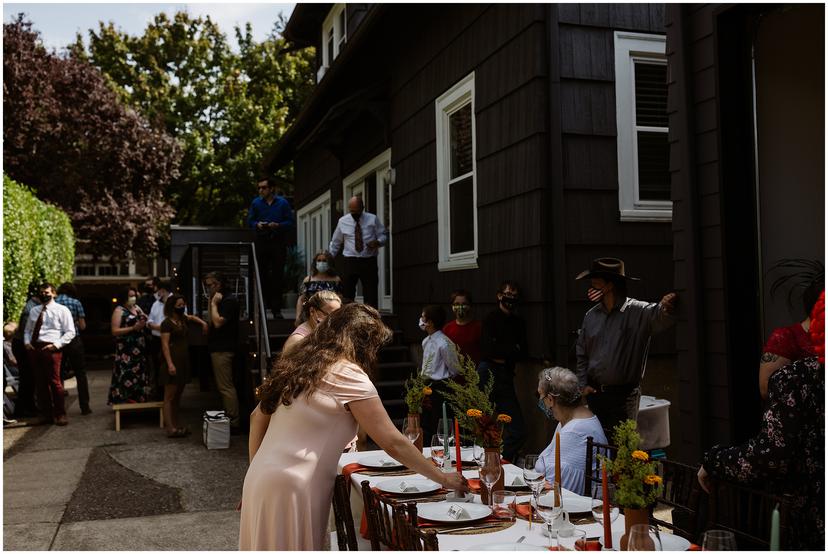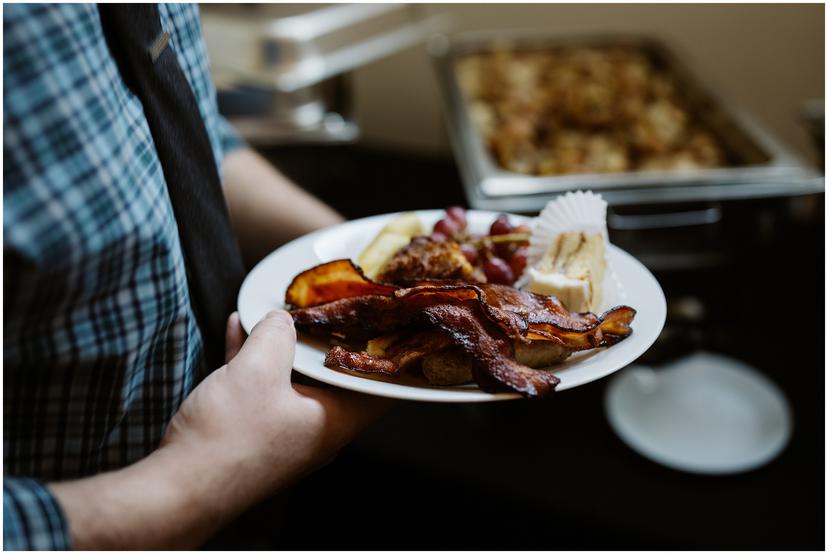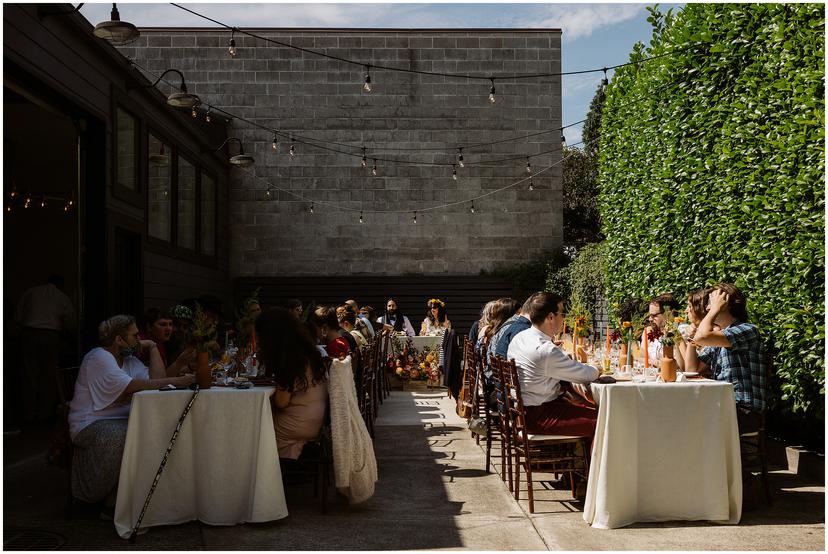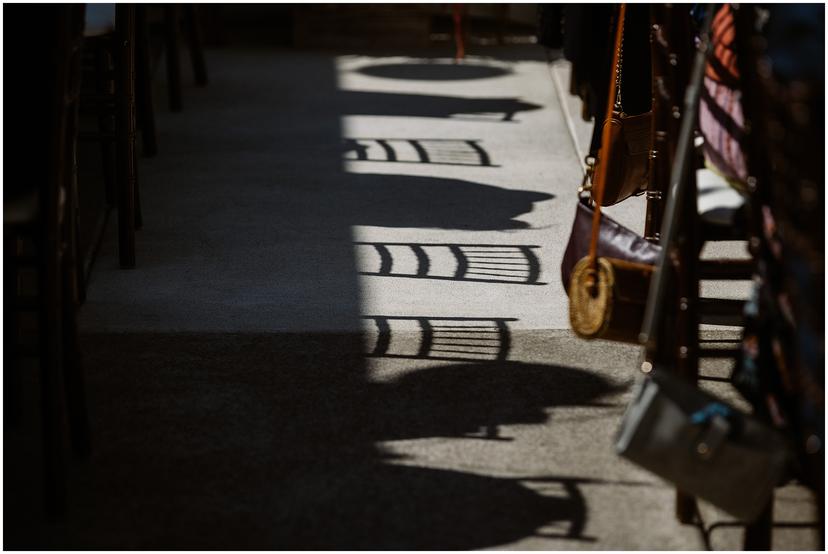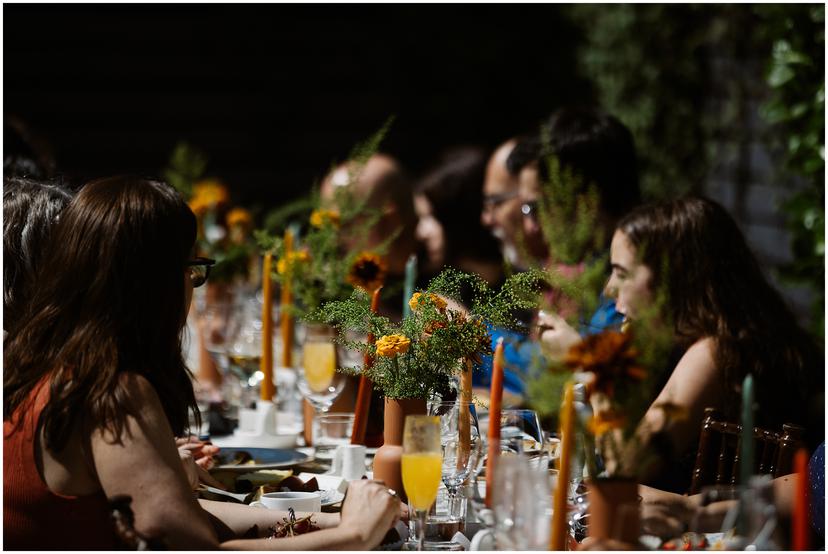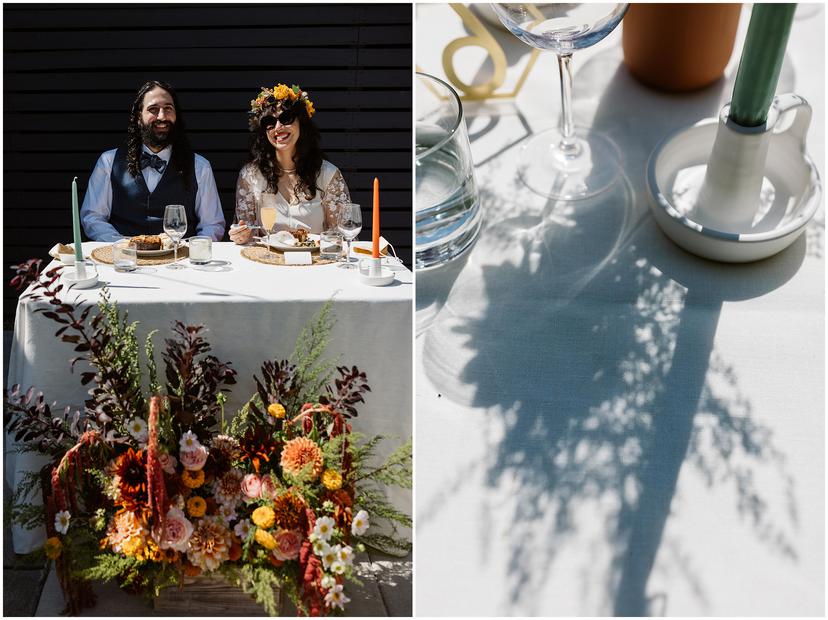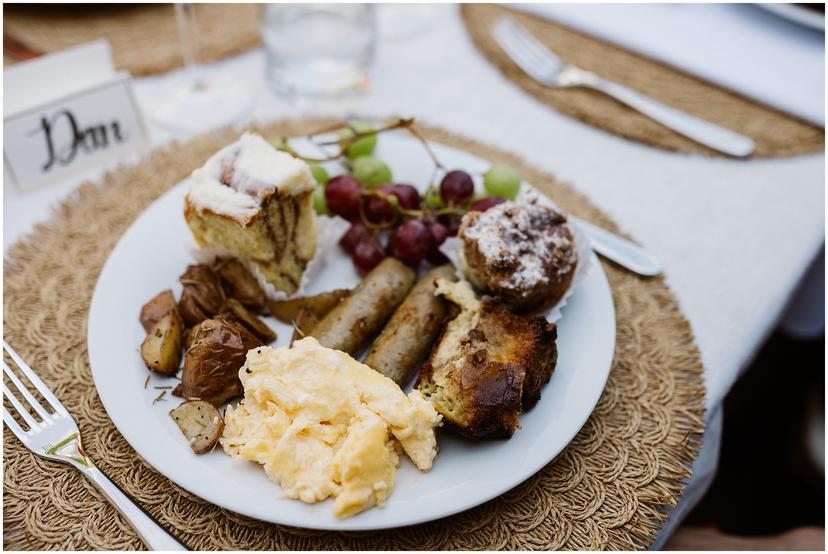 How to personalize your wedding
Kayci: "We scrapped the bridal party and having parents walking down with us/giving us away. We both wanted our ceremony to be simple and easy, so chose instead of a bridal party to just have a couple of our close friends "supporting" the chuppah with us and to have Seth's sister/my friend Courtney officiate. We've been together for 9 years and feel like we've already established a strong partnership and have already started building our life together. It felt like walking down together symbolized that that's where we are with our partnership and the stage of life we're in."
"We also chose to do pie + ice cream instead of cake - both of us could take or leave cake and wanted to do something we'd really enjoy."
"Ultimately, like Seth noted in his advice from his mom, I think it's okay to pick and choose what's most important to you as a couple for your day and not worry as much about what others think. So many of the things we did a little differently are some of our favorite things from our day."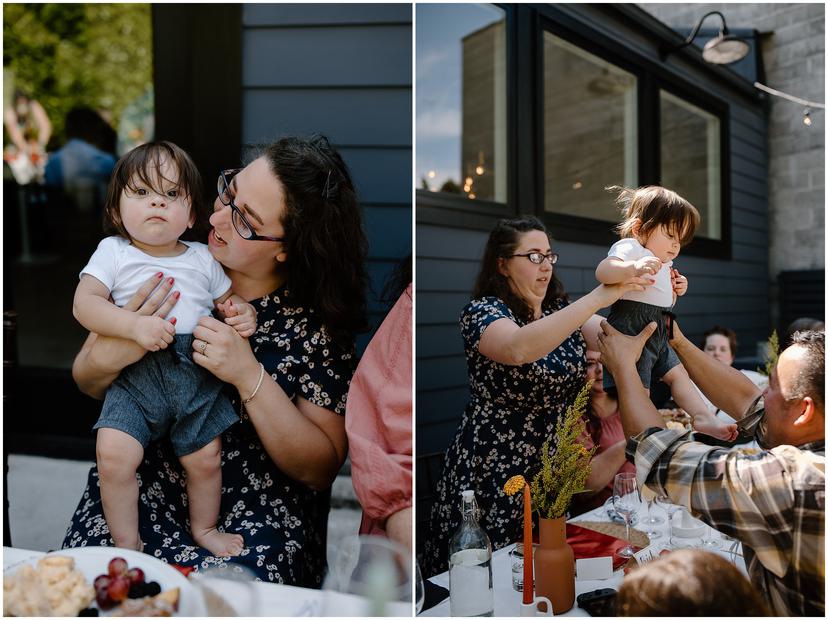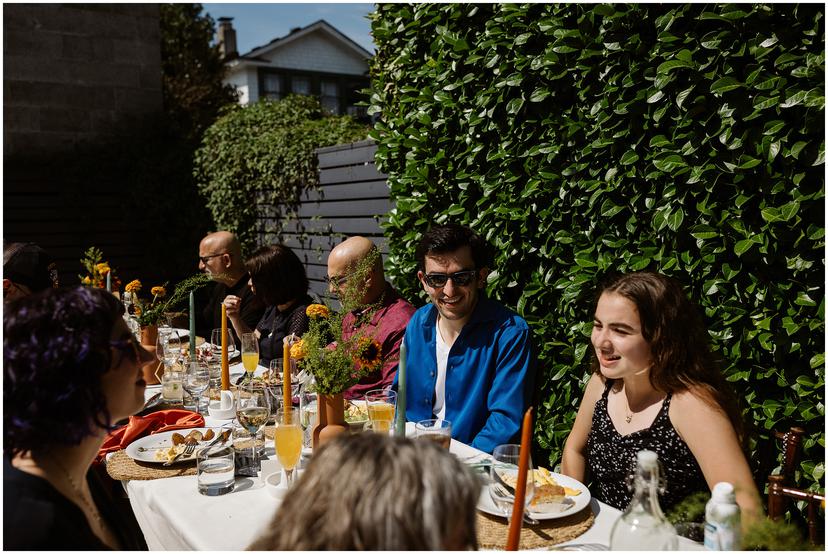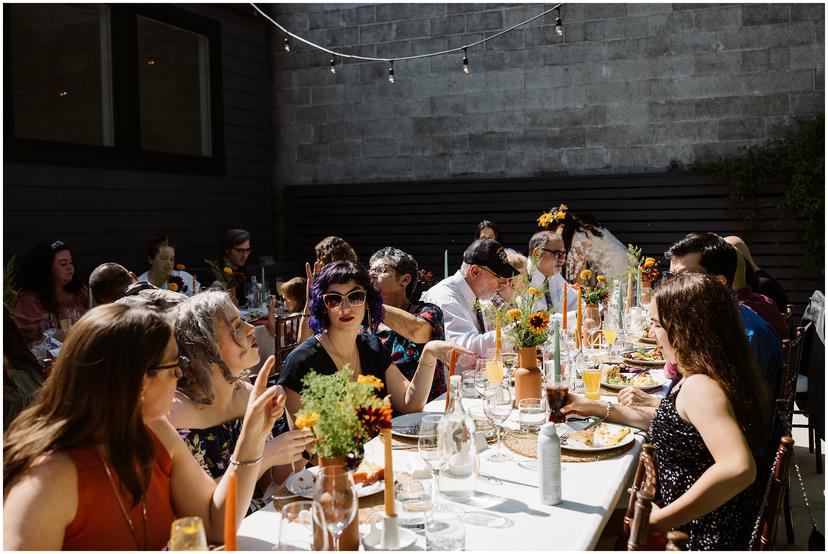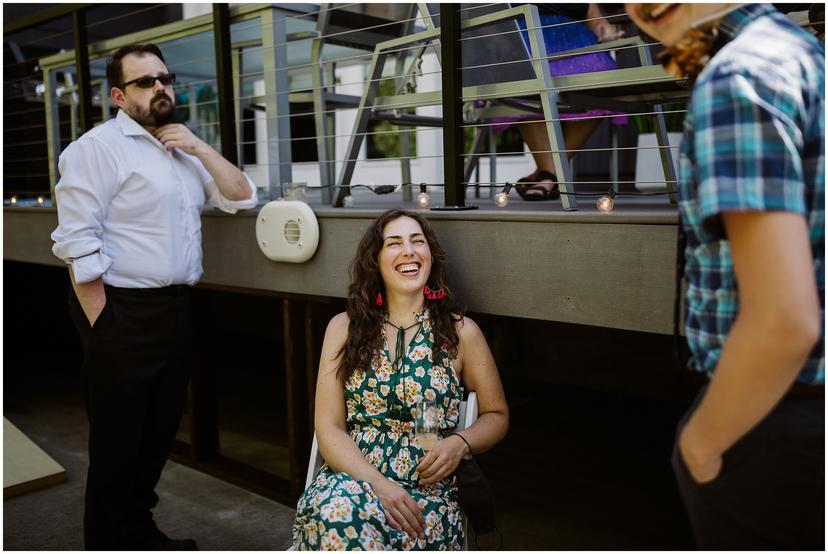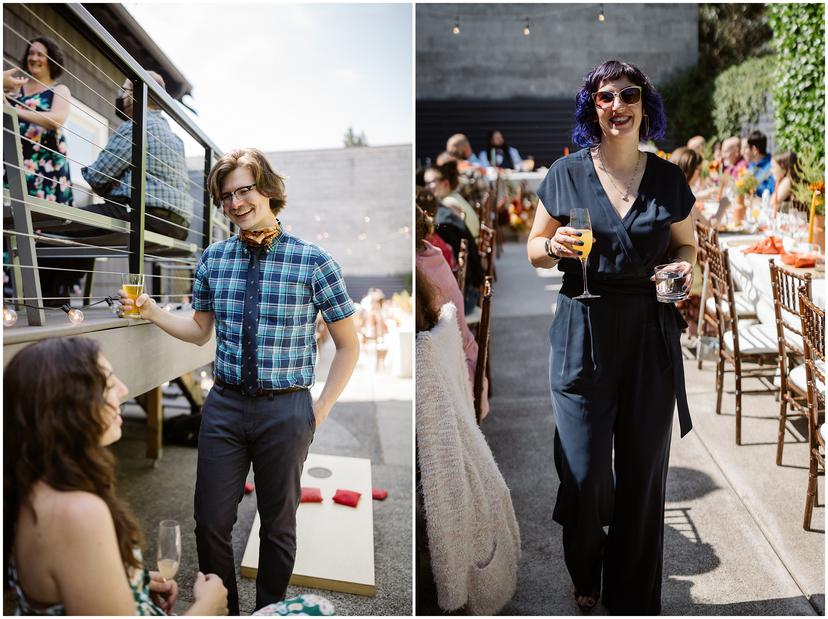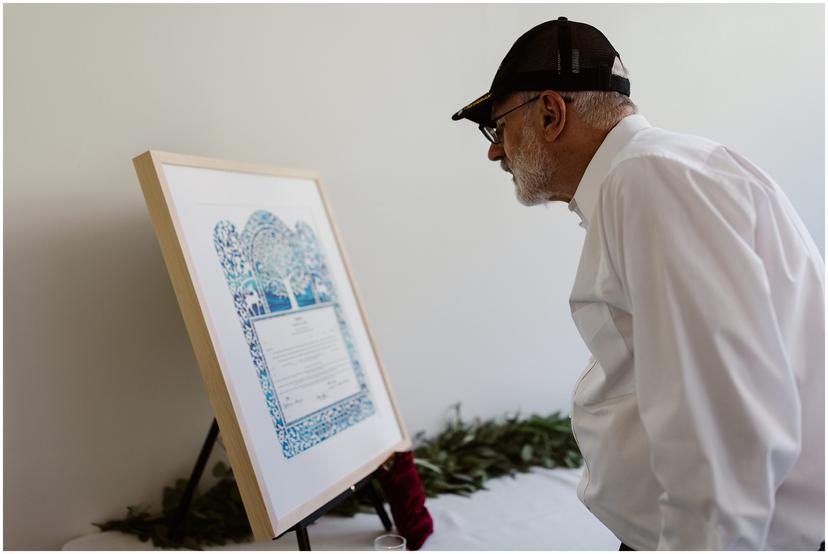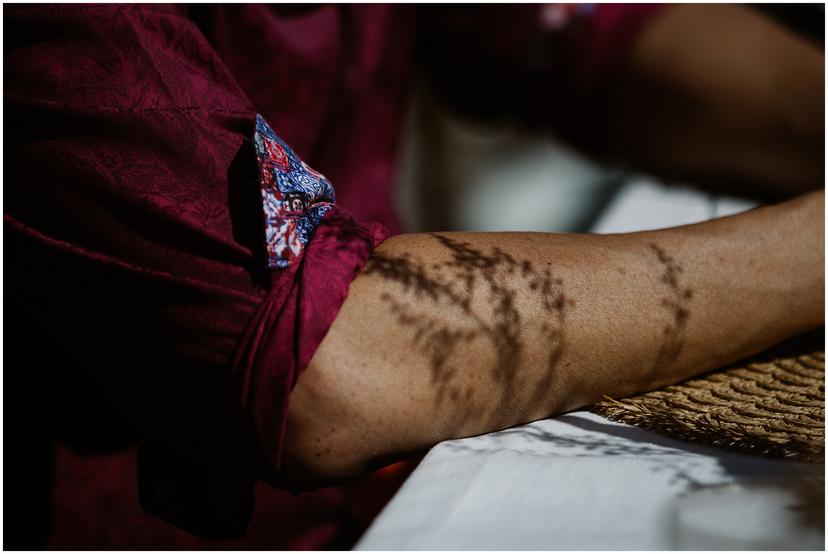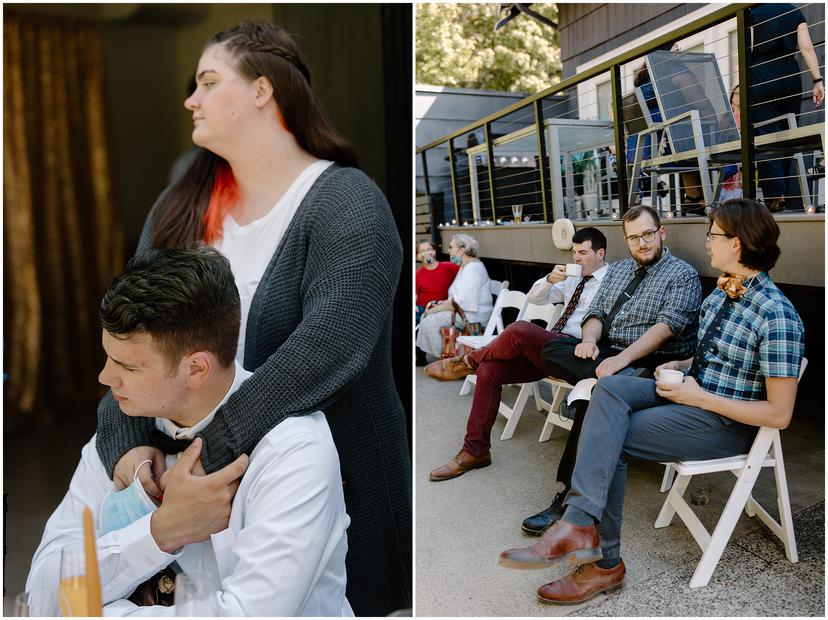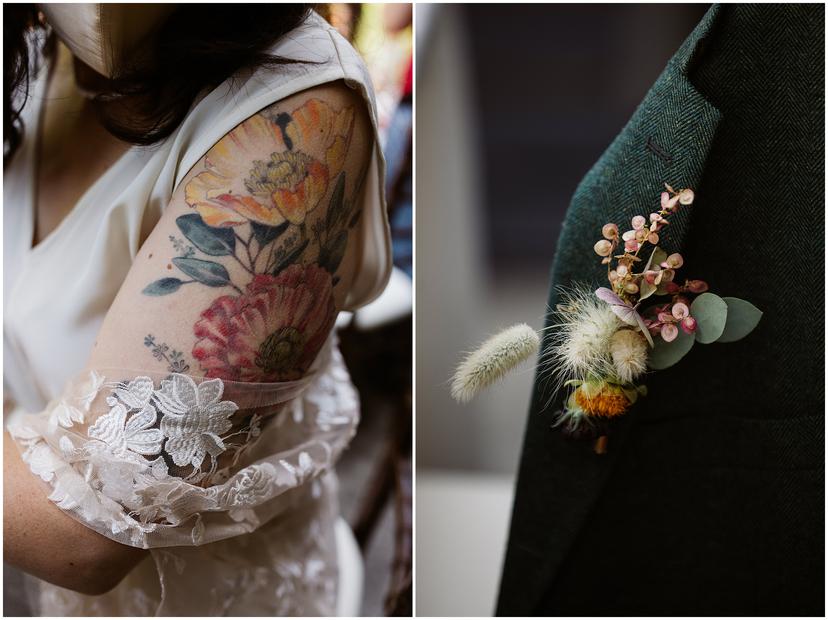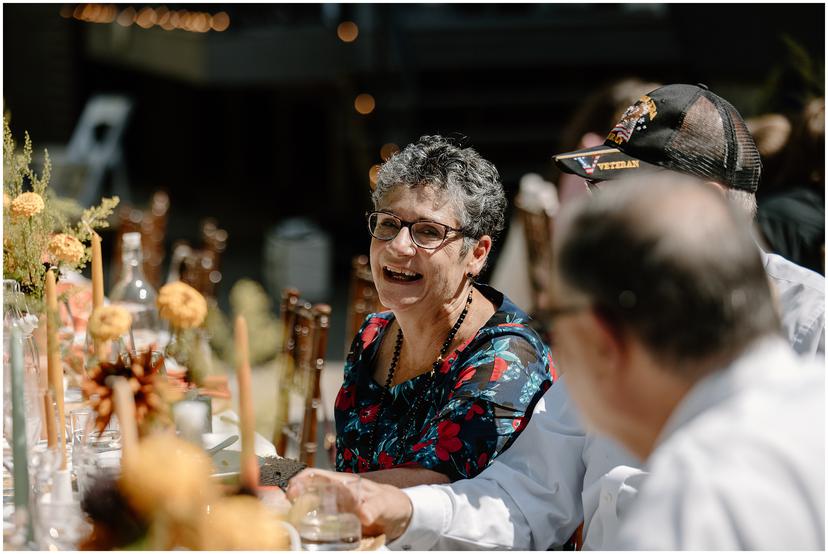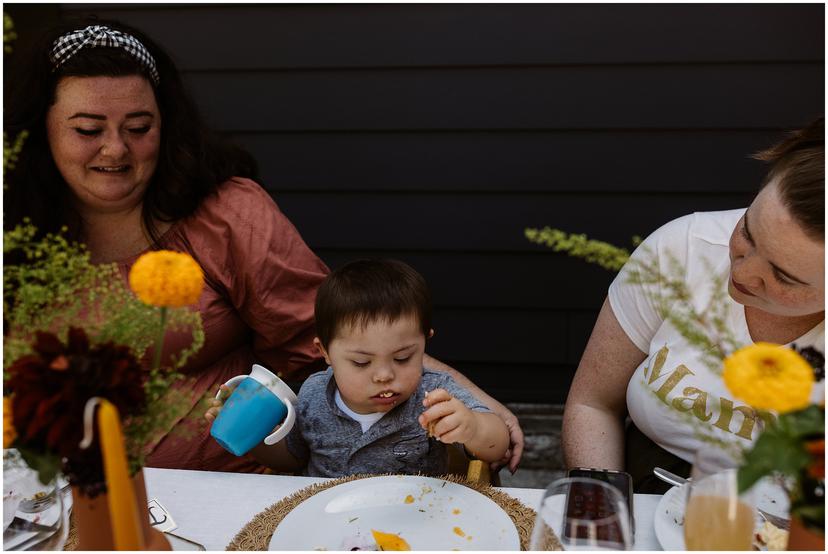 Advice for couples planning weddings during Covid
Seth: "I feel like planning anything during Covid you have to be ready to pivot at a moment's notice. There was a point where basically everything was done… and then the county changed the rules and we had to go back over a lot things. The best advice I got from my mom was to plan the wedding we want and not worry about what other people would do. There were a lot of relatives who had Important Opinions on what traditions we should follow or how they're supposed to work or what décor we should have. In the end it's our wedding and we wanted it to be meaningful to us rather than what some other person imagined for their own celebration."
Kayci: "Agree with Seth - we tried to anticipate the "worst possible scenario" and create plans that would enable us to loosen or tighten up based on whatever might happen. E.g. we kept it smaller (<50 people) because we knew even when things were pretty tight early on, gatherings around that size were still 'allowed' so even if things started to get worse again later in the summer (which they did&mldr;) we'd probably still be okay! We tried to focus on what aspects of the day were most important to prioritize while also needing radically accept that we weren't gonna be able to control everything and be at peace with that!"