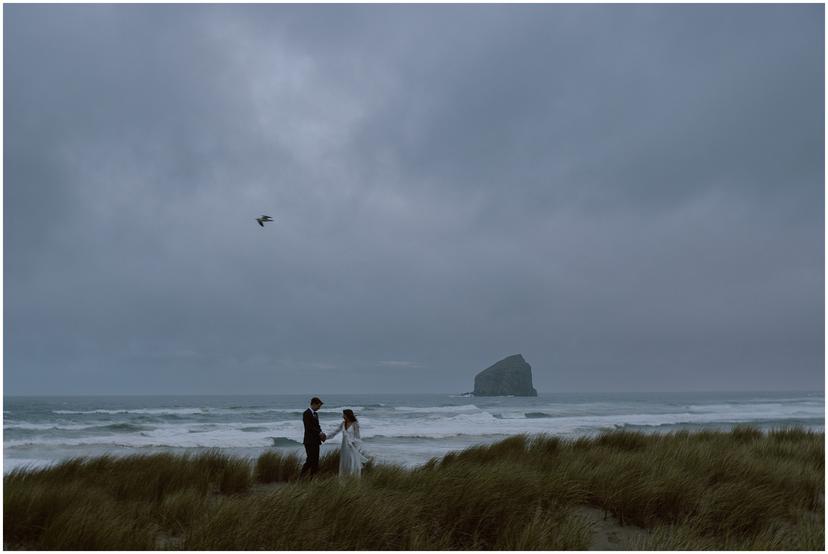 Pacific City Elopement
Sometimes, the worst weather makes the best photos. This was one of those days. I am obsessed with these moody, rainy, wild images. Embarrassingly, this is some of my favorite type of weather to work in.
Emily and Taylor originally planned for their Pacific City elopement to take place on the beach, but Oregon weather had other ideas. It was cold, raining nonstop, and the wind was howling at around 18 mph. Spending just a few minutes outside was miserable. So, on the morning of their wedding, Emily and Taylor changed their plans. I ended up coming out to the coast an hour early, and we were able to use Pelican Brewery's event space for a brief 45 minutes for the ceremony. The cozy indoor space with the fireplace was perfect for saying their vows. As a bonus - as soon as we finished, the rain let up (mostly) for some moody couples portraits around Cape Kiwanda. I even drove the couple out onto the beach at high tide in my SUV for some fun portraits on the back side of the cape. It was quite the adventure.
The rest of the evening was spent enjoying a 3 course dinner by The Culinary Concierge at Emily and Taylor's stunning beachfront rental house. It was delightful.
PS - for those wondering, yes, you CAN get all the sand and water out of a wedding dress by using a hair dryer. We did this after our first set of outdoor beach portraits, and Emily's dress was like new again for the rest of the night! So, if it's rainy on your beach wedding day, packing a blow-dryer is a must!