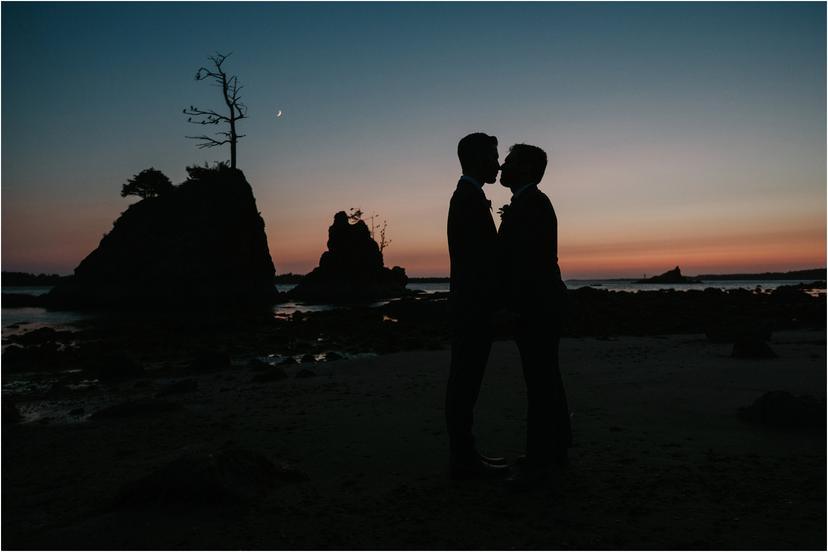 Old Mill Event Center Garibaldi Oregon Wedding
It was one of those rare hot days on the Oregon Coast. But it didn't stop Cole and Sylvan from having one heck of a beautiful wedding day at the Old Mill RV Park and Event Center in Garibaldi.
The historic lodge was filled with purple flowers, wood paneling, and many, MANY tears that day.
Cole and Sylvan both grew up in smaller rural towns (Cole in Oregon and Sylvan in Montana). Both of them have been through A LOT in their lives, especially when they came out as gay. I don't want to share too much because their stories are private (and honestly not mine to share!), but I will say this. Their day was one of the most emotional weddings I have ever attended. It was beautiful and joyful, but also challenging. Family members that initially weren't planning on coming due to religious reasons decided to go and support them at the last minute. It was a whirlwind of emotions, and I cried more than once as I witnessed it all.
Despite the intensity, the hot weather, and all the tears, Cole and Sylvan seemed totally in tune with each other the ENTIRE day. Their love is playful, silly, lighthearted, and fun. I LOVED hanging out with them and goofing off while we took portraits. They balance each other so perfectly, and it was an honor to be their wedding photographer!
Why did you choose the Old Mill RV Park and Event Center as your venue? What did you love about it?
"We loved the old, rustic vibe of the lodge, and appreciated that it wouldn't need as much decoration as other venues. It was also sentimental for Cole, as many of his high school dances were there, and it certainly helped that it was close to family and more affordable than other venues (especially considering we got the venue for three full days)."
What was your favorite memory from the wedding?
"Sylvan's favorite memory was getting to hear all the toasts and wonderful things our friends and family had to say. Cole's favorite memory was the first look because Sylvan looked DAMN good in his suit, and he could breathe again once they were back together for the rest of the day."
What was your favorite thing about getting married on the Oregon Coast?
"THE SUNSET PHOTOS! The ocean provides a great backdrop, plus it's not as hot as it could be in other places."
Do you have any advice for other couples planning weddings on the Oregon Coast?
"Our advice would be to check into vendors first as you have more limited options on the coast, and travel fees from elsewhere can be expensive. Of course, we loved all the work our vendors did, but it's certainly something to consider.
"Lodging can also be expensive at that time of year, so it may deter guests who are already traveling far distances. And my personal thing (Cole), is that outdoor weddings can be hit or miss if you're RIGHT on the coast. Even if it's sunny, it can still be very windy.
Any other advice for engaged couples?
"The best advice for us day of was to be in the moment because it all goes by so fast. Be there with your loved ones, and if there is anything that you need, don't be afraid to delegate. Your wedding party is there to support you, and they want the day to be as wonderful for you as possible, so they'll make sure what you want is what happens. Once you let go of that, the day is waaaaaay less stressful!
"Some things may not come out exactly as intended, but if you don't make a big deal out of it, your guests will never know (unless it's something catastrophic lol).
Tell me about why you chose your decor and what you loved about your vendors!
"For decoration, we mainly used flowers since the old building provided so much character. We went with hydrangeas because they're cheap, and if you order them white from your florist, they can use floral paint to make them whatever color you want.
"We chose the color scheme we did because purple is Cole's favorite color… originally Sylvan wanted to do white, but then we thought it would be more difficult for the girls to match the colors of their dresses, so we went with gray since it complements purple nicely.
"Although our suits matched, we changed it up with our ties and vests so that they coordinated, but we each still had a bit of freedom for some creativity.
"If you're getting married near Tillamook, we recommend Papa Bear Catering as they were so flexible and gracious with us, and they truly worked hard to make the food exactly what we wanted. And make sure there is someone to help transitions throughout the day (shout out to Katy because you ROCK!!). It was nice to not have to worry about what was happening when and just enjoy the day. "
The Vendors
Venue: Old Mill RV Park and Event Center

Suits: Men's Wearhouse, Joseph Abboud

Florist: Leilani Martin

Officiant: Darin Stewart

Catering: Papa Bear Catering

Dessert: Laura Miles, friend and employee, and Jaciva Bakery

DJ: Mike Bentley

Photography by Katy Weaver Photography
The Slideshow
The Photos