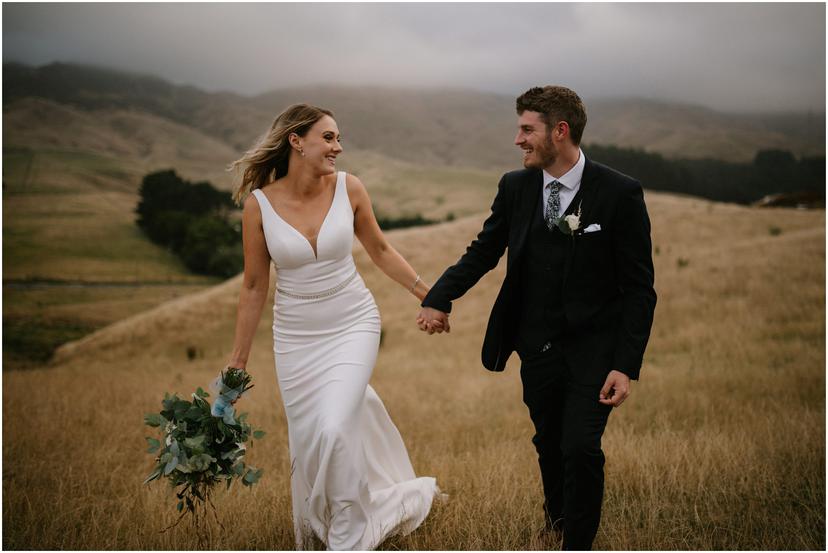 Ohariu Farm Wedding in Wellington, New Zealand
Dramatic views? Check. Green windswept hillsides dotted with sheep? Check. Kiwis that know how to throw one heck of a party? CHECK. This Ohariu Farm wedding had it all. Emily and Charlie's wedding perfectly represented their cross-continental, American-New Zealand love story. Their day was full of laughter and playful energy. The wind was blowing as fast as the wine was flowing, and their guests had an absolute blast. It was an honor to be there!
About the couple
Decades ago, Emily's dad and Charlie's dad met at university when they were young. They became close friends, went on many adventures, and got into lots of trouble together. Fast forward a few years, and both men found wives, got married, and had kids. One had a daughter, the other had a son. Their babies knew each other when they were young, but then Emily's family moved to America. Emily tells it best in her own words:
"Charlie and Emily were introduced as little babies back in 1992. For the next two decades they saw each other irregularly on Emily's family visits back to New Zealand. It wasn't until 2014 that they reconnected at a dinner party Charlie's family invited Emily to attend while she was in New Zealand after graduating from college. "He had me at "hello,"" Emily recalls, laughing.
So, Emily, the New Zealander turned American, fell head-over-heels and moved back to New Zealand.
"We complement each other so well, which makes us a great team," she said. "We are really two wholes that come together to make something even more magnificent."
Charlie loves to hear Emily's laugh and is always looking for ways to bring more laughter and joy into their lives. Emily loves Charlie's loyalty as a friend, family member, and partner. "He is so generous and makes everyone feel that they are a priority in his life."
Their love story was exciting to me personally, because I've known Emily since she was 12! She befriended my younger twin sisters when she first moved to the states, and they have been close ever since. I remember photographing Emily when I got my first camera and goofing off with her at my sisters' birthday parties. They are still incredibly close today, and my sisters were both bridesmaids in the wedding! It was so fun to be there as a family friend AND the photographer.
About Ohariu Farm Weddings
Ohariu Farm is located about 25 minutes north of Wellington, New Zealand. The farm sits on a hilltop in the middle of the Ohariu Valley, showcasing stunning views of the quintessential New Zealand farmland. Ohariu Farm is remote enough to feel like you are out in nature but close enough to Wellington that you can easily get ready in the city.
Ohariu Farm is a flexible indoor and outdoor wedding venue with multiple spaces. Their outdoor lawn overlooking the hills is perfect for a wedding ceremony and cocktail hour. Couples can also use the fireplace indoors as an alternative ceremony backdrop, and there is a vast reception hall to keep your guests warm and happy during dinner. The venue also features a wrap-around deck and a spot for a small golf driving range and lawn games. The location is a perfect blend of luxury and country charm.
Best Places to take photos at Ohariu Farm
There are ample photo locations at Ohariu Farm. The main venue area itself has tons of opportunities. It's easy to take photos on the main lawn overlooking the hills, as well as on the deck and indoors. There is excellent indoor lighting near the fireplace/bar for family photos, as well as partial-shade outdoors on the deck stairs. Since the venue gets quite windy, these protected locations are helpful when people want to keep their hair tidy and don't want to look overly windswept.
If you venture further, there are multiple paddocks accessible for photography around the venue. You just need to make sure you close every single gate behind you, so the sheep don't escape! We used pastures on every side of the venue for photos. This included locations along the treeline, in a small valley below the farm, in a forest behind the venue, and on the hill past the parking lot. There are so many locations that look good - it's actually hard to pick just one!
Why choose Ohariu Farm as your wedding venue
"We chose Ohariu Farm as our venue because it felt like home," Emily said. "It was quintessential New Zealand. Ohariu Farm is the perfect experience of kiwi hospitality, particularly in the summertime, with indoor-outdoor flow, beer coming out in wheelbarrows, not to mention the Chef, Nick, is incredible!
"We had a large wedding- and most venues can't hold 150 people, so getting married at Ohariu Farm meant that we could have everyone there we wanted! Our favorite thing about getting married there were the views, rolling hills, and valleys, and the fact everyone could come!"
Favorite wedding memory
Emily: "Seeing your future husband for the first time while you're all done up and finally in your gown comes with so much anticipation! Seeing him for the first time was a favourite memory, but so was walking back down the aisle after the ceremony! (See the photo you took of the fist-pumping- one of our faves!!!!)"
Charlie: "Seeing Emily for the first time doing our first look, and watching her walk down the aisle were the most special memories. But obviously loved the whole day!"
Tips for planning a Wellington, New Zealand wedding
"I used to work in events, so the logistics and details of wedding planning were no problem for me," Emily said. "We didn't hire a coordinator or a planner (our venue provided two coordinators on the day who helped us from the start!!). I found that the biggest thing to focus on was nailing your timeline for the day, because that affects your budget a lot more than anything else, particularly in food and drink. We had a very clean and minimalist style for decor because the natural beauty of our venue and the surroundings were enough as well! Serving food family style helped to remove the desire for unnecessary and clutter decor on tables.
"For any other couples either from Wellington, or greater New Zealand, or those planning a destination wedding, the biggest advice I can give you is to make sure you know the vibe you want and the expectation you have of the venue to deliver on the day and then book it!! December, January, February are PEAK wedding months, plus the summer holidays. If you are planning a wedding anywhere in New Zealand during that time, you will likely have to book it out a year in advance, at least, which makes it very hard to change your mind.
"Lastly, have confidence in all your choices! Vendors can be pushy if they want your business, or if they already have it they can try and push you towards something you may not want. If they are too pushy, maybe they aren't your vendor."
Advice and insight for other couples
"Make an effort to get around to everyone you have invited to be there," Emily said. "Everyone wants a piece of you, so give it to them!"
"Secondly, Charlie and I got the BEST advice from good friends of ours (who traveled from San Diego with their 11-month-old to come to our wedding in NZ!). They said to us, "after the ceremony, hold hands the rest of the night so that you have the same memory of the wedding night." We don't normally do that in any other social situation, and it honestly made our wedding day just that much more special!"
The vendors
Venue: Ohariu Farm

Wedding Dress: Essense of Australia, bought at Alma J Bridal Boutique

Suit: Hallensteins Suit and Barker's shirt

Hair Stylist: Andrew Cobeldick

Makeup Artist: La Belle Amie

Brides shoes: Badgley Mischka

Brides accessories: Nordstrom

Brides rings: The Village Goldsmith

Brides veil: Bella Bridal Veils

Grooms shoes and belt: Three Wise Men

Grooms ring: Michael Hill Jeweller

Pocket squares: Barkers

Florist: Juliette Florist

Officiant: Mark Sullivan

Caterer: Nick Hart at Ohariu Farm

Dessert: Sweet Bakery & Cakery

Band: The Noodles

Wedding Coordinator: Zena Thomas

Invitations: Minted

Signage and Easels: Made Lovely Hire

Linens: The Pretty Prop Shop

Photobooth: HotShot NZ

Table theming: Stylise NZ

Bridesmaid dresses: Shona Joy
The photos