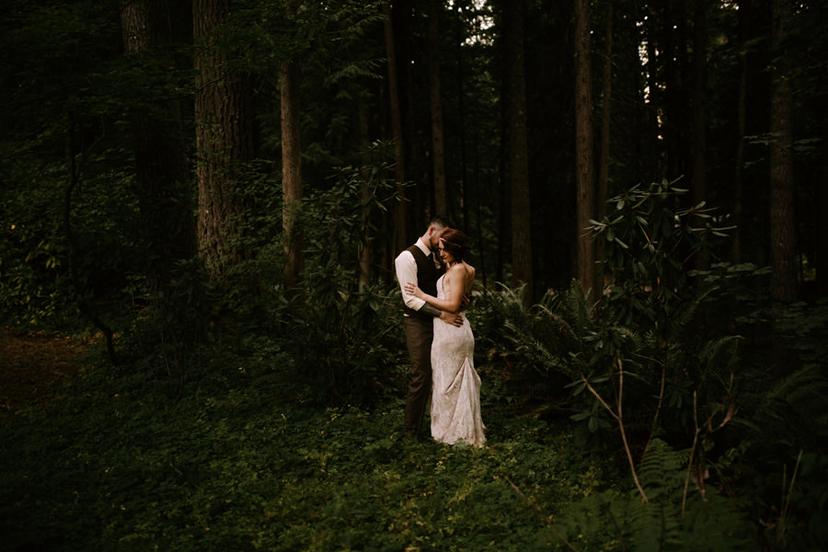 Loloma Lodge Wedding
This Loloma Lodge wedding was unforgettable. Jill and Jesse win the super-cool-couple award. He's a brewer at Ninkasi (one of my FAVORITE breweries) and she owns a kickass salon. They have the cutest dog ever. They are covered in gorgeous tattoos. They are super playful and clearly love each other and their lives so much. So, it was only fitting that their wedding was a total dream. They started their day off with a morning hike to nearby Proxy Falls with their families. Oh my gosh it was GORGEOUS. Even a hive of angry bees couldn't stop us from having a good time. It was so refreshing and such a perfect way to start their laid back wedding day. Then they spent a few hours setting up and getting ready separately before seeing each other for the first time while walking down the aisle. Jesse's reaction to seeing Jill had everyone in tears, and their sweet pup made cute little whimpery noises during the whole ceremony as if he knew something really important was going on. Then they rocked everyones world with TACOS FOR DINNER. So fun!! It was all so special. So relaxed. And so them. Congratulations Jill and Jesse. Thank you so much for choosing me to be there. This wedding was pure joy and one of my favorites I've ever been to!
Where is Loloma Lodge Located?
Loloma Lodge is located one hour east of Eugene, Oregon on highway 126 along the McKenzie River. It's about a 90 minute drive from Bend, and 3-hour drive from the Portland airport. The lodge is tucked away in the Willamette National Forest, surrounded by tall trees, ferns, and a whole lot of wild Pacific Northwest vibes. It's the perfect place to have a Pacific Northwest destination camping wedding.
About Loloma Lodge Weddings
Loloma Lodge showcases all the beauty that the Pacific Northwest and Oregon have to offer. It's riverside location is both romantic and relaxed. Guests can stay in cabins, or camp, and it truly has a summer-camp vibe.
Renting the Loloma Lodge gives you access to their entire property, which includes "the Classic Log Lodge and cabins, kitchens, recreational areas, the entire grounds, ceremony site by the river, garden, lawns and wooded areas, outdoor fire pits, covered stage, carriage house, and more," according to their website. It's truly a Pacific Northwest getaway that will wow your guests, whether they are from Oregon or out of state.
The historic Loloma Lodge itself was built in the early 1930s and it's one of the only remaining buildings in the area from this time period. It has an enormous stone fireplace and 30 foot ceilings. It's a perfect place to get ready before your wedding day!
Photo locations at Loloma Lodge.
There are SO many great places to take photos at Loloma Lodge. The lush forests on the property offer a ton of shade, which makes midday portraits easy. I loved the area near the ceremony site, along the river, and by the little bridge. The cabins are really cute and picturesque for photos as well!
The lodge is a little dark, but that moody vibe adds a lot of character to getting ready photos and portraits.
If you are up for it, Proxy Falls is a short drive (and short hike) away from Loloma Lodge. This couple did a hike there on the morning of their wedding with all their guests - such a stunning way to start the day! If you can build something like this into your timeline, you will love it!
Morning photos on the hike to Proxy Falls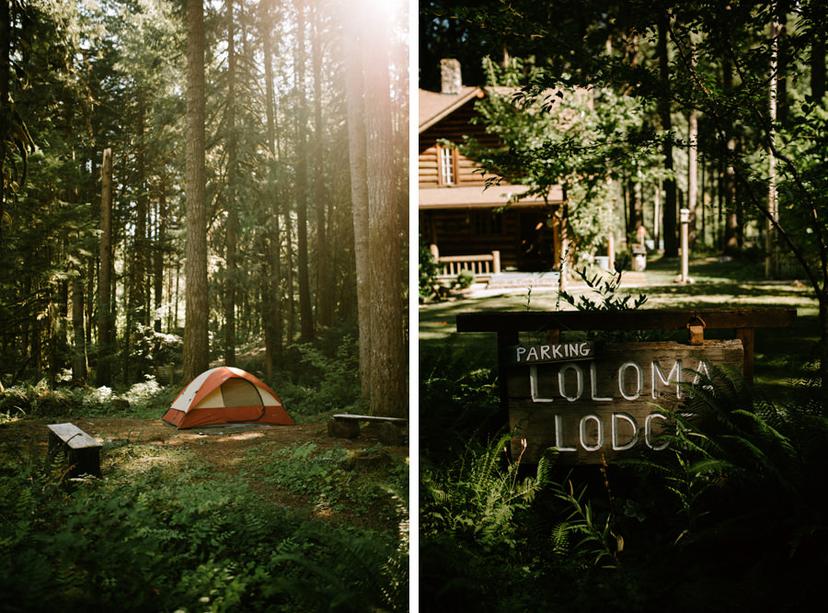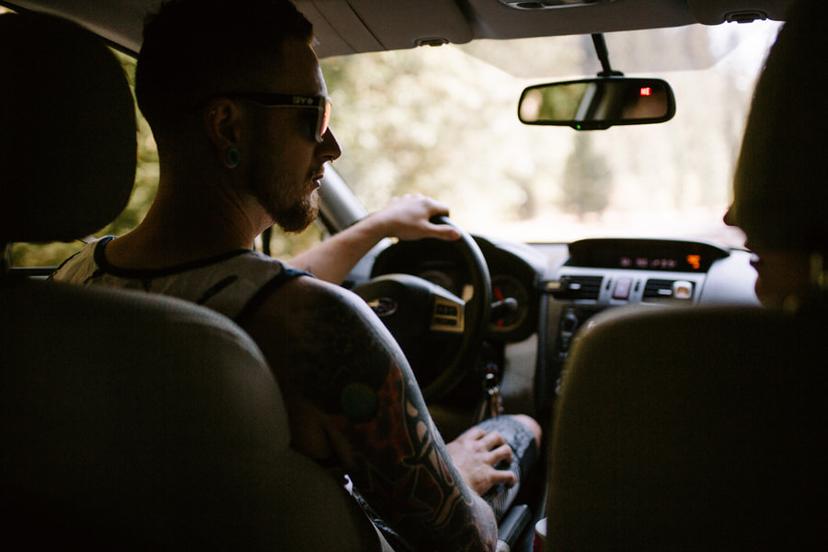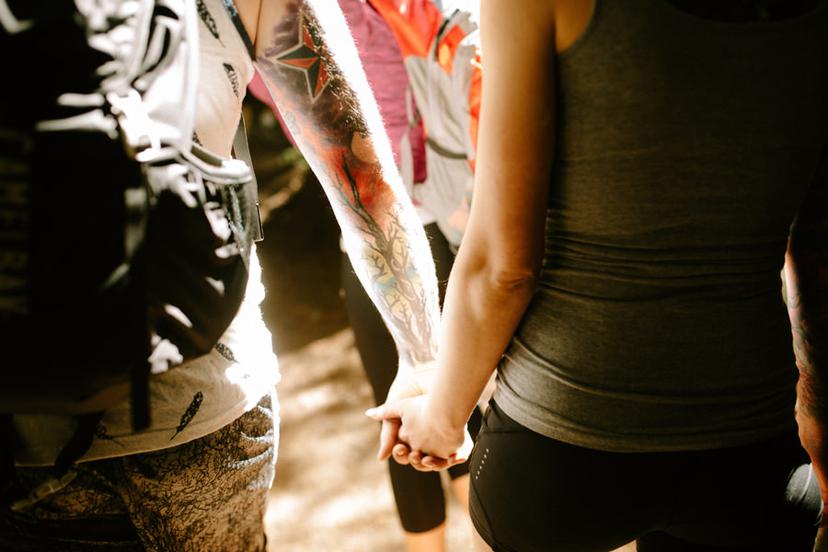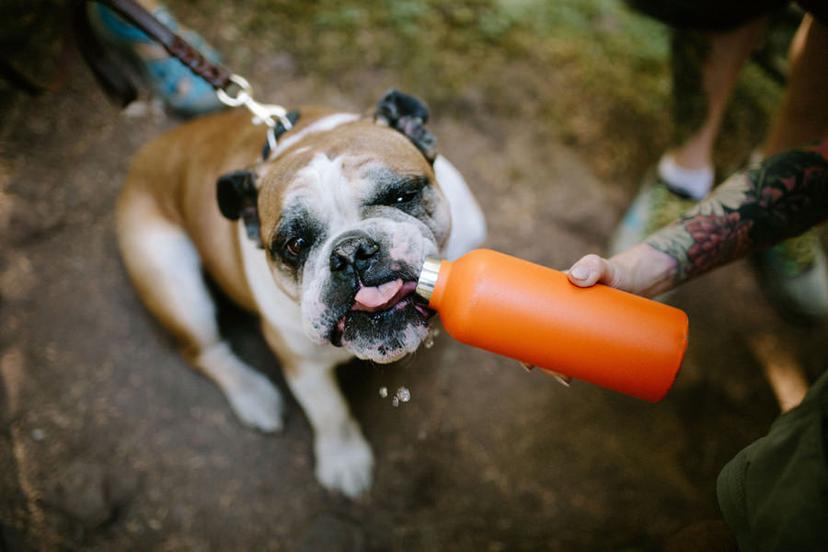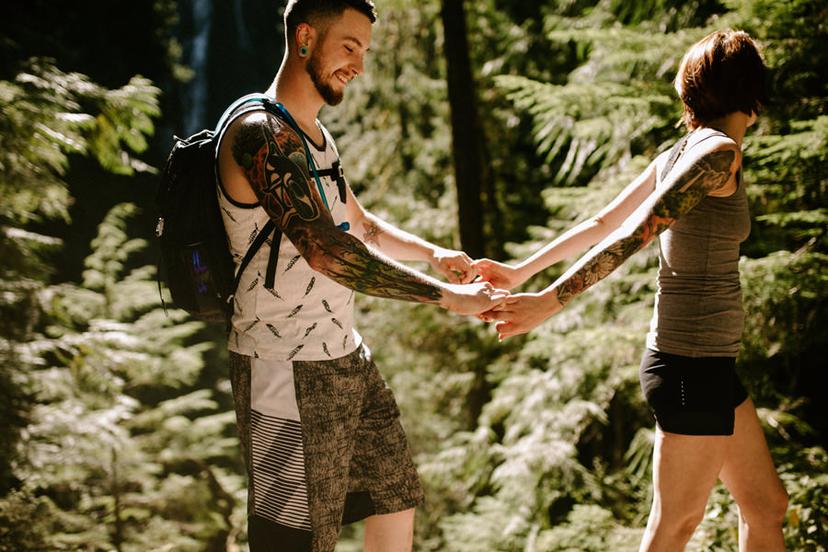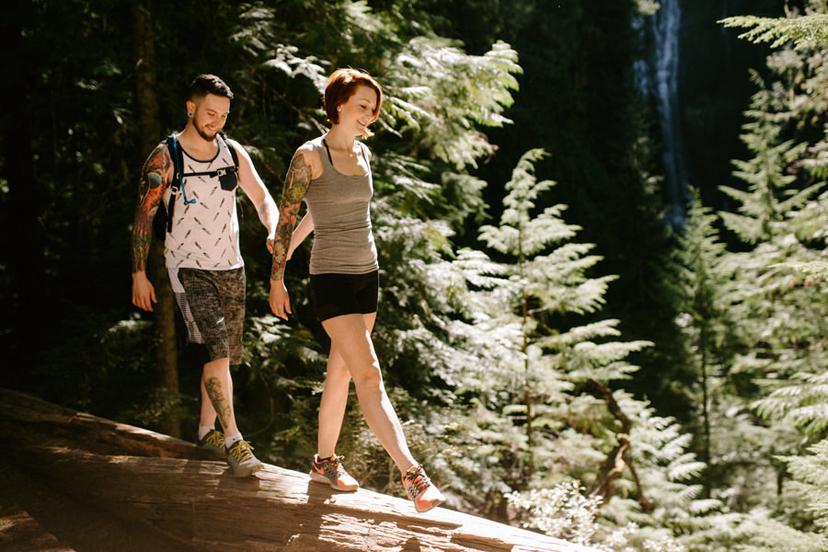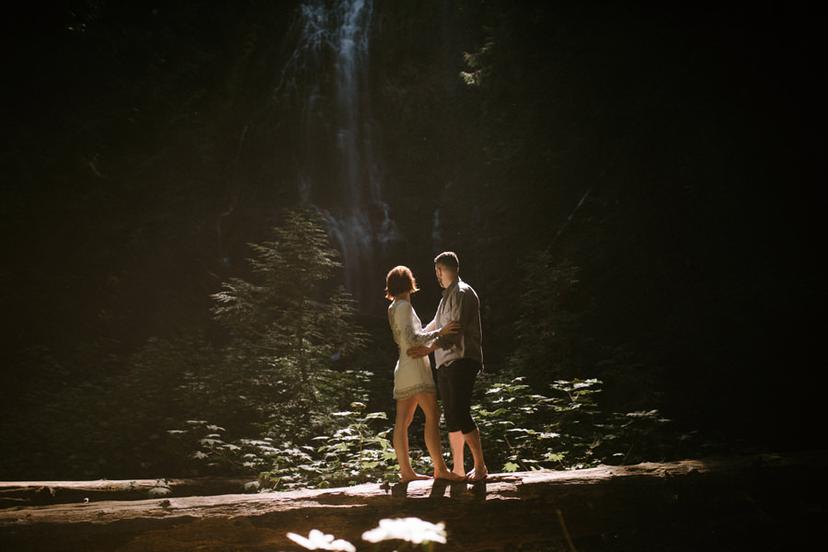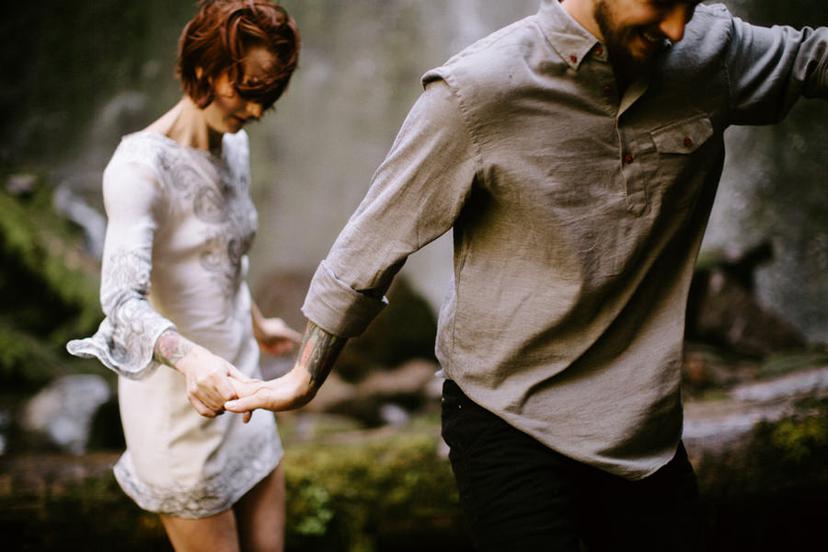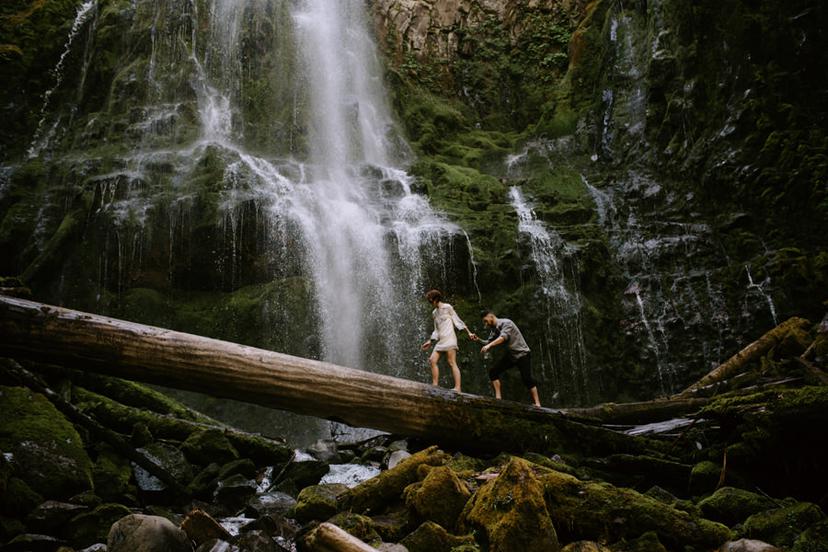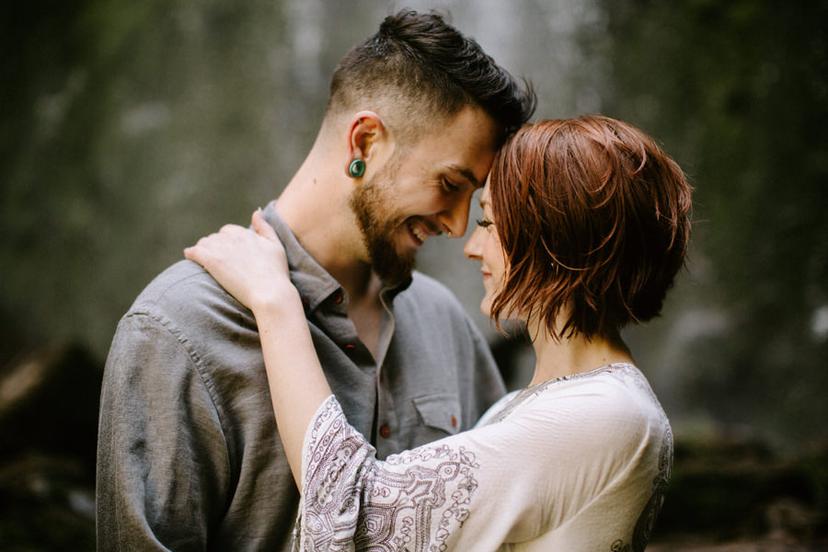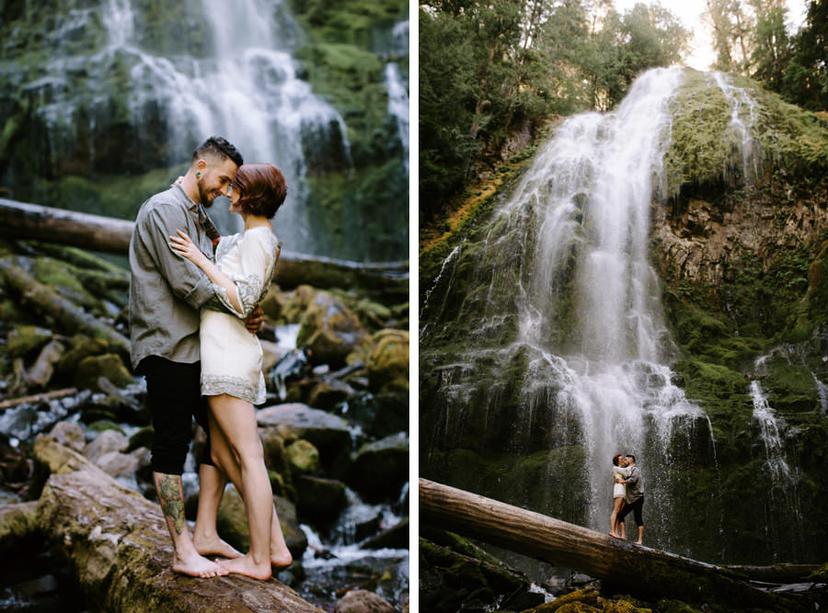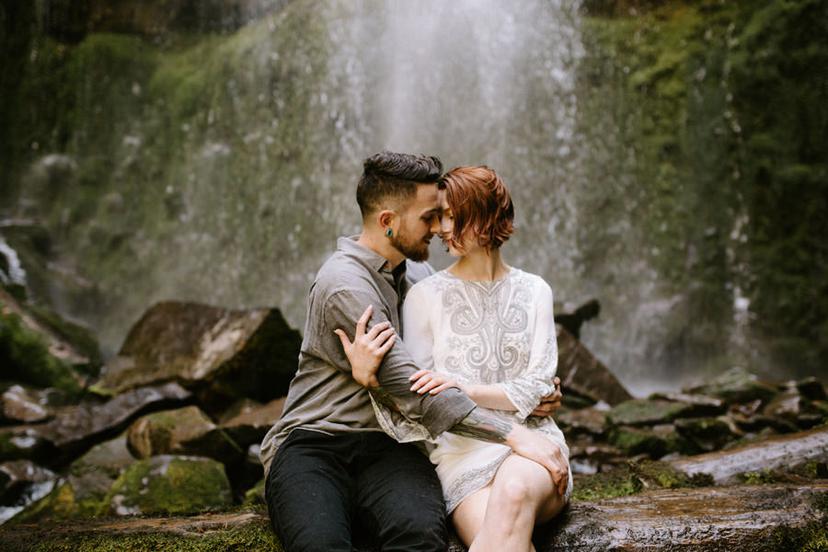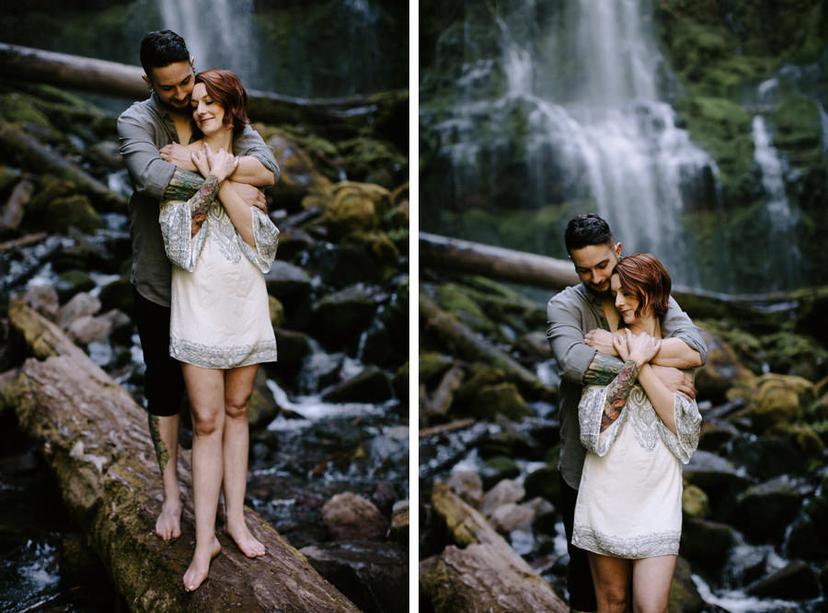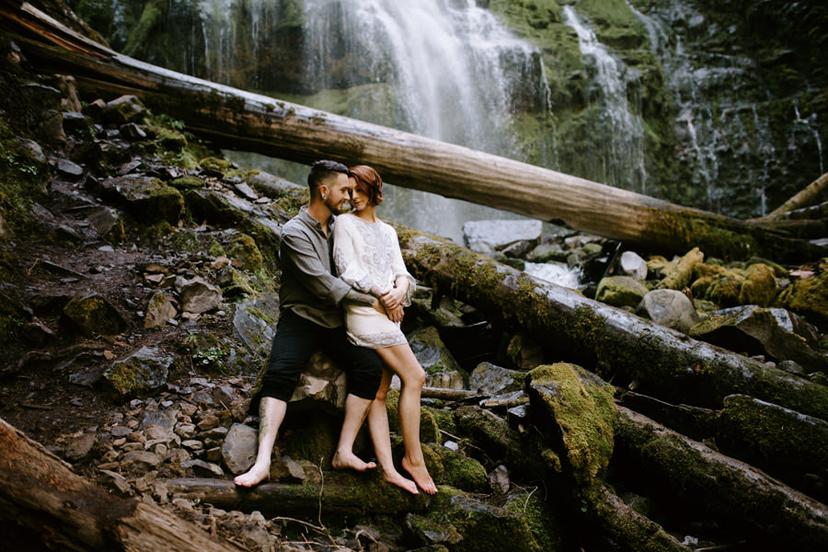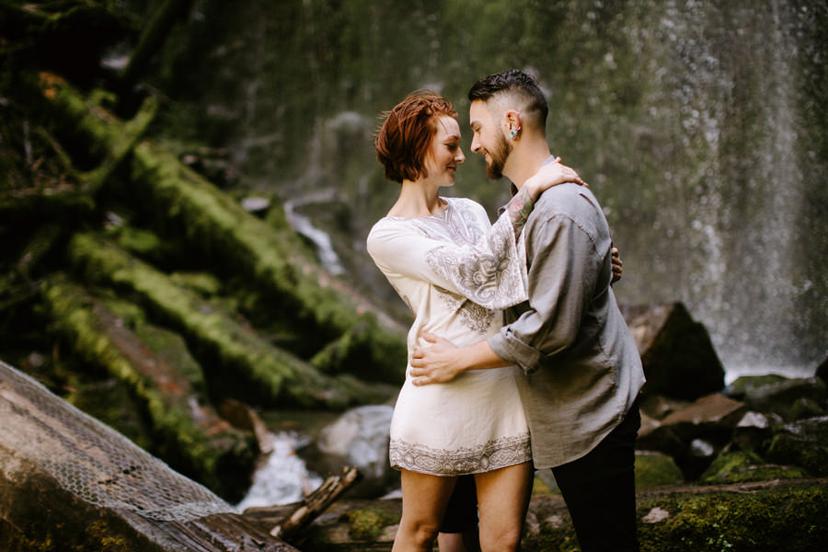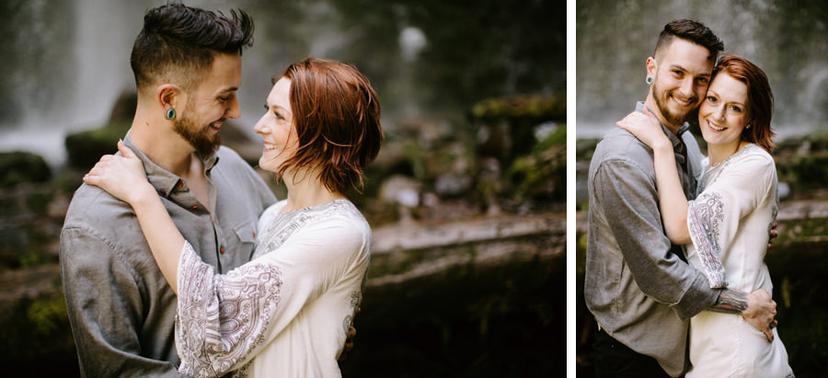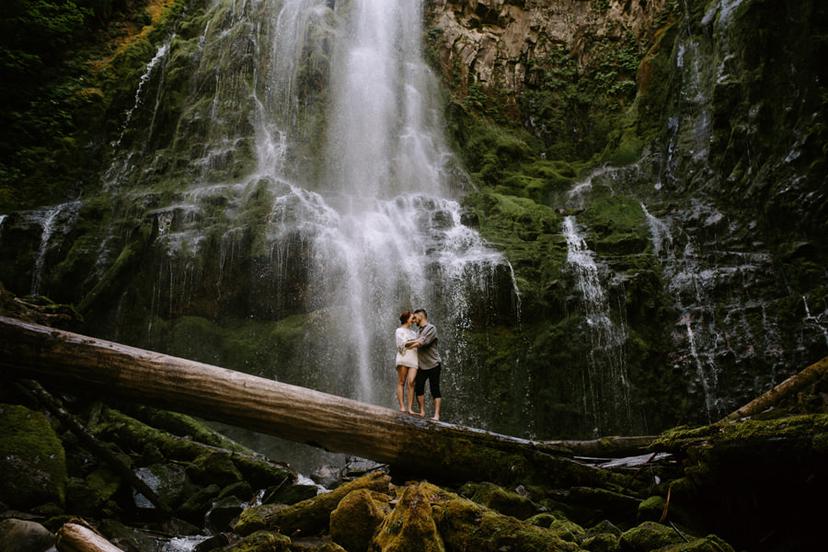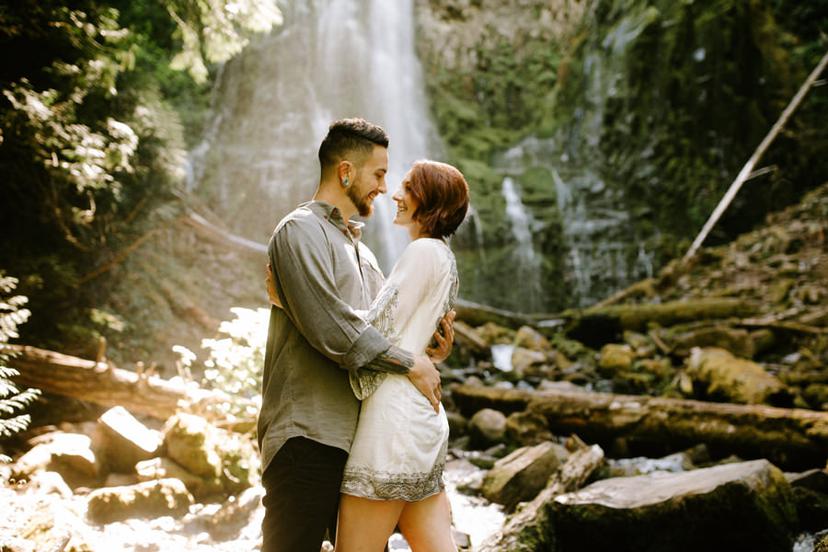 Loloma Lodge Wedding Photos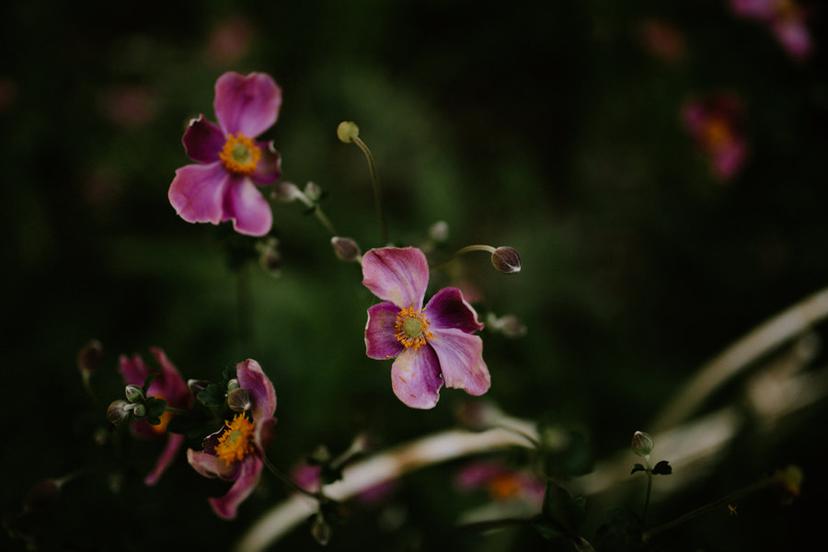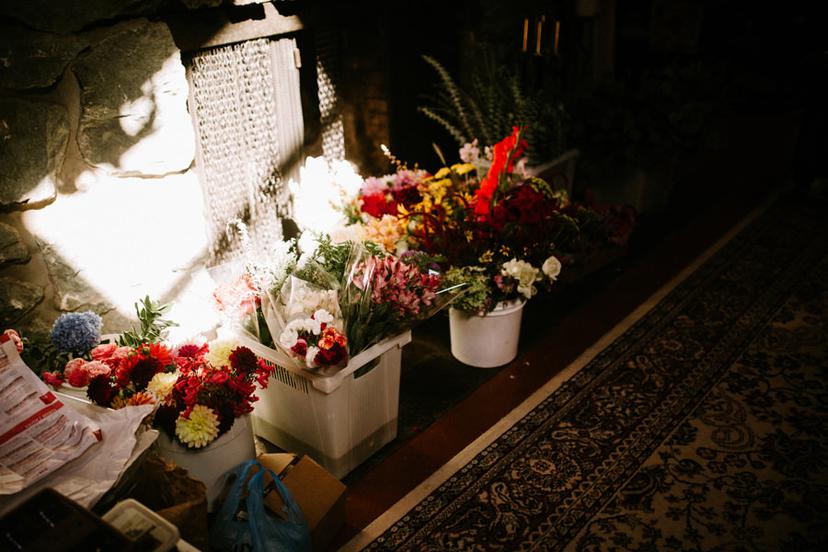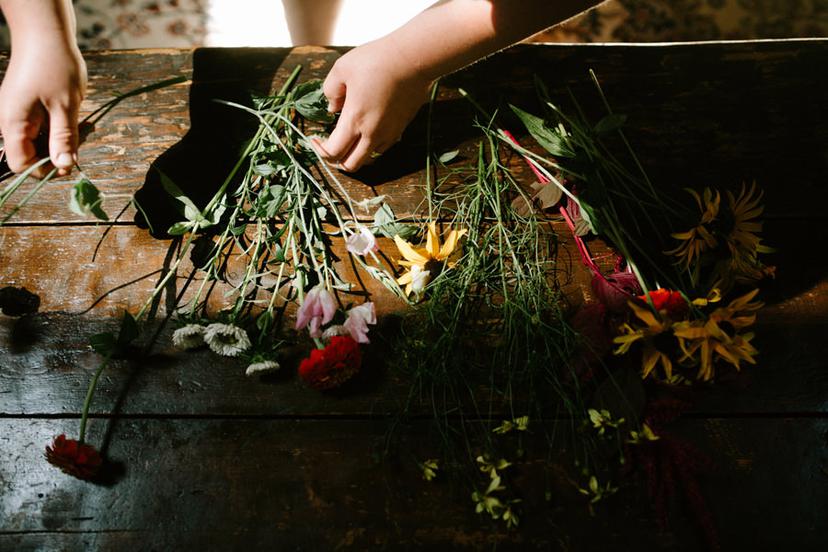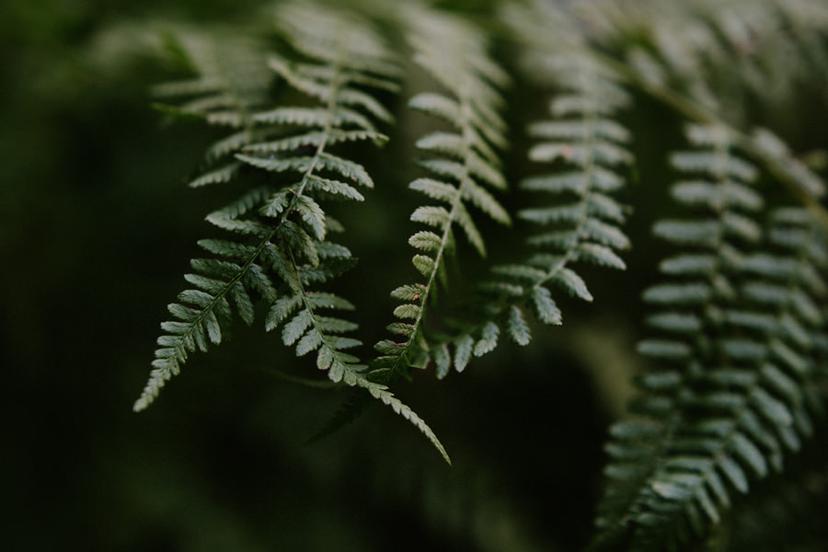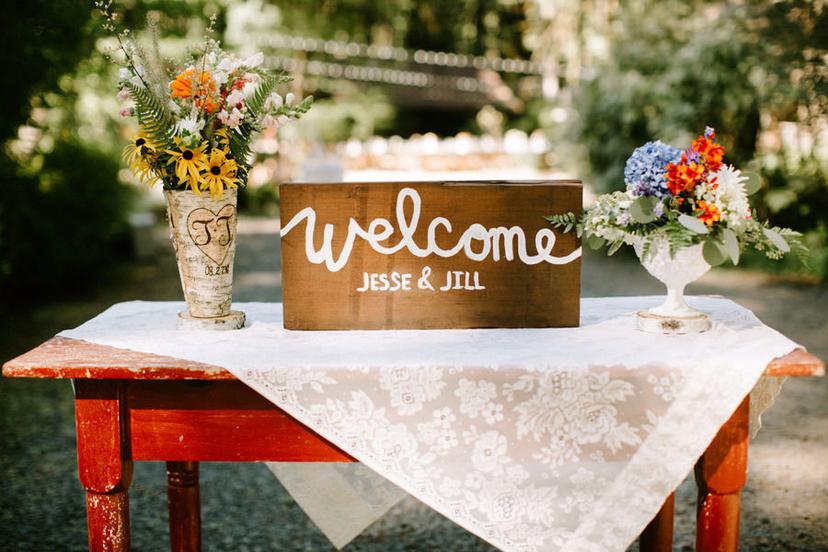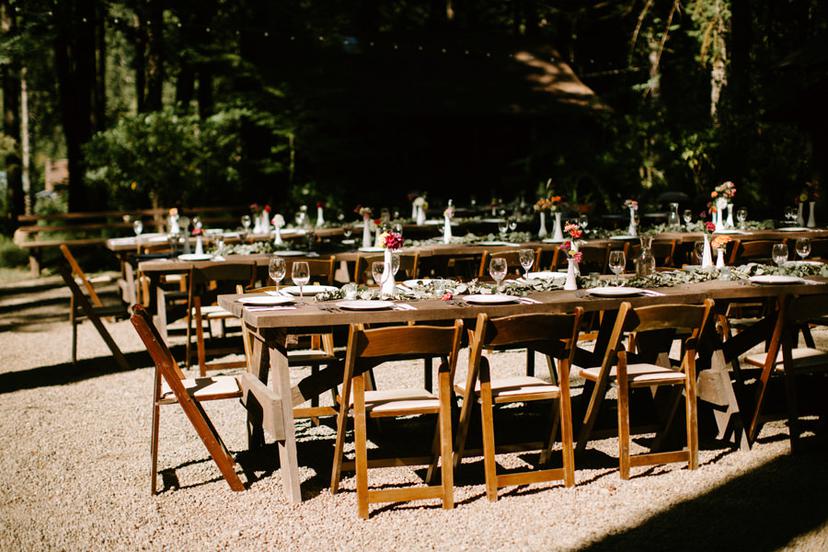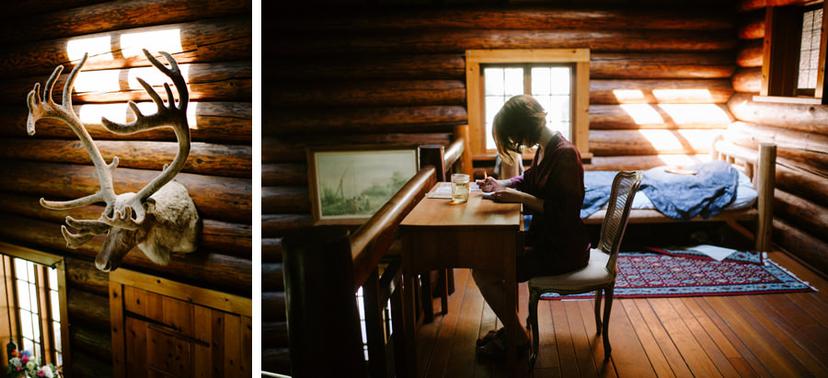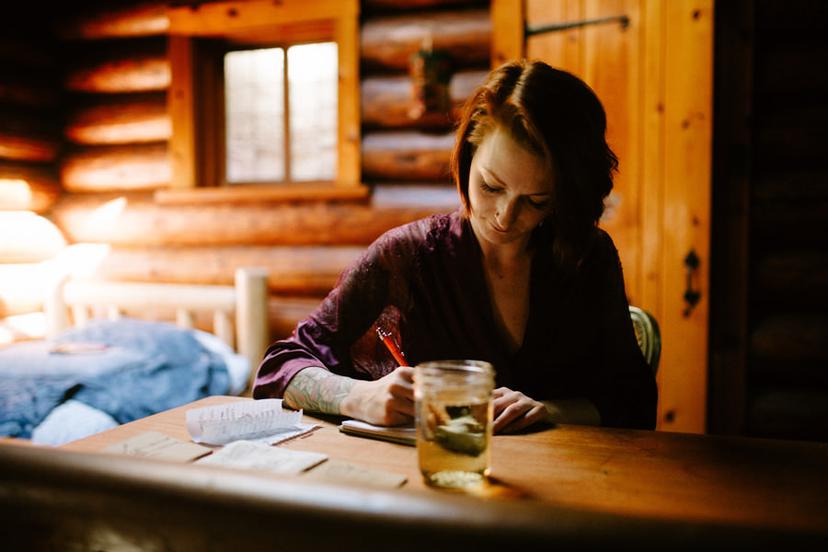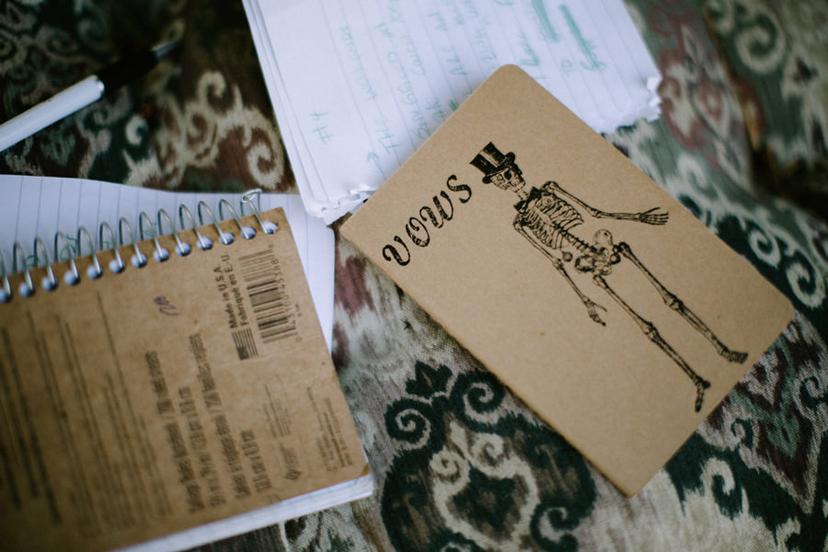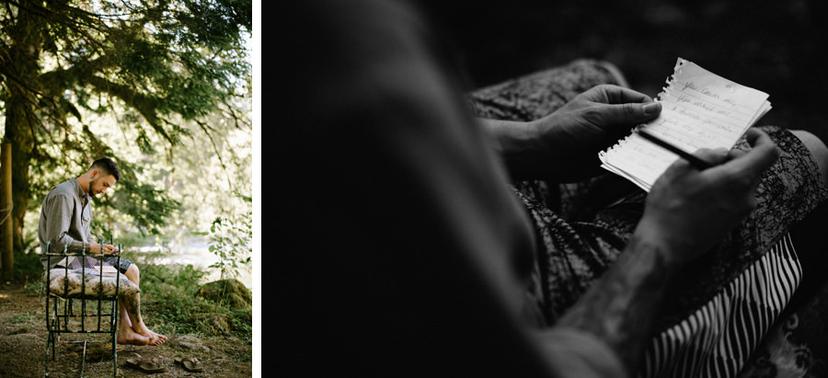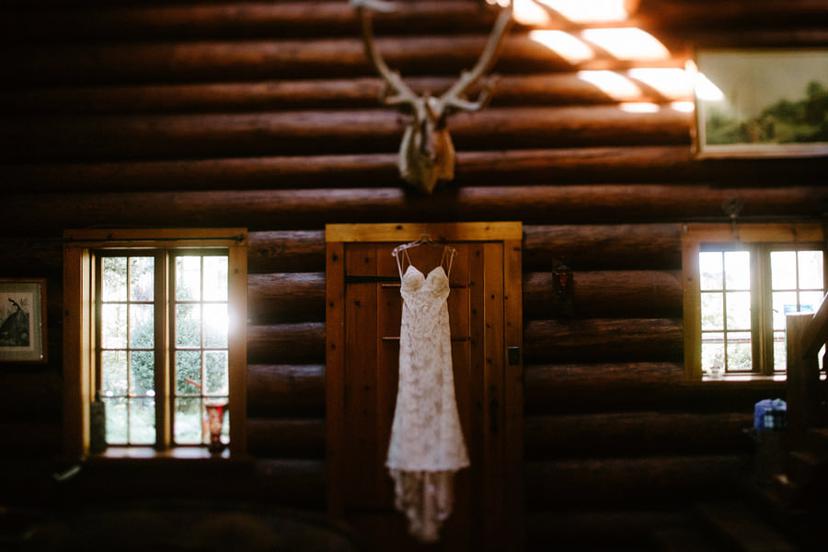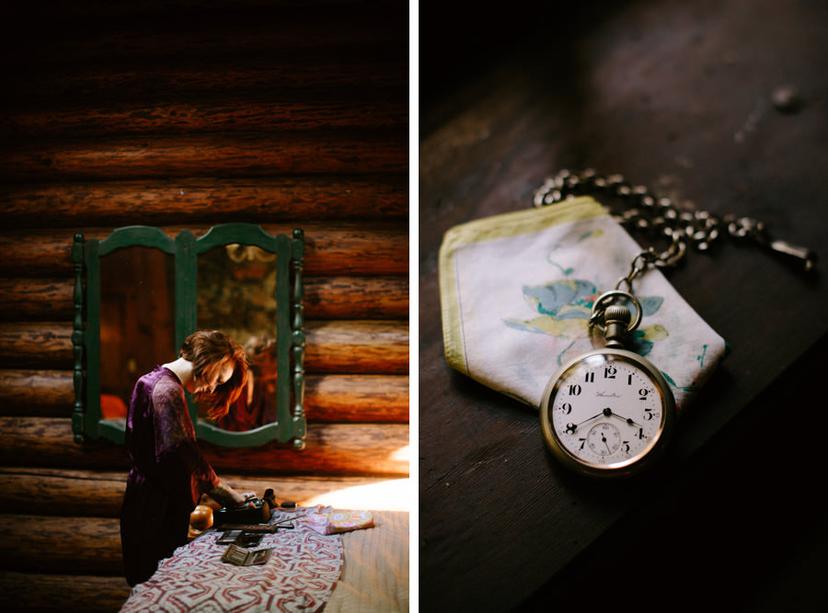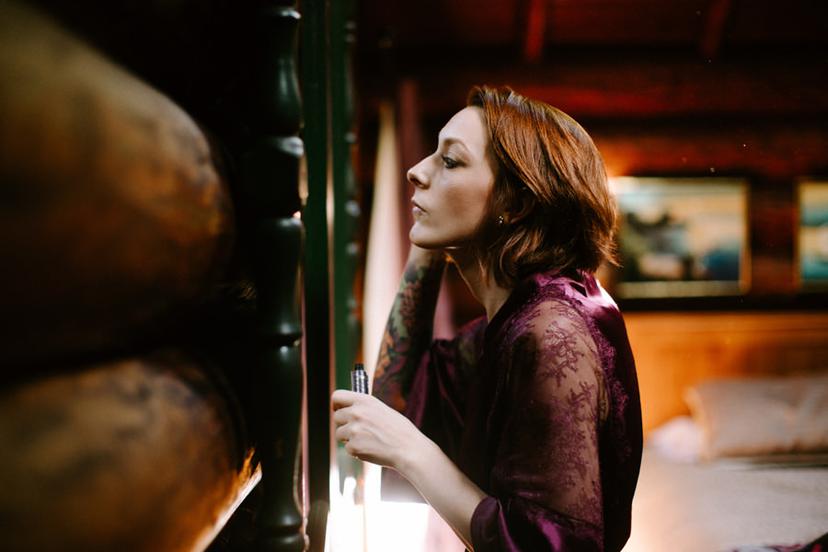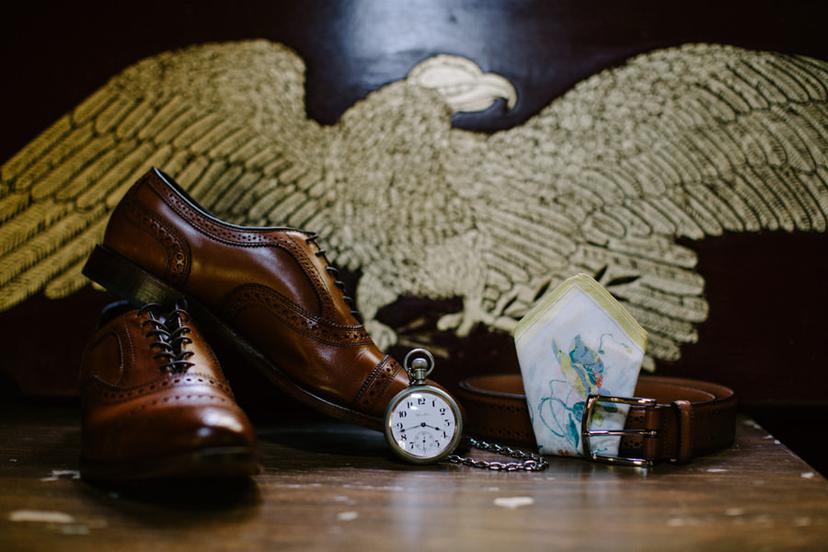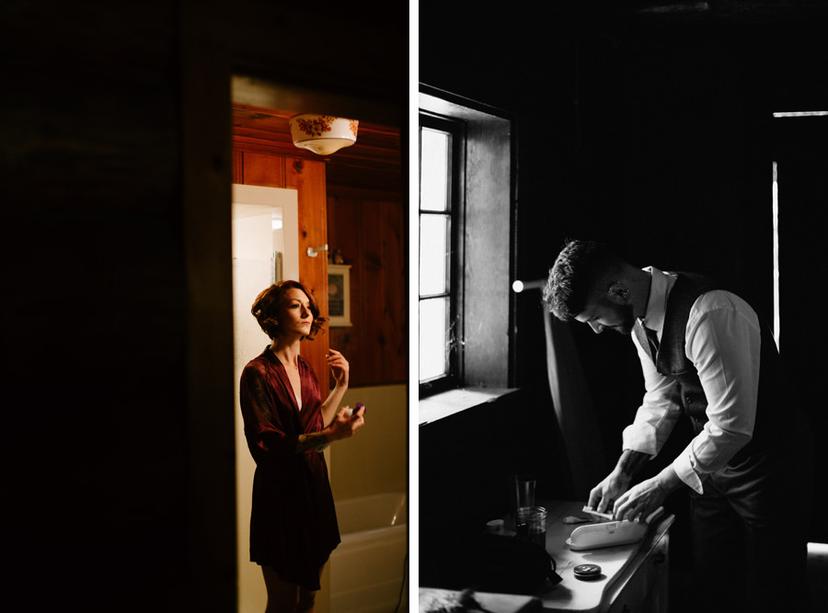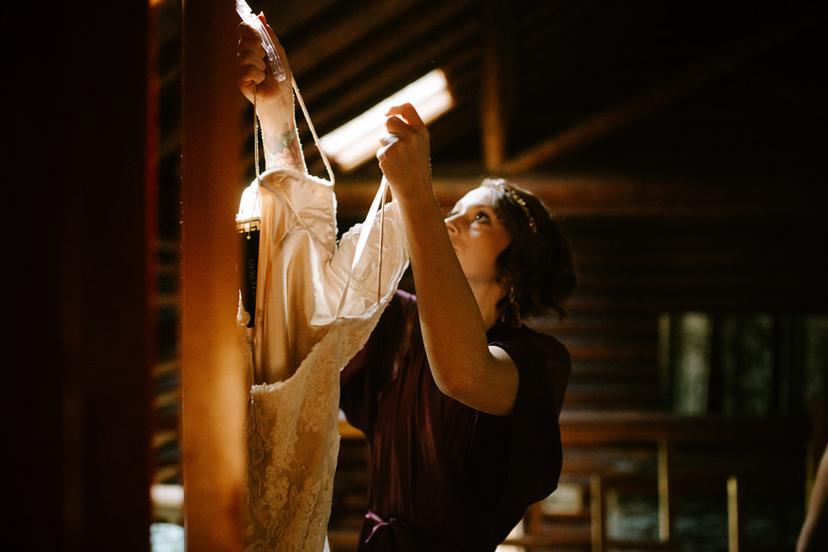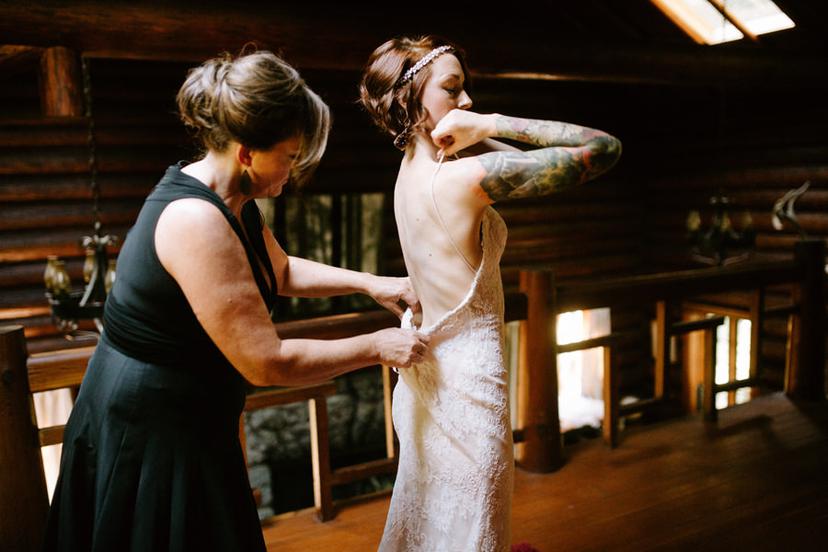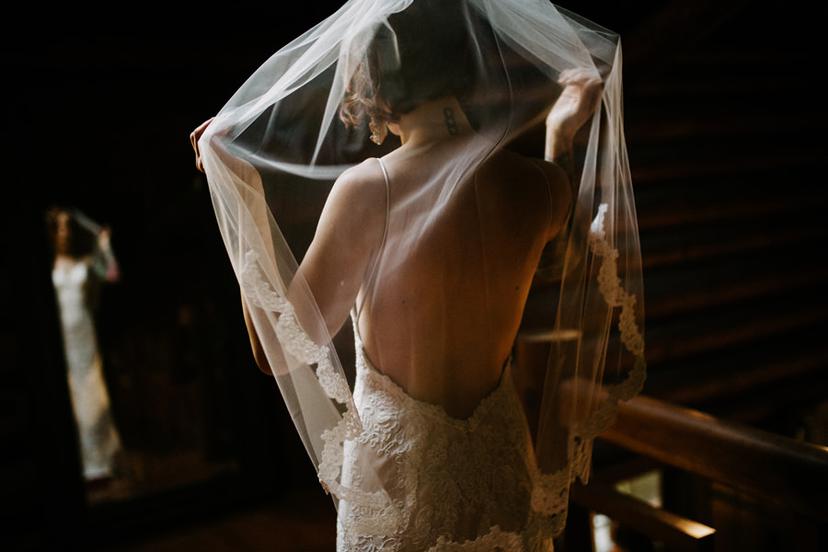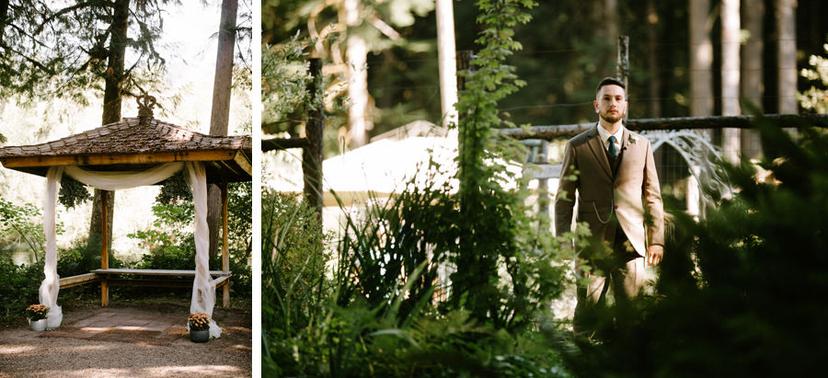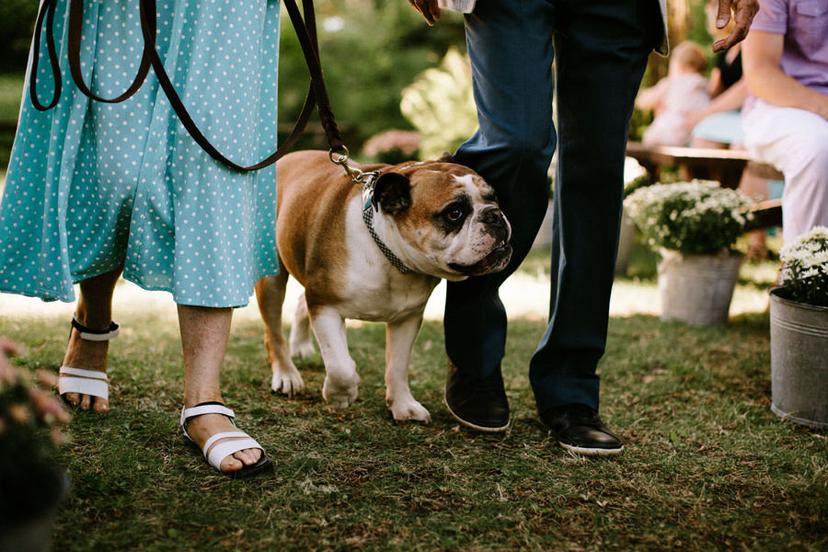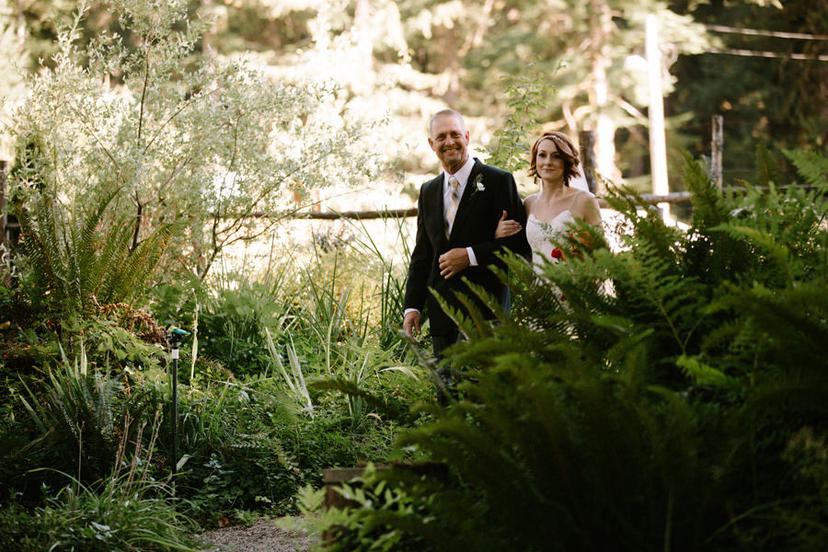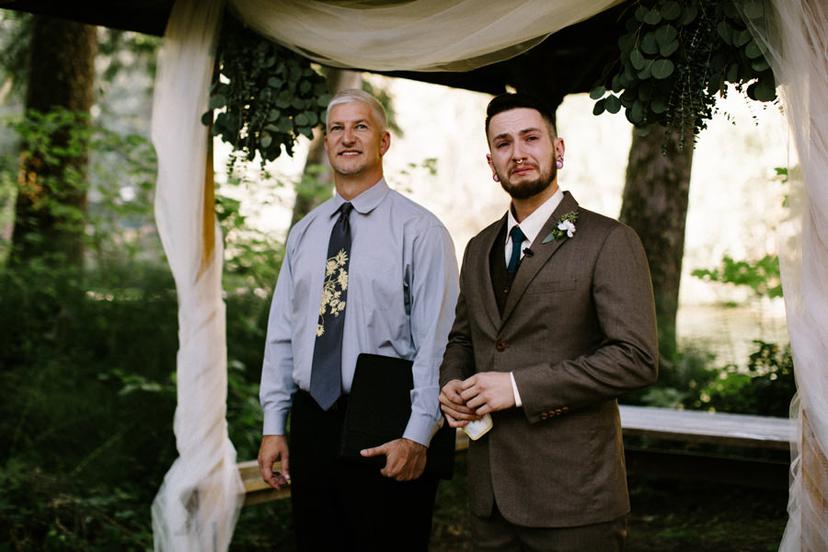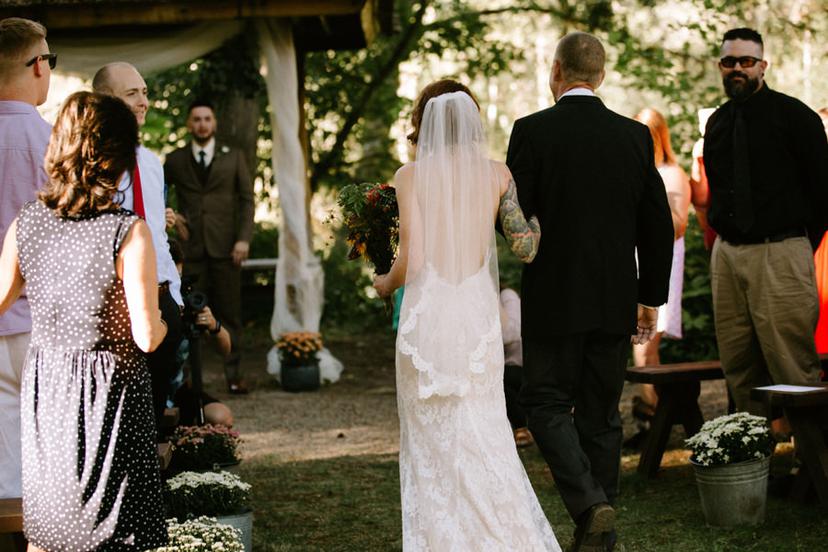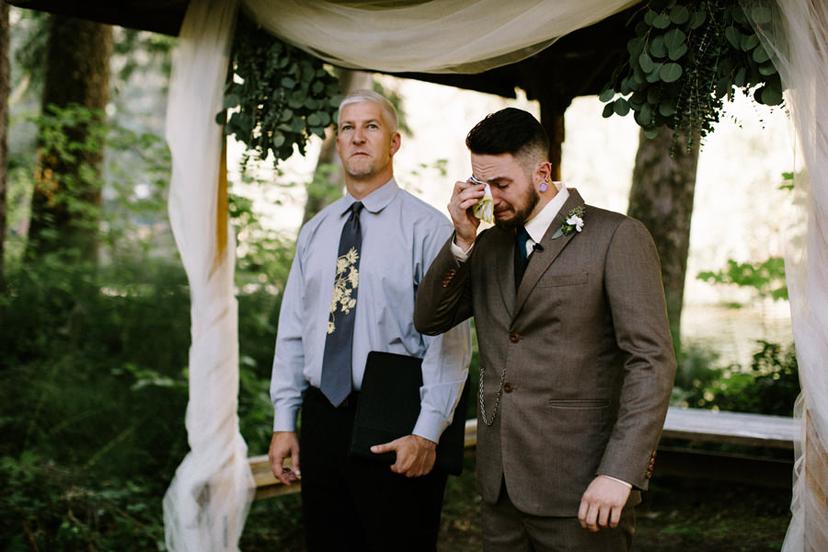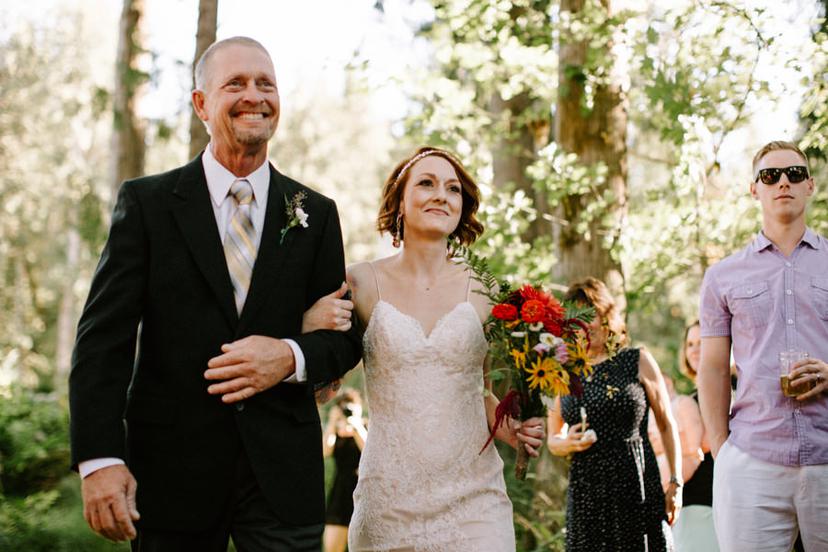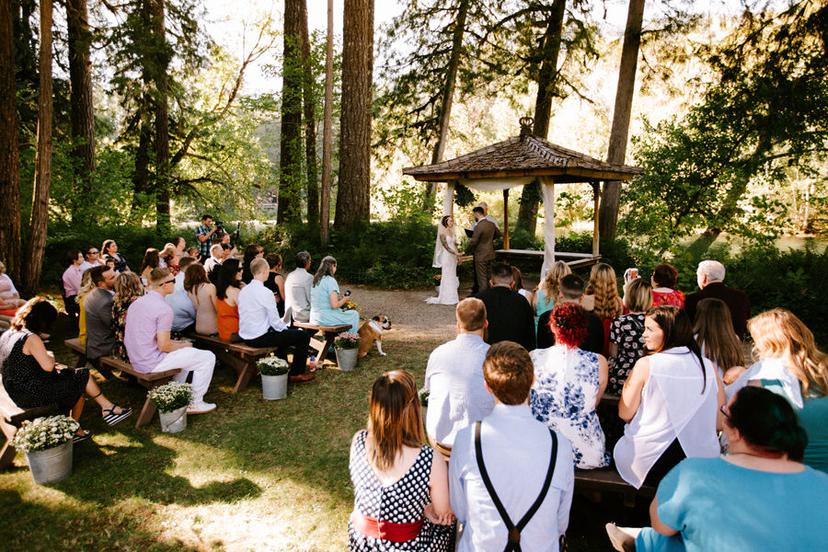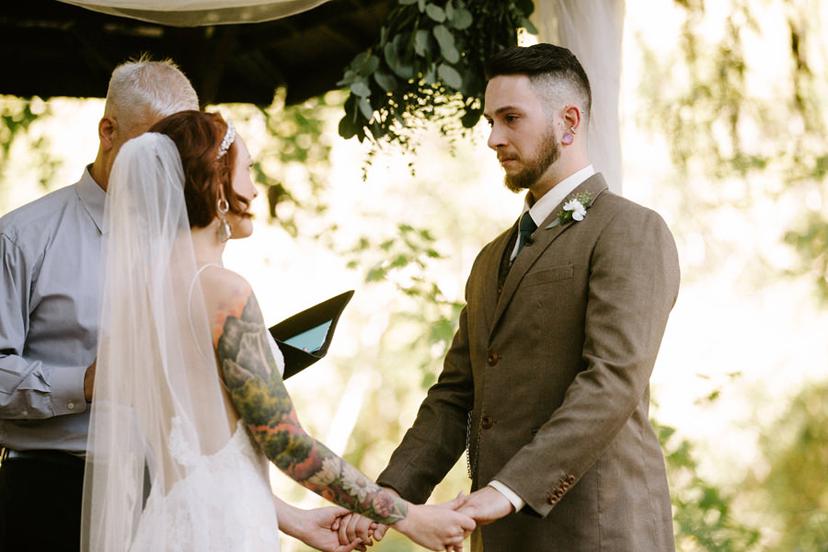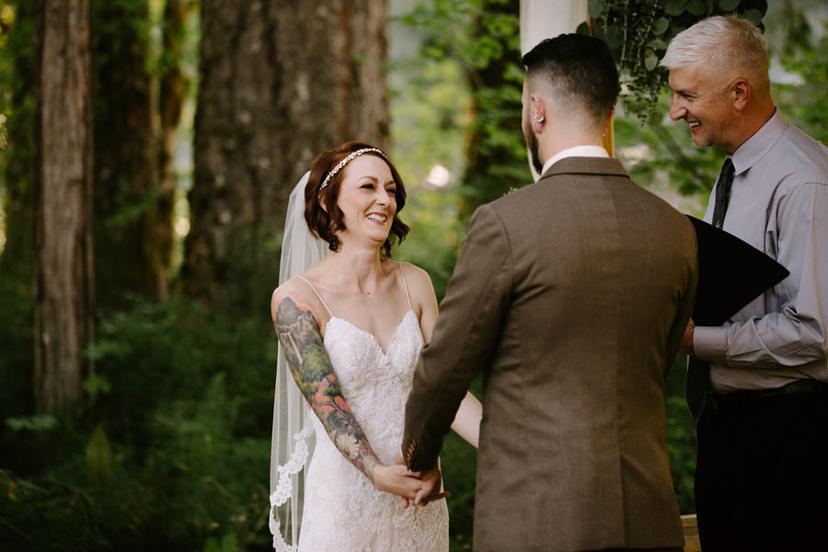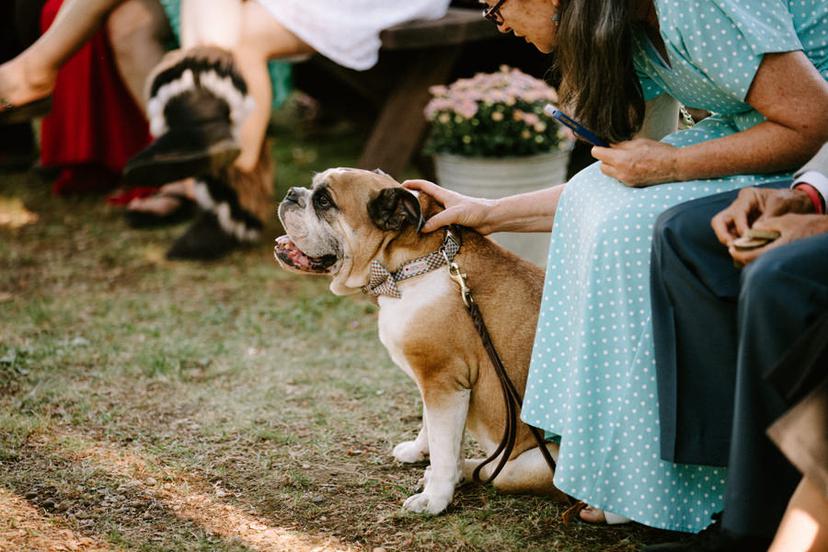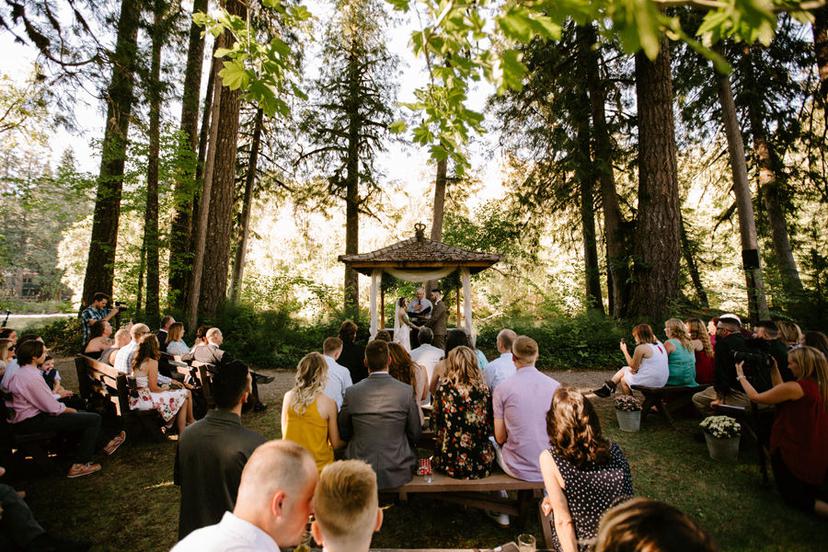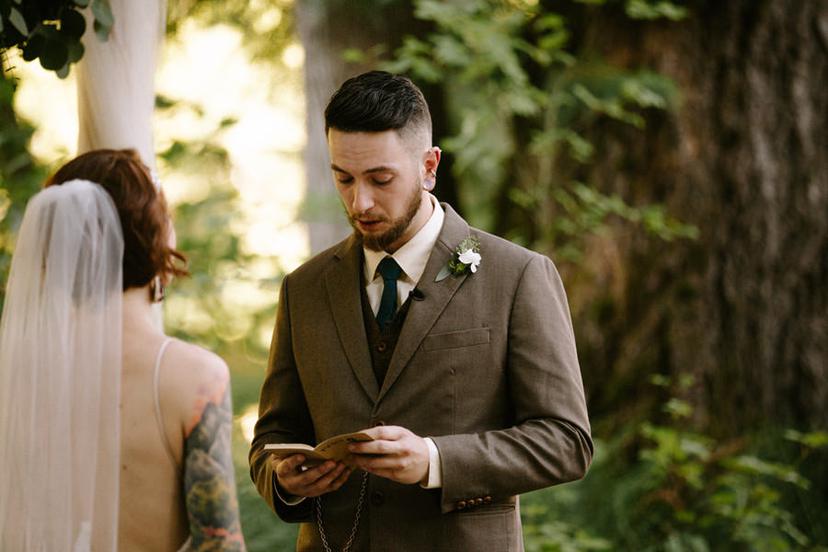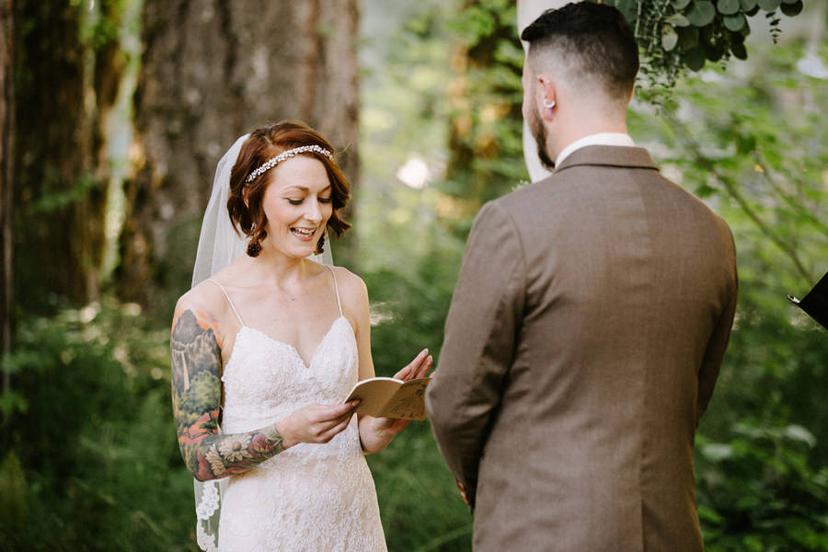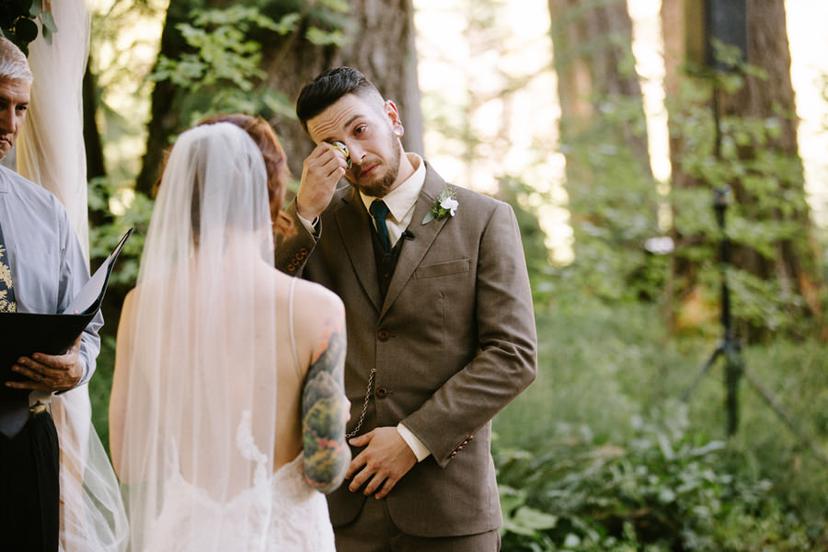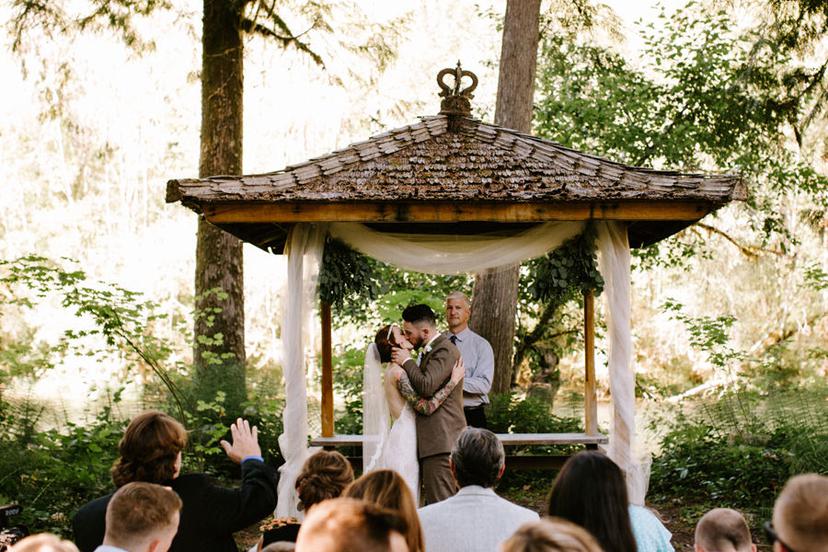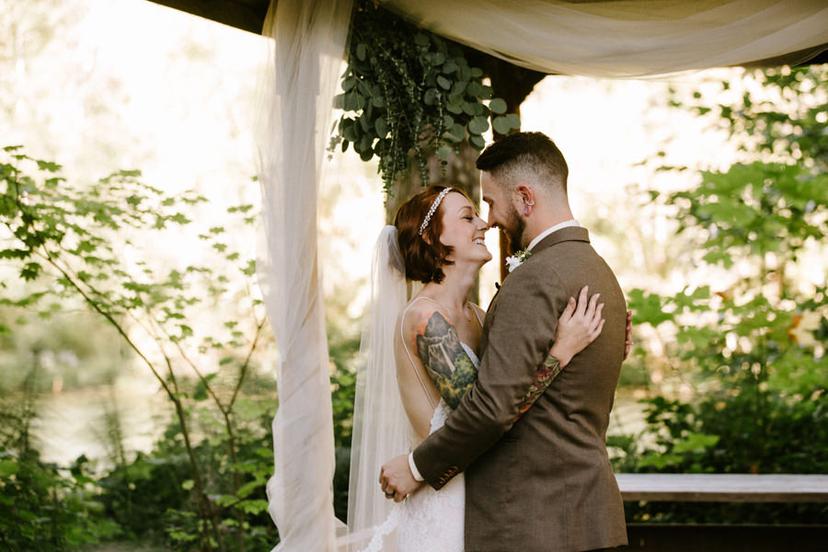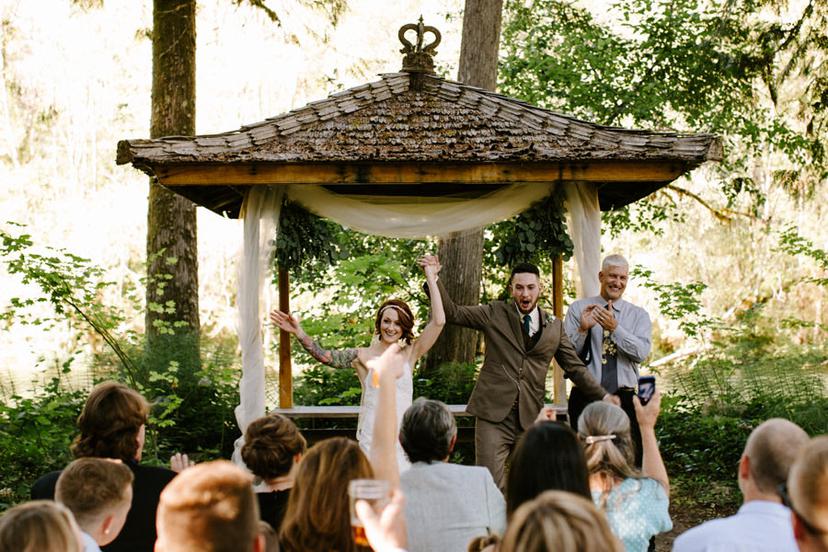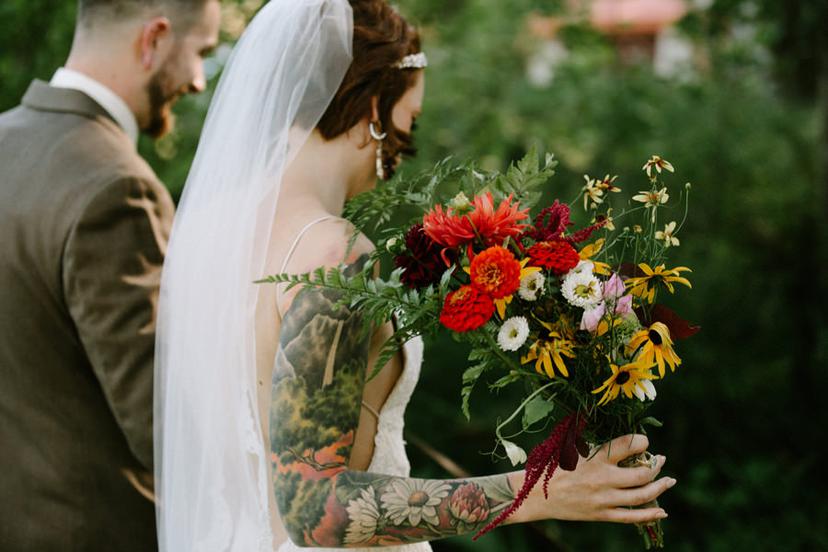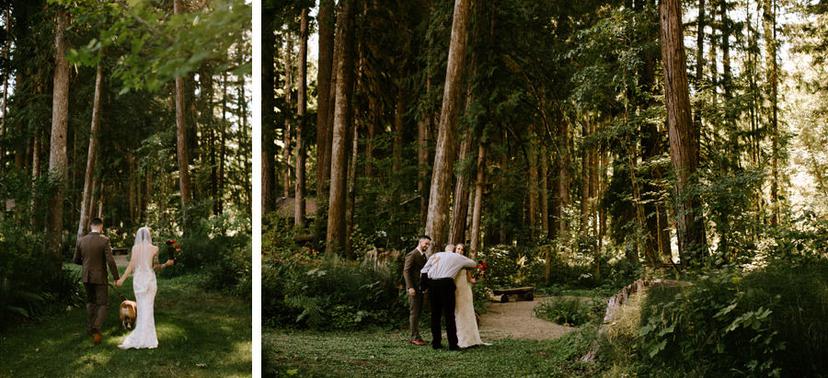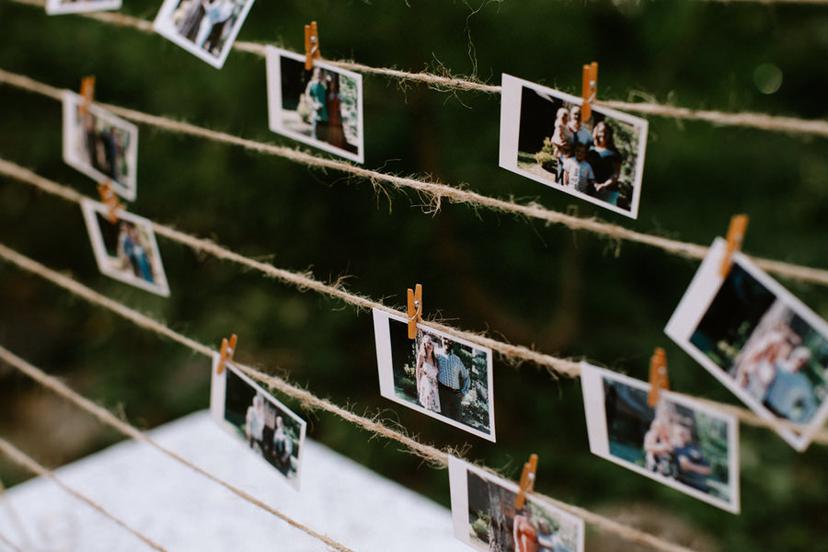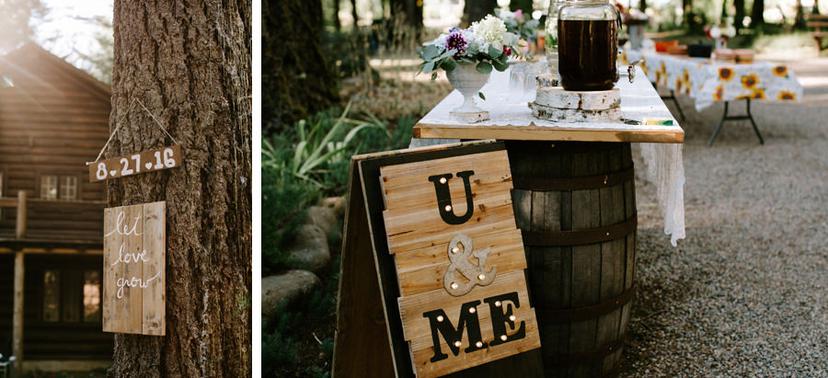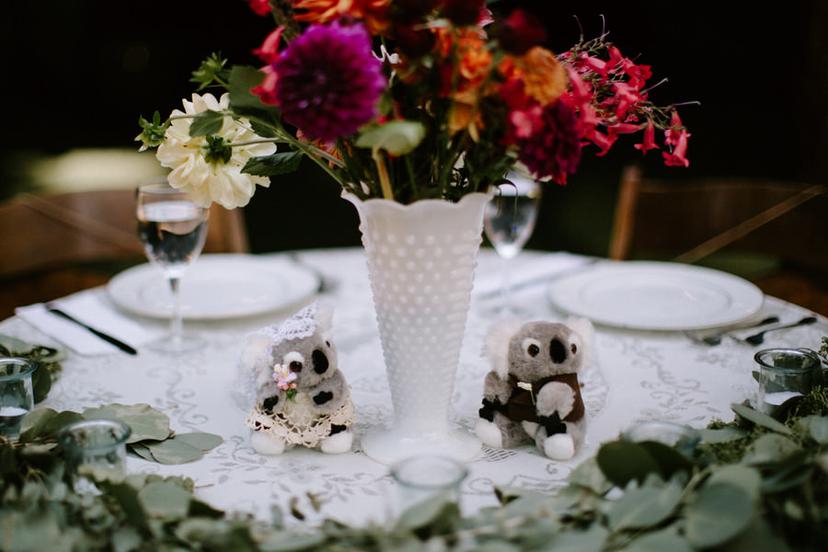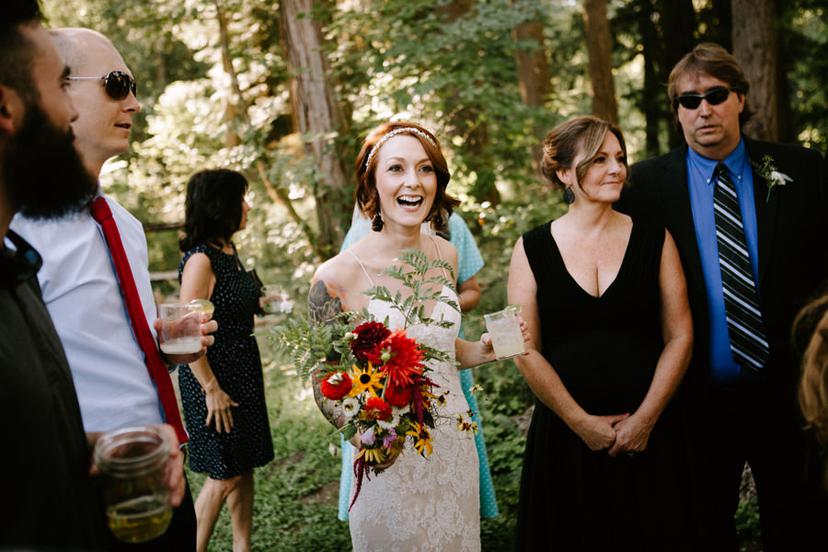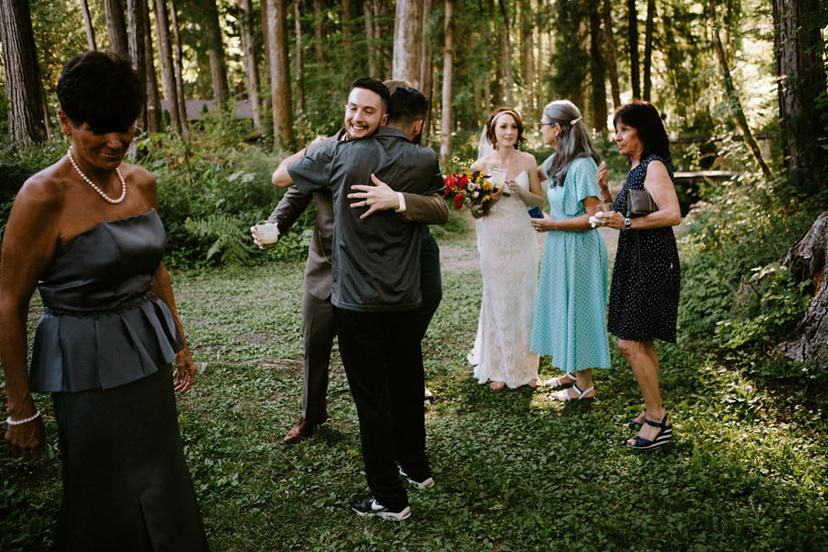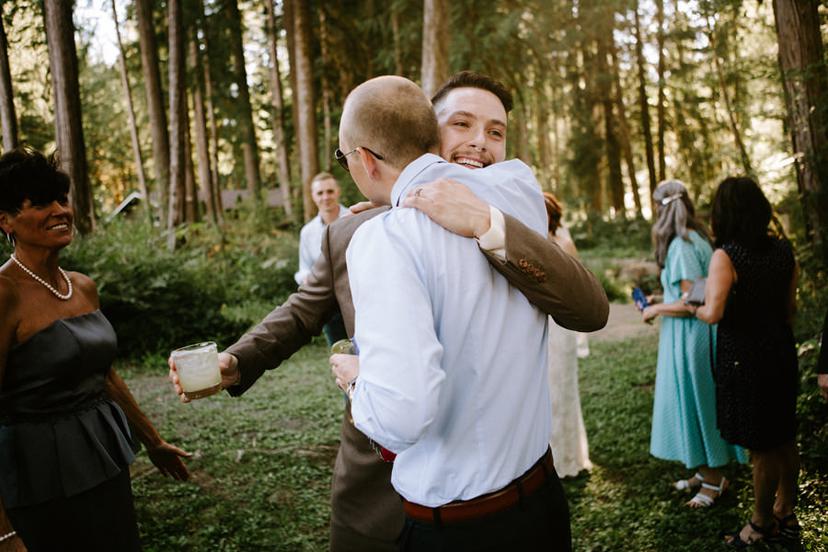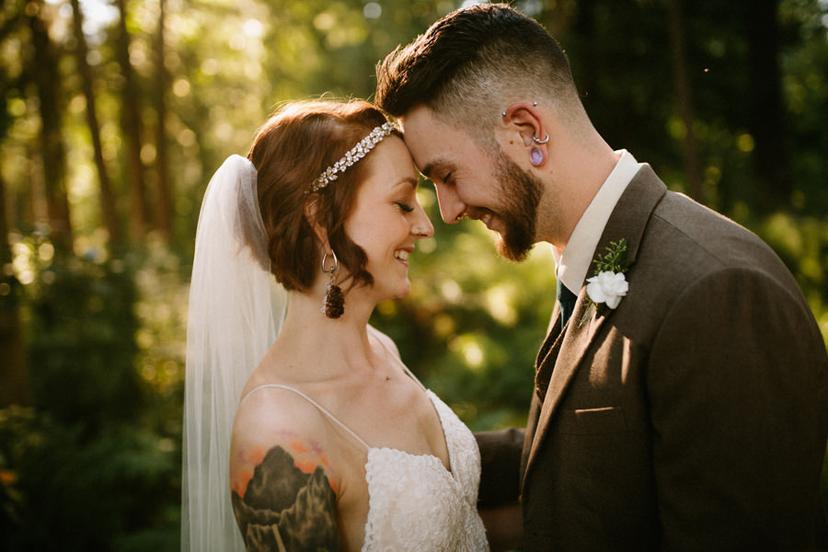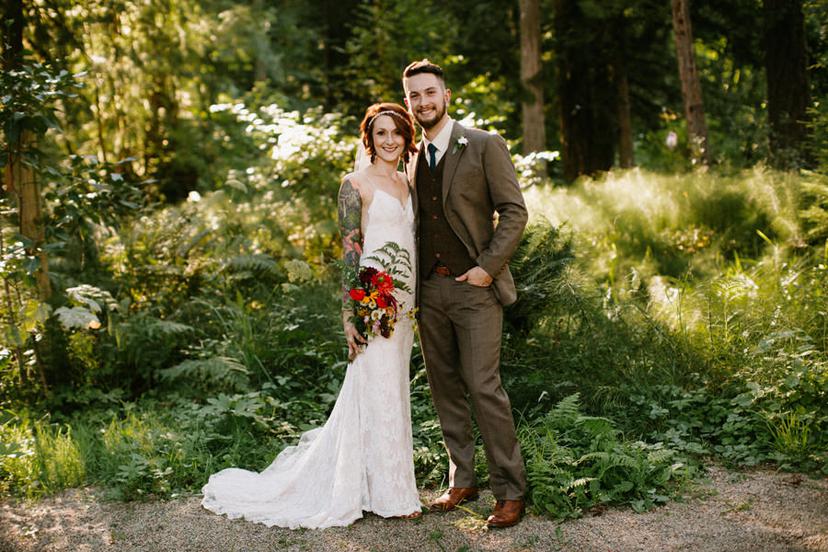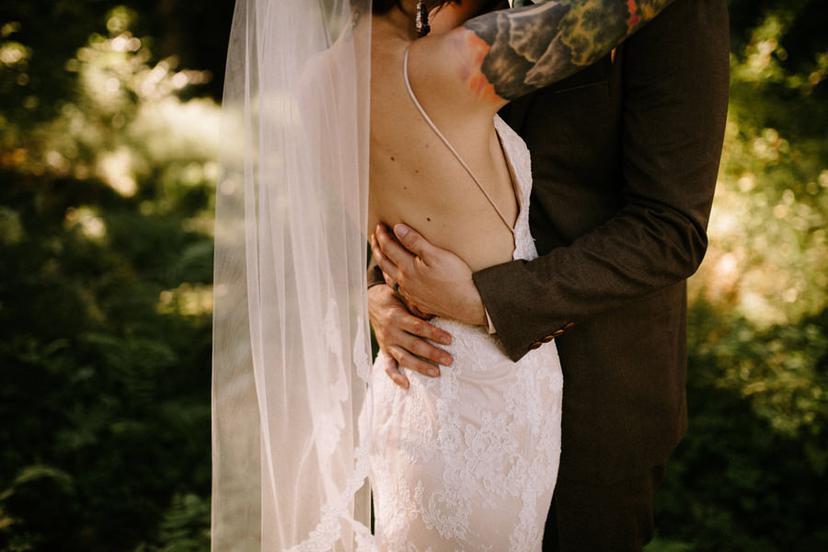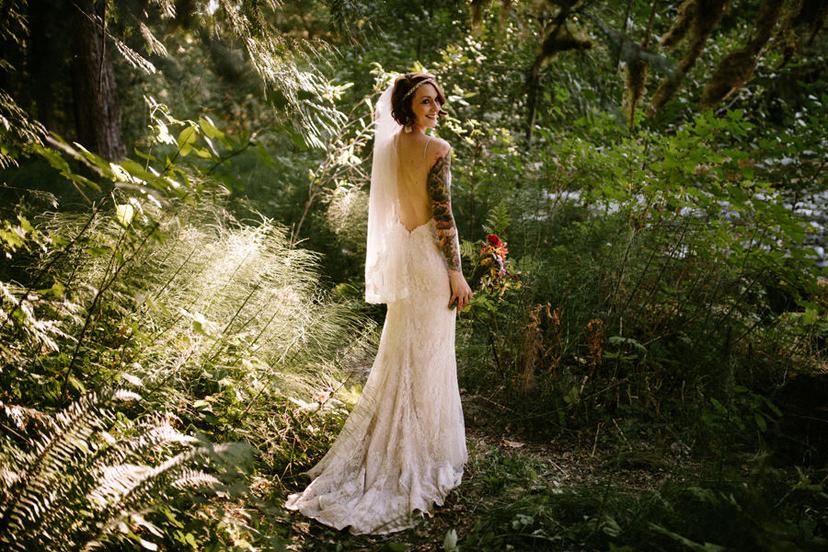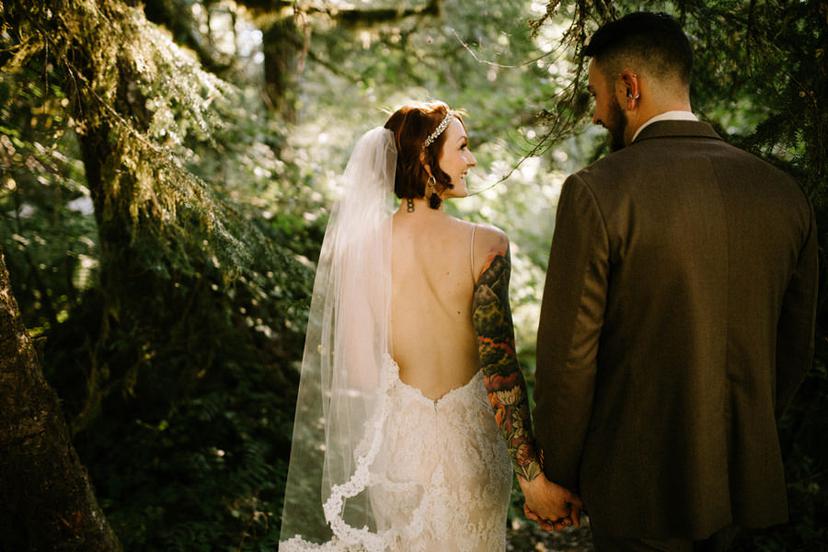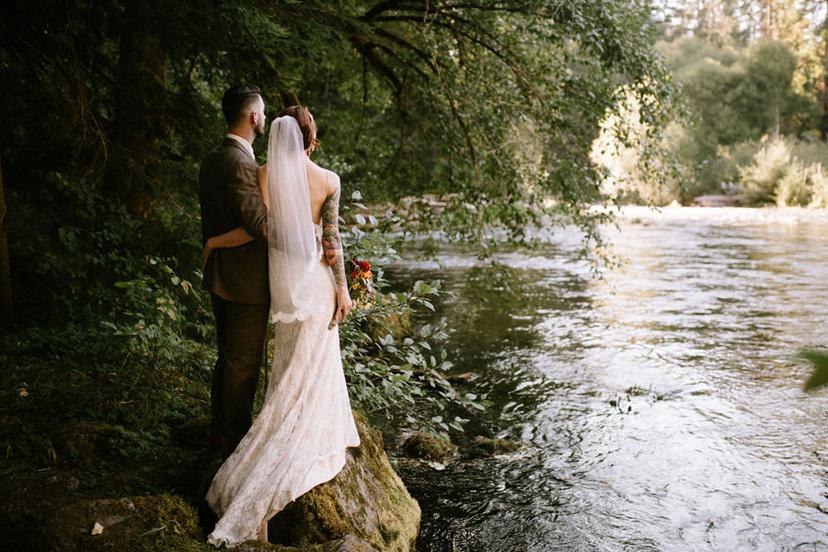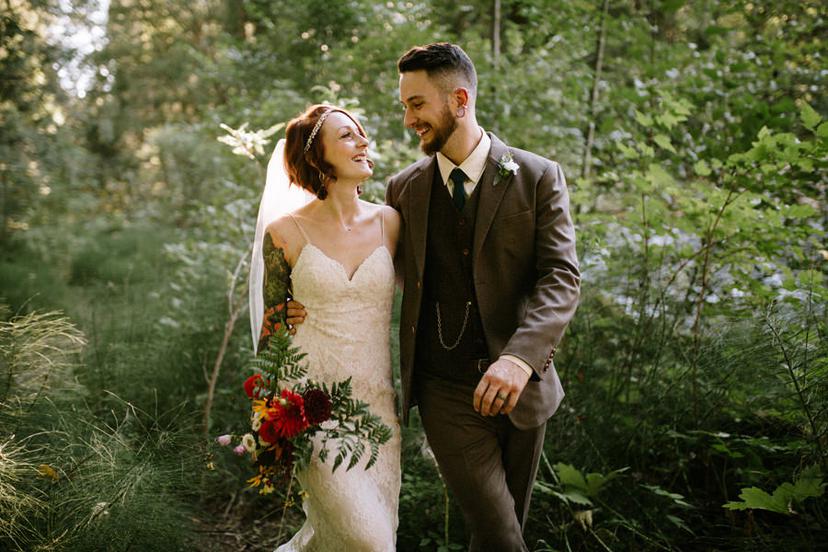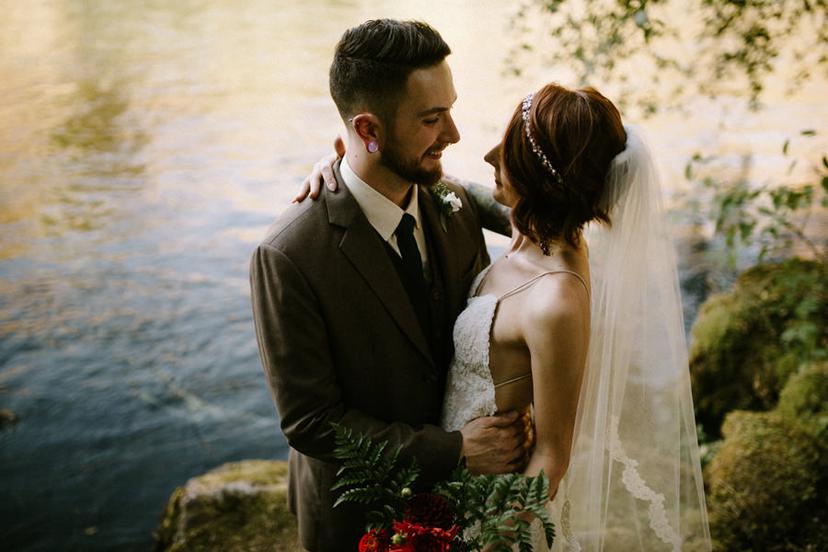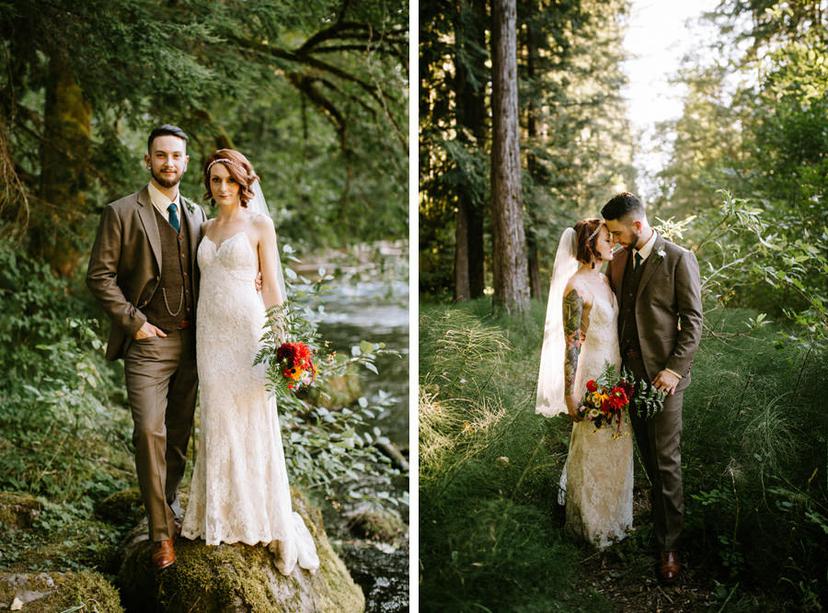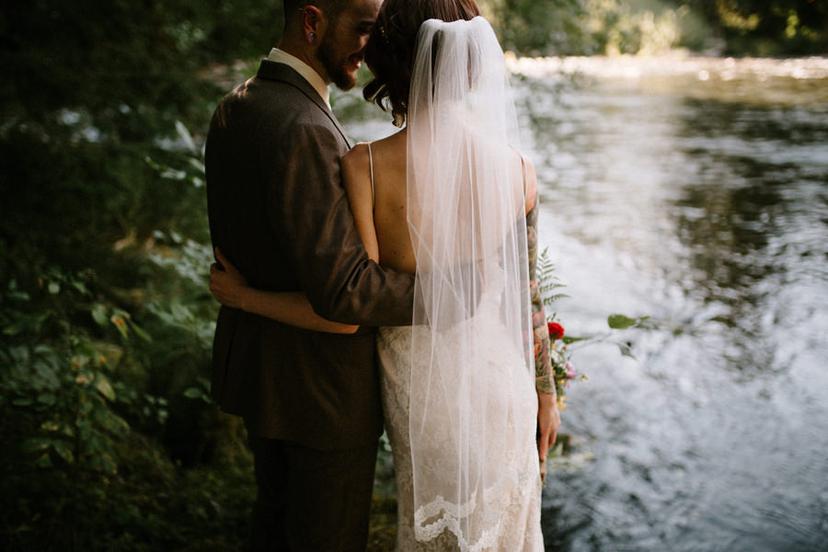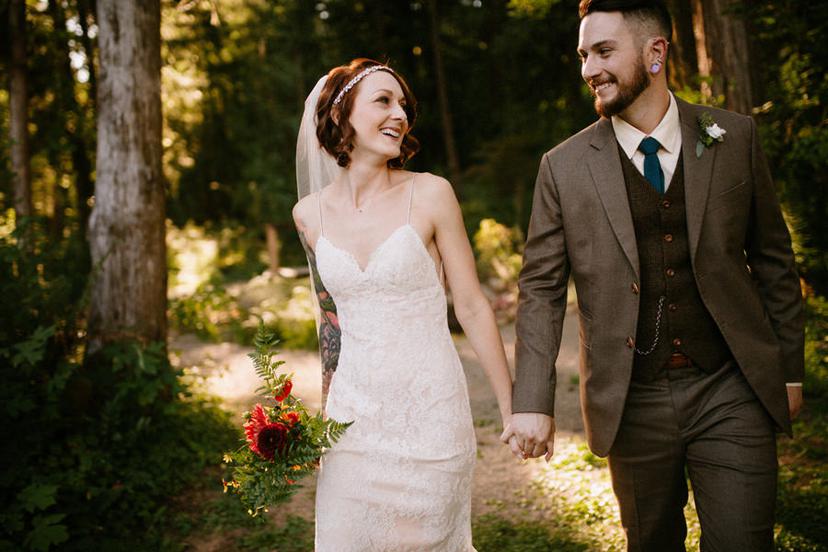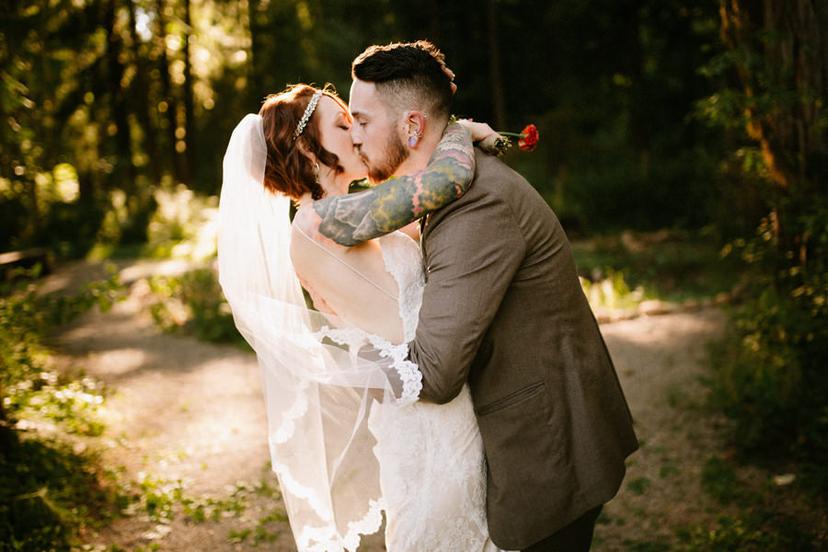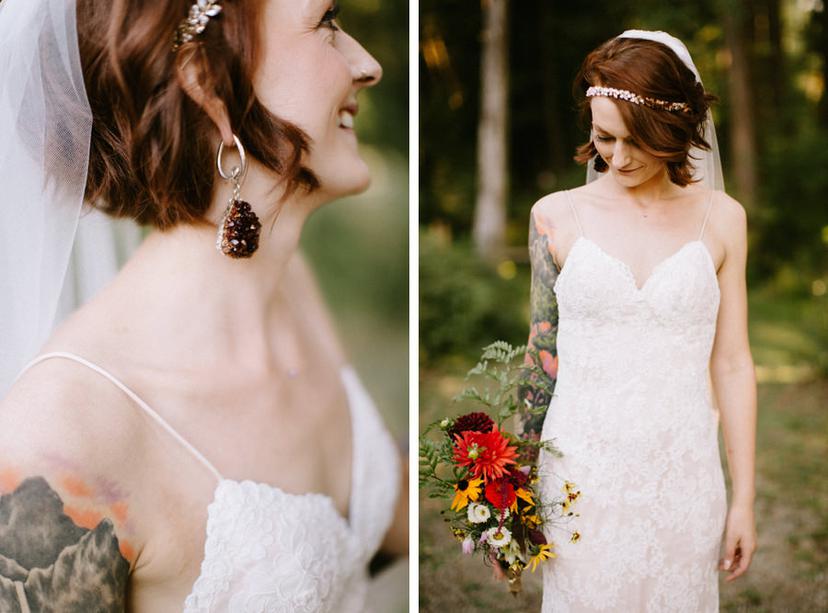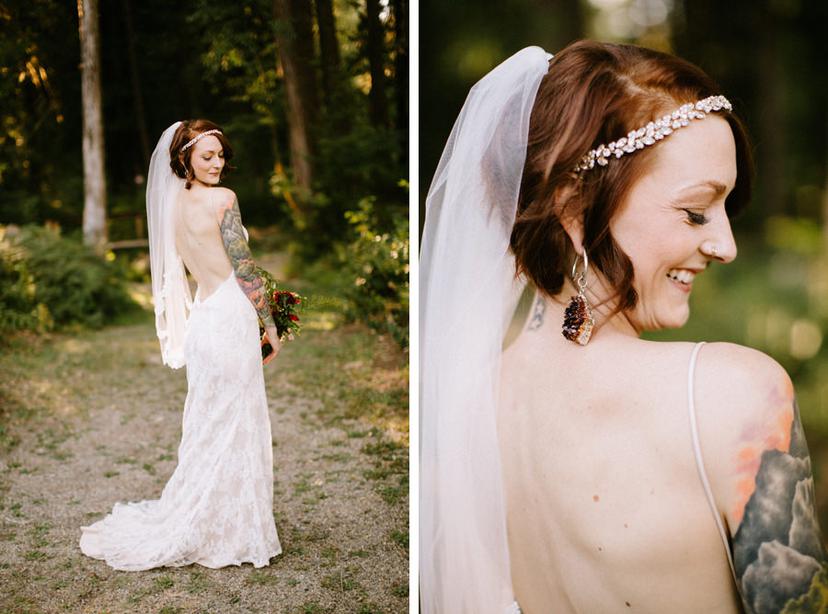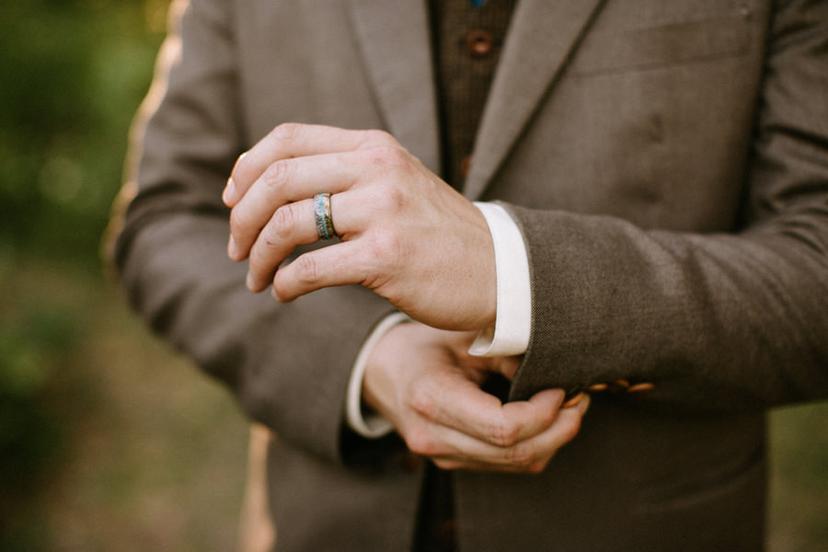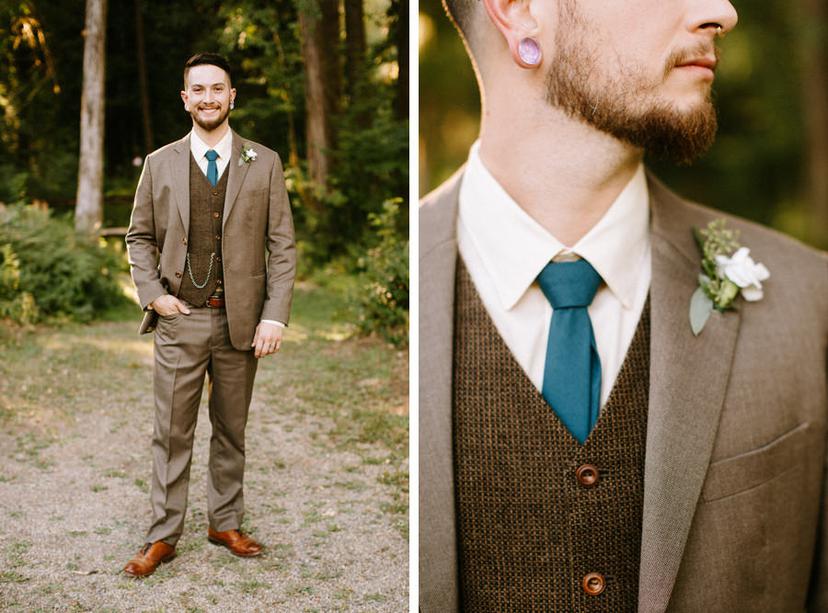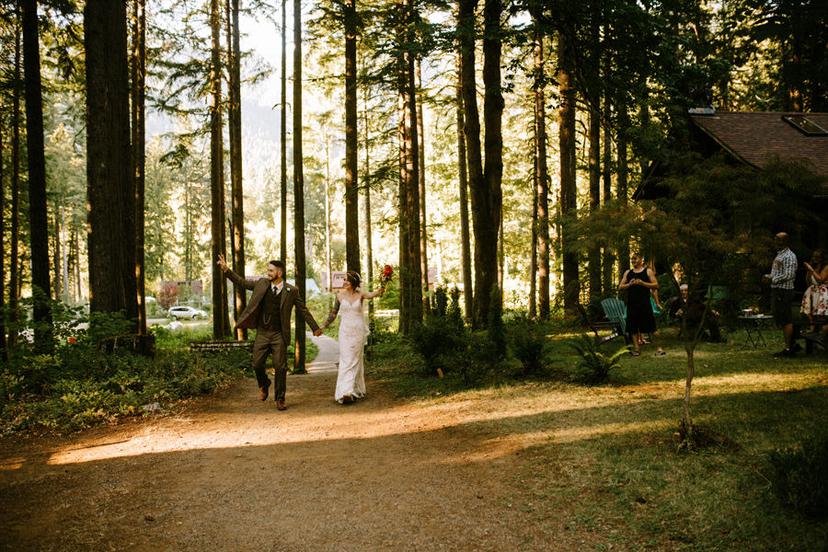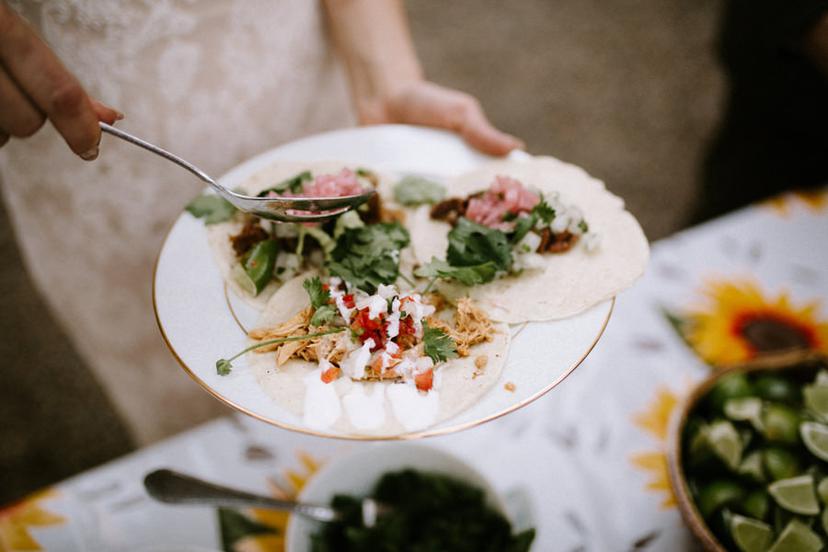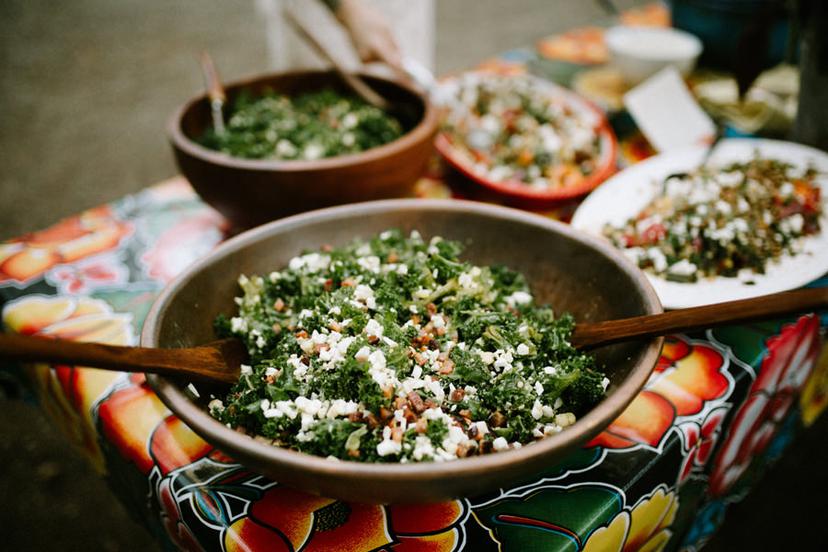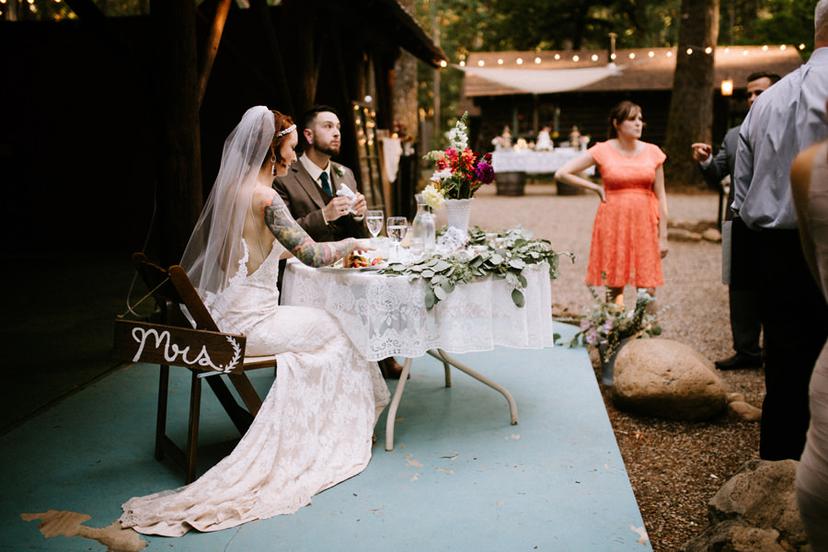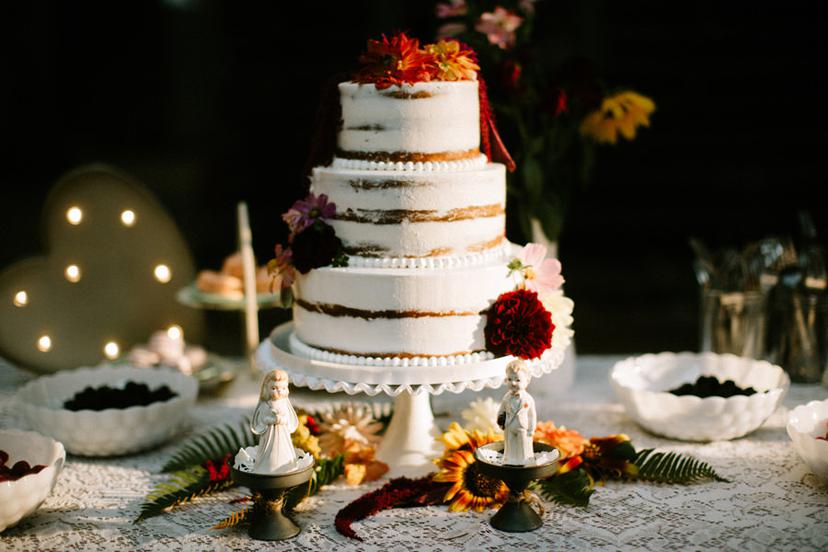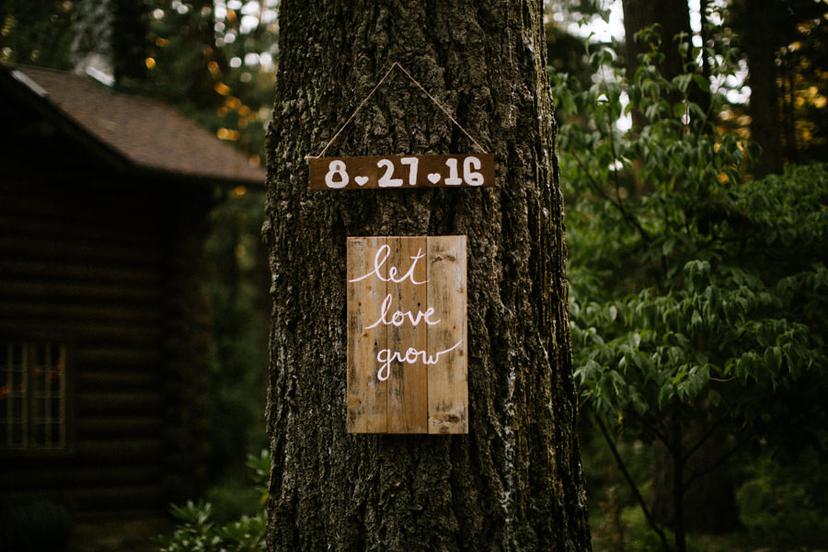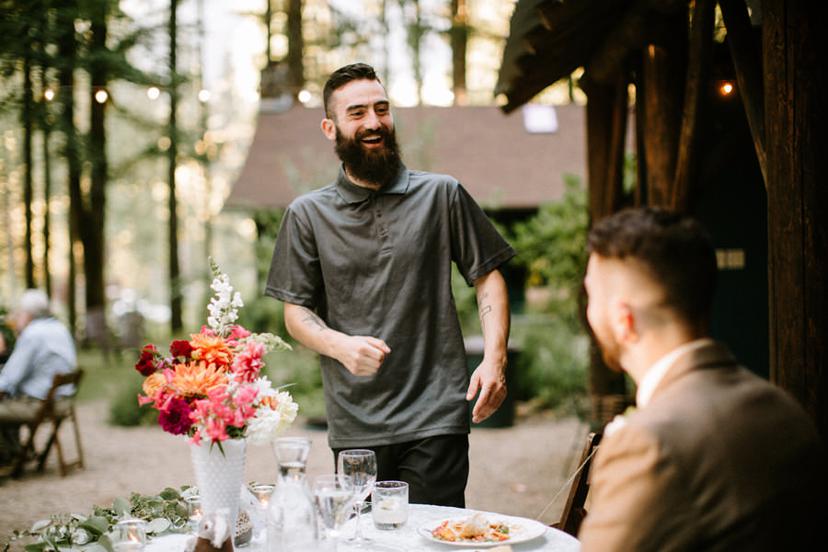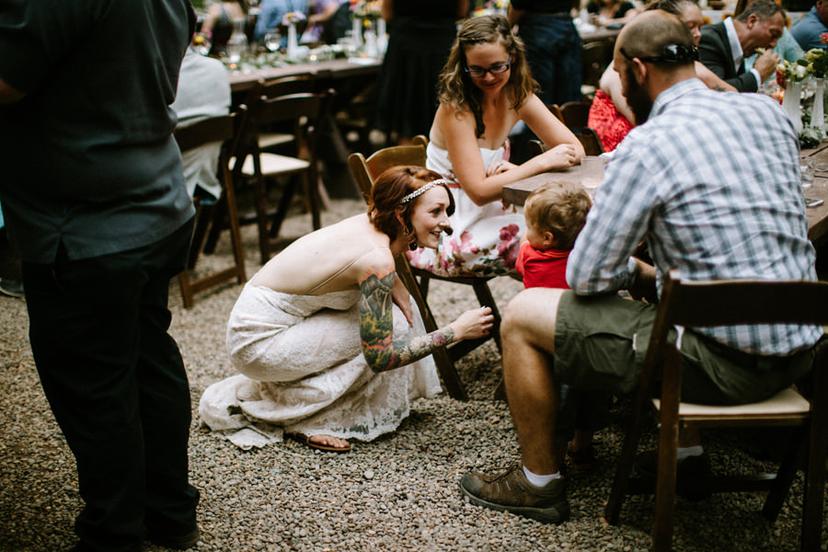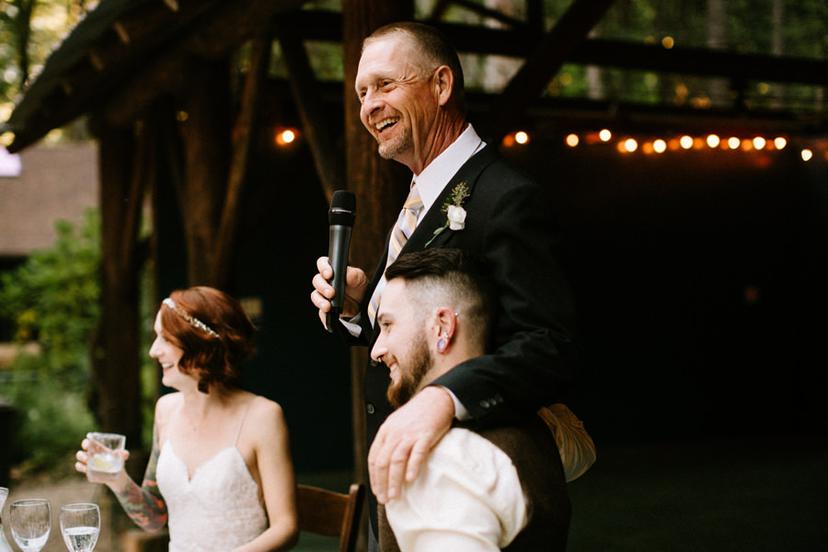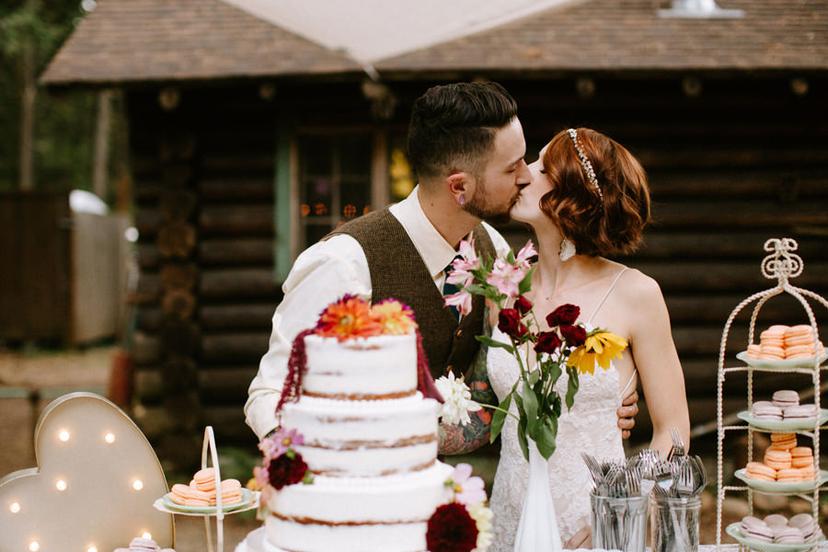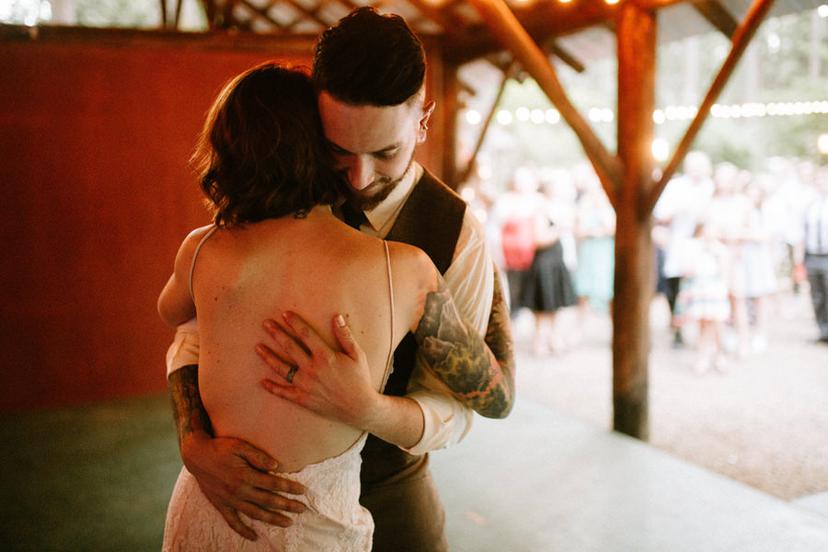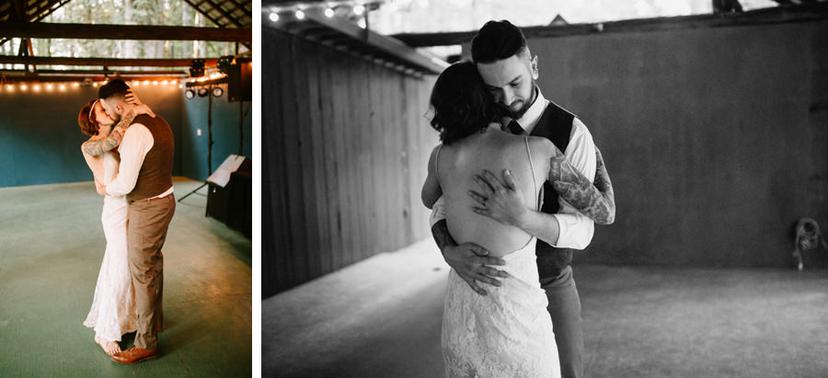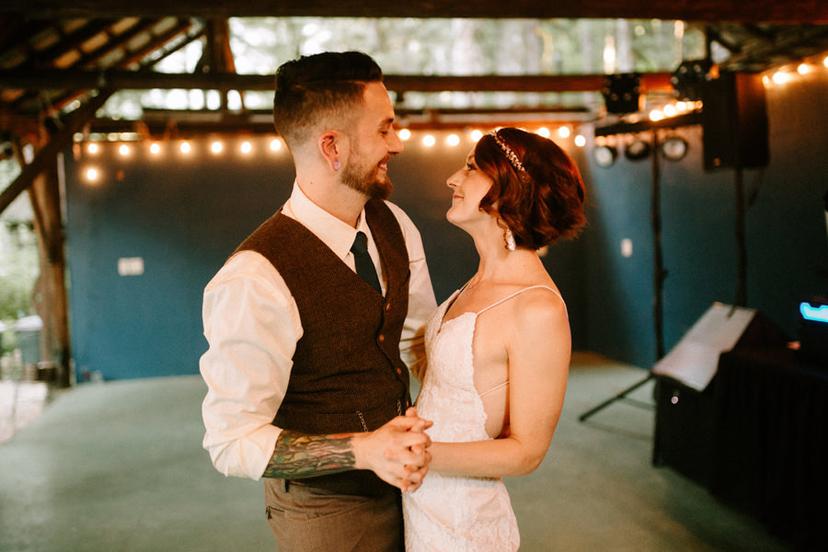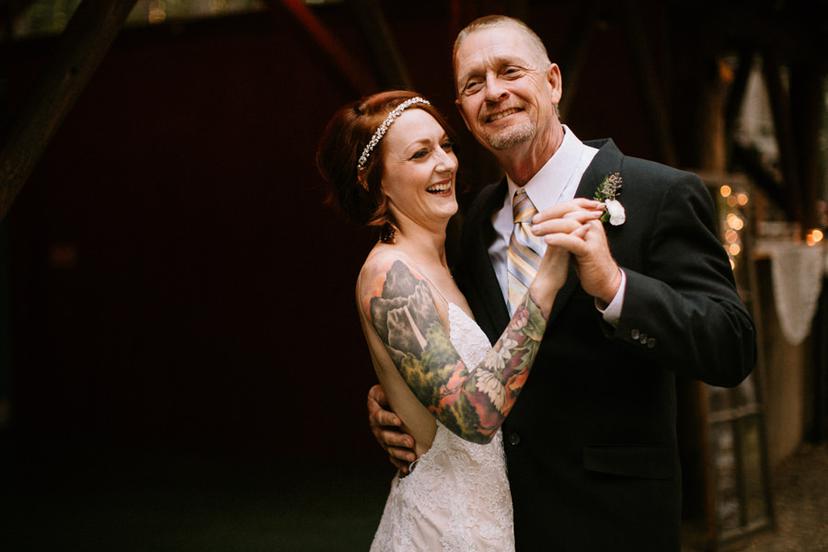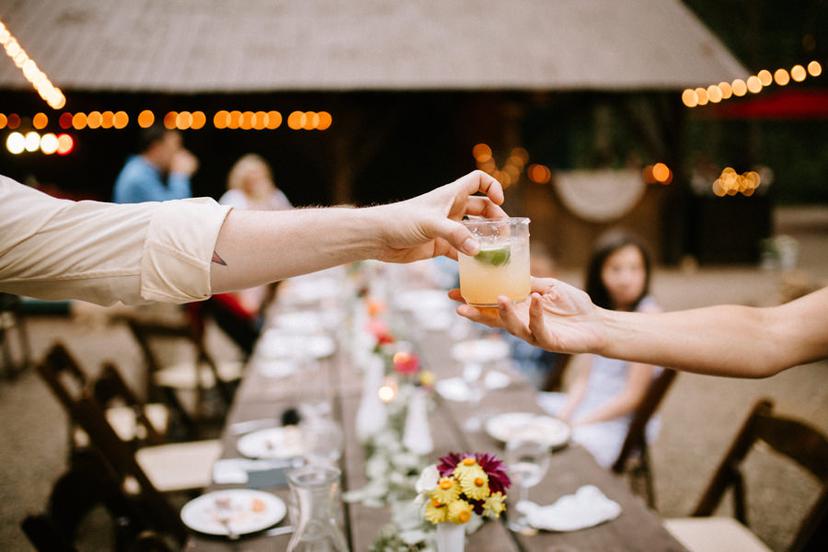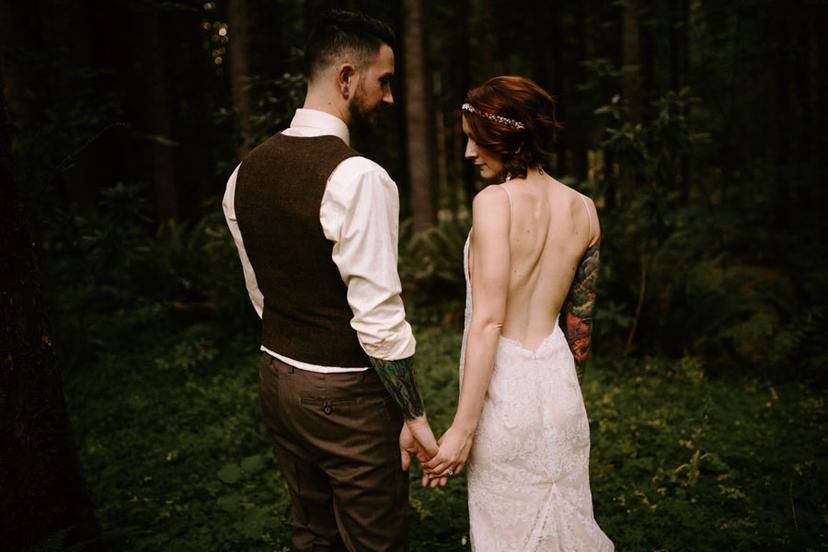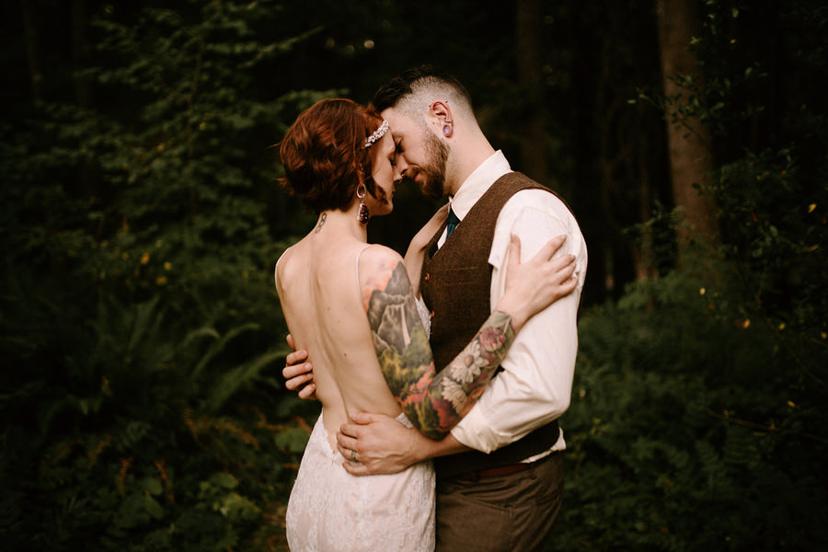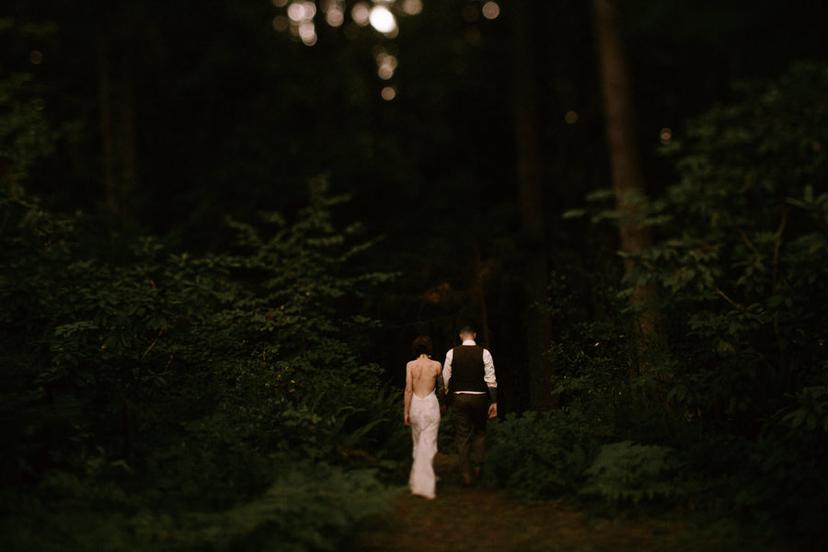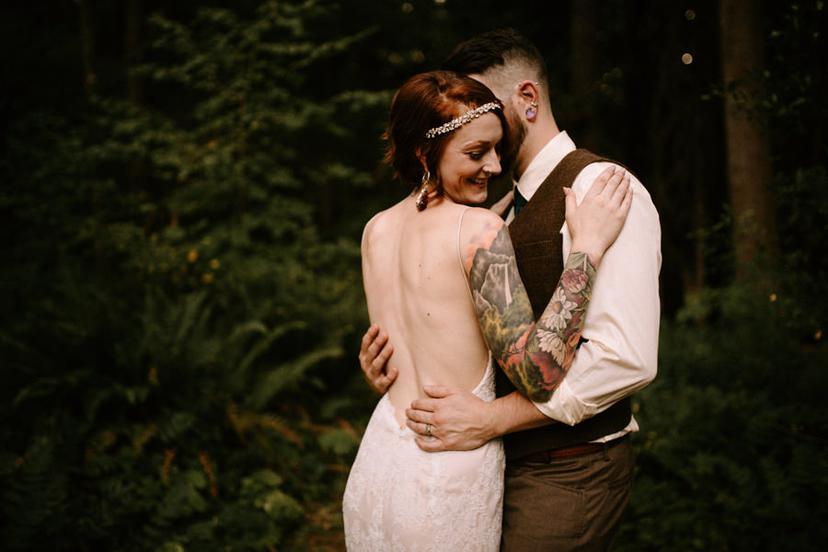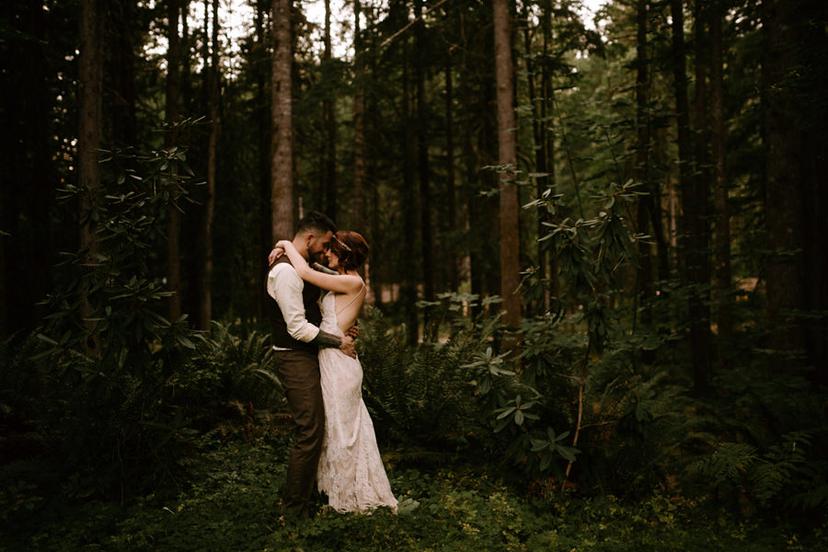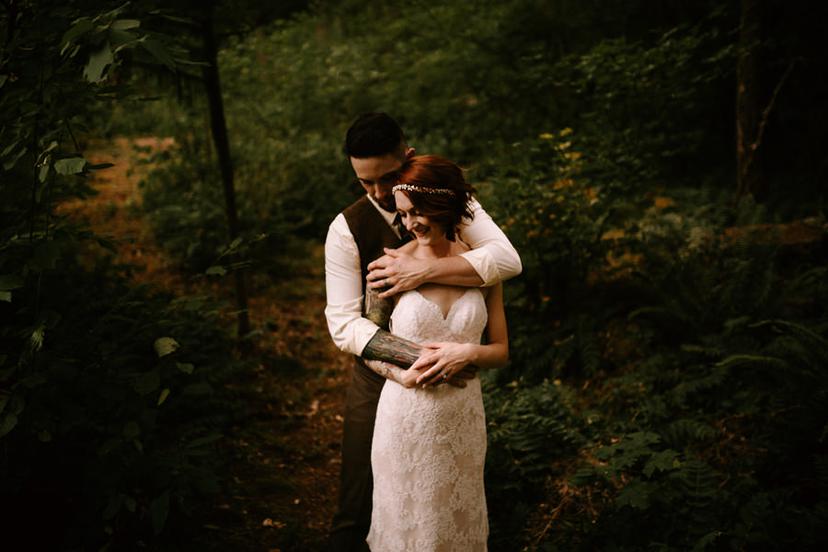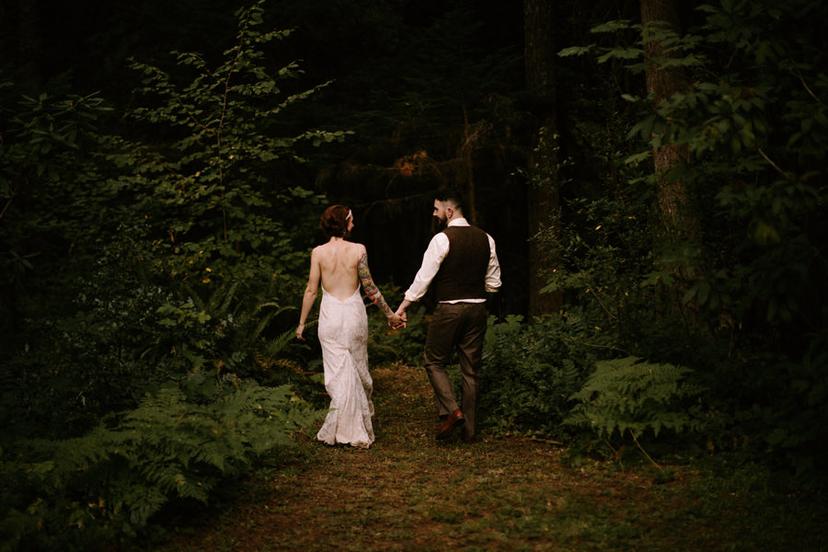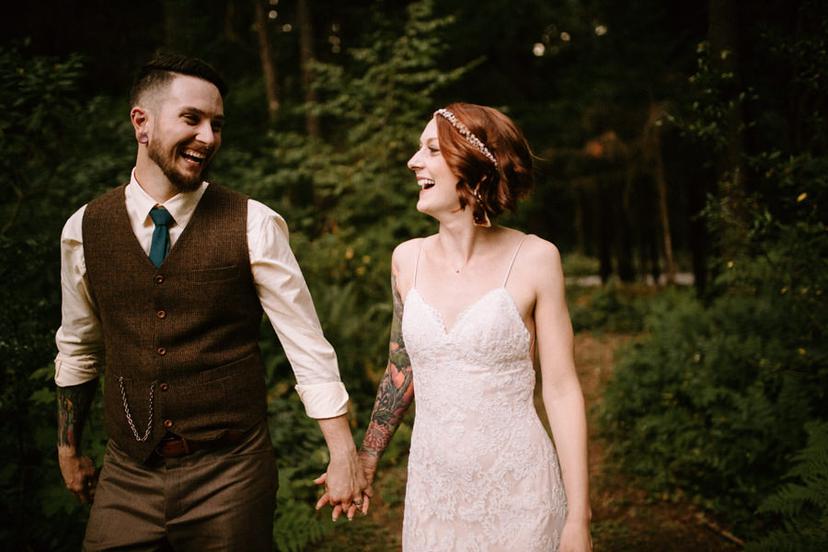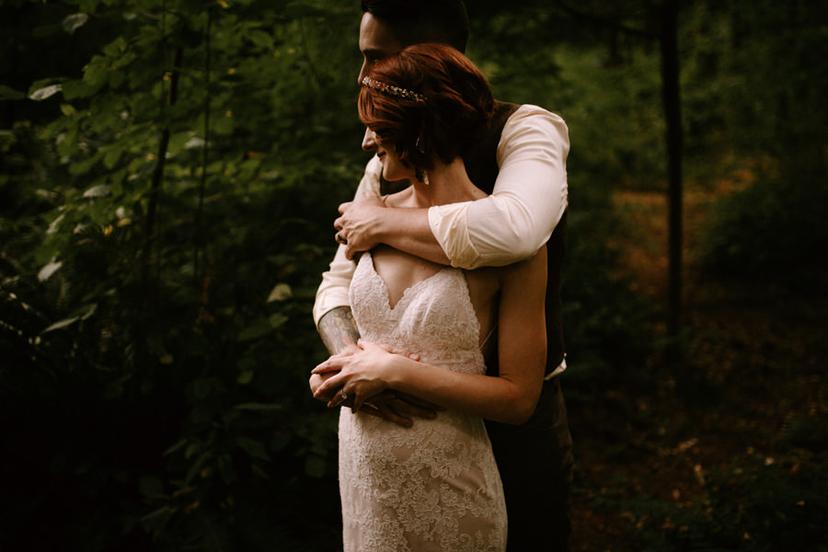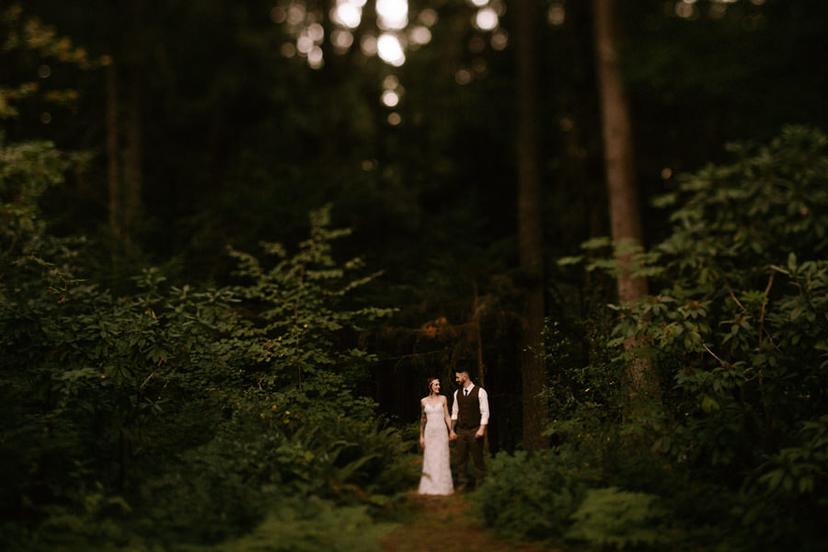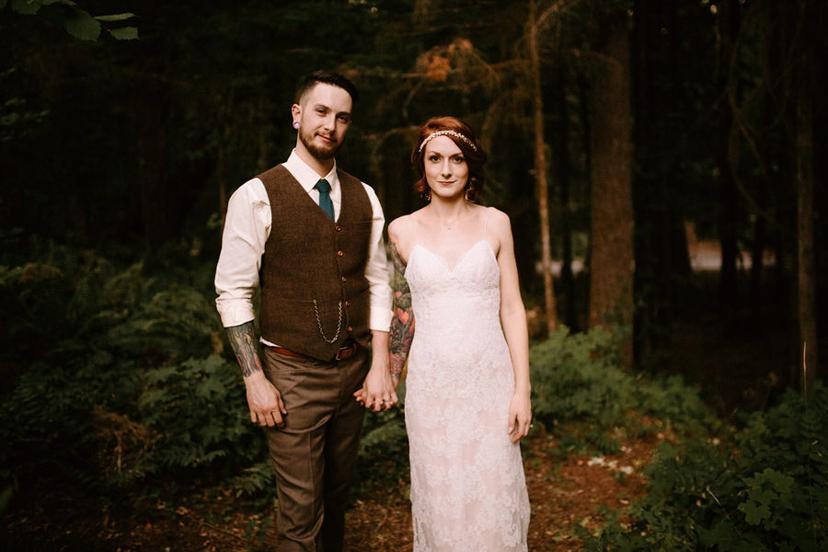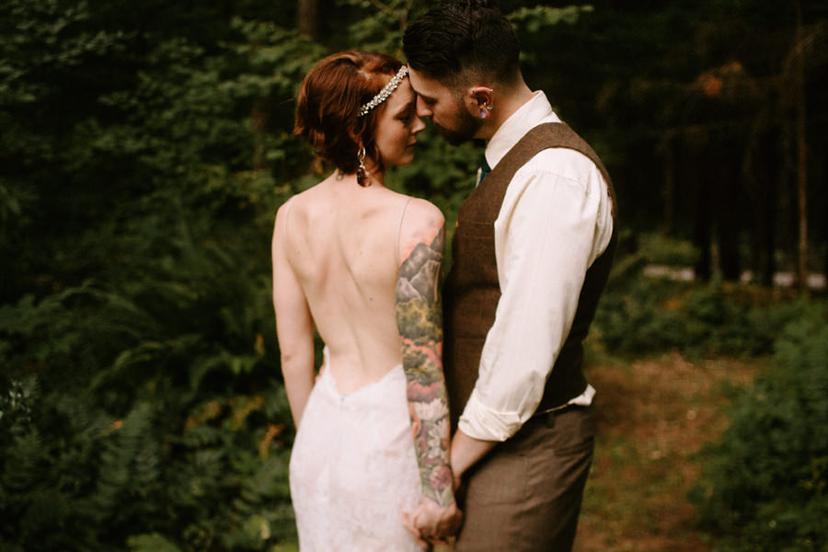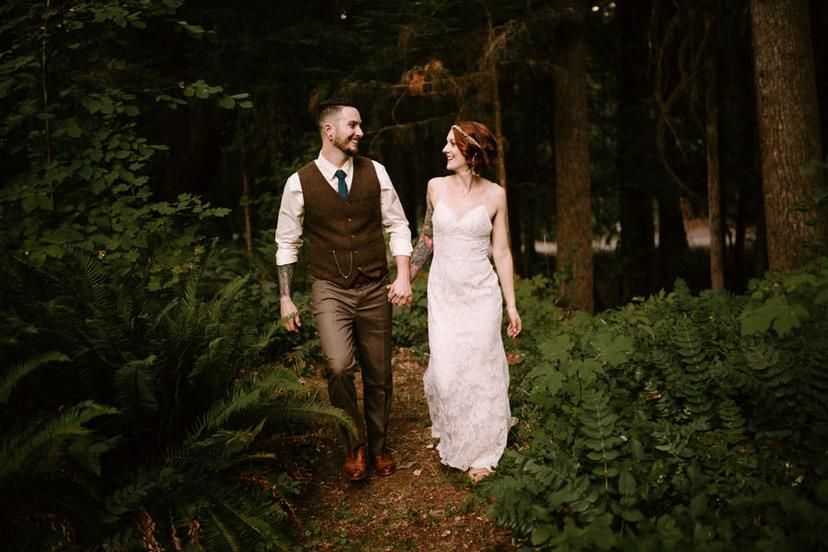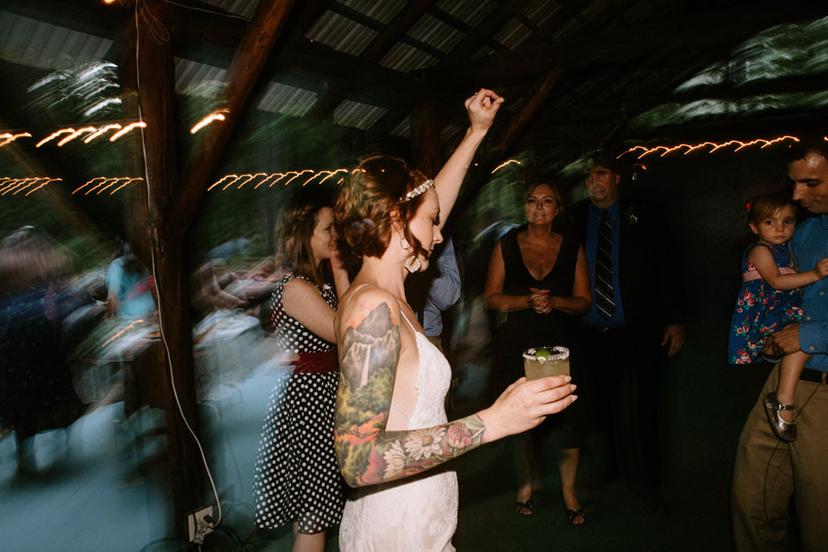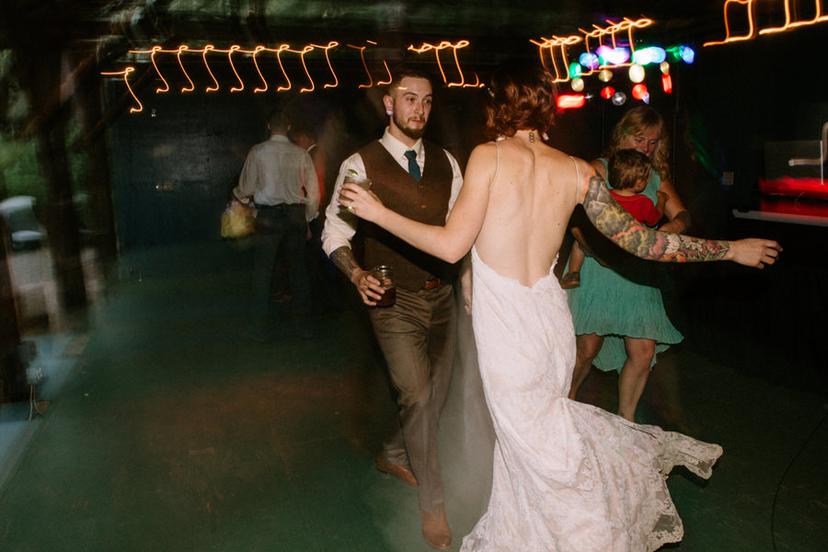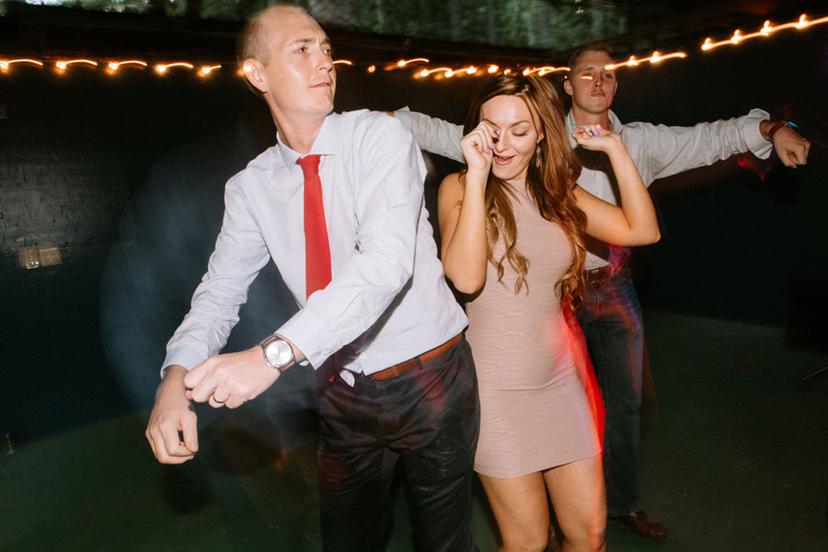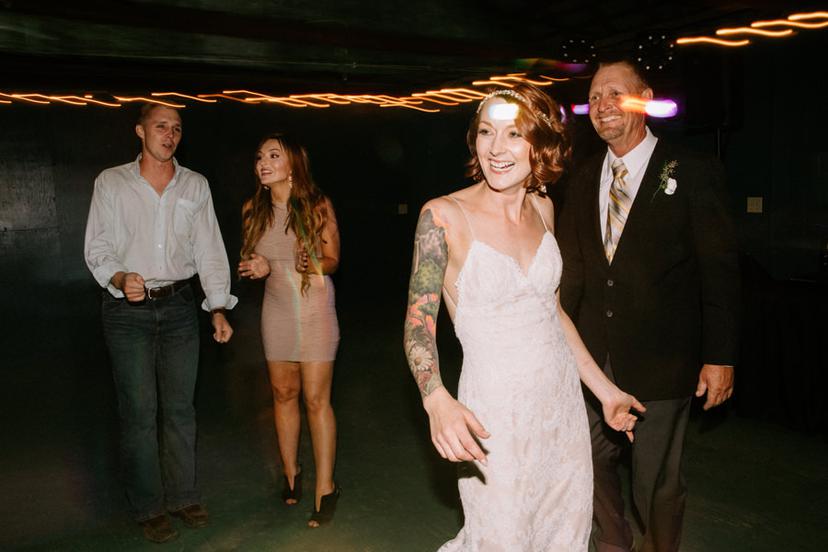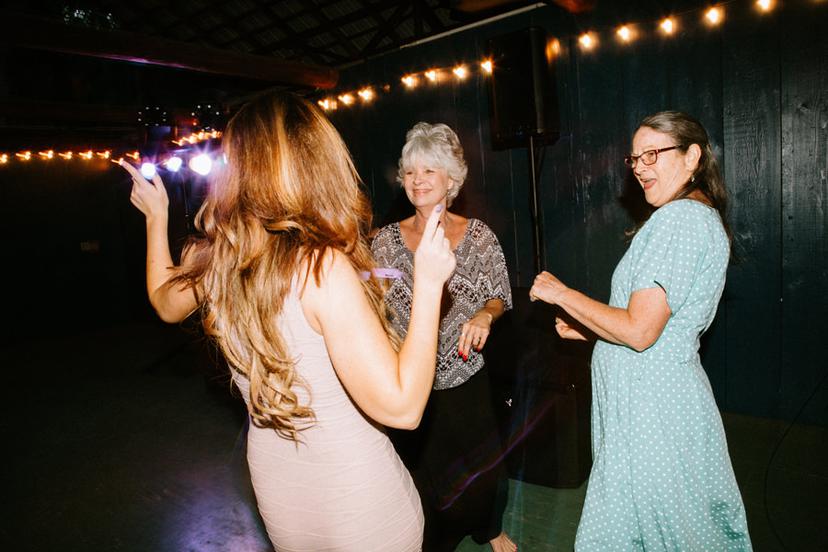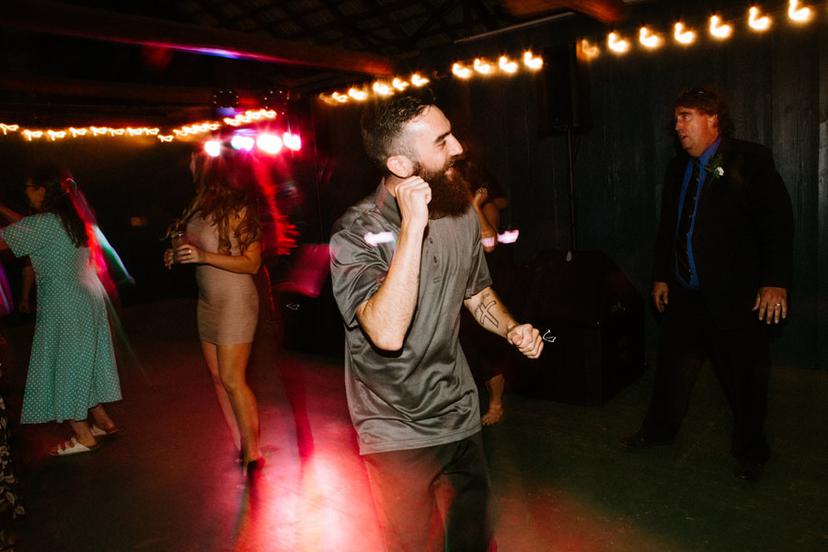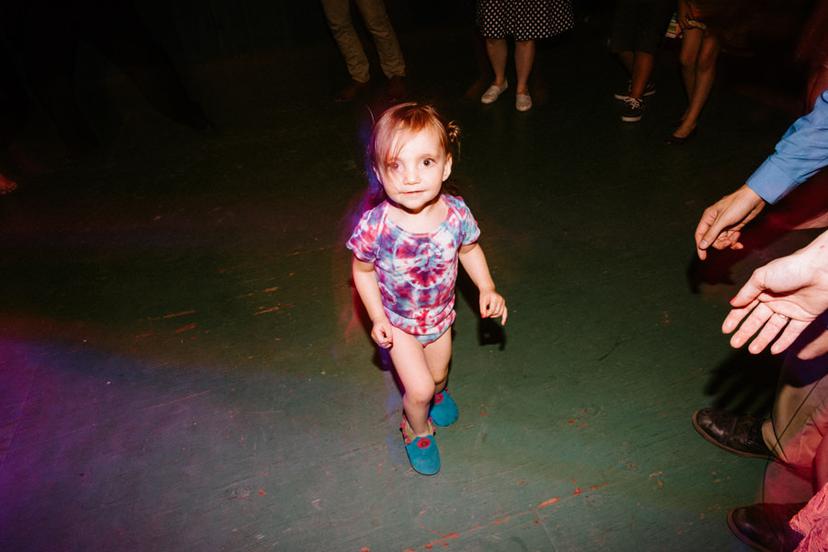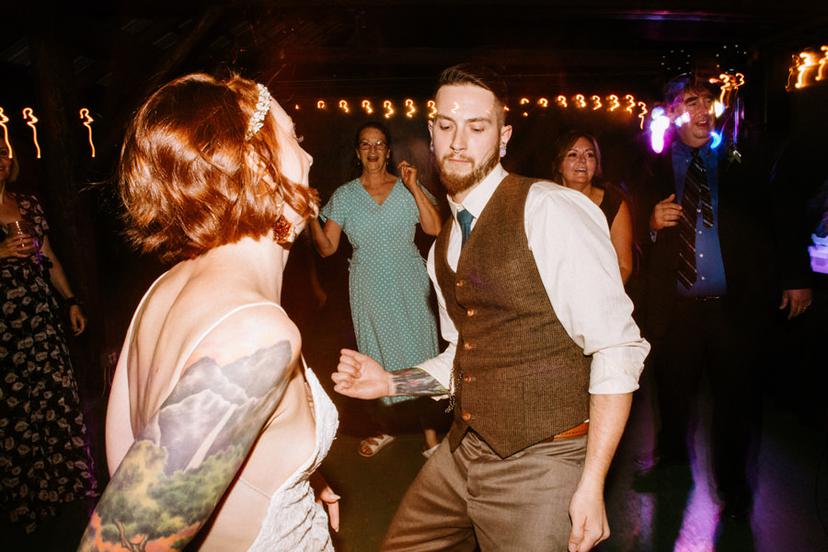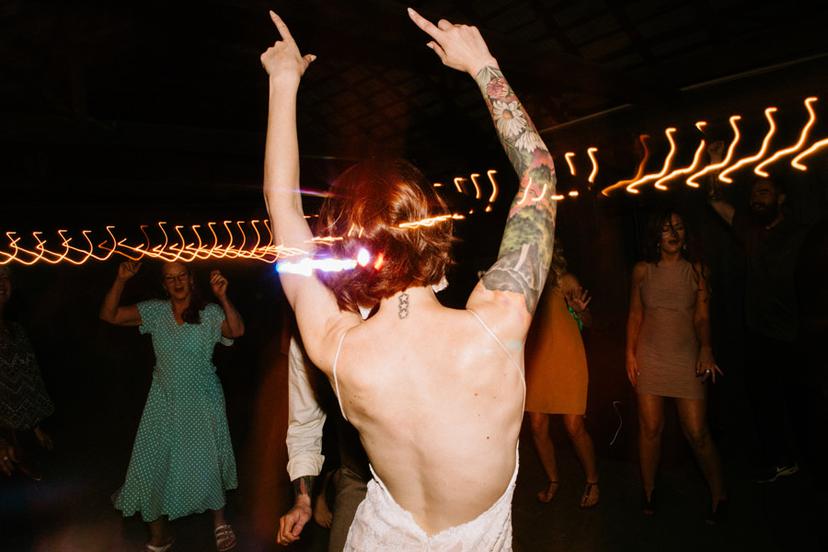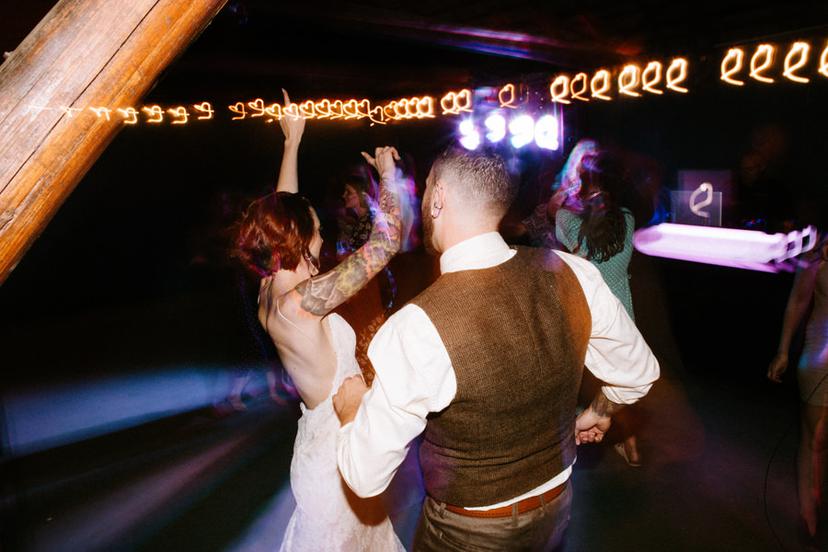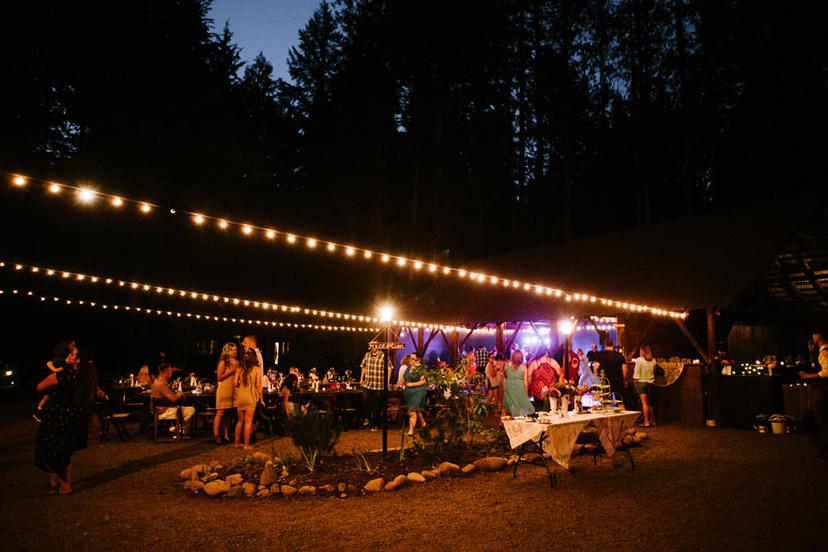 ## The Vendors
Second Shooter – Trish Laver

Venue – Loloma Lodge in Blue River Oregon

Coordinator – Shelly Kane, Moxie events

Catering – Belly Taqueria in Eugene OR

Cake and Macaroons- Noisette Pastry Kitchen in Eugene, OR

Grooms suit – Dutchess Clothier in Portland, OR

Grooms ring – Staghead Designs

Grooms Belt and Shoes- Allen Edmonds

Brides Ring- Natalie K

Brides Dress – Willowby purchased at Aria Collections in Portland OR.

Brides headband- Bel Aire

Brides Veil- Bel Aire

Brides Earrings- Diablo Organics purchased at High Priestess Eugene OR

Vow books by Crimson Hollow

Cake knife and server set by Lets Tie the Knot .
Browse More
Did you love this Loloma Lodge wedding as much as me? Here are some similar blog posts you might love as well!