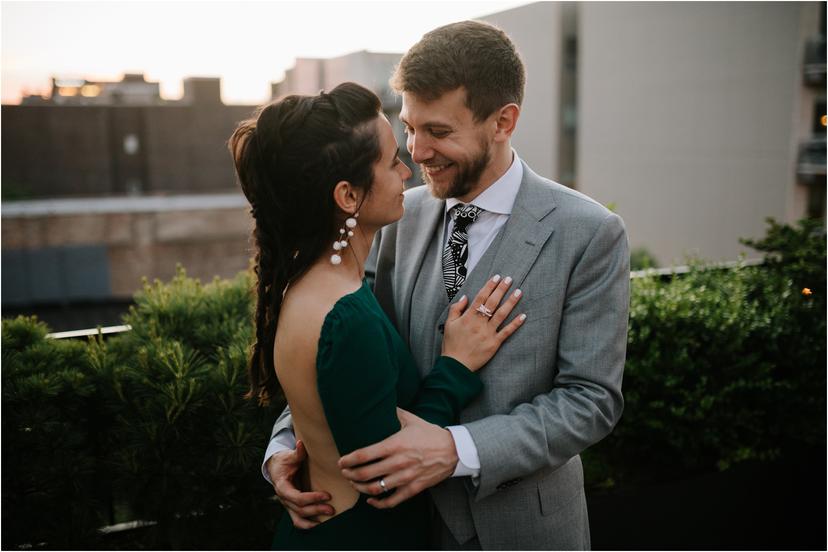 Loft Lucia Chicago Wedding
This Chicago wedding at Loft Lucia was SO FUN. And incredibly unique! Marie and Wyatt combined their love for Chicago, Lake Michigan, their dog, breakfast foods, and modern art to create a day that extremely personal AND stylish.
Marie wore a green Reformation dress and then designed a color palette around it - incorporating bold tropical greenery with black and white patterns.
"It's your wedding, do what you want!" Marie told me passionately. "Want breakfast for dinner? Do it! Never wear white ever? Don't wear it! Finally giving myself the freedom to pick a dress I actually liked (a green, backless dress from Reformation) allowed me to get creative with the whole event and turn it into something unique to Wyatt and me. After the dress was done, I had a vision for the rest – black and white dual tones only and as many patterns as I could get my hands on. It sounds like a chaotic disaster, but limiting the color palette gives the freedom to have an explosion of pattern, all with a unifying theme. It led to a very modern look that was just what we were hoping for.
"I was excited to dig in and design a lot of the decor–from chair backs to table runners to ties to jewelry. The wedding was such a great excuse for me to get back to my creative roots, long neglected from a stressful job. However, beware of the lure of too much DIY-ing–midway through the week before when I was frantically sewing ties in the middle of the night I realized that, like all other projects I've done, I had saved a lot to the last minute. Our wedding coordinator was really helpful to keep us on track and fill in the details when they were missing."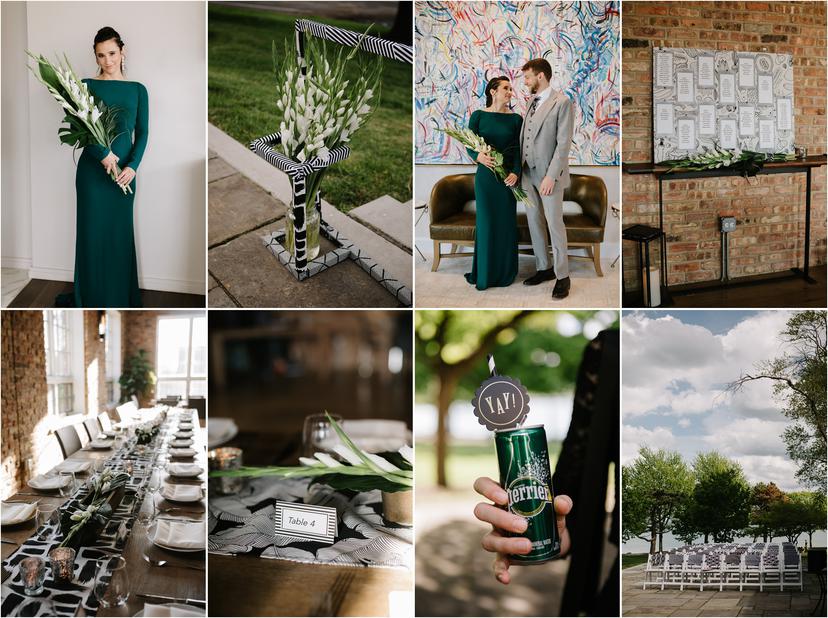 Getting ready photos at the Sophy in Hyde Park
Marie and Wyatt started the day at the Sophy Hotel in Hyde Park. They chose it for all the colorful modern art and because it was close to their ceremony space. I LOVED my stay there, and I loved how we were able to take a bunch of artistic portraits in front of some bold paintings. It was very them (and very me - I'm obsessed with art like this too!)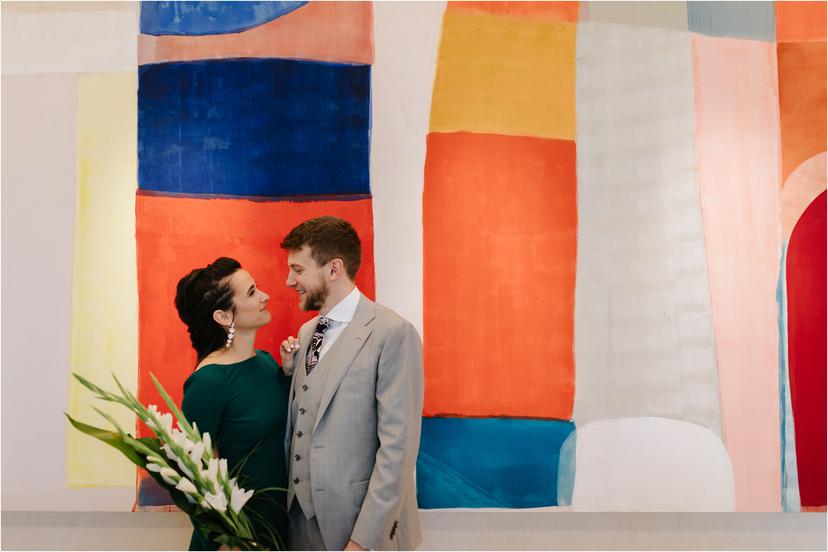 A Promontory Point wedding ceremony
They held the ceremony at Promontory Point on Lake Michigan, less than a mile away from where they live.
"Getting married on Lake Michigan was an easy choice," Marie said. "Wyatt proposed to me there on one of our many summer lake dives, and we take frequent walks with our dog around the point year-round. It is a gorgeous view – the lake always has a different shade of blue that either perfectly blends or contrasts with the sky. It was so special to be able to get married at a place that was so ingrained in our lives already – I really like the idea of a marriage taking place on the ground we as a couple have walked before and will continue to frequent. It already felt like such a familiar place, and ever since then walking by there makes me relive a piece of that day over again."
Urban wedding reception at Loft Lucia
Loft Lucia is a gorgeous wedding reception space in the West Loop of Chicago. Its multi-story layout features a rooftop deck and patio area, as well as a bright industrial indoor space with exposed brick and massive windows. It's honestly one of the most delightful urban wedding venues I've ever seen!
"Loft Lucia was probably the easiest part of our wedding," said Marie. "Sometimes you need that in what is otherwise a chaotic time of decision making. Loft Lucia was beautiful with its outdoor patio (something we really wanted to have) and its industrial-chic vibe. They were an experienced venue, so everything ran smoothly without much effort on our part, which was such a relief."
As a photographer, I loved the natural light streaming into the reception space, and I was STOKED to take couples photos on the rooftop at sunset!

So many great opportunities for stunning Loft Lucia wedding photos!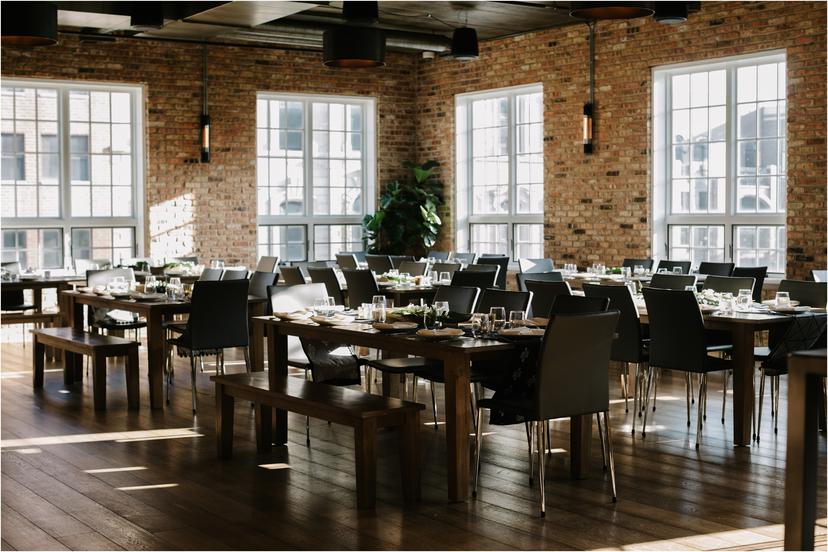 Favorite wedding memories
"It was such a privilege to be surrounded by all of our amazing family and friends and seeing people from different walks of our lives meet each other was so special. But also, aside from our incredible community, we loved the sacredness of our ceremony. Our officiant really let us craft our ritual into what was most meaningful to us–which was definitely a bit quirky with some readings from The Little Prince, David Foster Wallace, and Soren Kierkegaard. Other runners up for favorite moments: speeches from the family (our brothers talking about everything from the uniqueness of xenon-124 to hiding tequila in high school), a raucous trolley ride with our closest friends, and Luna the dog barking right when we kissed as husband and wife for the first time."
Advice for couples planning Chicago weddings
"I'm sure this happens everywhere, but I felt like in Chicago in particular (and probably larger cities in general) it was so easy to get caught up in the advertising about what your wedding should be like and how it should be perfect in this way or another," said Marie. "Pick one or two things that you really care about (for us it was amazing photography with Katy) and splurge on those, then realize the rest will be just fine even if you don't get the most decked-out-wedding-on-steroids version. This helped to ease some of our stress."
Vendors
The Slideshow
The Photos