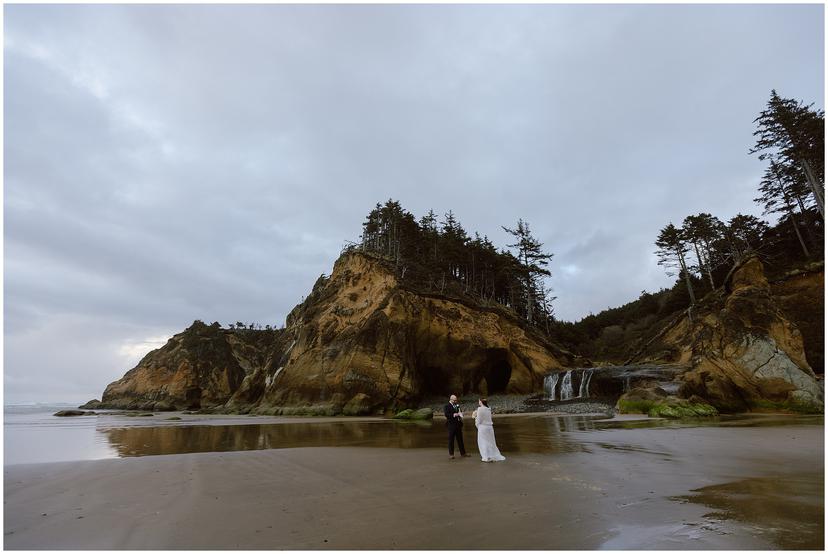 Hug Point Elopement
As a photographer with a passion for capturing intimate love stories, I'm forever enchanted by the beauty of Hug Point on the Oregon Coast. This hidden gem has stolen my heart again and again, and this recent Hug Point elopement was nothing short of magical.
The cool, windy weather made for a cinematic mood as dusk settled in quickly. Lisa and Joe were prepared with waterproof boots, a hat, and a cozy shawl - and I brought some umbrellas and lanterns too! They eloped in a courthouse in Hillsboro earlier that day, then drove to the beach for their private vows and ceremony with me. It was a creative way for them to get the legal part out of the way separately so they could enjoy their real ceremony with total privacy. Because it was a freezing cold and wet Thursday on the Oregon Coast in March, we ended up having the beach all to ourselves. SO fun.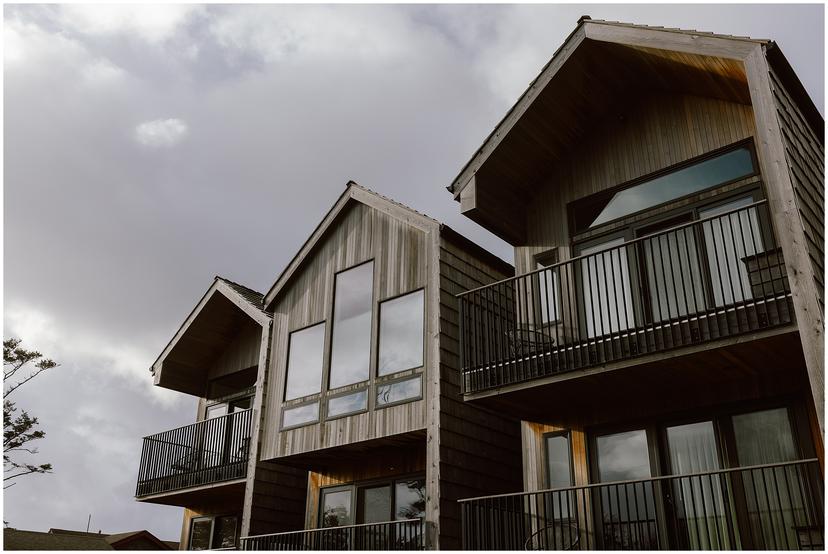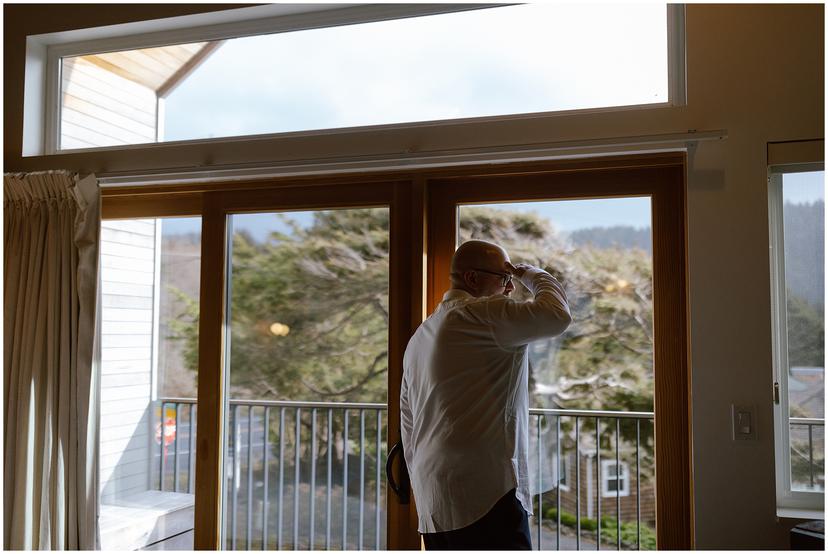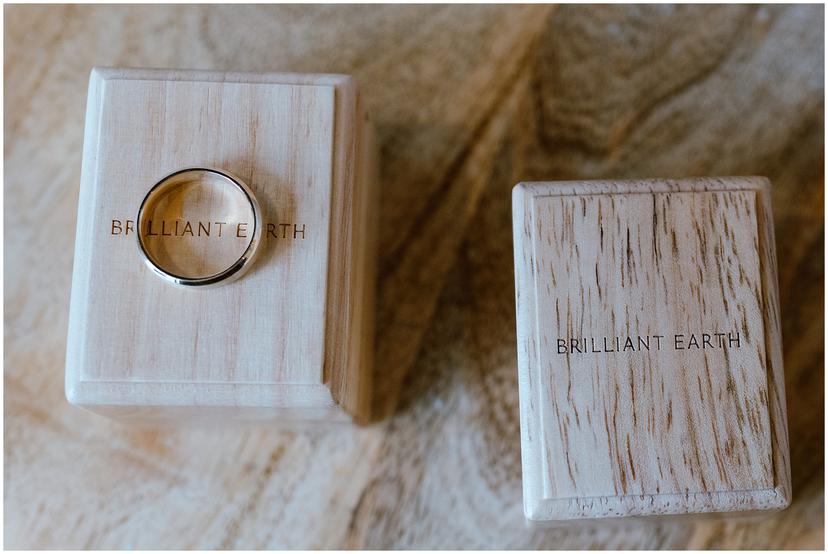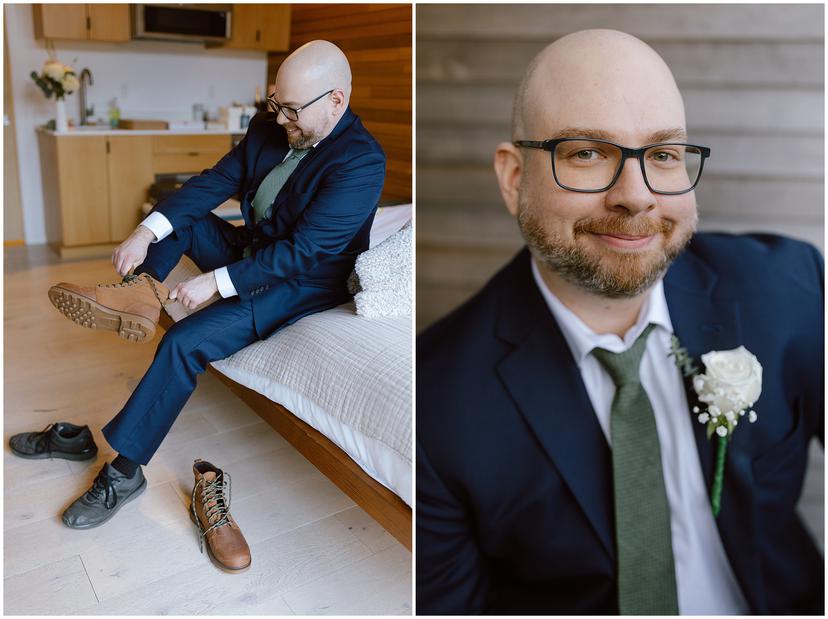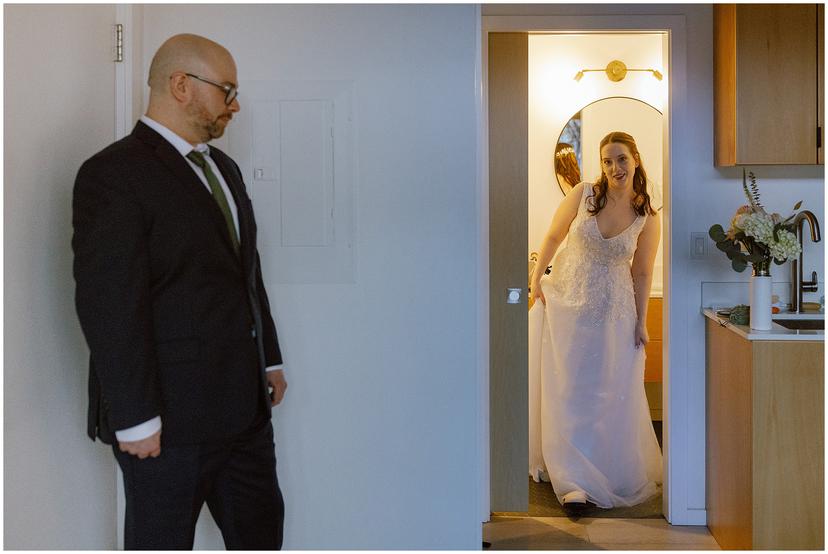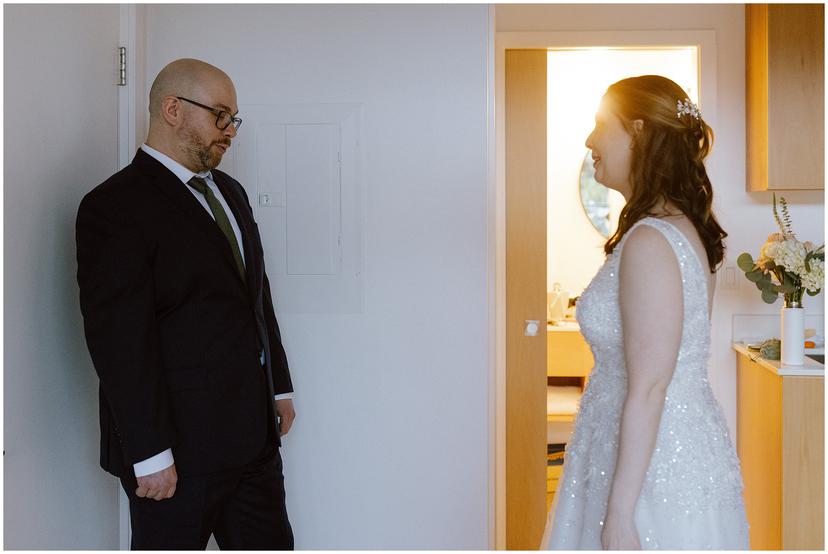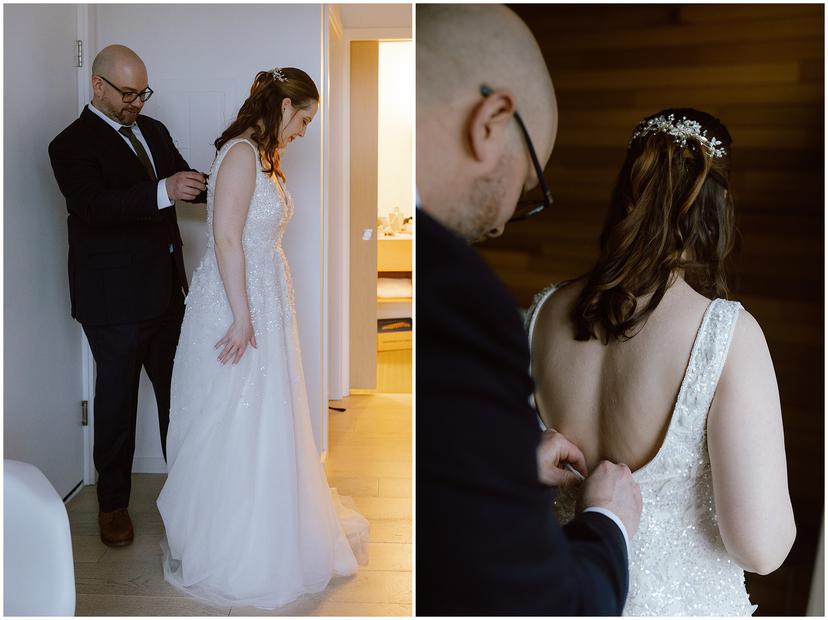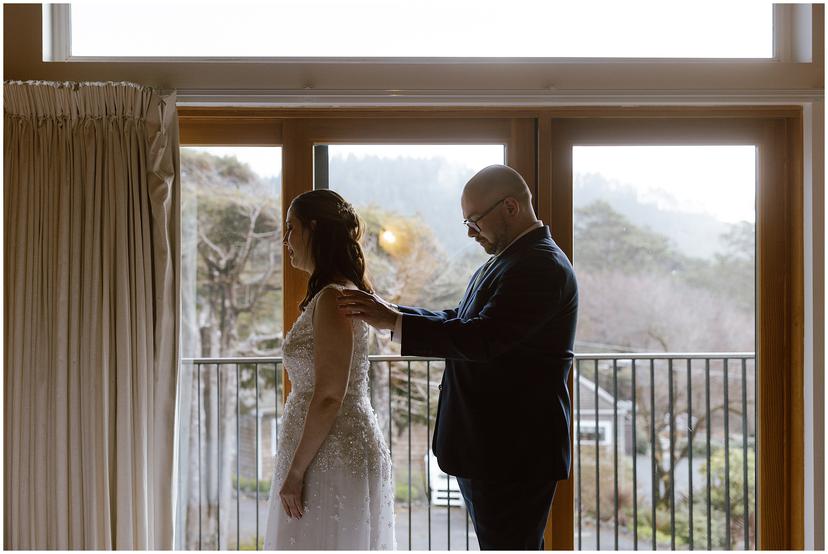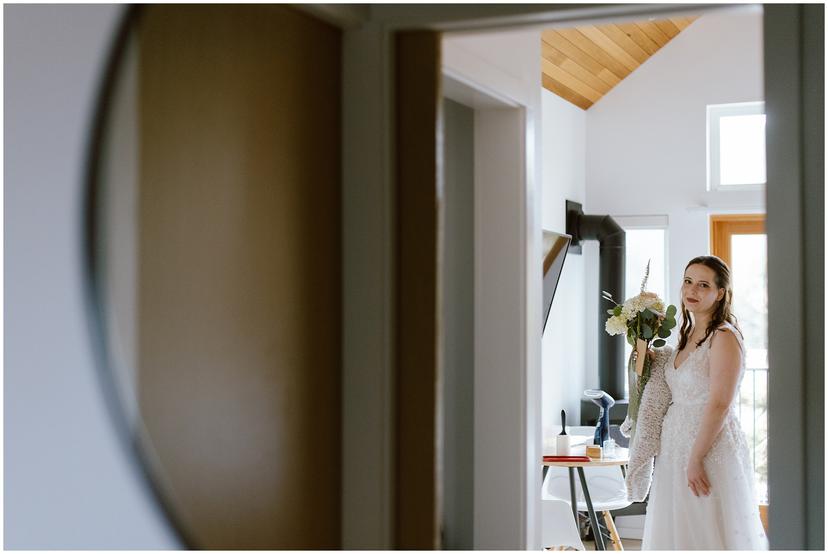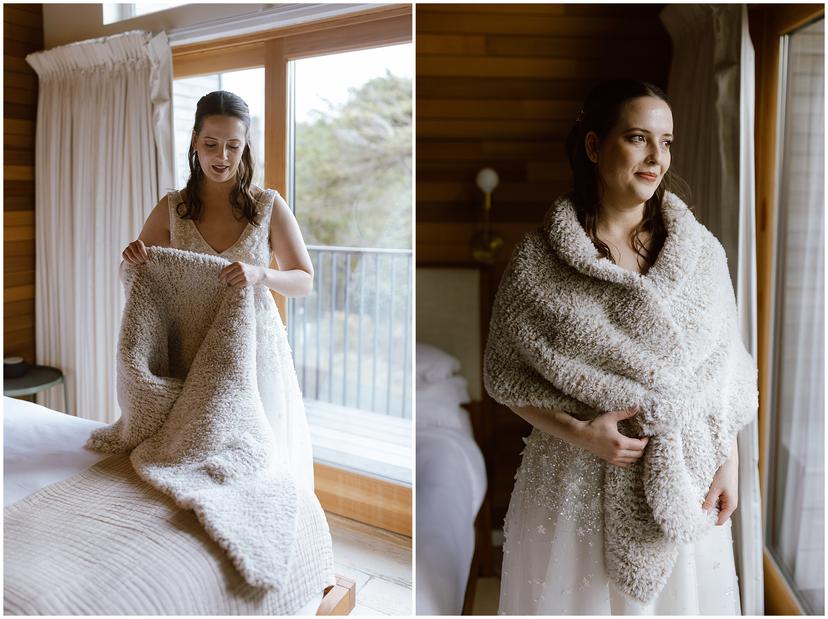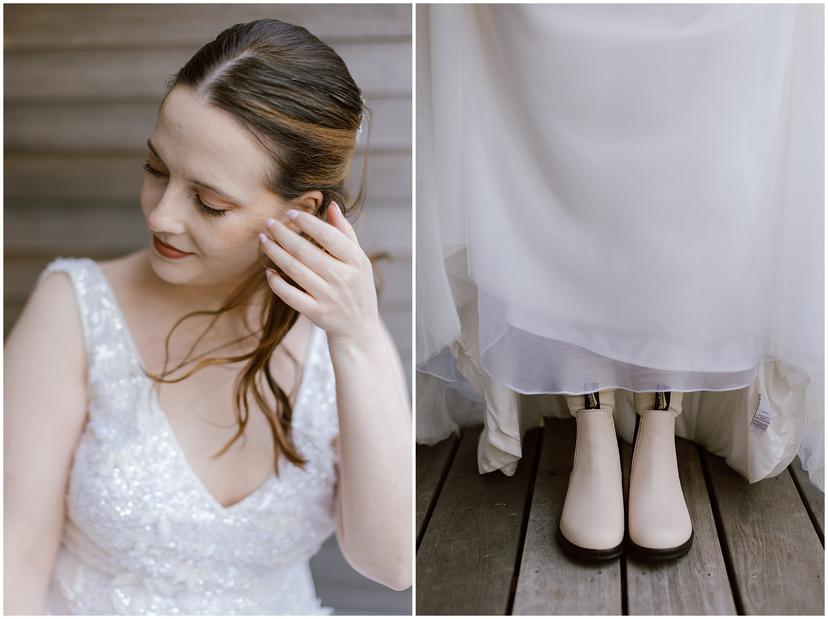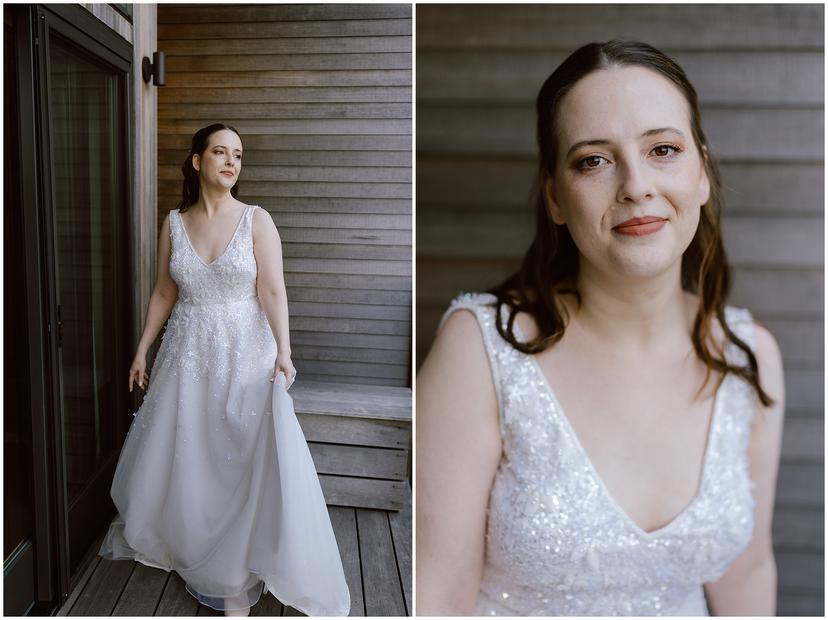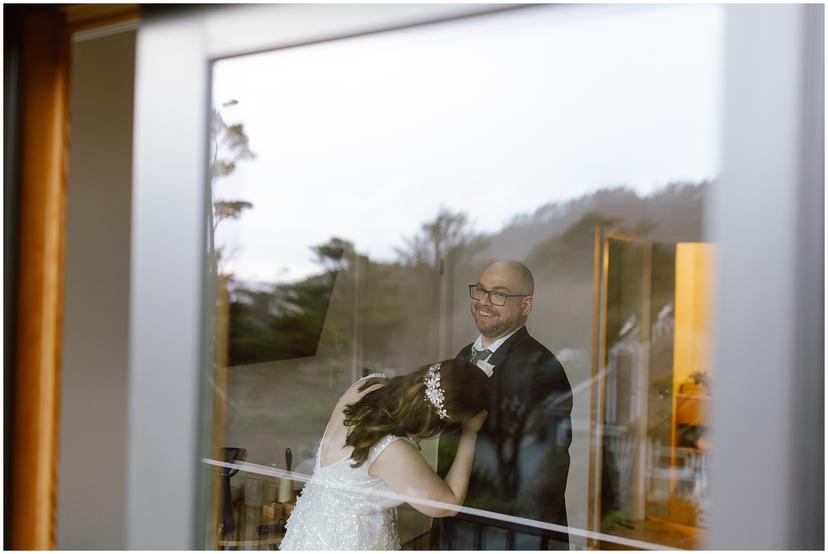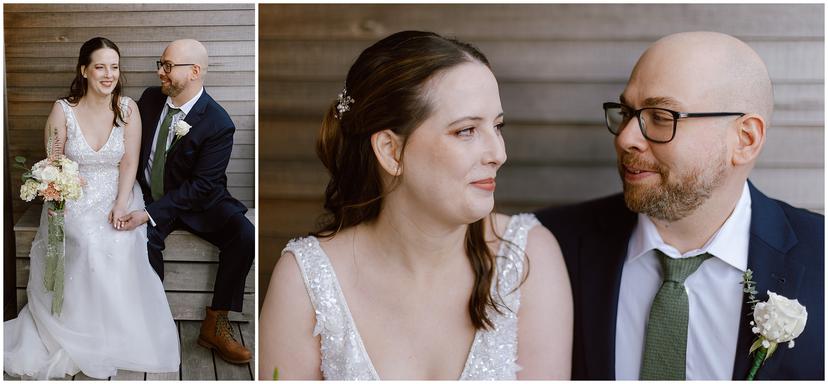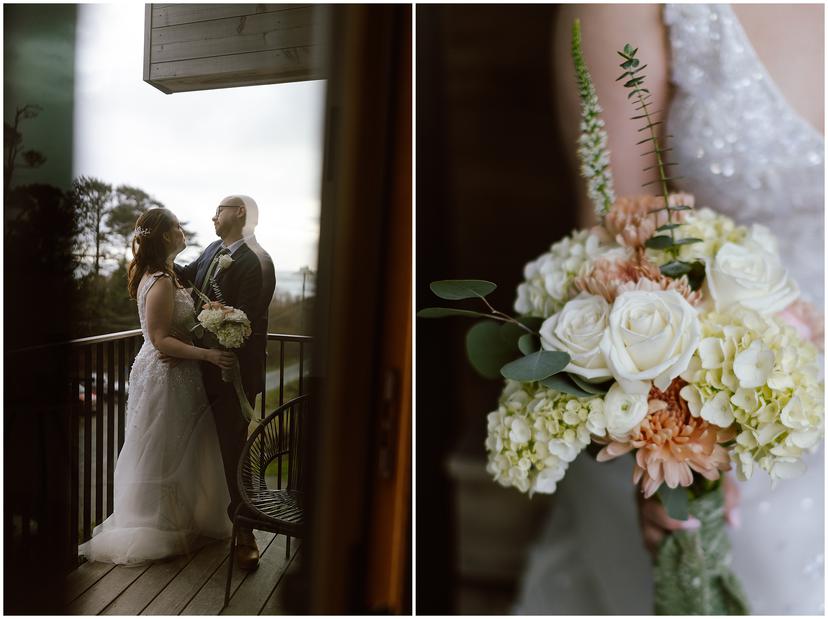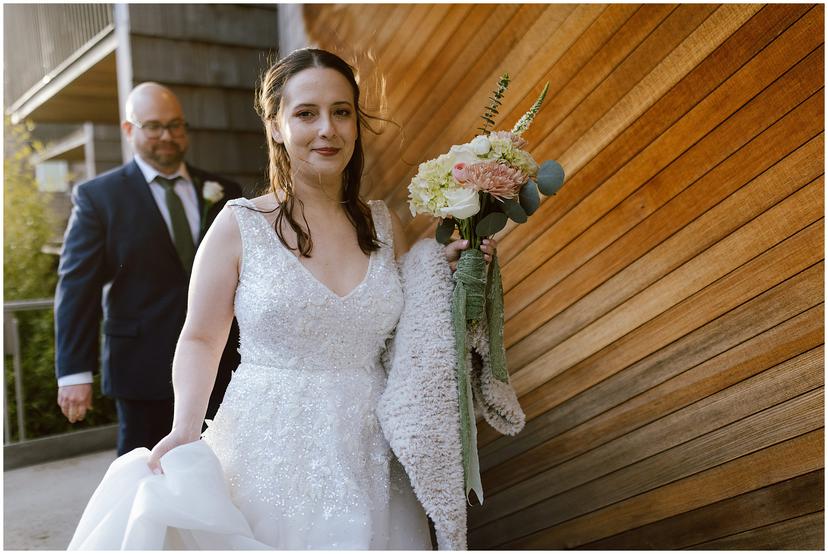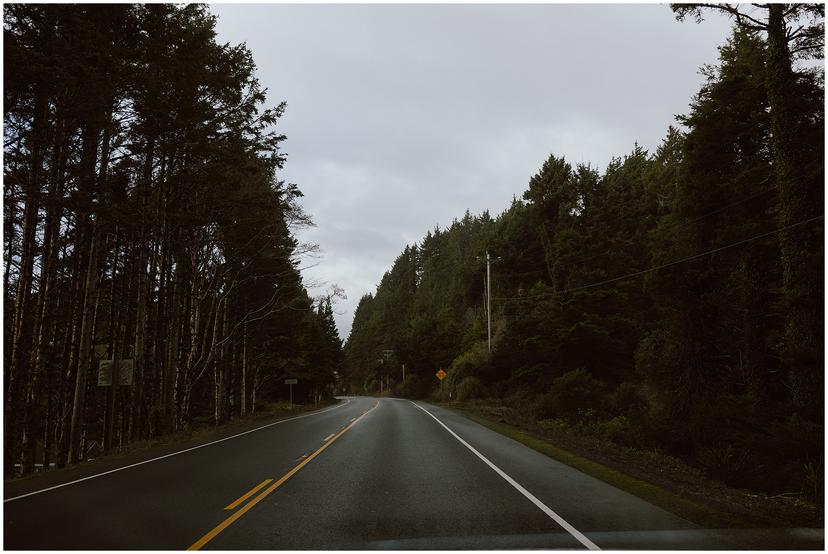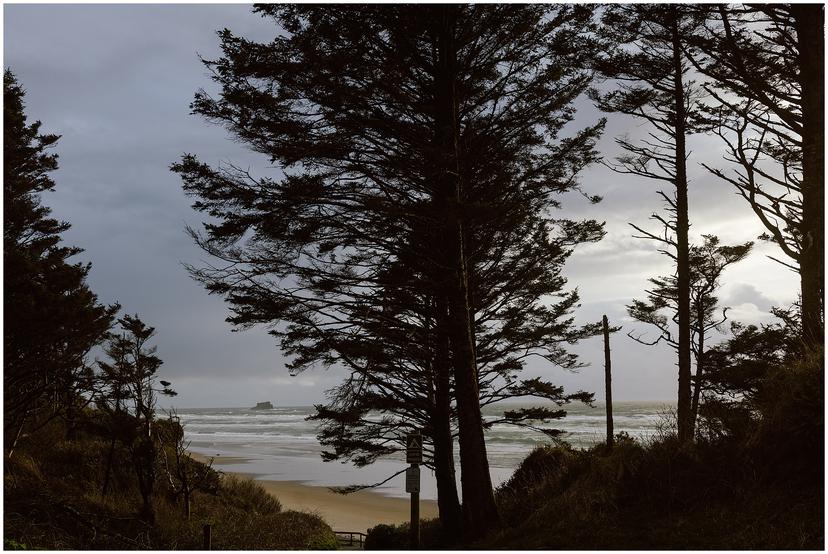 Hug Point Location
Tucked away along the breathtaking coastline of Oregon, Hug Point is a secluded and picturesque spot that is perfect for eloping couples or any type of photoshoot. The name itself, "Hug Point," evokes a sense of warmth and romance, making it an ideal location to exchange vows and celebrate love. The rocky cliffs, sandy shores, and lush greenery create a dreamy and intimate setting that feels like a secret haven for lovers.
Conveniently located just south of Cannon Beach, Hug Point is easily accessible with just a 90-minute drive from Portland, Oregon. It's a perfect destination for couples who want a unique and off-the-beaten-path location that's not too far from civilization, yet offers a sense of seclusion and intimacy.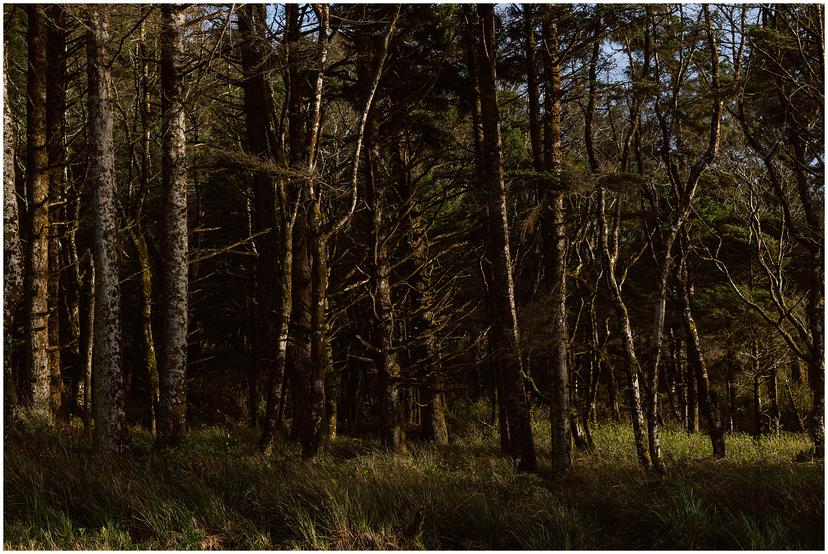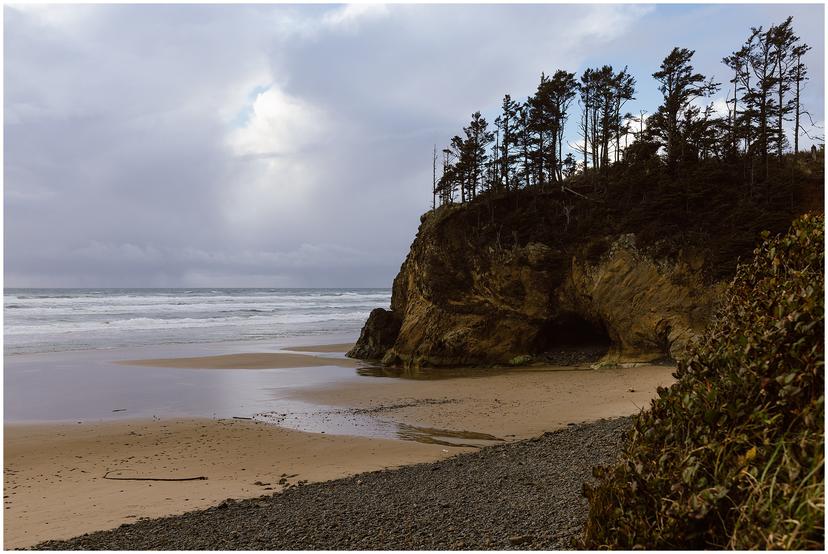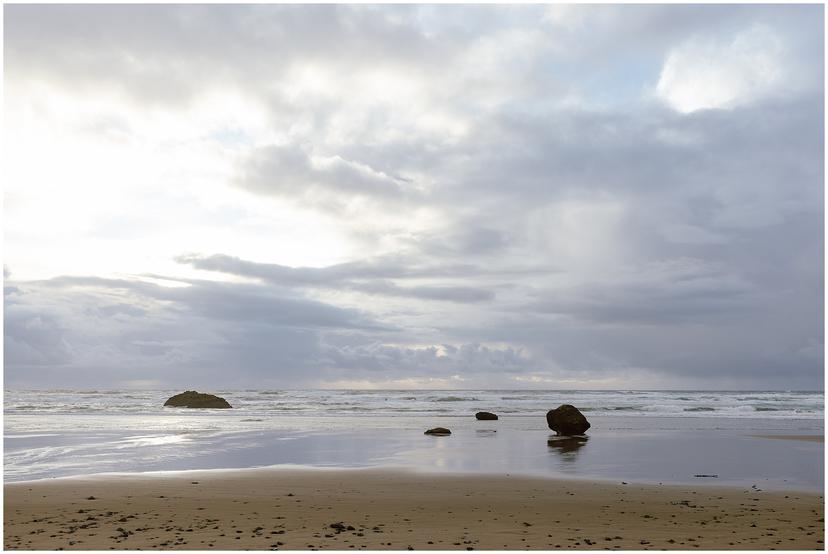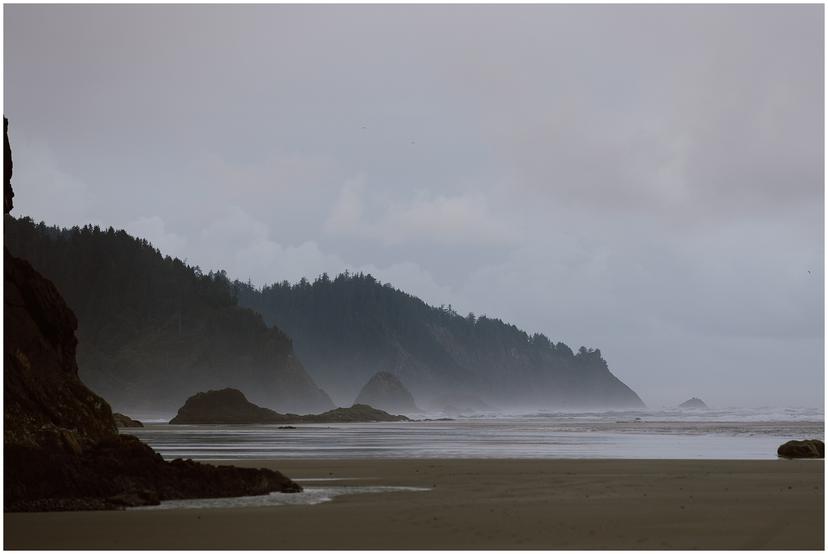 Best time of year to elope at Hug Point
The best time of year to elope at Hug Point depends on your preferences and the experience you're seeking. Summer offers warm weather and longer days, allowing for more time to explore. However, keep in mind that the sunset and sunrise are very early and very late - 5am and 9pm respectively, which are the best times to take photos. Spring and fall offer cooler temperatures and fewer crowds, making it a more intimate and secluded experience. Winter can be stormy and chilly, but it creates a dramatic and moody atmosphere that's perfect for adventurous couples who love the wild beauty of nature and want the entire beach to themselves.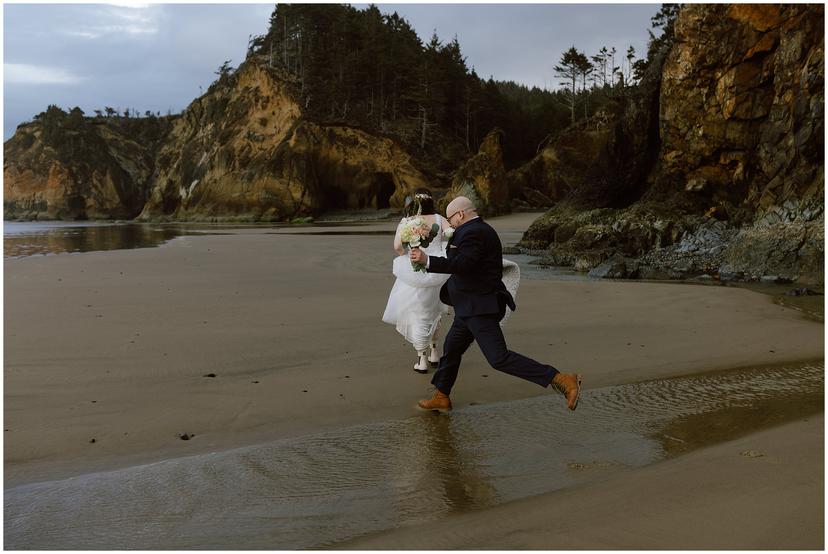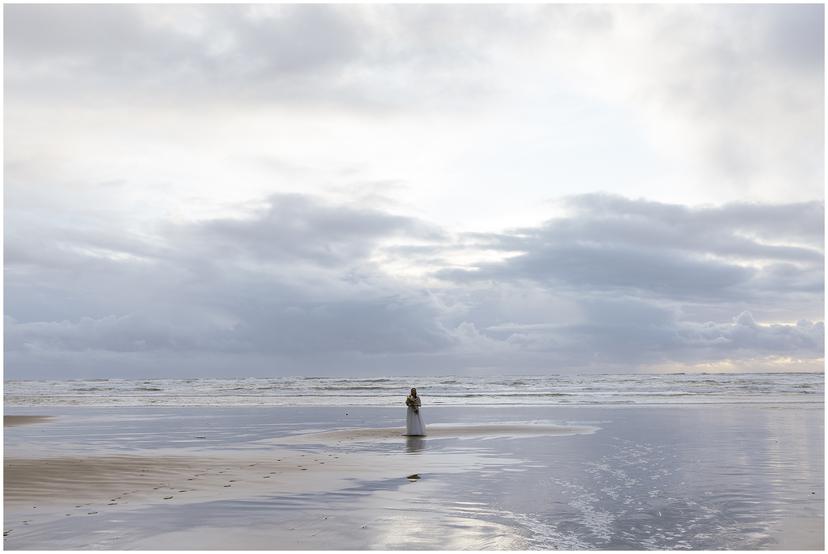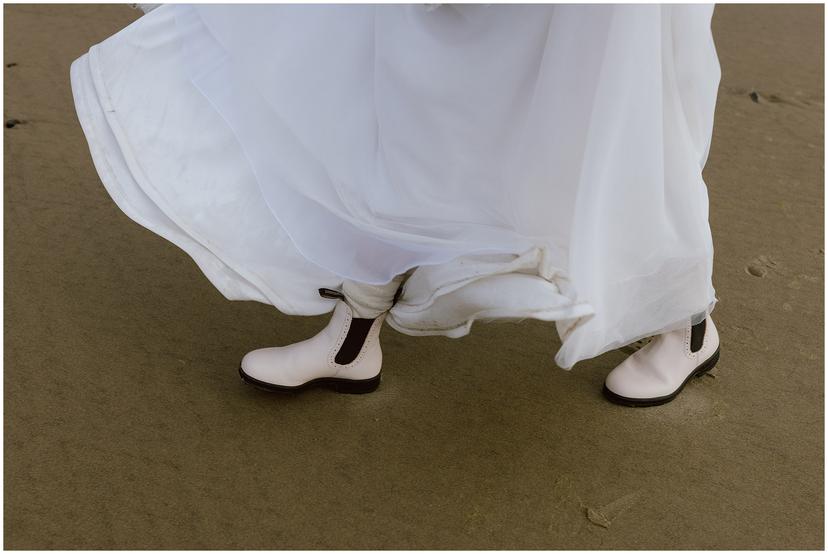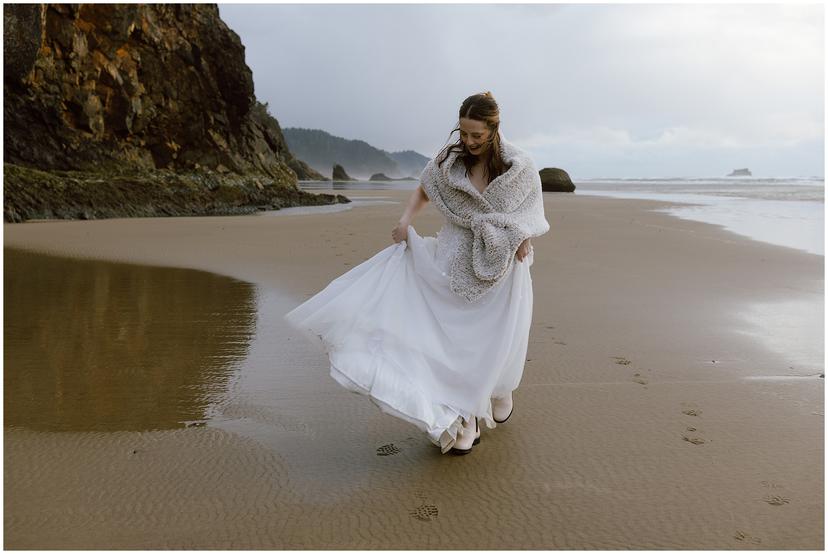 Tips for eloping at Hug Point
When planning your elopement at Hug Point, it's important to be prepared and embrace the natural beauty of the surroundings. Here are some tips to ensure a smooth and unforgettable elopement experience:
Consider the time of day
The best time to take photos is at sunset or sunrise when the lighting is best. You can do photos in the middle of the day, but you risk unflattering light and shadows, and more people! Sunrise is amazing if you want the beach to yourselves and if you like morning mist. Sunset is gorgeous because you can watch the sun set over the Pacific Ocean (and you don't have to wake up early!)
Watch the tides!
If you want full access to all of Hug Point, you have to go at low tide. The stunning waterfall is only accessible when the tide is low. If low tide doesn't line up with sunset, you can still take great photos at Hug Point, but you will have much less of the beach to work with.
Dress appropriately
The Oregon coast weather can be unpredictable, so be prepared with layers and appropriate footwear. Consider the wind and potential rain, and dress accordingly to stay comfortable and look stunning in your photos. You can expect your feet to get wet from walking on the reflective wet sand or crossing the creek. Waterproof shoes are a must!
Hire a local photographer
Hiring a photographer who knows the area well, like myself, can make a huge difference in capturing the essence of Hug Point! I am familiar with the best angles, lighting, and timing to ensure your photos are truly magical.
Embrace the natural beauty
Hug Point is known for its stunning rocky cliffs, tide pools, and unique formations. Let the natural beauty of the surroundings be the centerpiece of your elopement. Whether it's exchanging vows on the sandy shores or exploring the tide pools hand-in-hand, let nature be your guide and have fun, regardless of what the weather may have in store for you!
Make it personal
An elopement is all about celebrating your unique love story. Consider incorporating personal touches, such as writing your own vows, bringing meaningful props, or incorporating your favorite activities into the day. Let your elopement at Hug Point reflect your one-of-a-kind love story.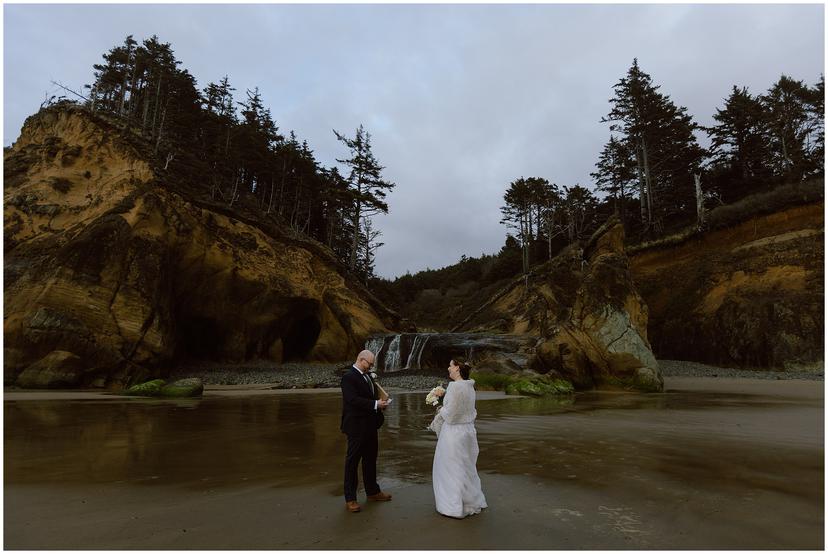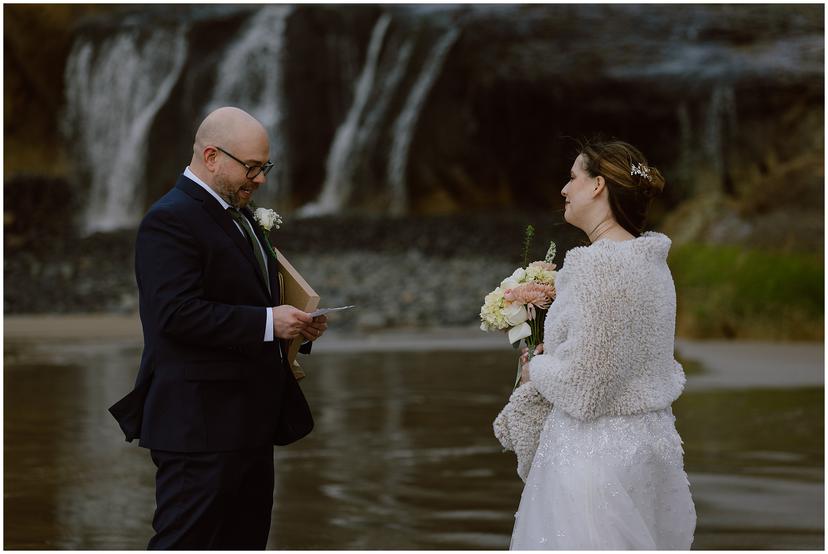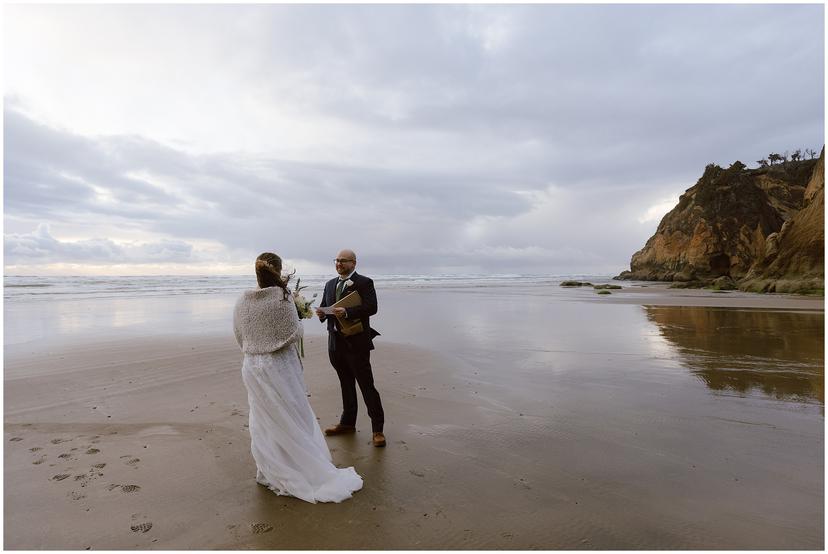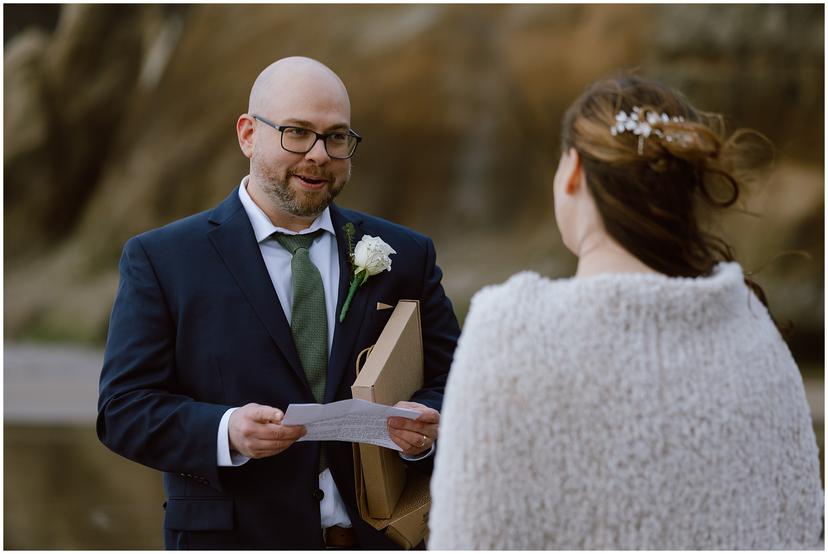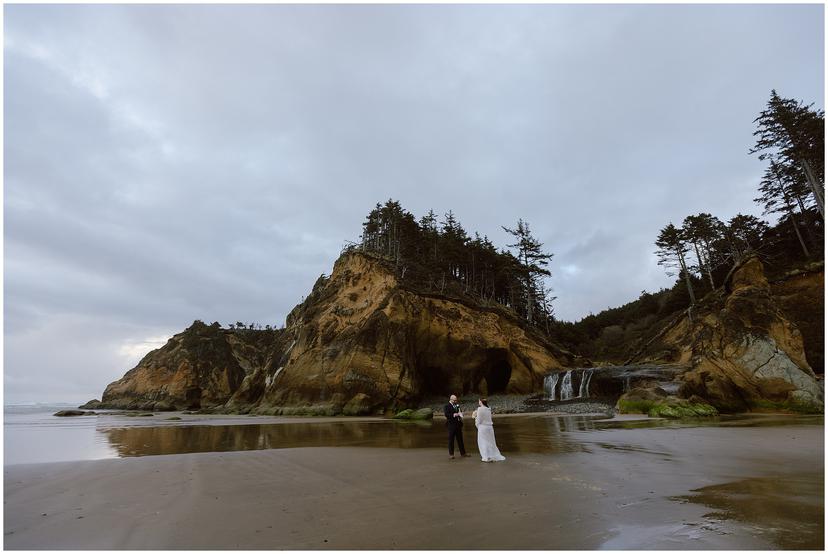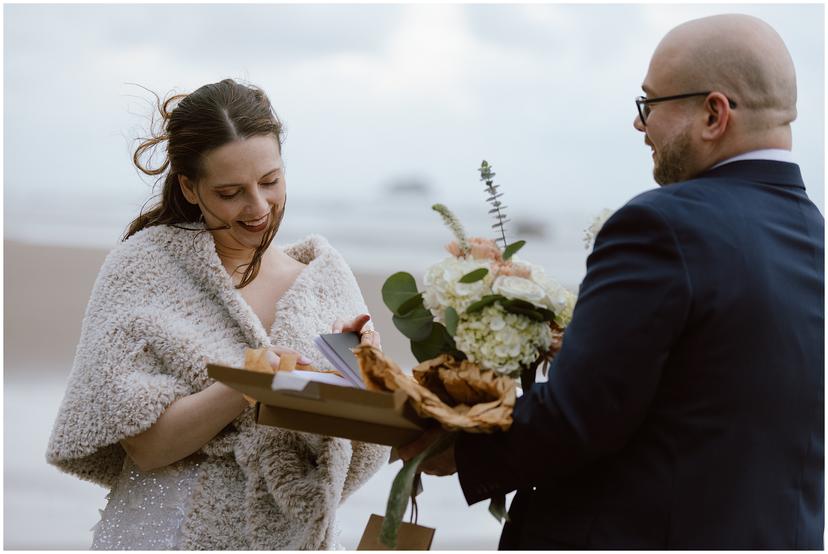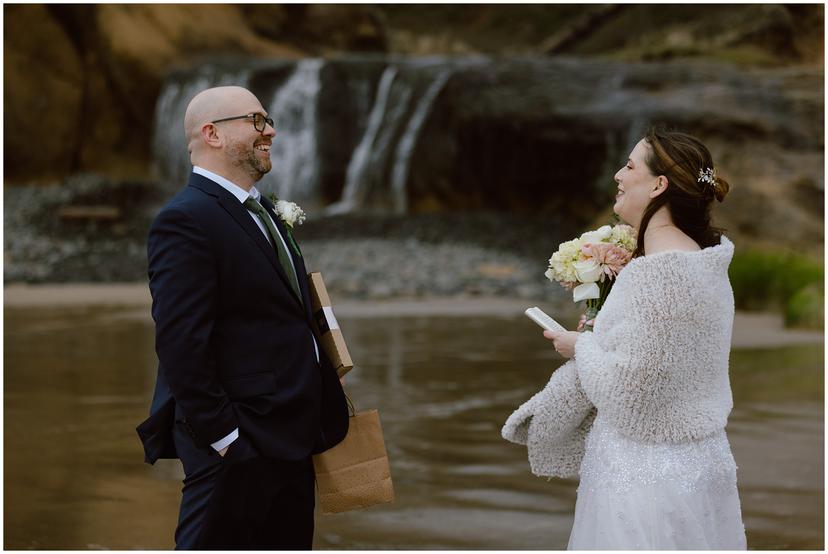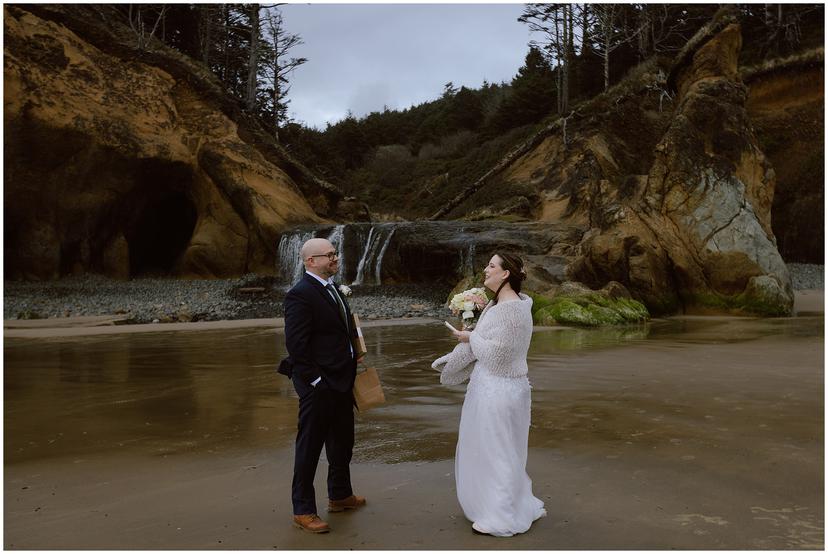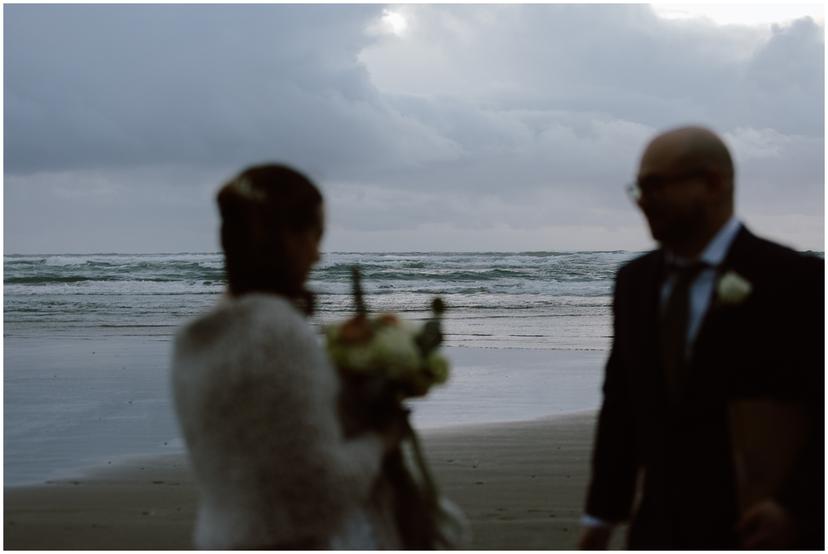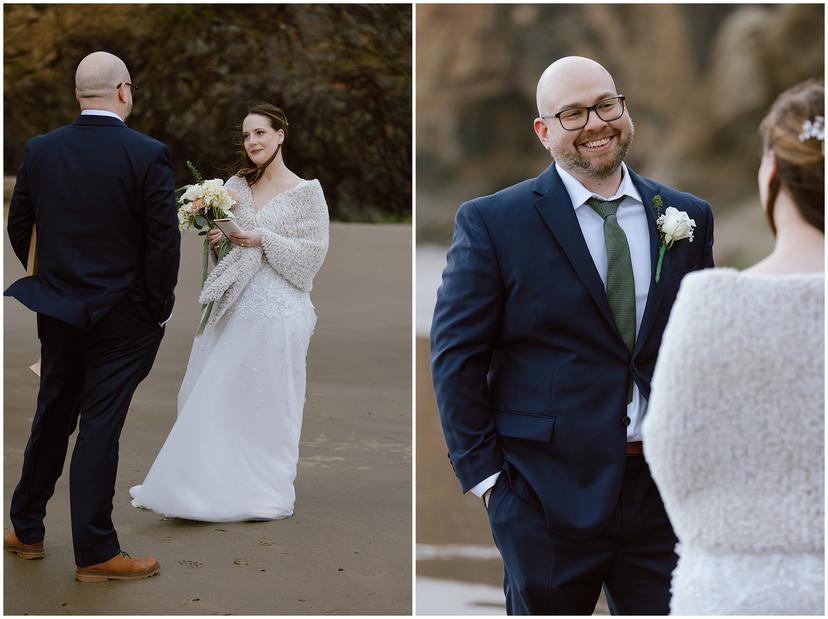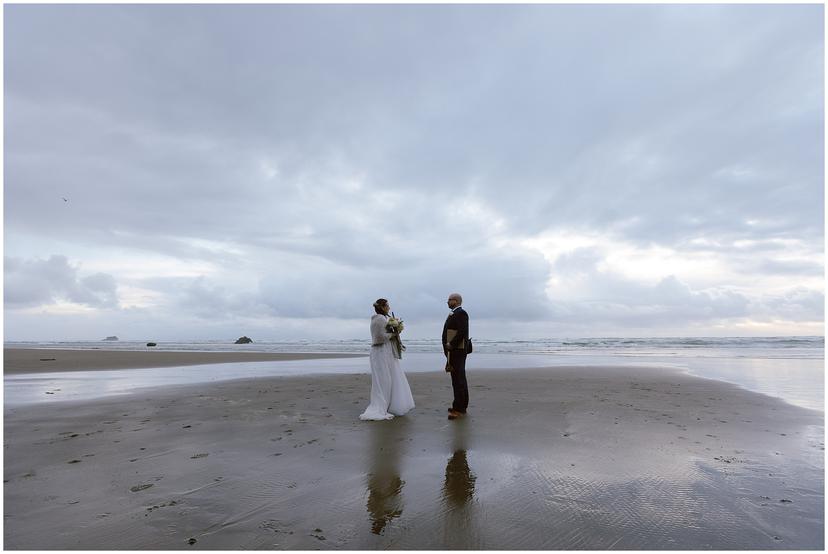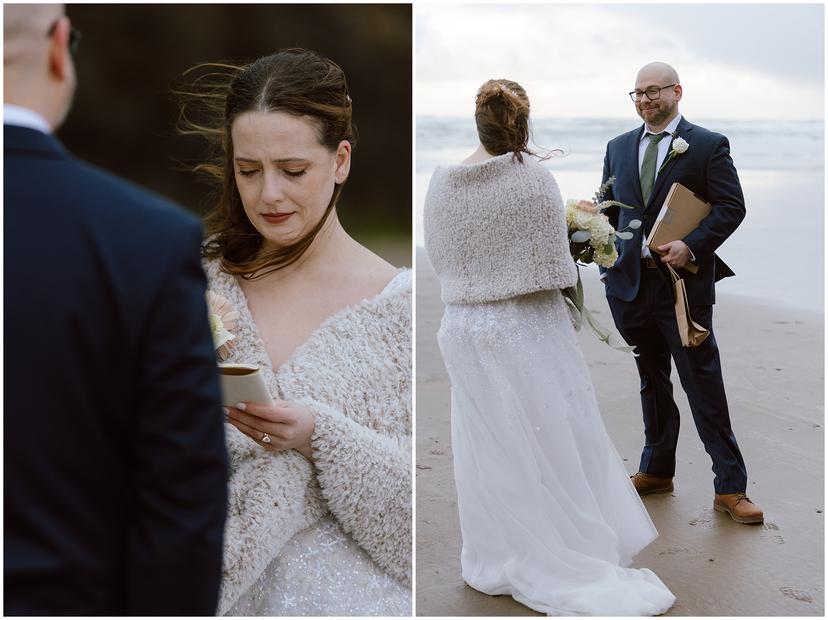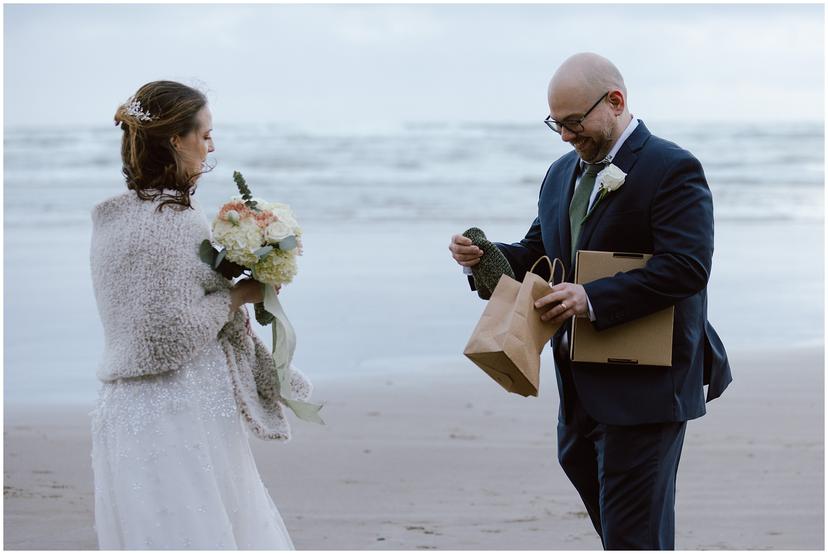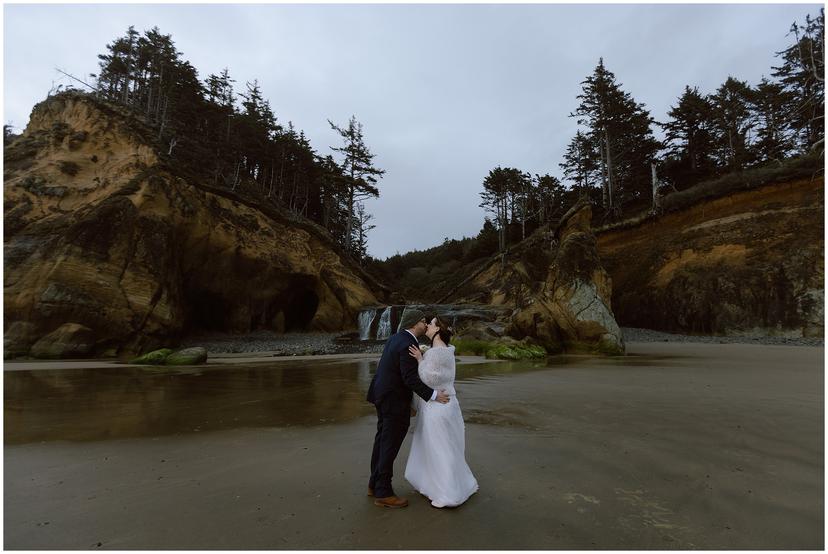 Words from the couple
What was your favorite memory from your Hug Point elopement?
"Our private vows and gift exchange were both of our favorite parts. We also loved the first look."
Why did you choose Hug Point?
"We chose Hug Point because we both love spending time at the coast, and it's where Joe proposed. Because we were eloping, we wanted an outdoor venue that provided a great backdrop for our photos."
What advice do you have for other couples planning Oregon Coast weddings?
"One thing we didn't think through initially when we chose the date were the tide tables. Luckily sunset and the tide aligned for us. The other thing to consider would be how heavy your dress truly ends up being once it gets wet. I also made sure we planned to have warm and dry feet by both wearing hiking boots. As Oregonians we were prepared for any sort of weather, the coast is unpredictable. We also planned off season to cut down on costs and how busy it would be. We made dinner reservations the following night so we wouldn't have to worry about not getting a table in town, during peak season I'd think this would be a must."
How did you personalize your Hug Point elopement day?
"I knit my shawl and made my bouquet. Joe made his own boutonniere. I bought flowers from New Seasons and Trader Joe's the day before the wedding and mostly assembled my bouquet the night before. I bought the ribbon off Etsy and the floral tape and pins from Amazon. I'm glad I went the frugal route of making my own, because the wind basically was destroying it anyways. We divided the tasks as well, I did my own makeup and Joe managed all of the beverages and food we brought. We wanted to focus our money on our memories, so good photography and well tailored outfits were where most of our budget went."
Why did you pick your particular outfits?
"We really took into consideration the ability to reuse items from our outfits in the future. So we decided to go frugal yet fashionable and reusable with the exception of maybe my dress. My dress had a lot of sequins so I wanted my jewelry to be toned down, and went with stud earrings that were our initials. I also knew I had to knit something for myself and spent a lot of time researching what it would be. I came across the faux fur shawl pattern and knew that would look great in photos and provide some warmth. I also made Joe's hat in the photos, and it all worked out with his color choices of his tie and shoelaces."
Tell me about your vendors and why you chose them?
I used Alteration by Heather, and if she takes you as a customer, she guarantees to have your dress ready by your wedding date so there was no worry. Joe's suit was altered super fast as well at the Men's Wearhouse. I convinced my hair stylist to do my hair although she no longer does bridal hair, and I'm so glad we had that special moment of getting ready. I found Katy years ago, and always was drawn to her photography. When she opened up her mini sessions in the summer of 2021, I signed up so we could see what it was like working with her and to preserve some memories during the pandemic. I knew after that she would be our choice for our ultimate event, even though we had no concrete plans at the time.
Anything else you learned while planning your wedding?
"Everything takes longer than expected. We planned our elopement in less than 6 months all on our own, and I can't imagine planning a full event in that time. Things on the coast aren't open late, so plan ahead where you will eat or bring food to prepare. I really wouldn't change anything other than maybe figuring out some way to keep my hands warm."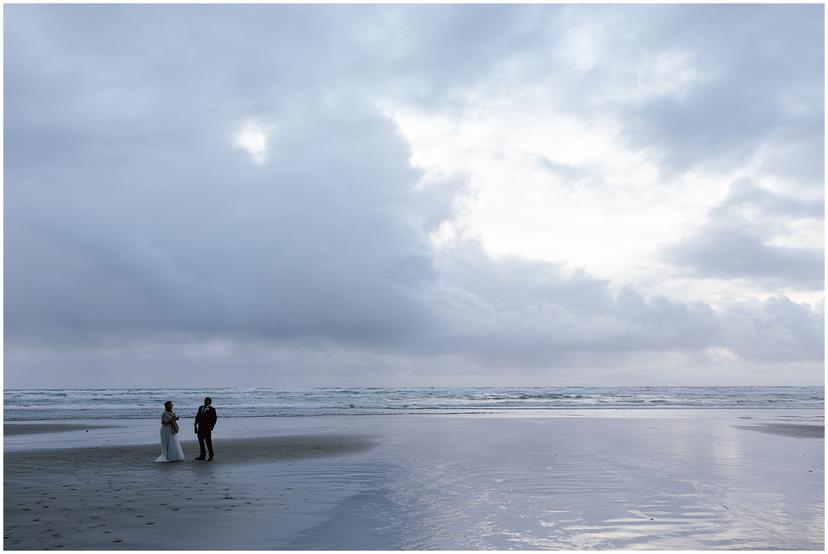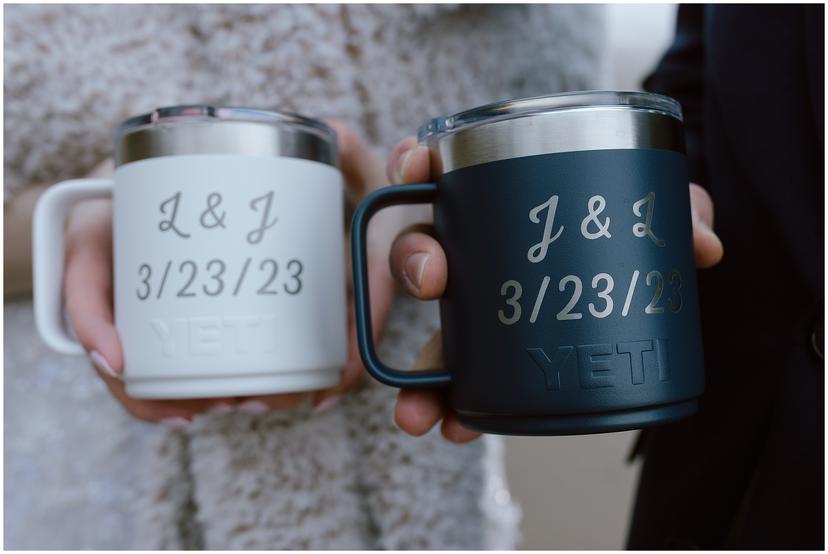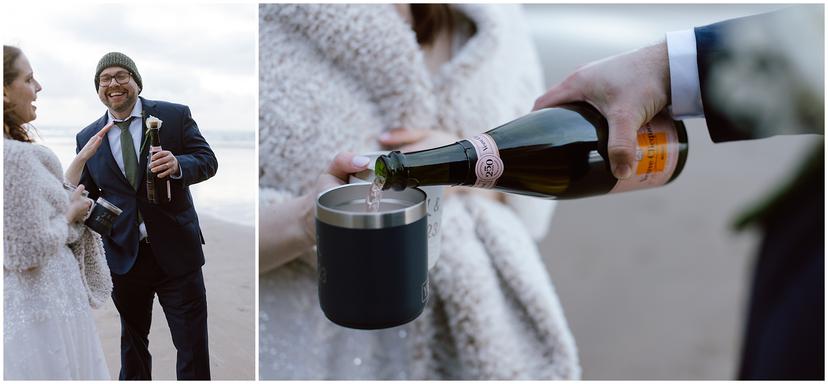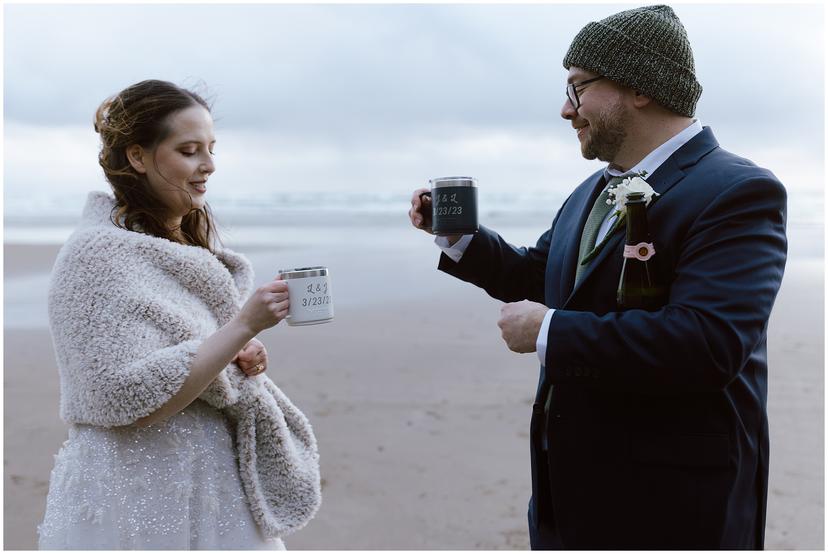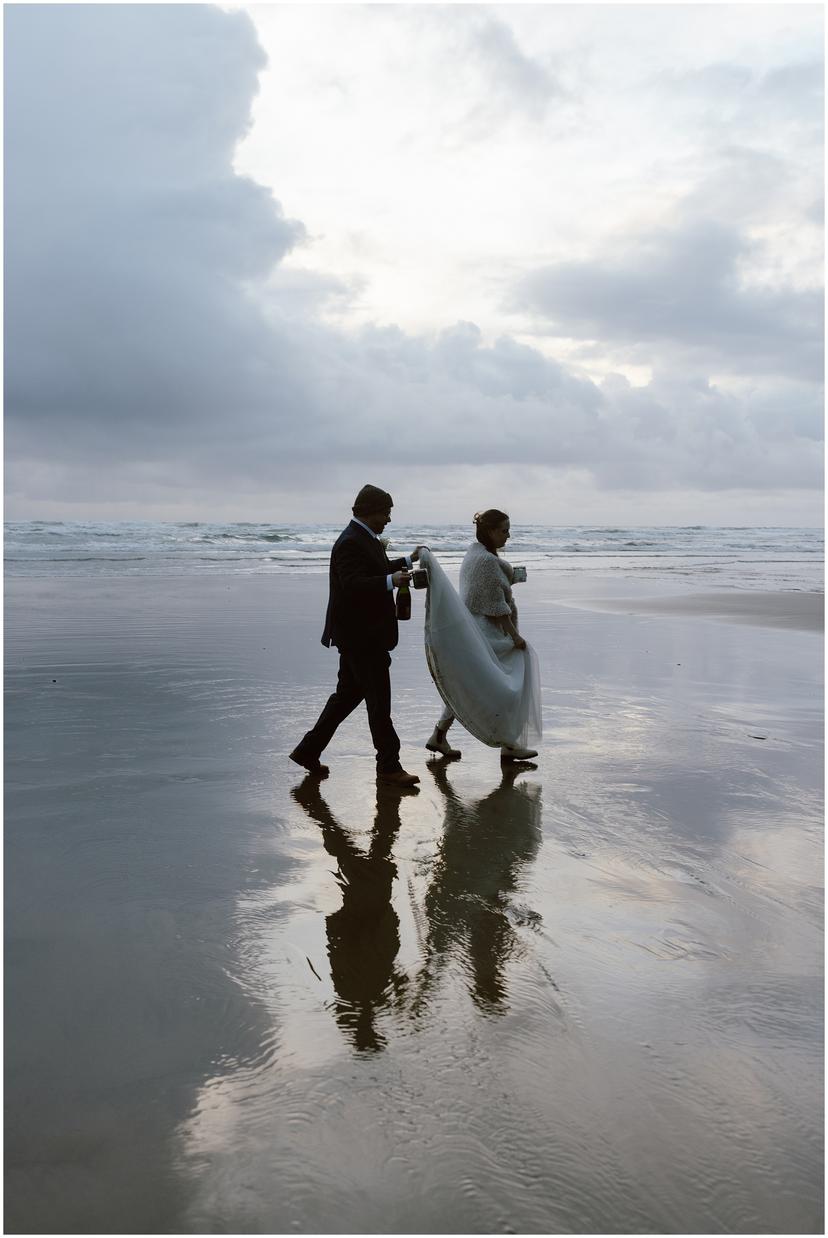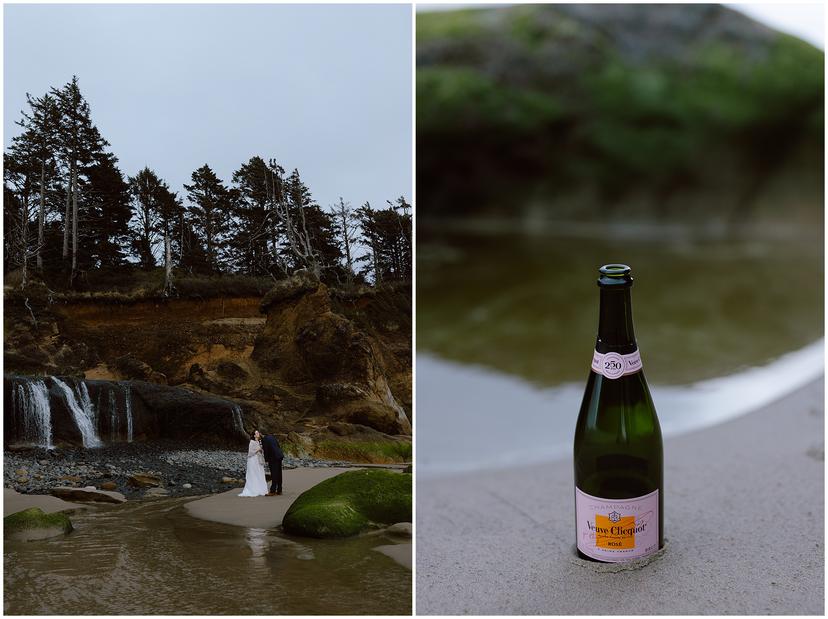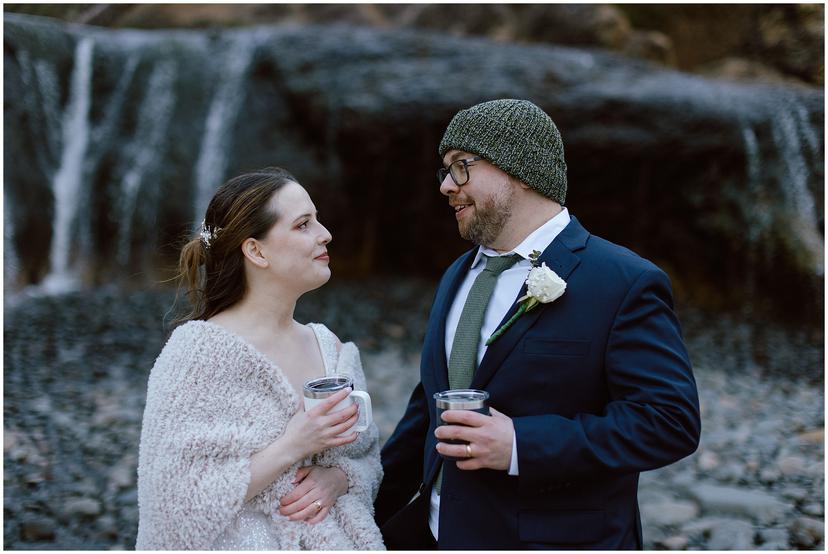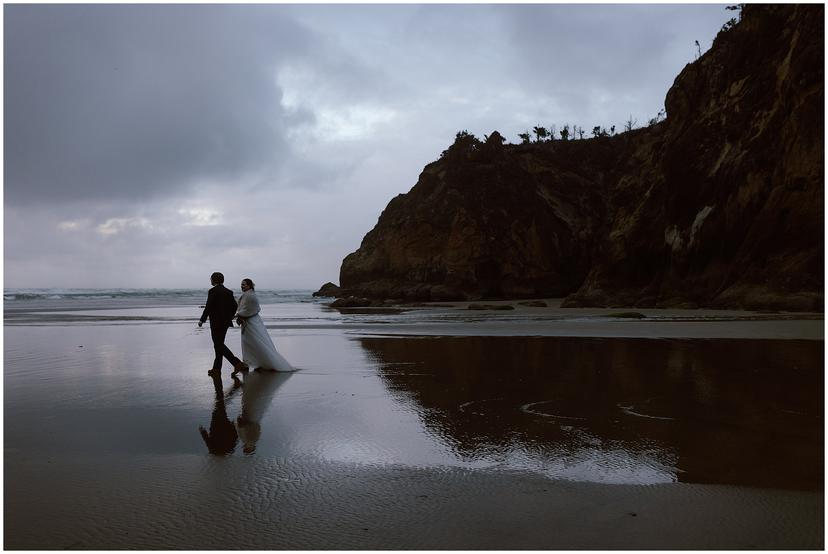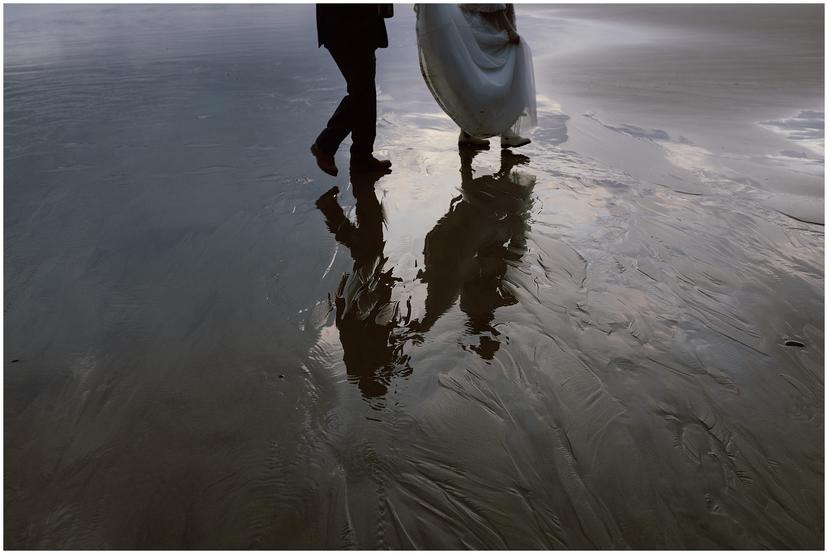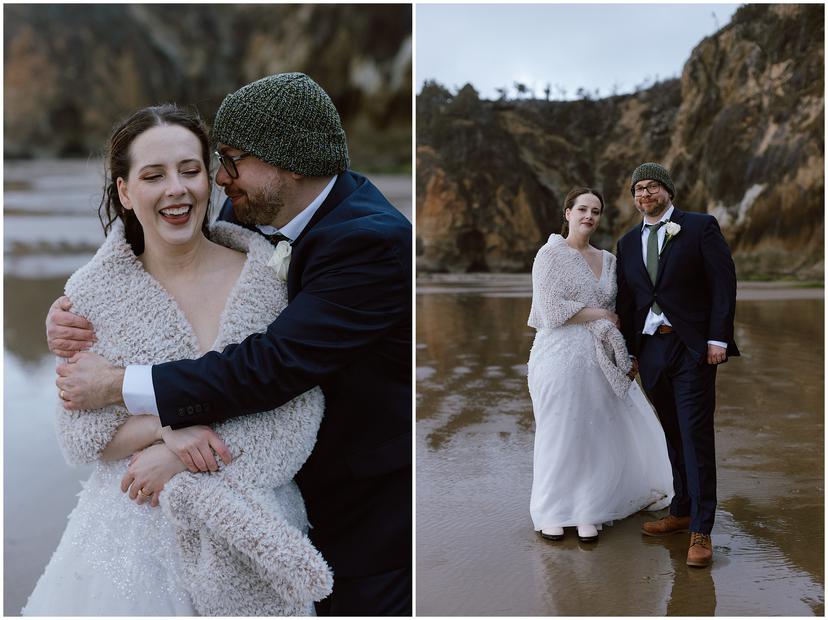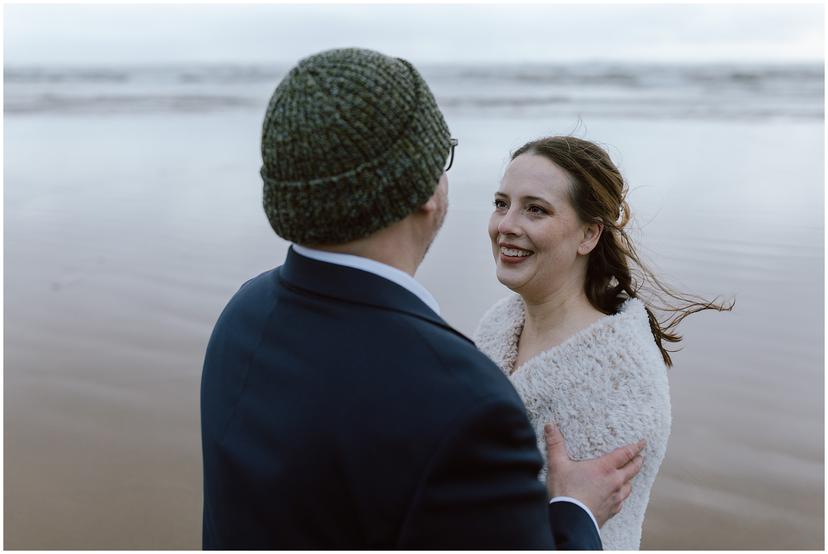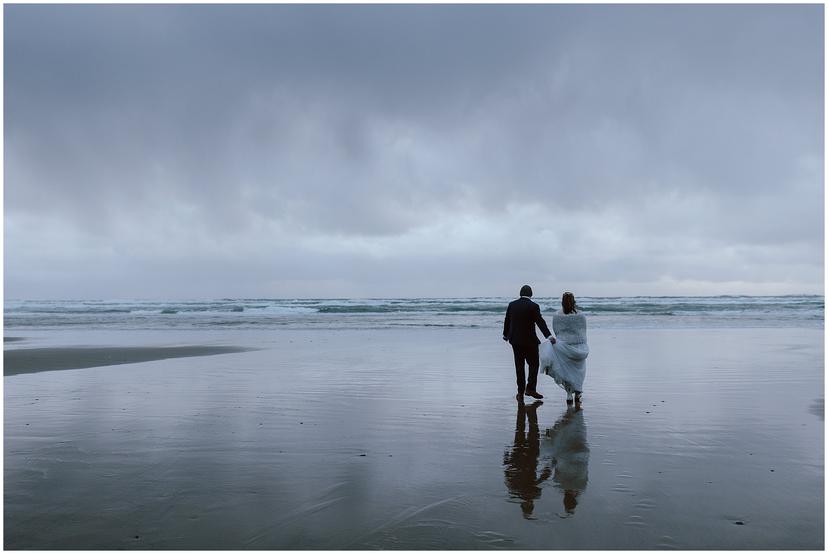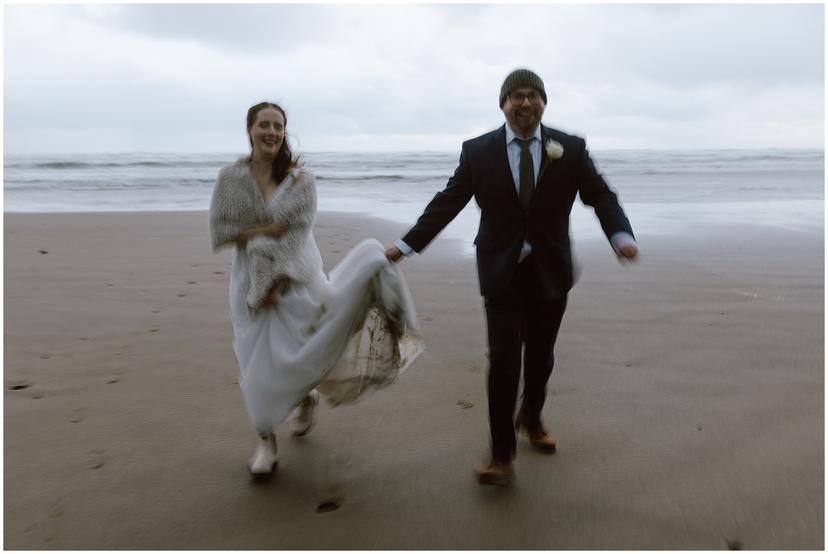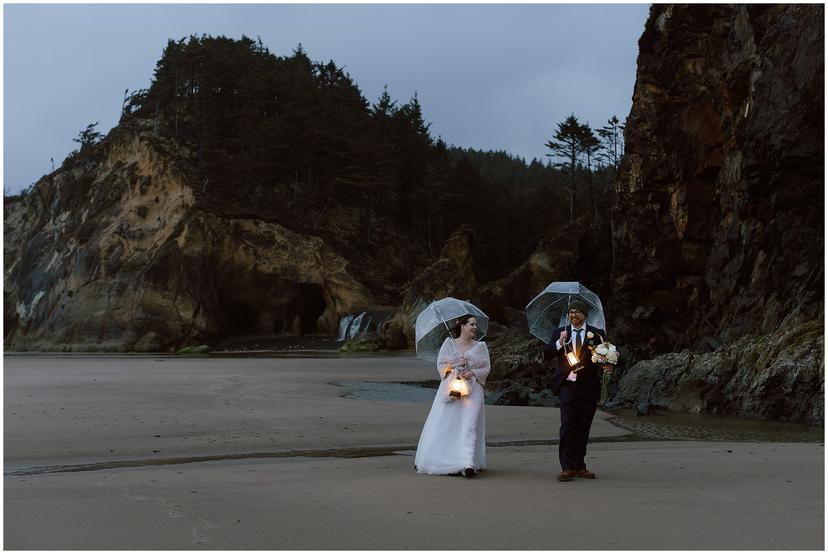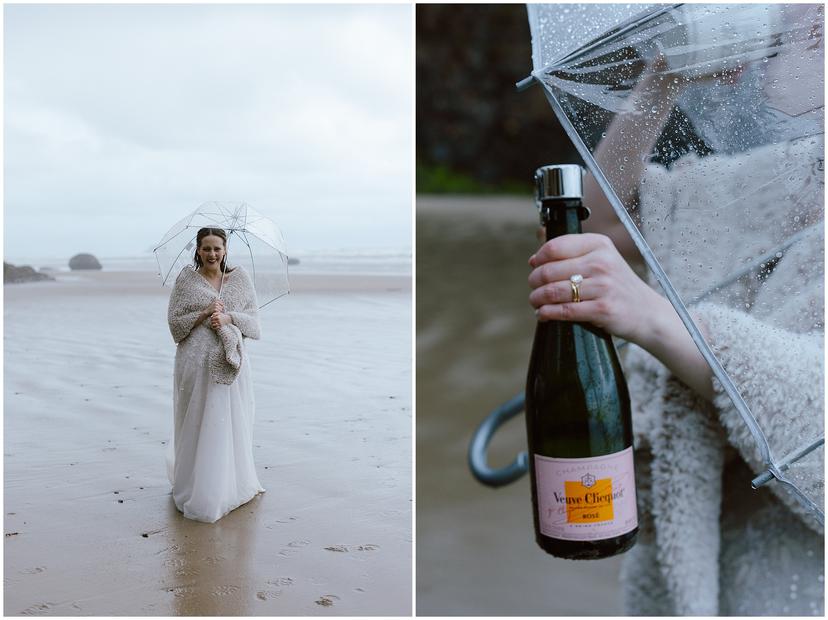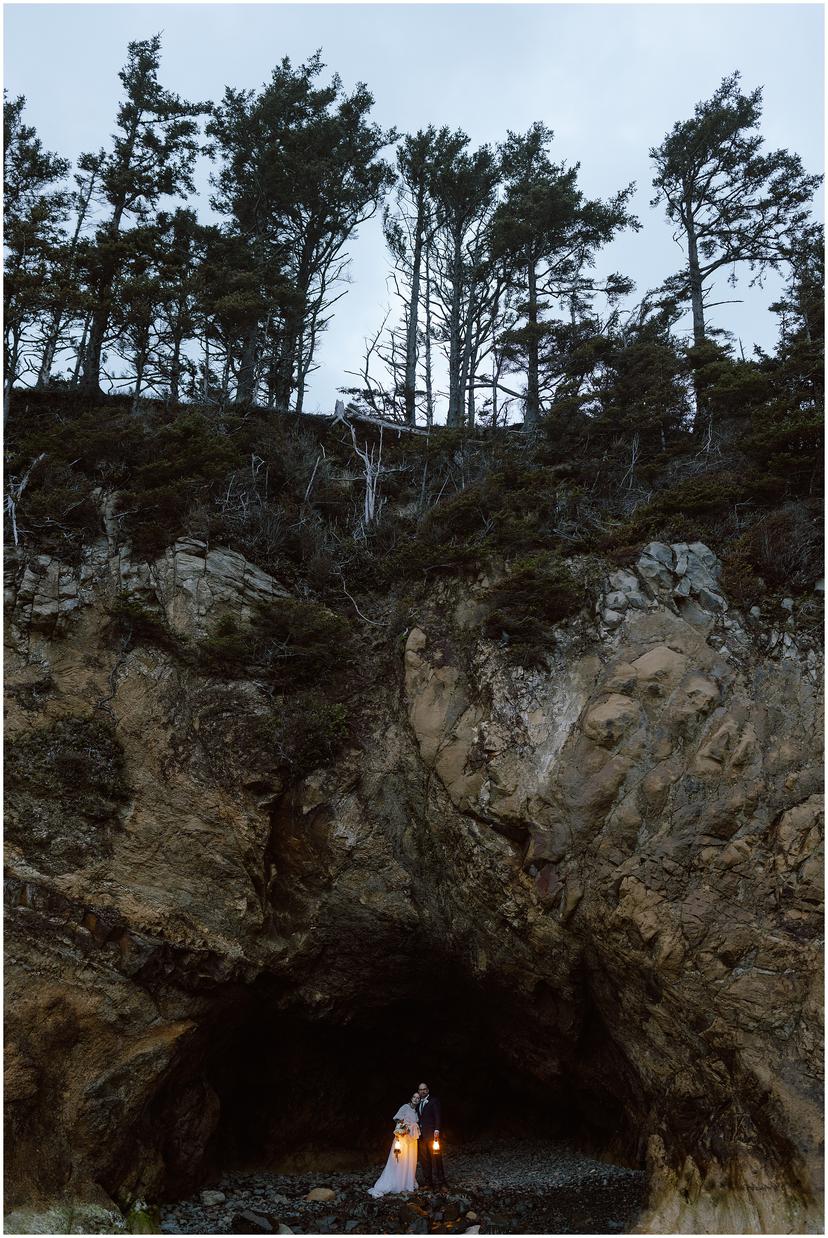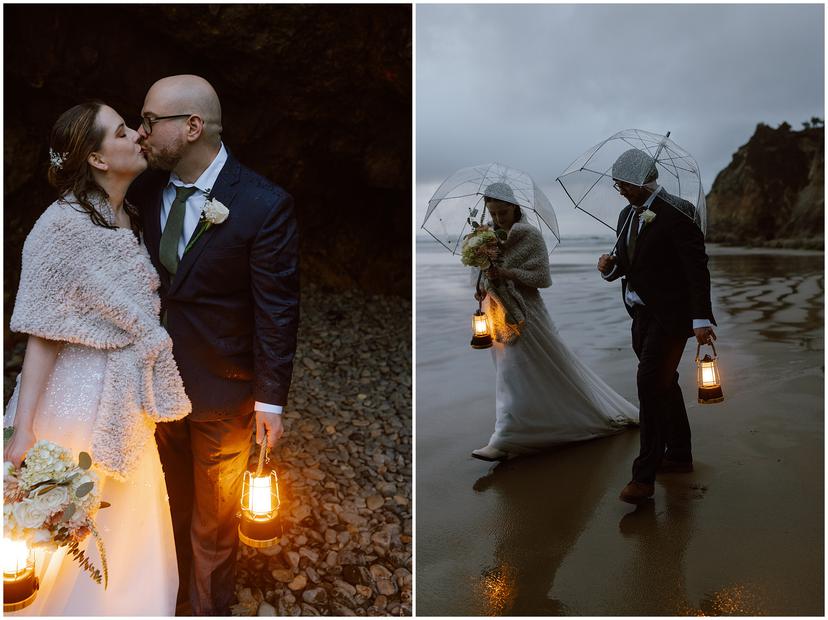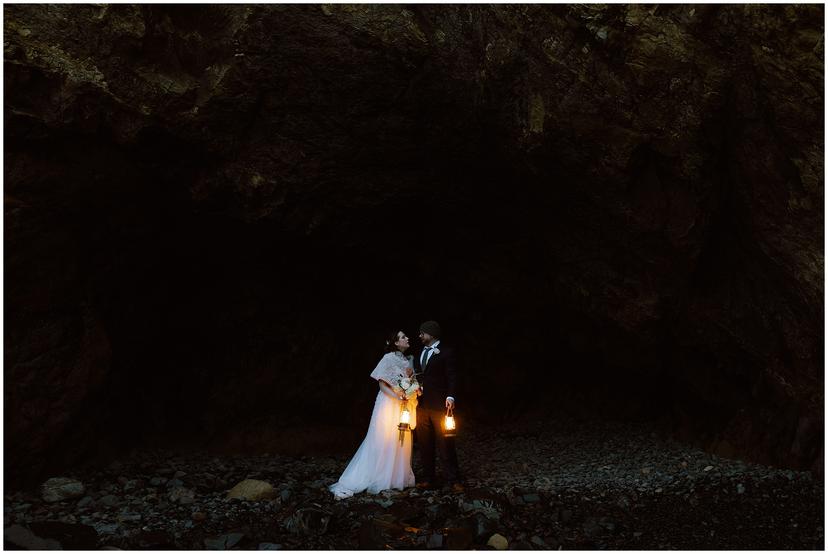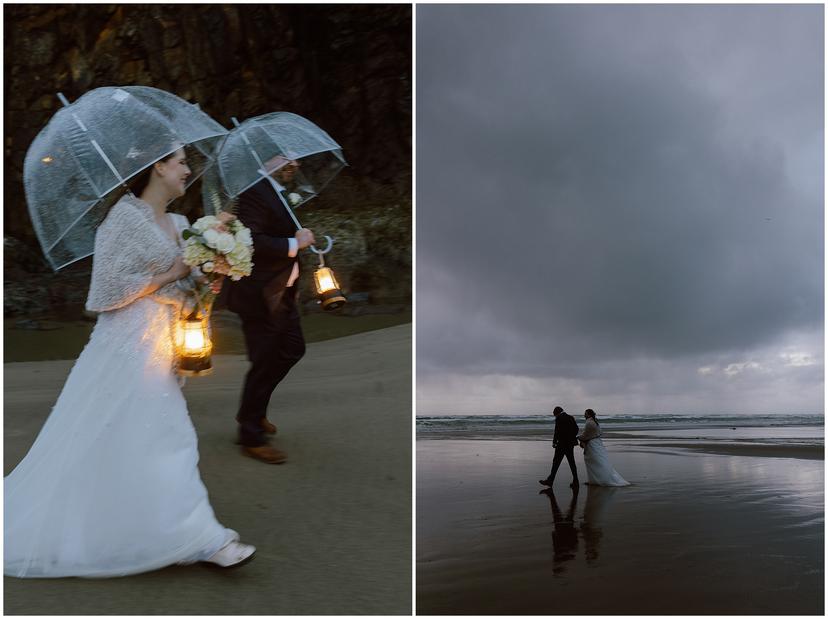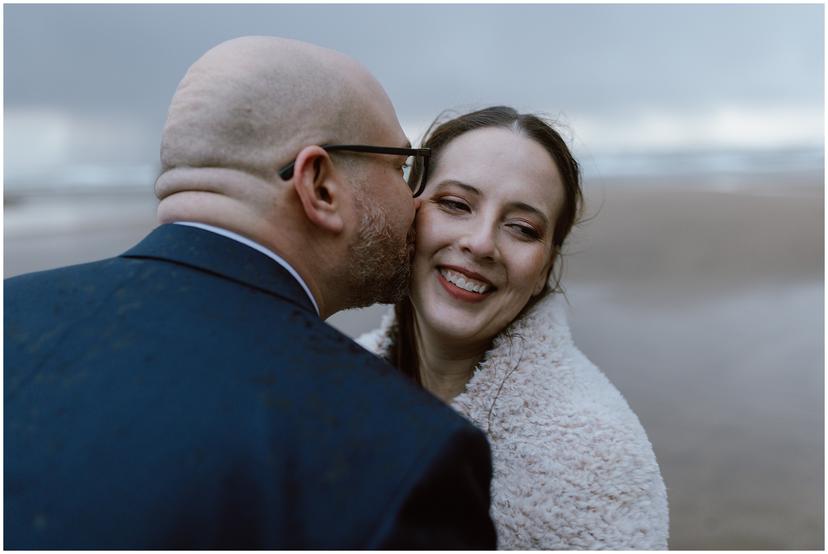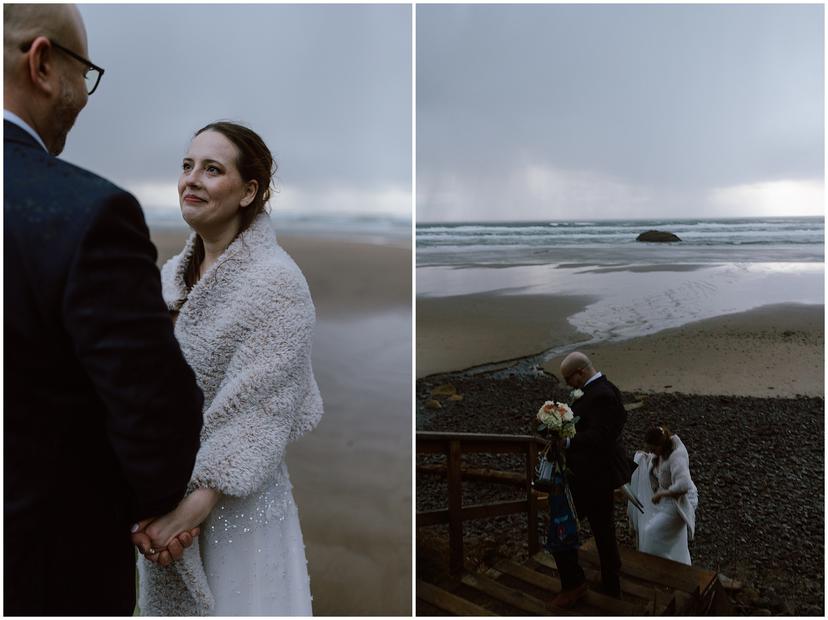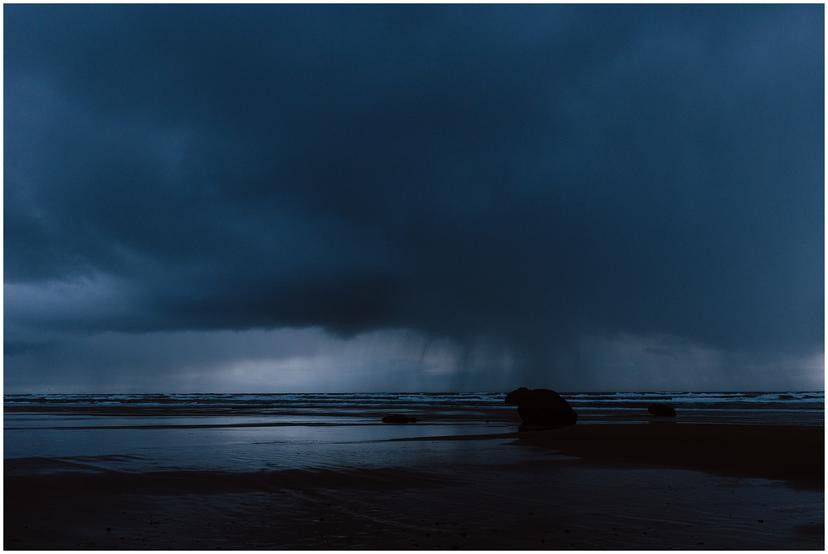 Vendors
Suit and tie: Men's Wearhouse

Dress: Theia - Bought at Brides for a Cause

Hair Stylist: Amy Todd

Shoes: Blundstones and Sorel boots

Alterations: Alterations by Heather
Learn More
Eloping at Hug Point is a magical and intimate experience that offers a breathtaking backdrop for celebrating love. The secluded location, accessibility, and natural beauty make it an ideal choice for adventurous couples who want a unique and unforgettable elopement. If you loved reading about this Hug Point elopement, here are some other blog posts you might enjoy! And always, feel free to contact me with more questions! I am here for you.
A SOUTHERN OREGON COAST ELOPEMENT
LEARN ABOUT NON-TRADITIONAL WEDDING TIMELINES
CHECK OUT MY REVIEWS ON GOOGLE