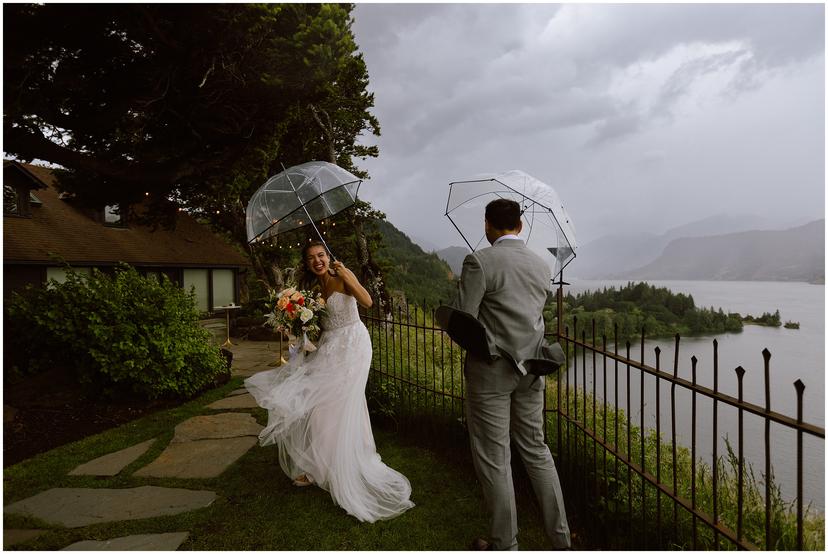 Griffin House Wedding
This Griffin House wedding was absolutely beautiful, but also a day of extremes. It was sunny, it was rainy, it was windy.
And the groom came down with Covid the night before.
It's every couples worst nightmare. The guests had already flown in, the vendors were already booked. It was too late to cancel. So Justin and Tori figured out how to a have a wedding - as safely as possible - despite all odds.
I wore my N95 all day. Justin only attended the outdoor ceremony and took some photos afterward - then returned to his hotel to quarantine. Tori spent most of the day solo, surrounded by loved ones. The couple wore N95s and stood 6 feet apart whenever possible. They didn't do a first kiss, just a first dance immediately after the ceremony.
For portraits without masks, I had everyone hold their breath for every single image, quickly stepping apart and re-masking after each one. It was a major challenge. But we made the best of the situation! Despite everything, Tori and Justin smiled brilliantly and had the best time they could.
"We still feel like it was such a special day and we are still MARRIED!" said Tori, looking back on it. "I'm so grateful it was Justin I went through the day with because I couldn't have chosen a better partner and I am still just so full of love for my team!"
Morning hike to Starvation Creek Falls
Justin and Tori started their wedding day bright and early with a hike at Starvation Creek Falls, (including Cabin Creek Falls and Hole in the Wall Falls). Or at least that was the original plan. When Justin tested positive for COVID, he told Tori he couldn't make the hike.
She arrived with the wedding party (in matching outfits!) and they munched on bagels and coffee. We took photos at the first waterfall and began the hike to the next one. As we approached the falls, Tori was in for a surprise. Justin was there! She cried tears of joy and they did a first look from 6 feet apart. We did take a few photos without masks - they held their breath for 15-20 seconds at a time. It was tricky, but worth it to have him on the hike! It was the perfect way to start their non-traditional wedding day.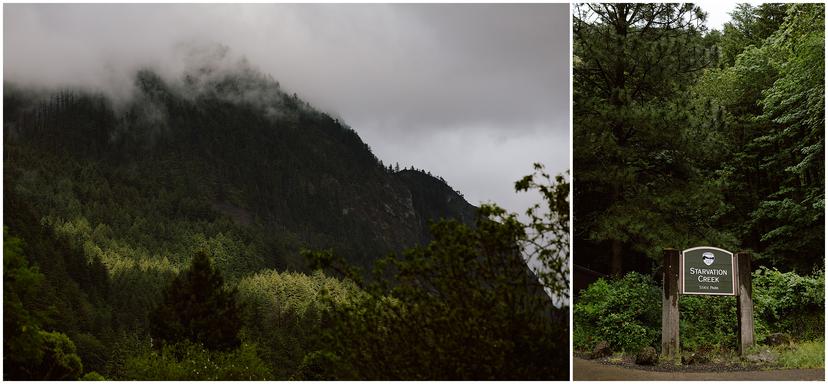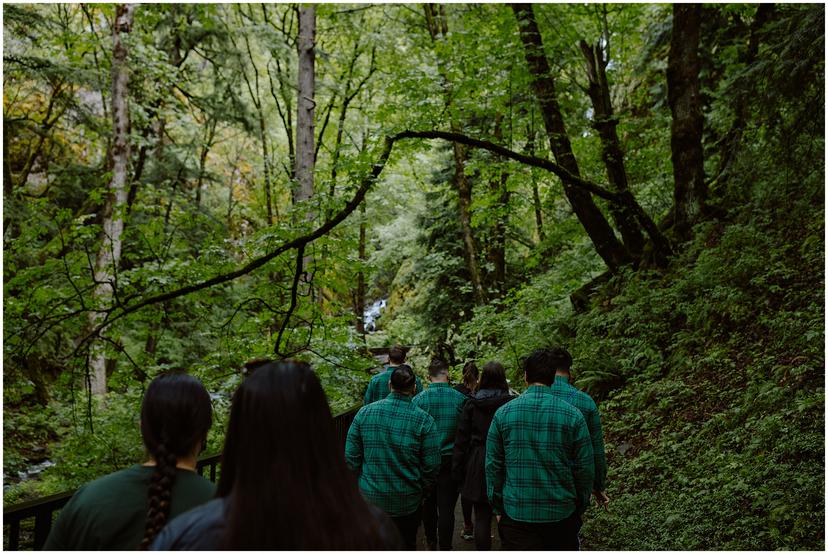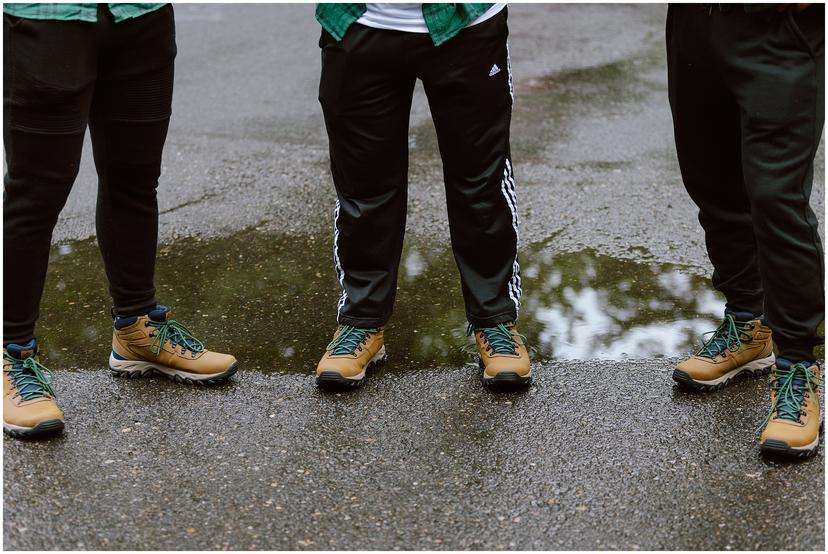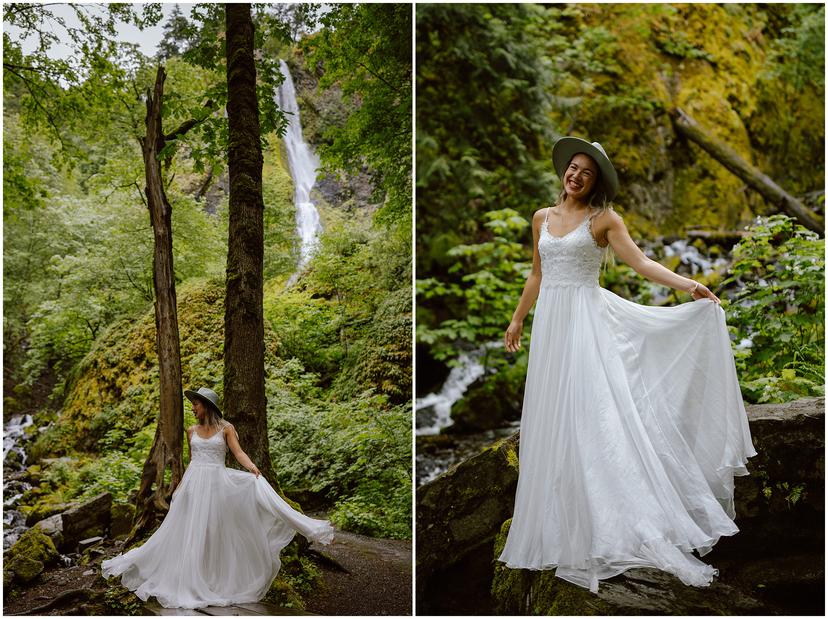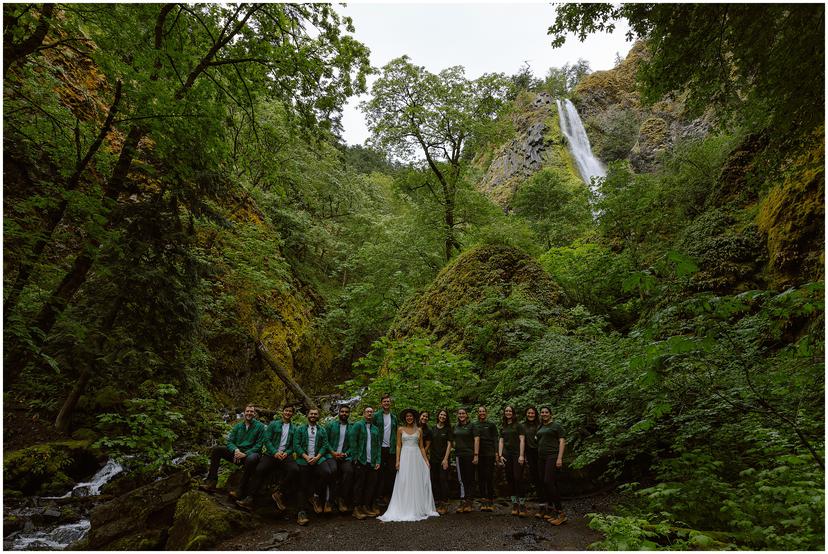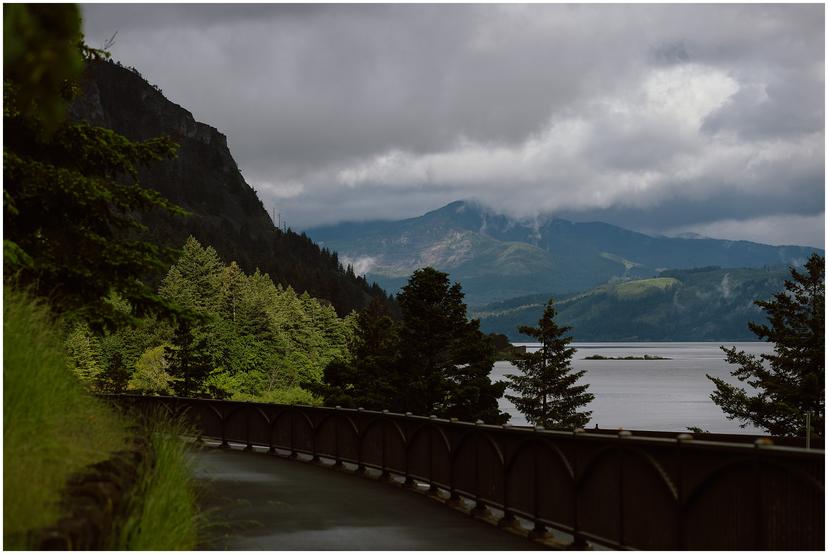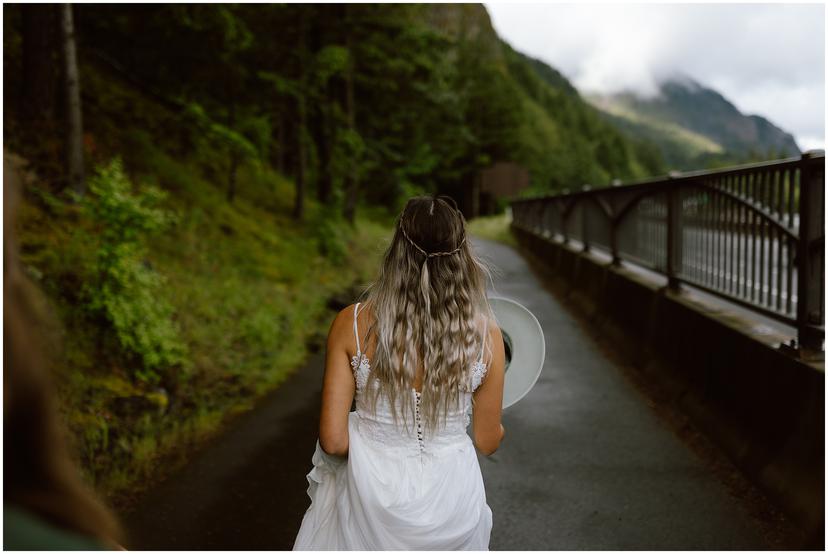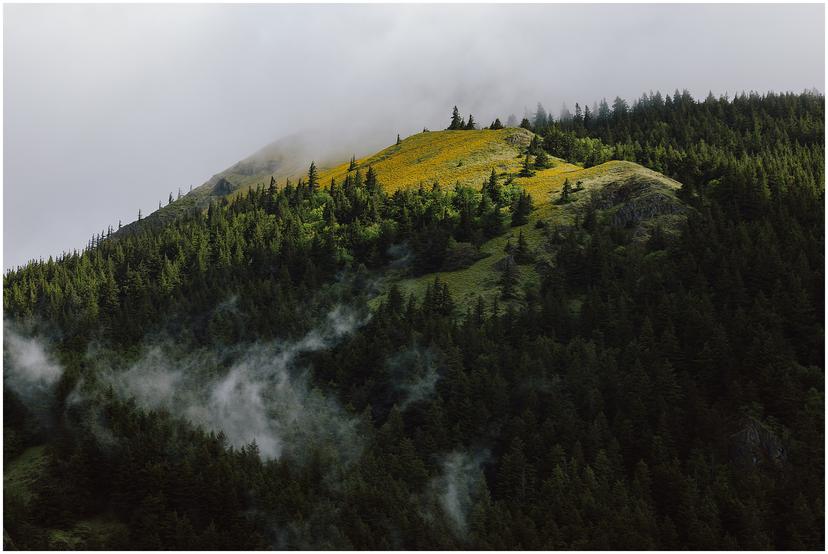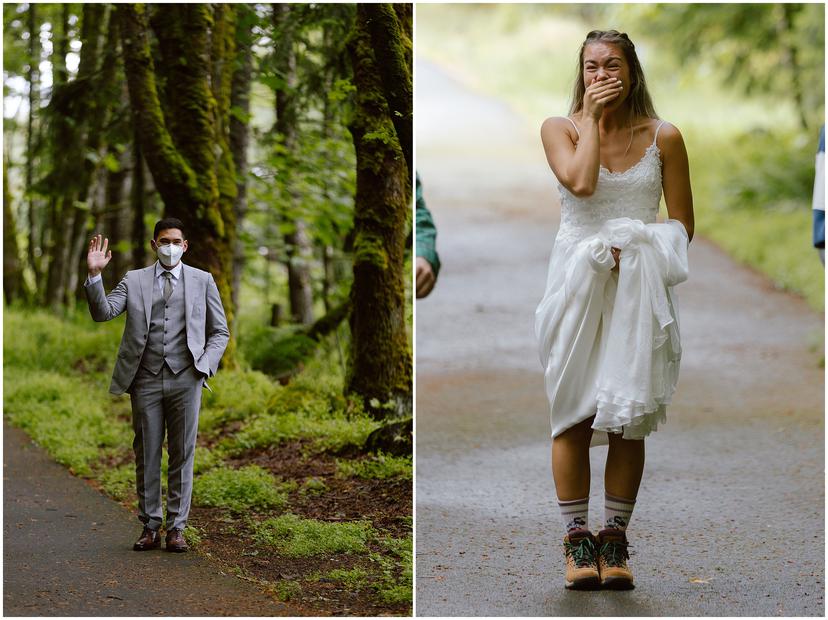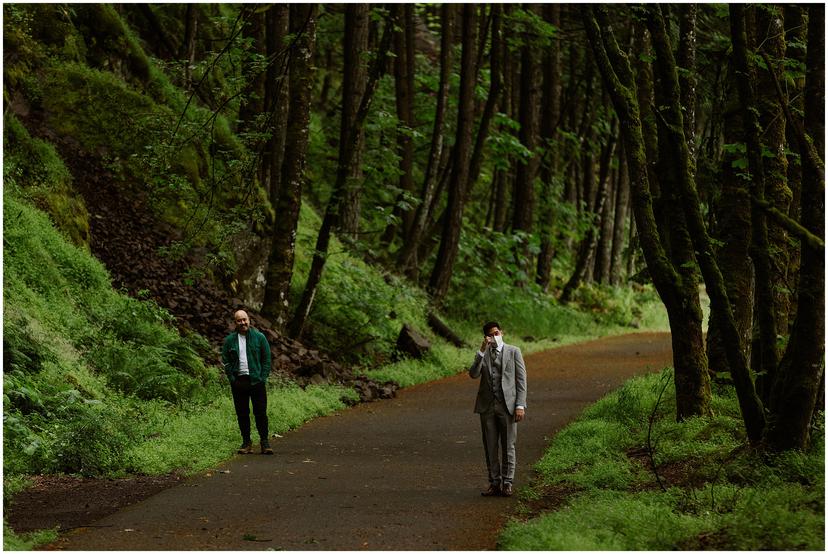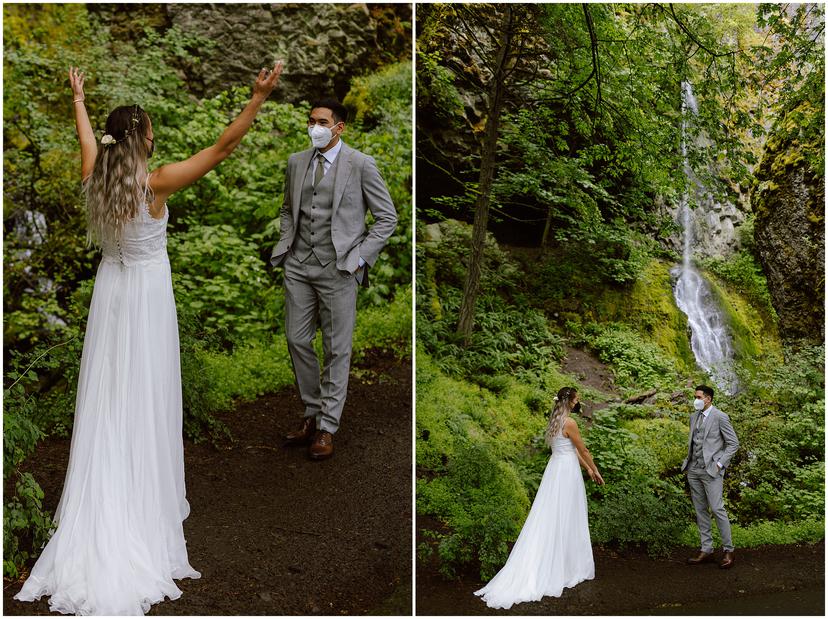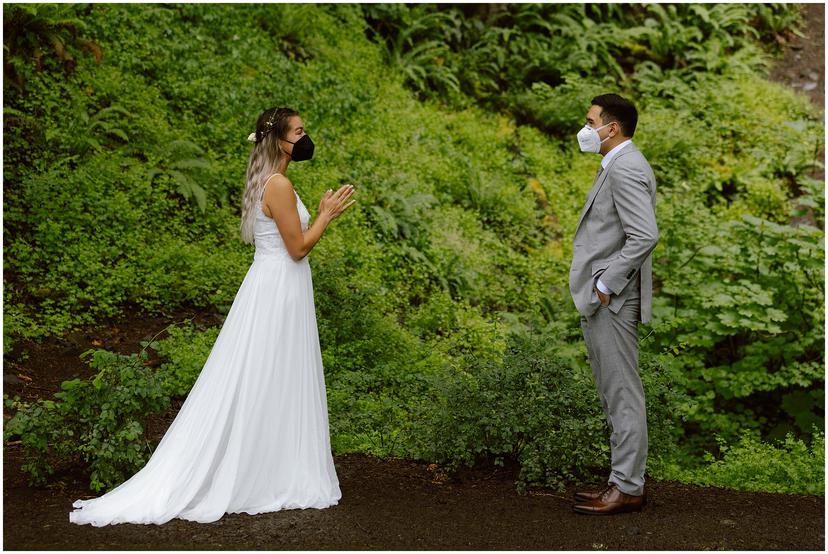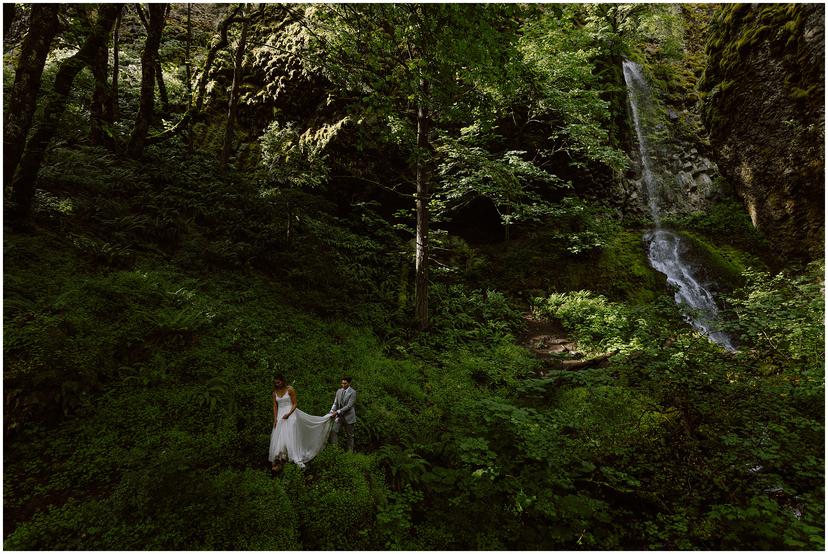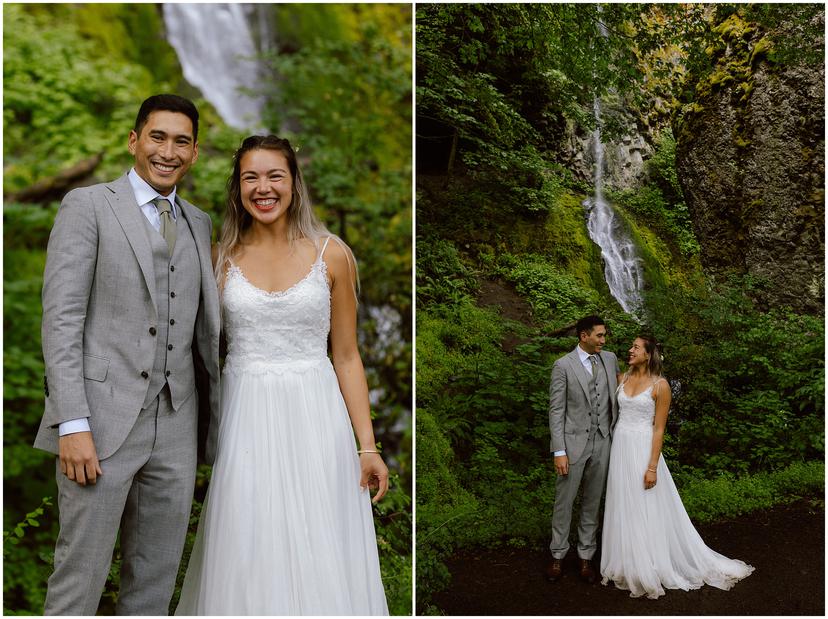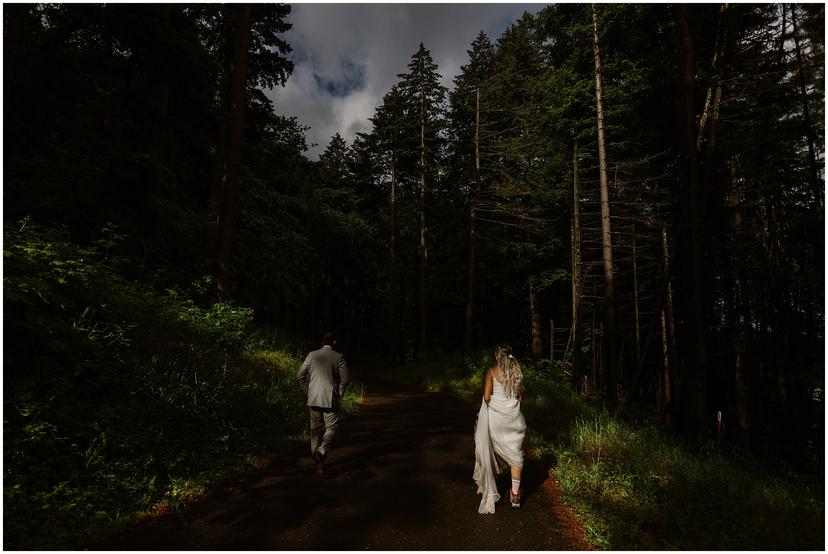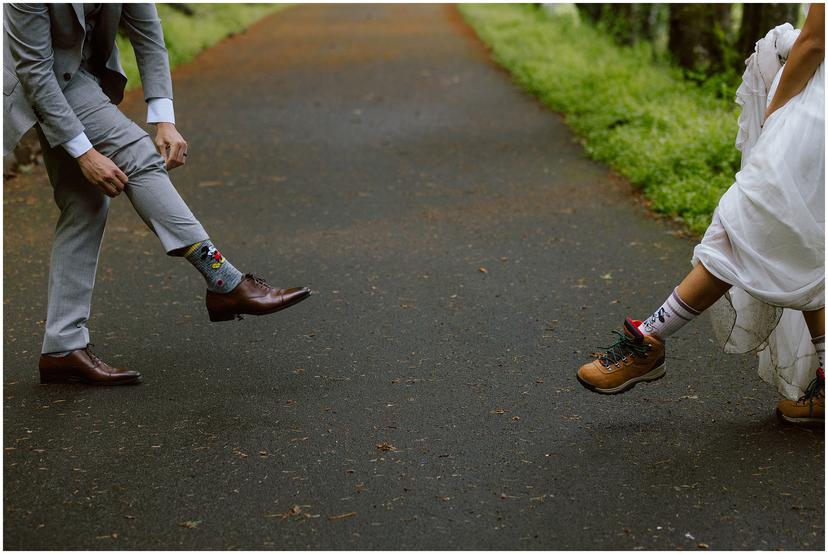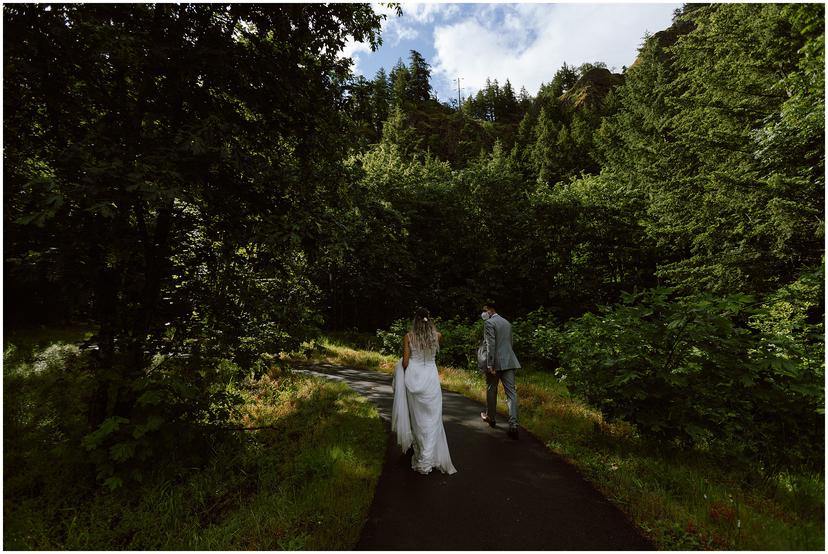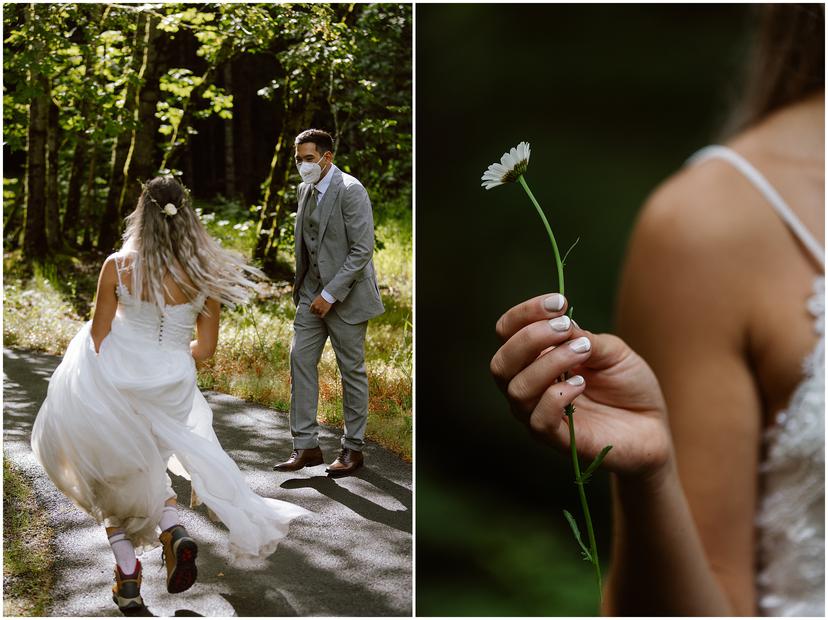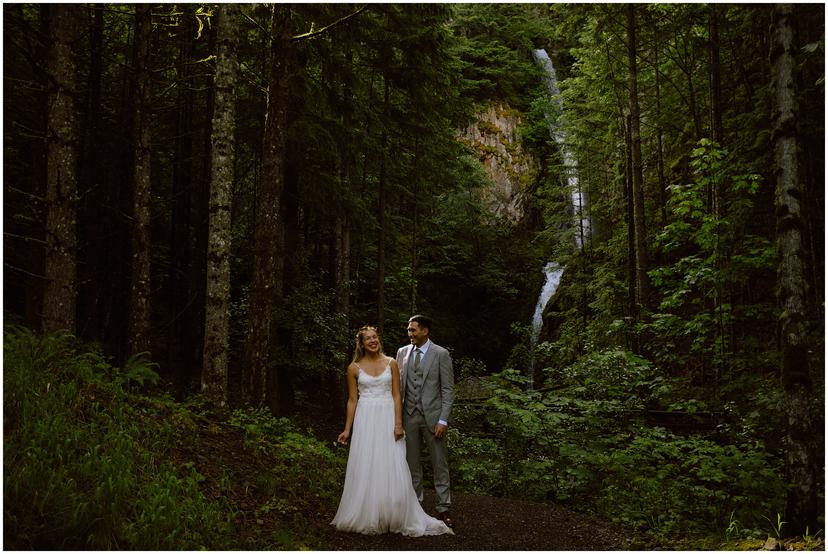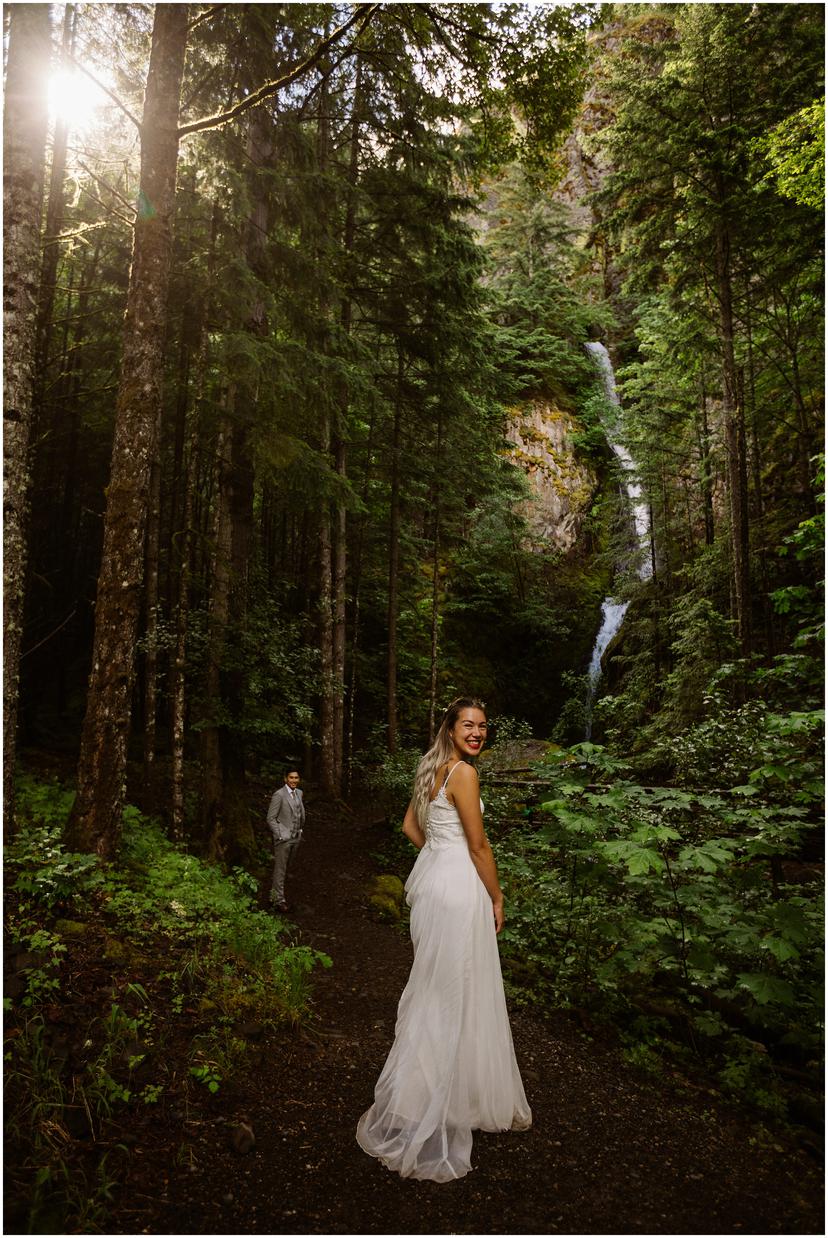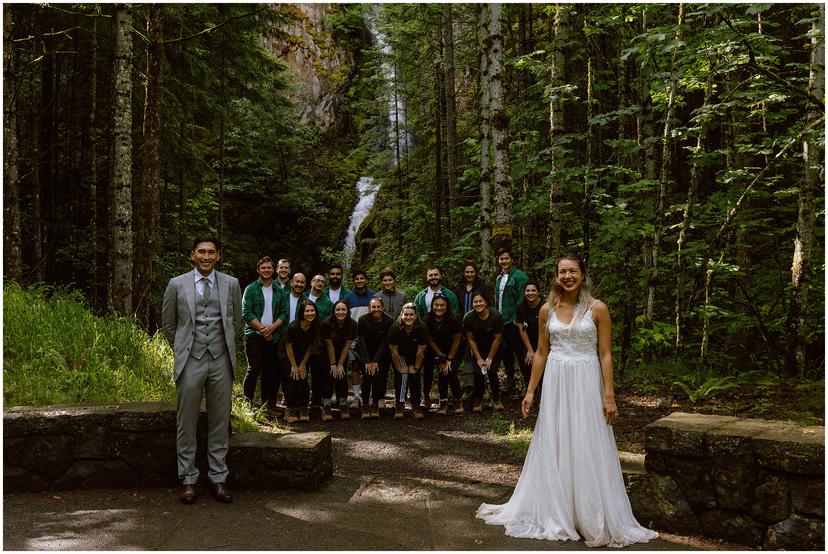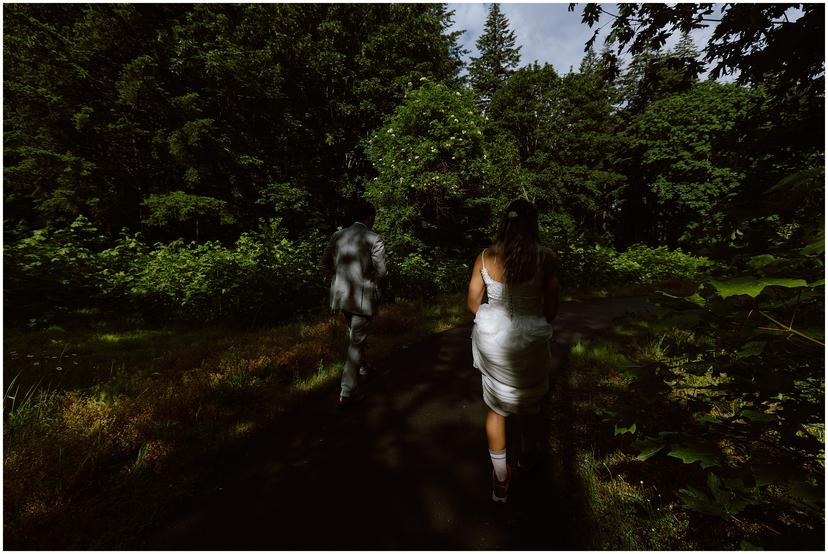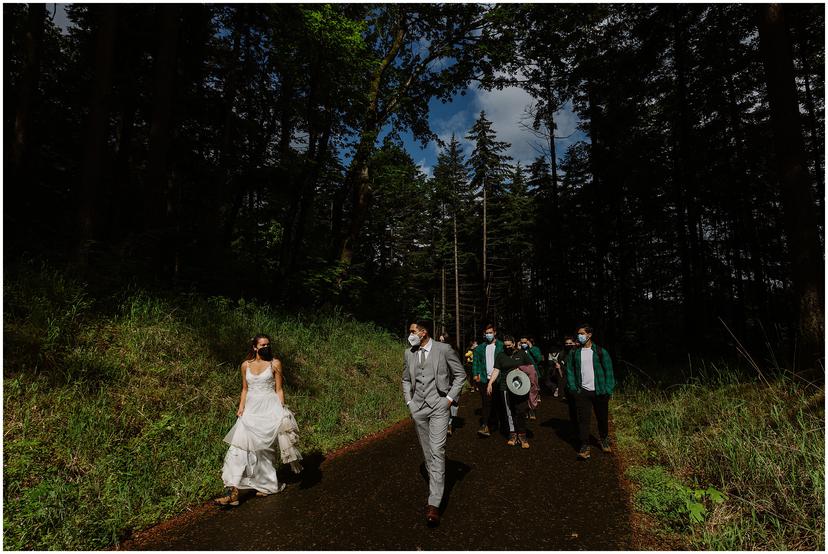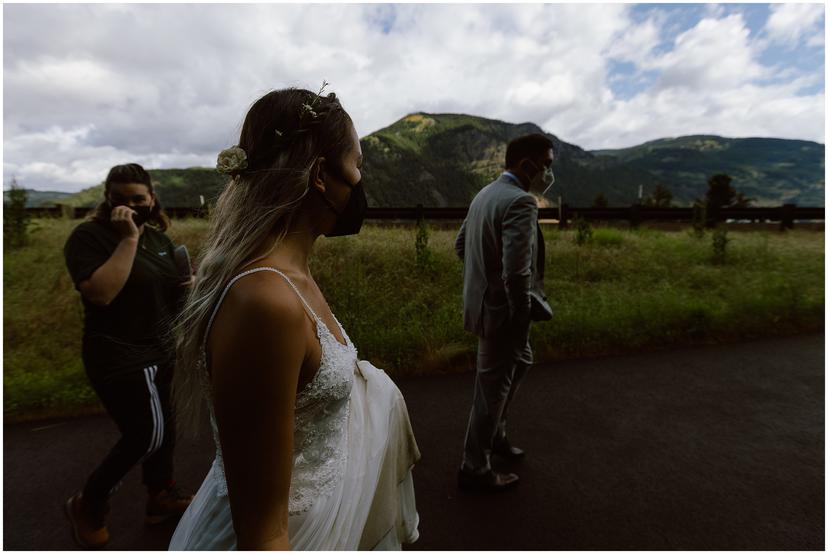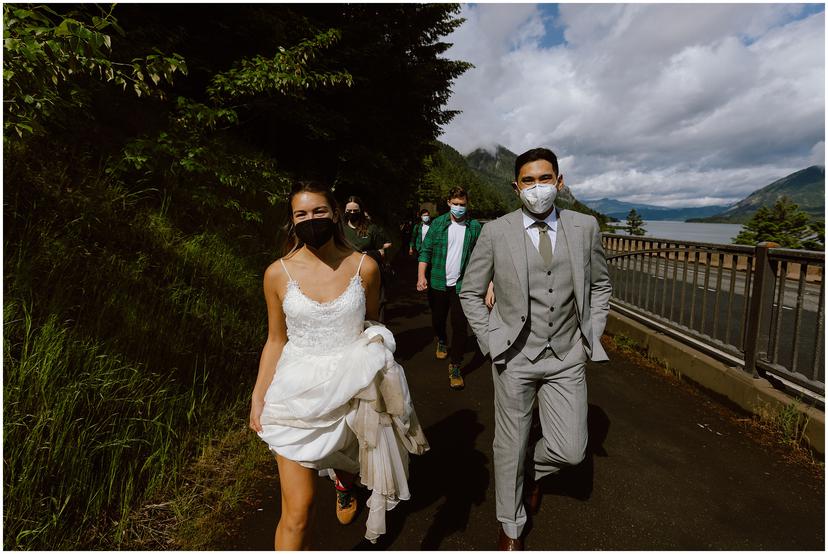 Favorite wedding memories
Justin: "The morning hike photo shoot. It was one on one time with Tori when we could talk."
Tori: "The collective, overwhelming love I felt. I knew we had amazing people in our life, but I will never forget the support and love my community gifted me."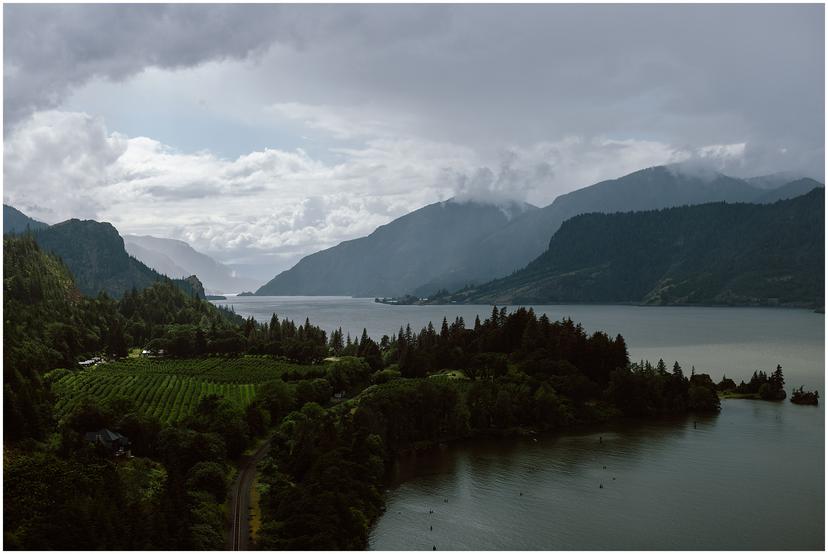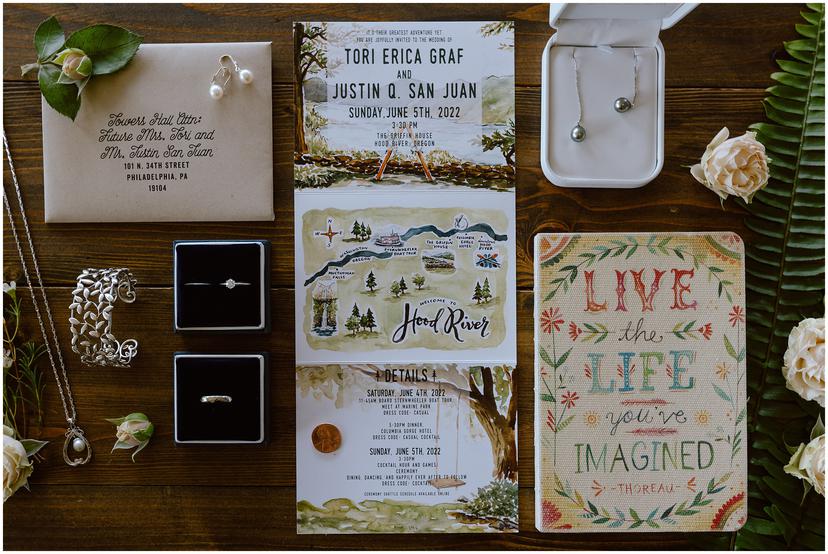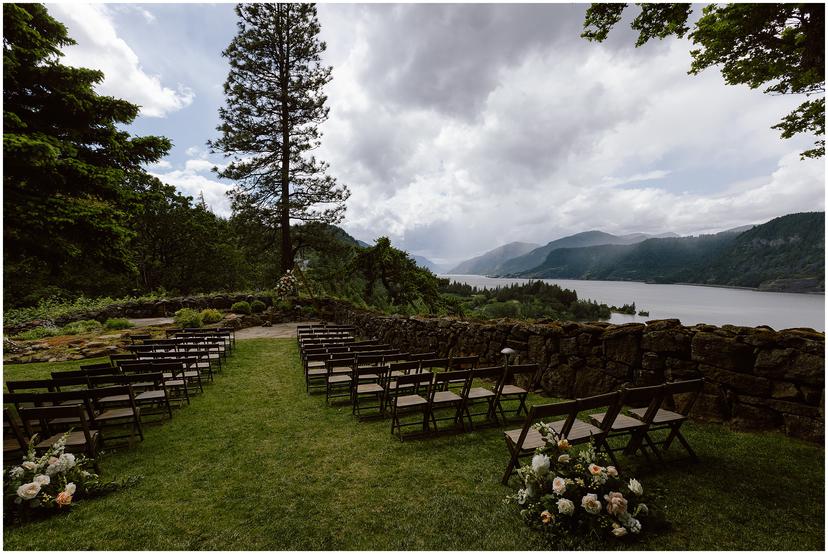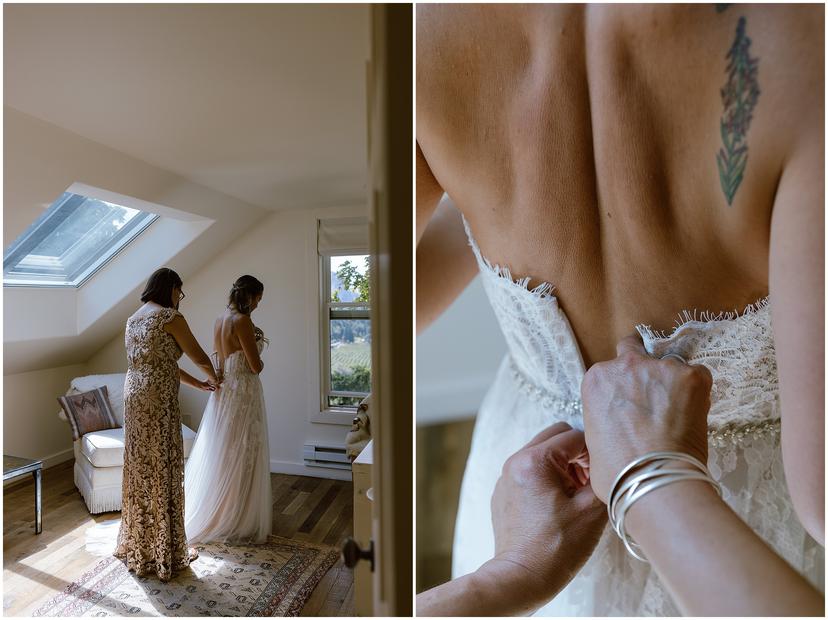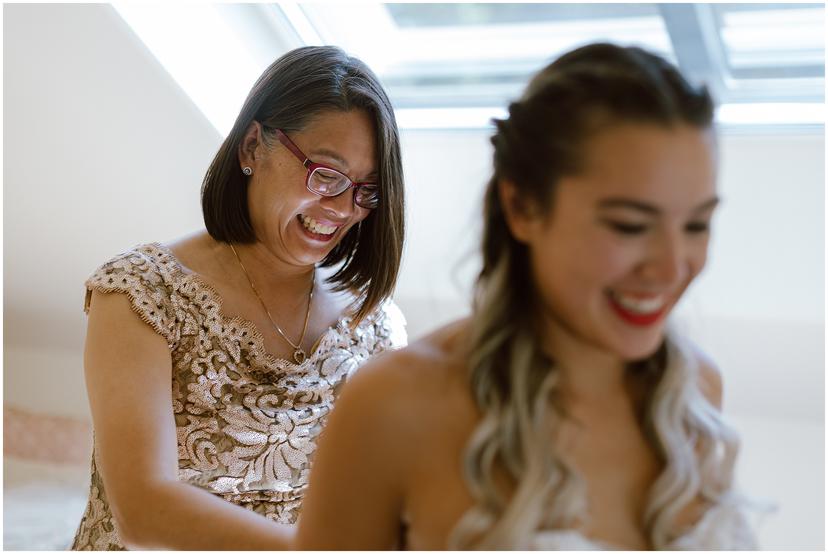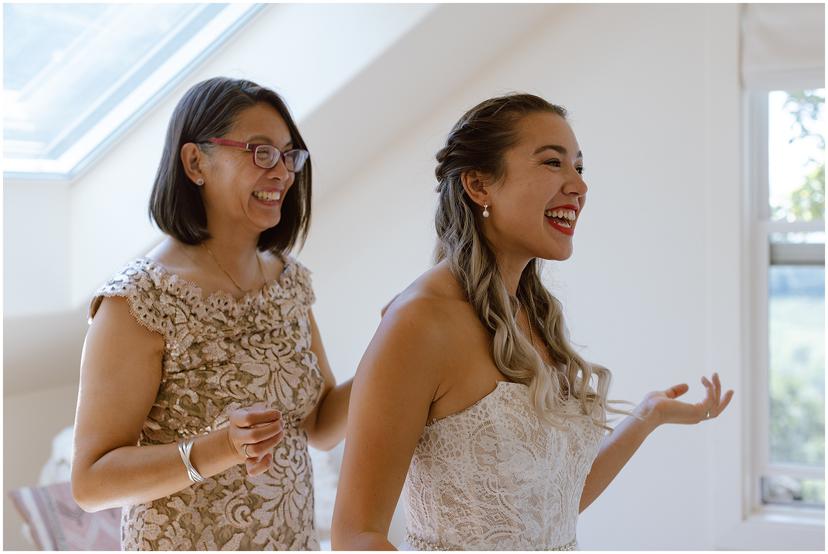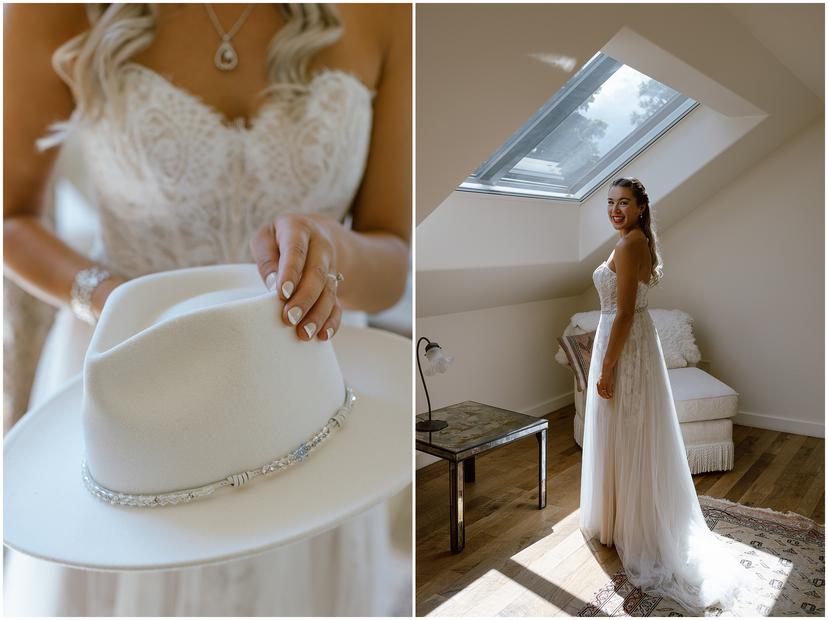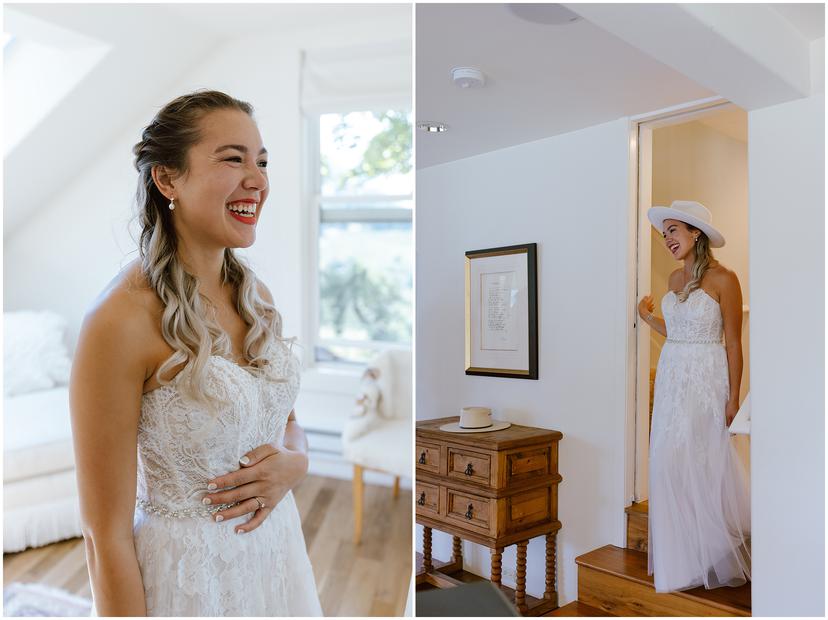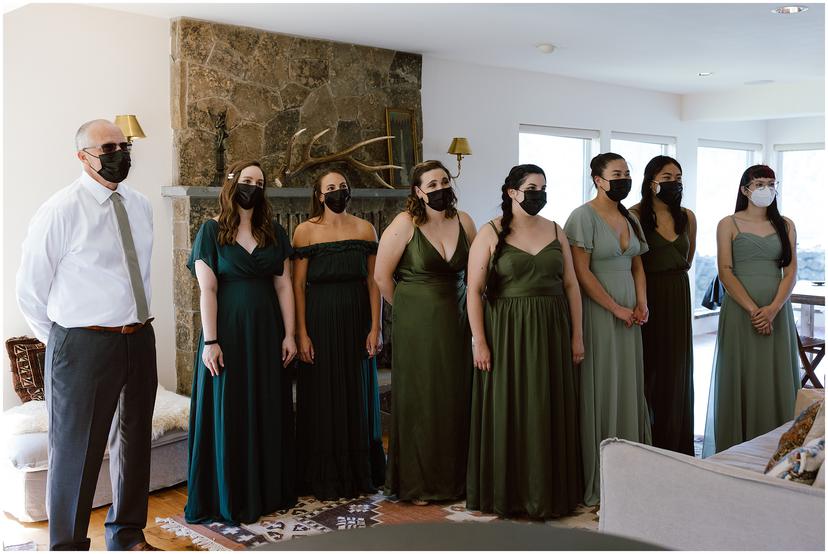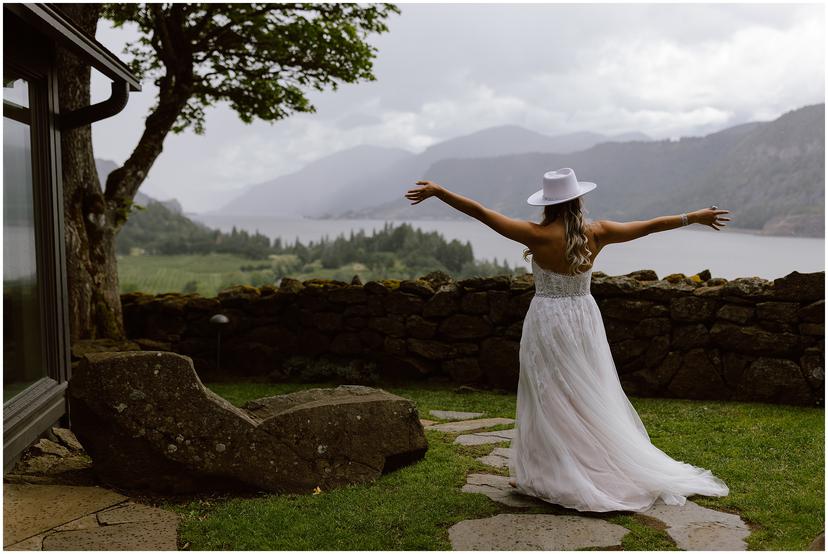 Why have a Griffin House Wedding
"That VIEW," said Tori. "We loved watching our guests take in the natural beauty surrounding us. It was fun watching everyone appreciate a nook of the world that has brought us so much joy. We choose the Griffin House because we wanted the gorge! We hoped our guests would be able to get out and explore while also popping into our wedding and what a better launch point for an adventure! We loved the Griffin house because it was a blank canvas that allowed us to create a magical day featuring everything important to us. Such a special space with infinite potential."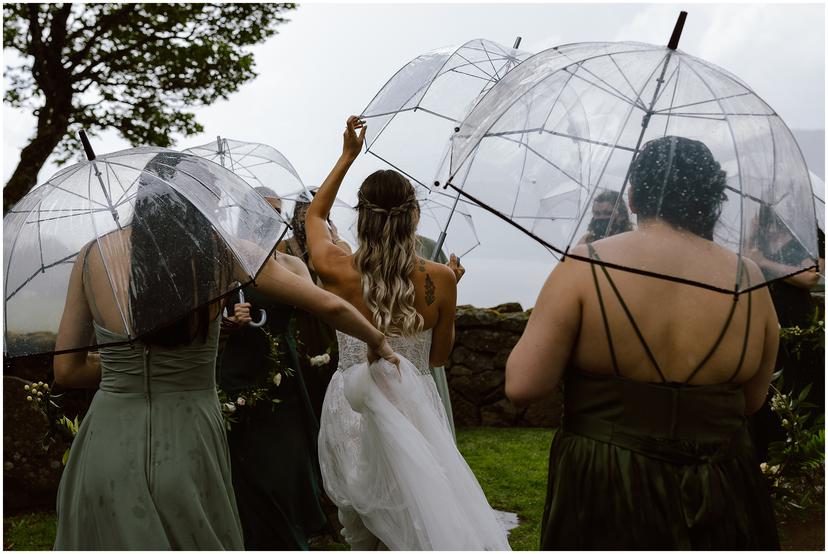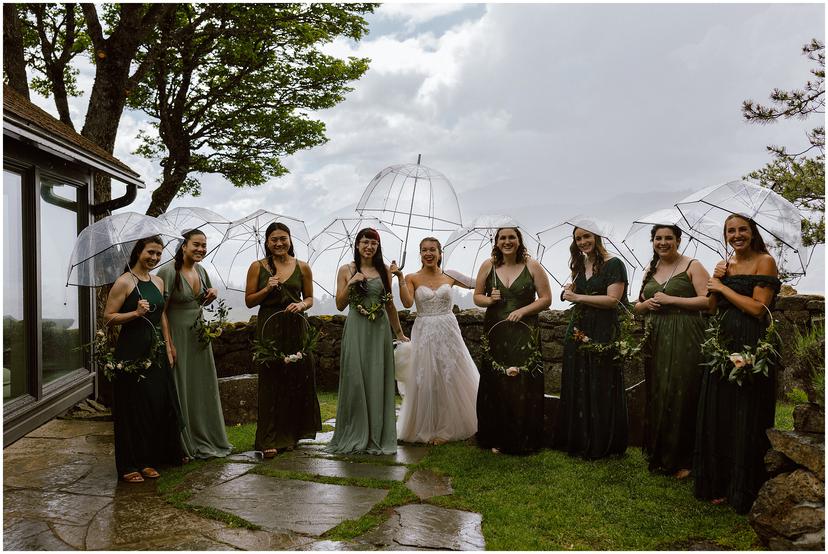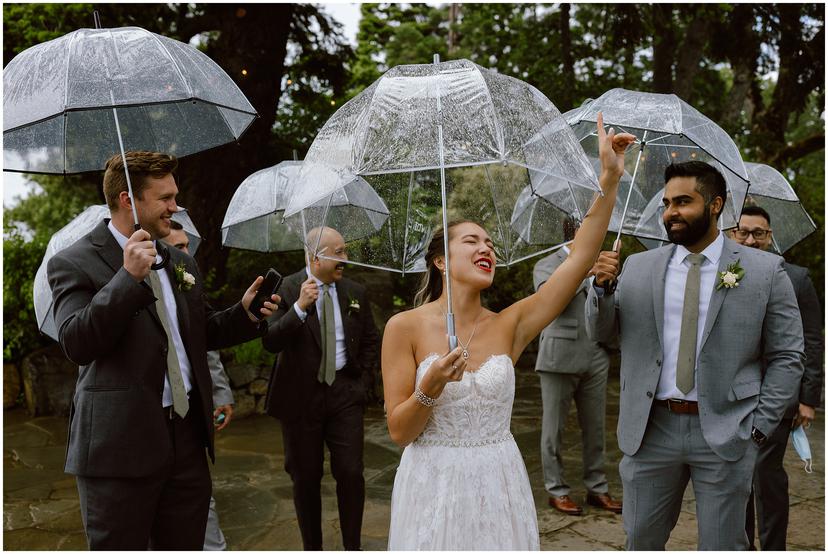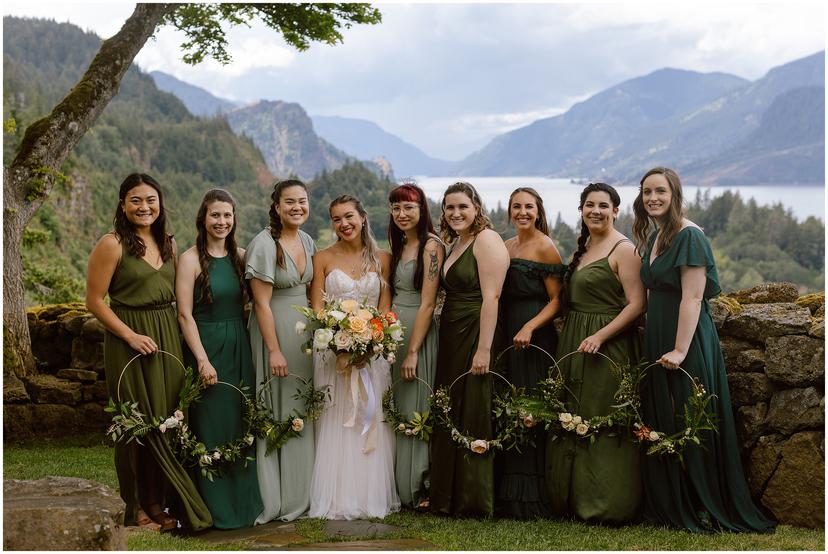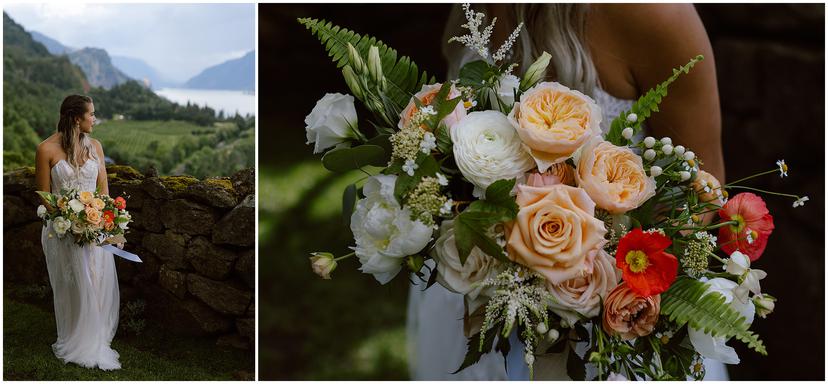 Advice for Columbia River Gorge weddings
"Don't check the weather every day leading up to your moment," said Tori. "Have a rain plan and vendors familiar with area and then sit back and enjoy the unfolding of this fantastic time. The cloudy/rain photos are some of our favorites and all of our guests from the humid East coast LOVED the Oregon weather. Who knew!"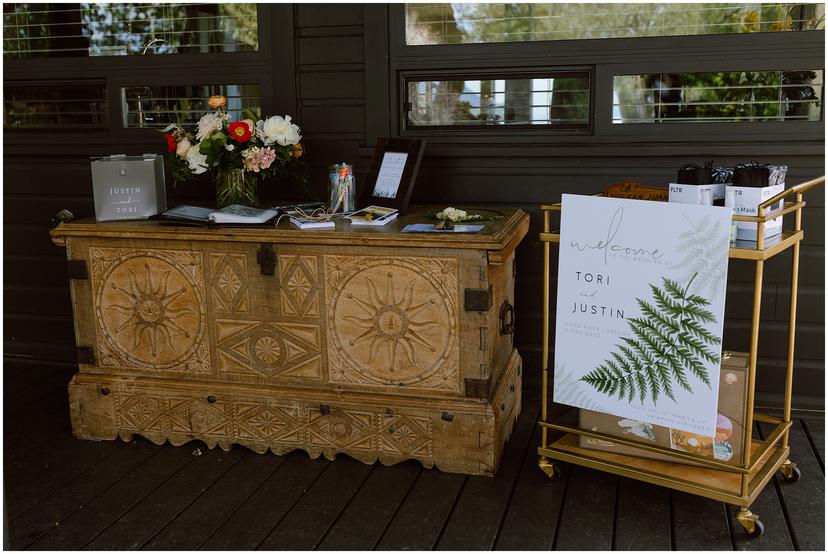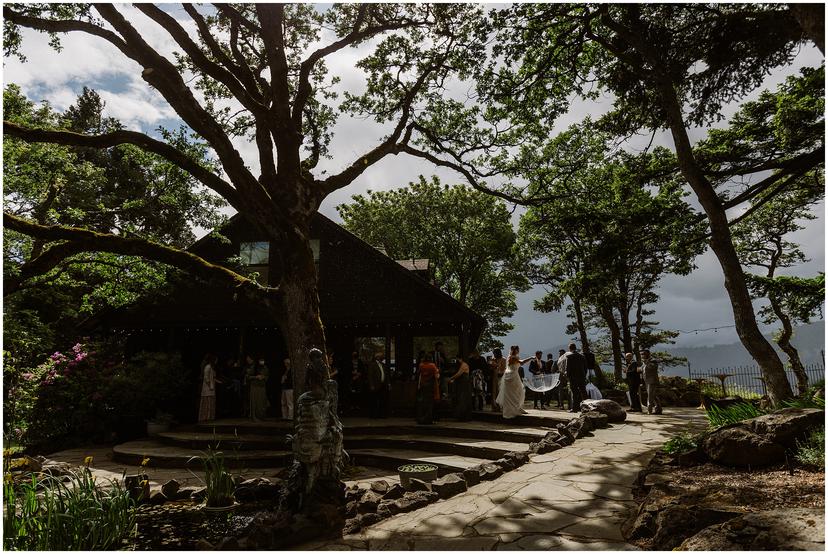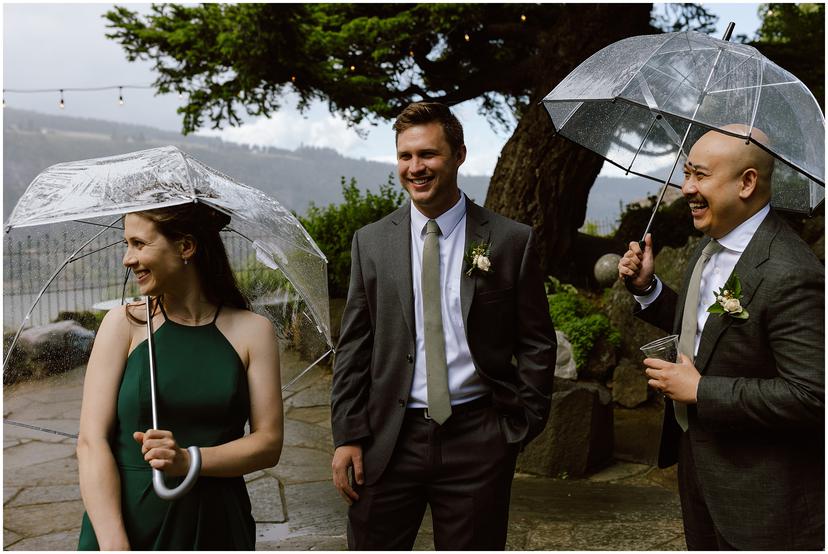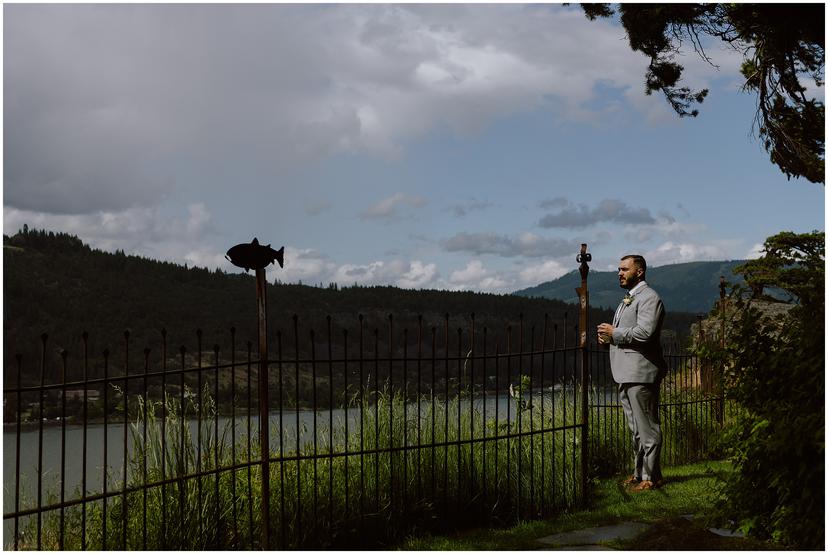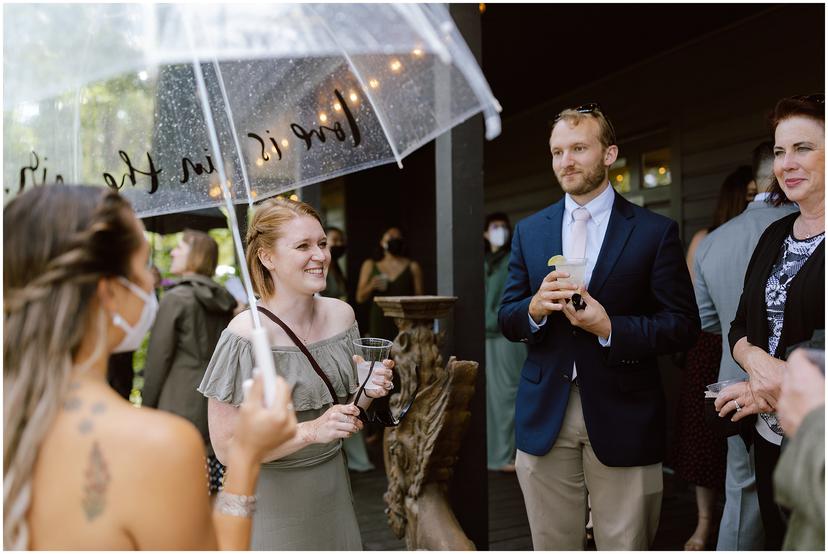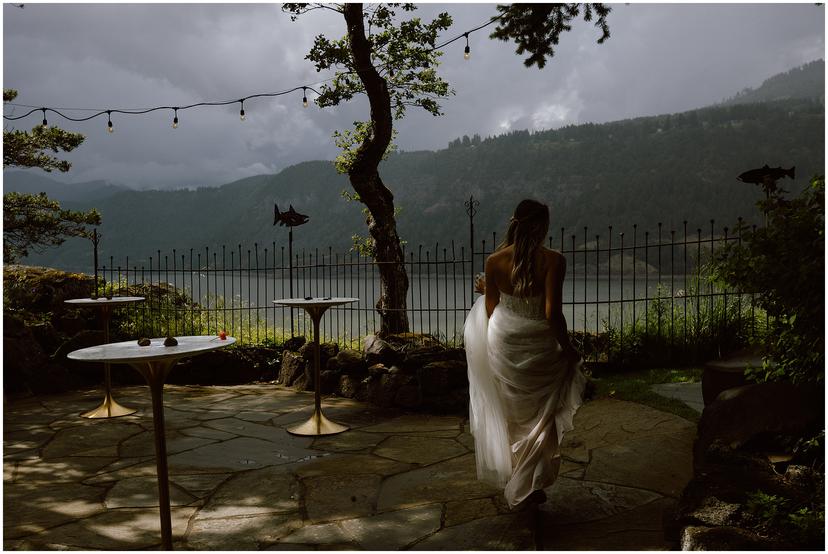 About the attire
"Justin's brother chose a suit from Suit Supply," said Tori. "We were so happy to have him design the suit because we trust his sense of style and love him and his personality. I went dress shopping with my cousins and it was a great time together! There was no "this is the one" moment. But I loved the dress and was so nervous it was strapless. I sent options to my girls and everyone said "pick what feels right". But when I shared my choice everyone was so happy I chose the dress that "felt like me". - don't get into your head about what you wear. Everyone only had the nicest things to say."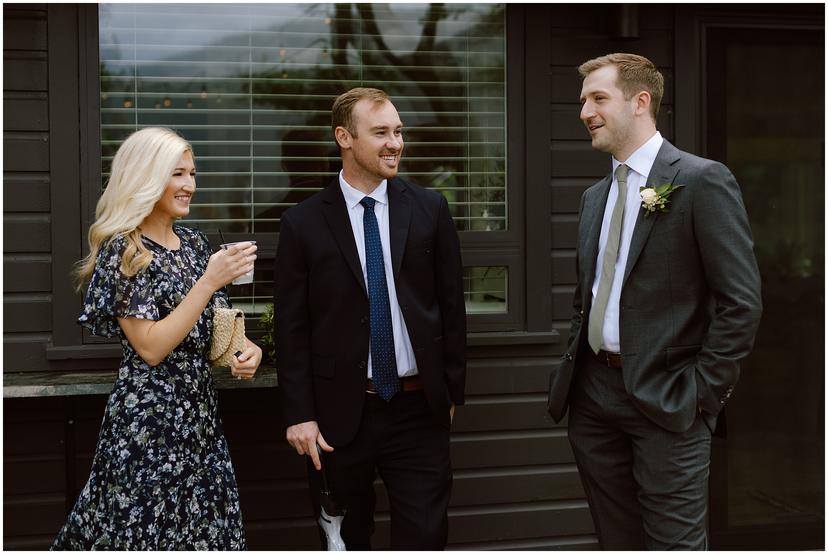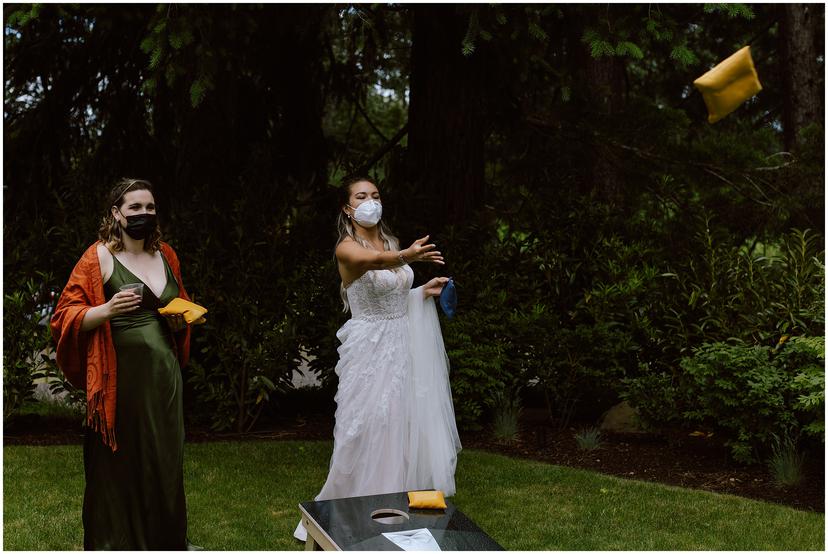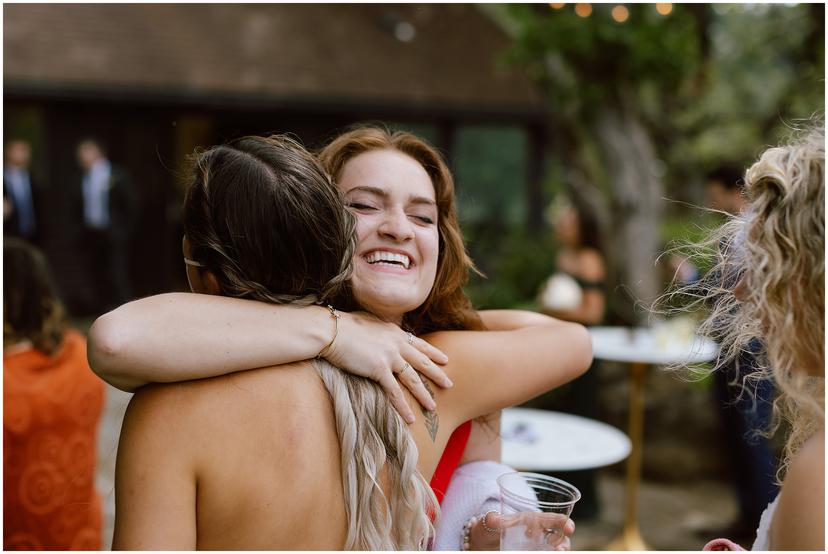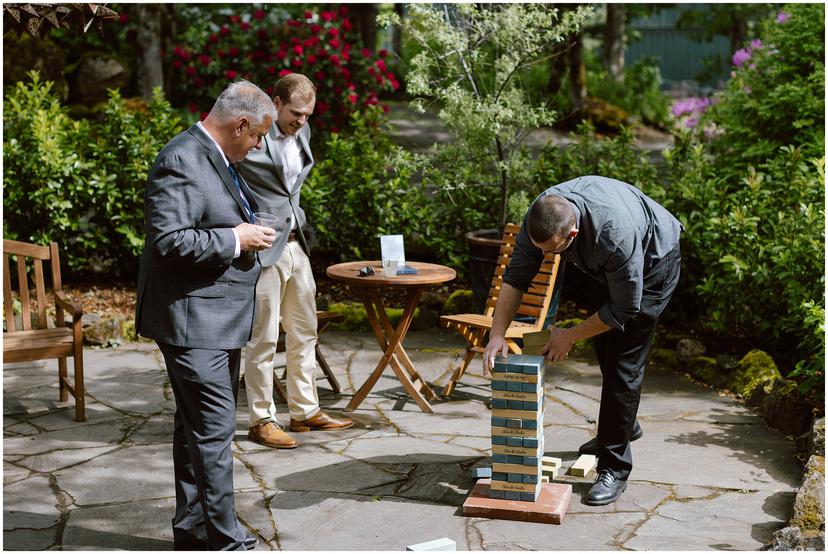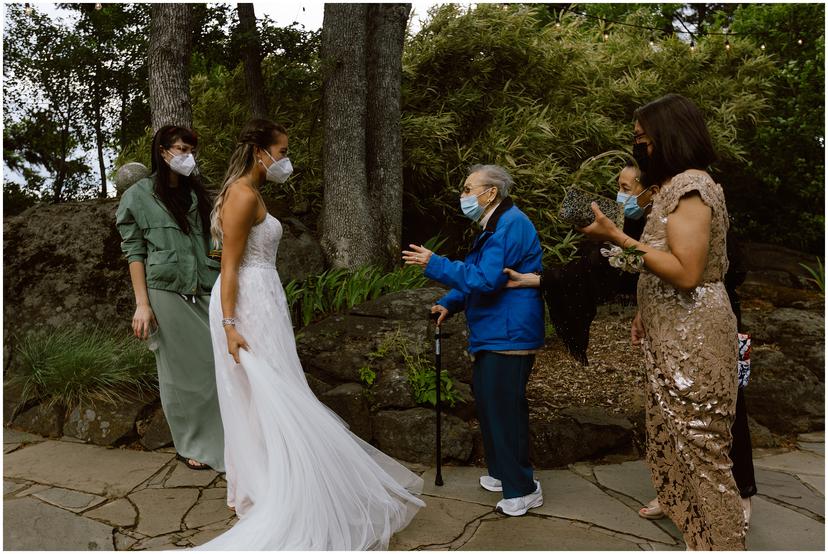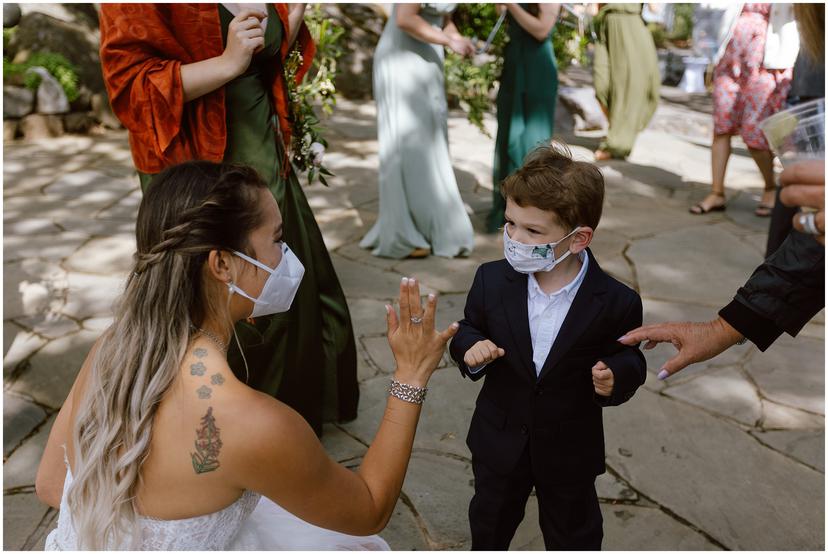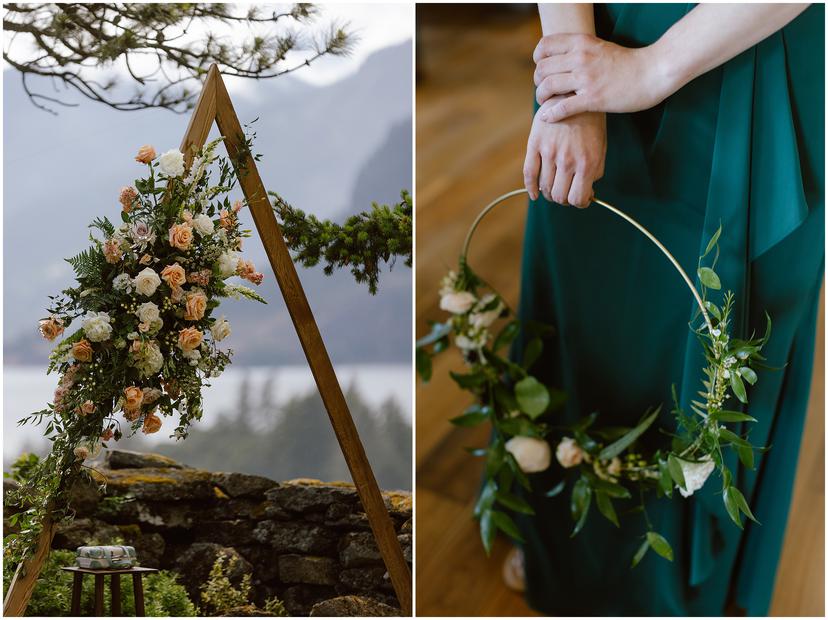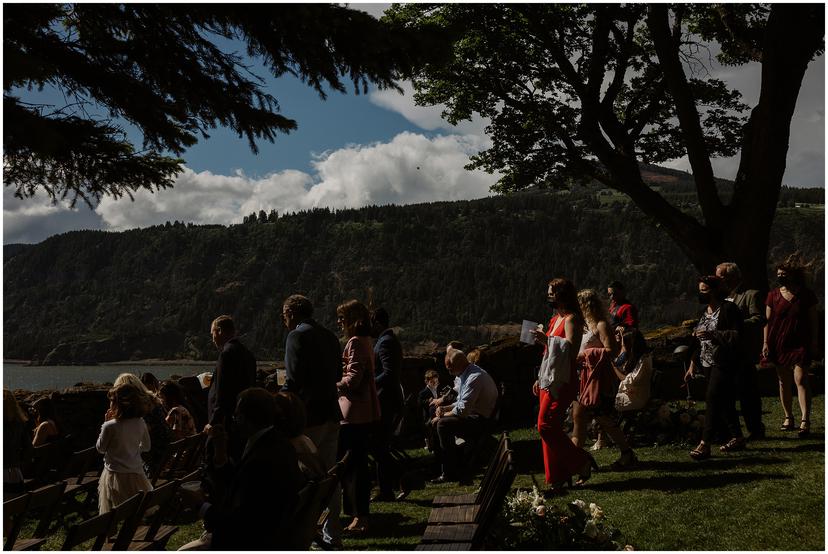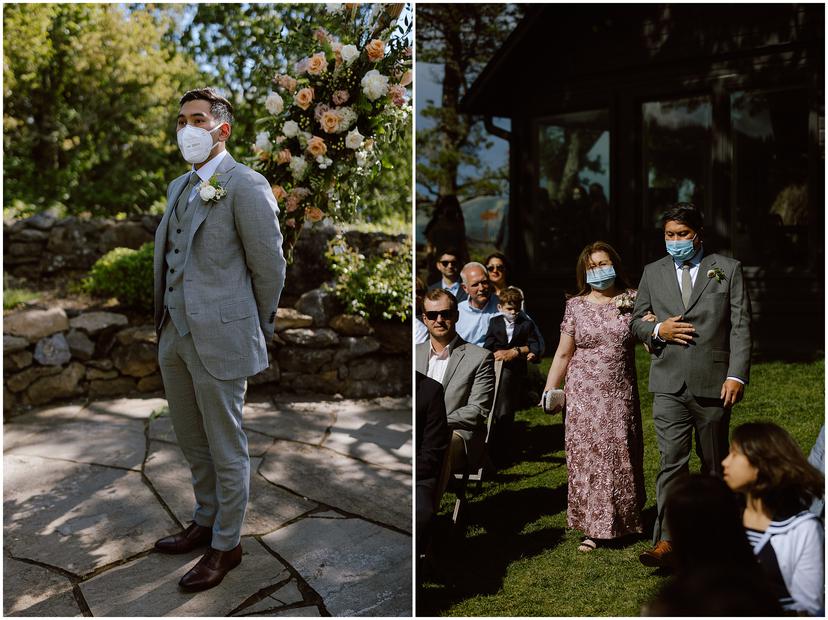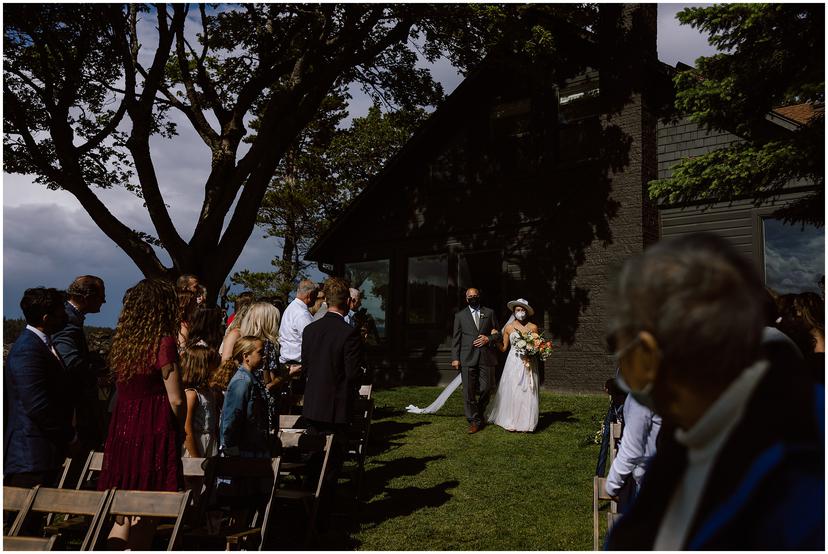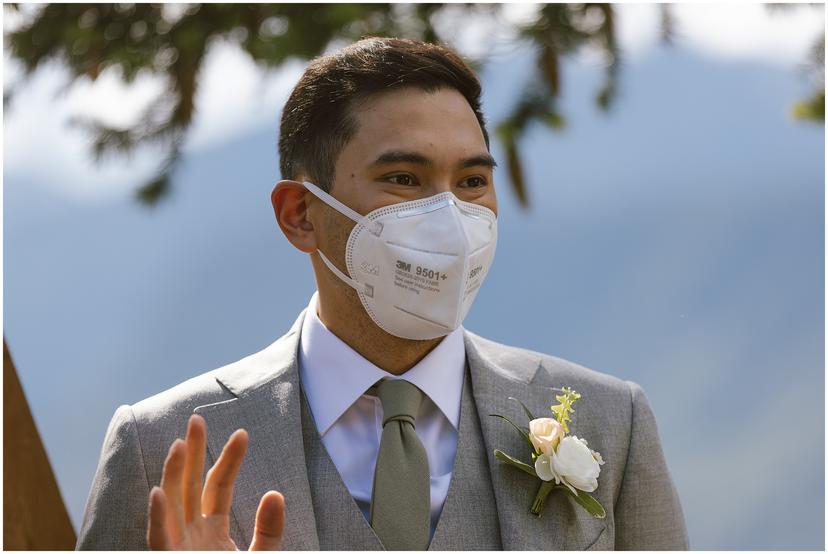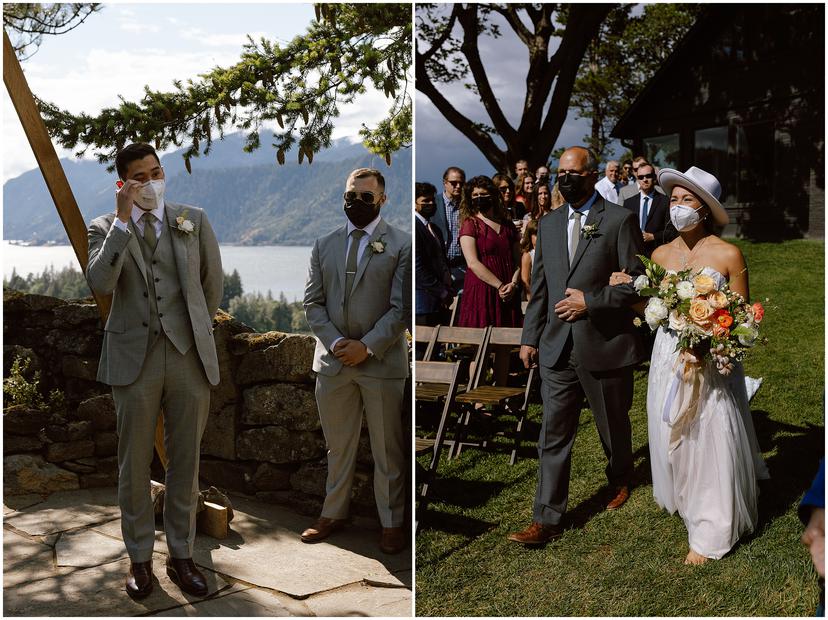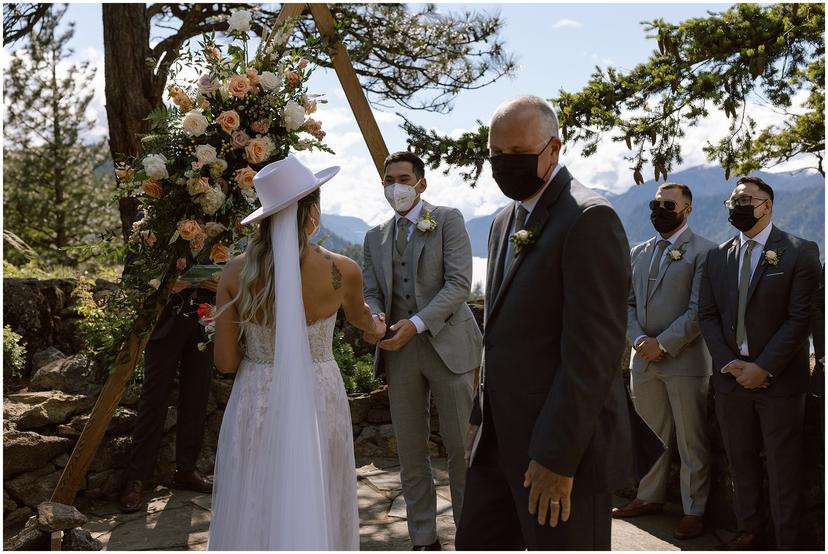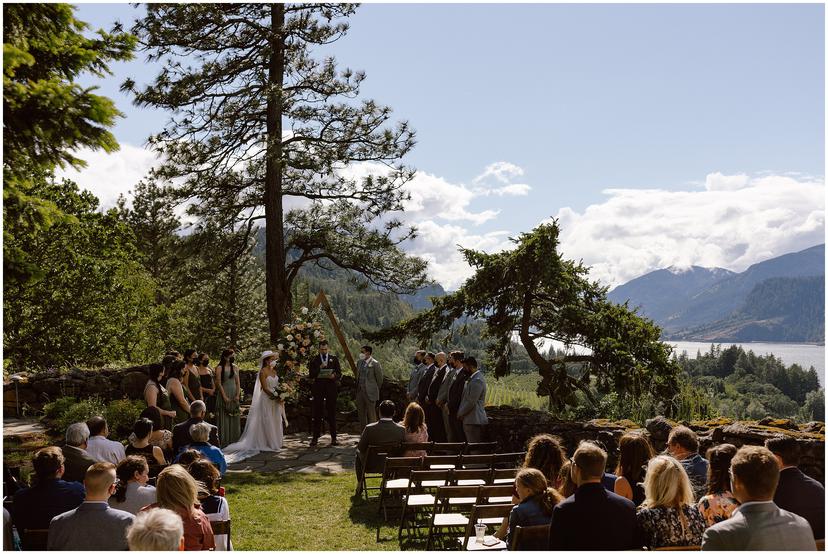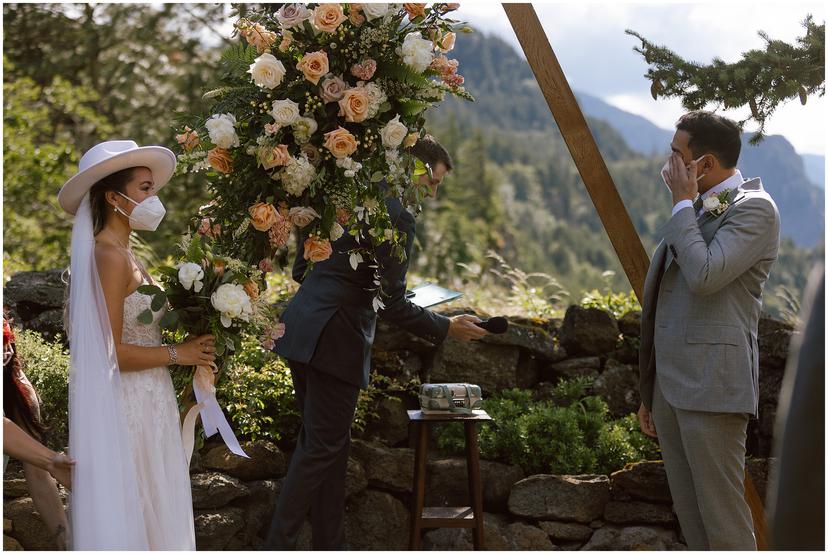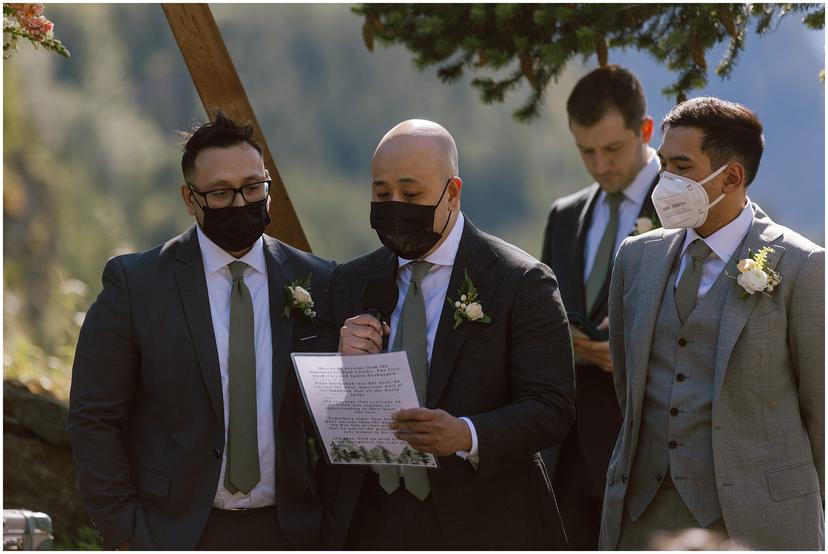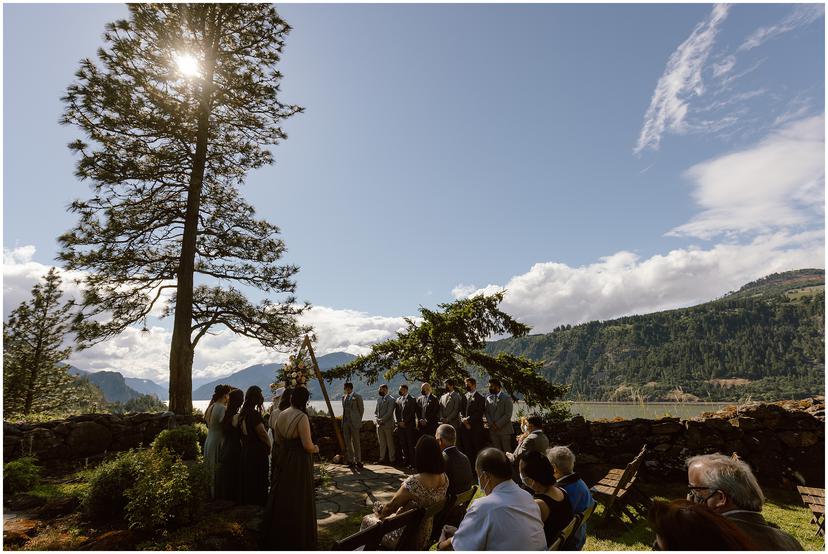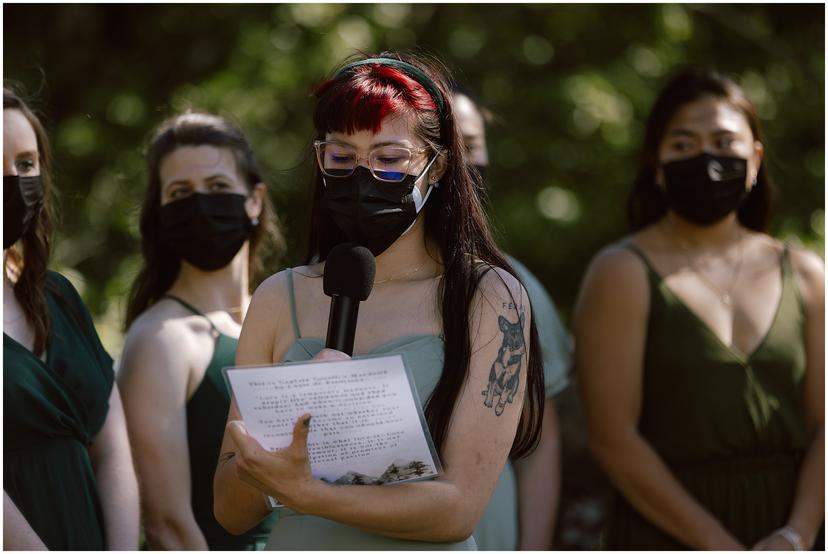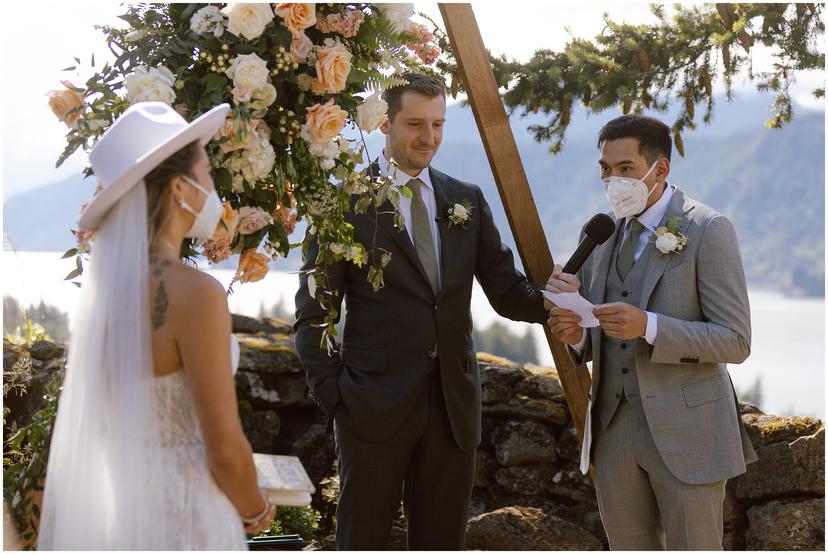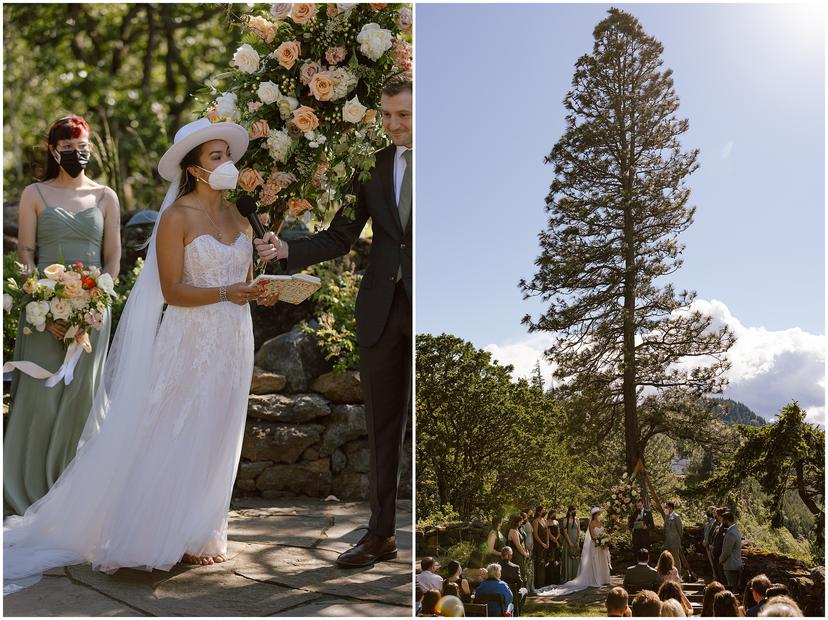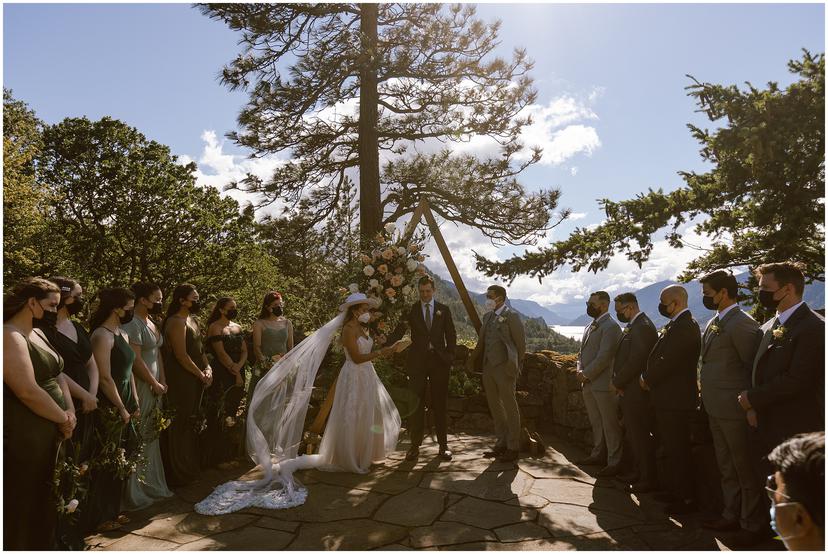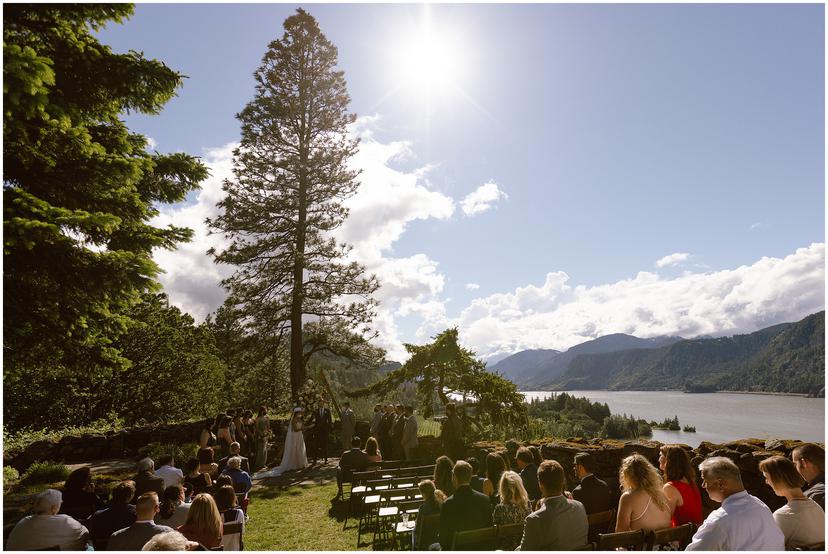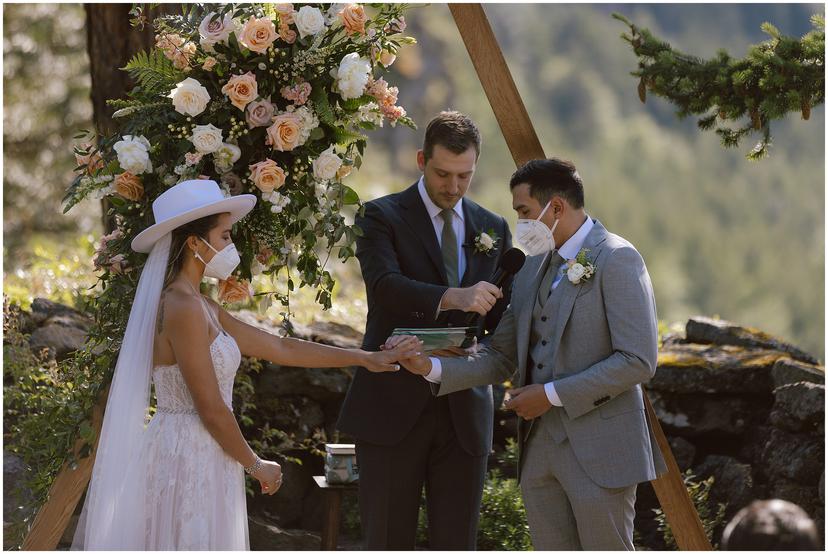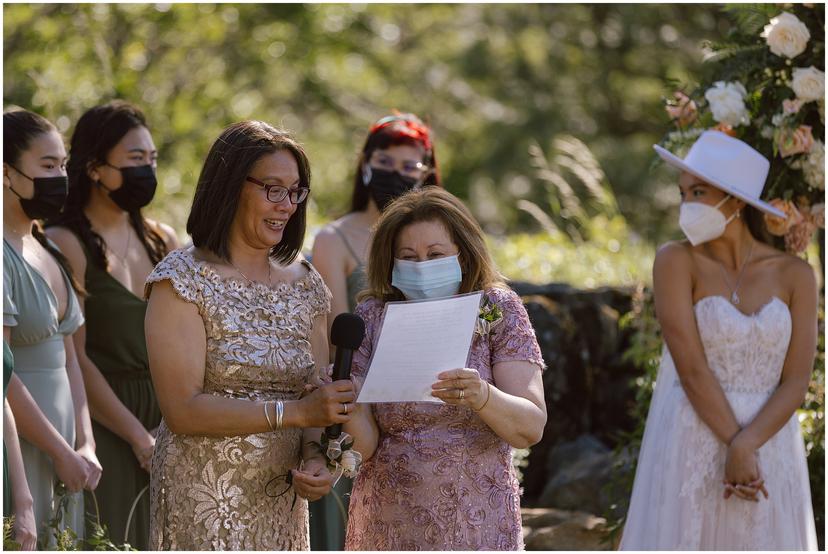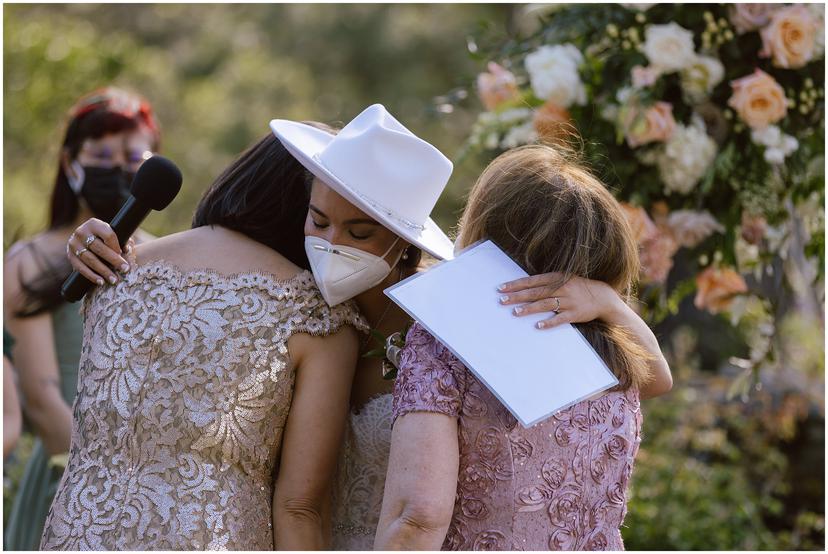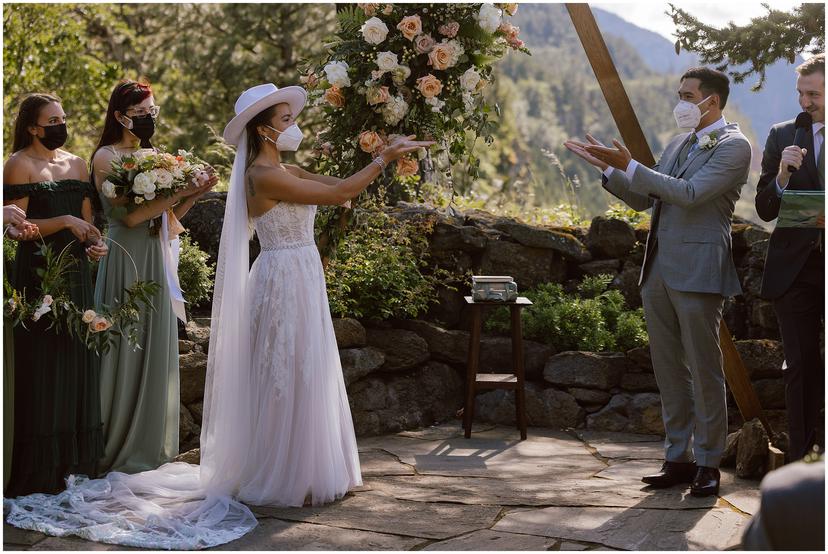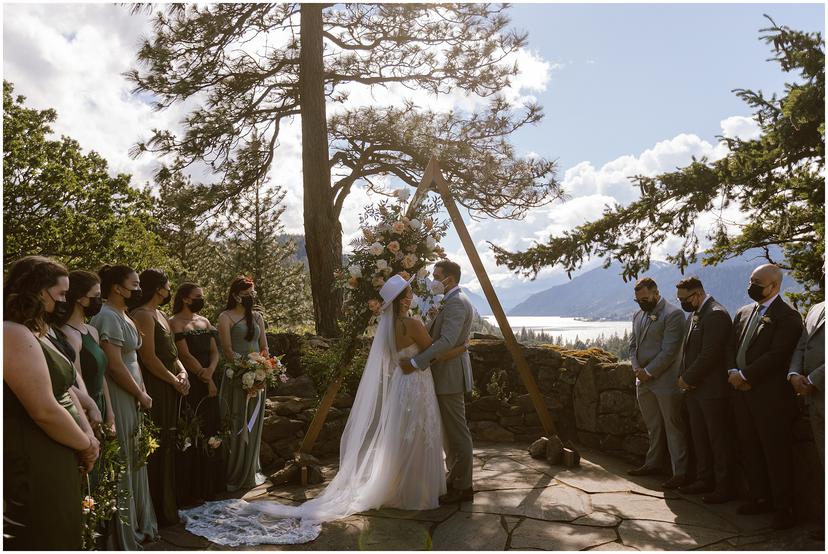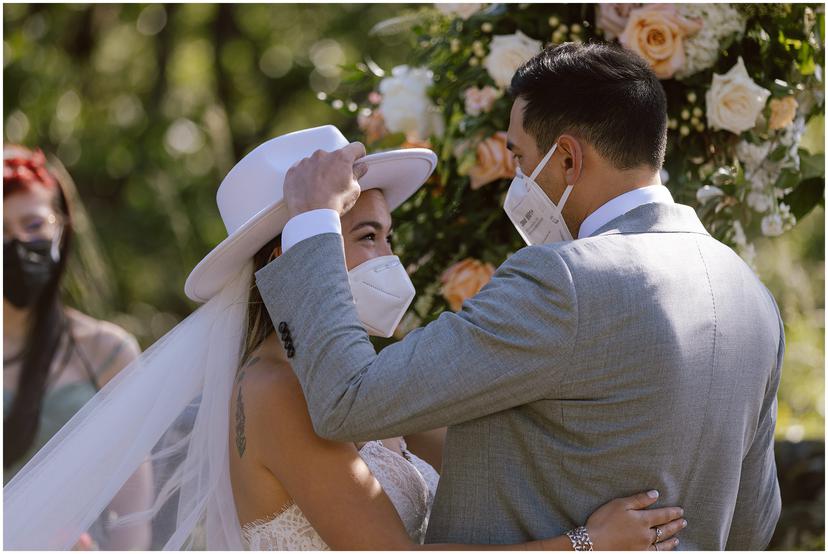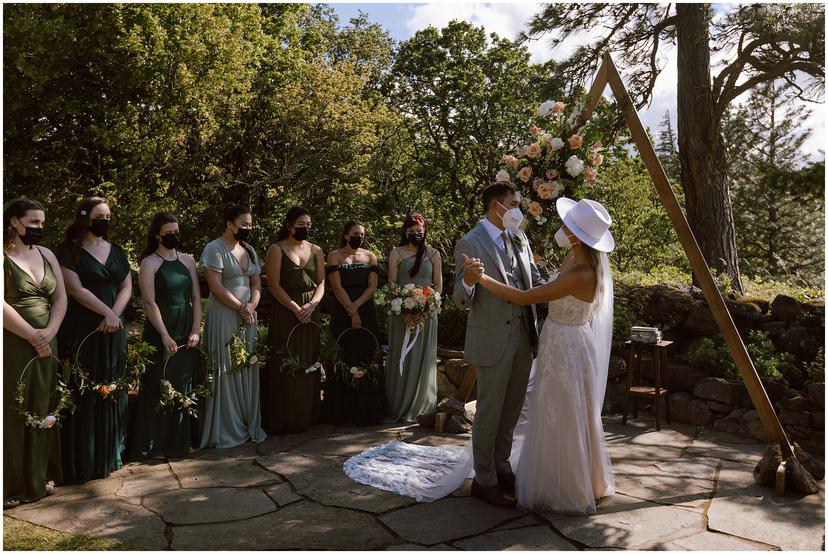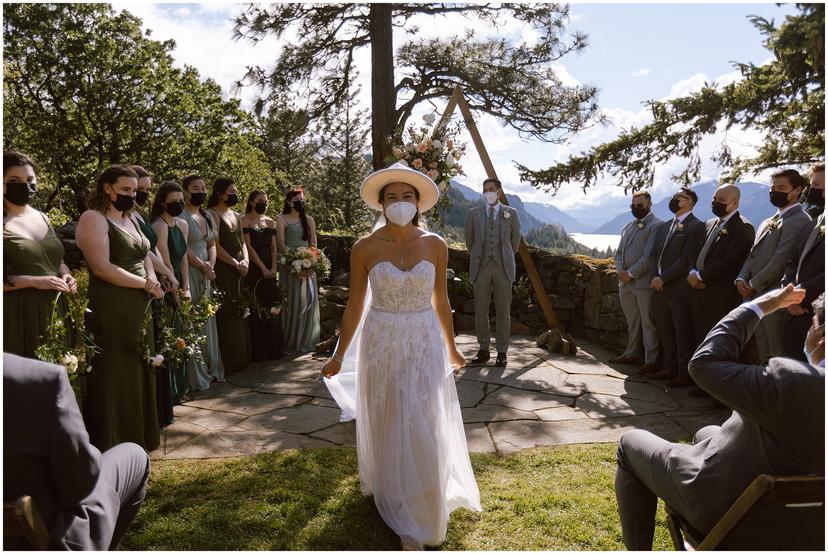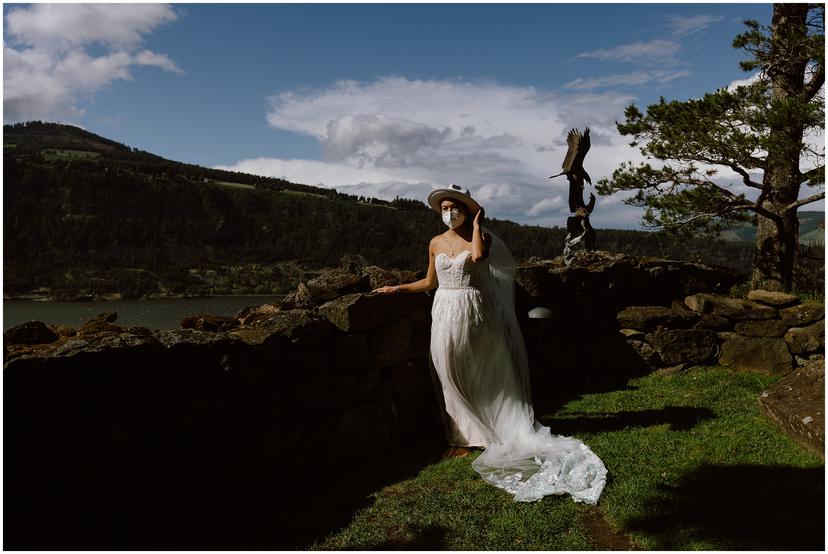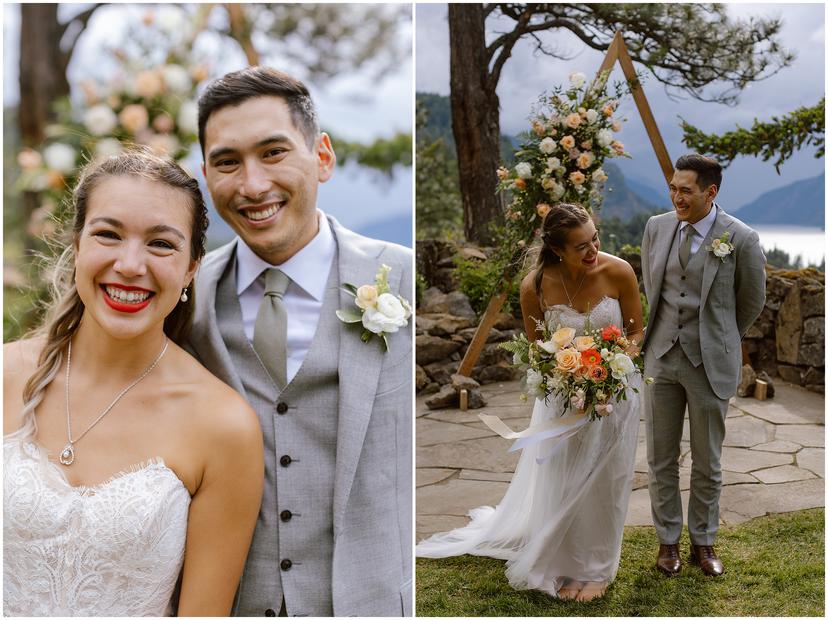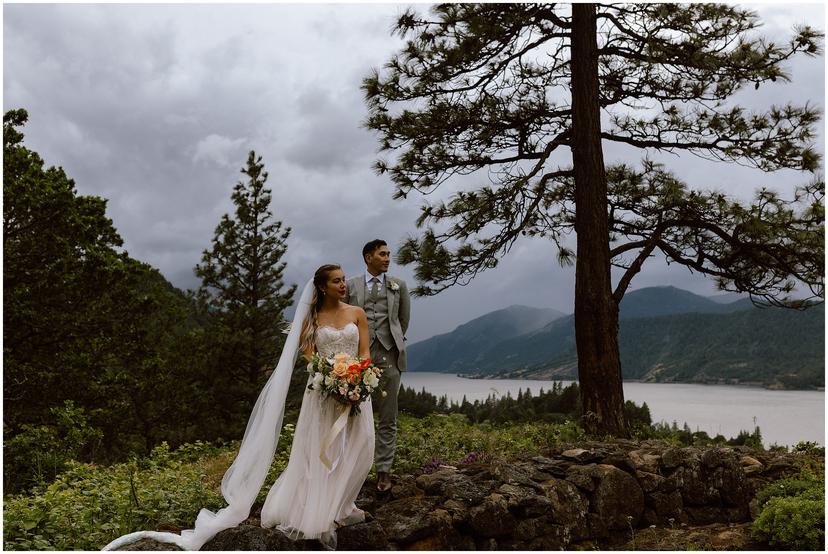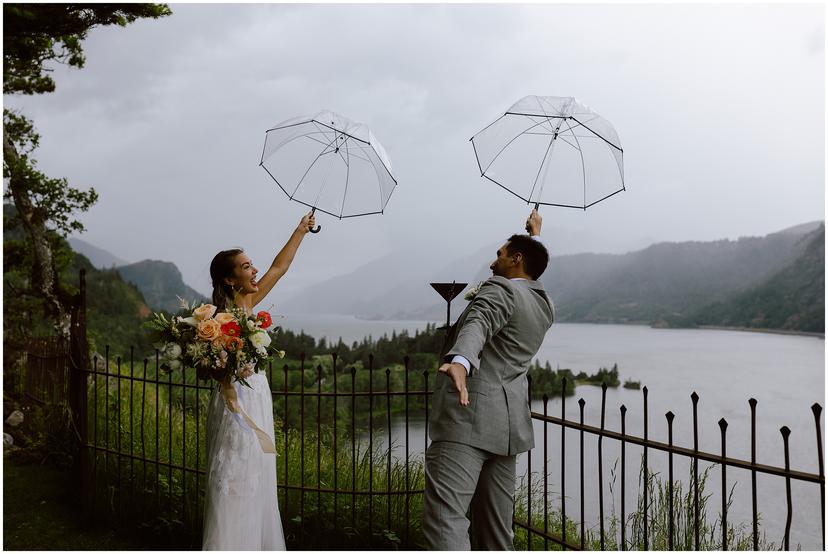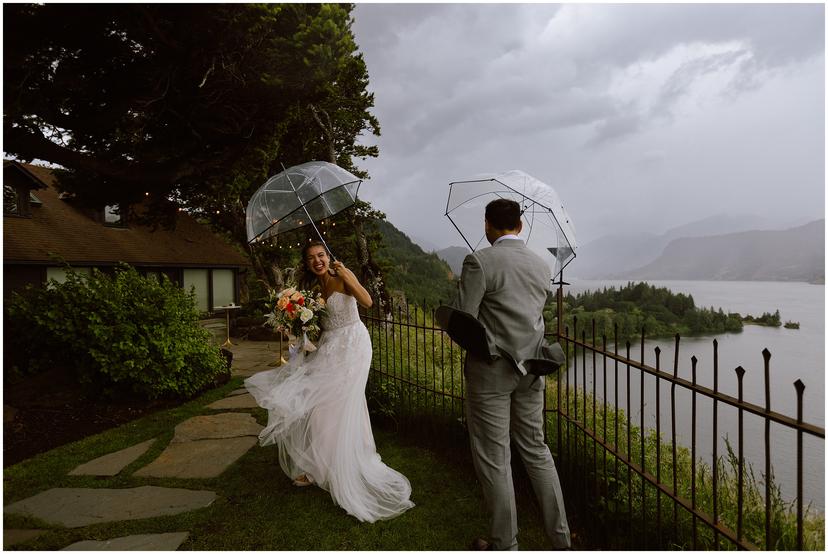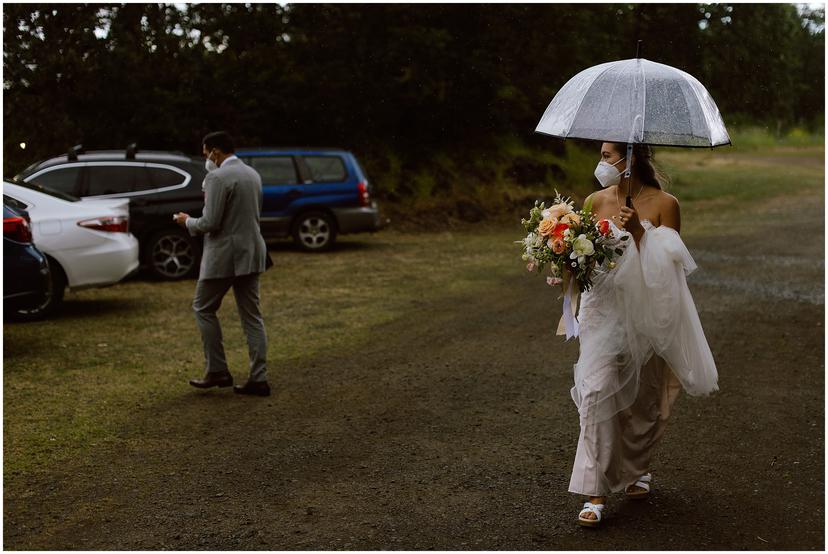 Wedding planning insight
"Make decisions together that you can stand behind," said Tori. "It's your day. Even though we made hard choices planning our wedding (including the night before) we feel like we made sound decisions and I know we will look back proud of ourselves for not taking the easy route."
"The wedding sets the tone for your lives together and you and your partner get to set that tone. Pretty cool!"
"Find a quiet moment to sit out and take it all in. Standing outside of our reception tent and watching all of our loved ones connect was an experience I wish I could create more often."
"We also opted into a bigger wedding than we wanted," said Tori. "It made the day so full of love and I have no regrets about our head count. Let the love in!!
Picking a destination wedding made a unique event where everyone was able to explore and enjoy together. Our wedding parties are already talking about future big friend trips. It was a bit more work to pull of, but an experience that allowed for extra bonding amongst our people. We are beyond grateful that people made the trip."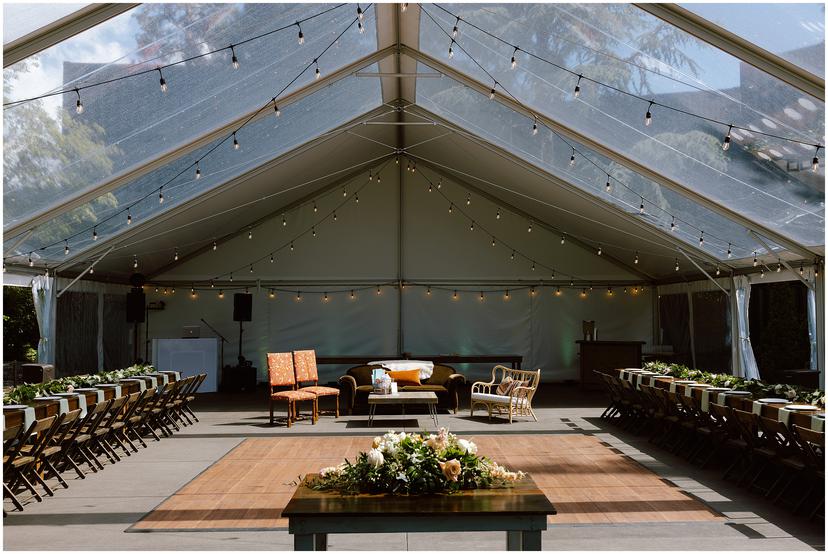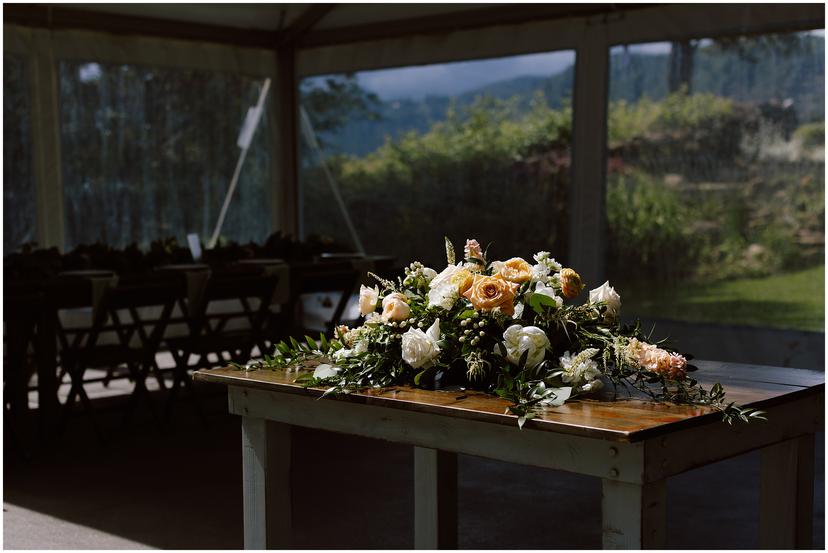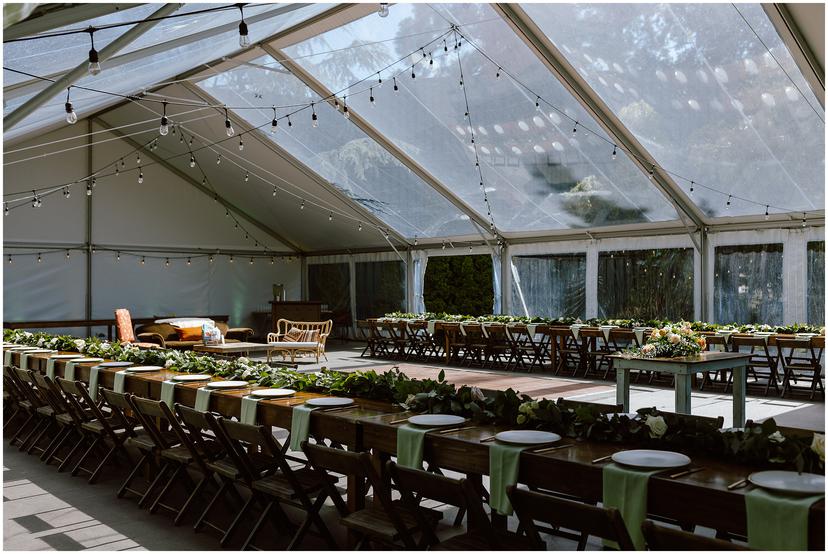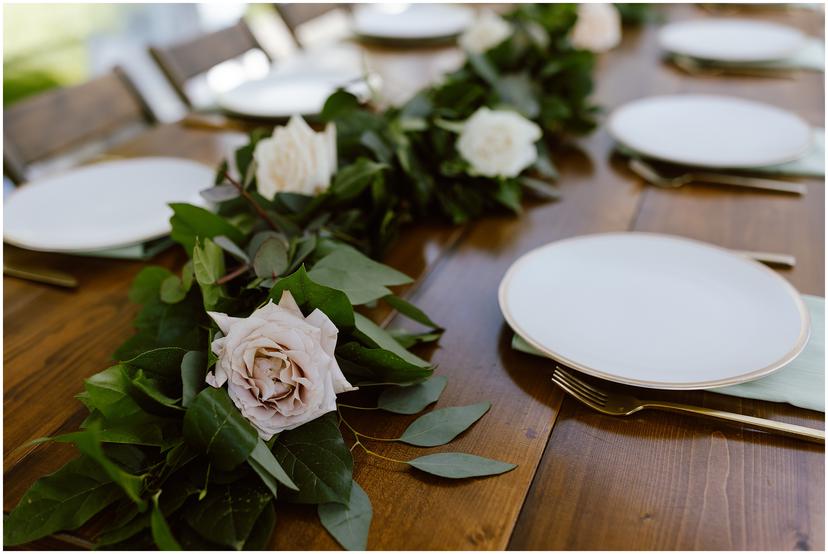 The decor
"We had so much fun choosing decor that shared what we love with the people we love," said Tori. We wanted to pay tribute the to the memories people and places that brought us to this moment."