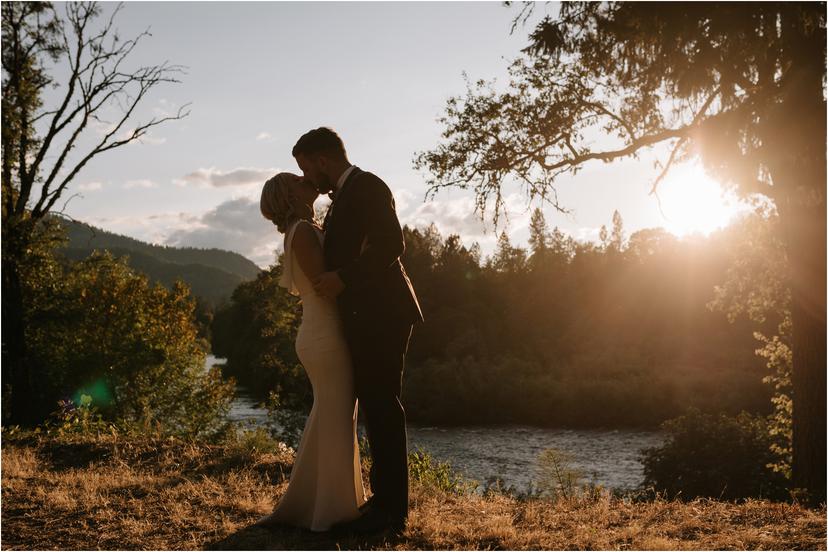 Grants Pass Wedding Photographer
"It takes a village." That was the mantra for Kendall and Ronnie as they planned their Grants Pass wedding on Kendall's parent's property. They said their vows on the banks of the Rogue River, surrounded by mountains, forests, and all the people they love most in the world. It was SO epic.
"My favorite thing about getting married at my parent's property was seeing everyone come together to make the wedding of our dreams come true. We chose this venue because it felt like us. The property has always been special to me, and I wanted to share it with all my loved ones. In the modern world, the venues in Portland seemed unoriginal, and the trends seemed overdone, so we needed to find something that honored us and our relationship. 'It takes a village' is now one of our mantras in our lives as a couple and to our friends and families."
I was SO honored to work with Kendall and Ronnie after also photographing Ronnie's brother's wedding in St. Lucia last spring! I've known Ronnie since 4th grade, and it was SO fun to catch up with a ton of old friends while photographing this day. So many people from our high school made the trip down to Southern Oregon!
What was your favorite memory from the wedding?
"There are too many to choose from!" Kendall said. "Personally, before walking down the hill/epic aisle, being able to see all my friends and family waiting with my husband will be a memory that I will never forget. As well as walking to dinner and watching everyone find their seats. It was a moment where we could really see everyone together. And there is nothing better than sharing a meal with your loved ones and enjoy the party you worked so hard to put together."
Do you have any advice for other couples planning weddings in Southern Oregon, or advice for people having weddings on private property?
"My best piece of advice is to hire a planning team that you trust; it doesn't matter about location," said Kendall. "Our planner Katelyn with Your Perfect Bridesmaid, was from Portland and was able to pull off an outstanding wedding in Southern Oregon. Private property weddings do not necessarily mean less expensive. I'm just gonna say it.
"Another piece of advice, if your parents let you use their property, strive to have open and frequent communication from early in the process. We constantly reminded ourselves that they are letting us throw a party in their HOME; it was important to us to respect that."
Any other insight for couples that you would share about your wedding experience?
"My advice for couples is to dream big and let your planner help decide whether it can be done or not. Don't censor yourself too early. Get crazy and creative; things will always work out, especially if you have a planner! Choose vendors that feel like an extension of you and what you stand for, choose quality people if you can. 
"We absolutely loved Heather and her team from ROAM, their drinks were lovely, but the staff was extra memorable. And of course, we could not have pulled it off without Katelyn. She literally thought of everything, was ready for anything, and let us enjoy the year-long process and day-of. She was a for-real MVP.
"As for decor, it was extremely important for us to honor nature and not transform anything too much - this was my FAVORITE thing about our aesthetic. We were able to pull off two separate vibes; the natural-classic ceremony with a garden party for dinner. Isabella from JackLily Farms understood our vision from the beginning and took it to another level. Her zero-waste business was not only impressive but refreshing when the wedding industry full of waste. 
"And of course, our lovely photographer. Katy, you had a way to make us feel comfortable in our own skin, laugh, protect us, and captured every moment for us to relive. We cannot thank you enough for being apart of our day. You're a special human!"
The Slideshow
The Vendors
Venue: Family property in Grants Pass, Oregon

Planner: Katelyn with Your Perfect Bridesmaid

Catering: Figgy's Food Truck

Bar: Roam The Bar

Dessert: Sugar Rush

Florist: Isabella with Jacklily Floral

DJ/Band: Jes with Sights and Sounds

Rentals: On the Side

Hair & Makeup: Artistry Reina

Bridal Gown Store: English Department

Stationary/Signage: Lettering Bee
The Photos