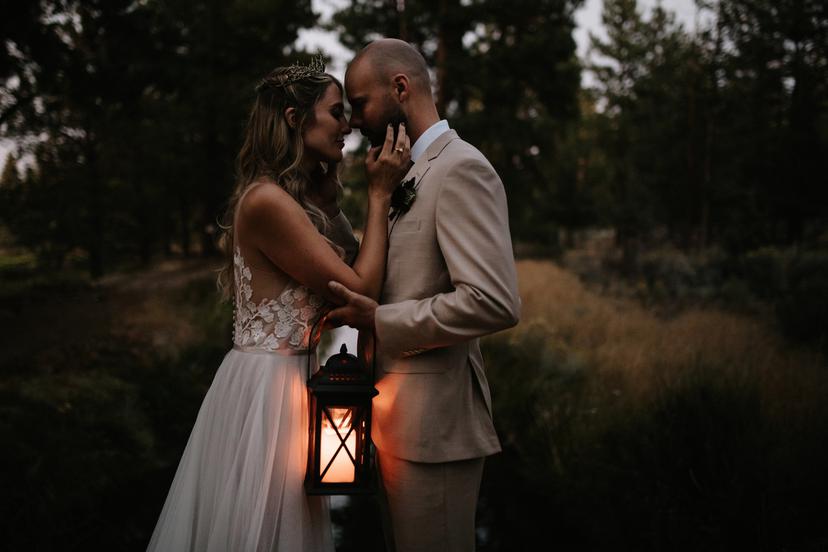 LOTR and Game of Thrones Themed Wedding in Bend
Ok nerdy friends and lovers of dark, moody, fairytale vibes. I have an epic blog post for you today! This couple loves all things fantasy and decided to have a Lord of the Rings/Game of Thrones themed wedding in Bend, Oregon! They literally went ALL OUT, and there were so many fun surprises, sweet moments, and magical details throughout the day!
This fantasy wedding took place on the bride's parents property. This meant they had a ton of control with their setup, and everything was extra meaningful to them! It also resulted in their own pet cat, Sushi, photo-bombing everything, including their actual wedding ceremony! They also were able to take a horse-drawn carriage ride immediately after their ceremony as a fun surprise. It was SO gorgeous.
I also have to mention that Devon and Tyler are incredibly musical. Devon surprised Tyler during their first look with an acapella song (with the help of her bridesmaids), which led everyone to tears. Their friends also sang together as she walked down the aisle! They topped the evening off with an epic live band performance too. It was all extraordinarily personal and SO them.
I could go on and on about the intricate details of this day, but Devon and Tyler can tell you best in their own words below!
Why did you decide to have a GOT/LOTR wedding?
"We both have always been fascinated and enthralled with all things fantasy. Growing up, we loved Princess Bride, Harry Potter, Lord of the Rings, etc. As adults, we were drawn to the dark, dramatic tones of Game of Thrones and wanted to incorporate that as well. Plus, we both love both of these shows/movies/books. We were definitely going for a dark fairy tale vibe, and thought it would be fun to incorporate elven, medieval elements as well."
Do you have any advice for couples having a themed wedding?
"As far as having a themed wedding goes, have fun with it! Don't be afraid to go all out. It was really fun for us to add hints of our theme to things- for example, we had special silverware for the two of us that said "moon of my life & my sun and stars," we framed Gandalf quotes, had lots of fur elements, and candles. Our music for cocktail hour and ceremony had LOTR/GOT songs, and our cellist, pianist, and live singers nailed it. For our appetizers we had "dragon eggs" and "hobbit mushroom toast," the best man wore a hand of the king pin… we wanted little Easter eggs for people to discover."
What was your favorite memory from your wedding?
Devon: "Singing "First Day of my Life" to Tyler during our first look. Tyler proposed to me with the same song, and his reaction was priceless. Plus, I had my bridesmaids/ sister singers there backing me up, and being a part of that special moment. Oh also, having our cat Sushi unexpectedly be a part of our ceremony."
Tyler: "For me, it was dinner at our sweetheart table. It was one of the few things that I had no part of planning/creating, so it was a genuinely magical moment for me sitting with my beautiful bride at this majestic table. The moment we sat down I could feel all the stress built up in the months prior just melt away, truly enjoying the wedding we had worked so hard to create."
What was your favorite thing about getting married at your parent's property, and why did you choose it as your venue?
"Having all the freedom and time to make the property what we wanted. We spent weeks stringing lights on trees, hanging decorative pieces, and moving furniture, like the big old hutch we used for our wine glasses. Plus, Tyler, my parents, and his parents, all worked together on the farm landscaping, and gardening, during the weeks leading up to it. We chose it as our venue because of all of the flexibility that came with it. (Date, decor, time, etc.) plus, the property has some magical feeling elements to it that I wanted to incorporate."
Any tips for planning a wedding on private property?
"For planning on private property, there are a lot of things that go into it… parking is huge, electricity is important. We had to rent generators, bathrooms, tons of lighting, all the furniture, a stage for our band, dance floor, tent, etc. we ended up buying a lot of things that we wouldn't have if we had chosen a venue. So, even though the venue was free, a lot of money and work went into it. But, it was amazing to have an original, intimate location that was special to us and that we had months to work on and make just right for our big day!"
Any other insight that you would share about your wedding experience?
"Try to take a step back and think about what's important to YOU. It's so easy to get caught up in the details of making the day perfect for everyone else… but take time to carve out special moments for just the two of you. At the end of it, you'll remember those precious moments, not things like the colors of the tablecloths and napkins. Also, make sure you are putting aside date nights that don't involve wedding planning leading up to the big day! It's important to reconnect and remember why you are doing all of this!
"I'm so so glad we did a pre-ceremony cocktail hour. It was awesome to have some time to spend with our guests, and we weren't as nervous for the ceremony. I waited to put my bridal cape on until right before the ceremony to add a special "reveal."
"Our vendors were amazing. We HIGHLY recommend Katy Weaver, our photographer. She captured everything better than we could have imagined and is so energetic and fun to work with.
"Morgan Jackson from Blomstrafloriography blew us away and brought our vision to life with her beautiful flower arrangements, and she was the sweetest person to work with. I'm so so glad we had her artistry present.
"Bleu Bite Catering perfectly executed our GOT feasting table for dinner. Bend Party Lights did a phenomenal job illuminating our night perfectly, (there would have been no event without the lights!) and Precious Byrd, our band, is so kick ass. They kept the party going, the dance floor was never empty, and they are SO talented. Live music is something I will recommend over and over again."
The Vendors
Bride's Dress: Wtoo by Watters from Ania Bridal in Portland

Hair Stylist: Erica Puopolo- bridesmaid

Groom's Suit: Giovanni Bresciani from The Tuxedo Club in Seattle

Groom's shirt: Top Man from Macy's

Groom's shoes: Stacy Adams from Macy's

Groom's tie: Alfani from Macy's

Bridal headpiece: Etsy

Bridal cape: BHLDN

Bride's shoes: Ross

Bride's earrings/necklace: belonged to great-grandmother

Makeup Artist: Melissa Albert- bridesmaid

Florist: Blomstrafloriography

Officiant: David Gadaire- bride's uncle

Catering/Serving Staff: Bleu Bite Catering

Dessert Tarts: Tumalo Coffeehouse

Beer: Deschutes Brewery

Wine: Primarius (OR) & Canoe Ridge (WA) wineries

Videographer: Casperson Productions

Band: Precious Byrd

Wedding Coordinators: Shaena Grim & Hailey Goldammer

Invitation Calligraphy: Rachel Bailly

Invitation design: Josh Ingalls

Sign/table number designs & printing: Premier Printing Solutions

Seating chart design from Etsy

Rentals Linens, tables, chairs, dance floor, stage, wine barrels: Incredible Events

Lighting: Bend Party Lights

Cello player: Noah Seitz

Pianist: Josh Rist