Engagement Pricing and Info
Taking couples photos is SO MUCH FUN. Seriously. I absolutely love to turn my engagement sessions and couples shoots into adventures to rugged, beautiful locations. Think of it as an epic day spent making memories with your love - hiking, laughing, even popping a bottle of champagne in the woods - just with a photographer there to join you!
Not into nature? Let's curl up in your cozy home and take photos with your pets, your plants, and the art that feels like YOU. It's such a fun way to document who you really are together in your own space.
Why are couples photos important?
Doing an engagement session, couples session, or anniversary shoot gives you an opportunity to take some AMAZING photos together on a day that is much less stressful and busy than your wedding!
Plus, it gives you the chance to take photos anywhere, without many time-restrictions. And, if I'm also photographing your wedding, it gives you the opportunity to see how I shoot, and get a little more used to being in front of the camera.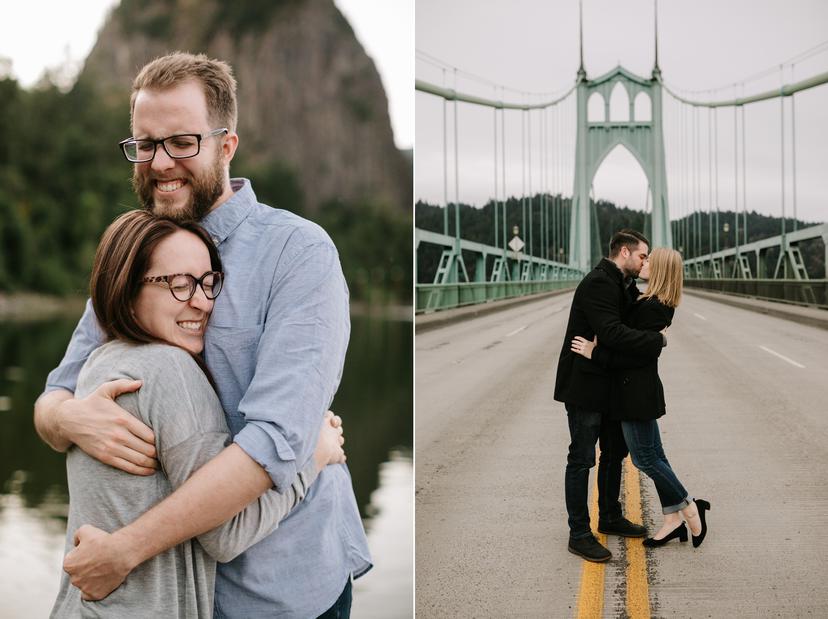 My style
I'm a nerdy, outgoing, artistic and nature-loving photographer, and I'd like to think that my photos reflect this! I love to take pictures that are playful, honest, fun, real, and intimate.
That said, my engagement photos and couples pictures are unique to everyone I work with. I'll hang out with you, ask questions, get to know you and really work to understand your vibe so I can capture it honestly and truthfully in a beautiful, artistic and flattering way.
I also like to take huge variety of pictures - close up, far away, candid and silly, serious and cool, some looking at the camera, and some where you are lost in an inside joke together, giggling uncontrollably and being absolutely YOU.
My work incorporates natural light and raw surroundings as much as possible, and I prefer my editing to be true-to-life, with a feeling of rich warmth to my my tones and colors.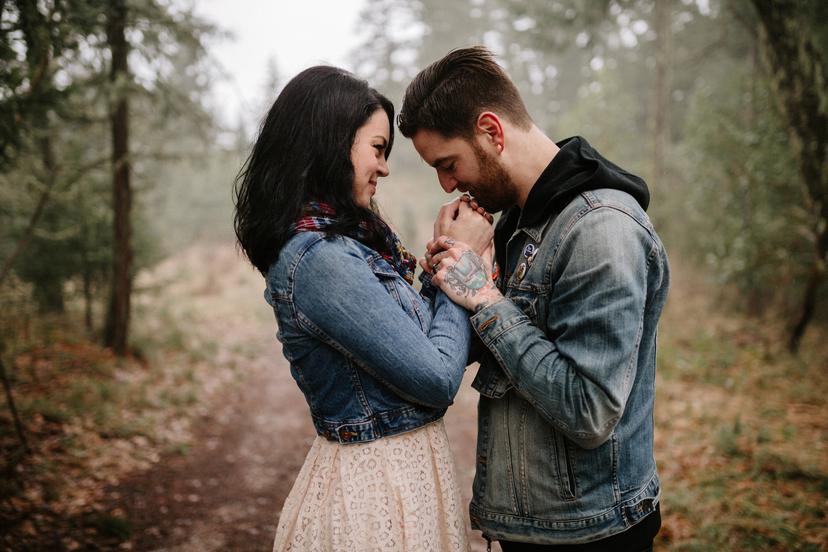 Posing and direction
"But what if we've never done pictures before?!

"What if we are awkward?

"My fiancé hates having their photo taken!"
Don't worry! These are totally natural feelings! And I've got your back! I give a TON of direction when I'm taking your photos so you never have to ask "what do I do with my hands?!" or feel nervous.
I won't put you in awkward poses, but I will give you plenty of cues that will get you moving, laughing, and interacting the way you always do. PLUS, I'll teach you the best ways to position your body so it looks the most flattering in front of the camera!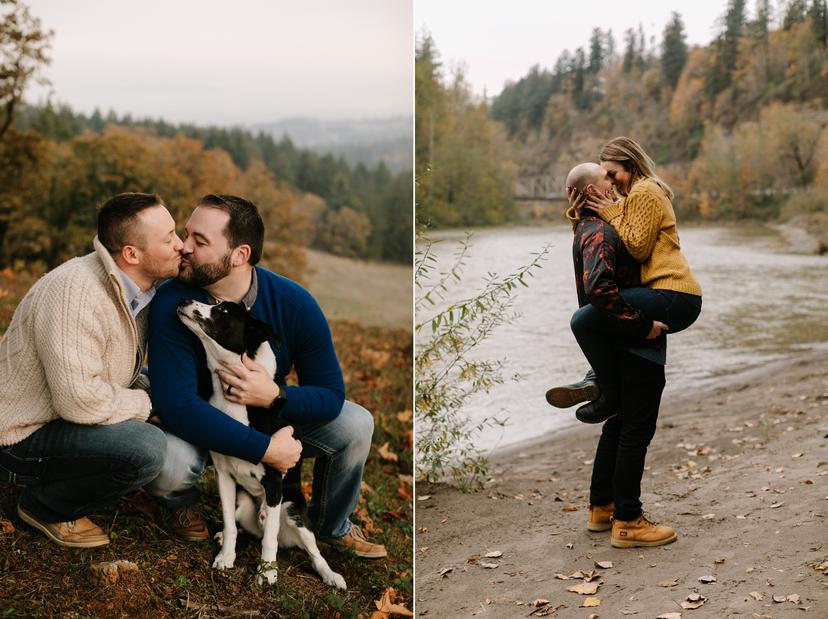 My process
Interested in working with me? That's awesome! Here's a little insight into how my process works.
1) Email me! I'll send over more pricing info, and from there we can set up a phone call to get to know each other and chat about details! I want to hear all about you and your story.

2) Choose one of my collections and I'll send you an electronic contract and invoice reserve the date! Then you'll be officially booked.

3) I'll send you resources to help you figure out outfits and a perfect location.

4) On the day of the shoot, we'll meet up, and I'll give you a TON of direction as we shoot so you don't have to feel awkward or unsure. We'll be laughing most of the time, and it will be a blast.

5) After the shoot, I'll upload the photos and get rid of anything awkward, out of focus, or a duplicate, and then I will put the rest in a private online gallery and send them to you as proofs right away. They will be straight out of my camera at this stage, but you will able to look through them all and choose your favorites for me to edit and retouch. Each of my collections has a specific number of final images, so depending on which one you get you'll be able to choose 20 or 50 images for me to edit. I'll leave the proofs up for 7 days so you can make your selections.

6) Once you finish selecting your favorites and email me, it will take a max of four weeks for me to edit them and get them back to you!

7) I'll edit and retouch the photos and deliver them in a second online gallery where you can download them directly or order any prints you might want!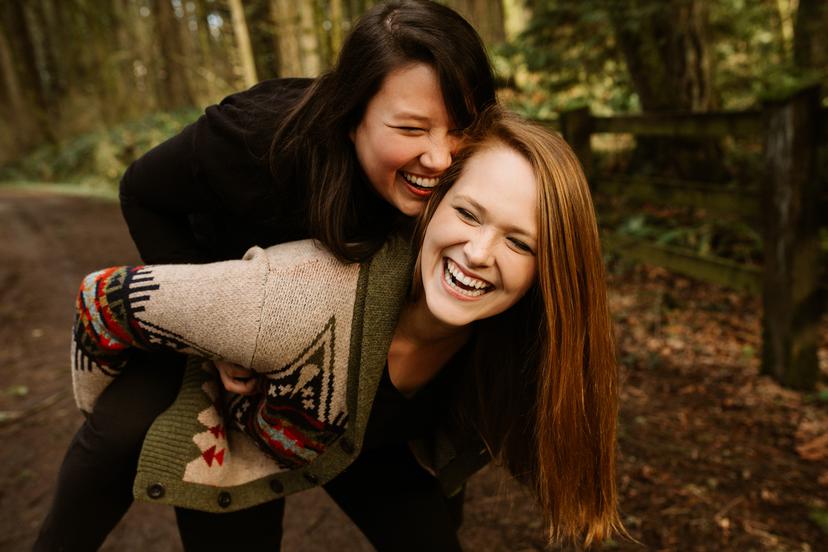 Pricing
Photoshoots are really personal, so I usually prefer to chat with every couple on the phone before we start digging into the details of pricing! But I also understand that price is a HUGE factor in choosing a photographer, so my starting rates are listed below!
My couples collections start at $1000 for 1 hour of photography and 20 final edited images.
Contact me to set up a phone call and we can go over all the details together!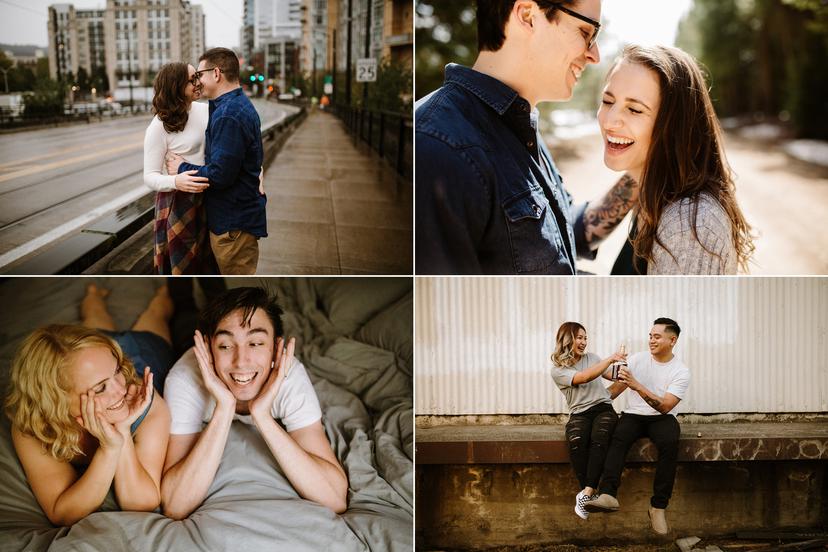 Engagement Photo Locations
MY FAVORITE PORTLAND ENGAGEMENT LOCATIONS
In Portland: Hoyt Arboretum, Forest Park, Cathedral Park, George Rogers Park, The Pearl District, various bridges in downtown, the Eastbank Esplanade, Old Town, Alberta Arts District, Sellwood Riverfront Park, Tryon Creek State Park, Lewis and Clark State Park, Laurelhurst Park, The rose garden in Washington Park, Jenkins Estate, Cooper Mountain Nature Park
Outside of Portland: Sauvie Island, Timberline on Mt. Hood, White River Recreation Area on Mt. Hood, Trillium Lake, Women's Forum, Latourell Falls, Government Cove in the Gorge, Viento State Park, Dalton Point in the gorge, Steep Creek Falls, Beacon Rock, St Cloud Day Use Area, Rowena Crest, Cannon Beach, Ecola State Park, Hug Point, Cape Kiwanda, Smith Rock State Park, Painted Hills, Mt. Saint Helens, Silver Falls State Park, Tamanawas Falls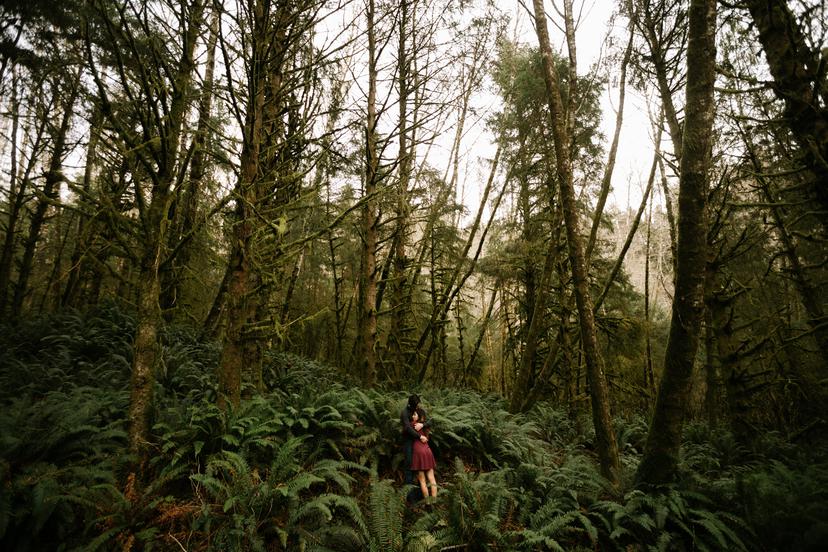 What to wear for engagement photos
Pick your favorite clothes that make you feel the most confident and comfortable. Make sure that everything fits SUPER well. Also, take the location and time of year into consideration.
As for colors, I prefer to photograph people in neutral colors and solids because I want the focus on you, your love, and your emotion, not on your clothing! Simple patterns and plaids are okay too - but remember to bring several options so we can pick and choose!
When the two of you are creating outfits together, it's a good idea to coordinate, but don't get matchy-matchy. Pick a general color scheme and play around with it!
You can check out my complete article on choosing the perfect engagement photo outfit below!
EVERYTHING YOU NEED TO KNOW ABOUT CHOOSING ENGAGEMENT PHOTO OUTFITS!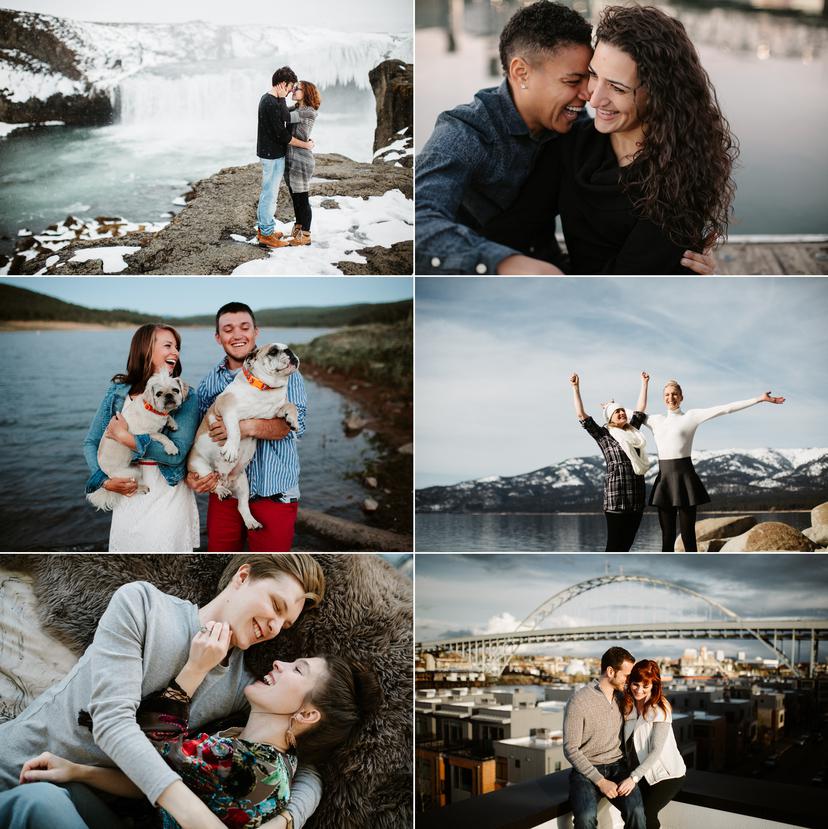 Weather and light
Although locations and backgrounds are important, I'd still say that the number one thing that shapes the way a photo looks is the lighting.
I almost always use natural light (not flash) because it tells the story more accurately and give my photos a beautiful authentic look. However, not all natural light is created equal.
Bright sunlight in the middle of the day can be harsh but edgy. Open shade is flattering and soft, while dappled shade with sunlight can be difficult and contrasty. Soft backlighting in the evening looks romantic and happy with sun flares. Cloudy weather makes for photos with a beautiful even cast and more mood. It's important to know that all these types of lighting create a different look, and for the most part, that look is up to the weather.
I love to take engagement and couple photos year-round in any type of weather, BUT I always prefer to do the sessions around sunrise or sunset so we can get the most flattering light of the day!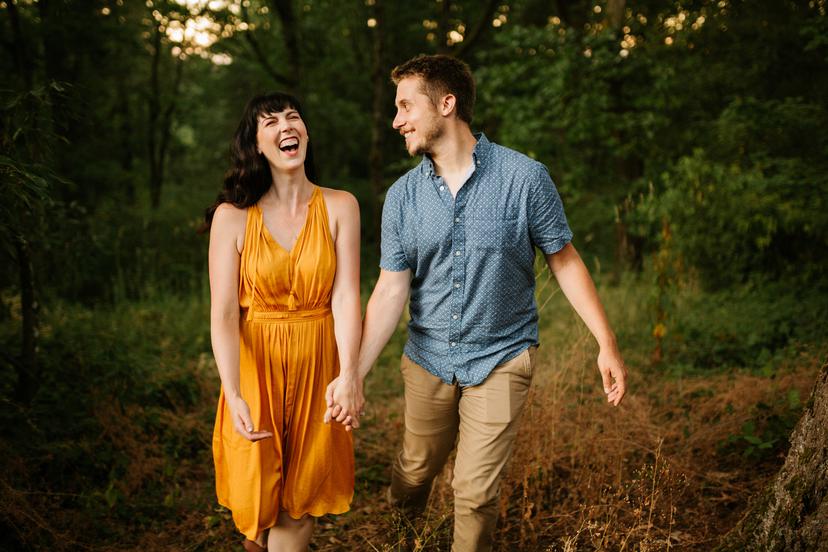 FAQ
Got questions? Check out my FAQ page here!
You can also head over to my contact page to reach out to me directly!
CHECK OUT MY REVIEWS ON GOOGLE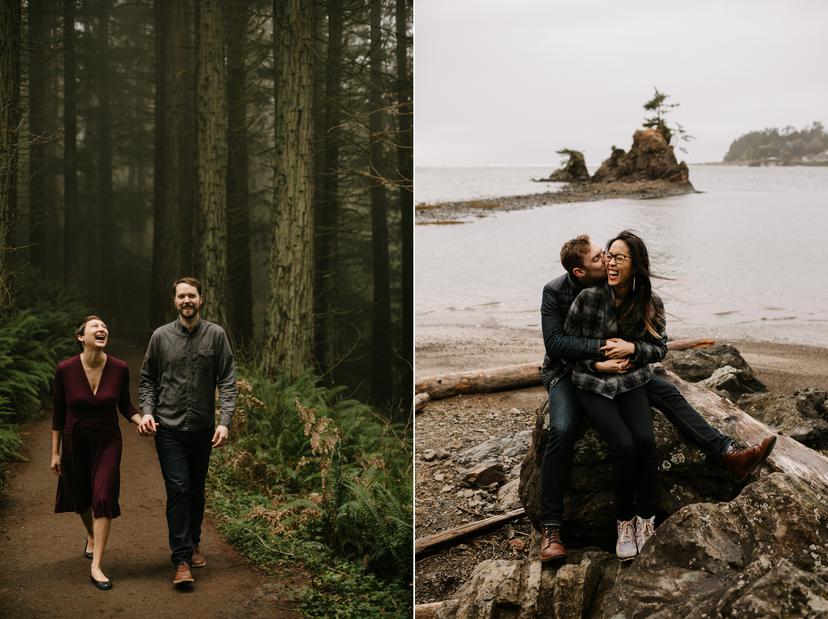 Recent couples on the blog