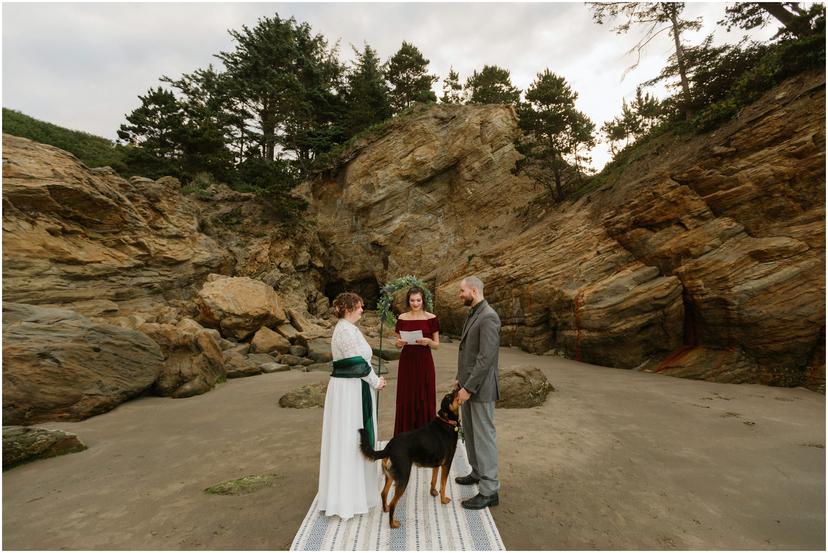 Devil's Punchbowl Elopement
Claire and Peter eloped at sunrise on a perfectly good Thursday in early June. The Oregon Coast was a flawless backdrop; calm, empty, and not-too-cold. We had the entire beach at Devil's Punchbowl to ourselves, minus a few surfers out in the waves. It felt otherworldly and magical. And they planned the whole thing in less than two weeks!
I went to high school with Claire, and she told me YEARS ago that she had been waiting and waiting to find the right guy so she could have me photograph her wedding. And then she found him. And they got engaged. And… a pandemic hit. But this didn't stop Claire and Peter from celebrating in a way that was unique to them in the middle of the most chaotic year ever. I was overjoyed when Claire contacted me and thrilled to help her find the perfect elopement spot near Newport, where she had already booked a hotel. It was even more fun that Claire's longtime best friend Amie, is ALSO one of my wedding clients. So the five of us had a blast hanging out, celebrating, cracking jokes, eating crab cakes, and playing with Claire and Peter's adorable dog. This was such a fun, memorable experience for everyone. Definitely one of my most favorite elopements ever!
About Devil's Punchbowl on the Oregon Coast
Devil's Punchbowl State Natural Area is a rocky outcropping and beach in between Newport and Lincoln City on the Oregon Coast. It's closest to the small town of Otter Rock. It's about 30 minutes south of Lincoln City and 15 minutes north of Newport.
Devil's Punchbowl itself is a collapsed sea cave that creates a vast swirling "punchbowl" effect during storms and high tides. The cliffs have a beautiful orange hue, and it's a popular spot for tourists to stop for a quick photo as they drive up and down the Oregon Coast.
Many people visit the viewpoint overlooking the top of Devil's Punchbowl at the tip of the point. However, this spot is exceptionally windy, exposed, and fenced off. Not ideal for an elopement. But if you walk back toward the bathrooms, there is a stairway with beach access directly south of the punchbowl. This is where Claire and Peter eloped at low tide. Rather than risk our chances in the dangerous punchbowl itself (it's pretty scary to be in there), we found a protected cove in-between cliffs for their sunrise ceremony. It was extremely photogenic, the lighting was perfect, and it felt private. Also, there was no wind!
Favorite elopement memory
Claire: "The whole thing was so wonderful, it's honestly hard to pick just one. I'd have to say walking around the cliffside and seeing Peter and having every ounce of nerve I had disappear and be replaced with so much excitement and joy! Just one memorable moment in a long whole dab of memories! "
Peter: "Aside from the wedding itself, one of my favorite memories is of the night prior when we enjoyed a sunset bonfire on the beach with the wedding party."
Favorite thing about the Devil's Punchbowl location
Claire: "My favorite part was the intimacy of it; having the whole beach to ourselves in the quiet of sunrise just felt so special. The beach has always been a very special place to us and the development of our relationship. We met on a cruise and had very sweet moments on both west and east coasts, so it felt right to elope there. We chose Newport because that's where I found a good hotel deal 😅."
Advice about Oregon Coast elopements
"Have fun with it! Eloping really does evoke a strong feeling of adventure and freedom with your partner, so be free to play. We chose a sunrise ceremony, which gave us the opportunity to spend our entire wedding day celebrating together however we wanted. What better place to do that than the Oregon Coast. Our best advice, though, is to hire Katy!!"
Advice about vendors, decor, and COVID-19 safety
Claire: "We tried to keep it as simple as possible. We went to the craft store and picked up some ingredients for DIY decorations. We had two little candles lit on either side to represent our families who couldn't be there in person (but were all watching via Zoom!). We had a green theme because that's Peter's favorite color and also part of golden hour colors, which is Claire's favorite palate.
"We tried to be as mindful as possible about COVID restrictions, hence why no family was there. My best friend Amie, the officiant, works at the same hospital as I do, so exposure felt minimal. She has been there since the beginning of it all (she was on the cruise with us!), so it felt right."
The Vendors
Dress: Lulus

Suit: From Peter's closet

Bouquet: Emmi Bane - Bride's Family

Rings: Aurosi Jewelers on Etsy, LaRog Jewelry](https://www.larog.com/), Staghead Jewelry

Bow Ties: Wu Yue

Hotel: Hallmark Resort Newport
The Photos
The elopement festivities began with a beach bonfire the night before at the The Hallmark Resort. We ordered seafood takeout and ate it while running around in the moonlight in the sand.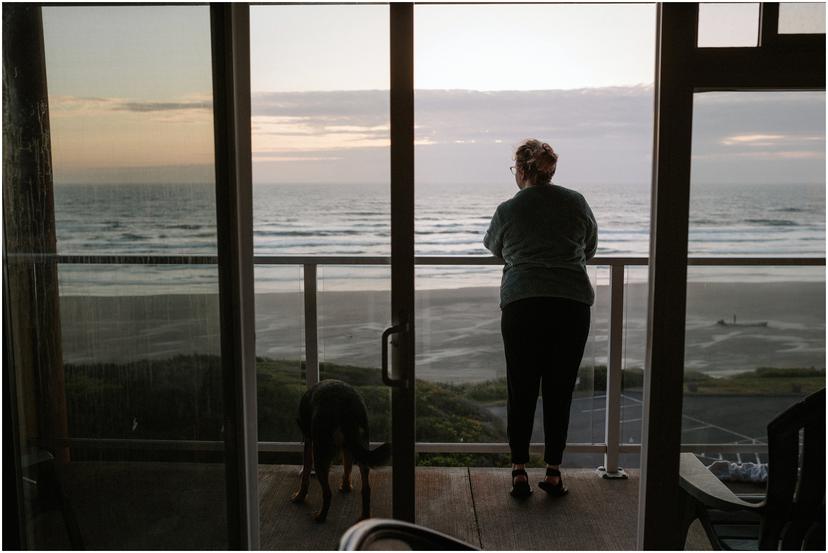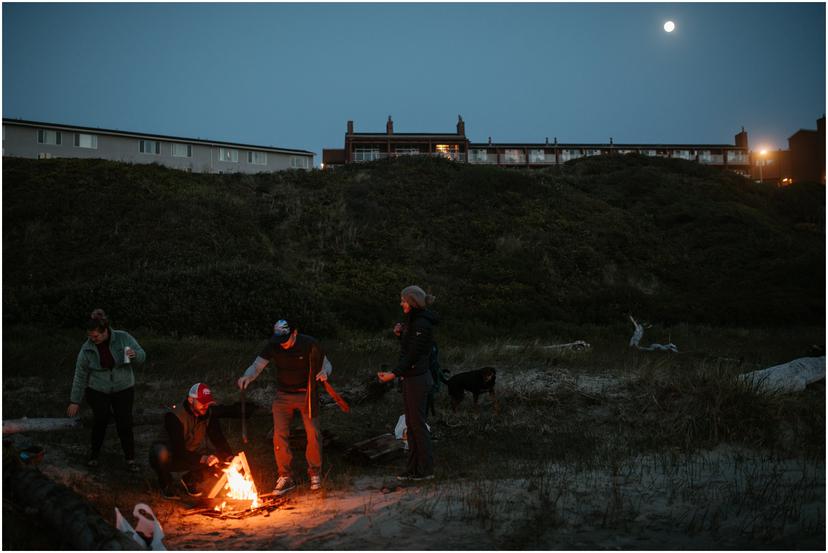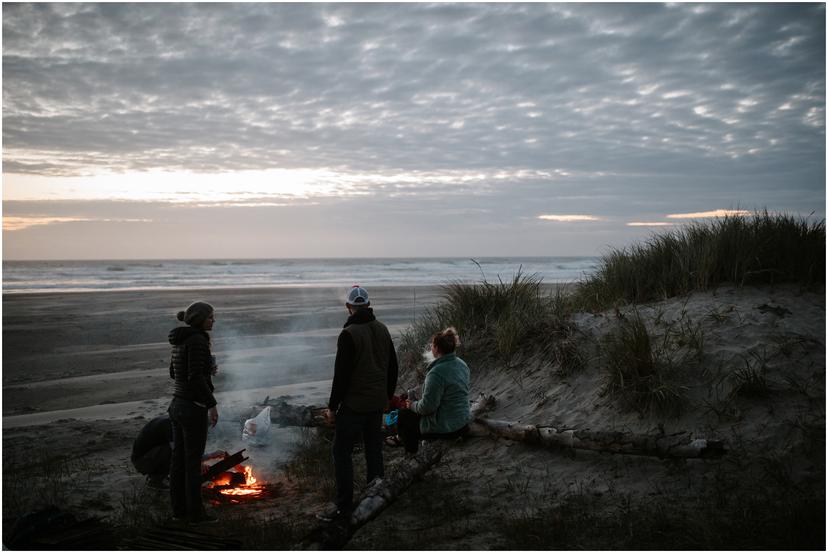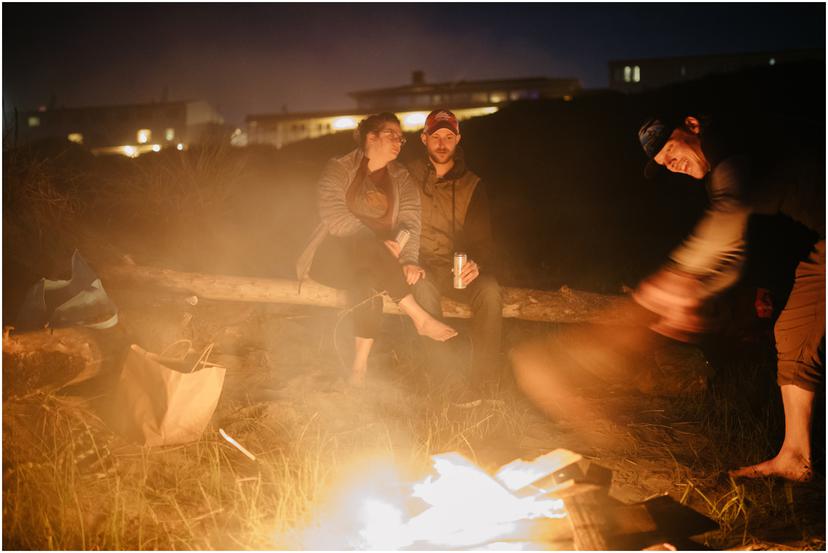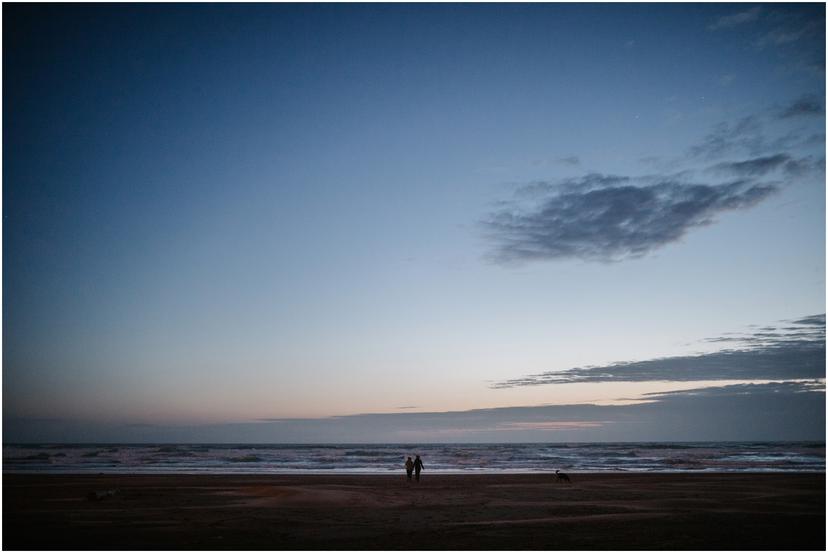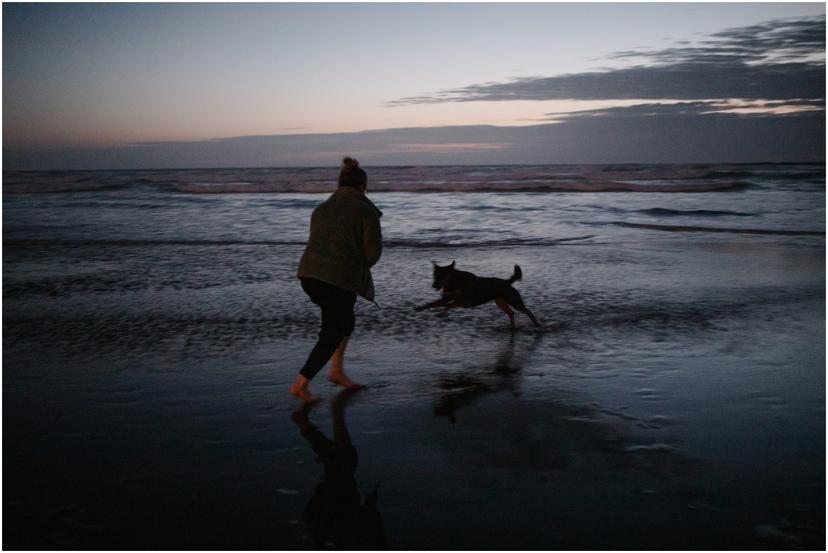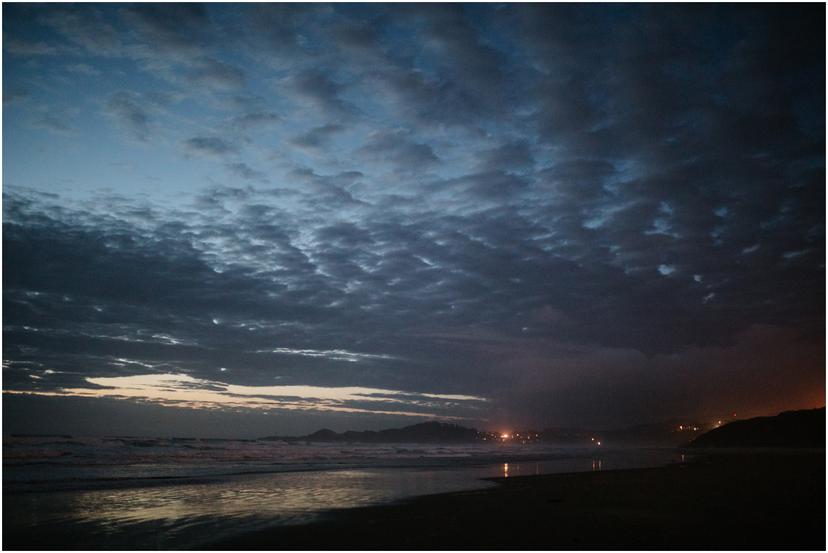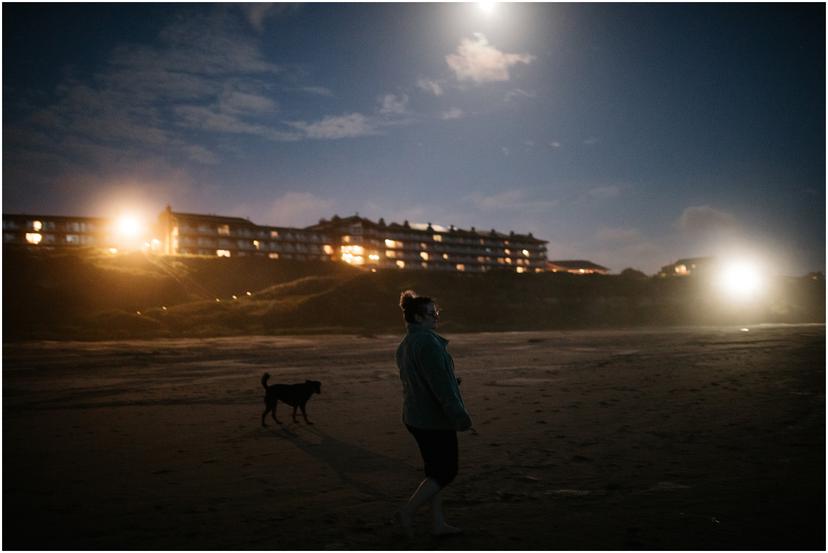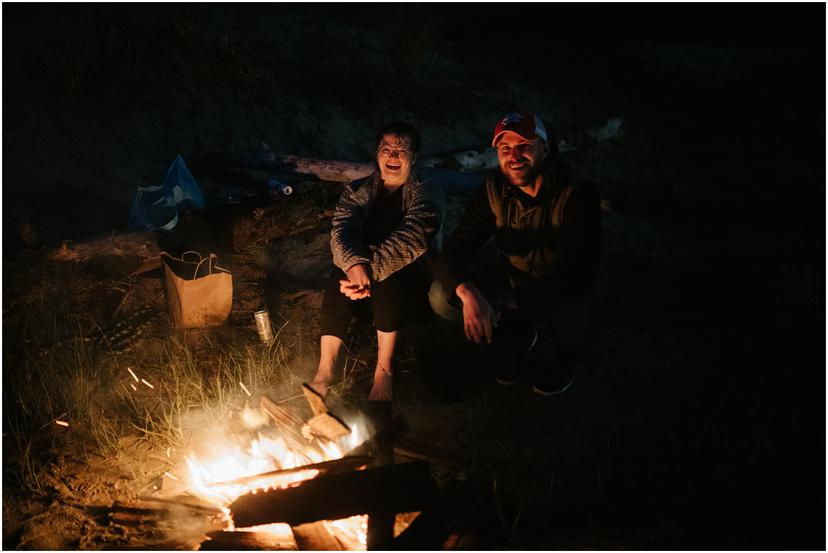 After a short night of sleep, we began their elopement day with a 4am wakeup call for some early-morning getting ready photos. We all got ready in the hotel room together, then Peter left early so Claire could put her dress on and surprise him for their ceremony.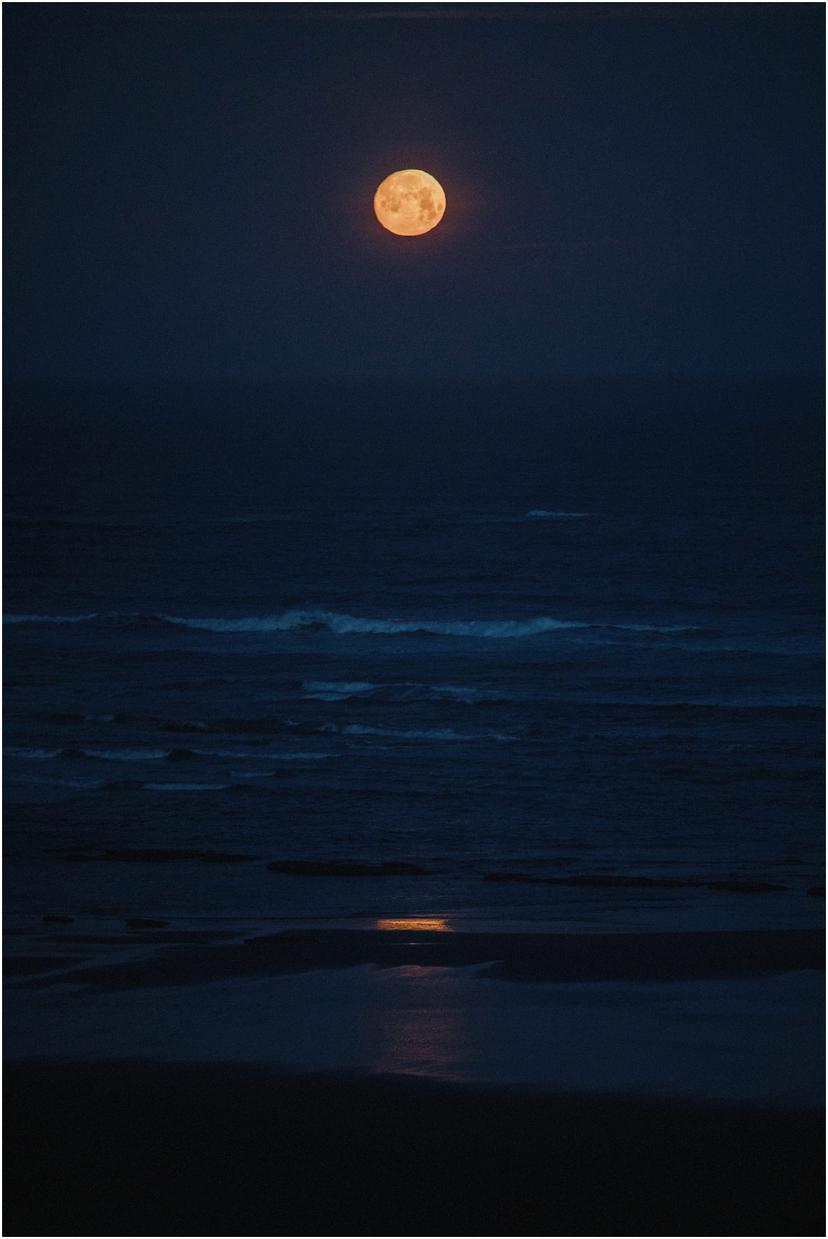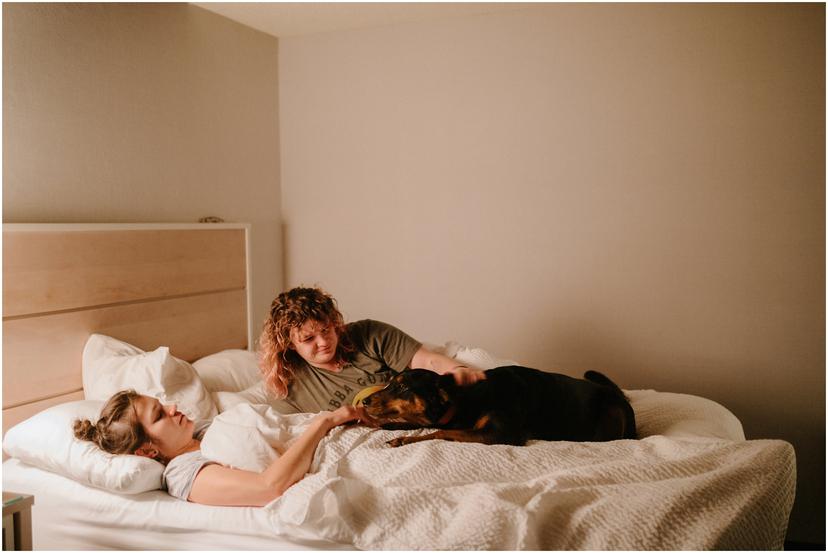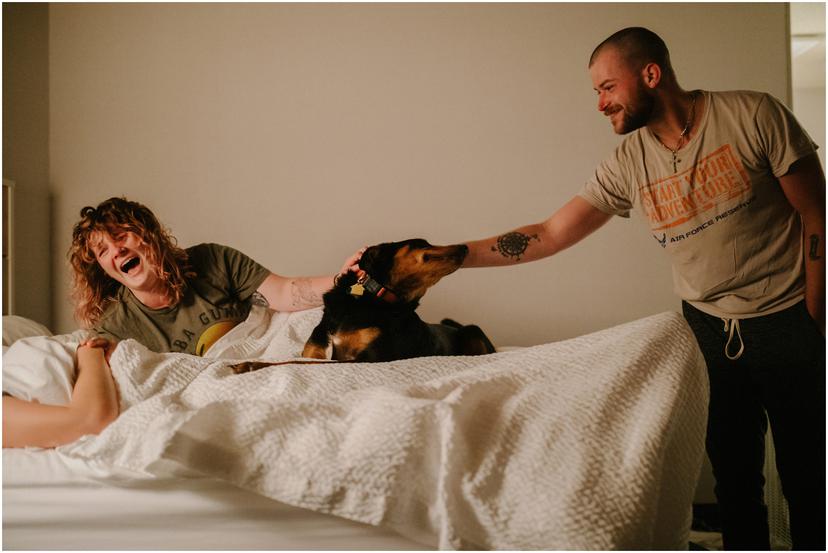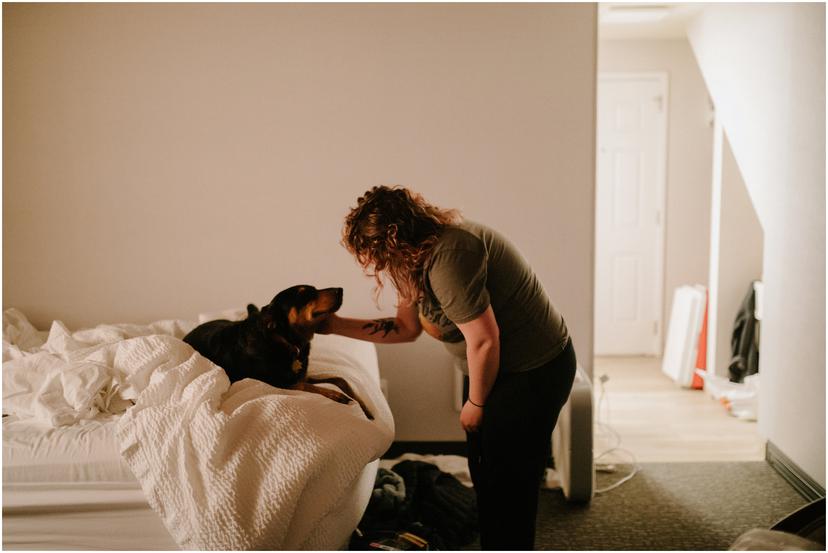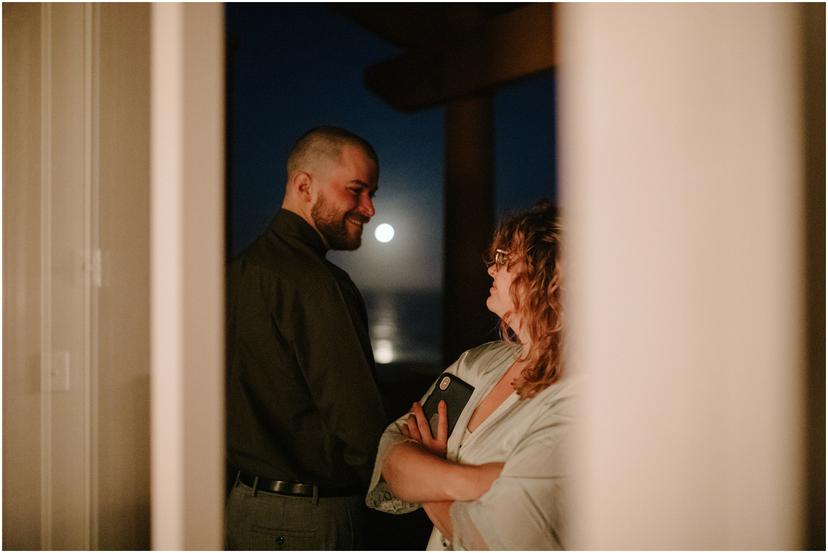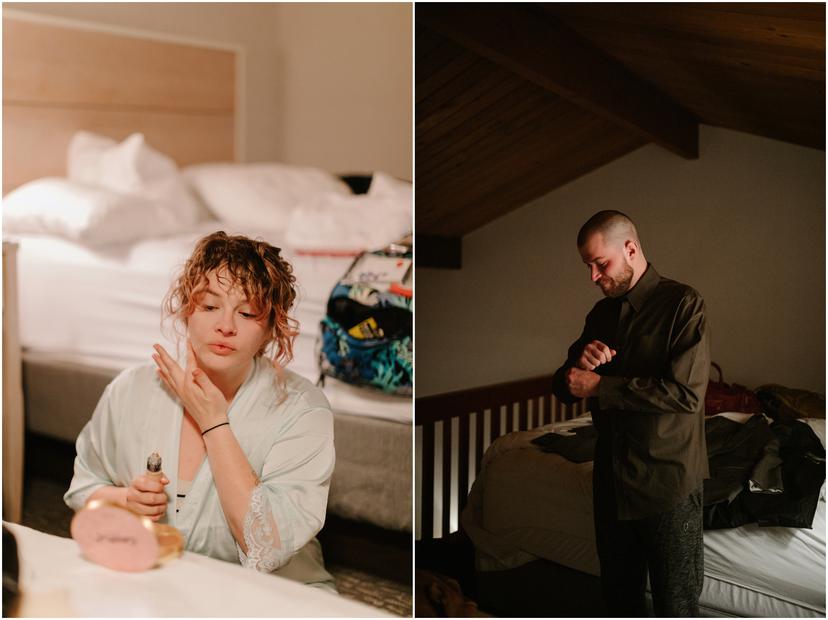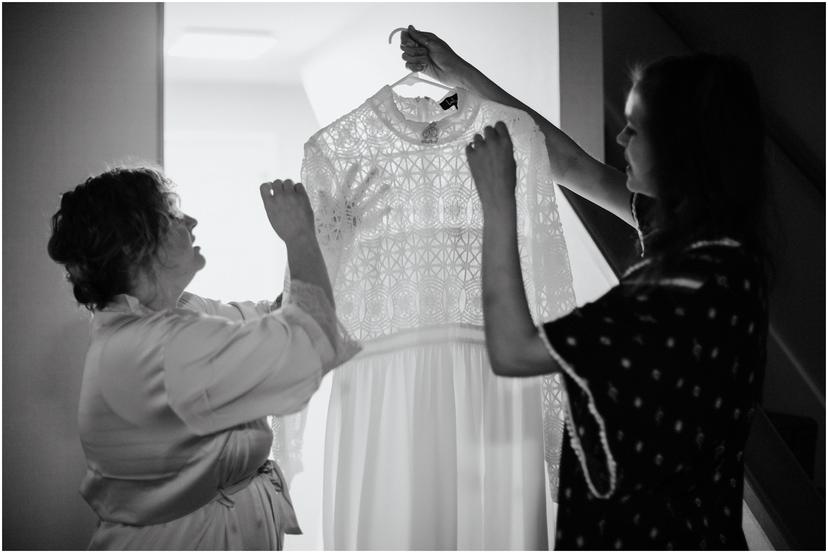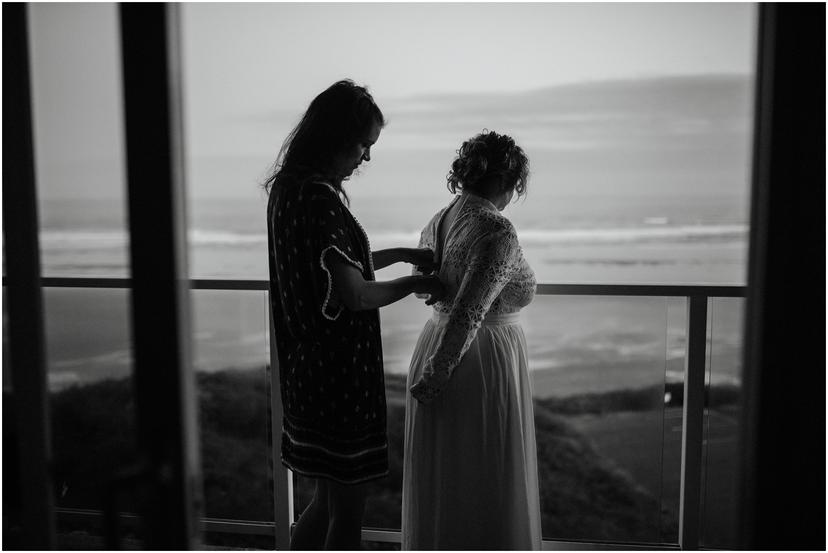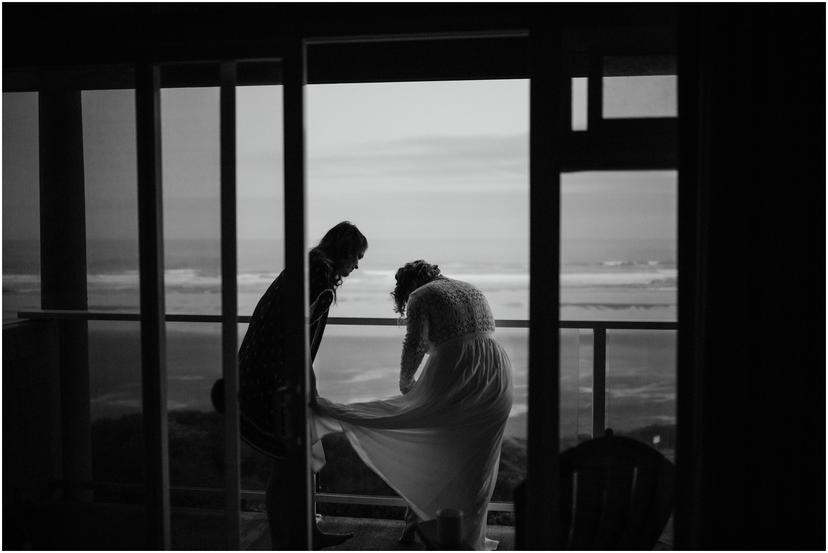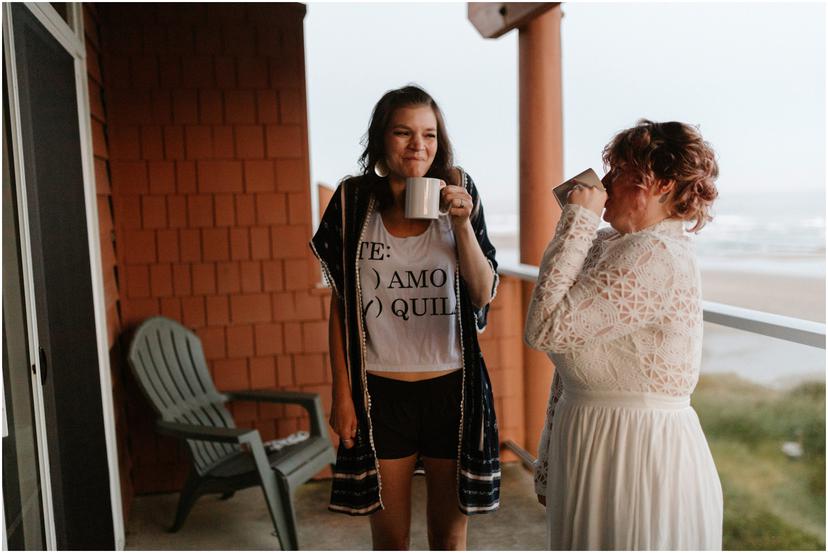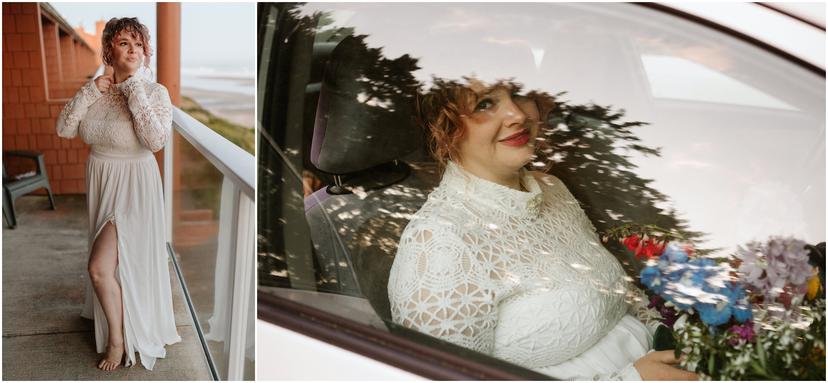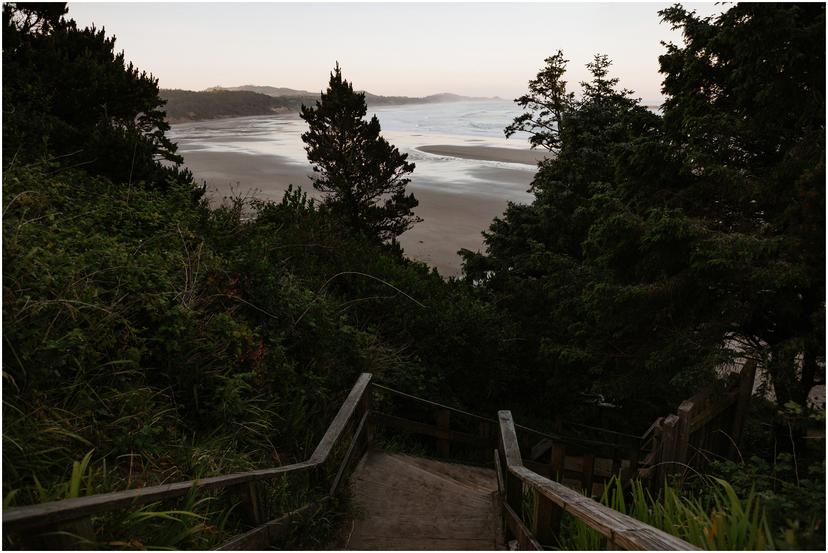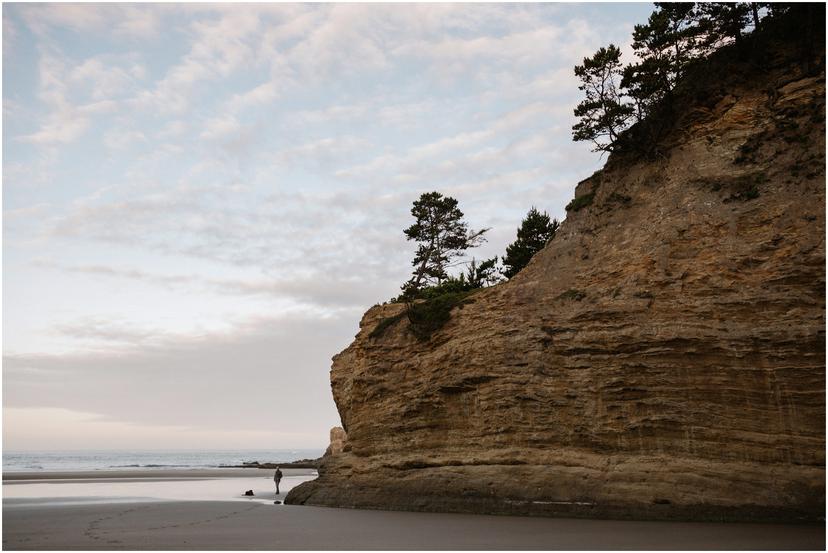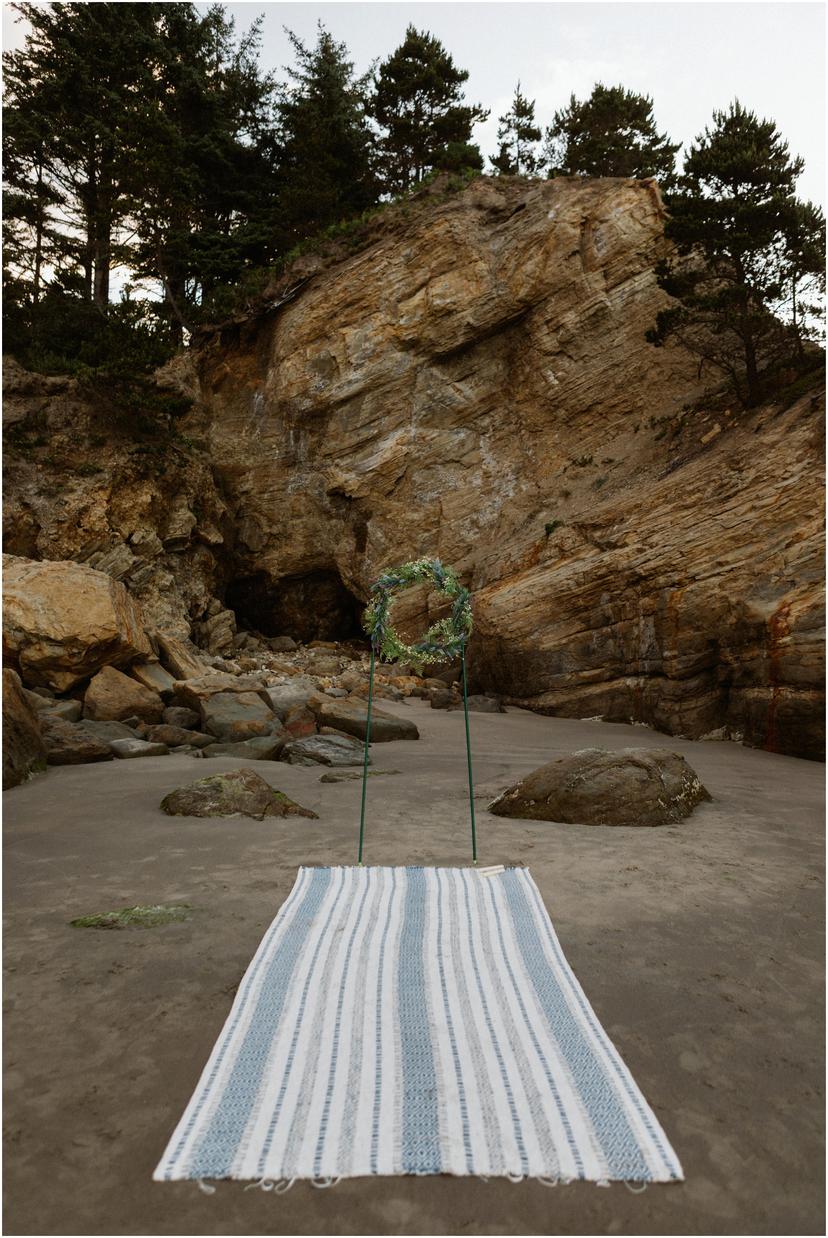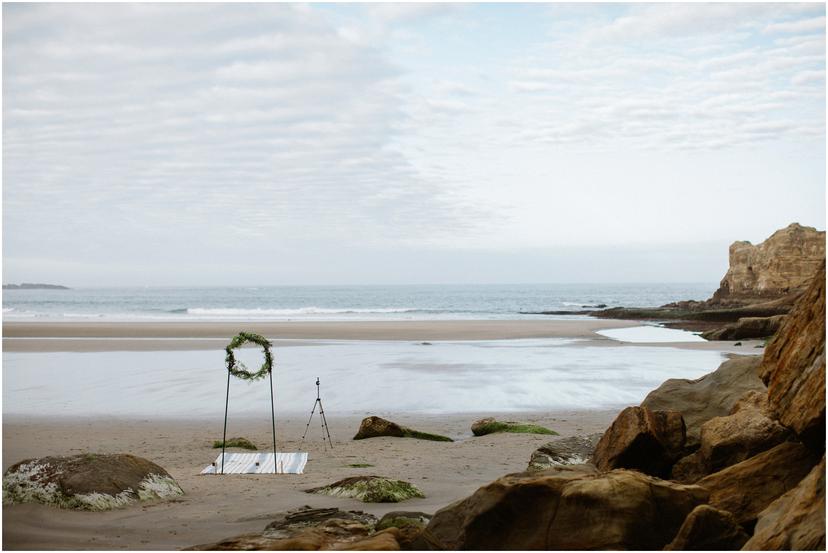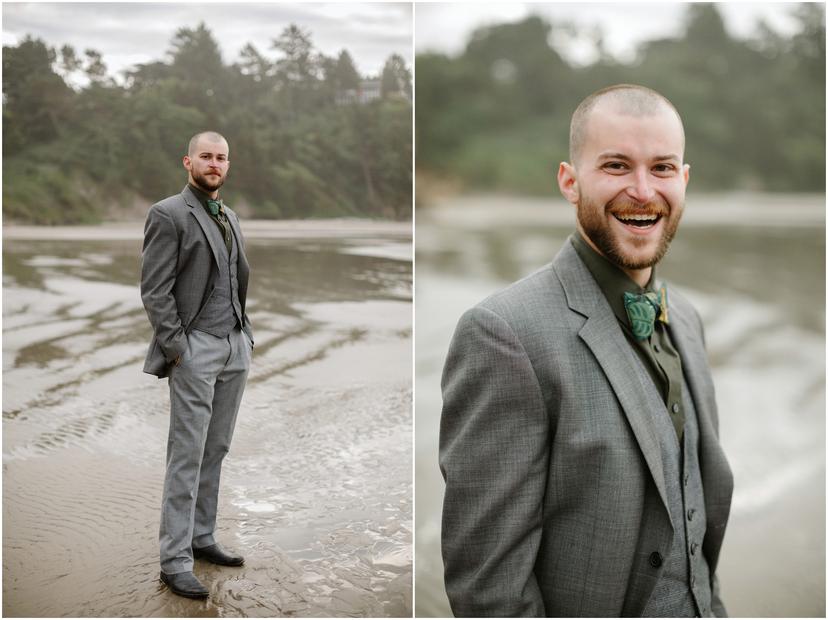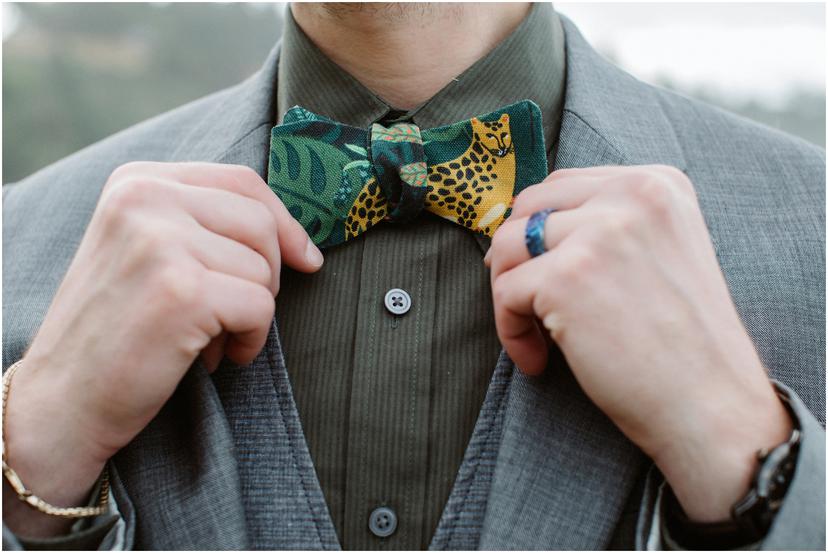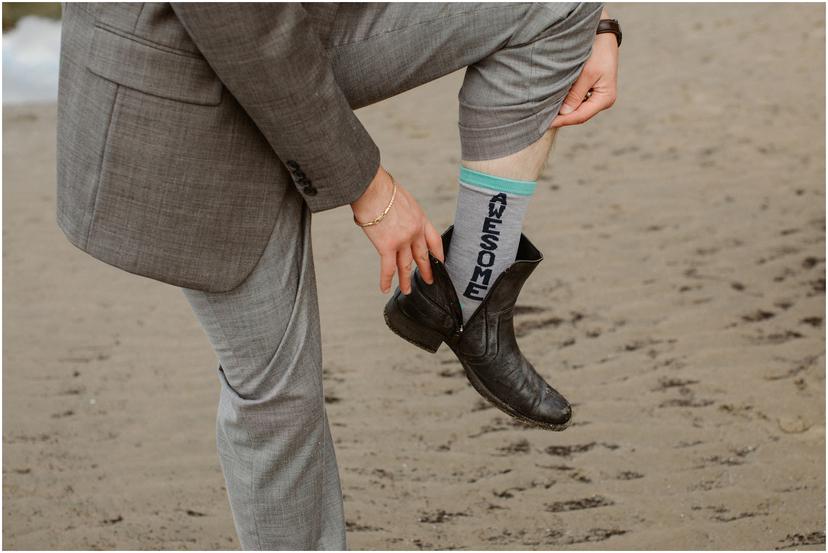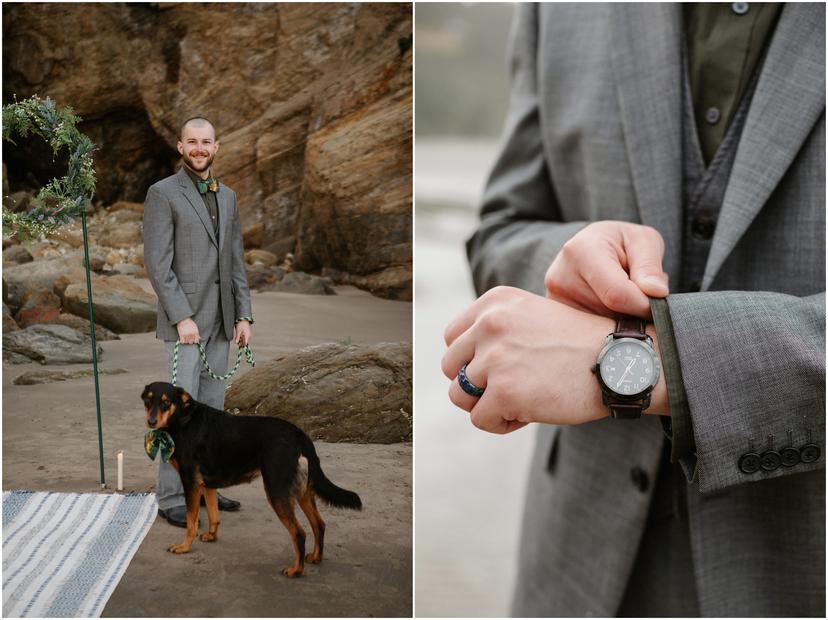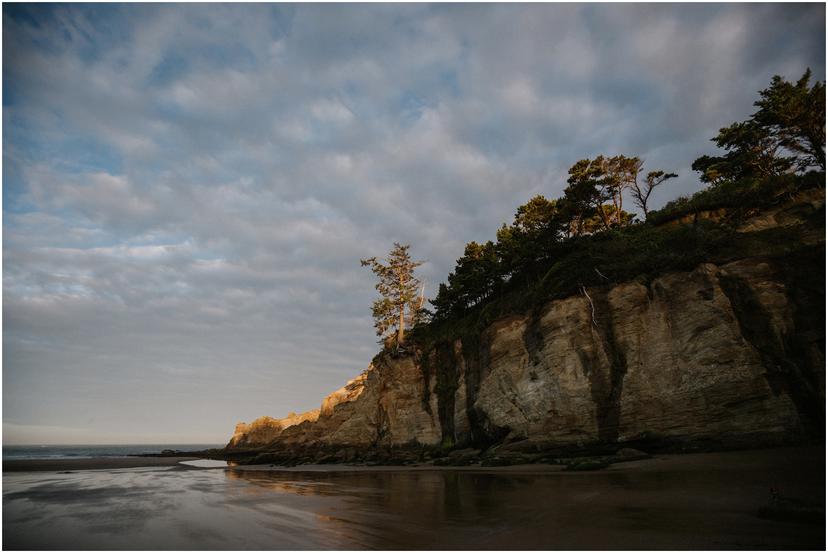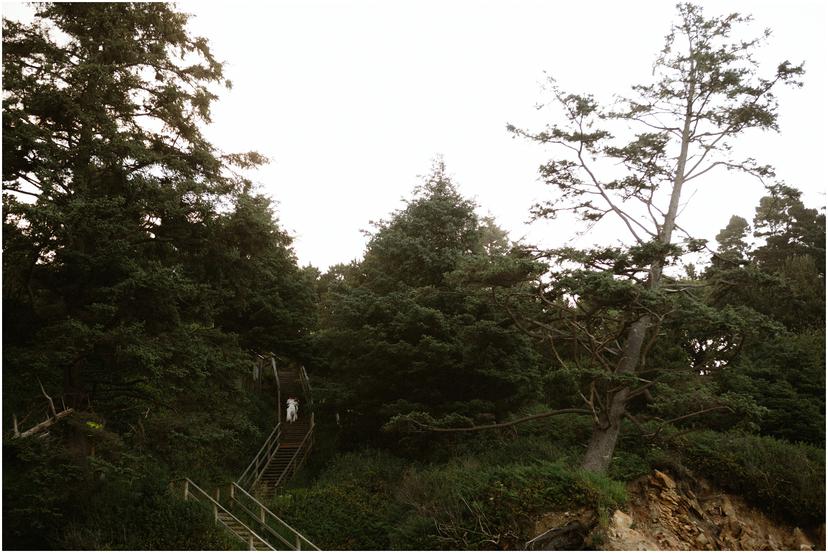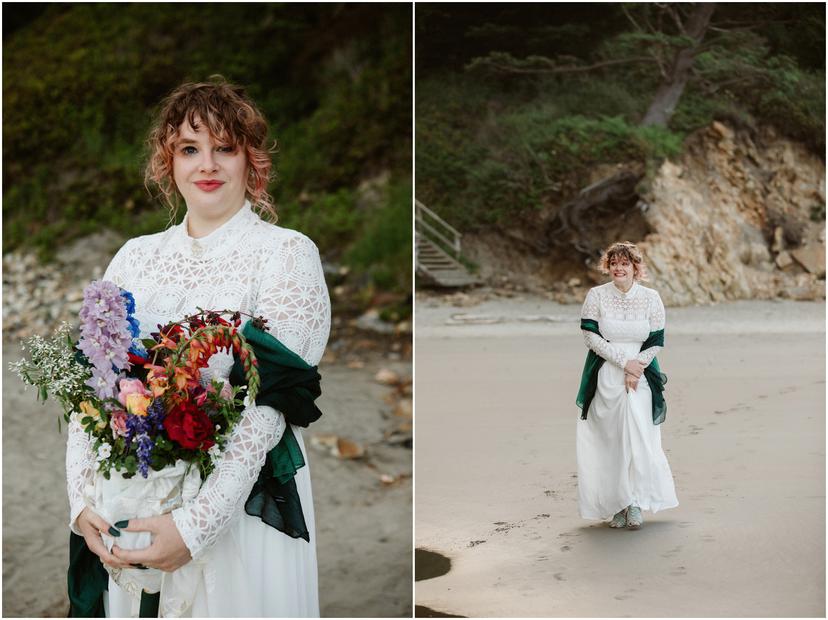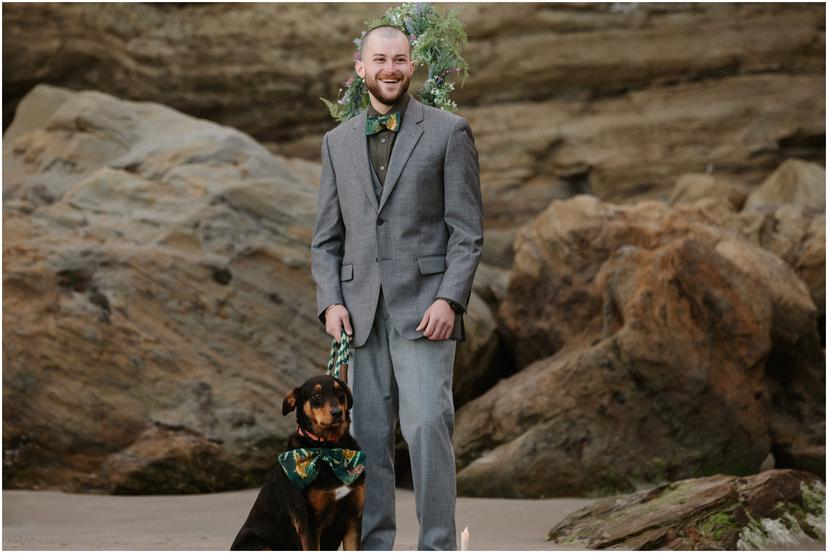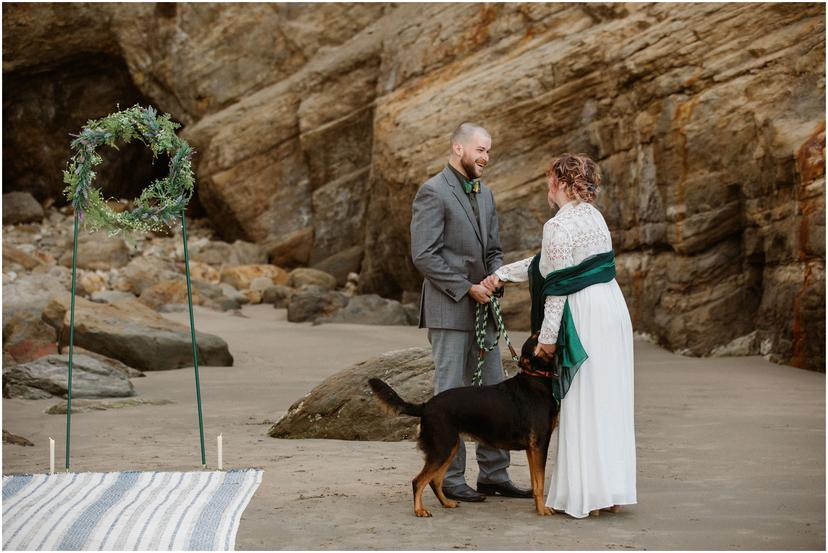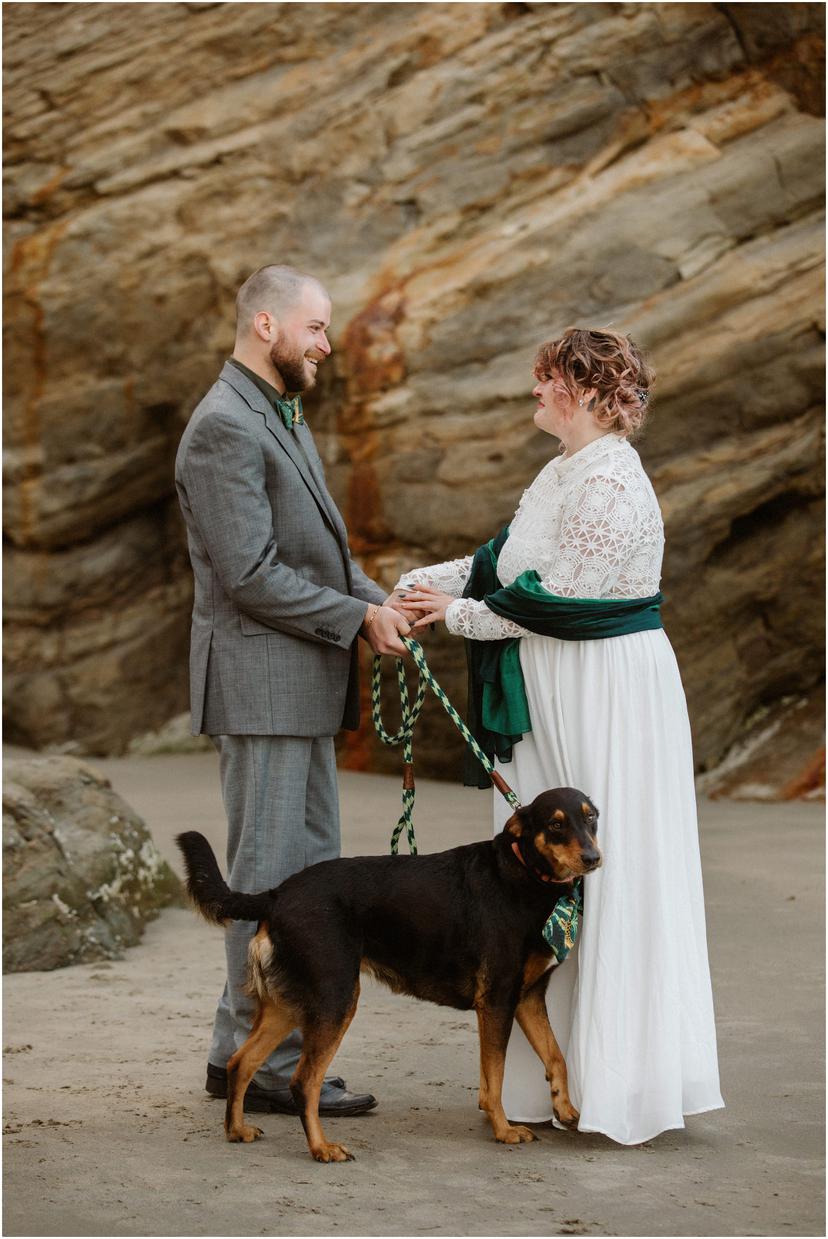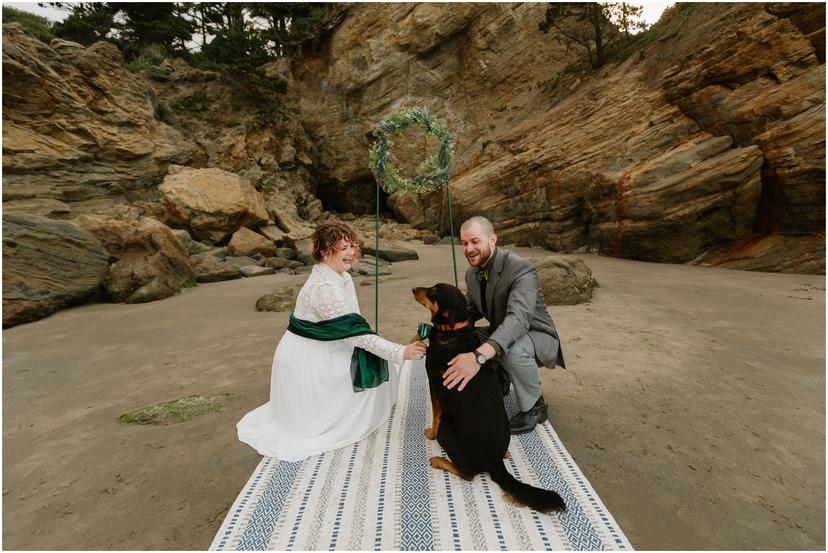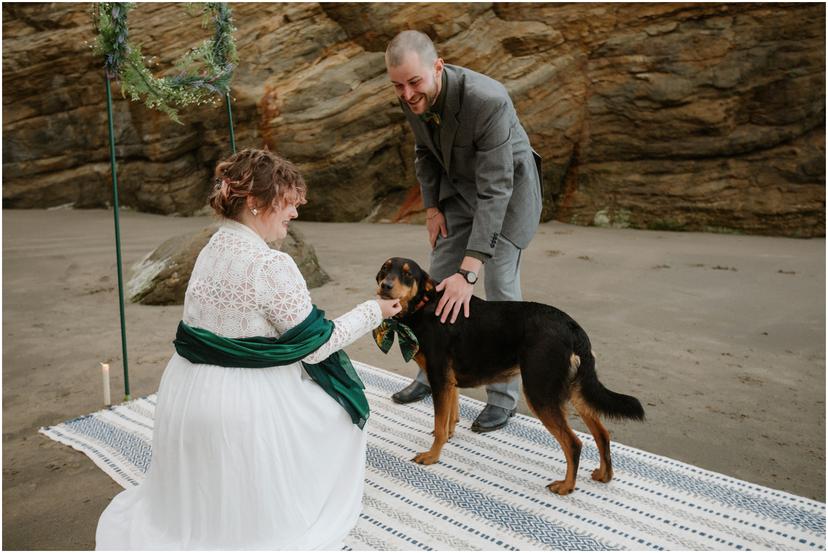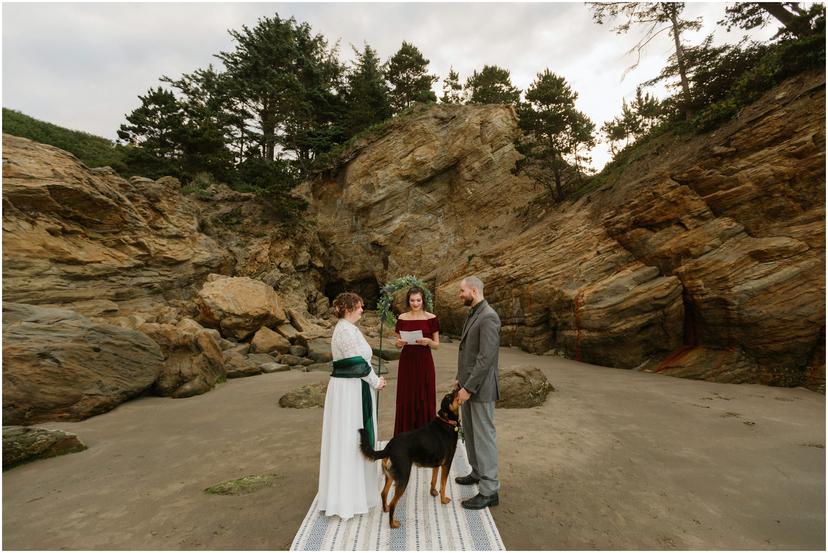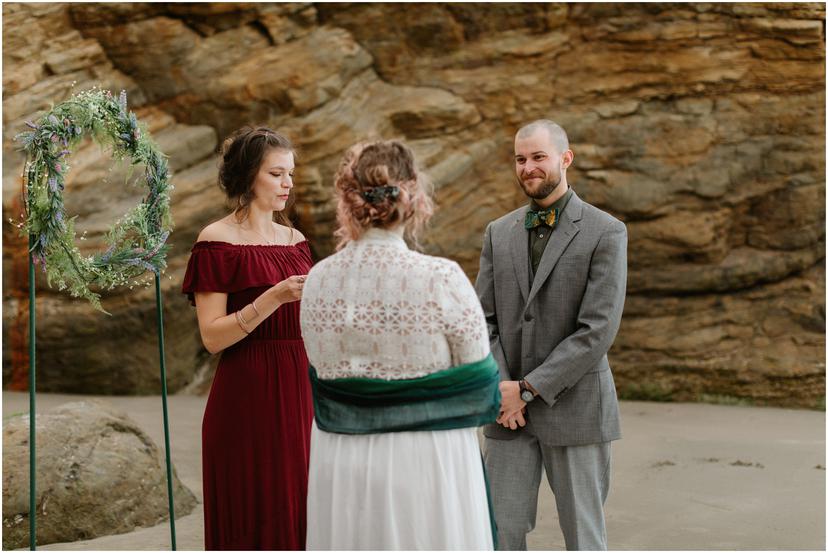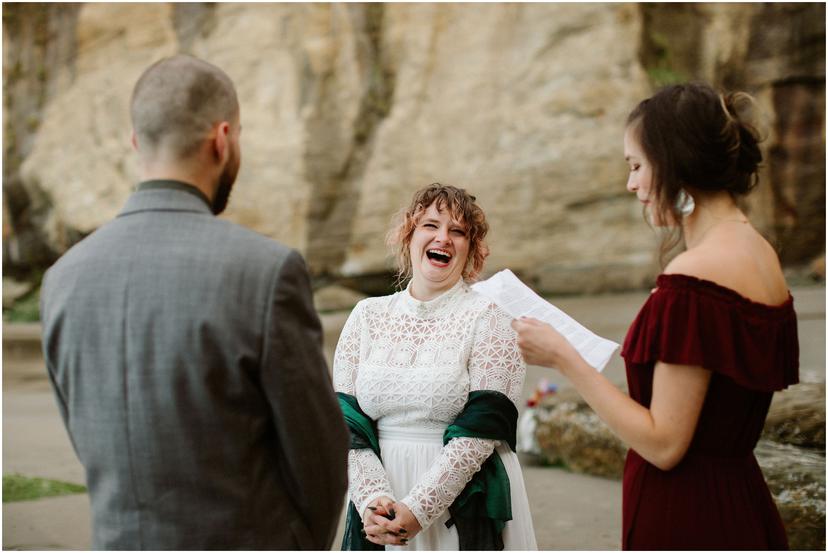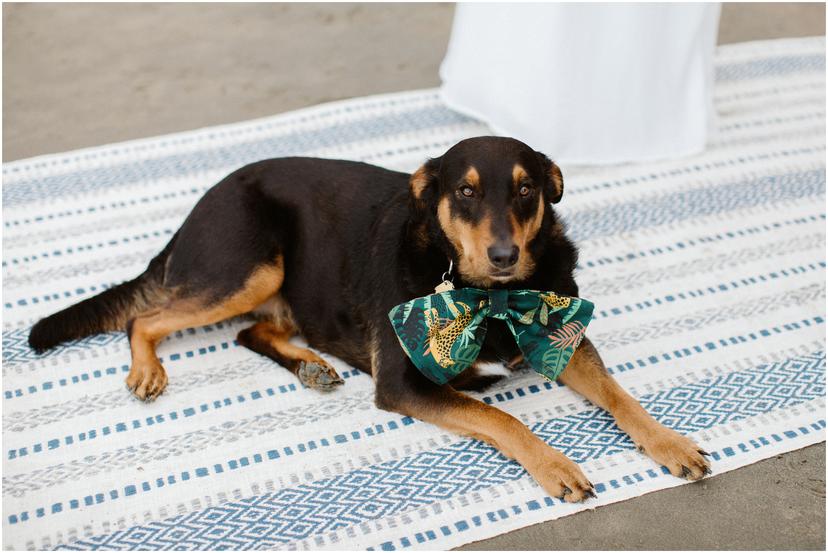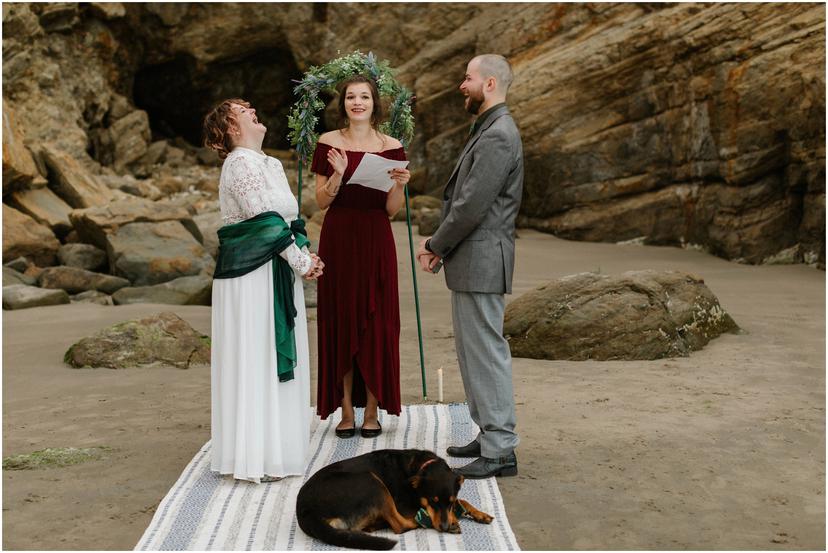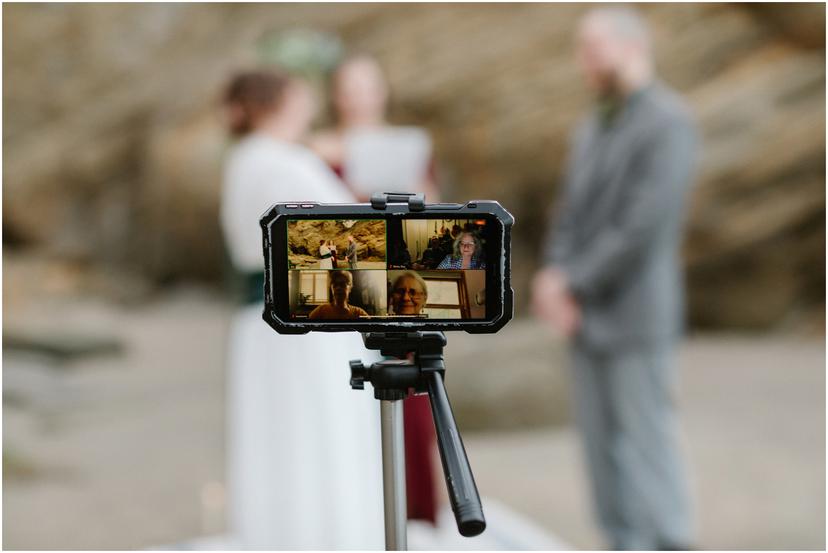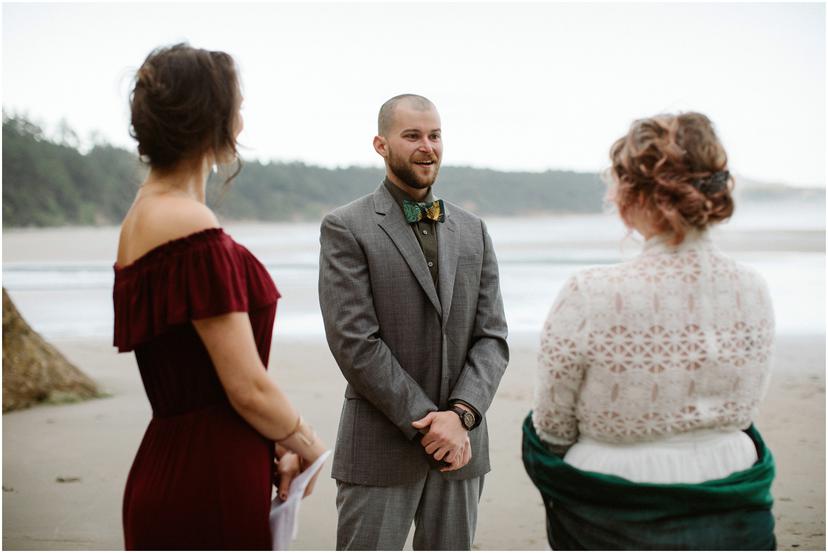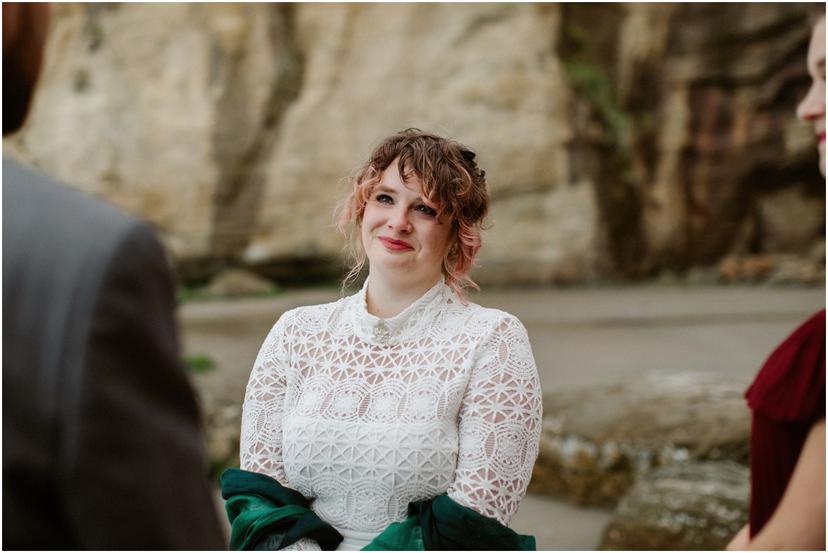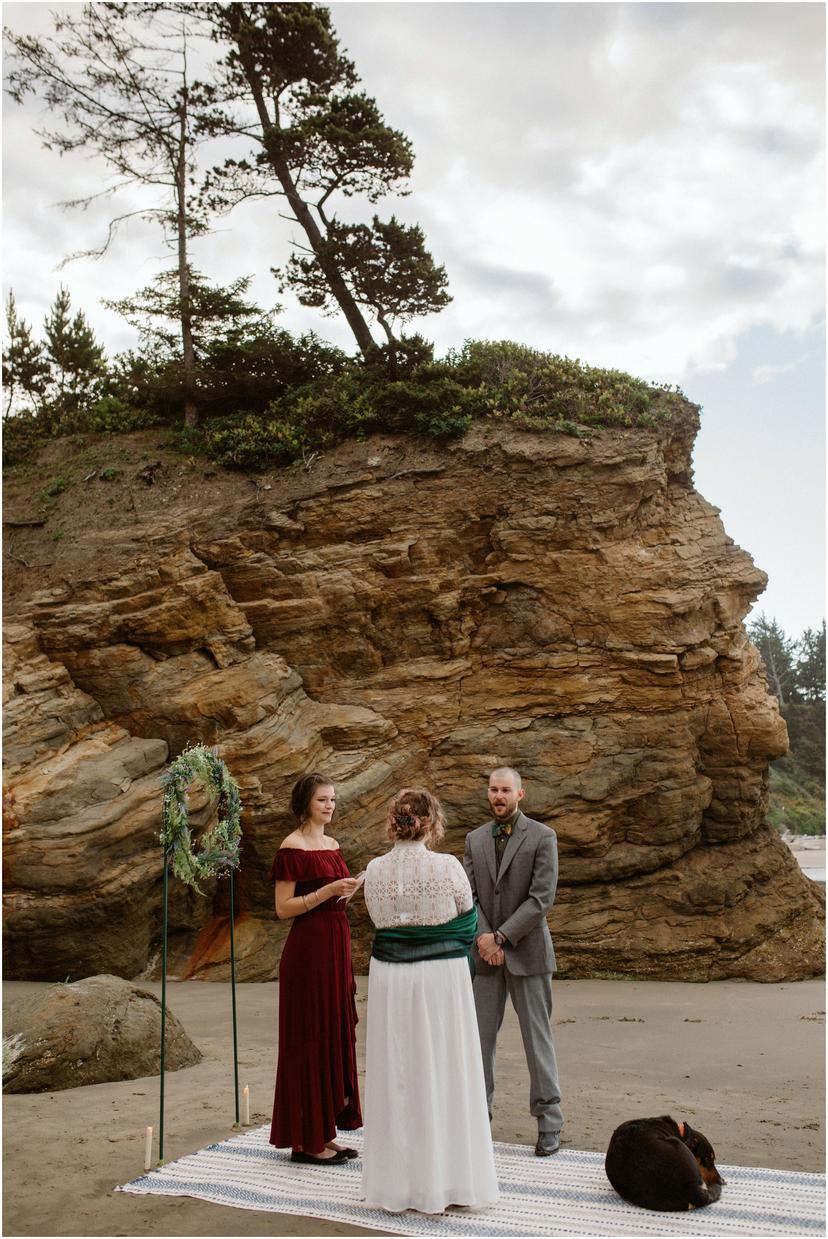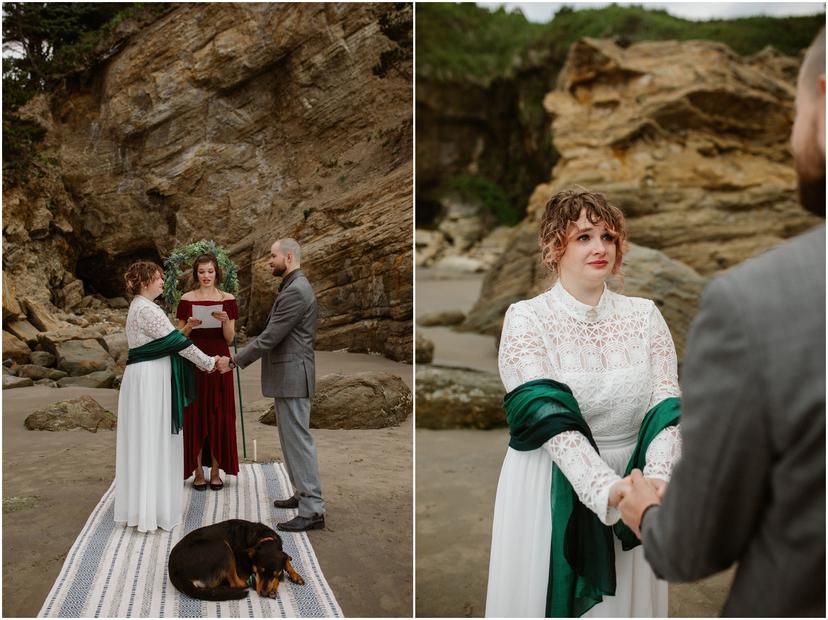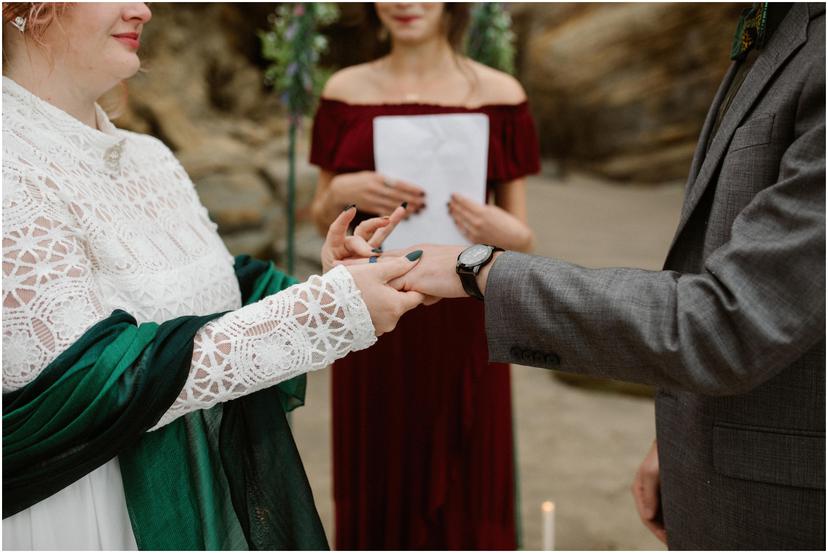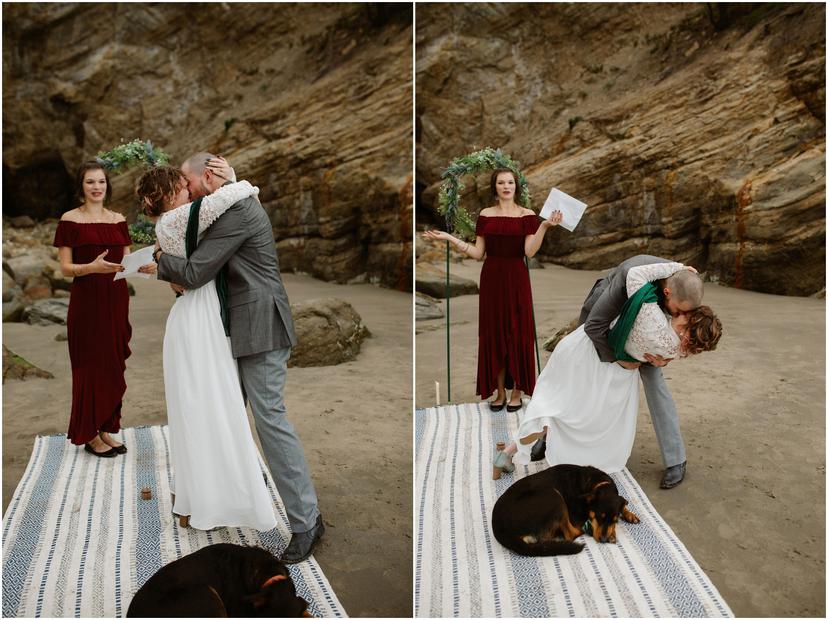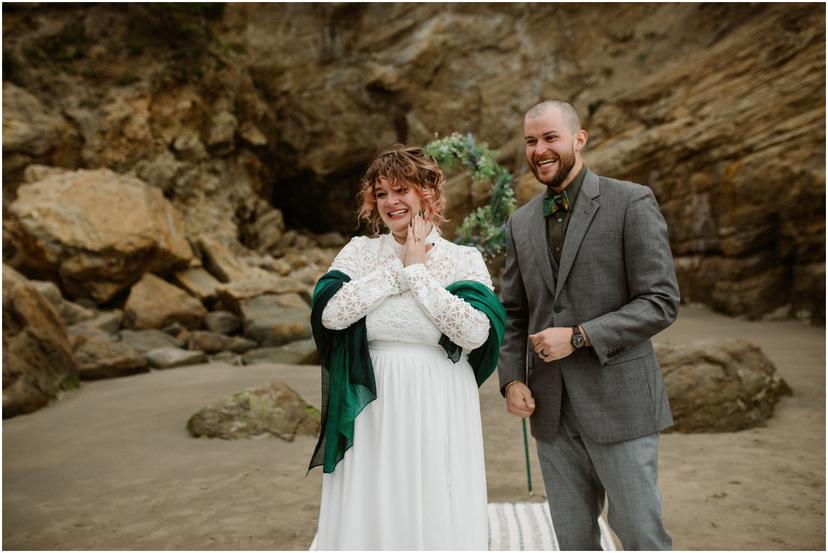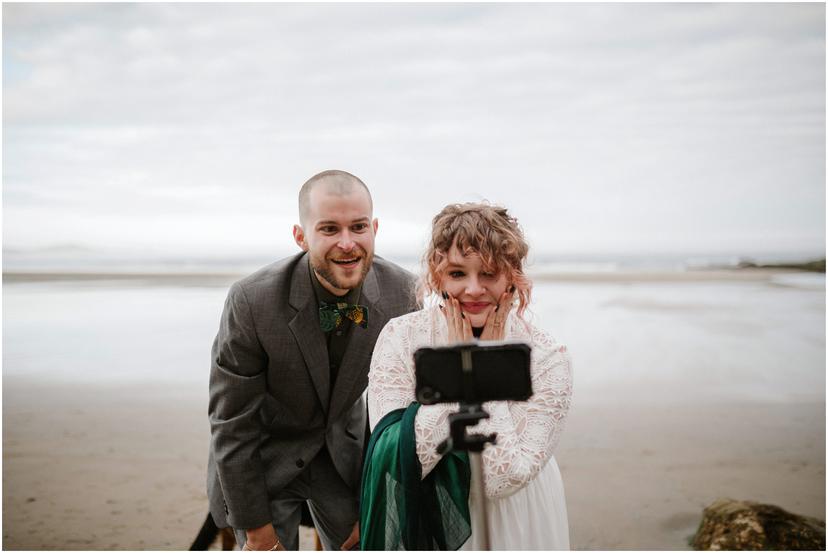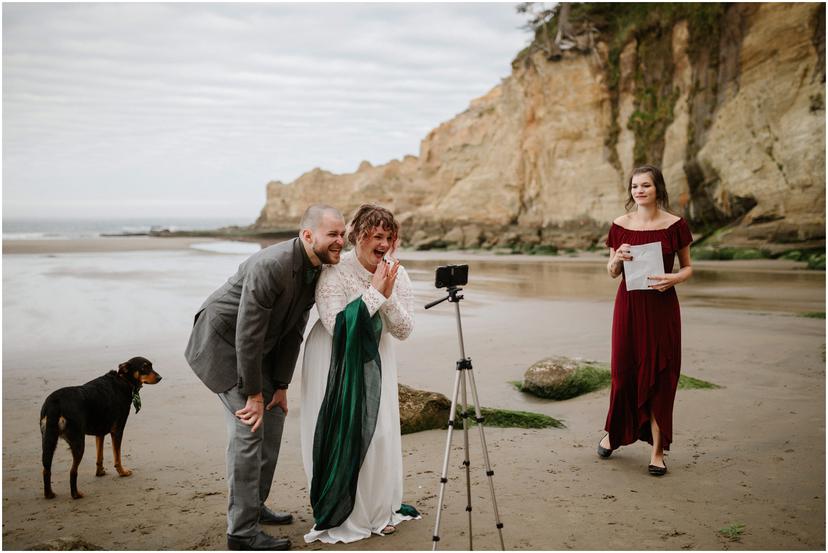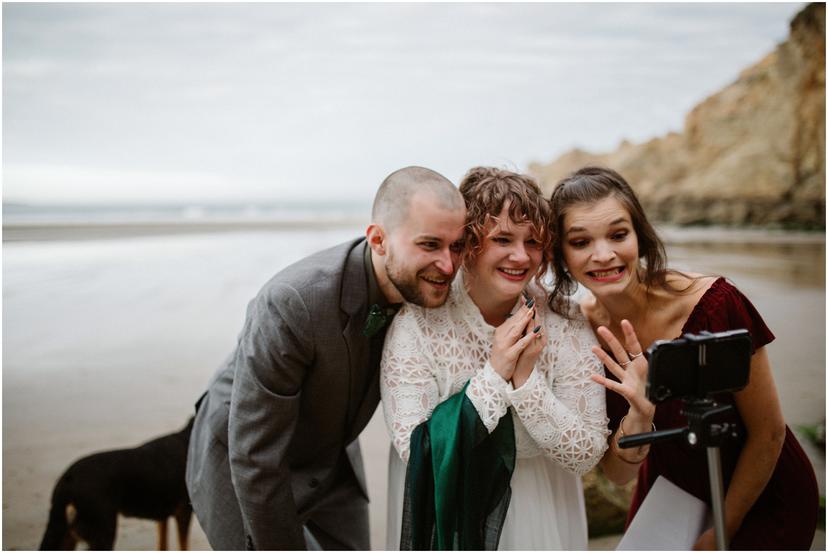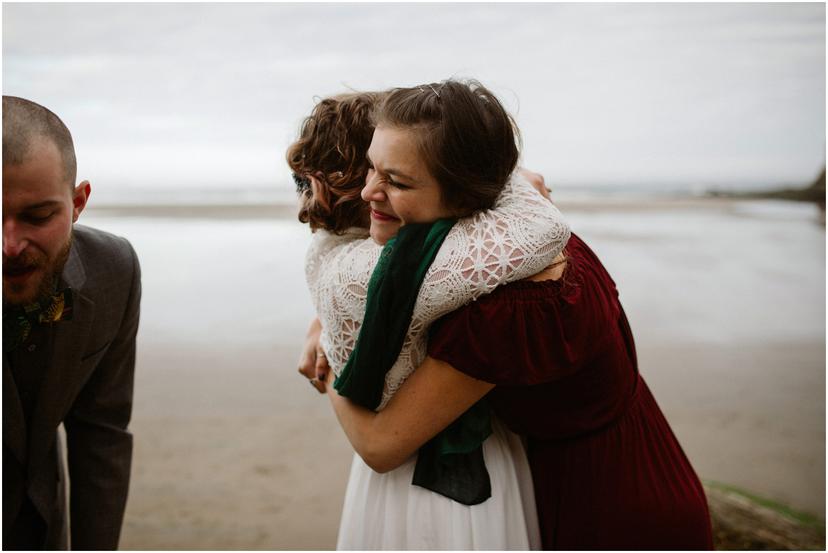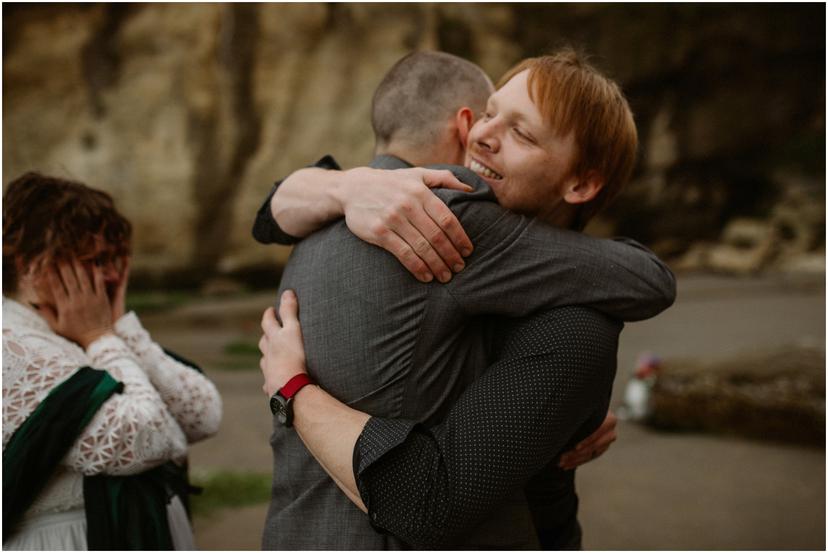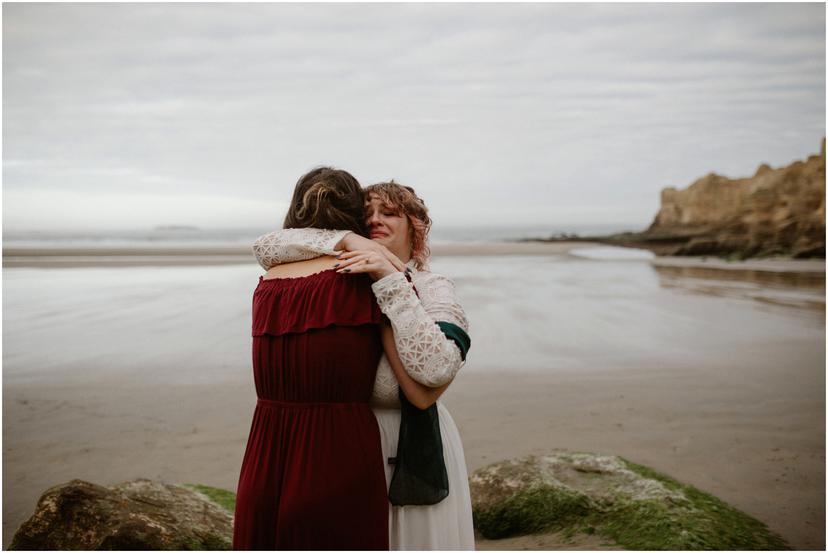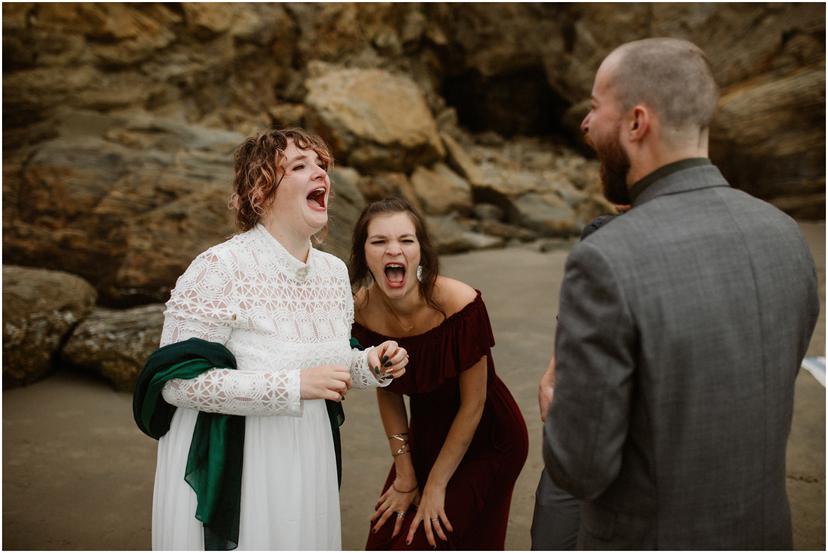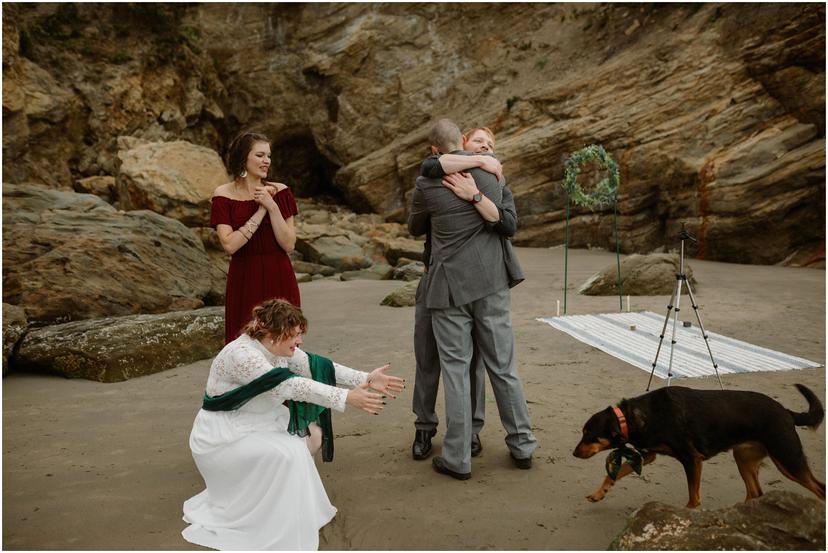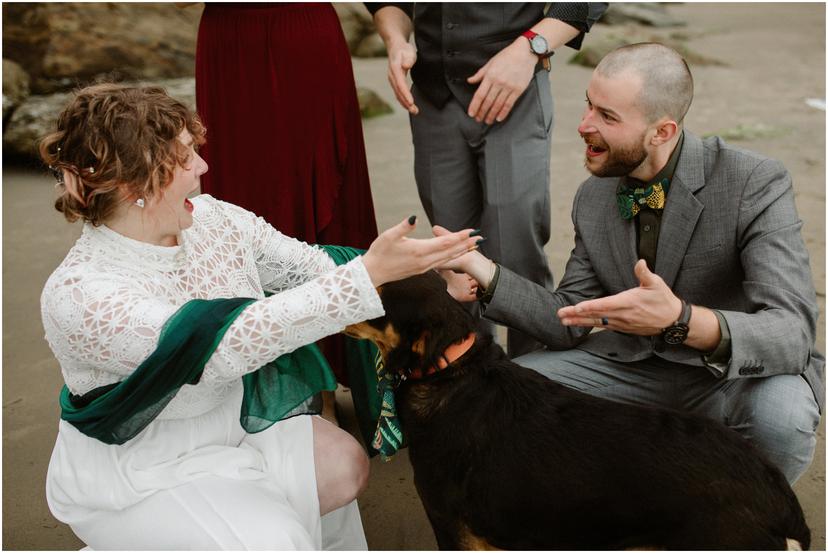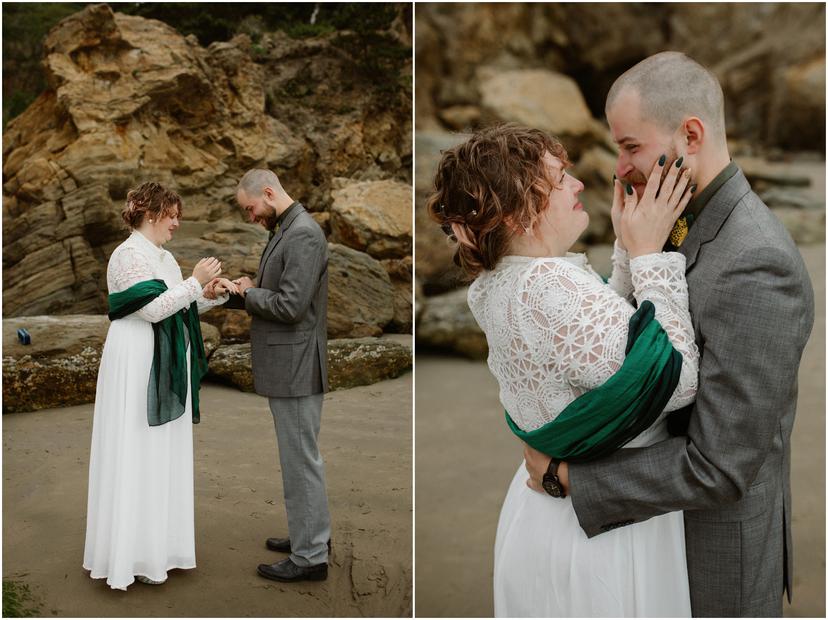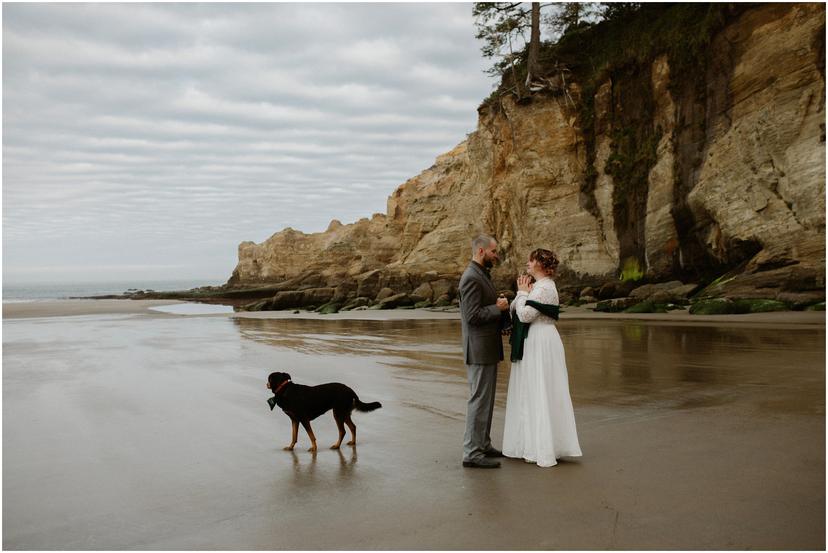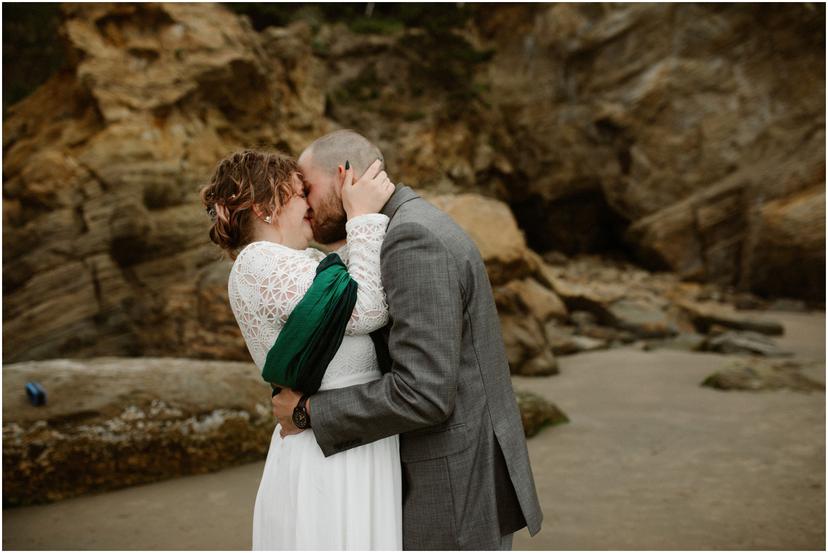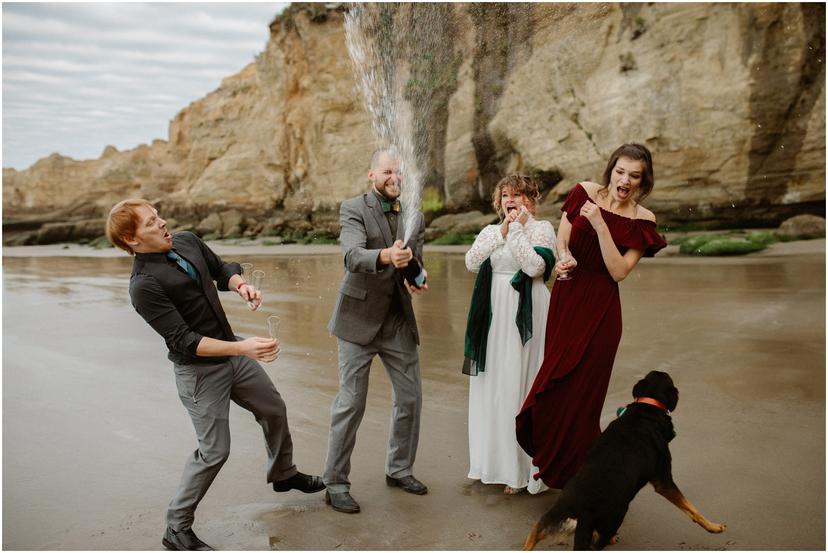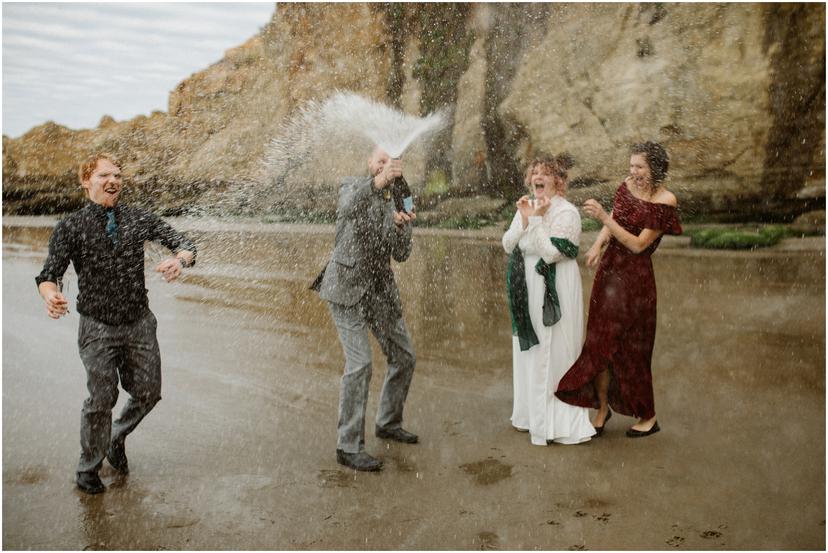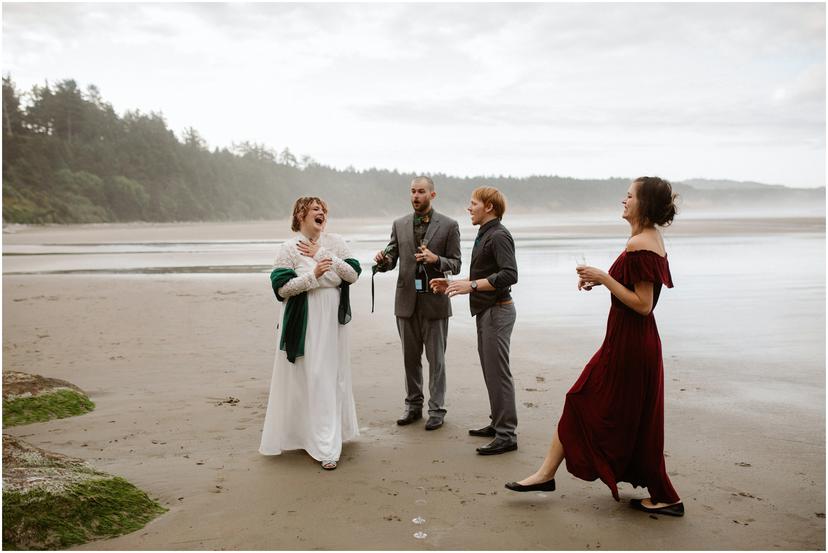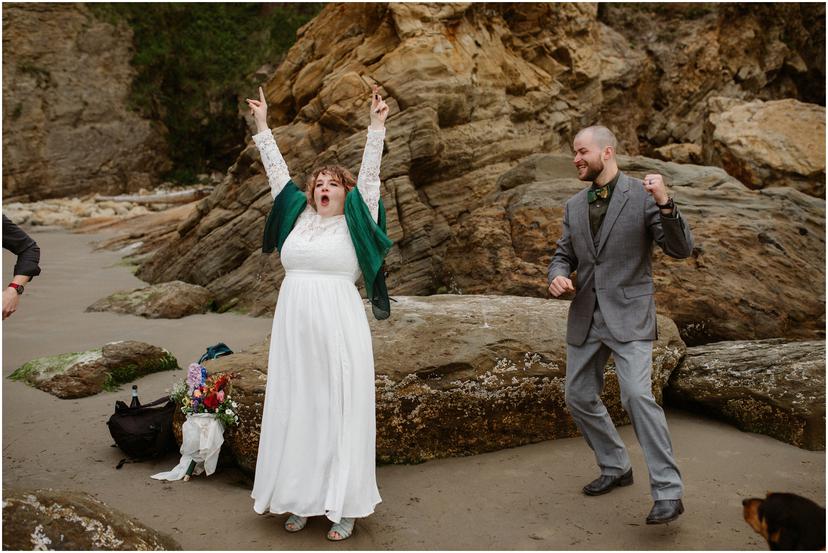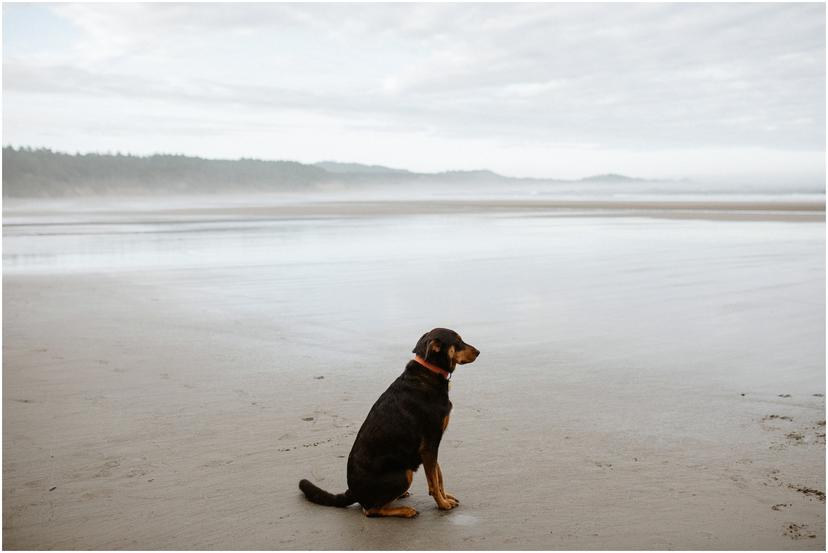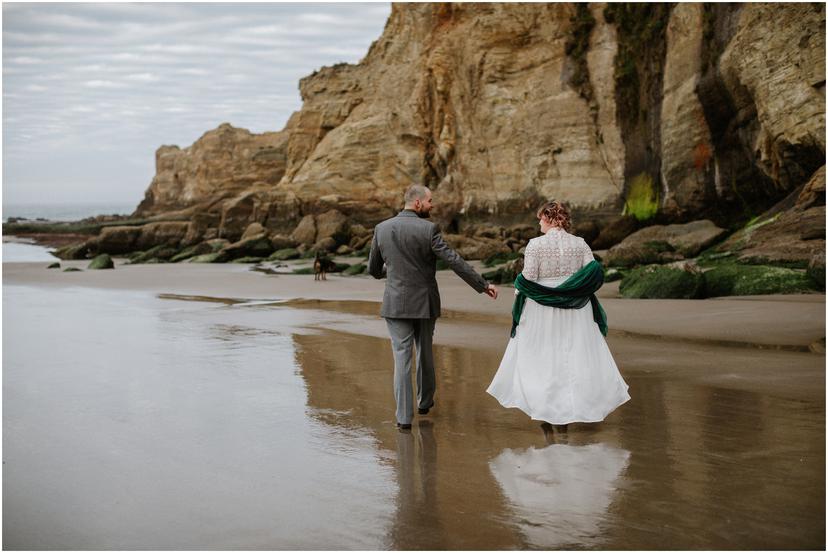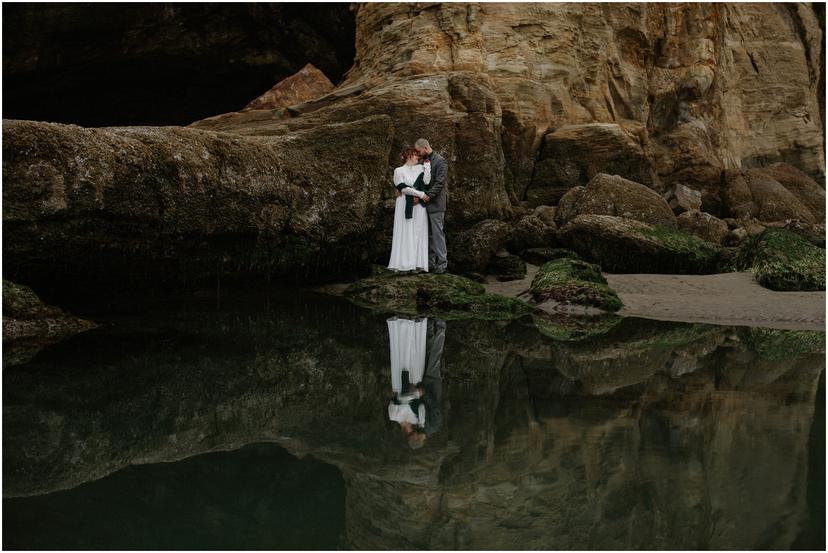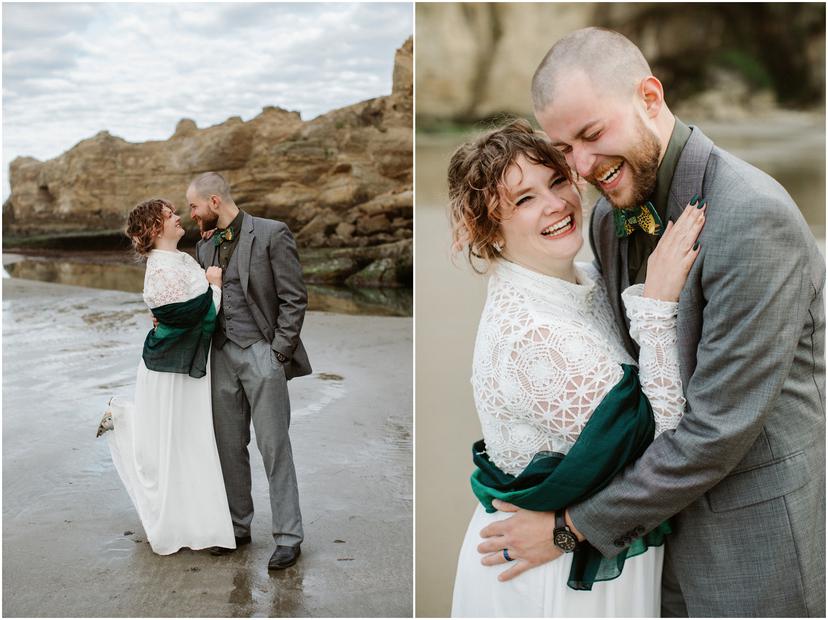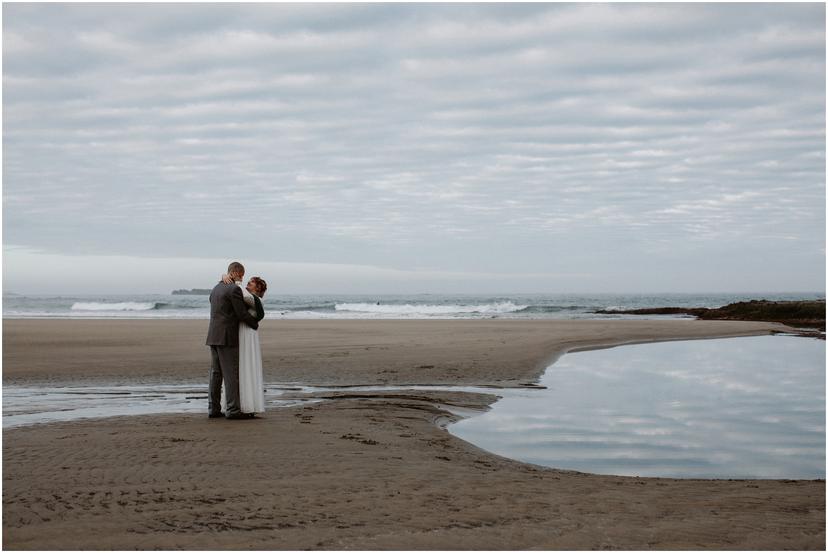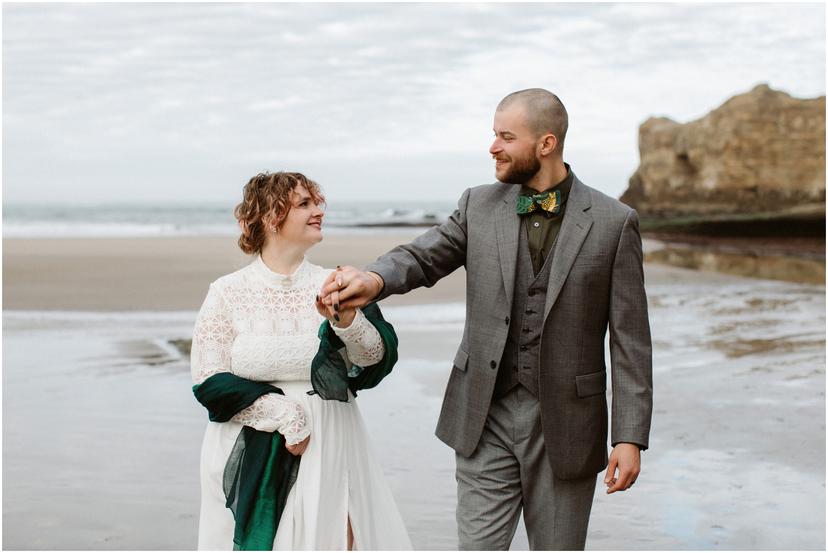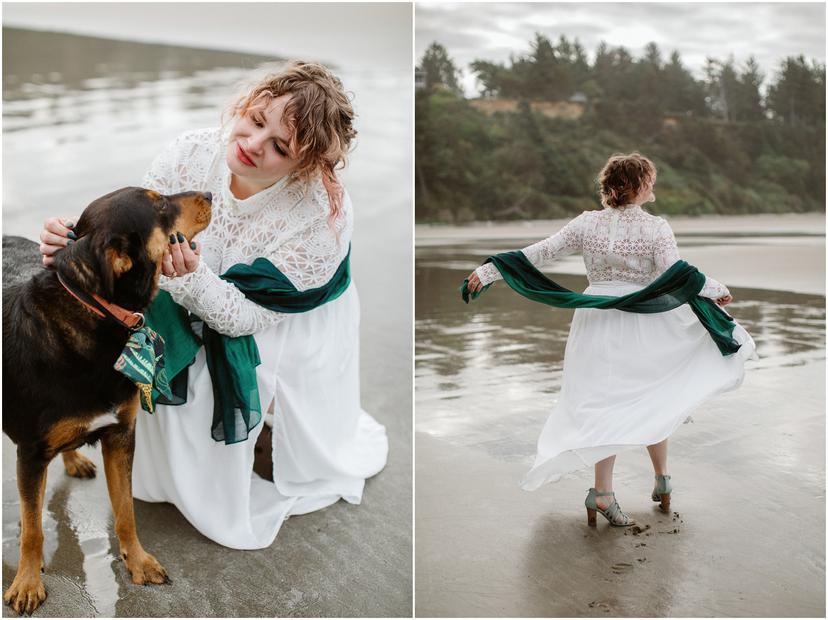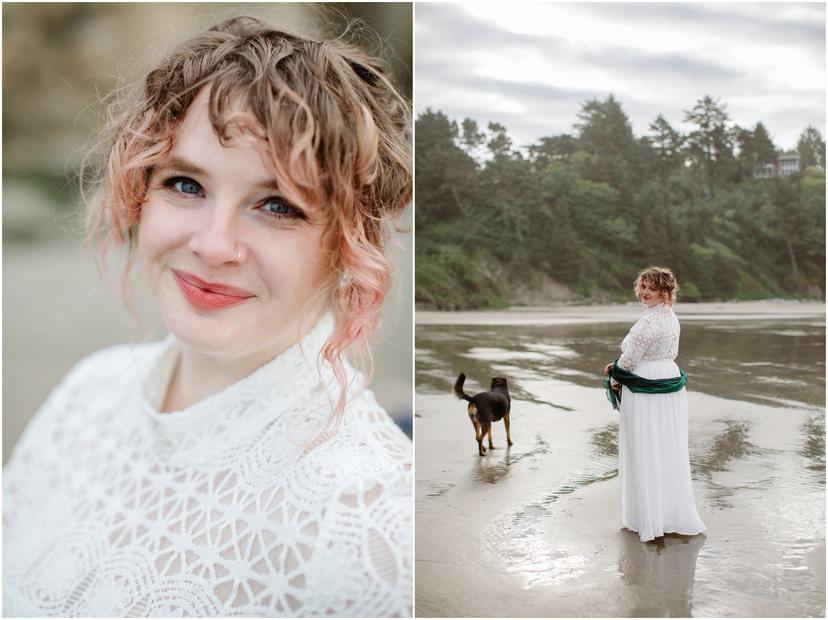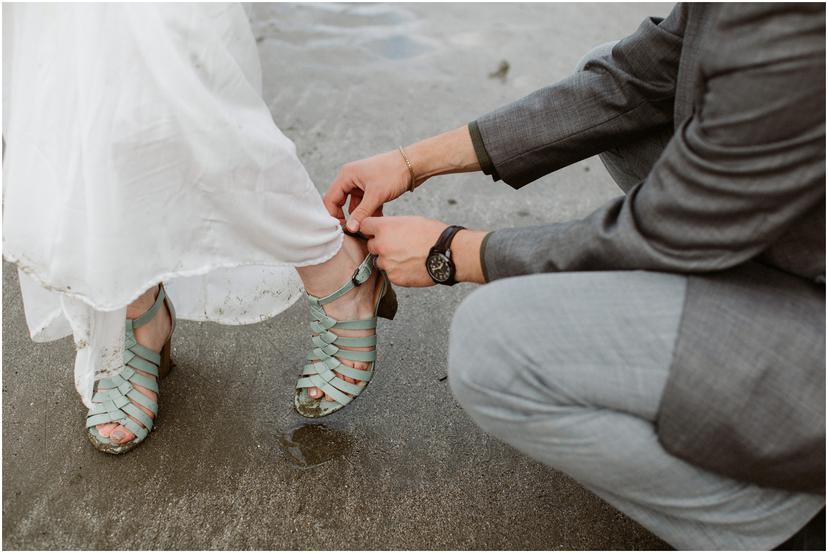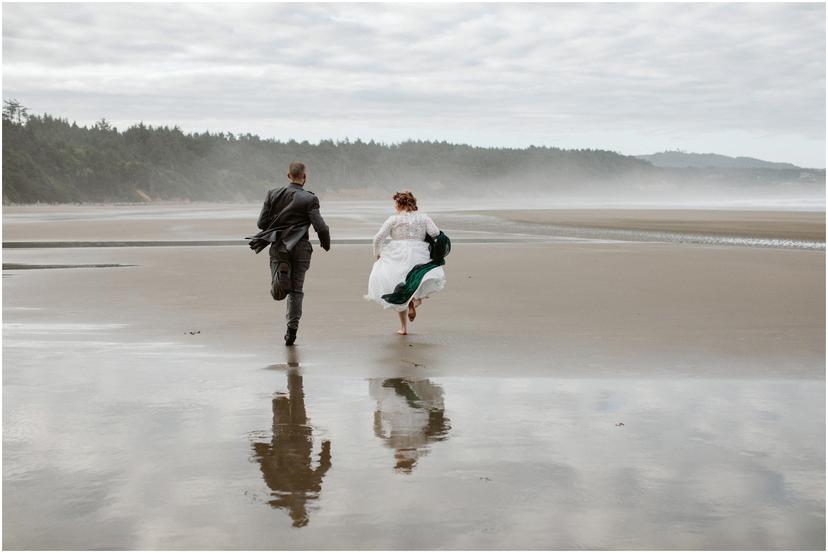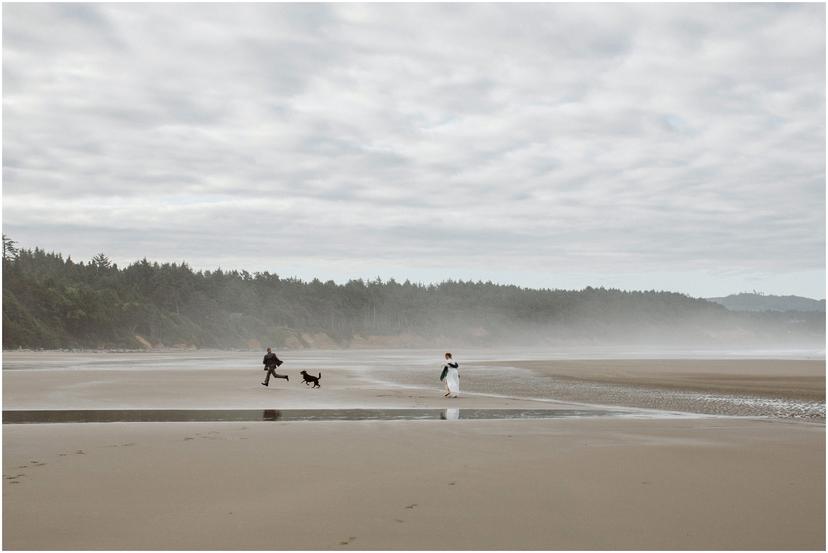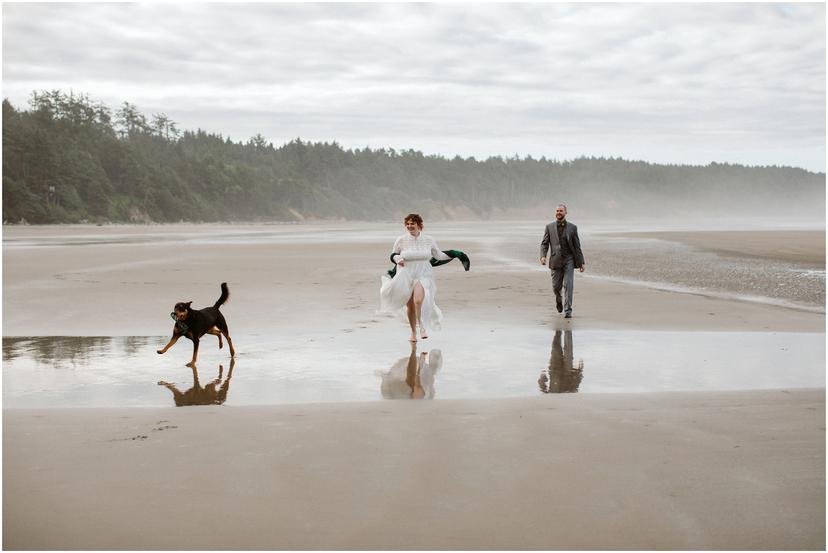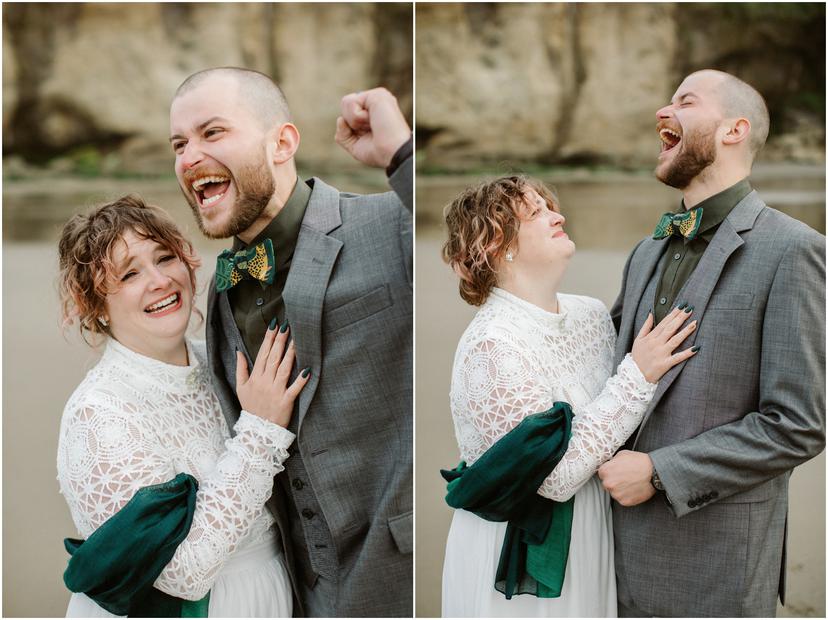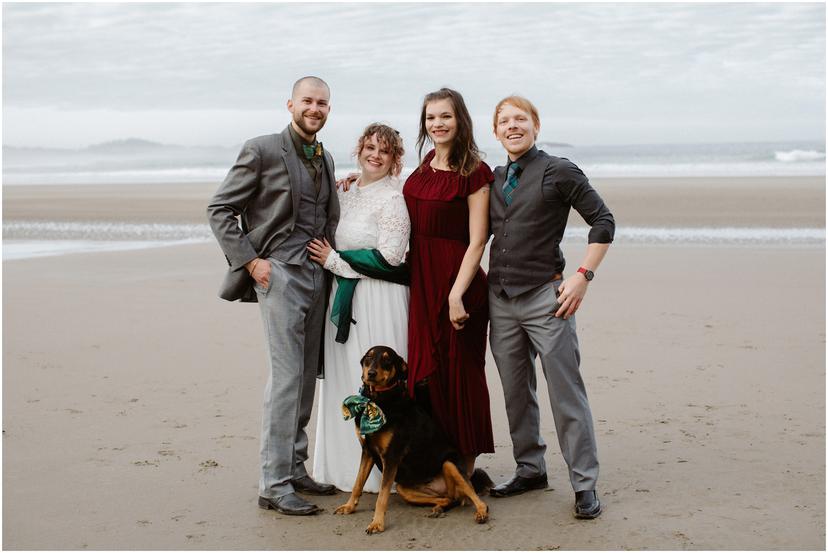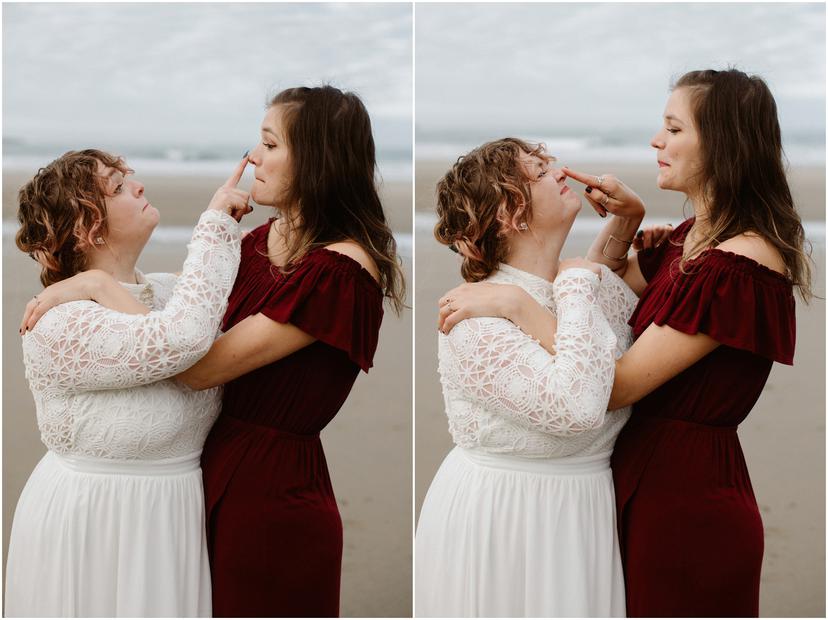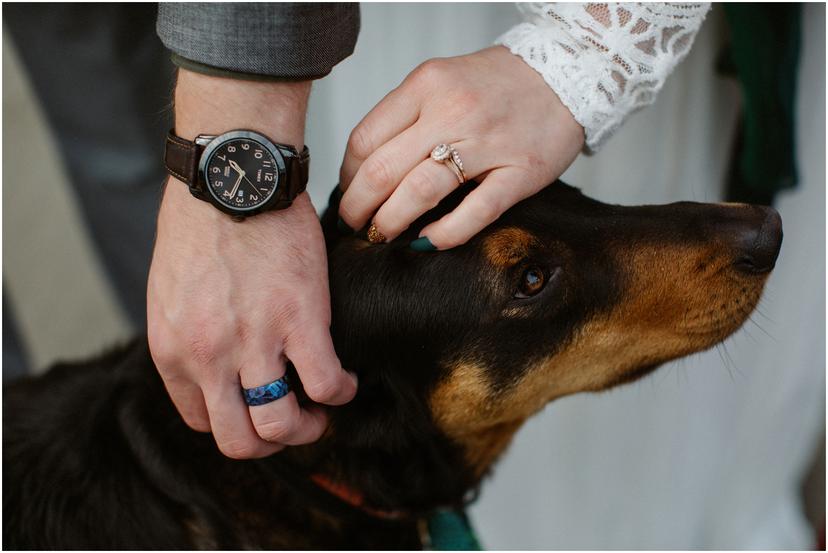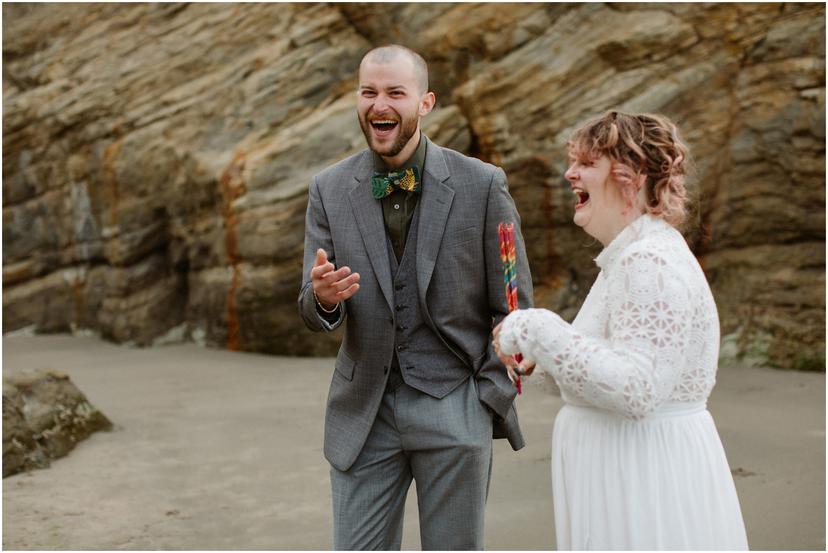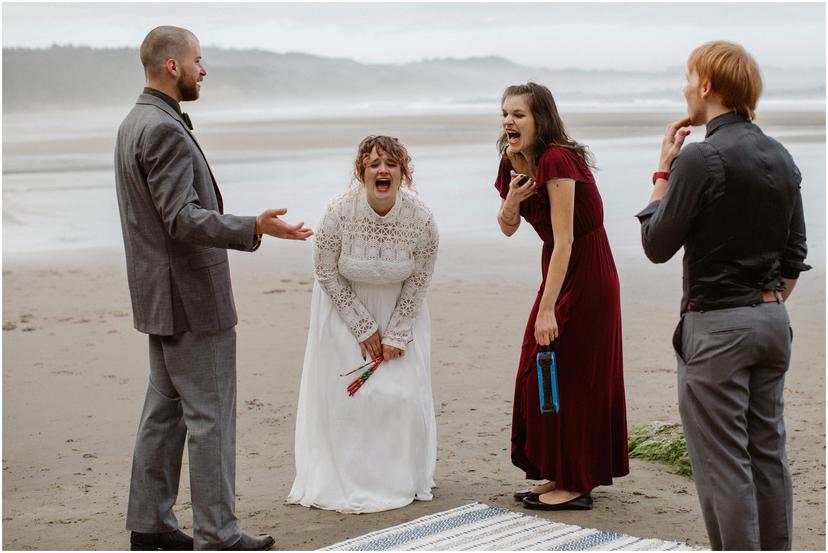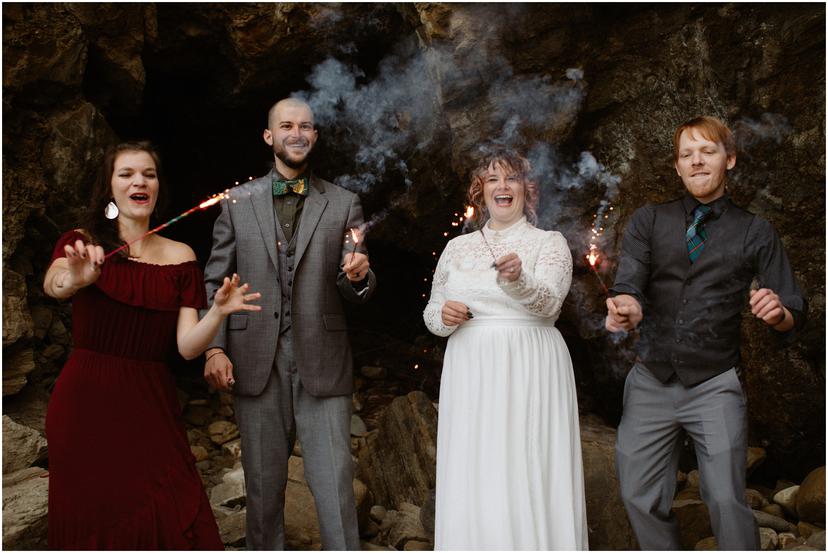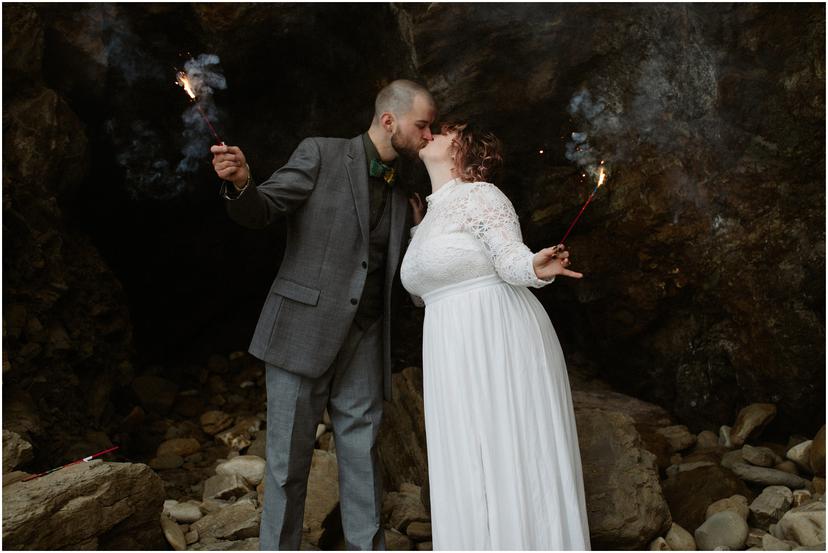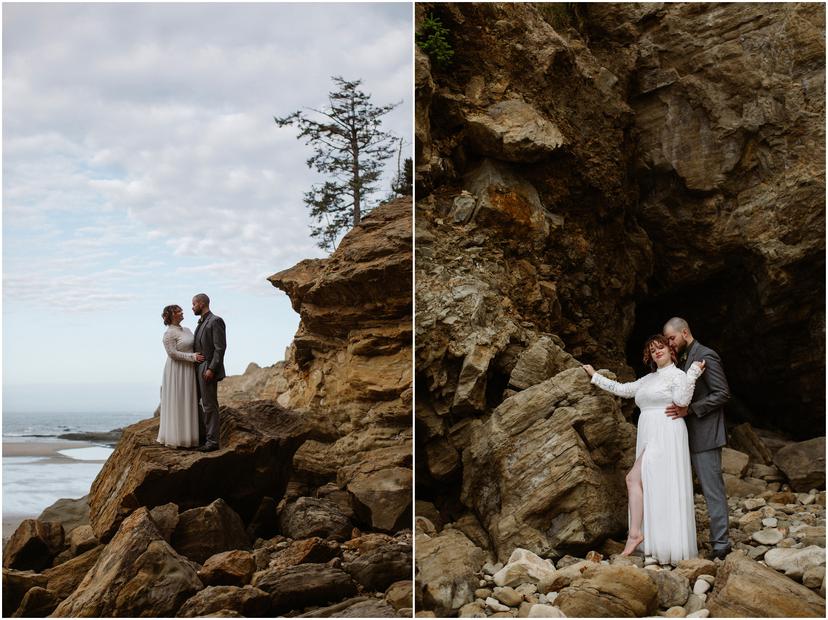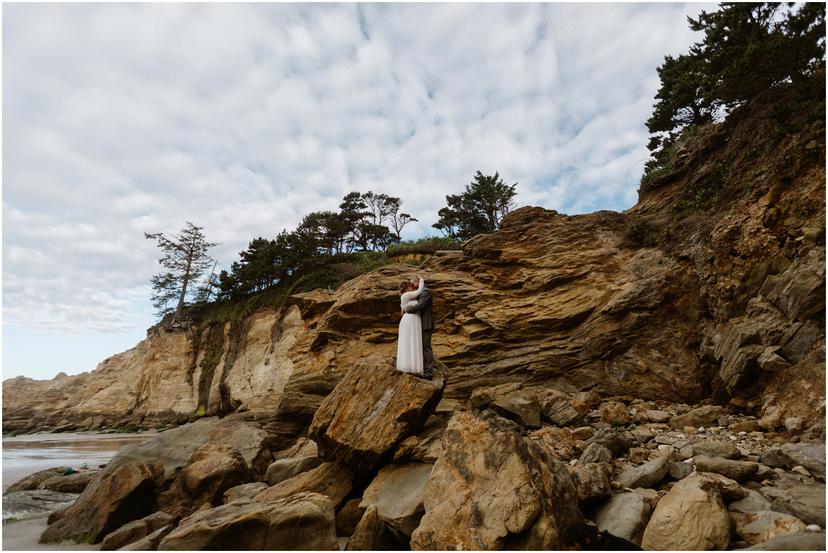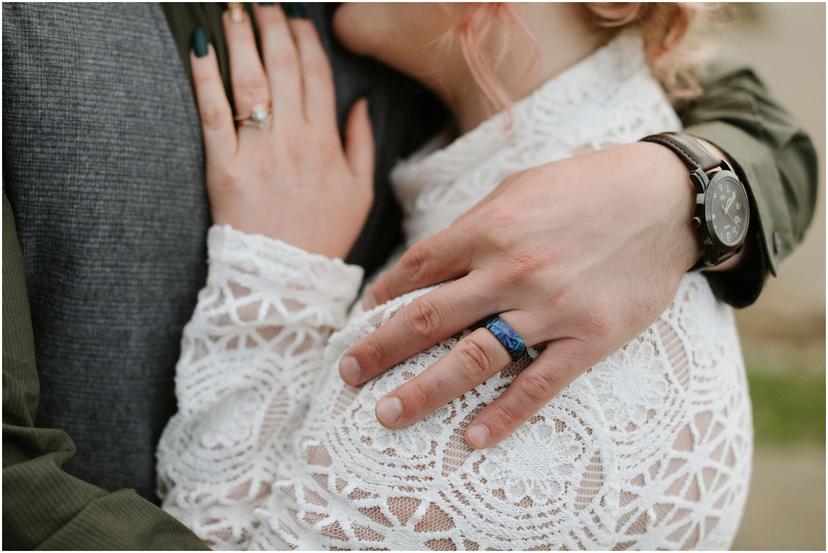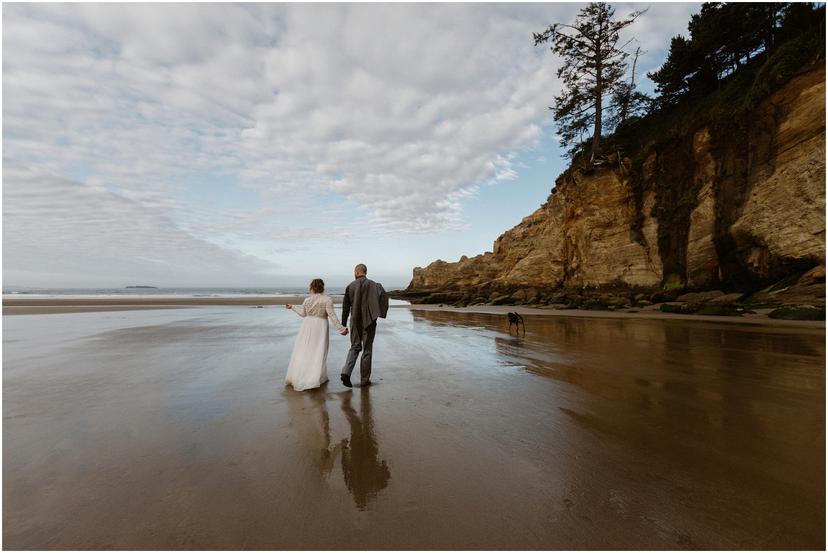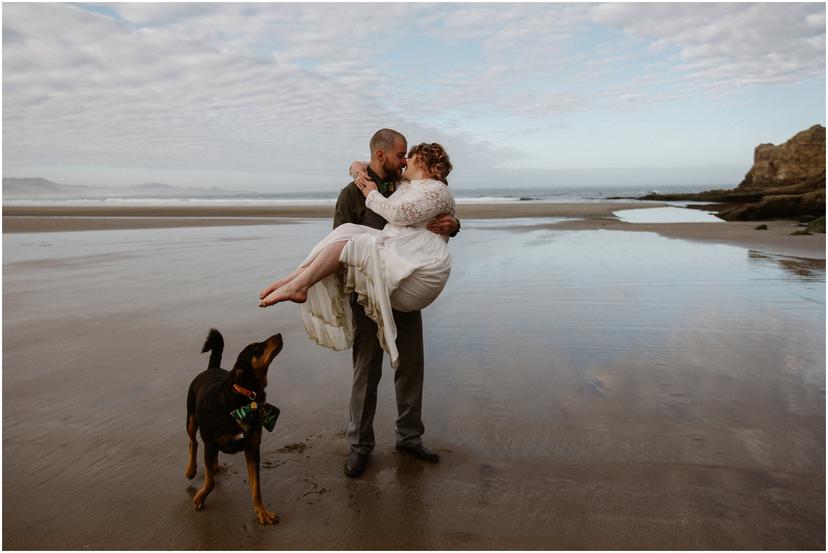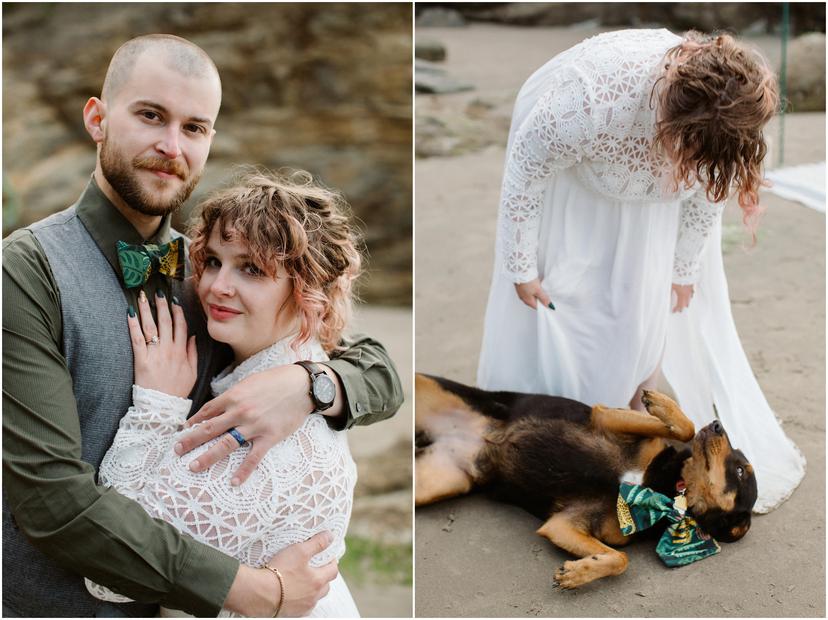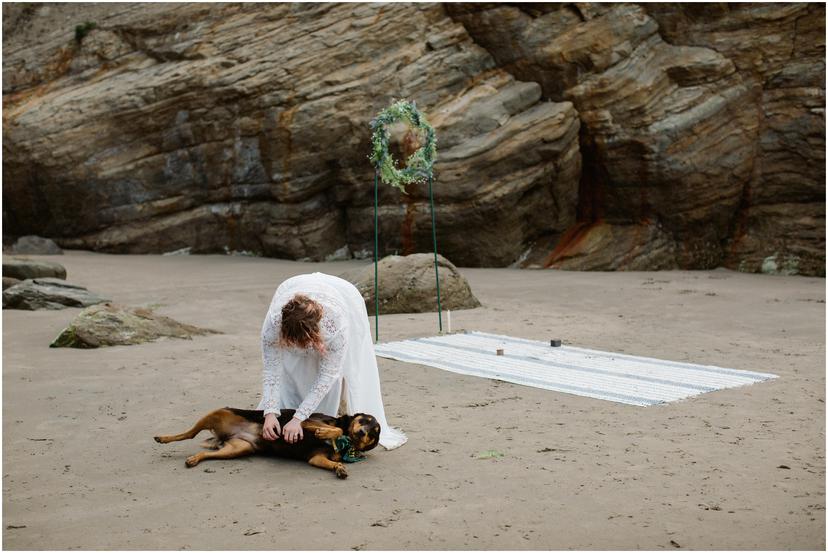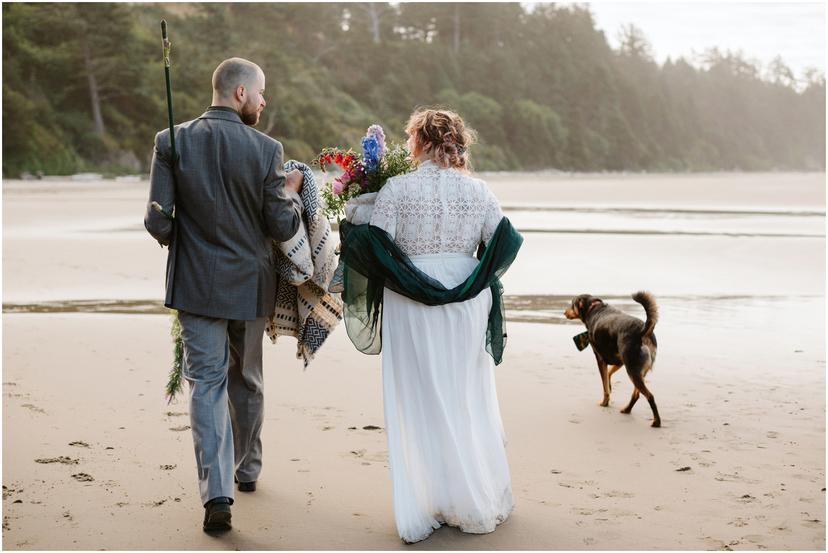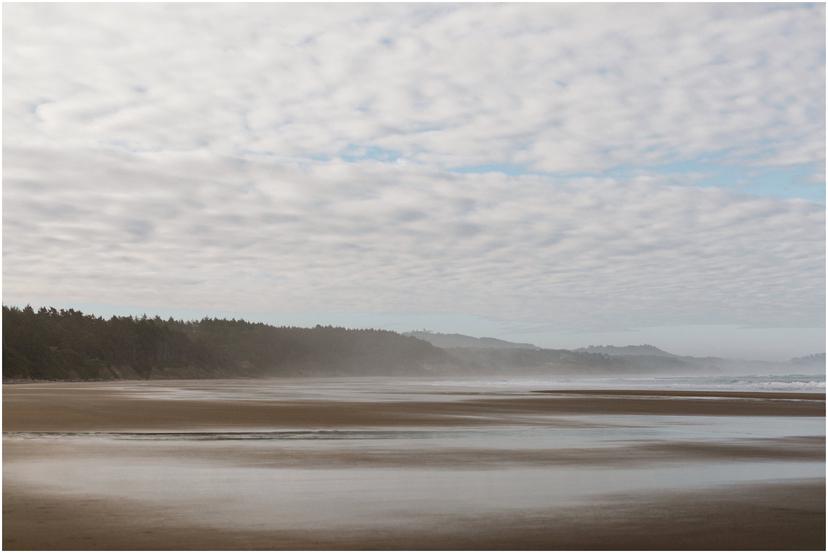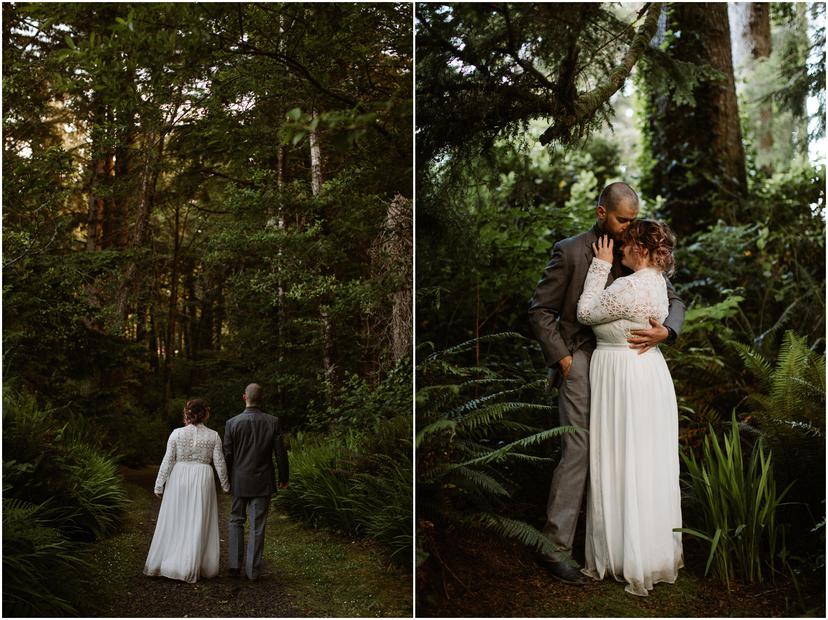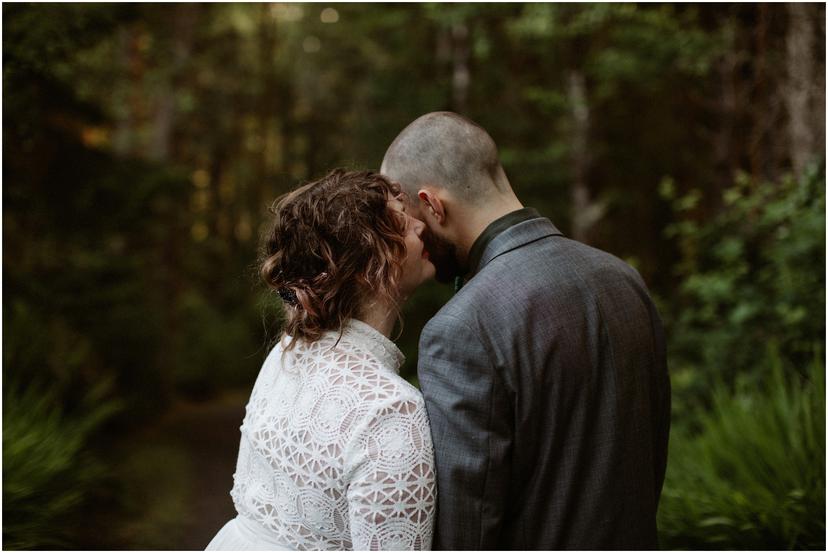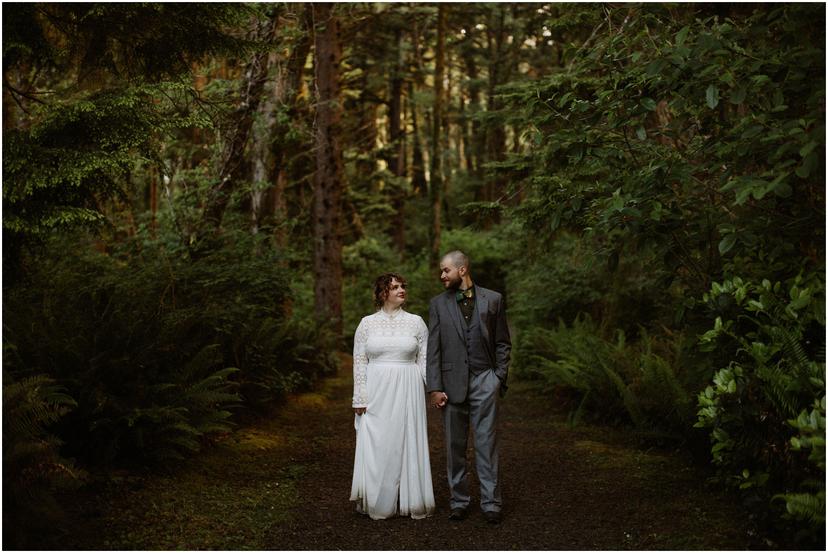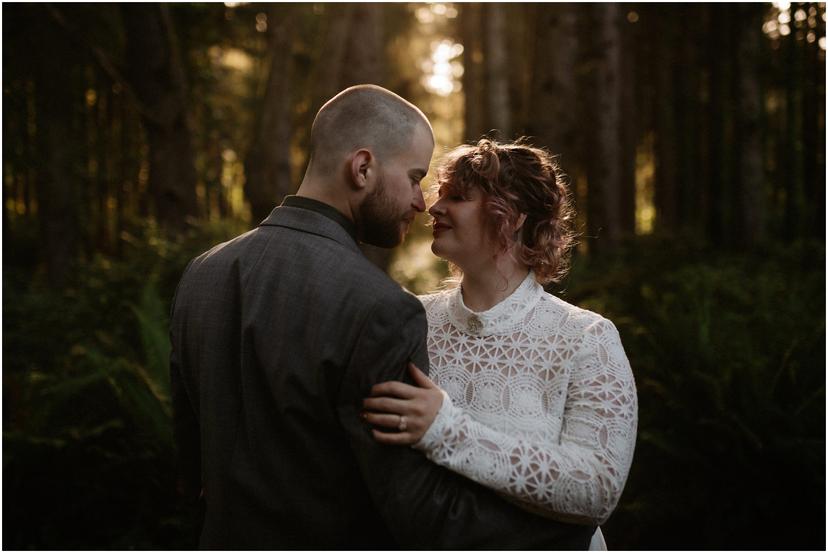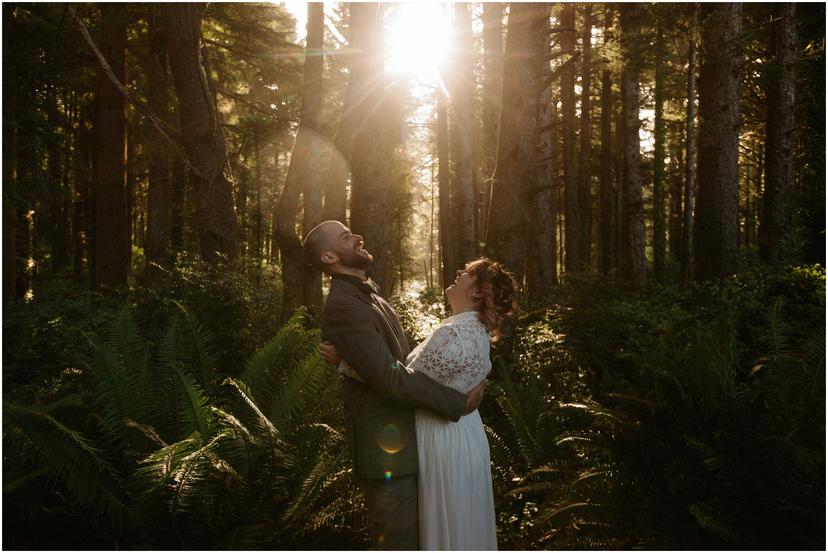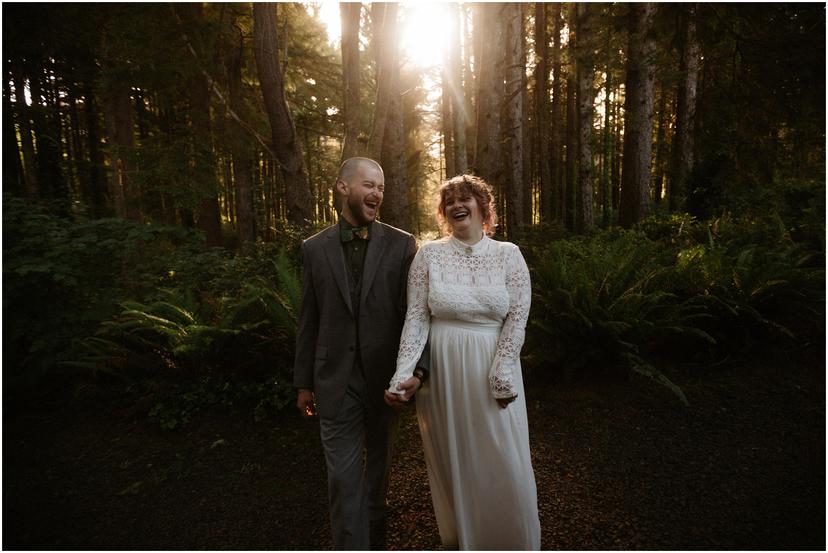 Did you love these Devil's Punchbowl elopement photos? If yes, you might enjoy these other Oregon Coast elopements I've photographed as well! And always feel free to contact me if you have questions, or if you are planning your own elopement!
HECETA HEAD LIGHTHOUSE ELOPEMENT