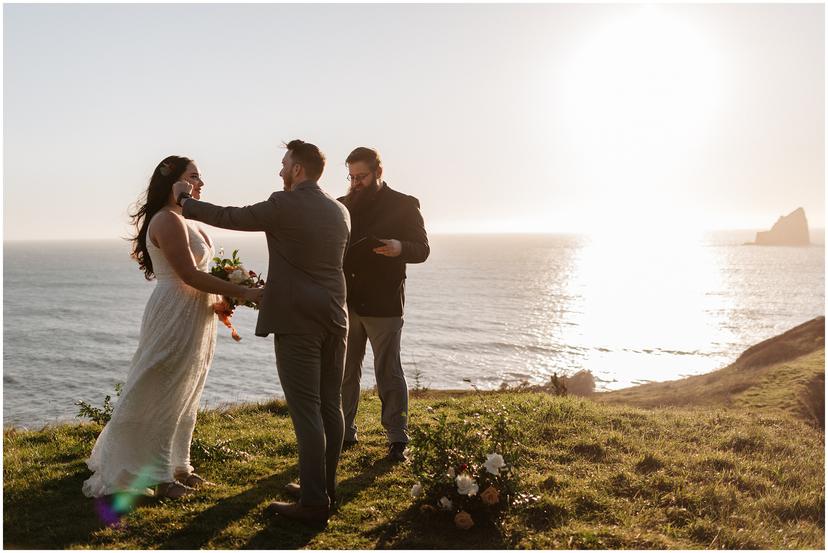 Crook Point Elopement
Cynthia and Bobby recently eloped at Crook Point, one of my favorite places in the ENTIRE world. If it looks familiar to you, it might be that you've seen my other Crook Point blog post: my own wedding there! It was such a treat to return to this magical place on the South Oregon Coast. I really can't recommend it highly enough.
Cynthia and Bobby planned a day that was deeply personal and intimate. Their only guests were Bobby's parents. They stayed at the gorgeous Lookout House and held their ceremony at Sandstone Point; both on cliffs overlooking the Pacific Ocean. It was sunny and breezy, but beautiful for March. Their planner, Becca, along with their talented florist, created a stunning tablescape for their tiny reception dinner after their ceremony. I honestly loved every minute of this day!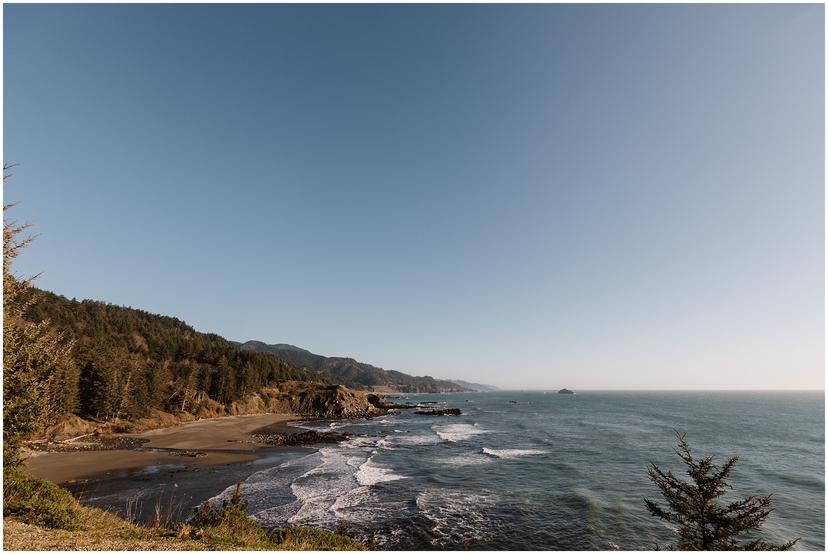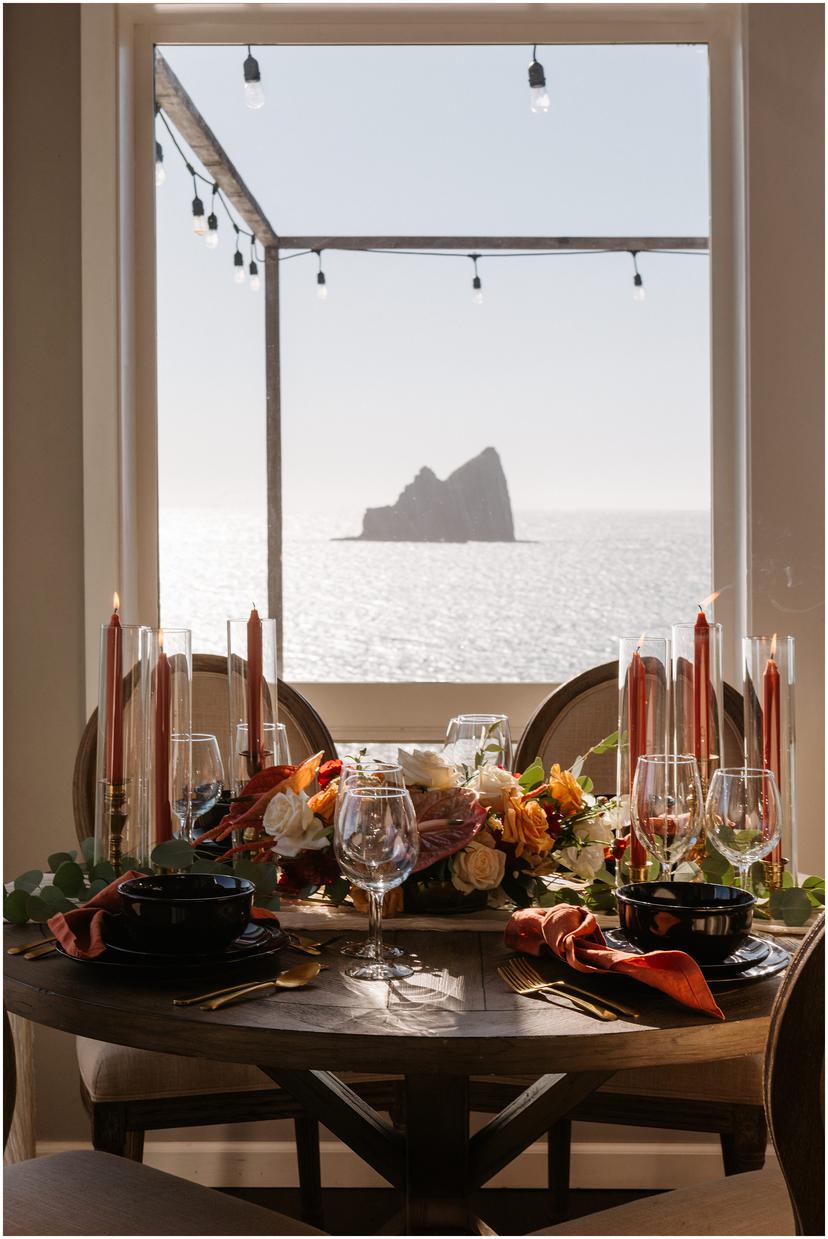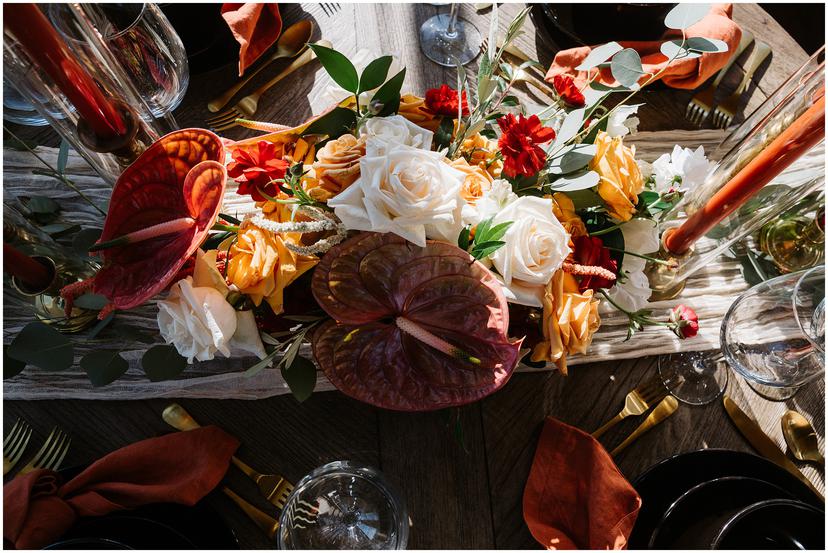 Crook Point Location
Crook Point is a wedding and elopement venue on the South Oregon Coast. The property occupies a 3-mile stretch of coastline between Brookings and Gold Beach in Curry County. It takes about 6 hours to drive there from Portland, or 3 hours from Medford. It's also less than an hour away from Crescent City, CA.
Crook Point History
The Crook family has lived on the land for 6 generations now. They first arrived in the mid 1800s on horseback.
"We didn't buy/homestead the property until 1867, about a decade after arriving in the area (arrived in 1852 coming down the Oregon Trail)," said Kathleen Crook. "The "bands" that were native to our part of the coast were both the Chetl-Essentans (Pistol River) and Wish-Te-Na-Tans (Hooskaden area) and these groups were more considered a part of the Tututni tribe. My Uncle has researched this extensively and even participated in local anthropological excavations to salvage artifacts before the new HWY 101 was built 1959-1961 through these ancient villages."
You can read more about the native people in Curry County through this journal in the Oregon Historical Society and more about the local anthropological artifacts in this journal article here

Also - to learn more about native land, this interactive map tool is incredibly useful.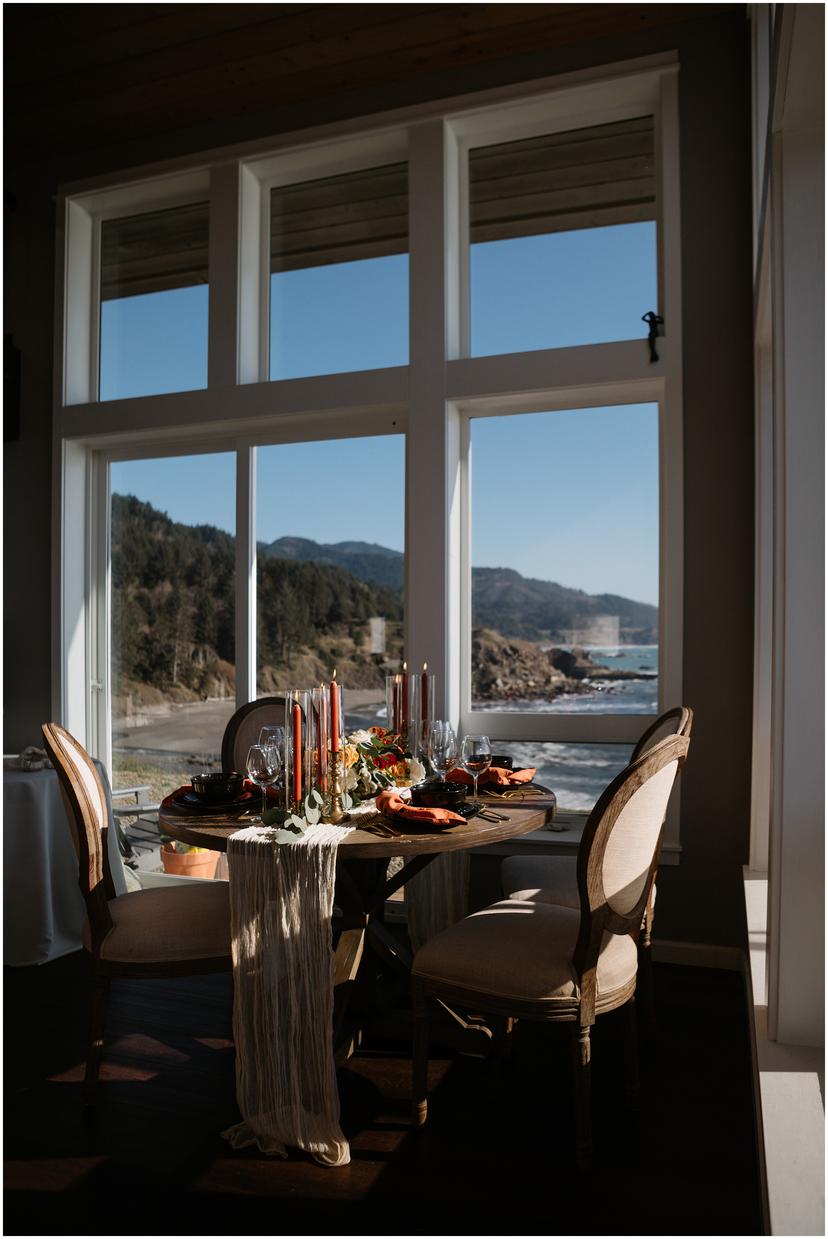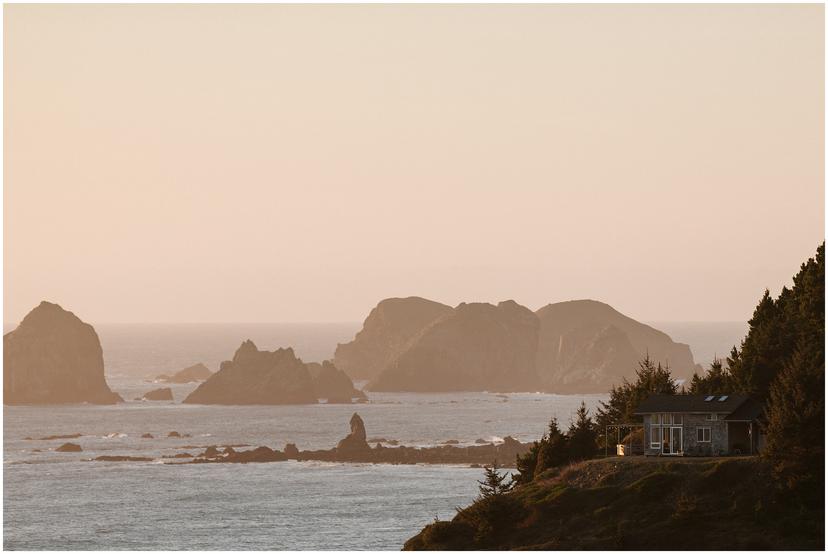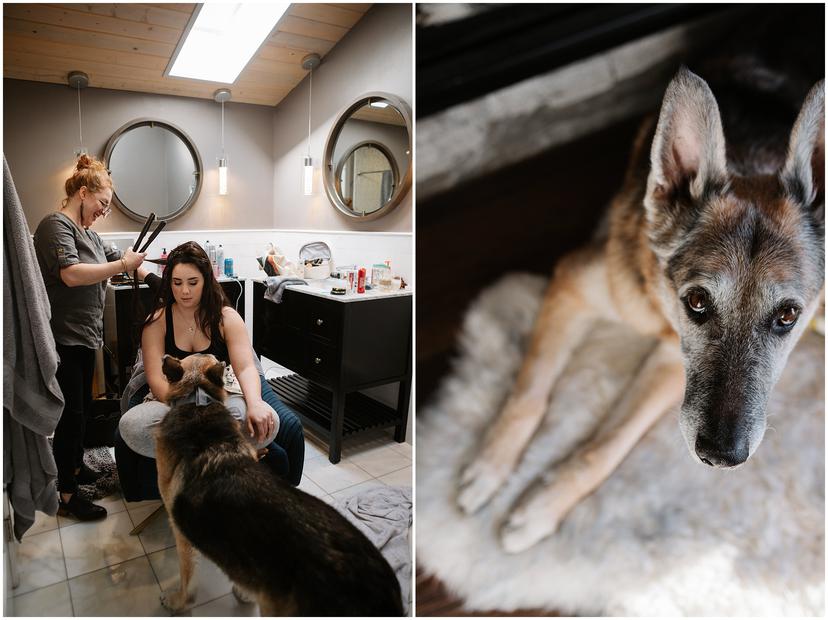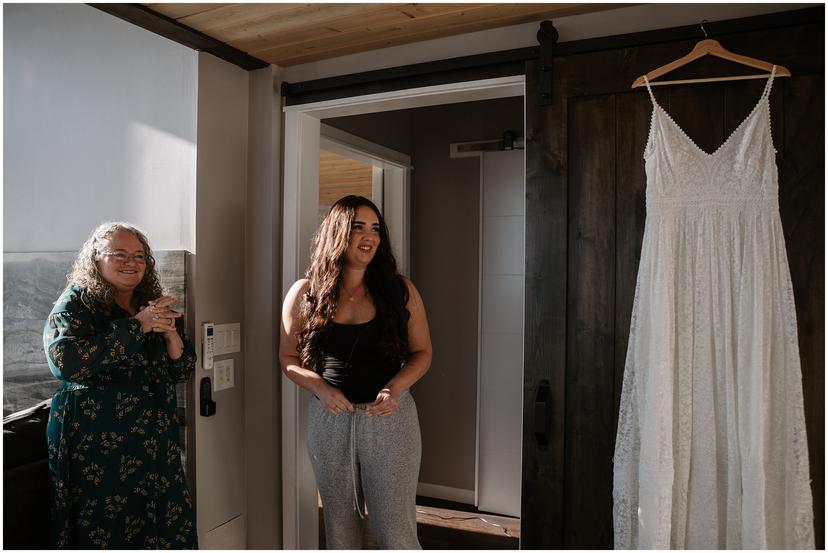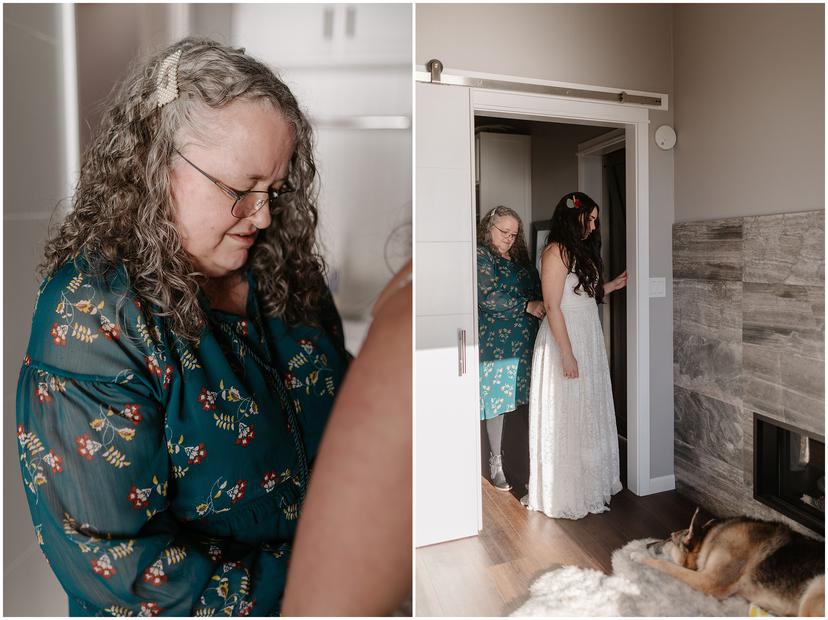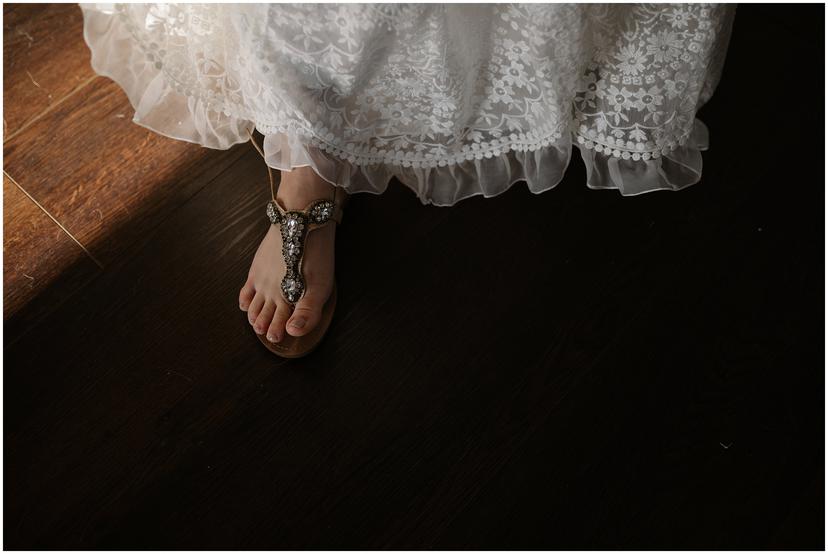 Crook Point Elopement Locations
Crook Point can accommodate weddings from 2 to 250 guests. They have multiple venue locations available, and 7 different rental properties. There are literally SO many beautiful places to celebrate, take photos, and enjoy yourself at this venue.
The Lookout House
The Lookout House is one of Crook Point's newest rental properties. This house sits on the very end of a private cliff overlooking the Pacific Ocean. It's the perfect romantic house for an elopement, and it's where Cynthia and Bobby chose to stay and hold their intimate wedding dinner. The house sleeps four people and is pet friendly! Plus it has a hot tub.
Sandstone Point
This is the elopement location that Bobby and Cynthia chose for their ceremony. Sandstone point is a short hike (or 5 minute, muddy, 4wd drive)  from the beach houses on the property. The open, expansive cliff-side is grassy and romantic, perfect for a sunset wedding or elopement ceremony.
Burnt Hill Beach
Burnt Hill Beach is a beautiful spot for a ceremony, first look, or photos. I held my own welcome party here when I got married. There is a gravel road that takes you almost all the way down to the beach. There is also a small stream that exits onto the beach, with beautiful river rocks adding to the textures of the space.
Arch Rock Main Lawn
Arch Rock Main Lawn is the main wedding venue at Crook Point (where I got married, and where you can host BIG parties). The trees are tall and lush. The ferns are lovely. And you have a perfect view of Arch Rock. It's shady, comfortable and perfect for events big and small.
Byrdies Beach House
The Byrdies Beach house property is on the north side of Crook Point and also has a lawn for small events.
Samuel Boardman State Park
Just south of Crook Point, there is a beautiful spot on the edge of Samuel Boardman State Park that is perfect for an elopement ceremony or pictures. It's not technically on Crook Point property, but it is only about a 5 minute drive. This is where we took wedding portraits after Cynthia and Bobby's ceremony. It's also where I took sunset portraits on my own wedding day.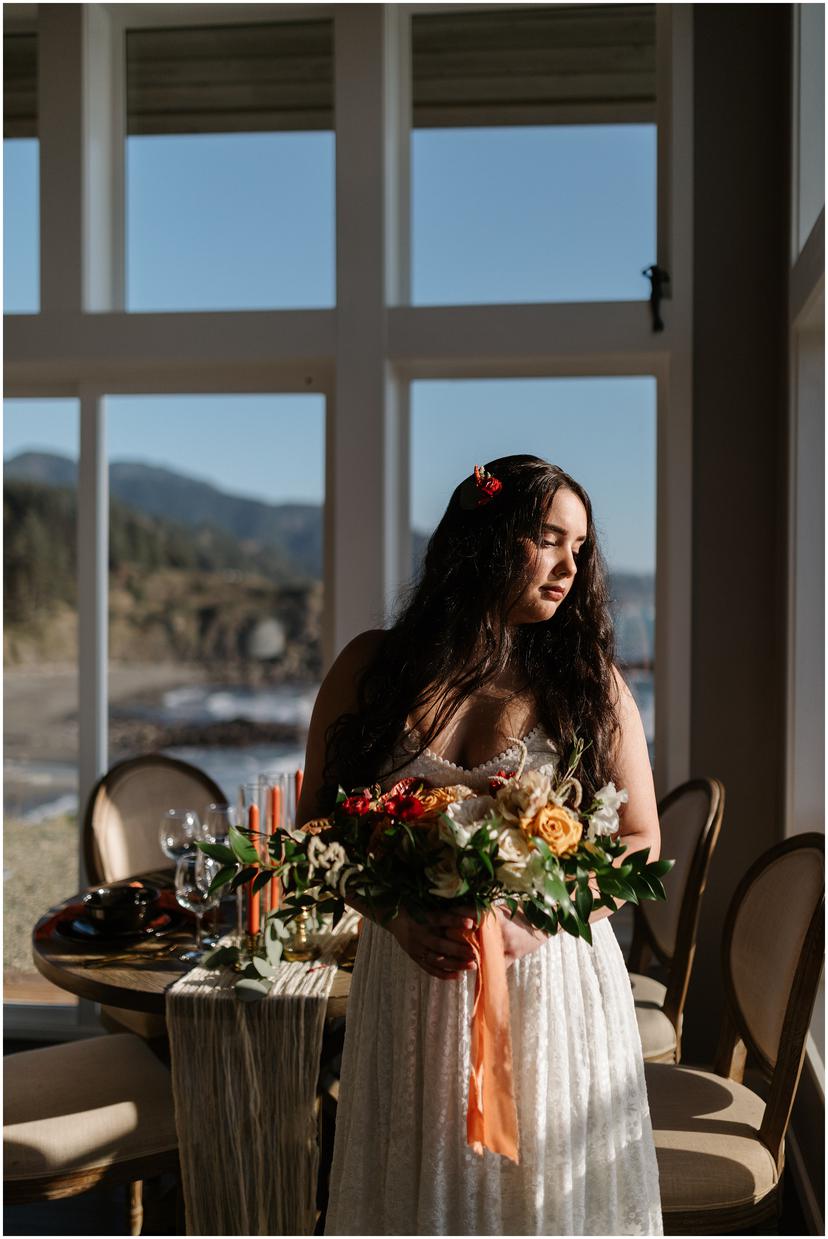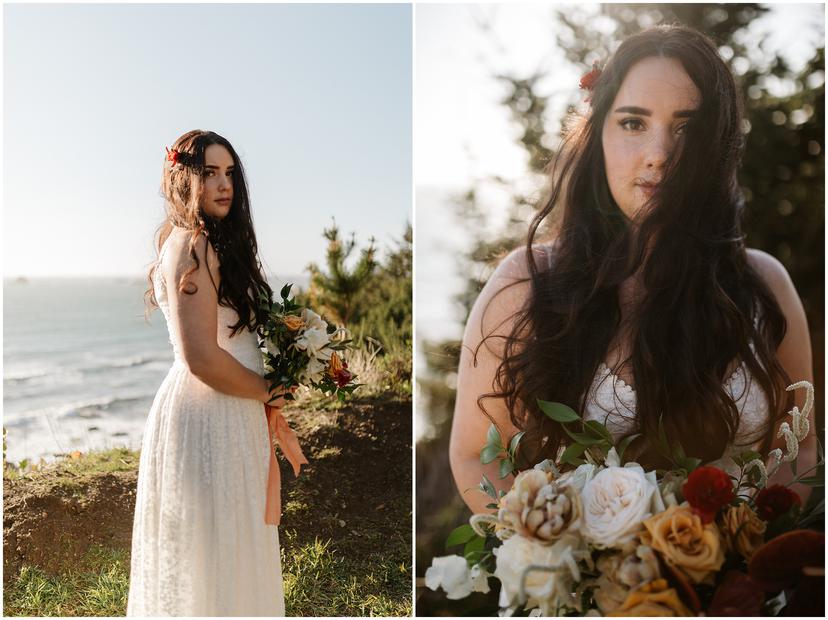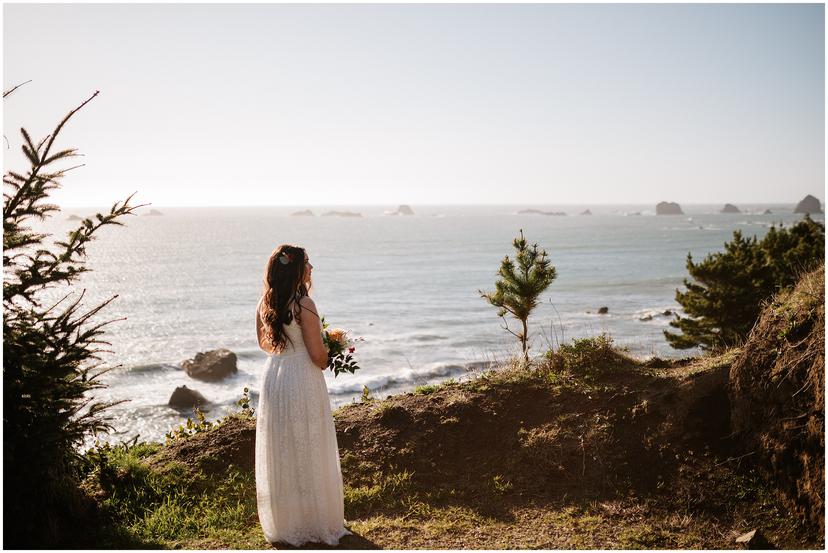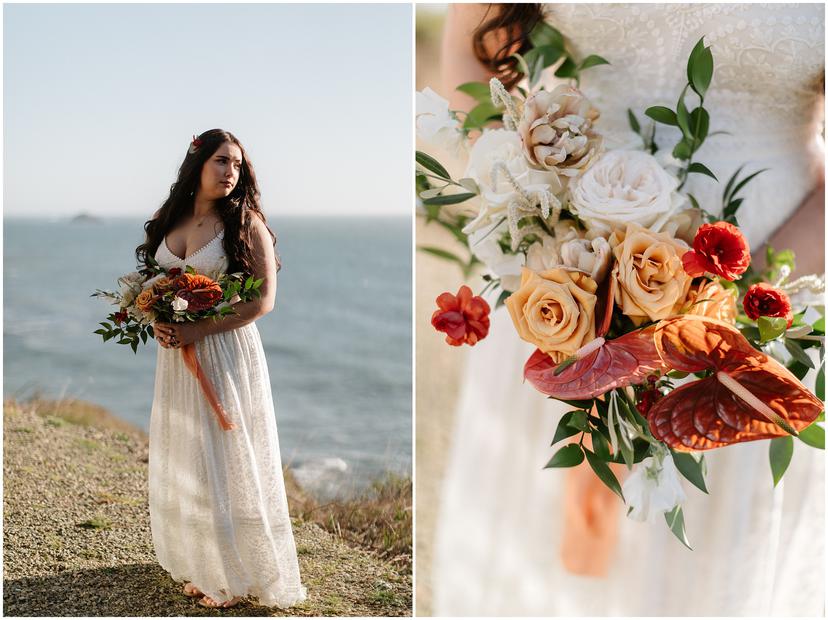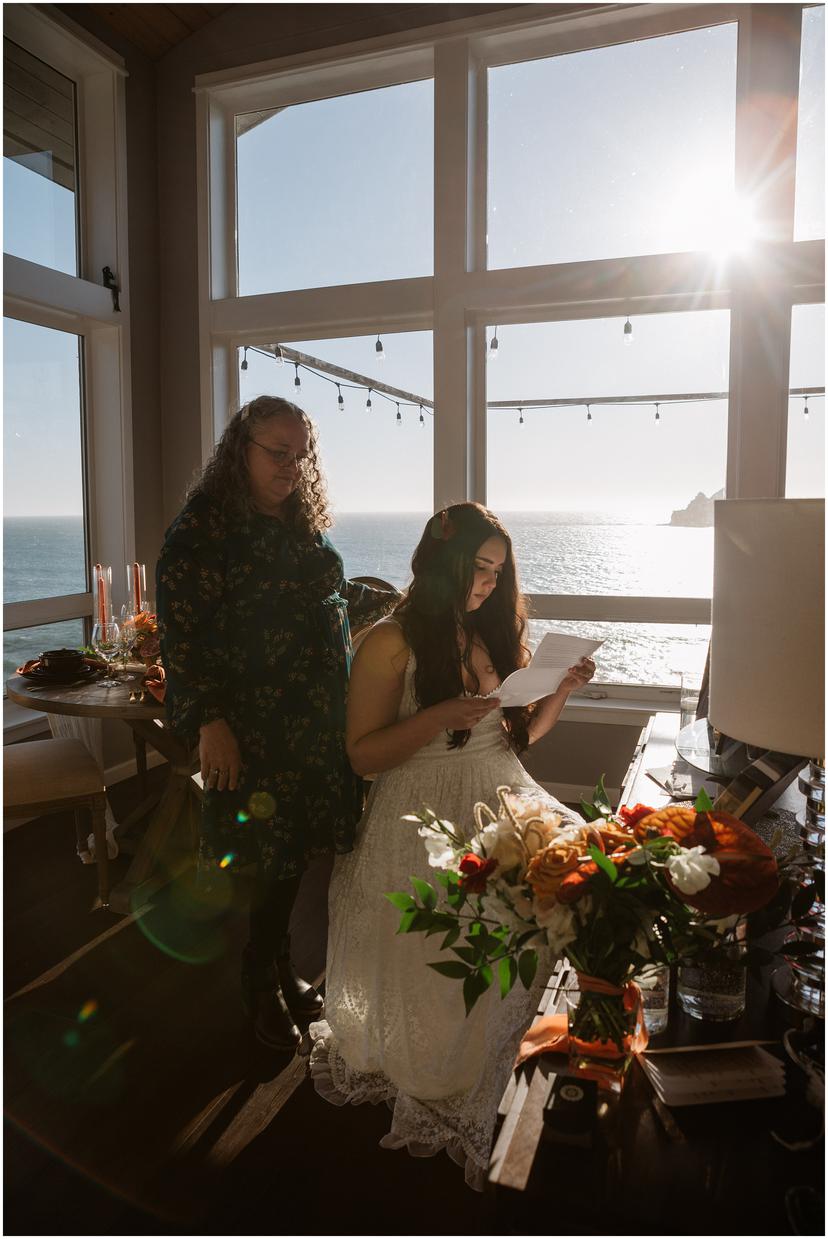 Ways to include friends and family during your elopement
Cynthia set aside some time before her wedding ceremony to read letters from her close friends and family who couldn't be there. It was a beautiful way to include loved ones, and read their sweet words, which still maintaining the intimacy of the day. She also briefly Facetimed with her best friend while getting ready.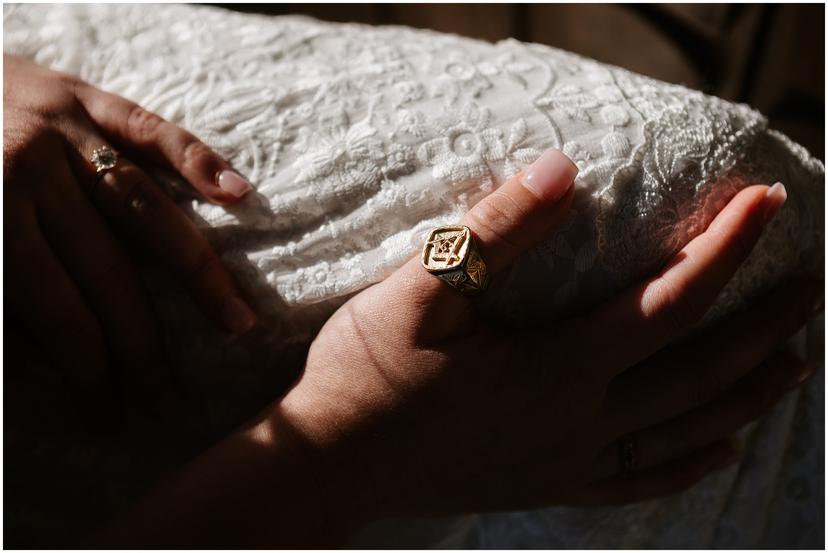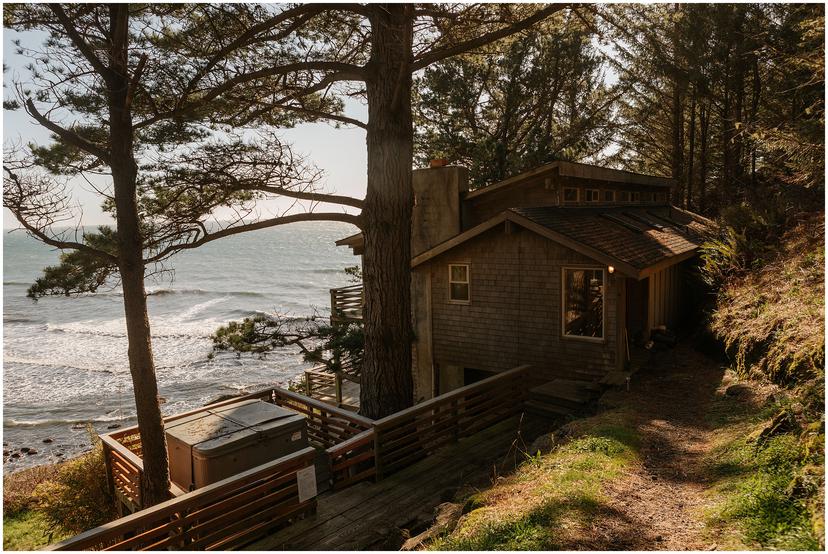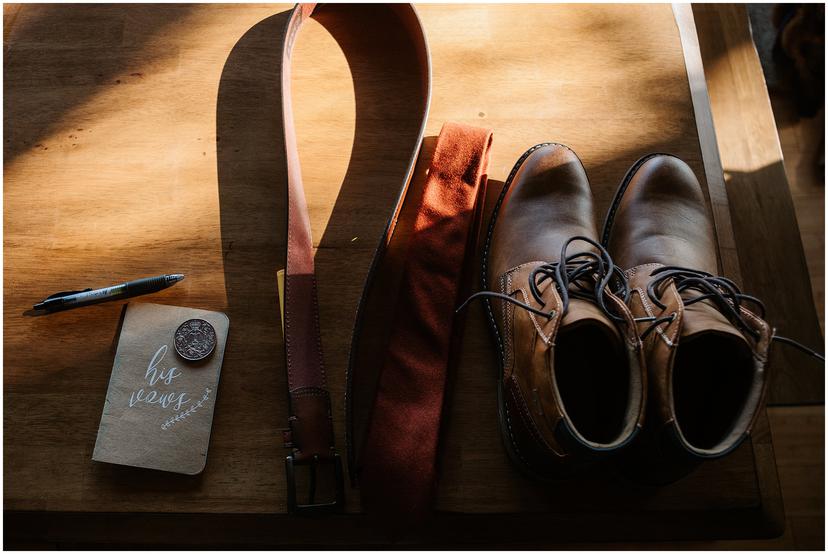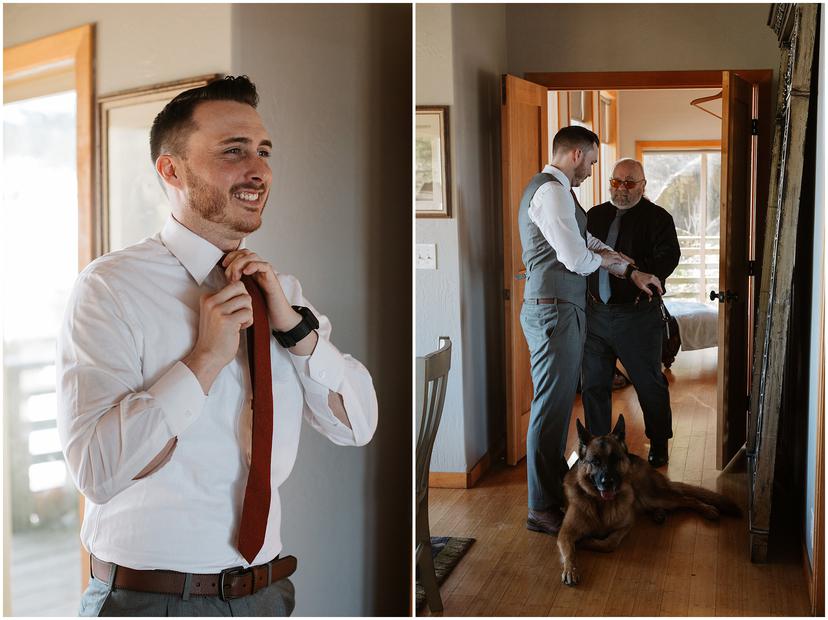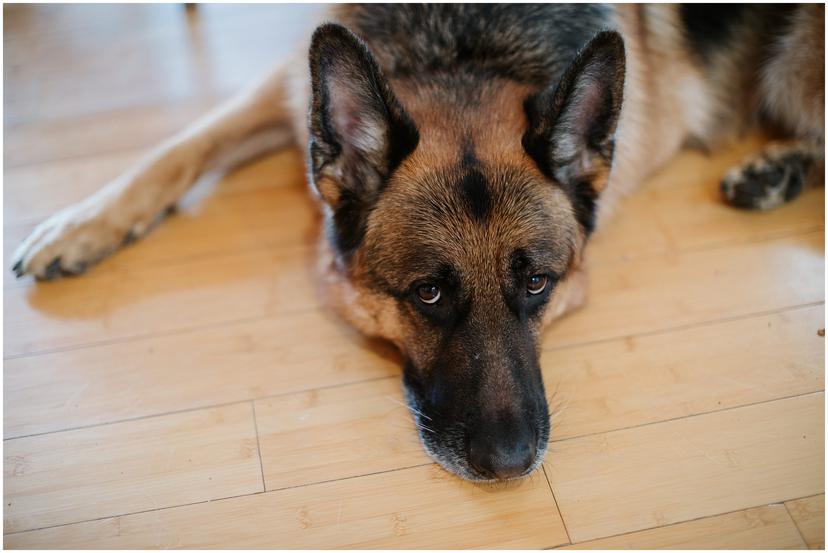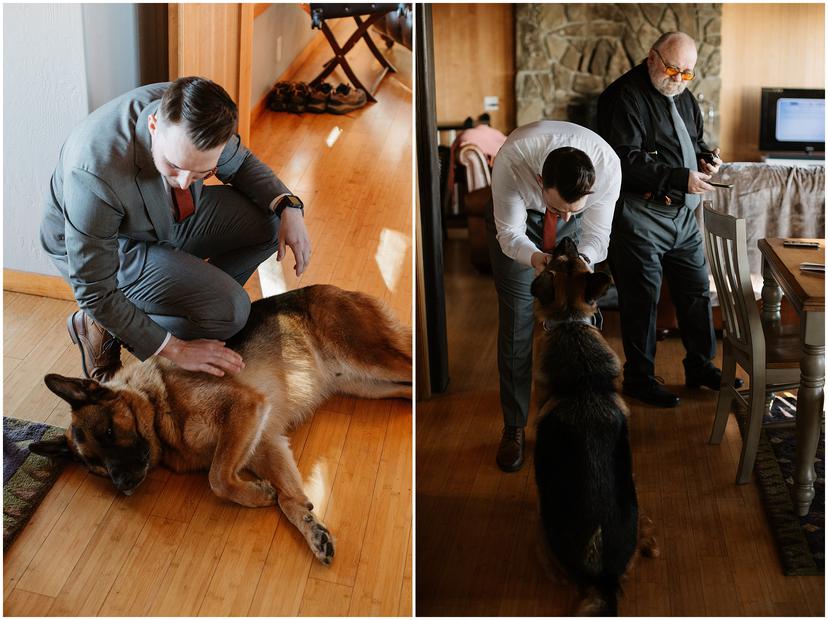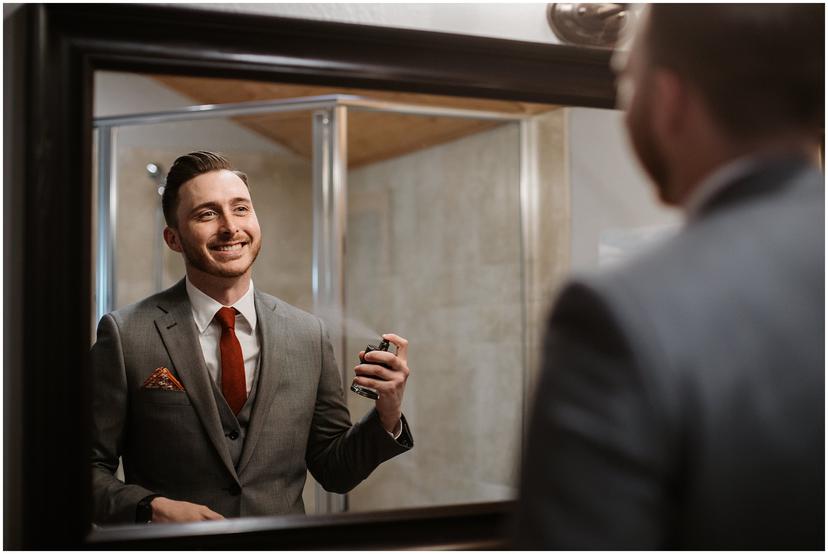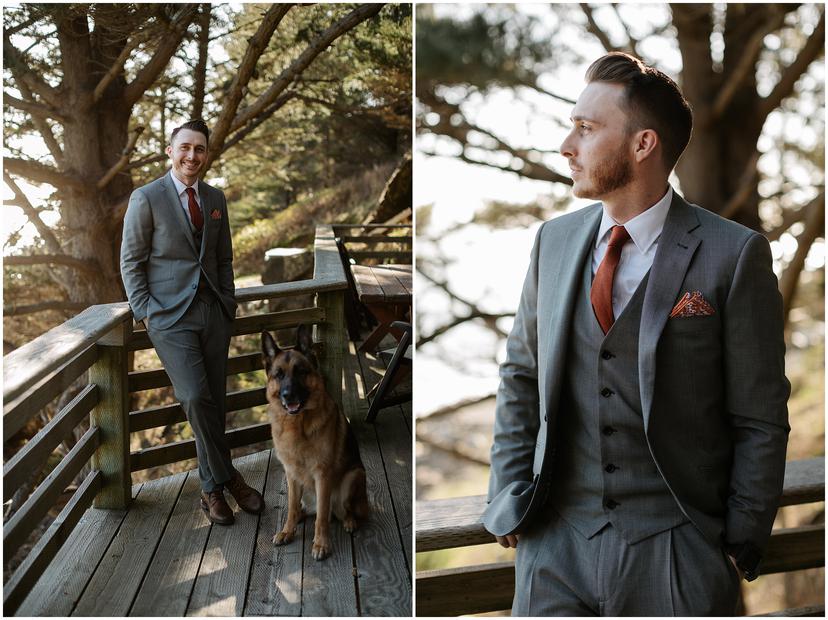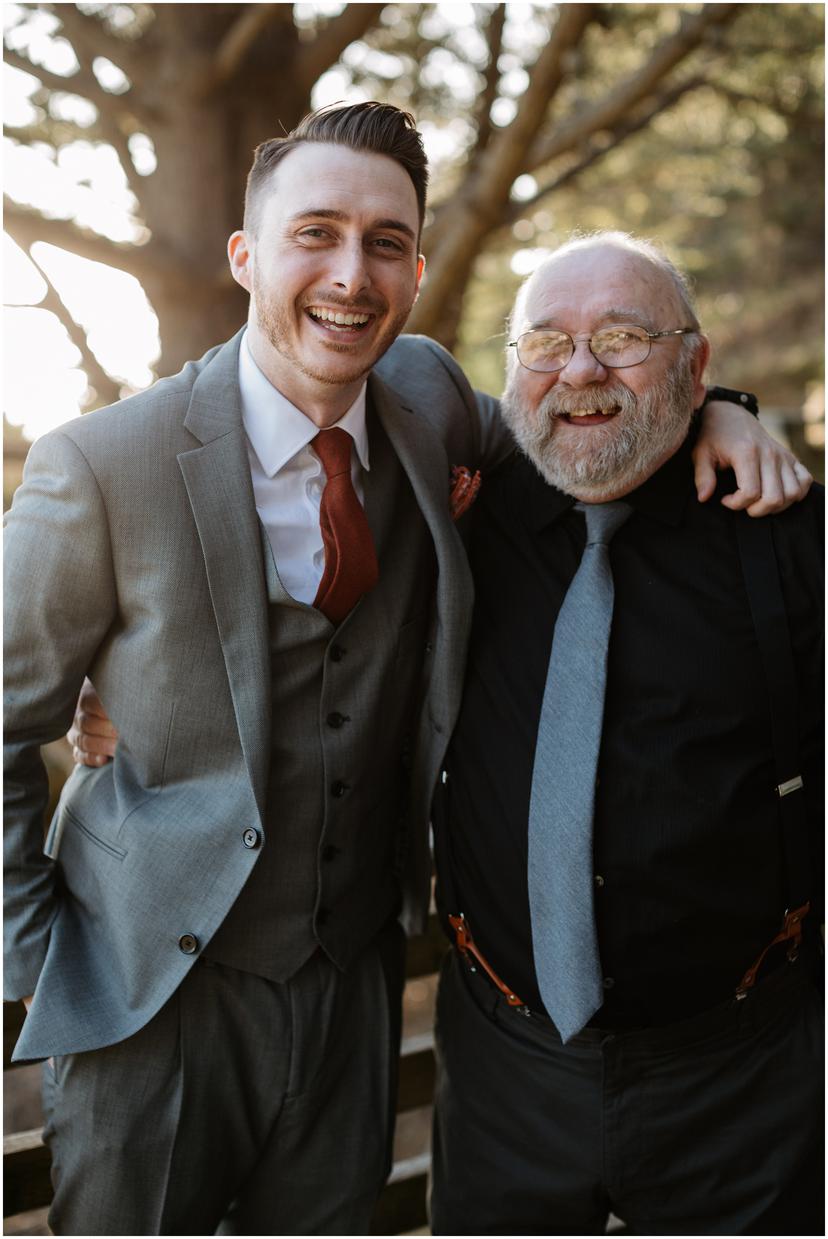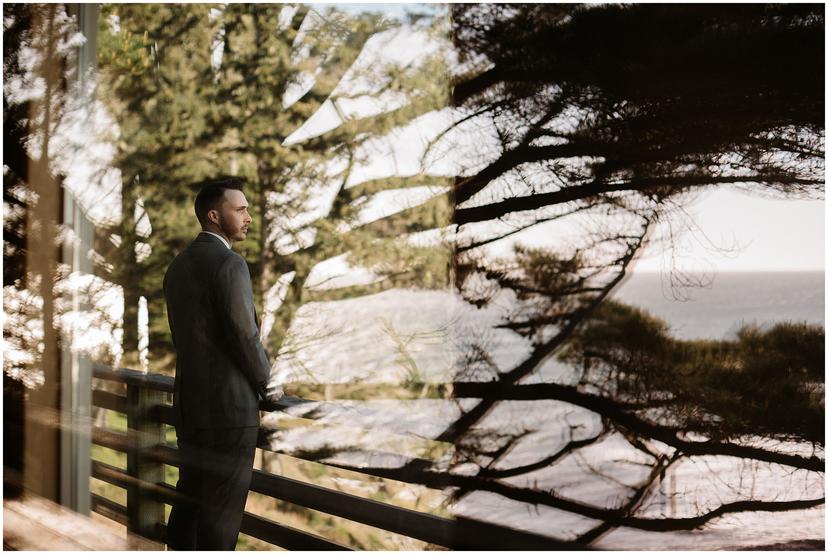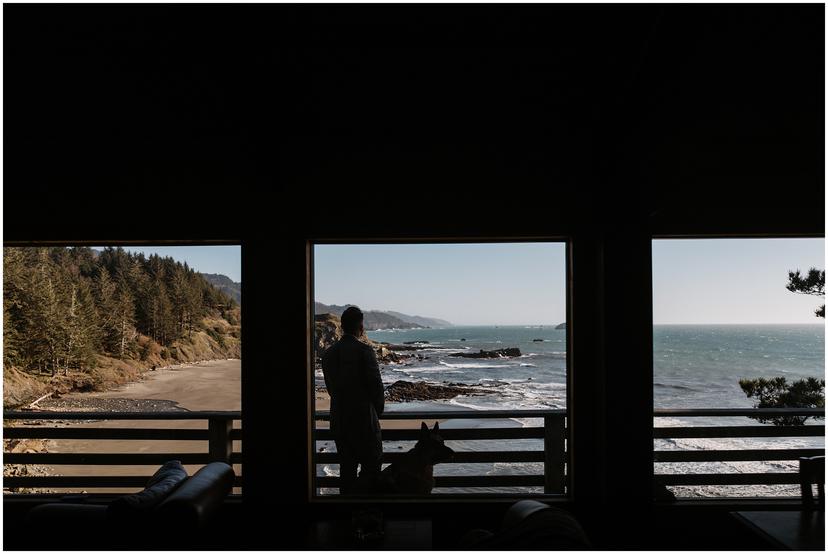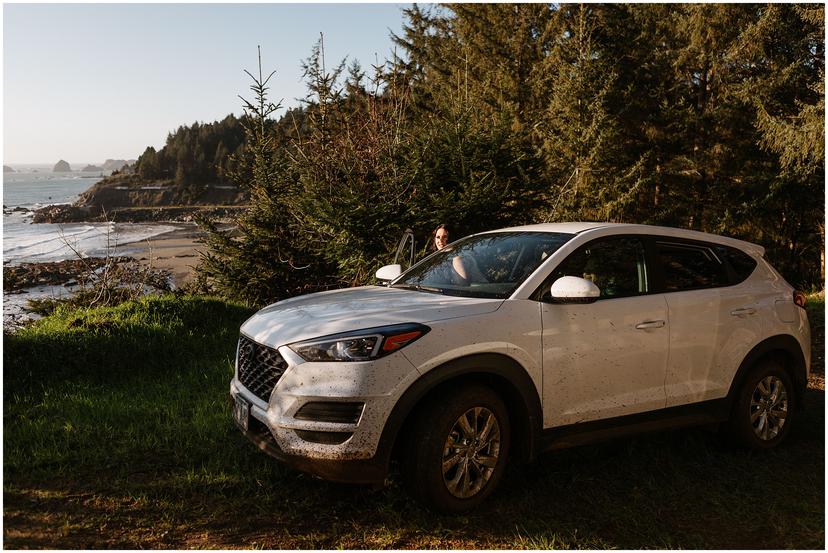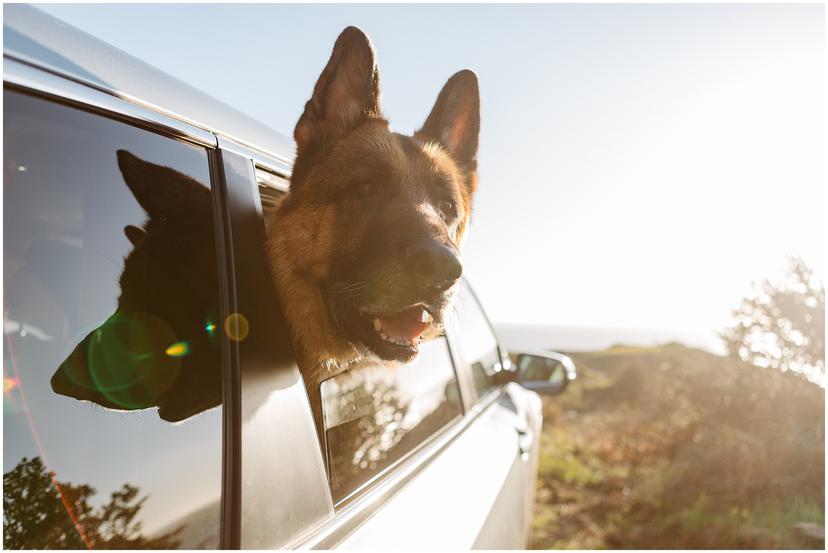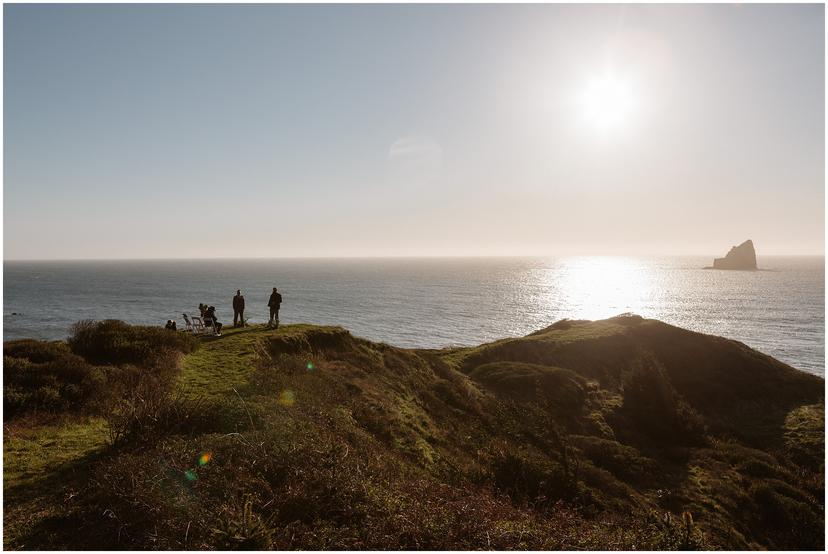 Why elope at Crook Point?
"For what we were looking for it was a one stop shop and that was important for us," Cynthia said. "Their elopement package allowed for a stress-free time leading up to the wedding. Also, the location- need I say more?"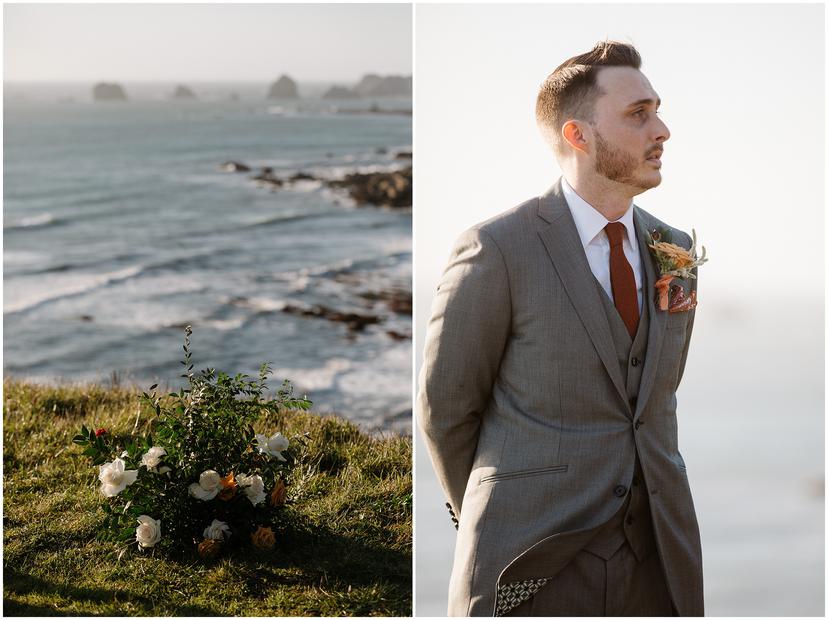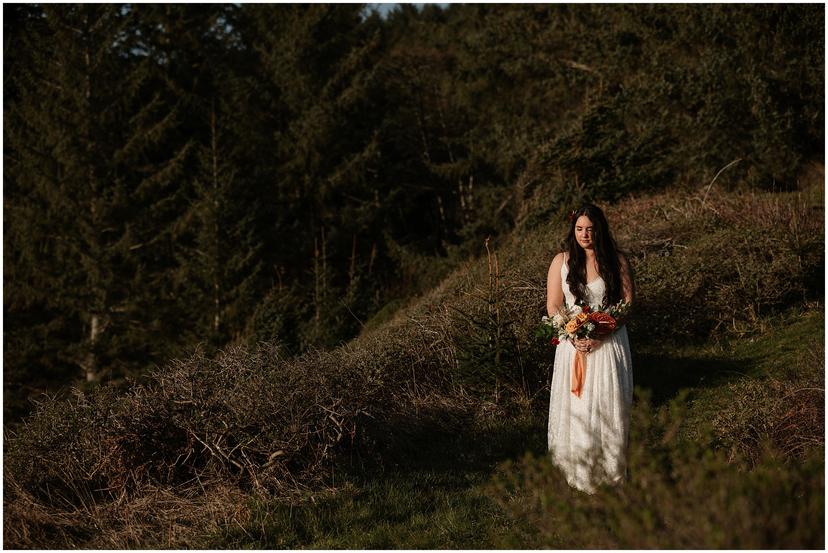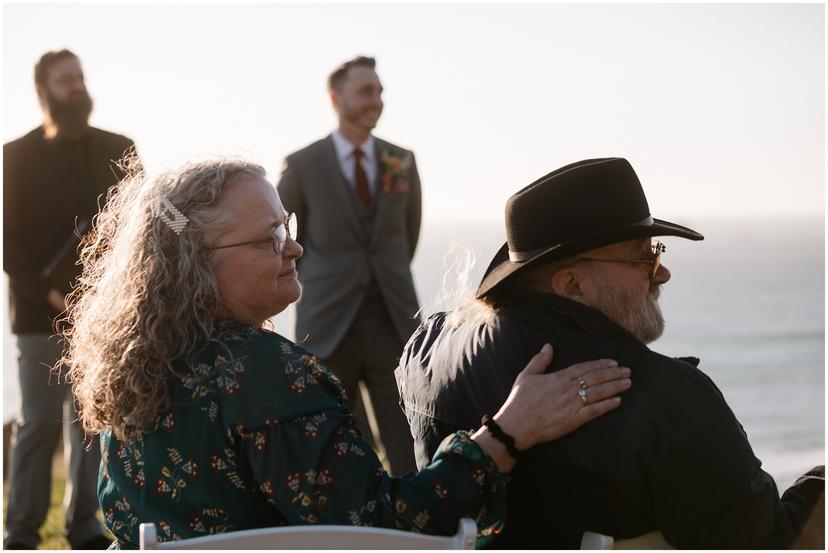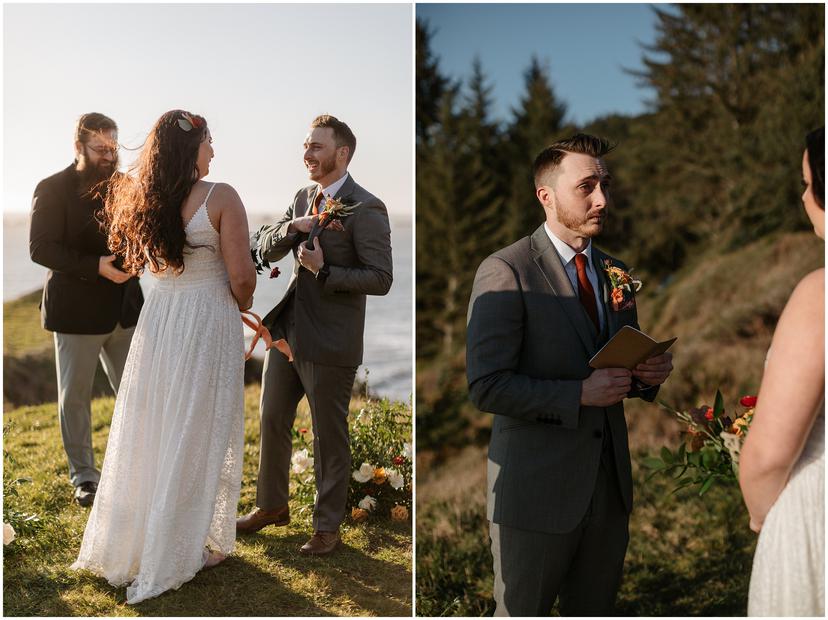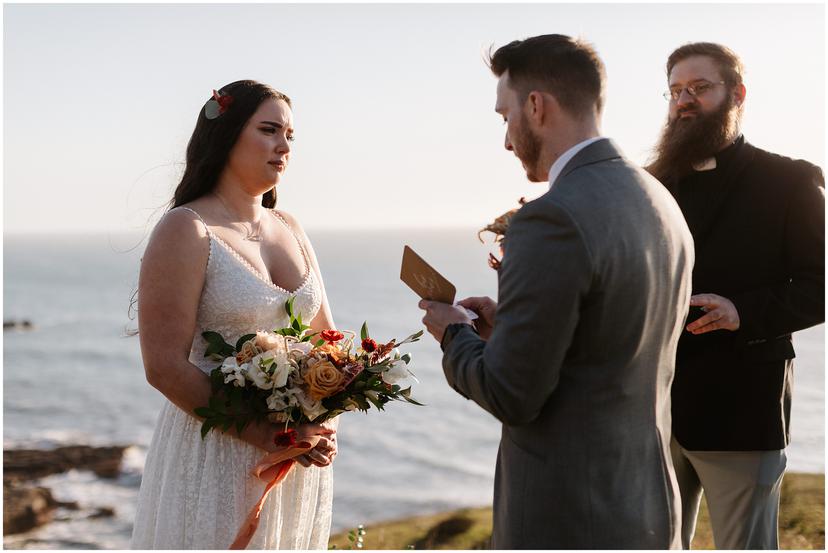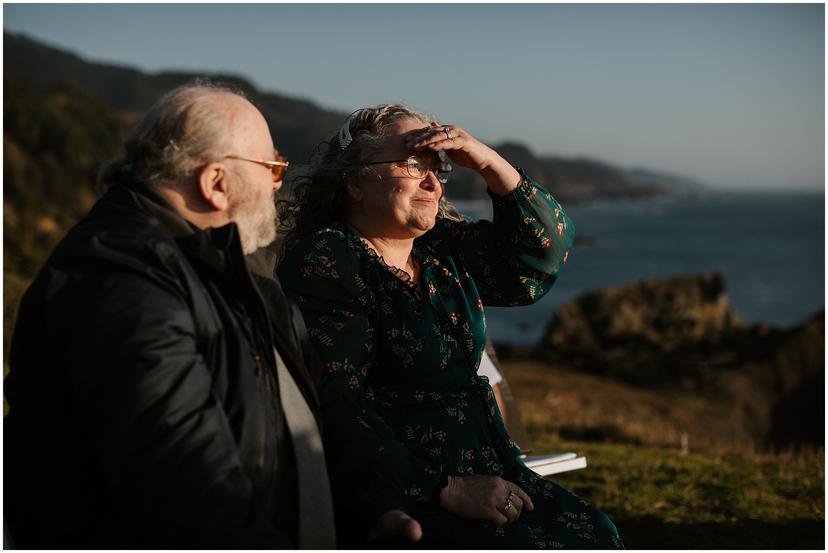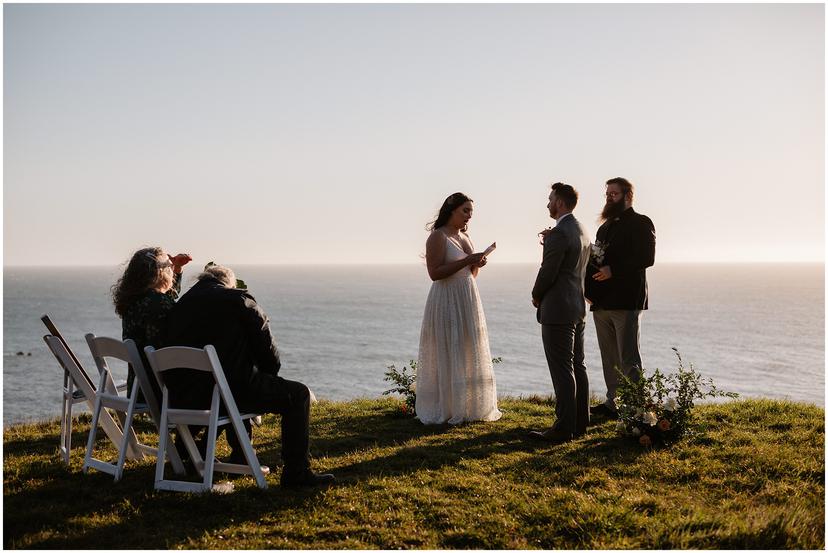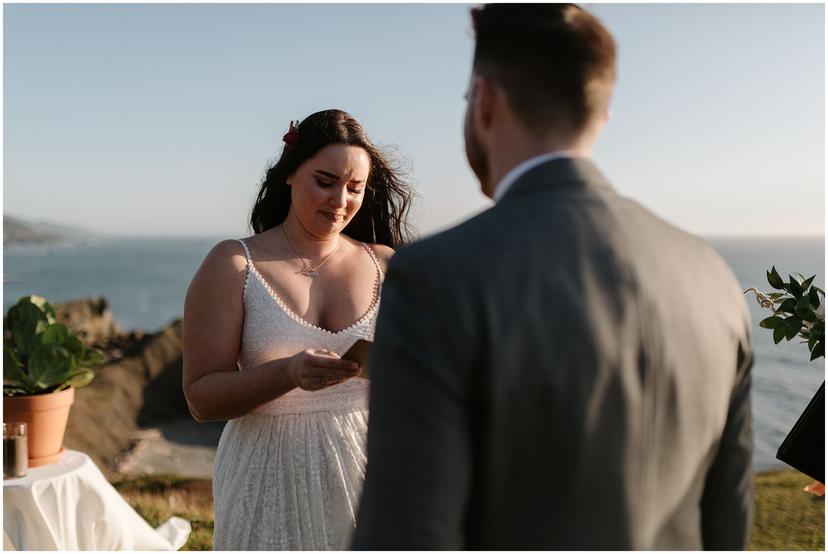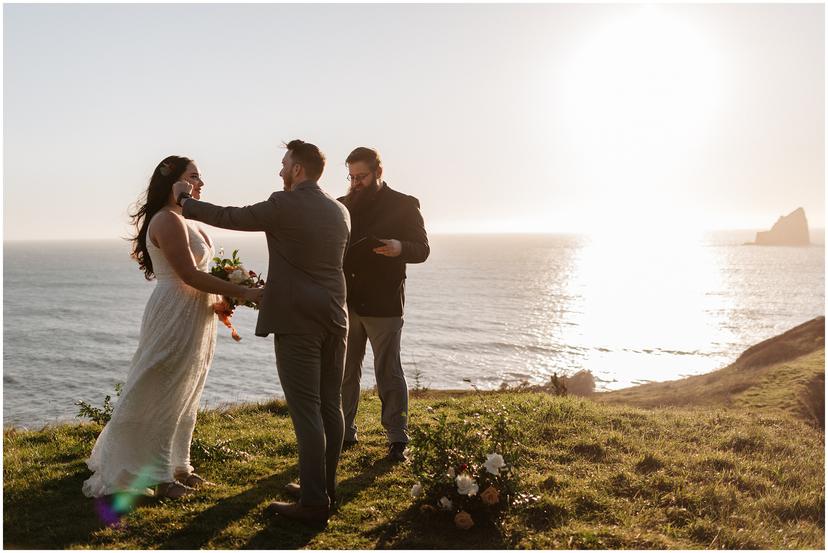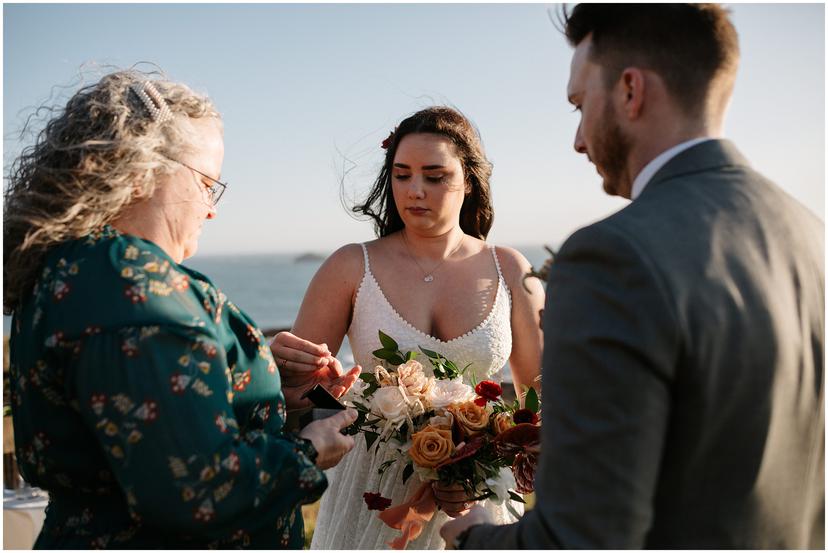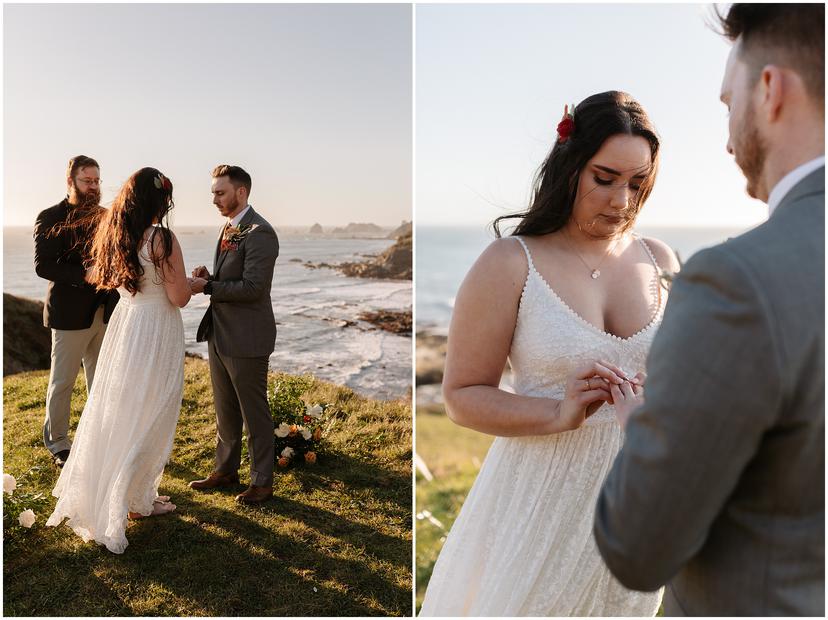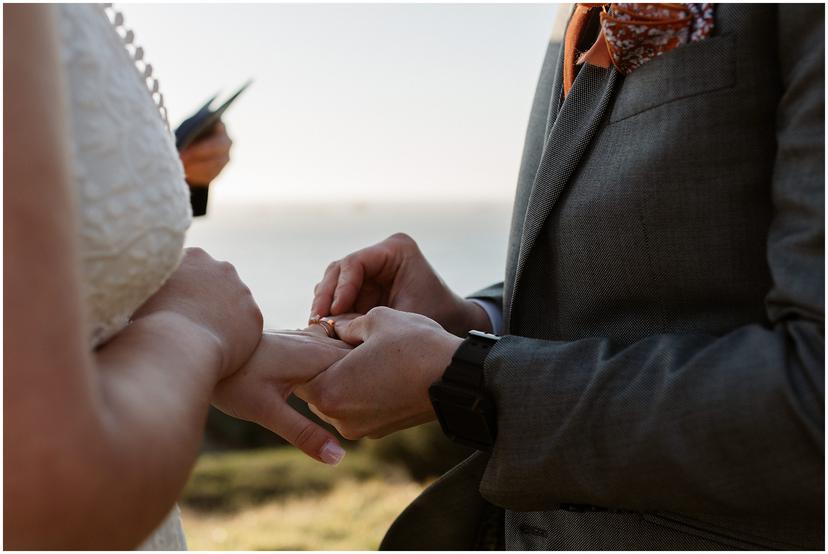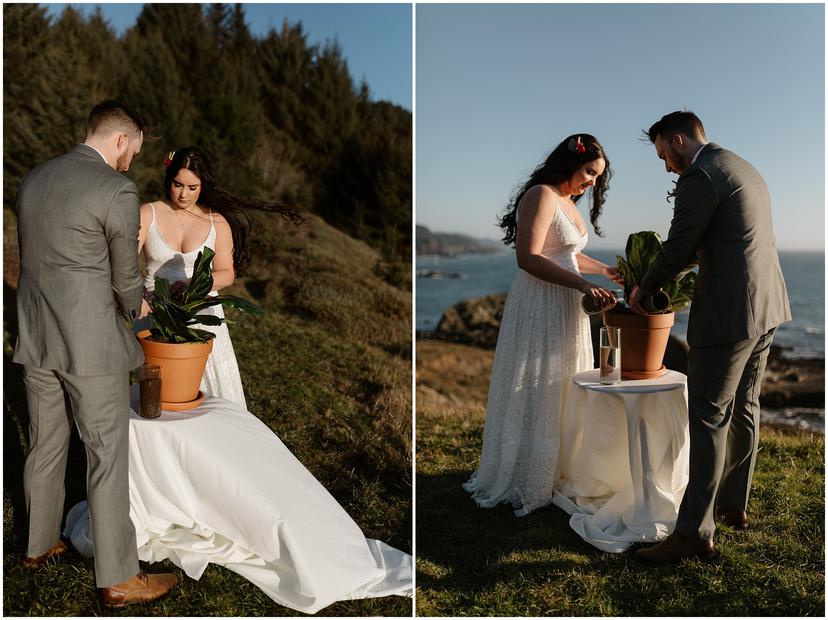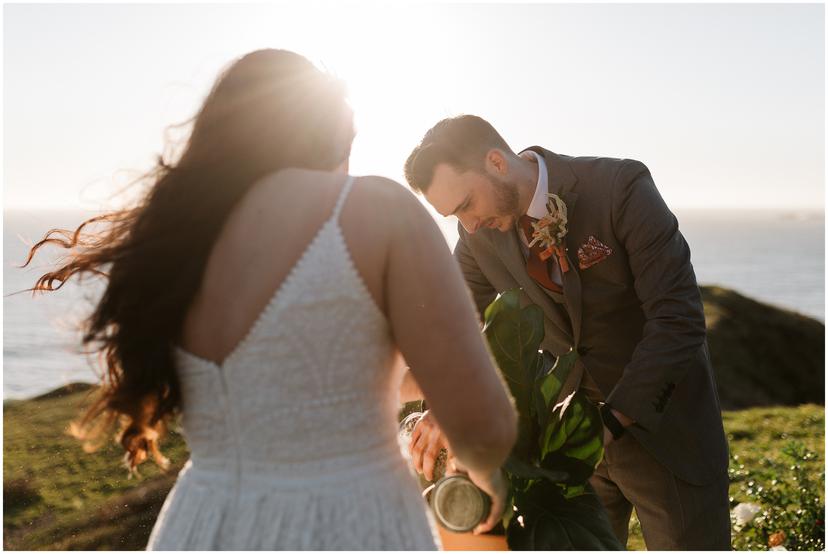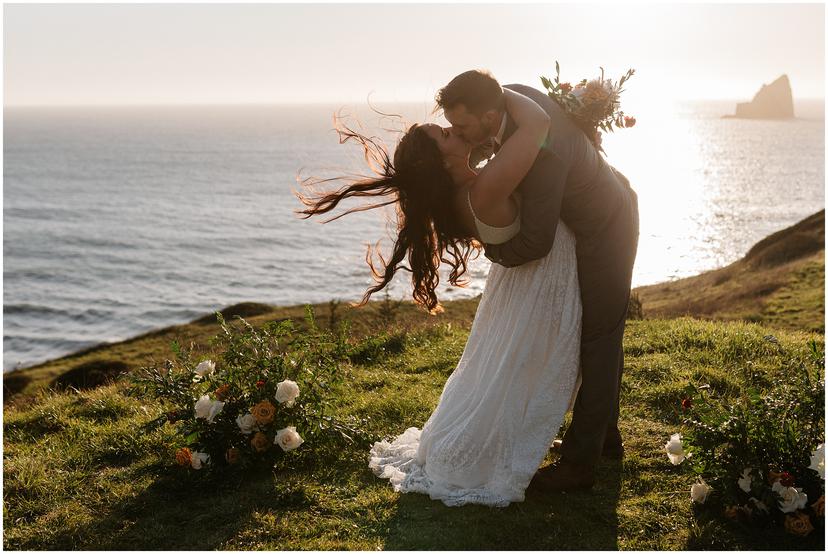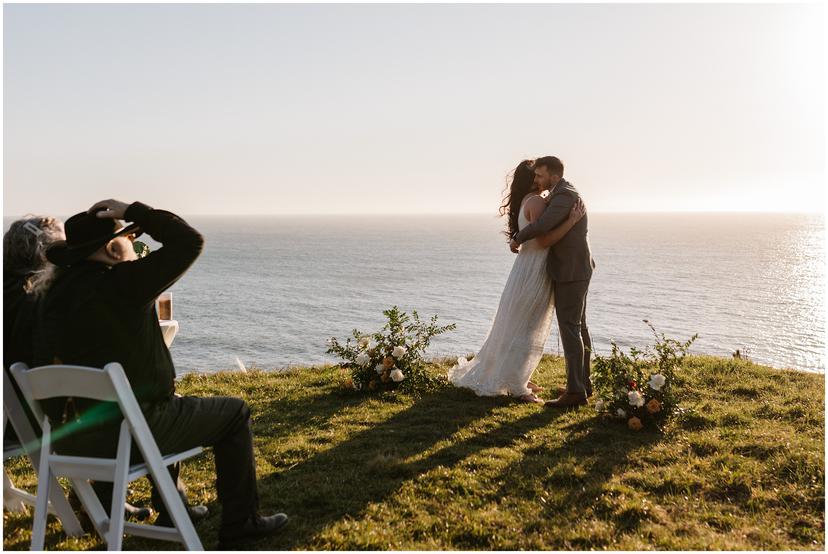 Crook Point Elopement Packages
Crook Point offers a variety of wedding and elopement packages, depending on the number of guests and home rentals.
Their rental fees start at $750 and range upward to $8400 per event. Elopements start at $750 for 20 people and include a 2-hour venue rental.
Intimate wedding ceremonies for up to 30 guests start at $3785 for a 4-hour venue rental.
They also offer all-inclusive packages including "planning from Events with Becca, an officiant, personal florals, ceremony + outdoor dinner party setup, a single-tiered cake, and a basic sound system," according to their venue listing on Here Comes the Guide. These inclusive collections start at $5150.
You can see Crook Point's full pricing information here.
For more information, reach out to Kathleen, the owner! You can reach her at 415-999-9780 or at [email protected]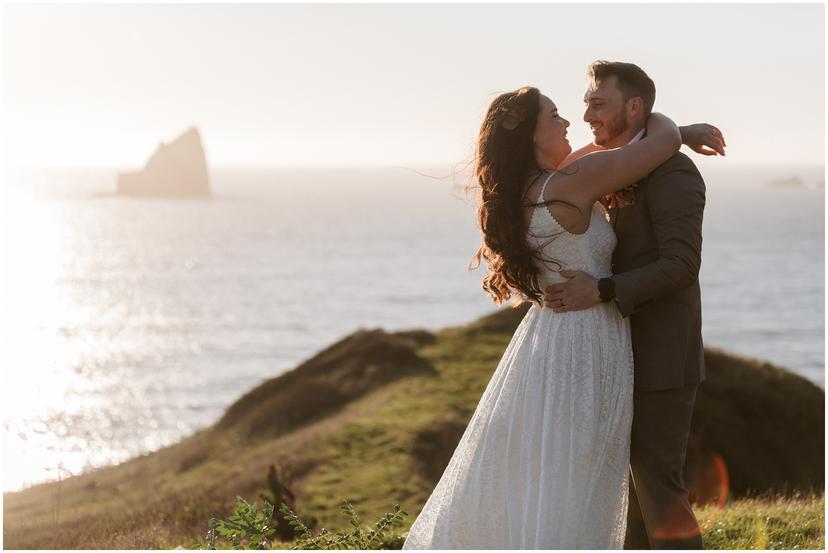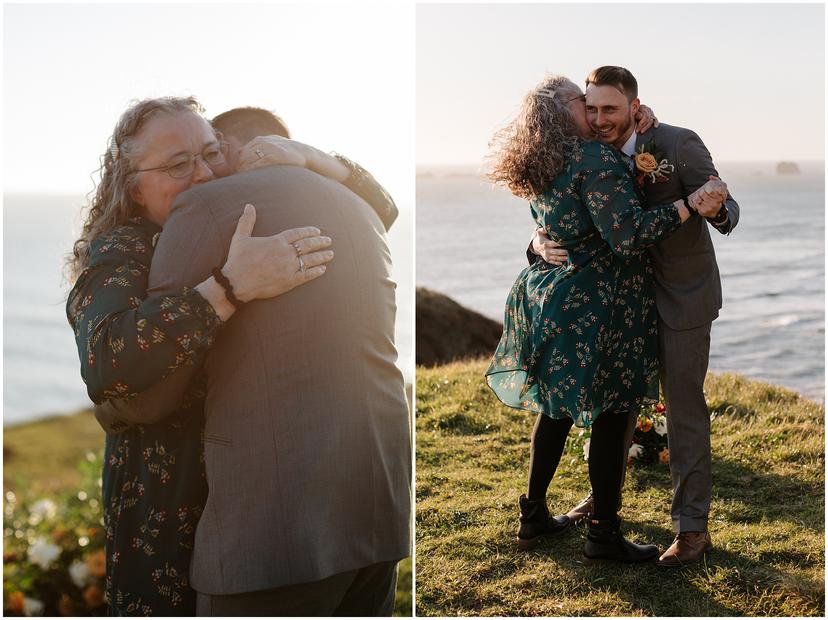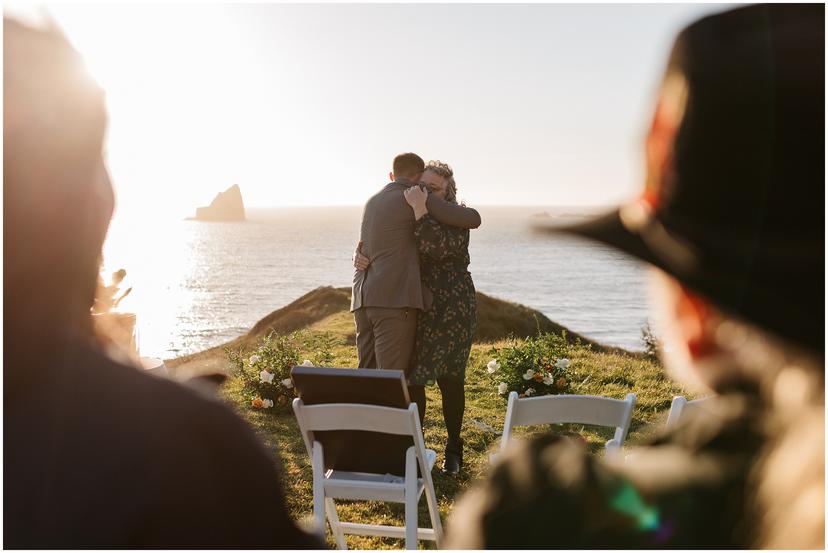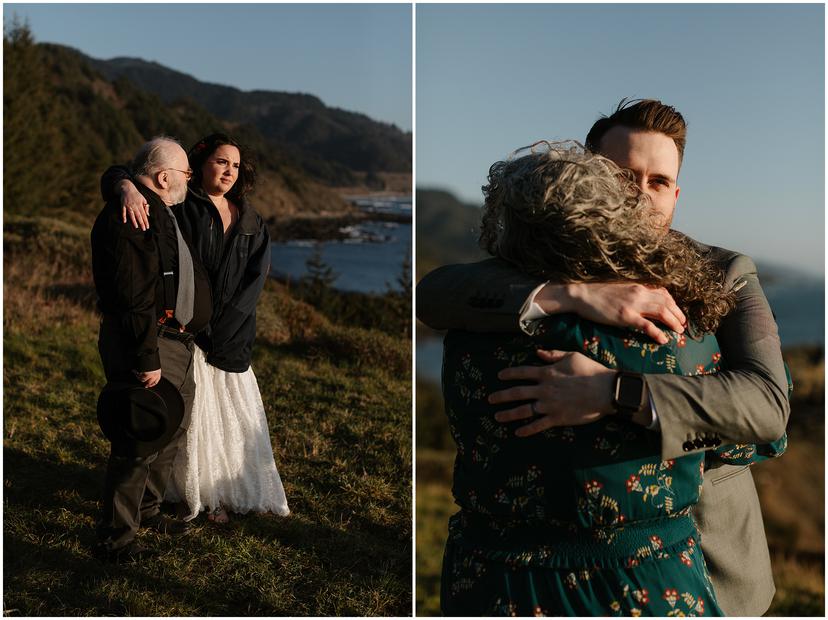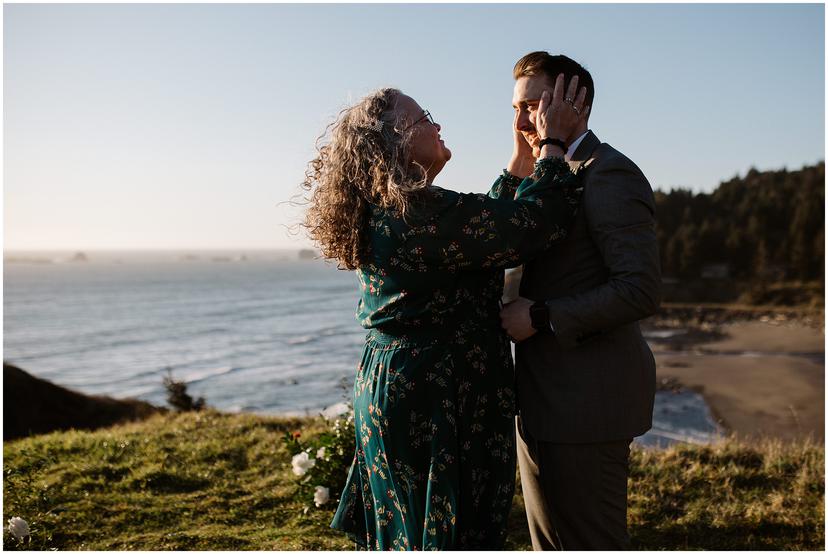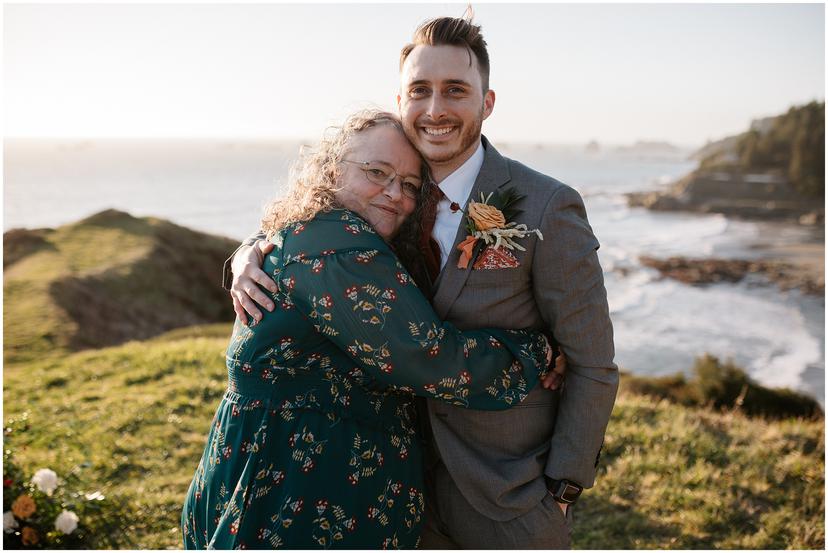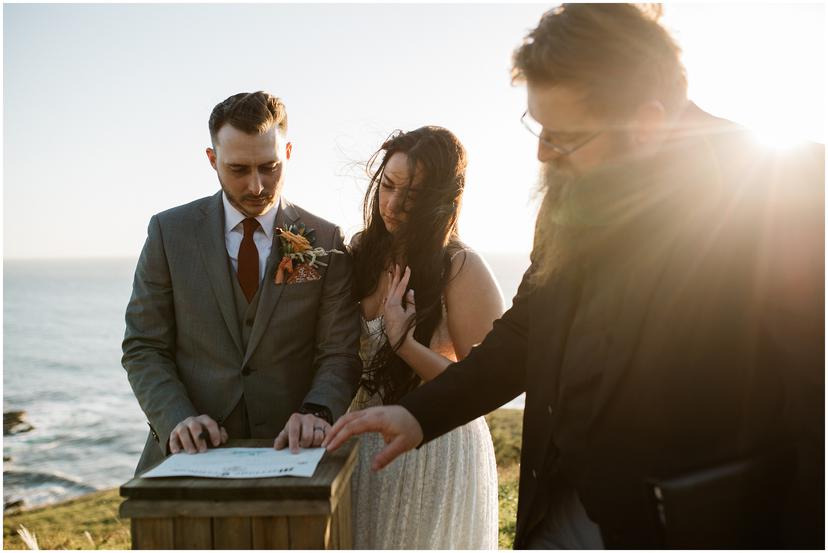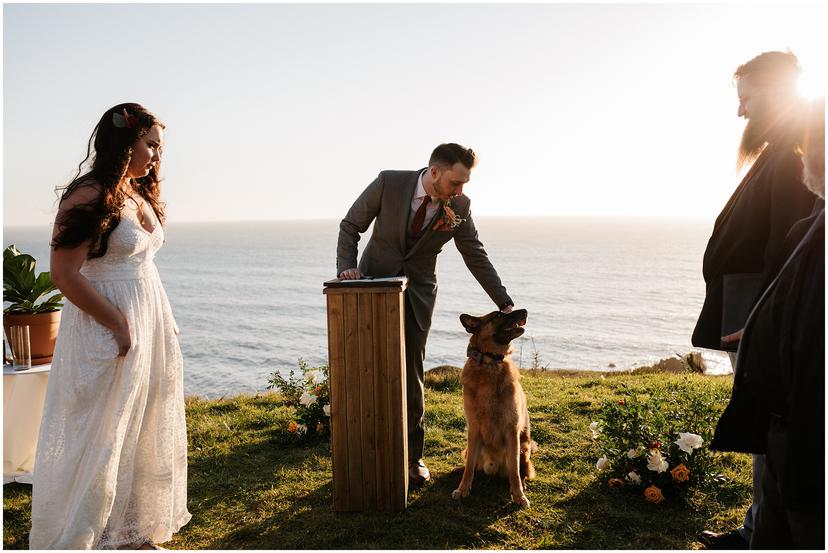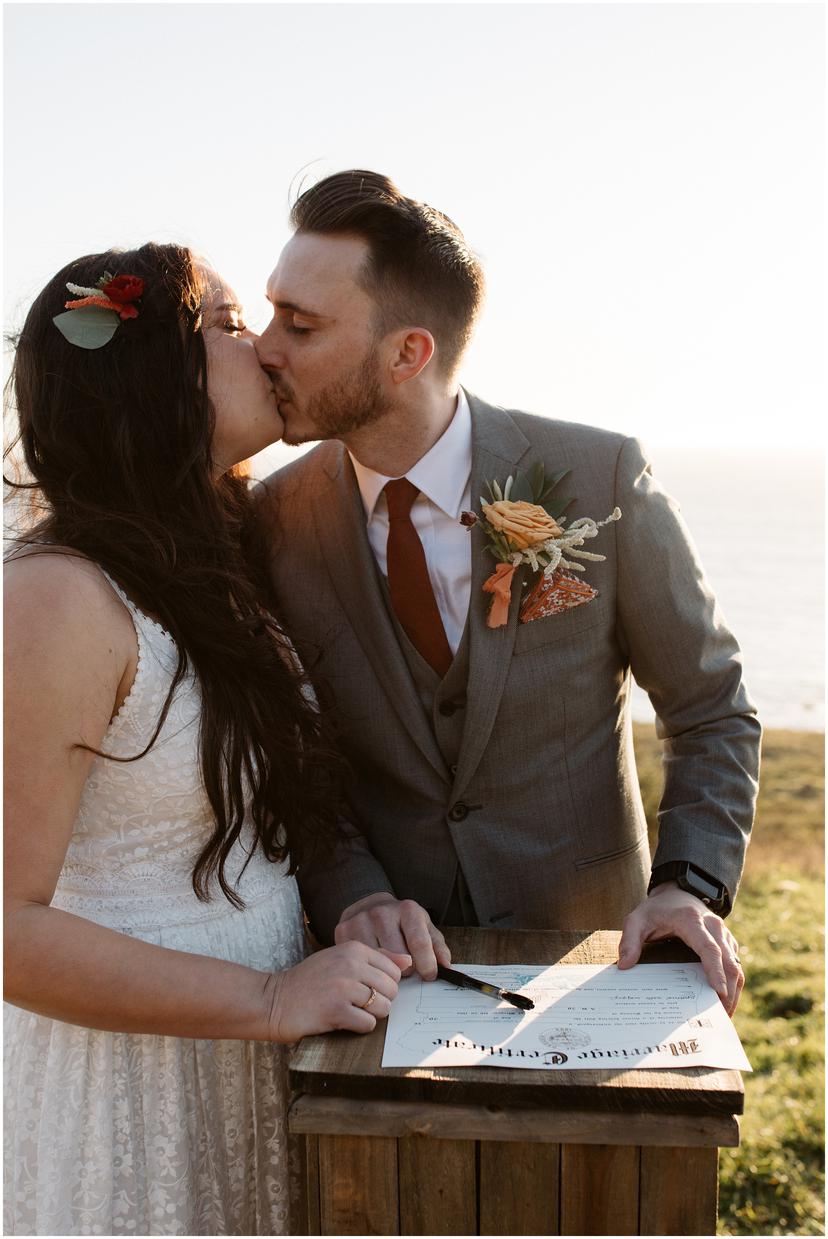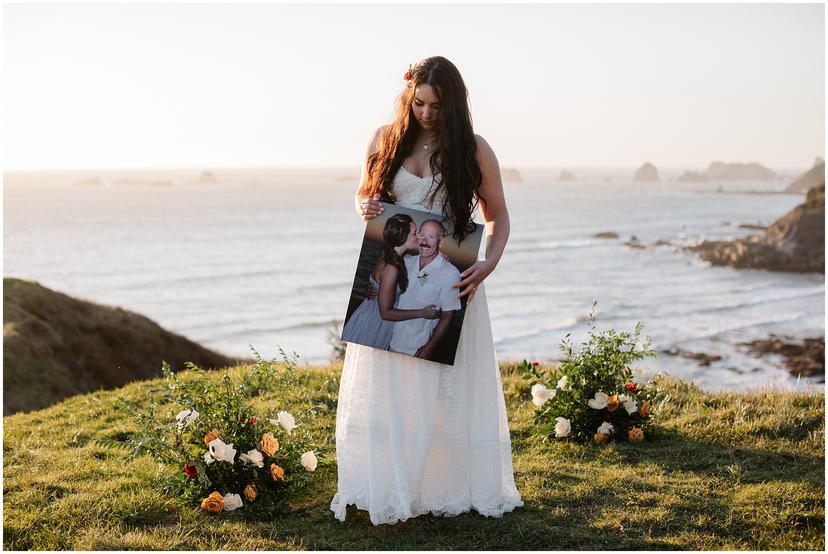 Tips for wedding planning during grief
Cynthia lost her father a few months before the wedding. It was devastating, and she offers a few words about how to deal with grief below.
"Do what you need to do to feel comfort in a time you want your loved one whose passed there the most," said Cynthia. "Honor their memory in whatever way you need. Personally, it's hard to feel my dad when there's lots of people around, and too many things going on around me so I decided to downsize to just 4 of us so I could feel his presence on my wedding day. I was so glad I did that. Grief is so personal, and no matter how that looks for you, it's okay."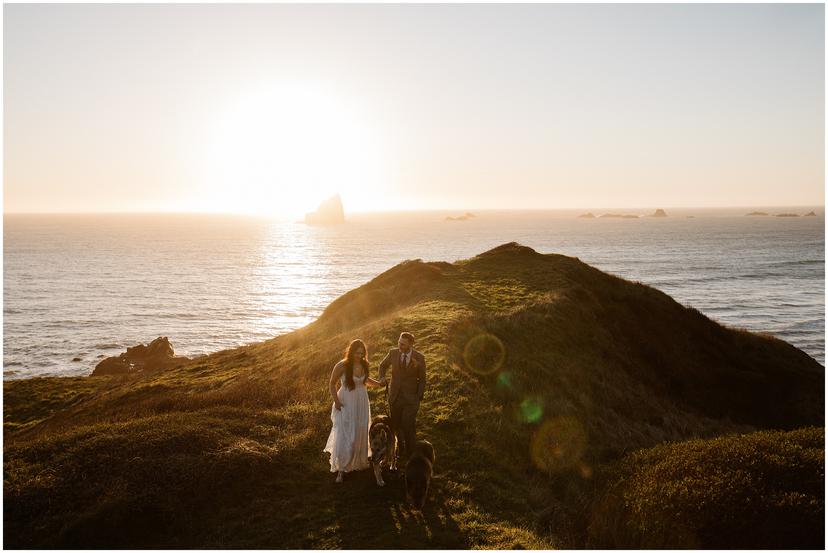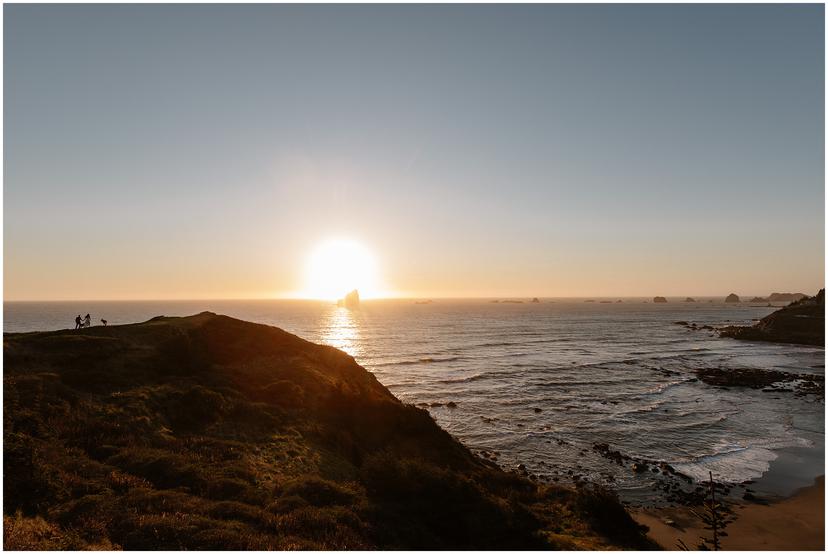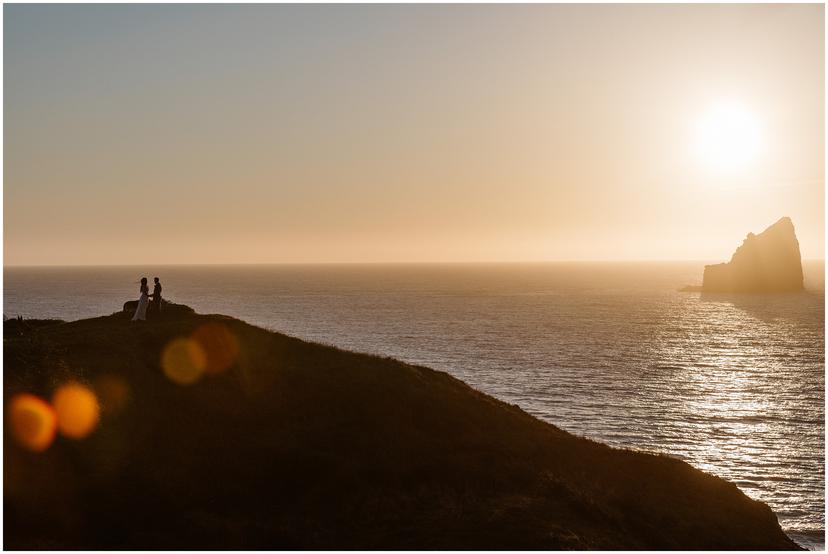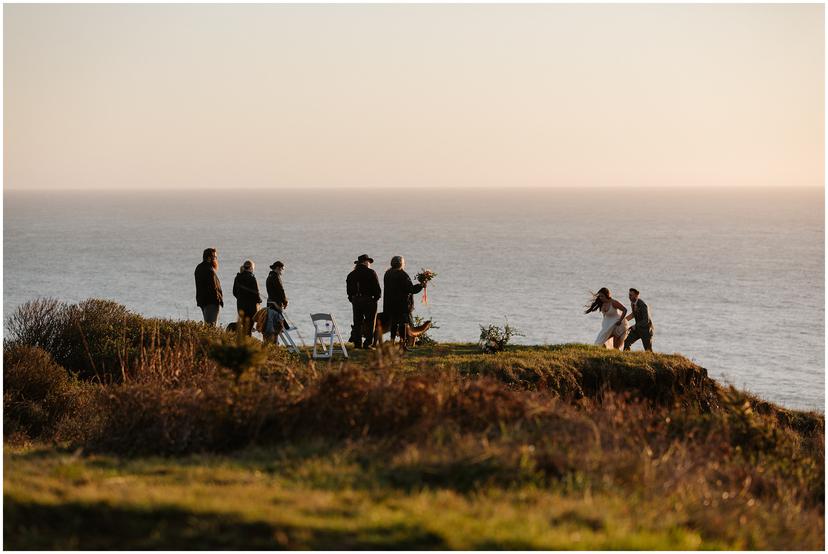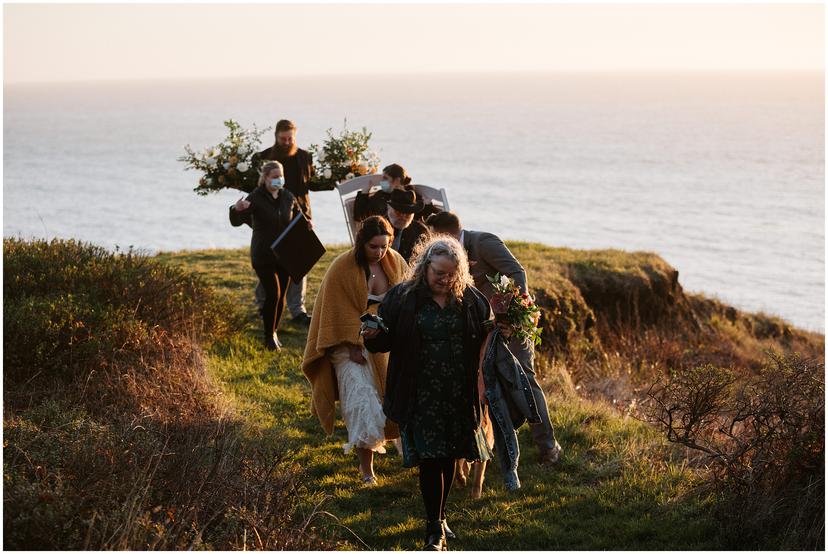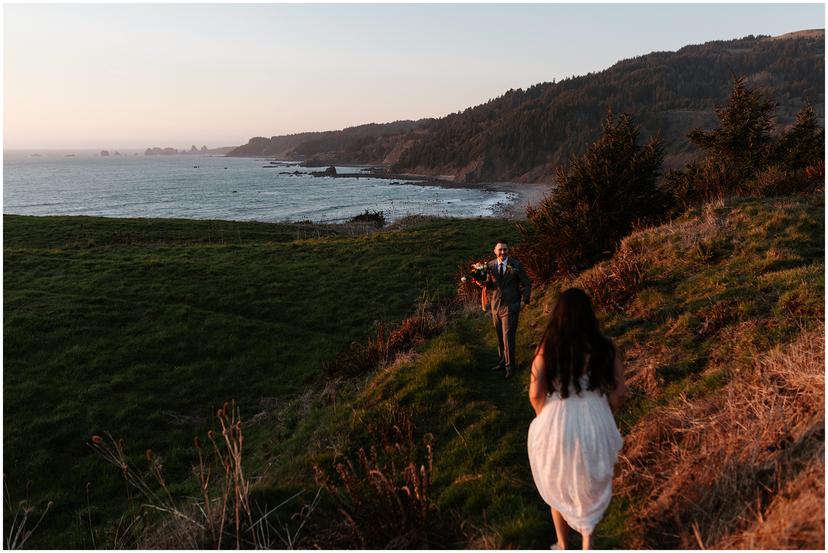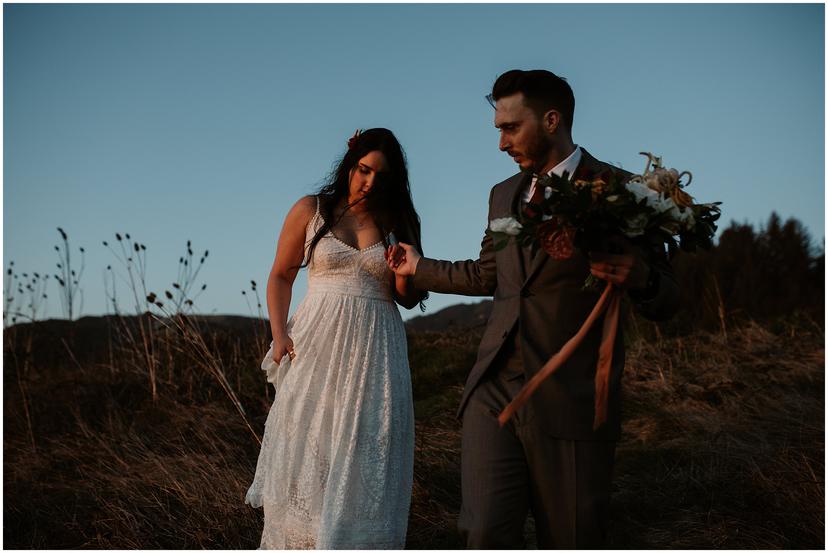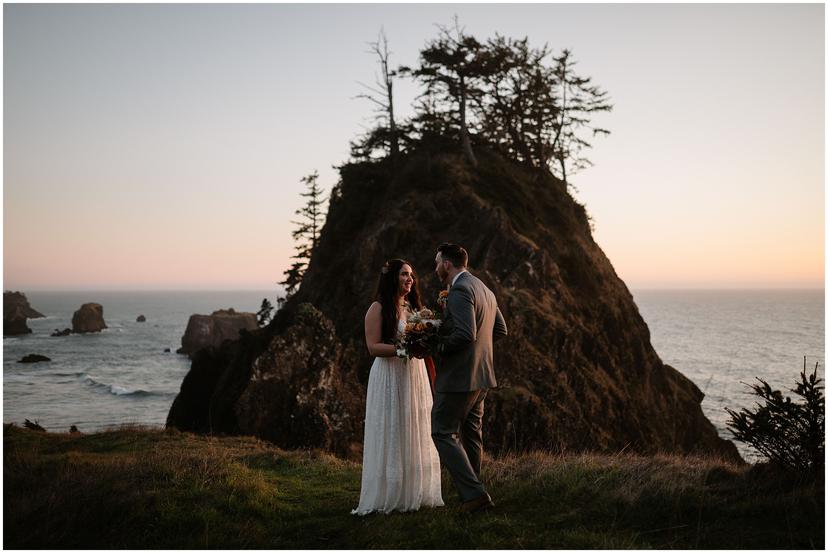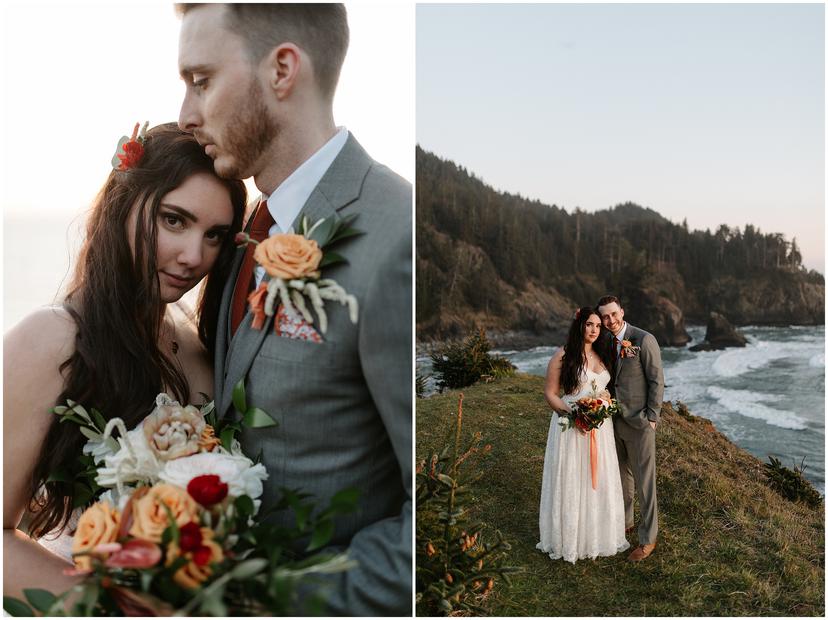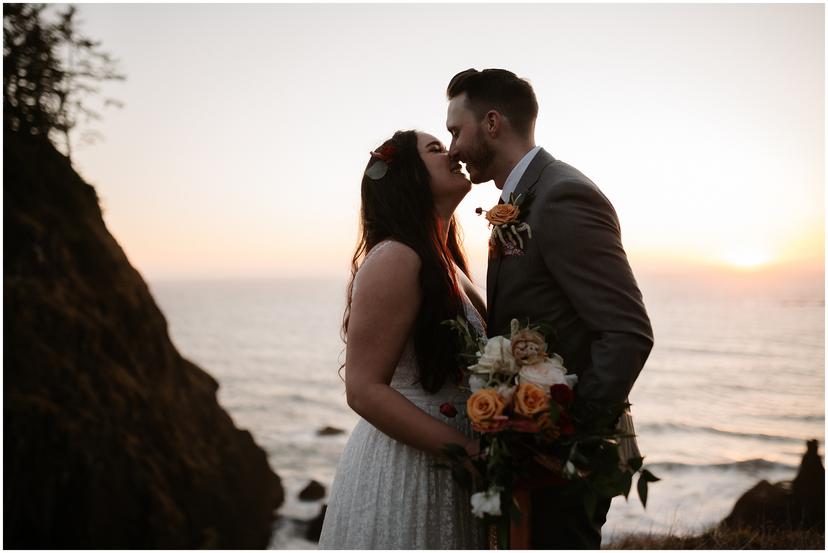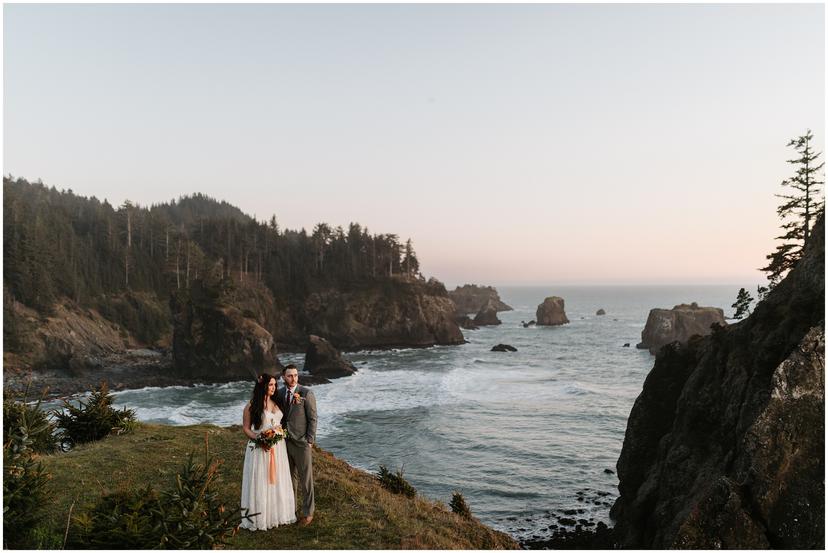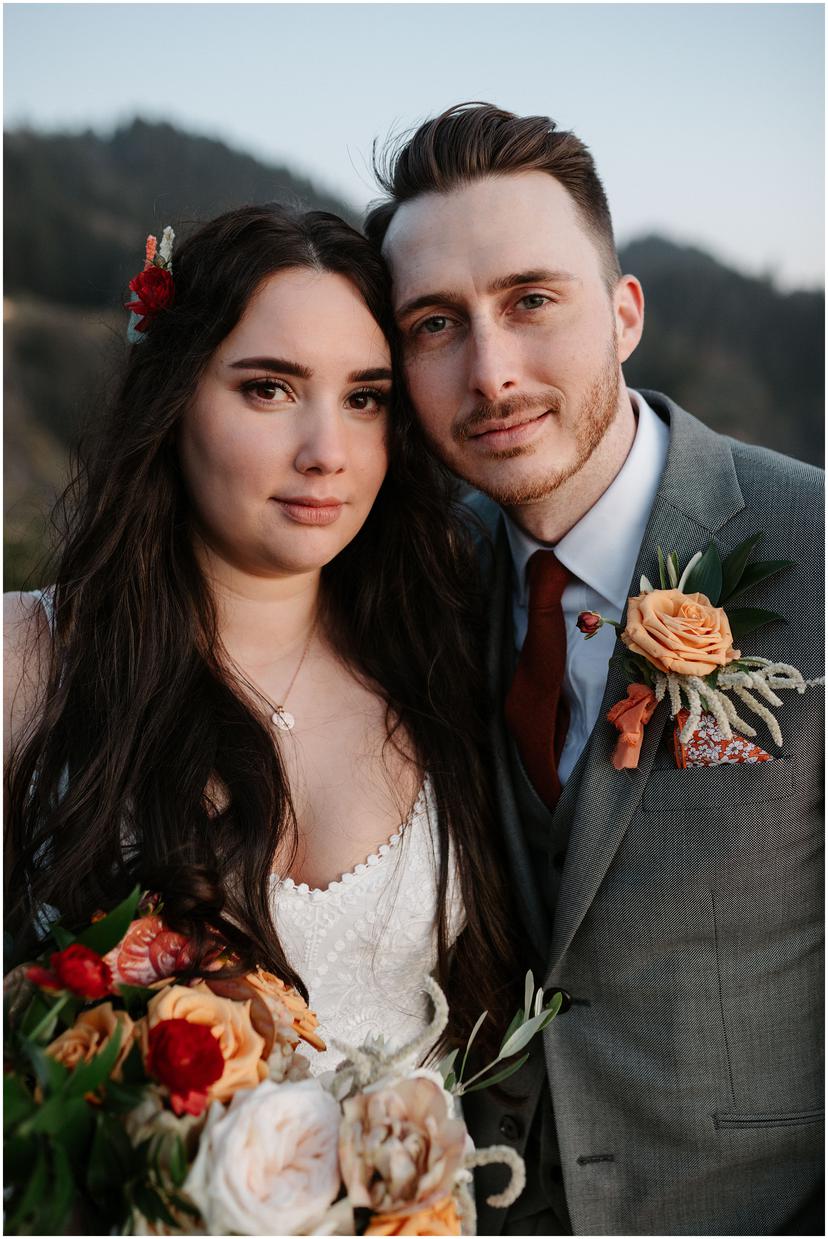 Advice for South Oregon Coast elopements
"Just do what feels right to you and your future partner, regardless of what other want you to do." said Cynthia. "We picked the location with the amenities we wanted and it happened to be in Southern Oregon. I didn't worry about what I thought my wedding was "supposed" to look like, just what felt right. Other than my photographer (you, whose amazing!), I really allowed the wedding planner to suggest vendors and I was really happy with that."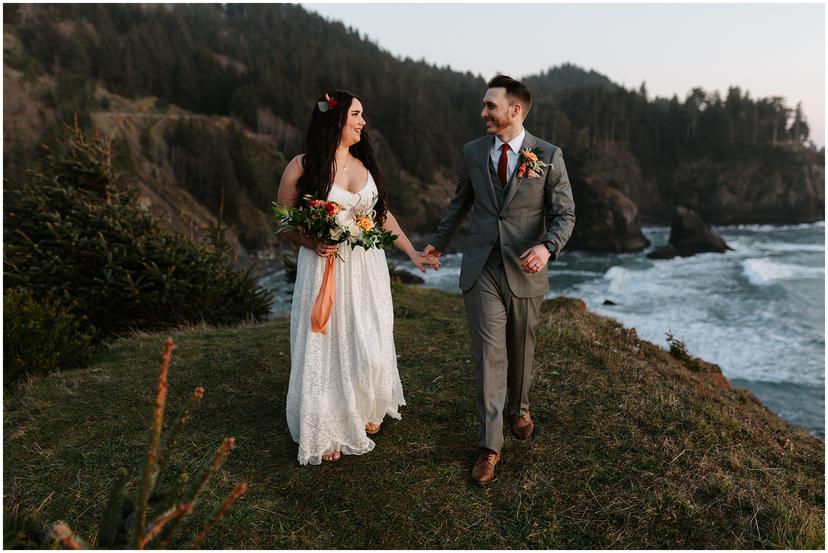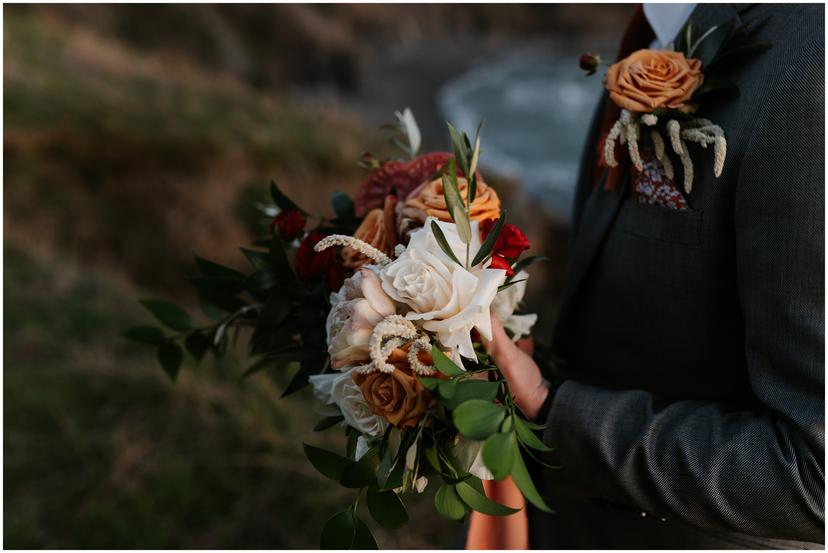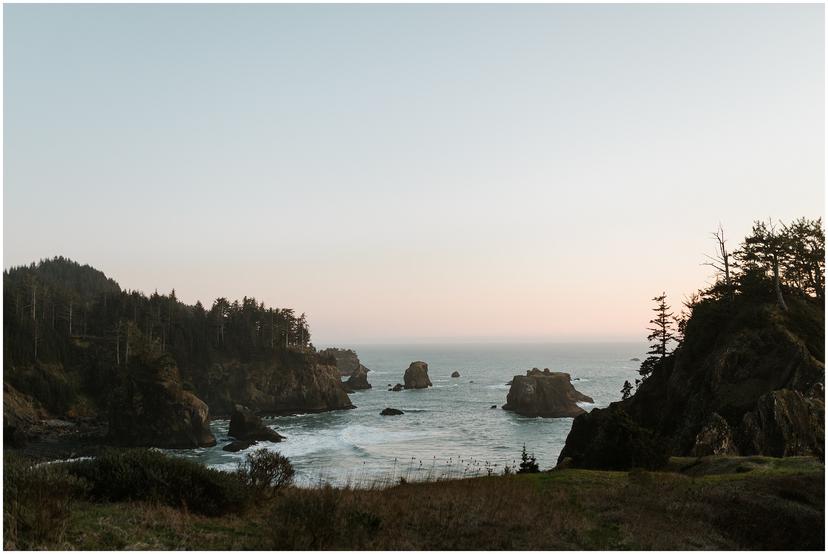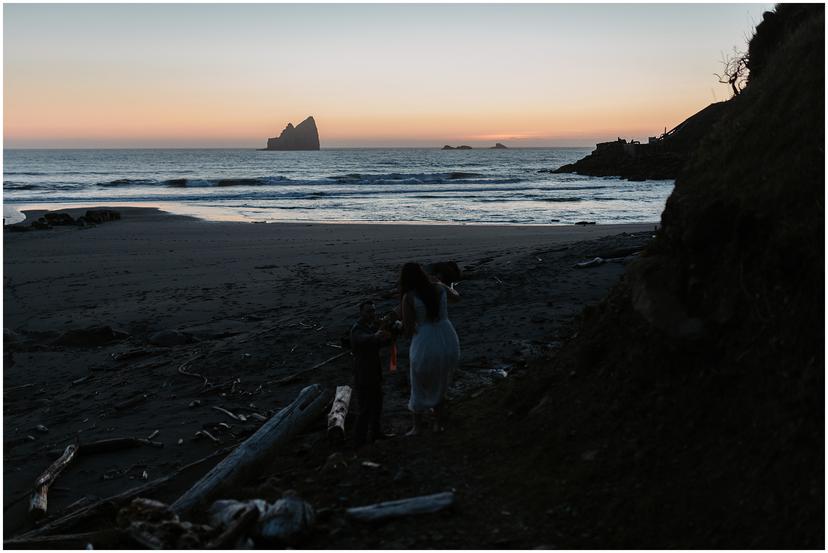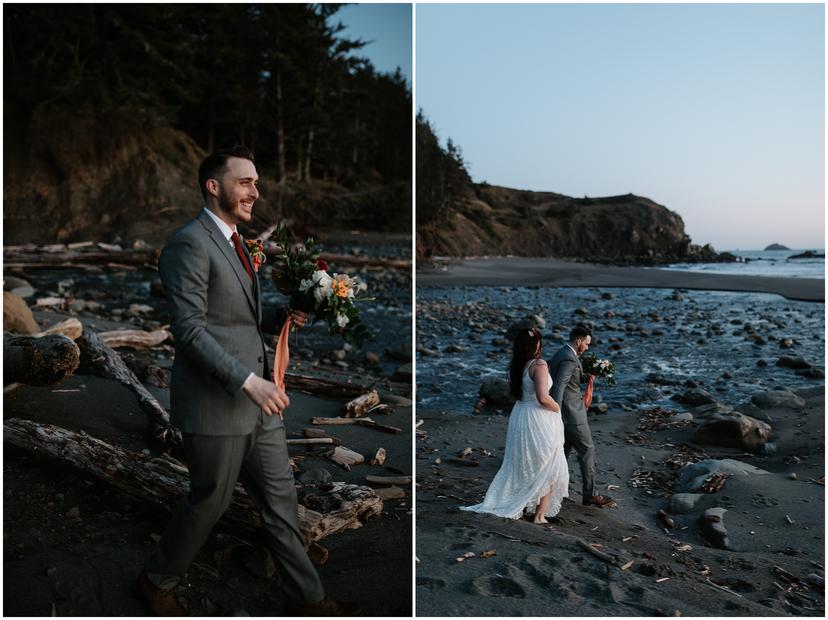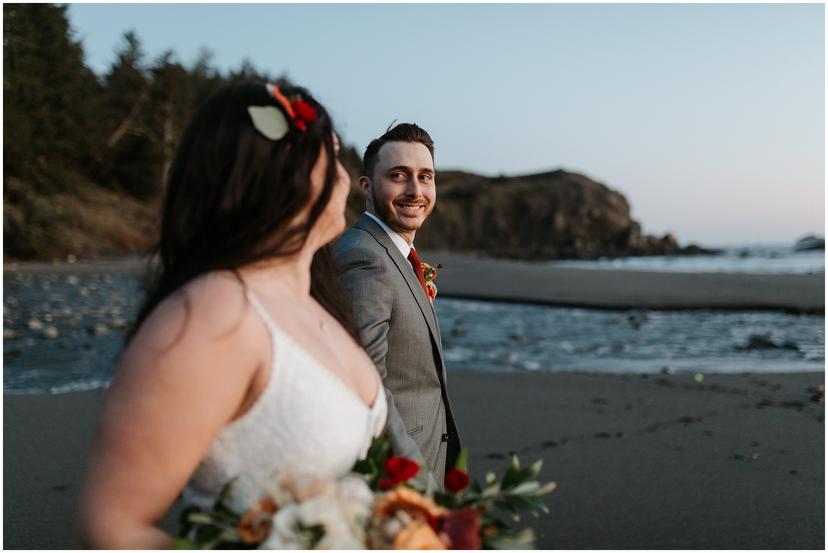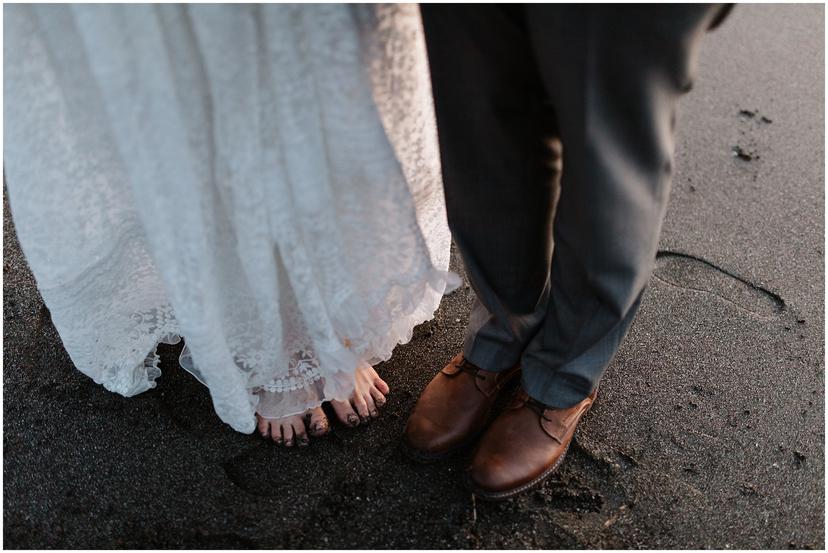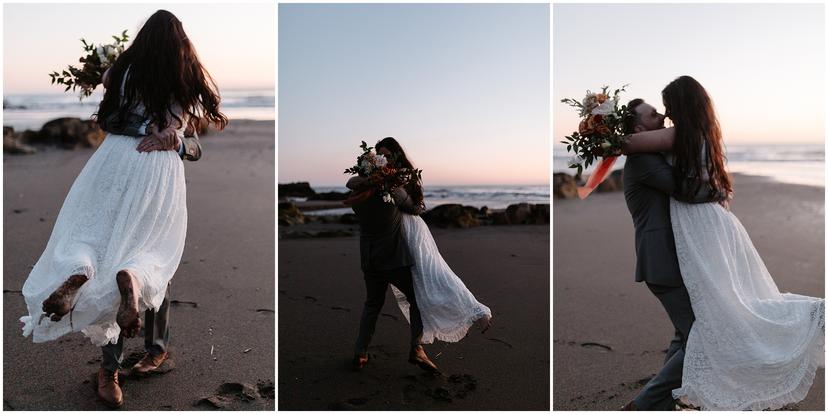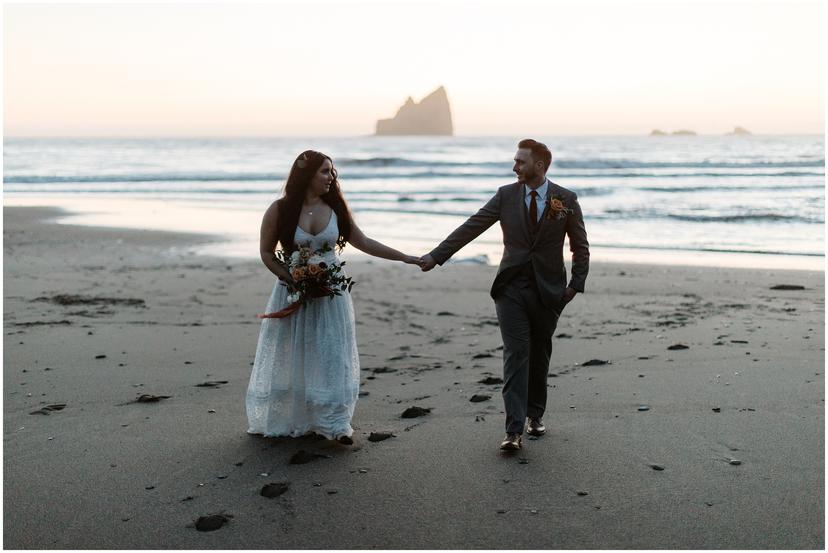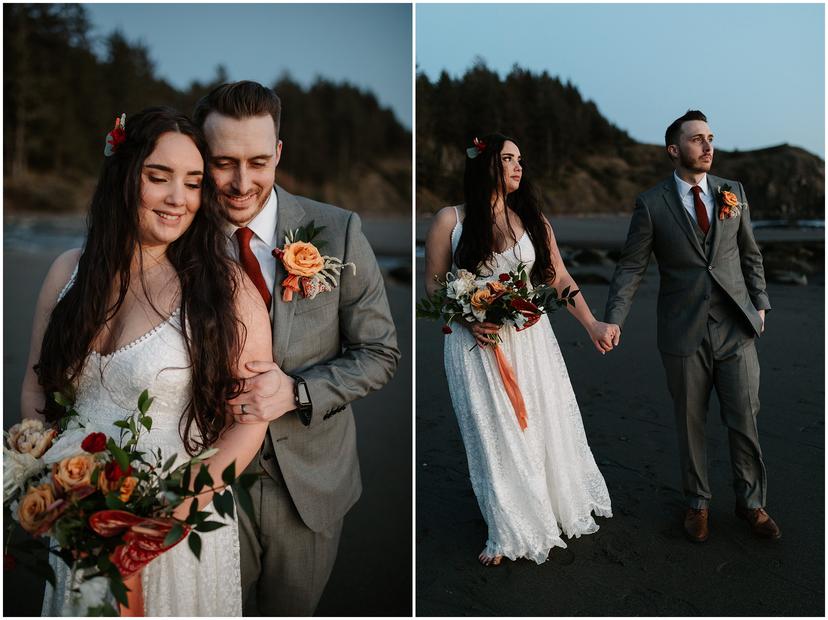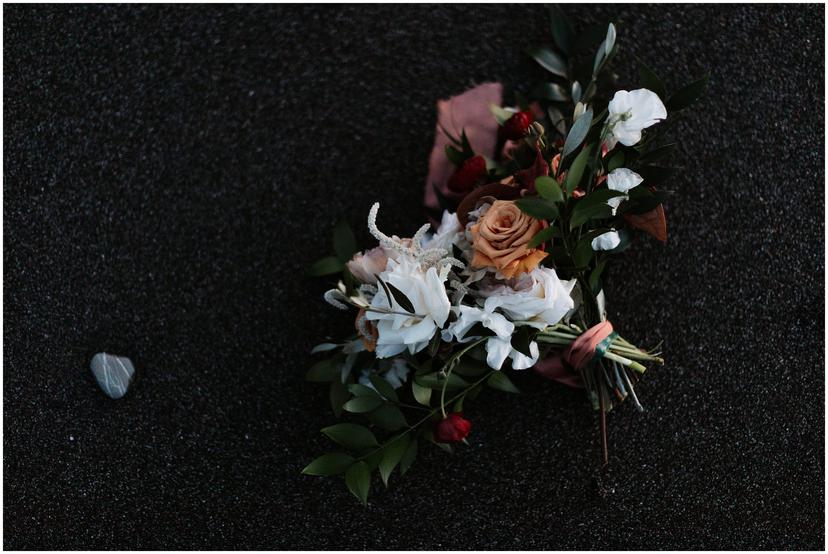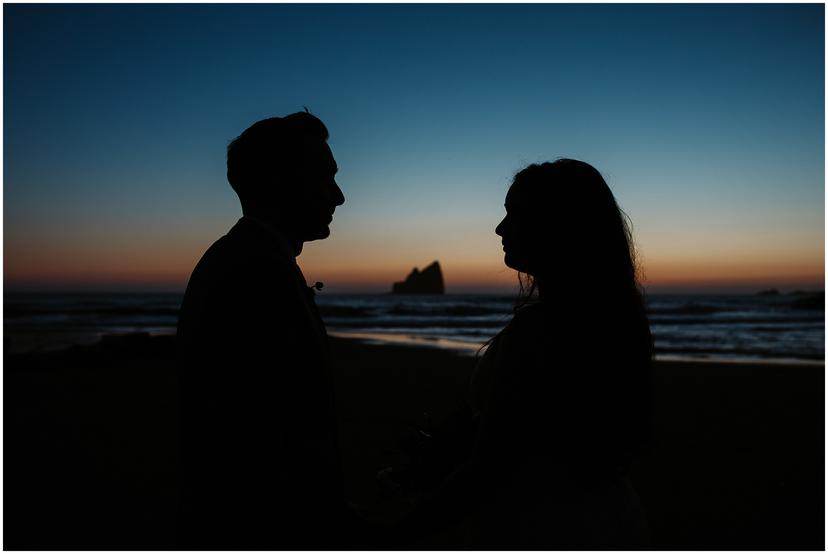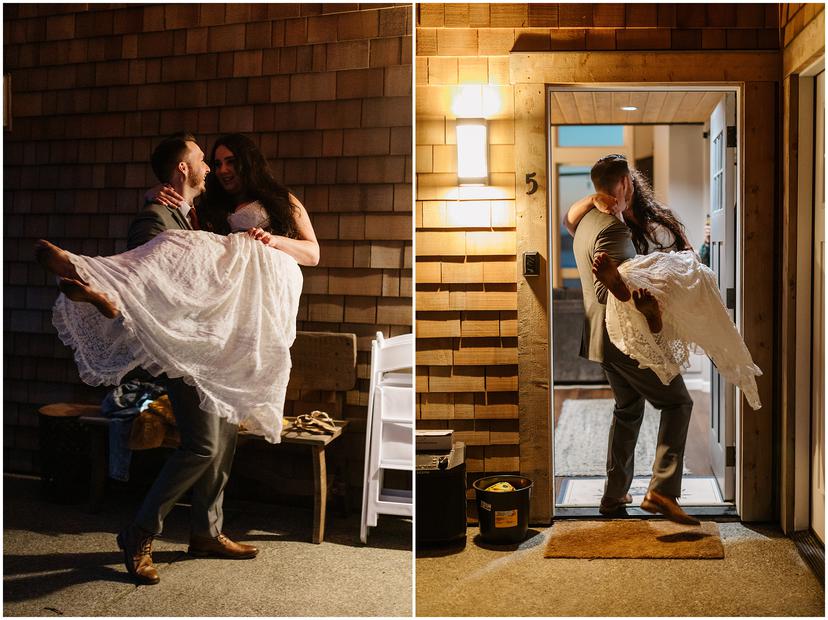 Favorite Crook Point elopement memory
Cynthia: "My favorite memory was the ceremony itself. It was just so special that it was the 4 of us, and it felt so intimate. The way the sun was shining, and the one bird that starting singing so loudly made me feel like my dad was there."
Bobby: "Carrying Cynthia through the door as a married couple with sandy feet."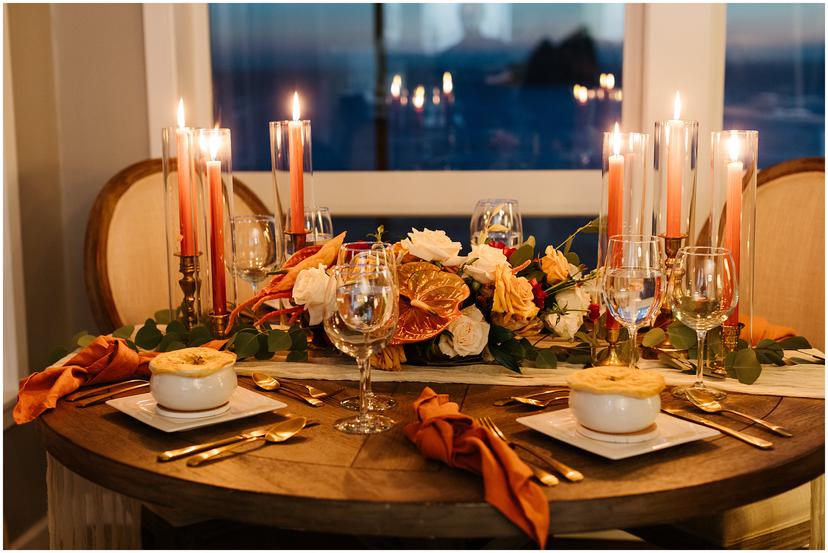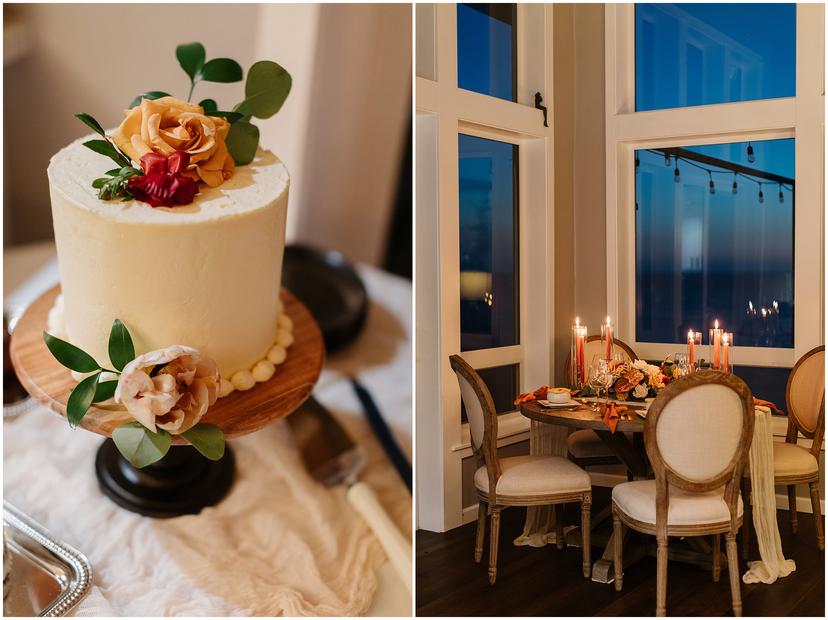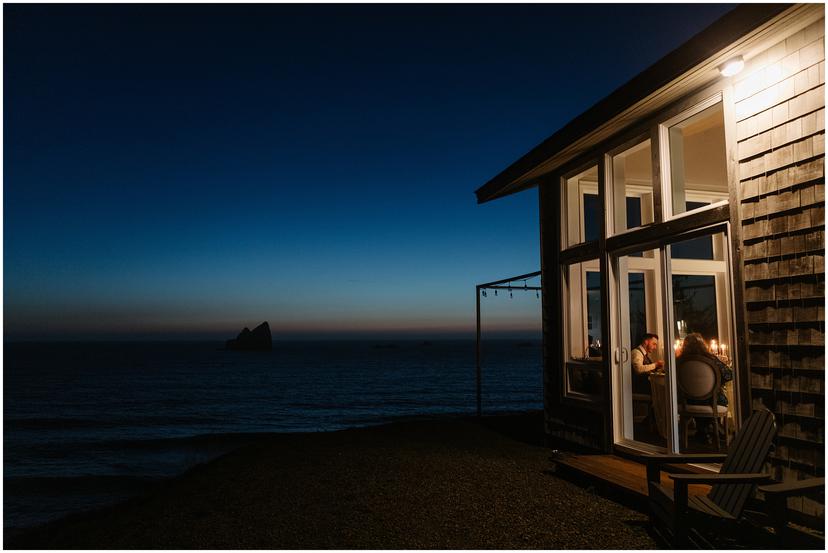 The Vendors
Venue: Crook Point

Planning, design, and coordination: Events with Becca, Inc

Hair and Makeup: Janice Moon Artistry

Catering: Longhorn Catering

Officiant: David Veach

Florist: Freckled Fleurs

Cake: Raven Rose
ANOTHER OREGON COAST ELOPEMENT
READ MORE ABOUT NON-TRADITIONAL WEDDING TIMELINES
CHECK OUT MY REVIEWS ON GOOGLE