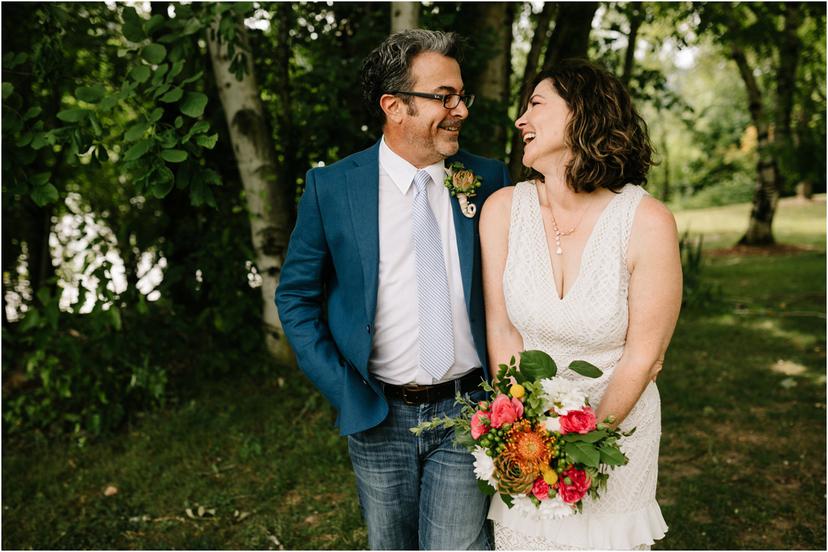 Cathedral Park Wedding
Oh my gosh this Cathedral Park wedding in North Portland was SO FUN. I love working with non-traditional couples and photographing unique Portland weddings that have a strong focus on people and relationships over everything else. Friends and family mean the world to me and I love working with couples who value that too! Eileen and Austin were exactly like that. These two live in the Bay Area, but held the wedding in Portland so that Eileen's mother could be present. When I asked them what three words described their day, they told me "laughter, connection and nature."
Their wedding was laid back with a beautiful non-denominational ceremony connecting them with North, South, East and West and to the earth beneath their feet. Eileen's brother married them and they were wrapped in a beautiful Pendleton blanket afterward as a family tradition. The reception was full of laughter, playful vibes, delicious hot dogs and hamburgers from Bro Dogs Food Cart, goofy dancing and even a few light raindrops despite it being the 4th of July! The beauty of the St. John's bridge made for an epic backdrop for all the fun.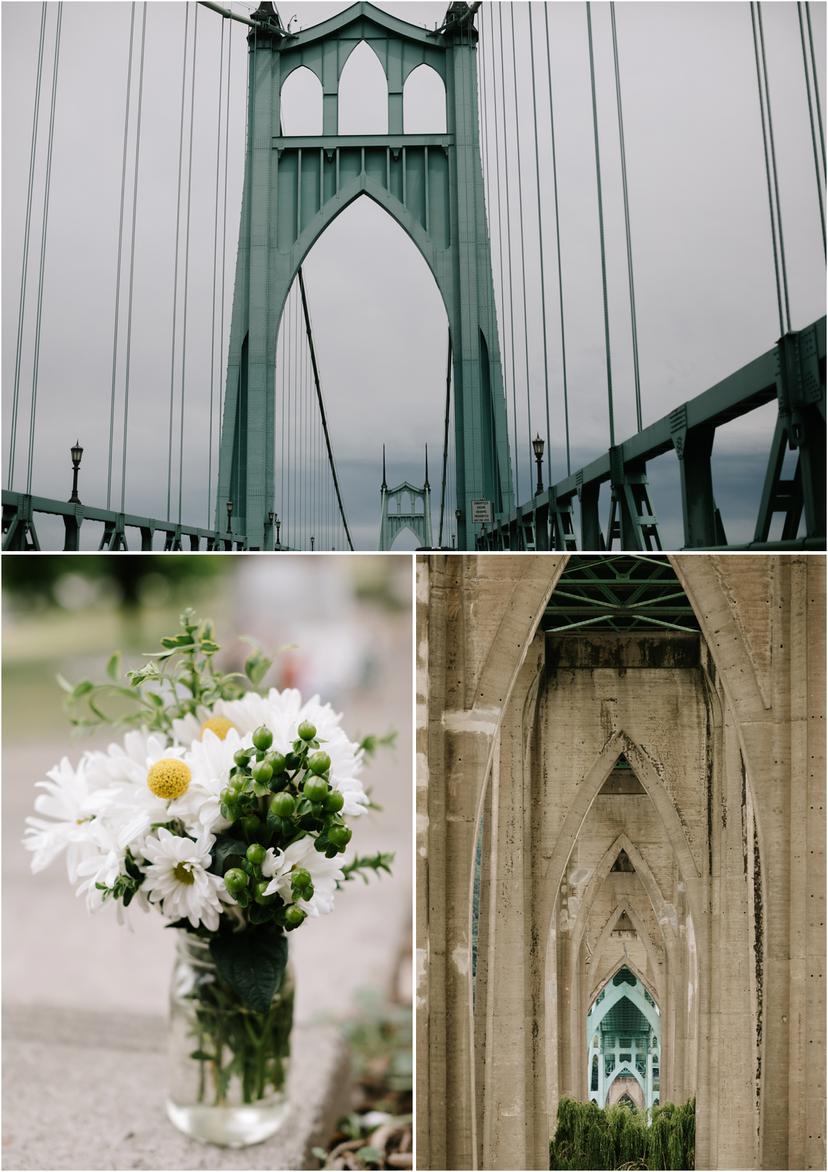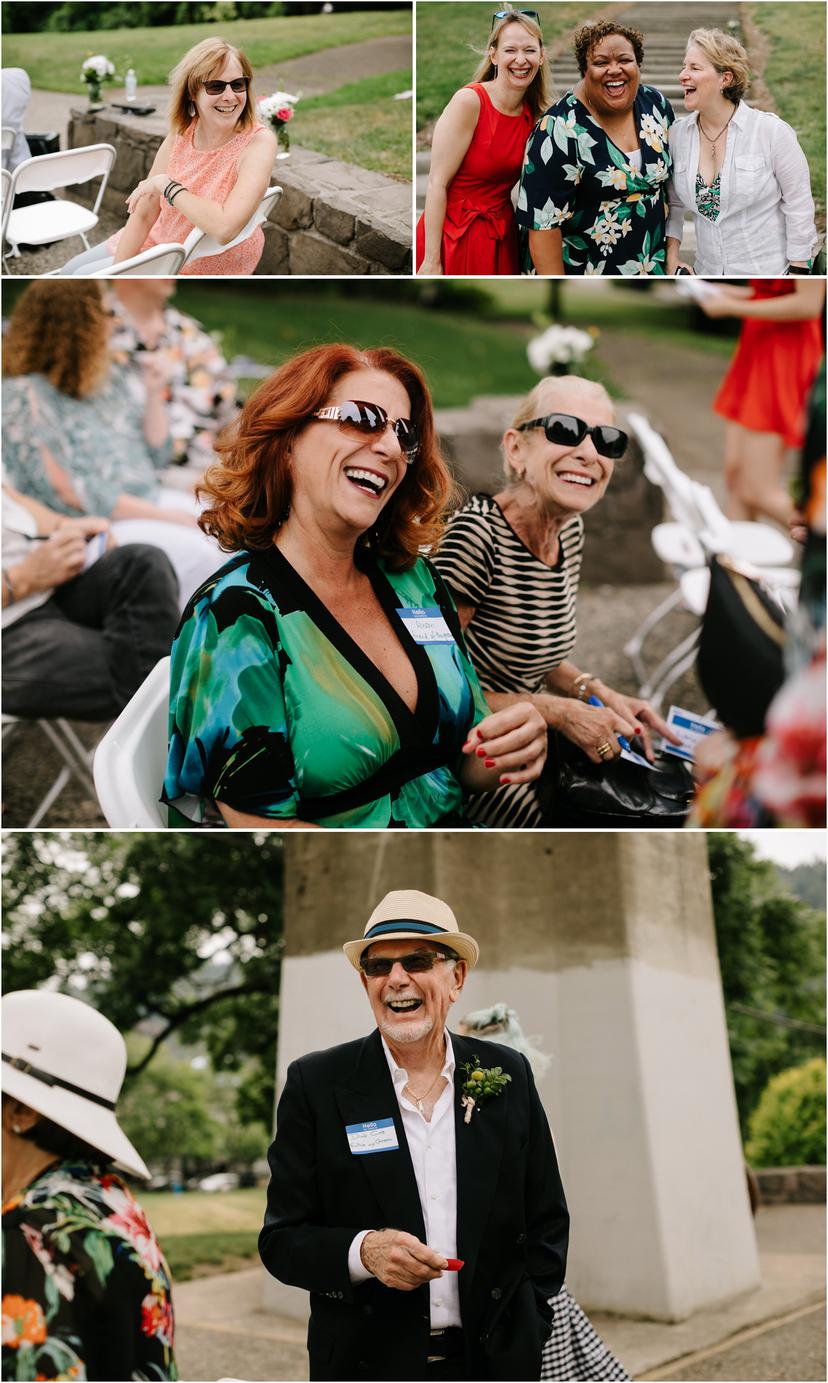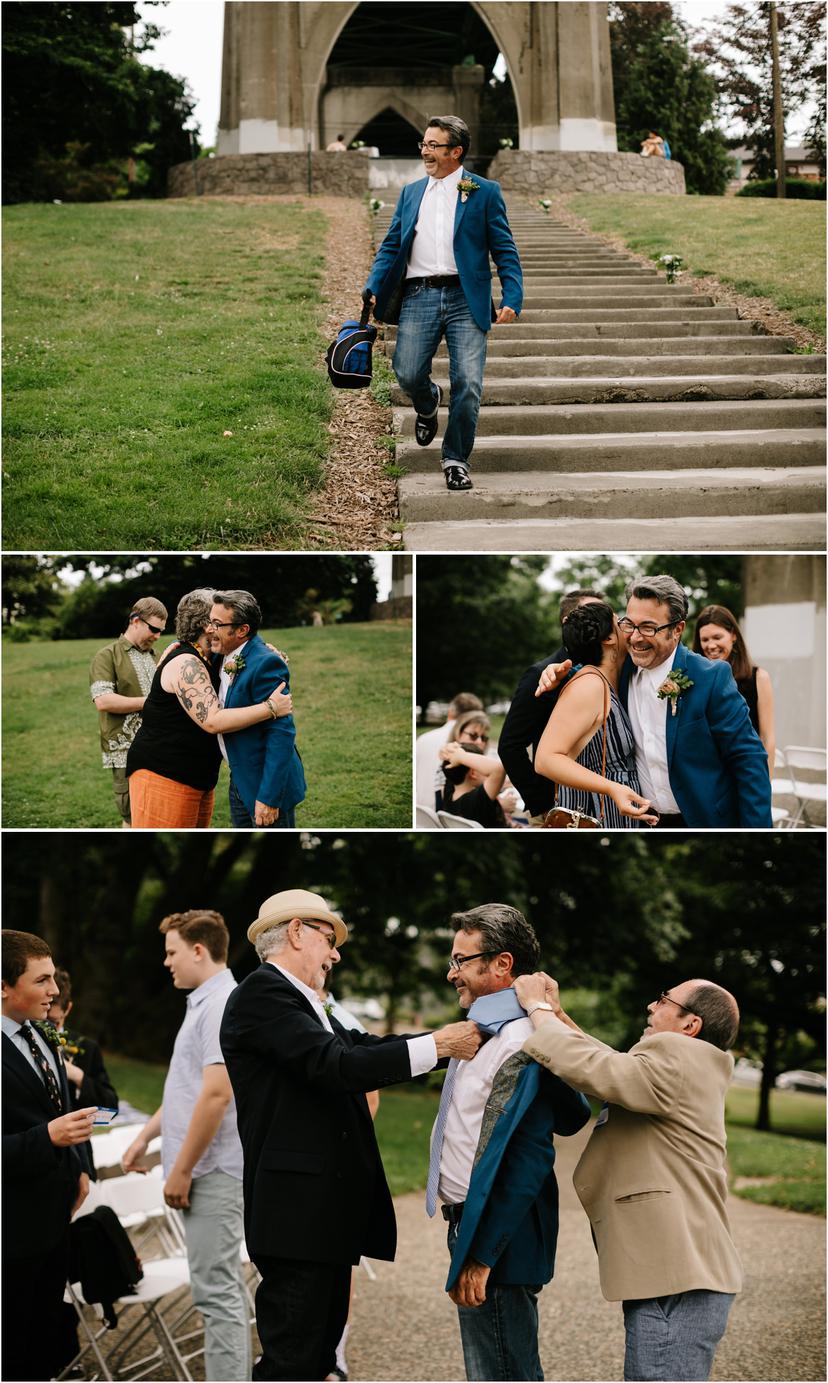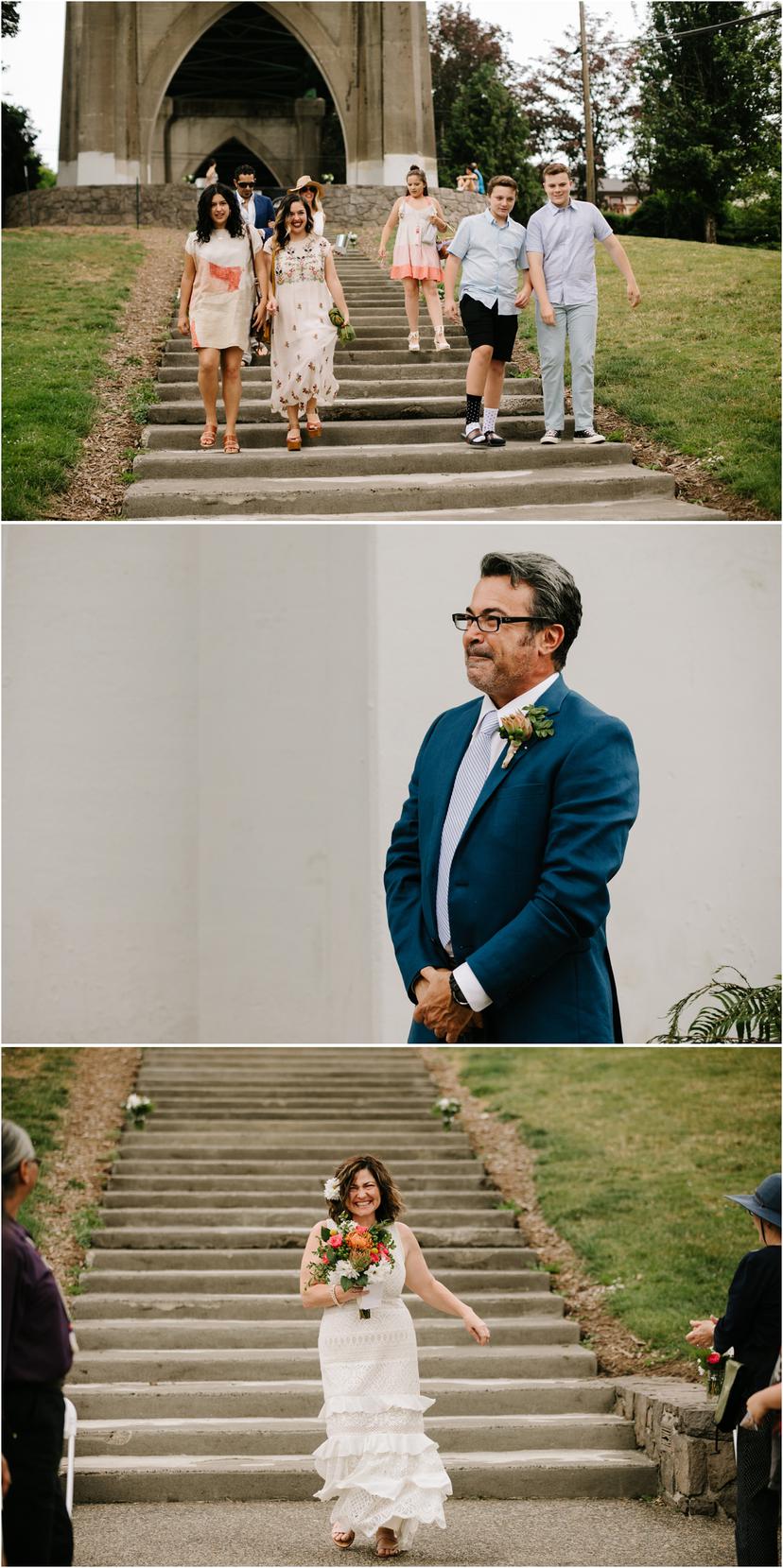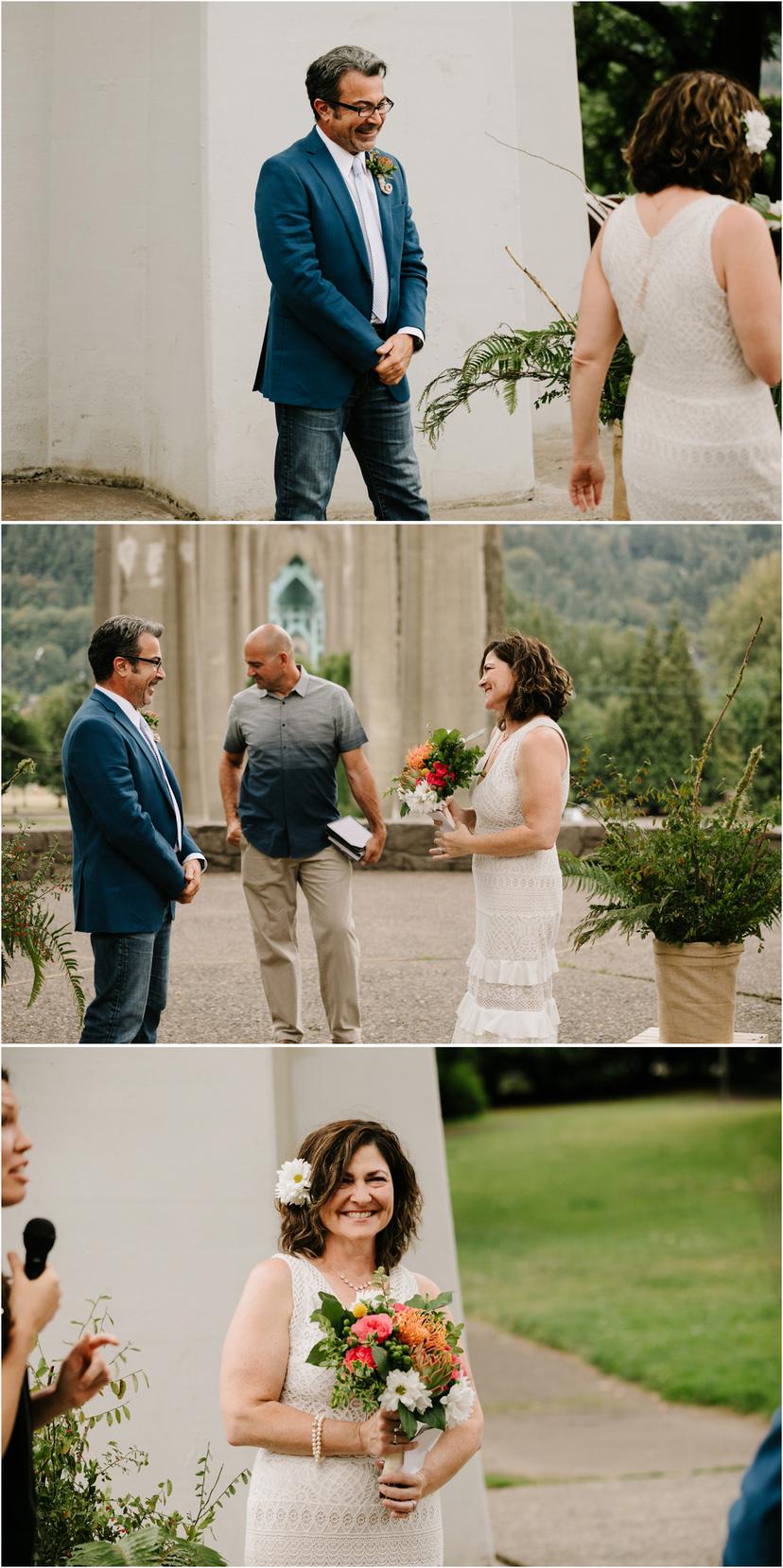 Cathedral Park Wedding Location
Cathedral Parkis in North Portland, in the St. John's neighborhood. The park is directly under the St John's bridge, along the banks of the Willamette River. It's over 21 acres, so it covers a large area. There are many roads into the park, but the main entrance is considered to be on N. Edison Street  and Pittsburg Ave. This is the iconic view - directly under the bridge with concrete stairs and steps symmetrically under the gothic arches. To get to Cathedral Park, you can take highway 30 across the St. John's bridge, or drive through North Portland. It typically takes 15 minutes to drive to Cathedral Park from downtown Portland, and 30 minutes to get there from the Portland Airport.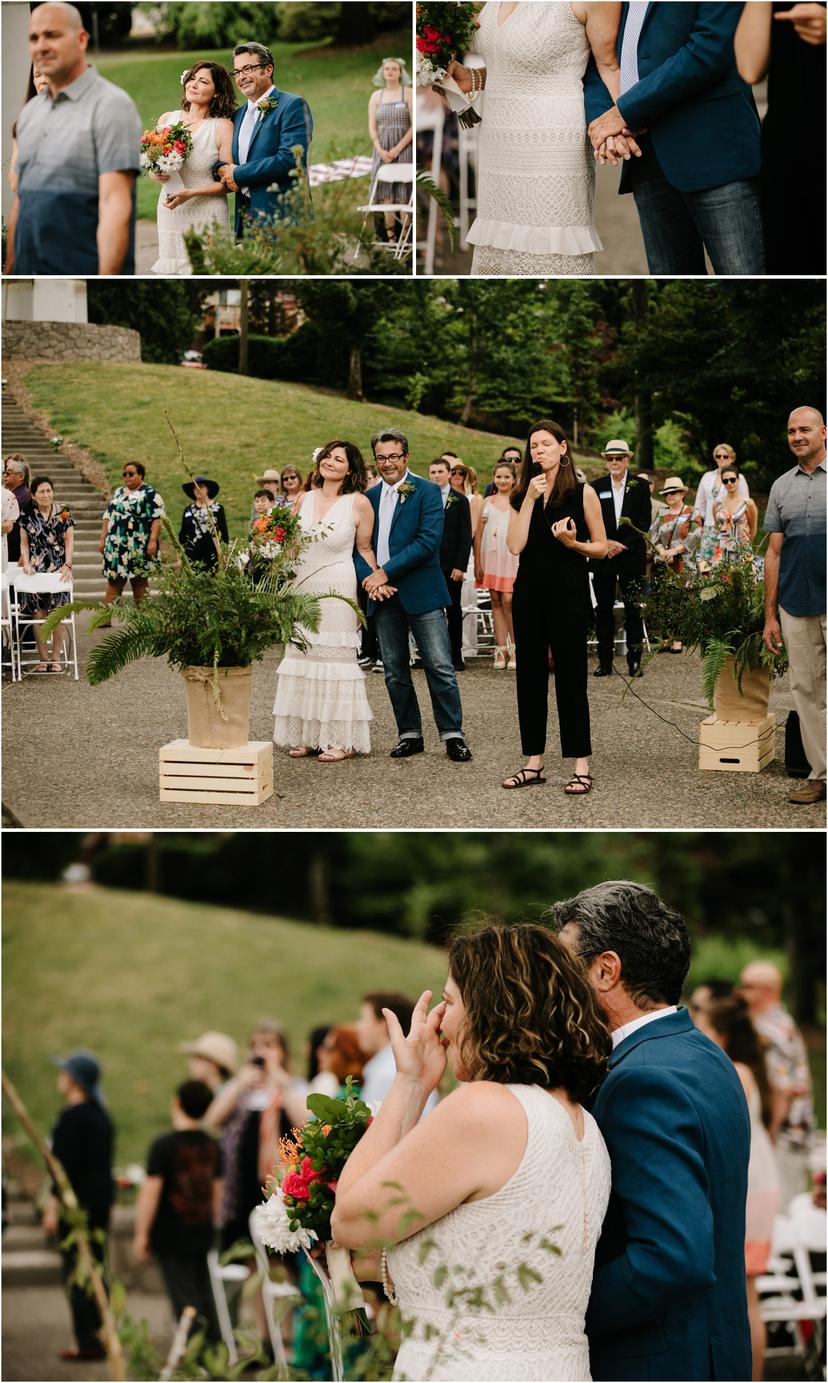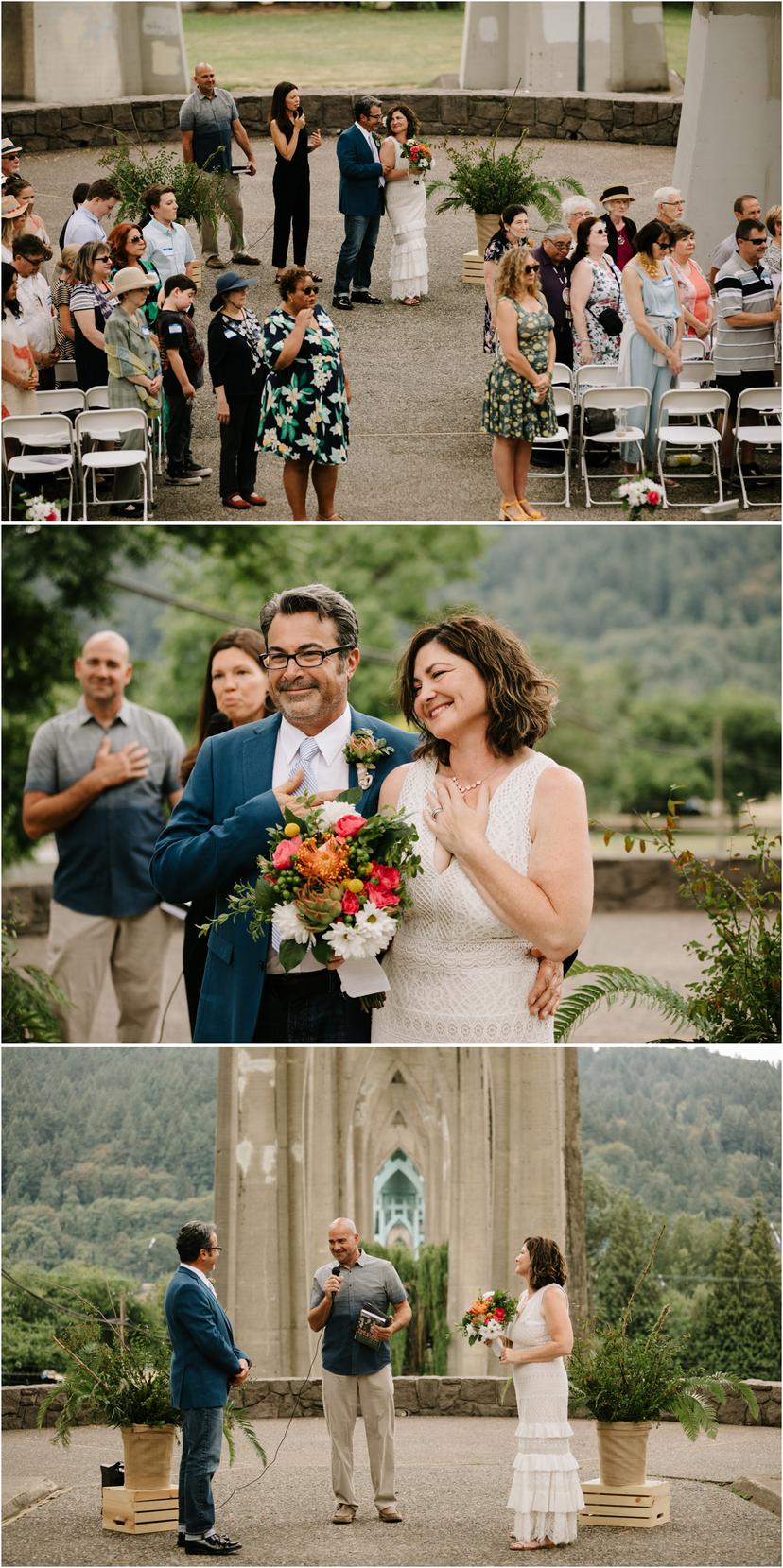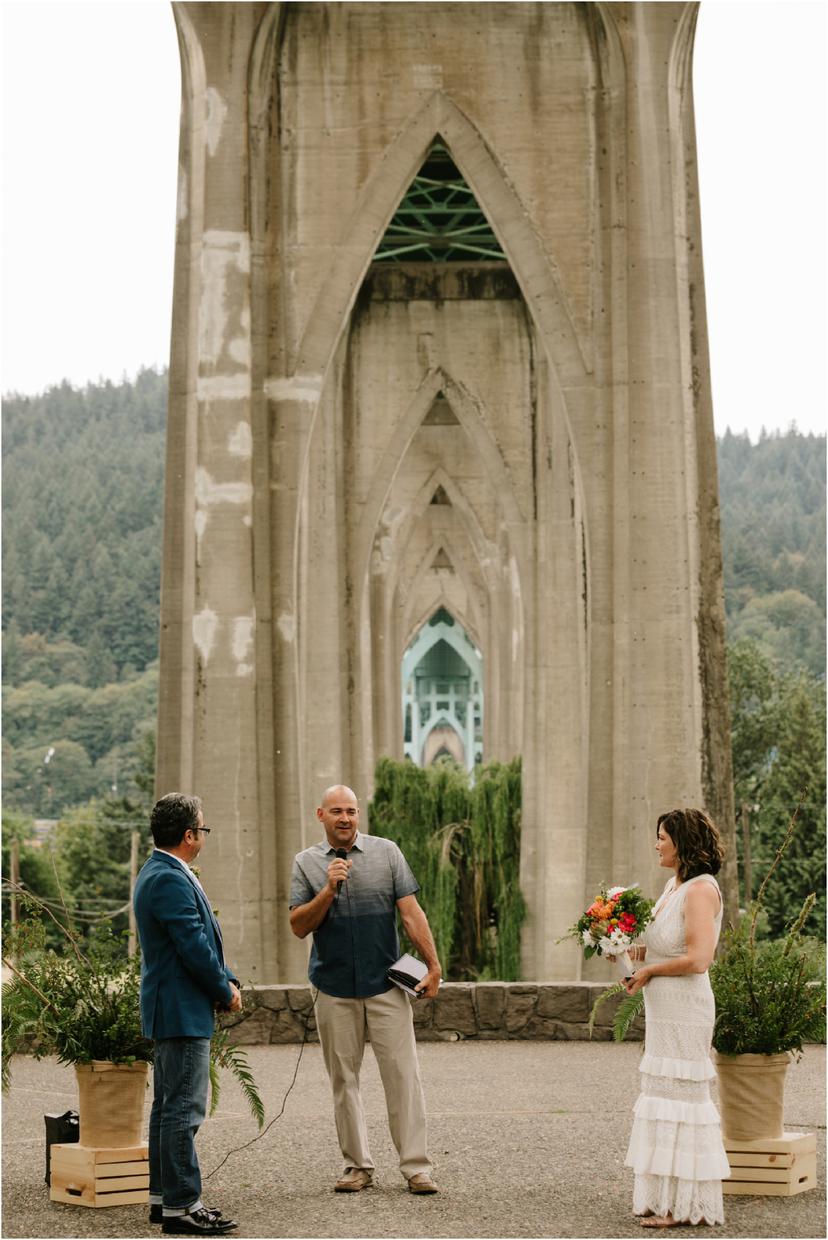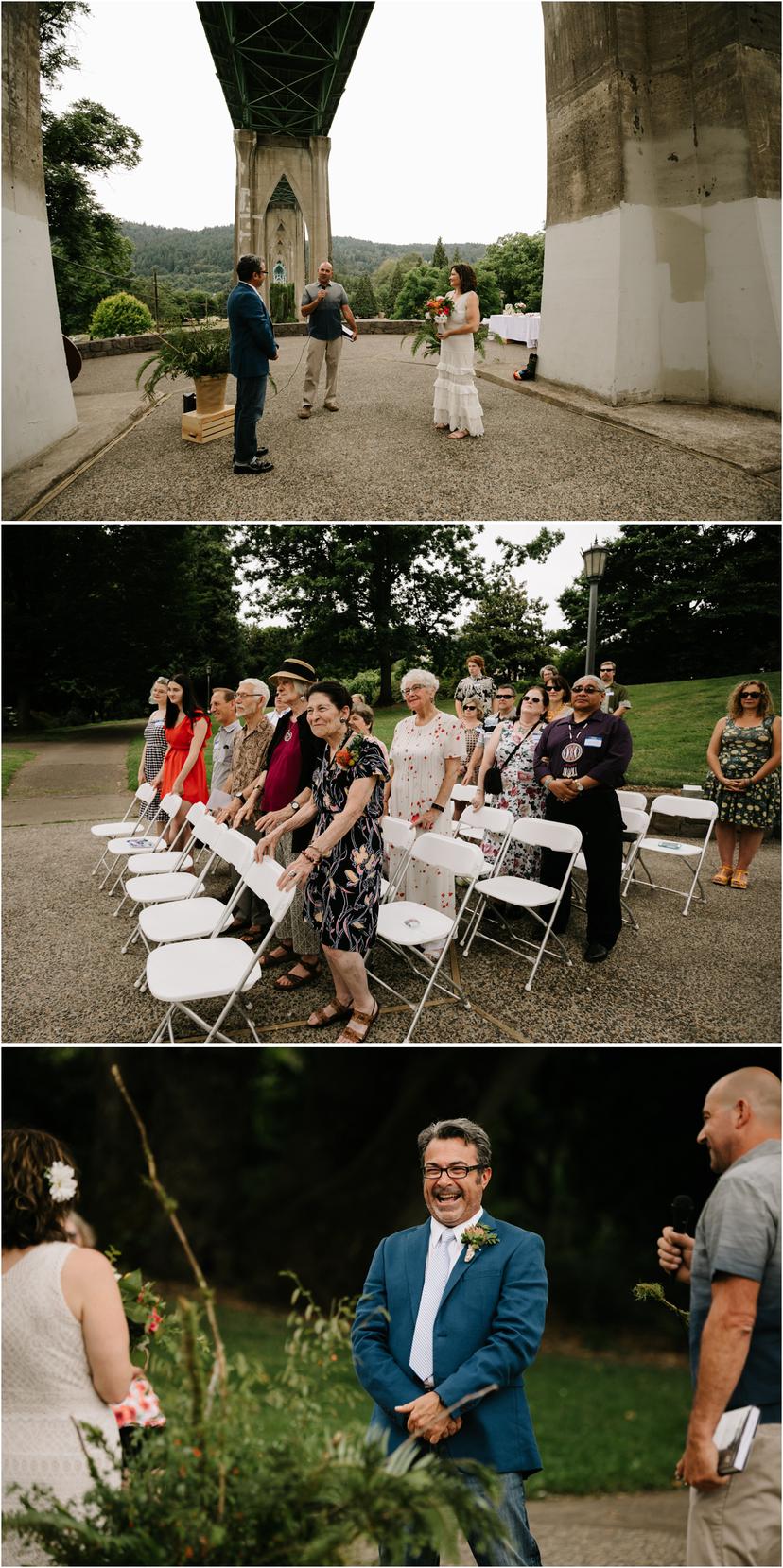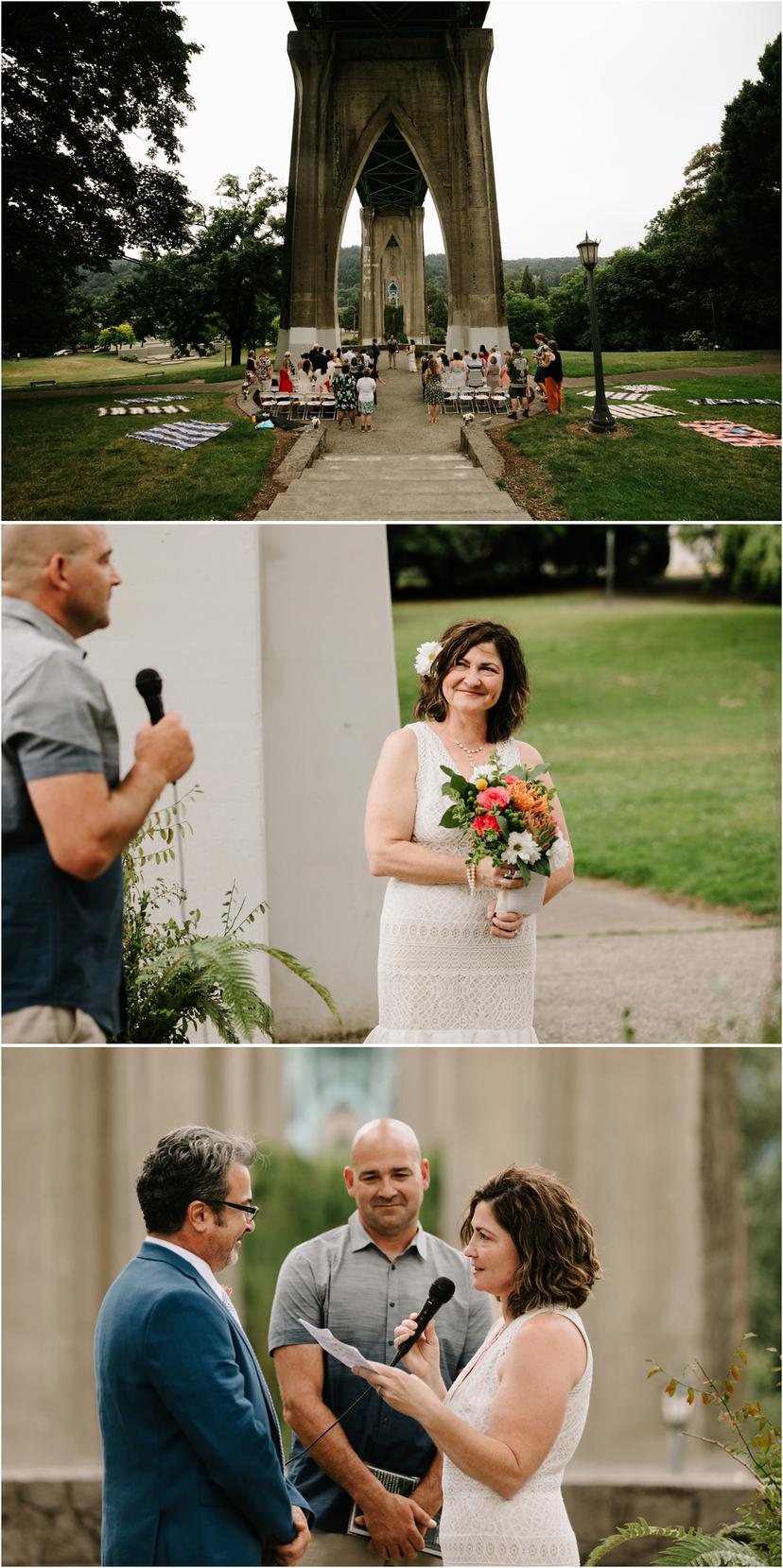 Their story
Like many people these days, Eileen and Austin met online on Match. Early in their relationship they took a weekend away together and Austin casually joked that "he would marry the shit outta her." He also joked that when he asked her to marry him, he wanted her to be eating pie. Naturally, when November last year rolled around, there was pie. Lots of pie. And as Eileen was eating a piece, Austin used those exact words to propose. It was quirky and perfectly them. I've said this before and I'm sure I'll say it again, but I LOVE working with couples who aren't afraid to be themselves. I'm all about making your wedding day EXACTLY what you want it to be.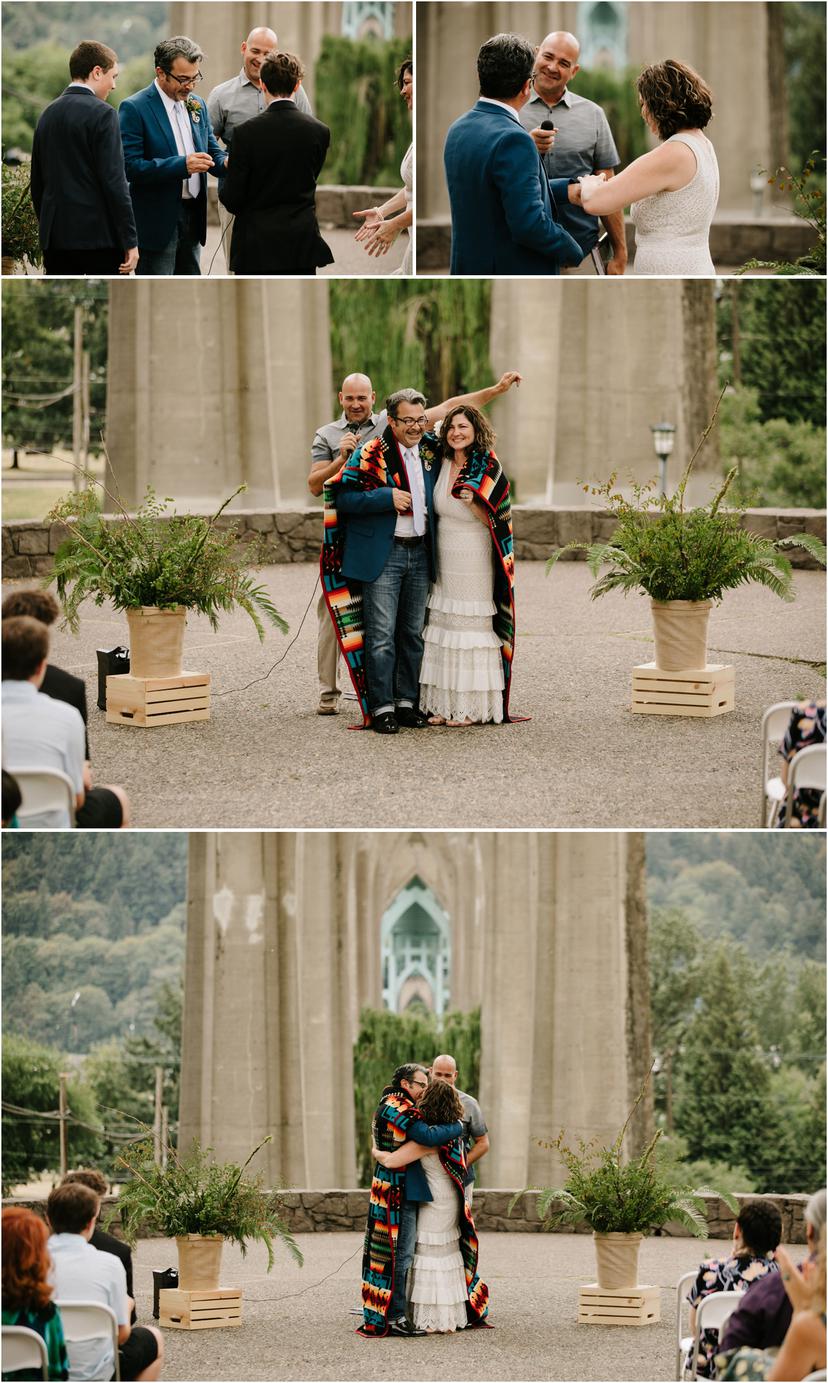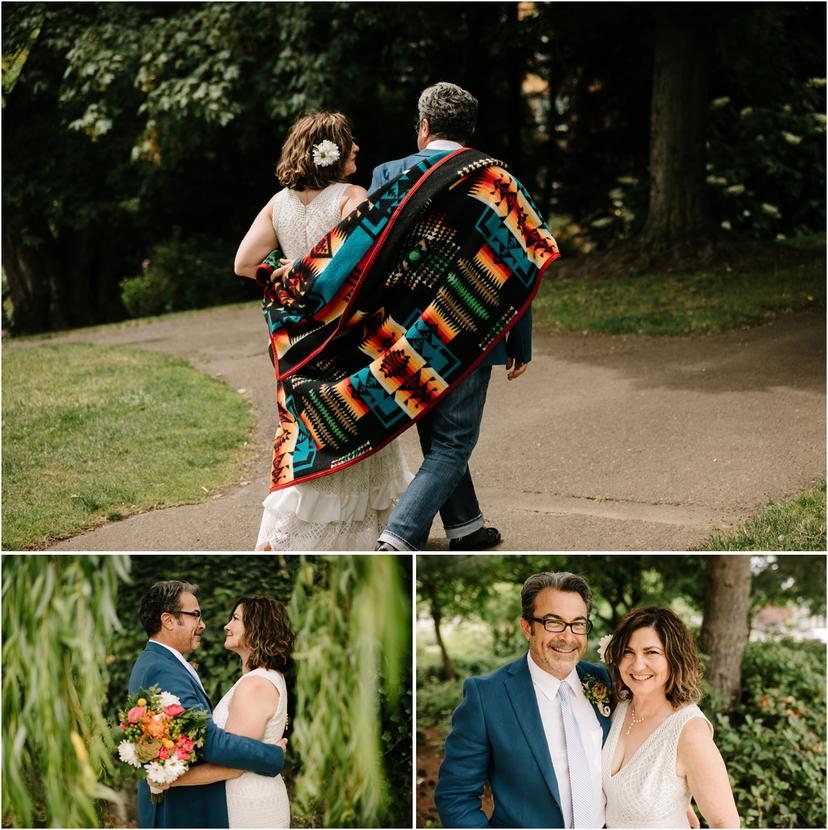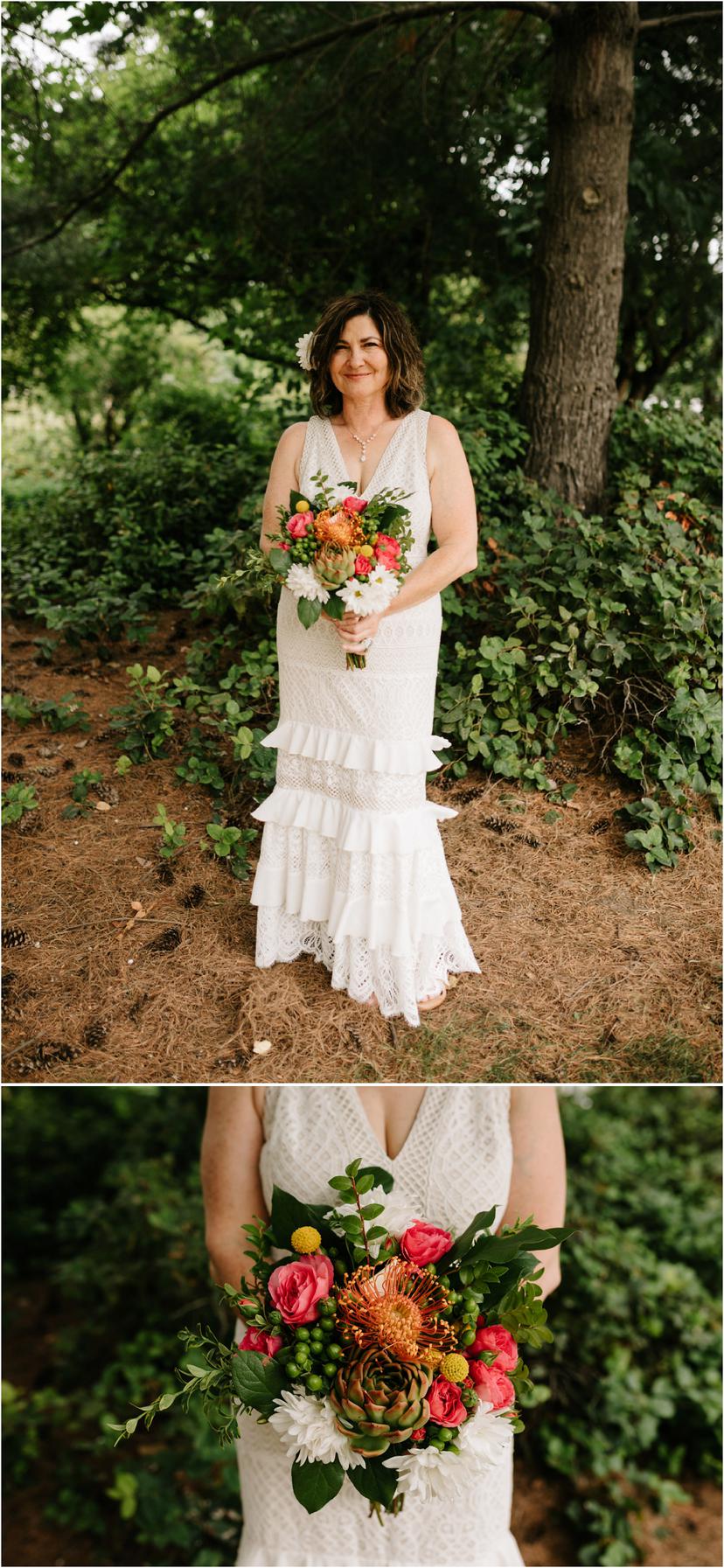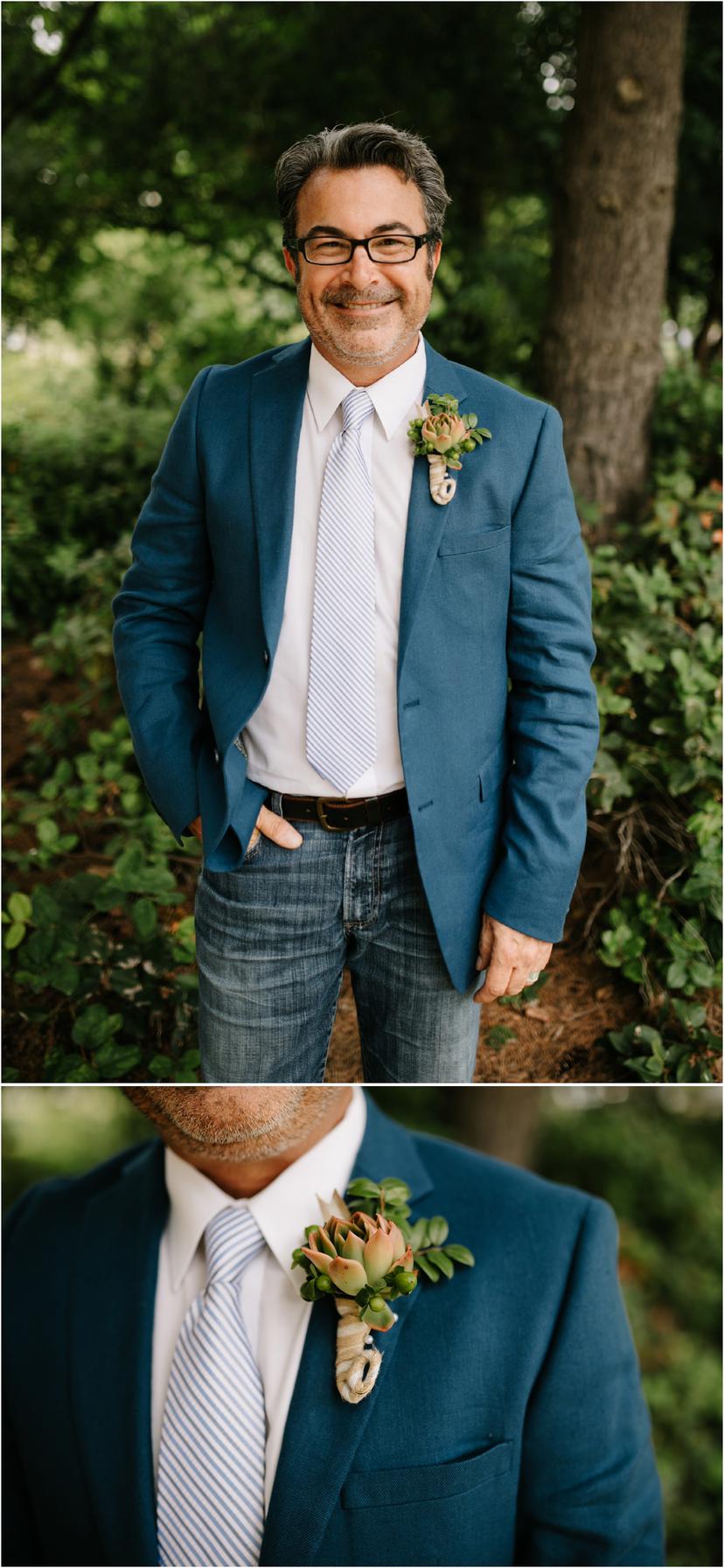 Cathedral Park History
Cathedral Park got its name from the gothic arches of the St. John's Bridge. When you stand directly under the bridge, the arches resemble a soaring, open-air, cathedral ceiling. The St. John's bridge is unique in a lot of ways, which is the main allure to Cathedral Park. The bridge was designed by David B Steinman and first opened in 1931 (source). When it was built, it was the longest suspension bridge on the west side of the Mississippi River. It's still the only major suspension bridge in the Willamette Valley, and is the tallest bridge in Portland (source).
Historically, the site for the St. John's bridge and Cathedral Park was a popular location for the local Kalapuya and Clackamas tribes to hunt and fish (source). On April 2, 1806, William Clark and eight men camped there, designating this place as one of the 14 landing sites for Lewis and Clark in the Portland and Vancouver areas (source).
After the bridge was constructed, the area underneath sat unoccupied as a junkyard for 50 years. Finally, the unofficial mayor of St. Johns, Howard Galbraith, decided it would be an ideal location for a park. He worked for 8 years to raise $7.5 million dollars to build the park. It opened in 1980 and has been the home to many festivals, events and weddings since then (source).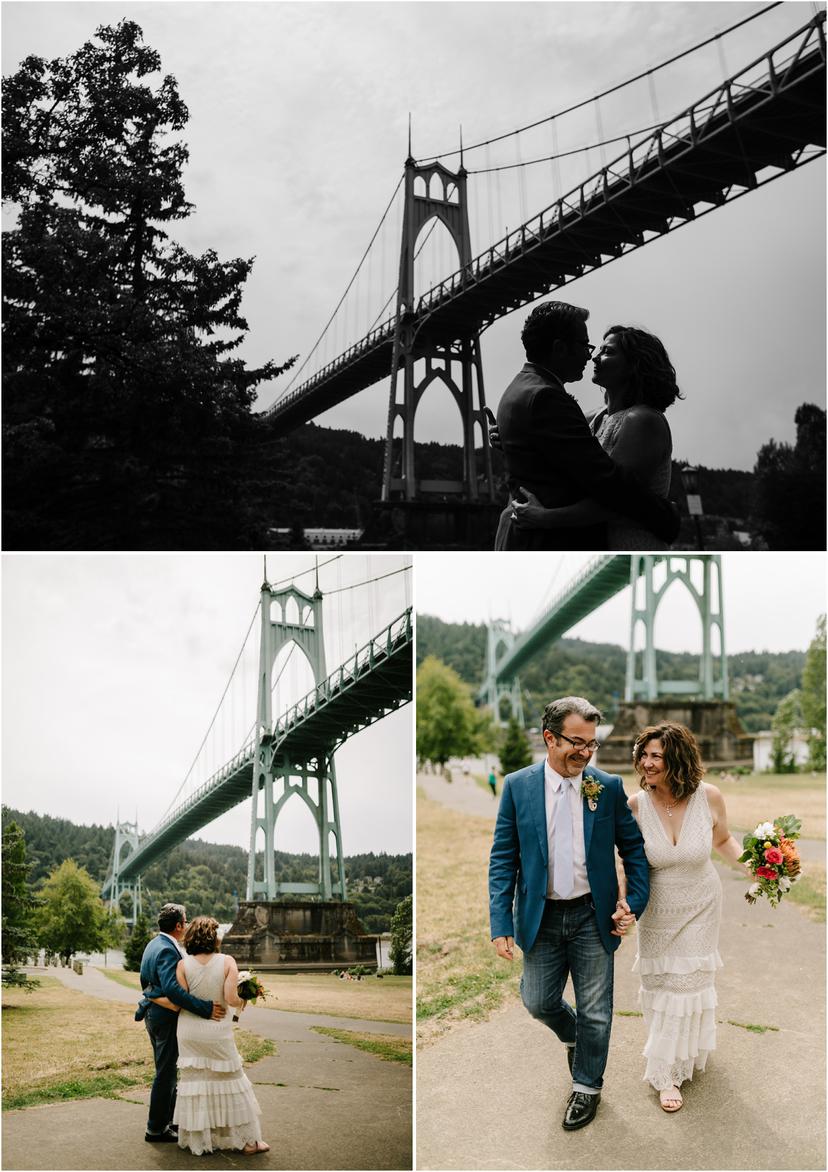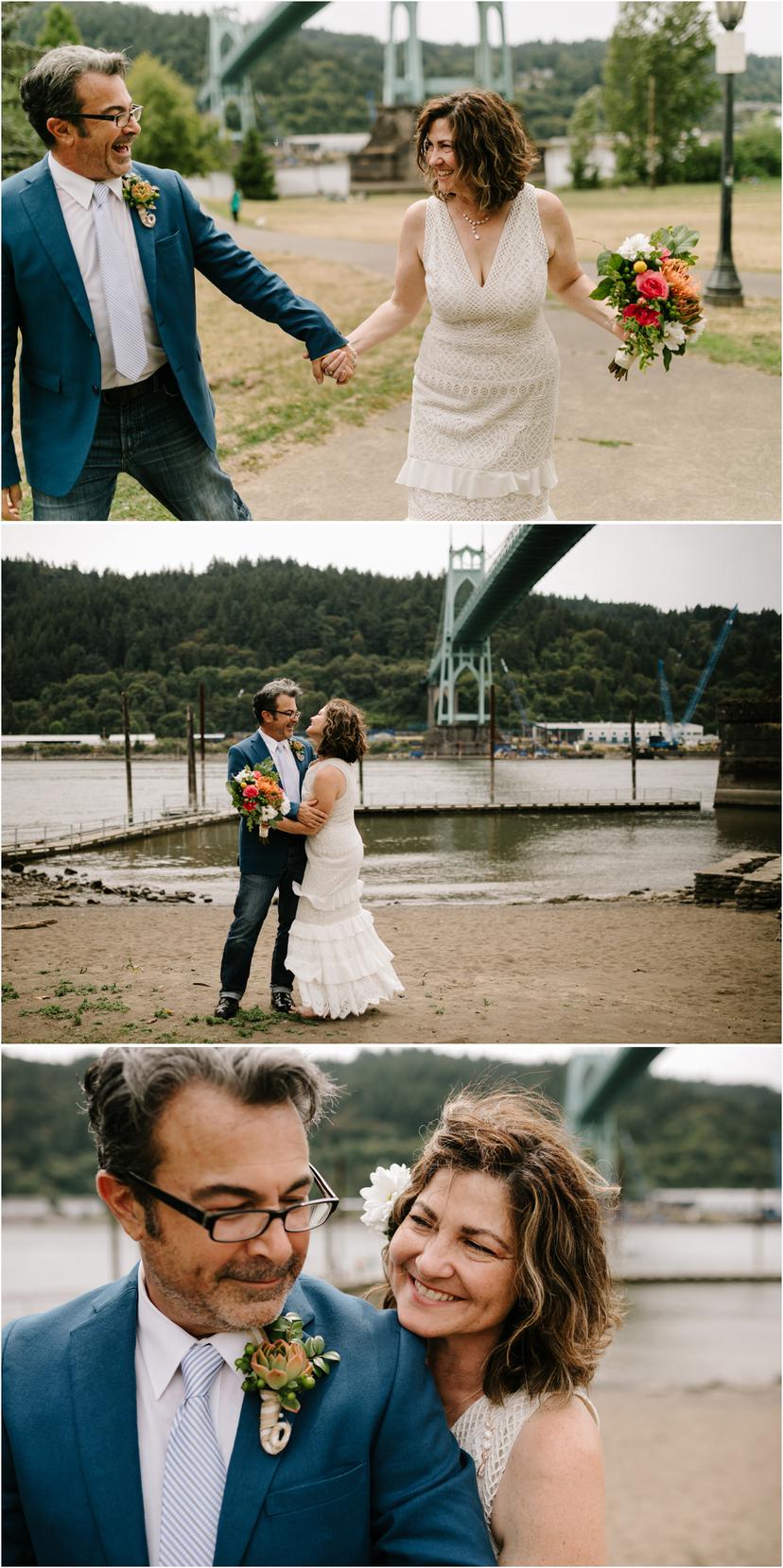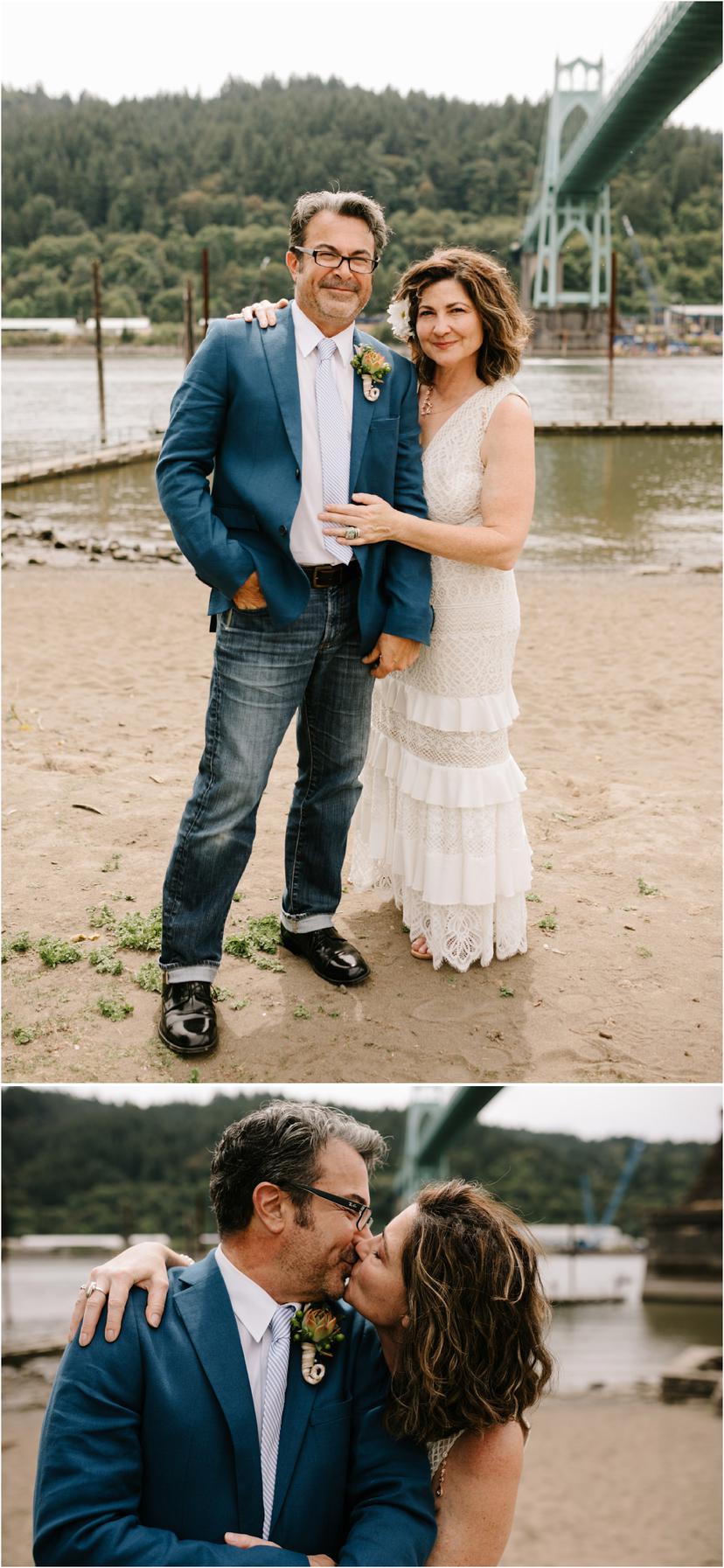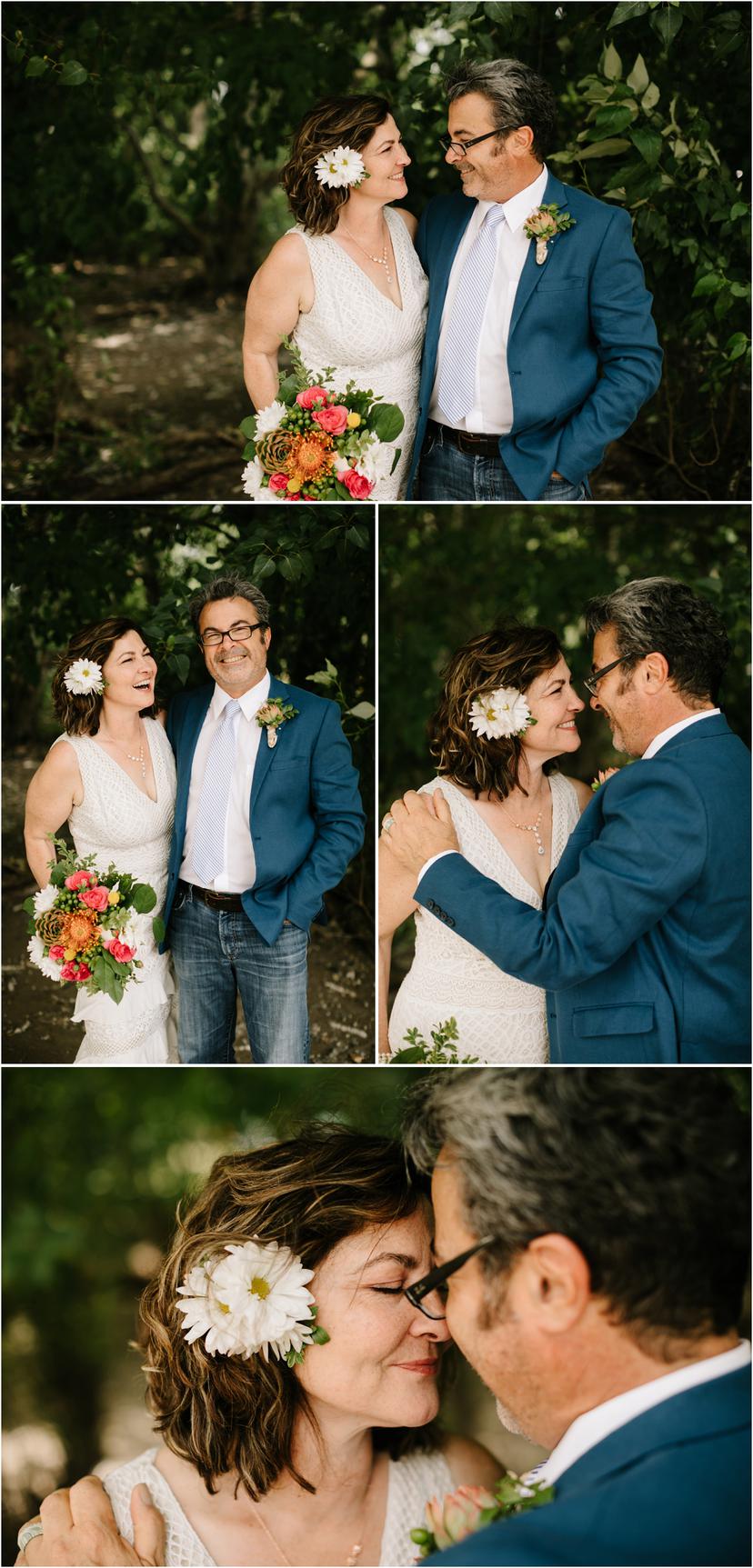 Cathedral Park Wedding Amenities
The most popular wedding location at Cathedral Park is the deck and stairs directly under the gothic arches. But the park has a variety of locations and amenities available, including:


Outdoor stage



Picnic tables



Off-leash dog areas



Accessible restrooms (near the boat ramp on a far side of the park, NOT by the venue)



Boat dock and boat ramp



Riverfront views



Paved accessible paths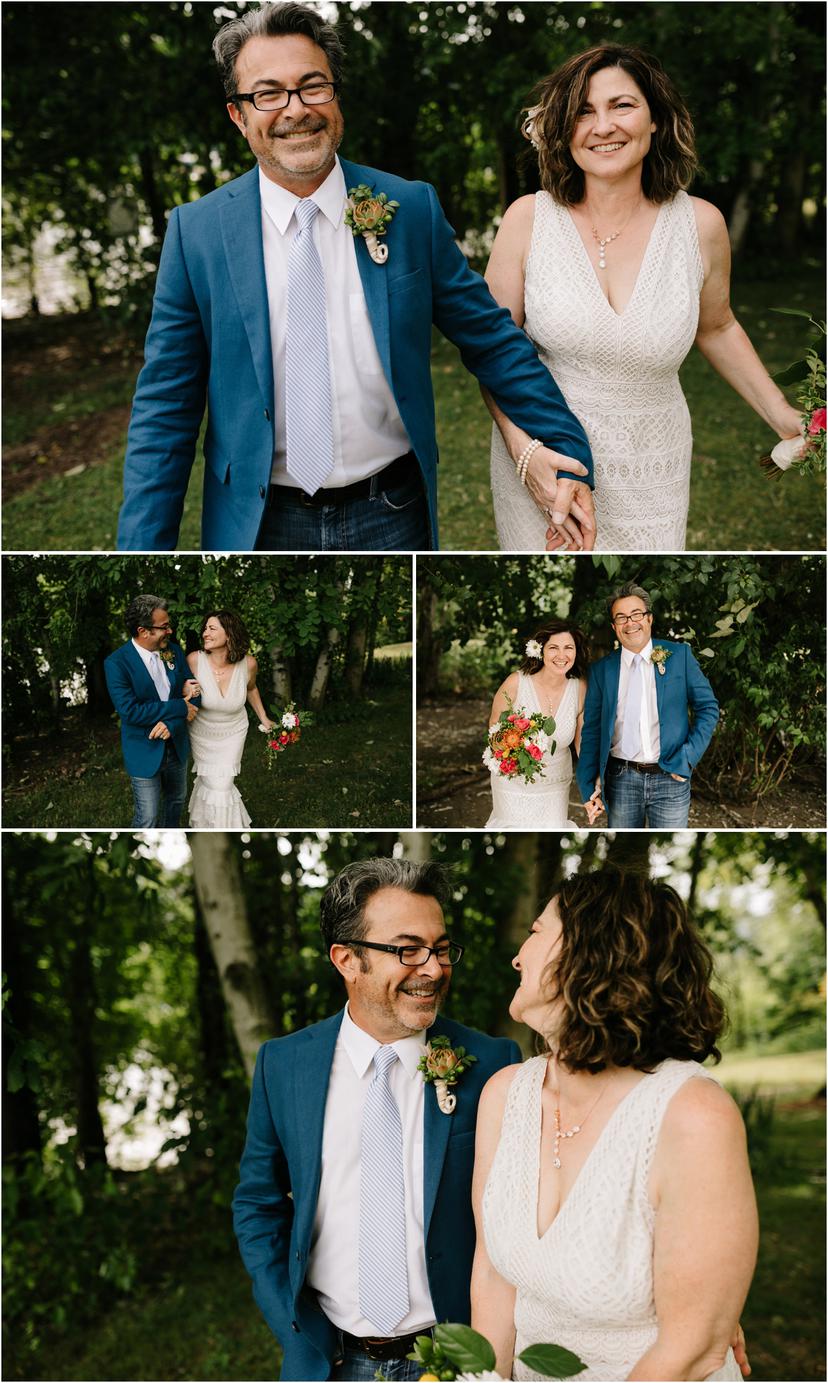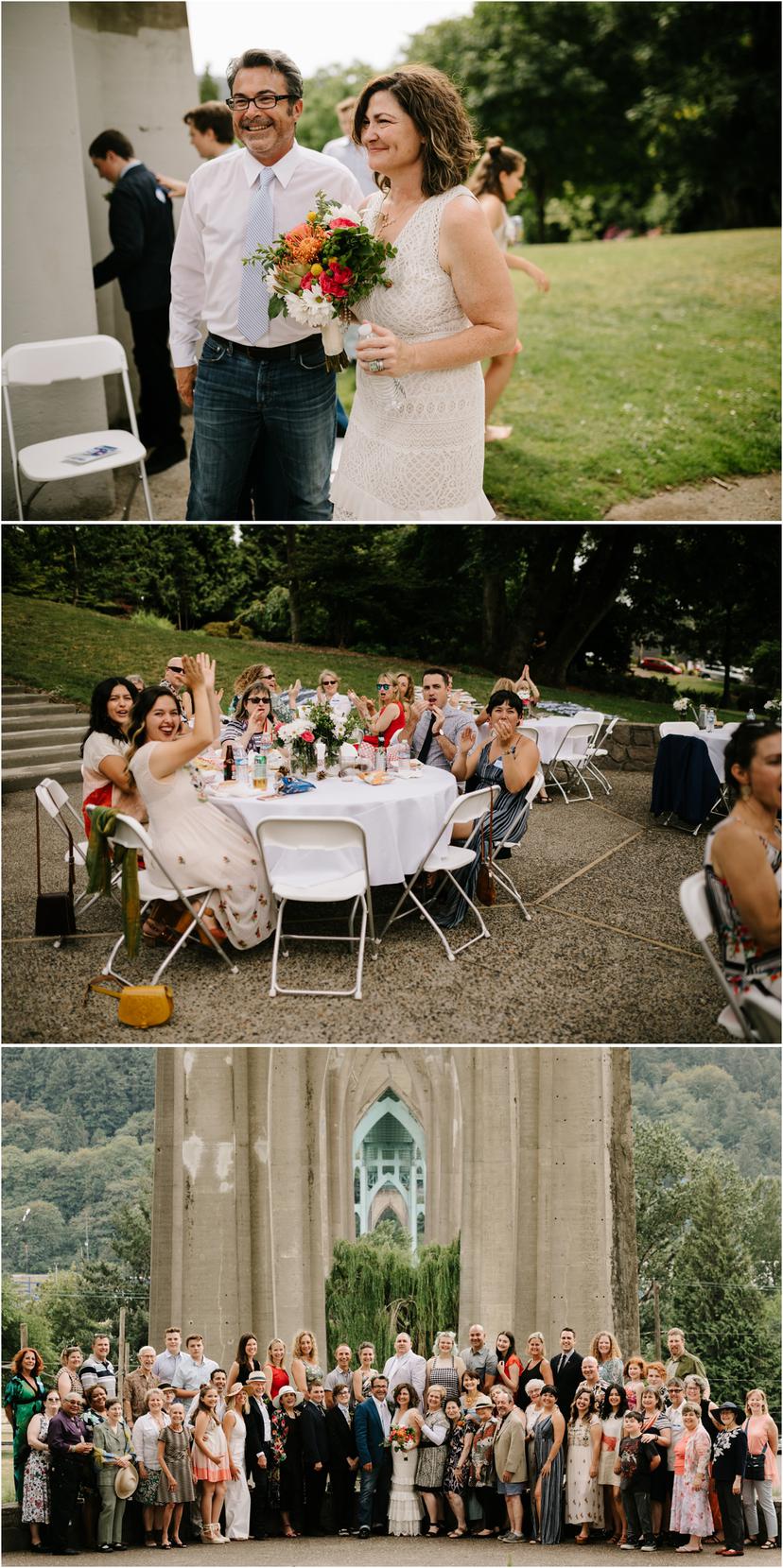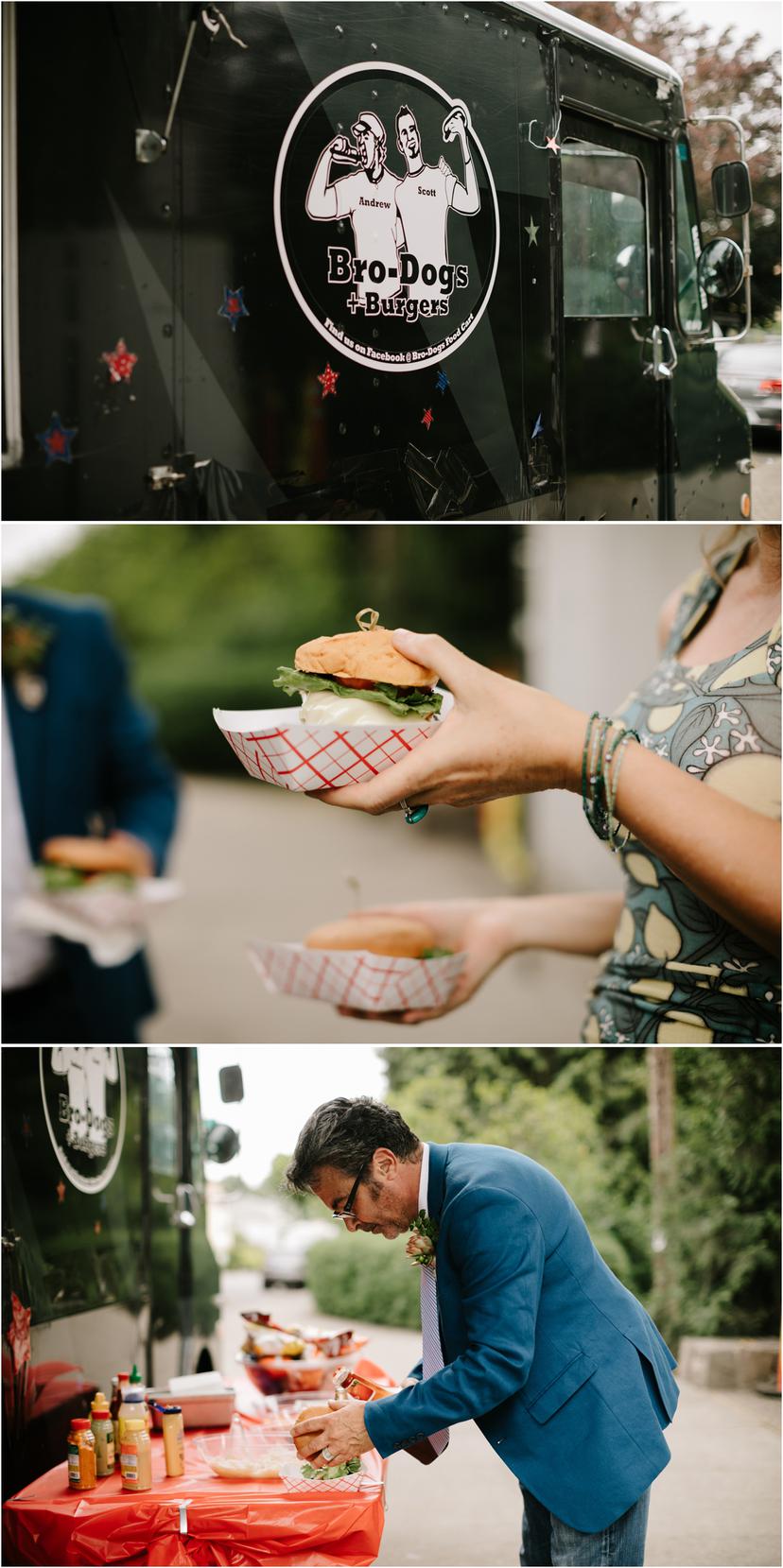 Reasons to have a Cathedral Park wedding
-Cathedral Park weddings are GORGEOUS. There are so many beautiful places to take photos, and the park itself shows off many of the best aspects of Portland - the bridge architecture, the trees and the views of the west hills.

-It's convenient. Cathedral Park is located in Portland, so you don't need to spend hours driving to a scenic spot. It's only a short 15 minute drive from downtown, or 30 minutes from the airport.

-It's semi-accessible. There are paved paths and accessible restrooms around the park. Note that the restrooms are NOT close to the stairs/deck under the bridge; they are located lower in the park.

-Cathedral Park weddings are affordable. A permit costs $621.50 to book the stairs and deck for up to 100 guests.

-You can get married there year-round. Cathedral Park is directly underneath the St John's bridge, which offers partial rain protection, making it a great place for a wedding any time of year.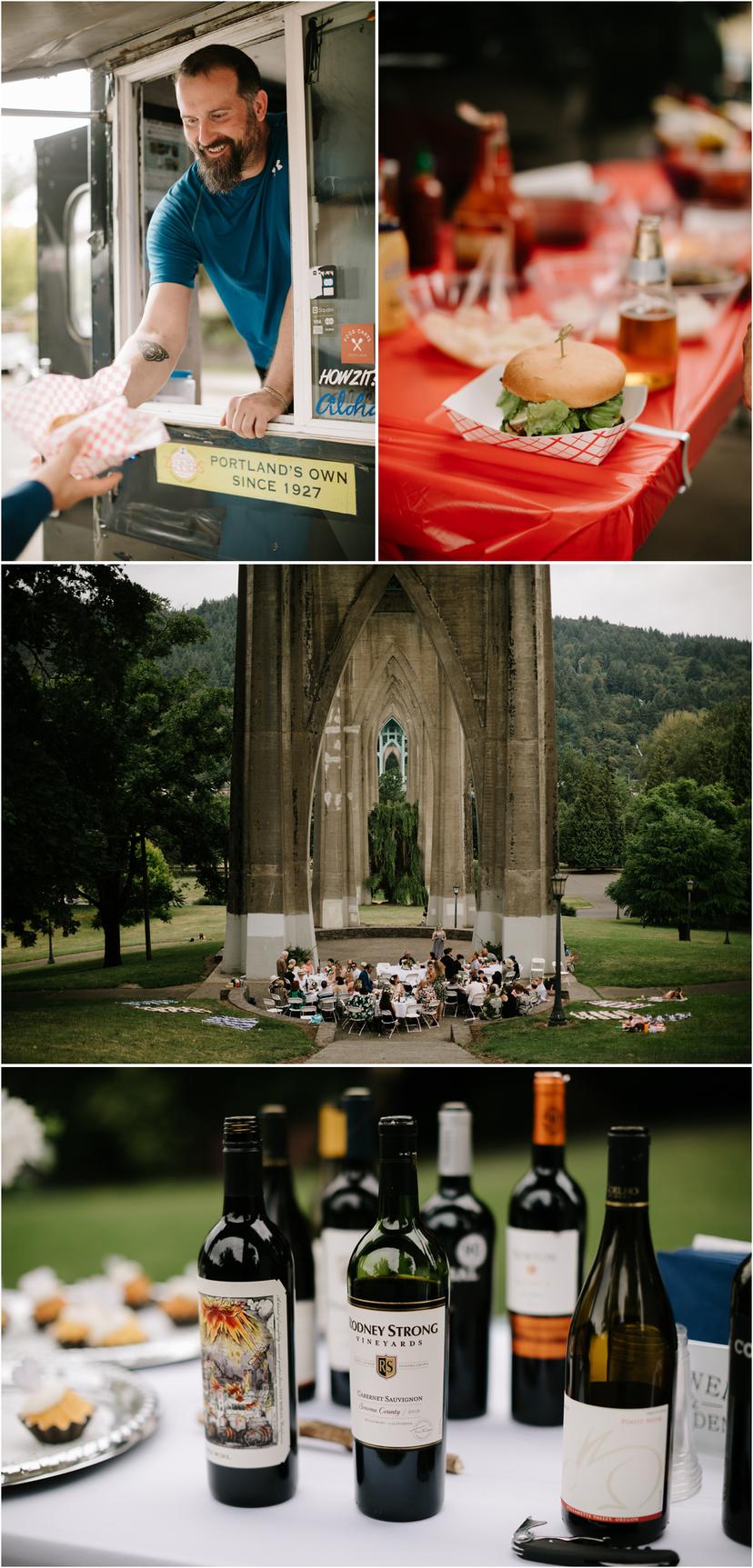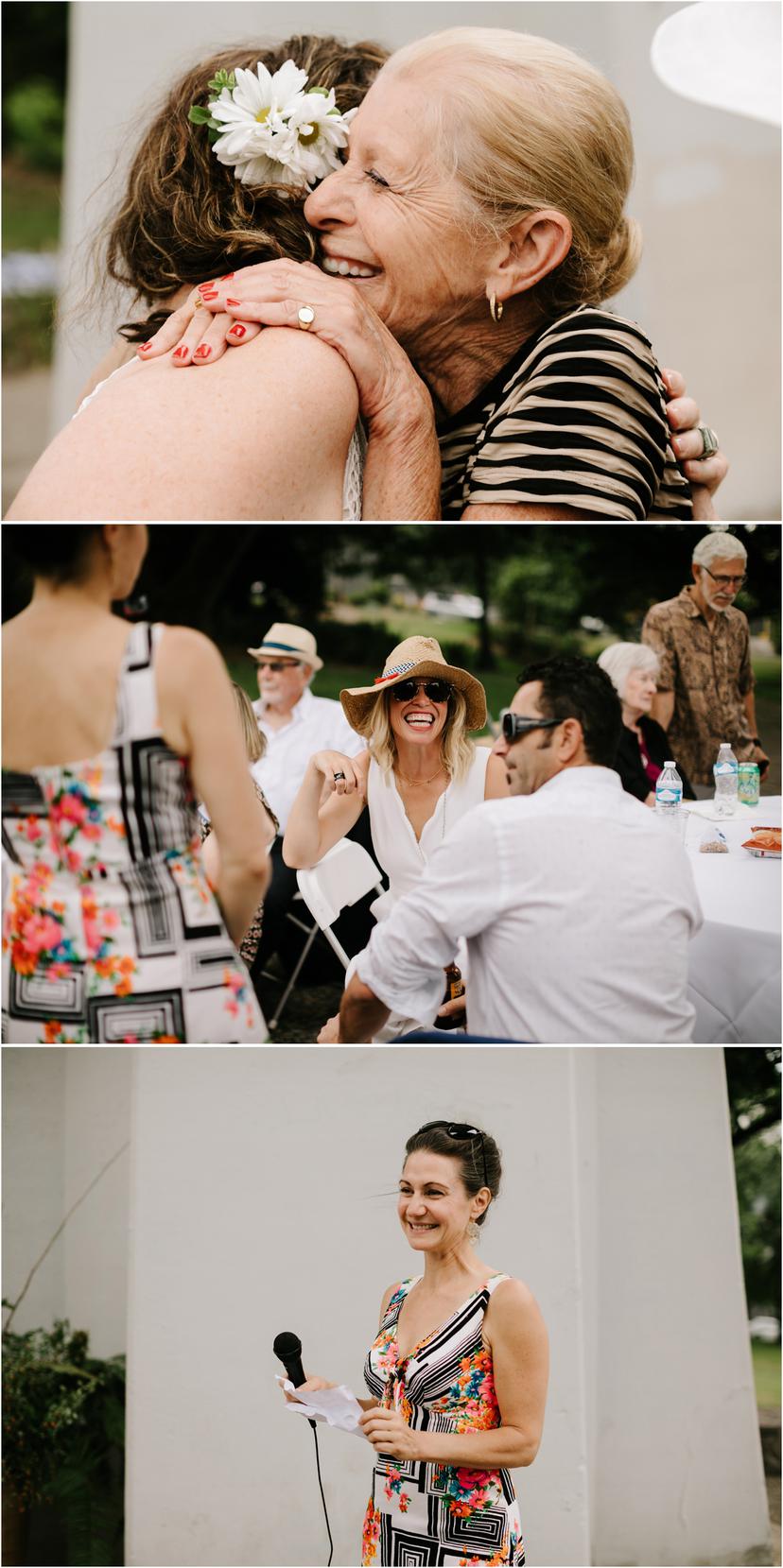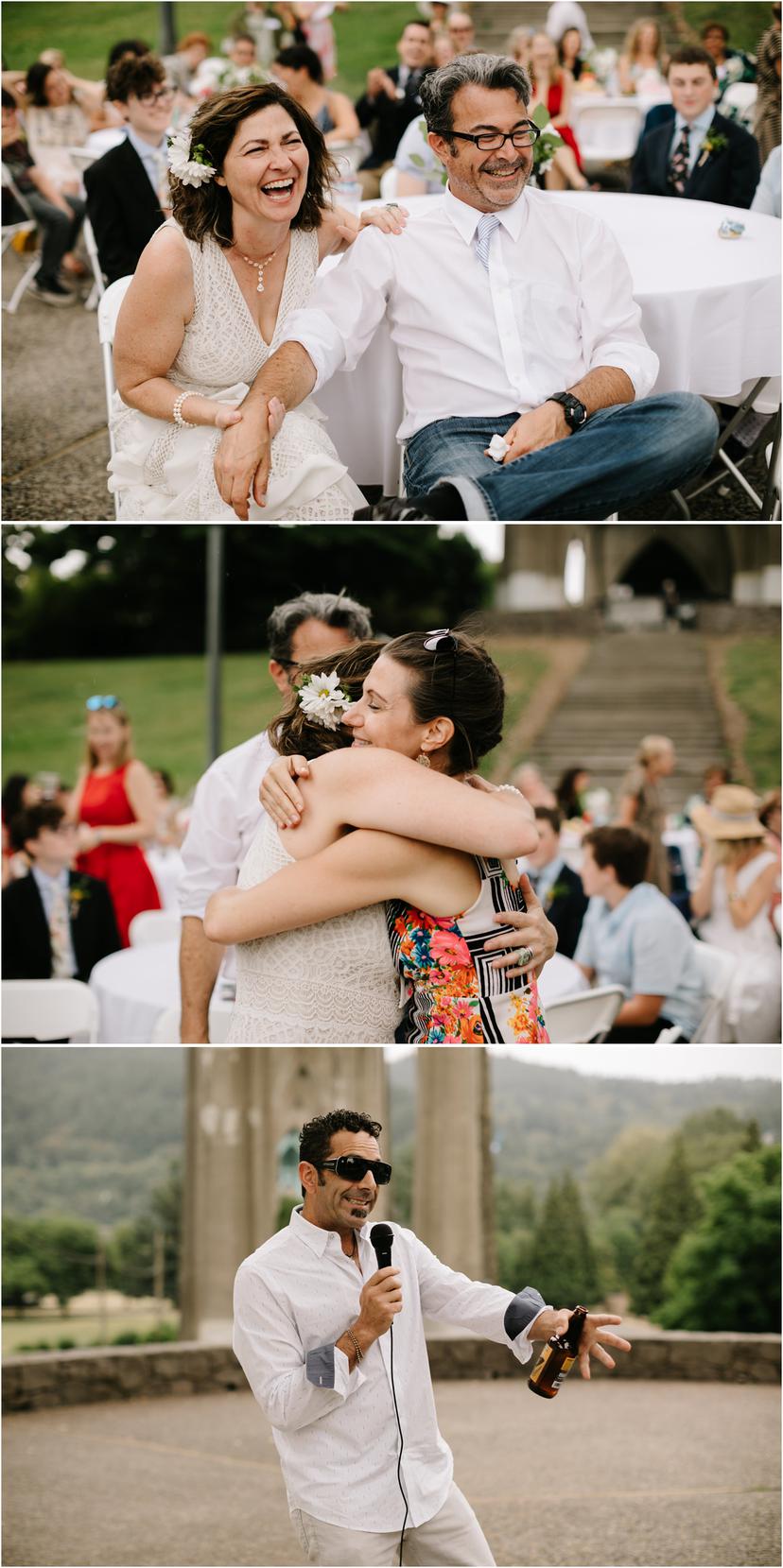 When to get married at Cathedral Park
Time of Day
Cathedral Park photographs best in the late afternoon or early evening, before sunset. The park (and wedding venue location) faces west, so at sunset you get beautiful golden backlighting if it's a bright day. Mornings at the park are significantly less busy, but eastern morning light tends to look more harsh, direct, and cast weird shadows from behind the bridge.
Time of Year
Cathedral Park looks beautiful year-round. Here is what to expect:

-In winter, you get that foggy, moody, pacific-northwest look with the fog in the trees behind the park. It's less crowded.

-In spring, expect some flowers and lots of vibrant green - the grass, the trees, everything sparkles. There are a few trees with blossoms but not that many. It may be rainy or sunny. It's less crowded.

-In summer, expect perfect weather and crowds. You may need to worry about heat and forest fires.

-In fall, the leaves on the deciduous trees will look incredible. You may get some sun, or more of a moody, foggy vibe. It will be crowded, fall is the most popular time of year for photography so there will be many other photographers competing with you at the park for the same shots.
My personal favorite time of year at Cathedral Park is early November. The weather is cooler, you get peak fall colors, and the park is slightly less busy than in the summer.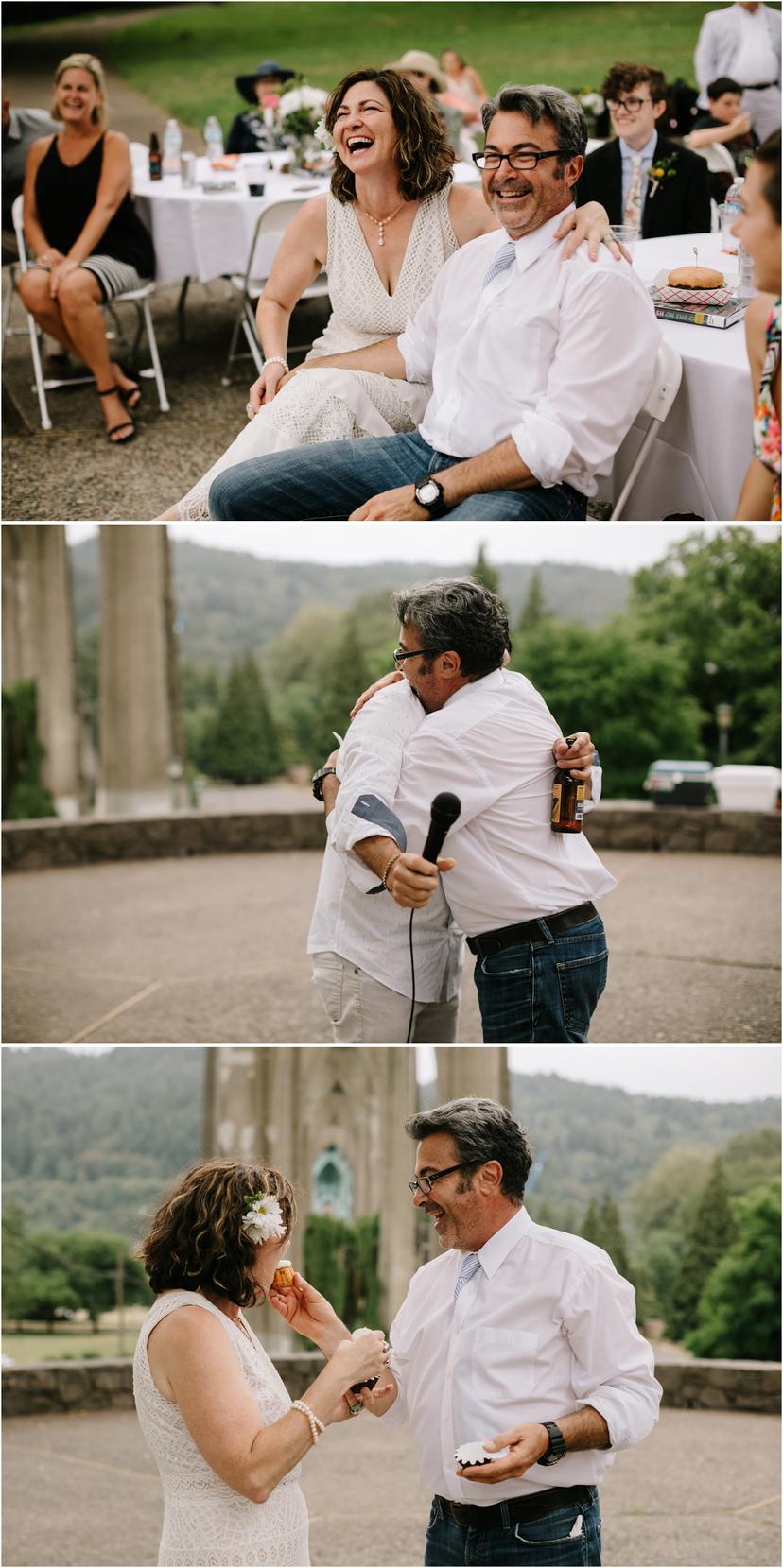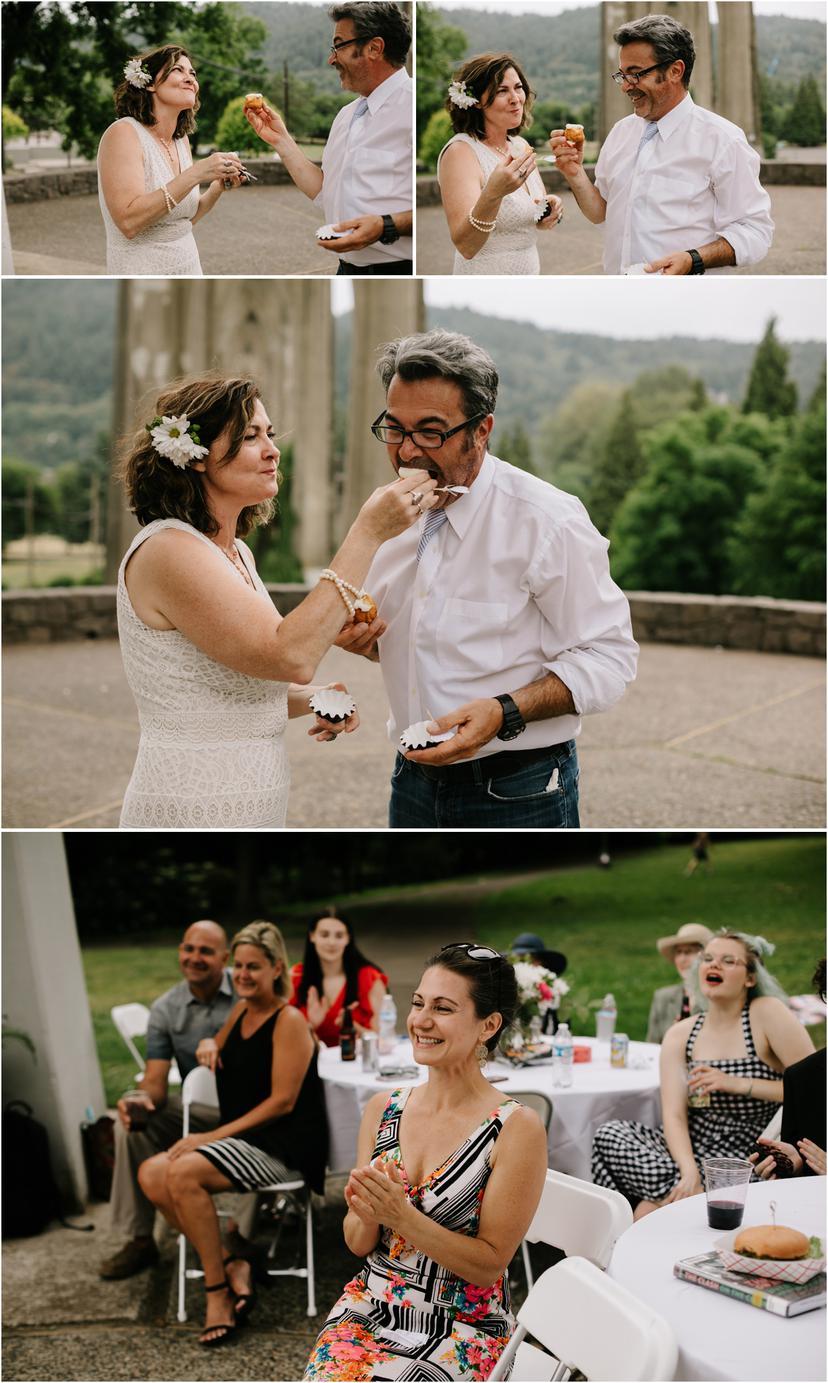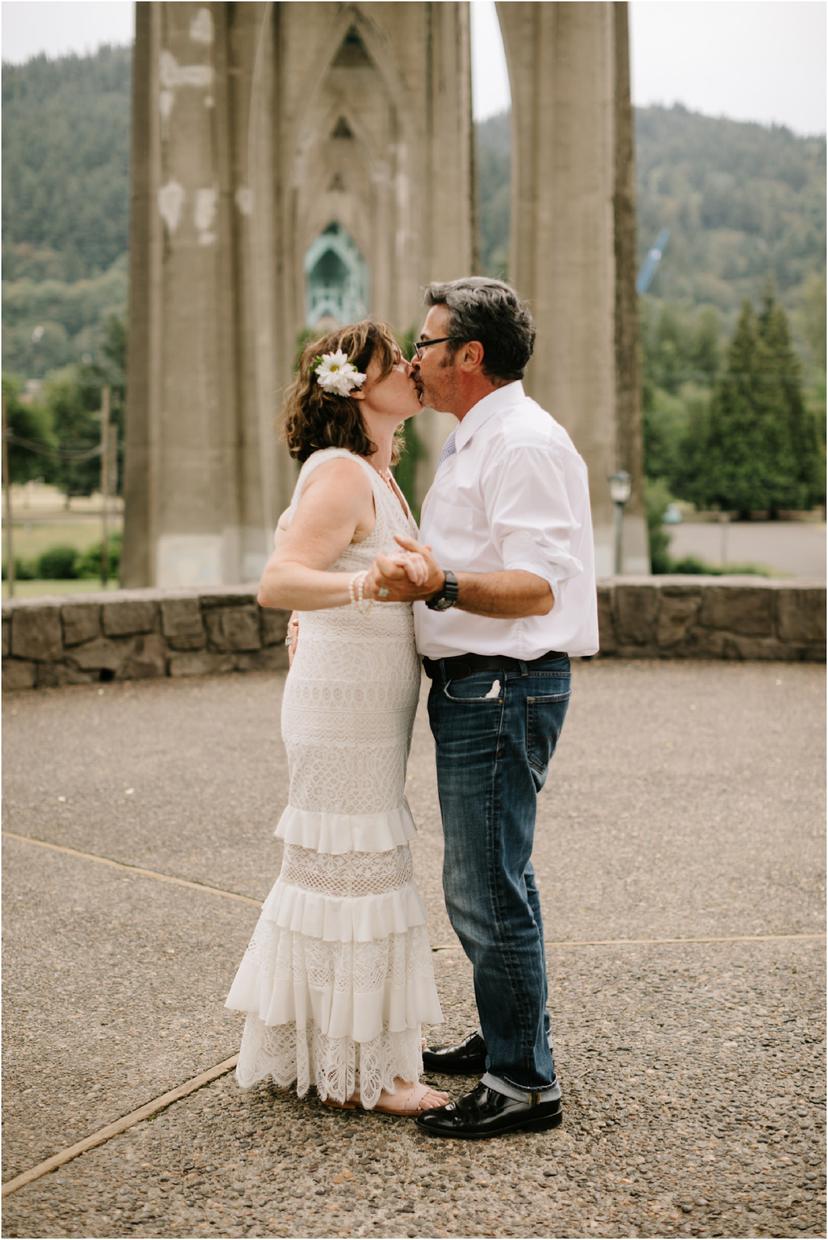 How to get married at Cathedral Park
Portland Parks and Recreation manages Cathedral Park, and they require a permit to book the venue if you are having a wedding with guests. You can call their Customer Service Center at 503-823-2525 to book your permit. It costs $621.50 to reserve the stairs and deck for up to 100 guests. Reservations typically go from 8am - 9pm. You can view the full Portland Parks and Recreation wedding brochure here.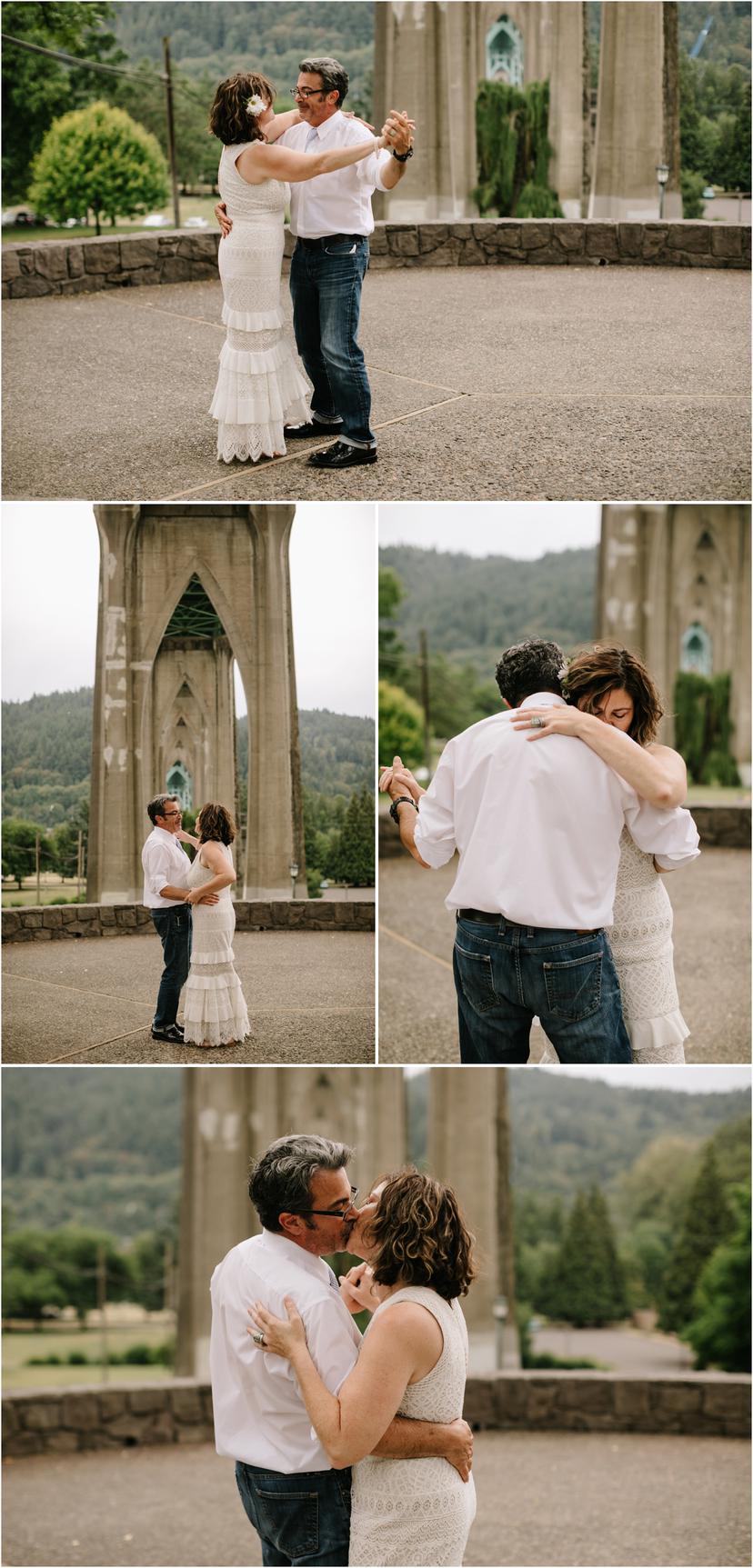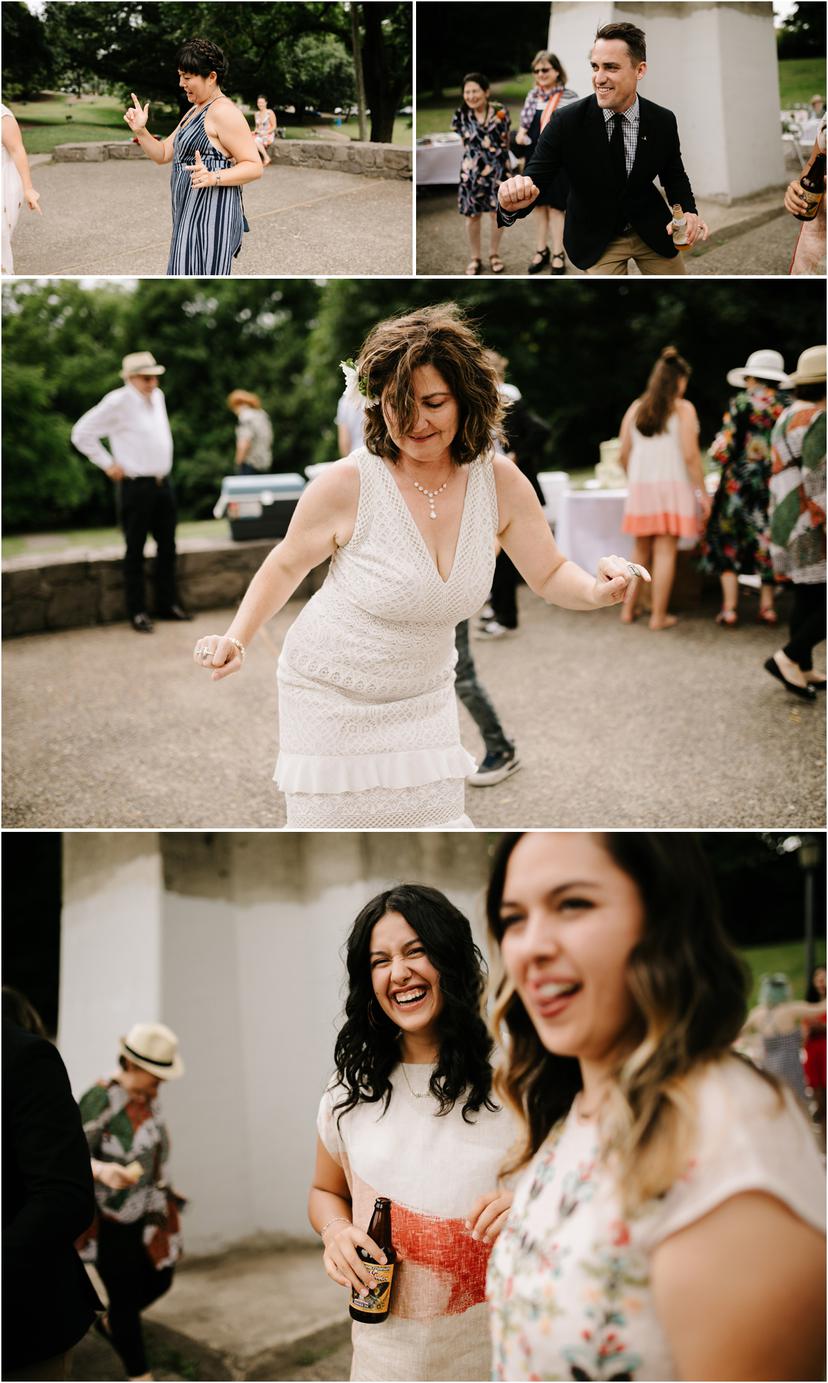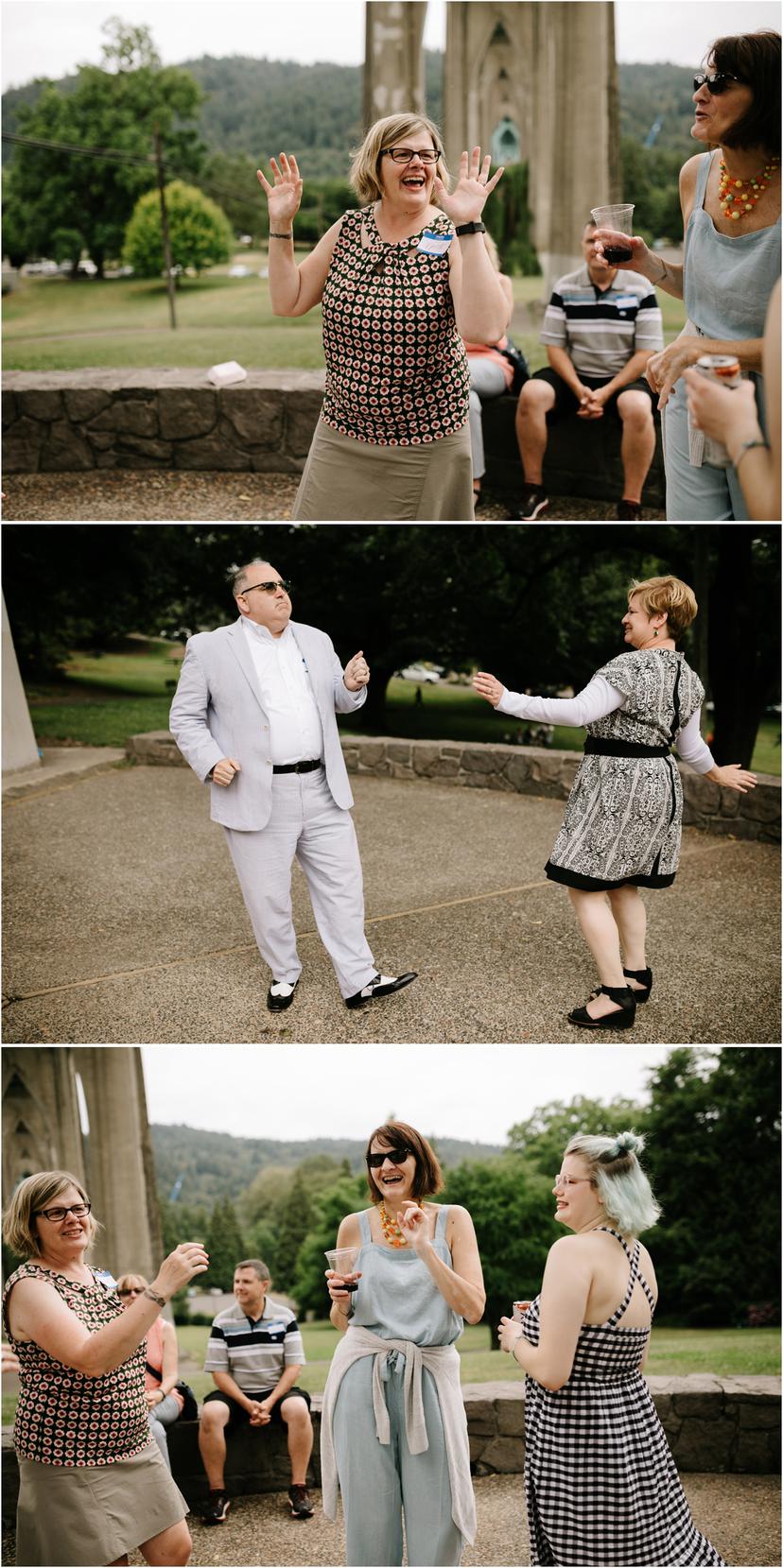 Cathedral Park wedding photo locations


The arch view.



The north meadow near the boat ramp



The south meadow near the boat docks



The waterfront beach



On the actual bridge itself





MAP WITH CATHEDRAL PARK PHOTO LOCATIONS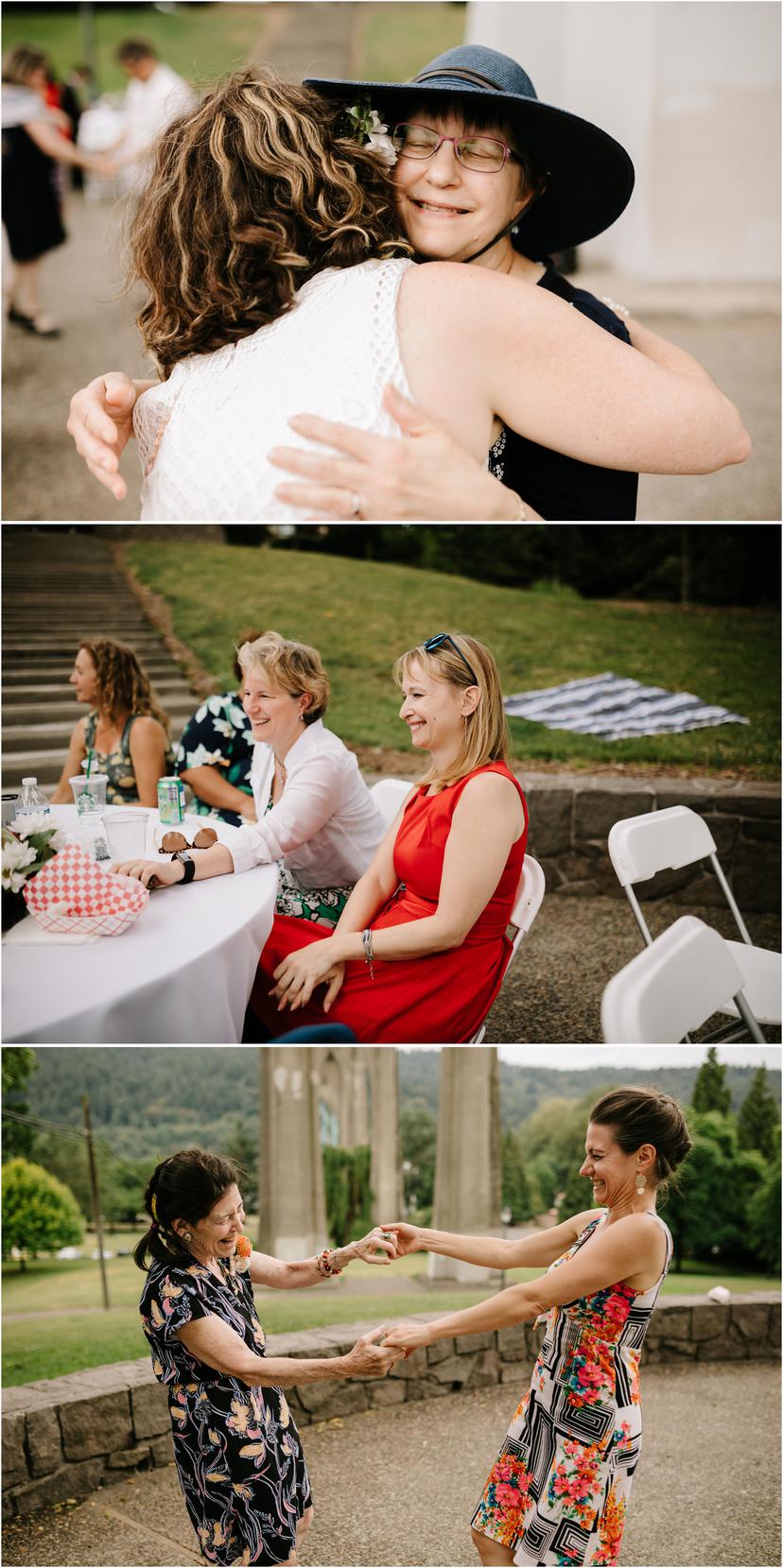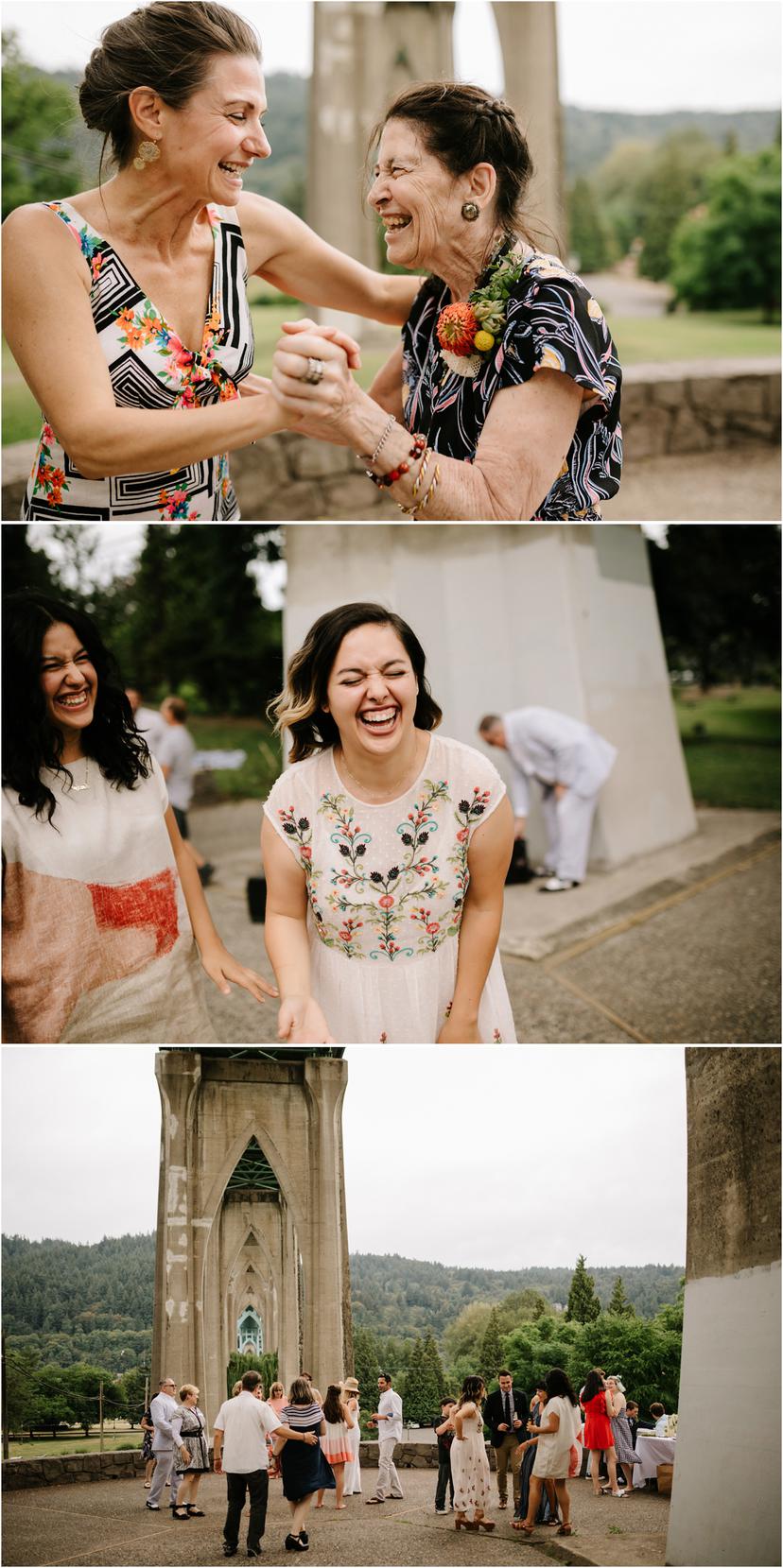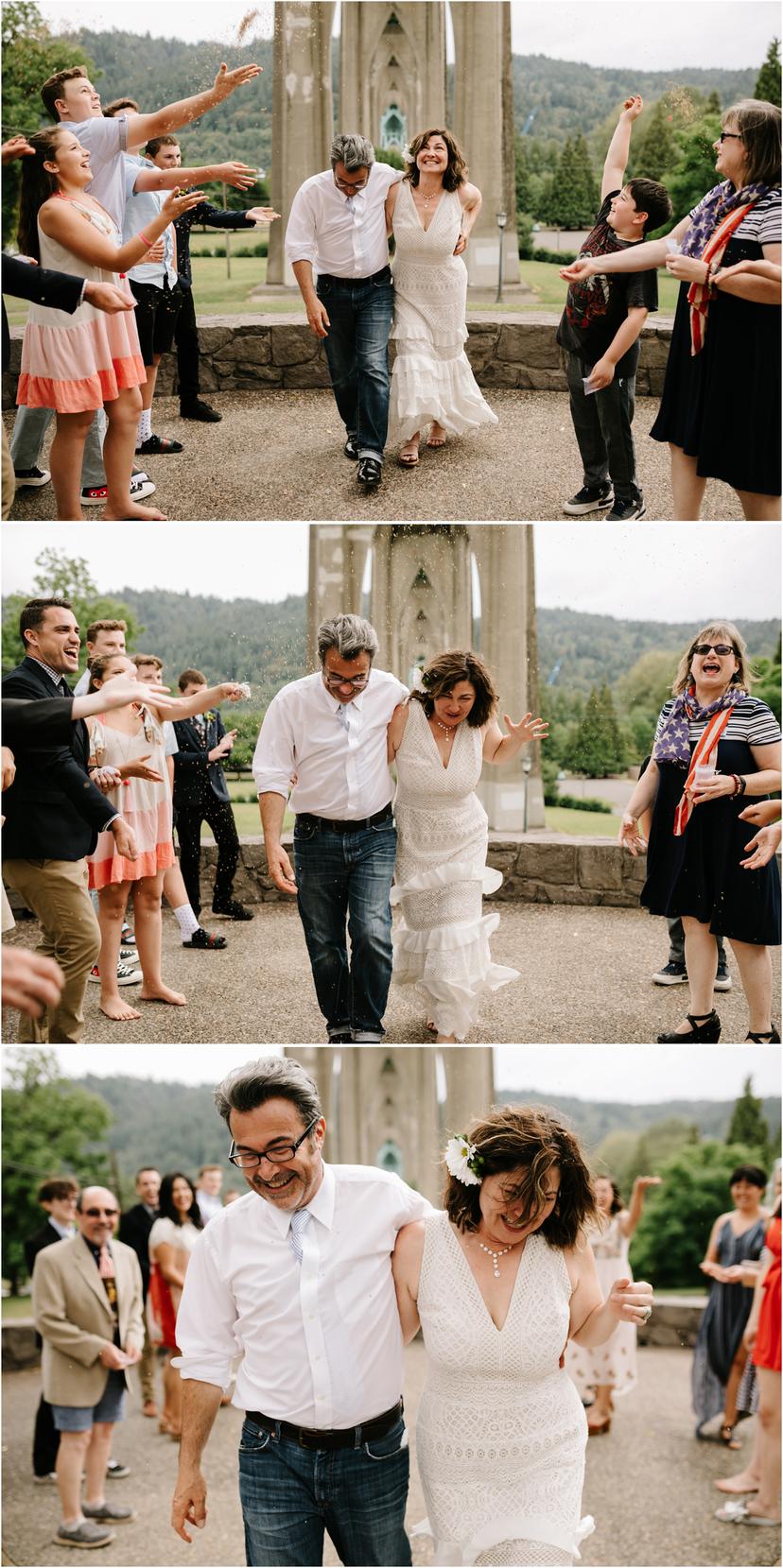 The Vendors
Dress: BHLDN

Accessories:GlamorousBijoux

Makeup artist: Scarlett Van Tyne – bride's sister

Suit; The Man's Shop

Flowers; friends of bride and groom – Sarah Overman and Kathryn Gilmore

Food: Bro-Dogs + Burgers

Cupcakes: Nothing Bundt Cakes

Officiant: Bride's brother – Frank Van Tyne

Music: DJ Bojanglin' Suburban
More Cathedral Park wedding photos
Want to see more? Here are some photos from other Cathedral Park weddings that I've photographed in the past. And of course, feel free to contact me if you have questions, or reach out if you are planning your own Portland wedding!
SPRING 2014 CATHEDRAL PARK WEDDING
JUPITER NEXT WEDDING WITH CATHEDRAL PARK PORTRAITS