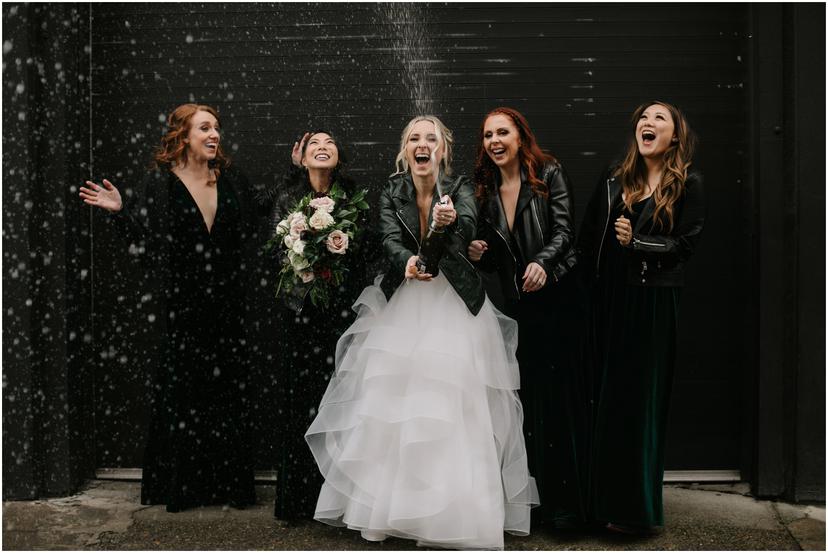 Winter Castaway Portland Wedding
This winter Castaway Portland wedding was full of cozy, industrial, stylish vibes. The hunter-green, gold, black, and white palette was perfect for the moody January weather. The team of vendors, including the mega-talented Catherine with Bridal Bliss, made everything SO easy. Alexis and Kevin wanted their day to be comfortable, sentimental, and fun, and it 100% was. Everyone was so relaxed and happy, and I could tell that Alexis and Kevin were on cloud nine. I felt honored to document everything!
Alexis and Kevin had some incredible hardships in 2019 leading up to their wedding, including the sudden loss of Kevin's dad to cancer in November. Their wedding day was beautiful but also filled with many bittersweet moments as Kevin's family remembered his father. Kevin wore a pin with his father's portrait inside his coat and saved him a memorial seat in the front row at their ceremony. I cried so many times throughout the day, bearing witness to his pain and how fresh the loss felt to the family.
I also have to make a note of the significant moments between Alexis and her grandparents. Alexis is an only child and is very close to her grandparents. Sadly, her grandmother has pretty advanced Alzeihmers and only remembers a few faces. But she knows Alexis. When she saw Alexis in her wedding dress, her reaction was priceless and brought me to tears. I have personally experienced the pain of losing a grandparent to Alzheimers, and I know how rare and beautiful these moments of recognition can be. I'm so glad that I was able to document them.
About Castaway Portland
Castaway Portland is an industrial indoor wedding venue located in Northwest Portland. It's on the edge of the Pearl District with epic views of the Fremont Bridge. The venue is 10,000 square feet and can hold 400 seated guests, 700 standing guests, or 1000 guests when combined with the outdoor patio. It's an excellent place for weddings!
Castaway is a restored warehouse initially built in 1929. It used to be the place where the original Portland Streetcar made all its yellow-strand rope! The renovated space retains much of its unique character, especially with its massive, wrap-around, original steel windows. The 14-foot ceilings with exposed beams make the place feel even more substantial, but not so big that it's uncomfortable. People LOVE this venue, and it's easy to see why. It's been voted best wedding venue in Portland by Oregon Bride in 2016, 2017, and 2018.
Photo locations at Castaway Portland
There are so many great photo locations at Castaway! First, the indoor space is huge and offers a ton of options. There is abundant natural light in the daytime, perfect for indoor portraits. A couple of glass garage doors open up with even more light, and attractive geometric shadows as well.
Outdoors, the back patio has captivating views of the Fremont Bridge and lovely string lights at night. The side street works well for photos too - you can see the bridge in the back, and it's a quiet enough road that you can easily take wedding party photos there without getting run over.
Across the street, there is a large empty lot next to a brick wall. This spot works GREAT for group photos, couples portraits, you name it, and it's very close. The brick texture perfectly complements the industrial vibes of Castaway.
If you want more greenery, you can pay an additional fee to use the plant nursery next door for portraits as well! It's got a gorgeous greenhouse and lots of cute nooks and crannies for photos. Just make sure you ask in advance and get the appropriate permission - they won't let you use it for free.
Why choose Castaway
"We loved how casual and comfortable it was," Alexis said. "It's beautiful, don't get me wrong, but it's not stuffy at all, and we got to make it this industrial-cozy atmosphere we wanted. It was approachable and just fit with us."
Getting ready photos at the Sentinel Hotel
Alexis and Kevin rented a block of rooms at the Sentinel Hotel for their guests, and that's where they got ready and took all their indoor bridal portraits as well. If you haven't been to the Sentinel, it's an incredible Portland venue in itself. It's a boutique, luxury hotel in the middle of downtown Portland, and it's only a ten-minute Uber ride to Castaway. If you are looking for an exceptional place to stay that's closeby, I highly recommend the Sentinel. The rooms are big and have beautiful lighting for photos. The lobby and various locations around the hotel work great for pictures if it's raining. And if the sun does come out, the street front is gorgeous too!
Favorite Castaway Wedding memories
"For me, I think it was the moments of seeing each other for the first time and seeing the wedding parties and taking those initial photos," Alexis said. "It's like all that hype. Like standing at the gates of Disneyland, knowing it's finally here, and the amazement of walking through Main Street on Disneyland just wide-eyed and soaking it all in."
Kevin said, "Sitting down on the couch at dinner and just seeing all of all of our people coming together for us." He said that was the first moment where he wasn't doing something or stressing over something, and he just got to soak it all in.
Advice for other couples planning Portland weddings
"Try not to get overwhelmed with too many options," Alexis said. "Go with your gut on vendors. The people who feel right are going to lead you down the right path. Catherine was amazing. She lead us towards perfect vendors and that is really what made our day.
"I knew from the start I wanted to be comfortable on my day," Alexis said. "I wanted to be able to just focus on enjoying the time and event. I literally picked my wedding dress because I didn't want to be stressing about holding my tummy in or fussing with being uncomfortable. I also bought converse to change into to make sure I was extra comfy for the reception!
"Everyone told us the day would fly by. It did! We planned really hard ahead of time so that there was no stressing (or as little as possible) on the day of and everything was taken care of.
"We also wanted to try not to get caught up in too many trends. Yeah sure, I fell for some. But we really wanted the decor and the look to be our choices and feel like us. The day is supposed to be about you two, not about some Instagram post. Do what feels like you as a couple. You won't regret it.
"Lastly, and we haven't even seen all our photos or videos, [at the time of writing], and we already are totally happy with our choice to make photography and videography our top priority. You spend all this time and money to pull off a beautiful day if you don't invest in those two vendors you literally paid for one day of joy. We now get to save that joy for years and years to come. That is priceless."
The Vendors
Venue: Castaway Portland

Hotel: The Sentinel

Wedding Coordinator: Catherine with Bridal Bliss

Florist: Amanda Karam Floral

Videographers: Glitch Films

Caterer: Crown Paella

Cake: Dream Cakes

DJ: Chad Dowling

Rentals: The Party Place

Dress: Tatum by L'Amour by Calla Blanche purchased at Charlotte's

Suit: Armani Exchange from Nordstrom

Hair Stylist and Makeup Artist: Ale and Karina with Blossom & Beauty

Shoes: Valentino

Ties: Alfani

Bridal headpiece and jewelry: Etsy vendor Iloniti Rubin

Signs: Letters & Dust

Invites: Minted

Draping: Bower Bird

Trees: Red Leaf LLC

Photo Booth: White Tower Photo Booth
The Photos