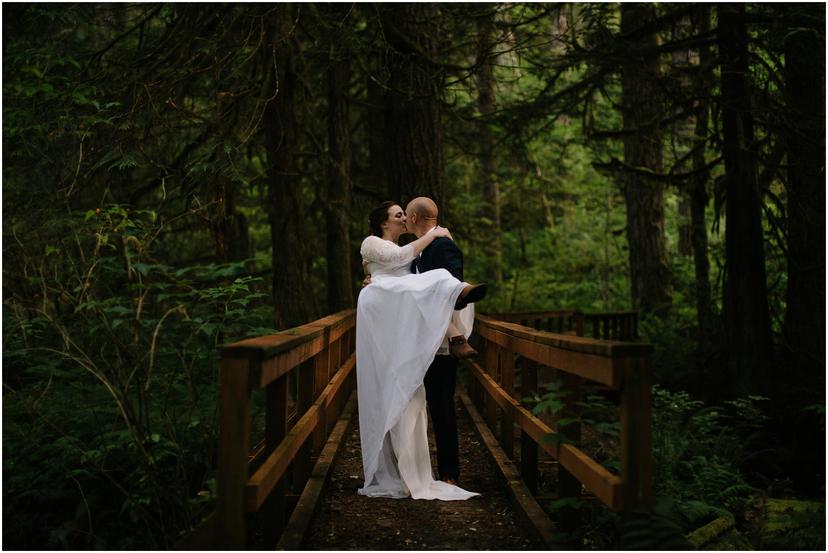 Camp Wilkerson Wedding
This 4th of July camping wedding at Camp Wilkerson was SO fun. I've known Ian and Briana since college, and my husband Mikael was actually a "bridesman" in the wedding! It was definitely an honor to document this foresty outdoor wedding weekend, even during these crazy pandemic times. Camp Wilkerson was the perfect outdoor venue to maintain social distancing, and it was remarkable that everyone could bring their dogs too! Such a gorgeous location and a fun wedding weekend!
Where is Camp Wilkerson
Camp Wilkerson is located about 16 miles northeast of Scappoose, in the heart of Oregon's Coast Range in Columbia County. It's also close to the quirky little town of Vernonia. It takes a bit over an hour to get there from Portland.
About Camp Wilkerson
Camp Wilkerson sits on 280 acres of remote forest land. The vast park makes it easy to connect with nature and friends. Camp Wilkerson includes 24 3-sided camp shelters called Adirondacks, many reservable tent sites, a few simple cabins, a rustic lodge with cooking capabilities, and a cute old schoolhouse. The camp is most popular amongst school groups and youth organizations, but it's also the perfect location for a relaxed outdoor wedding. The camp accommodates groups of up to 250 people. There is also a horse camp in case you want to include horses in your wedding activities. It's dog-friendly, and perfect for the relaxed couple who wants a low-key outdoor wedding in a gorgeous natural forest location.
About the couple
Briana and Ian met at a BBQ for their old science lab in the summer of 2008. Briana started volunteering the last spring term and then went home for summer; Ian started volunteering over the summer. "We were immediately attracted to each other but held off on dating until October 2010," said Briana. "We've been together ever since."
Ian and Briana's ideal date night consists of a walk at the park with their two dogs, followed by a good meal. They love doing things outdoors (hiking/foraging/hunting), gardening, and exchanging LOTS of banter, haha.
Ian proposed to Briana on New Year's Eve, 2018, on the river at Sellwood Park at dusk. "The weather was exceptionally clear for that time of year," Briana recalls. "The sunset was full of deep purple and blues, downtown [Portland] looked amazing, and all of the lights were reflecting on the water. Because it was so late, the park was empty. We walked down the riverfront together, [and our dog] Ranger was there too. When we had walked the majority of the path, Ian paused. He turned to me and took a deep breath, having expected what was happening, I immediately started tearing up before he spoke any words. He described why he was proposing there, how it was a spot that reminded him of us as a family, and how he wanted us to be family forever. He showed me the ring, stunned, I grabbed it so I could examine it closer. It was beautiful, I then realized he hadn't asked me anything yet. Silly me, I had to give it back. He asked, I said yes, hugs and sloppy dog kisses were given. We finished off the night by going to one of our favorite restaurants, where we proceeded to celebrate with wine and Spanish coffees."
Favorite wedding memory
"It's so hard to choose!" said the bride Briana. "I would have to say our vow exchange. Reminiscing about our past, hearing our thoughts and feelings put into words made me unbelievably happy and excited for our future."
Why did you choose Camp Wilkerson as your wedding venue?
"Our #1 reason for choosing the camp as our venue was the ability to hold a multi-day event, which allowed us more time to hang out with our guests," Briana said. "It's very true that your wedding day goes by fast. Having extra time to celebrate the occasion with our closest friends and family was a gift.
"Secondly, the place is just so dang gorgeous. Everywhere you turn there is beautiful forest scenery to soak in."
Advice about camping weddings
"Camp Wilkerson is a DIY venue and comes with a DIY price," said Briana. "It's not for everyone, but it suited our needs perfectly! It meant more work for us, but we had the freedom to run things the way we wanted. Many venues ban pets, but our wedding wouldn't have been the same without our furbabies."
Tips for planning a COVID-19 safe wedding
"Keep the group small, and make sure you have tons of hand sanitizer on deck," said Briana. "Nix the dancing, and make sure your venue has enough space to accommodate distancing!!! It's not going to be exactly what you wanted, but you still get to marry the love of your life, and it will be an incredibly special and fantastic day regardless of the extra precautions. Plus, it's going to be a great story for the grandkids!"
More wedding planning advice
"I grew our flowers for the event to keep in our budget," said Briana. "I'm a fairly well-established gardener, and I choose flowers I'd grown before (or were perennials in friends & families yards). I knew the flowers would keep for days with proper care. I had skilled friends help with bouquet making. I wouldn't recommend this for the novice. It was quite an undertaking! A couple of varieties didn't bloom in time (thanks to our unusually cool June weather). Luckily, I overshot it with quantity and had plenty of other types to use. We did have a bunch of flowers leftover we had to sacrifice to the forest Gods.
"Our caterer, Proletariat Butchery, was wholly entertaining. They cooked on-site using a large wood fire grill and gave our guest a unique experience, including wood-fired cookies. My biggest regret is that I only got to eat 1 cookie!"
The vendors
Venue: Camp Wilkerson

Groom's Suit: Van Heusen Rack

Bride's dress: Redesign of her mother's wedding dress via Stiched by Skye Blue.

Hair Stylist/Makeup Artist: Beauty by Bre Evans

Flowers: DIY by bride and friends

Caterer: Proletariat Butchery by Zeph Shepard - all the meat was from an elk that Ian and Briana hunted and butchered themselves in the Coast Range earlier this year.

Cake: More Chocolate by Michelle Duncan

Rentals: Tables & Chairs by The Party Pros

Bride's Ring: Seattle Gem Syndicate

Groom's ring: PillarStyles on Etsy
The Photos