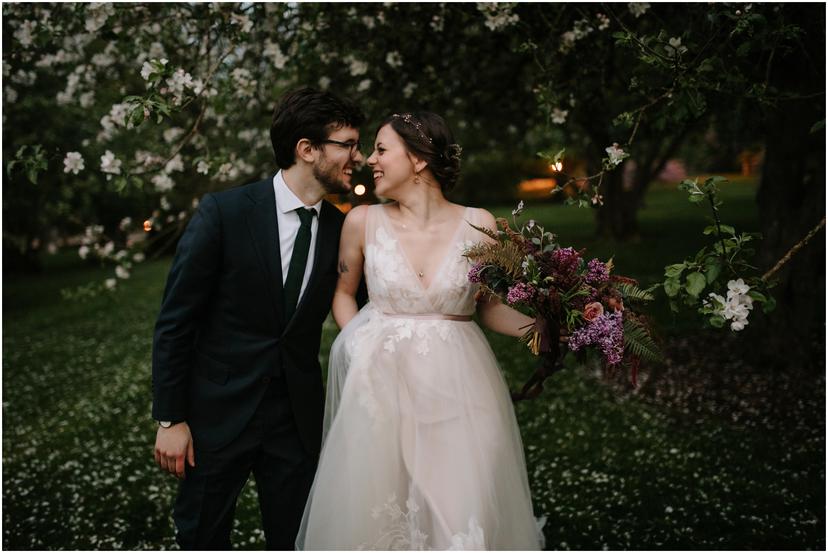 Bush Park Wedding
It was one of those classic Oregon spring days. You know the kind, where it dumps rain in the morning, then brightens up and is warm and perfect all evening. It felt like every day had been leading to this one on purpose. The season had been a crescendo of flowers, peaking in a colorful explosion in this exact moment. Dogwoods, tulips, rhododendrons, and wisteria all bursting to life. The pinnacle of spring beauty in every way.
That beauty felt like a gift. Because just like literally every other couple getting married in 2020, James and Melissa had to pivot. Their wedding went from being a big party with friends to an intimate outdoor elopement. But these two made the best out of a bad situation and their wedding day was absolutely beautiful in every way.
I've been friends with James for 12 years, and have known Melissa ever since they started dating. Witnessing their elopement as their friend AND wedding photographer was deeply special to me. James is a talented film photographer, and Melissa has impeccable taste. Being trusted to take their photos and be the ONLY non-family member there was an honor. In a time when everything in my life has come to a halt, being there to safely document the day was like a breath of creative fresh air.
Many aspects of this day were incredible, but what brought me to tears multiple times was the pure joy both James and Melissa felt about marrying each other. It was immediately apparent why they didn't merely postpone their wedding by another year. These two were ready to be married. I've known James for a third of my life, and I have never ever seen him smile or cry like he did on this day. I completely lost it when he teared up during his vows, and Melissa helped him finish them. It is so profoundly evident that they are meant for each other.
Why did you choose Bush Park for your elopement location?
"James and I met at the Bush Barn Art Center 6 years ago and it was where we fell in love," Melissa told me. "It seemed only fitting to get married there. Our plan was to marry in the art center and take cool photos in the park, but we switched to purely getting married in the park, specifically the cute gazebo by the rose garden. It is still where we met and also amongst the beautiful natural spring flowers (wisteria, tulips, cherry blossom trees etc.) All in all, the spot is special to us and extremely beautiful."
What was your favorite memory from the elopement?
"I know normal weddings have the bride and groom separately getting ready. Some part of me loved having breakfast and relaxing on the morning of our wedding with James," Melissa said. "It made it seem relaxing and less stressful. Another thing that was my favorite was the wisteria. It was high on my wish list for natural spring flowers and James and I thought it wouldn't bloom in time. Then as we were driving to the park and I saw the wisteria, I literally screamed. It was like nature was decorating for our elopement, and that helped make it special. My last favorite memory was getting drunk with James (on fancy French Champagne) at home with leftover pizza (we were too tired to call for take out food) and Zoom calling friends. I could do without the epic hangover I had the next day, though."
Do you have any advice for other couples planning weddings in the Salem area?
"Salem is a very underrated place to get married, in my opinion," Melissa said. "People find amazing venues in a random city/town, but I really wanted to get married in a town that was special to us. Salem is where we were born, met, live together and it seemed right. There are some amazing niches in Oregon's capital, whether it be local parks to surrounding farmlands/vineyards or even small venues in the downtown area. It is nice also with the central location for gathering families all around the state. The main downside is the lack of nice hotels as there is only one fancy hotel in downtown Salem with the only other options being airbnbs and basic hotels scattered around the widespread town."
Any other insight that you would share about your elopement experience?
"It is hands down always the best option to utilize your friendships and connections with people in the wedding industry," Melissa said. "If you have an artist friend, pay them to do calligraphy. If you know a photographer, pay them to photograph your wedding. Katy is a close friend of both James and Melissa and hiring her was 110% worth it. Having a close friend directing and photographing the intimate moments in a wedding is so much more fun and relaxing than someone you just met. James and I tried to use all of our local connections as we wanted to support the local people around us (SFNY pizza, Eola Hills winery, Ponderosa & Thyme, Konditorei etc.) We were going to have a Konditorei cake, but for obvious reasons couldn't, but we plan to have that and Eola Hills wine at our future reception.
"When James and I got engaged, I said my requirements for a wedding were: beautiful wedding dress (check), twinkle lights (check, but larger lights at my receptions), wine/bubbles (check), flowers (check, check), and marrying James (CHECK!). I mean my other requirements were pizza, friends, and dancing but only one of those really came true.
"Having an elopement and later reception is nice because 1. you can wear your expensive wedding dress twice (score) and 2. you spend all your energy just getting married for your elopement (and take awesome photos!) THEN later on you can have an epic and awesome reception party (post-corona) with friends and family. It basically stretches your wedding out longer and gives you two wedding days and that sounds nice to me. I've learned to roll with the punches and even with crazy wedding changes due to the virus, we learned that its really just about getting married to each other and everything else is just extras."
The Vendors
Dress: BHLDN, Ricarda gown, Willow by Lainie, Willow by Watters

Suit: Suit Supply in Seattle, WA, Shirt by Nordstrom, green tie found in a thrift shop in Amsterdam

Bride shoes: Miss Royal Vintage Shoes

Earrings: BHLDN

Necklace: cameo bought in Bellagio, Italy

James & Melissa's wedding rings: Robbie Curnow

Perfume: Jo Malone (davena & honeysuckle) London

Lip balm & blush: Glossier

Hair Vine: Etsy

Ribbon on bouquet: Silk & Willow

Florist: Katie Davis from Ponderosa & Thyme - James works with her and she did their wedding as a gift - she is not currently accepting new wedding clients at this time.

Officiant: Steve Barrow

Food: Straight From New York Pizza

Calligraphy: Melissa did all calligraphy on the invites