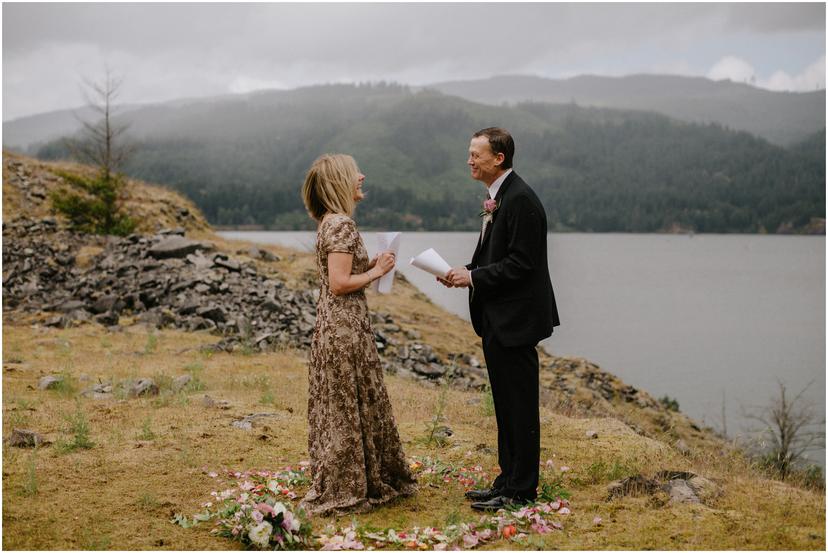 Government Cove Elopement
Jan and Mark always knew they wanted a tiny, intimate elopement in the Hood River area. When the pandemic hit, they worried they would have to postpone it. But upon further discussion, they realized their event was already SO small that it was doable. They pictured having a relaxed day, immersed in stunning scenery, followed by some fun in Hood River afterward. Despite the chaos of this year, they were still able to make that work!
It was just me, Jan and Mark, and their fantastic officiant Susie Cunningham (plus her husband and dog). The five of us found the perfect location at Government Cove. It was both private and protected from the wind. Susie led them in one of the most elaborate, thoughtful, and personal wedding ceremonies I've ever seen. It wasn't short and sweet: it was intentional and representational. They exchanged gifts, boxed up some wine for future anniversaries, exchanged vows in a unique back and forth format, and did a ceremonial combination of wine and beer tasting. We laughed and cried as the weather did the same - bouncing back and forth from raindrops to sunshine. It was pure magic, and I loved documenting every minute of it.
After the ceremony, we took portraits around Government Cove, in Cascade Locks next to the Bridge of the Gods, and at a few of their favorite spots in Hood River. I loved their playful, carefree attitudes!
About Government Cove
Government Cove is a unique location just east of Cascade Locks in the Columbia River Gorge. It's a large, undeveloped peninsula covered in trees, cliffs, epic vistas, and trails. It's not an official park; the land is owned by the Watlala (Cascade) People, Upper Chinook people that were removed and split between the Confederated Tribes of the Grand Ronde Reservation and the Confederated Tribes of the Warm Springs Reservation in 1856 and 1860. There are no restrooms, no parking fees, nothing, just a dead-end where you ditch your car and then explore from there. It's usually empty, except for fishers and photographers, haha.
Someone once described Government Cove as "the one place in Oregon that looks like Iceland." It's not that far off from the truth. Moss carpets the rocky cliffs, and the views make you feel like you are in a movie. It's the perfect place for a romantic picnic, a short walk, photoshoot, or elopement. There's a good reason photographers love it here! You can see more sessions I've photographed at Government Cove here!
If you do visit Government Cove, please be respectful of the land and how you use it! I've seen people break through the gate before and leave trash. Please park at the gate and walk up. Please pack out all your trash. And if you are using the space, consider donating a few dollars to the Chuúsh Water Fund. The Tribe is experiencing a serious water crisis and your small donation (the cost of a state park visit or parking downtown) can make a huge help.
This is a great article to help you learn more about the Cascade People and the history of Governement Cove as a location.
Favorite memory from your Government Cove elopement?
"It's impossible to choose one favorite thing about our elopement," Jan said. "Every aspect was perfect. The ceremony itself was very personal and meaningful to us. The rituals we incorporated, from exchanging gifts that represented us, mixing Mark's beer and my wine together, exchanging vows we had written separately, to placing wedding bands on each other's hands all wove together to create the beginning of our marriage in the spirit of love, respect, commitment and fun that we both share and so highly value."
Why did you choose Government Cove for your elopement location?
"Hood River has special meaning for us, so we knew we wanted to be married and celebrate in that area," Jan said. "After listening to us describe what we hoped to find, Katy suggested Government Cove. Government Cove had exactly what we were looking for: diverse natural beauty to create a dramatic backdrop to our ceremony. The location of the actual ceremony was on a flat area overlooking the water and was very private. After the ceremony, we walked a short distance up a path and had breathtaking views of the Gorge. Katy wonderfully captured the beauty of the location and the joy we felt.
"If you're thinking about the Columbia River Gorge, Government Cove can't be beat! It was easy to access, beautiful views, not highly trafficked, at least when we were there. After the ceremony, we went downtown Hood River. Katy was a great sport and took some awesome shots of us in the middle of the street, at the base of Bridge of the Gods, on a train, and in Adirondack chairs in someone's backyard! After we were done with pictures, we went to Marchesi Winery, which had just opened back up after COVID. It was a perfect place to relax and reflect on our day. We were welcomed by the owners with warmth and friendship and delicious wine; we will definitely go back when we're next in Hood River.
What did you love about your vendors?
"Katy and our officiant, Susie Cunningham, and her husband, John, all made every effort to make our day so special. Katy and Susie started as people contracted to do a job, but quickly turned into friends helping us celebrate our most important day."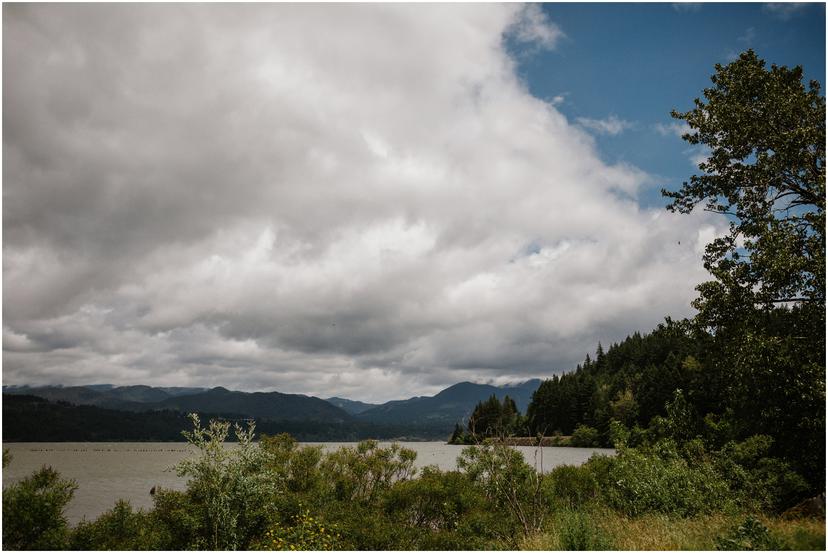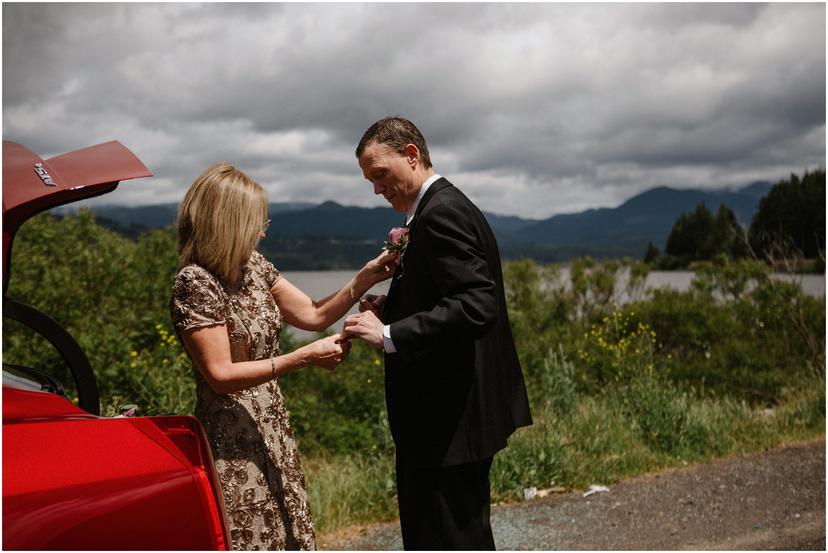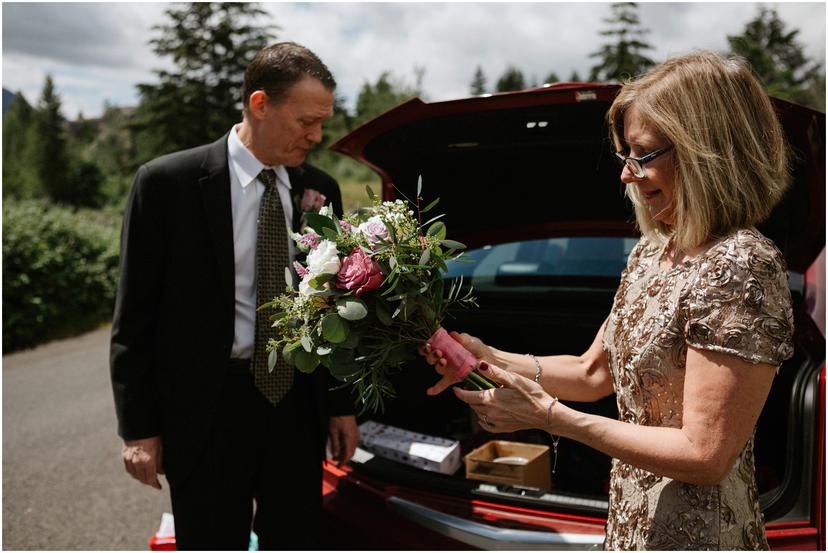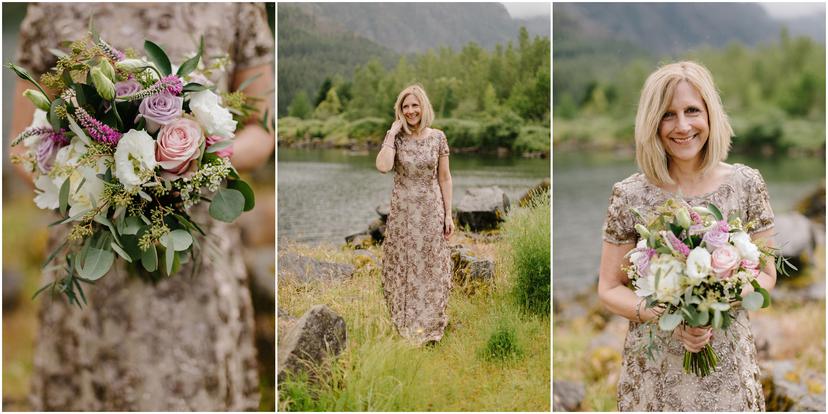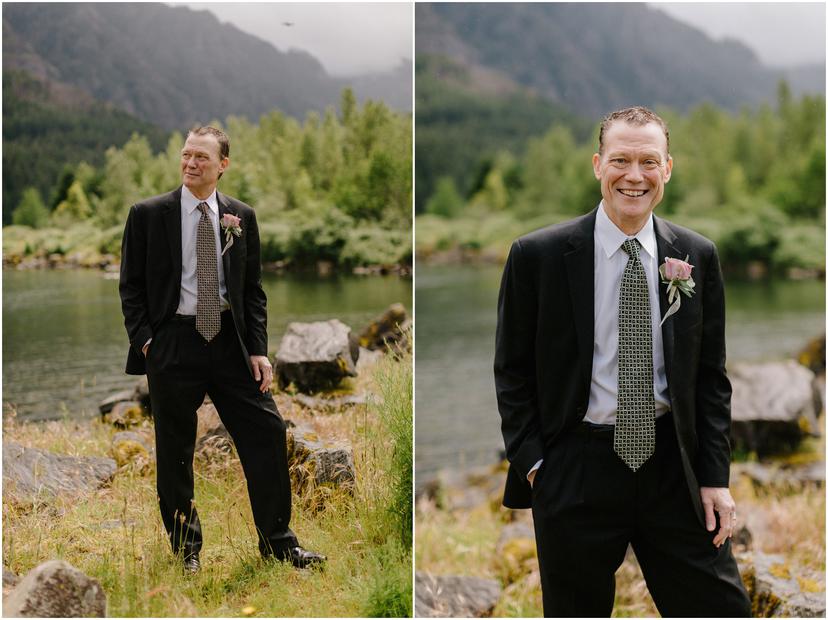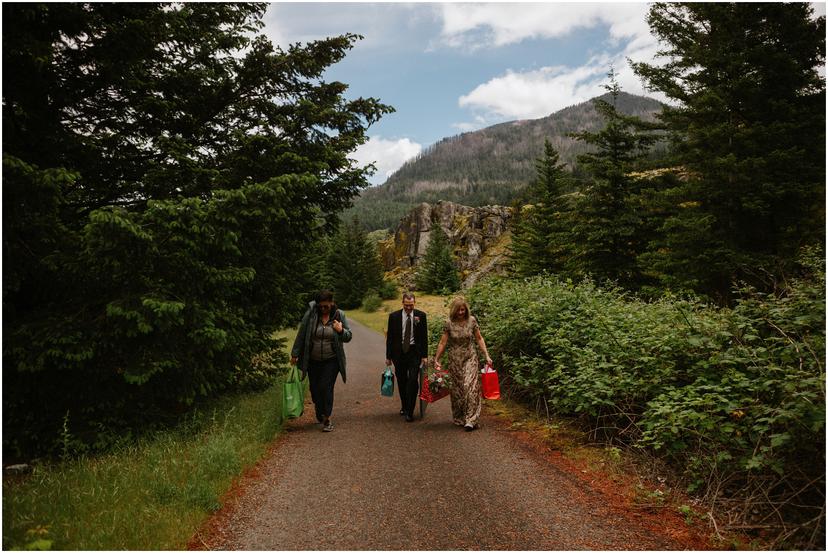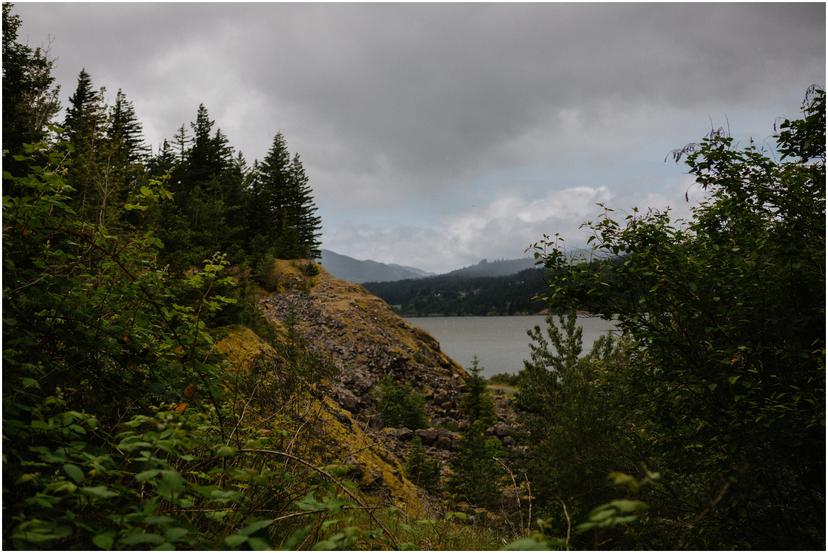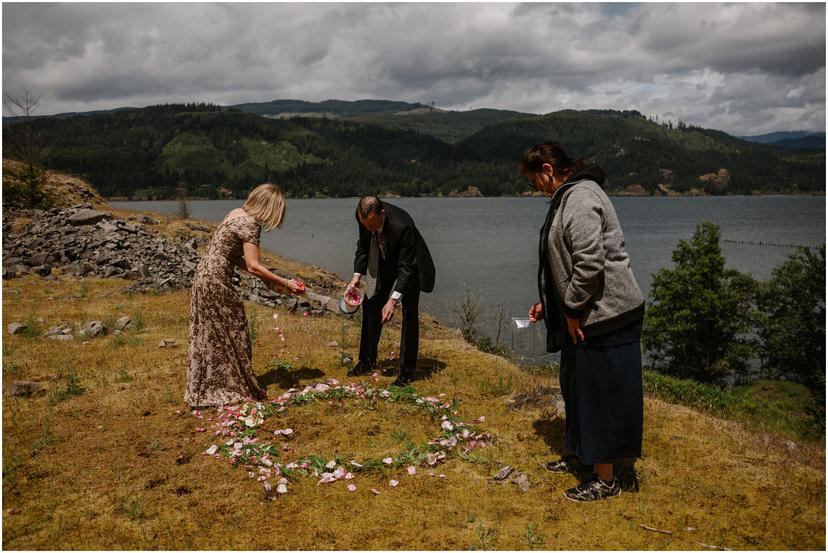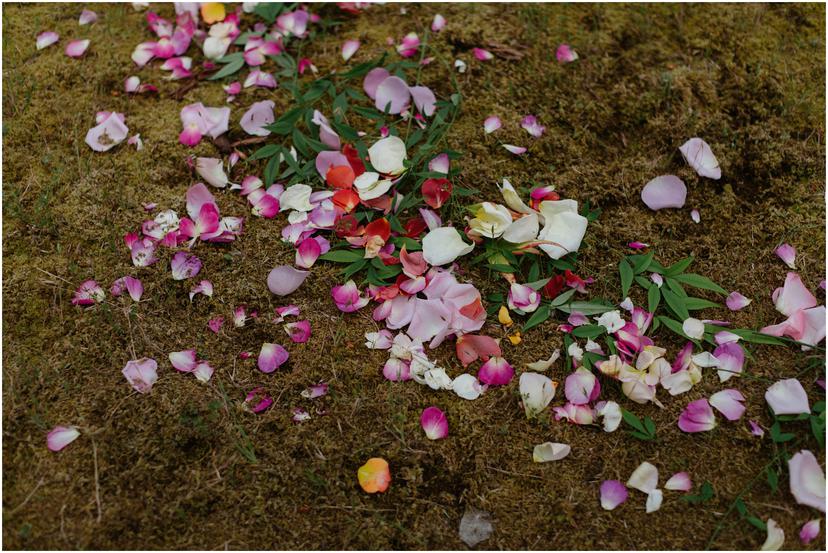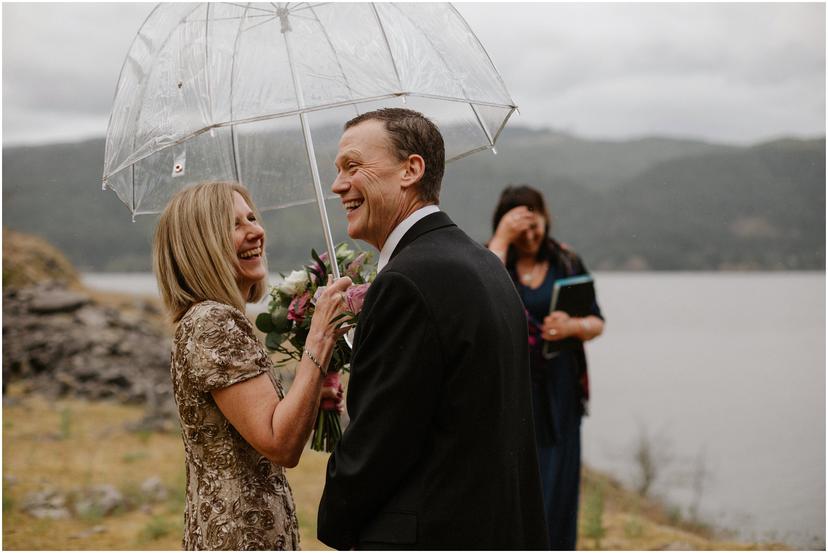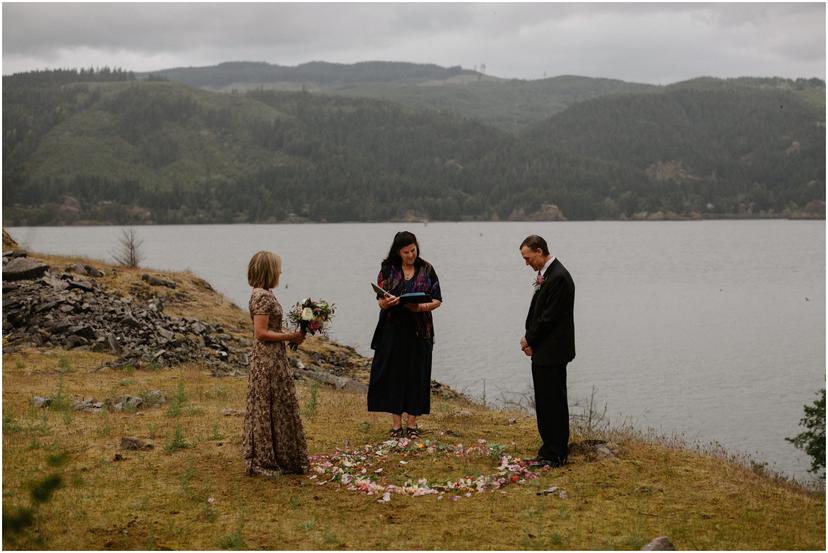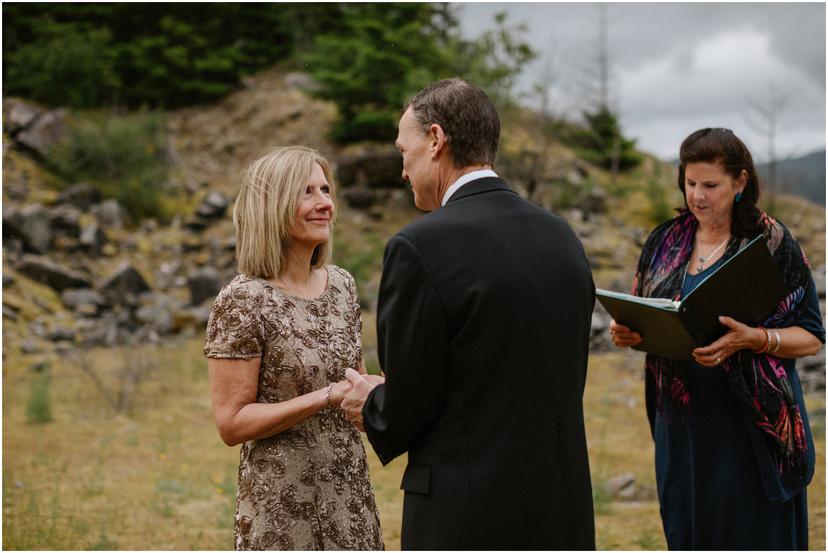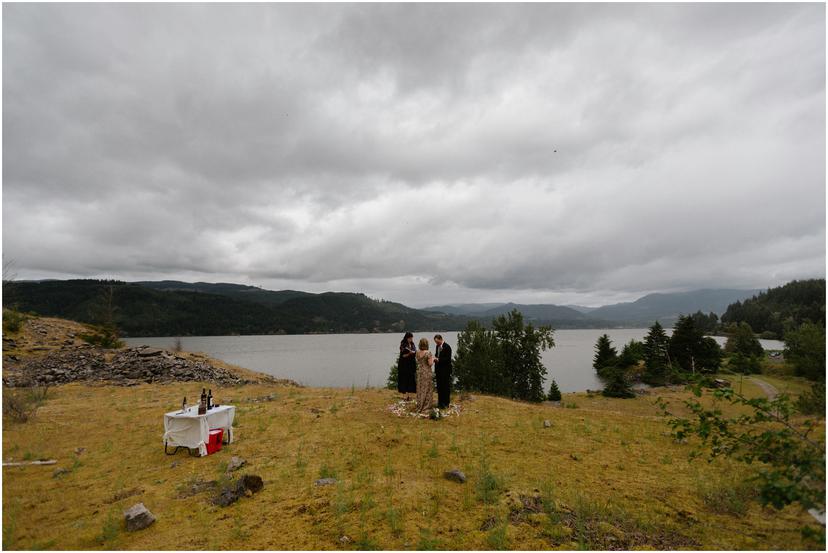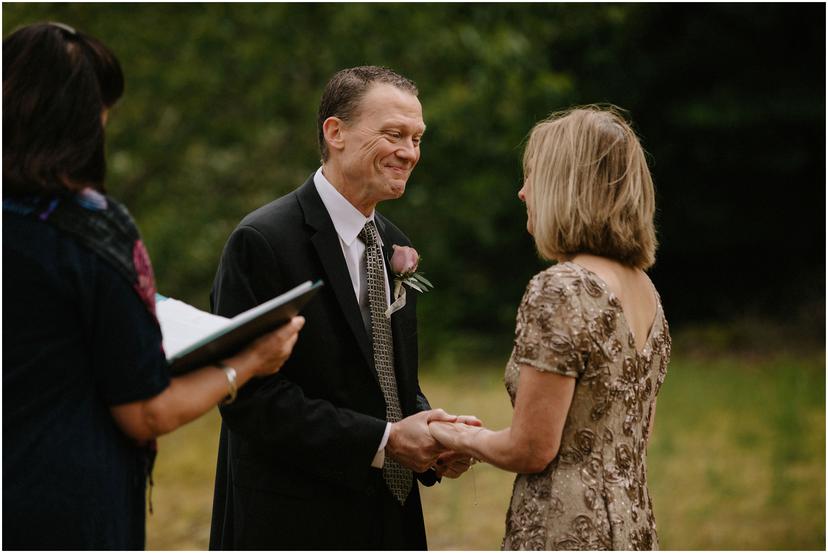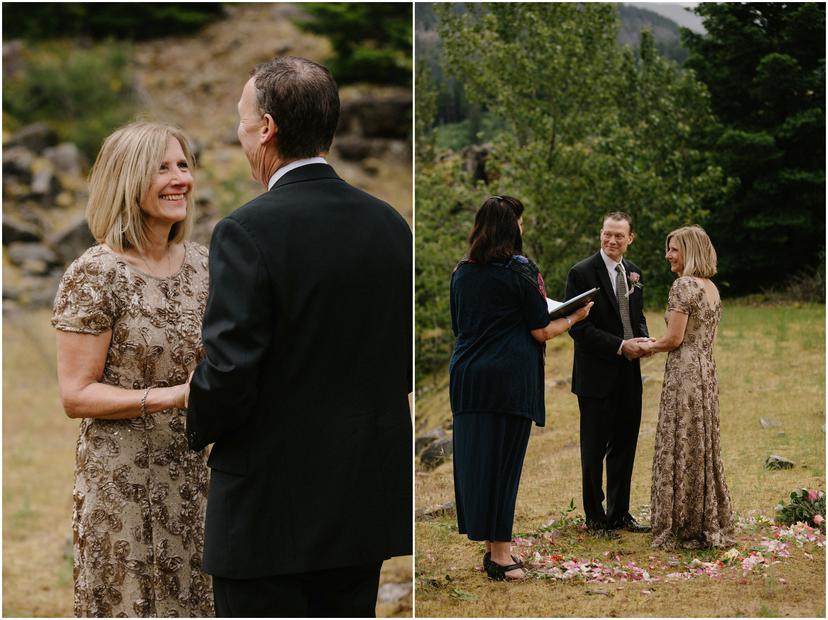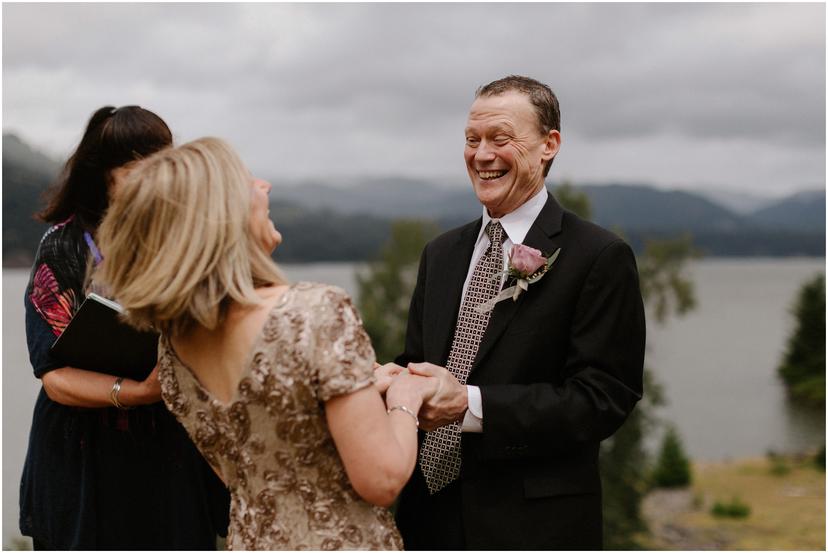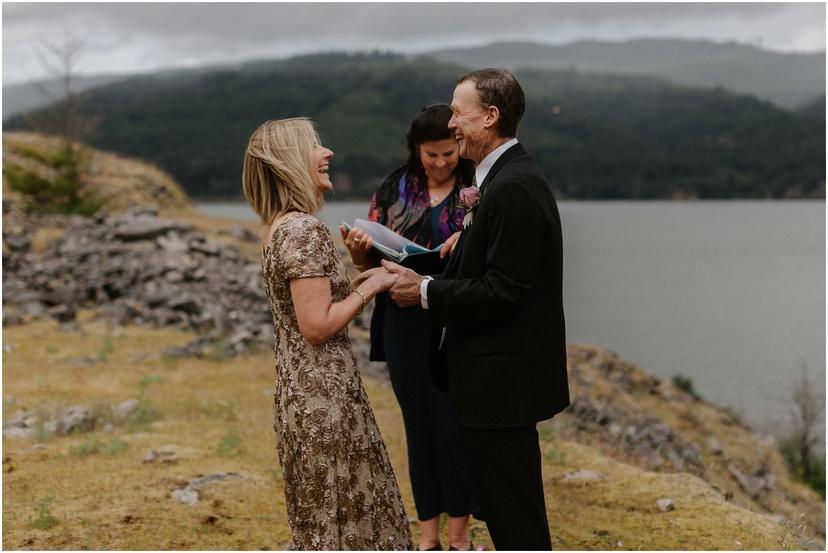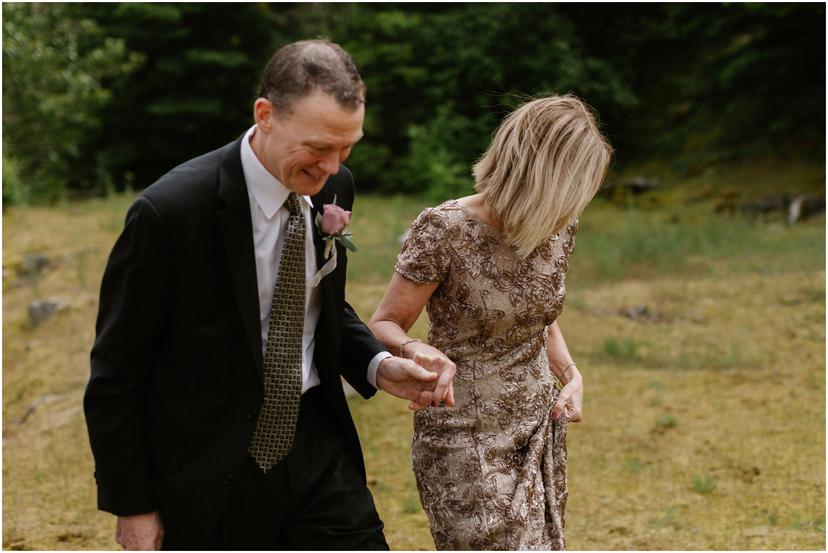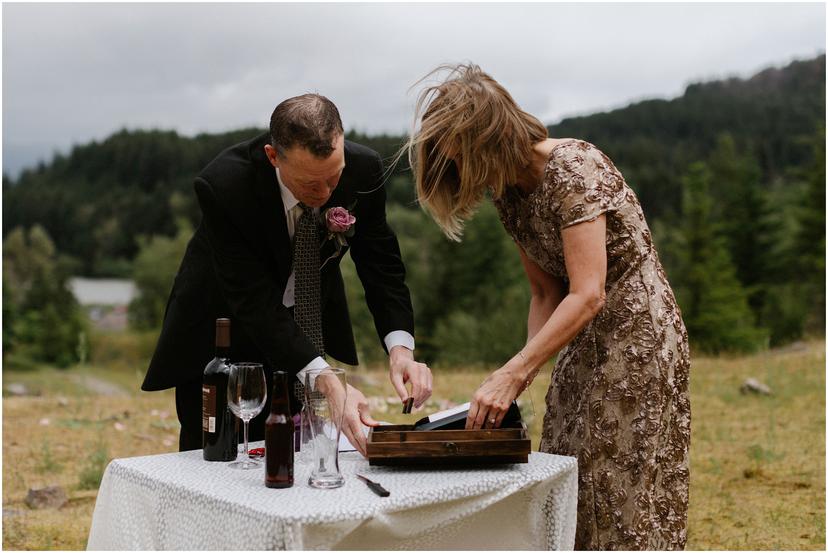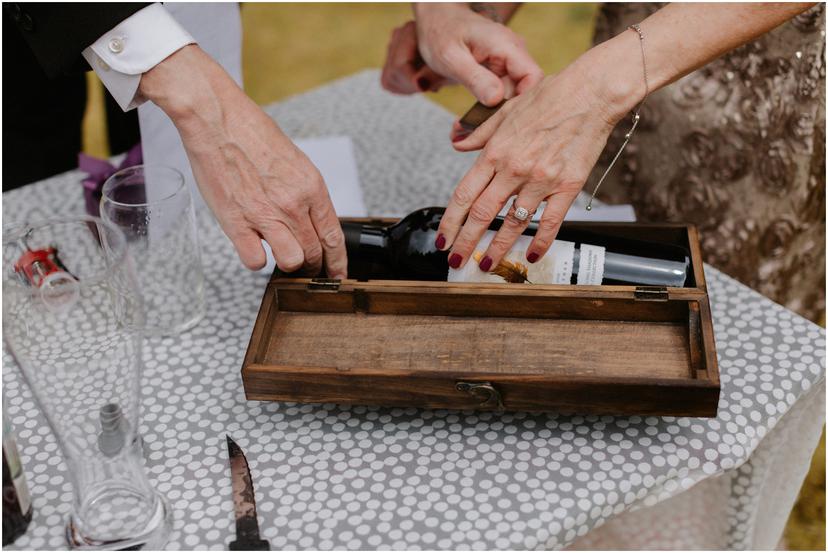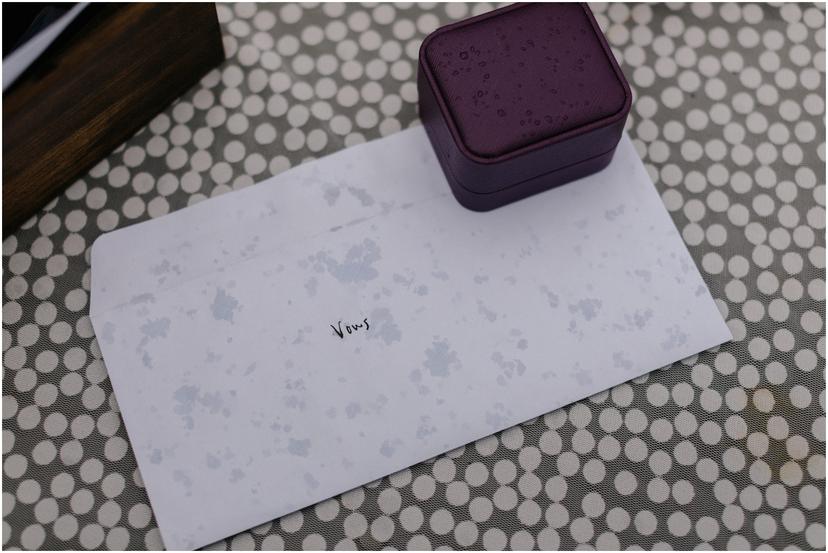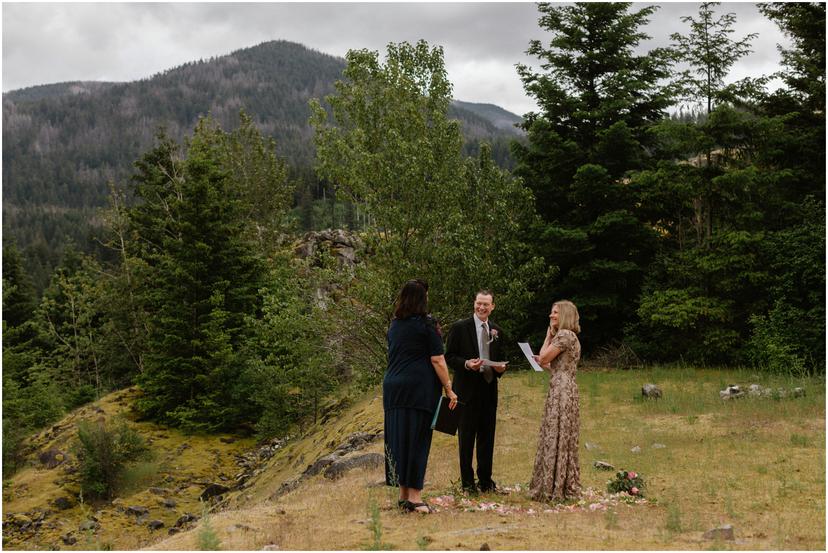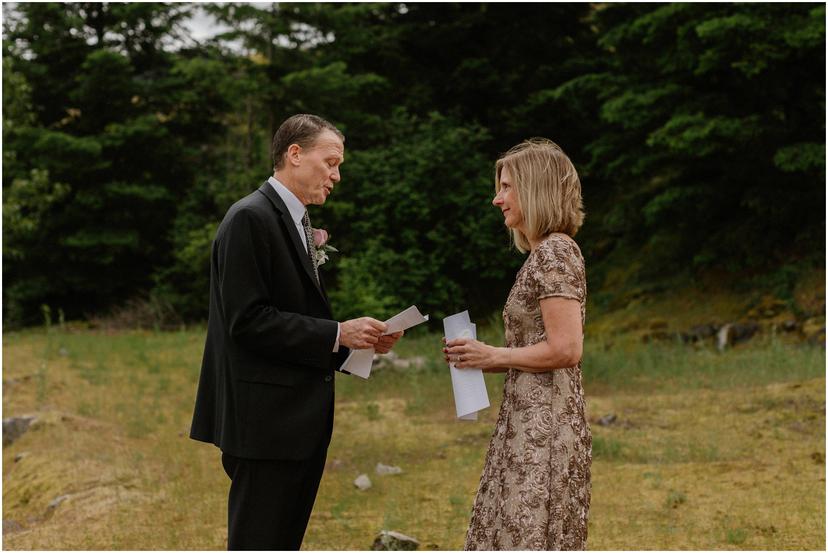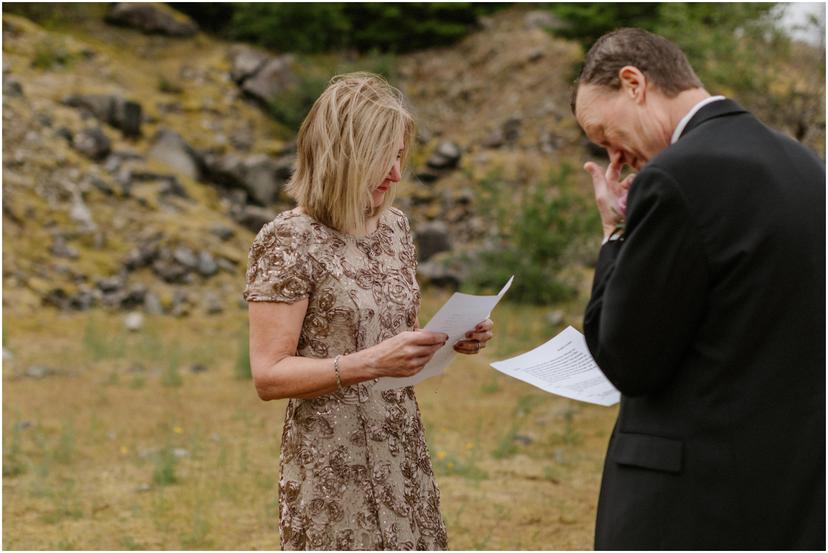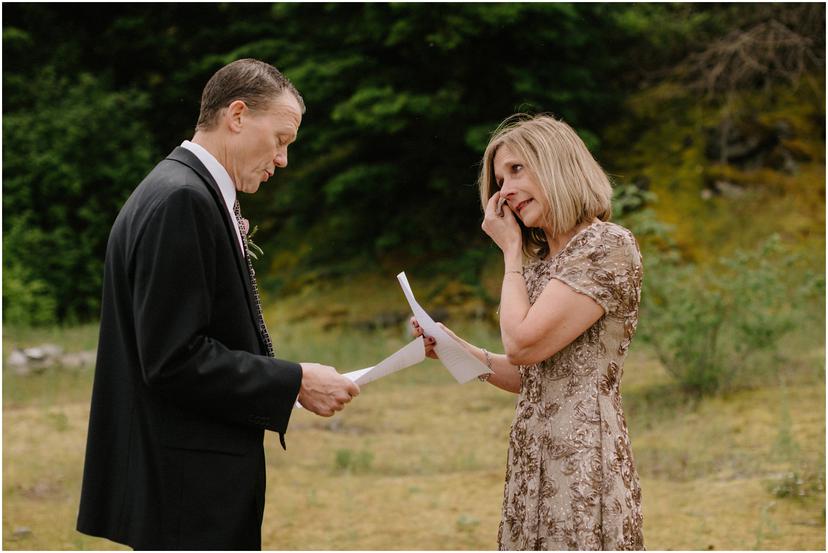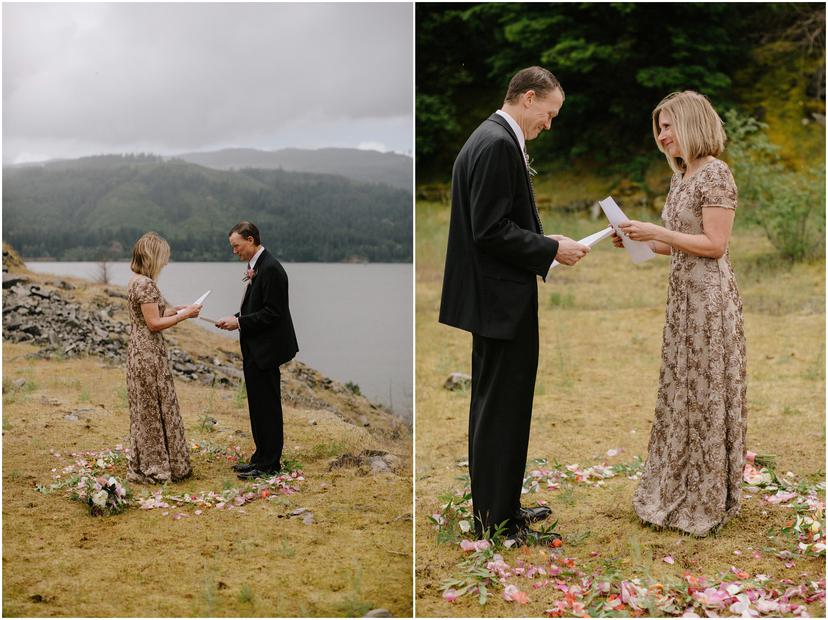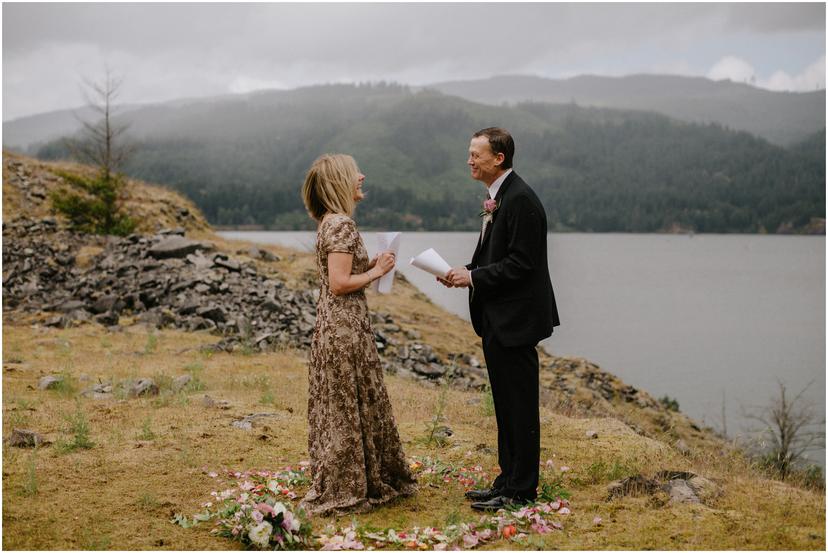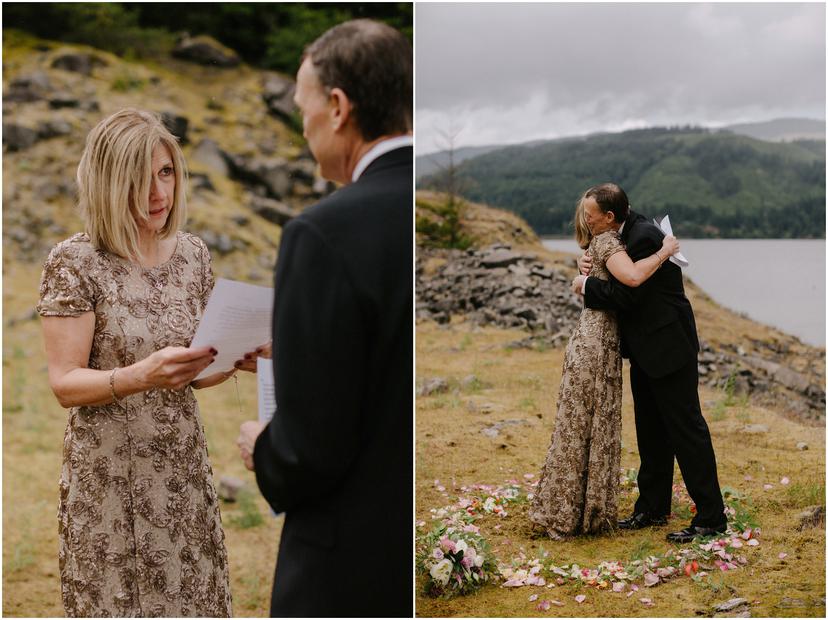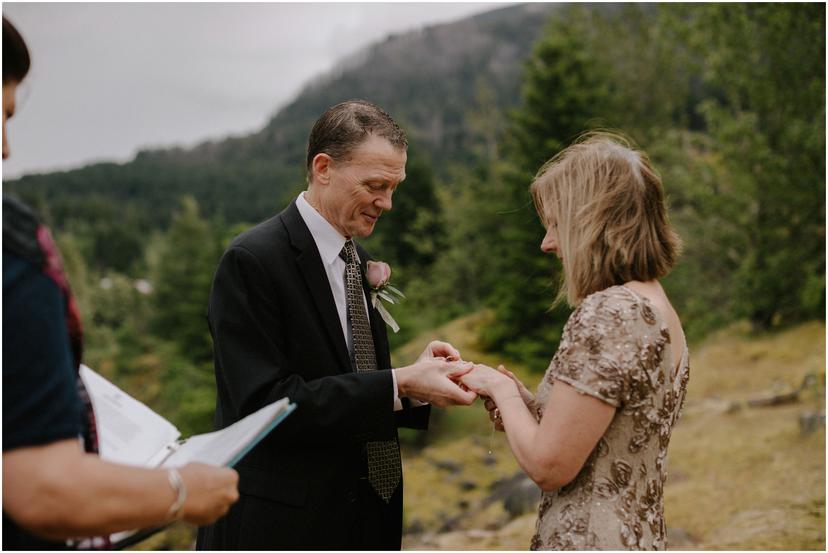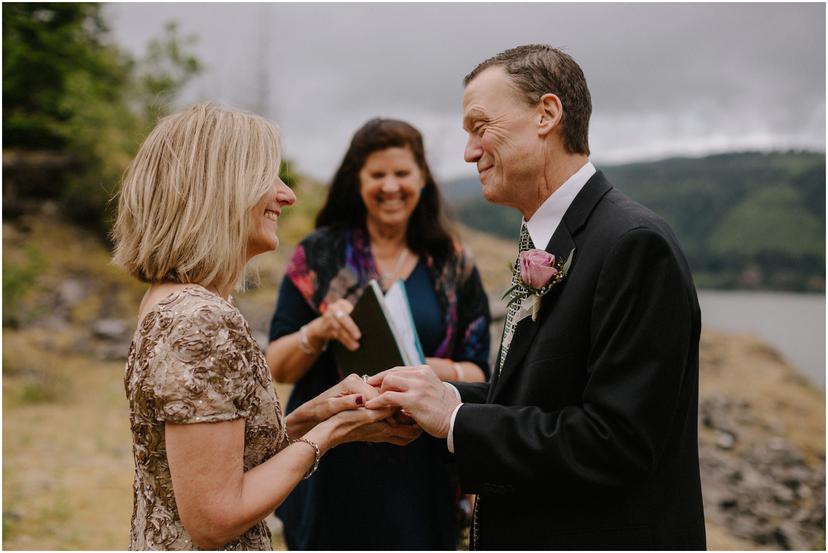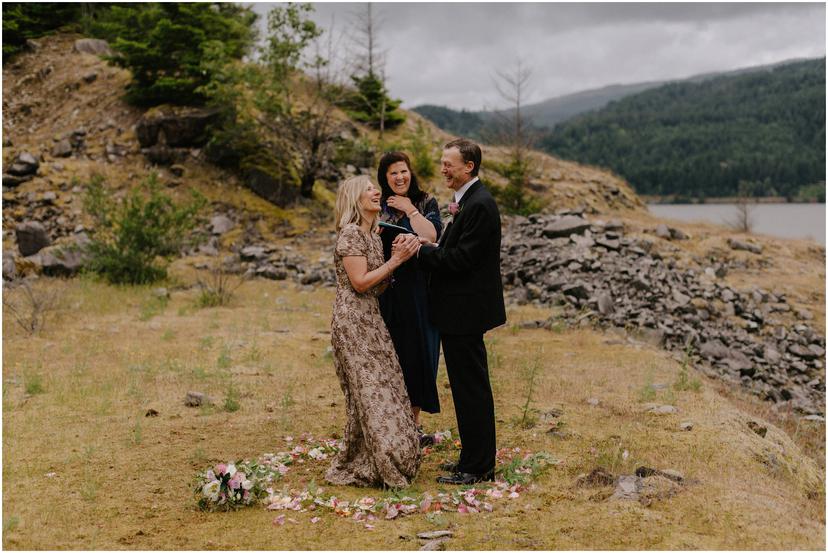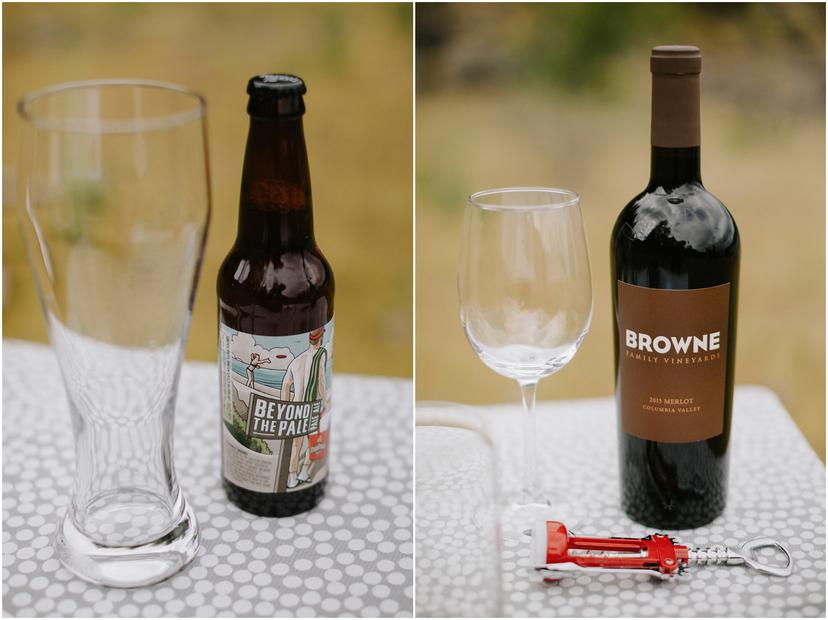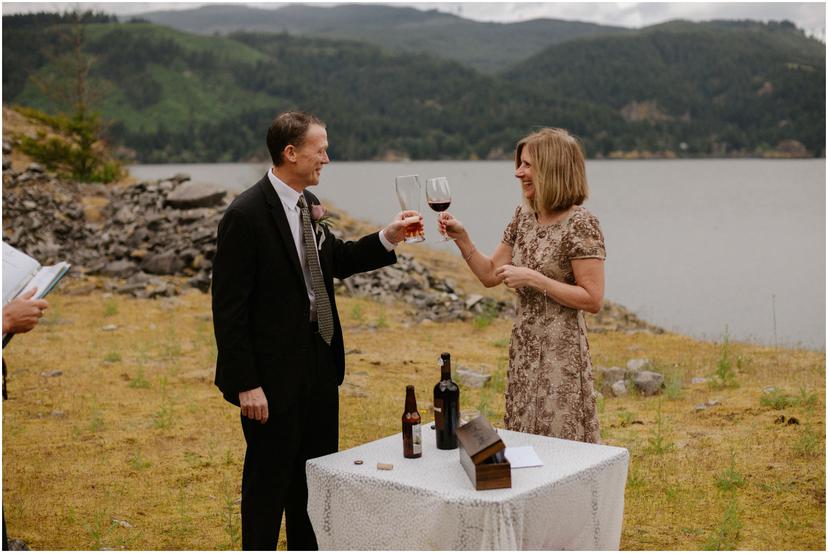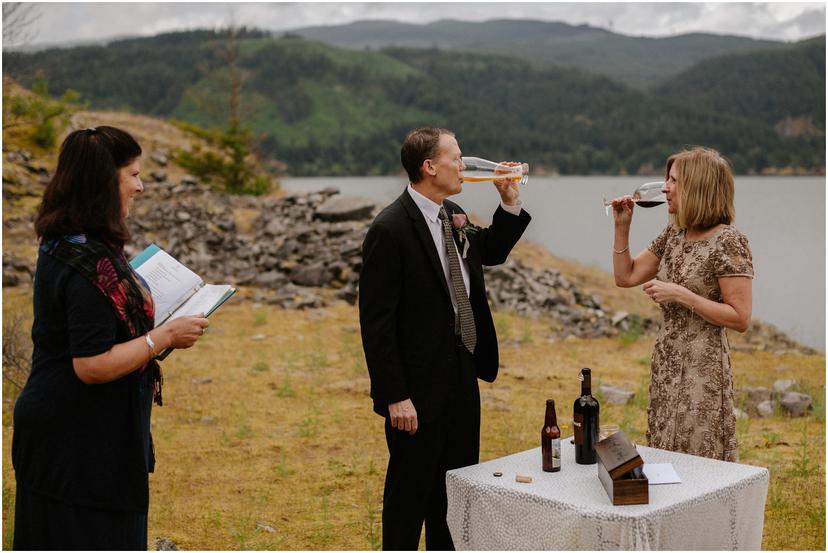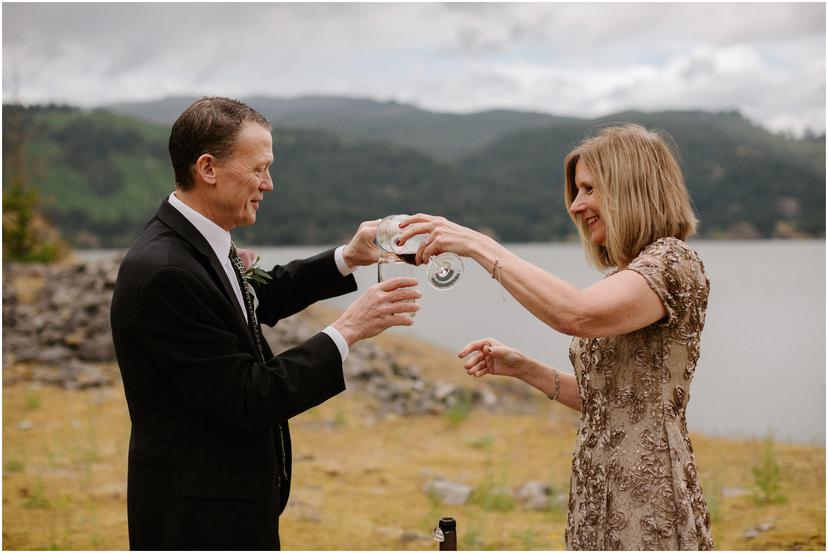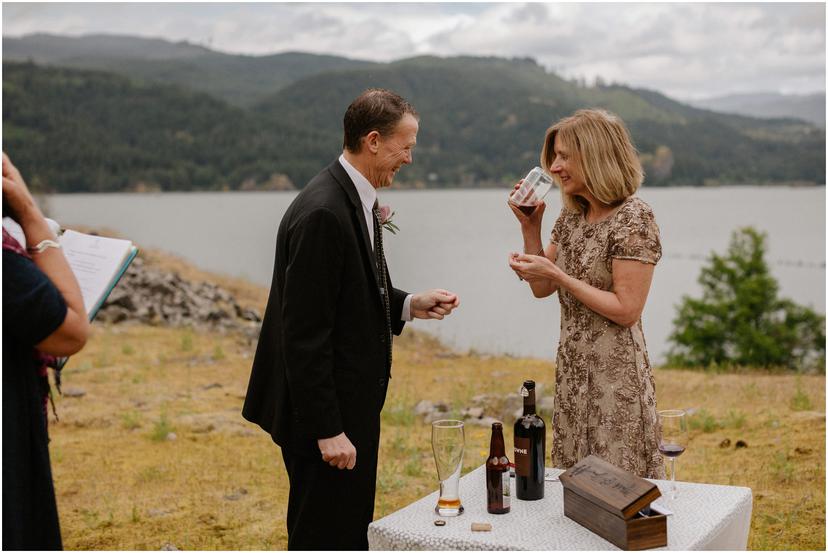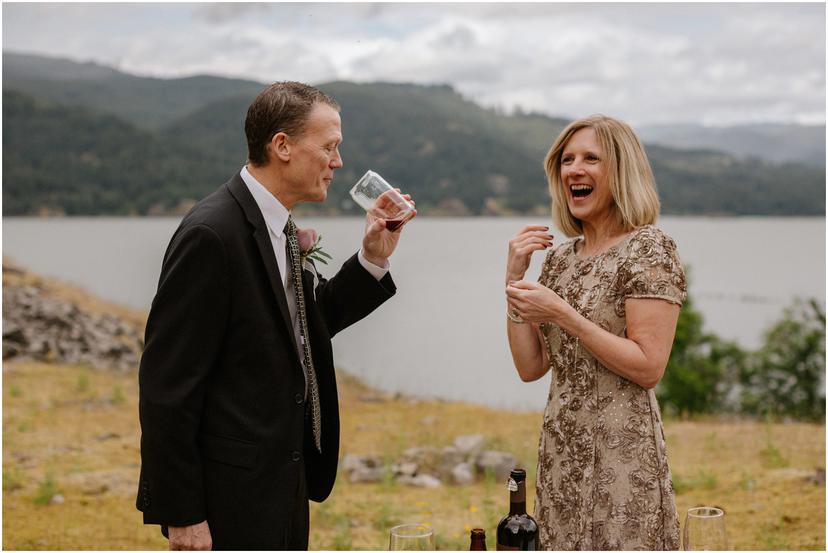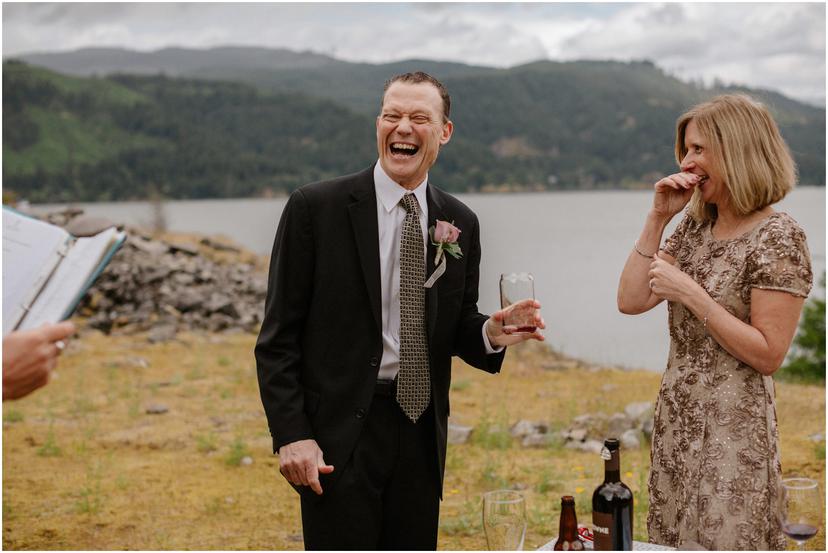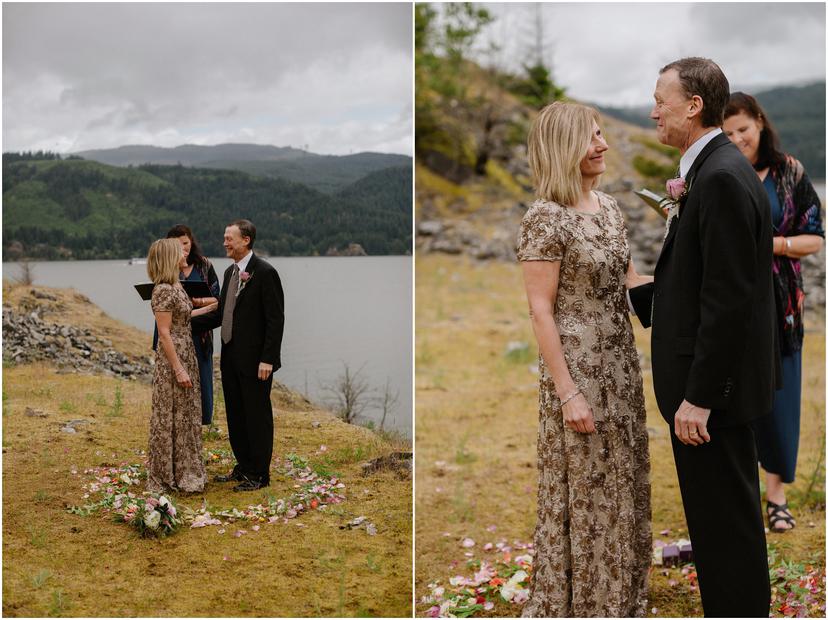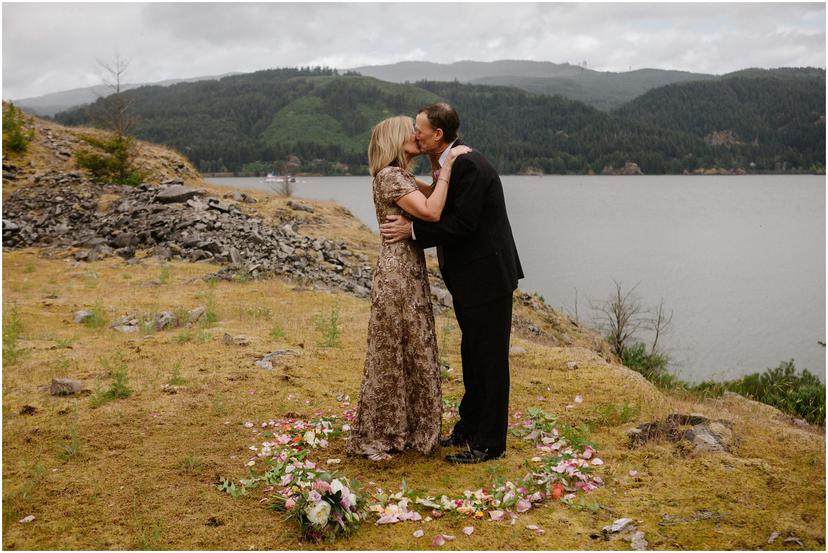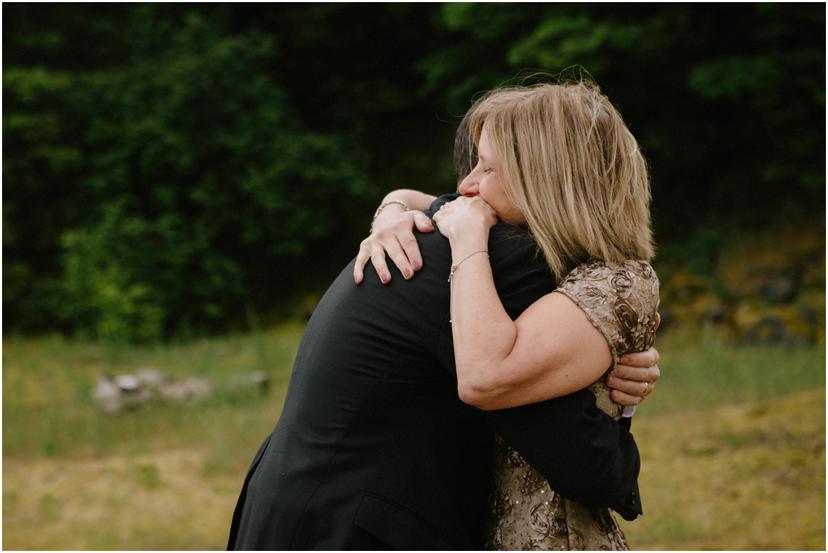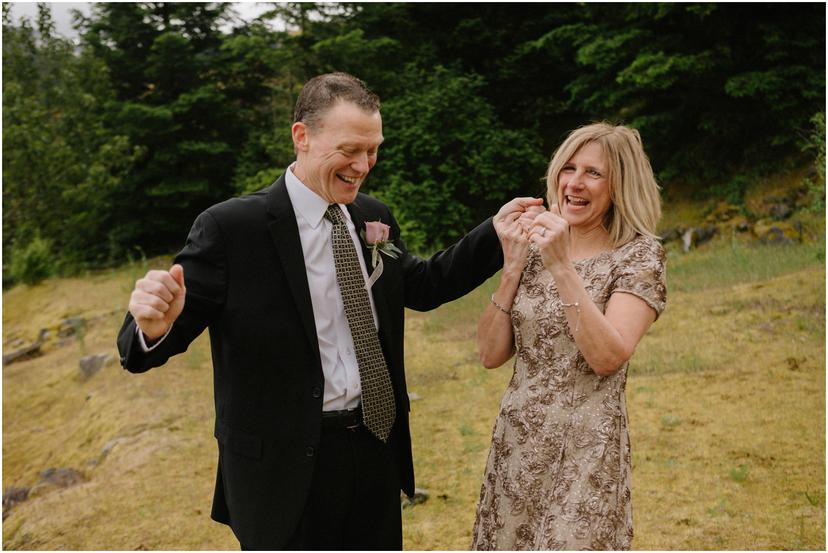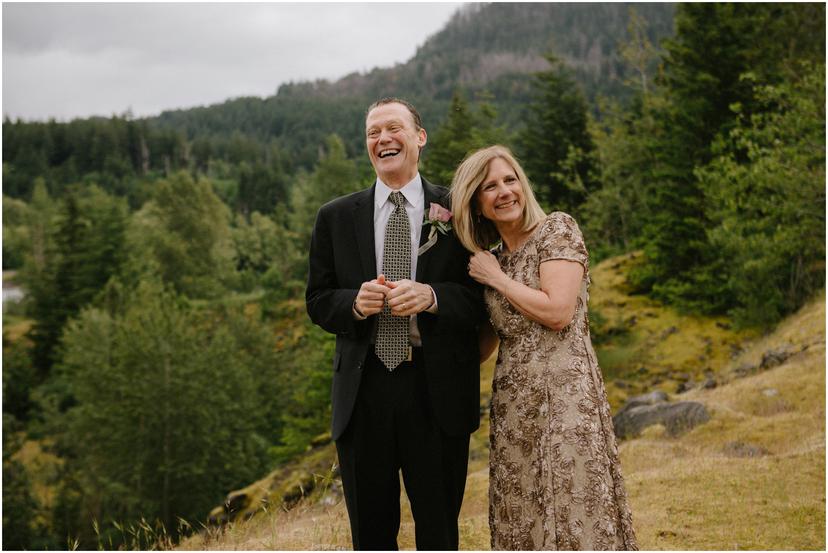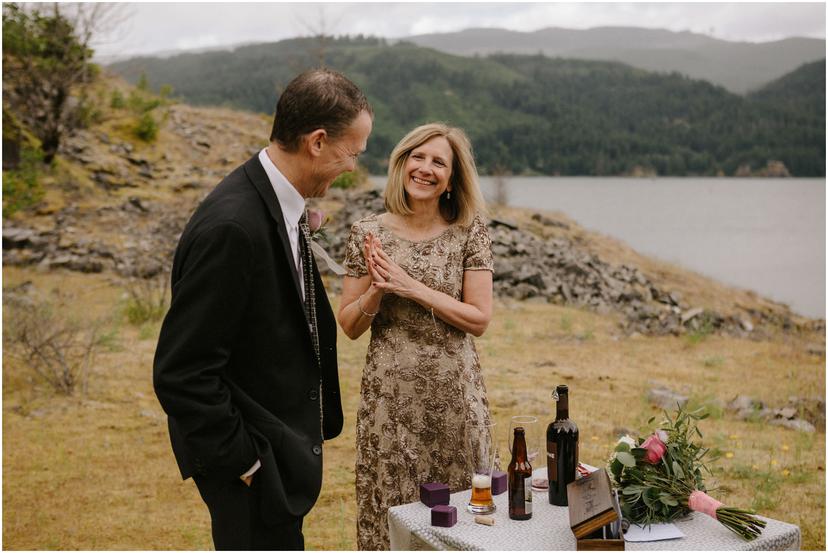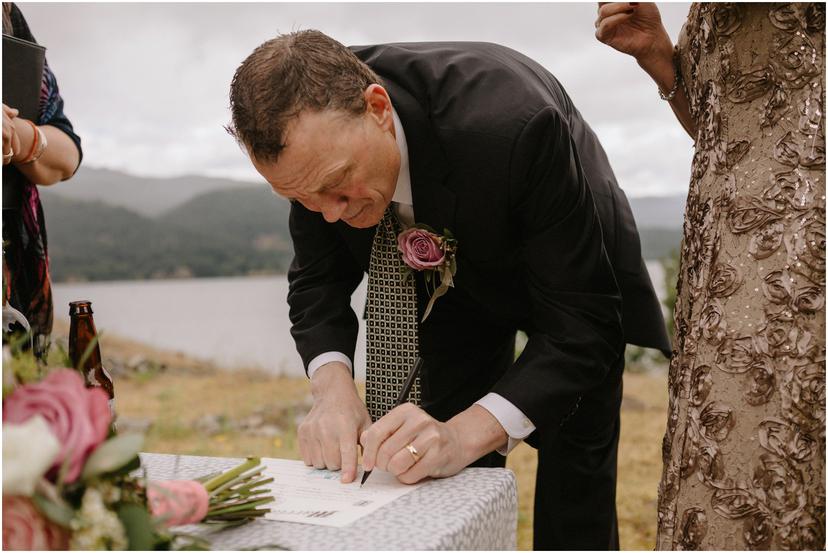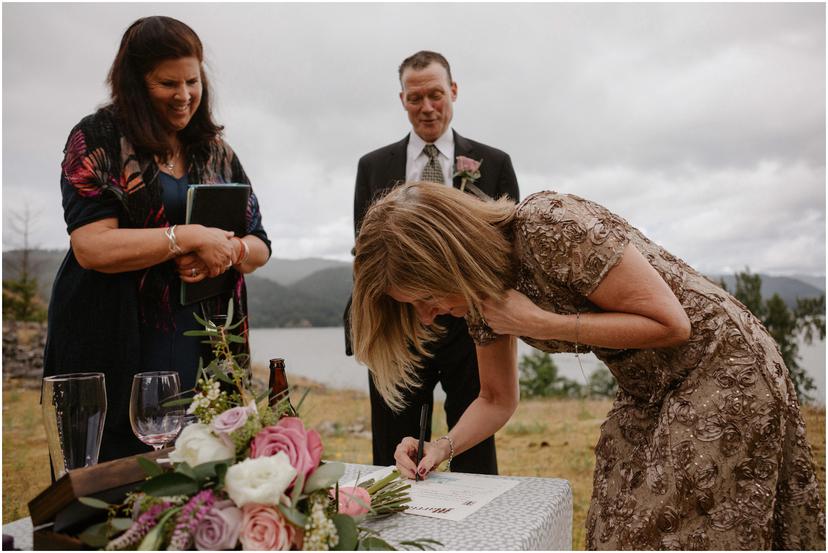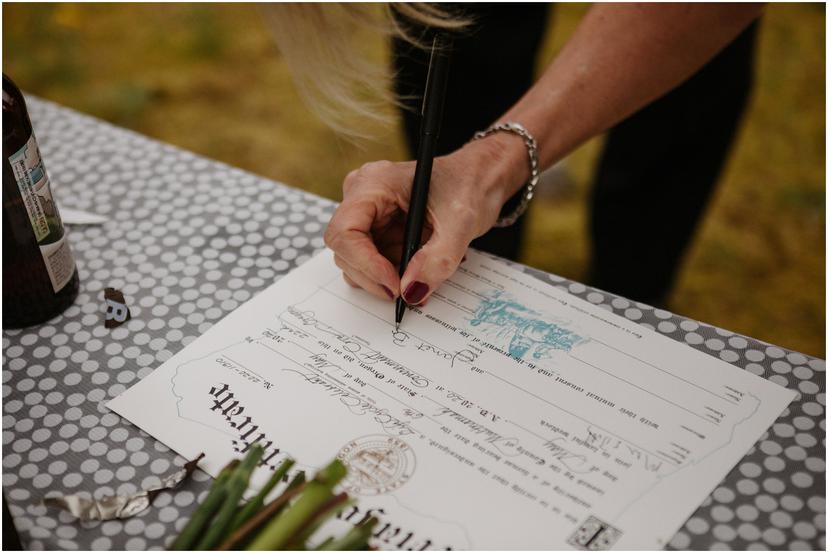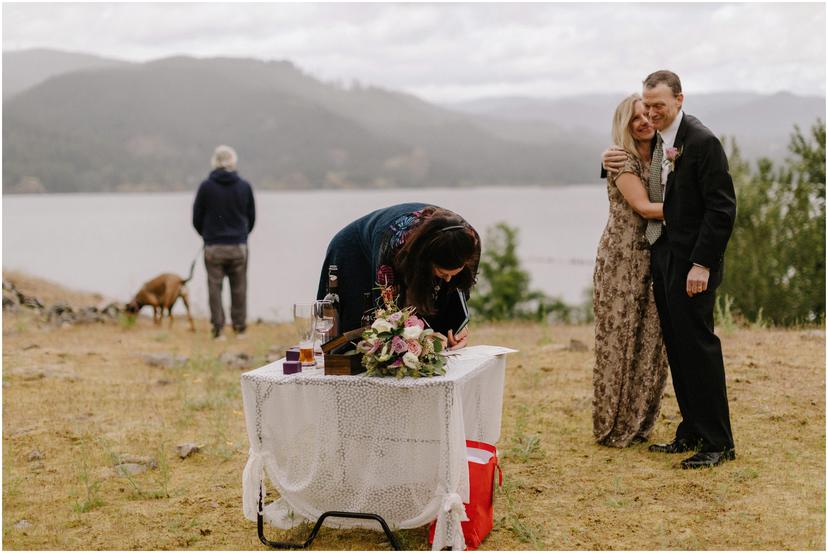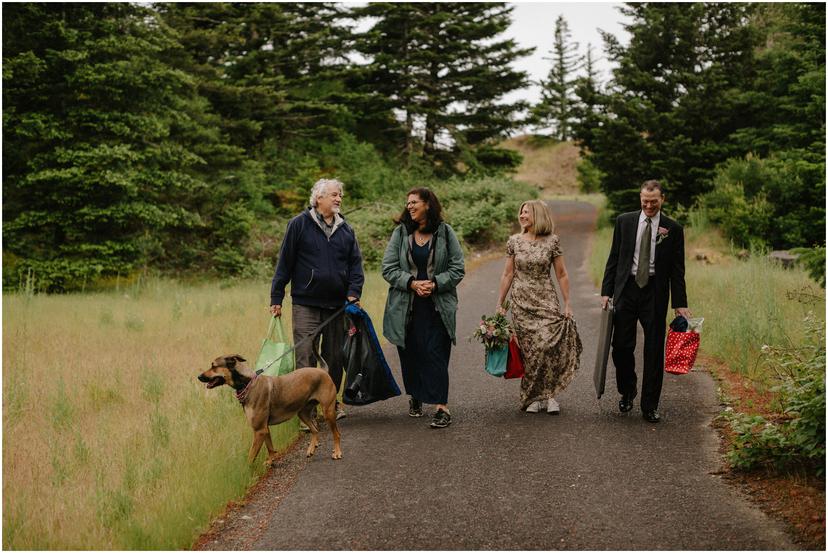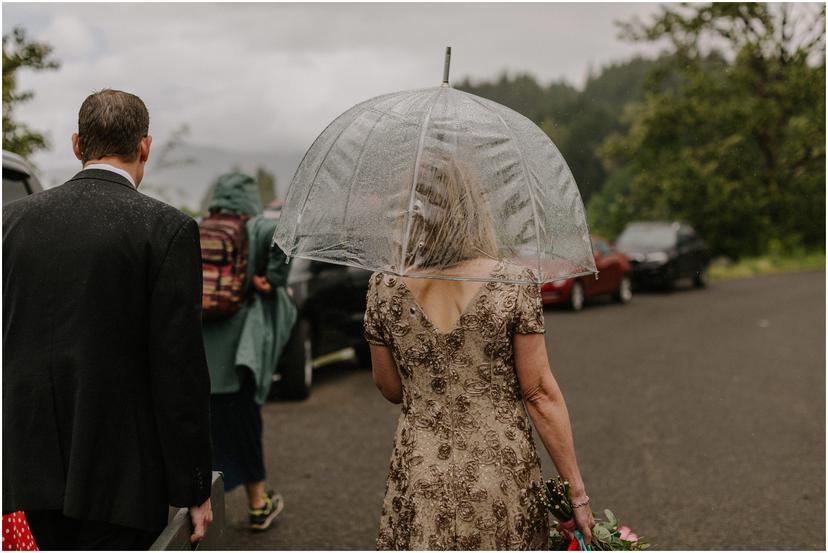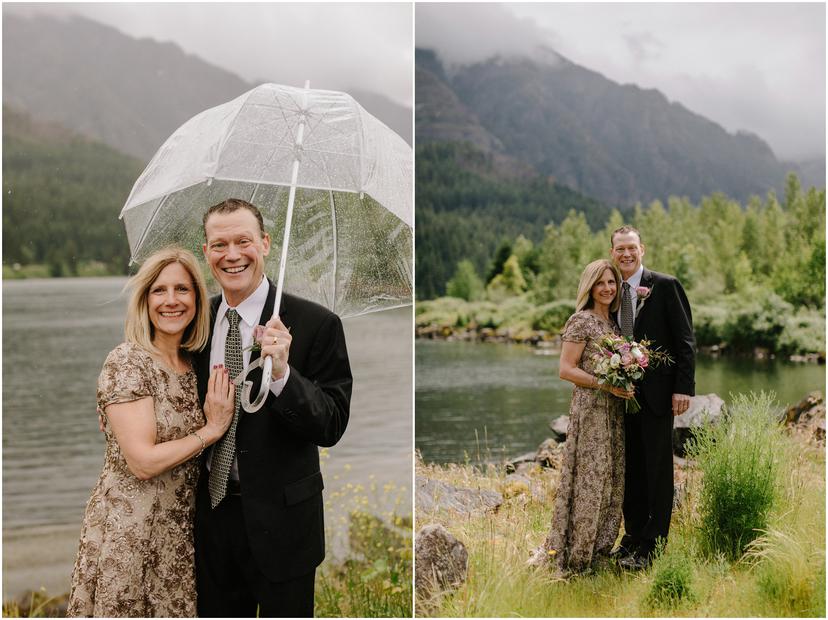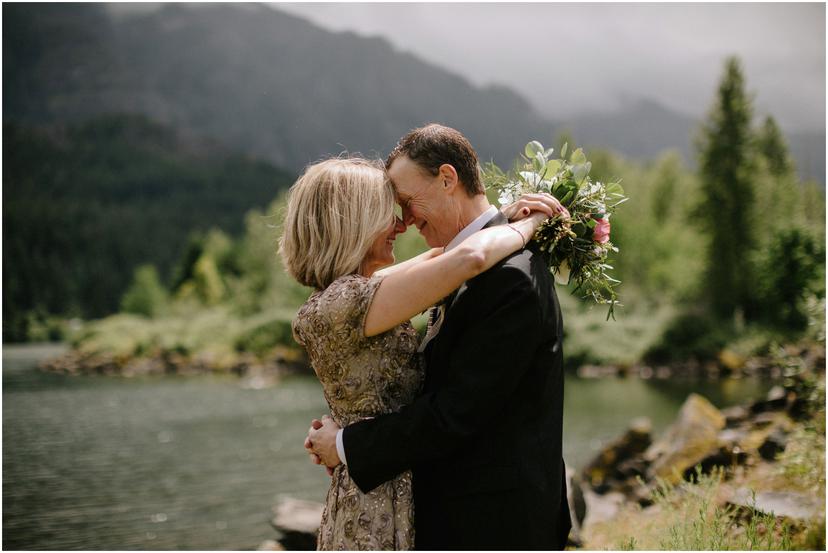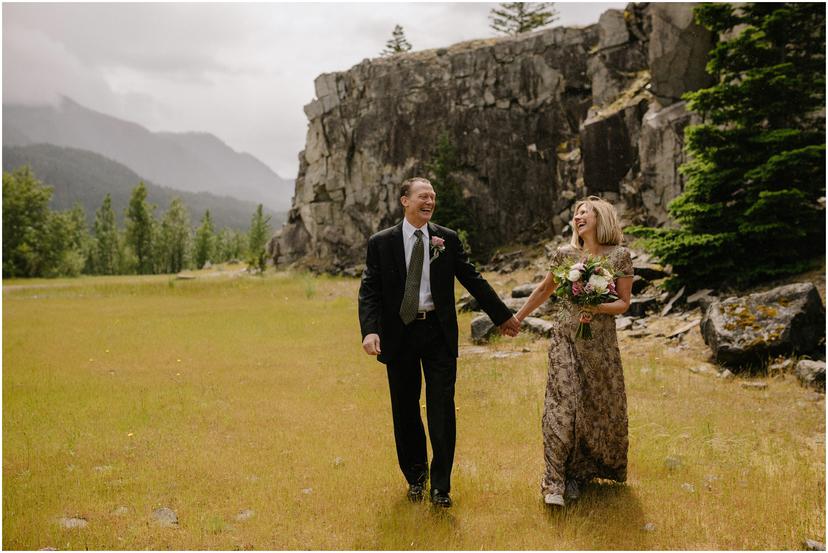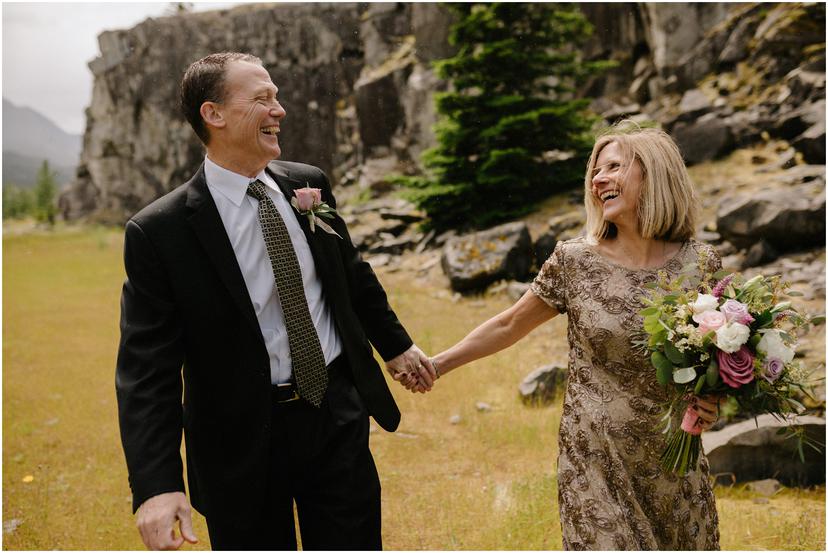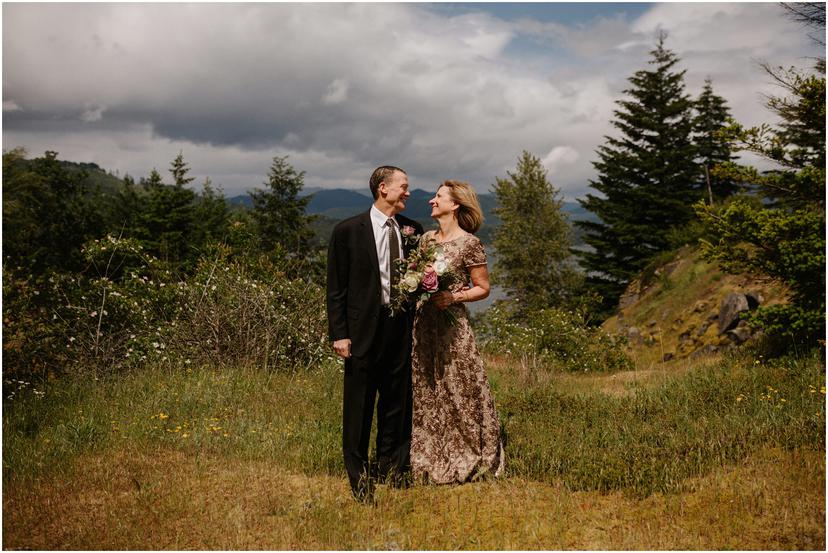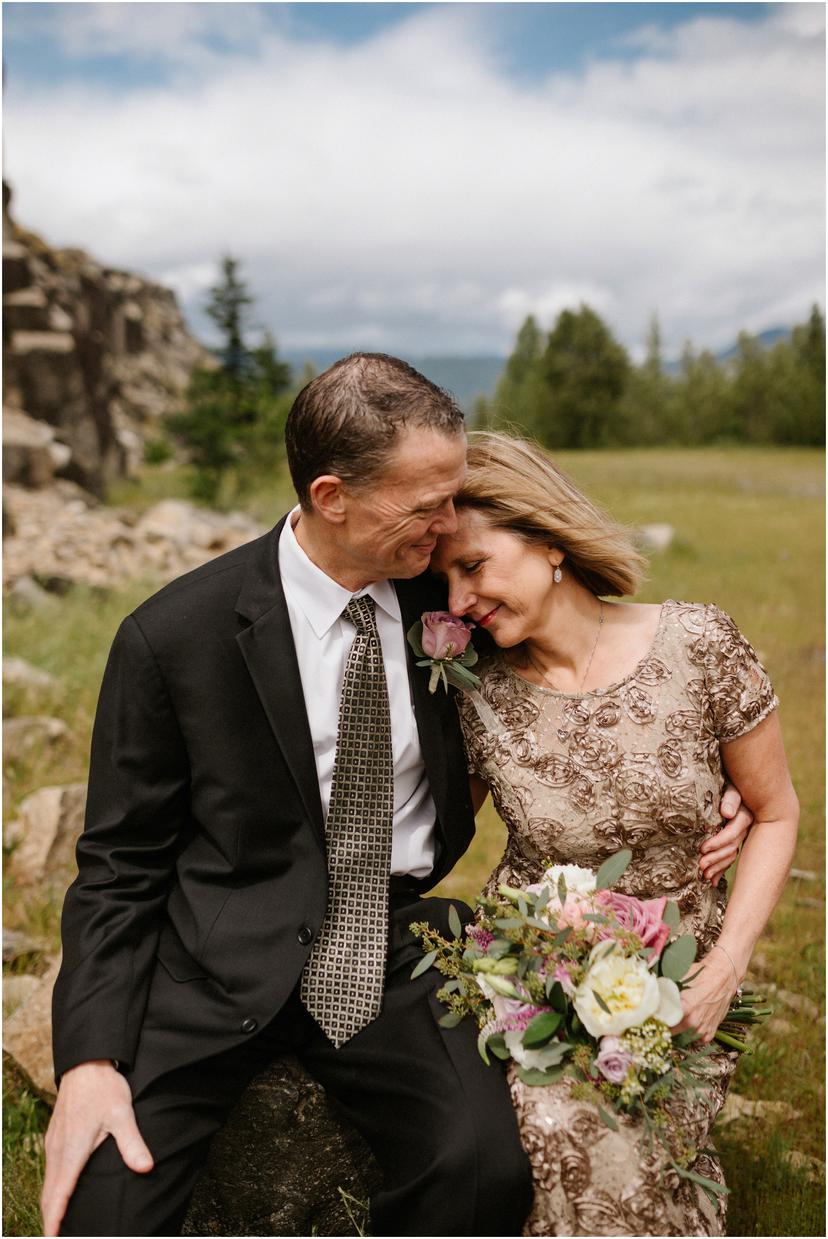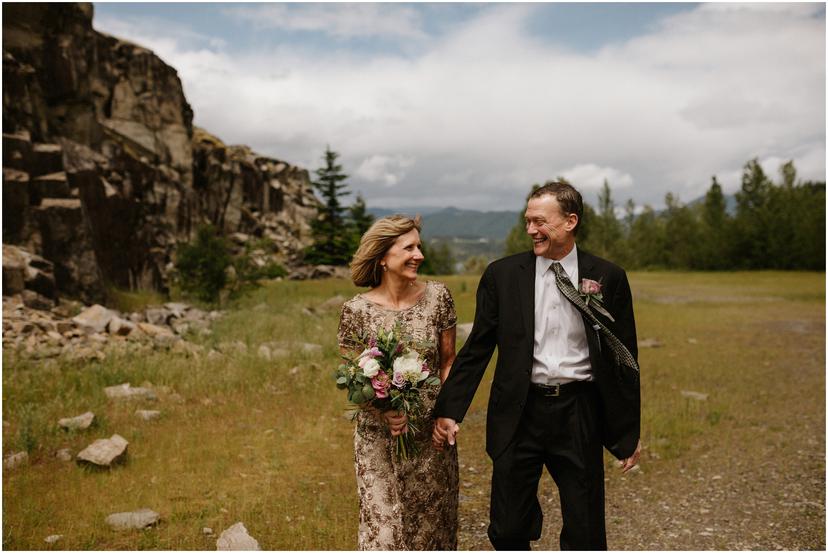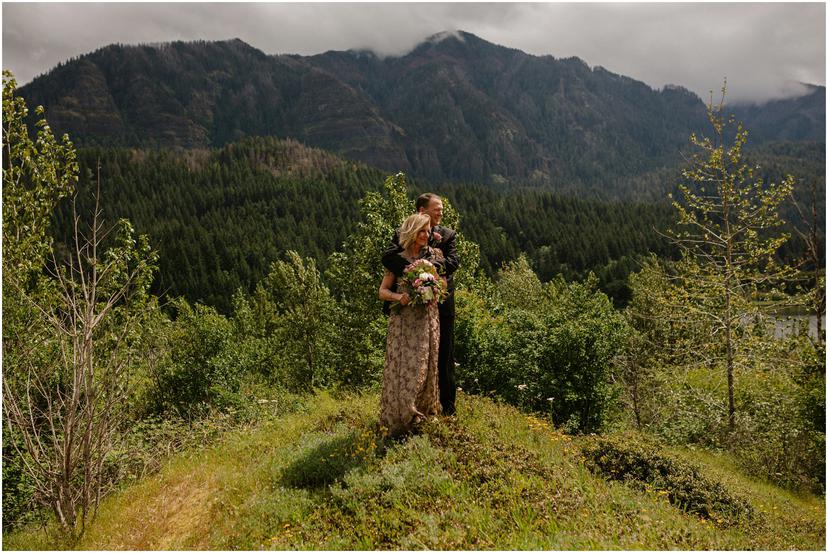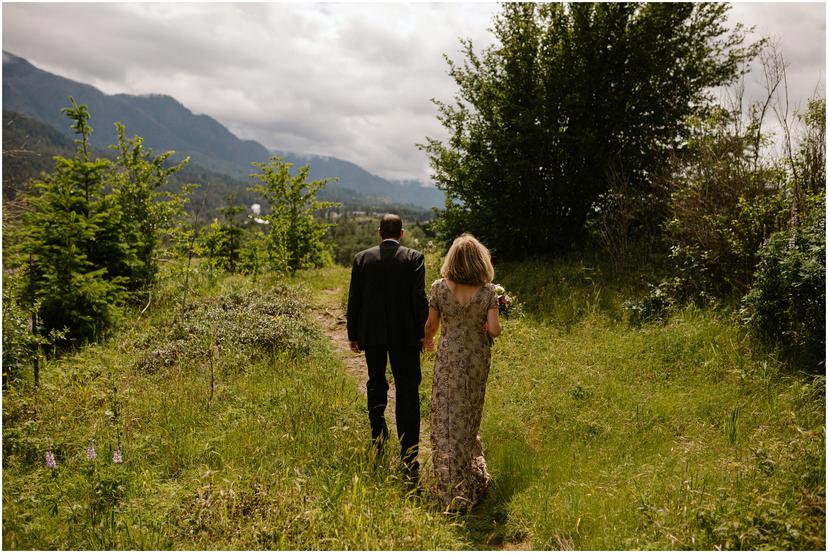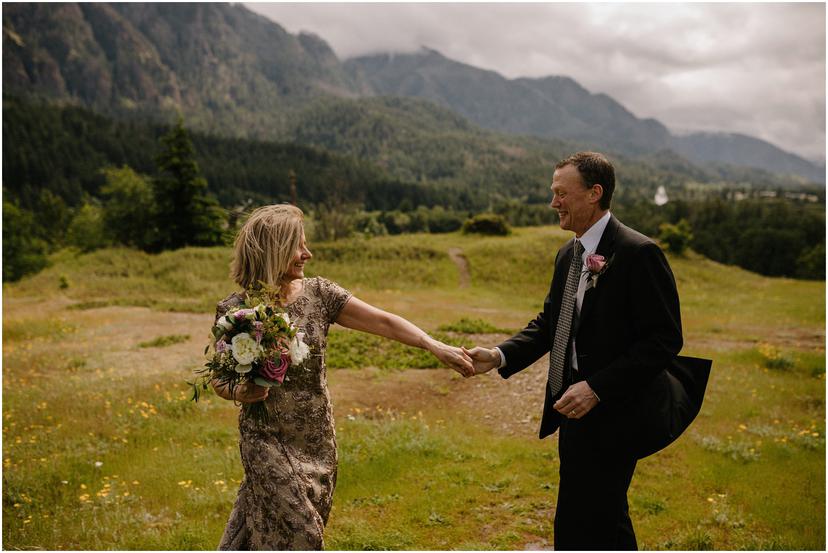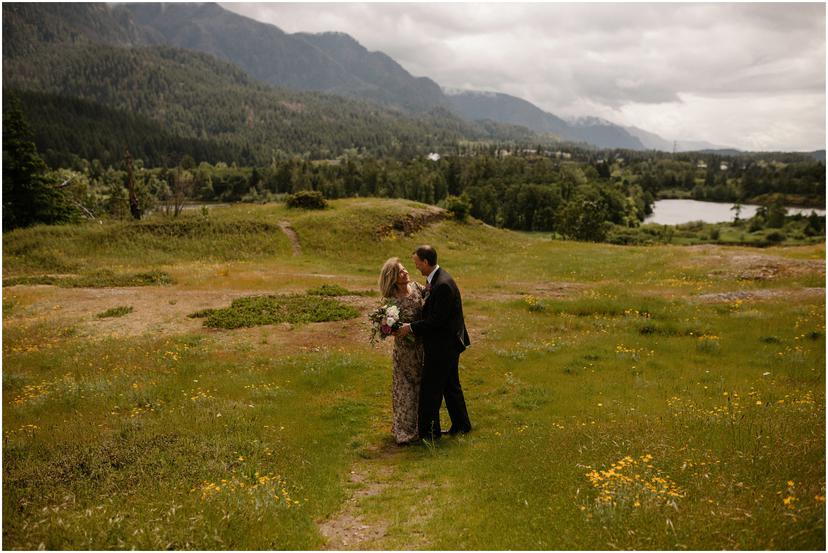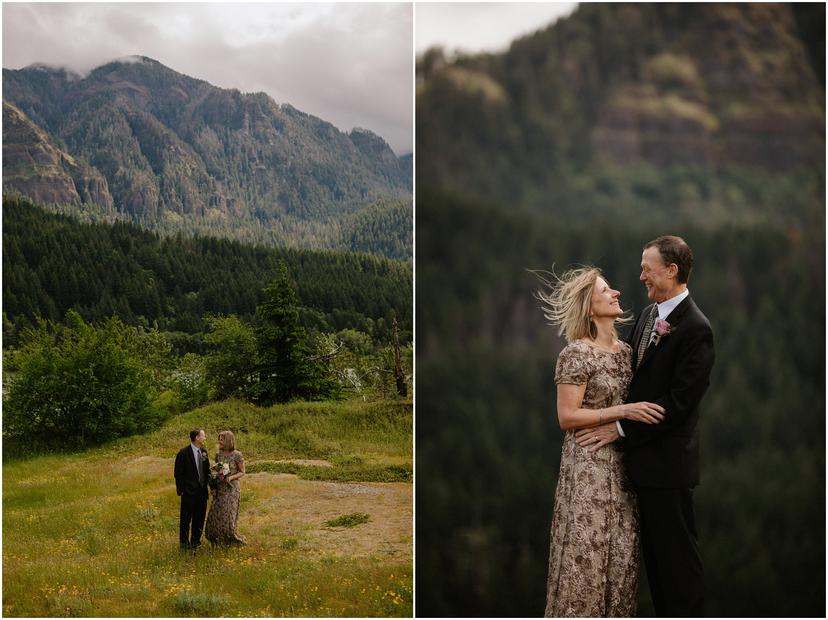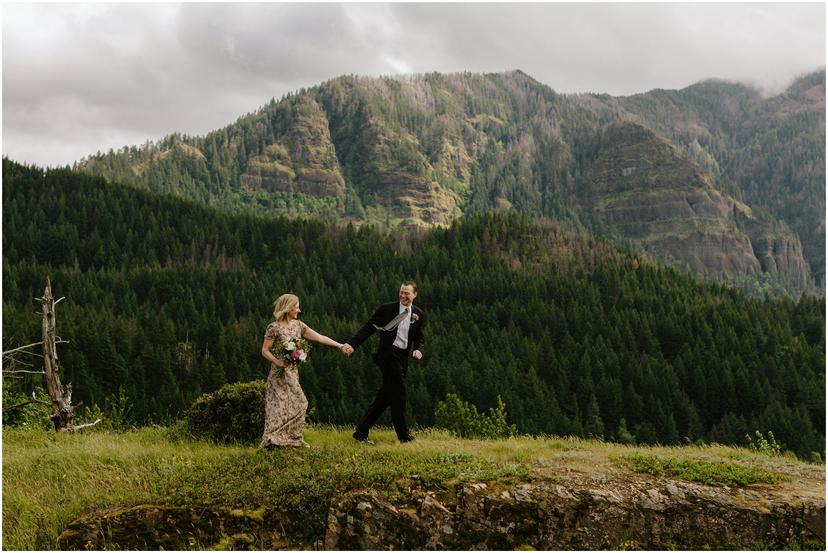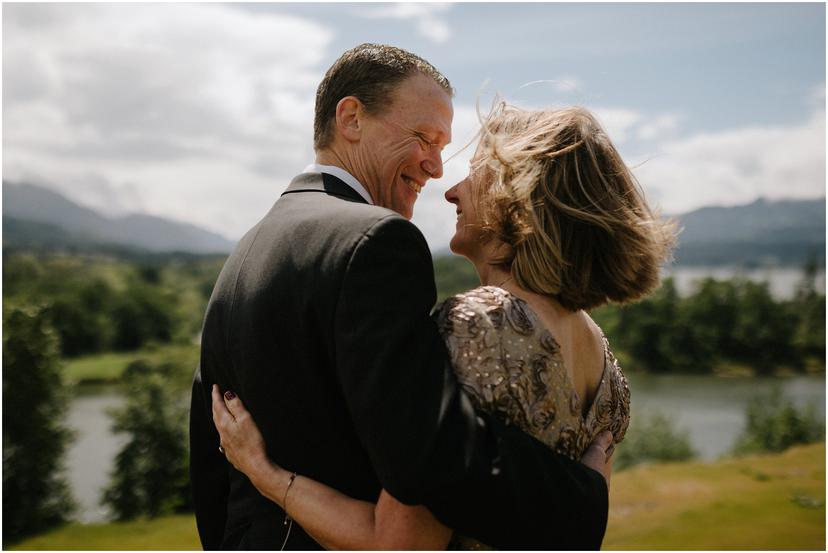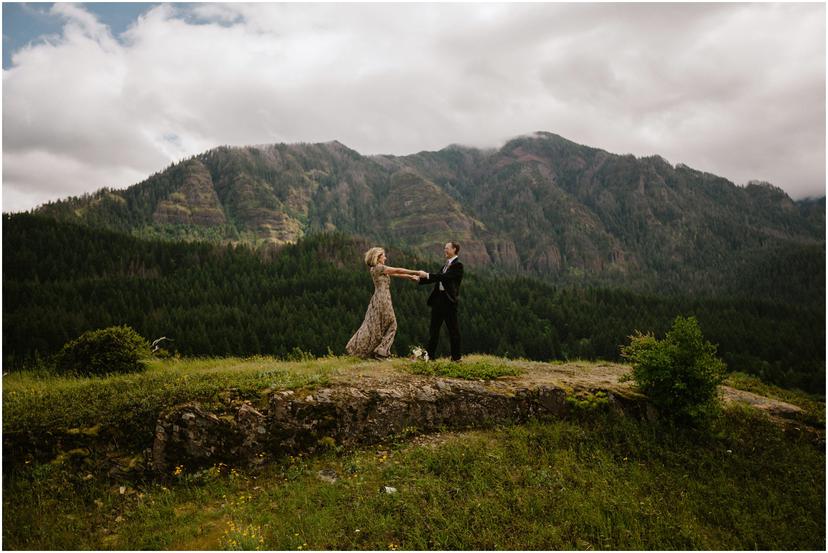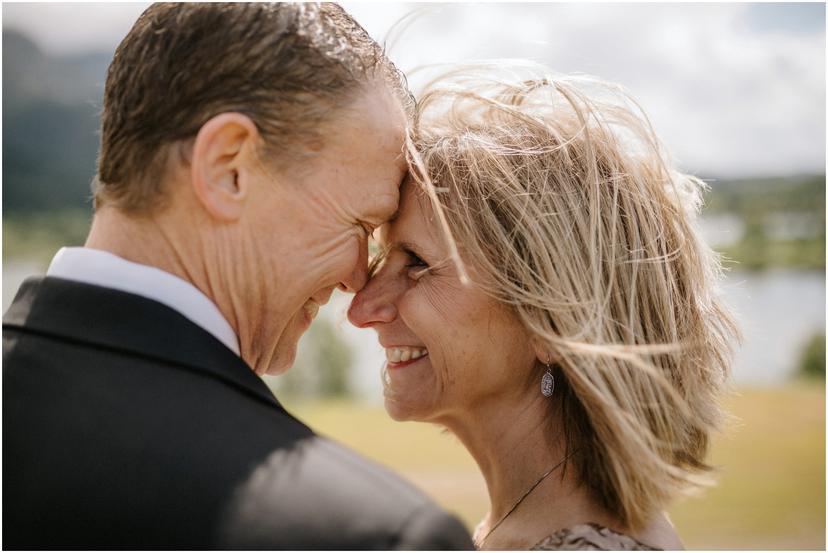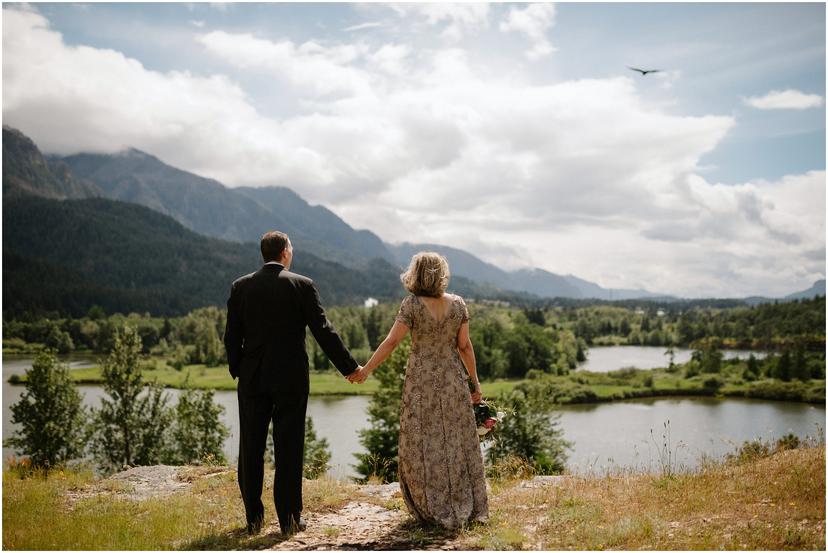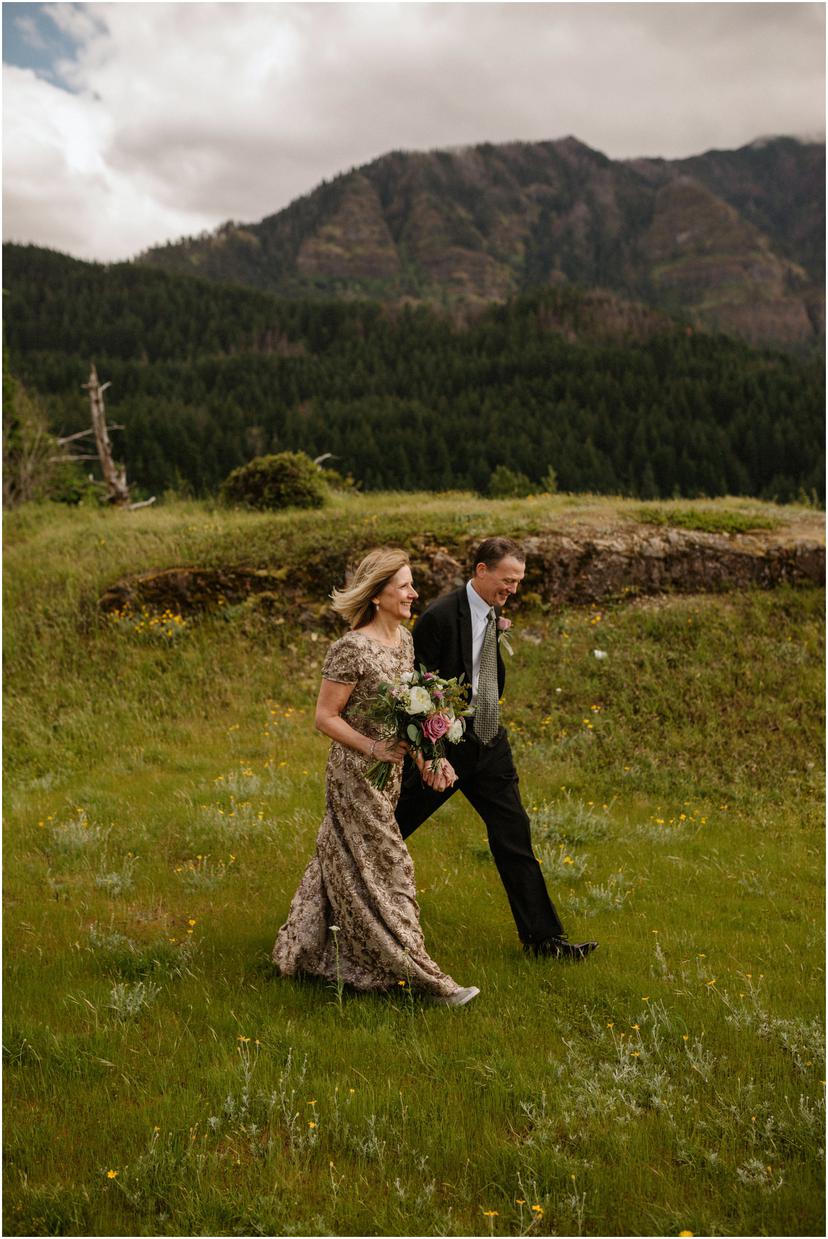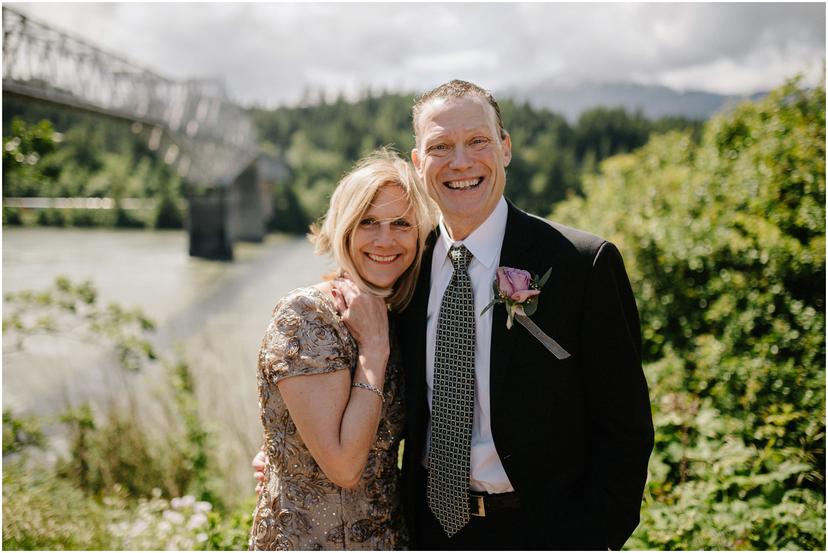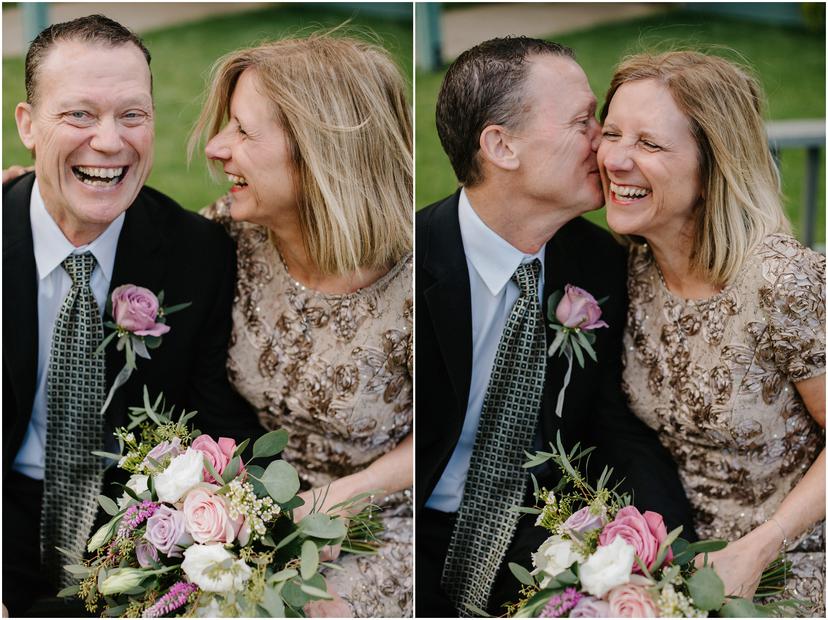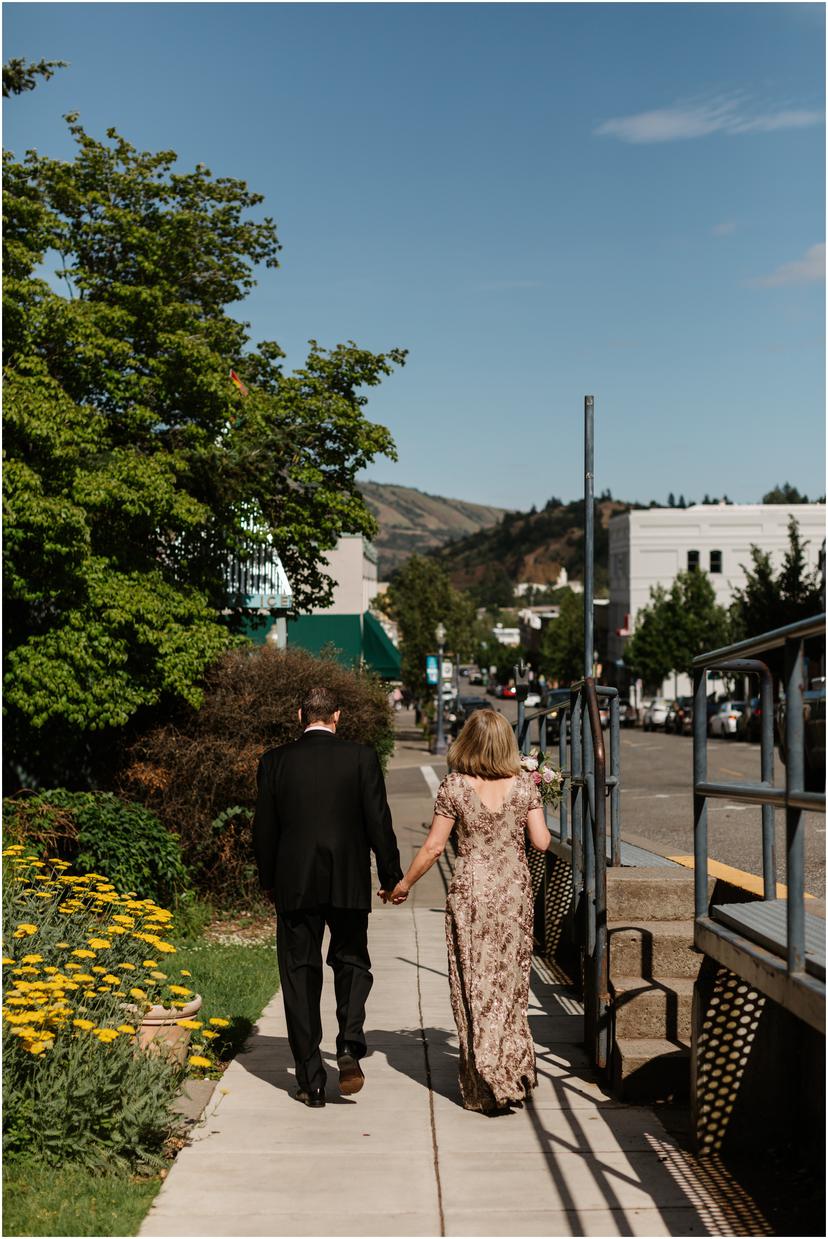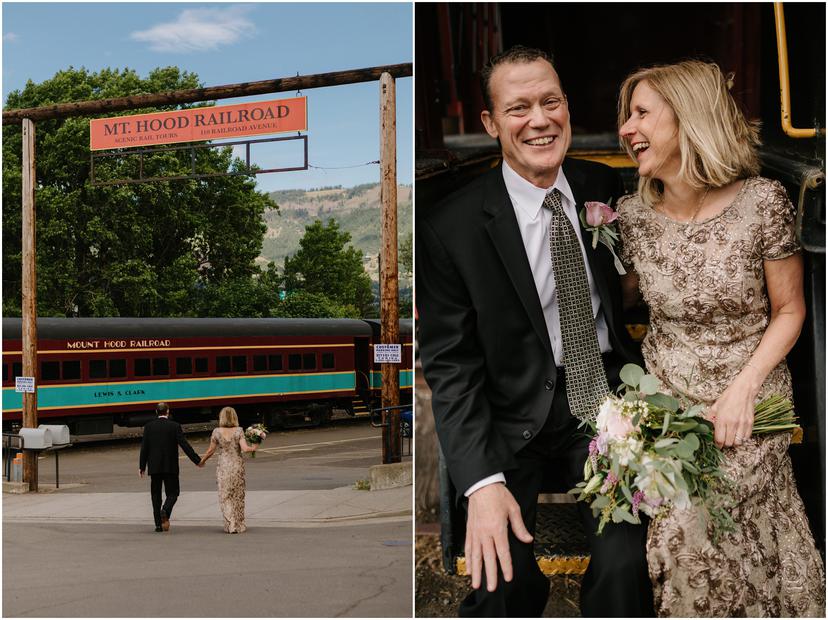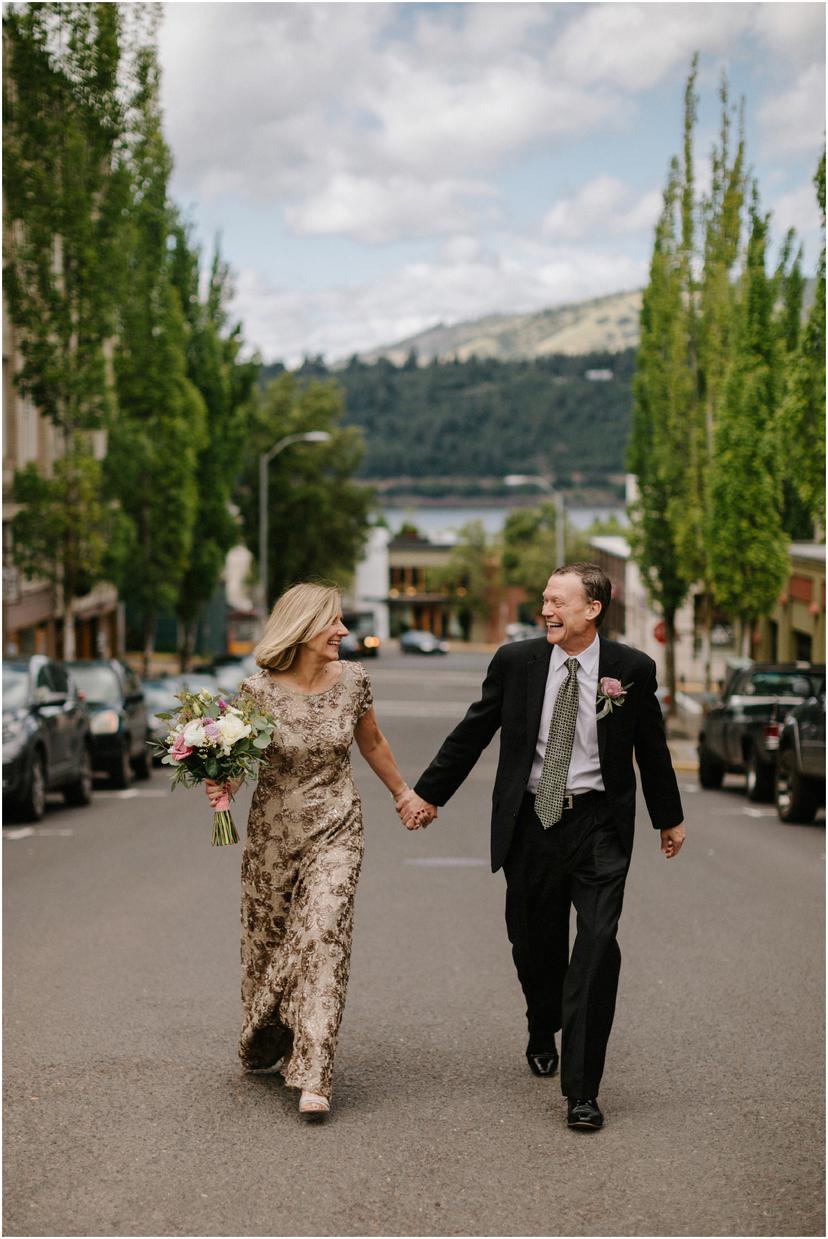 Did you love these government cove elopement photos in the Columbia River Gorge? You might enjoy these other elopements I've photographed as well! And always feel free to contact me if you have questions, or if you are planning your own elopement!
WATERFALL ELOPEMENT IN THE GORGE