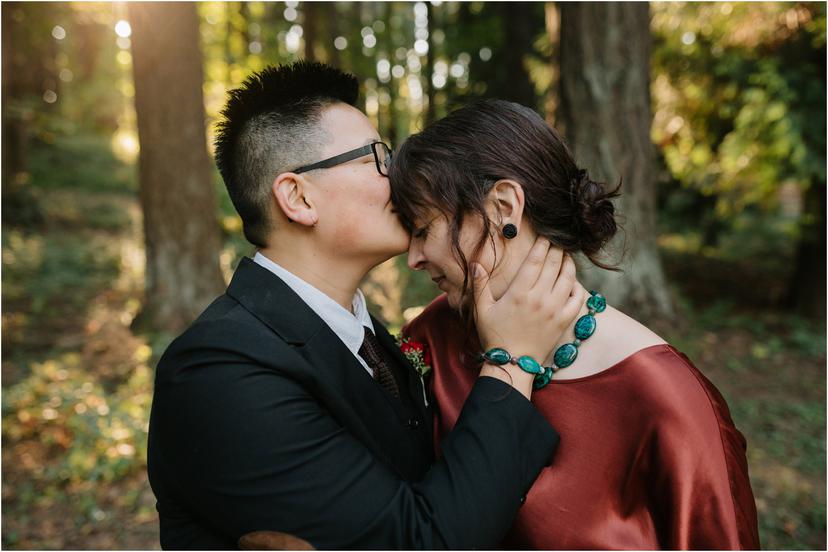 Portland Same Sex Wedding Photographer
I woke up on a random Monday in October to a text from one of my oldest and best friends from high school. "Sooooo I bought Marya a ring…!" CUE ME FREAKING OUT.
I texted her back "OH MY GODD!!!" I've been asking her for ages if they would get married and now it was finally happening! I was so happy! But her response brought me back to earth a little again. "We decided to get married in the coming weeks! Want to protect us given how we don't have the luxury of waiting any more giving SCOTUS status and the cases on the docket this season." And so, just like that, with politics and love coming together in a joint decision, my best friend Cissey decided to marry her partner Marya. And I was going to be their Portland same sex wedding photographer!! It was a Monday, and they decided to elope that upcoming Sunday. They had 6 days to plan everything. I was like LETS DO THIS.
A same sex Portland elopement at Pier Park
After scheming a bit, Cissey and Marya came up with the perfect plan. They decided to have an intimate Portland elopement in the forest at Pier Park. The park is just down the street from their house, and they go there all the time together! They got ready together that morning, then hosted cocktails and snacks in their backyard before walking over to the forest for their ceremony. We took a ton of pictures amongst the tall trees, then spent a little more time hanging out at their house, eating cake, giving toasts and enjoying the crisp fall weather before dinner. Finally, as it got dark, we set off to Little Sheep, a Mongolian Hot Pot restaurant in Beaverton! It was SO them and such a unique and fun way to end the day with a huge, long meal! I was SO happy I got to be their Portland same sex wedding photographer, as well as a guest!
About Cissey and Marya
Cissey and Marya met while studying for their doctorates in acupuncture at the Oregon College of Oriental Medicine (OCOM). They both run their own acupuncture clinics now, and have built a beautiful life together with their three dogs in North Portland. When I asked them what their favorite thing about each other is, they told me "we both care fiercely about those we love and hold dear," which is SO true. They are both the kind of people you can absolutely depend on, no matter what. I've been friends with Cissey for about 13 years now and she has always had my back.
Marya and Cissey described their ideal date night as going bouldering, then inhaling shredded beef tacos after 10pm from Rose City Taqueria in St Johns, followed by cuddles with their dogs and watching trashy TV (while Marya's knitting for a loved one/dog and Cissey's playing video games). They also love to go bargain hunting for organic food at Grocery Outlet, subjecting their dogs to silly outfits, and going to u-pick farms for fruit, veggies and gardening inspiration! On their wedding day, they were most excited about sharing their vows in front of their family and friends in an epic, yet intimate, nature setting. They wanted the day to feel joyful, intimate and natural and it 100% was!! I cried like a baby after their ceremony and it was an absolute honor to be their Portland same sex wedding photographer after knowing them for all these years!!
The Vendors
Dress: Purchased at Seven Sisters. The designer is DIARTE. Makeup artist: Eyelash extensions by Jessica Sweet Saffron Natural Skincare  Florist: https://www.sammysflowers.com/ on Lovejoy Dinner: [Little Sheep Hot Pot](https://www.littlesheephotpot.com/) Shoes: Shoes from Rom  Suit: Wildfang for Cissey's wardrobe Jewelry: Turquoise "lovers" set by Alice Yan