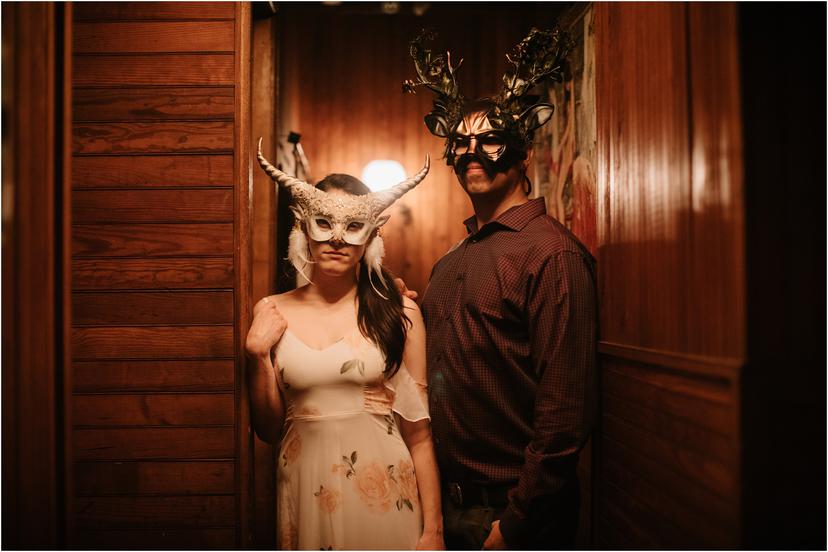 Masquerade Rehearsal Dinner at Spillian in the Catskills
Happy Halloween! I'm so excited to share this spooky but beautiful masquerade rehearsal dinner at Spillian in the Catskills! This might be one of the coolest rehearsal dinners I've ever witnessed! What a perfect way to start a wedding weekend with all your guests! If you haven't seen Maggie and Joey's whimsical fairytale Spillian wedding yet, you should totally go check out that post and read their story!
These two are high-school sweethearts who have been together for 11 years. They wanted their wedding weekend to be a playful fall getaway – an escape from everyday life with an enchanted vibe. When Maggie first invited me to their rehearsal dinner, she mentioned very casually that it would be a masquerade taking place at their venue, Spillian. I was like, WHAT. I LOVE masquerades and it sounded like such a fun idea! I was not prepared for how epic it would look though! When I walked in the door and saw a long table, chandeliers, wood accents and delicious vegetarian food in front of me, I could hardly believe how awesome it all looked together. Plus the masks!! The masquerade rehearsal dinner at Spillian in the Catskills was literally a dream come true.
After the meal, Maggie and Joey shared a short engagement film that their videographers made for them in lieu of engagement photos. Then Maggie pulled out bags and bags of gifts. Someone made a Santa Claus joke and we all laughed because it was so accurate. The couple gave their wedding party and family members thoughtful cards and gifts to thank them for all their hard work leading up to the wedding. I was also lucky enough to receive a gift as well – a super cute coffee mug – even though this was literally my first time meeting them in person! Their generosity and energy was incredible. After the meal, I asked Maggie and Joey if they would be cool with taking a few eerie portraits around the mansion in their masks, and they were SO down. I love working with couples who aren't afraid to get a little weird and create something different. These portraits were some of my favorite from the whole weekend! I am so grateful that I got to join them for this fun masquerade rehearsal dinner at Spillian in the Catskills!