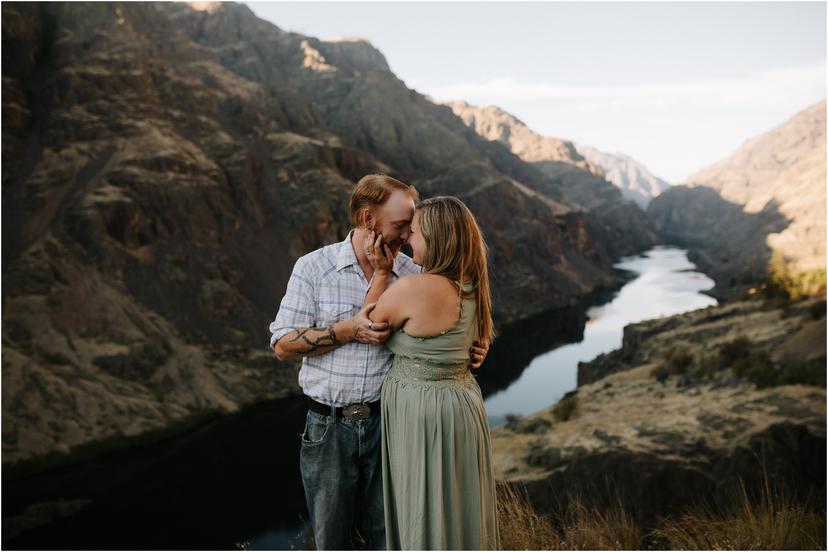 Hells Canyon Engagement Photos
Hells Canyon is the deepest river gorge in North America. The Snake River flows 7,400 feet below the rim, carving an epic border between Oregon and Idaho. It's also the place that brought this couple together. How does the deepest canyon in North America play a part in this love story? Well, it's the entire reason that this gorgeous girl came out to Eastern Oregon in the first place. Mallory, a graphic designer from Portland, decided to take a job with the forest service. She didn't know where they would place her but she was excited for a new adventure. When she found out that she would be working at the Hells Canyon visitor center, she was stoked. It's a remote and wild part of the state, full of beauty and not very many people.
A great dive bar
After her first day on the job, Mallory decided to grab a drink in one of the nearby towns named Halfway, Oregon. She sat at **Wild Bills **and ordered a Coors Light from the cute red-haired bartender. They struck up a conversation and hit it off. The conversation kept Mallory coming back to the bar night after night, usually drinking a Coors Light and enjoying the company of that cute bartender. The summer came and went, and it was time to go back to Portland. Right before she was about to leave, Mallory finally got up the nerve to admit she had a BIG crush on Josh. They quickly started dating the make up for lost time. Mallory realized that she didn't really want to move back to Portland. And Josh secretly knew he had found a women he wanted to spend the rest of his life with.
Eastern Oregon Engagement Photos
Naturally, it only made sense to take some Hells Canyon engagement photos for Mallory and Josh in the place that started it all. I was so excited to explore this stunning place with this fun, adventurous couple. It has such significance to them and it is SO PRETTY. I was totally freaking out the entire time haha. These Hells Canyon engagement photos were definitely some of the most epic I've ever taken!