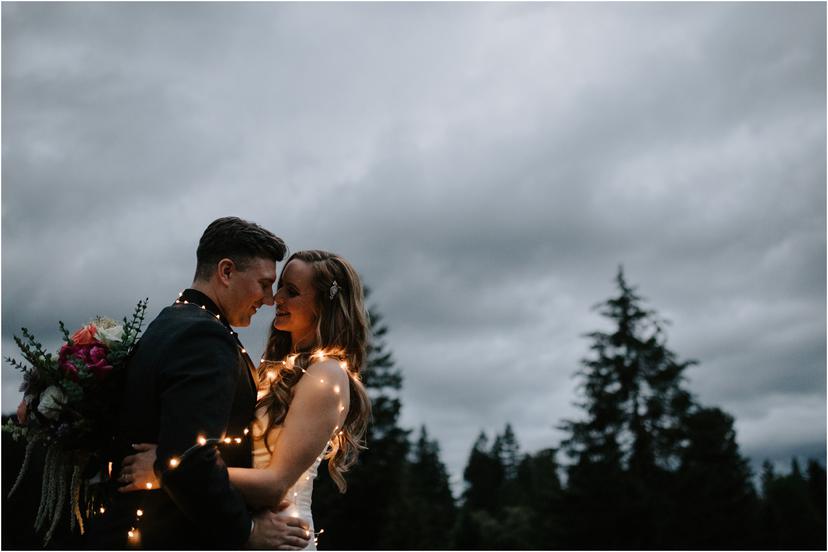 Mt Hood Oregon Resort Wedding
Devon and Yvette had the most stunning Mt. Hood Oregon Resort wedding a few weeks ago! It was a perfect cloudy Pacific Northwest day on the mountain. Yvette is a photographer too (and a pharmacist!) so she had a healthy appreciation for the beauty of cloudy lighting. I was stoked. This Mt. Hood wedding venue is absolutely gorgeous and Devon and Yvette threw one HECK of an awesome party!
You might recognize these two from their heartfelt proposal that I photographed at Smith Rock last summer! Devon and I schemed like crazy and it was wonderful when they ended up hiring me to photograph their wedding too! These two made me feel so loved during the entire process of working with them. Their smiles are contagious and it was plain to see how well they compliment one another! The theme for the wedding was a glowing fairy garden party. They had fairy lights EVERYWHERE and the whole reception space looked magical! We even snagged a few of the lights for some dusk portraits because it fit their vision so perfectly. I loved the warm ambiance of the evening and how romantic the whole day felt!
It takes a village
Fun fact about Yvette and Devon: they are both only children! They told me that once they started dating, they immediately connected on so many levels because of this. It also means that they both have a TON of friends and that their parents are extremely close to them! When it came time for their wedding, so many of their nearest and dearest stepped up to help! "The entire reception was set up by family and friends, so a SUPER shout out to them for making it happen!" Yvette told me,  "To my mom for designing the reception and putting together all the centerpieces, and Devon's mom for designing and installing the wedding arch, and her and her friends and my mom and her chefs for baking all the desserts from scratch! We had lots of help from family friends on both the arch and the reception – so many people to thank that I can't list them all!" Their friend Rachelle put together all their flowers for a wedding gift, and they had other friends donate kegs from 10 Barrel and Worthy Brewing. Their officiant also had to cancel last-minute due to a family emergency, so their family friend Vince stepped up and performed the ceremony with only two days notice. Their Mt. Hood Oregon Resort wedding really came together as a group effort!
Personal Touches
I love photographing weddings that are deeply personalized and well thought-out. This Mt. Hood Organic Resort wedding was exactly like that. "All the little details were so important to us. If we could avoid spending unnecessary money and using things we already had or using things which were family heirlooms, we did. It made everything that much more special and magical," said Yvette. Since Devon is from Alaska, they served delicious Alaskan salmon for dinner that his family had helped catch. And they also had dates (wrapped in bacon) brought in from Southern California where Yvette is from. One little detail was particularly amazing though. Devon always sings in the shower and Yvette laughs about it. But as a surprise, he secretly recorded himself singing their first dance song. When it came time for them to dance, Yvette was SO shocked to realize he was singing her the song! It was the cutest thing ever.
Devon and Yvette
Yvette's most anticipated moment of her wedding day was her vows. "We chose to write our own vows and read them ourselves, which made it very personal and special for us. I couldn't have imagined feeling any better than I did during those moments. It truly took away all the hype of getting married, took away all the people who were there, and just allowed us to be in our moment, making vows to each other while forgetting about everyone else. It was just us."
I also asked Yvette what their favorite thing about each other is, and her words sum it up perfectly!
"I love the way he makes me feel every day. I know that no matter how many years pass, he will love me and make me feel like the most special person in the world. I feel like part of the reason our vows were so special and similar is because we know each other so well and love each other unconditionally. I love how we laugh together every single day, and he makes me feel like I'm the luckiest and most special girl alive."
The Vendors
Venue: Resort at the Mountain – Mt. Hood Oregon Resort Hair stylist: Noel Tucci from Vanity Junkie Flowers: Family friend Rachelle Hacmac, flowers from Trader Joes Caterer: Resort at the Mountain. Salmon caught in Alaska by the grooms family/friends. Fresh dates from Palm Springs and brides family/friends. Videographer: Kevin Li DJ: Ryan Love.  Wedding Coordinator: Tami Kay with the venue Cake/dessert : Dream Cakes, plus desserts made by family friends Menswear: Black Tux