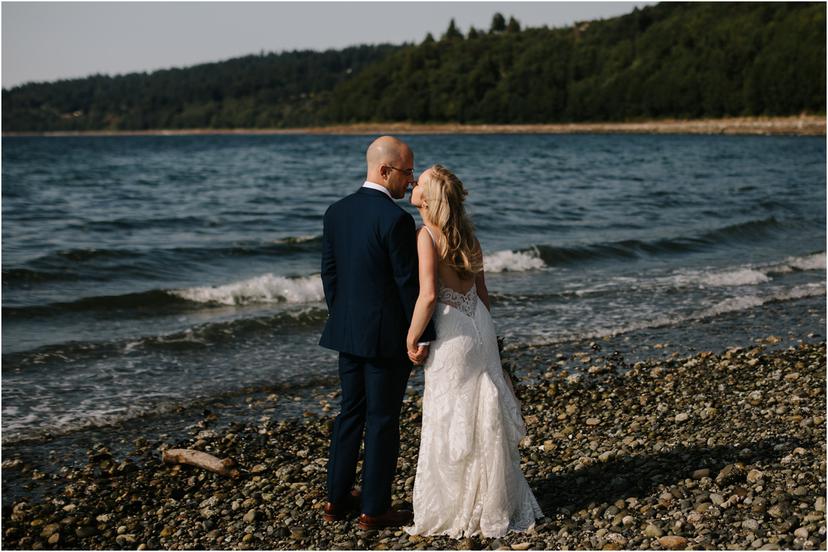 Seattle Wedding at Ray's Boathouse
Maddie and Adam had a beautiful, sunny Seattle wedding at Ray's Boathouse earlier this month. It was one of those rare days with crystal-blue skies and a soft breeze over the sound. Their wedding felt peaceful, like a breath of fresh air on a summer evening with good friends. It was the perfect blend of elegance and comfort. Adam and Maddie got ready separately in Ballard, then did a first look in the forest at Carkeek Park. After that, we took all the wedding party and family photos before the actual wedding, which made things way easier and more fun once the wedding started! Carkeek park was the perfect shady location on a hot day. And the bold, burgandy bridal party dresses looked amazing in front of the greenery. Their ceremony took place on the edge of Puget Sound at Ray's Boathouse. It was short and sweet; followed by a leisurely reception with gorgeous sunset views over the water. I could tell that a ton of planning went into the day, but once everyone was there it was really relaxed, intimate and fun!
Their Story
Like so many other couples these days, Adam and Maddie met on a dating app. Maddie told me that she had downloaded Hinge with the hopes of eventually meeting a sweet guy (even if it meant having to go on a lot of dates). Adam on the other hand, downloaded the app and Maddie was the VERY first person he went on a date with! Lucky man! These two share a love for yoga, hiking, and delicious food. They love to cook together too! Their favorite thing about each other is their uncanny ability to communicate and read each other at all times. "Even if I'm just the slightest bit off, Adam picks up on it right away and we can talk about anything that comes up," Maddie told me. "What drew us to each other was always making each other a priority and working to grow together in our relationship." Adam proposed to Maddie after they climbed Mt. Washington together in New Hampshire. She said it was the scariest climb they'd done together, but it was so beautiful and getting engaged afterwards made it so worth it!
A Challenging Year
In the midst of planning their Seattle wedding at Ray's Boathouse, a LOT has happened in Maddie and Adam's lives. They met while living on the east coast, but they are currently in the process of moving from Boston to Seattle (where Maddie grew up). In the middle of planning a wedding and moving across the country, Adam's mom suffered from a traumatic brain injury. This was a huge shock to his entire family, as her fall and brain surgery came out of nowhere. "She has always been the healthiest and the rock of Adam's side of the family," Maddie said. "She has had a long recovery of being in and out of the hospital this past year, still not at times finding the right words." Now almost a year later she has made a ton progress, while battling congestive heart failure at the same time. Adam has been by his mom's side through everything. Moving from Boston to Seattle will be very bittersweet since Adam will be much further from her. But the fact that she was able to fly to Seattle for their wedding was HUGE. Adam and Maddie were so grateful and amazed that she could be there. Because of everything they have been through in the past year, their wedding was a really special day to honor the challenges they've overcome, plus celebrate both families being together. I loved all the little moments of this wedding that showed how special the relationships are between Maddie, Adam and their close family and friends. These are the things that matter most in the world. And these are the things that inspire me to document weddings. Adam and Maddie, thank you for sharing your day with me and for letting me be a part of your Seattle wedding at Ray's Boathouse! I'm so happy for the two of you!
The Vendors
Venue, catering and coordination: Ray's Boathouse Dress: Allure Makeup artist: Raquel from Gene Juarez  Hair stylist + website: Ashley from Gary & Manuel  Florist + website: Thatch Floral Officiant + website: Jeremy Smith (bride's brother in law) Shoes: BHLDN Pies: Alamode Pies Menswear: Hugo Boss