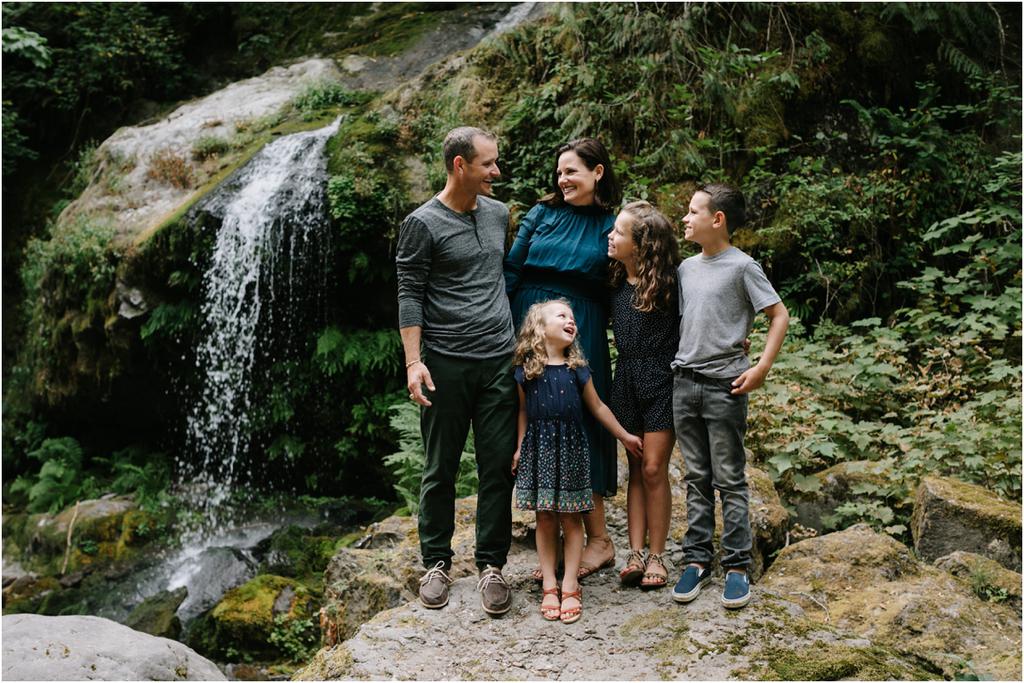 Columbia River Gorge Family Photos at a Waterfall
I don't usually share family shoots on my blog, but this one was too good to keep to myself! Megan and her family came to Oregon from Texas and they were some of the nicest people I have ever worked with. Megan found my work online and was SO excited to do some Columbia River Gorge family photos at a waterfall! We woke up SUPER early for this sunrise shoot. We got to Multnomah Falls in the gorge before anyone else though! This was quite a feat, considering how the place is usually crawling with tourists. It was magical at sunrise. After a quick stop at Multnomah Falls, we drove across the river to Washington! From there, we visited one of my all-time favorite spots, Steep Creek Falls. It's a small waterfall in the summer, but perfect for a family of 5 to explore, play on rocks, and enjoy the quiet forest of the Pacific Northwest. As soon as we got there, her kids were hopping all over the boulders along the river and having a blast. Megan and her husband popped a bottle of champagne and we drank mimosas while goofing off together. It was the perfect place to take Columbia River Gorge family photos that were candid and fun. At the end of the session, Megan causally suggested that maybe they should all go IN the waterfall. I wasn't expecting to do that, but oh my gosh it was so fun! It was freezing of course, but SO memorable and I loved the playful photos that came out of it! I'm sure the kids will never forget that moment either!
How to make family photos awesome
The trick with family photos is that most people want a mix of cute "looking at the camera" shots, PLUS candids. This can be so hard because kids get grumpy when you ask them to look at the camera over and over! Then the photos feel fake, posed, and the grumpy kids turns it into a bad experience. These Columbia River Gorge family photos at a waterfall worked out great because EVERYONE was having a good time. The fun locations gave us gorgeous backgrounds for a few posed shots, but they also allowed the kids space to be themselves and make memories together. When you are planning your family shoot, make sure to set expectations with your kids and your photographer beforehand. If you want shots with everyone looking at the camera, tell your kids that you are going to do those first, and then let them run wild and play and have fun after! And mimosas never hurt either for the adults!