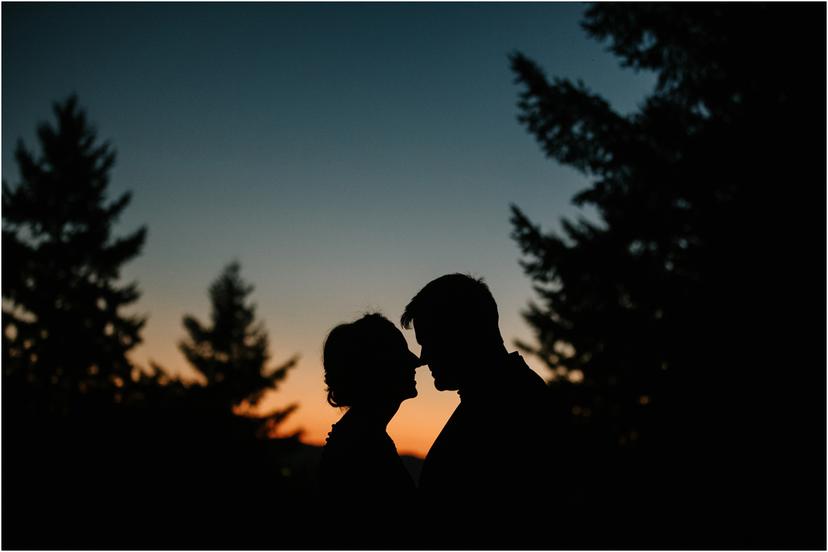 Mt. Tabor Elopement in Southeast Portland
Alex and Rob are runners. They spent their first date jogging up Mt. Tabor together (even though Alex hates running hills) and then had dinner afterward at some food pods. The immediately hit it off. Later on, when Rob proposed, Alex knew she hated the idea of a traditional wedding and wanted to get married somewhere with the least planning possible. She knew she wanted to get married in a forest with their two dogs, and that she wanted to eat a ton of cheese afterward. We kept wracking our brains to find a location, when Alex realized it had been there all along. A Mt. Tabor elopement in Southeast Portland would be perfect. It was already part of their story and it was exactly what she wanted. It was one of those magical Portland summer nights. Warm, but not too warm with golden sunlight shining through the trees. I met Alex and Rob a few hours before sunset and we hiked up to this enchanting spot below the summit of Mt. Tabor where we actually managed to be completely undisturbed, despite the park's popularity. Their two dogs joined us, plus her brother, his sister and one of their close friends who officiated the ceremony. The evening was short and sweet. Everyone was relaxed and it was SO peaceful up there!
Making it personal
This Mt. Tabor elopement in Southeast Portland is a classic example of making a wedding day your own. Alex knew she wanted an unfussy day, and that's what she got. It was also deeply personal. From the bouquet made by her sister in law, to their unique ceremony that even included some dog-treat-blessings with their pups, it was perfectly THEM. They ate cheese off of antique china that Alex had collected with her mom as a kid, and they drank champagne from the same glasses that her grandparents had used on their wedding day. Alex also wrapped her dad's watch around her bouquet – the same watch he has worn every day for the last 20 years. They didn't cater to the BS that the wedding industry says you need. They followed their own hearts and it worked out beautifully. Best of all, after dusk, we all drove down to Lauretta Jean's before it closed and finished the night with Alex and Rob's favorite dessert: pie. So awesome. When I asked Alex and Rob their favorite thing about each other, they said the same thing: "we match each other's crazy." The thing they value most in their relationship is uninterrupted time together (closely followed by good food and good beer, haha). They are most happy when they are running, hiking, traveling or spending time with their dogs. And what was perfect about their elopement is that they got to do most of those things!
The Vendors
Location: Mt. Tabor Park Dress: Bhldn Hair stylist: Luminary Florist: Sister in law Food: Cheese Bar Shoes: Sorel boots Pie:* Lauretta Jeans