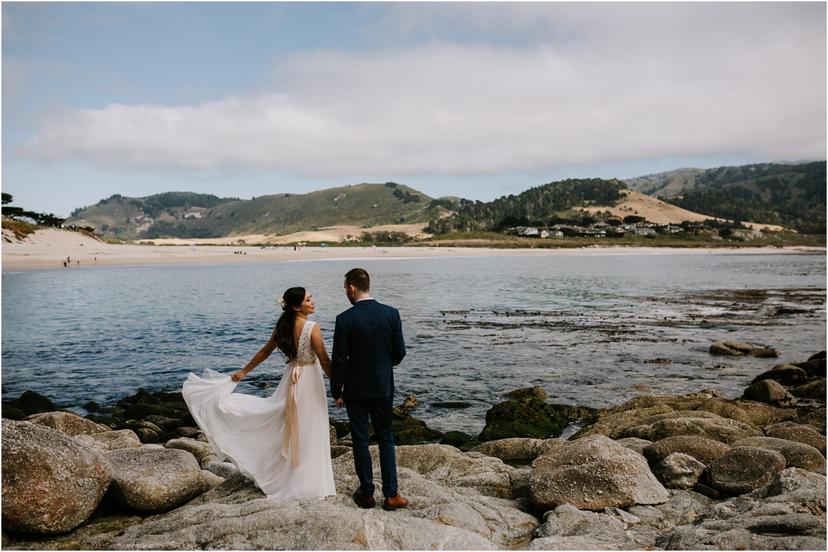 Intimate Beach Wedding in Carmel, California
This is part two of my epic weekend down in Monterey photographing my childhood best friends wedding! I already blogged Suzanne and Erich's Monterey Bay engagement photos a few days ago, so definitely check those out first if you haven't had the chance! Suzanne and Erich decided that they wanted a very intimate destination wedding experience on a beach. They currently live in Arizona but are in the process of moving to Seattle, so they picked somewhere in the middle for their wedding! Neither one of them really likes being the center of attention, and they wanted their intimate beach wedding in Carmel, California to be as relaxed and laid back as possible. They had around 25 guests and it was perfect. They had a casual reception at Gathering in Monterey afterward with passed apps and entrees, no dancing, just board games, wine and hanging out. The bride and groom also rented out this EPIC Victorian beach house in Monterey for their close friends (and me!) to stay in for the weekend. It was seriously so beautiful and luxurious. It was the perfect hang out spot to relax in before and after the wedding and it made the weekend into a true vacation for everyone.
Suzanne and Erich's Story
Suzanne and Erich actually met in vet school! They were in a summer research group in veterinary school and they bonded over Suzanne's new puppy, Mr. Darcy. Since then, they've both gone on to become successful practicing vets – Suzanne as a small animal vet and Erich as a neurosurgeon. They are both brilliant, kind-hearted animal lovers and they have a ton in common. Erich says sometimes he thinks that Suzanne is a psychic because they think so much alike. When I asked them what they love about each other, Suzanne told me that they are absolutely best friends. This was so evident throughout the whole weekend. Like I explained in my earlier post with their engagement photos, I've known Suzanne a LONG time. She was one of my best friends from childhood, and I have to admit, I was definitely nervous AND excited to meet the man that she had decided to spent her life with. It took me less than 15 min in the car ride to the Monterey to decide that Erich was awesome. Not just awesome, but perfect for her. He's the kind of person I would want to be friends with even if he wasn't marrying one of my friends. He's the kind of person that I wanted MY fiancé to become friends with, haha. After being together for years and years, Erich decided to propose to Suzanne in Kauai, Hawaii. They were on a beautiful beach when Erich faked a migraine and asked Suzanne if she could run back to the car for headache medication. When she returned, he had written "Suzanne will you marry me?" in the sand. Of course, she said yes. When I asked Suzanne about the overall vision for her intimate beach wedding in Carmel, California, she responded with two words. "Just Love." As it turns out, this was Erich's late grandfather's sign off that he would use on all his cards and greetings during his lifetime. They were also the last words he spoke before he died. As a gift, Suzanne had Erich's wedding ring engraved with "Just Love," and the whole day was a reflection of that. Simple, beautiful and "just love." It was an incredible honor to be a part of it all!
The Vendors
Reception Venue: Gatherings  Dress: Watters– bought at **BHLDN Makeup artist and hair stylist: Spa Bella Boutique Florist: Whole Foods Caterer: Gatherings Guitarist: Terrence Farrell  Cake/dessert:** Patisserie Bechler  *Officiant: Rev. Zia Shapiro with Monterey Bay Ceremonies by Zia