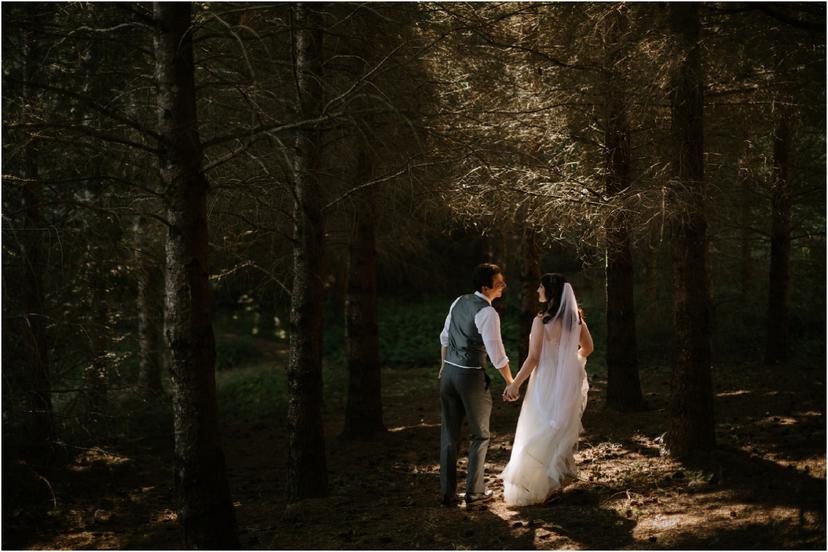 A Romantic Woodland Wedding in Eugene, Oregon
This romantic woodland wedding in Eugene, Oregon was such a dreamy day to document! Josh and Megan got married on Megan's parent's property surrounded by grassy hillsides and lush forests. Their wedding was one of the most beautiful DIY events I have EVER seen. The ceremony took place in a brilliant golden meadow, with their reception under the cool shade of a forest. It was stunning. The color palette suited the location perfectly – they used dusty shades of rose, blue, mauve, sage and touches of garnet to compliment the greens and golds of the land around them. They had vintage touches, woodland elements, and the whole day was deeply personal with a strong connection to family, friends and the earth itself. My kinda wedding!
Their story
Like many modern love stories, Megan and Josh met on OKCupid online. Their first date took place at a vegan bar called The Sweet Hereafter where they still to this day enjoy drinking Tequila Old Fashioned's and playing board games. They both love to travel, and not long after they started dating they set off to explore the world together! They went all over Europe and fell madly in love with each other. After conquering Europe, they took an amazing trip to South America. They were sitting in a canoe in a beautiful lagoon in Ecuador after finishing one of the best hikes of their lives, when Josh suddenly had the overwhelming urge to propose. He hadn't planned it beforehand – it just struck him in that moment. So he did. And she said yes! Their favorite thing about each other is their shared sense of humor, fun and silliness. Megan and Josh wanted their romantic woodland wedding in Eugene, Oregon to be as laid-back and stress-free as possible with the focus on love, each other, family and the cosmos. It was exactly that.
The family
The one difficult thing that I have to mention is that Josh lost his father just a few weeks before the wedding. I know the last few months have been a really hard time for his family, and it was definitely an emotional day for everyone who was feeling his loss. It was so sweet to see his two sisters walk him down the aisle during the ceremony though. There were many beautiful moments during the day that his father was well-remembered and present in everyones hearts. Megan has always been very close to both her parents, and having the wedding on their land was incredibly special. Her mom was basically her wedding planner and I could not believe the amount of work that must have gone into the planning and execution of such a gorgeous DIY wedding day. As a small thank you, Megan and Josh surprised her parents with a special "first dance" together before their own first dance. Her mom was shocked but had the biggest smile on her face the whole time. It was lovely! This romantic woodland wedding in Eugene, Oregon was such an inspiration to me as I plan my own wedding for next summer. At the end of the night, I thought to myself "if my own wedding is HALF this fun next year I'll consider it a wild success." Josh and Megan, you sure know how to throw one heck of an amazing party! Congratulations you two!
The vendors
Dress: BHLDN** Flowers: Fresh flowers from the property, neighbor's garden, trader joe's and fred meyers Caterer: **Carte Blanche ** Videographer: Blue Bus Creatives Bridal Accessories: Made by bride's mother Wedding Coordinator: Mother of the bride, Linda Matthews Cake:** Sweet Life Patisserie  Rentals: Action Rent-All & Events of Eugene Other Desserts: Our Daily Bread Bakery, Veneta and Davey's Chocolates at Mad Batters Bakery, Eugen