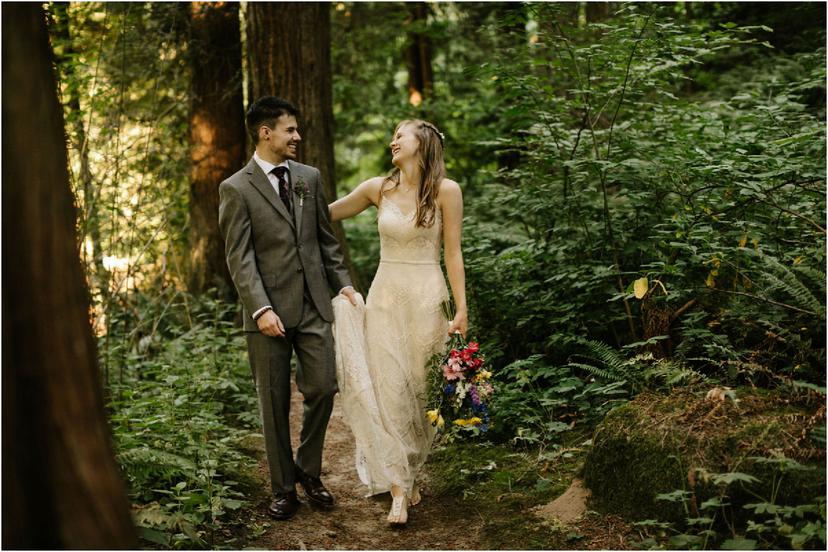 Leach Botanical Garden Wedding in Southeast Portland
A Leach Botanical Garden Wedding in the Forest
Where do I even begin with these two? Elizabeth and Ryan have been some of my favorite clients ever. They are brilliant, kind, funny, and they have SO much heart. They are probably some of the most genuine individuals I've ever met. If you didn't see their engagement session that I did on Mt. Hood, you should check it out too because it's seriously one of my favorite shoots of all time. Their Leach Botanical Garden wedding was no different!
A Portland Forest Wedding with Smores
Their Leach Botanical Garden wedding started with pizza and ended with S'mores. Instead of serving a full dinner, Elizabeth and Ryan ate Dominos before their wedding and then celebrated after with a sweet tooth. They had coffee, alcohol, kombucha, Voodoo doughnuts and a S'mores Cart! The whole evening was so laid-back and the cool, forested setting couldn't have been more perfect for them.
Their story
Elizabeth and Ryan met during their first week at college because they lived in the same dorm. He's a mechanical engineer and she studies botany. They love going backpacking together, cooking, and looking at art! He proposed on Friday the 13th in January 2017 during a snowstorm in Portland. They were at the same crepe coffeehouse that we went to on their first date. He had the waitress film the proposal, but you couldn't hear much of the video because Elizabeth was sobbing the whole time! The two of them have been through a LOT together already. After I photographed their engagement pictures last year, Ryan found out that he had cancer. This changed EVERYTHING for him. He had just moved to Colorado to start a new job, and everything was crazy. But after going through hell, he recovered and still got to marry the girl of his dreams in Portland. So many tears at their wedding. Ryan told me that his priorities really changed after having cancer. He used to be obsessed with his career, and although he is still pretty hardcore about it (he's about to start his PhD program), he realized that honestly, he'd be fine with moving to a farm and spending all his time with Elizabeth. HOW SWEET IS THA
! I could go on and on about these two, but I'll show you instead! Congratulations Elizabeth and Ryan! I am so honored I got to work with you!!
The Vendors
Venue: Leach Botanical Garden The Dress: Chic Nostalgia from **the White Dress in downtown Flowers: ordered flowers from Portland Wholesale Florist, but made arrangements themselves S'Mores: S'mores from Nineteen27 S'mores  Doughnuts: from Voodoo Beer and Wine: from My Bartender  Cold Brew Coffee: from Coffee Time  Kombucha: from Townshend's  Barefoot Sandals: handmade by bride's aunt Menswear + website:** Men's Warehouse