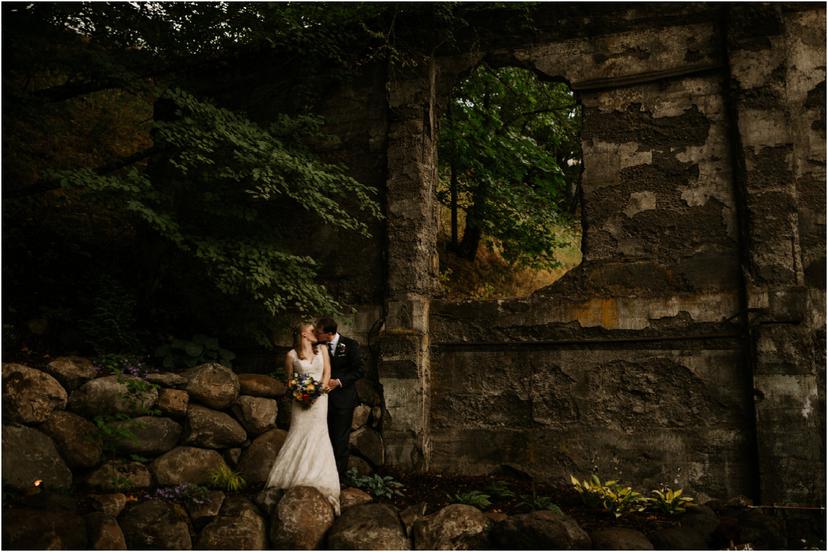 Wildwood Events Indoor Wedding in Hood River, Oregon | Samantha and Marshall
It was a stormy June day. The sun was out and shining one moment and it was pouring rain the next! But it didn't bring Samantha and Marshall down one bit. These two had the sweetest **Wildwood Events indoor wedding in Hood River, Oregon this past weekend and it was an absolute joy to be there! The day began at Panorama Point where they did their first look. It was raining when we arrived, but we waited it out and the light was gorgeous! Sadly, Mt. Hood decided not to show herself, but it was beautiful anyway. After portraits, they had their beautiful ceremony and reception indoors at Wildwood Events, formerly known as Springhouse Cellar. It's such a warm and cozy space! I loved that they named their tables after their favorite books and made custom bookmarks as favors. I love reading more than most things so it's always nice to work with fellow book-lovers! They also had a delicious taco bar catered by Ahi Ohana's Catering **and it was SO good. They even had a bunch of different hot sauces for spice-lovers like myself! Heck yes.


Their Story


Samantha and Marshall met online but realized they actually went to the same church! One of my favorite parts of their wedding day was when they offered communion to all their guests and got to individually greet each person and welcome them. The extra special part was that Samantha and Marshall actually waited until their wedding day to take communion together! So this was a first for them and it was a really important moment. These two have traveled all over the world together and are BIG adventurers. They both have tons of energy and huge smiles. They've gone rock-climbing and hiking in the Andes in South America and absolutely love outdoor activities. When Marshall proposed, they were at the Hoyt Arboretum in Portland walking around. There were some meth-heads in the bushes yelling at them right before he proposed, and Samantha attempted to walk away while he was proposing because she didn't realize what was happening at first! Oh Portland. I'm so excited that I got to meet these two and document a small part of their love story. I know that with their energy and kindness they are going to do AMAZING things in this world!
Vendors
Who designed your dress and where did you buy it?: Allure Bridal / Ania's Bridal https://www.aniabridal.com/** Makeup artist + website: Pearl and Blush** https://www.pearlandblush.com/** Hair stylist + website: Subi Salon https://www.subisalon.com/ Florist + website: Columbia City Bouquet,** https://columbiacitybouquet.com/** Caterer + website: Ahi's Ohana Catering,** https://ahicatering.wixsite.com/mysite** DJ + website: PDX DJ's,** https://www.thepdxdjs.com/** Wedding Coordinator + website: Stephanie Laur, Union Events Co** https://unioneventco.com/** Cake/dessert + website: Fleur Cakes** https://fleurcakes.com/** Calligrapher/Invitations + website: Sarah Horner, sister of groom. Menswear + website: Men's Warehouse and Tie Bar Jewelry + website: Malka Diamonds,** https://www.malkadiamonds.com/** Venue: Wildwood Events*